*FYI - this post may contain affiliate links, which means we earn a commission at no extra cost to you if you purchase from them. Also, as an Amazon Associate I earn from qualifying purchases. Check out our Privacy Policy and Disclosure. for more info.
If you're happily in the middle of planning an Oktoberfest party right now and need help with Oktoberfest decor ideas, allow me to step in and be your Fairy-Wiesn Mother.
As someone who has lived in Munich for the past 5 years and is both a) unhealthily obsessed with Oktoberfest and b) basically always lurking on Pinterest, I have put in an pathological amount of time dreaming up the most adorable and perfect DIY Oktoberfest party (and all the puns that would go with it)…
So, in hopes of channelling my neurosis into productivity, the guide below will give you all the decor inspo you need for your own DIY Oktoberfest. Enjoy!
Save on Pinterest for later: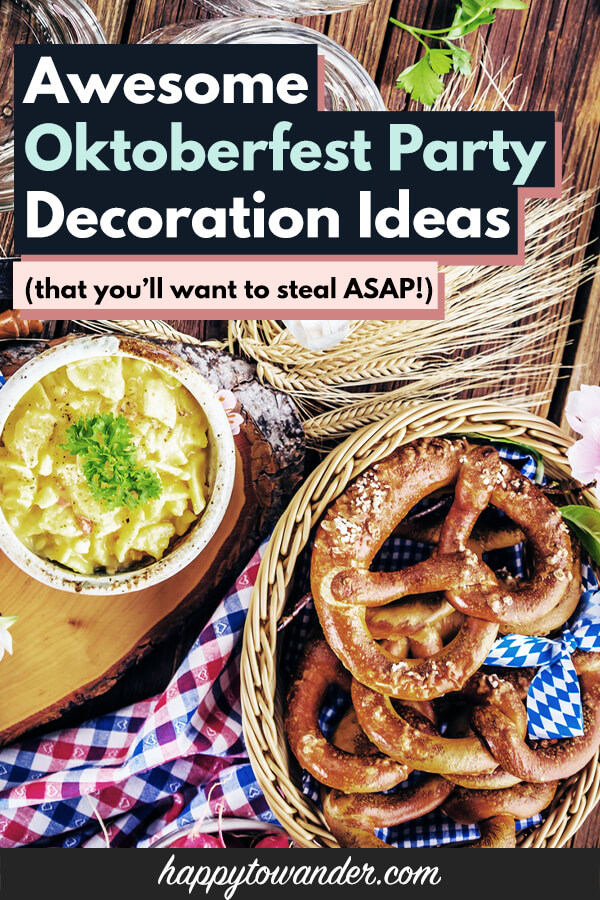 IDEAS FOR "AUTHENTIC" OKTOBERFEST PARTY Decor
First thing's first, I should note that the ideas below are…… nothing like the real Oktoberfest.
The real Oktoberfest has dozens of tents, all with different decor, and 7+ million drunkies weaving through them, breaking things.
If you want an idea of what the Oktoberfest beer tents look like on the inside, here is my full list of Oktoberfest tents with photos and fun facts included.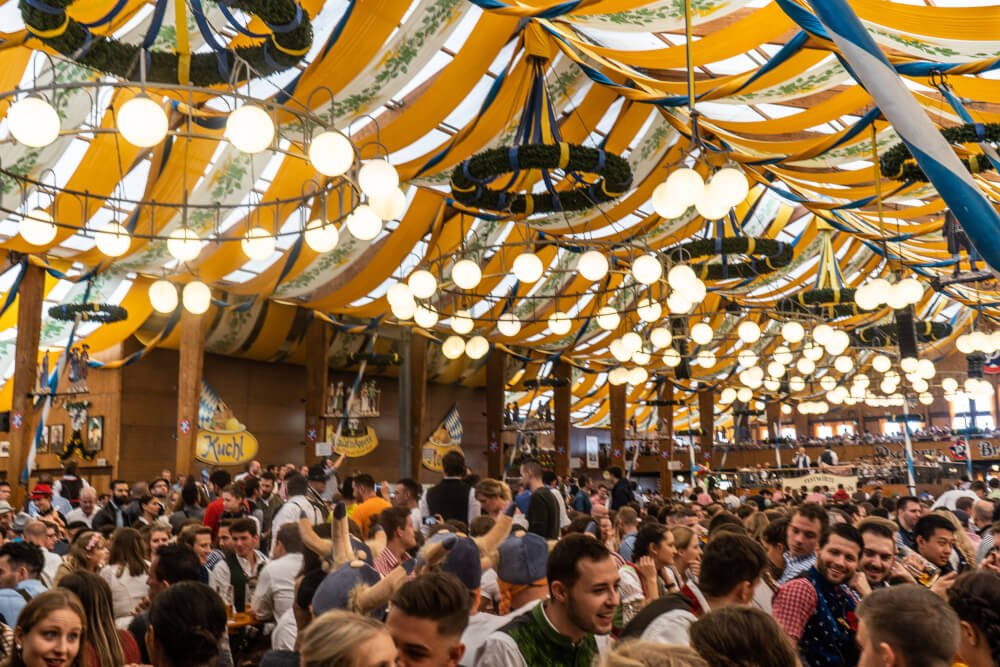 So, one decor approach (especially if you've been before and are hoping to recreate your Oktoberfest experience) is to go for this authentic Oktoberfest decor, with streamers à la your favourite tent of choice and minimalist wooden benches for seating. If that's what you're after, my friend Ashley has a great post for authentic Oktoberfest decor inspo here.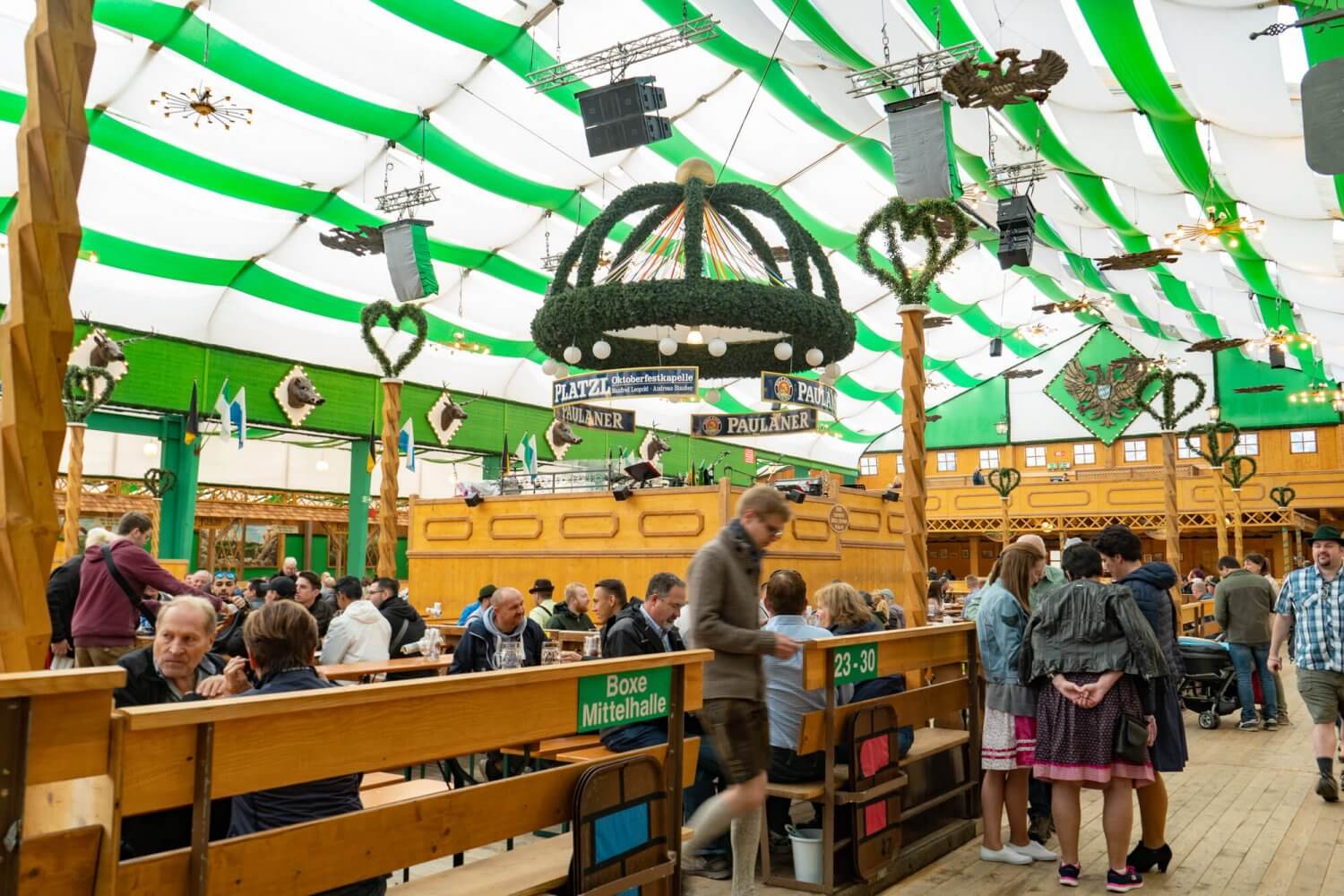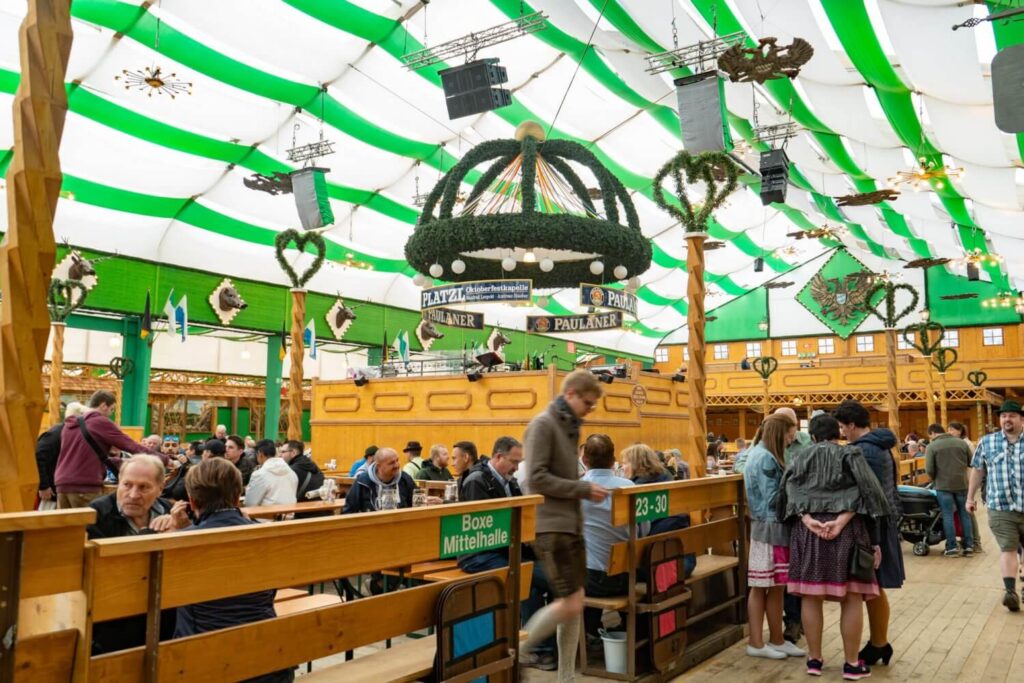 The other approach (because I loves me a bit of kitsch) is to go aggressively Pinterest.
I'd say this would be the route to go if you're hosting an Oktoberfest party for friends who have maybe never been to the real thing, and don't want to hear you drone on about "when I was at the real WIESN back in 2017…"
… No. They are not here for that. They are here to consume horrifying amounts of sausage and try on leather pants.
Anyways, if you want to throw a super fun Oktoberfest party with whimsically Bavarian decor to match, you'll find plenty of Pinteresting finds below.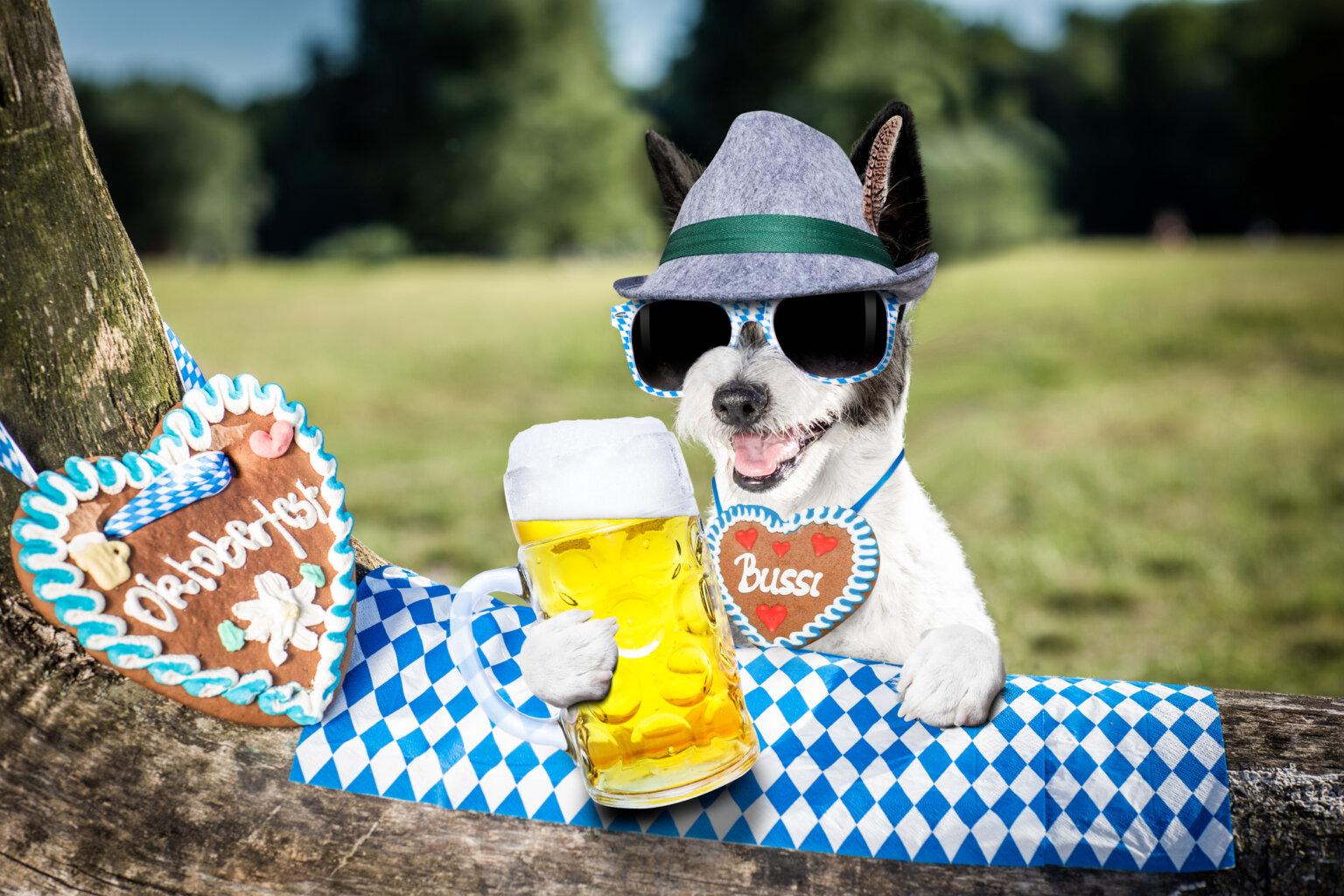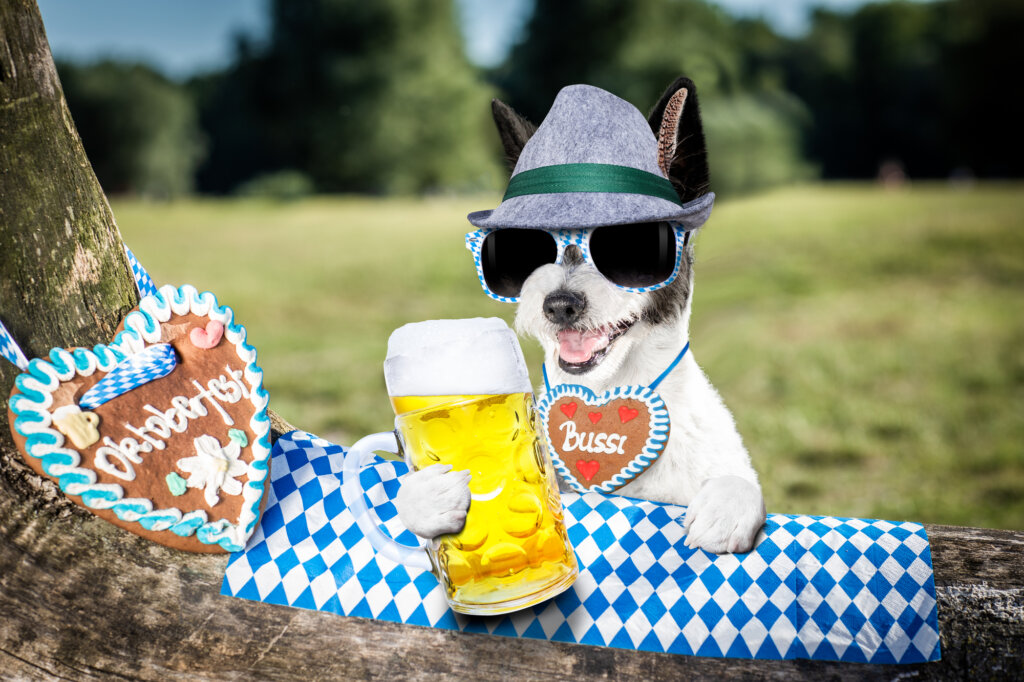 Oktoberfest Decor Ideas at a Glance
In a rush? Don't have time to scroll through all my frenzied Pinterest-fuelled decor suggestions? Here are some quick ideas and recommendations to get those ideas flowing.
Oktoberfest Wall & Ceiling Decor for a Classic Blue/White Bavaria Checkers Theme
Oktoberfest Wall & Ceiling Decor for a Rustic Autumn-y Theme
Oktoberfest Table Settings and Decor for a Classic Blue/White Bavaria Checkers Theme
Oktoberfest Table Settings and Decor for a Rustic Autumn-y Theme
Oktoberfest Photo Booth Ideas
Wall & Ceiling Oktoberfest Decor
Let's start with the big stuff: the wall and ceiling decor for your Oktoberfest party! Getting these right is important because they completely control the overall ~ vibe ~ and ~ atmosphere ~ of your party.
Whether you're going for a blue/white Bavarian theme or something more rustic and autumn-esque, here are some ideas for how to decorate your place for the perfect Oktoberfest party.
A big "Oktoberfest" banner
If you want to ensure all the guests of your party have a proper welcome, then this huge Oktoberfest banner will likely fit the bill.
Best of all, it comes in a set with a 65ft pennant banner and balloons, which makes it an easy and affordable way to get tons of Oktoberfest decorations in one swoop.
Cute Handheld Bavarian Flags
Another easy and fun decoration idea for your Oktoberfest party is to get plenty of Bavarian flags. As a bonus, guests can keep them as a little memento/party favour.
This pack comes with 72 – more than enough for all your guests and to deck out your party venue!
Oktoberfesty Pennant Banners
Another Oktoberfest decor idea is to deck your ceilings/walls with cute pennant banners.
There are loads of options for these online, like this very cheap set that comes with almost 200ft worth of banners.
Feel like that's too much? The good thing about these is you can also reuse them next year, or just for funsies whenever you want to get into an Oktoberfest mood.
Fun Oktoberfest-Inspired Hanging Decorations
For a cutesy cartoony feel with minimal effort, a set of adorable Oktoberfest decorations like these would be a great timesaver.
Not only are they double-sided, they also come pre-strung which means you can quickly hang them up and focus on more important things (like what Oktoberfest drinks to guzzle down!)
A Fun Pretzel Banner
Think the whole Bavarian flag theme might be too 'in your face'? Well, why not mix things up with a cute pretzel banner instead?
I love the look of this one, which you can buy from Etsy.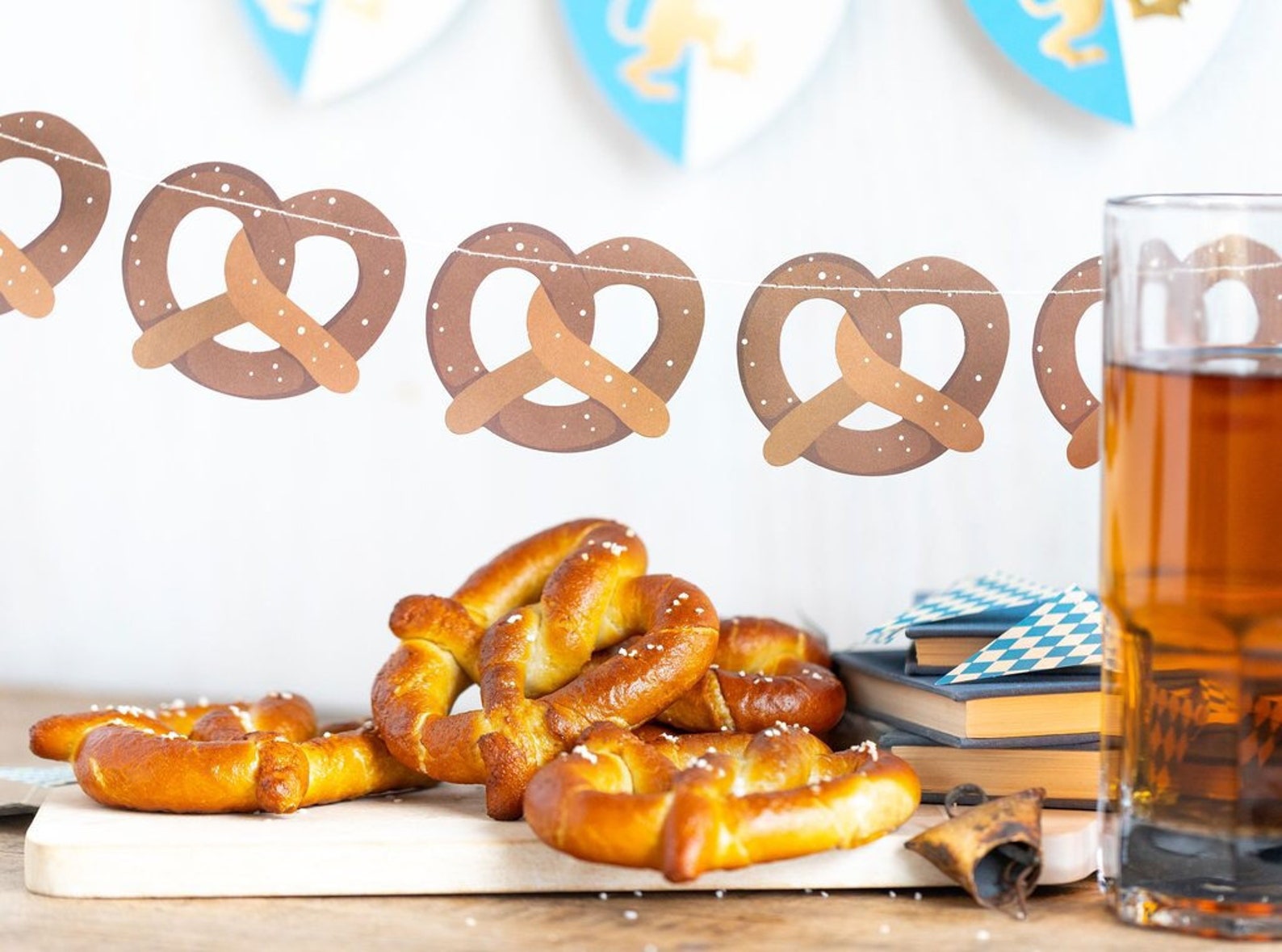 A Giant Inflatable Pretzel
For an Oktoberfest decoration that also has a practical purpose after, consider buying an inflatable pretzel as decor….. and then bringing it to every beach trip thereafter.
I used to have this one before I accidentally popped it while trying to float at a lake (sure sign of needing to lose weight) and it is SO cute, many shops in Munich actually use them for store decorations.
I can imagine it looking really cute on the wall, maybe behind a delicious Oktoberfest buffet spread. What do you think?
Tissue streamers
Again, if you're going for a more "authentic" look with your Oktoberfest, consider simply lining your ceiling with tissue streamers that represent your tent of choice.
You can get them in all sorts of colours for relatively cheap, like this jumbo pack with blue colours.
Fake hops
Many Oktoberfest tents make use of greenery to spruce up the atmosphere a bit, and a popular choice is hops! While procuring fresh hops for your party might seem a bit over the the top, you can actually get some pretty convincing artificial ones online like these.
No doubt, a few bundles of these would make a nice little earthy addition to your Oktoberfest decorations, especially if you're going for more of a rustic Autumn theme.
A Rustic Pretzel Wall
"Donut walls" like these are all the rage at weddings these days, but why not implement a Pretzel Wall instead for your Oktoberfest party?
The concept is simple: a wooden board that you hang pretzels from. This would be the perfect addition to a rustic autumny Oktoberfest party, and I imagine it wouldn't be too difficult to DIY. Of course, the easiest option would just be to buy a premade one, like so: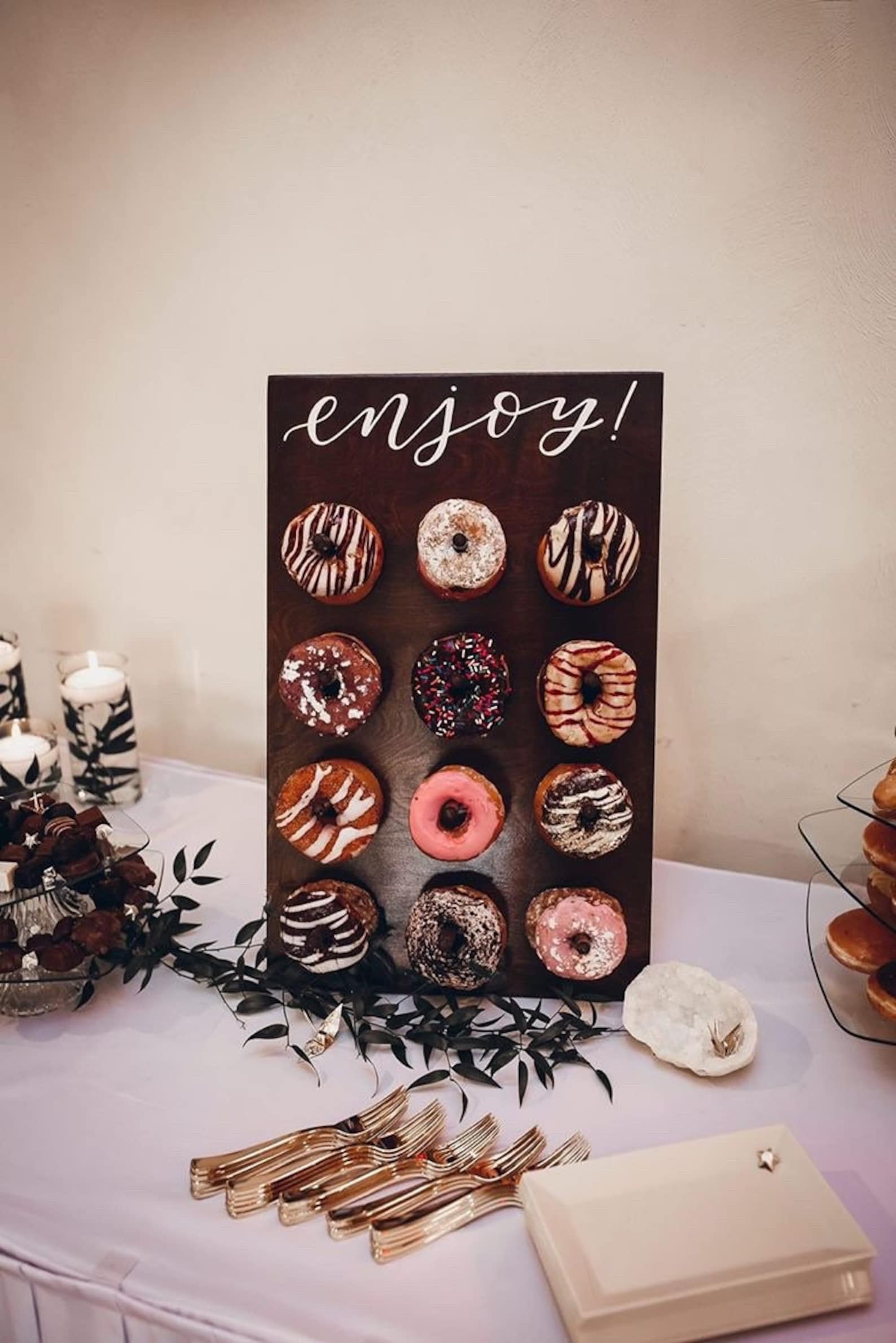 String Lights
Lastly, no matter which Oktoberfest decor style you're going for, one must-buy is string lights! One of the best defining features of Oktoberfest tents is they're undeniably gemütlich, which means cozy.
One of the best ways to emulate gemütlichkeit at your own Oktoberfest party? Mood lighting!
Something like this would be perfect, or in a pinch fairy lights like these would also add to the cozy ambiance.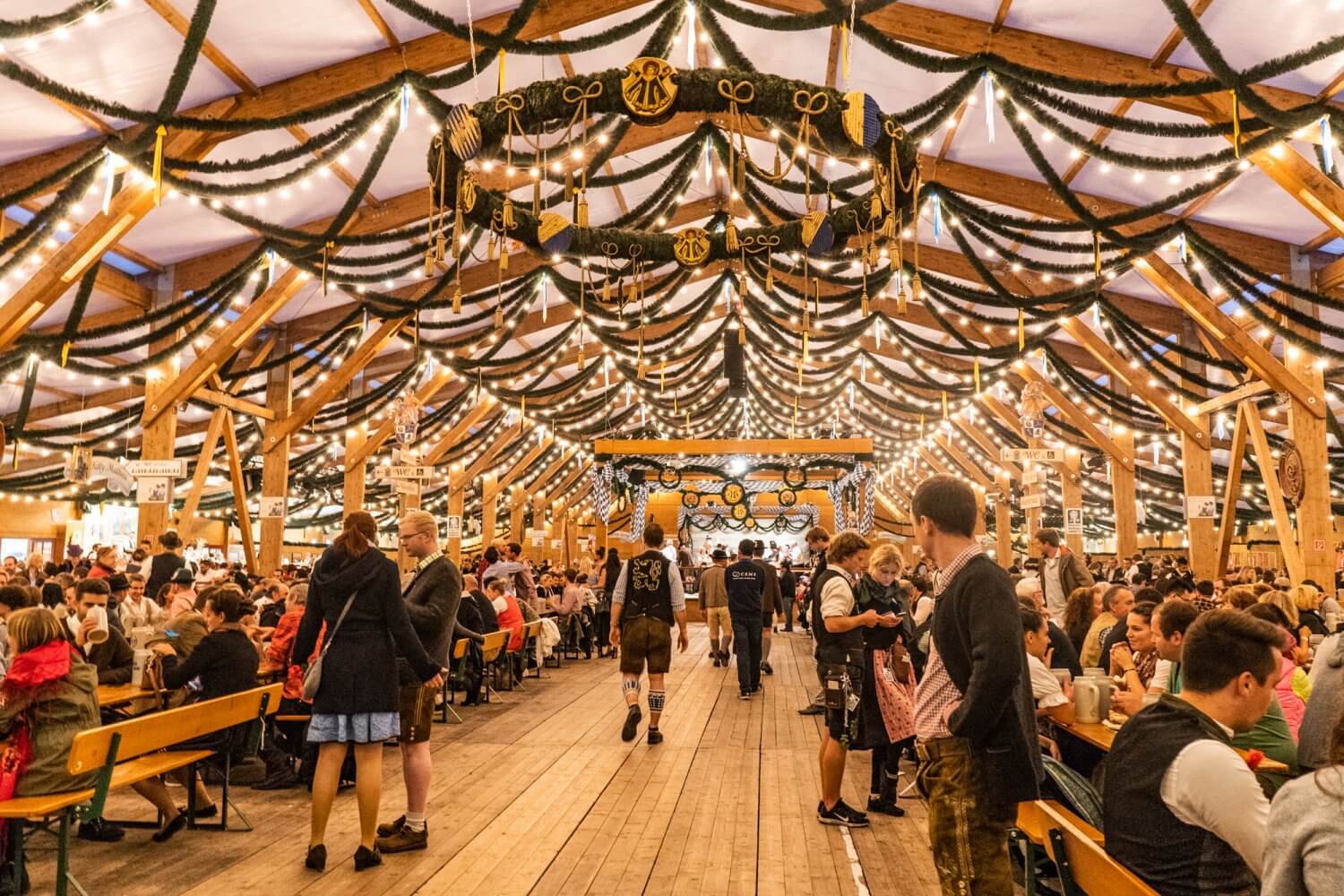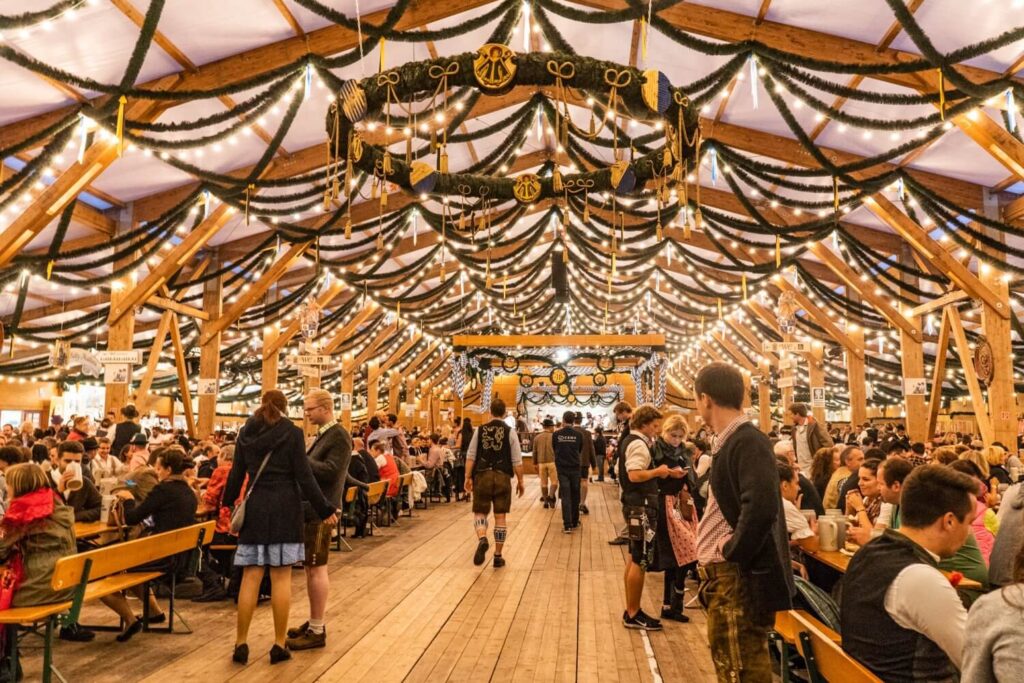 Oktoberfest-Themed Table Settings & Decor
Next up: table settings! How can you keep the Oktoberfest theme going with your table/food decor? Here are some ideas. Again, I have some options for the cartoony blue/white Oktoberfest theme as well as more rustic and elegant ideas.
Oktoberfesty Bavarian Flag Tabelcloths
The quickest way to deck your tables in all kinds of Bavarian goodness? Tablecloths!
Luckily, you can buy them for cheap. These blue & white Bavarian checkered tablecloths would be perfect for the occasion, and reusable too for future celebrations.
Oktoberfest Cocktail Picks
One of the easiest ways to add a festive Oktoberfest touch to any of the party foods you prepare is to put these adorable Bavarian flag cocktail picks in them. This would work especially well for small appetizers.
Looking for a good deal? This cheap 100 pack will be more than enough.
Oktoberfesty Plates and Napkins
While I fully acknowledge that the blue and white checkered theme might be quickly getting out of control here, I'll also suggest themed plates/napkins!
There are loads of cheap sets that you can get with everything included, like this one.
Yes, we're fully committing to this.
Fun Oktoberfest-themed Centerpieces
And in the name of 100% commitment, no Oktoberfest table setting is complete without some fun touches and centerpieces.
There are lots of different options if you're going with the classic blue and white theme/colour scheme. Here are a few:
These fun cardboard cut-outs that you can put in Maß for easy centerpieces
These fun Stein themed centerpieces
These cheery blue/white Oktoberfest signs
Plenty of Steins
Whether you call it a Stein or a Maß like they do in Bavaria, one of the most iconic symbols of German drinking culture are these bad boys. For one of the most versatile Oktoberfest decorations you can get, make sure to stock up on a few of them.
What would you do with them? Well, you could easily use them as vases and put some cute floral arrangements in them, or simply use them as a vessel for other decorative elements like the fun signs pictured above. If you're feeling like a particularly generous host, you can also fill them with little goodies so that guests can take them home as party favours afterwards.
These glass ones are the ones that are used at the real Oktoberfest.
A "Wooden" Table Cloth
All the benches at Oktoberfest are wooden, so if you want to emulate this earthy feel a bit more, then you can easily get a fun tablecloth for cheap that has a wooden print. This one for example is super affordable and has loads of great reviews.
Dim the lights a little and nobody will be able to tell the difference ; ) Especially if there is a delicious Oktoberfeast in front of them!
Wooden Accents
For a more rustic Oktoberfest vibe, one crucial design element (in lieu of aggressive blue/white checkers) is wood! Wooden accents can make all the difference in classing up your Oktoberfest party, so definitely consider getting a few packs of the following:
Unfinished wood slices like these for centerpieces and decorating
Wooden stump placecard holders like these
A Burlap Table Runner
A must if you're going with a rustic Oktoberfest decor theme! One like this would be perfect.
Oktoberfest Photo Booth Ideas
Are photo booths ridiculously cheesy? Yes.
But are photo booths fun? Also yes.
If you want to add an Oktoberfesty photo booth as an easy activity for all your guests, then here are some ideas…
Fun Oktoberfest photo booth backdrop + props
If you want a full DIY photo booth set up, all you need is a nice backdrop like this, some props like these, and a tripod + camera (or even a phone would work these days).
Boom – job done!
Looking for a last minute option? These photo booth props are printable!
An Oktoberfest-themed frame for photos
This is a super simple idea but one that you could use in a pinch that's still a lot of fun.
Instead of providing a full-on photo booth, you can just get a large frame that guests can use for cute photos. This one is even printable!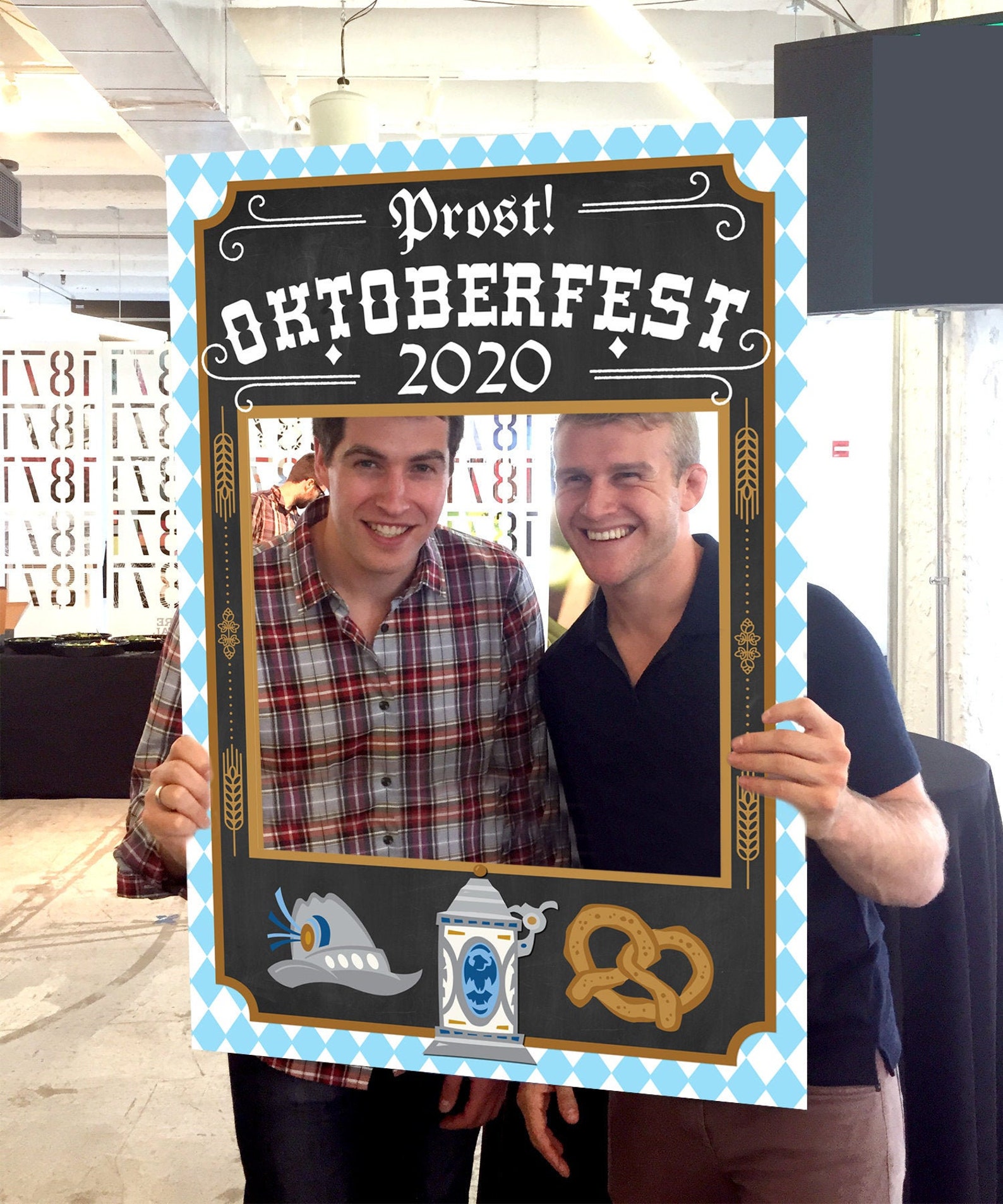 An Oktoberfest "face in hole" photo opp
This last one is the cheesiest of the cheese, but I still love it. I never realized how easily and cheaply you could buy one of these!
Here's an example of one that guests are sure to love.
BONUS: Oktoberfest Party Favours
Party favours are one of the topics I cover in my full Oktoberfest party planning guide here, but if you're strategic with them, your party favours can become a great part of your decor too! Here are some ideas for that.
FUN OKTOBERFEST GLUPPERL
Wooden clothespins with special names/designs on them are known as Glupperl and they're commonly seen at Oktoberfest.
One great way to incorporate these into your Oktoberfest party decor is to have them hanging from a garland or something near the entrance when guests come in. That way, guests can find their own and it's a nice decorative ice breaker!
Best of all, this is a super easy one to DIY – just get some wooden clothespins and a dark brown Sharpie.
Personalized ones can also be found easily on Etsy. Click here to browse prices and reviews.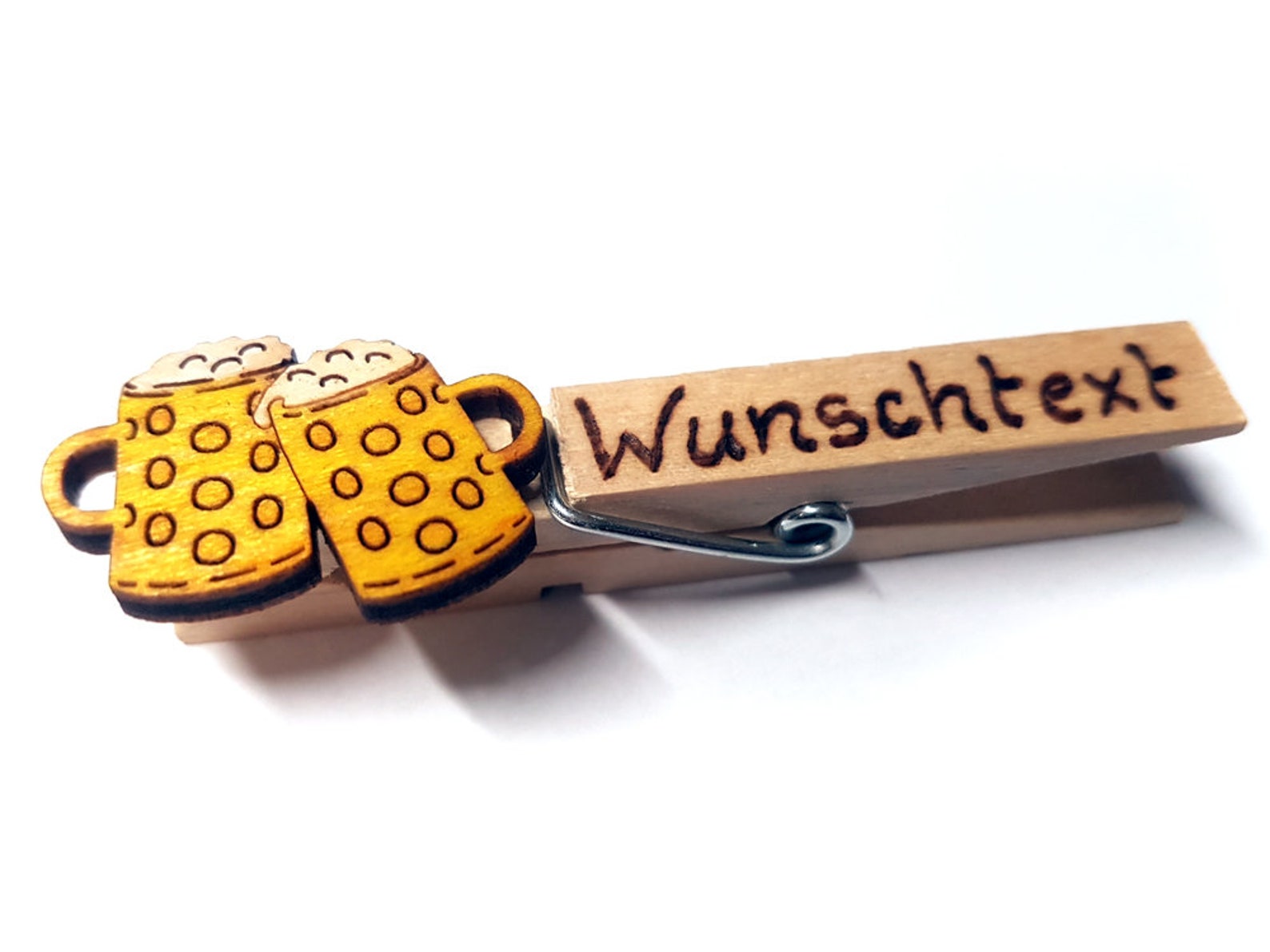 GINGERBREAD HEART BADGES
Another fun keepsake for guests would be these badges made to look like classic Oktoberfest gingerbread hearts.
There are tons of options with regards to how you can prettily display them, but even laid out on a table, these would look adorable! You could also string them up and hang them around the room so that guests have to find theirs. The possibilities are really endless.
Click here to browse prices and reviews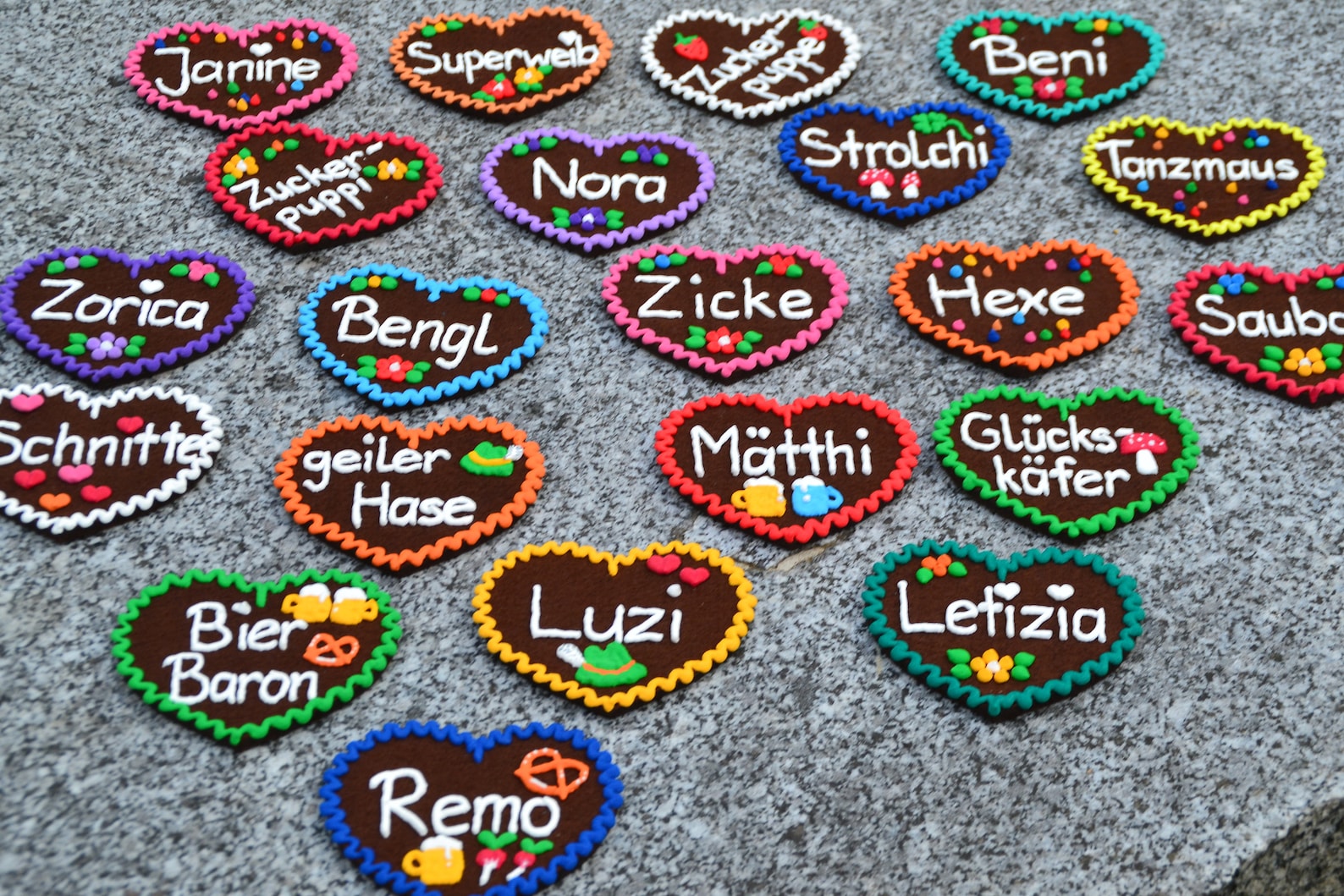 DIRNDL AND LEDERHOSEN-WEARING RUBBER DUCKIES
Want a truly adorable Oktoberfest party favour for all your guests? This set comes with rubber duckies wearing dirndls and lederhosen, plus stickers.
You can easily incorporate these into your centrepieces or have them laying around (with names written on the bottom, perhaps?) so that guests can find them and bring them home!
Any more ideas for Oktoberfest Party Decor?
I'm all ears! Let me know in the comments how you'd like to decorate your own Oktoberfest party. I hope these ideas were at least helpful though to get the ideas following. Hope you have a great time!