*FYI - this post may contain affiliate links, which means we earn a commission at no extra cost to you if you purchase from them. Also, as an Amazon Associate I earn from qualifying purchases. Check out our Privacy Policy and Disclosure. for more info.
If you're on the hunt for tasty Oktoberfest appetizers to serve at your own awesome party, I'm glad you're here, because I'd love an invite.
… Or, okay. Semi-kidding. I'm glad you're here, because this post is here to help.
As a Munich local for the past few years, an ardent Oktoberfest fan girl, and of course, a shameless snack enthusiast, putting this post together was kind of my calling.
Well, this and my post about the best Oktoberfest puns, I guess.
So, below you'll find plenty of 'app'y hour inspiration for your Oktoberfest party, from authentic Bavarian dishes to fun Oktoberfest-themed starters that everyone will love.
Need more inspo? You can check out my full Oktoberfest party planning guide here!
Save this post for later on Pinterest: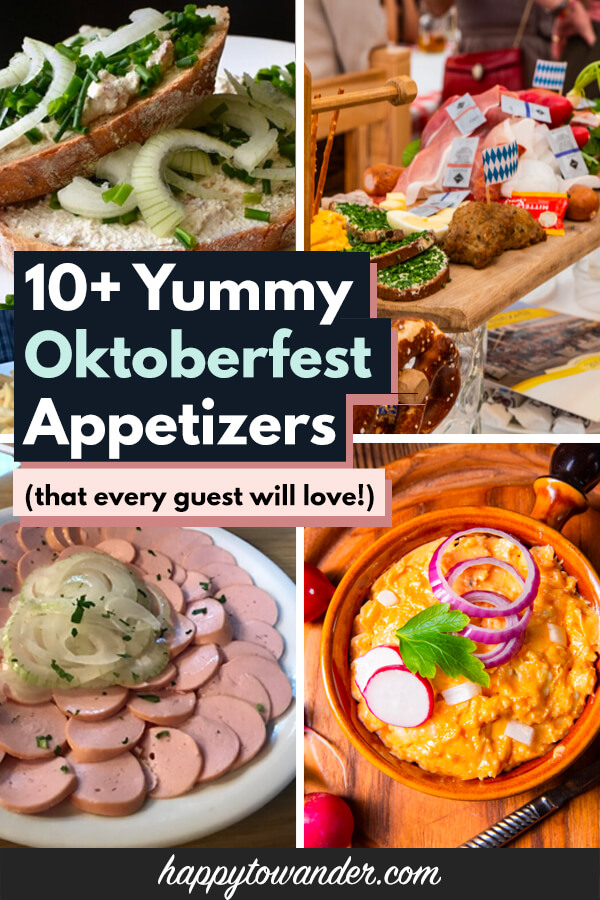 Looking for more oktoberfest Menu help?
The post below simply details appetizers. I know – I like to be thorough,.
If you want a rundown of other amazing Oktoberfest recipes to try for side dishes, main courses and desserts, click here for my full Oktoberfest menu guide.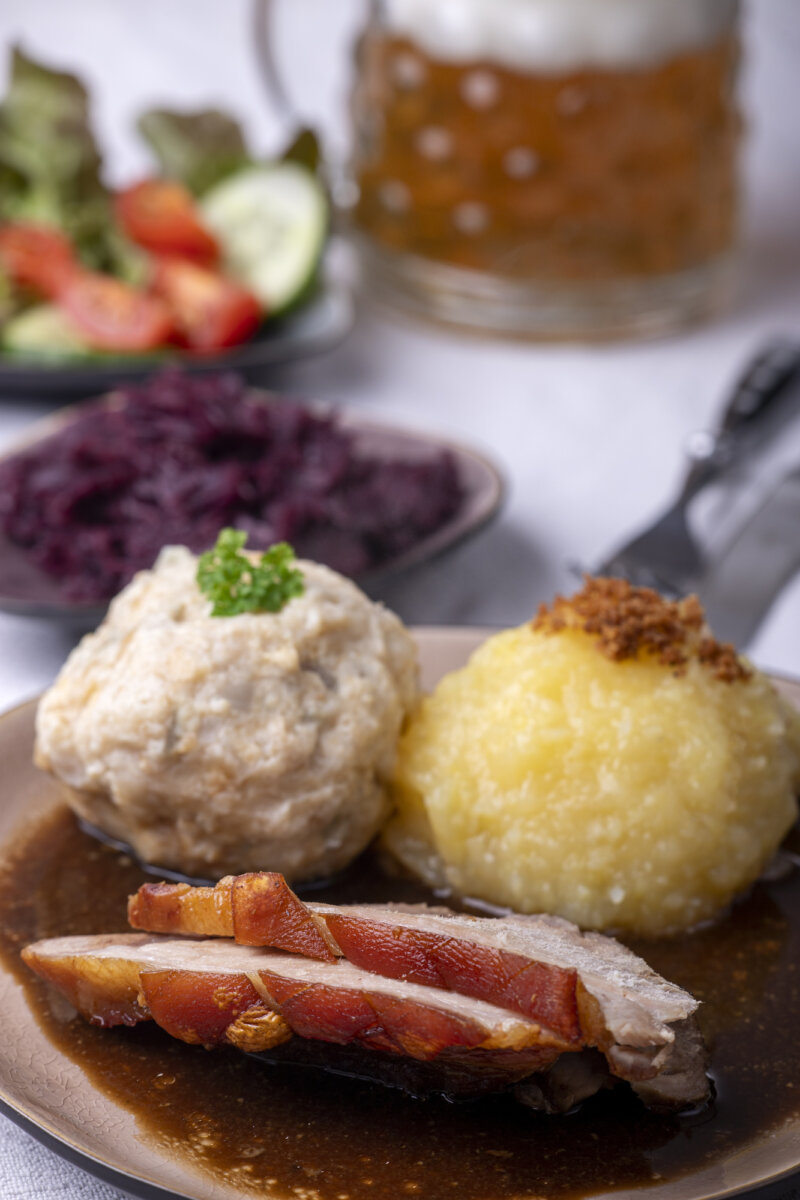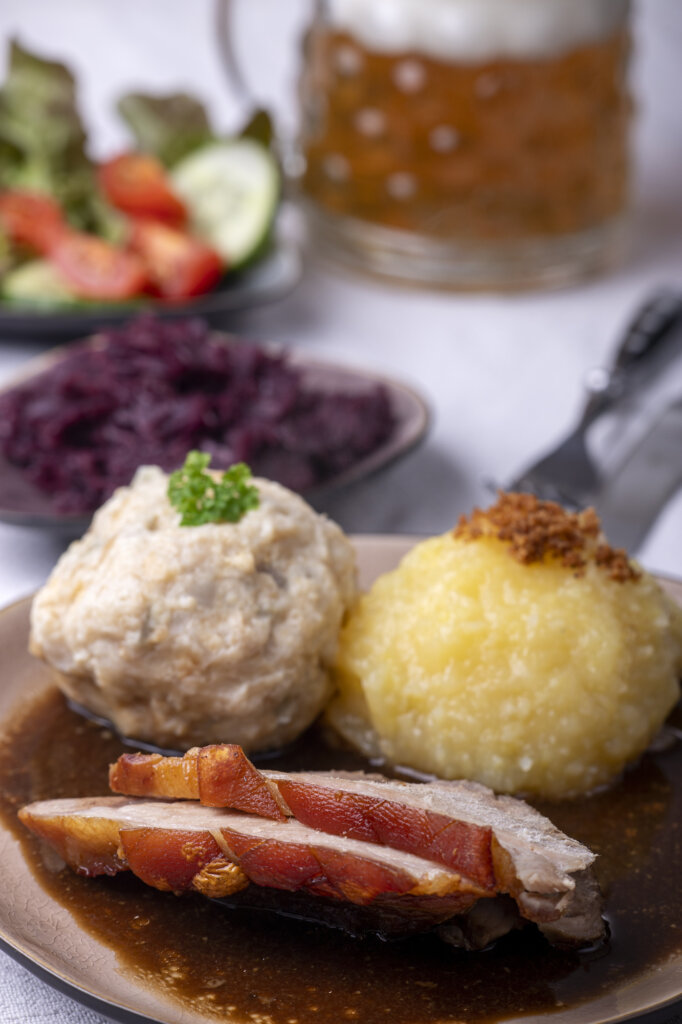 The Best Authentic Oktoberfest Party Appetizers
If you want Oktoberfest appetizers that mimic the real stuff they usually serve at the real Oktoberfest in Munich, here are some ideas.
Each of these are dishes you'll commonly find in Bavaria (and on pretty much every Oktoberfest tent's menus), so they are definitely your best bet if the aim of your party is authenticity.
A Brotzeit Platter
Brotzeit is one of my favourite things about Bavaria.
It literally translates to "bread time" and refers to a snack that's consumed between meals, often at a beer garden or restaurant.
Anyways, at Oktoberfest, Brotzeit platters are hefty no non-sense charcuterie platters that include various meats, spreads, pickles, radishes, onions, cheese, and other goodies, consumed in conjunction with a doughy pretzel or dense slices of bread.
So, one of the easiest and most authentic Oktoberfest appetizers you can prepare is a Brotzeit platter of your own.
Here are some ideas of what to include:
Rye sourdough bread, preferably seasoned w/ caraway seeds (they call this farmer's bread, or Bauernbrot)
Chive bread (Schnittlauchbrot)
Hams and cold cuts
Sliced Bavarian cheese
Radishes, gherkins, tomatoes
Leberwurst (liver sausage)
Smoked bratwurst
"Potato cheese", a potato spread (Kartoffelkäse)
Lettuce (usually as a little "mat" for other goods)
Obatzda (more on this below)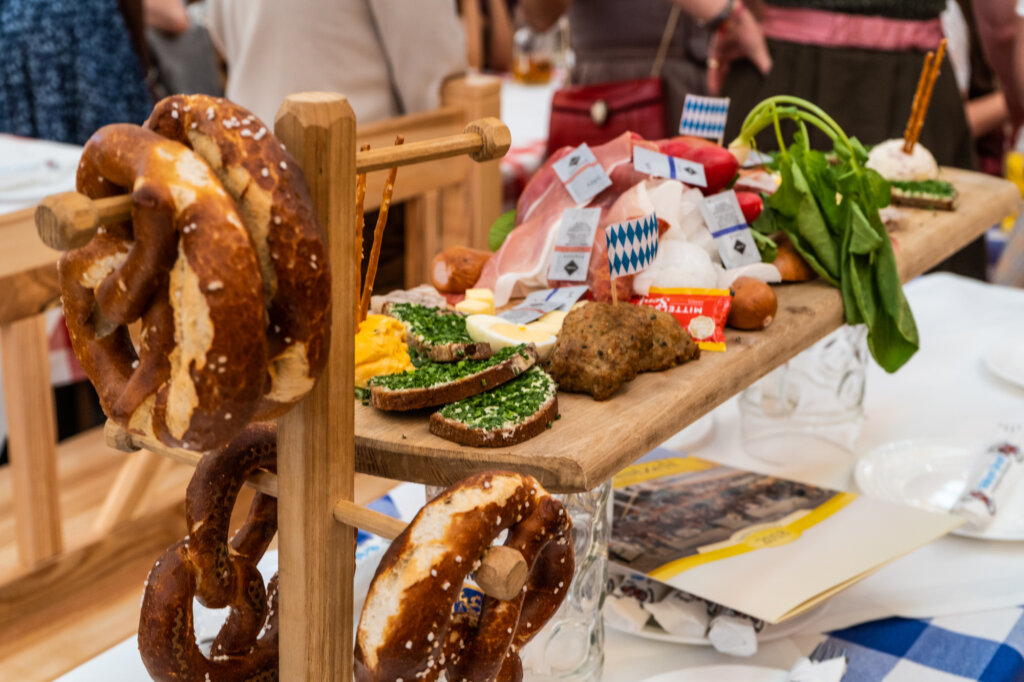 Obatzda
Obatzda is an amazing Bavarian soft cheese spread that's made up of soft cheese (usually camembert), butter, paprika, and a bunch of other tasty spices. Of course, it's best consumed with a big pretzel!
Truly, you can't have a Brotzeit platter without Obatzda, but if you're looking for an Oktoberfest appetizer idea that's less of a commitment than an entire platter, then making a giant vat of Obatzda and plopping it on the table with soft pretzels is an excellent choice.
Not only is this a super authentic Oktoberfest appetizer, but it's also one you'll see being eaten at every beer garden and picnic. Bavarians love Obatzda, and after trying it yourself, you'll soon see why!
Here's a recipe you can follow.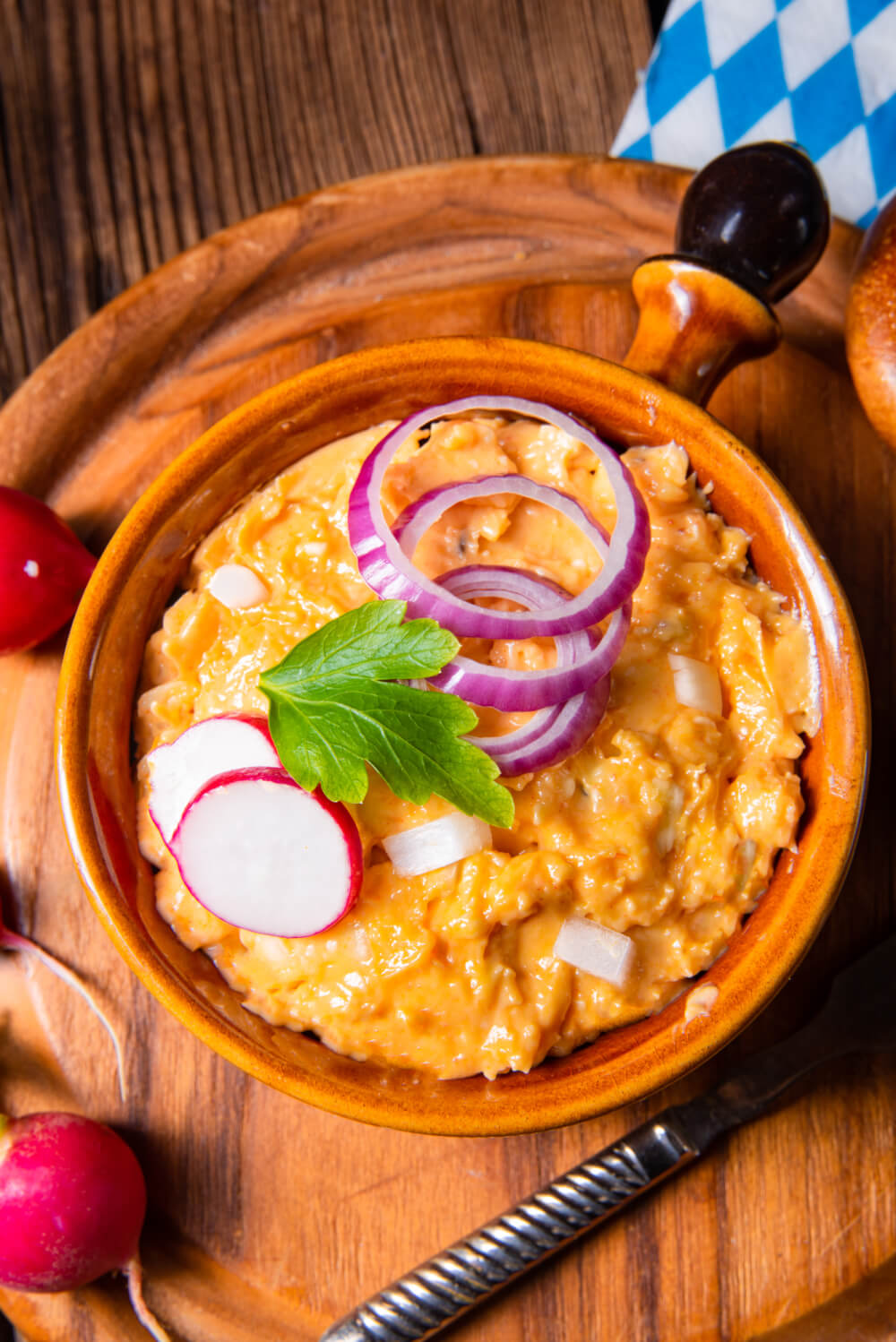 Traditional Soft Pretzels
As I've likely made clear above, you can't have Oktoberfest without pretzels!
If you're feeling ambitious and want to make some soft pretzels from scratch, then here's a great recipe from Bake or Bust that make amazing pretzels that are golden on the outside and fluffy on the inside.
Click here for the recipe!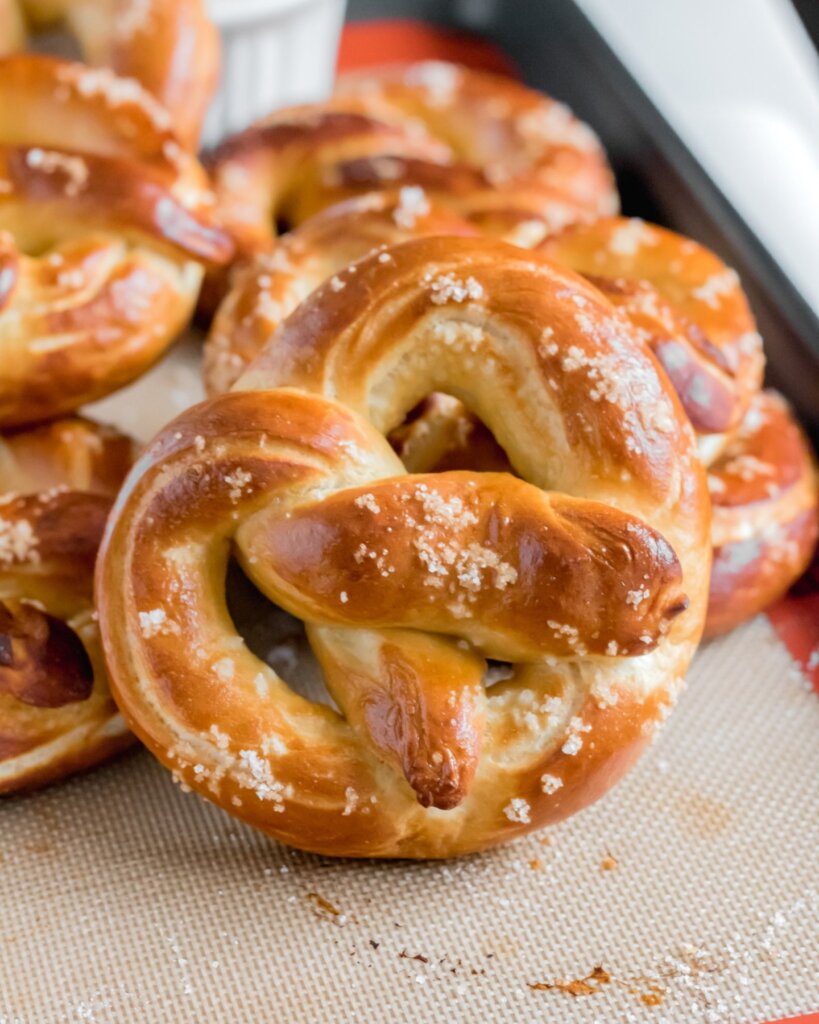 Assorted Bavarian "Brot"
I'm sure you're sensing the theme by now that bread is a big deal in Bavaria… and indeed it is.
In fact, across Germany, there are apparently over 3,200 officially recognized types of bread. That's… a lot.
So, if you want an easy appetizer that you can prepare in advance, why not make a sampler of various Bavarian "brot" decked in spreads? You can think of it as toast… but untoasted, like little open face sandwiches.
To put things more simply: you smear things on bread, plop it on a plate, and your work is done. Sound easy enough? Here are some ideas:
Leberkäse Brot: A bologna-like meat loaf on bread
Radibrot: Radishes on (buttered) bread
Schnittlauchbrot: Chives on bread commonly topped with butter or quark, and sometimes also with onions and radishes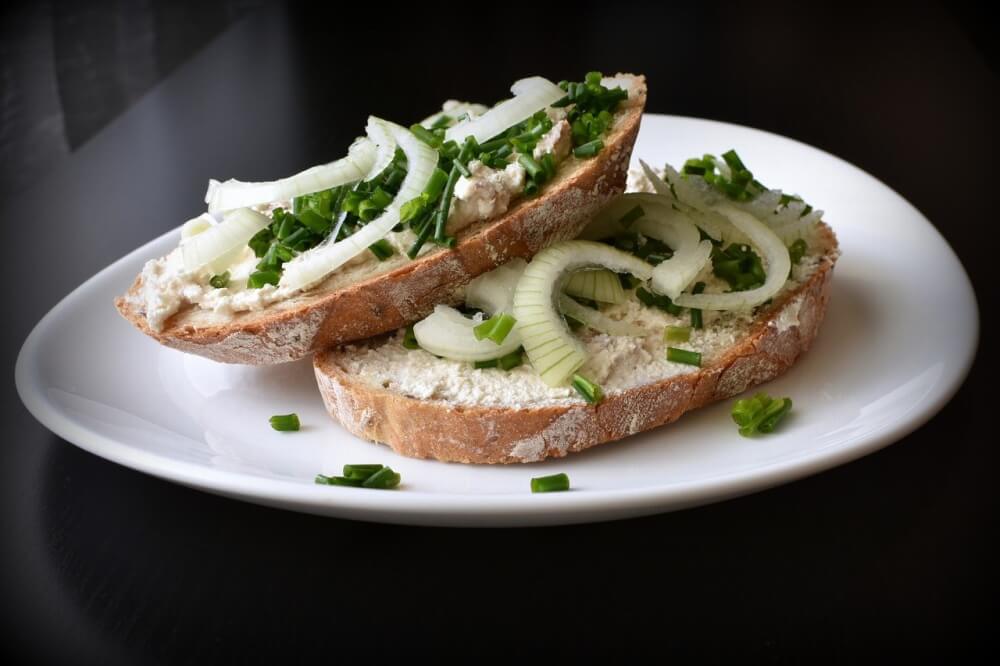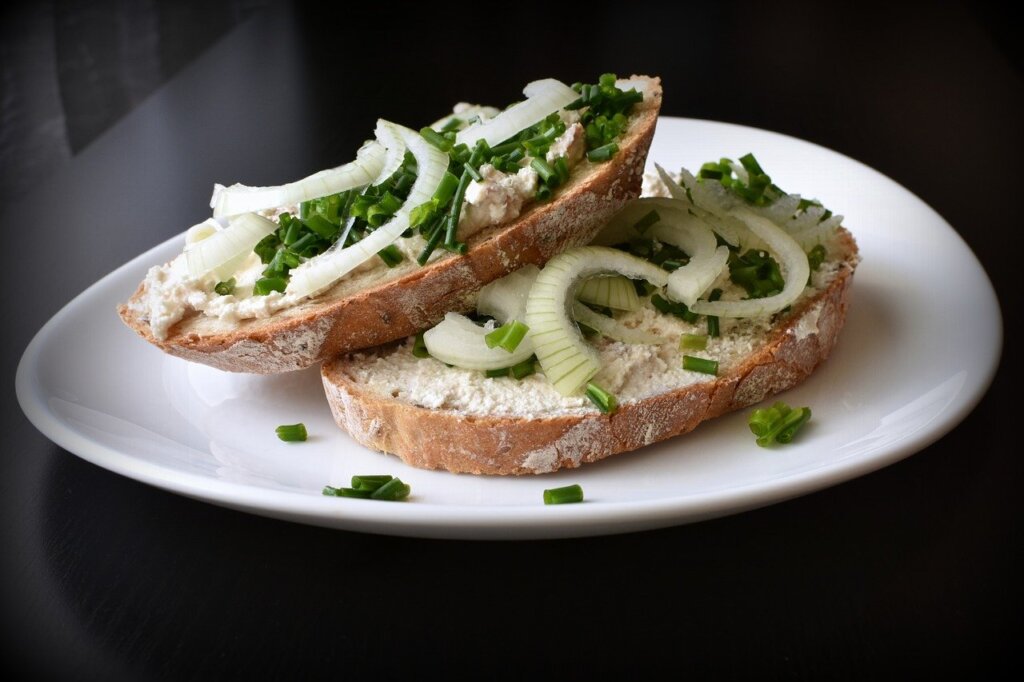 Pancake Soup (AKA Pfannkuchensuppe or Flädlesuppe)
I know this sounds weird, but it's savoury, and no maple syrup is involved.
Pancake soup is a very common dish served in Bavaria as a very light appetizer – it's essentially just a clear broth with strips of pancake in it, but it's really tasty and a nice way to start your meal.
If you're organizing a sit-down Oktoberfest feast, then this would be a delightful starter for all the heavy main courses to come.
Here is a recipe you can follow.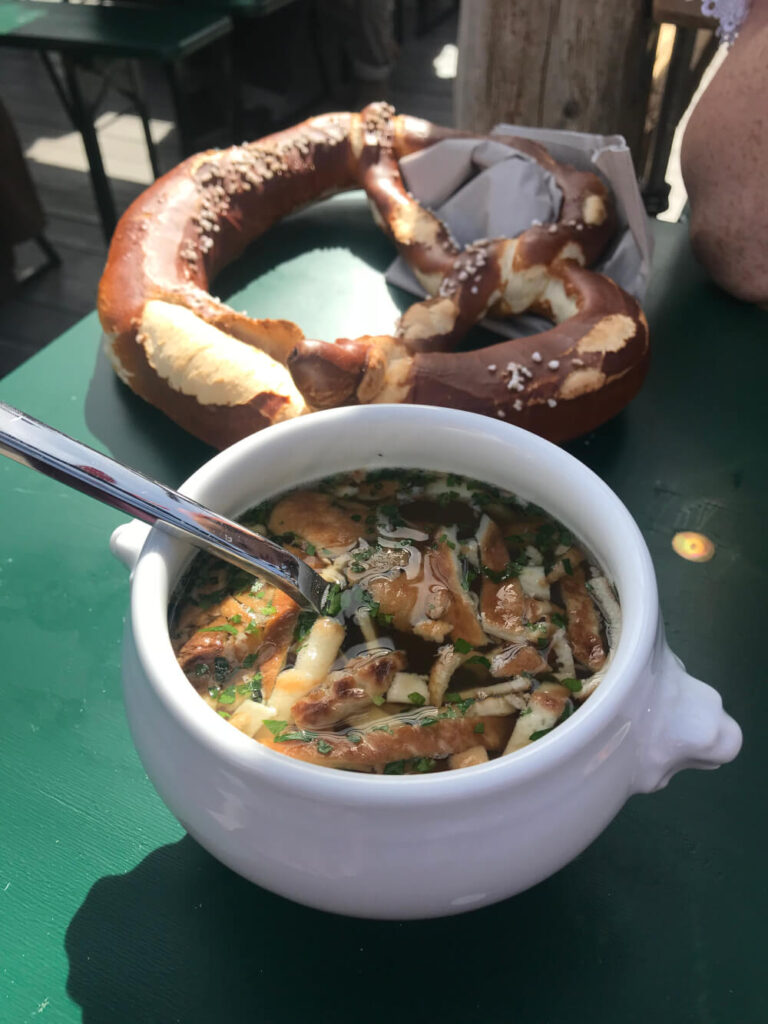 Bavarian Beef Goulash (AKA Bayrisches Rindsgulasch)
Goulash is a meat stew consumed commonly in Central Europe, with fun regional variations in pretty much every country. Unsurprisingly, Bavaria has its own twist on goulash, too.
The ingredients are simple, usually consisting of fresh beef, onions, paprika, mustard, spices and a special ingredient: beer!
Here is a recipe you can follow.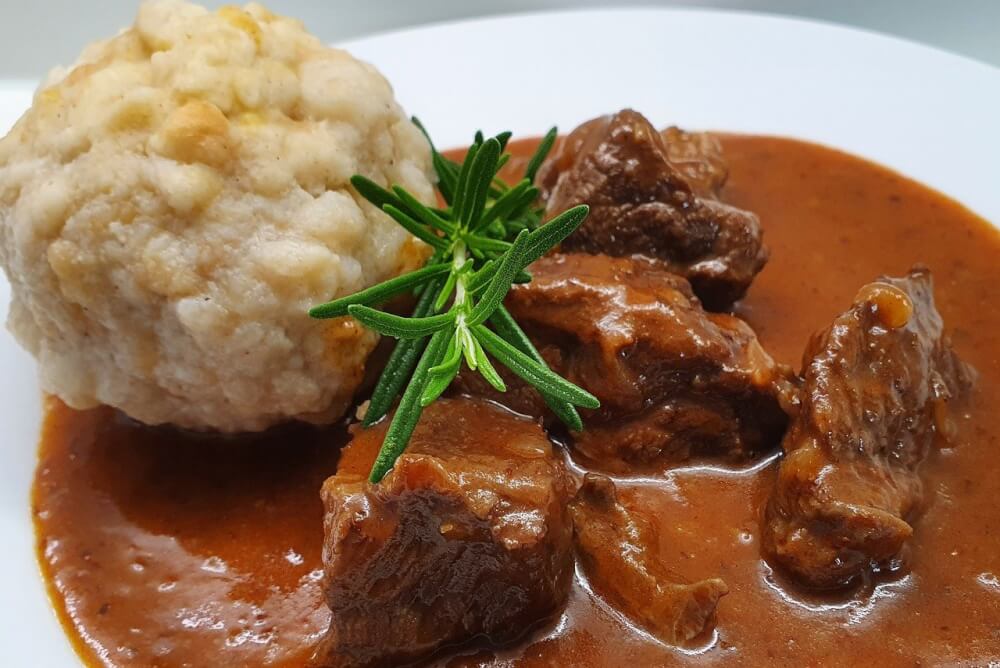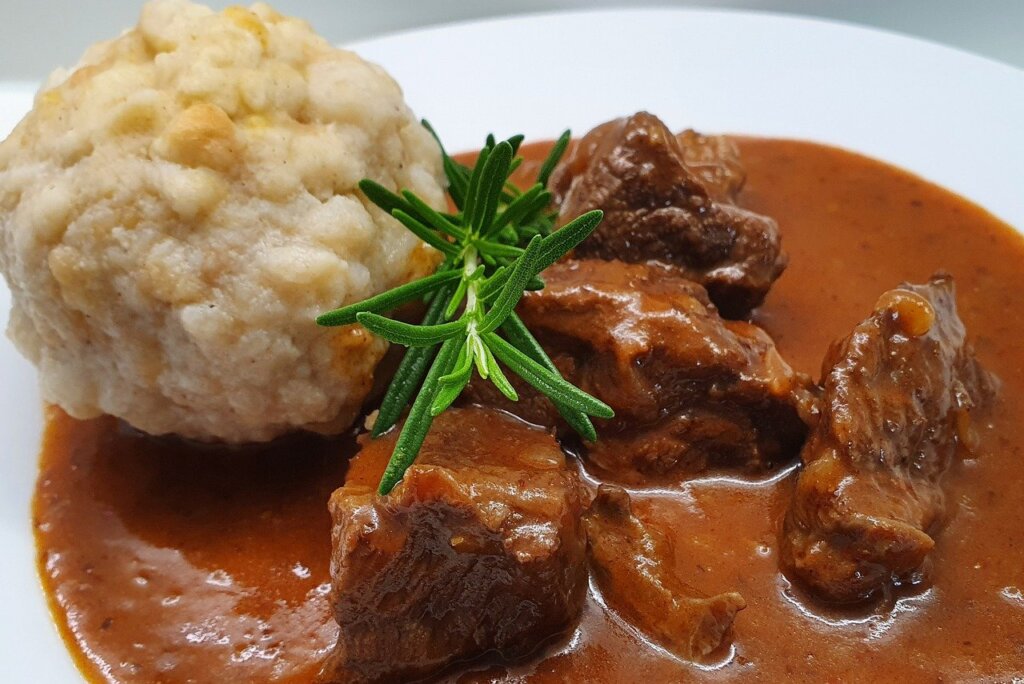 Liver Dumpling Soup (AKA Bayerische Leberknödelsuppe)
Liver dumplings are… just as they sound.
They're dumplings made up of liver (beef or pork depending on regional preference), mixed into a ball shape with bread, eggs and various spices. Gotta love the versatility of dumplings.
A very common appetizer that you'll see on every Oktoberfest menu is Leberknödelsuppe, which is essentially a few of these dumplings served in a light, clear broth.
Here is a recipe for it.
Salad
Wow, I know, not exactly the most revolutionary concept, but if you're looking for an Oktoberfest appetizer that won't clog everybody's calories, consider making up a green salad. While salads are (honestly) not a starring attraction at the gluttonous Oktoberfest, they do exist.
Bavarian salads tend to make their greens the star of the show. Feldsalat is especially popular (known as Lamb's Lettuce or Corn Salad abroad; recipe below), and then the rest is basically whatever fresh vegetables you can chop up! Red onions, radishes, tomatoes and cucumbers are common.
In terms of dressing, every salad I've had in Munich has been really lightly dressed with some kind of light oil or acidic vinaigrette, but I've heard sweet mustard makes for a tasty addition!
Now, if you want a truly Bavarian "salad", then this next Oktoberfest appetizer is for you…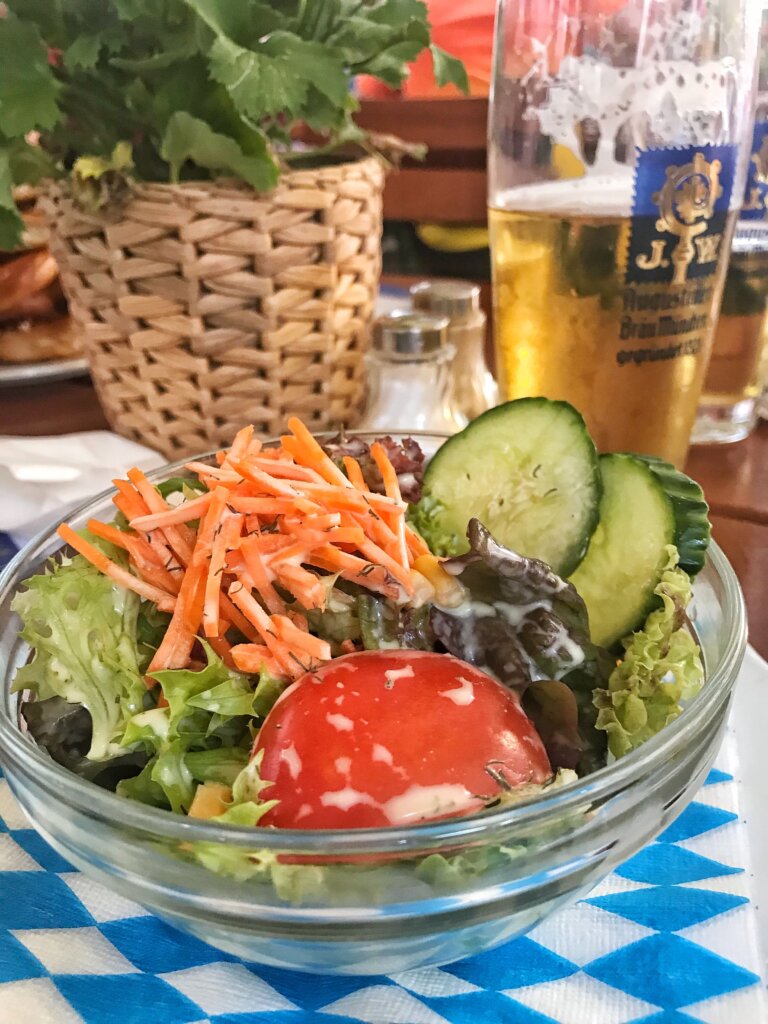 Sausage Salad (Wurstsalat)
Wurstsalat (literally sausage salad) is a popular beer garden/picnicking food and a very common appetizer served at Oktoberfest.
This tart mixture consists of sliced sausages, vinegar, oil, and onions… which is surprisingly tasty when all combined, and a very simple appetizer to prepare at home.
Here is a recipe you can follow.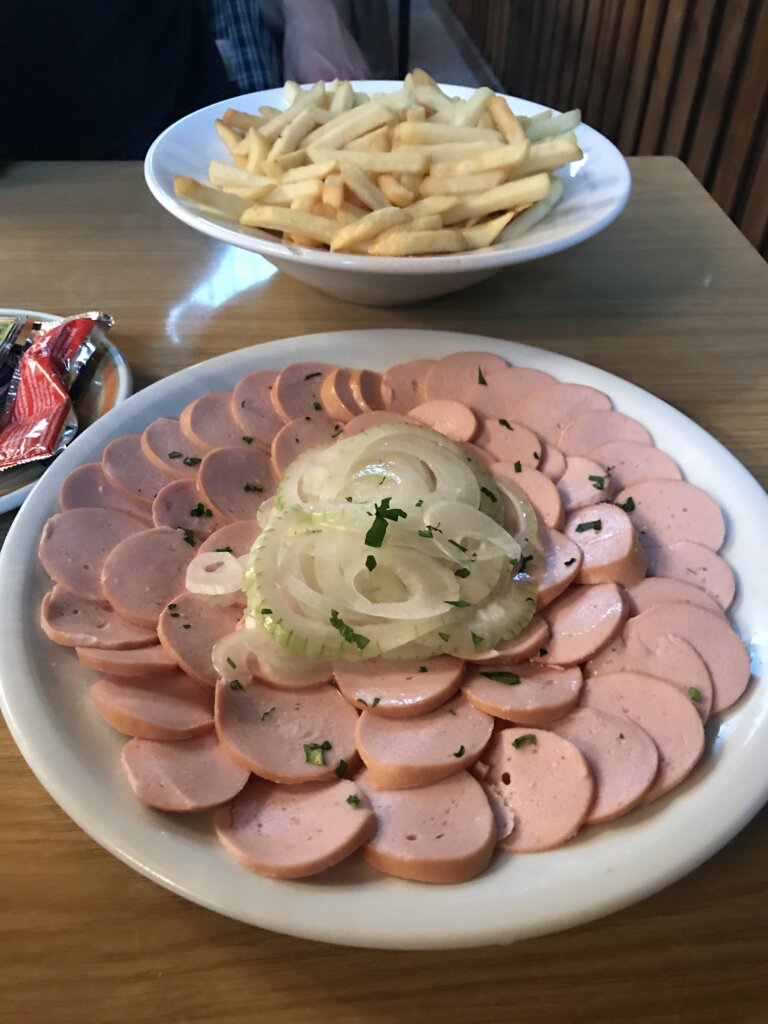 Sausages
Speaking of sausages, another easy appetizer idea for your Oktoberfest party is, of course, to just serve up some sausages! Sure, this can be saved for a main course, but as I mentioned before, anything can become a starter if you're just handy with your chopping skills…
As with bread, sausages are a big deal across Bavaria, with various types served in their own special way, and for their own particular purpose. Here are a few common sausages you'll find at Oktoberfest, and how to serve them as appetizers:
Weißwurst: White sausage – never to be eaten after 12pm! These are an acquired taste, but if you can find them, they are THE most Bavarian thing you could possibly serve. Serve them with some sweet mustard, pretzel and a wheat beer for a true Bavarian breakfast starter.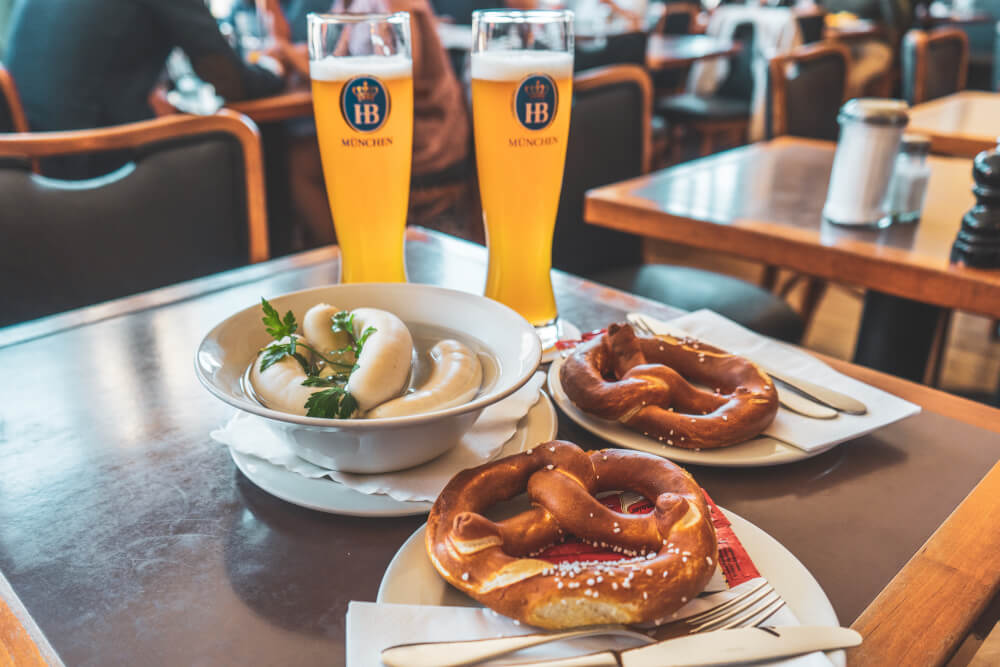 Nürnburger sausage: These tiny sausages come from Nuremberg, not Munich, but they're a common sight at Oktoberfest. They're perfect as appetizers because they're small, but they're commonly served "3 in a bun."
Consider an 'app'y take on this by slicing them up on little skewers, with bits of bread!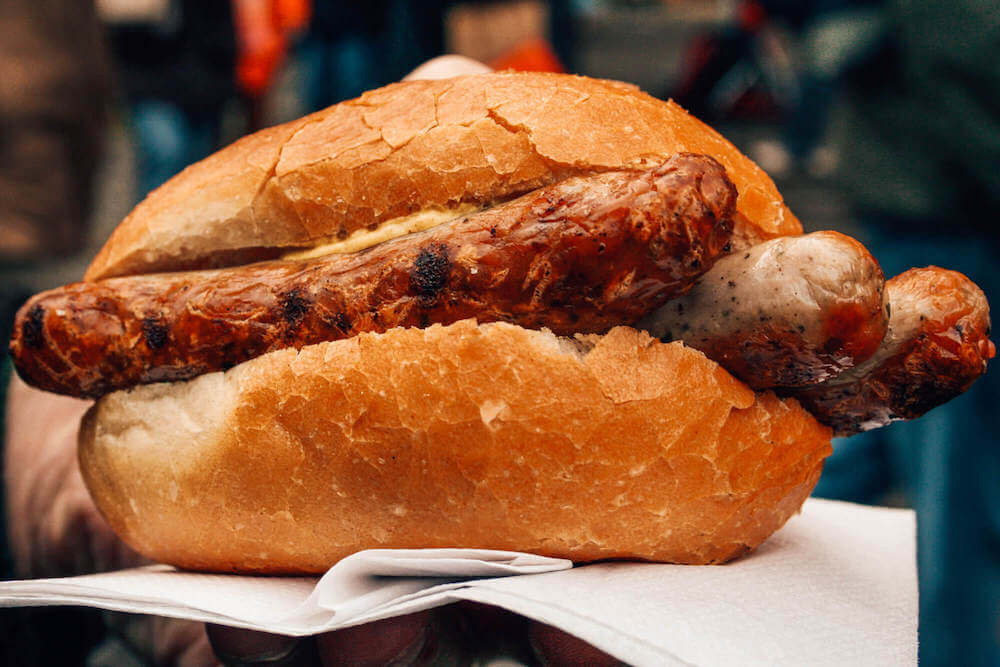 Currywurst: Currywurst is more of a Berliner thing, but it's so tasty and is served in every Oktoberfest tent these days. An easy one would be to just make mini currywurst skewers with sliced up sausage dipped in curry ketchup… and some potato wedges, if you're feeling fancy.
Currywurst + fries is a true Oktoberfest meal of champions!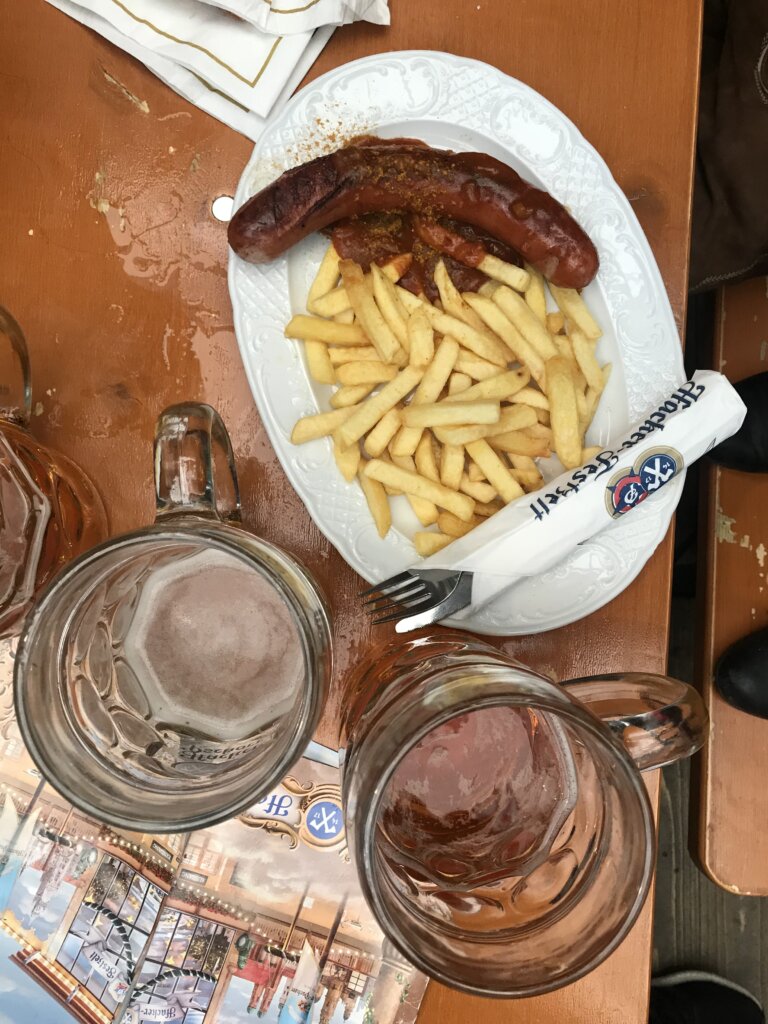 Käsekrainer: Sausage filled with cheese. Need we say more? This isn't a super Bavarian thing, but they're best sellers at some of Oktoberfest's sausage stands because… well, as I said, they are sausages filled with cheese! If you can figure out a way to make some sausage rolls with these, that would make the perfect Oktoberfest-y appetizer.
German Potato Salad
Another popular "salad" that's served at Oktoberfest is potato salad. While it's usually served on the side of main courses (like schnitzel for example), it can also make a nice appetizer for your Oktoberfest party.
If you want to make your own, this recipe from The Forked Spoon is made with tender potatoes, crispy bacon, cooked onions, and tangy mustard vinaigrette.
Click here for the recipe!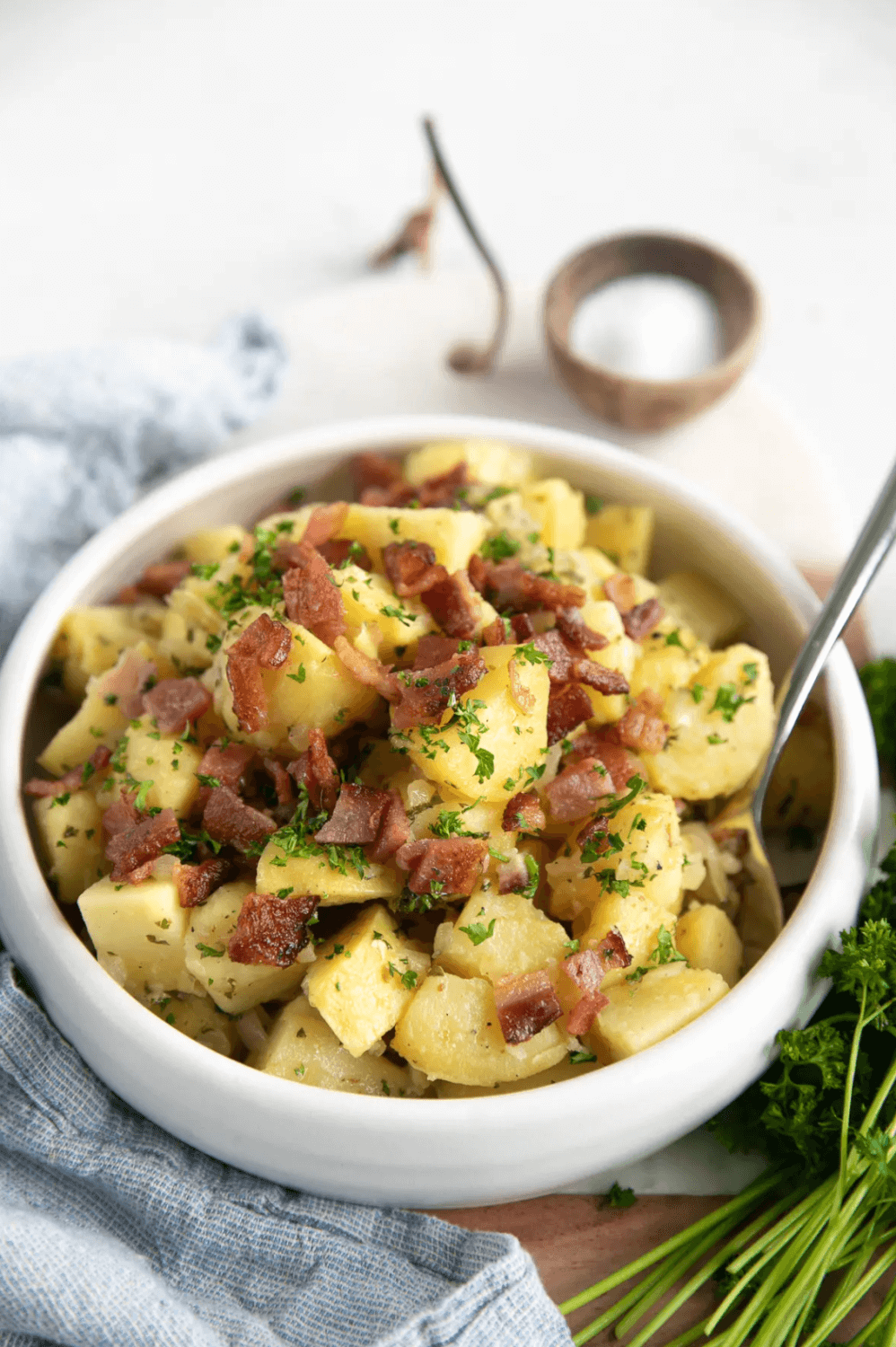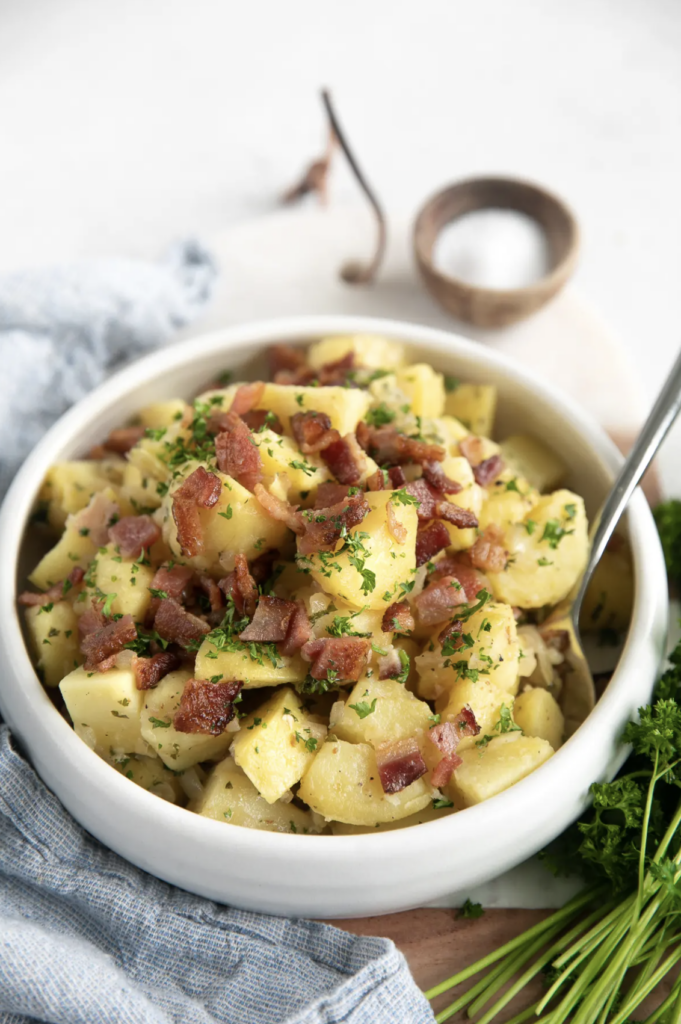 Flammkuchen
Lastly, we have Flammkuchen, also known as Tarte Flambée. While this beauteous creation traces its origins back to the Alsace region of France, it has been adopted by Germany as a folk festival and Christmas market favourite that you'll find everywhere.
These tasty flatbread-esque creations are like light pizzas, conventionally topped with creme fraiche, onions and bacon bits. Flammkuchen slices would make the perfect Oktoberfest appetizer if portioned small enough, but just be wary that they are highly addictive.
Here is a recipe to make it yourself.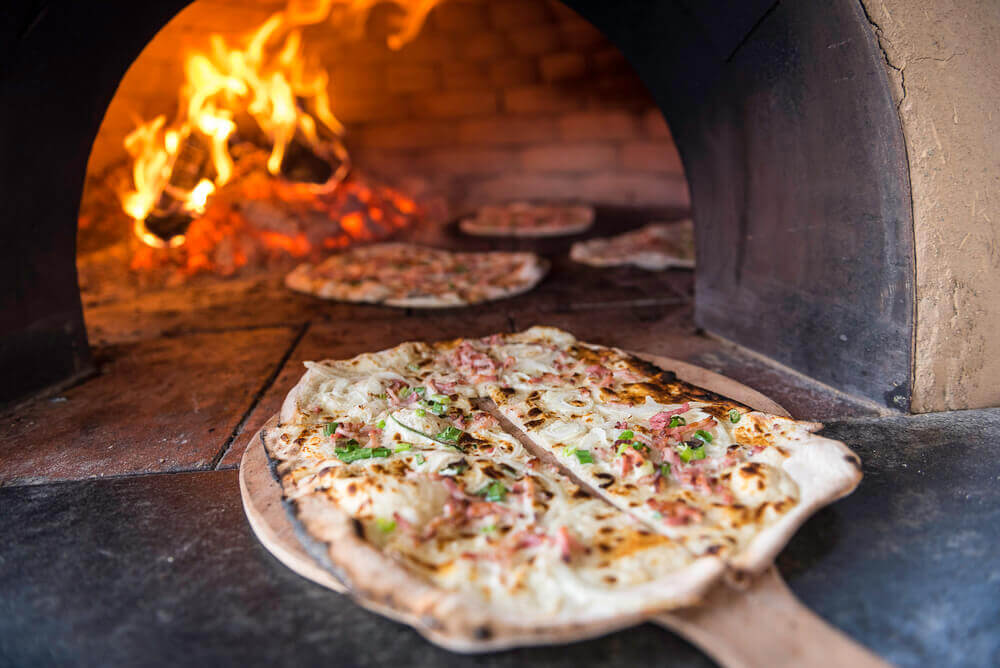 Fun Oktoberfest Themed Appetizers
If your goal isn't necessarily authenticity, but you still want tasty appetizers that relate to the overall "Oktoberfest" theme, here are some great ideas that are guaranteed crowd pleasers.
Snack Maß filled with cheetos/peanut bites and popcorn
For a super easy appetizer/snack option that's still Oktoberfestive, consider getting cute little Oktoberfest Maß like these and filling them with a combo of cheetos or peanut bites and popcorn on top to simulate a frothy beer.
Not the most authentic Oktoberfest appetizer, but one that's super easy to prepare and quick to clean up.
Schnitzel Strips and Dip
Anybody who has enjoyed the glory of a full-size schnitzel will know that it is far from an appetizer food… but I firmly believe that anything can be converted into a starter if you slice it small enough, and schnitzel would be an excellent and easy batch food to prepare as a fun appetizer!
Just slice your schnitzel up into strips (much like chicken fingers), prepare a dip, and go. Here's a fun recipe for it (in German).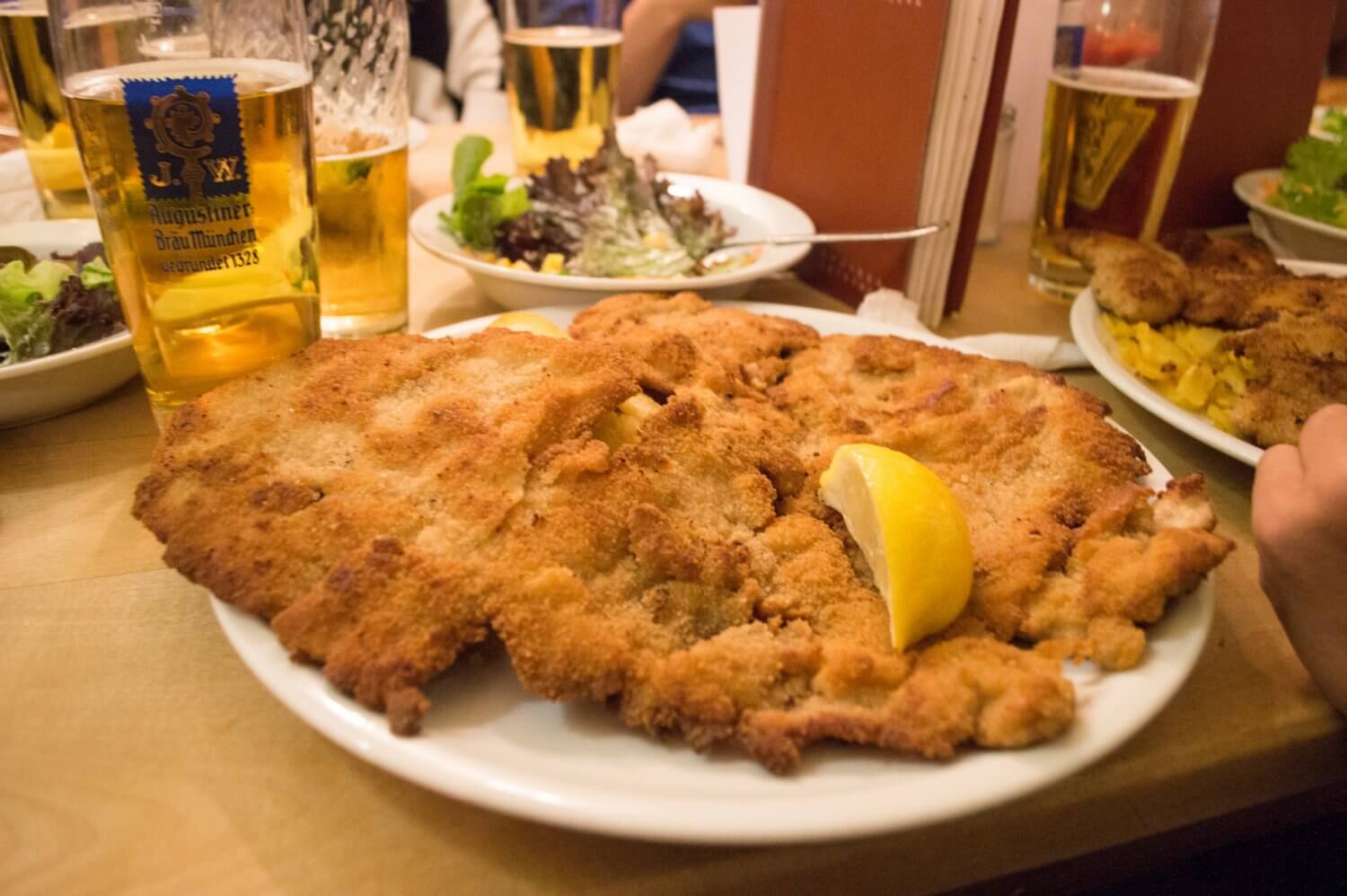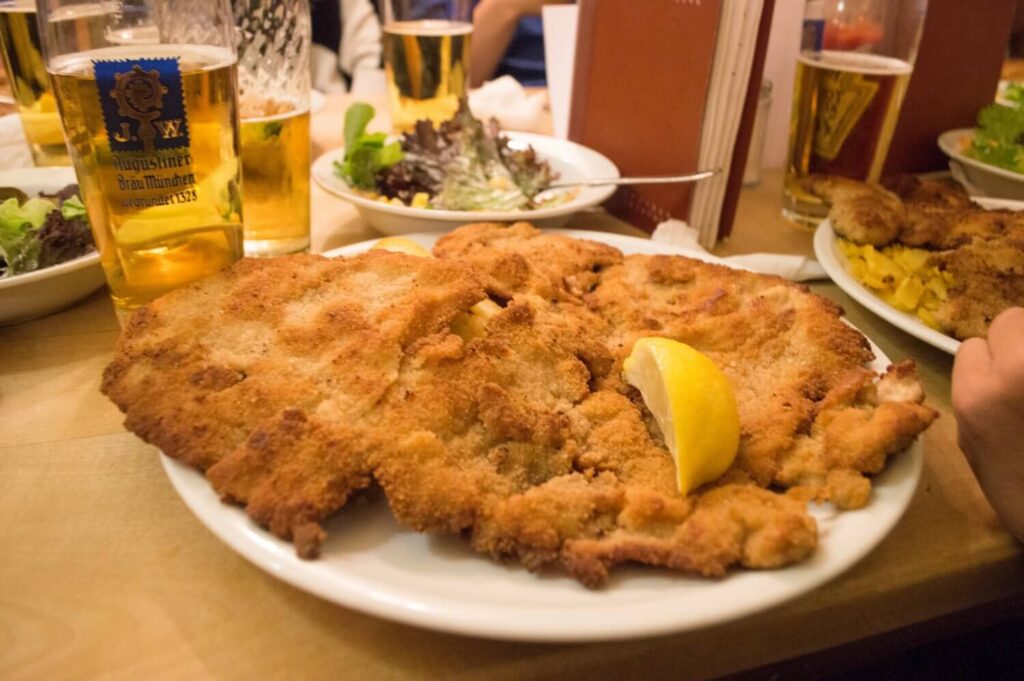 Obatzda Pretzel Muffins
Combining two Oktoberfest classics into one pleasantly punchable package, Obatzda pretzel muffins are an unconventional but fun choice as an Oktoberfest appetizer. Here's an easy recipe for them.
Pigs in a Blanket (with Beer Cheese Dip)
This delicious Oktoberfest-esque dish features both beer and cheddarwurst sausage, so it's a great little appetizer that's easy to make and fun to enjoy. And c'mon, who wouldn't want to dunk those piggies into a delicious beer cheese dip?! Click here for the recipe!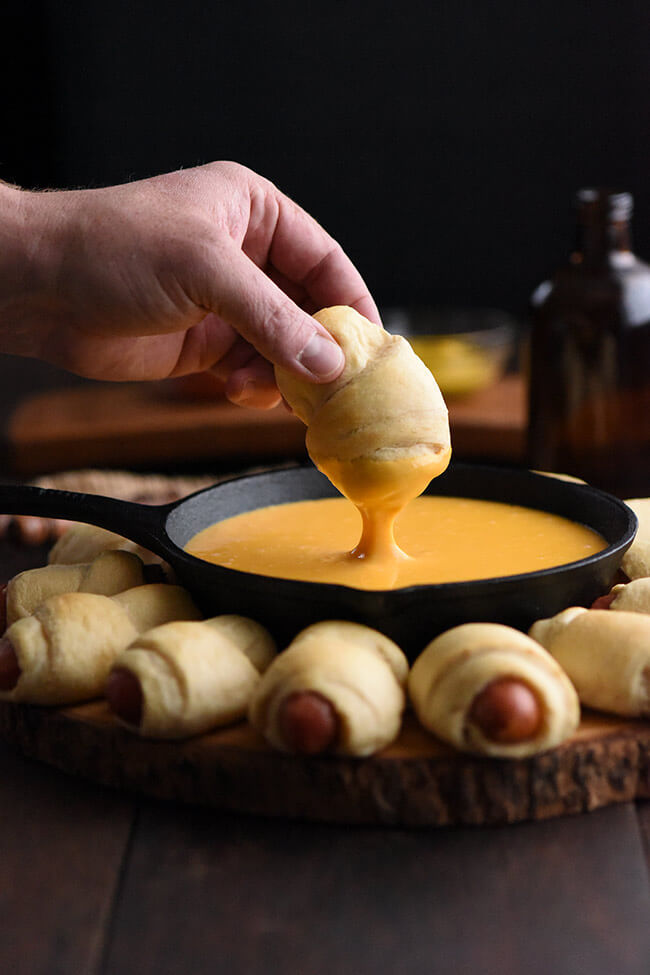 BONUS: "Fake Beer" Soup
I'm sure it tastes great, but my first instinct when I saw this recipe for "sauerkraut lemongrass soup" was mild horror.
It does look really cool though, because the different layers make the soup look like a beer-like mousse. If it's unique presentation you're after, this would be a super fun dish to test out.
I hope you enjoyed this Oktoberfest party appetizers roundup!
Now, can you reconsider the fact that I'm not invited to your party? I'd really love to be there. Thanks, and hope you found this article helpful! Be sure to click here for my full list of Oktoberfest recipes including main courses, sides and desserts!
My Go-To Travel Favourites: