*FYI - this post may contain affiliate links, which means we earn a commission at no extra cost to you if you purchase from them. Also, as an Amazon Associate I earn from qualifying purchases. Check out our Privacy Policy and Disclosure. for more info.
With base fares as low as a Loonie, it's understandable why Canadians nationwide are rapidly losing their minds over the arrival of Canada's newest budget airline, Lynx Air.
After all, if you're a Canadian long disenchanted by the shocking prices and mediocre offerings of domestic air travel, a low cost option like Lynx has the same alluring siren's call as a squeaky 3am poutine.
But a swift Google of "Lynx Air reviews" (or if you're a modern intellectual, 'Lynx Air reviews Reddit') will yield a consistent horror show of torch-wielding mobs complaining about lengthy delays, lost luggage, unexpected fees and… painfully slow customer service.
But is Lynx Air really that bad?
In this honest Lynx airline review, I'll be sharing my personal experience flying with Lynx Air in March 2023 from Vancouver to Toronto (and back), providing a balanced overview of Lynx Air's pros and cons, as well as tips for flying with Lynx Air to help minimize rage tears.
I hope you find it helpful! After flying with all of Europe's most notorious budget airlines like RyanAir, easyjet and WizzAir, I've learned a thing or two about surviving budget travel options.
How is Flying with Lynx Air? A Brief Summary
If you're not into reading painfully detailed reviews from an overcaffeinated laptop goblin, then I'll give you a quick summary: flying with Lynx Air is fine… so long as you have your expectations in check, and know what to expect when it comes to their no-frills service.
Overall, I think Lynx Air is a good fit for you if…
You're flexible on your arrival time (i.e. a delay wouldn't ruin your plans)
You're okay packing light (and ideally not checking a bag)
You have short legs and/or are fine with limited leg room
You don't mind packing your own snacks, food, and entertainment
Your plans are set and you will likely not need to make any modifications
If any of those above factors is a dealbreaker, run. If you go now, you may still be able to find an Air Canada flight that costs less than a kidney.
Or, if you're still on the fence, keep scrolling for a rundown of my personal experience flying with Lynx Air, and (at the end) some final tips if you decide to take the plunge.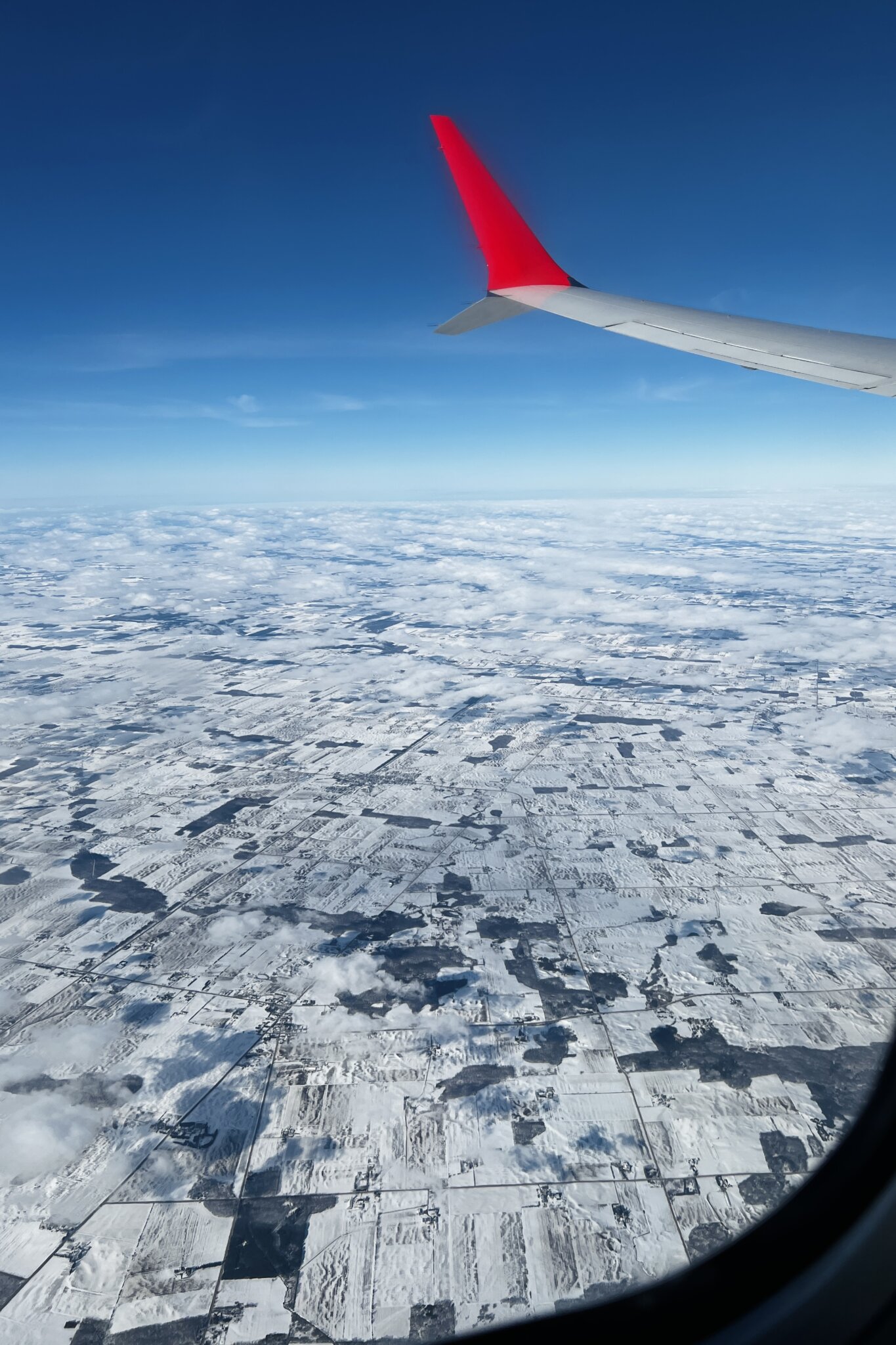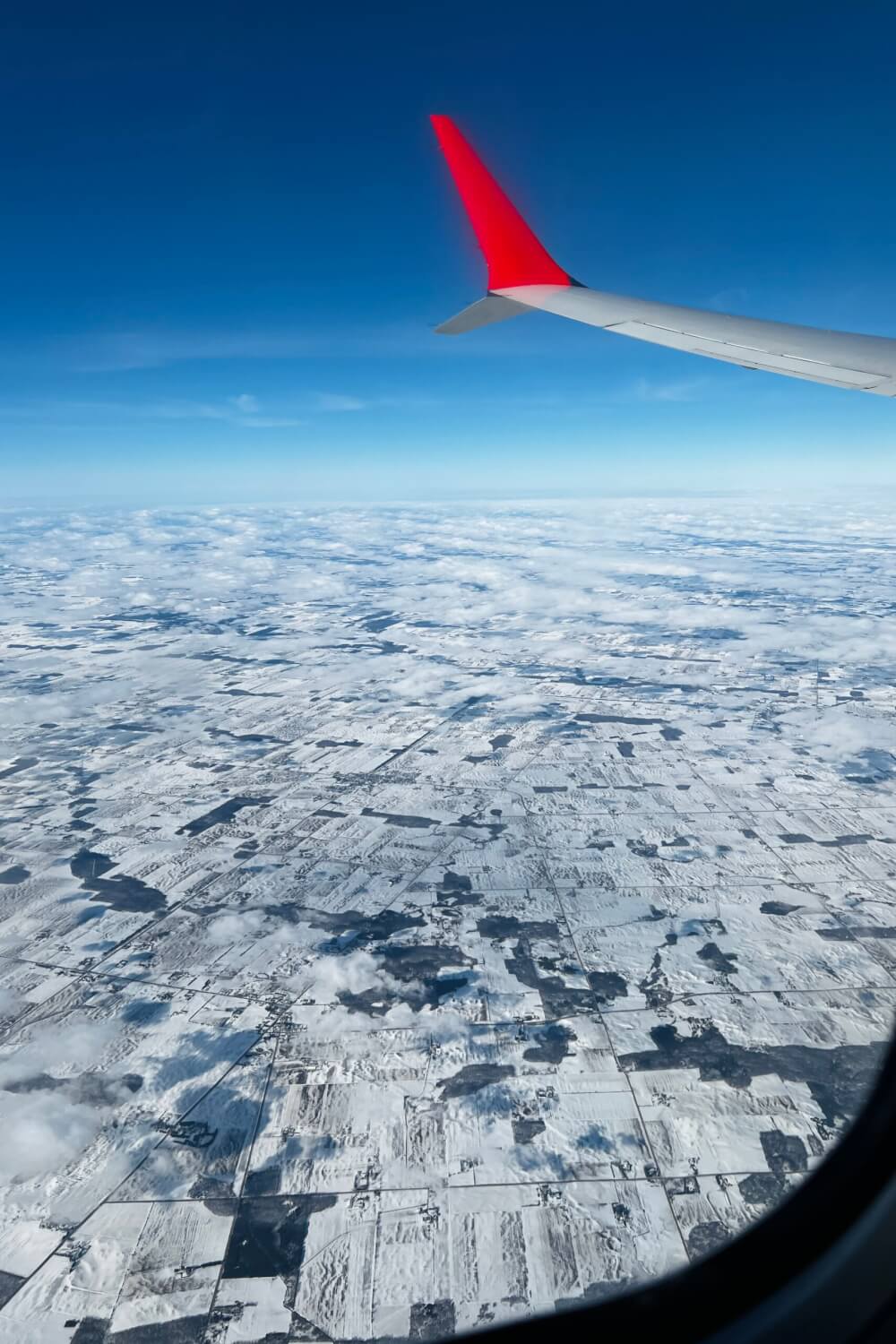 Flying Lynx Air Pros
Should you fly with Lynx Air? Here are some of the reasons to consider it.
Very low cost
I mean… let's be real: nobody is flying with Lynx Air for their luxurious on board experience, or cheery sunshiney staff.
You book Lynx because you're looking to save money, and if cost is your number one priority, then Lynx is a great option to consider.
With base fares as low as a dollar, you can fly roundtrip from Vancouver to Toronto for less than $100 after taxes, a trip which Air Canada typically charges at least double for. There's also (seemingly) always some kind of sale and promo code floating around which brings costs down further.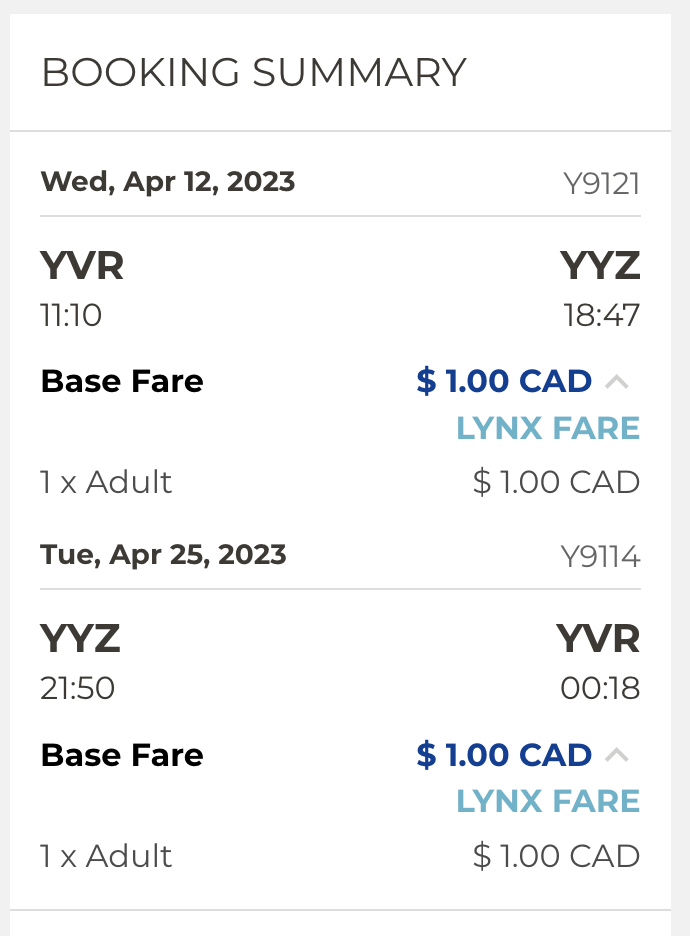 Especially if you're able to keep your fare to the most basic level (e.g. travelling with just a small personal item, not choosing seats, etc.) then Lynx is a VERY affordable option that's well worth considering.
After all, saving big on your flight means more money for fun things like that aforementioned 3am poutine.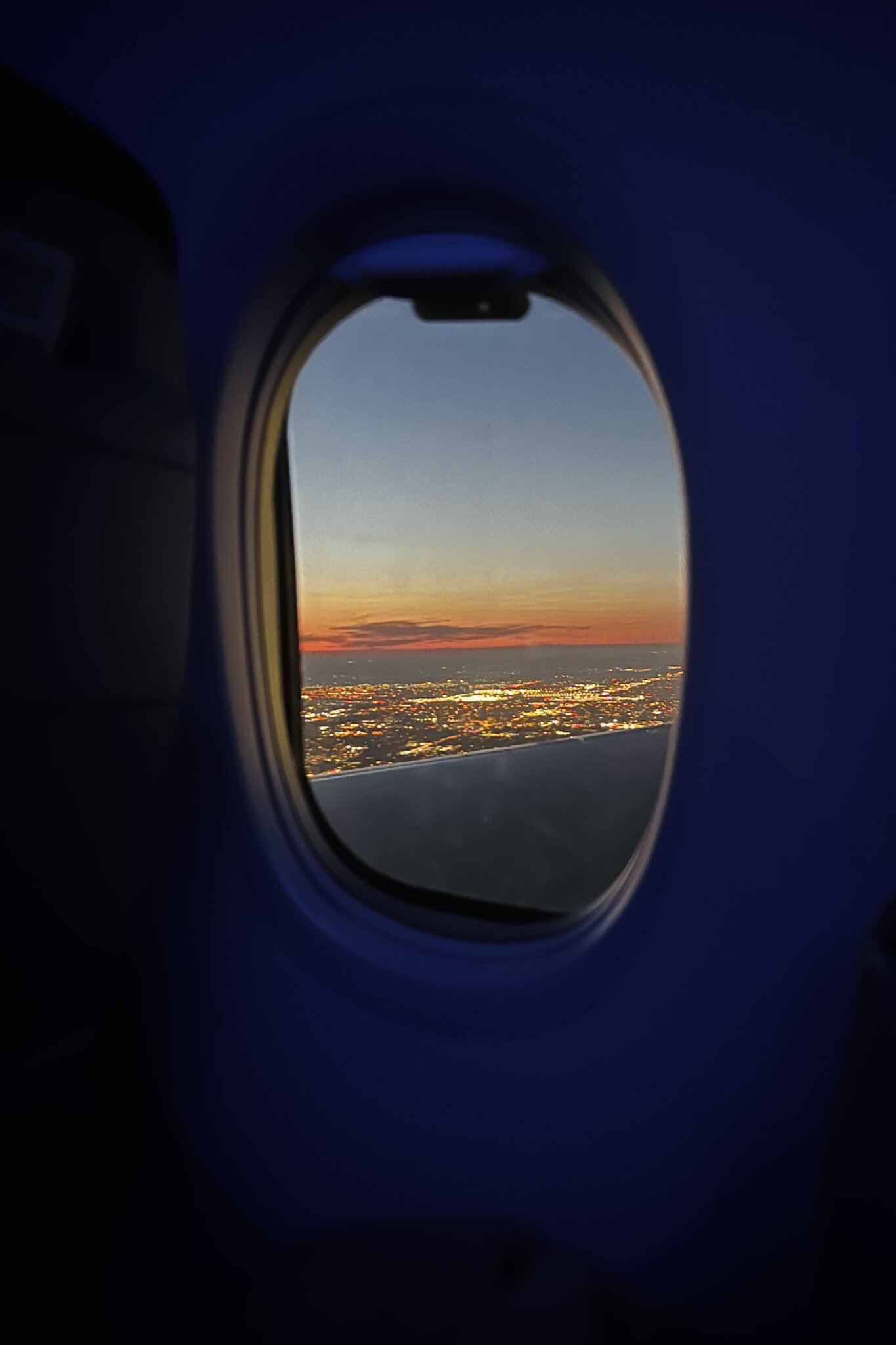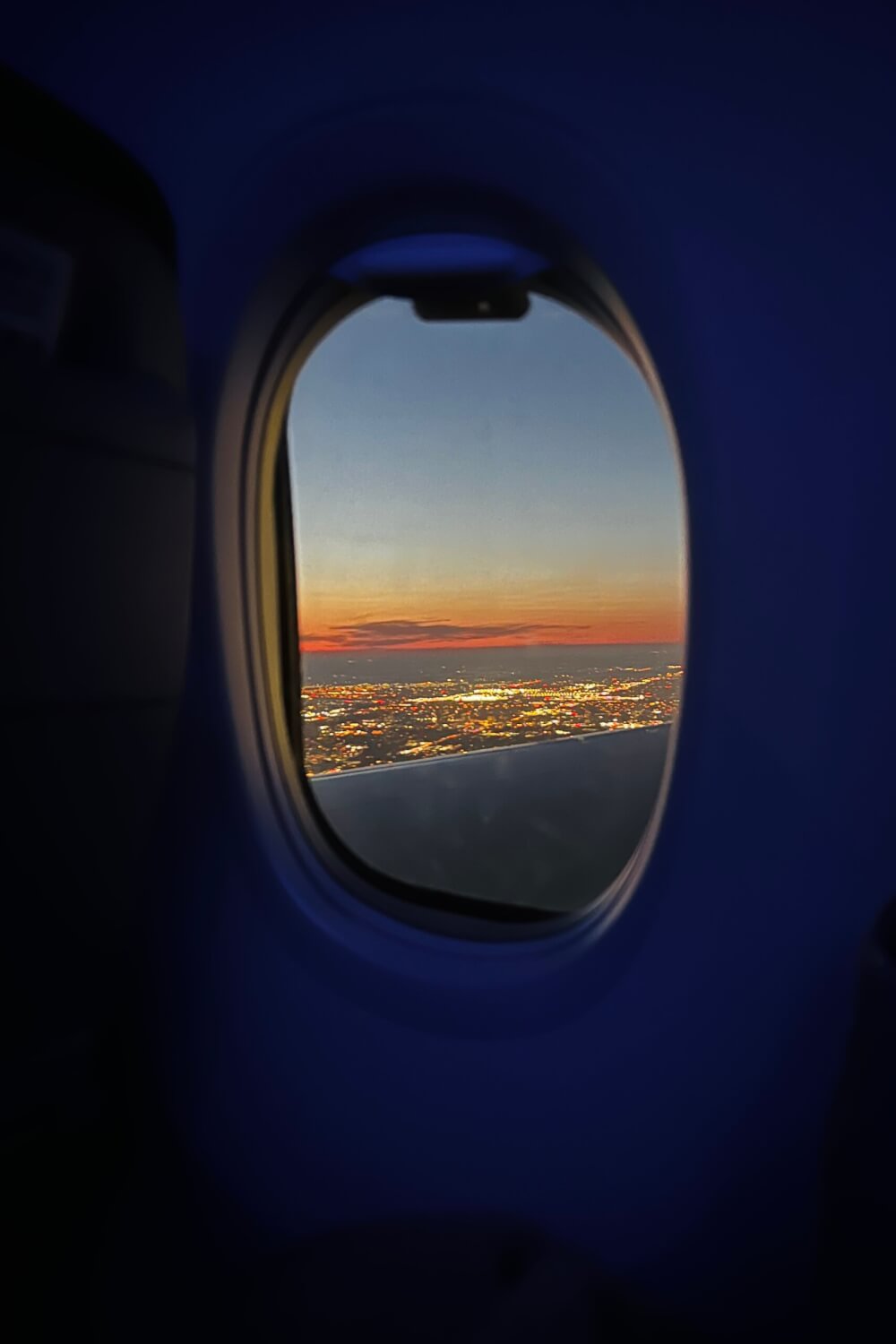 Decent value for money
Another pro of flying with Lynx Air is good value.
When you find a flight that's cheaper than a round of drinks, it's understandable to leap to conclusions. Is Lynx Air safe? Is Lynx Air reliable? Will I magically end up in Winnipeg by accident?
But all things considered, if you manage to score one of their cheaper fares, Lynx is great for the price. Sure there's occasional delays and cancellations (more on this below), but there's a risk of this with most airlines, and the in-flight experience is totally fine so long as you're prepared for the lack of frills.
If all you want is an airline to get you from Point A to Point B for the lowest possible price, then Lynx is a good pick.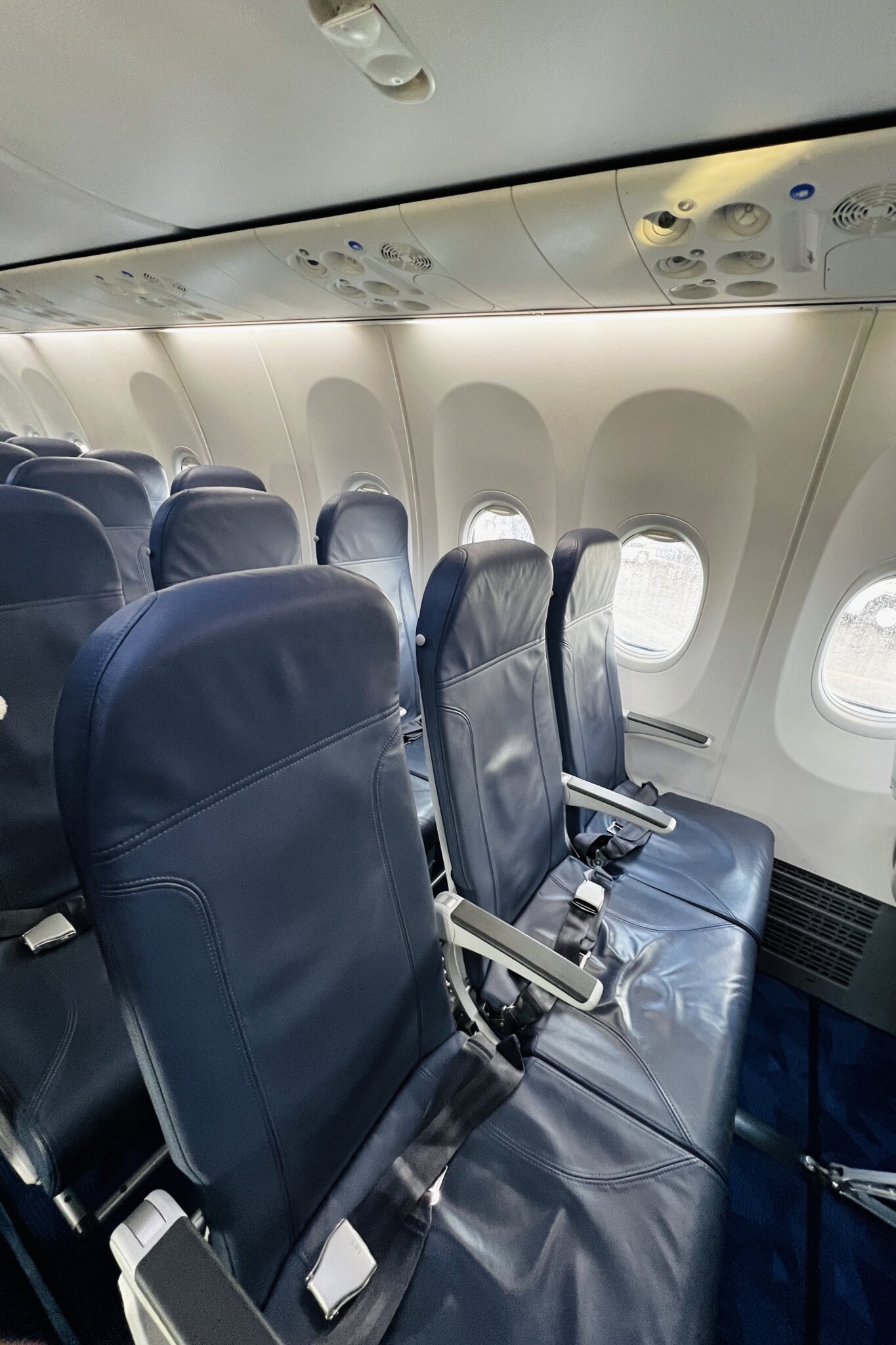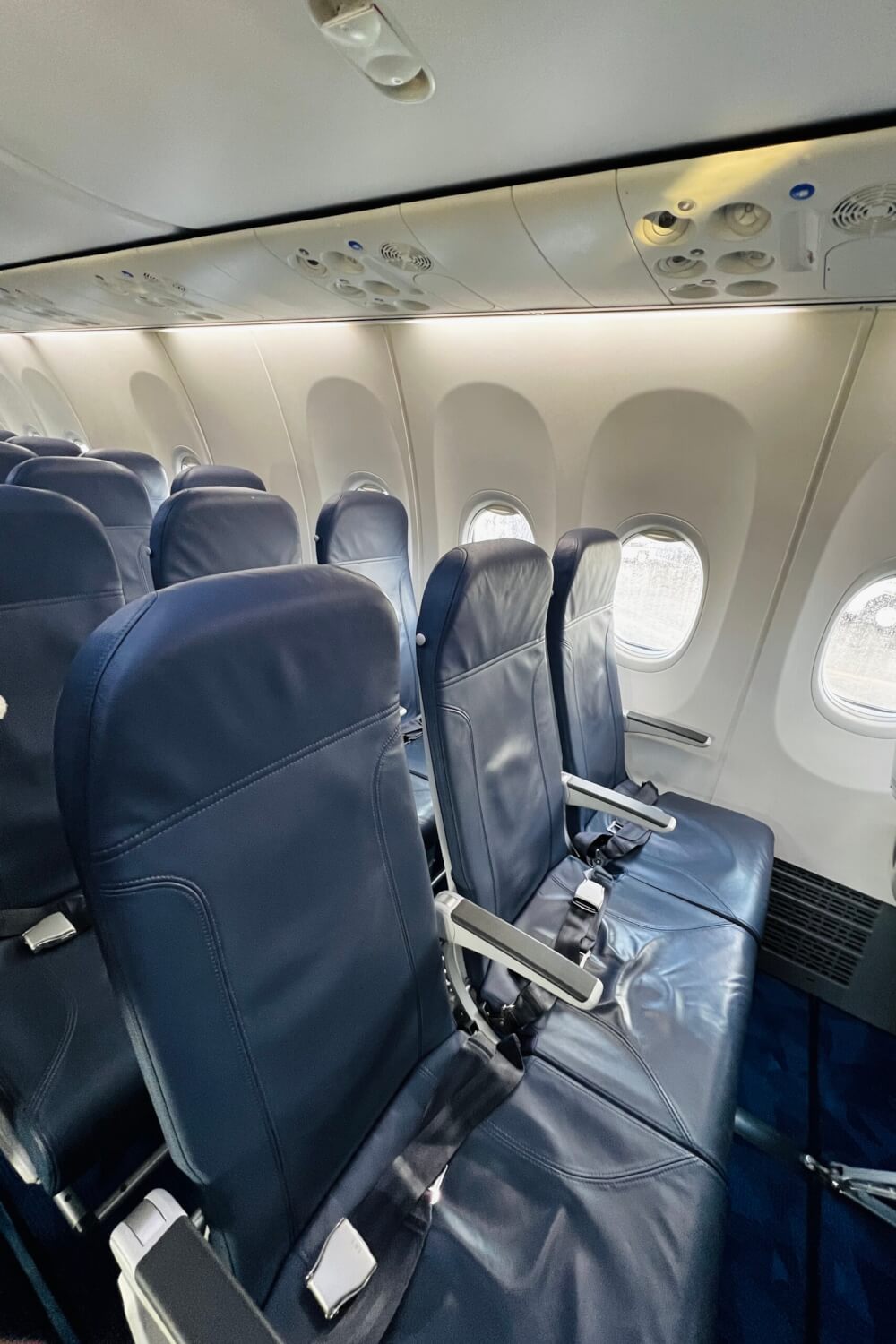 Flying Lynx Air Cons
Of course, this is the dirt you all came for. Why shouldn't you fly with Lynx Air? What intel can I provide you in the "violent hatred" department? Here are some of the downsides to take note of.
Potential for delays and cancellations
When it comes to reasons NOT to fly with Lynx Air, the top complaint is undoubtedly the potential for delays and cancellations.
Because Lynx's fleet of planes is comically tiny (6, according to the most recent publicly available info), there's pretty much no backup plan when things go wrong. If your plane isn't fit to fly, there's not really an alternative solution if there's no replacement plane.
So, if you are travelling for something where a punctual arrival is important, then do not risk it with a Lynx Air flight.
In their defence however, people only tend to post reviews and grievances when something has gone wrong, so Googling "Lynx Air reviews" will inevitably give you a negatively skewed dumpster fire of complaints.
Very rarely will people tweet praises about a flight being on time (because after all, that's what it's supposed to do), so keep that in mind.
Also, not to hate on Canada's more mainstream airlines, but people have a lot of complaints about them too.
In the greater landscape of Canadian airfare options, no one is exempt to issues like delays or cancellations, so I wouldn't write Lynx off completely unless punctuality is incredibly important and you want to maximize your chances of arriving on-time as much as possible.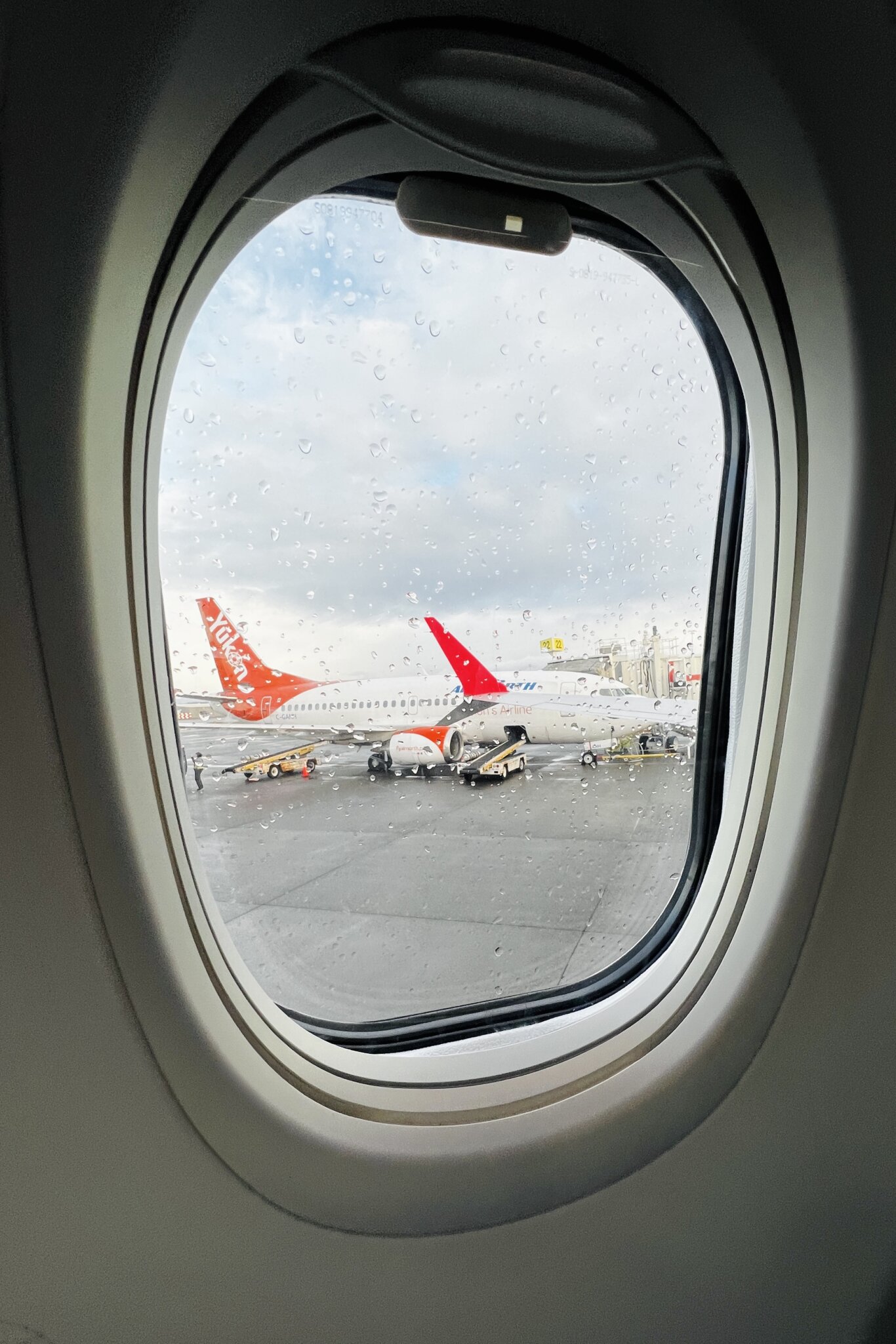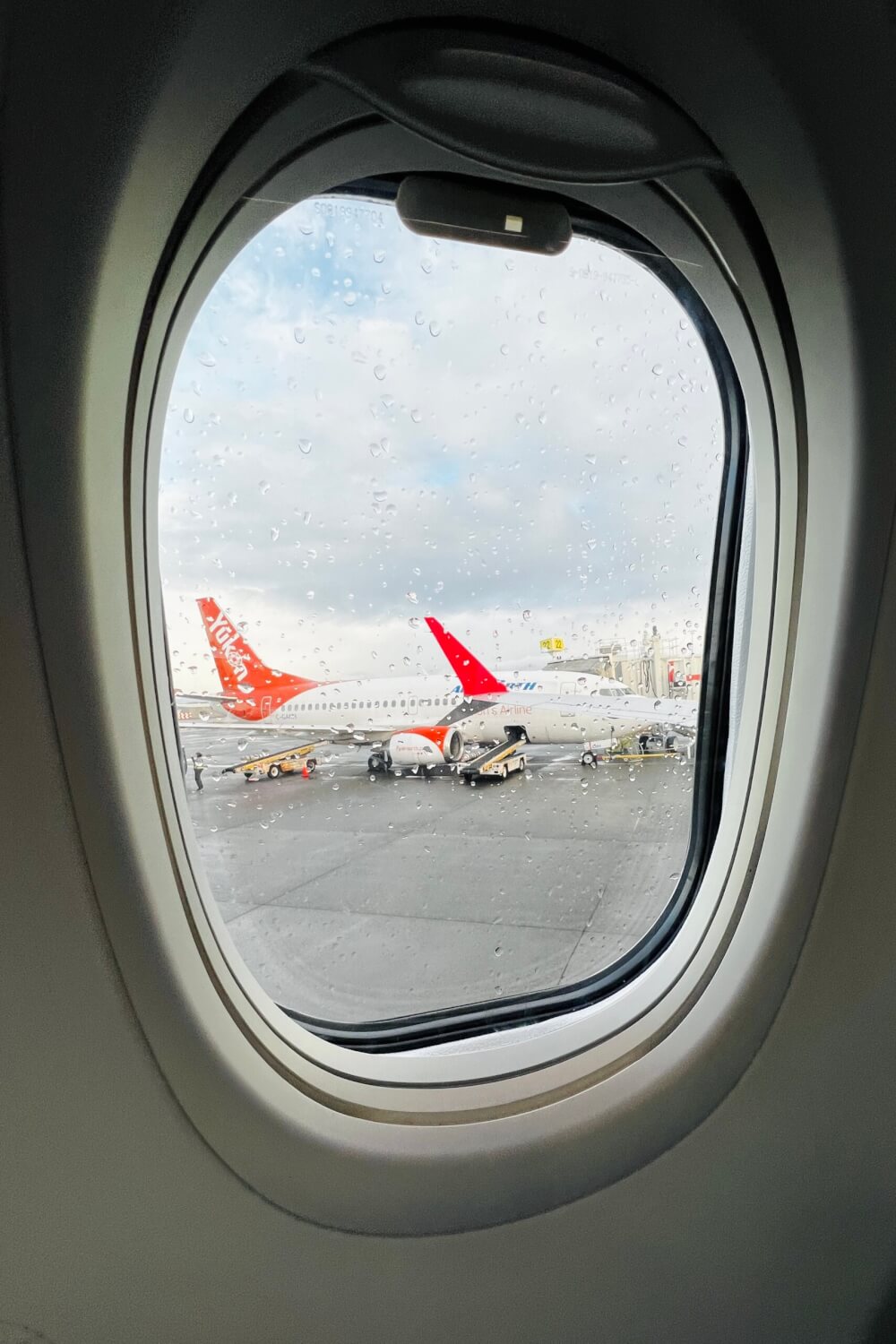 Hidden costs
While the base fares for Lynx are indeed super cheap, where they get you is the additional fees.
Let it be clear that a basic ticket with Lynx Air only includes a seat on the plane, and a comically small personal item that's the width of a Subway 6 inch sub.
If you want to bring a carry-on suitcase, that'll cost you extra (over $100 extra in my case for a YVR -> YYZ roundtrip). If you want to bring a pet, that's $80-100 each way. If you want to check bags, that costs extra too.
All to say, Lynx's dirt cheap fares can become not-so-cheap once you start adding any extras.
So, if you are travelling with many bags, you need extra leg room, or prefer to choose your seat, odds are the costs might add up so significantly that you're better off just booking with a standard cost airline instead.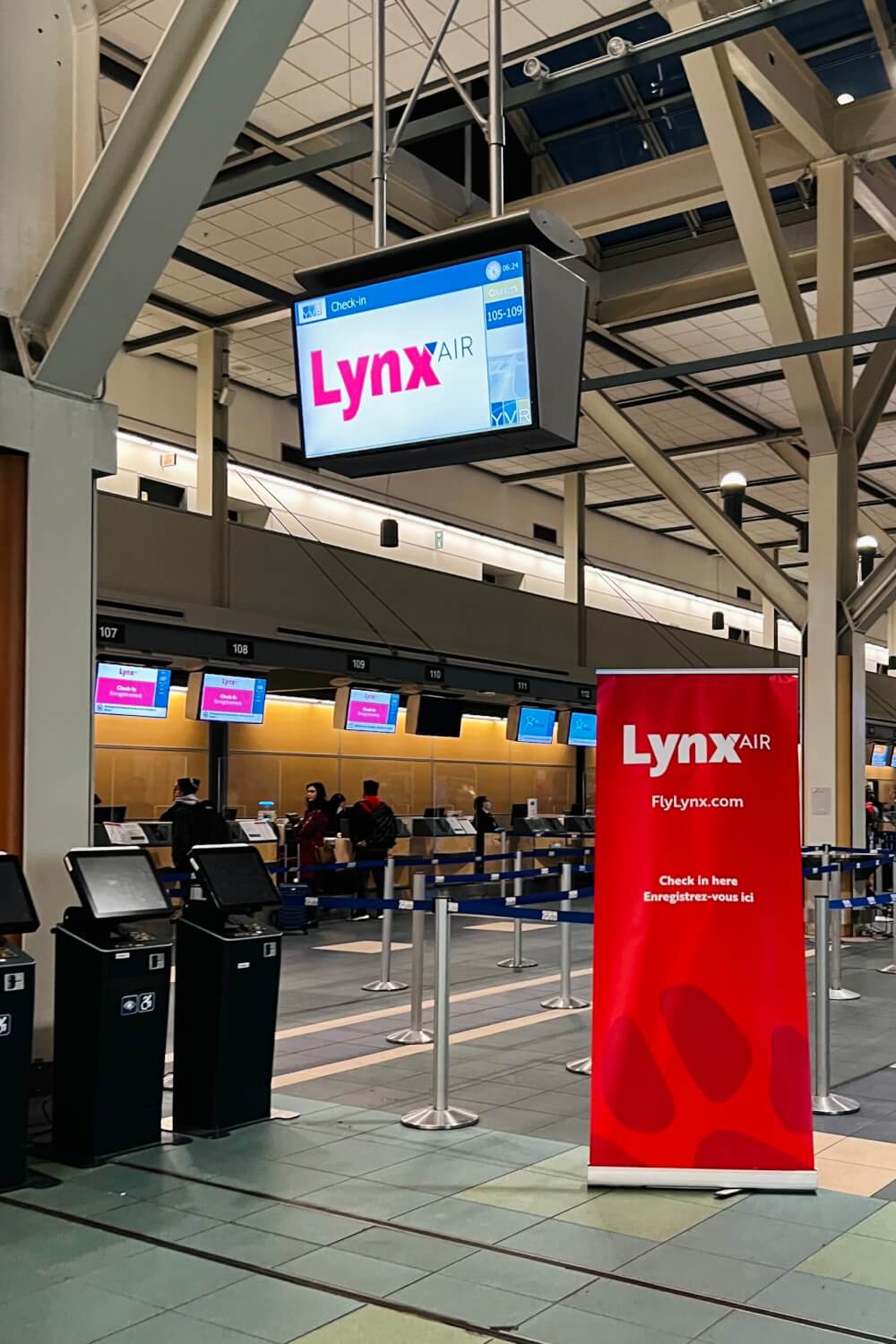 A no frills flying experience
As Lynx spells out very clearly on their website, flying with them is like being on a minimalist sky bus.
Okay, they don't exactly say it like that, but imagine all the little luxuries you're used to on planes…….. and throw them into a budget-friendly shredder.
When you fly with Lynx Air, there's no food. There's no drinks. There's no charging outlets. There's no TVs. And there's no shame. (Just kidding on that last one, although the iPad kid playing games on full volume behind me might agree).
… all you get is a sad little cup of water whenever the flight crew feels enough pity for you.
I mean… you literally get more perks in prison. BUT if you know that and prepare for it, it's really not bad.
Sure the seats don't really recline and they're not exactly the cushiest and comfiest seats, but what do you expect with these kinds of prices?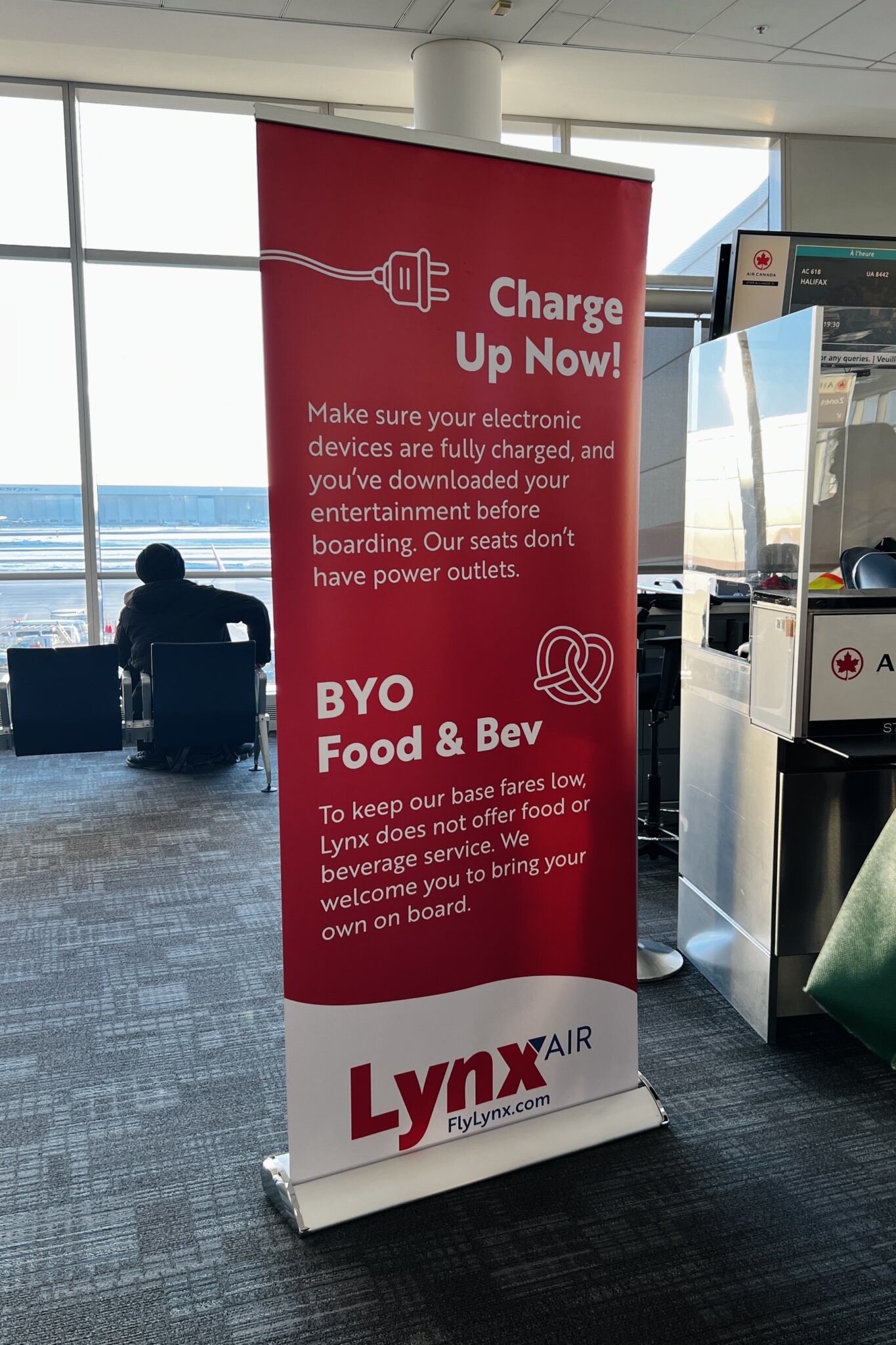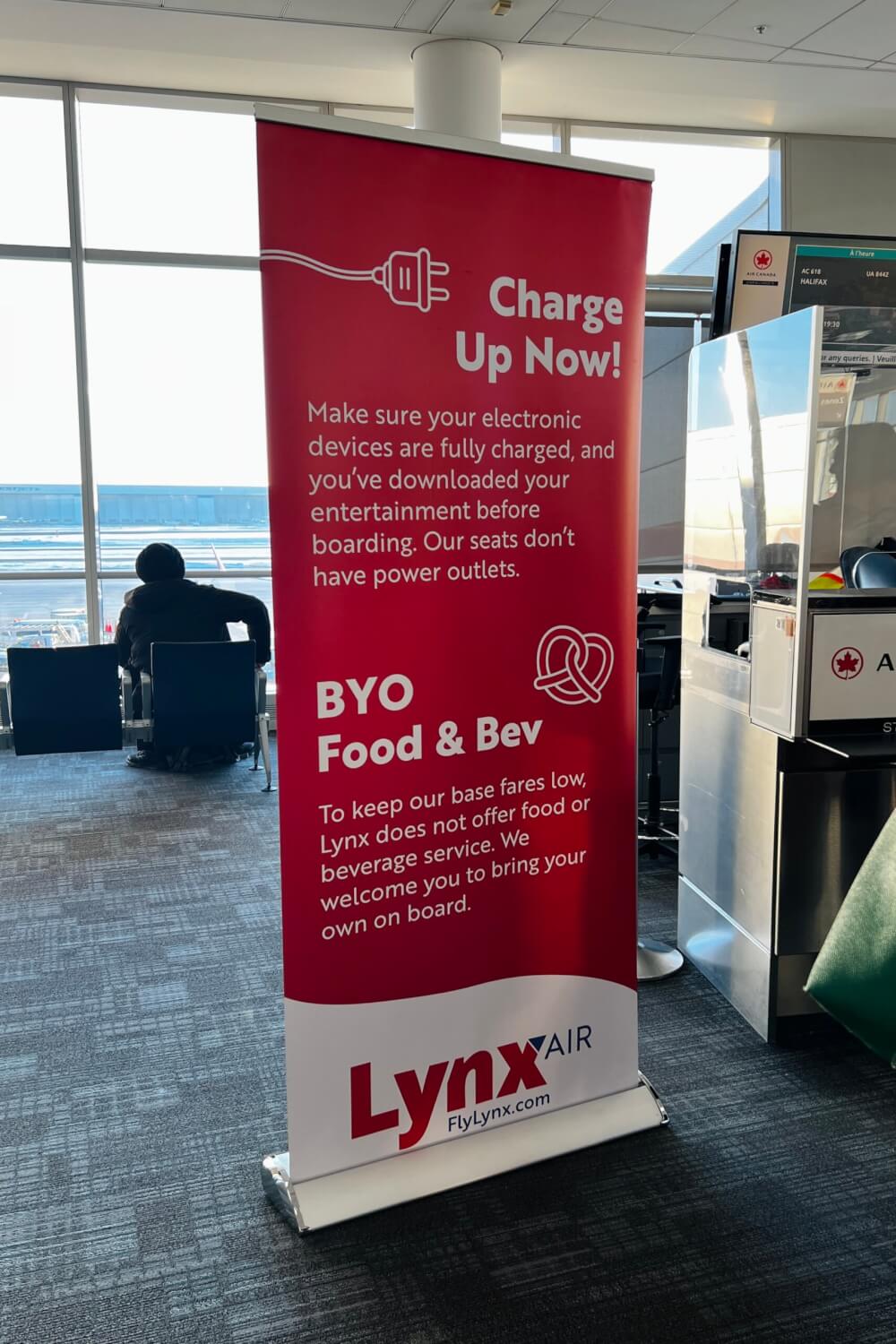 Customer support
Most of the time with budget airlines, customer support is where they'll choose to cut costs most.
I luckily didn't need to contact customer service at any point, but a quick scroll through other Lynx Air reviews and you'll see that their help centre isn't the best, from tales of lost bags and zero compensation to legends of $10 delay vouchers that weren't accepted anywhere because they looked fake.
And while customer service can be painful with any airline when it comes to claiming compensation and figuring problems out, I think Lynx has a lot less infrastructure for it than larger airlines, so if you think you may need to make modifications at some point (ie your plans aren't 100% fixed) or you're easily bothered by slow response times, then Lynx isn't the airline for you.
…. Especially since it costs $20 (+ tax) to contact their call centre!
Laughably basic boarding passes
Okay this last complaint is a little silly but it's worth noting that the digital boarding passes provided by Lynx look comically low-budget, to the point where I think I could have designed a nicer one myself on Google Docs.
I mean…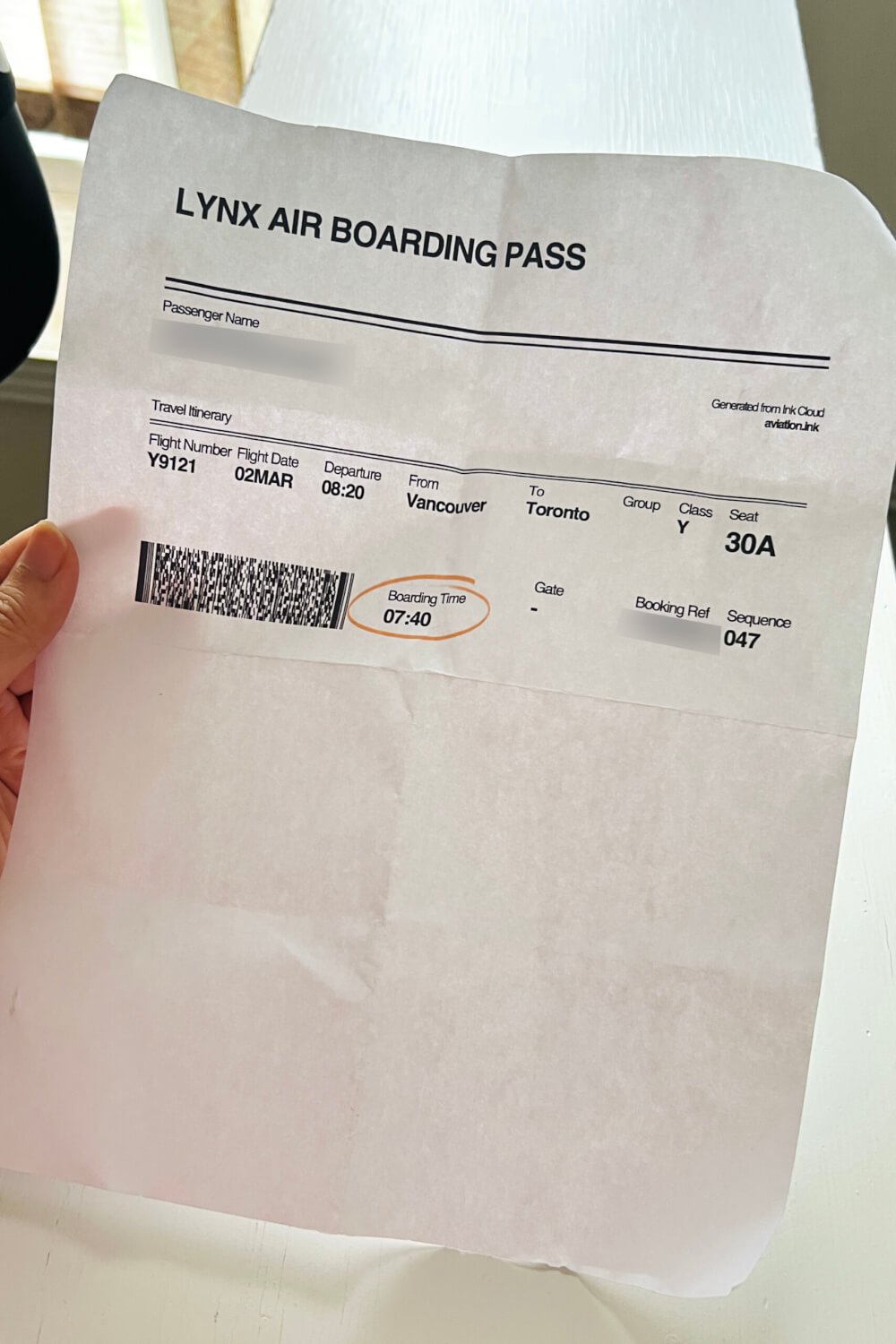 It's not a huge deal BUT I will emphasize again that you DO need to print them out and not have them on your phone, because A) they don't scan very well on phones when you're at security and B) Lynx Air will make you print a physical one at the gate for reasons unknown.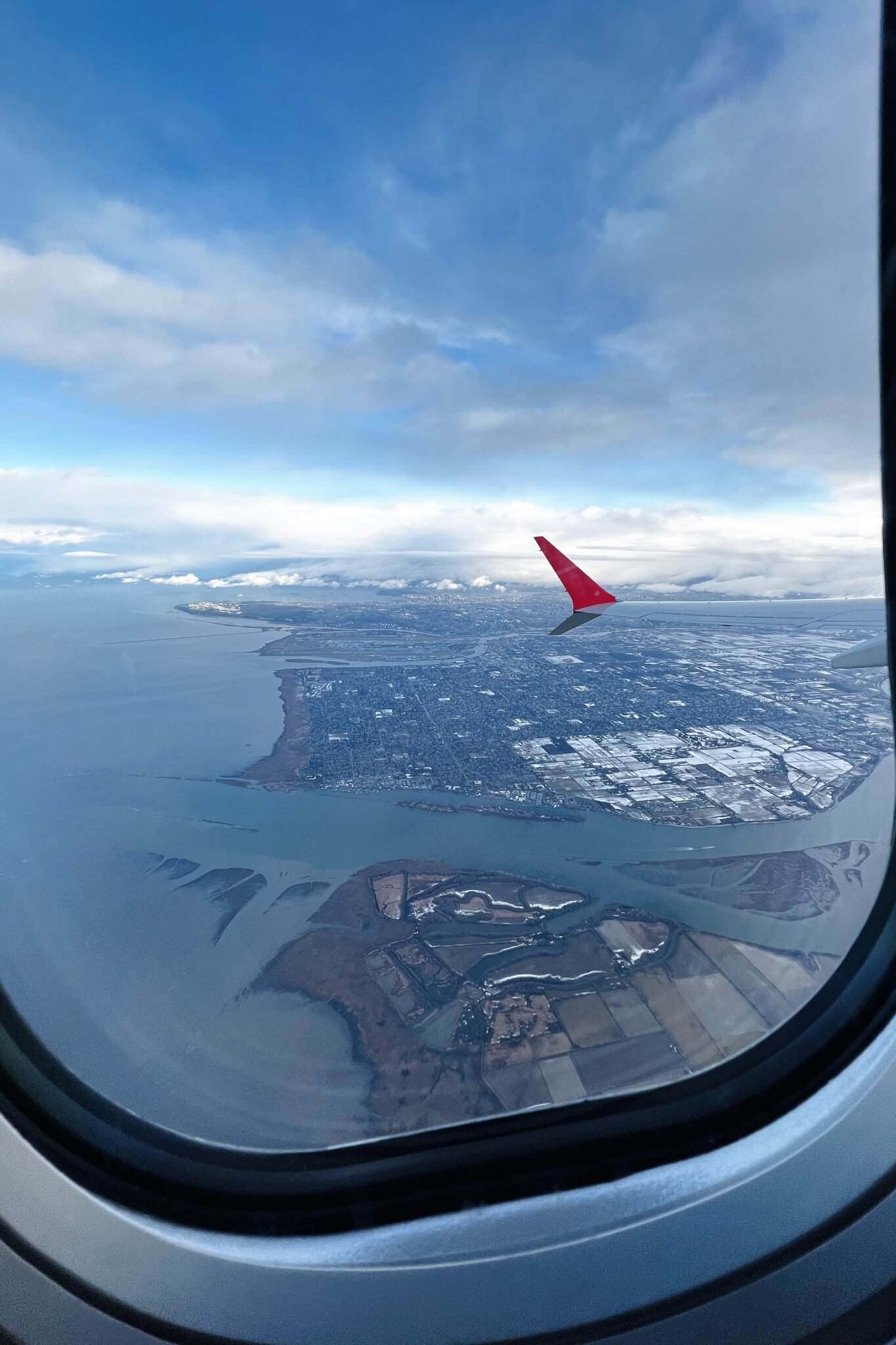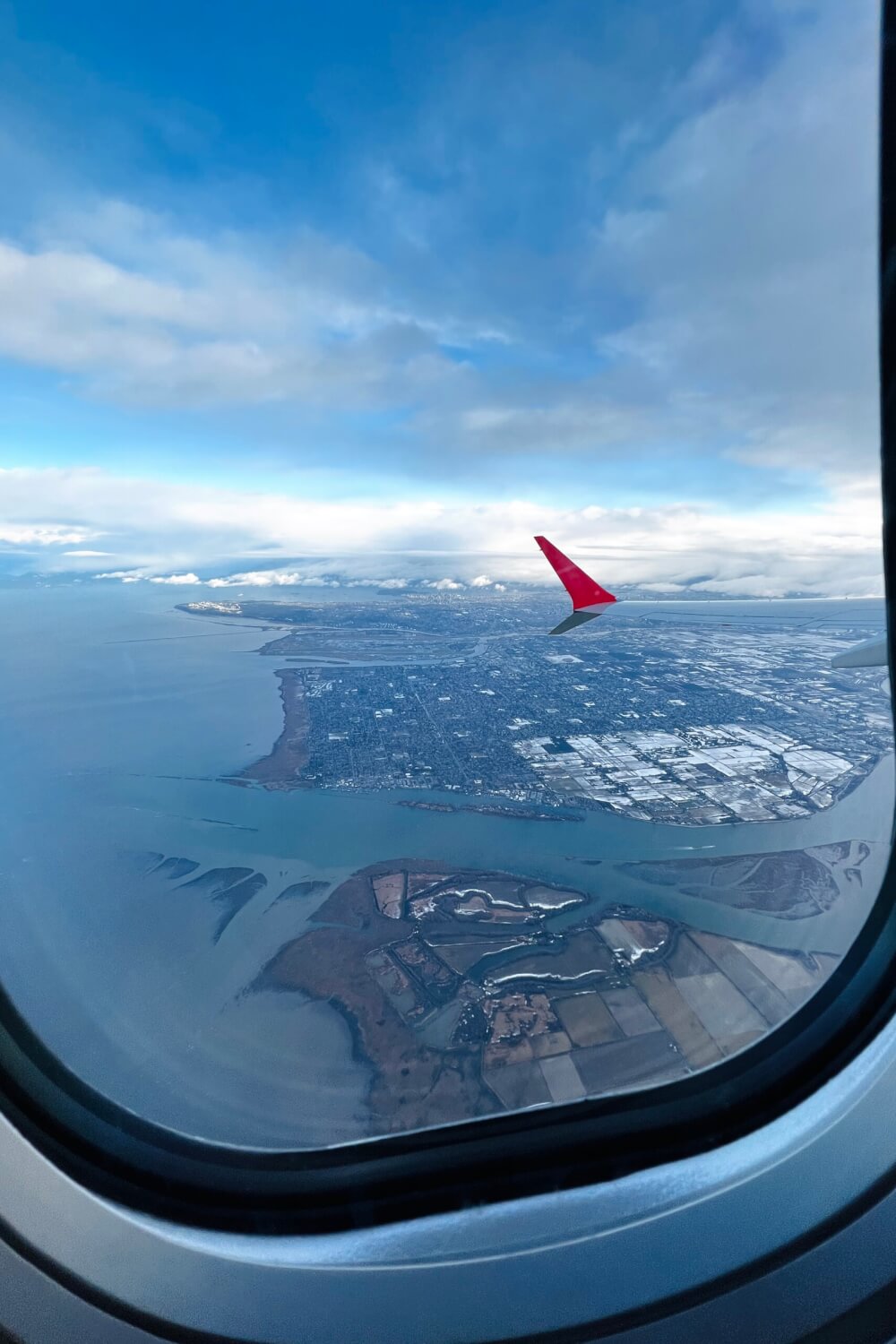 My Experience Flying with Lynx Air (March 2023)
Okay, now that I have recapped all the pros and cons of flying with Lynx, I'm going to share my own story flying with them.
So once upon a time, I was trawling the barren lands of the Internet to find a flight to visit a friend of mine in the glittery metropolis known as… Toronto.
Amidst a sea of overpriced mainstream options, I happened upon an unlikely beacon of luck: a flash sale on Lynx Air promising 50% off base fares.
So, armed with my magic promo code, I managed to book a roundtrip flight from Vancouver to Toronto for only $120, i.e. less than an average dinner out these days in the pricey dystopia that is Vancouver.
With that kind of price, I was willing to accept some inconveniences along the way.
After paying an extra $100ish to add a carry-on bag to my ticket, I made my way to the airport and headed straight to security since I was travelling carry-on only, and had already checked in and printed my boarding pass in advance.
We started boarding a few minutes after the scheduled time and it was a really smooth, no fuss process. I didn't notice anybody being asked to use the baggage sizers, and they tagged my suitcase with a "Carry-on approved" label just by taking a quick glance.
On-board, the plane was pretty bare, but new and clean. They weren't kidding about the lack of amenities on board, that's for sure, but I was able to sleep the entire way through (while binging pre-downloaded Netflix during my waking minutes).
Magically, our flight took less than four hours, and even arrived early.
Had it not been for the vape-gremlin who decided to vape mid-air in spite of the many reminders "smoking is not allowed on board because it's no longer the 1980s", we would have been well ahead of schedule, but instead lost our bonus time because he needed to get arrested. Or something.
ANYWAYS, all in all – the flight there was extremely smooth.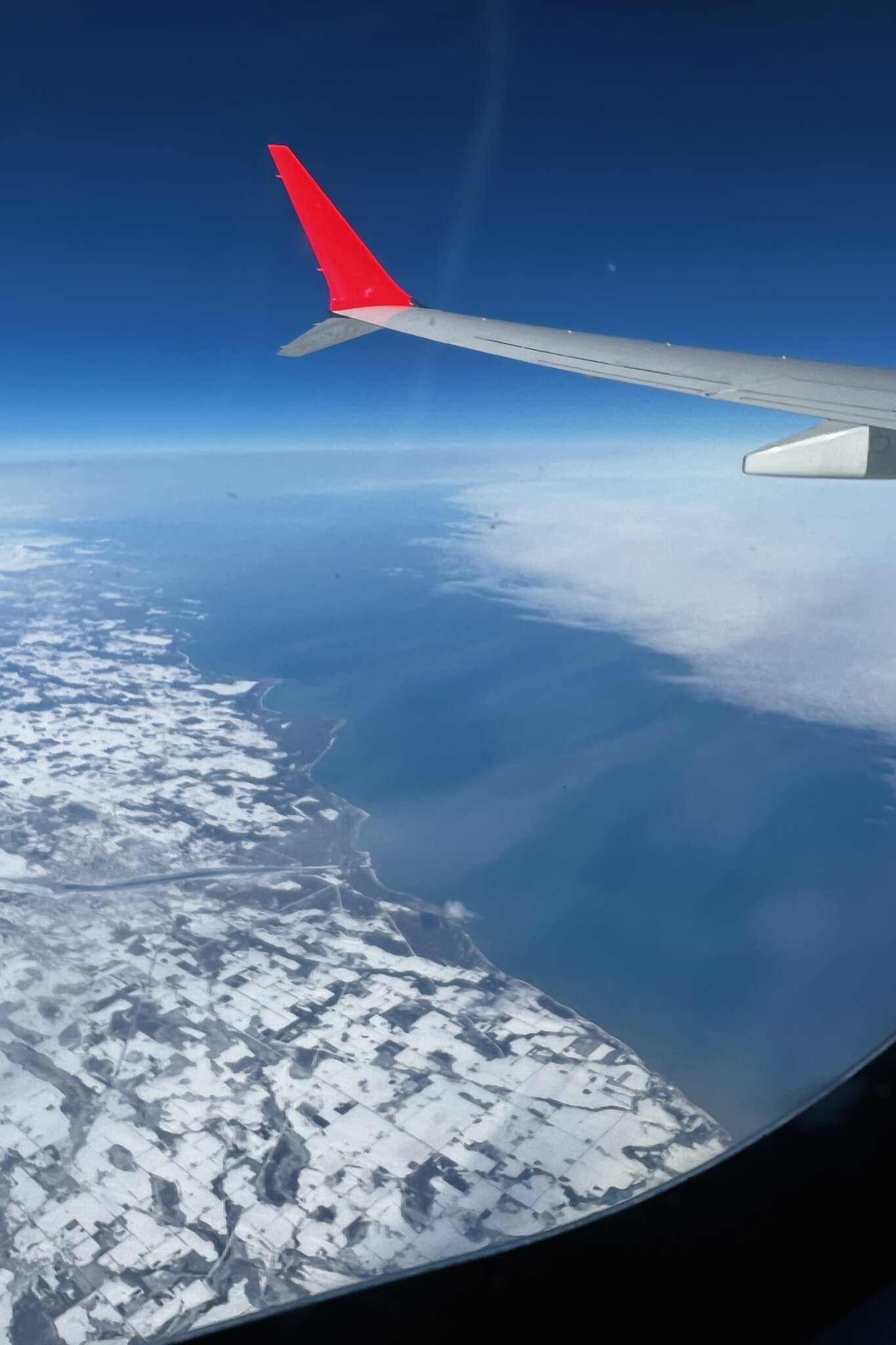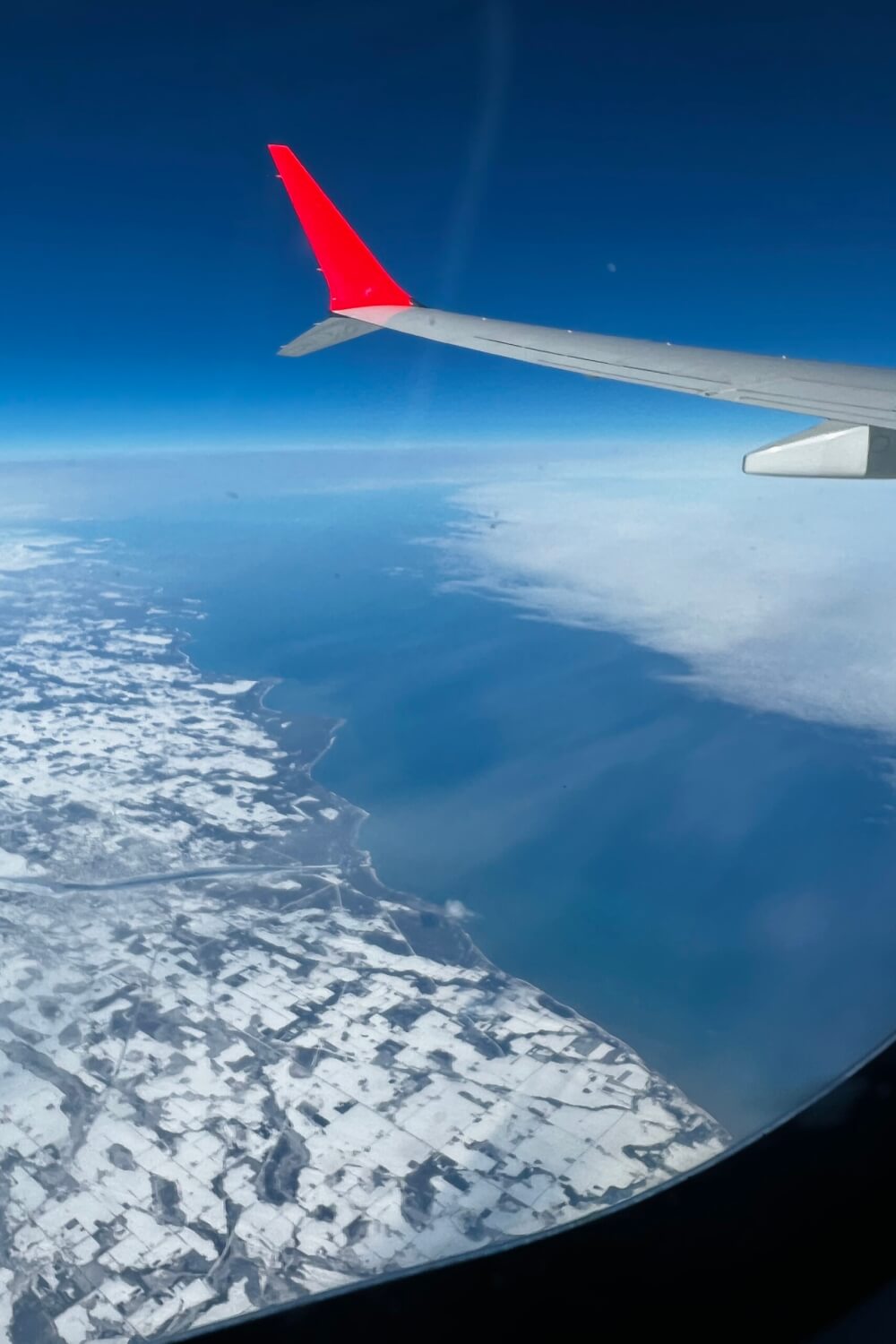 The flight home however was a little bit more stressful, with an initial 25 minute delay that ended up being over an hour and a half, with pretty much no communication along the way to explain how long we'd be waiting.
It was also a pretty chaotic mess because we were at a gate RIGHT next to an Air Canada flight bound for Vancouver as well, leaving just shortly before us. The amount of lines snaking around that corner was comical, with nobody quite sure if they were in the right one.
Partway through the extra hour wait, a Lynx Air staff member circulated to make sure we had printed versions of our tickets.
Since we didn't have access to a printer in Toronto, we didn't, and had made do up until that point with digital copies of our boarding passes. We were told however this wasn't enough, and were sent to another awkward line-up at the gate to get a paper copy of our passes.
Luckily, they printed them free of charge (which is more than I can say about most European budget airlines!!)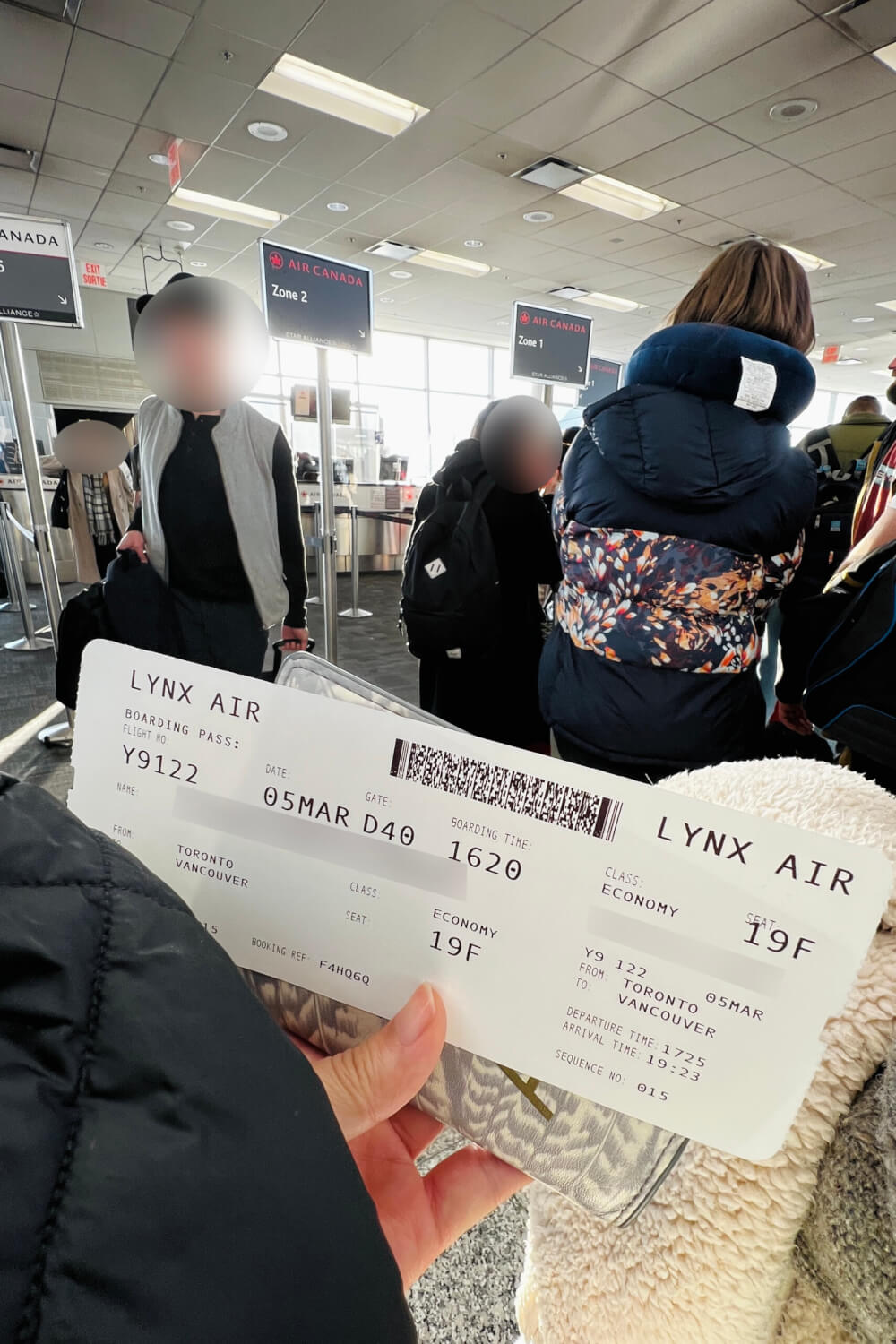 A few confusingly mumbled announcements later (genuinely could not understand a thing), we were set to board.
Once boarding began, the process was pretty quick, and again I didn't notice anybody being asked to place their bags in the baggage sizers.
We ended up leaving 1.5 hours after our scheduled departure time due to a crew member being stuck on a delayed plane, but the flight itself ended up being fairly smooth, in spite of the delay.
Overall, for the price I paid, I don't feel like I can fault Lynx Air too much. I would definitely fly with them again if they were the cheapest option, and I think it's great we now have more budget-friendly ways to travel across Canada (and over to select US destinations).
Of course, this is coming from the perspective of someone who's a bit of a budget airline veteran thanks to my 'broke student in Europe' days, so if you're not used to this kind of experience, then I'd advise sticking with more familiar airlines.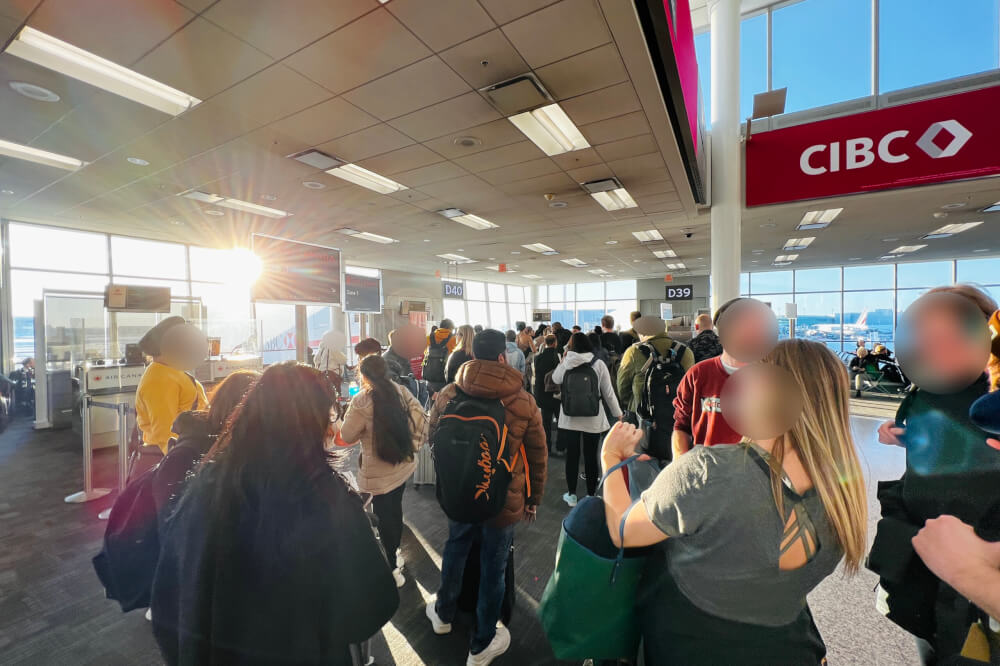 Final Tips & Must-Knows for Flying with Lynx Air
Alright, if this review has persuaded you to give Lynx Air a try, I'm going to impart a few final words of wisdom to help ensure that your experience is as "okay" as it gets.
Review the fine print very carefully
For those lucky souls new to budget airlines, it's important that you whip out those magnifying glasses and review the fine print (which, to be fair, Lynx spells out very clearly on their website).
A lot of the taken for granted assumptions we have about flying do not apply here, including…
Being able to take a carry on suitcase for free (only a tiny personal item is allowed)
Expecting free meals and refreshments on board (you will only get water)
Finding power outlets on board (there are none)
Boarding with a digital ticket (they force you to get one printed)
Enjoying any kind of on-board entertainment (none is available)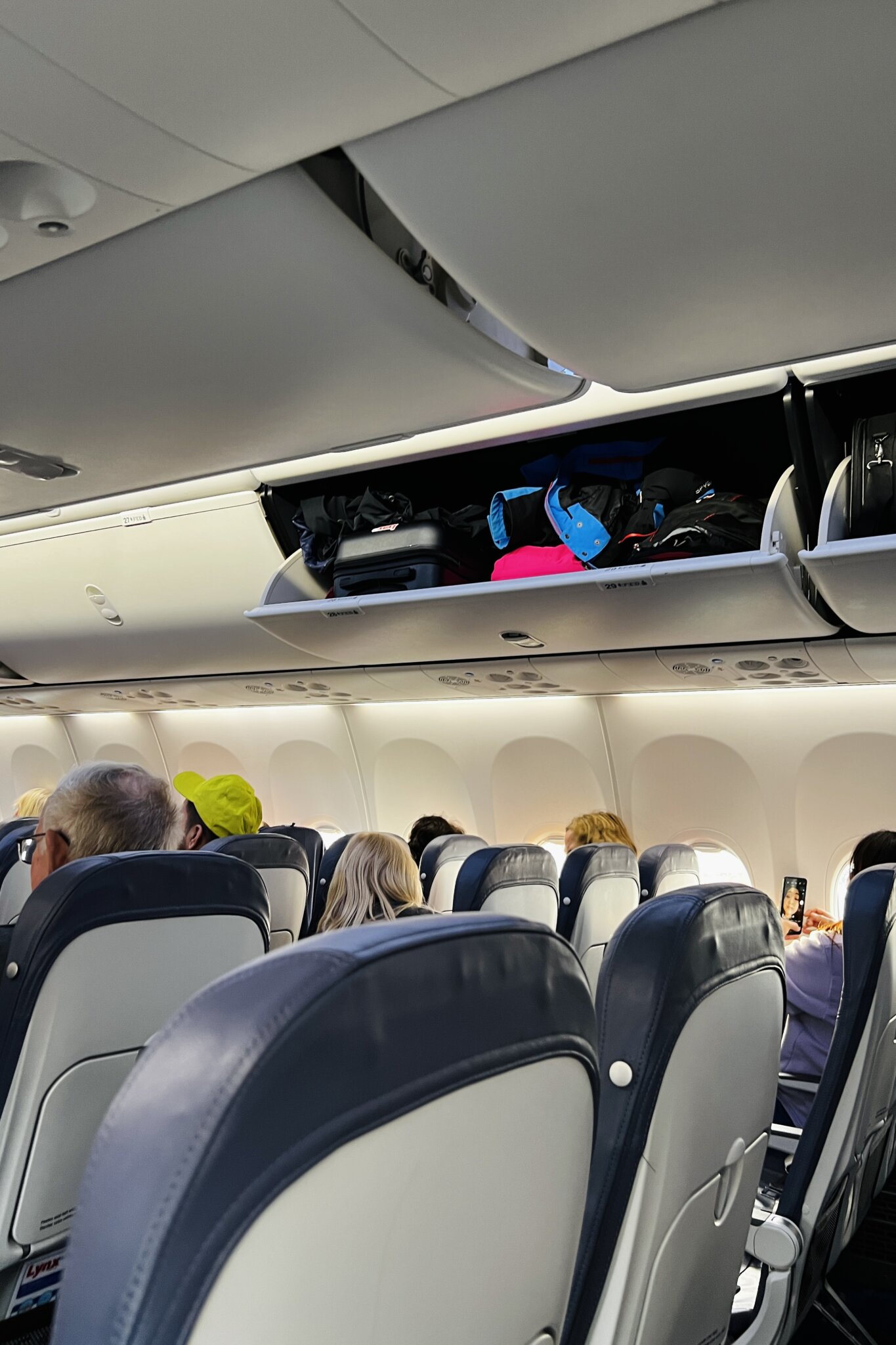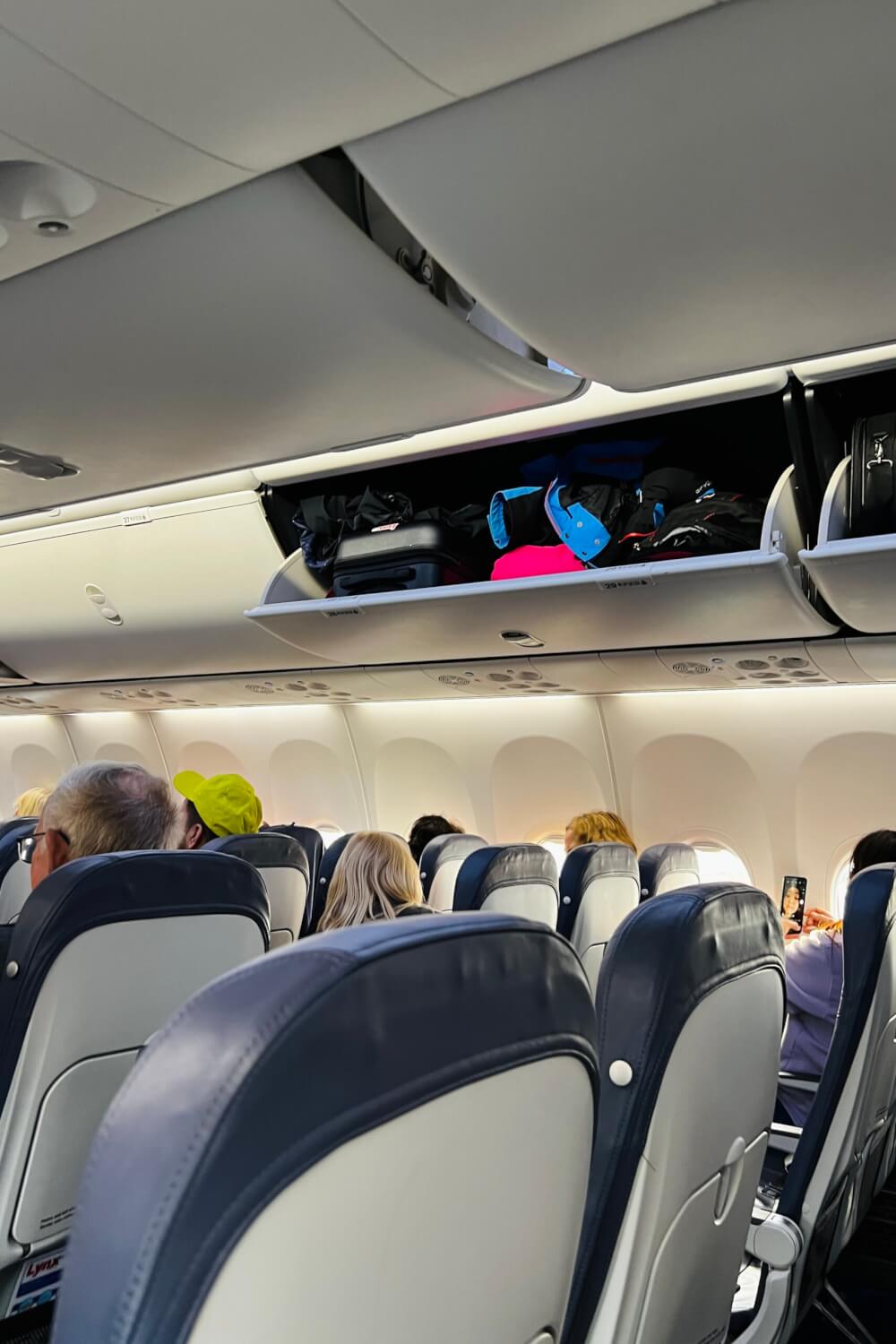 Book the earliest flights
As with many other airlines, often the delays with Lynx Air worsen throughout the course of the day, so your best bet at avoiding severe delays is booking an early flight (ideally the first ones of the day).
Of course, this doesn't protect you from weather-related delays but you do avoid any potential accrued delays, which is a plus.
For instance, my 5pm flight from Toronto to Vancouver was delayed about an hour and a half due to a crew member being stuck on another delayed flight. If we had been on the first flight of the day, this kind of delay wouldn't have been possible.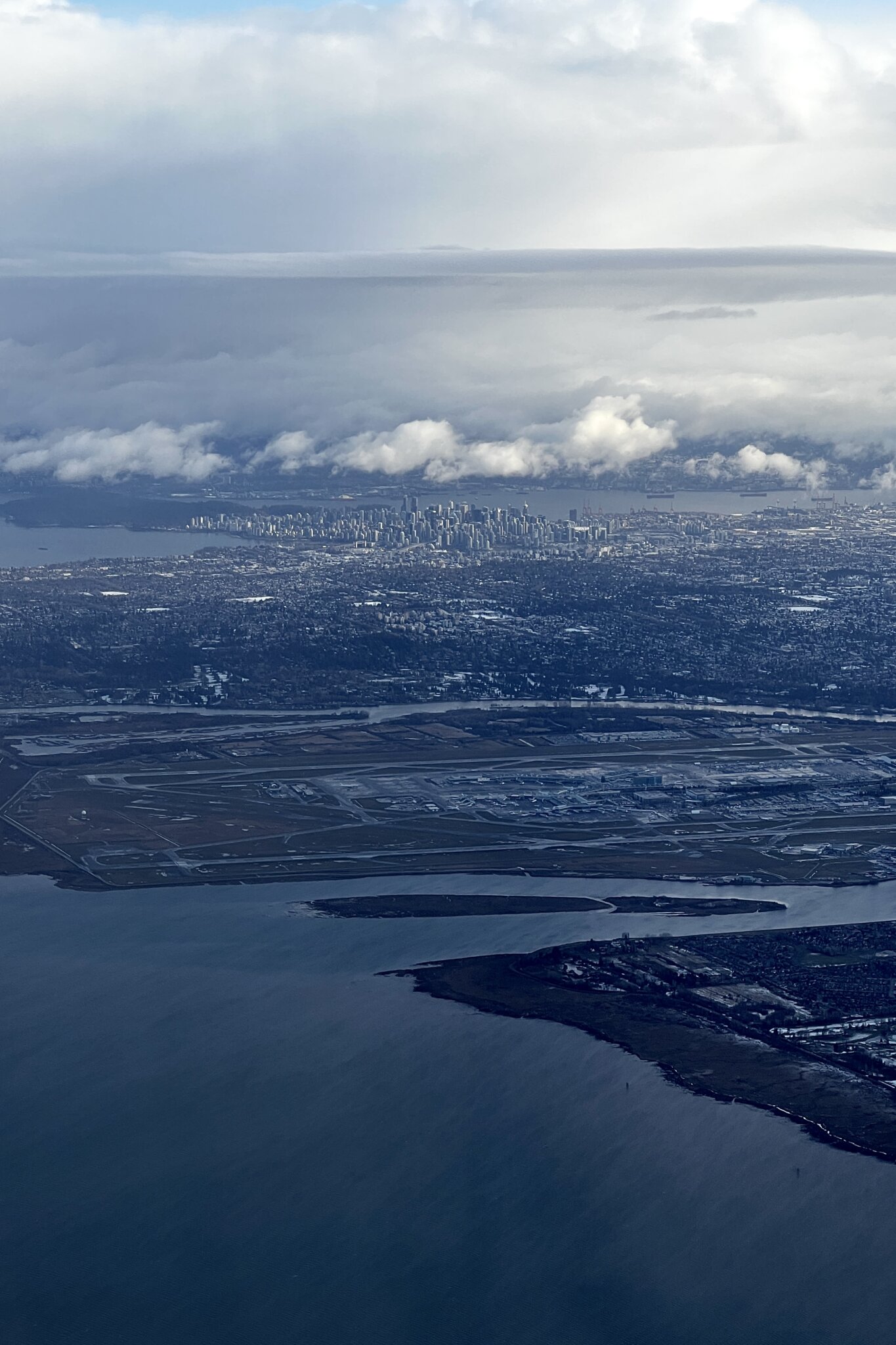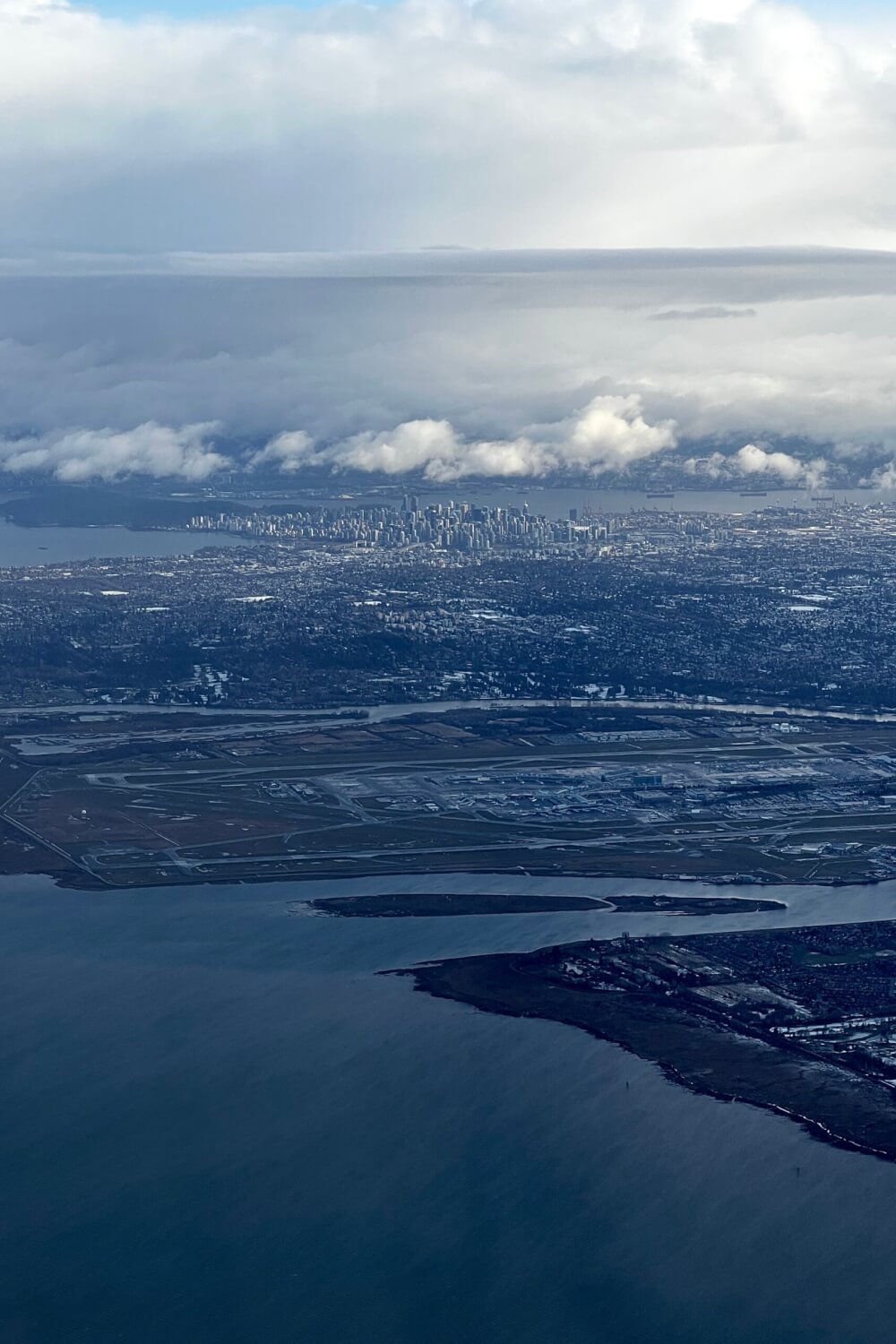 Fly carry-on only
This will allow you to avoid baggage drop line-ups and lost luggage, which (after reading other Lynx Air reviews) seem to be the main complaint after delays.
While I didn't need to check a bag for either of my flights, I did notice the lines at check-in/baggage drop were very long, so if you can avoid checking a bag, do it for the sake of your sanity.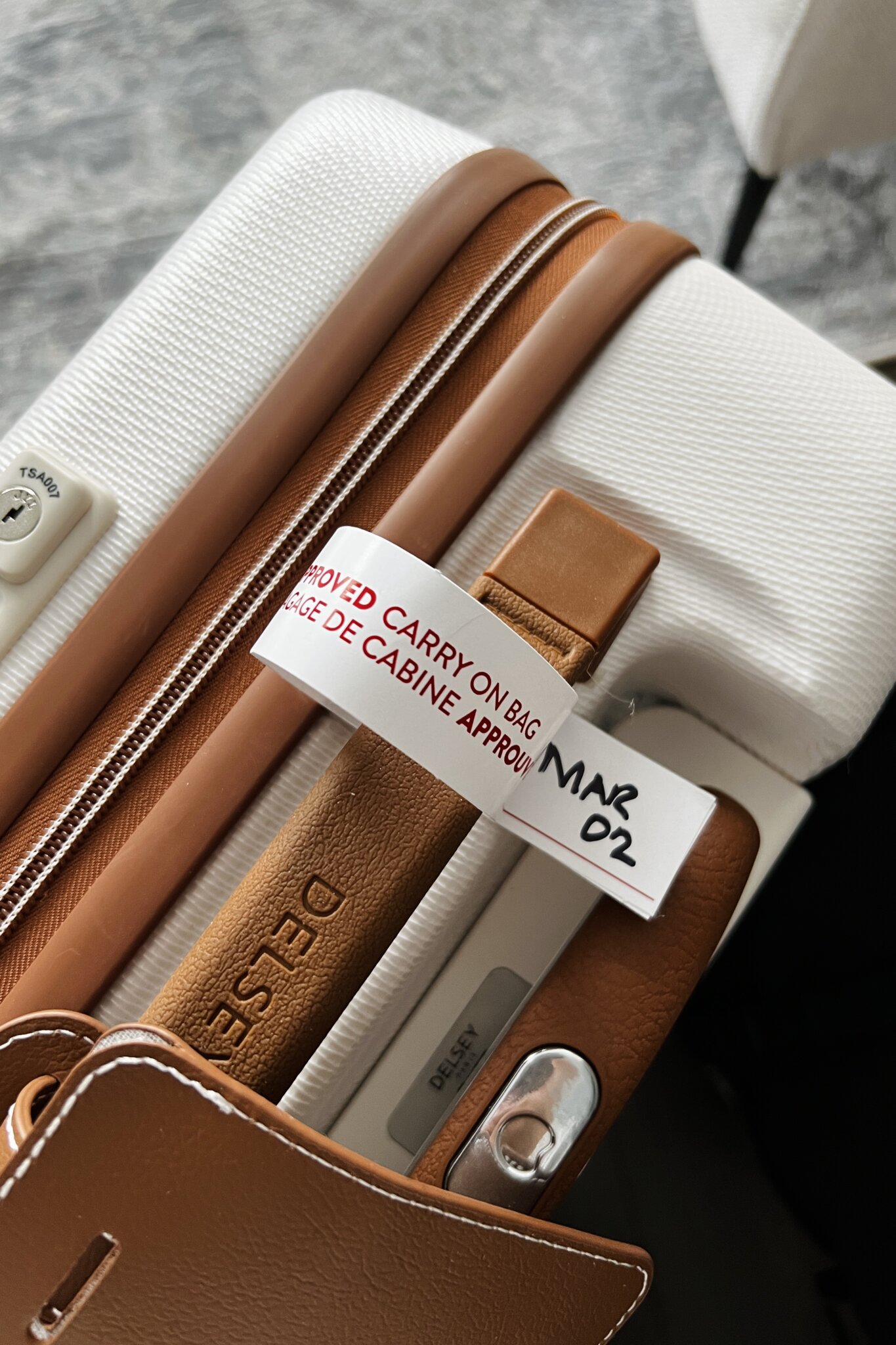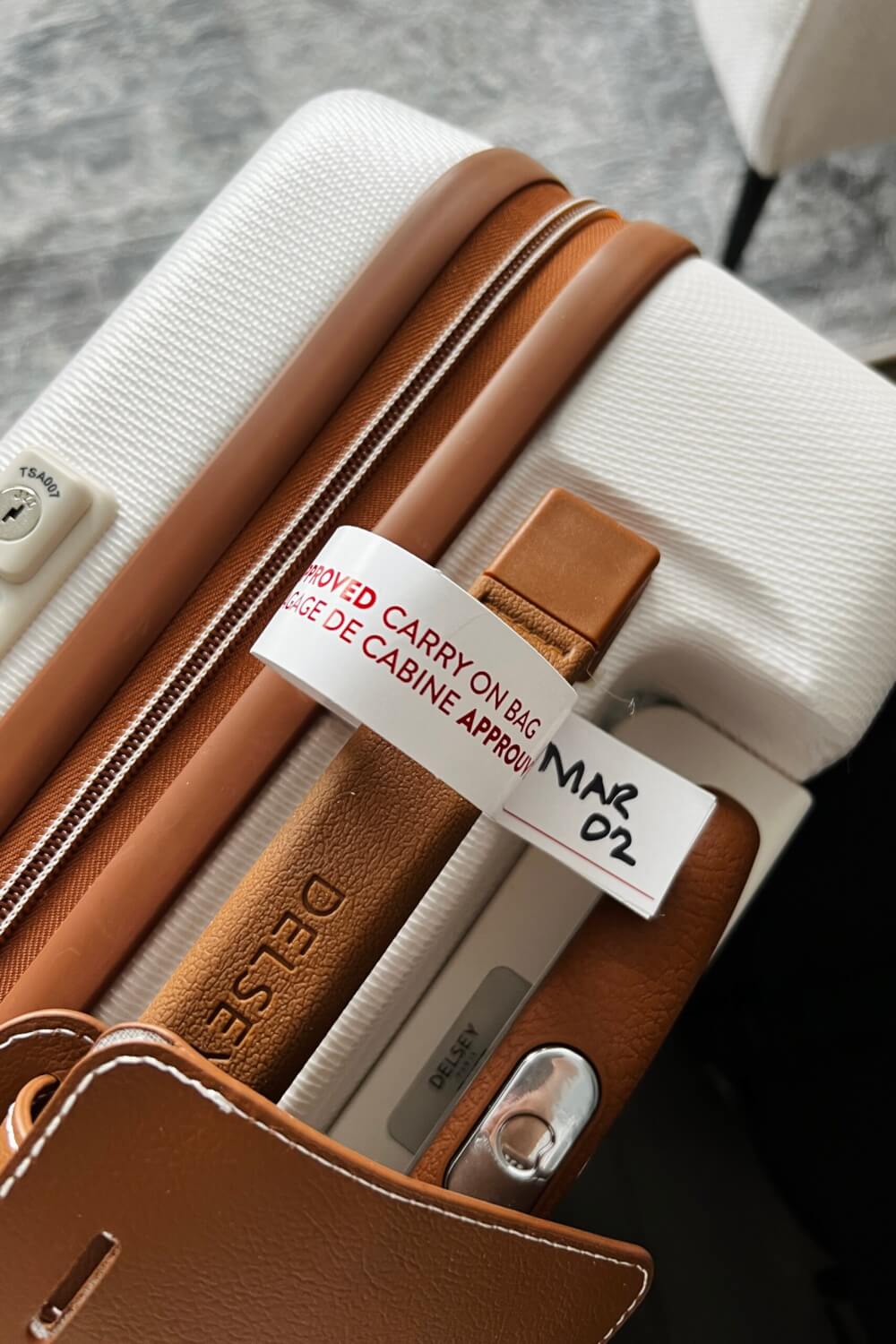 Make sure bags fit the allowed dimensions online WITH wheels and handles
Based on complaints from other passengers, it seems many of them aren't prepared for the Lynx Air baggage sizers that are used to determine if your bag is oversized or not. Take note that they're very small, and your wheels must fit in the sizer too.
What happens if your carry on bag doesn't fit in the sizer? If you get caught, they may ask you to pay extra to check it as a full checked bag (or make you pay the carry-on fee if your personal item is too big).
Of course, whether they enforce the rules is a different story.
During both of my flights, nobody was asked to put their carry on suitcase or personal item into the baggage sizers, but this is only my personal experience.
At the end of the day, whether or not your bag is strictly checked will be up to the individual staff. While I wasn't checked, other first-hand accounts from Reddit were not so lucky.
So just know that you *may* get asked to put your bags into the shockingly restrictive sizers, and they have the right to charge you if your bag is oversized… but if you're okay with risking it, then I'd advise just trying your luck with a slightly oversized backpack as your personal item (keyword being slightly) instead of preemptively paying for a full carry on bag.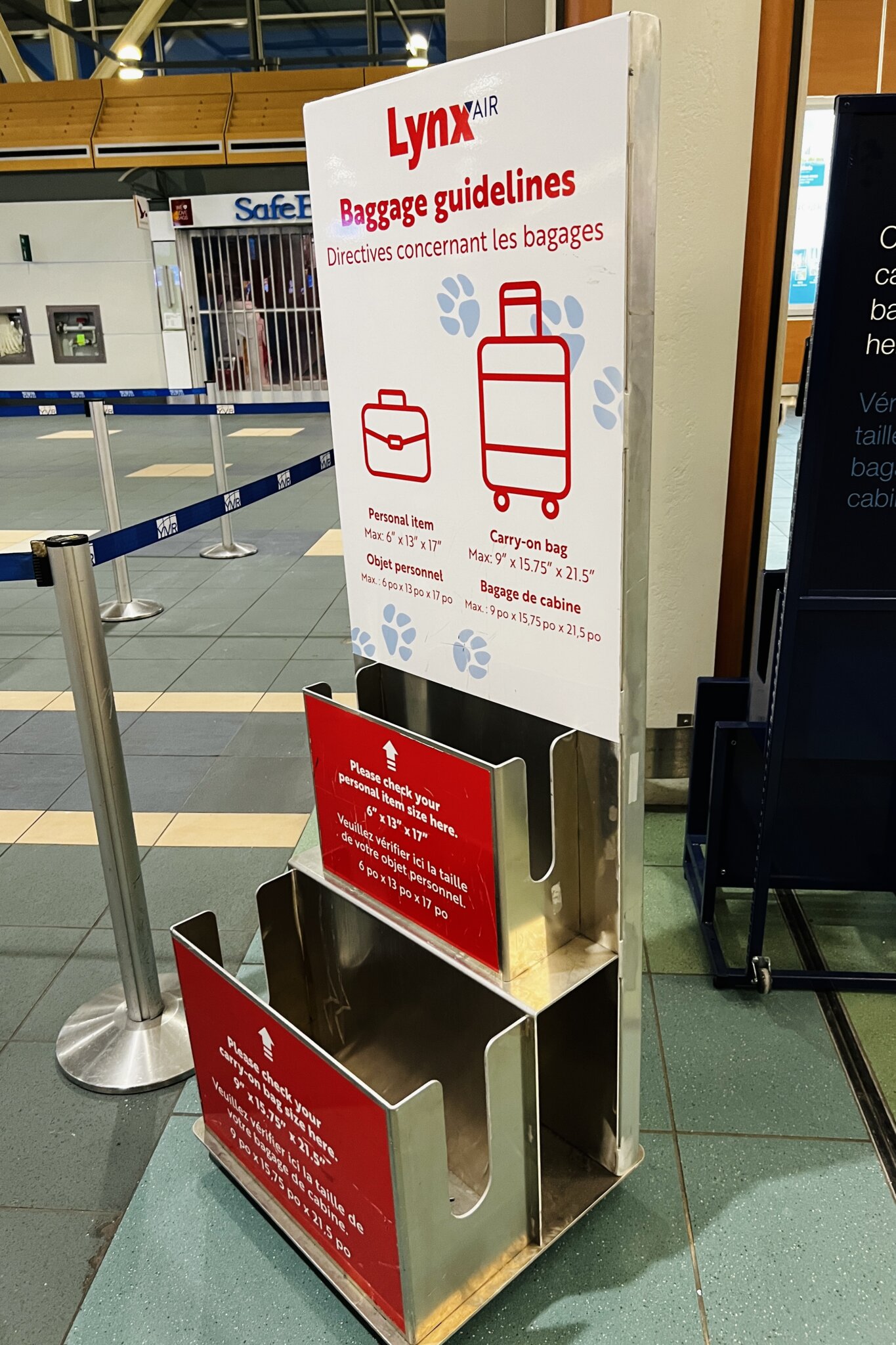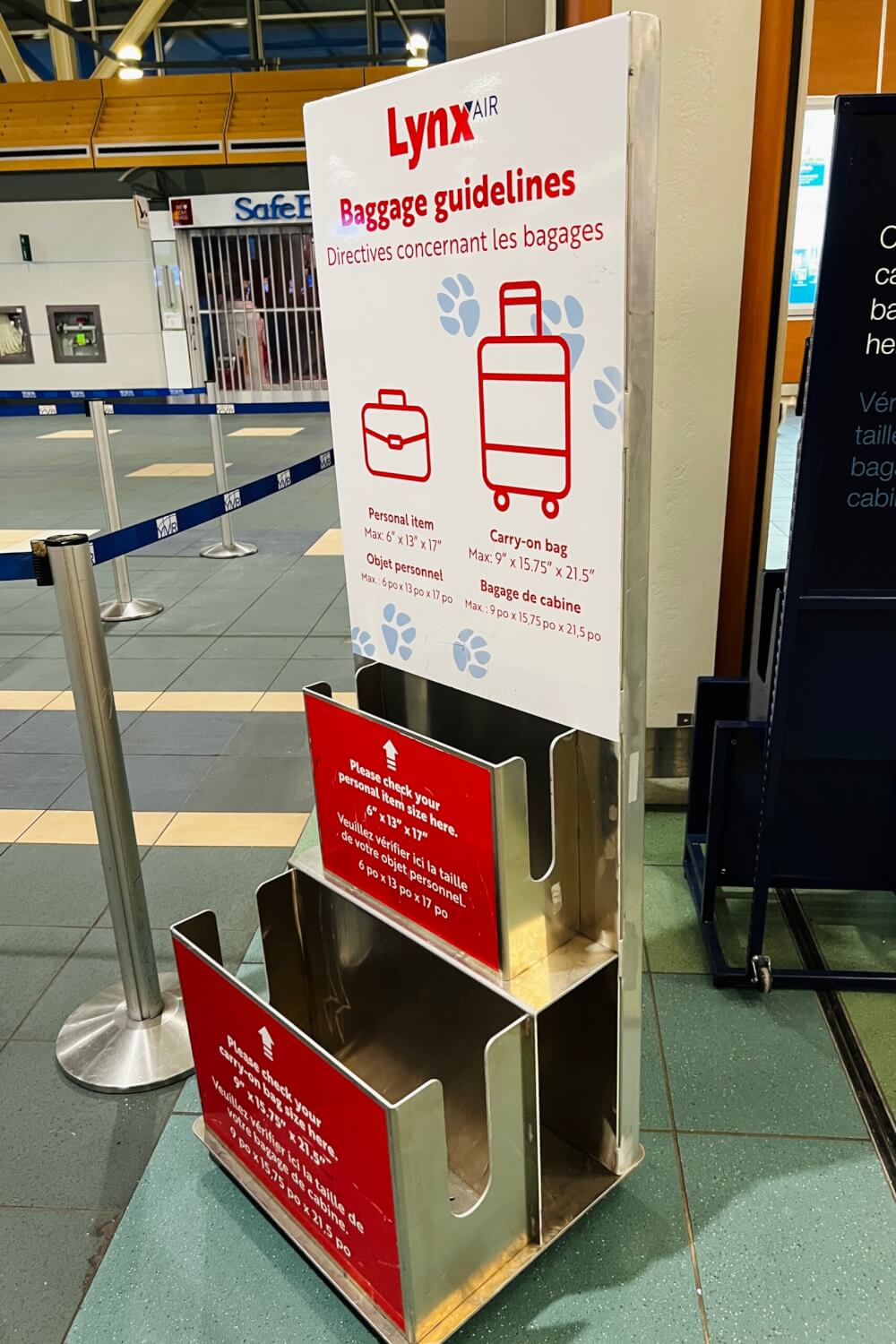 Pack snacks and entertainment
While "pack snacks" is decidedly one of my life mottos, nowhere does it ring more true than on a Lynx Air flight, because not only are there no free snacks, there are absolutely no snacks at all, not even for purchase.
For my fellow hangry hangry hippos, this is a must-know to avoid any on-board meltdowns, or desperation bites of germy armrests.
Likewise, there are no screens, magazines, or anything available, so unless you love thrilling reads such as "Safety Manual No. 1" then BYO…Book.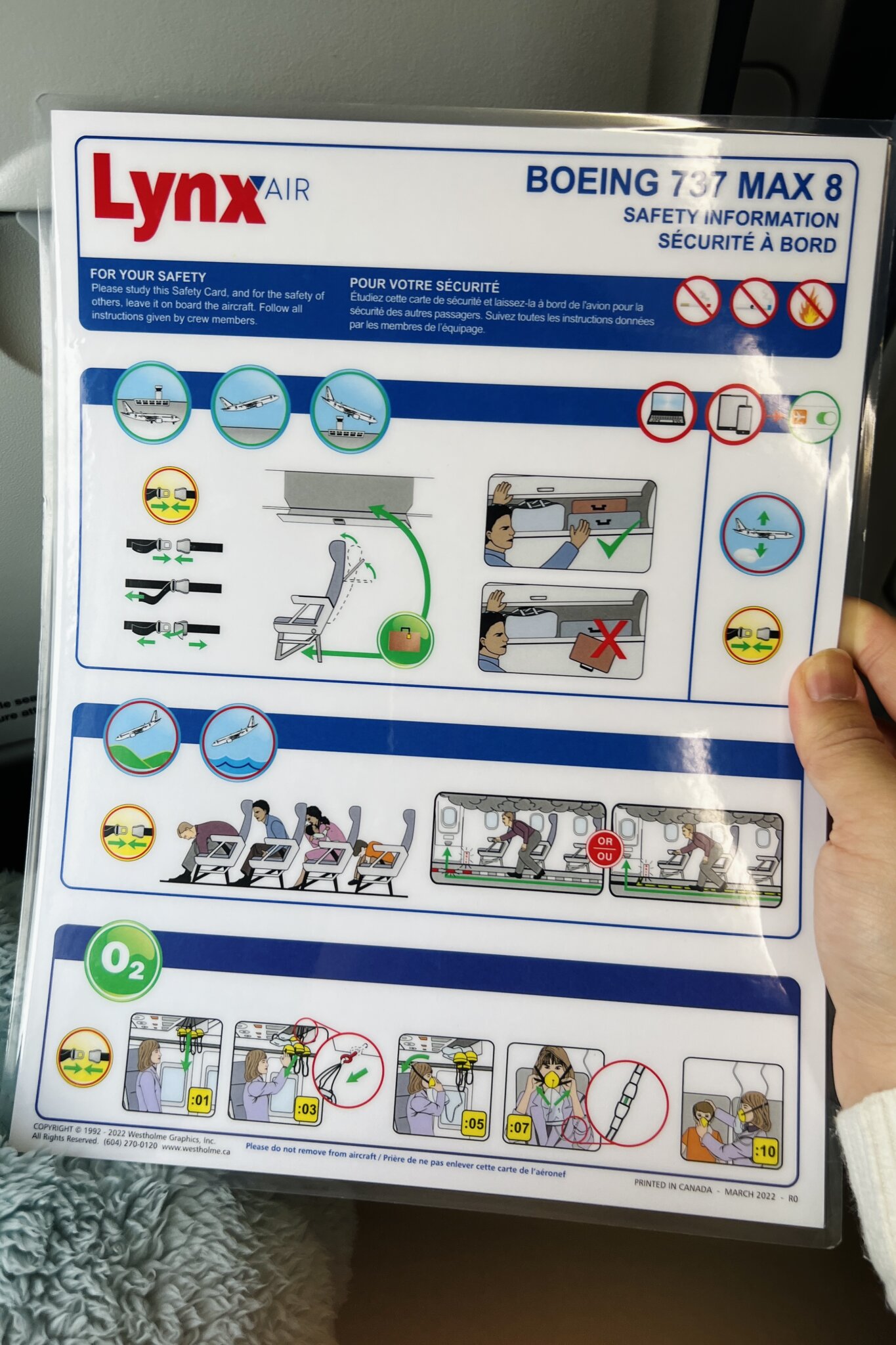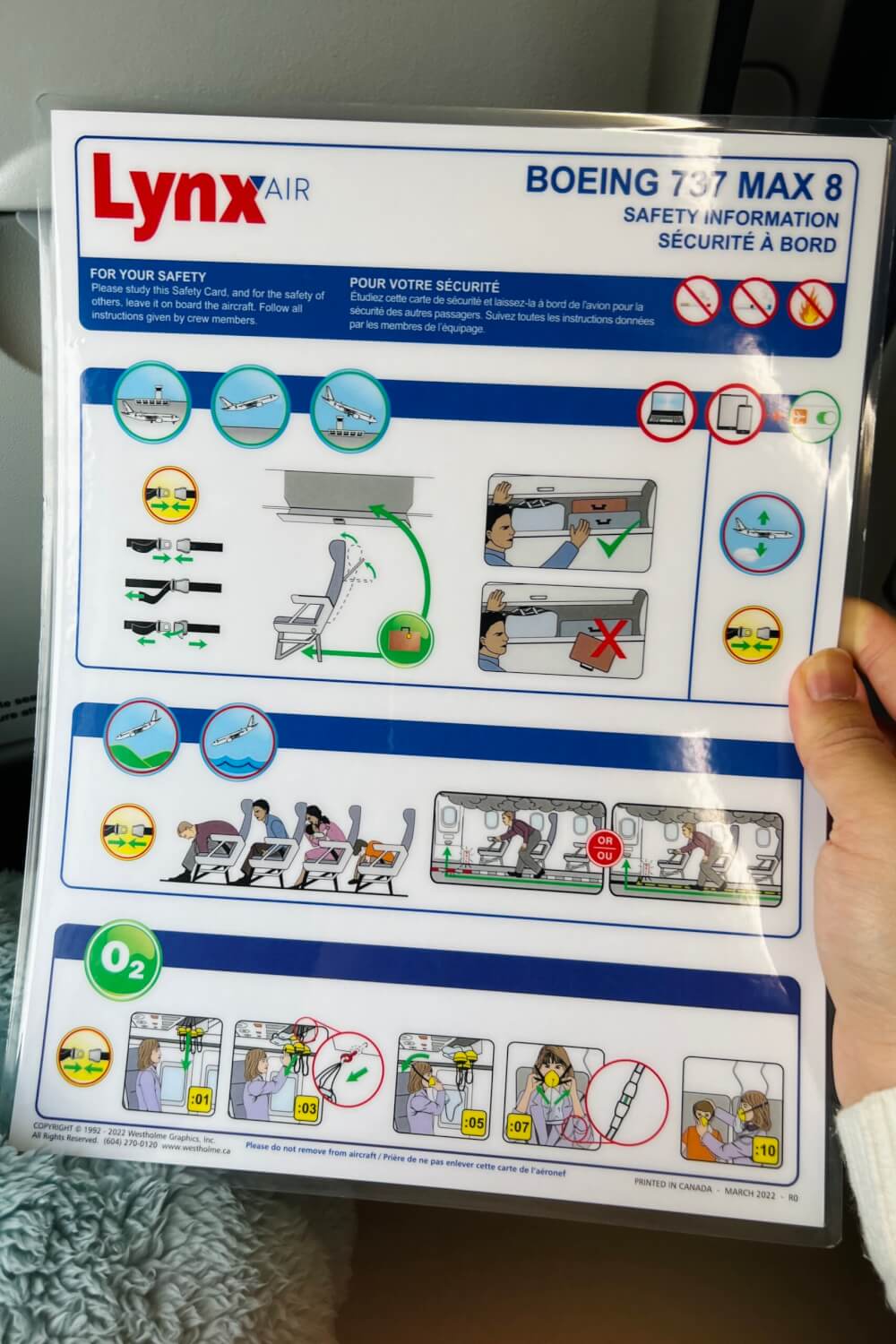 So, any more questions about flying with Lynx Air?
I hope you enjoyed that lengthy breakdown of what it's like to fly with Lynx Air.
I feel like I've addressed most questions/concerns in the review above, but if you have any more questions, feel free to ask away in the comments, or share your own personal experience with Lynx to help out other travellers. Safe travels!
---
Watch my most popular YouTube video this week:
---