*FYI - this post may contain affiliate links, which means we earn a commission at no extra cost to you if you purchase from them. Also, as an Amazon Associate I earn from qualifying purchases. Check out our Privacy Policy and Disclosure. for more info.
Imagine for a moment that you're in one of the most beautiful cities in the world, tucked away in the cozy confines of a 5 star hotel.
Around you, a beautifully decorated space oozing an air of class and sophistication, a perfect fit for the historic building you've just entered. Your feet are sore from a morning of sightseeing, and you're keen to disconnect a bit from the incessant bustle of tourist obligations. In a few short minutes, you'll be presented with four courses of Michelin-quality cuisine and welcomed of course, with a glass of crisp white wine… or perhaps four.
If this sounds like a hazy dream my friends, I assure you… it's all too real, and I recently got to experience it. This fantasy is one that you can live in real life, and it's called high wine at The Dylan, Amsterdam.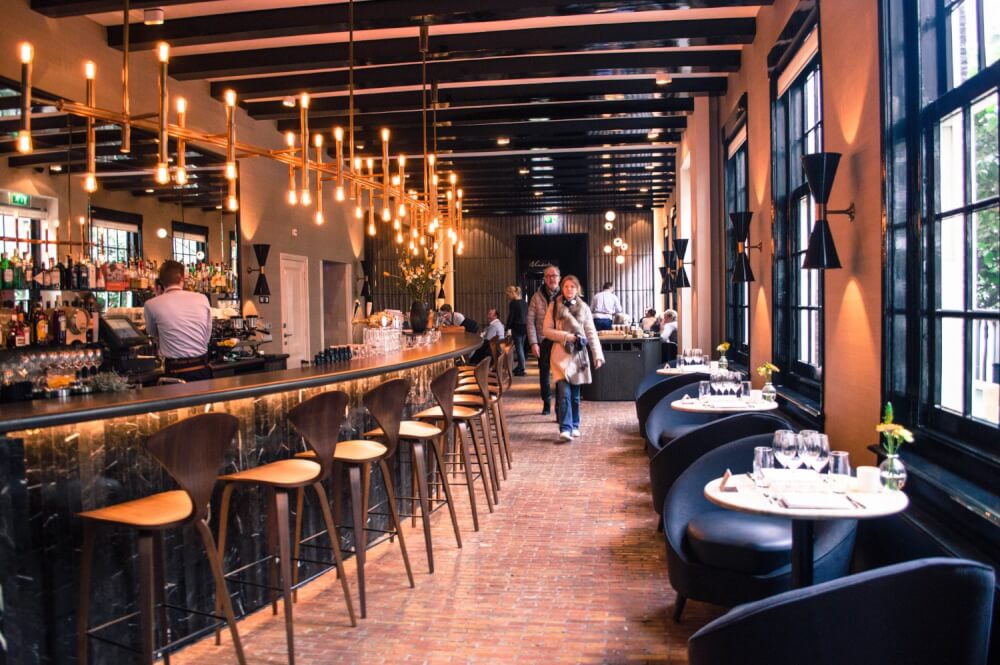 The Concept
The idea behind high wine is simple: 4 wines, 4 dishes and a decadent afternoon in one of Amsterdam's most luxurious boutique hotels. In the recently remodelled Braisserie OCCO, diners can expect full immersion in a sophisticated yet cozy environment, tucked away from the bustle of the city. Think of it as a savoury (and alcoholic) high tea, except with wine on offer and of course, heartier bites to eat.
The Setting
Located in the heart of Amsterdam, the Dylan is housed in a historical building that dates back to the 1600s. We briefly toured the property, which consists of only 40 rooms and suites, many with their own unique theme and design. The real showstopper though is the hotel's garden, which offers a serenely tranquil getaway for guests. It's no wonder why the hotel acts as venue of choice for countless summer weddings.
The Food
It was a drizzly Dutch Sunday when we arrived at the Dylan, so the Brasserie OCCO's cozy atmosphere was a welcome change of scenery. Our little afternoon break consisted of four crisp white wines from around Europe, paired with amuse-bouche portions of Brasserie OCCO favourites. The menu changes seasonally, and consists of pairings expertly chosen by Dennis Kuipers, executive chef of the Dylan's Michelin-starred Vinkeles Restaurant. The dishes we sampled were unique and creative, offering a fresh spin on classics like roasted chicken breast (which they served with little gem, tarragon sauce and popcorn). Can't ever go wrong with popcorn, right?
Each course brought on a new delicate balance of texture and flavour. Some dishes I was reluctant to try (tzatziki ice cream, anyone?), but I consistently found myself impressed with the unique taste combinations brought to our table. From cod and red beetroot to savoury pancetta-wrapped little gem, there wasn't a single dish we disliked. For me though, the winner of the day was our first course: a delightful martini glass filled with smoked salmon, fresh cucumber and sesame. The crisp flavours of the salmon mixed with the zippy tang of the tzatziki was perfect, and was something I could eat over and over.
Of course, after three savoury courses (and three delicious glasses of wine), they brought on their piece de resistance: a delightful berry cake topped with cinnamon ice cream made in-house. The fluffy texture of the cake was masterfully paired with the subtle crunch of the red cabbage garnish… and the dreamy scoop of fresh ice cream was a flawless last addition. Mmm!
The Experience
Overall, our afternoon at the Dylan was one of the highlights of our short weekend break in Amsterdam. Our server Wesley was adorably attentive, presenting each course and its accompanying wine with smiley charm. He made sure to recite every menu item with detail, even inviting us to ask questions as needed. We were given all the time we needed between courses, and never felt rushed. The service was so lovely in fact that my boyfriend turned to me after the meal and asked (only semi-jokingly) "Can we keep him?"
… I wish!
In sum, I have to say… for foodies visiting Amsterdam, High Wine is a unique gastronomic experience that cannot be missed. No doubt, as pioneers of the high wine experience, the Dylan team is onto something…
Now here's to hoping the rest of the world catches up!
High wine is served at the Dylan every day from 3:30 p.m. – 5:30 p.m. For more information, check out their website.
Pin for later: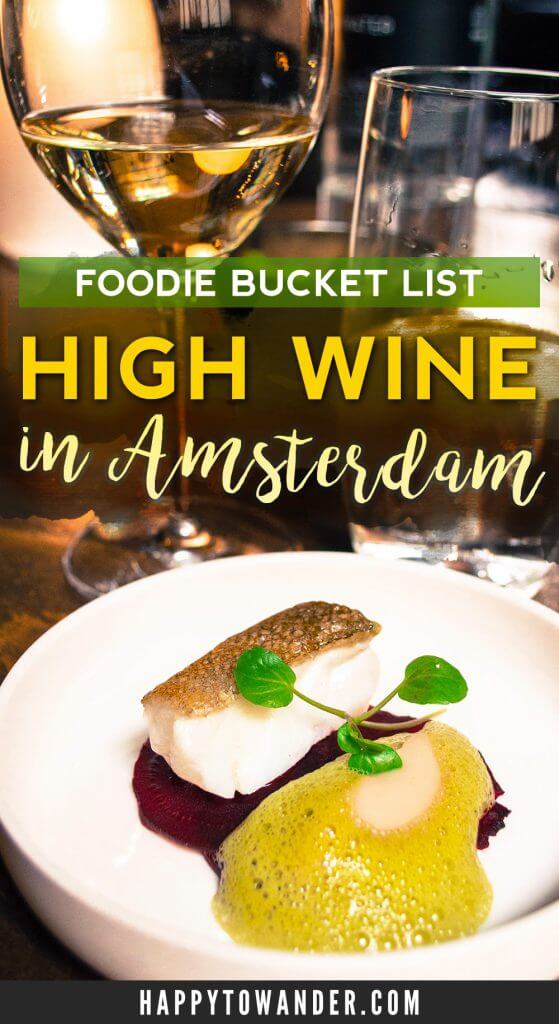 I was welcomed as a guest of the Dylan for my high wine experience, but all opinions (and adoration!) are my own.