*FYI - this post may contain affiliate links, which means we earn a commission at no extra cost to you if you purchase from them. Also, as an Amazon Associate I earn from qualifying purchases. Check out our Privacy Policy and Disclosure. for more info.
I've made it no secret that I'm low-key obsessed with Disneyland Paris.
After all, as the only Disney park in Europe, it's the one I've trampled through most… and continue to frequent for super fun events like the Marvel Season of Heroes, and "Christina needs a break".
Now, I've already written all about Disneyland Paris secrets, the Disneyland Paris castle, and how to plan the perfect day trip from Paris to Disneyland…
But today, I'm spilling the beans on all my top Disneyland Paris tips & secrets to ensure your dream trip is the fairytale you always imagined…. rather than a sweaty, sticky, and crowded nightmare.
So, no fluff – here are some must-knows before you visit Disneyland Paris!
Get your Disneyland Paris tickets in advance
This is one of THE most important Disneyland Paris tips offered by any guide, so we'll get it out of the way first.
To make the most of your Disneyland Paris day trip, you should ensure you have tickets booked before your trip so that you don't waste time waiting in line at the box office.
You can get them here on GetYourGuide in just a few minutes.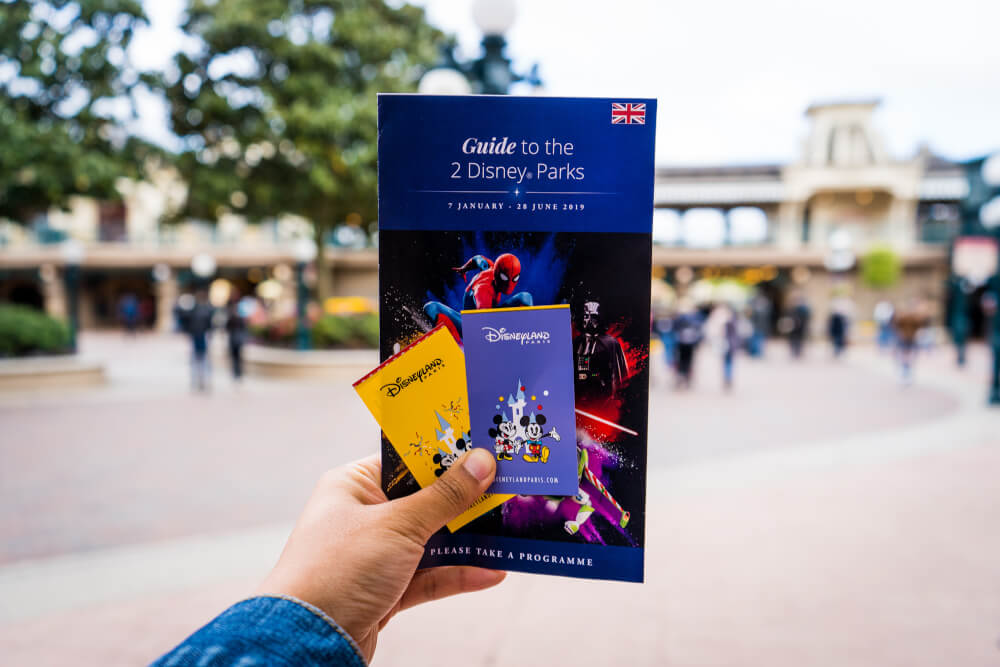 Stay overnight nearby if you can
Disneyland Paris is very commonly done as a day trip from Paris.
BUT, if you have the option, I'd highly recommend staying close to the park. Browse options here.
While it's not too tough to navigate from Paris to Disneyland (read my full Paris to Disneyland day trip guide for details), being able to roll out of bed to arrive at opening time is priceless, and getting to stay late without worrying about getting back is well worth the extra money.
And while Disneyland Paris park hotels are notoriously expensive, there are quite a few budget-friendly options close by. I've stayed at the Hôtel Mercure Marne la Vallée, which was only 10 minutes from the park by train (door to door), and it was great!
Not really anything fancy, but comfortable and most importantly – half the cost of on-site properties.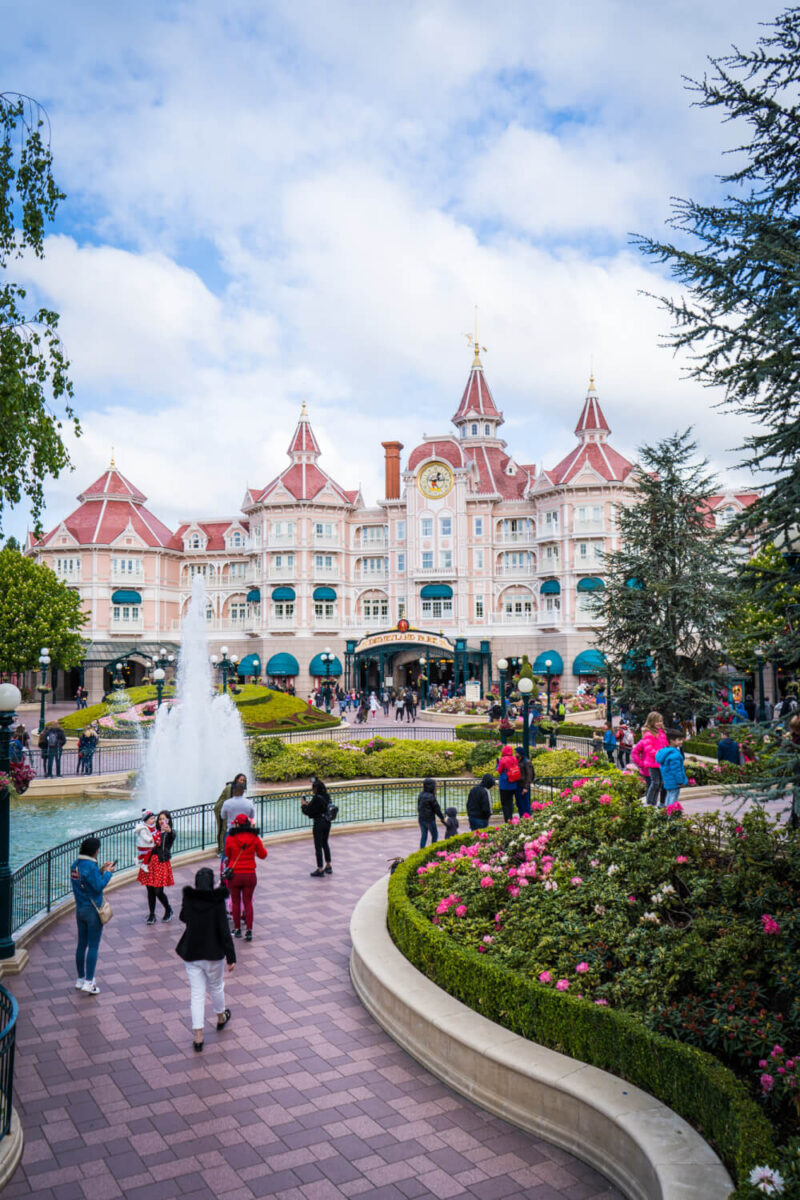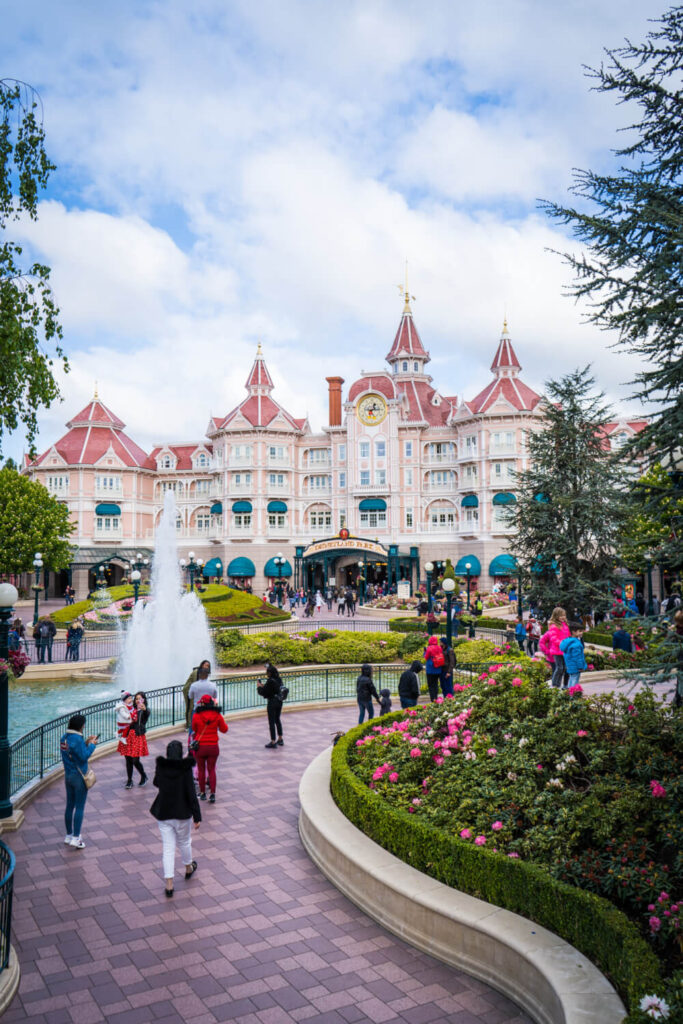 Avoid weekends
Weekends and school holidays are (of course) a really busy time to be at Disneyland Paris. If you can at all avoid them, do it!
I've visited Disneyland Paris once on a weekend and twice on a weekday and the difference was huge.
Especially on a gloomy off-season day, I was able to hop onto most major rides in less than ten minutes.
This can save a LOT of time and make the overall experience more enjoyable.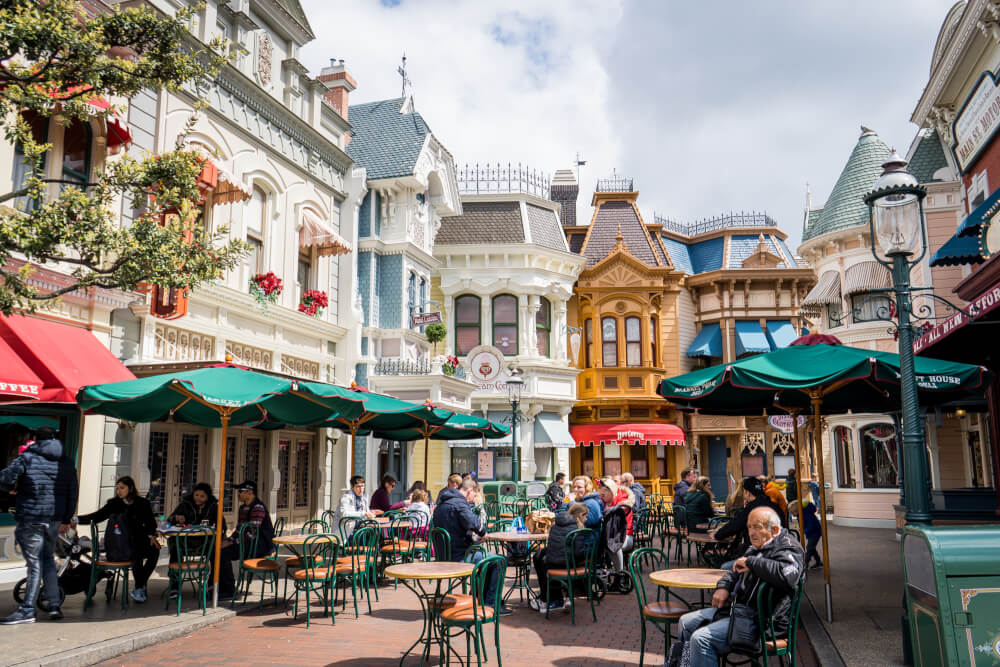 Consider Christmas at Disneyland Paris
I once visited Disneyland Paris in early-December (for my birthday actually) and LOVED it.
The Christmas decor at this park is just impossibly charming, plus if you coordinate your Christmas visit to be in an off-peakish time (e.g. weekdays, earlier in the month before school holidays), then there's the added bonus of thinner crowds as well.
PS: Another perk of visiting Disneyland Paris at Christmas time is you can also venture into the city to experience Christmas in Paris, which is absolutely incredible too.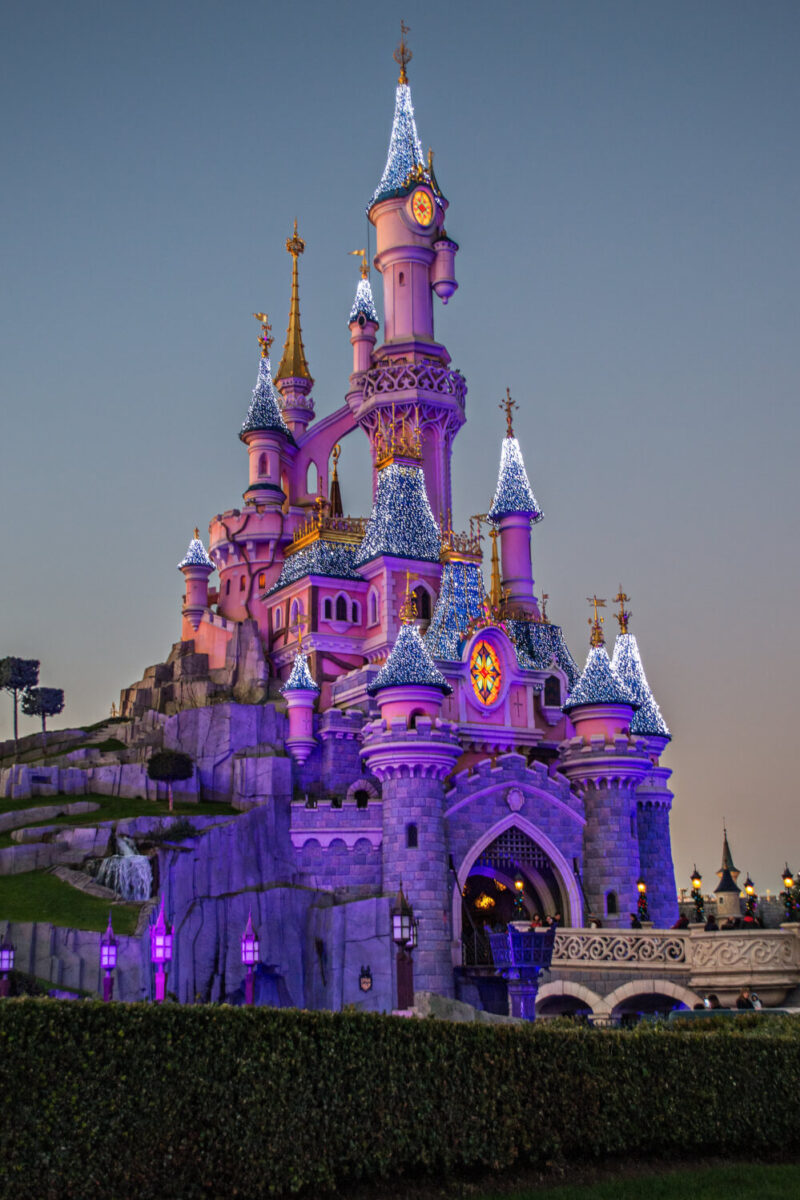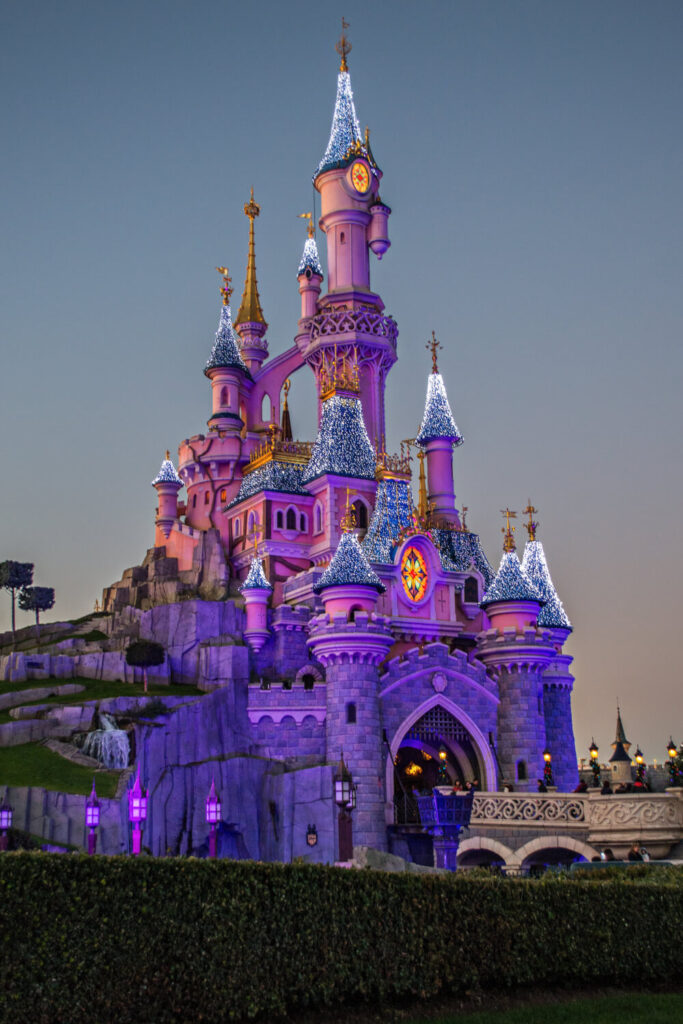 Fly into Charles de Gaulle Airport rather than Orly
If you need to choose which airport to fly into, 100% pick Charles de Gaulle.
This is because you can actually take the TGV directly from Charles to Gaulle to Disneyland Paris, which is a quick 10 minute ride.
In contrast, if you arrive at Orly, then you'll have to either book a private transfer or take the RER, which goes through the city of Paris and takes longer.
Coming from abroad? Check out my guide to finding the cheapest flights to Europe.
Coming from within Europe? Check out my guide to the cheapest ways to travel around Europe.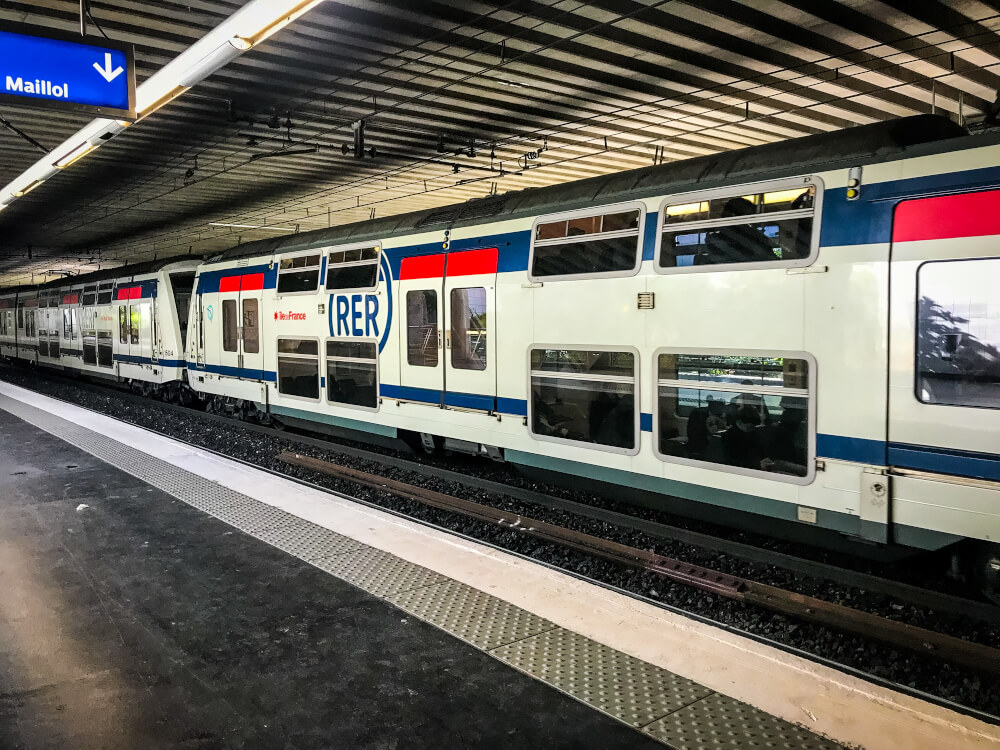 Keep an eye out for all the cool hidden gems and secrets scattered around Disneyland Paris
Disney parks tend to be a treasure trove of hidden gems and easter eggs for eager superfans… and I'm happy to report that Disneyland Paris is no exception.
From a variety of hidden mickeys to tiny details you wouldn't usually notice, Disneyland Paris is full of hidden secrets, so read my full guide to Disneyland Paris hidden gems & secrets for more.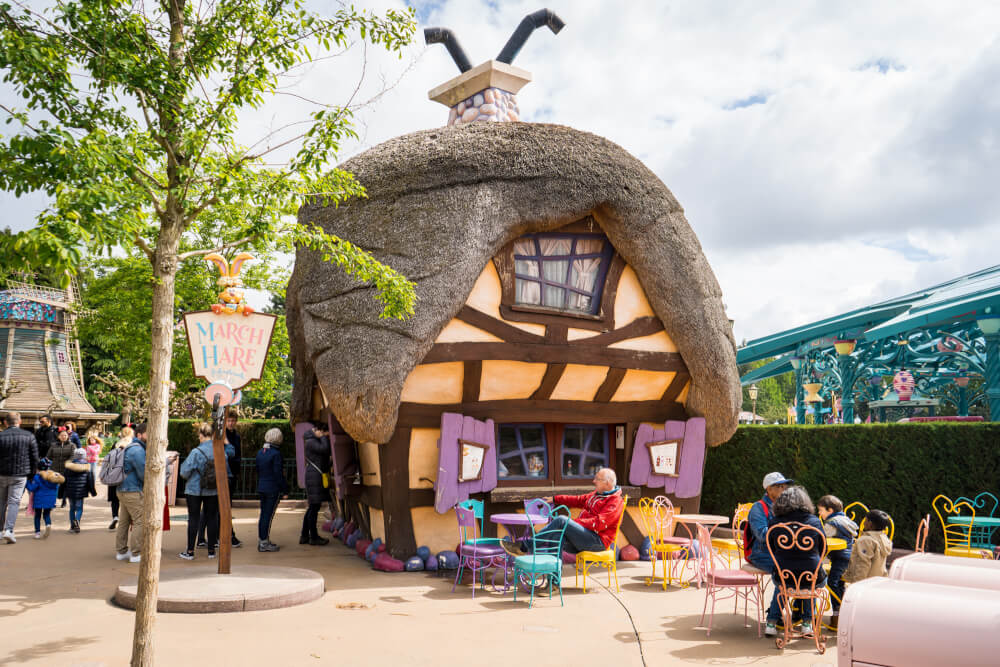 Download the Disneyland Paris app in advance
Yes, it's Disney, so of course there's an app, and it's actually really wonderful.
This app is a total lifesaver because it has all the attractions, maps, showtimes, wait times, etc. all in one place, and can help you stay organized throughout your day trip. Click here to download it.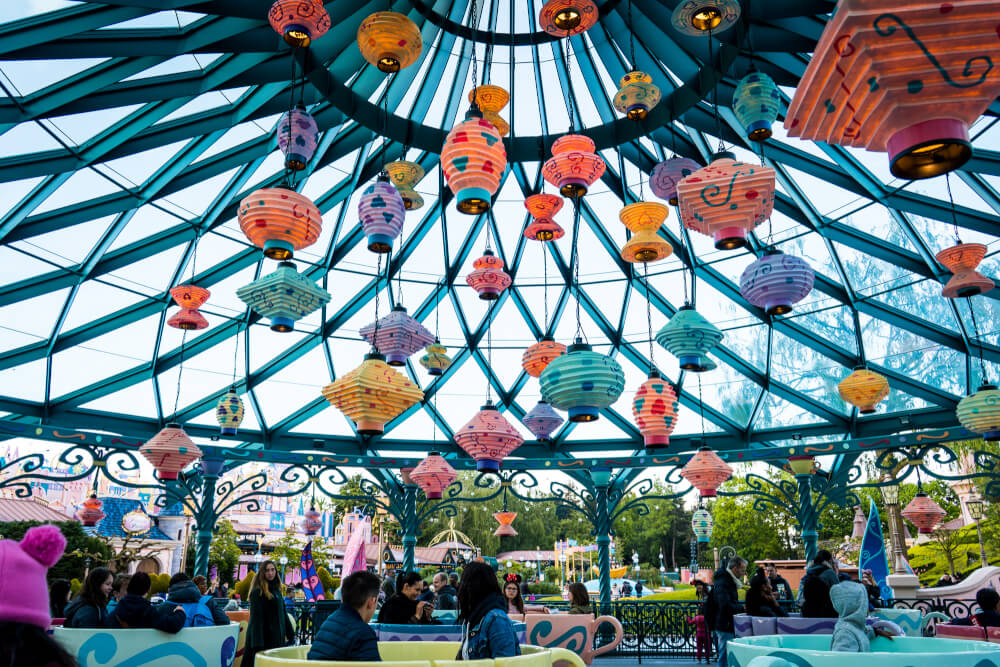 Consider buying your return ticket in advance, or get a day ticket
If you are day tripping or staying somewhere off-site, then I highly encourage you to buy your return train ticket in advance so you don't get stuck in the "end of the day" mob.
The train ticket machines get really long line-ups after the evening shows and waiting is a huge bummer.
The good thing about the RER train tickets is you can get them in advance and they're not valid until you stamp them.
Buying your return trip at the same time as your first ticket would be smart – just make sure you don't get them mixed up!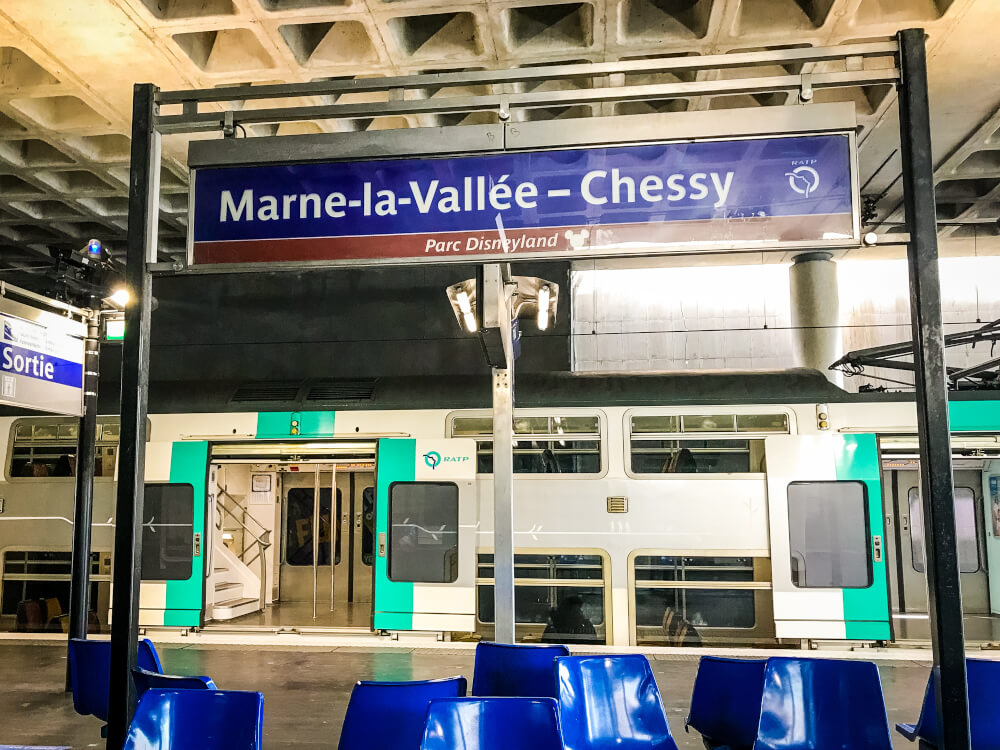 Keep your transport ticket
Again, here is another very important Disneyland Paris tip if you are getting to the park by train.
The #1 rookie mistake I've seen at Disneyland Paris is misplacing your transport ticket before you've left the train station gates.
It's very very very very very important that you don't do this because you need to insert your ticket in the machine for the gates to open, and also you need to keep that ticket as proof of payment in case transport police ask you for it (which I have seen).
In any case, make sure you keep your ticket on you somewhere handy so that when you're leaving the station, you can find it quickly and not hold up the huge mob of people behind you (which I have also seen).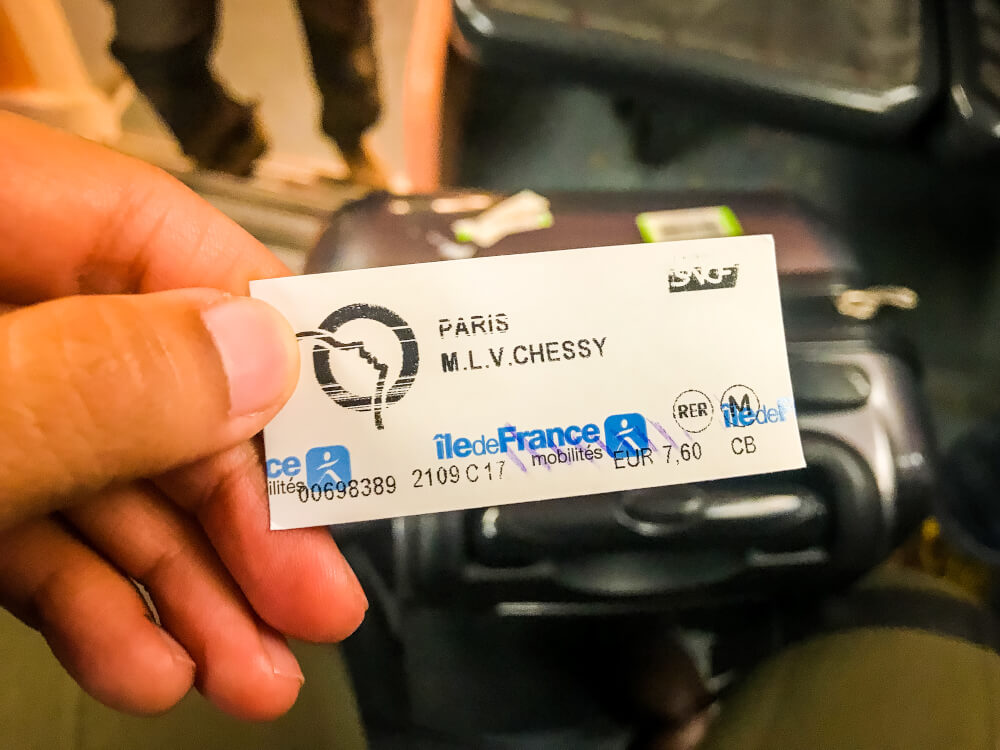 Create a rough plan of attack for the day, including jotting down "must dos"
Disneyland Paris is smaller than other Disney parks, but it's still a lot to pack into a single day (which is often all that visitors have).
To ensure you make the most time out of your limited time, you 100% need to make a strategy for the day.
I would recommend getting a map of the park(s) you plan to visit and starring all the things that are a must for you, whether this be a ride, a show, a character meet or whatever else.
Get these down on your schedule first, then plan around them with more activities and attractions based on park location.
There is no way you'll be able to visit every attraction, ride every ride, etc. so be sure to create a plan or else you'll become a puddle of overwhelmed mess.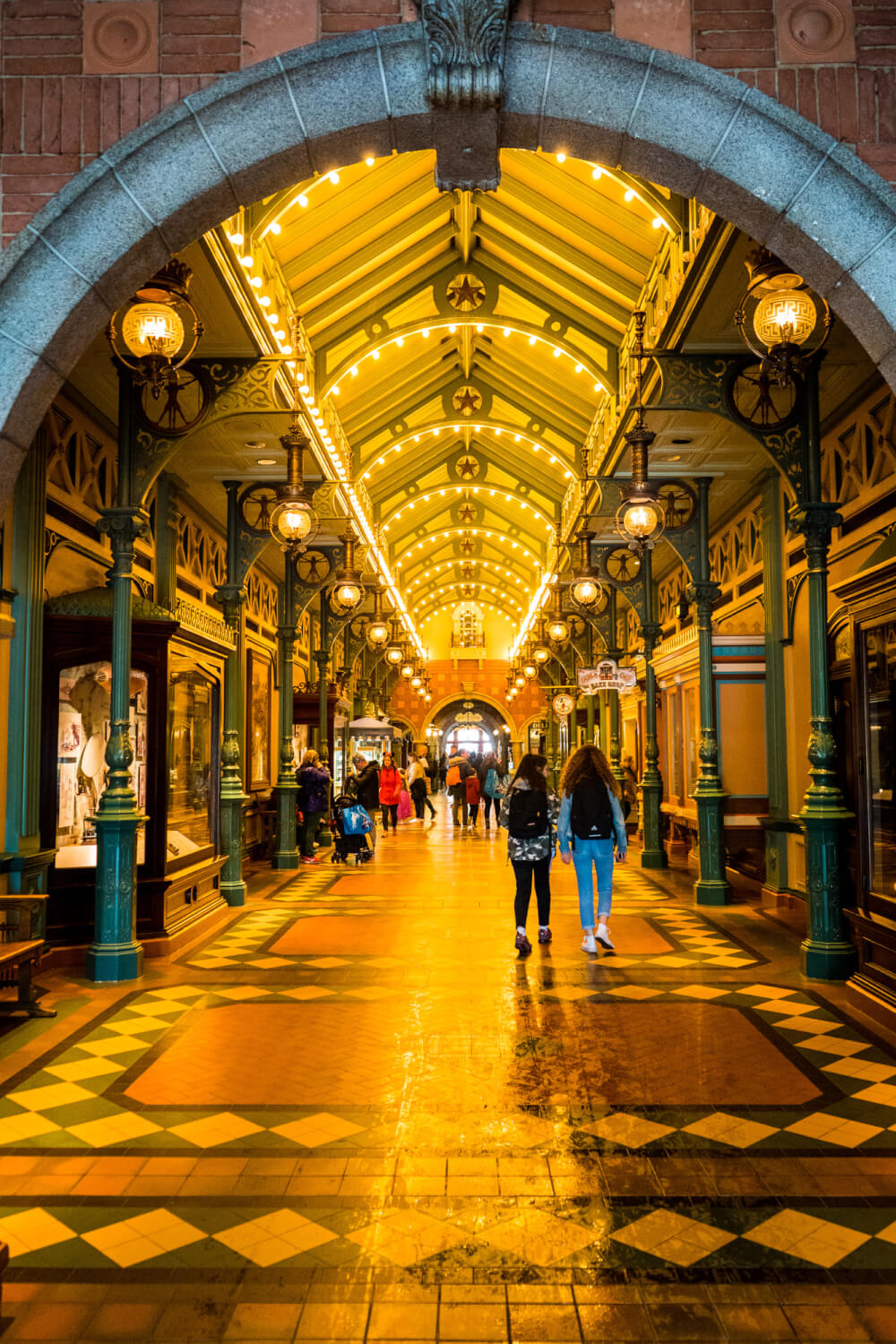 Bring your own water bottle and snacks
One often overlooked fact for first-timers is that you are 100% allowed to bring your own food and drink into Disneyland Paris.
The one thing they do discourage however is picnics. So long as you don't bring a big picnic full of food, you'll be fine.
Food at the park is both expensive and generally speaking, unhealthy, so having some little sandwiches, energy bars, water, etc. will go a long way.
It goes without saying though that you can't bring any alcohol in.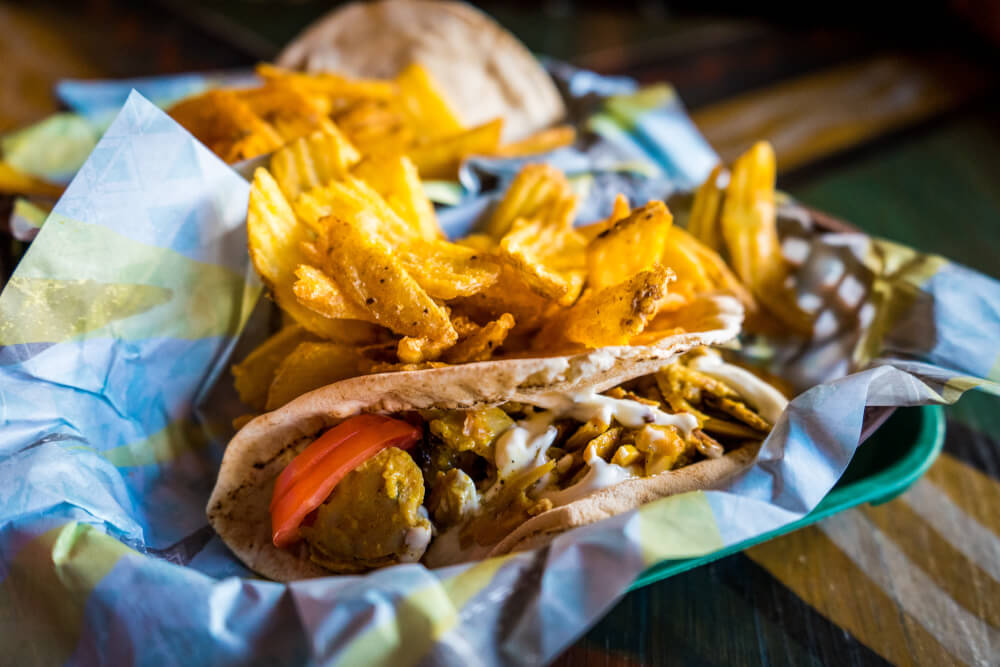 Dress in layers because the weather is a little crazy
Unlike its counterparts in warmer climates like Anaheim and Orlando, Disneyland Paris has some wildly unpredictable weather.
I've been to the park now twice in May and once in December – during all these visits, the weather changed very unexpectedly.
This is why I would recommend dressing in layers so that you can adjust accordingly.
I would even recommend bringing an umbrella, poncho, or at least a hooded jacket because the rain can come swiftly and unexpectedly. It also gets very chilly at night.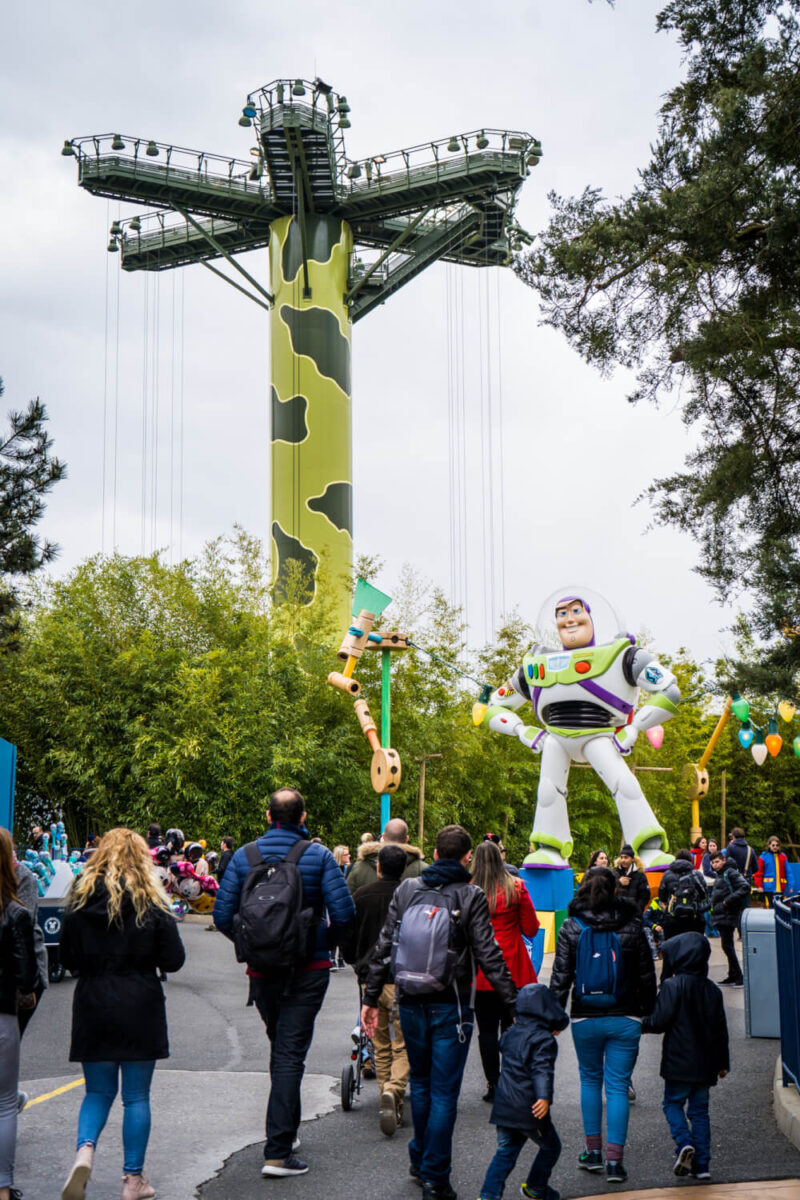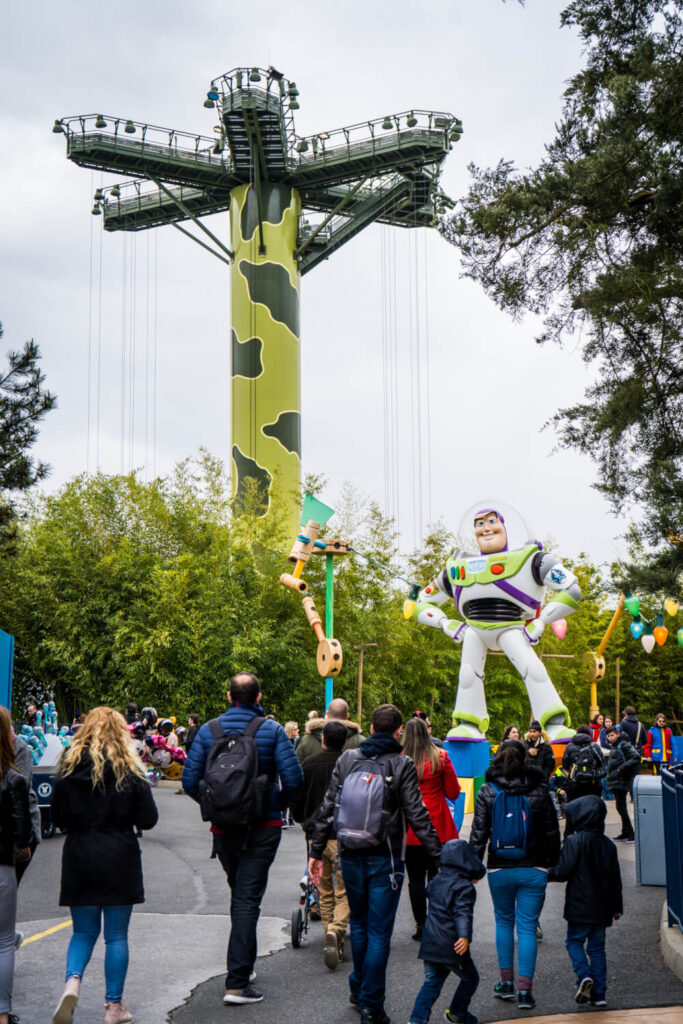 Get your FASTPASS strategy down pat
One of the best time savers at Disneyland Paris is the FASTPASS which allows you to skip lengthy line-ups for the parks' biggest rides.
Contrary to popular belief, you don't actually need to pay extra for access to Fastpasses, which means any park visitor can take advantage.
According to the official DLP site, here are the rides that have a FASTPASS option.
Disneyland Park:
Indiana Jones and the Temple of Peril, Adventureland 
Star Wars: Hyperspace Mountain, Discoveryland
Buzz Lightyear Laser Blast*, Discoveryland
Big Thunder Mountain, Frontierland 
Peter Pan's Flight, Fantasyland 
Star Tours, Discoveryland
Walt Disney Studios Park:
The Twilight Zone Tower of Terror**, Production Courtyard
Ratatouille: The Adventure, Toon Studio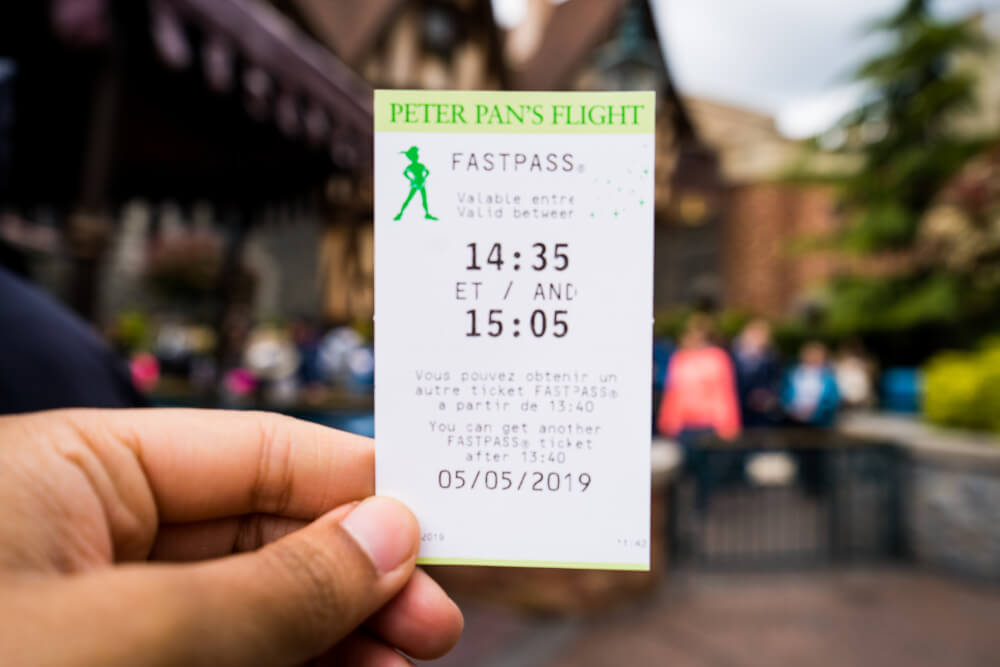 Take Advantage of the Single Riders' Lineups
Not all rides will have these, but if you don't mind being separated from your group, choosing the Single Rider lineup will allow you to breeze through rides a lot quicker.
At Disneyland Paris, the following rides have a single rider option:
Star Wars: Hyperspace Mountain, Discoveryland (Disneyland Park)
RC Racer, Toon Studio (Walt Disney Studios Park)
Toy Soldiers Parachute Drop, Toon Studio (Walt Disney Studios Park)
Crush's Coaster, Toon Studio (Walt Disney Studios Park)
Ratatouille: The Adventure, Toon Studio (Walt Disney Studios Park)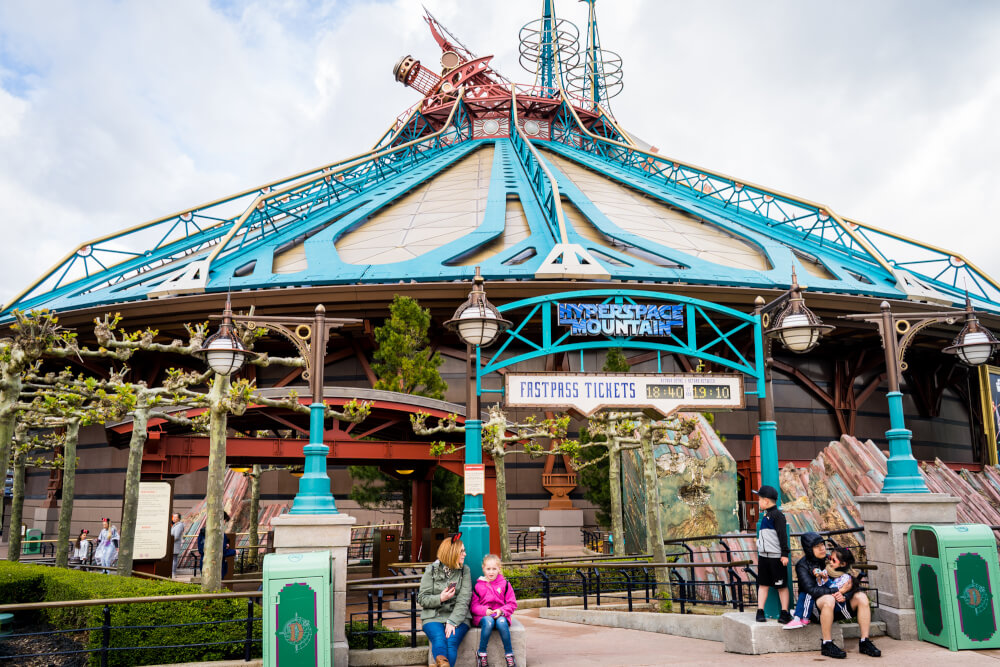 Reservations are a good idea if you want to eat at a buffet or table service restaurant
While having sit-down meals can be a huge time-suck for Disneyland Paris day trippers or those on a time crunch, for some, having a great meal is an important priority.
If that's the case for you, then I would highly recommend making a reservation so that you don't need to be kept waiting or bouncing around looking for sustenance, which is another huge time waster.
Reservations can be made at City Hall, at the restaurant itself or by phone.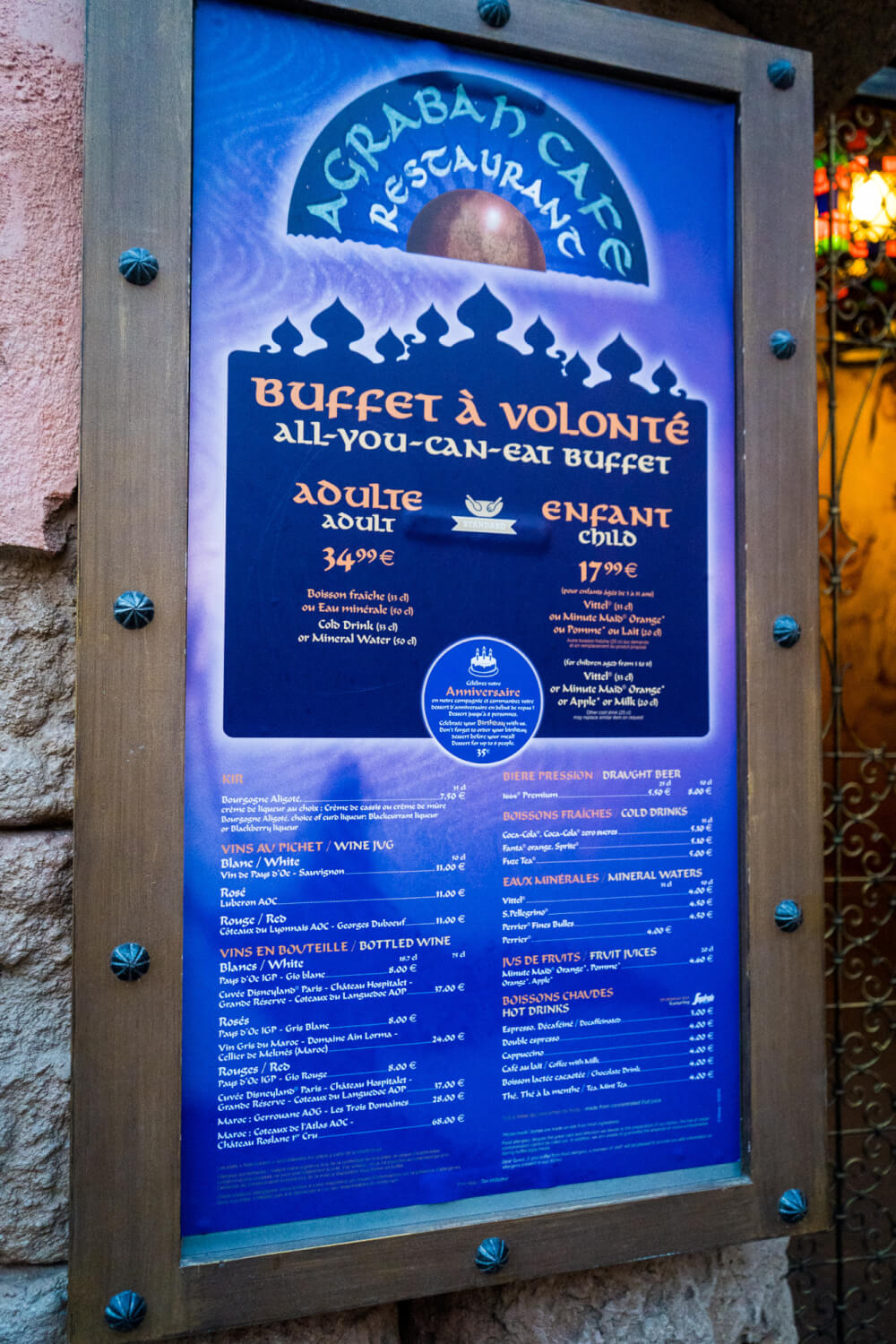 Plan your meals because many restaurants close early
Another important Disneyland Paris food tip is that many restaurants at these parks tend to close early so be sure to double check hours if you have a specific place you have your eye on.
A good resource for this is the Disneyland Paris app, as they have up-to-date hours for each day, and yes, they do change day by day.
The last time I visited Disneyland Paris, I was so excited I forgot to eat.
Genuinely.
You should have seen me post-parade, hungrily lurking around, tugging on locked doors, sobbing at the sight of vendors cleaning up.
It was my own fault for not properly planning, but the excitement got to me! That definitely wasn't fun, and my options were woefully limited so make sure you don't make the same mistake as me.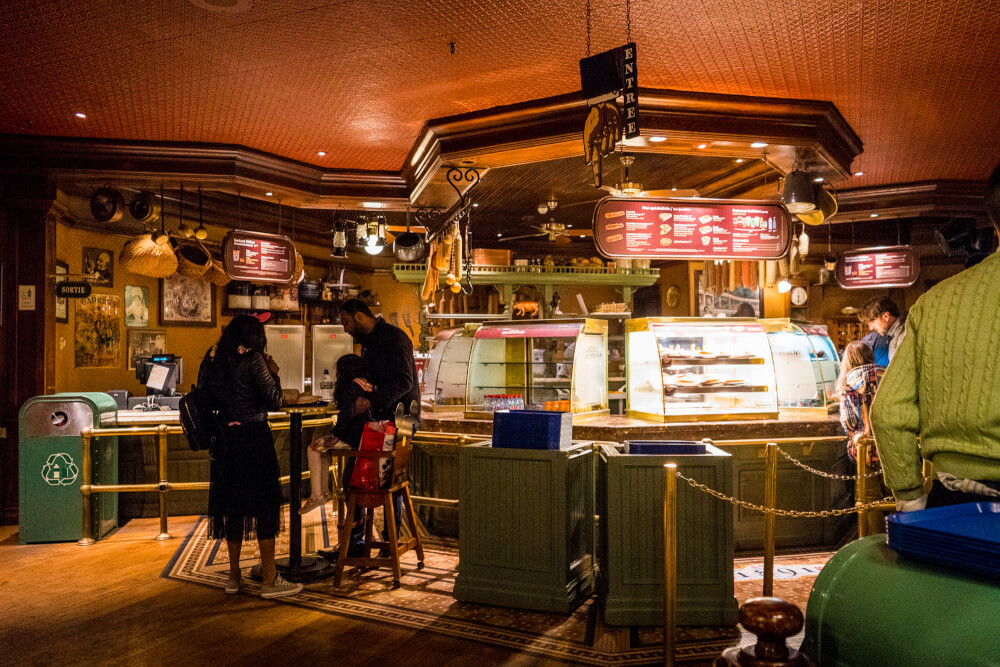 Pay Special attention to the Disneyland Paris Castle
This is a Disneyland Paris tip that many guides leave out, but I personally want to write it out ten times and then underline it in scary red pen.
Any visitor will see that the Sleeping Beauty Castle at Disneyland Paris is the focal point of the park, but it's worth much more than just a quick glance or photo opp!
Not only is this castle considered to be the prettiest out of all the Disney castles in the world, but there are a ton of wonderful hidden gems and secrets related to it that most visitors miss.
Let's just say the Imagineers who masterminded this castle really had an eye for details.
From tiny golden escargots on the castle facade, to the only under-castle dragon of any Disney park, there is loads to discover about this castle, so be sure to spend some time there during your visit.
Read my full guide to the Disneyland Paris Castle for the full scoop.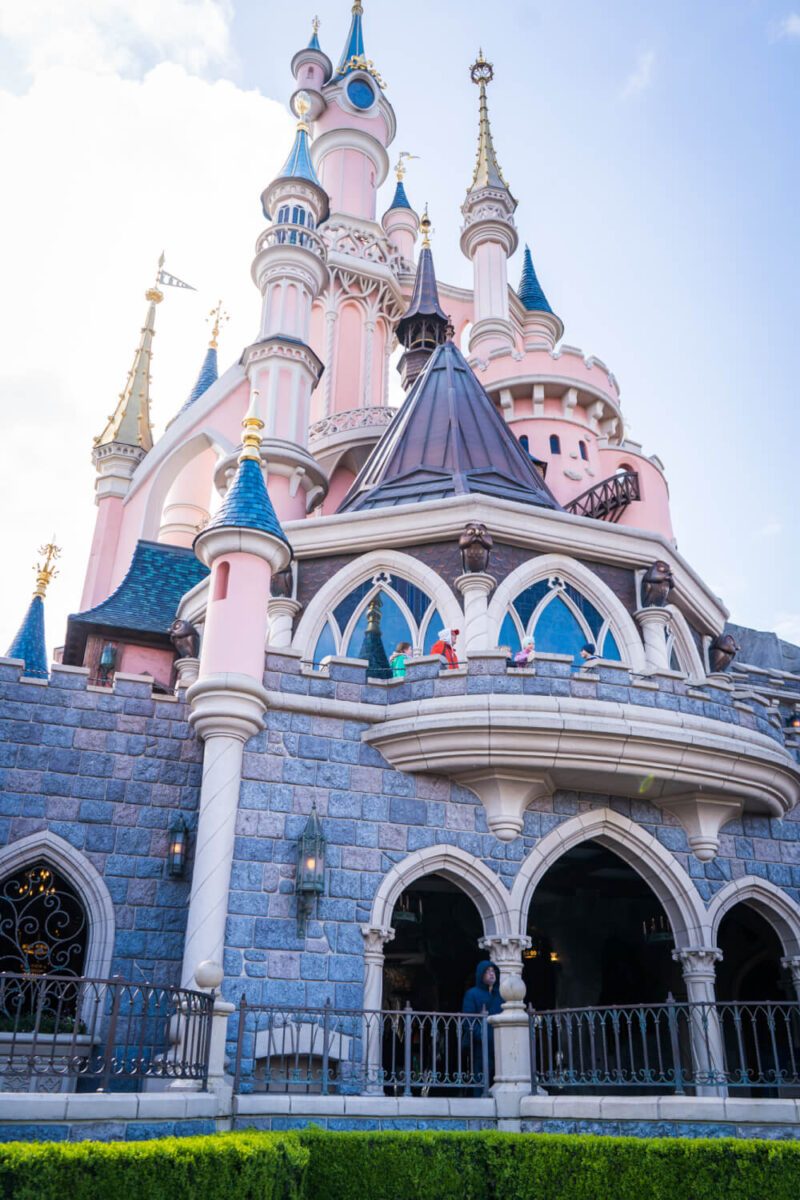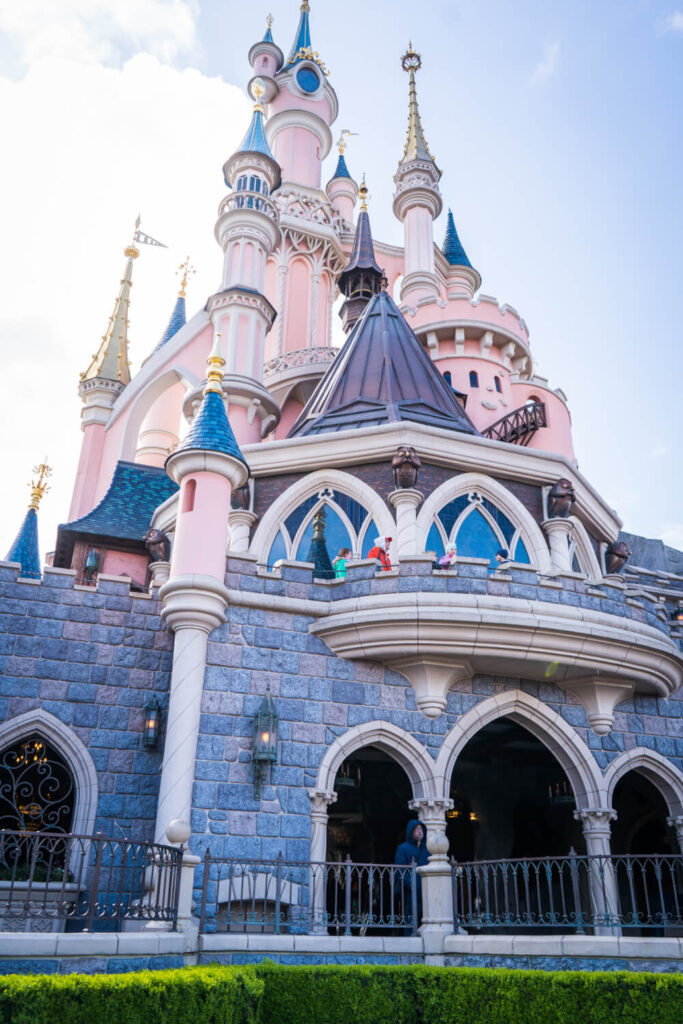 Don't miss Disney Illuminations!
I know, it's a long day, but the Disney Illuminations show is a truly magical experience that low-key makes me cry every time.
I highly recommend you stay for it if possible and then catch one of the last trains back to Paris. Skipping it would be a big mistake!

Be mindful of park times
Don't make the rookie mistake of assuming all the parks close at the same time – Walt Disney Studios closes earlier than Disneyland Park, and Disney Village is open late after the park itself closes.
Keep this in mind when organizing your schedule!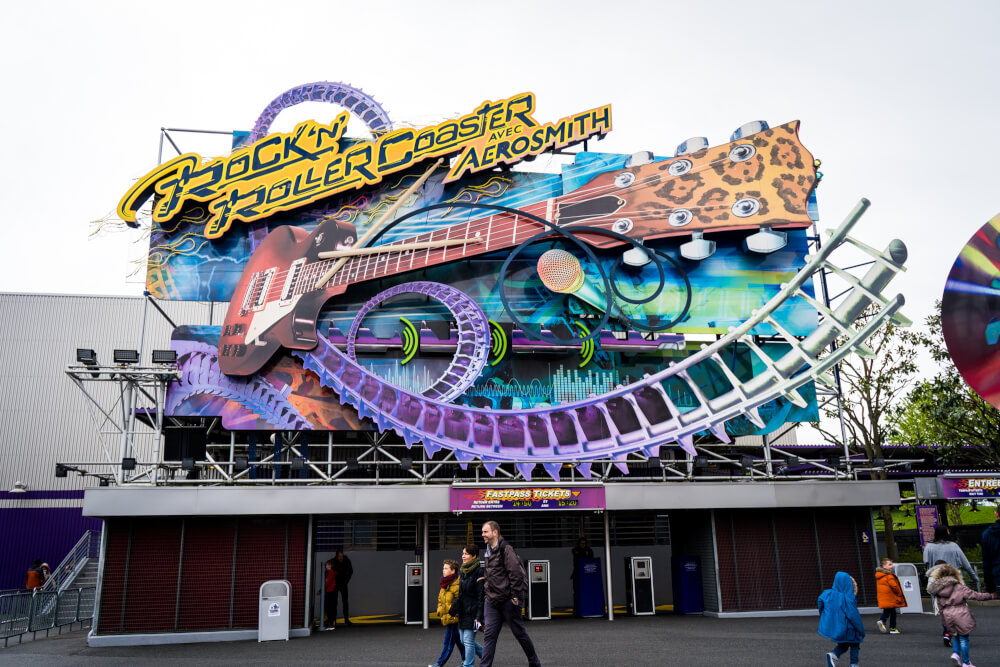 The parade is the best time to go on rides
Lastly, if you're not too bothered about seeing the parade (honestly, I love parades, but I'm kind of a dork) so if you want to see Disneyland Paris' top attractions with the least amount of crowds, then skip the parade and instead go on some rides during that time!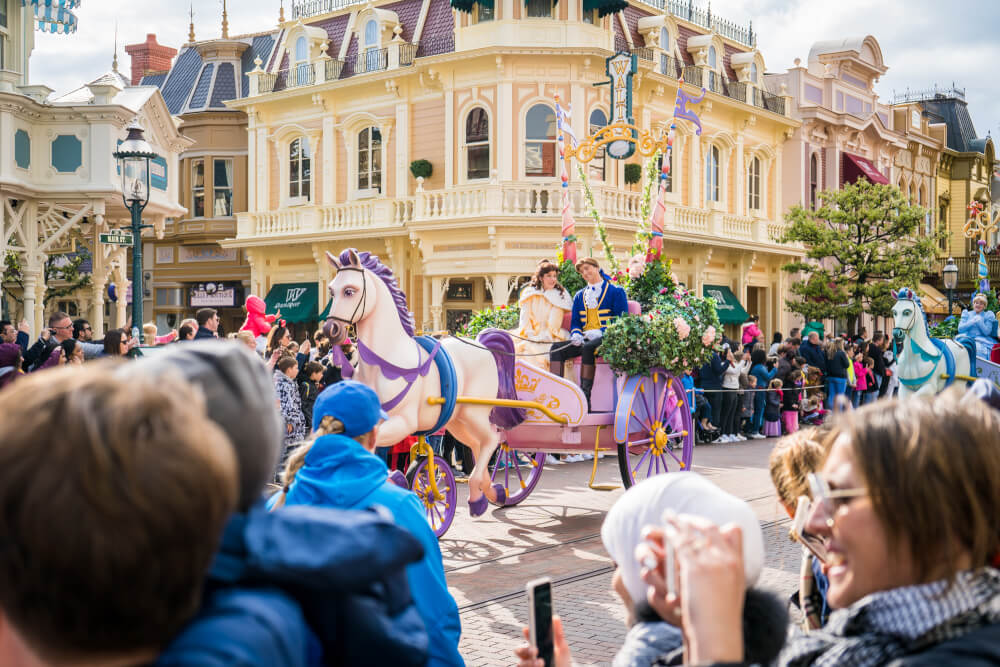 Crunched for Time? Think carefully about whether you need a two park pass
If you only have one day or less to spend at Disneyland Paris, you might want to consider just picking one park. This will help you save money on tickets, and make your trip less stressful overall.
Now – I know what you're thinking: "how could she possibly recommend skipping a park?!" While I'm typically the most FOMO-laden person on Earth with a "see it all" mentality, the secondary park at Disneyland Paris, Walt Disney Studios, is really not my favourite place.
While there are grand plans for renovation and improvement, my honest opinion is that the current park is pretty outdated and mediocre.
The only reason I went on my last visit was to enjoy all the stuff from the Marvel Season of Heroes, which was great.
Without any of those special events though, there's not a ton of amazing attractions at that park apart from the Ratatouille stuff, so if there is nothing at the Walt Disney Studios that you're personally dying to see, I would recommend just spending time at Disneyland Park for the day.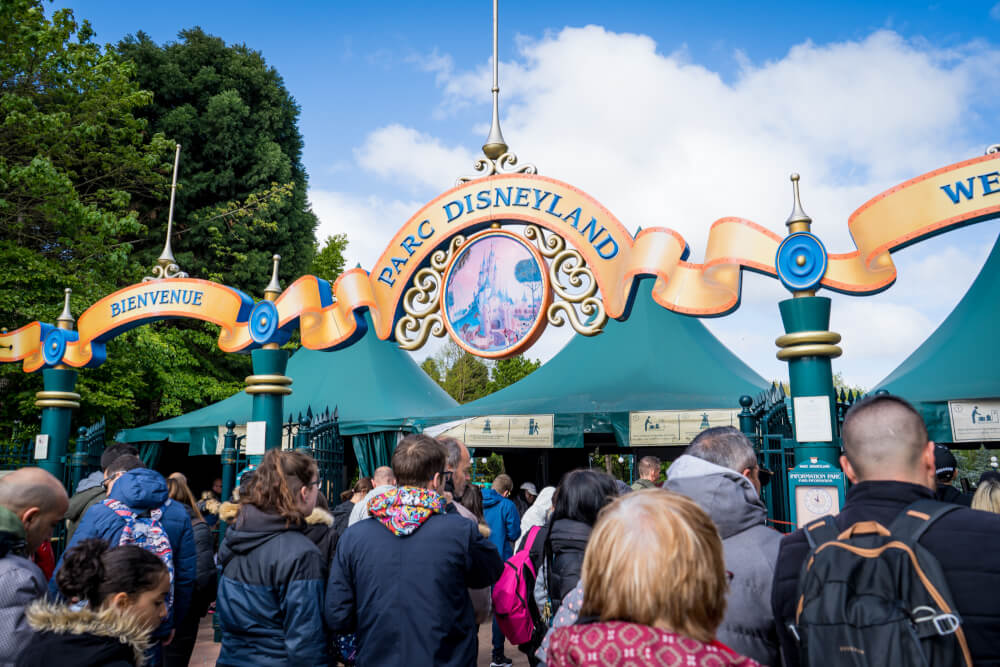 Prepare Yourself for Different Customer Service Than What You Might be Used to
Last but not least, I have a final Disneyland Paris tip/warning – don't expect service to be as enthusiastic as the US parks.
The most common complaint I hear about Disneyland Paris is that the staff there aren't as bubbly or energetic as staff at other Disney parks.
This is a 100% valid criticism and I will warn you right now that you'll be hard pressed to find a cast member that is scary-cheerful to the same level of North American parks.
Don't let that ruin your experience though!
I would peg this mainly to be a cultural thing. Over the top North American customer service just isn't common here in Europe, at Disneyland Paris or otherwise, so prepare yourself for that.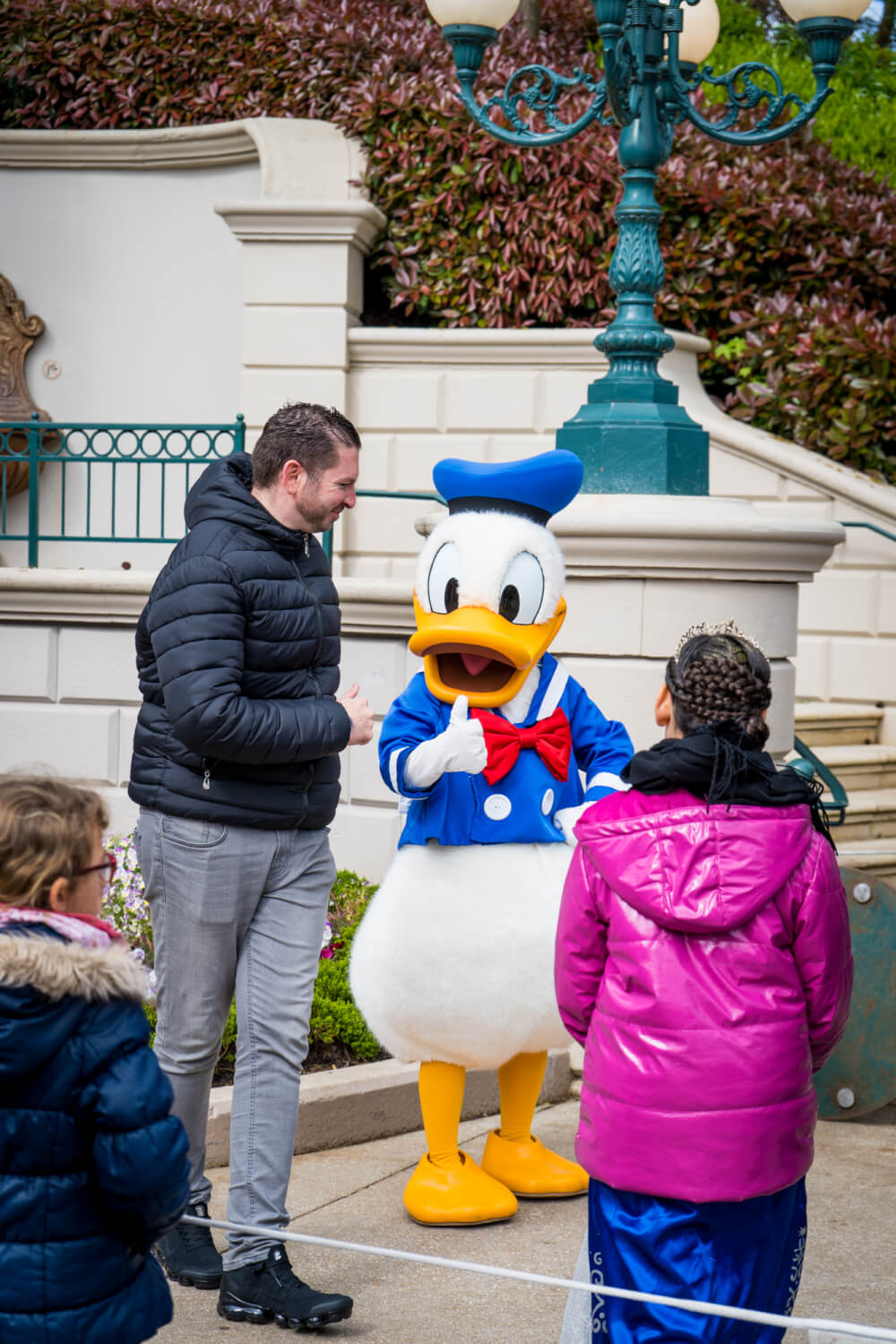 I Hope These Disneyland Paris Tips were Helpful!
Let me know in the comments if you have any more questions about your visit. I'd be happy to help!
---
Watch my most popular YouTube video this week:
---