*FYI - this post may contain affiliate links, which means we earn a commission at no extra cost to you if you purchase from them. Check out our Privacy Policy and Disclosure. for more info.
Looking for an inside scoop on the Marvel Season of Heroes at Disneyland Paris? This guide will tell you everything you need to know!
While the opening of Disneyland Paris' Marvel Land in 2025 still seems like a long, distant dream, Marvel geeks will be thrilled to know that they can get their fill of Marvel goodness at the annual Marvel Season of Heroes (formerly the Summer of Heroes) at Disneyland Paris.
When they unveiled this event last year, I basically threw a tantrum when I couldn't fit it into my travel plans, so being the grown adult woman that I am, I made it Priority #1 to make a visit this year.
… and it was everything I'd hoped and more!!
While travel is (as you all know) my #1 passion, my obsession with Disney, Marvel and whatever else I'm fangirling at the time comes a close 2nd… SO, I am very excited to share with you my experience at the Marvel Season of Heroes, flaunt the 23801823 photos I took, and of course provide some helpful tips (as always) for your own visit.
This guide will go through basic details first, then dive into all the fun special shows, food, merchandise and more that Disneyland Paris has rolled out in time for the Marvel Season of Heroes. Enjoy, and as always, let me know in the comments if you have any questions.
---
---
Pssst – Doing Disneyland Paris as a day trip?
Click here for my full guide on how to plan the perfect Disneyland day trip from Paris!
---
---
Marvel Season of Heroes at Disneyland Paris: Basic Facts
WHEN: The Marvel Season of Heroes at Disneyland Paris (formerly known as the Marvel Summer of Heroes) will be taking place from March 23rd to June 16th, 2019
WHERE: All Marvel Season of Heroes activities will take place at the Walt Disney Studios Park, not the regular Disneyland Park, so don't expect to see anything Marvel or Avengers related there. Pretty much all the shows/characters/Marvel food items will be in the Production Courtyard.
HOW TO BUY TICKETS: Admission to all Marvel Season of Heroes festivities are included with valid entry into the Walt Disney Studios Park. Save time/money by buying online in advance here!
EXTRA NOTES: All the Marvel Season of Heroes shows at Disneyland Paris will take place in both French and English. While the Marvel: Super Heroes United and Guardians of the Galaxy Awesome Dance-Off shows use a mix of both French and English throughout the show (in a way that it can be understood by all parties), I watched the Stark Expo: Make Way for a Better Tomorrow 100% in English, and walked by it again later 100% in French. Languages weren't specified on the app, so I would check with a cast member to see when the English/French shows are taking place.
---
---
Special Shows for the Marvel Season of Heroes at Disneyland Paris
My personal highlight during the Marvel Season of Heroes was definitely the fun shows! Here are three special Marvel-tastic shows that you can enjoy during the Marvel Season of Heroes:
Marvel: Super Heroes United
Duration: About 20 minutes
Definitely the biggest Marvel show introduced for this event, which takes place several times a day in the Production Courtyard Studio Theatre. It's a popular one, but there are a lot of seats in the theatre so you don't need to worry too much about whether or not you'll make it in. I saw that staff would cut off the line as soon as the line-up reached capacity, so if you see that people are still walking in, then you're fine.
This is a pretty epic stage show that includes special effects, "flying", choreographed fight scenes and more. The plot is kind of based off of Civil War, with the main conflict being Ironman vs. Captain America, with appearances from a LOT of Marvel heroes including Thor, Bruce Banner/The Hulk, Black Panther, Spiderman, Black Widow, Scarlet Witch, and Dr. Strange. I don't want to give too much away, but it's a fun show and definitely the one I'd recommend most!
NOTE: I mentioned this earlier, but the Marvel: Super Heroes United show does take place in both French and English, which gives a pretty funny end result. Basically some characters will speak French, while others will speak English. It's honestly kind of weird, but it's cleverly written in a way that you'll have no trouble following along what's going on, so I'm just giving you a heads up! Whether you prefer French or English, you'll still be able to enjoy the show.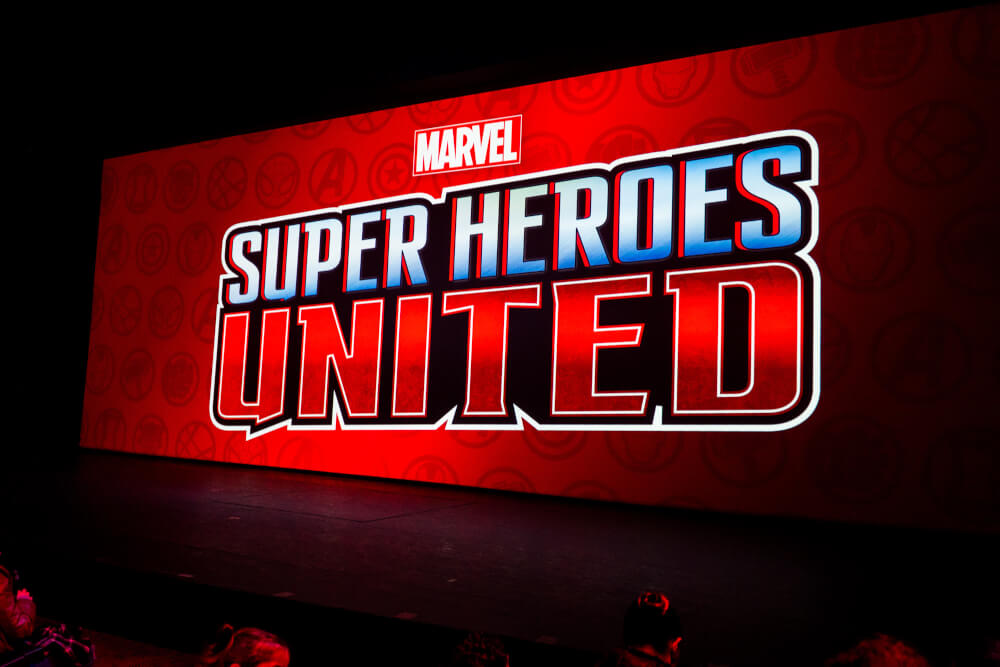 ---
---
Stark Expo: Make Way for a Better Tomorrow
Duration: About 15 minutes
The Stark Expo show takes place on an outdoor stage in the Production Courtyard, which is great because you don't really need to line up or anything to see the show – you can see it really well from a lot of different angles. The concept here is you're at the Stark Expo, and Tony is debuting a new ARC reactor that he created in collaboration with his friends at Wakanda, which supposedly produces unlimited green kinetic energy…!
Sadly he's unable to attend personally since his and Pepper's anniversary, but he has sent Black Widow and Spiderman in his place. I don't want to spoil anything, but things go a bit awry and a lot of our other favourite Marvel heroes get involved too. It's a fun show, especially because most of the actors speak with delightful French accents.
NOTE: As I mentioned earlier, this show appears to have shows 100% in English and 100% in French. I would ask a cast member to make sure you go to the right one!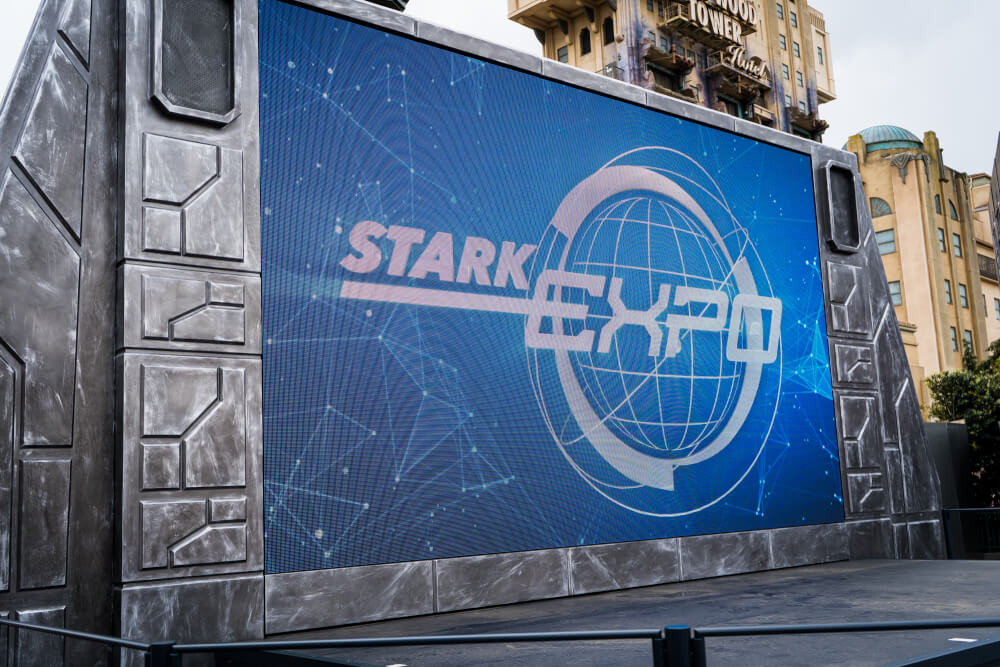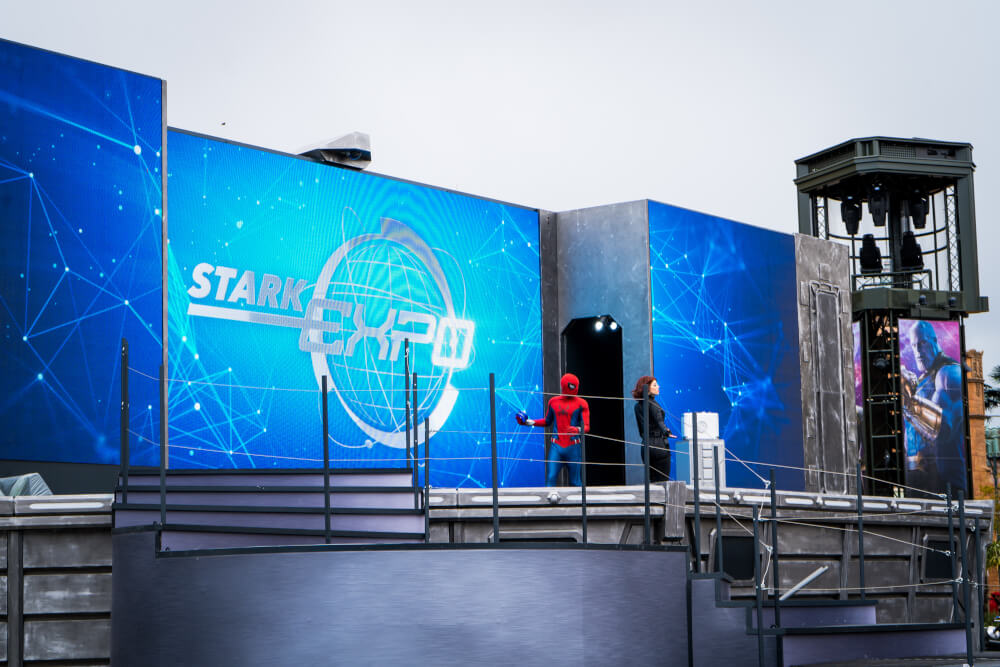 ---
---
Guardians of the Galaxy Awesome Dance-Off
Duration: About 15 minutes
The Guardians of the Galaxy Awesome Dance-Off is, as you might expect, a super fun and cheesy show that takes place on an outdoor stage in the Production Courtyard. I'm still kind of confused by the plot of this one, but long story short, the Guardians can only be saved through the power of DANCE! So, they dance, have a bit of banter, YOU dance, Groot comes out and dances, they get some audience members on stage, and it's all just some cheesy fun to the best soundtrack of all time.
Just like the Marvel: Super Heroes United, this show takes place in both French and English, although the characters kind of switch on and off with both. Again, since dancing is the main thing here, not speaking either language won't hinder the experience at all. The best part though? Realizing that "I AM GROOT" in French is "JE S'APPELLE GROOT". I will never tire of French Groot. Never!
---
---
Other Special Features of the Marvel Season of Heroes
The Marvel Colossal Statues
If you're looking for a fun photo opp, you really can't miss the Marvel Colossal Statues (quite literally because they are SO massive). Captain Marvel's is located at the entrance of the park, while the Hulk, Ironman and Black Panther can be spotted in the Production Courtyard. A great place for a few cheesy photos – bonus points if you can mimic their poses.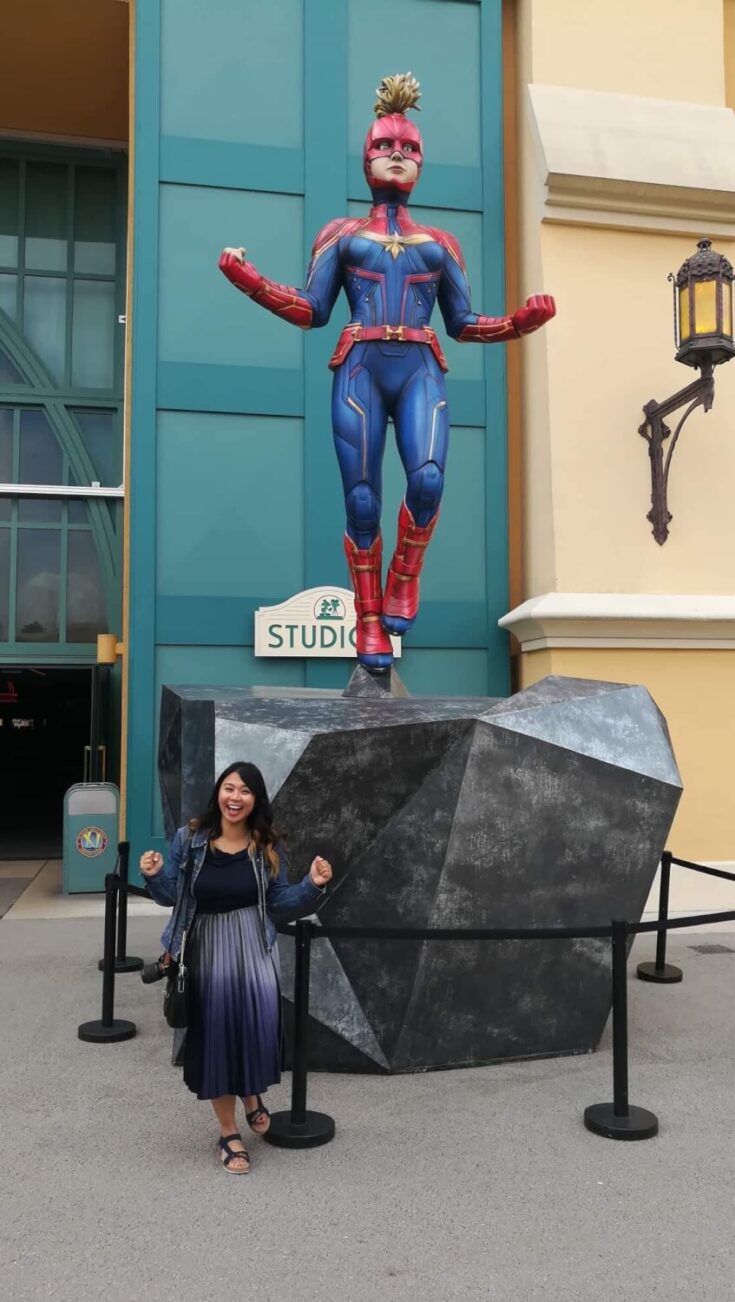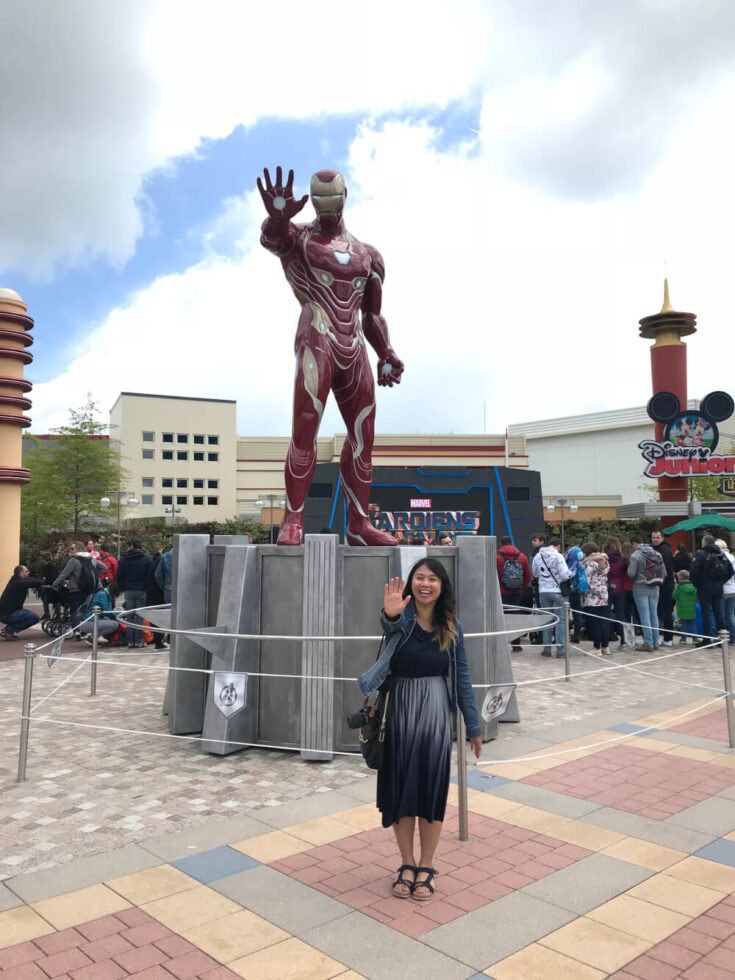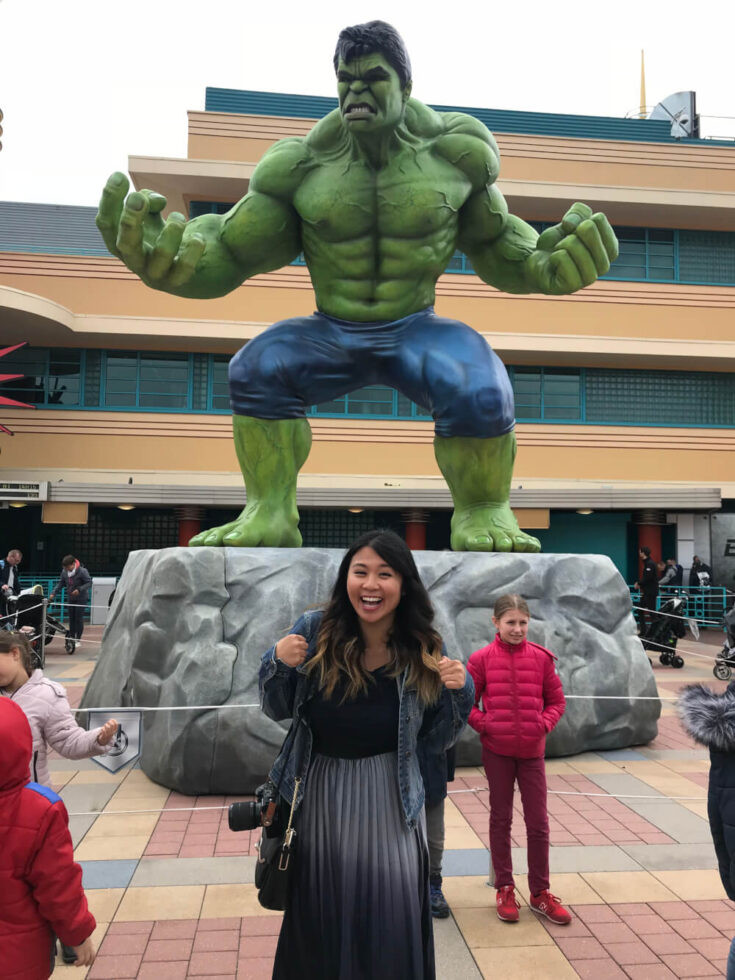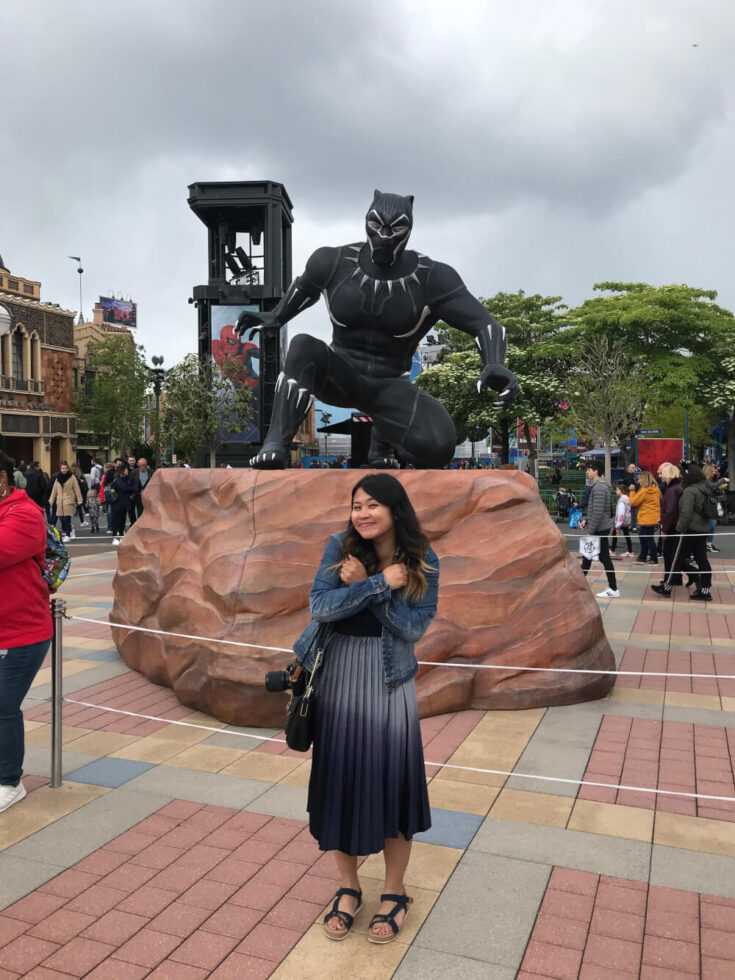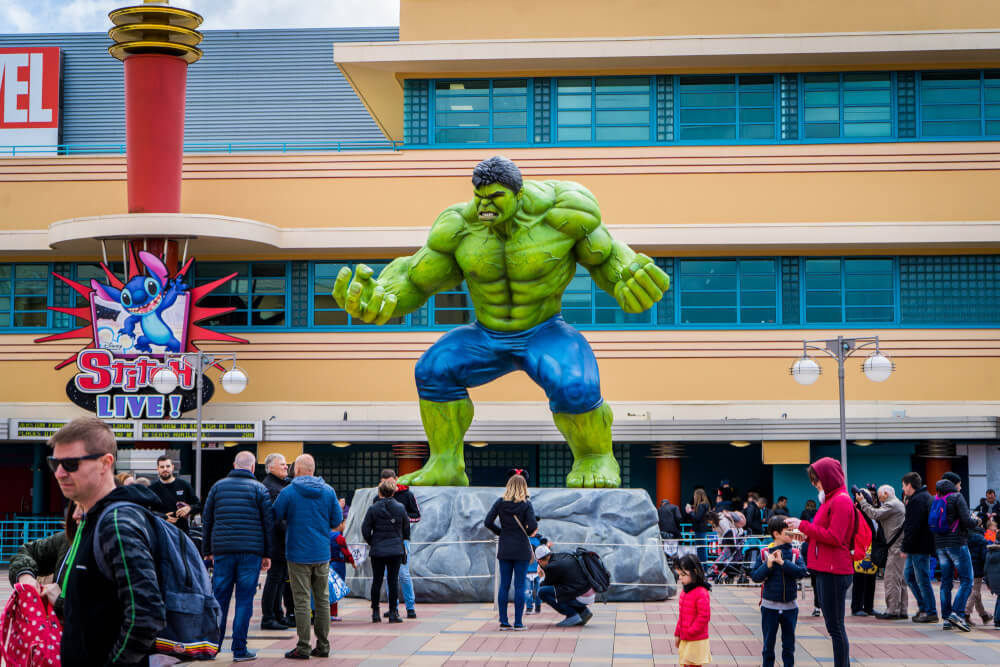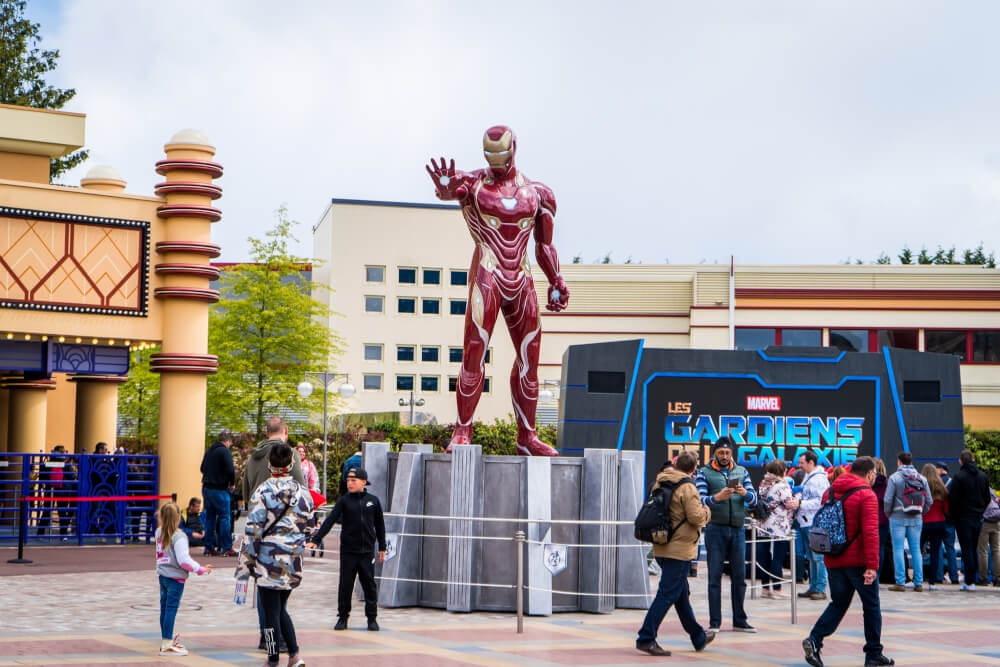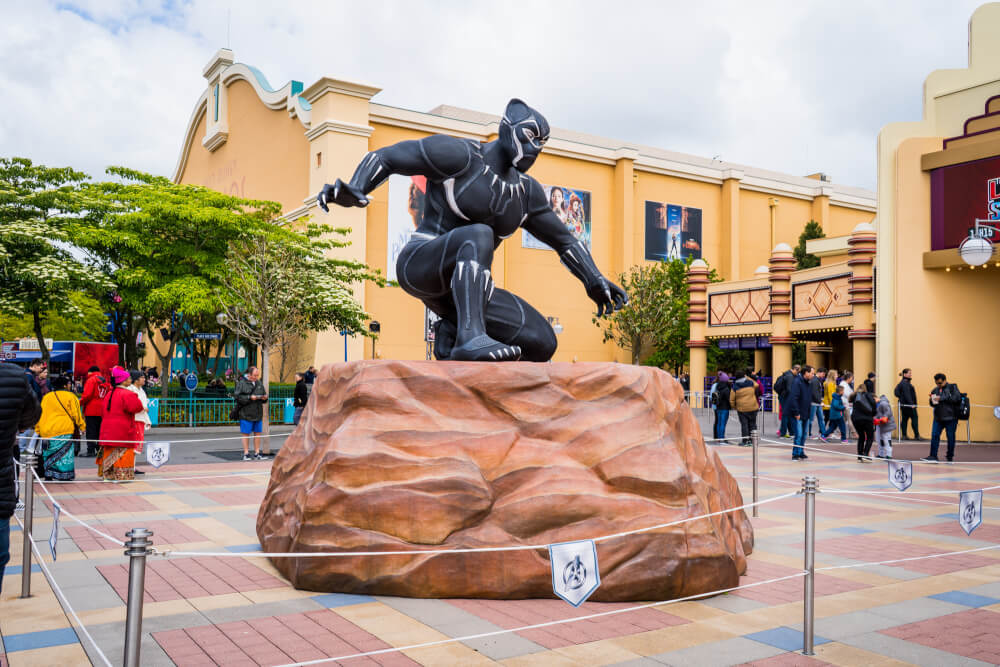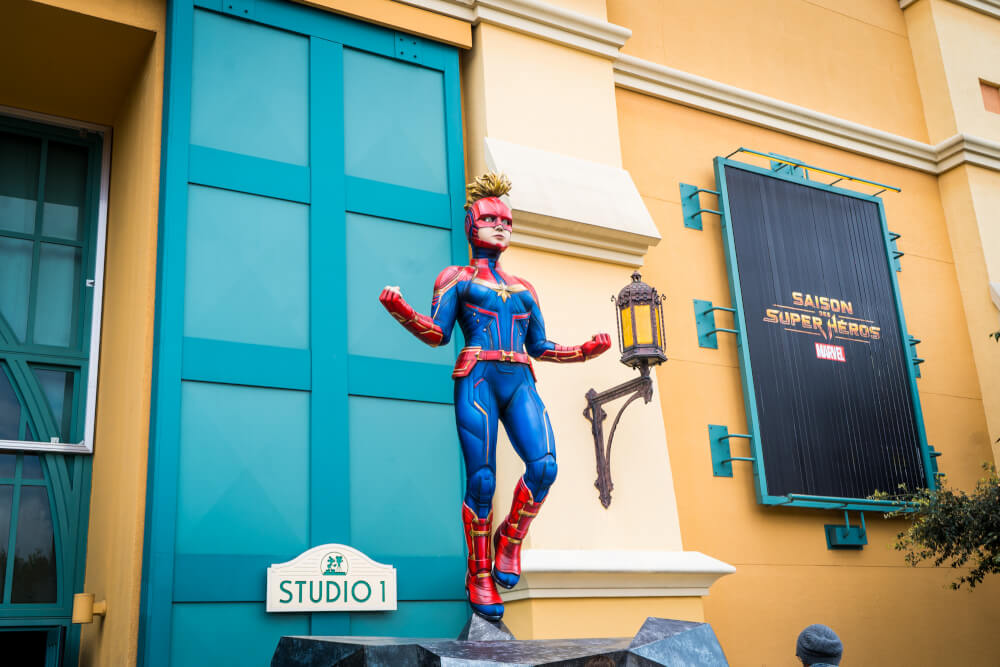 ---
---
Meeting Captain Marvel, Captain America, and Spiderman
Around the Production Courtyard, you'll also have character meets throughout the day from Captain Marvel, Captain America and Spiderman. Be sure to check the Disneyland Paris app for times.
---
---
BONUS TIP: Get up close and personal to Thor and Loki!
While Thor and Loki don't have scheduled character meets at Disneyland Paris, you can get really close to them if you stand on the right side of the stage during the Stark Expo: Make Way for a Better Tomorrow show. This is where Thor enters (basically through the crowd).
---
---
Check out all the Ironman suits at the Disney Blockbuster Cafe
They don't openly advertise this on the Marvel Summer of Heroes program, but when I dipped into the Disney Blockbuster Cafe to scope out food options, I was pleasantly surprised to find these cool boards displaying all the different Ironman suits, which you can gawk at while you wait for food (or just come in and take a look!) It's a counter service restaurant, so no one will care.
---
---
Heroic Face-Painting
Lastly, if you want to get some special Marvel face-painting done, that is apparently offered as well, although I didn't spot it while I was frolicking around. If this is something you're interested in, just ask a cast member and I'm sure they'll be happy to help you out!
---
---
Marvel Season of Heroes Specialty Food Items
Alright, now we get to the good stuff – the special Marvel-themed FOOD!
As you'll soon see, Disneyland Paris really pulled out all the stops and provided us with some ridiculously adorable Marvel Season of Heroes food items. Although honestly, you could stamp a Marvel logo on anything and I would probably eat it.
The majority of the specialty foods are just snacks being sold at food carts in/around Production Courtyard, such as…
Awesome Mix Tape Cake – A chocolate-flavoured genoise sponge cake, shaped of course like one of Starlord's cassettes.
The Vegan Super Hero Falafels – Falafels served in a fun little cup with all our favourite Marvel logos.
The Avengers Croq – A superhero rendition of the classic French croque-monsieur dish, essentially a toasted sandwich with ham and emmental cheese, stamped naturally with the Avengers logo.
Chocolate-Dipped Groot Speech Bubble Shortbread – This is a chocolate dipped shortbread cookie in the shape of a speech bubble that says "Je s'appelle Groot" (the French version of I AM GROOT).
Groot-Shaped Shortbread (Available in salted caramel and raspberry) – Pretty self-explanatory and almost too cute to eat. Almost.
Spider-Sense Beignet – A chocolate and hazelnut filled donut with a Spidey logo on top.
Captain Marvel Macaron – A pineapple flavoured macaron with the Captain Marvel Logo on top.
Groot Macaron – A vanilla flavoured macaron with Groot on top.
Panther Ice Cream – Sadly I didn't find this one in real life, but I've seen photos and it looks super cool! Black soft serve in a charcoal cone.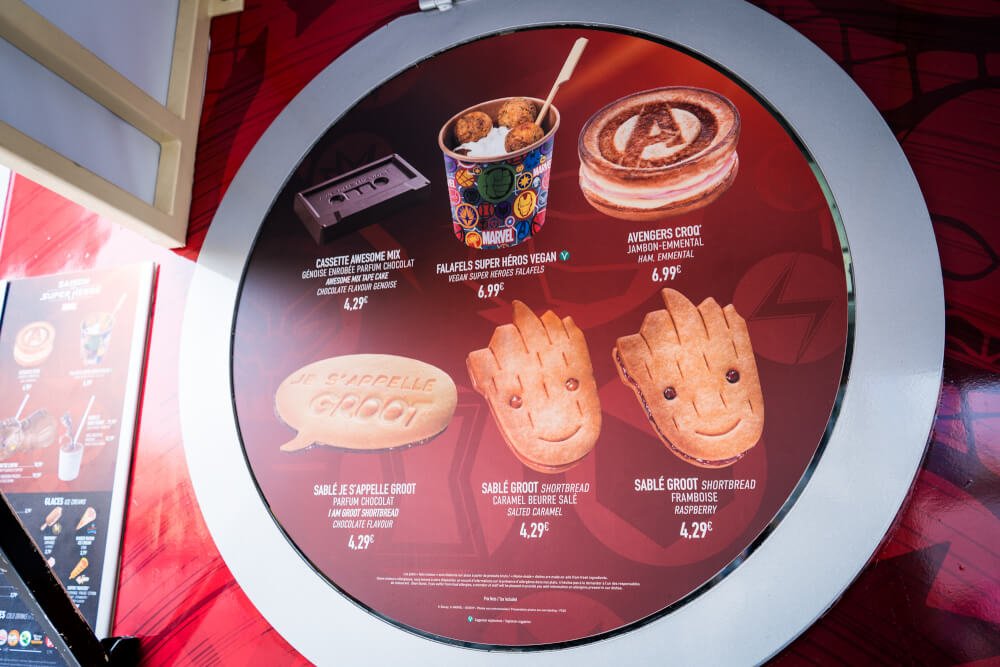 There's also a special Captain Marvel menu at the Restaurant en Coulisse in Disney Studio 1.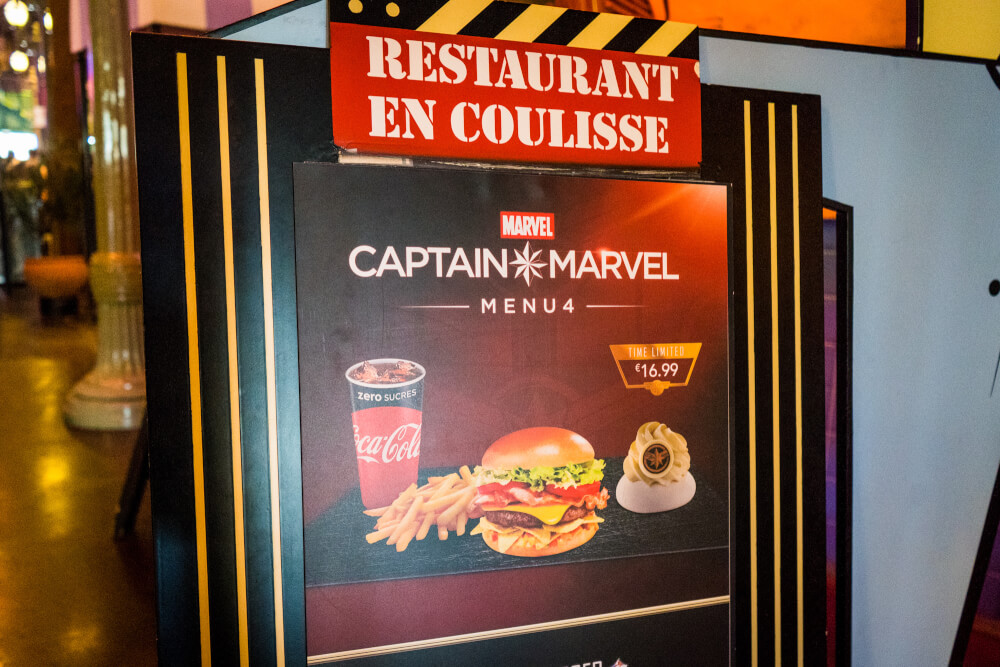 ---
---
Disneyland Paris Marvel Season of Heroes Merchandise
NOTE: I'm not sure which pieces were introduced exclusively for the Marvel Season of Heroes, or if they're just part of the overall Disney merch collection for this season, but nonetheless, here are some fun Marvel-themed merchandise I spotted around Disneyland Paris:
Thanos Gauntlet Souvenir Cup
Literally the best $20 I ever spent. The amount of respect this cup commands is truly hilarious and insane. Only 1 euro extra for a 500ML drink to be chucked in as well… so how could I not?
I bought mine at a food stall in the Production Courtyard, a few steps away from this cafe in the background!
---
---
Ironman Souvenir Cup
Maybe not as cool as the Infinity Gauntlet, but still pretty badass nonetheless…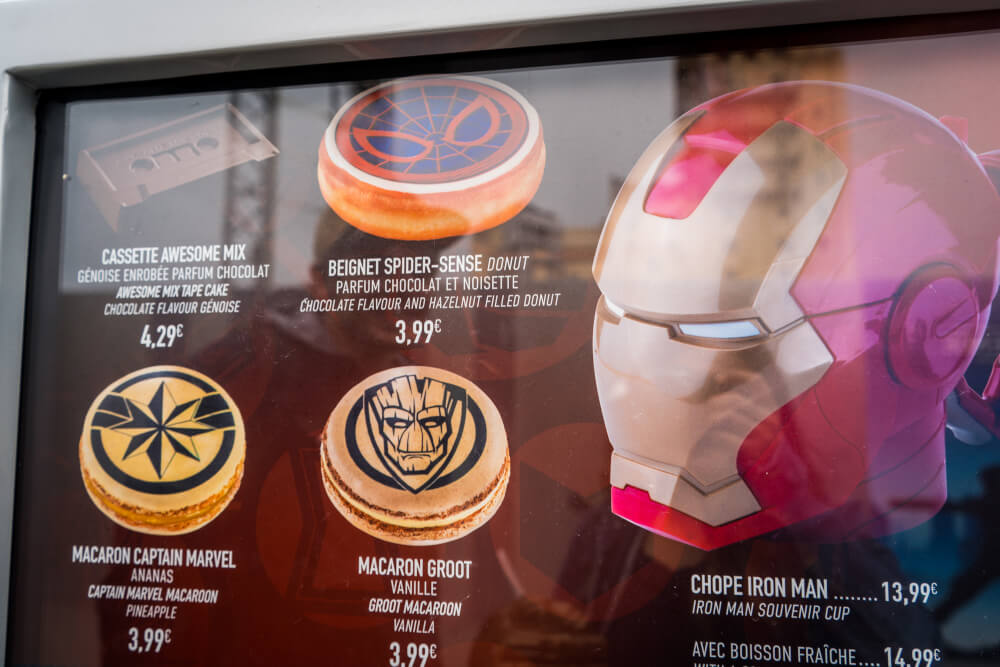 ---
---
Captain America Shield Ears
To be honest, they were a little flimsy and dinky. There were two variations: a fabric one (hence why it felt kind of cheap and flimsy) and some plastic ones which you can see in the back in this photo below.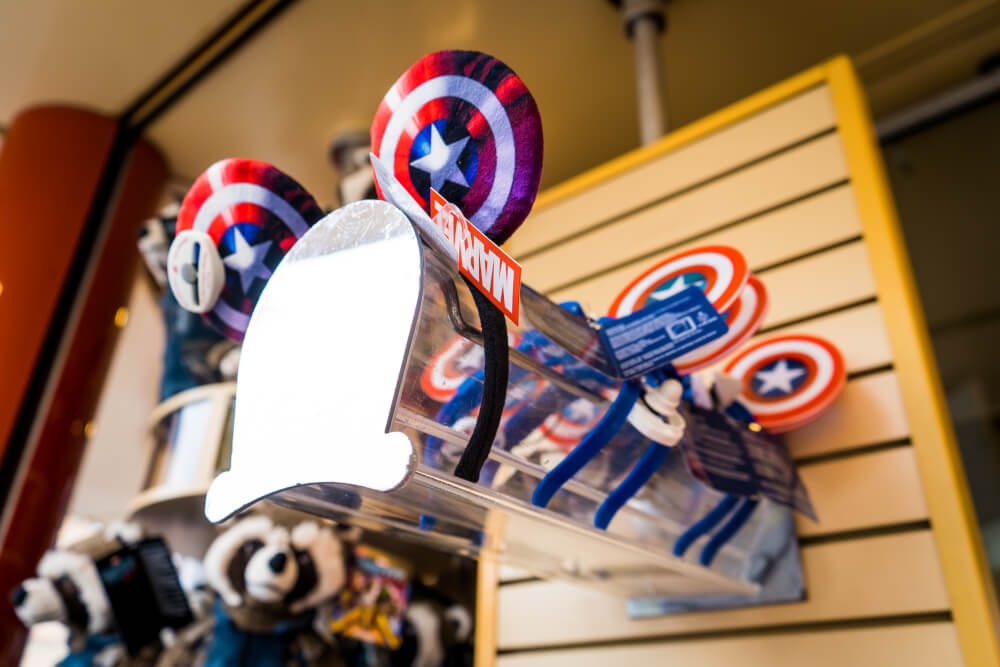 ---
---
Marvel-Themed Purses and Backpacks
I literally squealed when I saw these. Captain Marvel and Captain America both have a fair share of merch representation around the parks, but these wallets and purses were my personal favourite.
---
---
Keychains, Action Figures, Etc.
Lastly, while definitely not exclusive to the Marvel Summer of Heroes, you'll be thrilled to know there are loads of the usual Marvel options available as well, like action figures, plushies, keychains, shirts, etc.
---
---
Final Tips for Visiting the Marvel Season of Heroes
1. Plan your schedule around the shows
Since there are really no permanent fixtures (e.g. rides) in place for the Marvel Season of Heroes, the main draw for this event really is 1) the shows and 2) the characters and 3) the specialty Marvel food and merchandise. Since the shopping will be there all day, and since waiting in line to meet characters isn't the most fun you can have at Disneyland Paris, I recommend organizing your day around the schedule of shows, which is luckily packed with a lot of showtimes throughout the day!
TIP: If you had to prioritize, I would pick Marvel: Superheroes United because the schedule and stages kind of coincide with the Stark Expo: Make Way for a Better Tomorrow in a way that you can see a lot of the Stark Expo while standing in line for Superheroes United.
---
---
2. Download the Disneyland Paris app
If you haven't already downloaded the Disneyland Paris app, do it! It allows you to check in on character meet times/showtimes really quickly and easily. I would have been lost without it.
---
---
3. Keep an eye out for Marvel-themed treats in the Disney hotels/Disney Village
While I didn't see any of these personally, apparently several of the hotels and restaurants around Disney Village are rolling out special desserts and drinks that are Marvel-themed as well… so if one day frolicking around the Walt Disney Studios wasn't enough Marvel for you, then you can ask some cast members where to find more Marvel goodness.
---
---
4. Use #StudioHero for a chance to have your photo up on the big screen
Lastly, when the Stark Expo show isn't running, they showcase a variety of guest photos on the screen that use the hashtag #StudioHero, so if you want to try your hand at 15 seconds of fame, then remember to use that hashtag on your posts!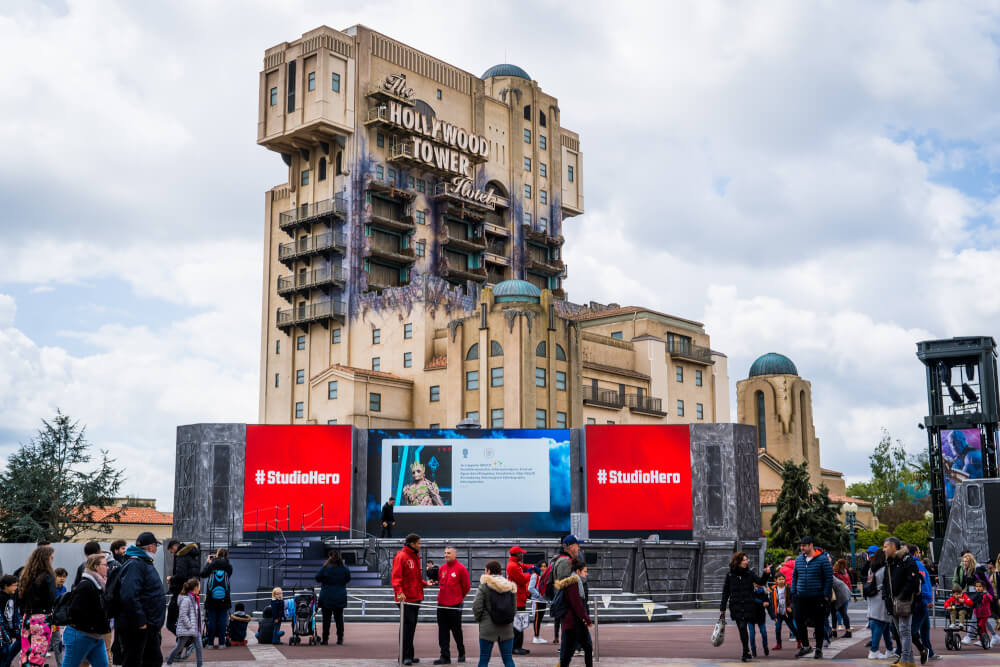 ---
---
Any other questions about the Marvel Season of Heroes?
I hope you enjoyed this overview and guide to the Marvel Season of Heroes at Disneyland Paris! Have an awesome, magical trip, and safe travels!
Want to travel smarter and more often?
Join over 80,000 followers who love what I have to say! Enter your email here & you'll gain instant access to my special VIP zone, featuring freebies like checklists and printables... plus exclusive content, tips and updates!
---
Watch my most popular YouTube video this week:
---