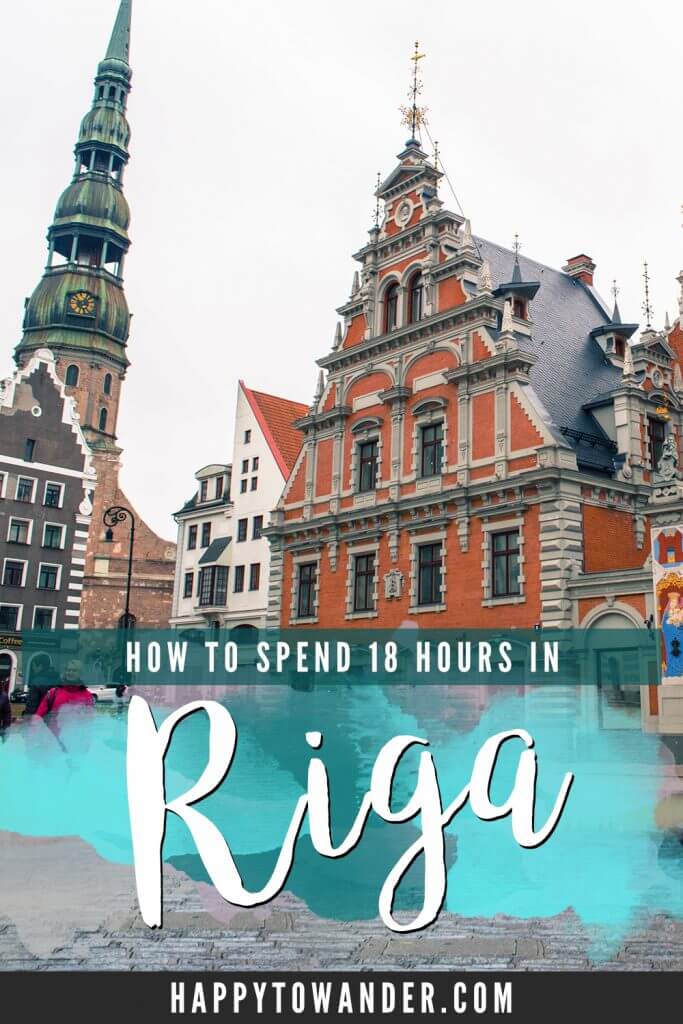 It's very rare that I pass up the opportunity to see someplace new.
Honestly, there's no place in this world that I'm not at least a bit interested in seeing. Call it a reckless curiosity, but my bucket list grows longer every single day, and I'll basically jump at any chance to go somewhere I've never been before.
This is precisely how I found myself last week in Latvia.
Booking my ticket to Helsinki a few weeks back, I noticed a certain pattern with Baltic Air flights to Finland – the longer your layover in Riga, the cheaper your flight. Now, a lot of people dread long layovers, but to me, they offer not just a chance to save your hard-earned dollars, but an opportunity to stretch your legs and explore someplace new, even for a little while.
So, with that in mind, I said a sad goodbye to Munich and soon found myself lost in the winding streets of Riga.
It must be said: Riga is a tremendously lovely city. As I would discover during my short stay, this Latvian capital (the largest of all Baltic capitals) is far more than a cheap party destination. While on the surface, Riga offers a quiet, cobblestone-studded charm, you can tell from its modern mix of hip restaurants and museums that there's a vibrant energy bubbling beneath its classic beauty. With my limited time frame, I was sadly unable to dig deeper into this 'cooler' side of Riga, and my short stay was a bit of a tease, but I can't complain. I mean look at these streets:
Riga is an old city dating back to the early 13th century, but its charm runs far deeper than simply being 'old'. It's a clever mix of metropolitan meets medieval, with toy town-esque buildings sharing skyline space with glassy modern structures. Despite the brevity of my 18 hour layover, I got a chance to see most of the main tourist attractions in Riga and was able to witness (and appreciate) that it's a city of layers and contrast.
On a cold and cloudy March day, Riga was hardly buzzing with activity. The city was so empty in fact that I ran into people from my plane several times. By the end of the day, I was a master at awkward, knowing bouts of eye contact. I liked the quiet vibe though, and after a long break from solo travel, having Riga all to myself was really nice. For about an hour, I just walked around the Old Town, which blends together a mix of architectural styles across 500+ buildings. Naturally, this meant that I would go a little snap-happy with photos (as usual). The House of Blackheads was my personal favourite: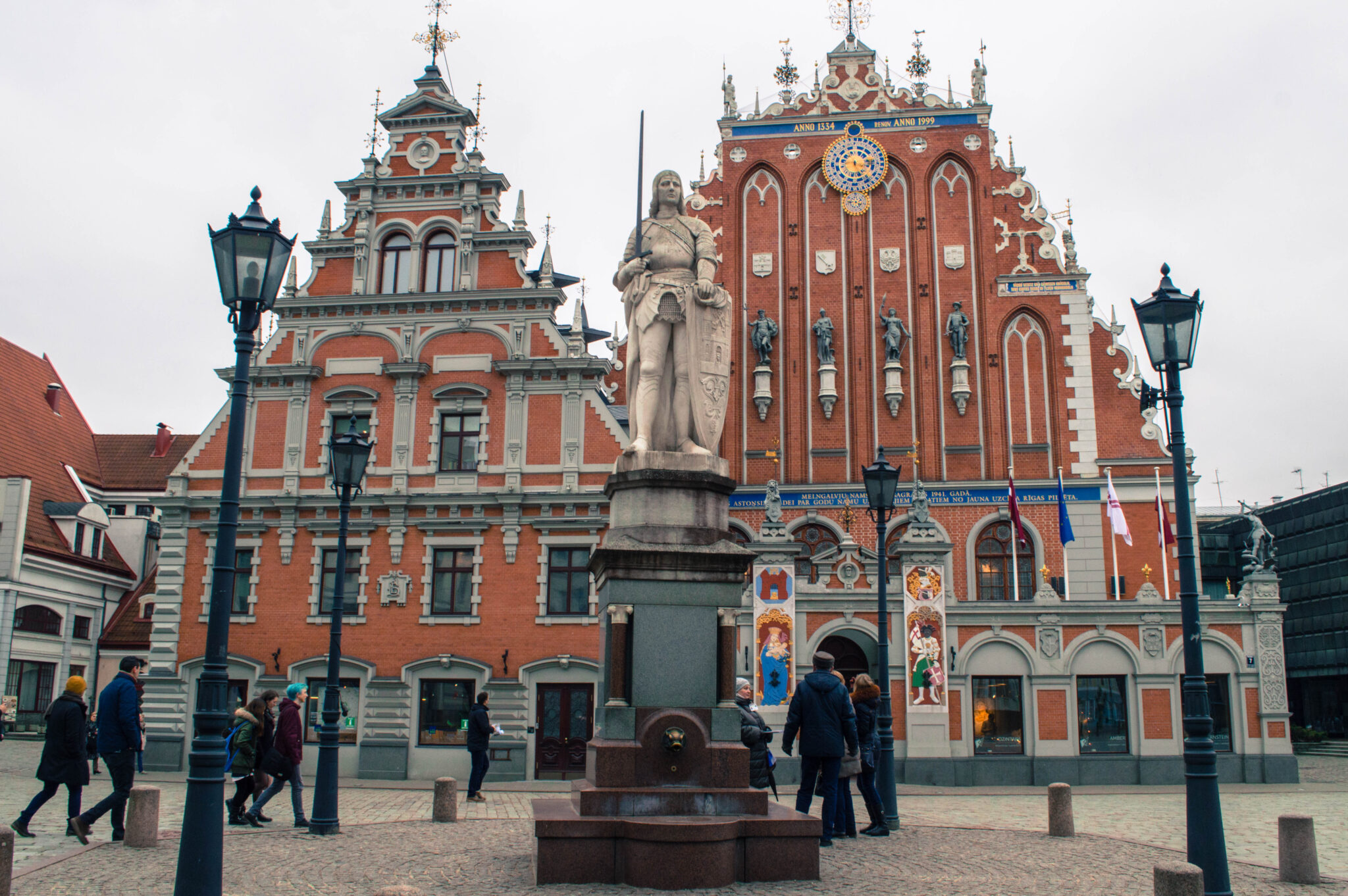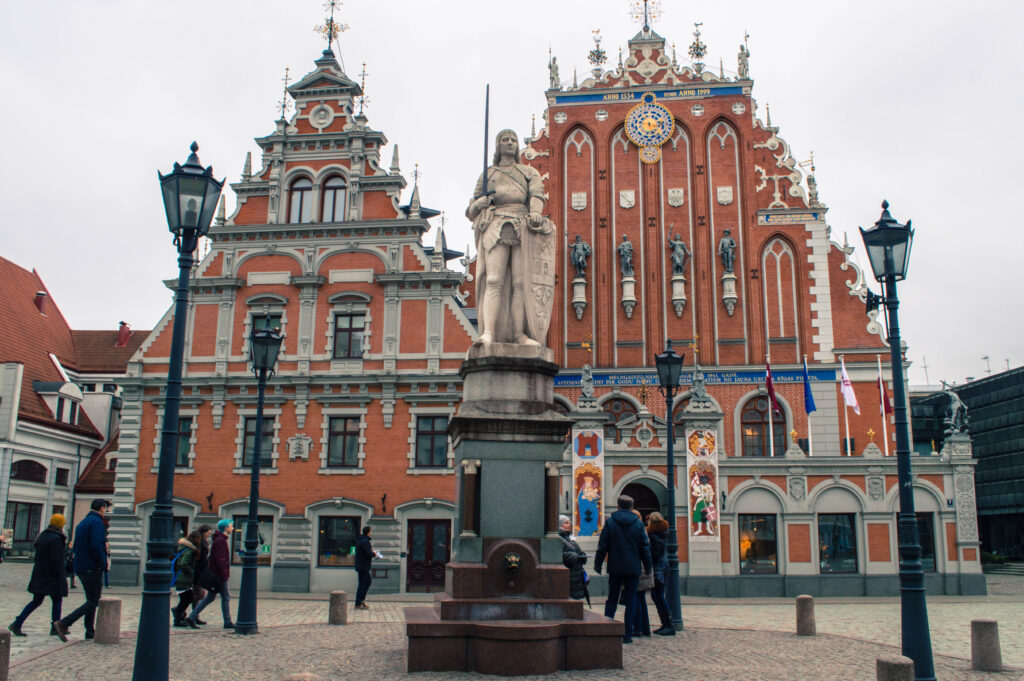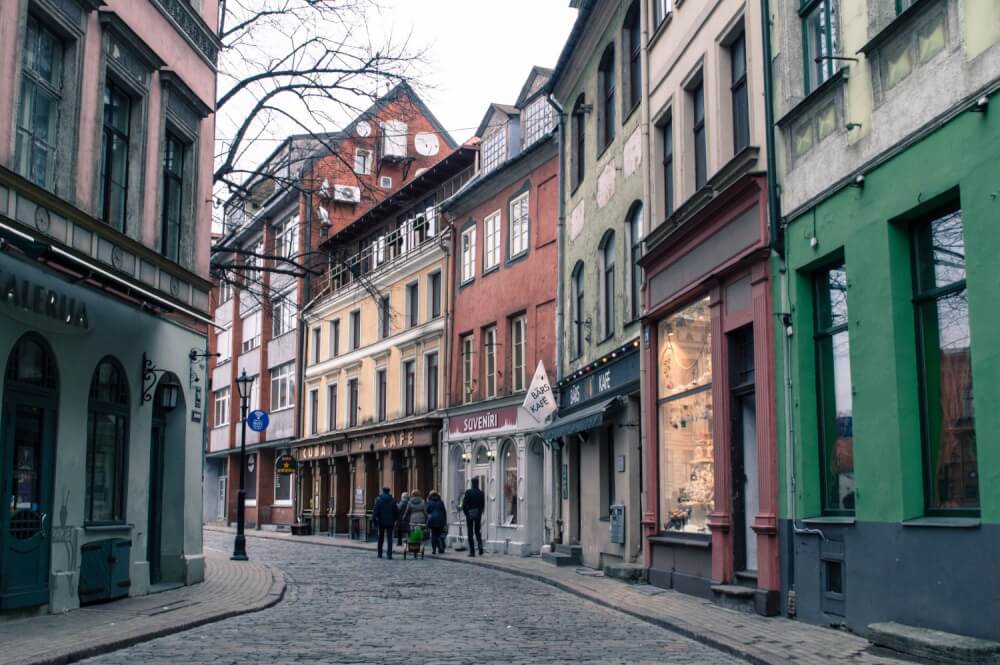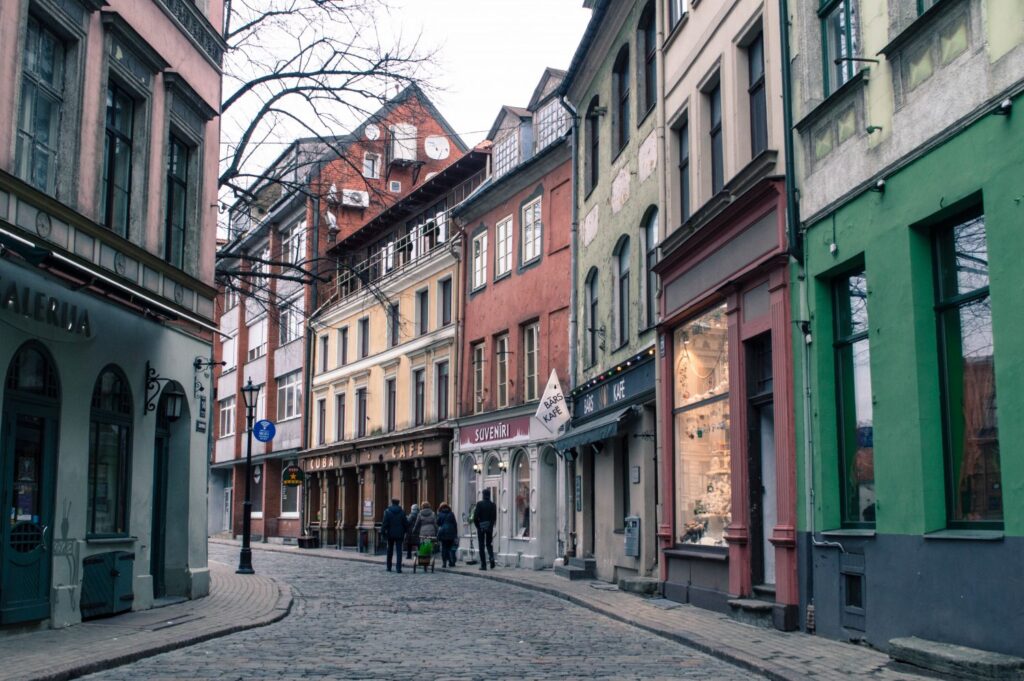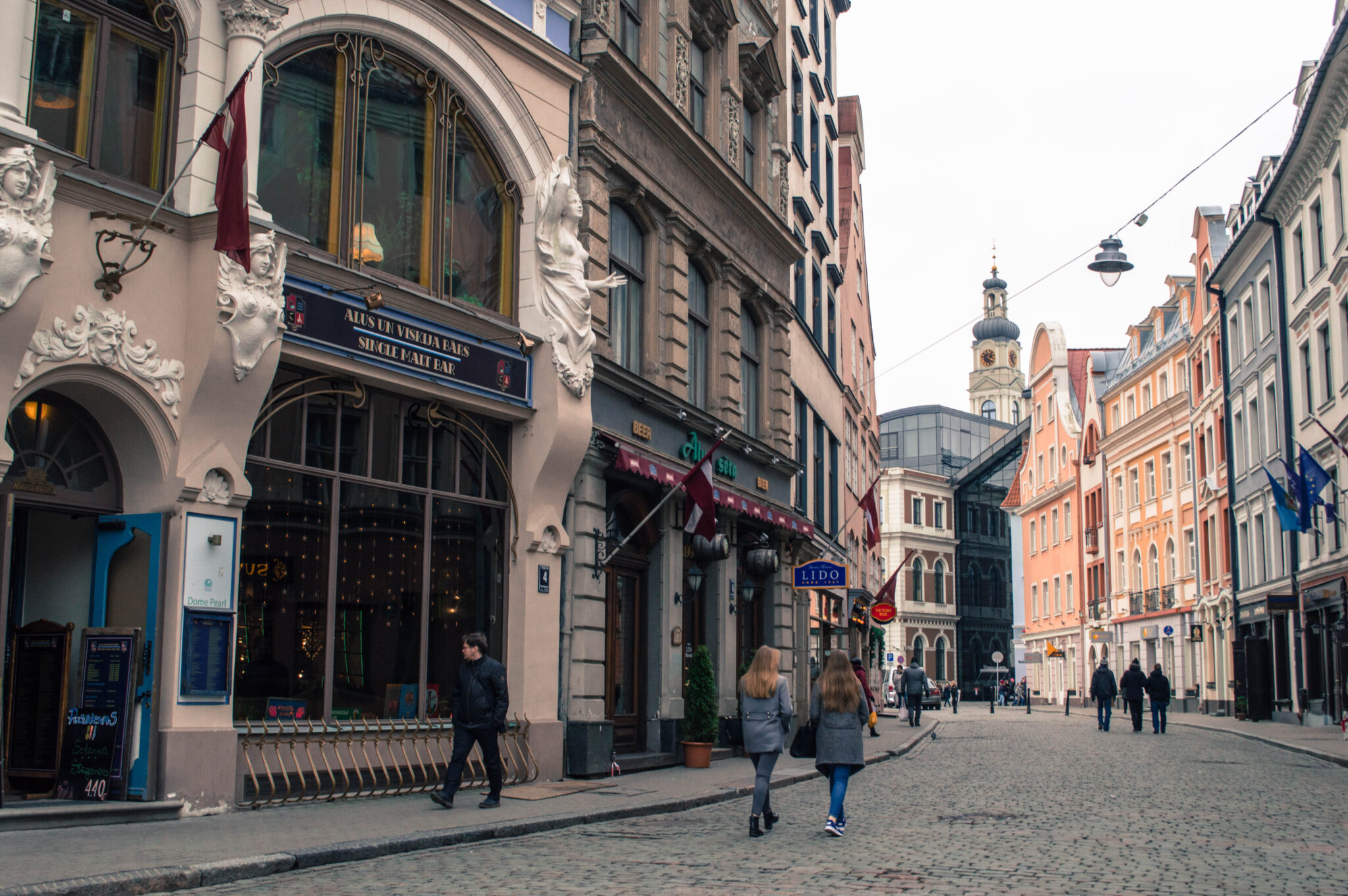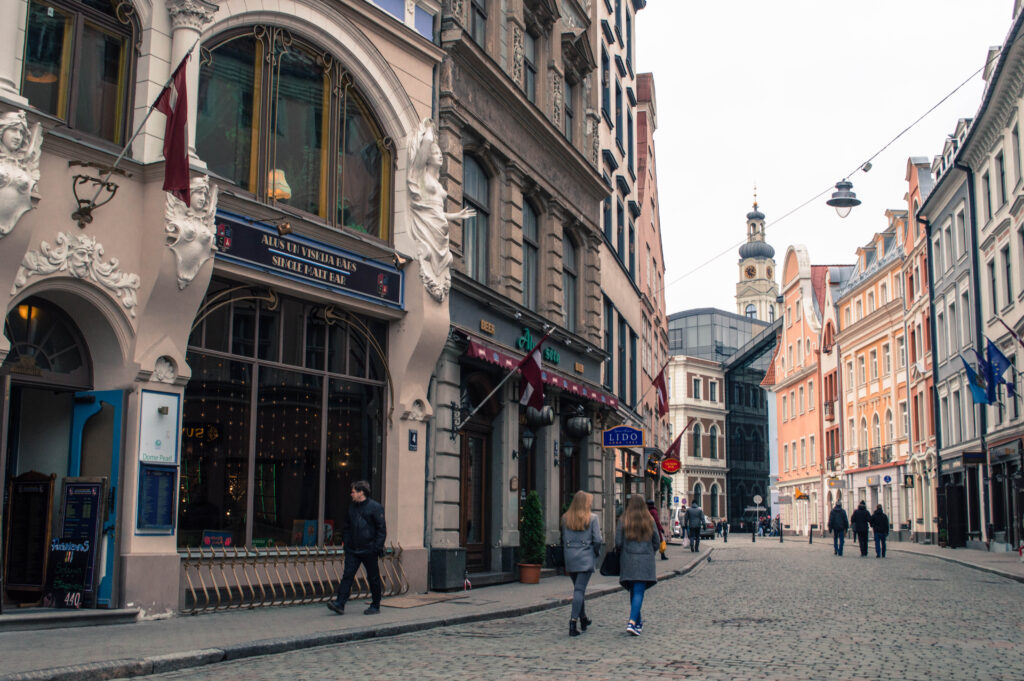 There were points when I felt like I had walked into a cartoon…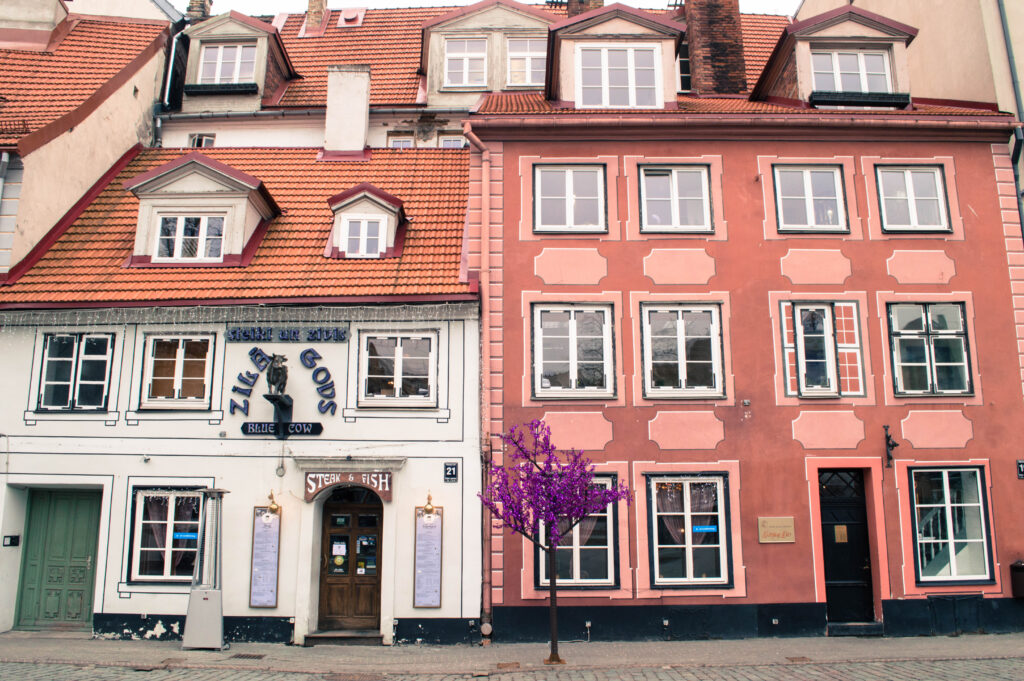 And by complete accident, I actually stumbled upon the narrowest street in the city, Rozena Street… straight out of a medieval storybook: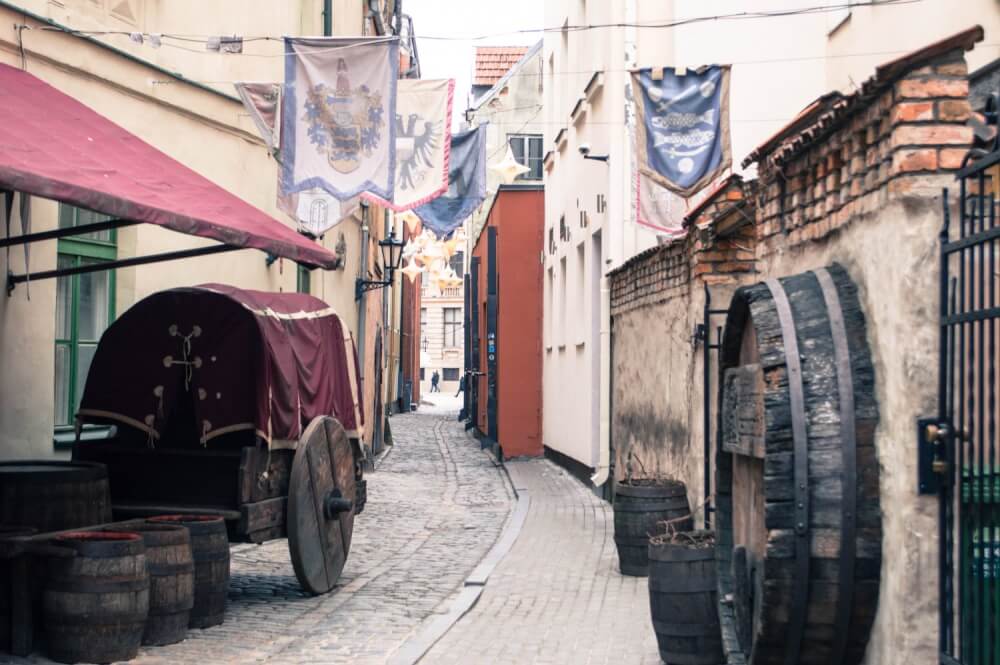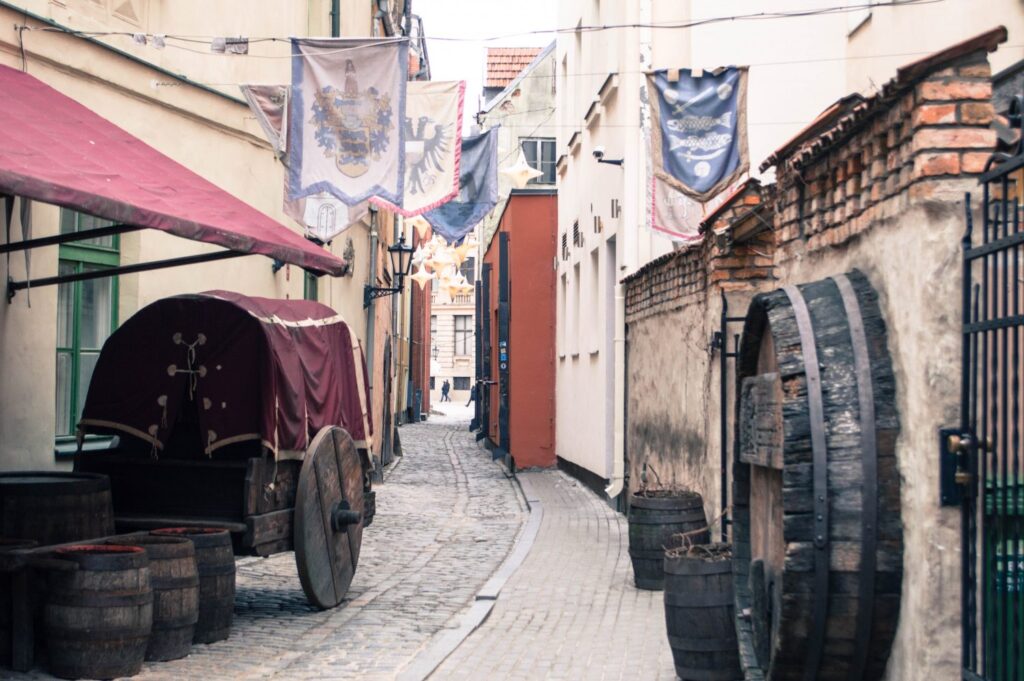 The Old Town made for a lovely walk, but when the hunger pangs began to settle in, I knew it was time to shift locations. To settle my rumbling stomach, I knew exactly where I needed to go: Riga's Central Market (Centraltirgus), one of the largest and busiest markets in Eastern Europe. Housed in repurposed zeppelin hangars, the market is organized into five pavilions selling vegetables, dairy, meat, fish and gastronomy products. I spent over an hour browsing the 3000+ stands of the market, communicating with gestures and simple English to secure myself a delightfully cheap assortment of baked goods. I ended up with a big sack of sweet and savoury snacks for only 2 euros!
To round off my day, I decided to go on a little walk towards Albert Street (Alberta Ieta) – a street famous for its elaborate Art Nouveau architecture. When researching things to do in Riga, this came up as one of the main "must-sees", so I was excited to see the street for myself. When I eventually got there (after a 30 minute walk from the Old Town), I admit I was a little disappointed. The street is pretty, don't get me wrong, but at the end of the day it's simply a street, with mostly residential buildings. Unless you have a lot of time in Riga, I wouldn't go out of my way to see it.
My little Albert Street jaunt wasn't in vain though, because the walk there turned out to be a scenic little tour of Riga's Central District. I got to walk through Bastejkalns Park, see the Freedom Monument and pass by the beautiful Nativity of Christ Cathedral – all major sights within the city.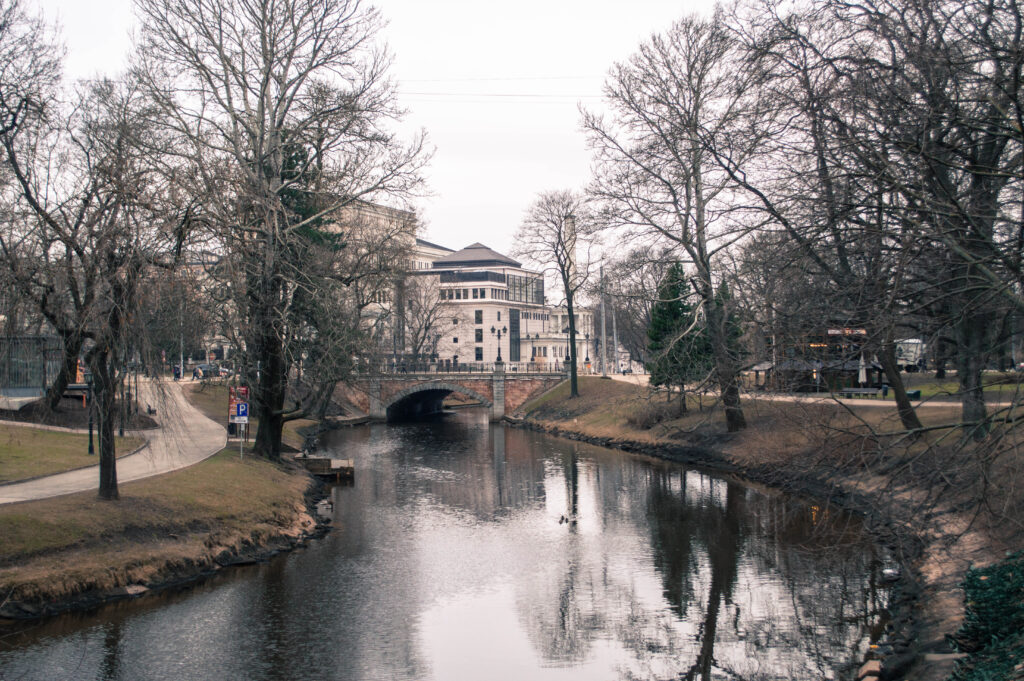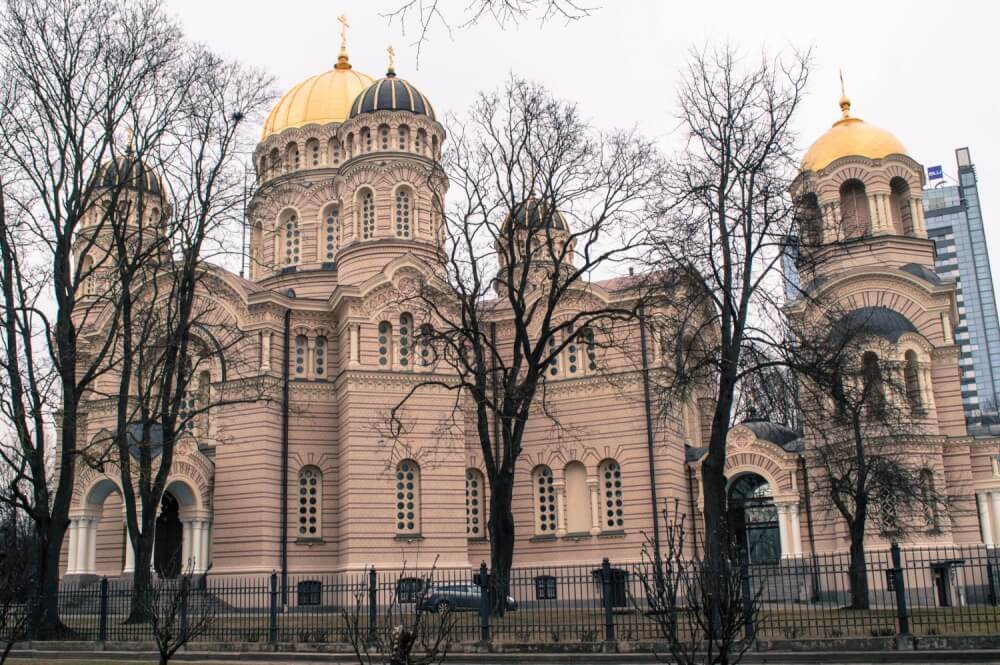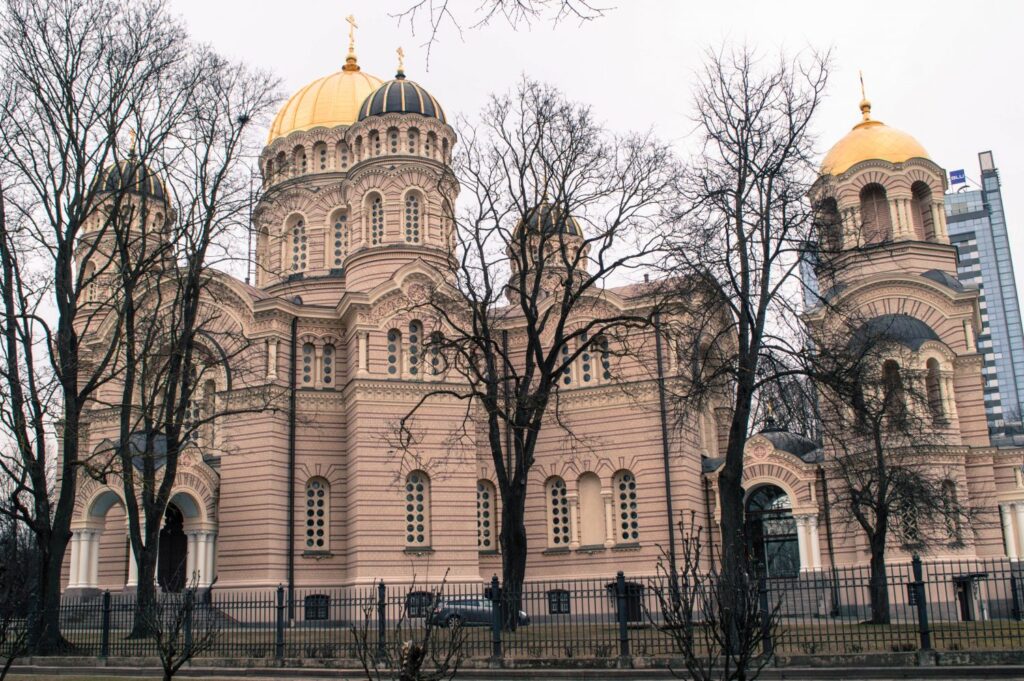 And after a very long, touristy day, I spent the rest of the evening unwinding in my room at the Bellevue Park Hotel Riga. Tea, pastries and a fuzzy bathrobe might have been involved…
There was honestly no more relaxing way to cap off a day of sightseeing. I mean, look at this magical room: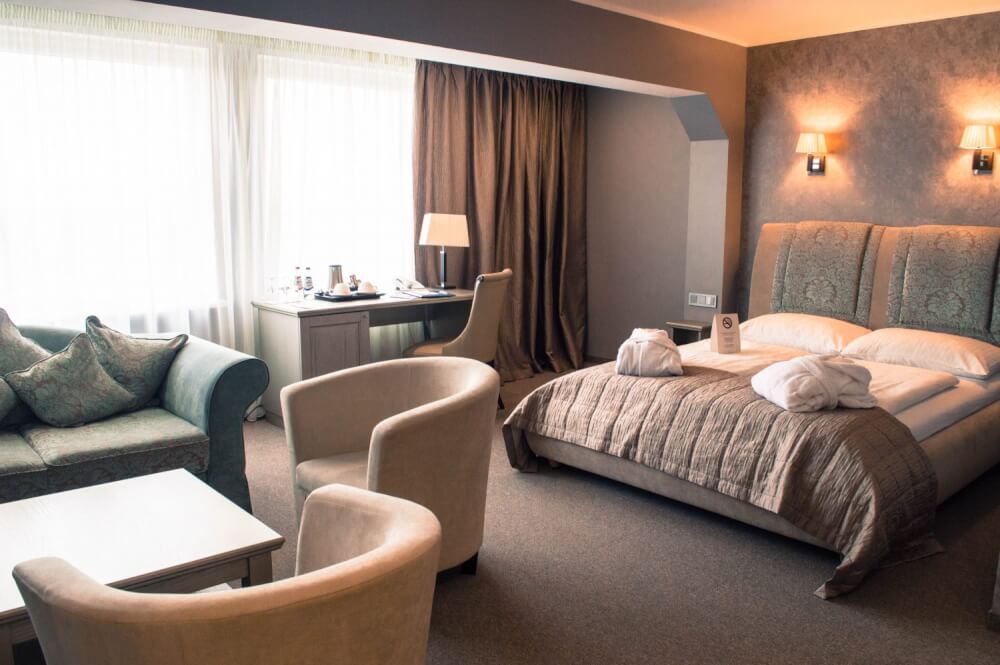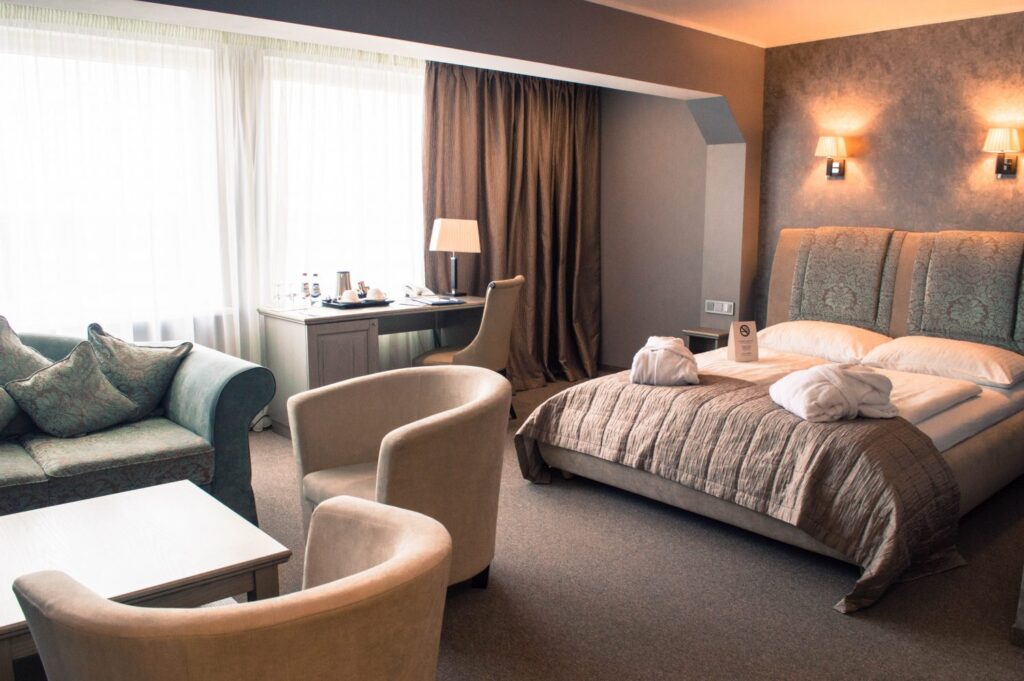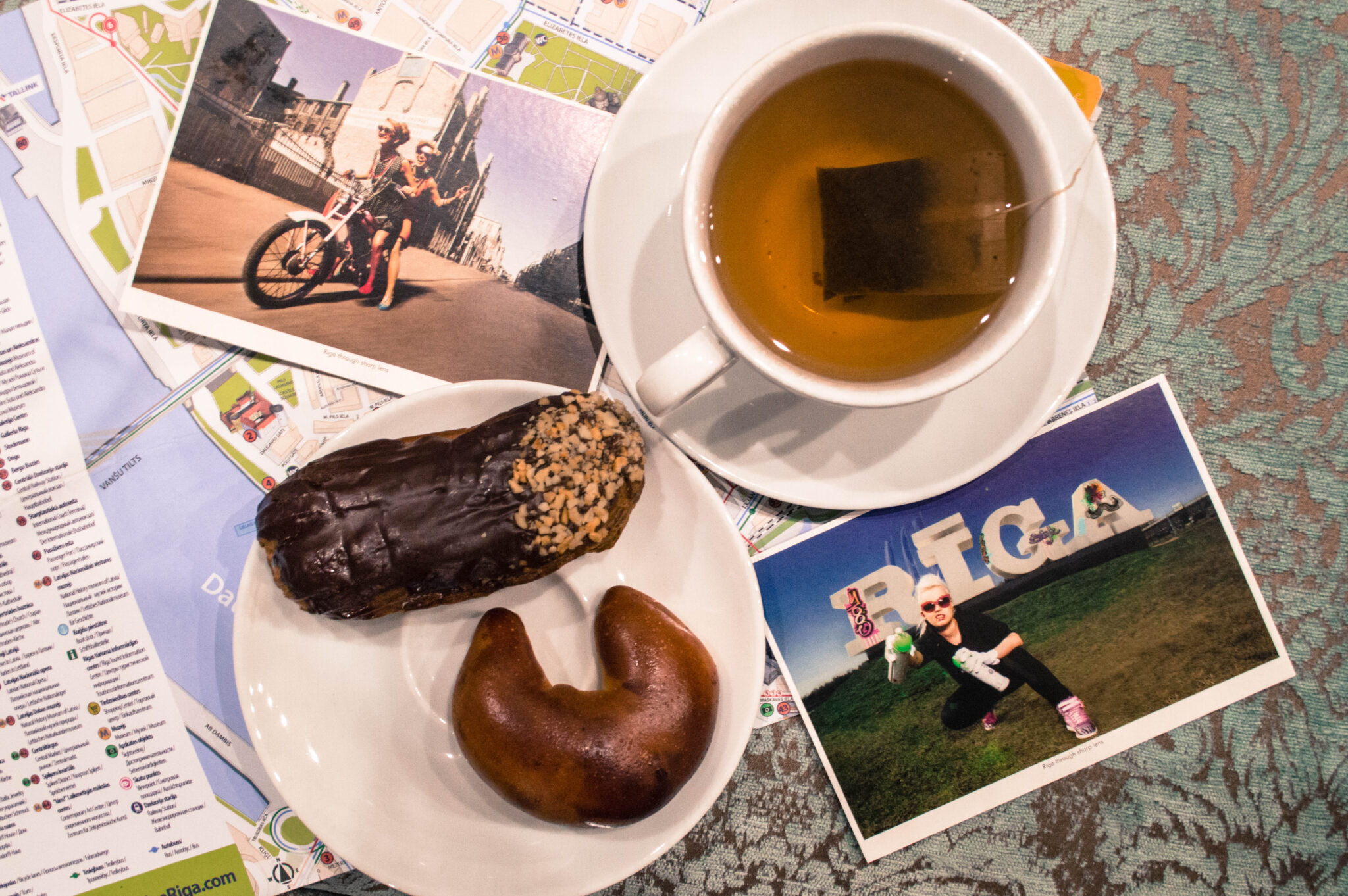 In all, this trip to Riga was certainly short but sweet. With my limited time frame, I wasn't really able to explore museums or see Riga in depth, but I suppose it was just enough to give me a taste of the Baltics. No doubt, I hope to be back sometime soon.
Until next time!
xx christina
So have you ever been in Riga, or spent a long layover somewhere awesome? Let me know in the comments!
During this trip, I was a guest of the Bellevue Park Hotel Riga and was provided with free entrance to St. Peter's Church courtesy of Visit Riga, but as always, opinions are my own.