*FYI - this post may contain affiliate links, which means we earn a commission at no extra cost to you if you purchase from them. Also, as an Amazon Associate I earn from qualifying purchases. Check out our Privacy Policy and Disclosure. for more info.
Curious about Canada's mysterious Spotted Lake, AKA Lake Kliluk? Are you maybe interested in "spotting" this marvel for yourself? Here is a detailed guide to Spotted Lake, Osoyoos in British Columbia, Canada. (Mouthful, sorry)
It's a sad fact of life that the Internet is wickedly deceptive. Filled with Photoshop geniuses and crafty editors, many of our Pinterest boards are peppered with sights in the world that don't actually exist…
So excuse me for being a bit skeptical these days. Often I'll see a photo and immediately laugh at the clear edits, then move on with my life pinning photos of pies and cats like the rest of the Internet.
But, every so often, you'll come across worldly sights that, against all odds, are real…
And Lake Kliluk (AKA Spotted Lake), British Columbia is one of them.
Read on to learn all about this amazing marvel of nature in Osoyoos, Canada, with an explanation of why the lake has spots, the best time to visit, and how to find the famous "BC lake covered in polka dots" for yourself!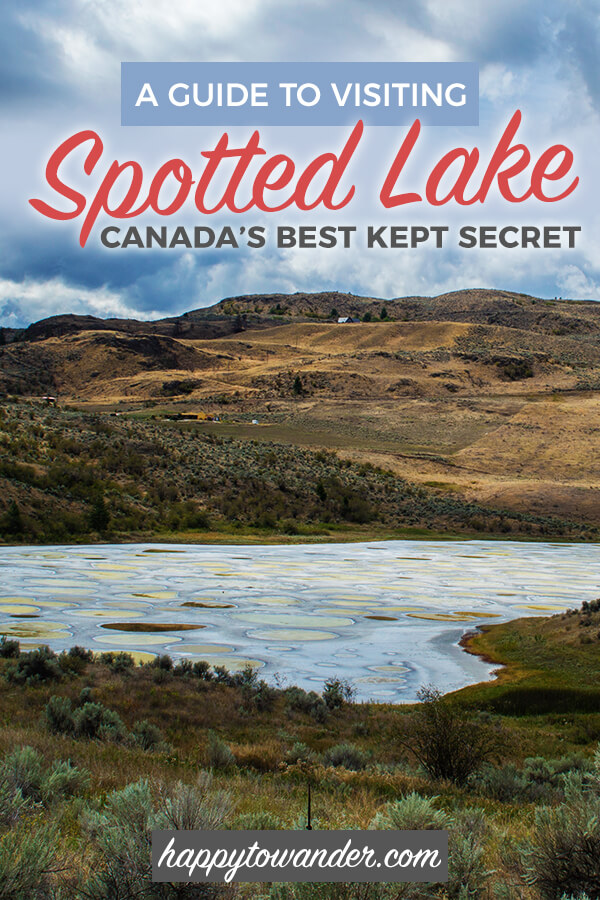 Save this guide on how to visit Lake Kliluk (Spotted Lake) in Canada for later!
You'll be very glad you did.
Lake Kliluk (Spotted Lake): A Brief Introduction
Located in Osoyoos, British Columbia, Lake Khiluk (known coloquially as Spotted Lake) is a natural marvel unique to the world because of its spotted pattern, caused when the lake's water evaporates in the summer, leaving colourful mineral deposits that settle around the lake like spots.
Known as Klikuk by the local Okanagan First Nations people, Spotted Lake has long held a reputation for being a mystical lake with healing powers.
And while visitors aren't allowed to soak and bathe in these waters, they are free to pull over, gawk open-mouthed at the incredible sight, and naturally take a million photos. (As I shamelessly did)
Canada has no shortage of amazing lakes, but Spotted Lake is unique in the country (and the world) for its colourful pattern, and is one of the best things to do in Osoyoos (about 4.5 hours away from Vancouver).
With that brief introduction out of the way, let's now tackle a very common question: what's the cause of the unique pattern of the Spotted Lake in Canada?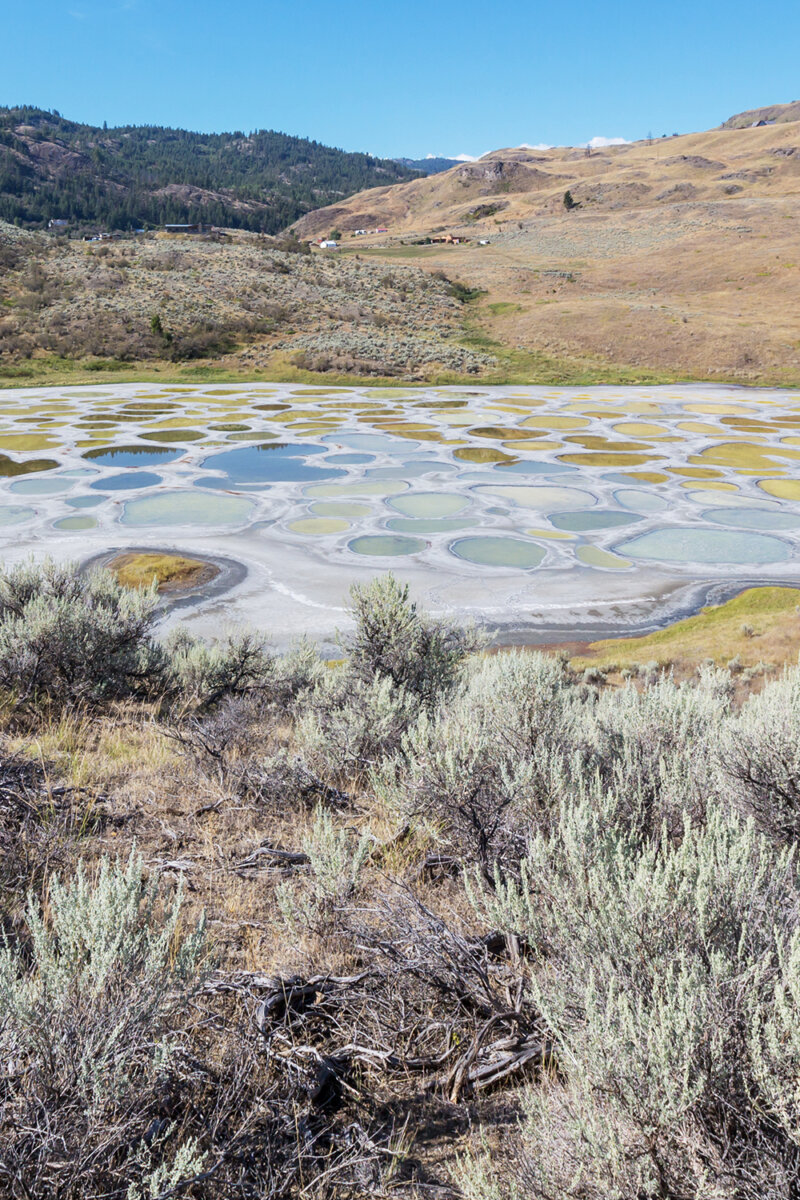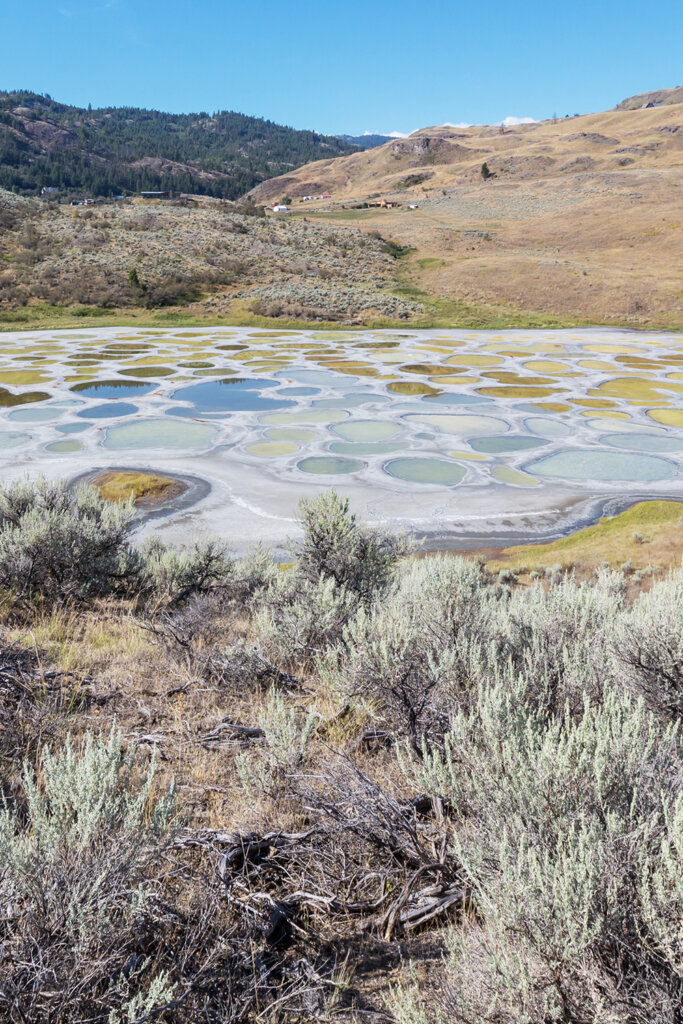 So… What makes Spotted Lake in Osoyoos spotted?
To answer this common Lake Kliluk question, we need to put our science caps on.
The reason why Spotted Lake looks the way it does is because it's a saline endorheic alkali lake.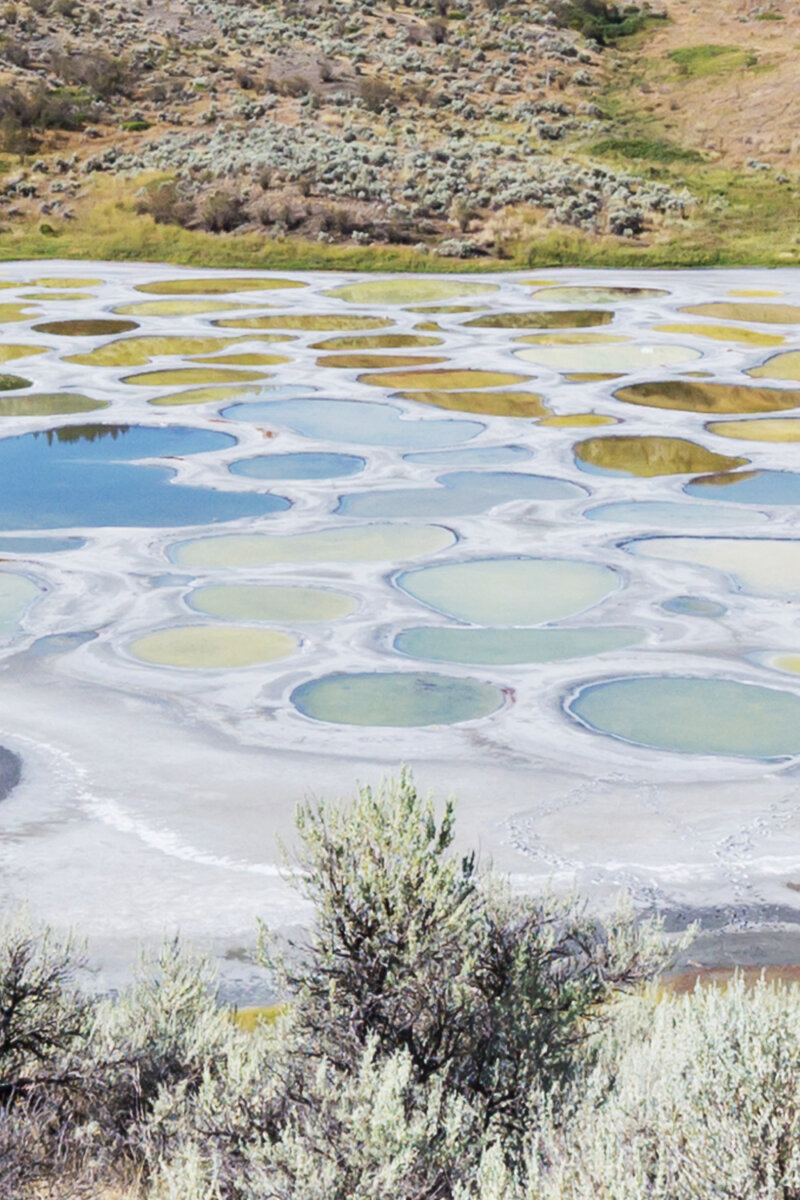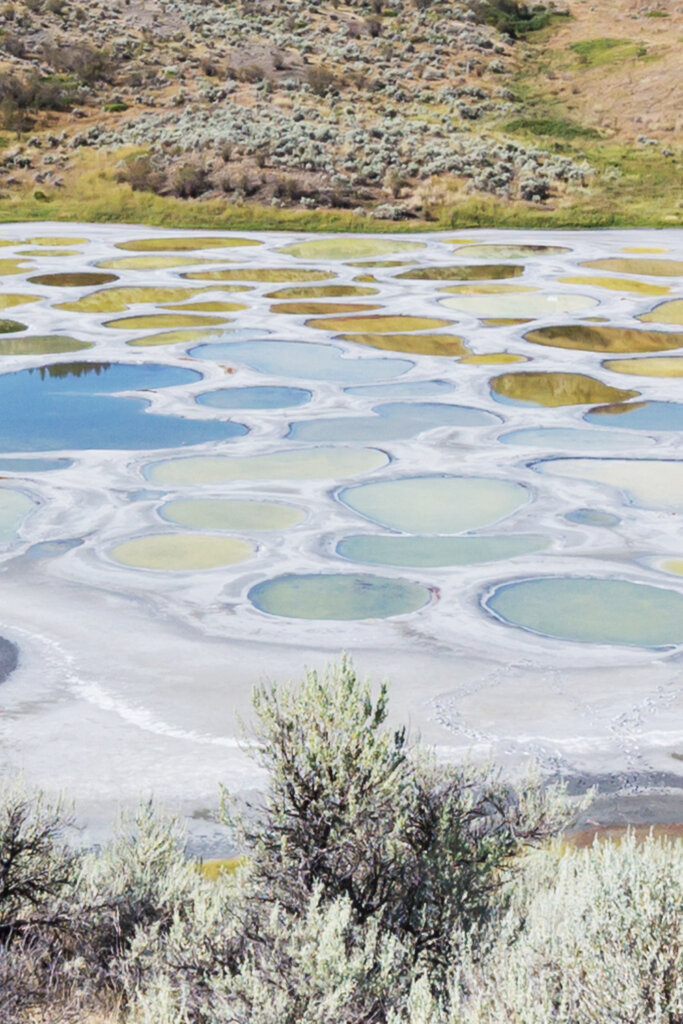 If you're wondering how Spotted Lake was formed to look like this, in normal English, essentially what you need to know is that the lake contains a bunch of highly concentrated minerals.
When the water on the lake evaporates in the summer, all these minerals remain and crystallize to form the otherworldly polka dot pattern. So yes, this means that the polka dots are NOT a year round phenomenon.
But hey, if that's not enough mindblowing info for today, the colours of the spots also change throughout the summer in tandem with changes in the mineral composition.
[Brief pause for your minds to explode]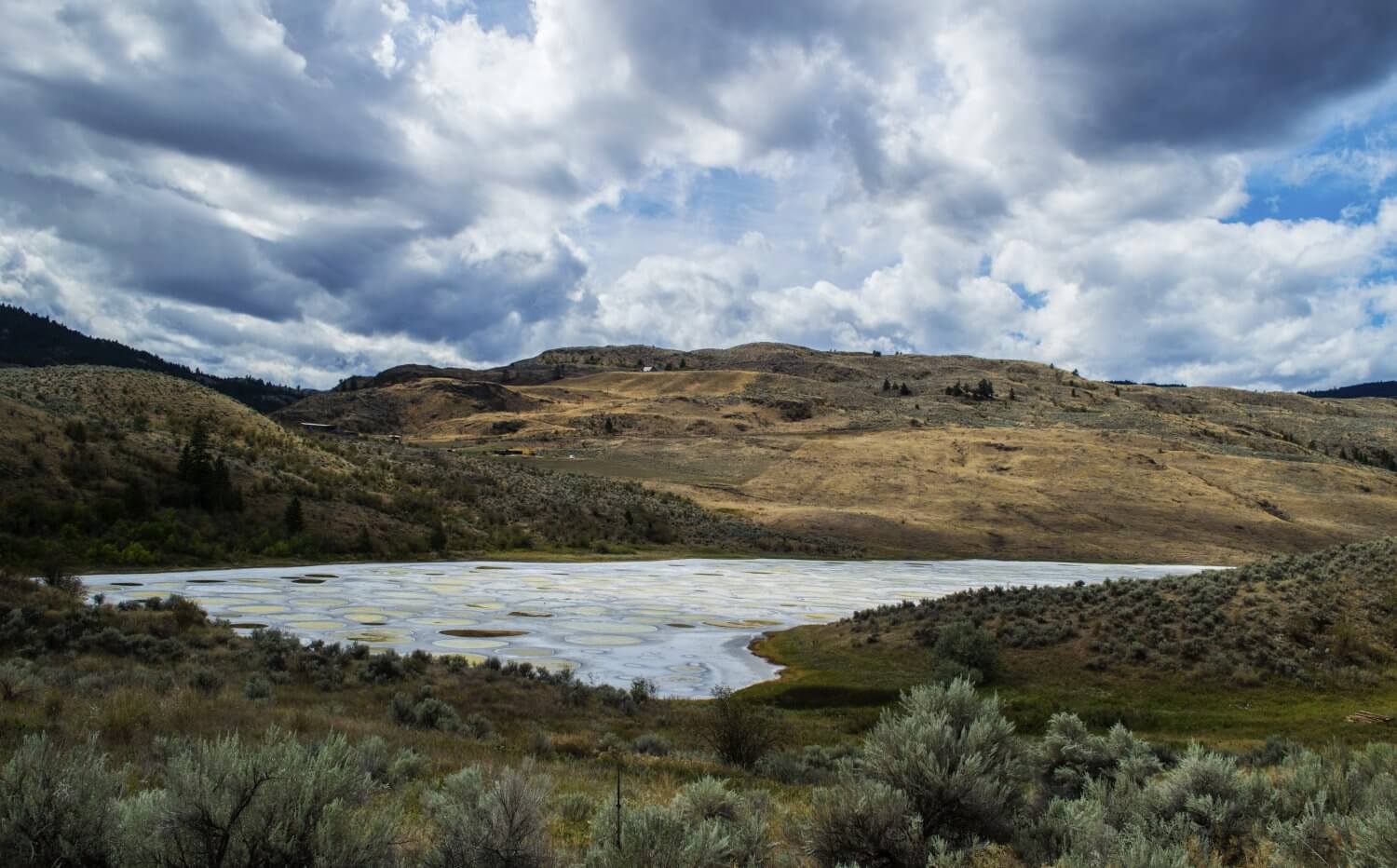 But wait for it – there's actually more. Spotted Lake is also a sacred site that carries a deep significance for the area's First Nations people.
According to them, the lake's waters carry special healing powers, with each of the 365 spots boasting specific and unique healing properties.
That's right – 365, just like how many days there are in a year [minus leap years, but who even counts those?]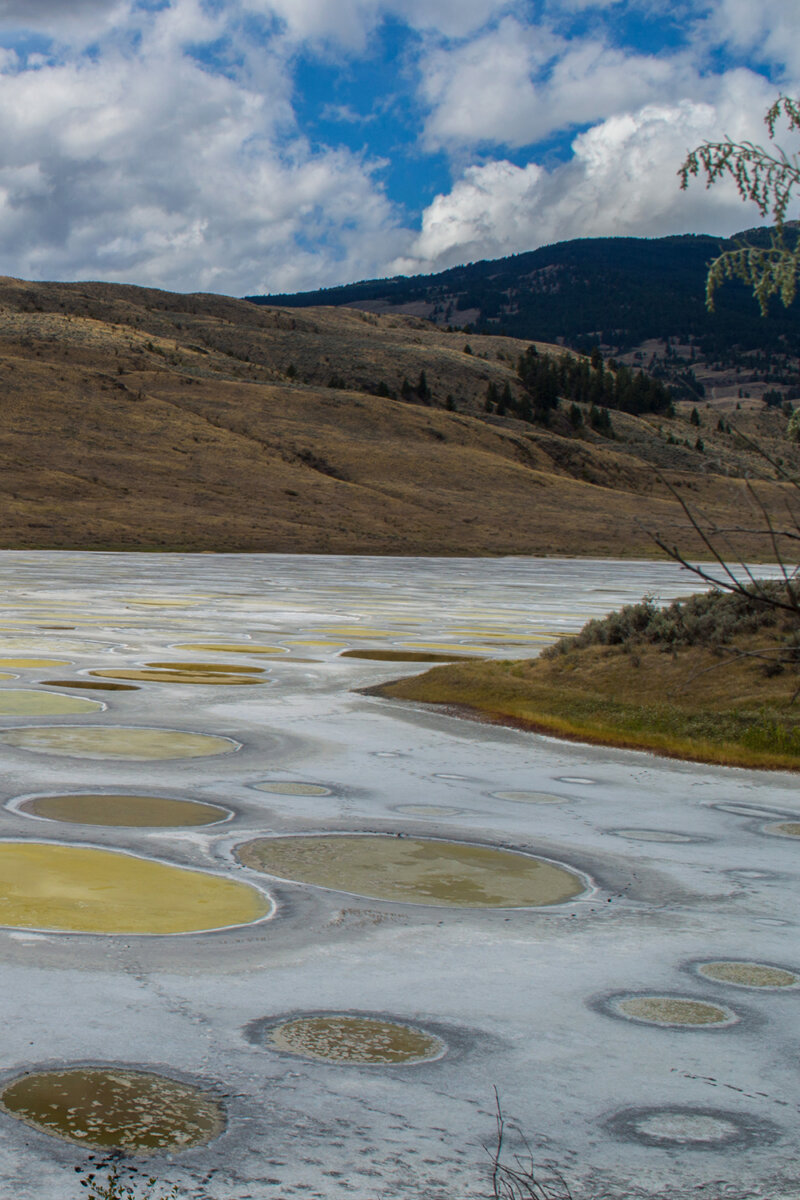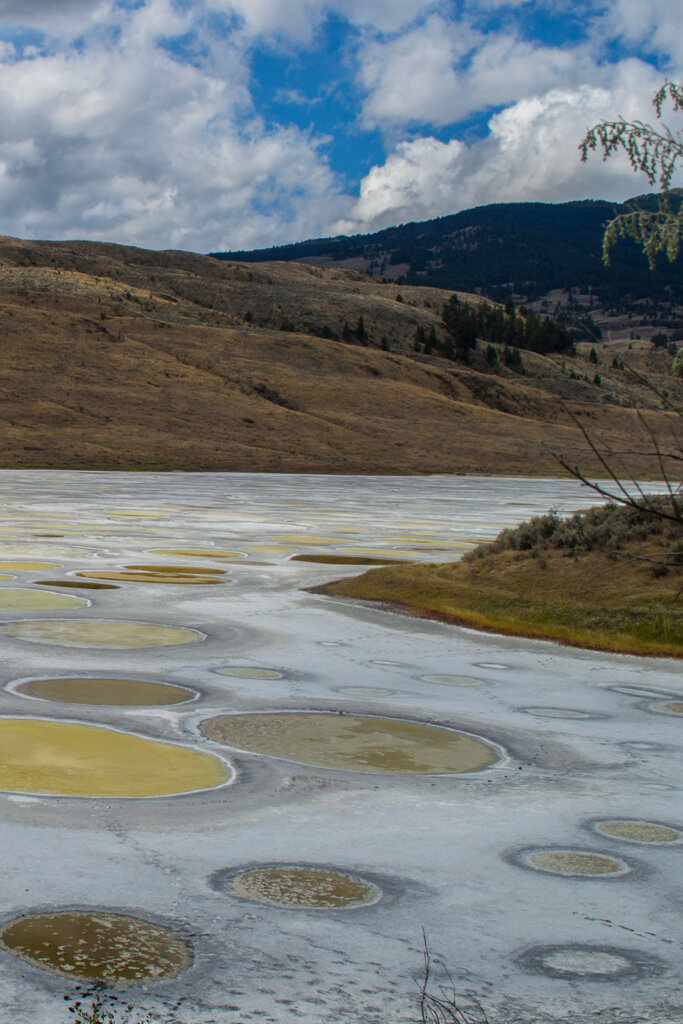 How to see Lake Kliluk (Spotted Lake) in Osoyoos for yourself
Alright, now that your curiosity is piqued, I'm sure you're itching to see the incredible Lake Kliluk (AKA Spotted Lake) for yourself. Here are some practical pieces of info hat will help you out.
Spotted Lake, BC Location
Canada's famous Spotted Lake can be found in the South Okanagan Grasslands Protected Area in the British Columbia province of Canada.
This places it in close proximity to BC's best vineyards, and the only desert in the country.
NOTE: While Lake Kliluk is in the same province as Vancouver and Victoria, visiting the lake as a day trip from either of these cities would be nearly impossible due to long driving distances. From Vancouver, the drive is about 4.5 hours.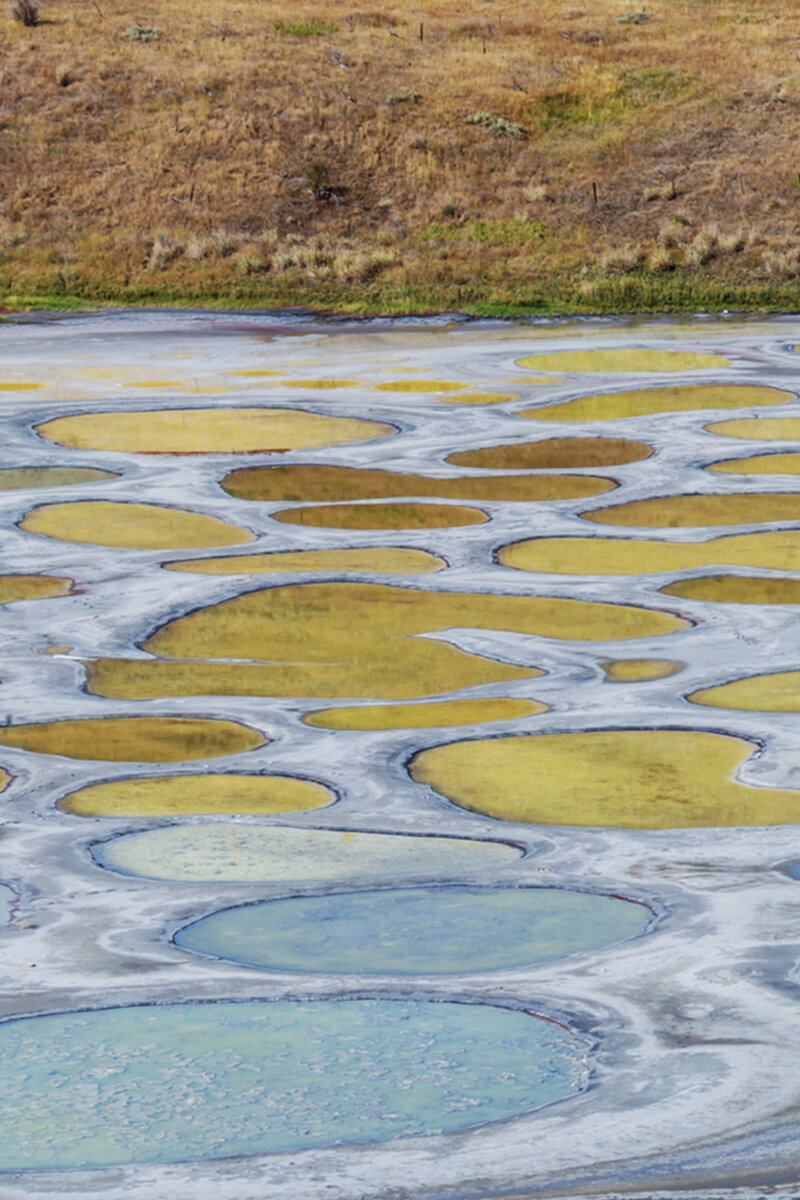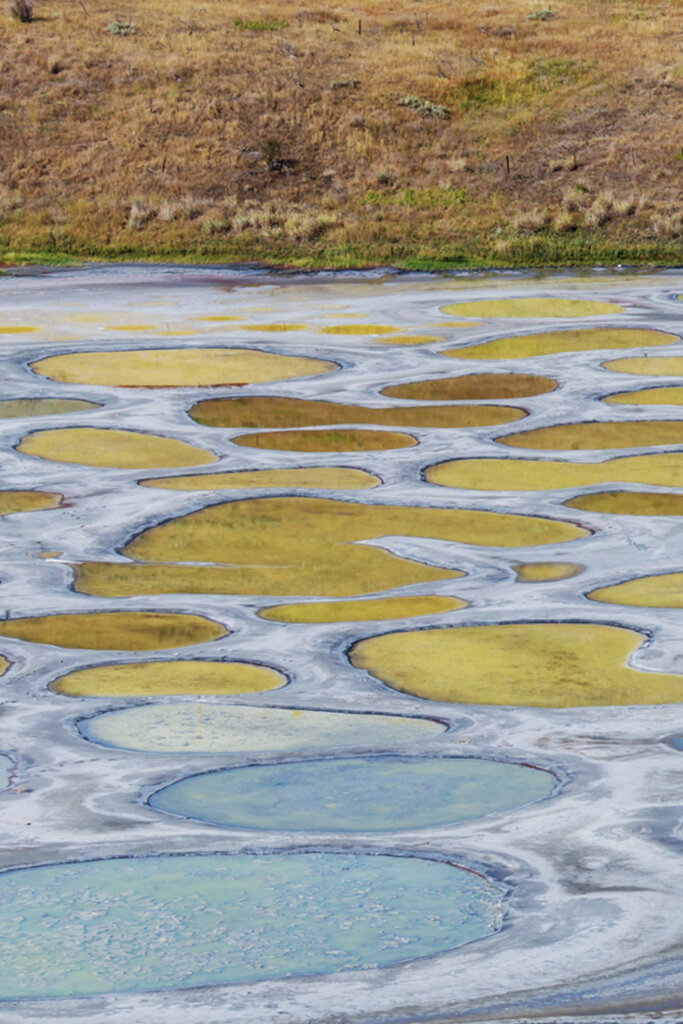 How to get to Spotted Lake
Finding directions to Spotted Lake can be a bit of a pain because it's not really a publicized attraction. In fact, you could easily drive past it by accident if you're not paying attention… so here are some directions for you to follow:
BY CAR: Once in the Okanagan, follow Highway 3 west out of Osoyoos for 10 km. You will then reach Spotted Lake. The drive takes over 4.5 hours from Vancouver.
BY PUBLIC TRANSPORT: Unfortunately it is not currently possible to visit Spotted Lake by public transport. Canadian trains don't service this area.
BOOK A TOUR: If you want to get more cultural context and history around the lake, you also have the option of visiting the lake with a Syilx guide through a guided cultural tour. Click here for more information.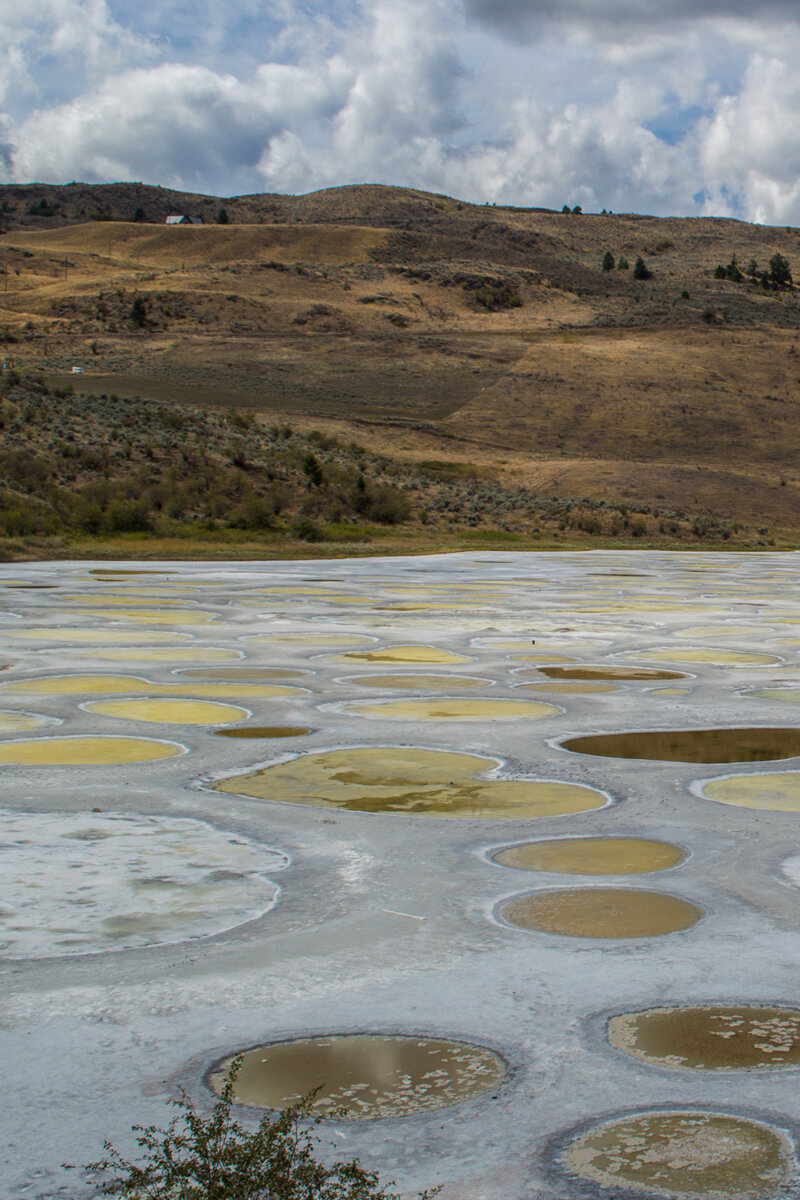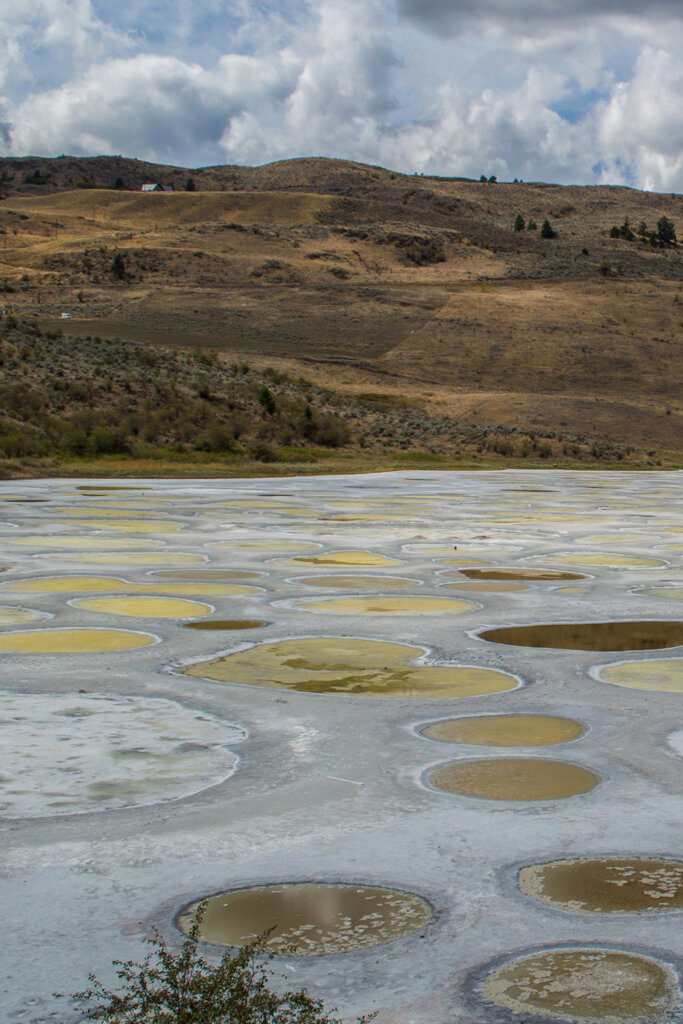 When to go to Spotted Lake, Osoyoos
Is there a best time to visit Spotted Lake?
Yes, absolutely!
If you are planning to visit Spotted Lake, you should make sure that you go during the hot months of the summer, when the water of the lake evaporates to reveal the magical spots.
If you go during another time of year, you might not even see the spots at all.
Other Awesome Things to do in Osoyoos
While you can't do much at the Spotted Lake besides take photos, the Okanagan itself has a bunch of awesome activities to offer, from world class wineries to watersports and even Canada's only desert.
Here are some of the other great things you can do in Osoyoos:
Visit Nk'Mip Desert Cultural Centre. Learn more about Spotted Lake's history and significance at this cultural centre run by the local Indigenous people of the Okanagan. Click here to learn more.
Go flyboarding. Embrace your inner Ironman with a watersport you'll never forget! Click here to check availability and prices.
Go winery hopping. One of the perks of being in BC's wine country is (virtually) unlimited access to gorgeous wineries and even more gorgeous booze. There are tons of different tours and wineries to choose from. Click here to compare options.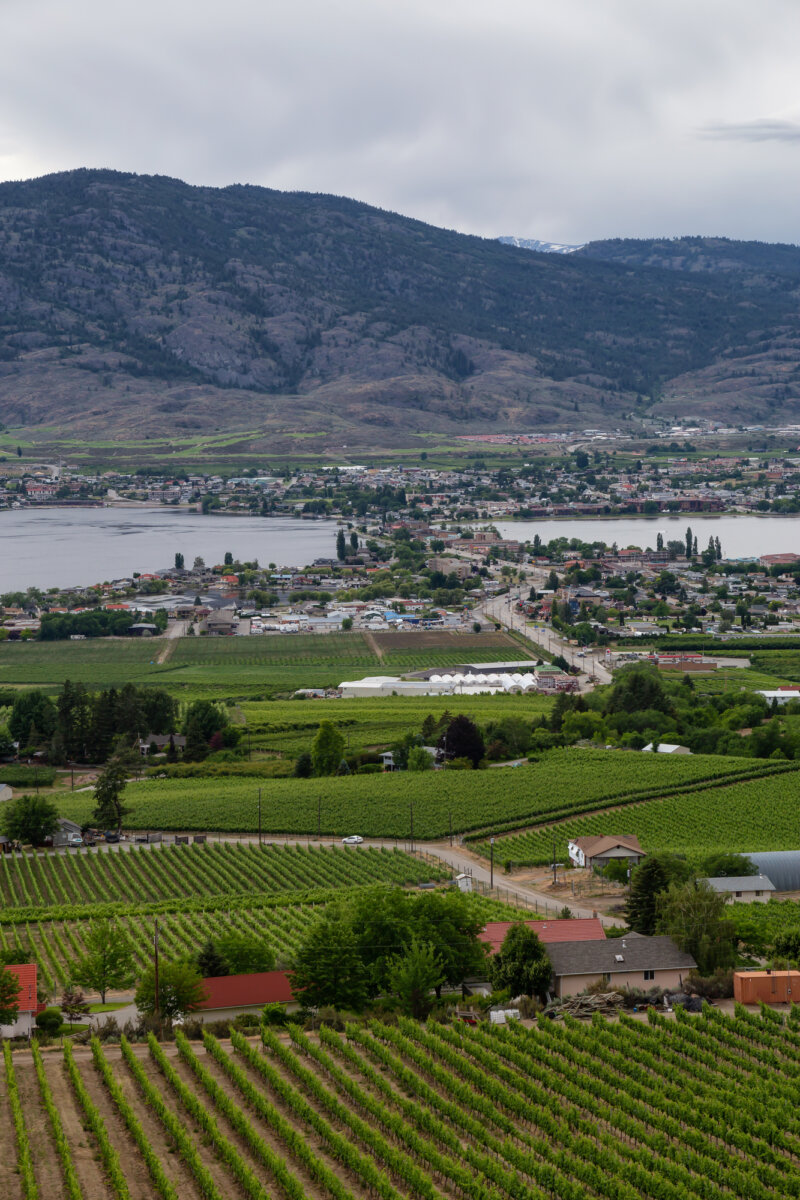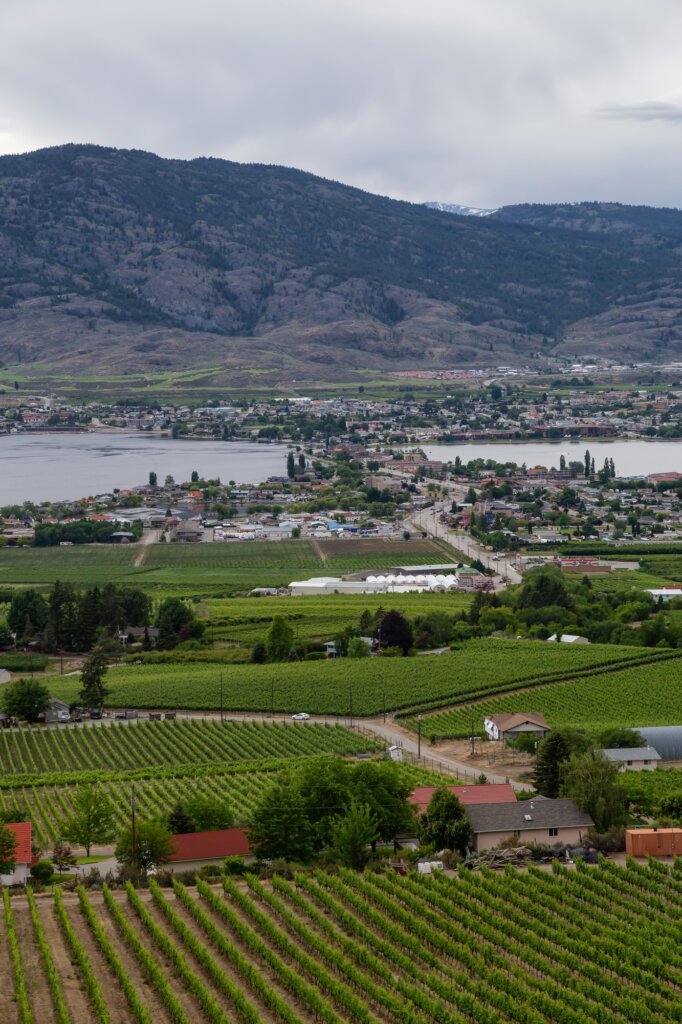 Lake Kliluk/Spotted Lake, Osoyoos FAQ
Still have some questions about seeing Spotted Lake for yourself? Whether you're looking for Lake Kliluk facts, an address or whatever else – hopefully this section can answer them for you.
Who owns Spotted Lake?
Spotted Lake is property of the Okanagan Nation.
What is Spotted Lake's address?
Like most natural wonders, Spotted Lake doesn't have an exact address, but if you type "Spotted Lake" into Google Maps, there is a location pin there that you can use to get to the lake.
NOTE: The Spotted Lake address written on Google Maps is "Okanagan-Similkameen A, BC, V0H 1V5".
Is it possible to walk on Spotted Lake?
No, the lake is a sacred medicine lake of the Okanagan Nation Alliance and the area surrounding it is private property.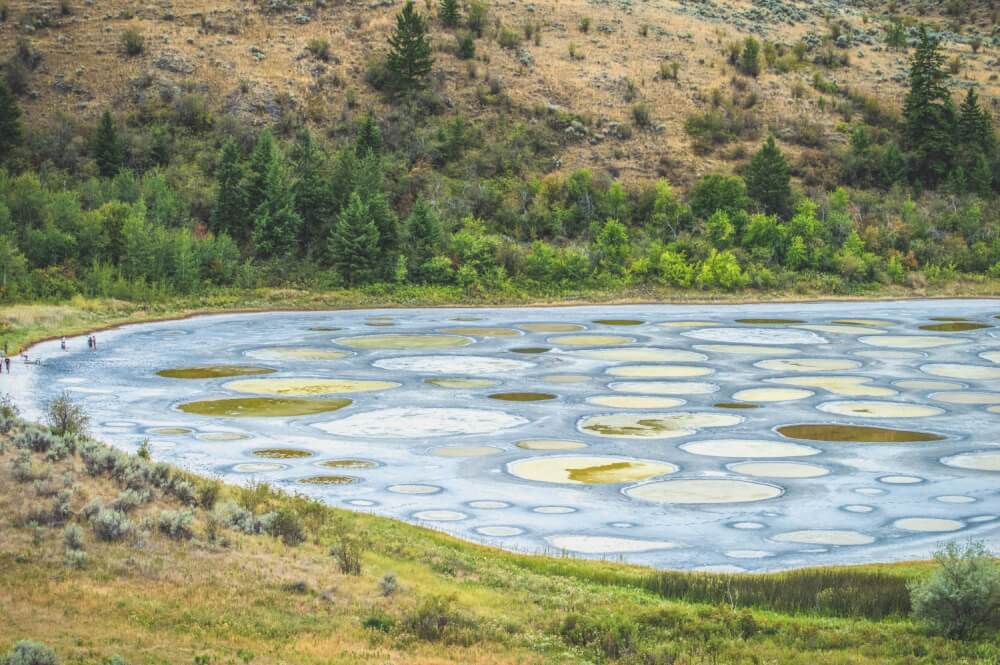 … Can I swim in Spotted Lake?
Again, Lake Kliluk is private property belonging to the Okanagan Nation, so no.
When the spots are visible, you won't be able to swim in it anyway 😉 Osoyoos Lake is nearby and much more pleasant to splash around in.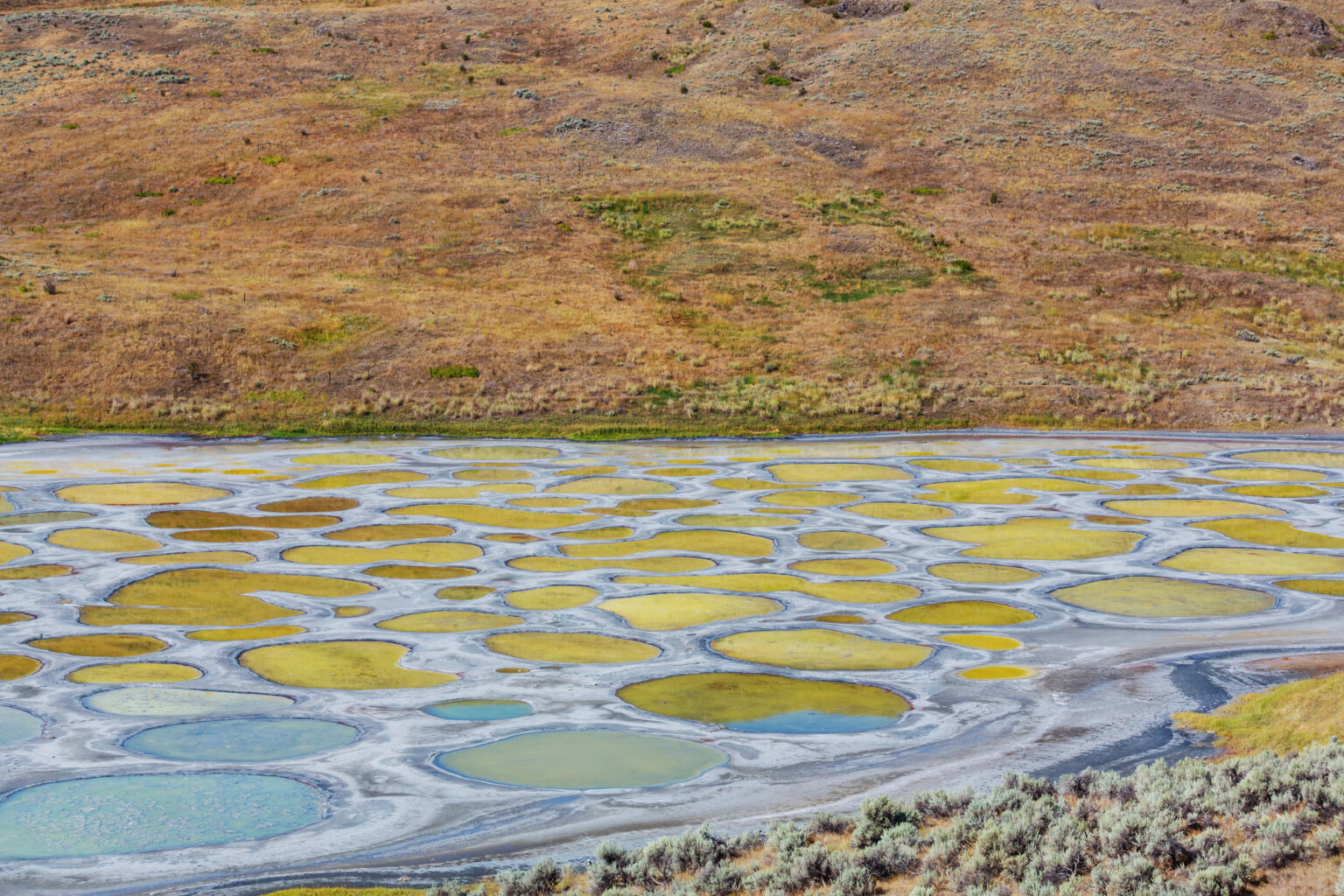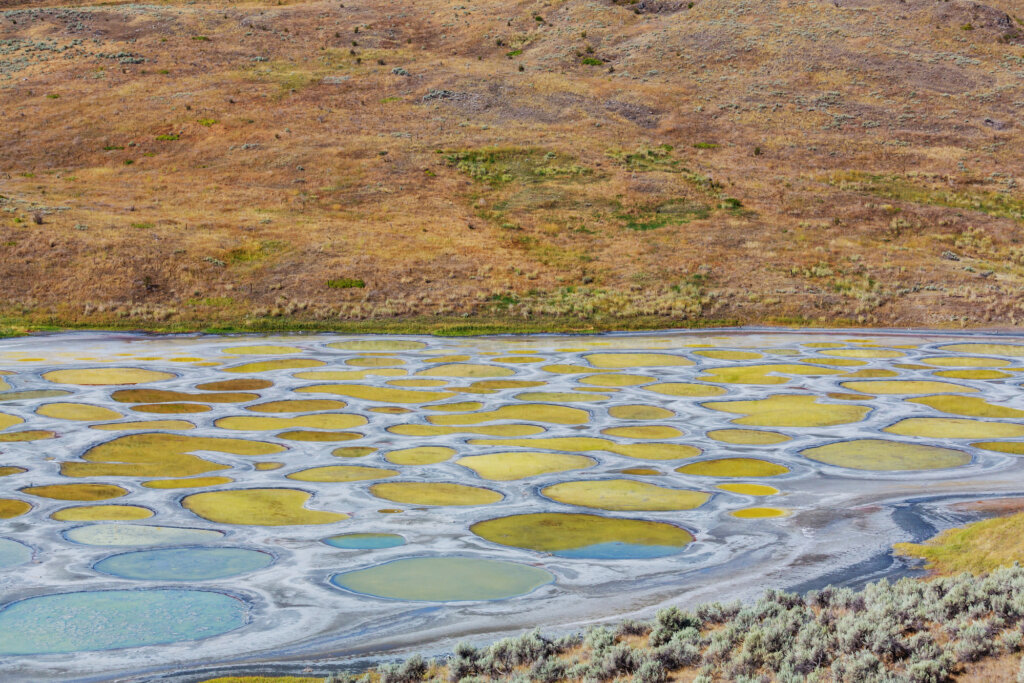 Is it possible to get up close to Spotted Lake?
Usually there is a gate barring members of the public from entering the area around Spotted Lake without permission.
As mentioned, it is private property so hopping the fence would 100% be trespassing and illegal.
On the day of my visit however, there seemed to be a special event and the gate was wide open, with many people (visitors and members of the local community alike) who were in the area behind the gate, so we got to be a little closer than usual!
That said, use your common sense – if the gate is closed, obey the rules and simply look at it from the highway.
What colours are the spots in Spotted Lake?
The colours vary between shades of yellow, brown, green and blue depending on the exact mineral composition of that spot.
NOTE: These colourful spots aren't visible year round. If you visited Spotted Lake in winter for example, what you'll see is very different to what you would see in summer.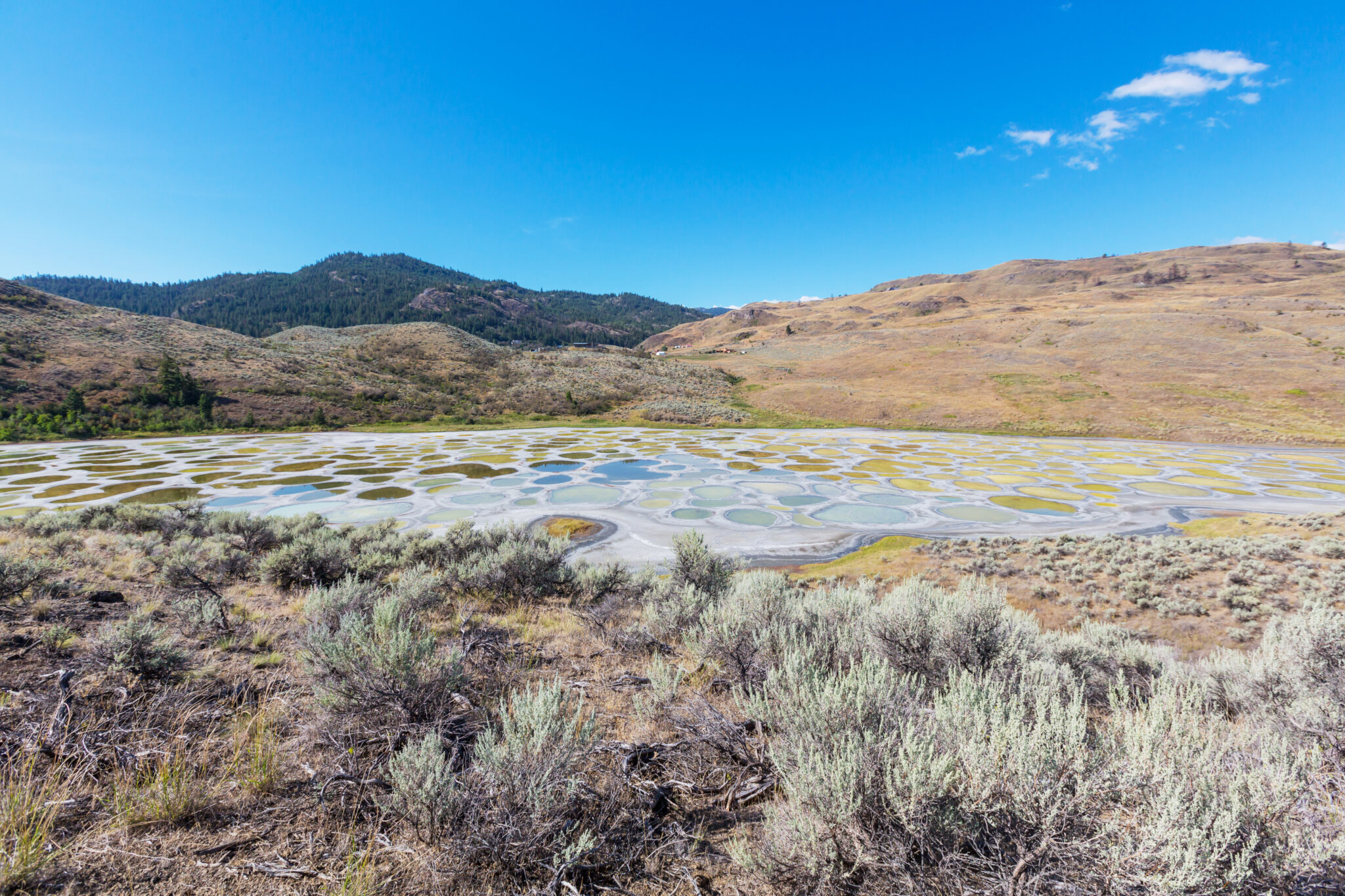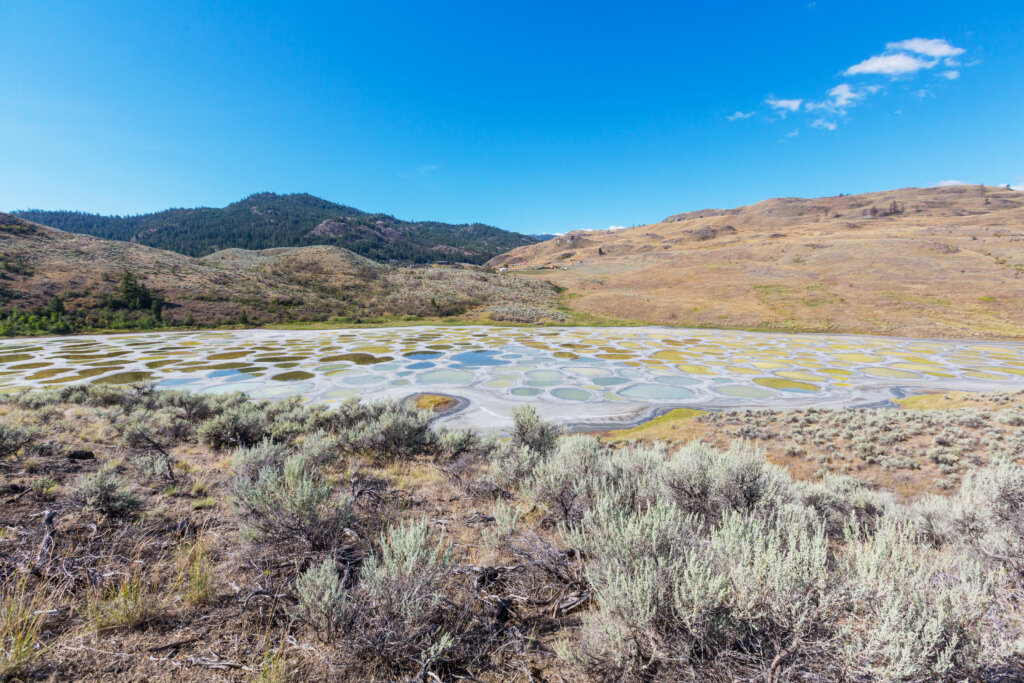 How many spots are there on Spotted Lake?
There is said to be 365, one for every day of the year.
Are the spots there at Spotted Lake year-round?
No actually – these spots are usually most pronounced during the summer when the water in the lake evaporates. Visitors coming during other times of yearmight be disappointed because water covers up the spotted pattern.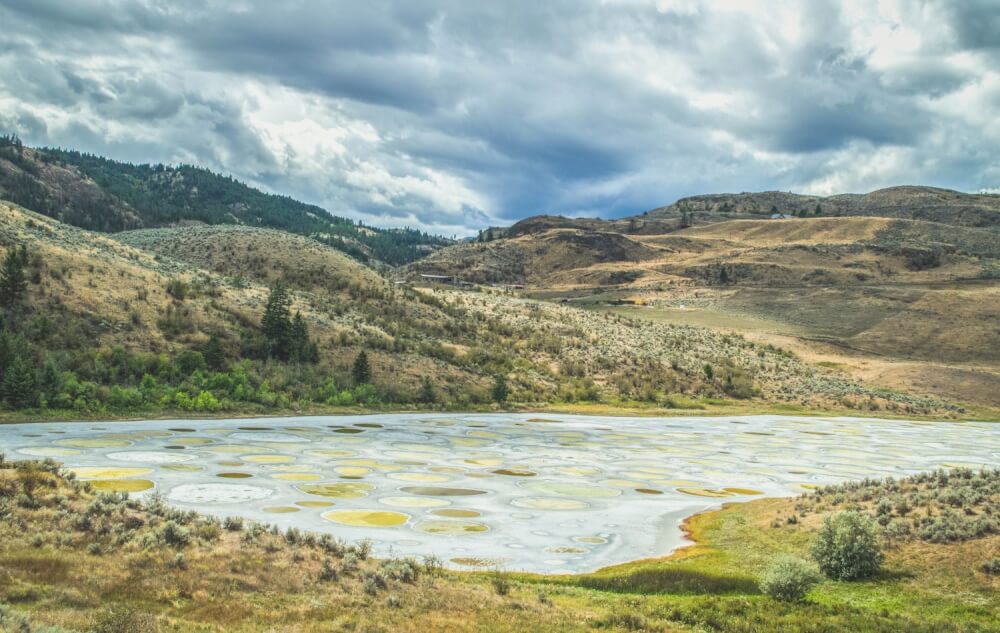 Have you been to Lake KLiluk?
I hope you enjoyed that guide to Lake Kliluk, AKA Spotted Lake in Osoyoos, Canada!
What are some of the coolest natural sights you've ever come across? Would you ever want to visit Spotted Lake for yourself? Share away in the comments.
---
Watch my most popular YouTube video this week:
---