*FYI - this post may contain affiliate links, which means we earn a commission at no extra cost to you if you purchase from them. Also, as an Amazon Associate I earn from qualifying purchases. Check out our Privacy Policy and Disclosure. for more info.
Of all the amazing things to do in Victoria, I would say the #1 would be to sigh dreamily.
Why? Well, one look and you'll see that Victoria is hands down one of the prettiest cities in British Columbia. Plus, it's where street violinists dress up as Darth Vader…
I admit, when I was a young spoiled brat, I used to hate visiting. Mostly because the ferry ride was long, and I had the attention span of an fidgety goldfish.
Now older and wiser, I'm able to appreciate the beauty of this BC capital, which is genuinely the perfect destination for a short romantic getaway, or a weekend with the girls.
If it's your first time visiting Victoria, here are a few spots to mark down on your list. With it being such an easy trip from Vancouver (here's a list of tour options), you have no excuse!
Things to do in Victoria, Canada: The Top Victoria Attractions
If you're looking for the most well-known things to do in Victoria, here are the best places and attractions you can't miss.
BY THE WAY: If you want to arrive in style, absolutely nothing beats arriving by seaplane. It's a bit pricey, but 100% worth it. Here's a good option to check out.
1. Stop by the BC Parliament Building
Victoria's Parliament Building is the crown jewel of BC's capital.
No visit to the city would be complete without a stop here, whether it's for a quick photo or even for one of their guided tours of the inside.
All their tours are free, and the building is open to the public from Monday – Friday. Don't miss the chance to see the inside: it's really beautiful!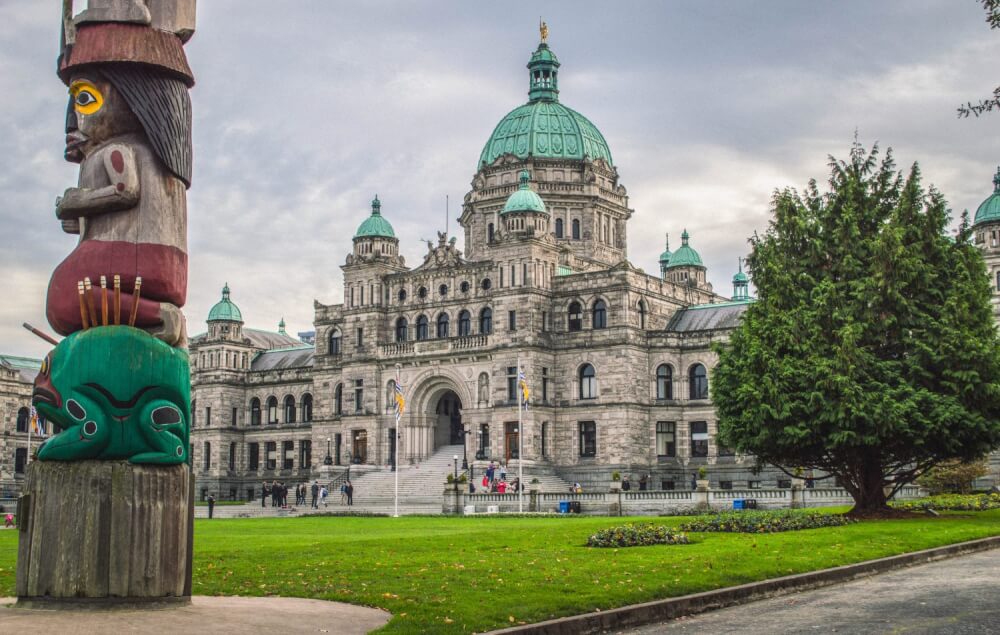 2. Gawk at the Empress
"The Empress" is another key feature of the city.
Located just along the Inner Harbour, it's one of the most famous hotels in Victoria (and even in the entire country).
Originally opened in 1908, this beautiful building is over 100 years old and is a National Historic Site of Canada. In terms of location, its harbourside location can't be beat.
My suggestion: don't just snap photos from the outside, you should go the extra mile and stay for a night or two. Easy bookings can be made online here.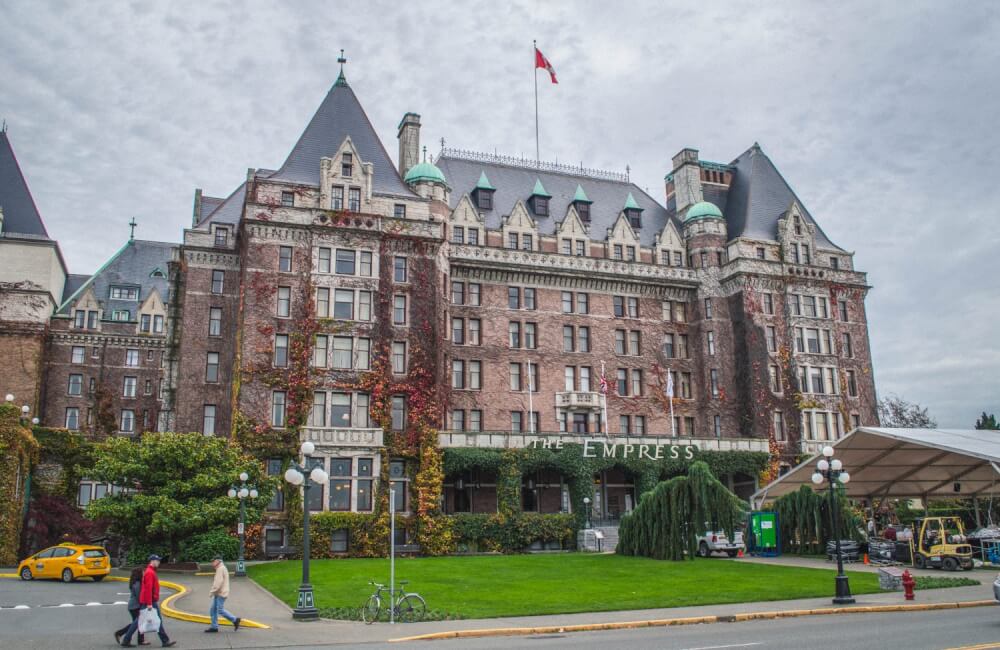 3. Take a stroll through the oldest Chinatown in Canada
Fun fact: Victoria's Chinatown is the oldest Chinatown in Canada, and is 2nd in North America to our Californian friend, San Francisco.
Decked out in charming decorations like hanging red lanterns, this area is only a 10 minute walk from the Harbour, and is definitely worth a visit.
As a bonus, there's many places here to take a break from all the sightseeing and grab a bite to eat.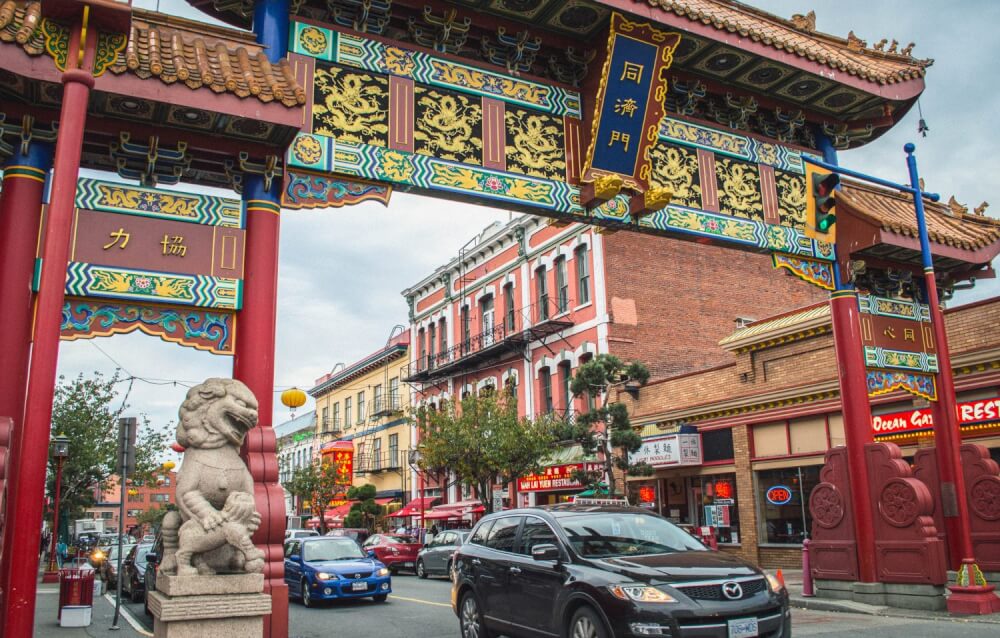 4. Visit the narrowest street in Canada
Eager for a fun photo opp? While you're in Chinatown, you might as well pay a visit to Fan Tan Alley, the narrowest street in all of Canada.
This little street is packed with small shops and at its narrowest point, spans less than a metre wide.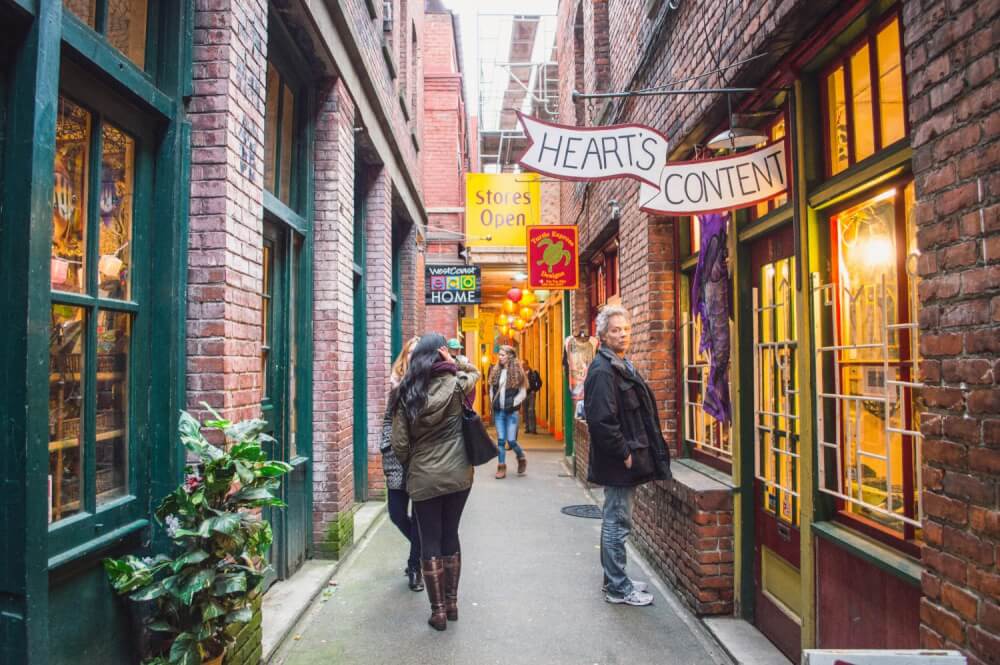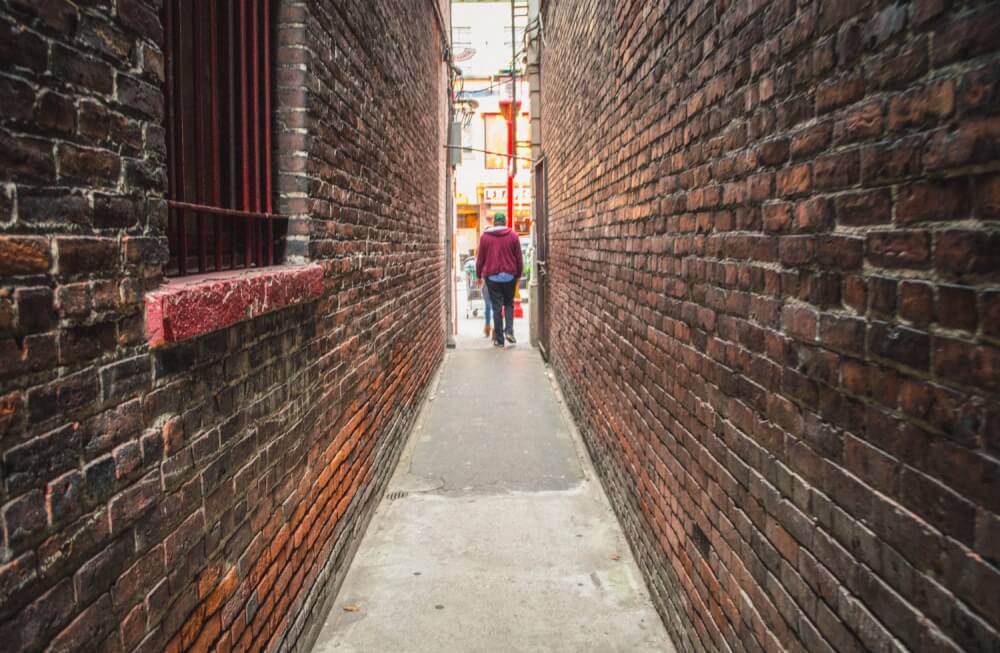 5. Enjoy the colourful houseboats at Fisherman's Wharf
I'm not sure why, but I've always been fascinated by houseboats.
I mean, come on, they're adorable. If you share this fascination with me, you're going to love Fisherman's Wharf.
In addition to these awesome little floating houses, there are also several food vendors and little shops in this area, which is easy to reach by foot from the Inner Harbour.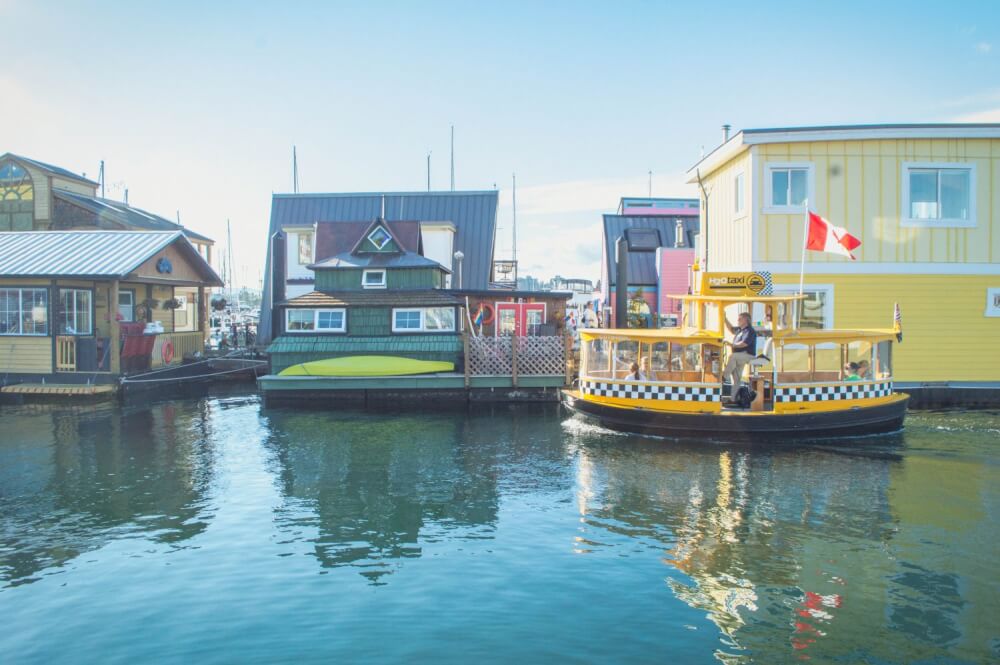 6. Take a scenic walk at the Ogden Point Breakwater
No romantic getaway is complete without a beautiful place to watch the sun set.
The Ogden Point Breakwater is no doubt that place.
Spanning about a mile, this walkway offers spectacular waterfront views, and ultimately brings you to a big Lighthouse.
Believe it or not, until 2013, this narrow walkway actually had no railings. #safetygoals
The Best Foodie Things to do in Victoria
Victoria is a wonderful city to stuff your face. Needless to say, if you're stuck on what to do in Victoria, you can always fall back on food. Here are some of the must-do activities in Victoria for foodies.
7. Enjoy happy hour with a view
Milestones is a Canadian chain restaurant that has been my reliable happy hour go-to for years, because of two things: their delicious peach bellinis and their drool-inspiring appetizers.
In Victoria, they have the best view in town, with window seats that overlook the glittering lights of the parliament and water.
This is a great place to unwind in between your sightseeing binges, plus their food, drinks and service are consistently excellent.
Don't miss the Mediterranean Goat Cheese Platter, which is on special for less than $10 during Happy Hour!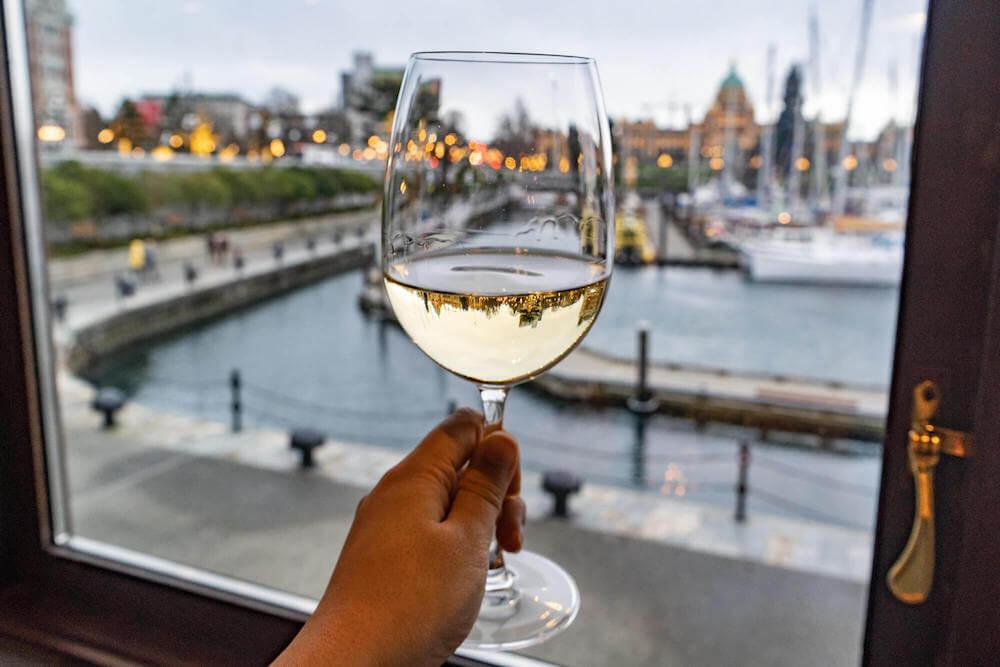 8. Gorge on fresh seafood… cheaply!
Welcome to BC, where fresh, delicious seafood is not only abundant, it's surprisingly easy on the wallet too.
You can find yummy seafood on menus all over the city, but if you want to do it without breaking the bank, I can highly recommend the Happy Hour at Ferris' Grill & Garden Patio.
It is SO good – with buck a shuck oysters (yes, $1 per oyster!) along with $4 glasses of wine. A great place to slurp and sip without sacrificing your budget.
Red Fish Blue Fish is another highly recommended stall on the pier that serves fresh seafood during the summer months, and it has some serious rave reviews. I have yet to try it, but its definitely on my eat list.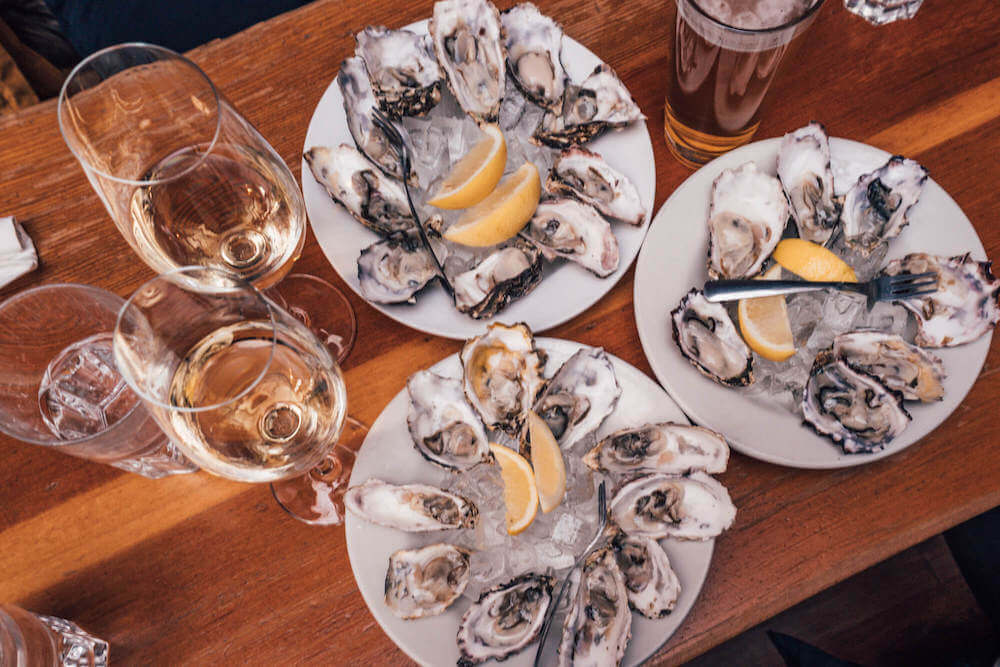 9. Try some quintessentially Canadian desserts
As you'll quickly learn in Victoria, Canada is a country that loves to embrace its stereotypes.
Whether it's the mountie uniform wearing black bears in shop windows or the aggressive amount of maple leaf memorabilia on offer, you'll never be left wondering "what country am I in again…?"
So, it's probably no surprise one of our favourite desserts is called a "Beavertail".
It's a flat piece of fried dough smothered in delicious toppings like Nutella and banana.
It's a staple food at pretty much every big fair or event in the country, but most importantly, in Victoria you'll find an actual store selling them! If you have a sweet tooth, a beavertail is a must try.
Nearby, you can also find Chocolats Favoris, which does "kooky" versions of poutine (AKA Canada's favourite drunk food), with dessert fries, chocolate sauce, marshmallows and other sweet toppings.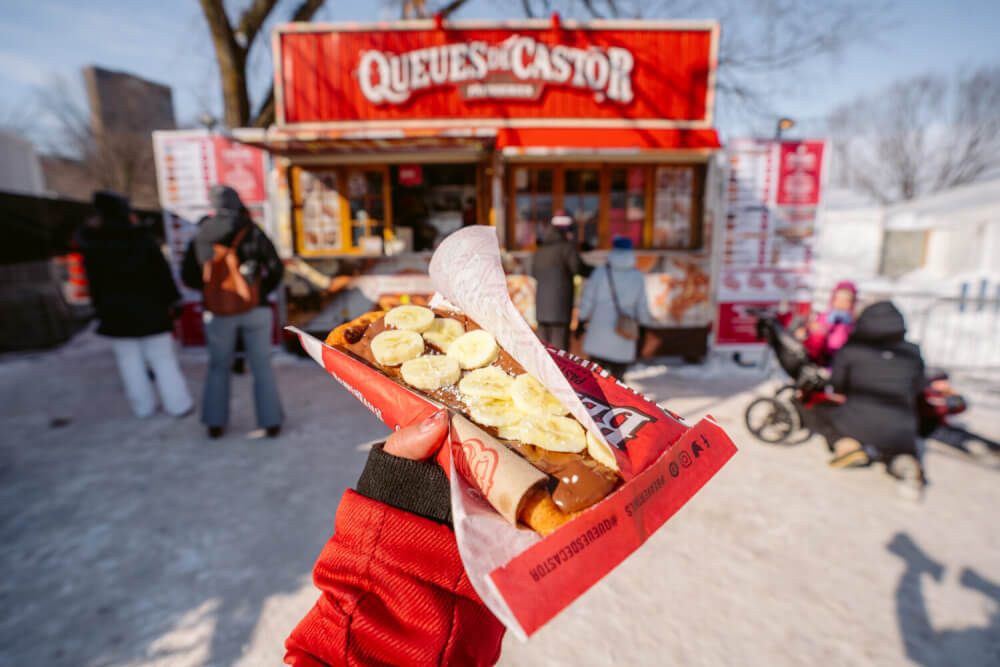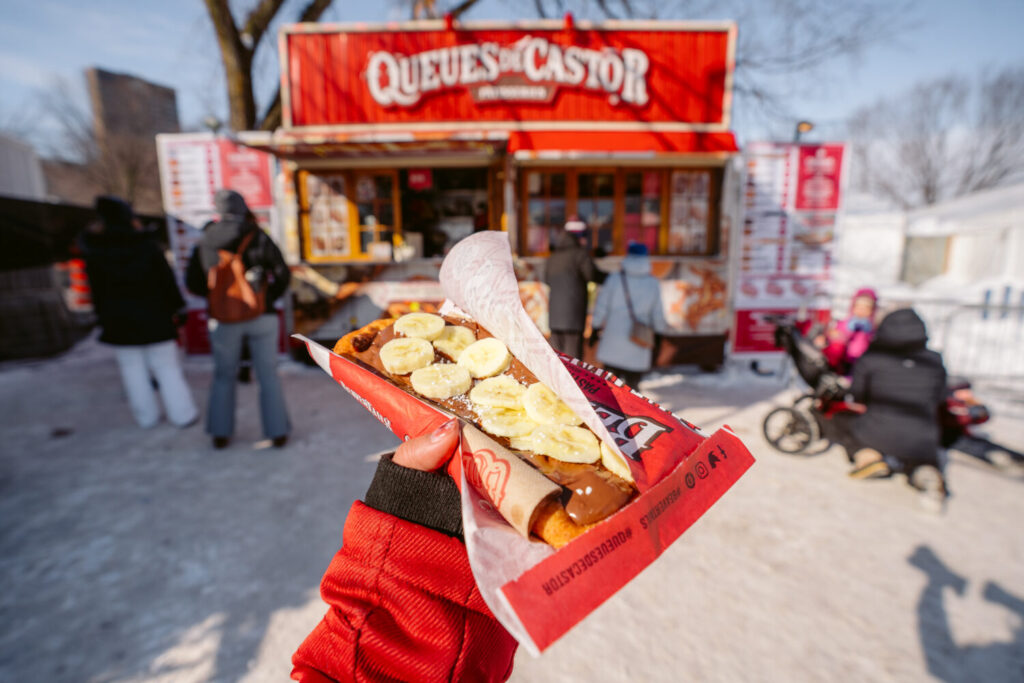 10. Have a delicious breakfast/brunch
You're not on the west coast if you don't tear into an eggs benny at brunch. Brunch is like a way of life here, and luckily for you, Victoria has plenty of delicious places for you to indulge.
My personal recommendation is The Ruby, located downtown across from the Bay Center.
With a cozy-hipster atmosphere (think faux fireplaces and vinyl humming happily in the background), this place does PHENOMENAL brunch, from creative dishes like breakfast tacos and turkey pot pie eggs benedict (pictured below) to more tried and true classics like omelettes, chicken and waffles, and more.
PS: I can highly recommend the eggs benny here. They come served on top of your choice of a croissant or a bagel and the hollandaise sauce is SO dreamy. Mmm, mm, mm!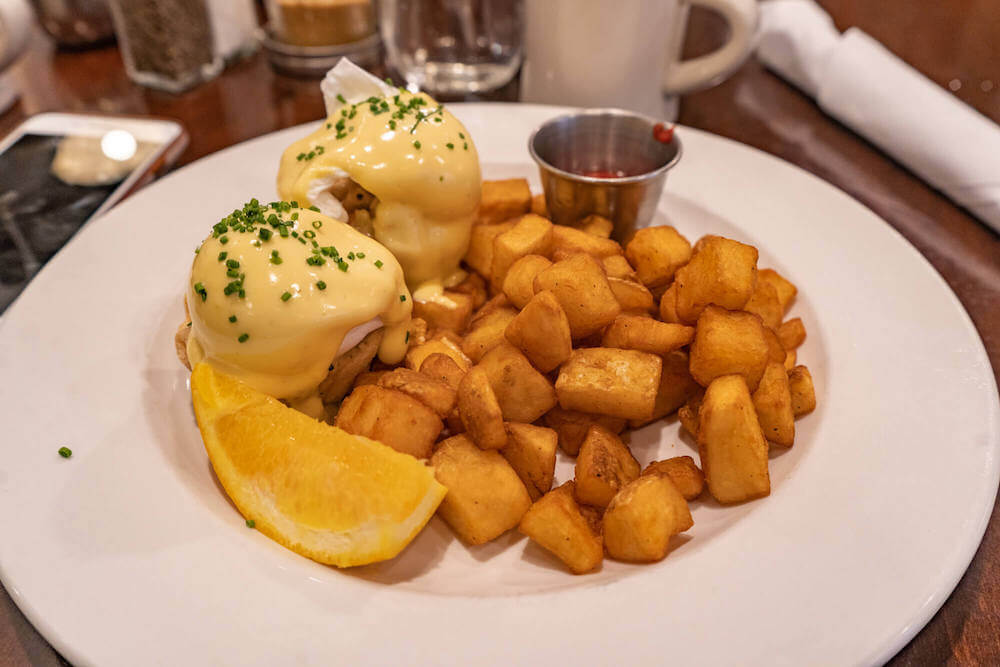 11. Try a quaint afternoon tea
If you're looking for one of the loveliest things to do in Victoria, you should definitely splurge out on an afternoon tea experience at the Empress.
While it's a pricey experience for sure, you'll leave surprisingly full from the myriad of delicious mini sandwiches and desserts… plus, their tea blends are to die for!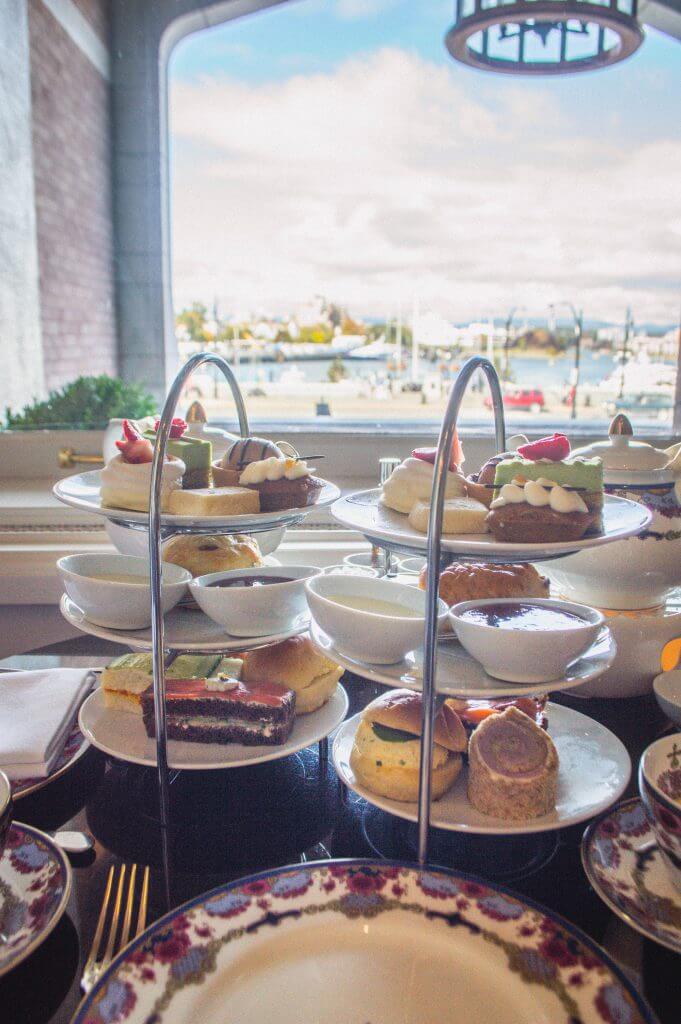 Other Fun Things to do in Victoria (and Around)
Of course, there's more than just the main attractions and food! Here are some other really fun things to do in Victoria and in the surrounding area.
12. Go on a whale watching tour
Whale watching is definitely one of the most popular things to do in Victoria, especially in one of the special open-air Zodiac style boats which get you as up close and personal as possible.
Click here to check prices and reviews.
13. See Victoria from above
Clearly, there are a lot of amazing things to do in Victoria but I think one of the most special experiences I've ever had was seeing the city from above!
While this can be accomplished in a few different ways, I'd recommend doing a panoramic sightseeing tour so you can make the most of the experience.
Harbour Air is a great company and I've flown with them a few times before. Click here to check prices and reviews.
14. Go shopping around Lower Johnson Street
This adorable part of downtown Victoria is filled to the brim with cute independent boutiques and delicious places to eat.
The picture-perfect rows of colourful buildings and the picturesque little Market Square are must-sees in their own right, and you'll easily spend hours here browsing all the unique goods on offer.
15. Enjoy Victoria by Night
Last but not least, it could be the bright lights lining the Parliament Building, or the reflection of colours on the dancing water, but Victoria after sunset is undeniably magical.
If you're able to stay until it gets dark, do it! A night-time stroll along the inner harbour is definitely one of the most atmospheric possible things you can do in Victoria…. period.
Any more suggestions for things to do in Victoria?
If you have any suggestions for lesser well-known spots to visit or more offbeat things to do in Victoria, leave me a comment!
---
Watch my most popular YouTube video this week:
---