*FYI - this post may contain affiliate links, which means we earn a commission at no extra cost to you if you purchase from them. Also, as an Amazon Associate I earn from qualifying purchases. Check out our Privacy Policy and Disclosure. for more info.
This 2 day Genoa itinerary was created in partnership with Movie Travel and Regione Liguria. I hope you enjoy it!
In a time when it seems everybody and their cat has Instagrammed their way around Cinque Terre, I'm going to let you in on a little secret…
Located about an hour away from some of Italy's most beloved tourist hotspots (Cinque Terre and Portofino), you'll find Genoa, a special little gem of a port city that has miraculously survived the clutches of mass tourism seen elsewhere in Liguria. Cue the angelic harp music.
Truly – Genoa, what a relief, what a surprise! What at first glance may appear to be another pretty Italian city is in fact a humble, secret-laden powerhouse with mountains of cool hidden in plain sight: from sumptuous palaces and covert speakeasies to the most breathtaking of viewpoints.
Little wonder then that Genoa has been the backdrop for a variety of Italian and international films over the years, meaning yes, exploring this city is like prancing around your own little film set.
… a pesto-packed, focaccia-fuelled film set.
So, what are some things to do in Genoa? Let me introduce my droolworthy two day itinerary, inspired by culture and cinema. Here's the route I followed…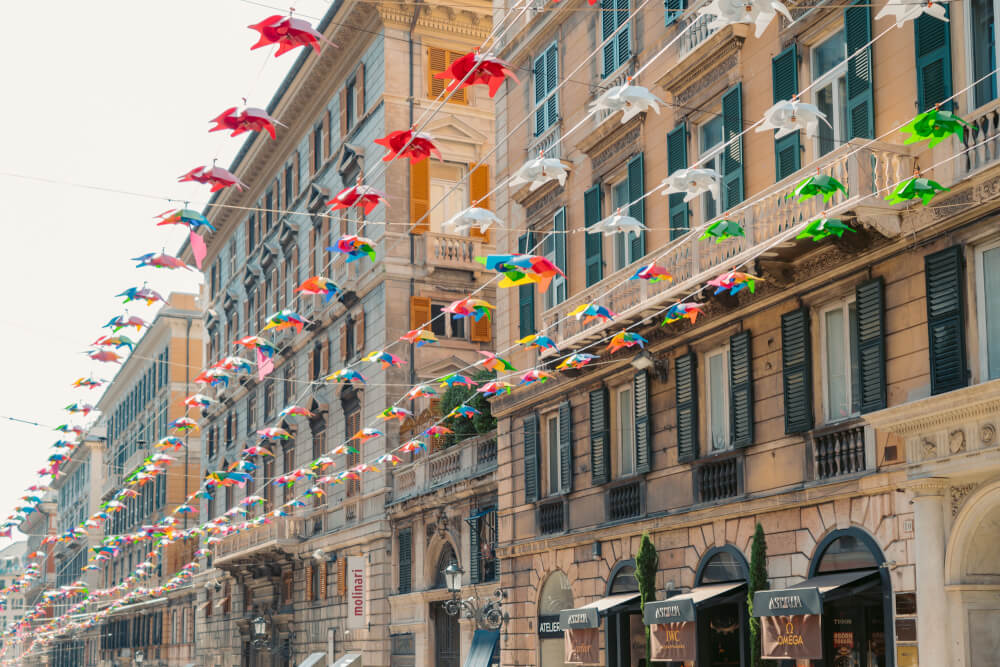 ---
---
Things to do in Genoa: Day One
Two days is barely enough to scratch the surface of multifaceted Genoa, a city of contrasts packed with a soulful heritage forged from centuries of compelling history. Baroque, medieval, modern – you name it, and you can find it here with ease. Our first day will focus on the city's historic center and ancient port, as featured heavily throughout the 2008 Colin Firth film, 'A Summer in Genoa'. Get those cameras ready!
---
---
BREAKFAST: Caffeinate at Caffè Del Teatro
When in Italy, every good morning begins with a strong coffee to jolt you awake. The appropriately named Caffè Del Teatro can be found right outside of the Carlo Felice Theatre, with a perfectly positioned terrace on the square. This is the ideal spot to caffeinate before your busy day of exploration, so grab a seat and watch the city wake up while sipping away on a cappuccino.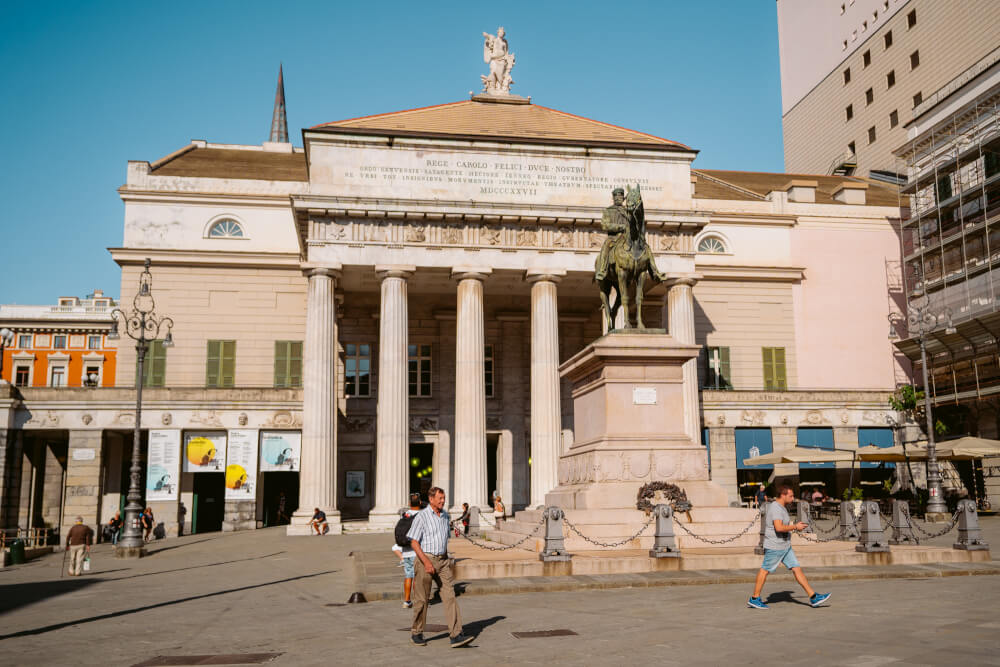 ---
---
Start at Piazza de Ferrari
Genoa's main square, Piazza de Ferrari is a lively and vibrant cultural hub that constitutes a must-see for any visit, and the perfect place to start your two days in Genoa. Here, you can truly appreciate the multi-faceted nature that makes the city so special.
Located in the heart of the city, Piazza de Ferrari creates a seamless link between historical Genoa with its more modern counterpart. Lined with grand, imposing buildings on all sides like the art nouveau Palazzo della Borsa (New Stock Exchange), Regione Liguria (the Liguria Regional Office) and Palazzo Ducale (the Doge's Palace), the square's key piece of "wow factor" comes from its bronze fountain, created by Giuseppe Crosa di Vergagni back in 1936 and recently restored to its former glory.
It's worth mentioning of course that this square is one of many Genoese landmarks that feature in the 2004 comedy Agata e la Tempesta (Agatha and the Storm), which takes place in Genoa.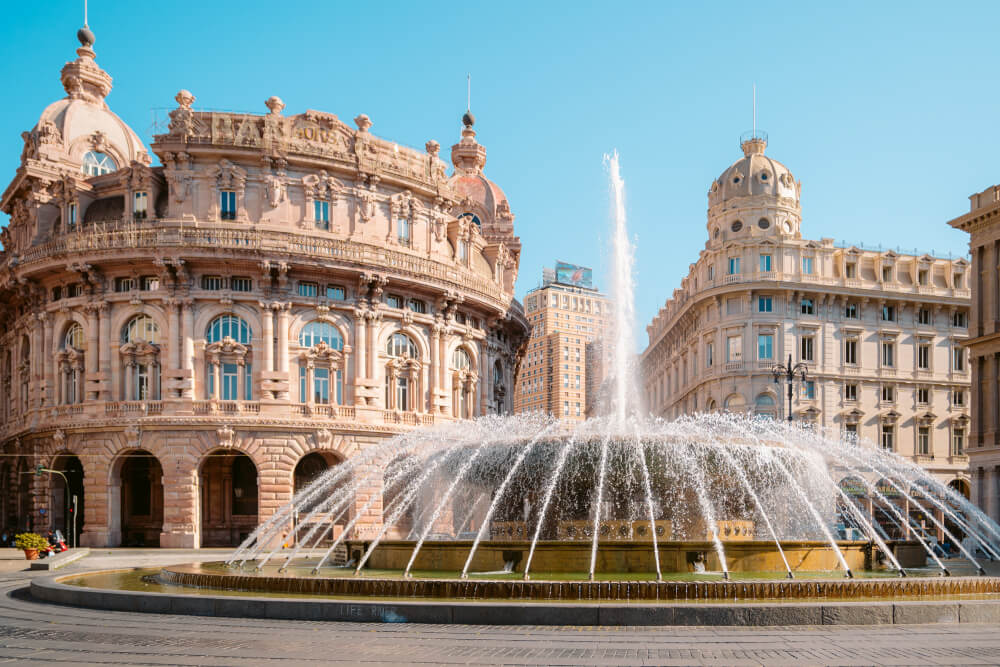 ---
---
Explore Palazzo Ducale
Speaking of grandeur, it's time to dive head first into Genoa's sumptuous side.
One of the defining features of this eclectic city is its vast quantity of palaces, many of which are protected UNESCO World Heritage Sites. While most of the more famous UNESCO-protected Rolli palaces are found along Via Garibaldi and Via Balbi, the streets anciently called "Strade Nuove" ("New streets"), Palazzo Ducale is a happy exception, and one that provides the perfect view over Piazza de Ferrari.
Palazzo Ducale is the former residence of the Doges, and today a premiere cultural venue in Genoa, hosting exhibitions, meetings, conferences and more within its decadently ornate halls. Rotating exhibitions at the palace give visitors a chance to glimpse inside the splendid interiors, like the Hitchock-themed exhibition set to take over from November 2019 to March 2020. I'd highly recommend taking the time to visit the exhibitions they have on, or at least heading up to enjoy the view from the palace tower – it's one of the most breathtaking views in Genoa.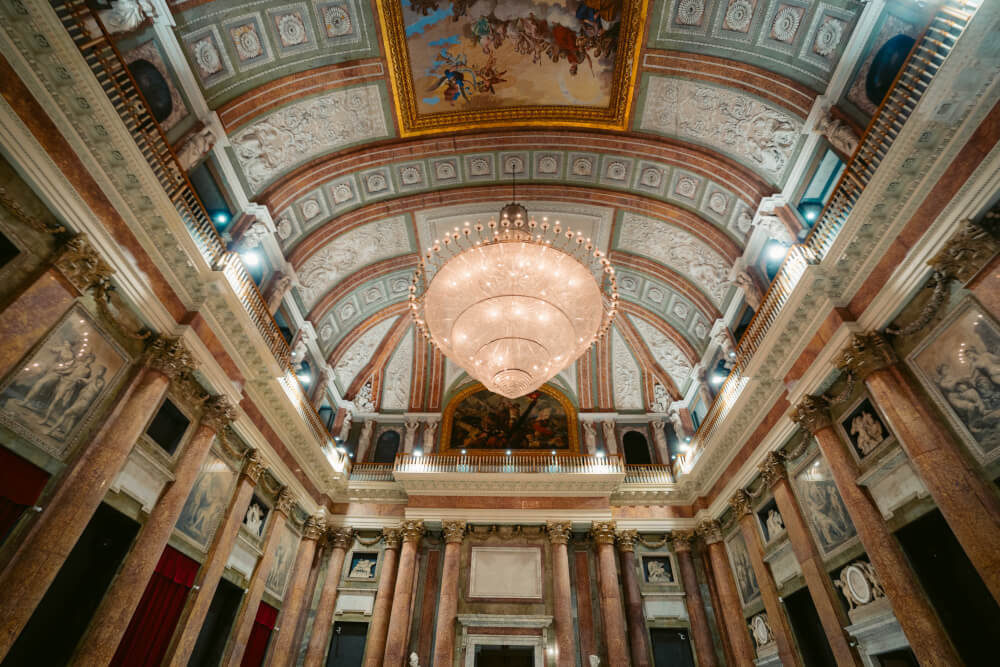 ---
---
Stroll down Via XX Settembre
Spanning 1km long, Via XX Settembre is one of the main shopping streets in Genoa, with a high density of varied shops and impressive architecture along the way. One notable building along this street is the sumptuous Hotel Bristol Palace, a preferred hotel of famous filmmaker Alfred Hitchcock, who often enjoyed vacationing in Liguria and reportedly stayed here multiple times. It's said that the elegant marble staircase here inspired his classic film, Vertigo.
This street also makes a brief appearance in Summer in Genoa, when the family is seen shopping for supplies upon their arrival to the city.
---
---
Wander around the Historic Centre
The medieval centre of Genoa is said to be among the largest in Europe, meaning there is plenty to see and do… and plenty of opportunities to get lost.
In fact, the maze of caruggi (small narrow side streets) that lend Genoa such distinctive flair feature prominently in A Summer in Genoa, namely for how confusing and disorienting it can be. The Via Canneto il Lungo in particular makes an appearance, and if you're looking to explore a street steeped in the shadowy intrigue so characteristic of caruggi, be sure to add Via Canneto il Lungo to your visit!
Of course, there's much more to see in the Historic Centre than just this one filming location. Exploring Genoa's mysterious tangle of streets is an adventure all on its own, and the perfect way to spend an afternoon, getting lost while ticking off some of Genoa's top sights, like…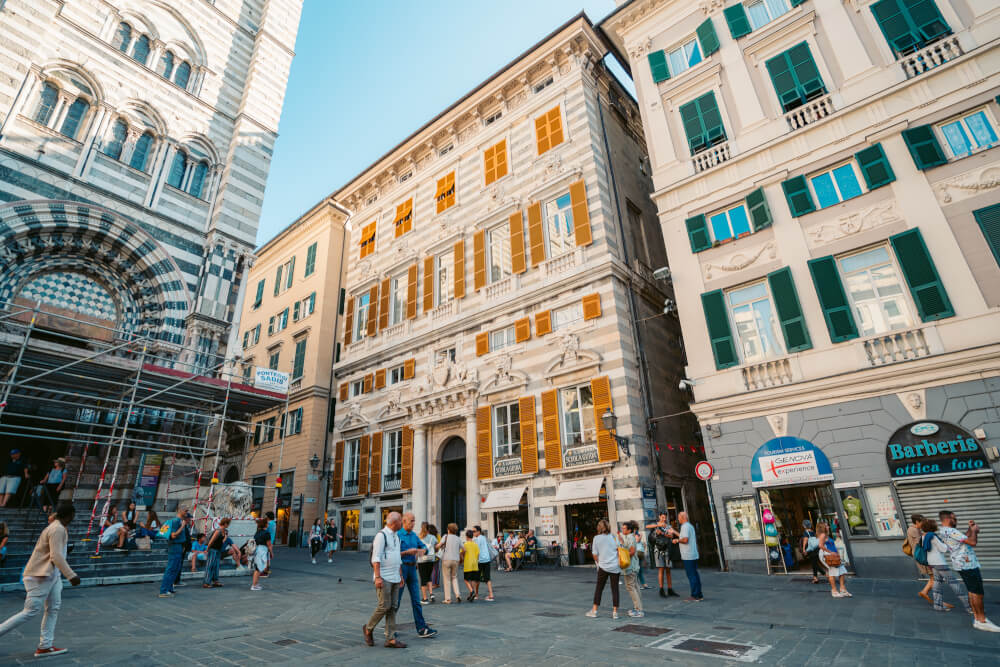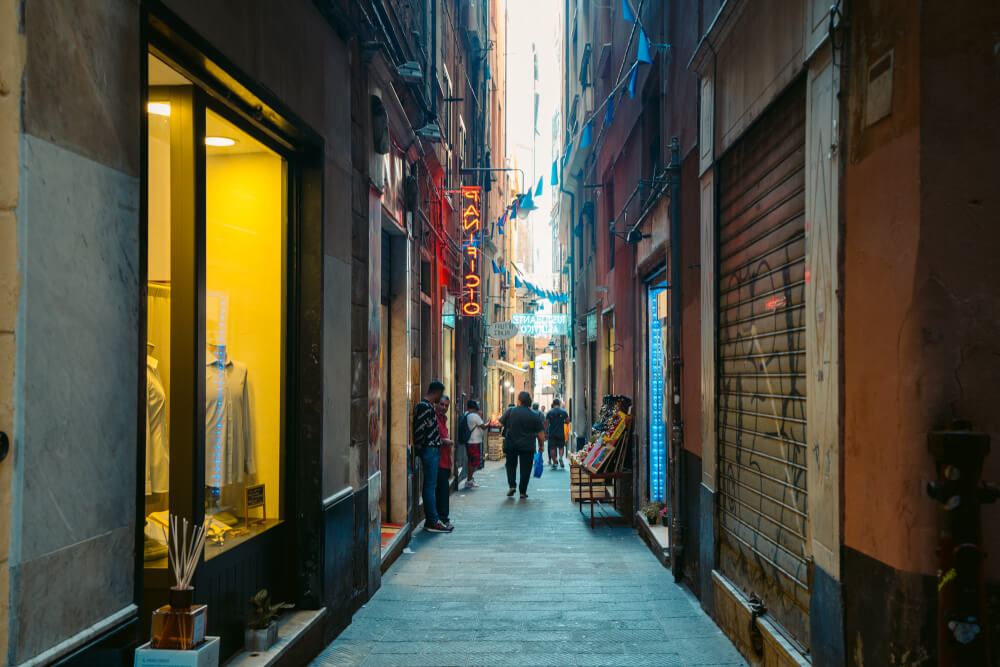 ---
---
Cathedral of San Lorenzo
One of the most important must-sees in Genoa's historic centre is the Cathedral of San Lorenzo, with its distinctive striped façade. Keep an eye out for a carved dog hidden among the intricate carvings – local legend has it that if you're able to find the dog, you will one day find your true love…
While undoubtedly beautiful from the outside, the cathedral's interior is also exquisitely ornate, with plenty of frescos, gilded stucco, and hidden details to discover. In the right aisle of the cathedral, you'll even find the copy of an unexploded WWII bomb that dropped into the cathedral in 1941.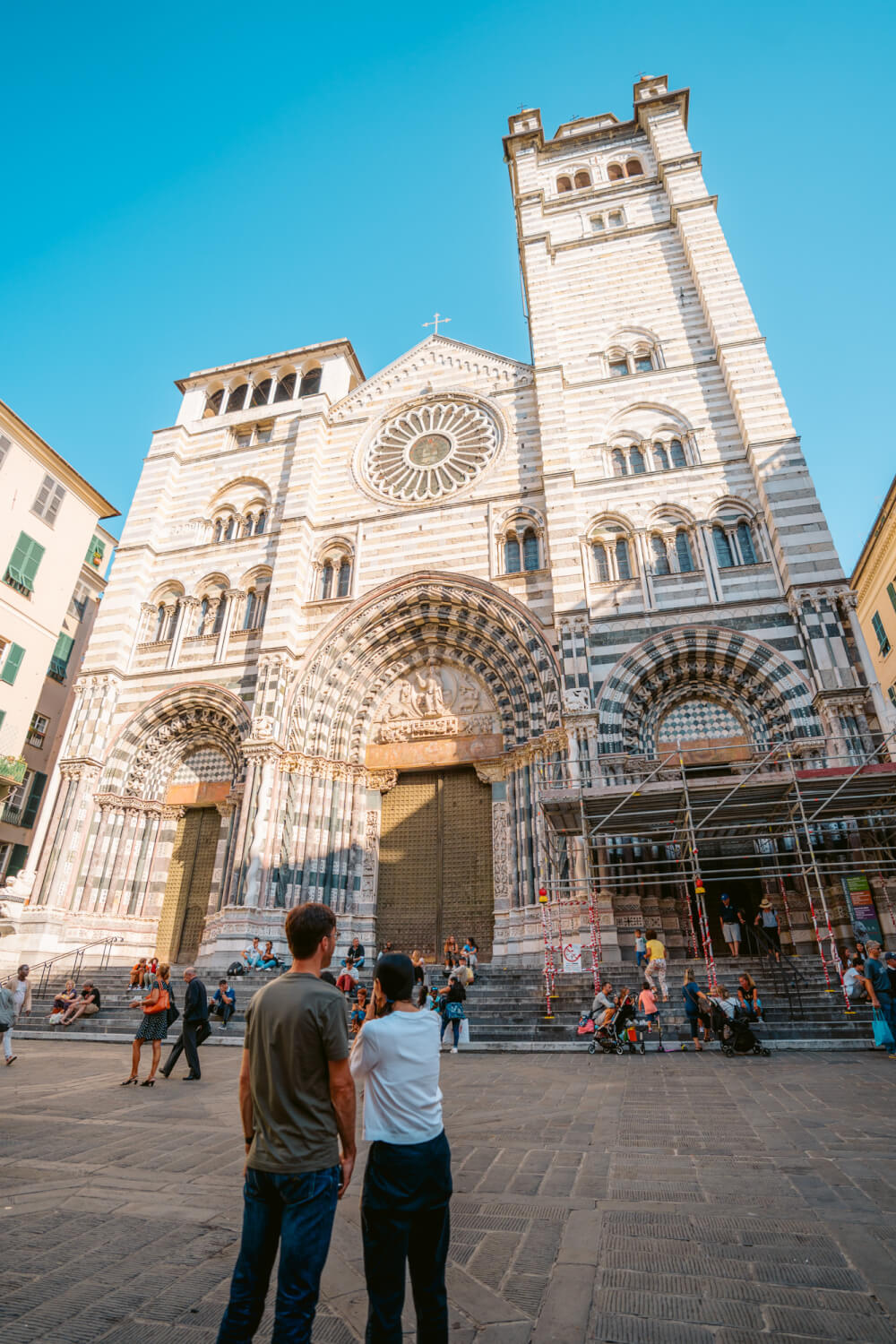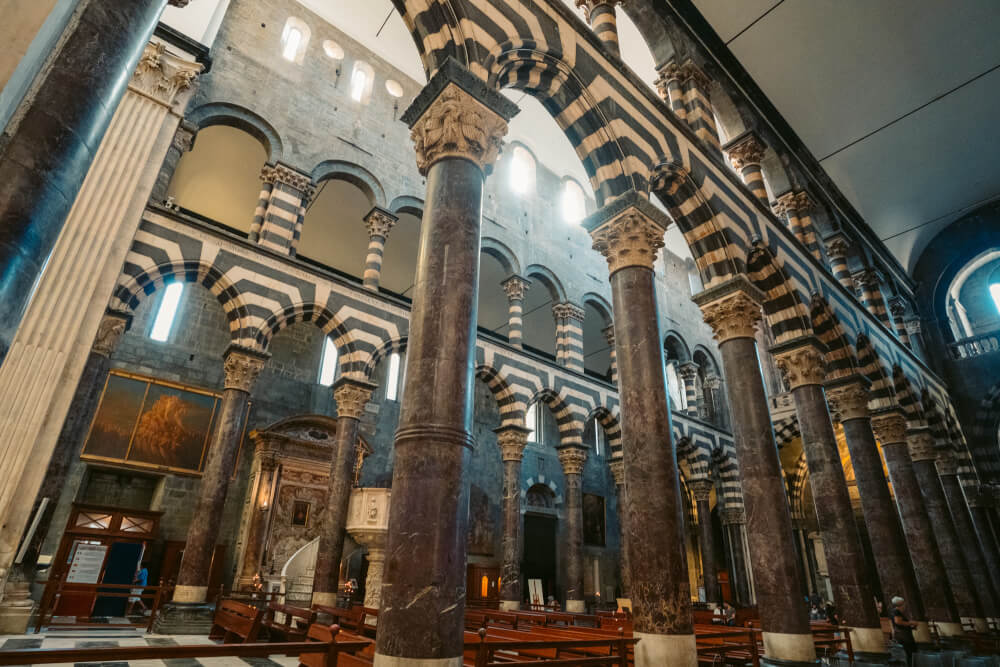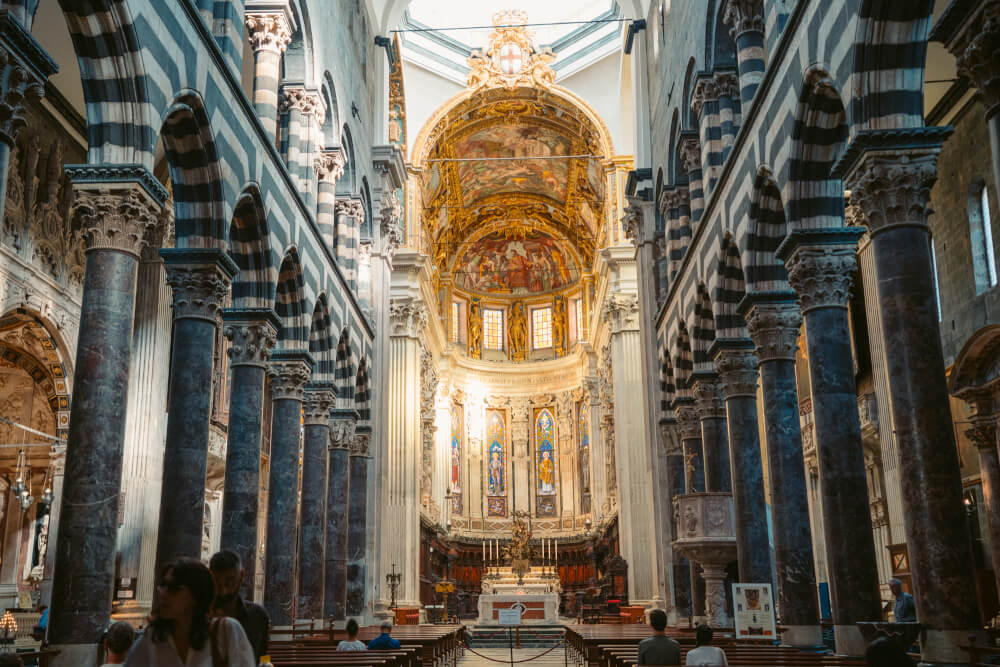 ---
---
Genoa's Botteghe Storiche
One of the most charming surprises you'll encounter in Genoa and especially in the historic centre is the city's abundance of botteghe storiche, protected historical shops that have been open for over 70 years and in some cases, centuries. From art deco barber shops and splendid old timey confectionaries, to vintage handmade tie shops and perfumeries, these shops are a wonderful time warp to enjoy while exploring Genoa's varied streets. Click here for a full list of official "botteghe" storiche.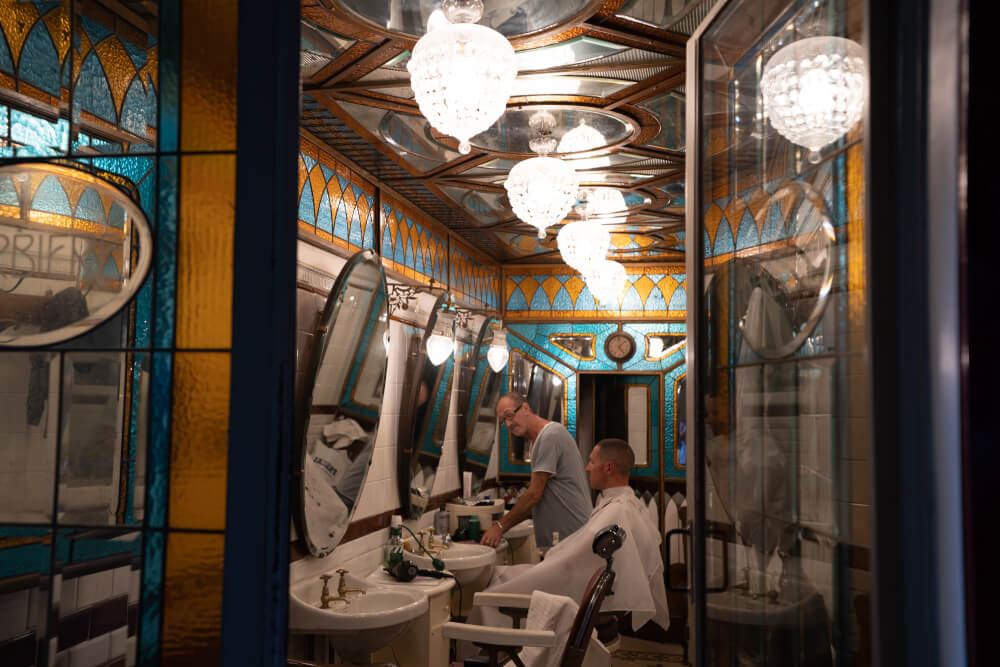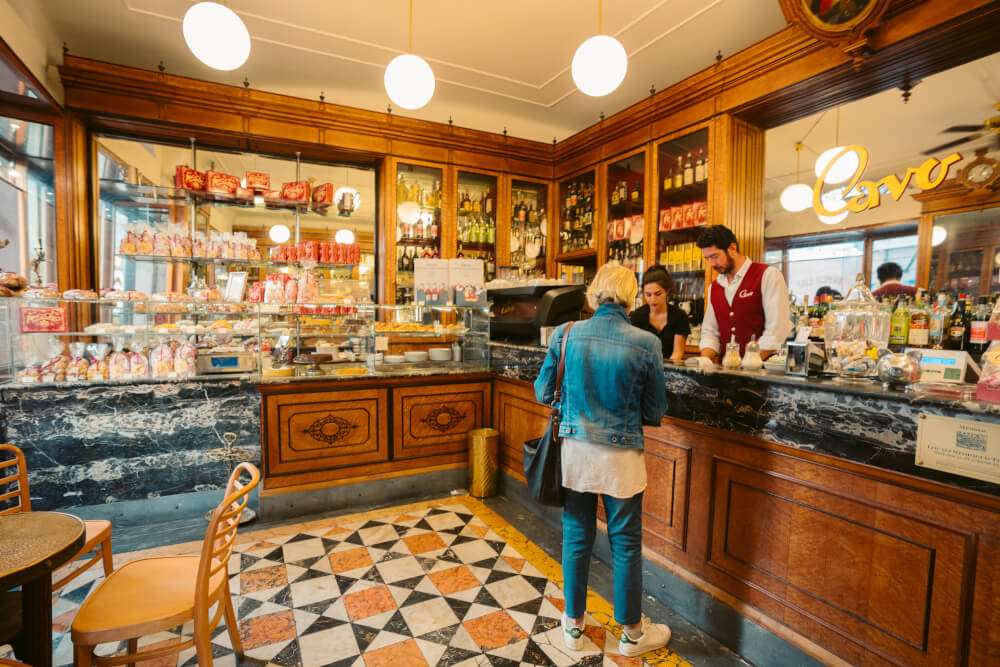 ---
---
Lunch: Focaccia!
The Ligurian region of Italy has blessed the world with many of the most famous foods commonly linked to Italian cuisine, including beloved favourites like pesto, which was invented here. One of the city's favourite finger foods though is "focaccia", a wickedly delicious but simple Italian flat bread that tastes amazing plain or with toppings, but always golden and crispy on top.
For a light (and quick) lunch in the historic centre, dip into one of the countless bakeries and Focaccerias scattered among the narrow streets and grab yourself some focaccia to try, along with some other local treats to fill you up. Click here for a list of places to try focaccia in Genoa. 
---
---
Portici di Sottoripa
After lunch, it's time to walk off the carbs.
Don't worry though, in Genoa, every walk is like a film set anyway, so this will be fun, I promise.
Sandwiched between Piazza Banchi and Genoa's Old Harbour, you'll find the city's Sottoripa, ancient portico walkways that date back to the 12th century. These historic passages were once upon a time where workers would have unloaded various goods and commodities from incoming ships. Today, you'll find plenty of shops and stalls selling fresh fish, and street food if you're still feeling peckish after focaccia.
---
---
Take a stroll along the Old Port
Perhaps no sight is more synonymous with Genoa than its old port, today one of the most vibrant and bustling parts of the city. Unsurprisingly, this port has been a bit of a film star over the years, appearing in Italian classics like Stregati (1986) and Profumo di donna (1974), whose famous American remake, Scent of a Woman, starred Al Pacino.
Alfred Hitchcock even once filmed some shots for his film The Pleasure Garden (1925) here.
But, today's Old Port looks a lot different than it used to. Redesigned in 1992 by Genoa-born architect Renzo Piano, this slice of Genoa now looks better than ever, with a true 'choose your own adventure' of sorts in terms of attractions.
You can, for instance, enjoy one of Europe's largest aquariums, the Genoa Aquarium, which has appeared in several films including White Flowers and Fortunata (2017). Right next to the aquarium, there's also the city's beloved 'Bubble' AKA Biosphere, home to a small but beautiful tropical garden. Those looking for a view can even stop by the Bigo external elevator which offers a unique view over the port, before exploring the Museo del Mare (Mu.Ma), Italy's largest maritime museum.
The real surprise though can be found through a short walk along the harbour, where you'll find the full-scale replica of a 17th century Spanish Galleon known by locals as the Neptune. This giant ship was built in 1985 for Roman Polanski's Pirates and some say it was the most expensive movie prop ever built at the time.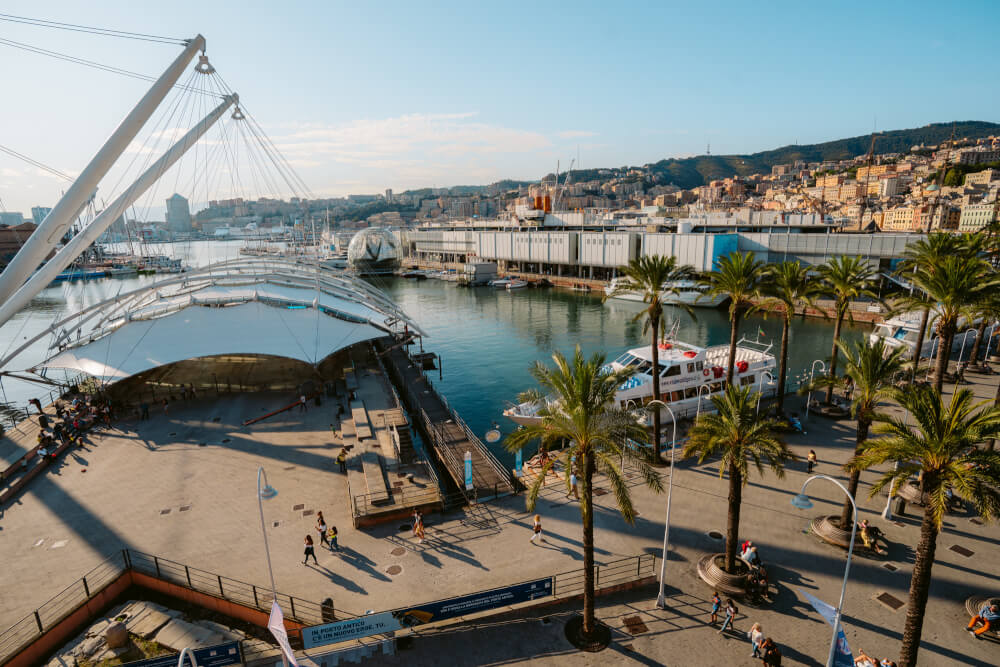 ---
---
Sunset "Aperitivo" on the Eataly Terrace
After exploring the wonders of Genoa's Old Port, take the elevator up to Eataly, where a brilliant terrace bar awaits. Hands down, this is the best "aperitivo" view in town. Be sure to try the local variation of Spritz, made with refreshing basil, along with a plate of crispy fried fish to whet your appetite.
While munching and sipping away, take time to soak in the wonderful views around you. The main road you see here is actually featured in the first few driving scenes of Summer in Genoa, when the family first arrives in the city.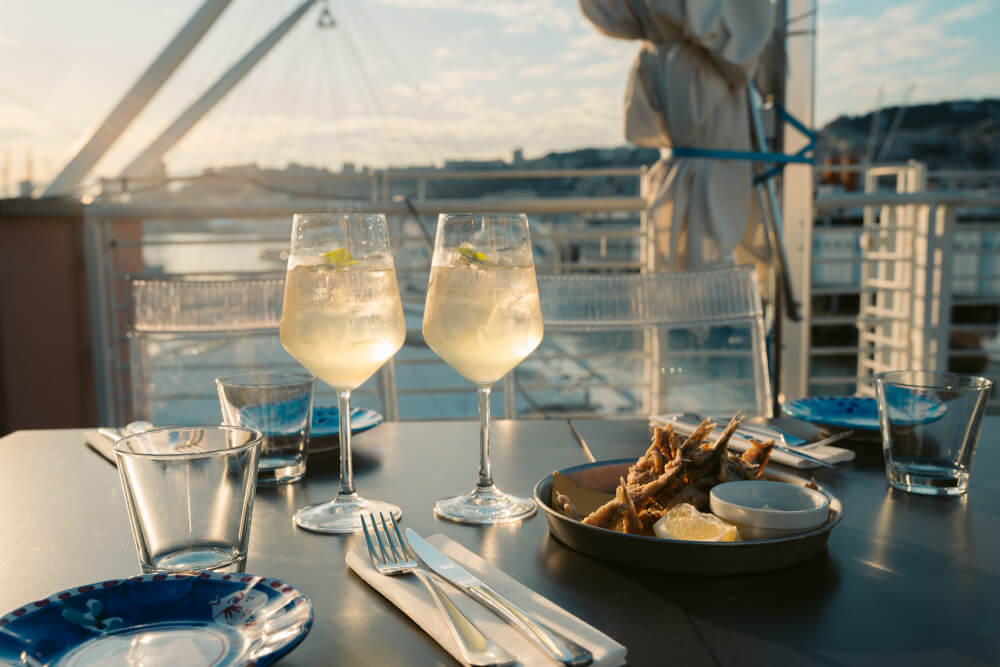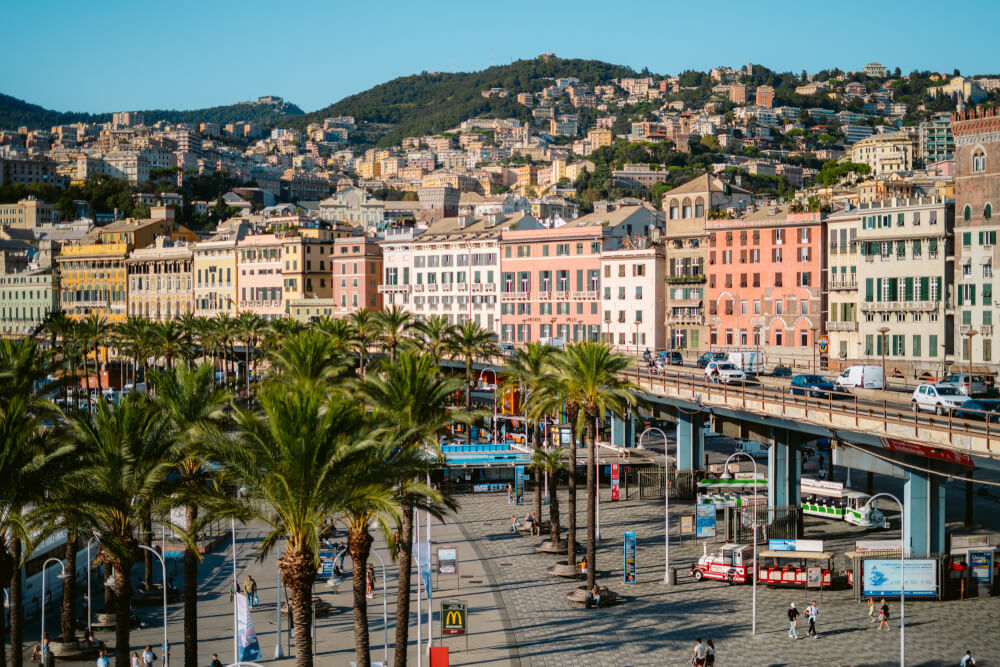 ---
---
Dinner: Soul Kitchen
… And at long last, time for dinner!
While there's certainly no shortage of great restaurants to enjoy in Genoa, I really enjoyed my dinner at Soul Kitchen, an intimate restaurant that offers an eclectic menu catering to all types of eaters, including vegetarians, vegans and even raw vegans. I had an incredible ravioli dish sprinkled with figs and it was so delicious, I wanted to marry it. Combined with a bottle of local wine, this place provides a sure recipe for a great evening.
… but don't drink too much because there's still plenty to do for the second day of our itinerary.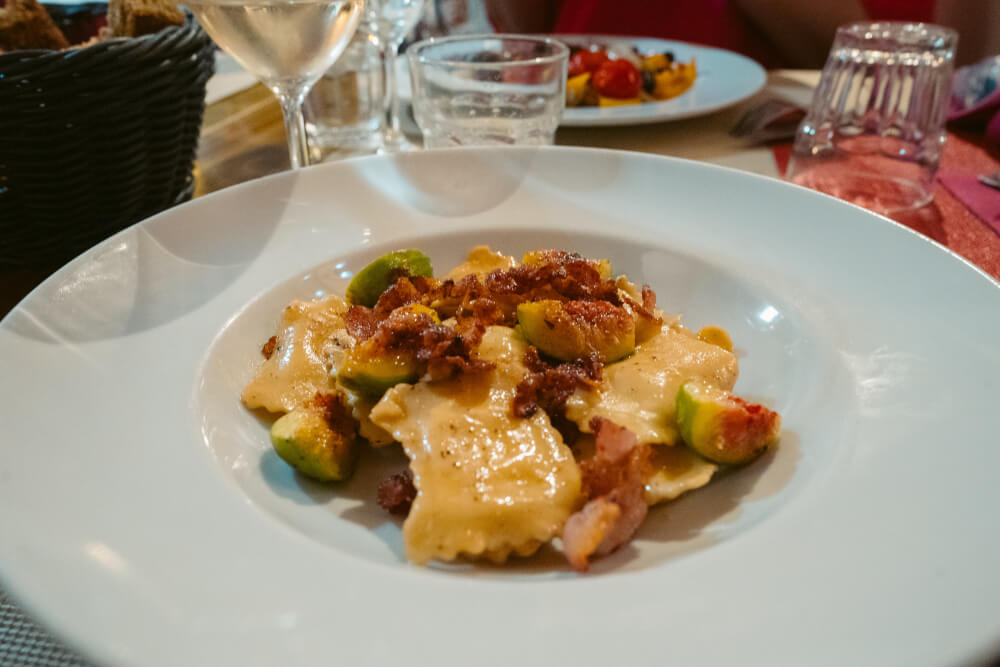 ---
---
Things to do in Genoa: Day Two
Day two of our Genoa itinerary will be all about discovering the city's glitzy sumptuous side, from historic UNESCO World Heritage palaces to hilltop castles and viewpoints. Wear something nice today – it's time to feel like royalty.
---
---
Breakfast: Caffeinate at Tazze Pazze Caffeteria Gourmet
… But first: coffee. Again, there's no shortage of wonderful coffee spots in Genoa, but Tazze Pazze Caffeteria Gourmet is the perfect place to start our day. The brainchild of two young local entrepreneurs, this hip coffee bar is a tiny 20m2 café selling quality coffee and snacks in the heart of Genoa's Old Town. Start your morning here with a quick to-go breakfast, and get a sense for Genoa's youthful, modern side, burgeoned by the creativity and flair of savvy local entrepreneurs.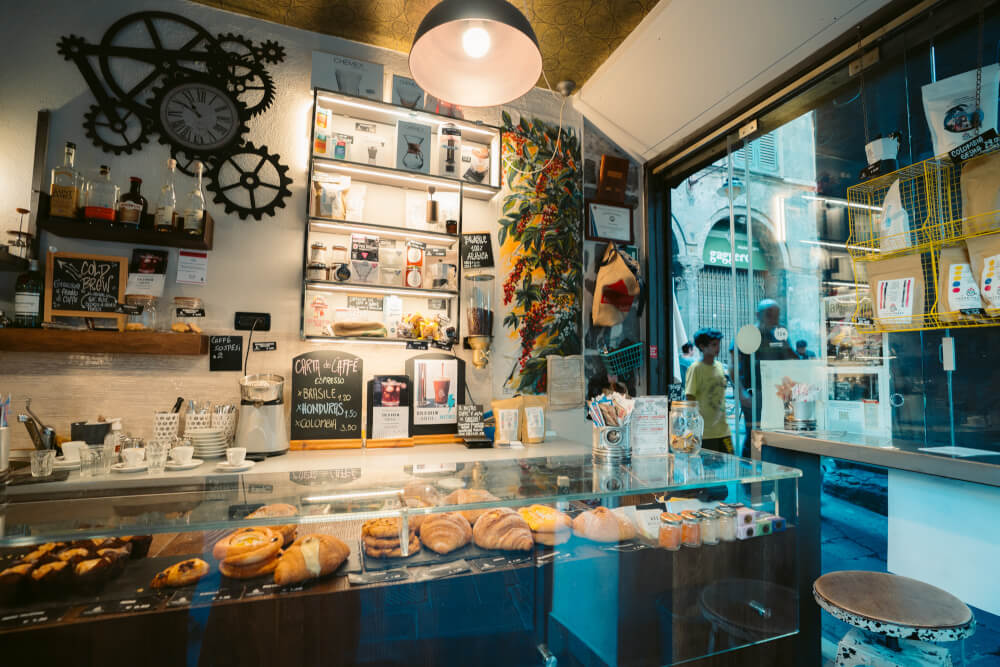 ---
---
Visit the Piazza Banchi and San Pietro in Banchi
After sipping your coffee, head onwards to one of the most picturesque little squares in Genoa, the Piazza Banchi, once upon a time home to the city's grain market. Today, this busy square is a lively mix of buskers, kiosks and a flurry of passerbyers.
Perched above the square the San Pietro in Banchi church, as seen in Summer in Genoa, with a surprisingly ornate marble and stucco interior concealed behind a relatively simple façade. Definitely worth a peek if you get the chance!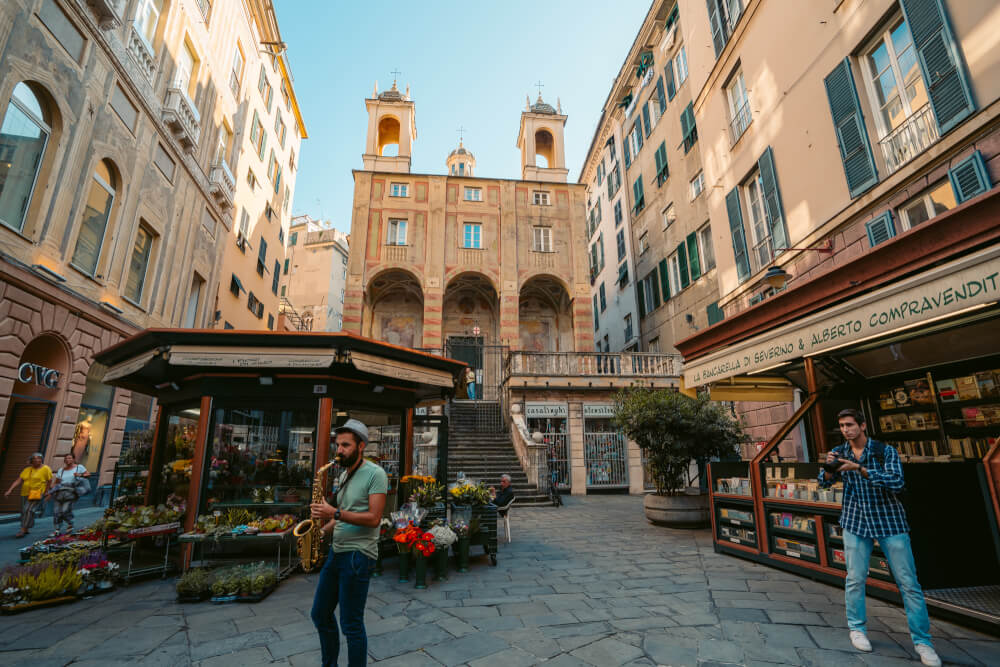 ---
---
Swing by the Church of San Matteo
Another movie-famous church nearby is the Roman Catholic Church of San Matteo, with its notable black and white striped façade as seen in 2007 film Giorni e Nuvole (Days and Clouds). Founded in 1125, this church ranks among the city's oldest, so it's worth a quick visit, even just from the outside.
---
---
Marvel at the history of Cinema Sivori
Onwards then to the oldest cinema in Italy, the Cinema Sivori, which is still open today as a movie theatre! It was here in May 1896 that the Lumiere Brothers film 'The Arrival of a Train at La Ciotat Station' was screened to an Italian audience for the first time, creating a long-lasting legacy that is still felt in daily life today. This is definitely a little piece of history that's too often missed by visitors, so keep an eye out for it.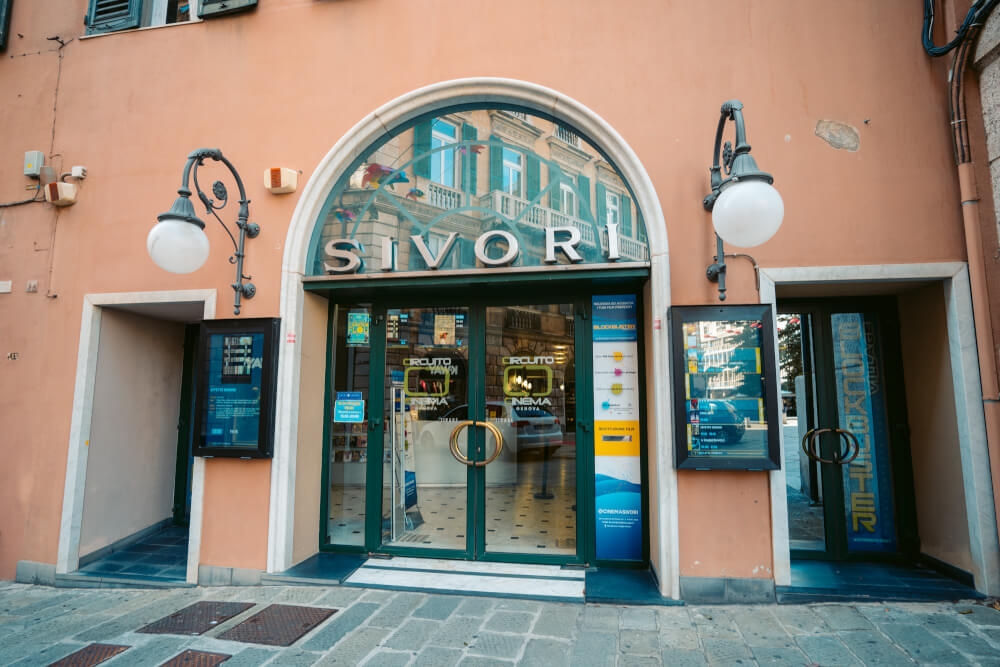 ---
---
Prance through "Galleria Giuseppe Mazzini"
For me, covered passageways always evoke a dreamy sense of romanticism and nostalgia, and the 19th century Galleria Giuseppe Mazzini is no exception. Lined with elegant boutiques and cafes, this little gallery is a perfect little detour en route to Via Garibaldi. Be sure to keep your eyes on the ceiling – they like to decorate this area differently every year, with colourful pinwheels dotting the streets during my visit, and whimsical umbrellas the year prior.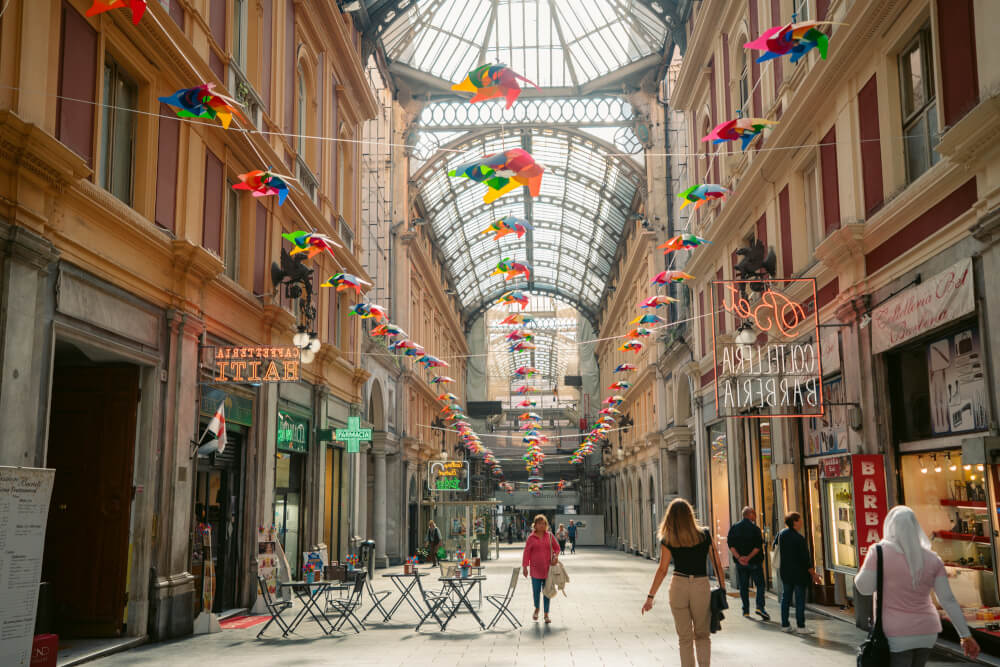 ---
---
Stroll down Via Garibaldi
Genoa's Strade Nuove (New Streets), along with the city's Palazzi dei Rolli (Rolli Palaces) have been recognized as UNESCO World Heritage since 2006, making them one of the premiere must-sees in the city. Dozens of Rolli Palaces (built between the 16th and 18th centuries) exist today, with a fair number of them clustered down Via Garibaldi hiding sumptuous secrets under varied facades.
Some highlights of a Via Garibaldi visit today would include the Palazzo Rosso and Palazzo Bianco, both home to incredible art museums, and of course, the Palazzo Lomellino (accessible only by appointment), home to an elevated secret garden and private tower, with some of the best views in the entire city.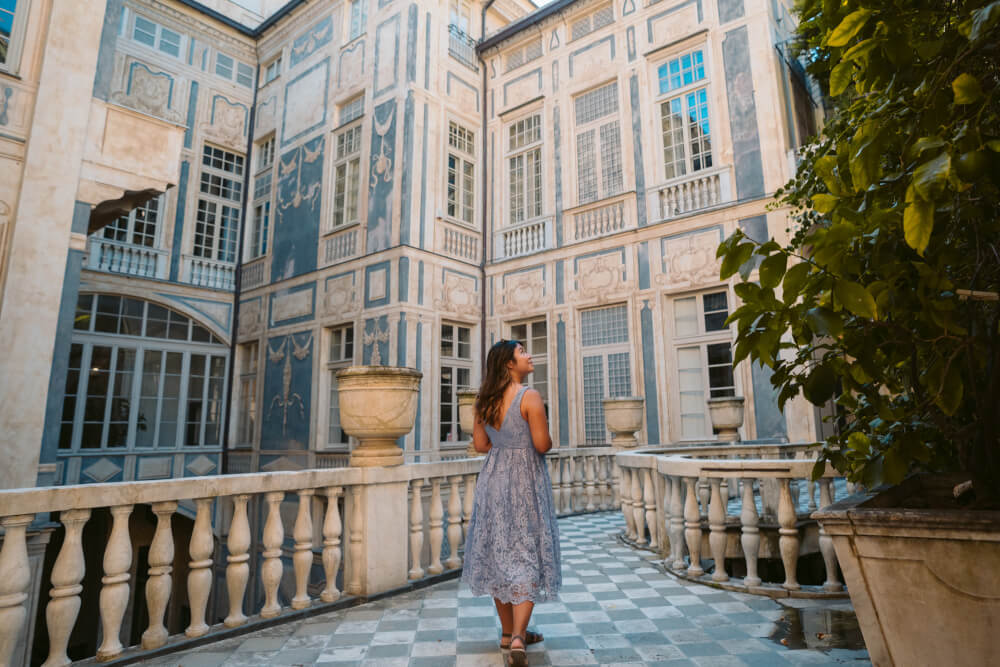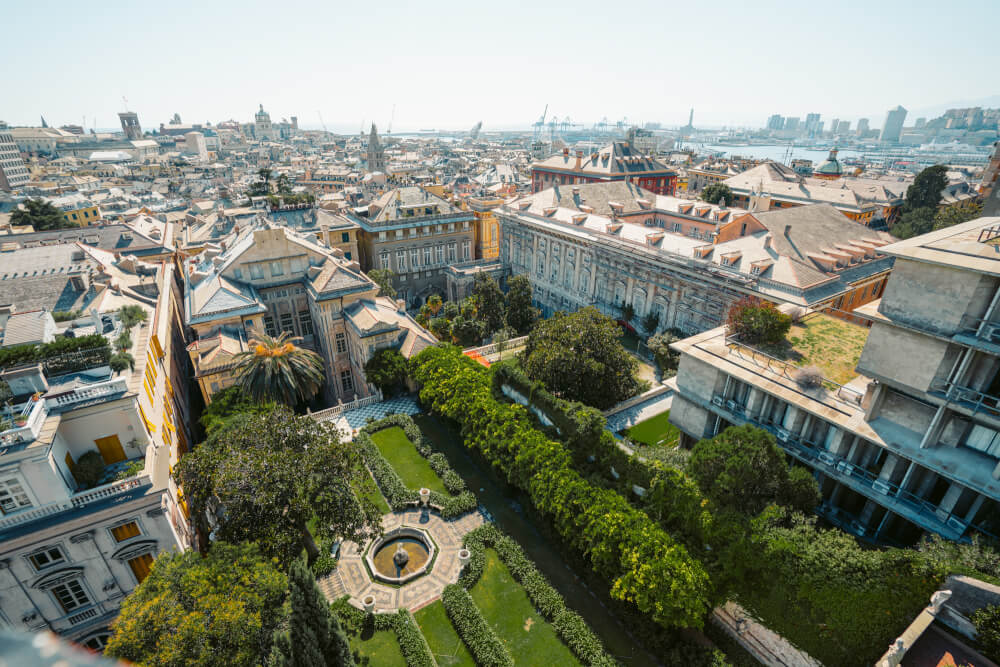 It's worth noting of course that Via Garibaldi (and its palaces) have also featured in numerous Genoa-based productions, including Summer in Genoa and Grace of Monaco. In some of the first scenes of Summer in Genoa as well, we see Barbara showing the family around down this street.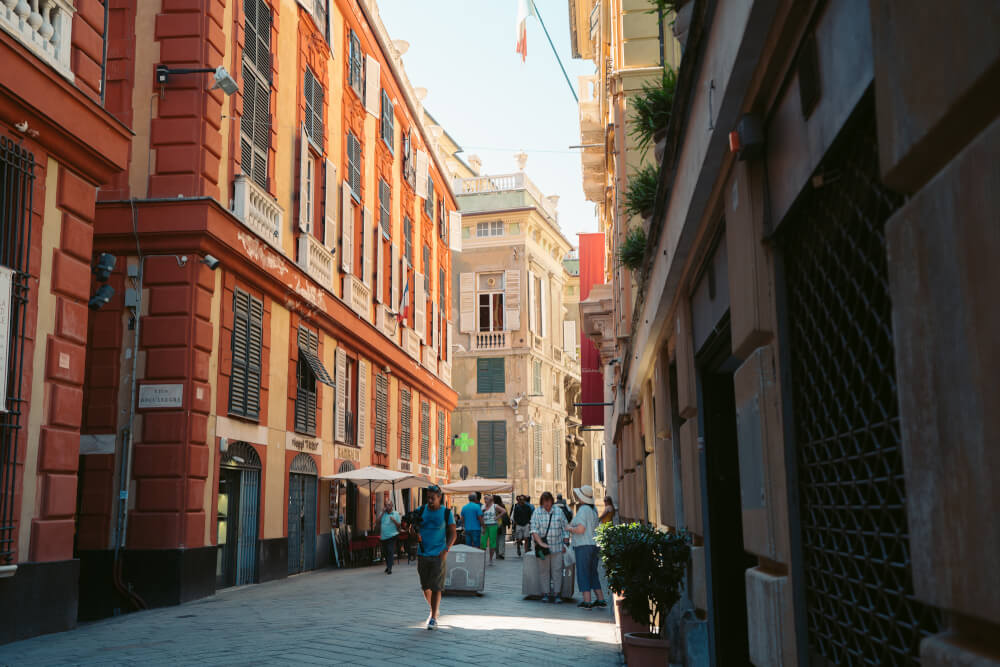 ---
---
Be wowed at the Basilica della Santissima Annunziata del Vastato
Time to squeeze in one more stunning church before lunch, the Basilica della Santissima Annunziata del Vastato, as seen in Summer in Genoa, as the pit stop they make before they attend their dressy party.
The interior of this 16th century church is personally my favourite among all of Genoa's churches, with elegant marble columns holding up a golden ceiling filled with colourful frescos. Take the time to explore a bit longer, and you'll also discover various chapels filled with ornate altarpieces, awe-inspiring frescos and a variety of religious sculptures.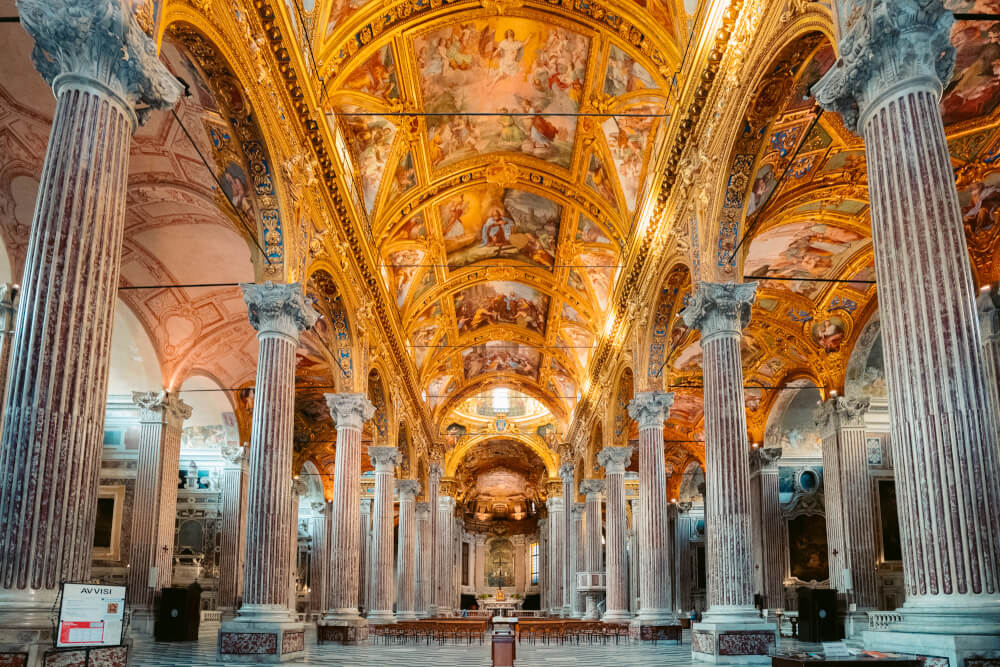 ---
---
Lunch: Da-O Tagiaen Genova
Time to eat!
As you should know by now, Genoa is big on quick and easy street food, like the focaccia you've no doubt eaten your weight in. Well, time to sample some more.
Da-O Tagiaen Genova is a simple no-frills eatery, with a shady terrace among warm pastel buildings. It makes the perfect place to grab a budget-friendly, quick, and casual lunch. They offer many Genoese specialties here, but are especially known for their Farinata, chickpea pancakes, which are dense, but delicious. I'd recommend trying the pesto one if you get a chance, but be careful not to over-order like me, or you'll be flirting with a food coma all day long.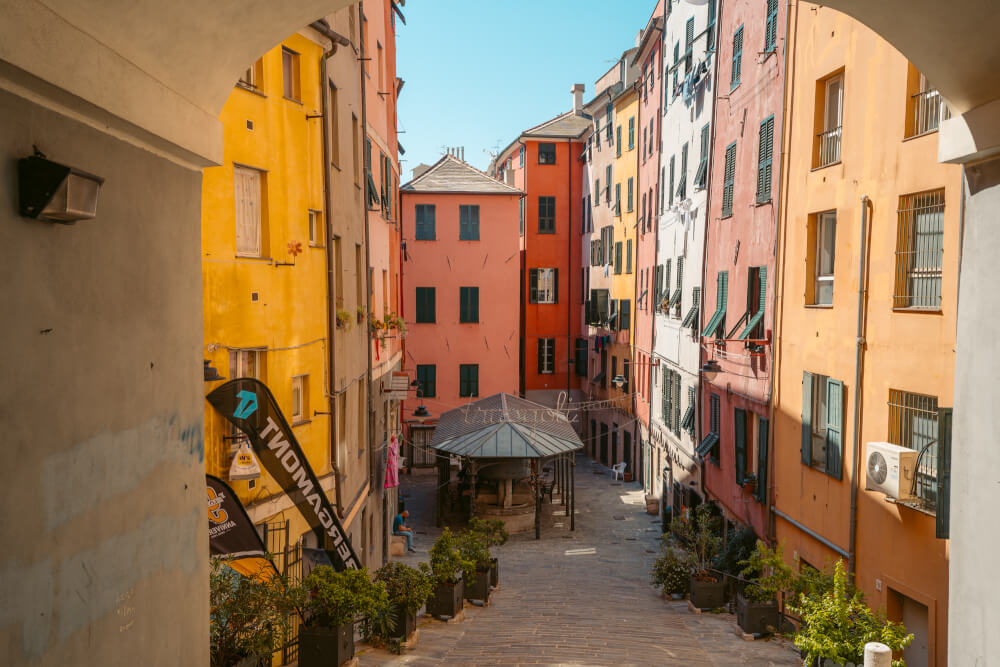 ---
---
Step onto Via Balbi and explore the Palazzo Reale
Genoa's historic street Via Balbi is part of the city's "Strade Nuove", one of the UNESCO World Heritage Sites in Genoa. It was built during the Renaissance by Genoese aristocracy.
Any visit to this famous street must of course include a noble residence built by the Balbi family itself – the incredible Palazzo Reale, home today of the to the Galleria di Palazzo Reale museum and Liguria's department for Artistic, Historic and Archaeological Heritage.
Imagine elegant chandeliers, fresco-covered ceilings and masterpieces by world class painters like Van Dyck, all wrapped up in one beautiful Baroque package.
These sumptuous qualities have of course made the palace a perfect fit to double as both Versailles and Monaco in recent films. In the 2018 production Moschettieri del Re – La penultima missione (Musketeers of the King – Penultimate Mission) for example, the palace's Galleria degli Specchi doubles as the Versailles Hall of Mirrors, while multiple rooms of the palace were used to represent the royal residences of Monaco in Grace of Monaco (2014) starring Nicole Kidman. Rumour has it, Kidman even used the queen's bedroom as her own personal dressing room… not a bad place for a costume change!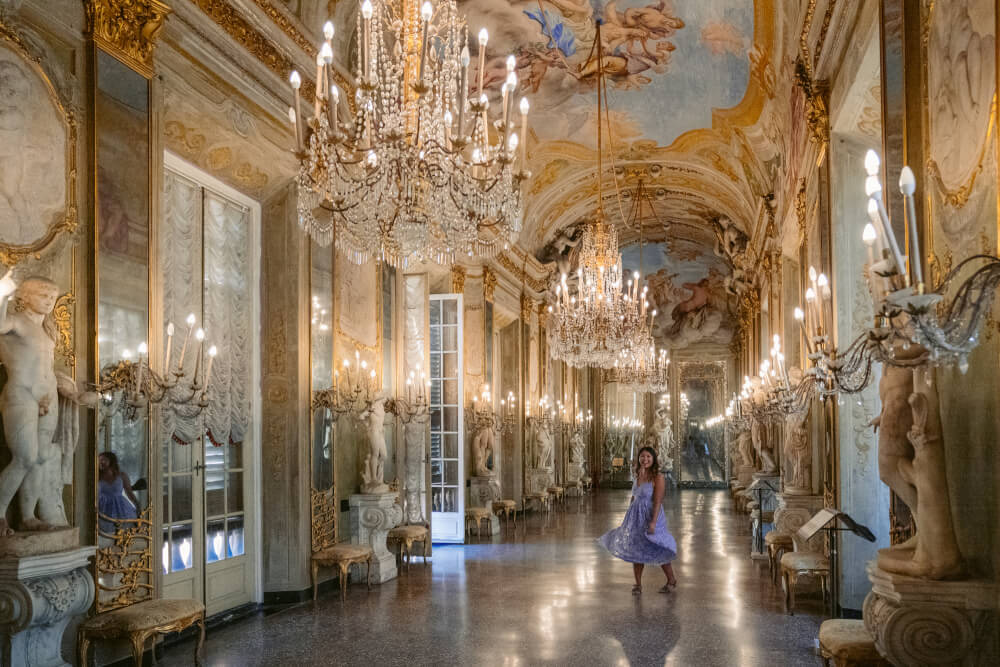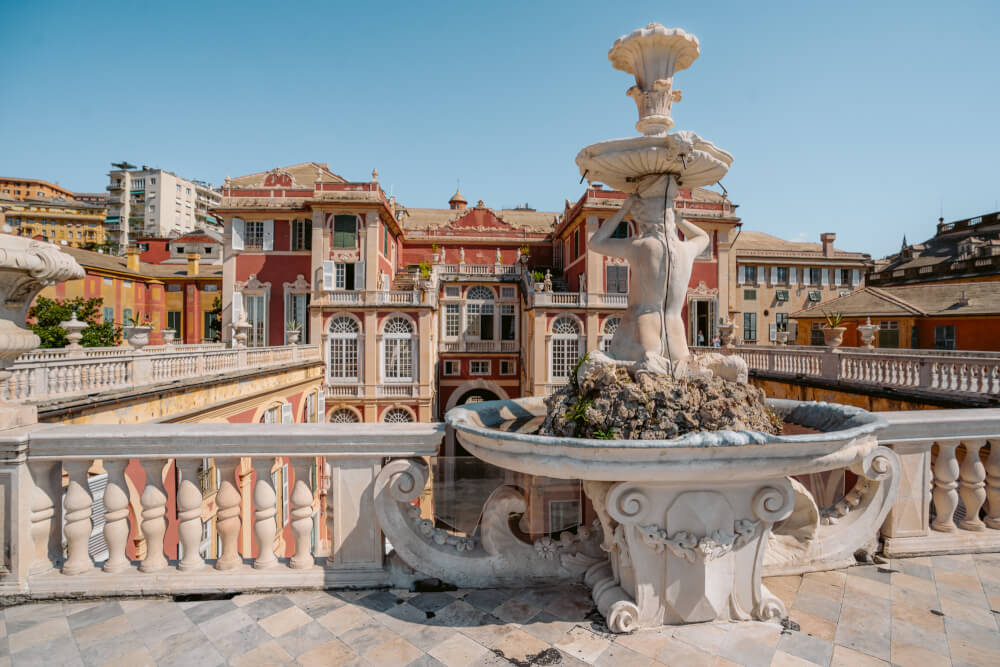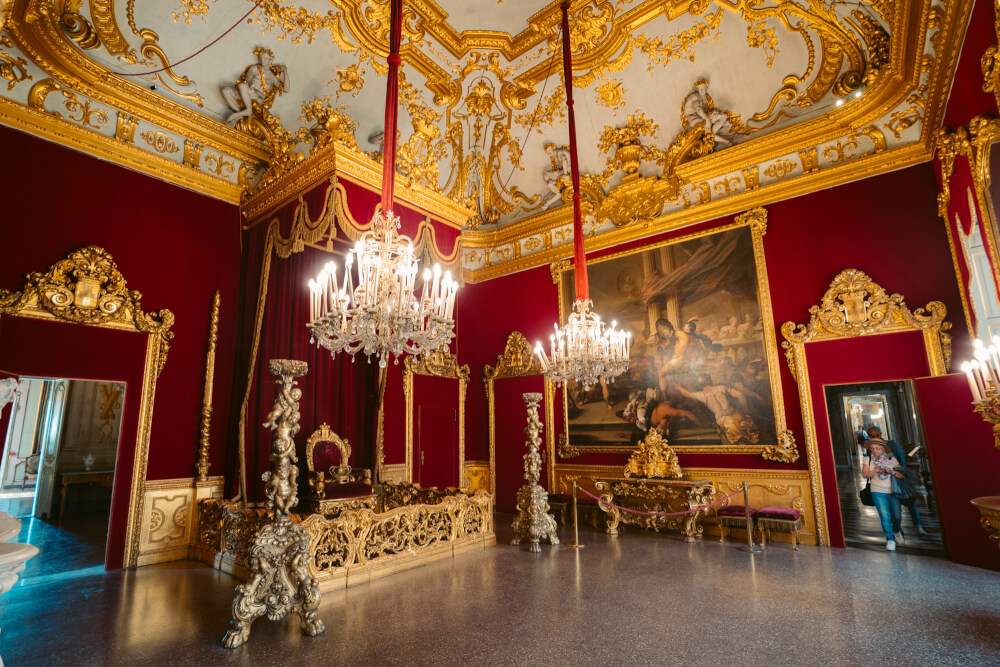 ---
---
Take a peek inside the University of Genoa
Financed by the Balbi family, another must-see along the iconic Via Balbi is the main campus of the University of Genoa, designed by famous Italian architect Bartolomeo Bianco in the 17th century, and one of the finest examples of Genoese Baroque architecture you'll find in the city.
This is the university heavily featured in Summer in Genoa, where Joe (AKA Colin Firth) teaches his summer class. Especially noteworthy is the "Aula di Legge", or "Aula Cabella", found to the right side of the main atrium, which featured as a lecture hall throughout the film. With its charming pink ceiling, ornate painted panels, and glittering crystal chandelier, it's little wonder why it was chosen to be featured by the cast and crew. While barging in on a real life lecture is never a good idea, if you're lucky enough to catch the room out of use, be sure to peek inside for a look! The décor is truly spectacular.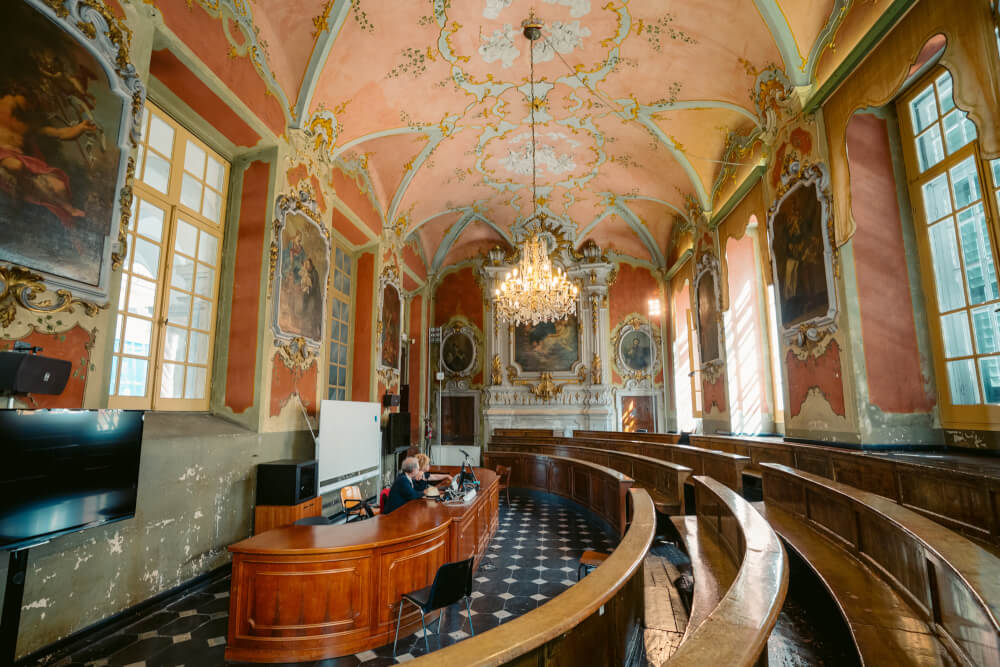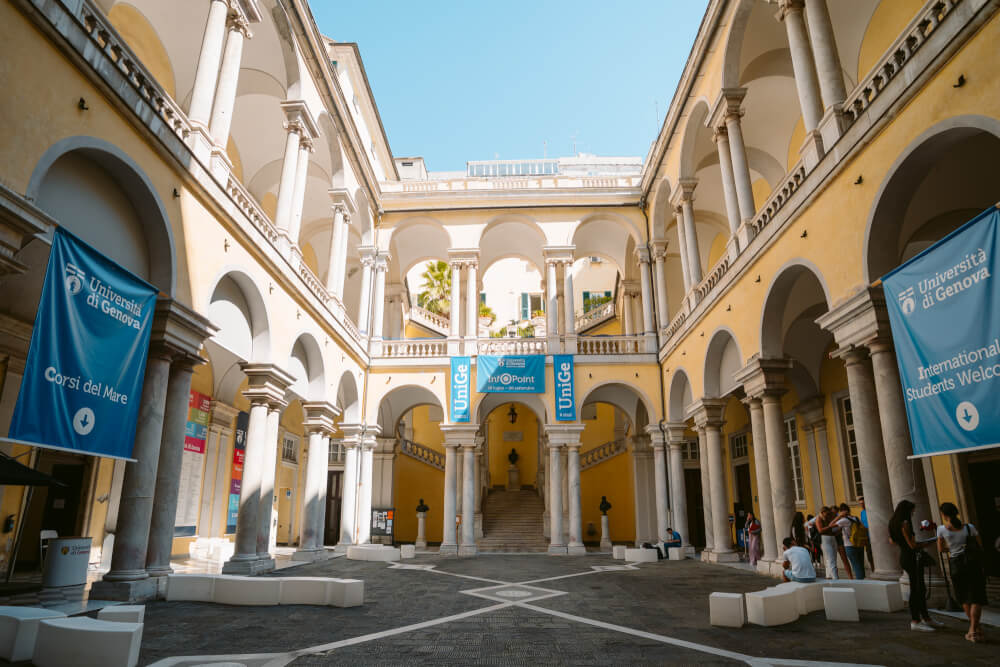 ---
---
Ride the Montegalletto lift
Genoa is a notoriously hilly city, which means wonderful views but also a lot of climbing. Luckily for us though, there is an entire network of funiculars, rack railways and public elevators that bring you from the lower town to the upper town, which saves our legs from a lot of woeful distress. The "Castello d'Albertis-Montegalletto" lift is probably the most unique ride in this system, connecting the lower town with the splendid "Castello d'Albertis".
This may well be one of the most peculiar rides in Europe though, a journey which begins as a horizontal train ride, before switching gears and ascending as a vertical elevator, all in one trip.
So, hop on and get ready for the amazing views that await!
---
---
Marvel at the collections of Castello d'Albertis
Perched high above the city in Genoa is a Neo-Gothic castle once belonging to an eclectic man named Captain Enrico Alberto d'Albertis. D'Albertis was an avid traveller and collector, who traversed the globe throughout the late 19th and early 20th century, bringing back all sorts of unusual objects with him. Today, his castle is open to visitors as the museum of worldwide cultures, with some of the best views in town, all just a few steps away from the Montegalletto lift.
I'd highly recommend paying a visit, even just for this viewpoint alone!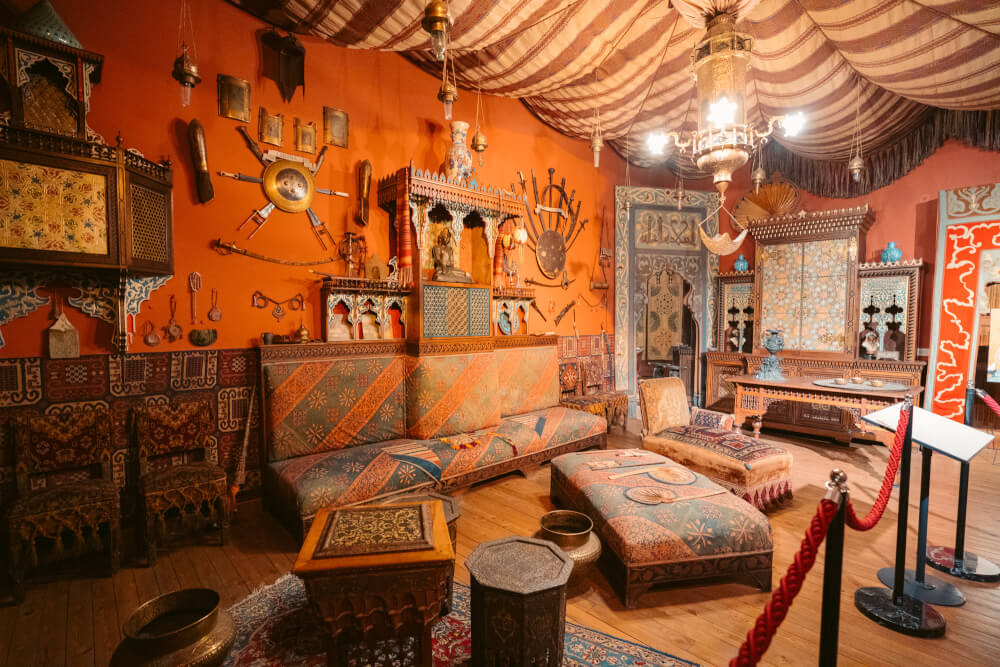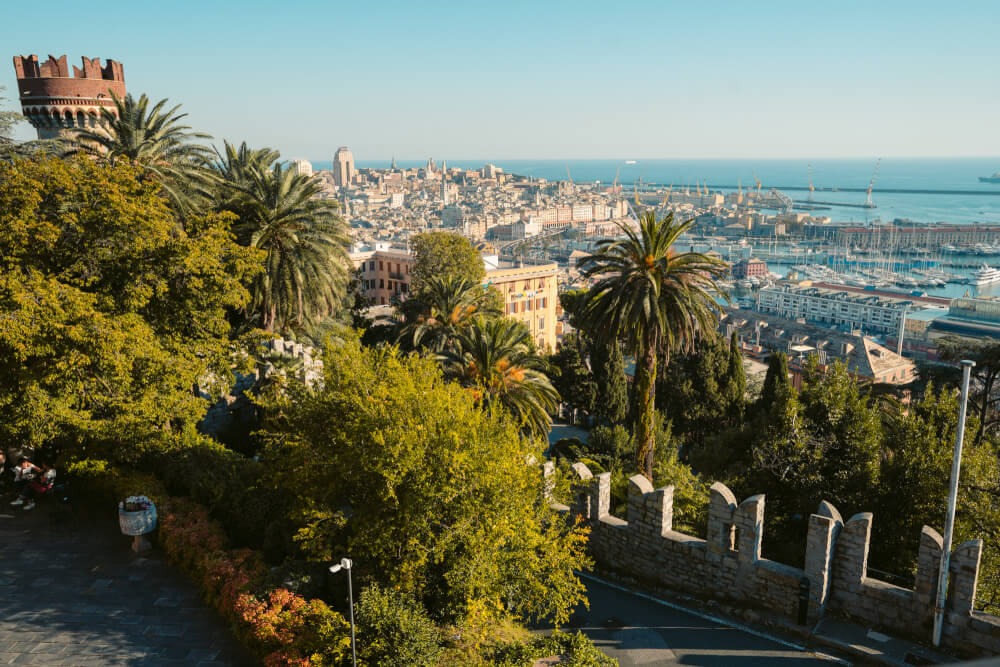 ---
---
Spianata Castelletto
About a 20 minute walk away from Castello d'Albertis is our final stop before dinner, the impressive Spianata Castelletto, a viewpoint with sprawling views over Genoa and the Ligurian sea. Being here just as the sun is starting to set makes for some magical lighting!
Especially noteworthy is the Art Nouveau elevator here which was built in 1909. You might recognize it from the 2018 Italian biopic Il Principe Libero, during which it was converted into a bumpin' nightclub. And although you won't find any DJs or bottle service at this elevator today, it's one of the many public elevators you can take in Genoa, so grab a ride back down to the lower town when you've finished appreciating the views.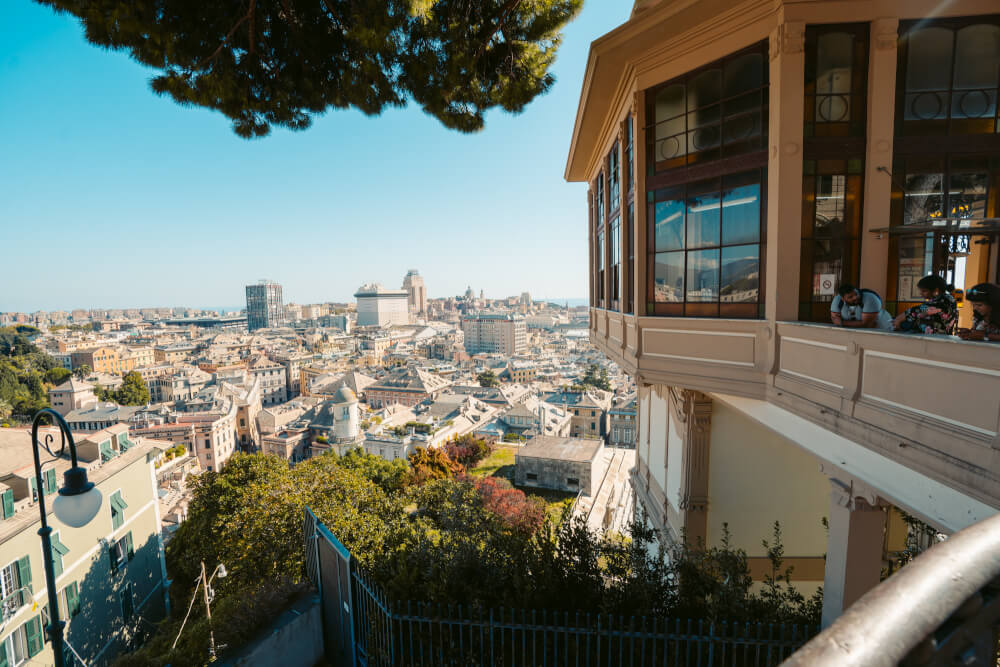 ---
---
Dinner: Les Rouges Cucina and Cocktails
Saving the best for last, now that you've explored Genoa's UNESCO World Heritage Rolli Palaces on the inside and out, it's time to eat dinner in one.
Yes, really!
"Les Rouges Cucina and Cocktails" is an impressive and elegant restaurant housed in a 16th century Rolli palace, and a must-visit for a swanky night on the town. Serving a variety of affordable local dishes, the food here is certainly tasty, but perhaps stealing the show are the restaurant's creative cocktails. I personally tried the Amore & Olio, made of olive oil-infused gin, and it delicious.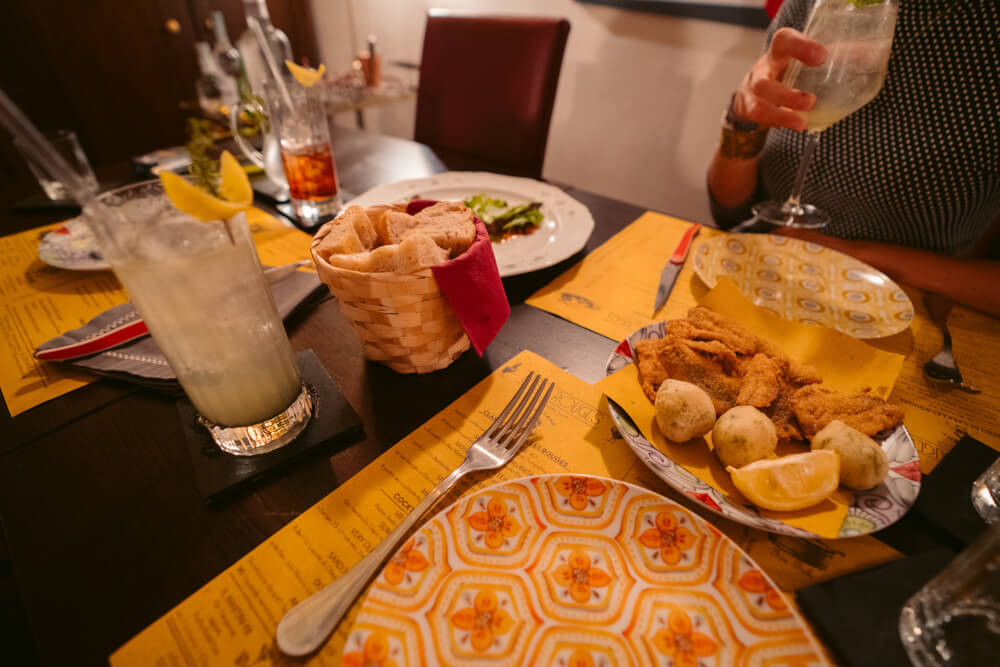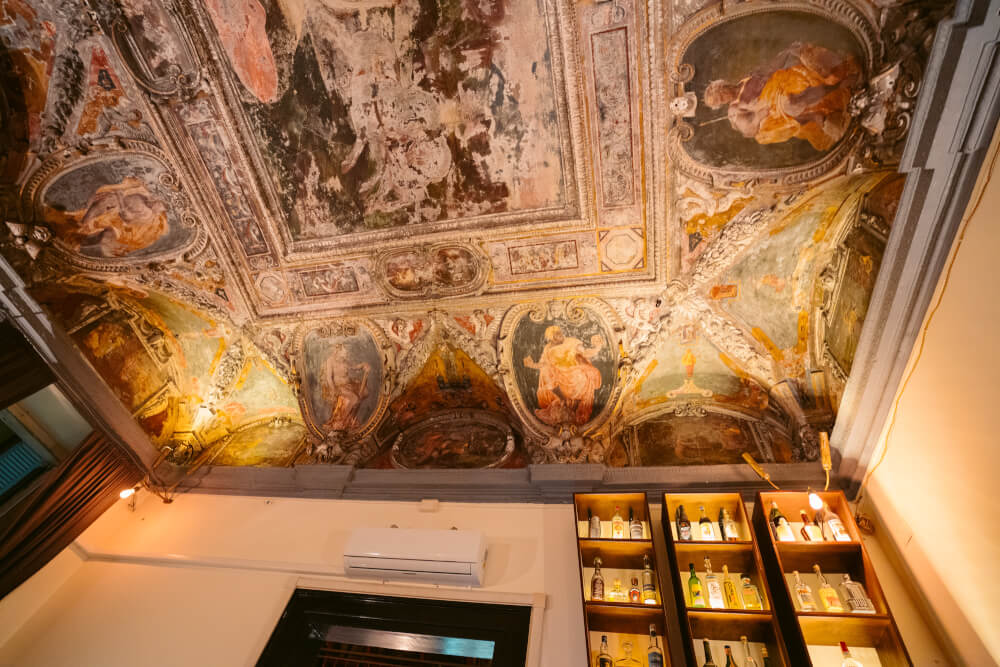 ---
---
Cocktails: ???
Last but not least, speaking of cocktails, to properly round off your Genoa visit, be sure to enjoy a final drink in one of the city's many interesting bars.
In particular, there's a secret movie-themed speakeasy located in the heart of the city, where access is only granted with a secret password. Those savvy enough to find it can (smugly) enjoy creatively crafted cocktails in a bar reserved for those in the know. Of course, speaking its name is strictly forbidden, but a quick Google search will reveal this top Genoa secret to you. Or better yet, ask a local for some guidance 😉
---
---
I hope you enjoyed this Genoa 2 Day Itinerary!
Once again, Genoa is an amazing city with plenty to fill two days or more. I hope you enjoyed this little taster of Genoa, with a cultural and cinematic twist. Let me know in the comments if you have any more questions or suggestions! Safe travels.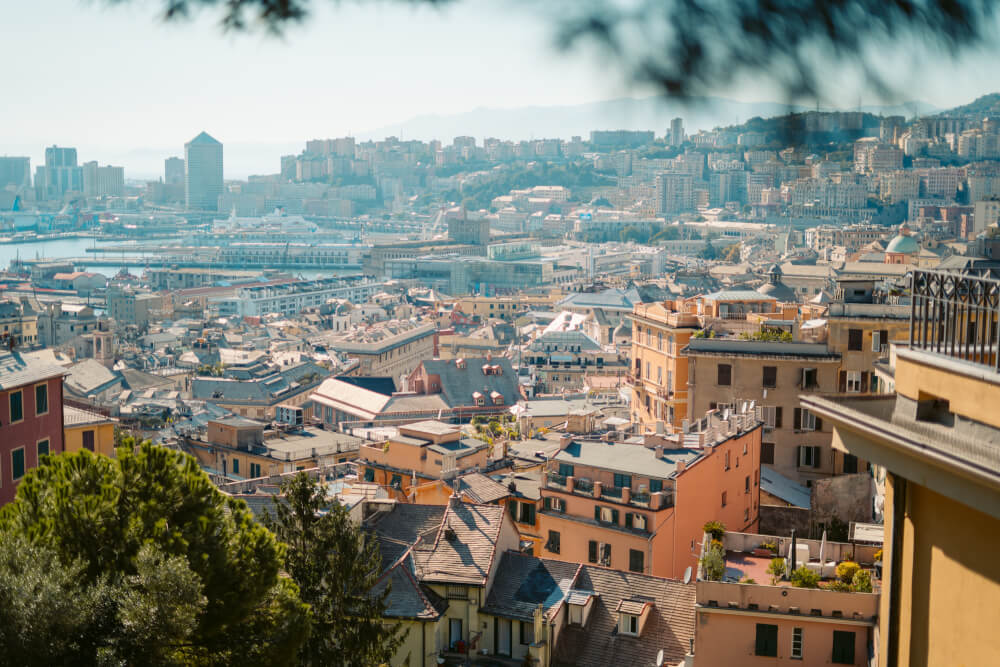 ---
---
---
Watch my most popular YouTube video this week:
---