*FYI - this post may contain affiliate links, which means we earn a commission at no extra cost to you if you purchase from them. Also, as an Amazon Associate I earn from qualifying purchases. Check out our Privacy Policy and Disclosure. for more info.
Brighton is one of the most celebrated gems of the great British seaside, oozing with colour, personality, and an eclectic range of fun things to do.
… and in true Christina fashion, I'm here today to ramble about all the great things you can do there.
Quick Links for Brighton Activities if You're in a Rush
First: a little context. Brighton first became a go-to destination in the mid-18th century, when English doctors began to prescribe seawater dips & sips as a remedy for all kinds of illness.
Over time, this glamorous seaside town became the preferred place for the rich to bathe and chill in the name of wellness. The completion of the Brighton Railway in 1840 sealed the deal: with Brighton now a possible day trip from London, it soon became the most attractive of tourist magnets.
Now, Brighton's beaches may no longer be the go-to place for sun-starved Brits to tan, soak, and heal… (thanks to cheap RyanAir and easyJet flights to Spain and Portugal) but there's far more to Brighton than just a pebbly, slightly painful to step on beach.
Today, Brighton is considered an epicentre of the UK's LGBTQ+ scene, as well as one of the most dynamic and fun destinations in the UK.
If you're wondering what to do in Brighton, I've got you. From a jaw dropping palace and vibrant party scene to all the strangest seaside attractions, here are the best things to do in Brighton, England.
1. Visit the stunning Brighton Royal Pavilion
Without a doubt, one of the most unusual and beautiful things to do in Brighton is to visit the drool-worthy Royal Pavilion.
This Grade I-listed structure from the 19th century was built in the Indo-Saracenic Revival style as a holiday home for George, Prince of Wales (later George IV), and wow did the guy have taste.
Most of Brighton features a mix of Georgian, Victorian and Edwardian architecture, so this fabulous palace with bulbous domes and pretty minarets is quite unusual to behold… with strikingly opulent interiors and gardens to wander happily in (wink wink).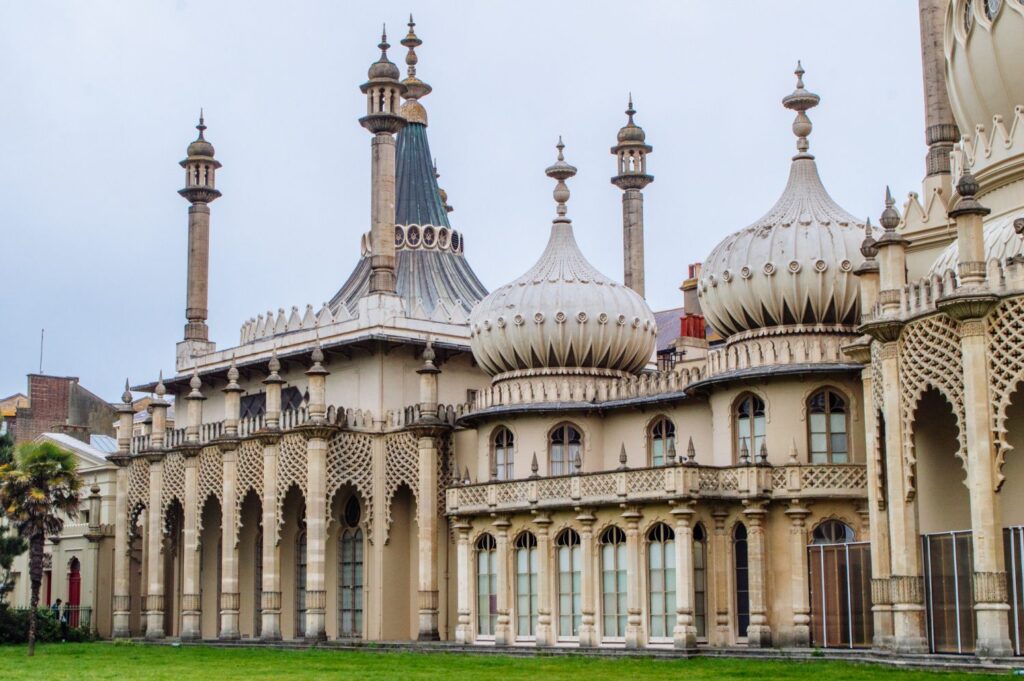 Rain or shine, do make sure you book a ticket to see the interior (you can get one in advance here) – it's hands down one of the most impressive Brighton attractions I've been to!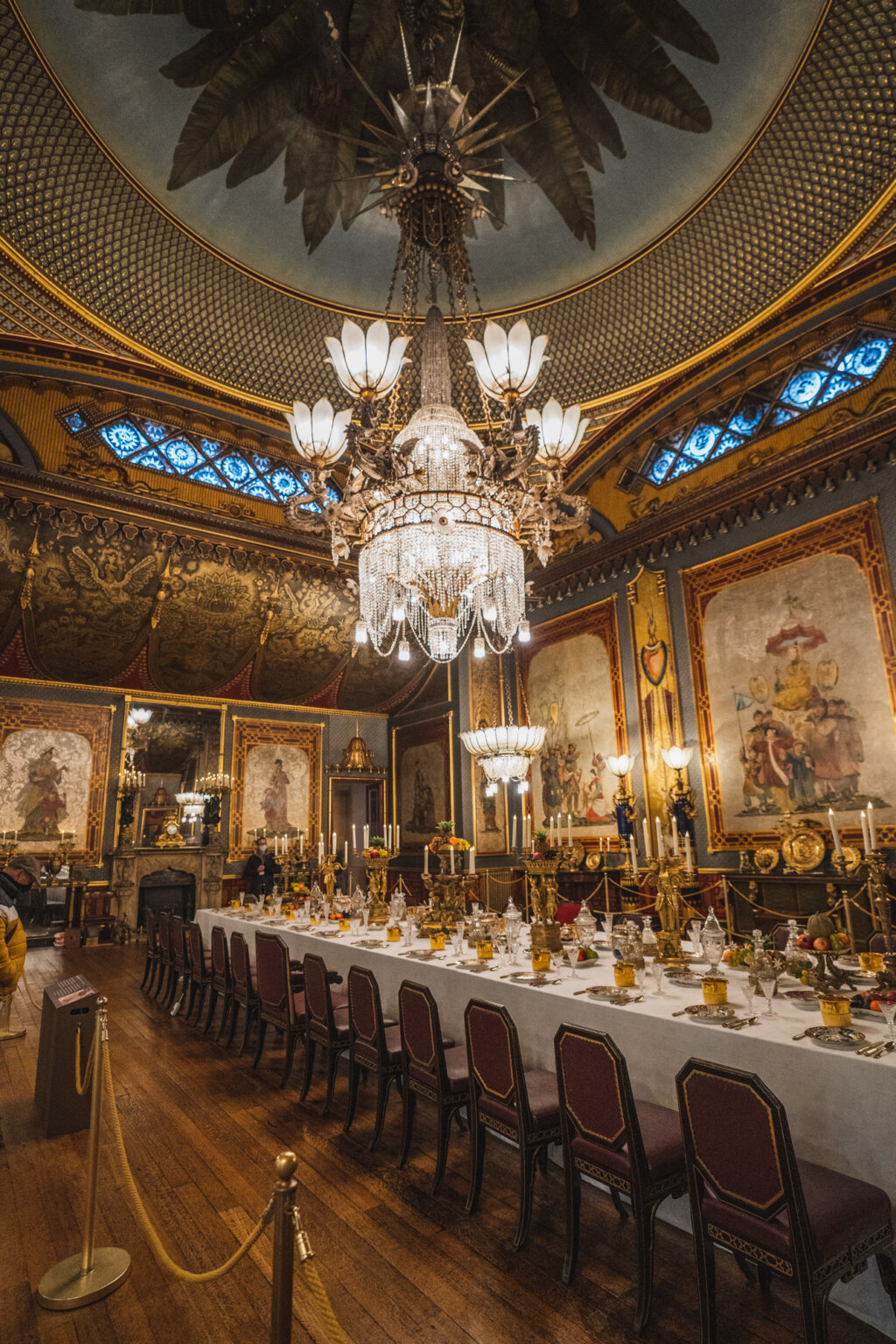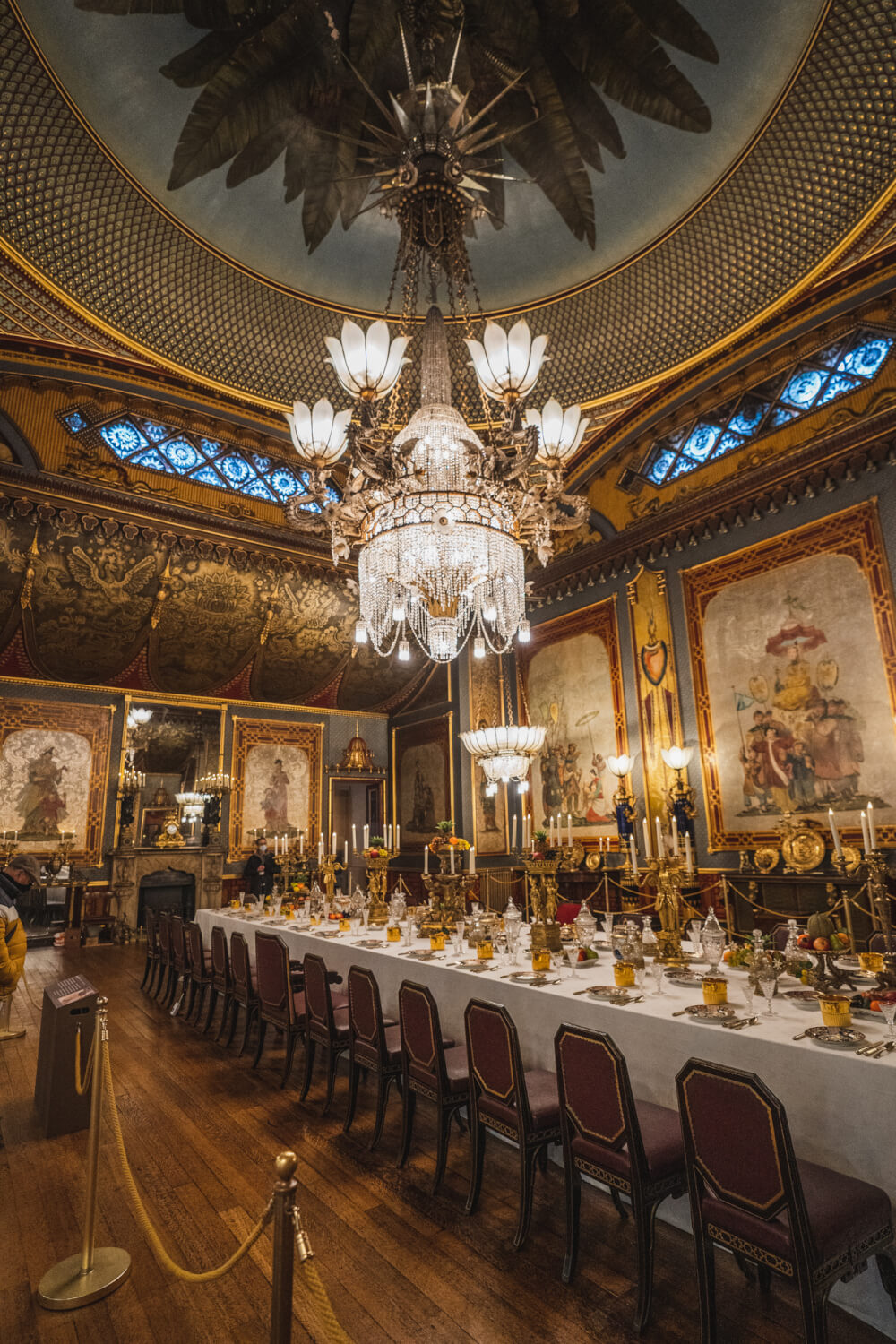 2. Enjoy Brighton Beach
While Brighton Beach may be covered in pebbles rather than sand, it's still a very popular spot for sunbathing and swimming during the great English summer.
But even when the weather isn't ideal for swimming, there's plenty to explore in/around the beachside promenade, so going for a beach walk is definitely one of the best things to do in Brighton… especially since (as the old timey doctors said) it's good for your health!
Most of the most prominent beachside attractions (which I will get to in a bit) are located on the west side of Brighton Palace Pier – the left if you are facing the water. If you head all the way along the beach on this side, you'll see Brighton attractions like the beautiful restored Victorian bandstand and Angel of Peace statue.
But head east and you'll find the oldest operational electric railway in the world, so let your inner child do with that info what it must.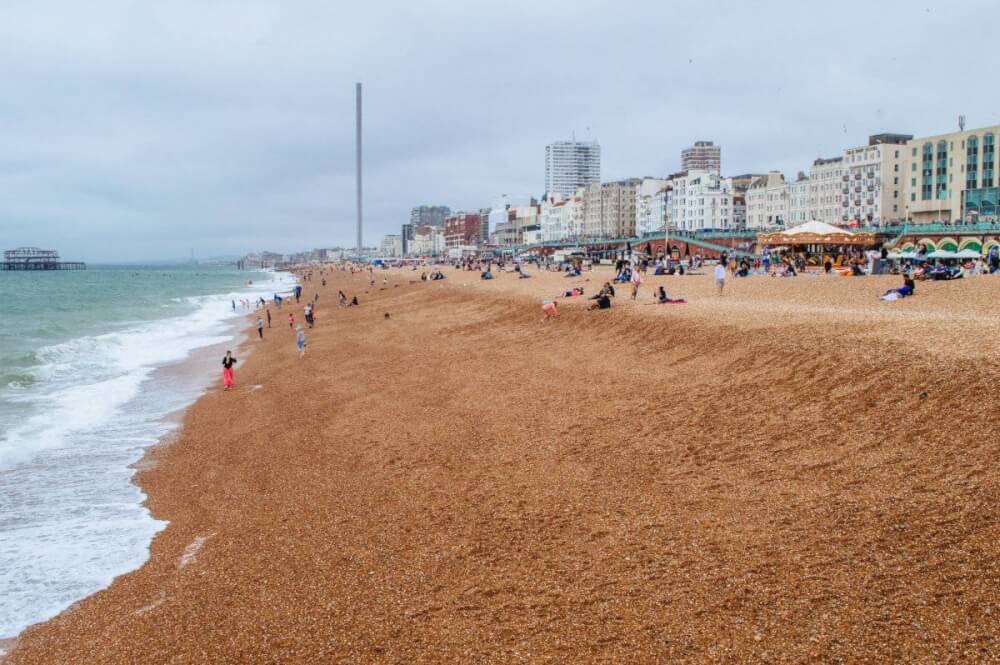 3. Have Fun on Brighton Palace Pier
Aside from the Royal Pavilion, Brighton Palace Pier is the most popular man-made attraction in Brighton, and one of the top things to do when visiting the city.
This Grade-II listed pleasure pier dates from 1899 and has been synonymous with fun by the seaside for decades. More than four million people visit the pier each year as it's lined with arcade games, funfair rides, restaurants and cafés.
It does get very busy in summer but if you don't like crowds, you could visit when the weather is cooler (like I psychotically did in January).
Of course, no matter the time of year, don't forget to have some fish and chips! With you being so close to the sea, it'd be rude not to.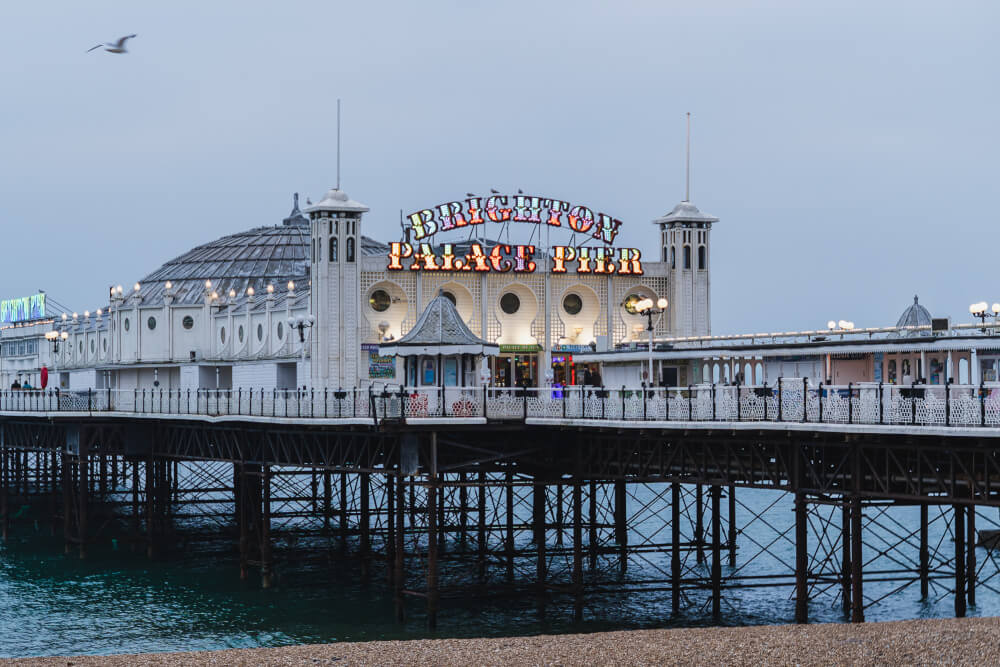 4. Explore the Artist Quarter
Next to Brighton Pier (on the left/west side) there are a number of art galleries and artist's studios right on the beachfront, underneath the main road.
These underground 'lofts' are known as the Brighton Artist Quarter, where you can find paintings, sculptures, photographs, jewellery and more to buy as souvenirs or gifts.
Having a wander around and talking to the local artists is one of the best things to do in Brighton for art lovers, with most studios opening around midday and closing at sunset.
Plus, there are a number of nice restaurants and bars to explore after you've had your fill of art, so be sure to put this spot on your list of Brighton must-dos.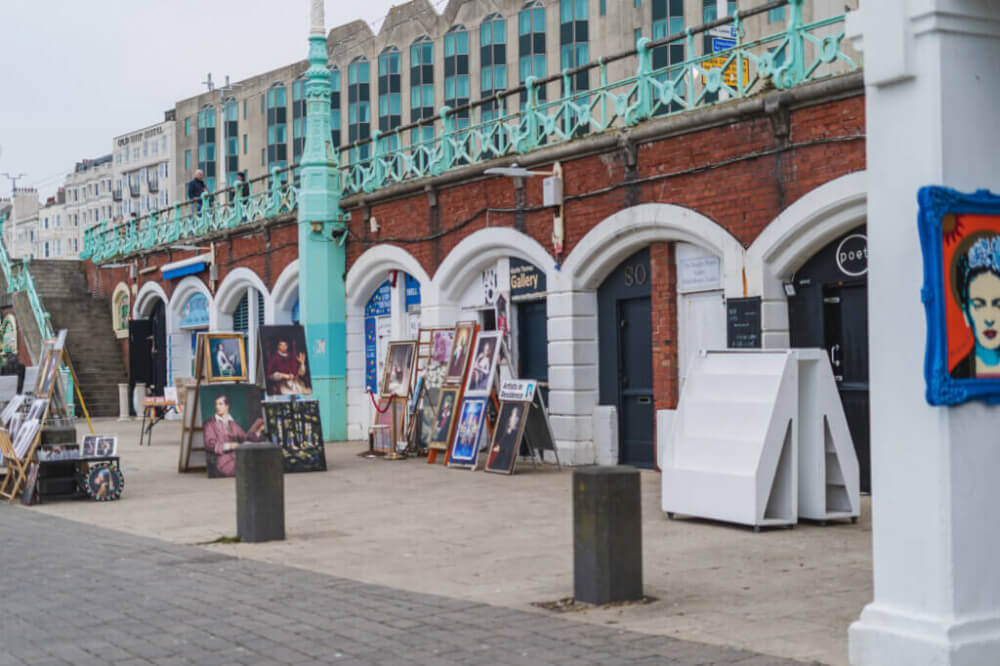 5. See Brighton from Up High on British Airways i360
Forget Ferris Wheels, the best way to see Brighton from the sky is on the British Airways i360!
This 162-metre tall observation tower features a circular viewing pod which goes slowly up and down the main 'needle' in the middle, offering stunning 360-degree views of Brighton. When the weather is clear you can often see all the way out over the British Channel and wave to the Isle of Wight!
There are regular fun events held within the viewing pod, from yoga to special meals but it's also super romantic at sunset…
Or if you'd prefer the ultimate thrill, you can even walk around on top of it.
PRACTICAL INFORMATION FOR VISITING: A regular ticket for the viewing pod costs £19.95 for adults and provides a 25-minute 'flight' as well as access to the Sky Bar. Buy tickets in advance here.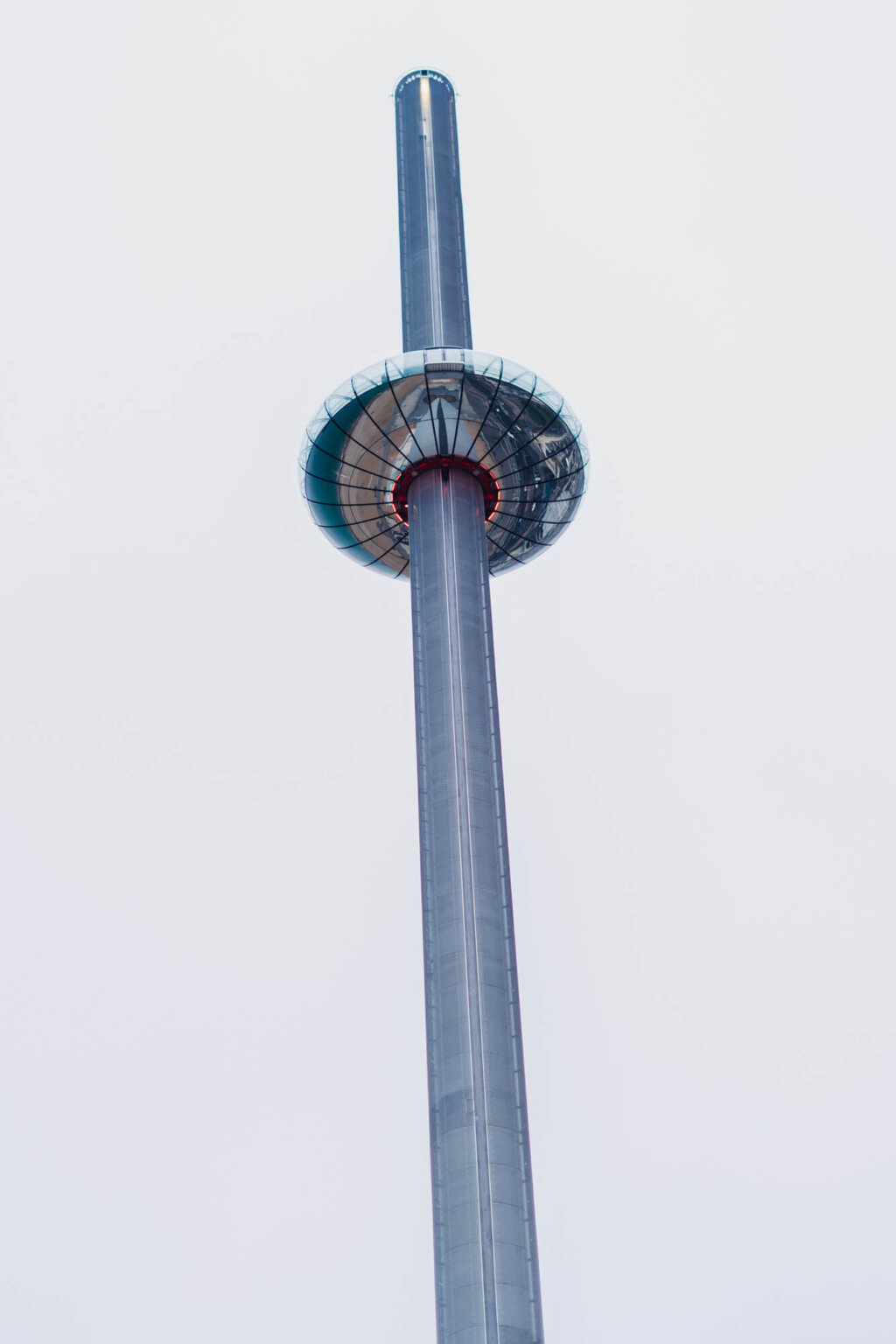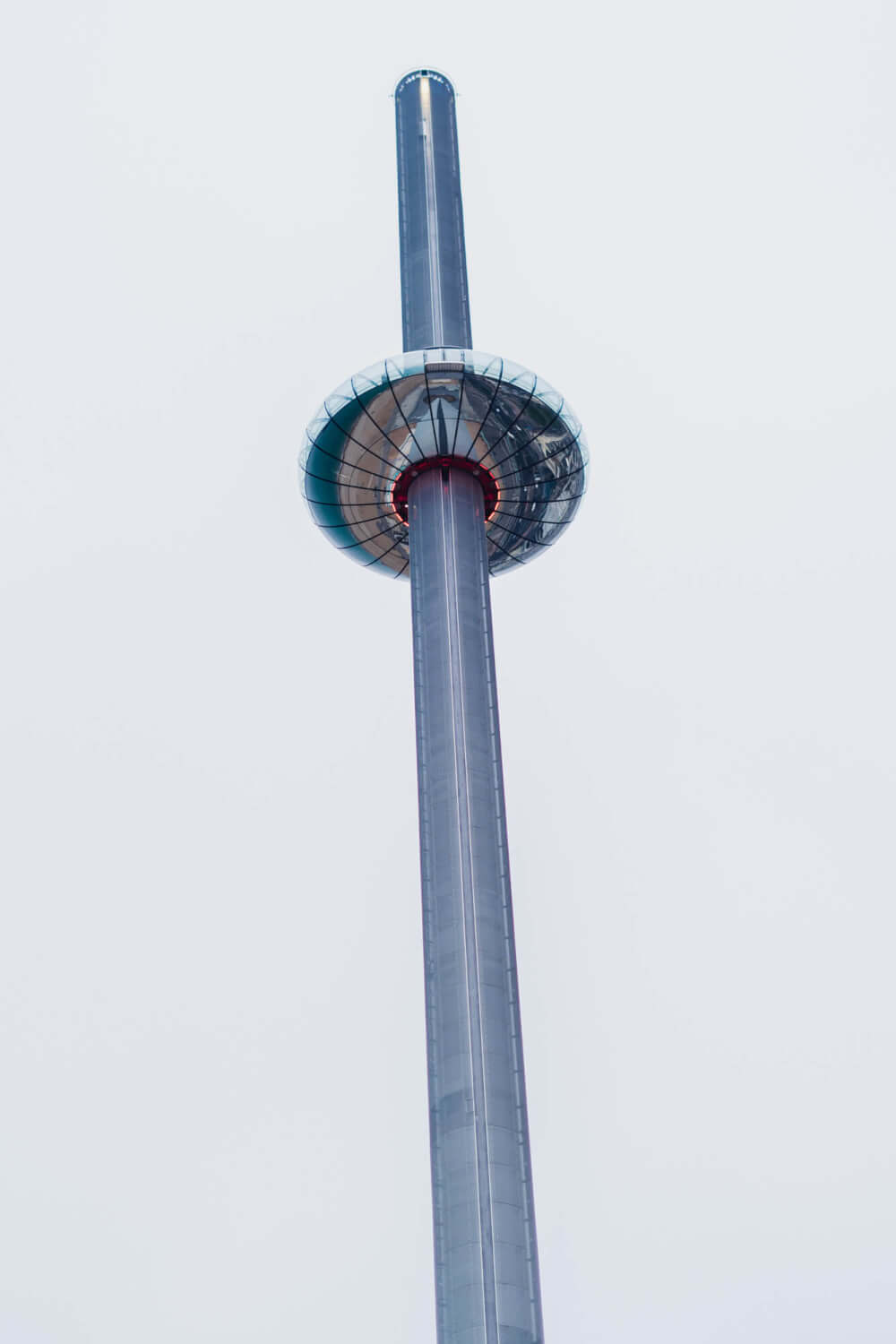 6. Discover The Lanes
Starting next door to the Royal Pavilion is the winding neighbourhood known as The Lanes, which is packed with an exciting assortment of antique shops, tea rooms, record stores, restaurants, cafés and pubs.
Most of the buildings here are from the 16th and 17th centuries when the neighbourhood was the centre of the fishing town. It's a fascinating area for a wander or some shopping, often with buskers entertaining during the summer months.
… Just try not to get lost.
Pro tip: Be sure to try some of the unusual ice cream flavours at Brass Monkey in The Lanes!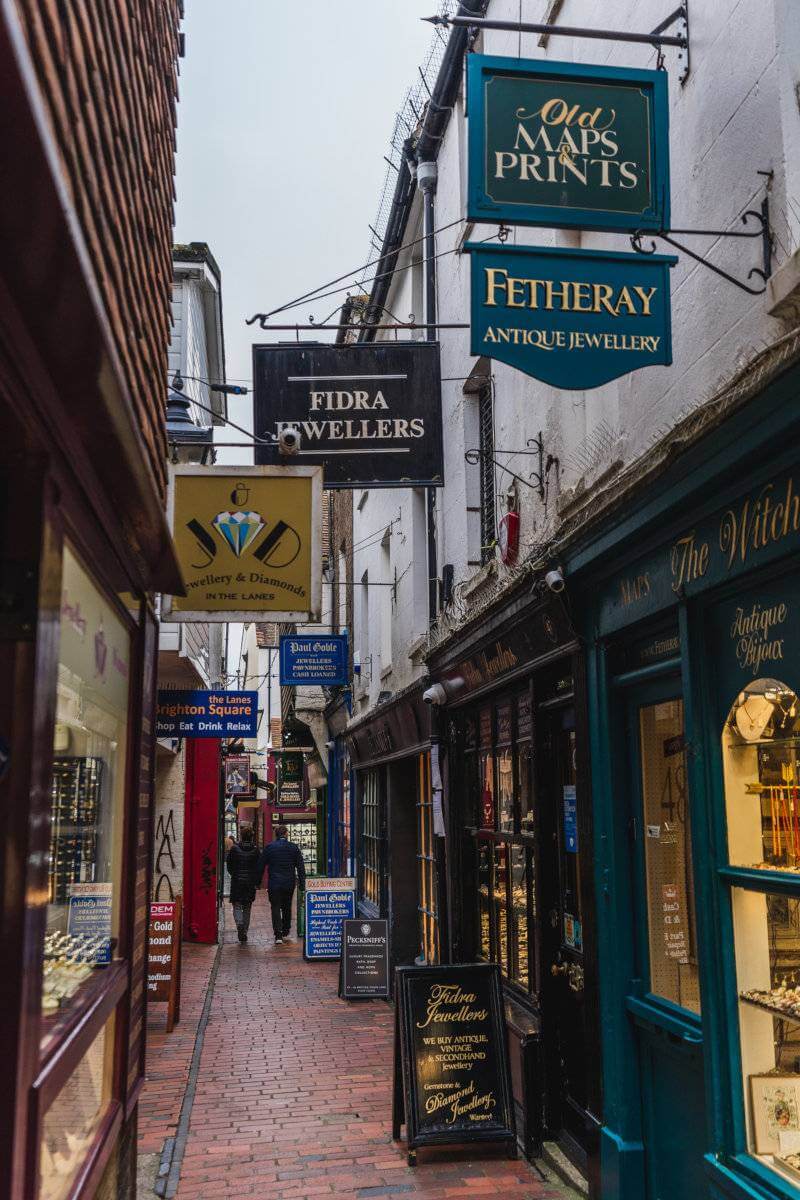 7. Take Ridiculous Photos at the Upside Down House
I'm a sucker for a cheesy photo opp, and the Upside Down House is certainly one of the most fun things to do in Brighton if you're similarly goofy and will do anything for an absurd picture.
As you can probably guess, everything here is upside down, with furniture attached to the ceiling so that you can take photos that seem to defy gravity.
This is a fun activity in Brighton to do with kids or when it's raining and even just a photo from the outside (as you can see below) looks pretty cool.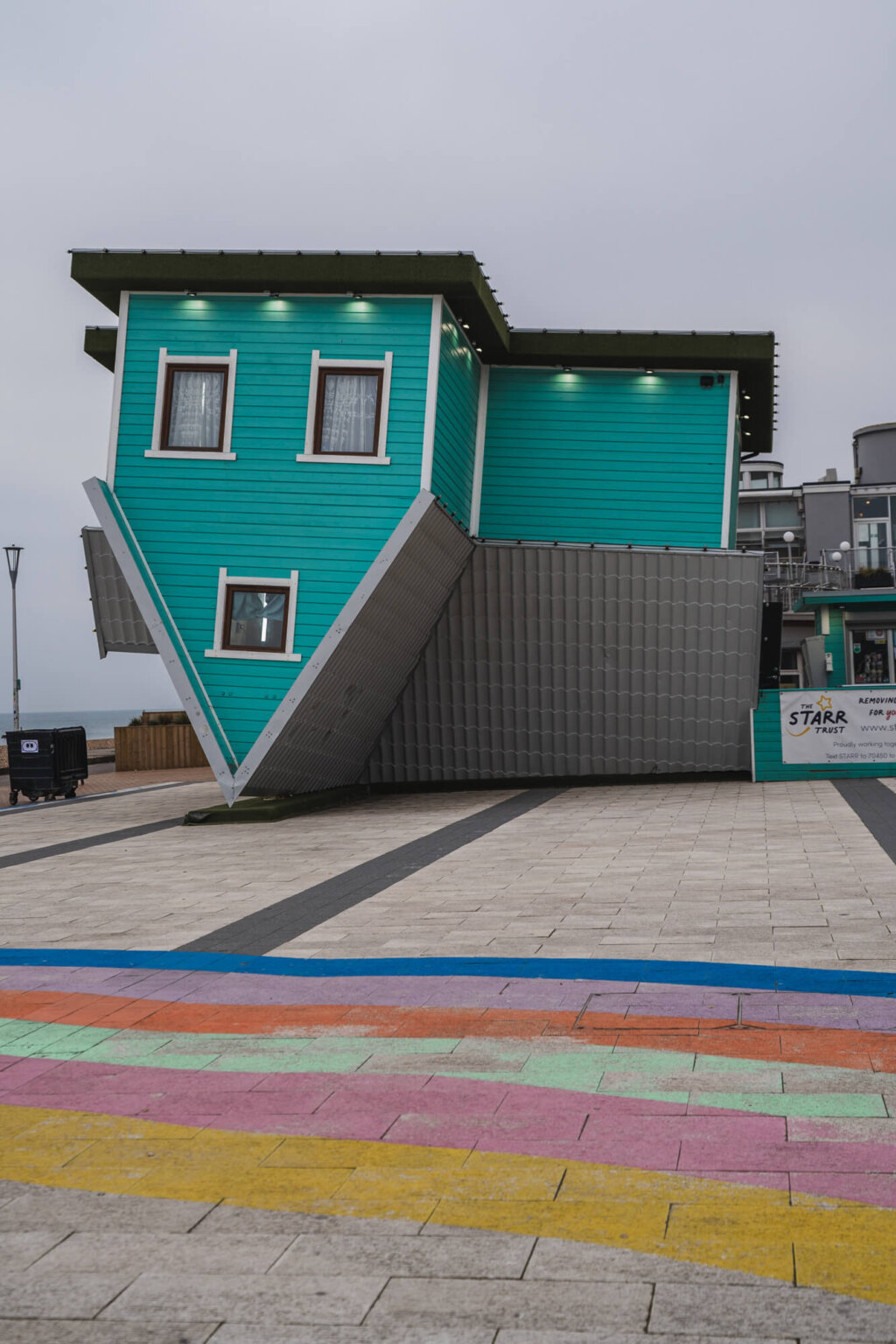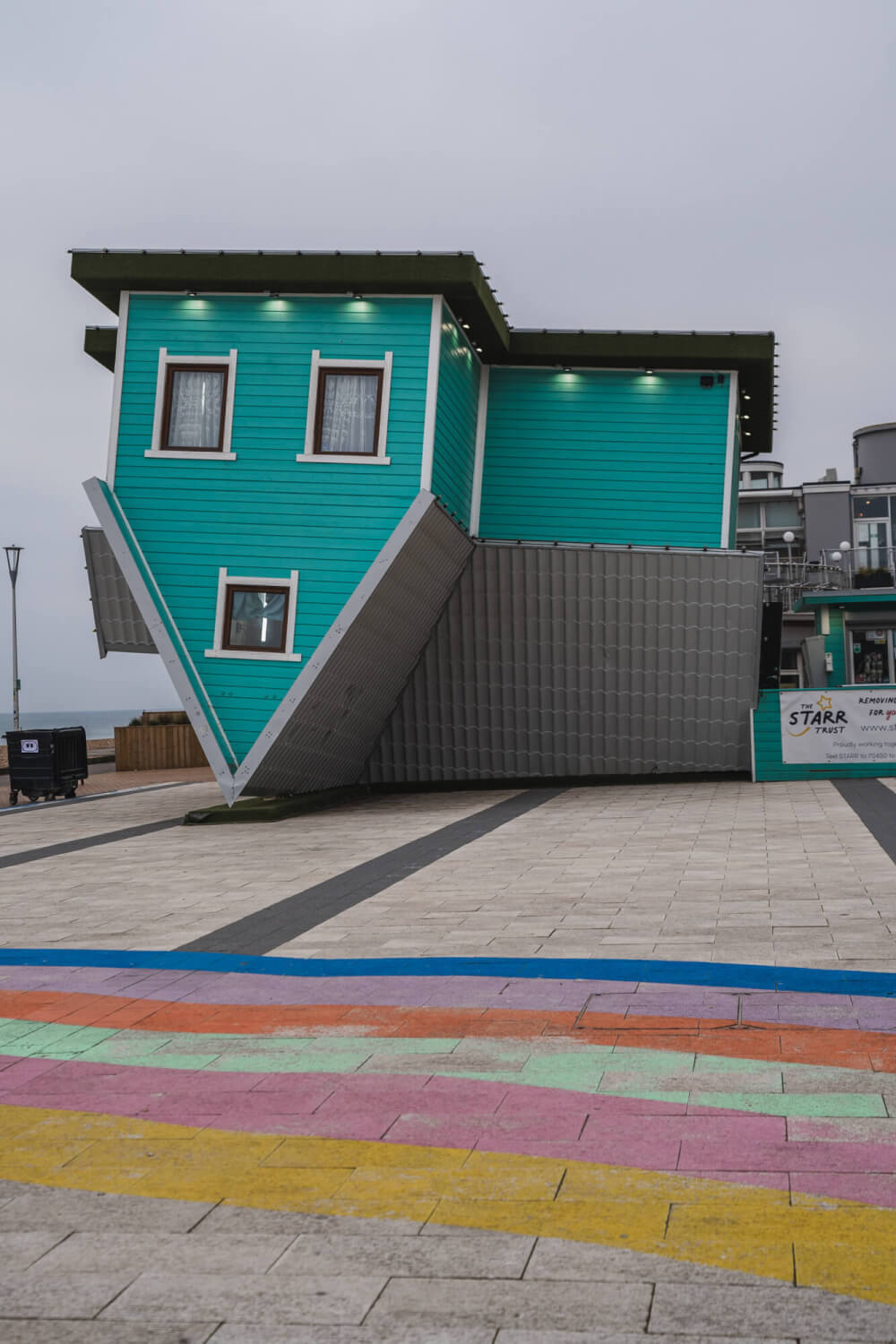 8. Pose with a giant donut
Okay, while we're on the topic of silly photo opps in Brighton, I need to tell you about Afloat, a giant donut sculpture generated by taking a globe and pressing the north and south poles together.
I mainly love it because it's a giant donut. And it's a great spot to get a photo of the pier too! What a win.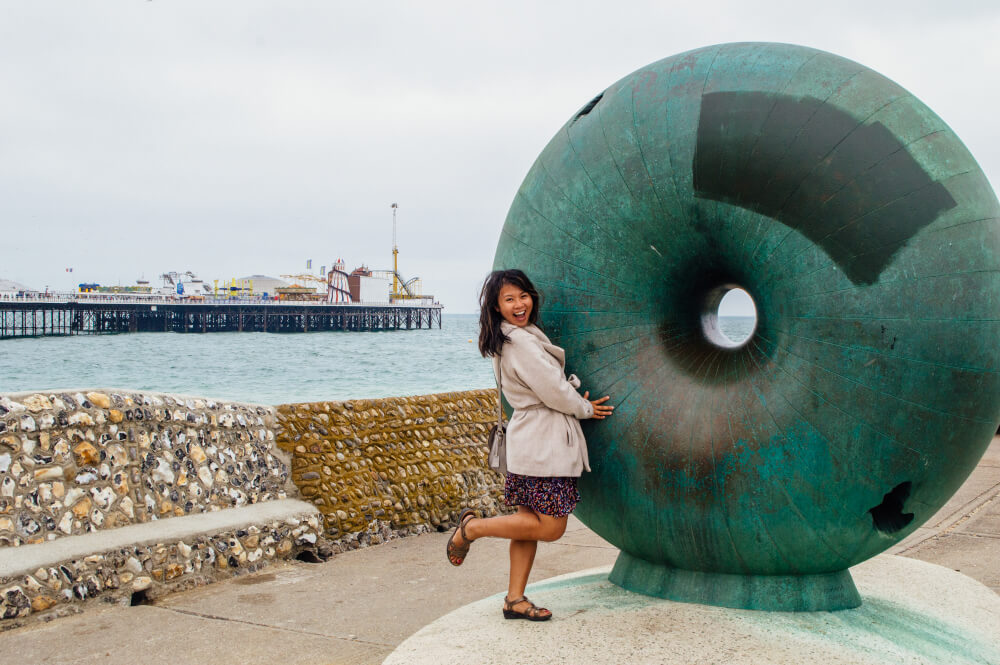 9. Enjoy a delicious cup of coffee
Brightonions are said to be among the biggest coffee drinkers in the UK, which a) might explain why I enjoy it here so much and b) why there are SO many great quirky coffee shops all around the city.
Especially if you're looking for rainy day activities in Brighton, you really can't go wrong with hiding away with a delicious cuppa joe.
Here are some cafes I'd personally recommend: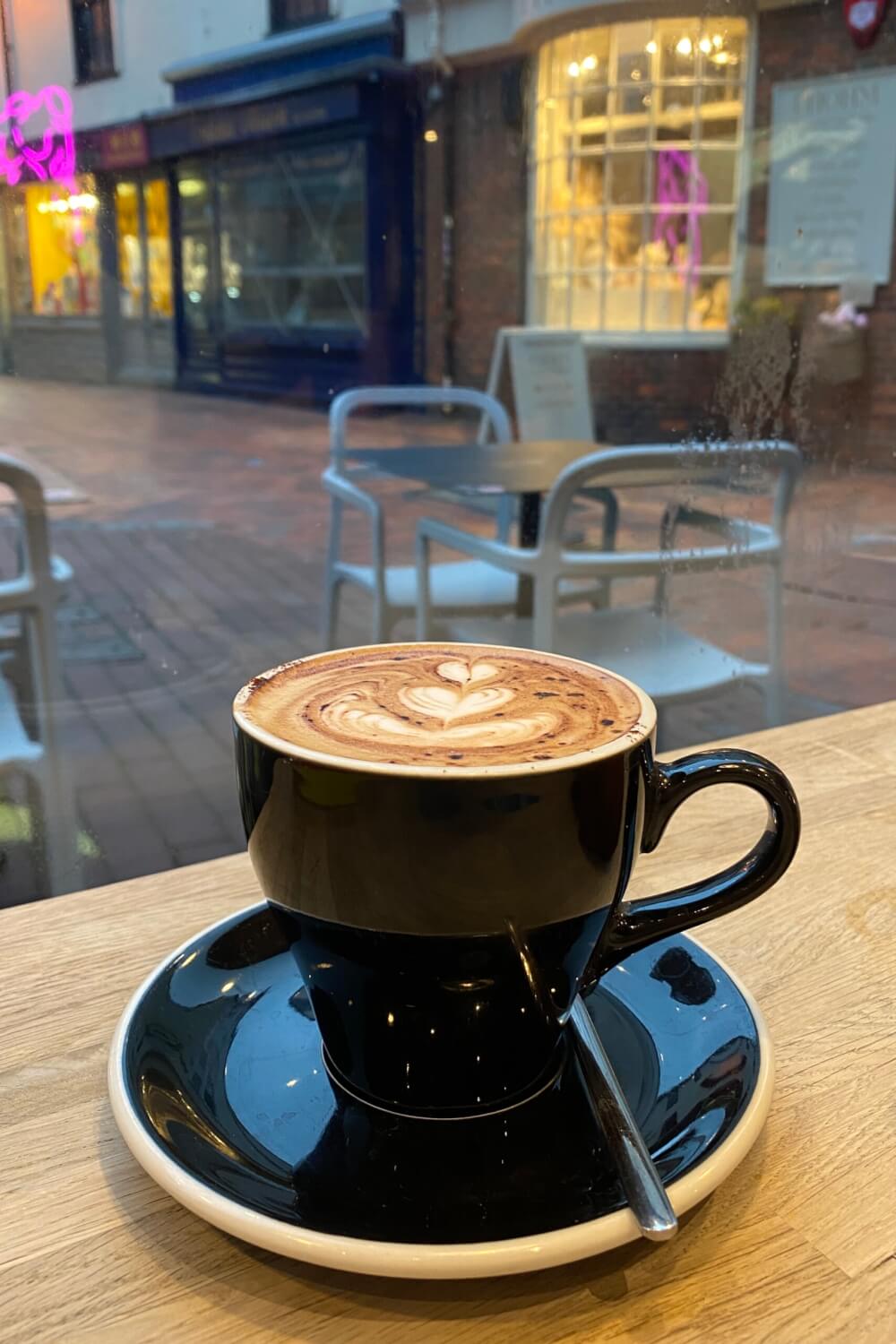 10. Soak Up the Vibe in North Laine
North Laine is another one of the top cool things to see in Brighton, although it's not part of The Lanes as you might expect from the confusingly similar names.
This area is located north of Brighton centre in what used to be the slums of the city. Today it's known for a creative, bohemian and alternative vibe, which is particularly illustrated by all the awesome street art!
Like The Lanes, North Laine is also an excellent shopping destination, especially for clothing. Check out Jump the Gun for 1960s mod-style fashion and Beyond Retro for unique 20th-century fashion pieces.
Of course, there are also plenty more shops, pubs, cafés, restaurants, theatres, galleries, and museums to explore here too.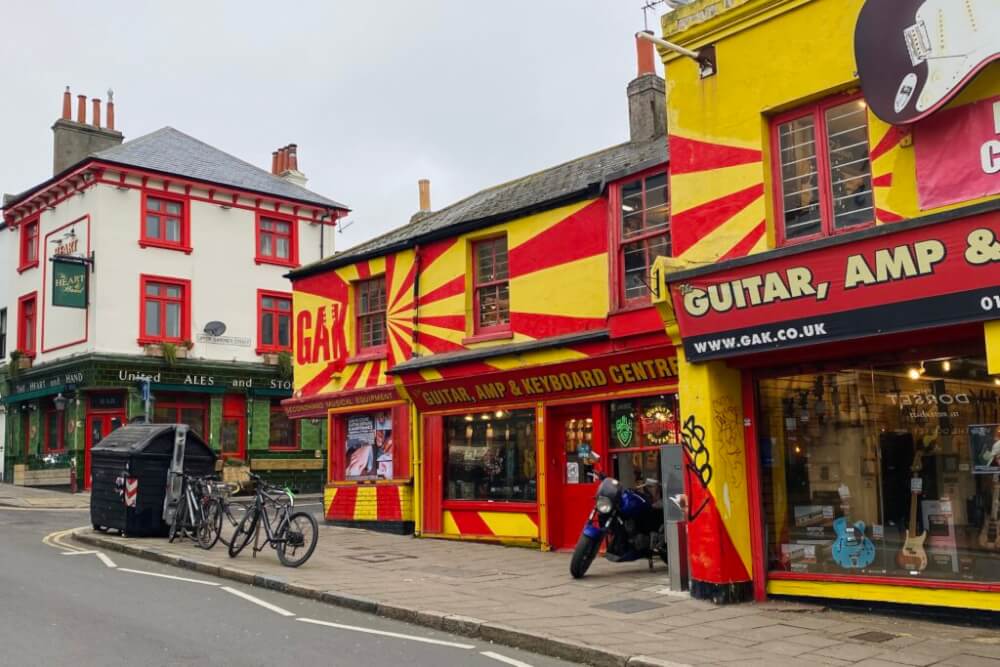 11. Have a Snoop at Snooper's Paradise
Located in North Laine, the amusingly named Snooper's Paradise deserves its own listing because it's just such a cool spot.
In brief, Snooper's Paradise is a massive market space filled with stalls selling all manner of vintage treasures.
Even if you aren't particularly looking to buy, it's incredibly fun to snoop around the labyrinth of retro furniture, vintage crockery, iconic lighting, kitsch homeware, rare vinyl records, books, and memorabilia…
Just be sure to sharpen your willpower before coming in, lest you end up walking out with a frilly vintage lamp.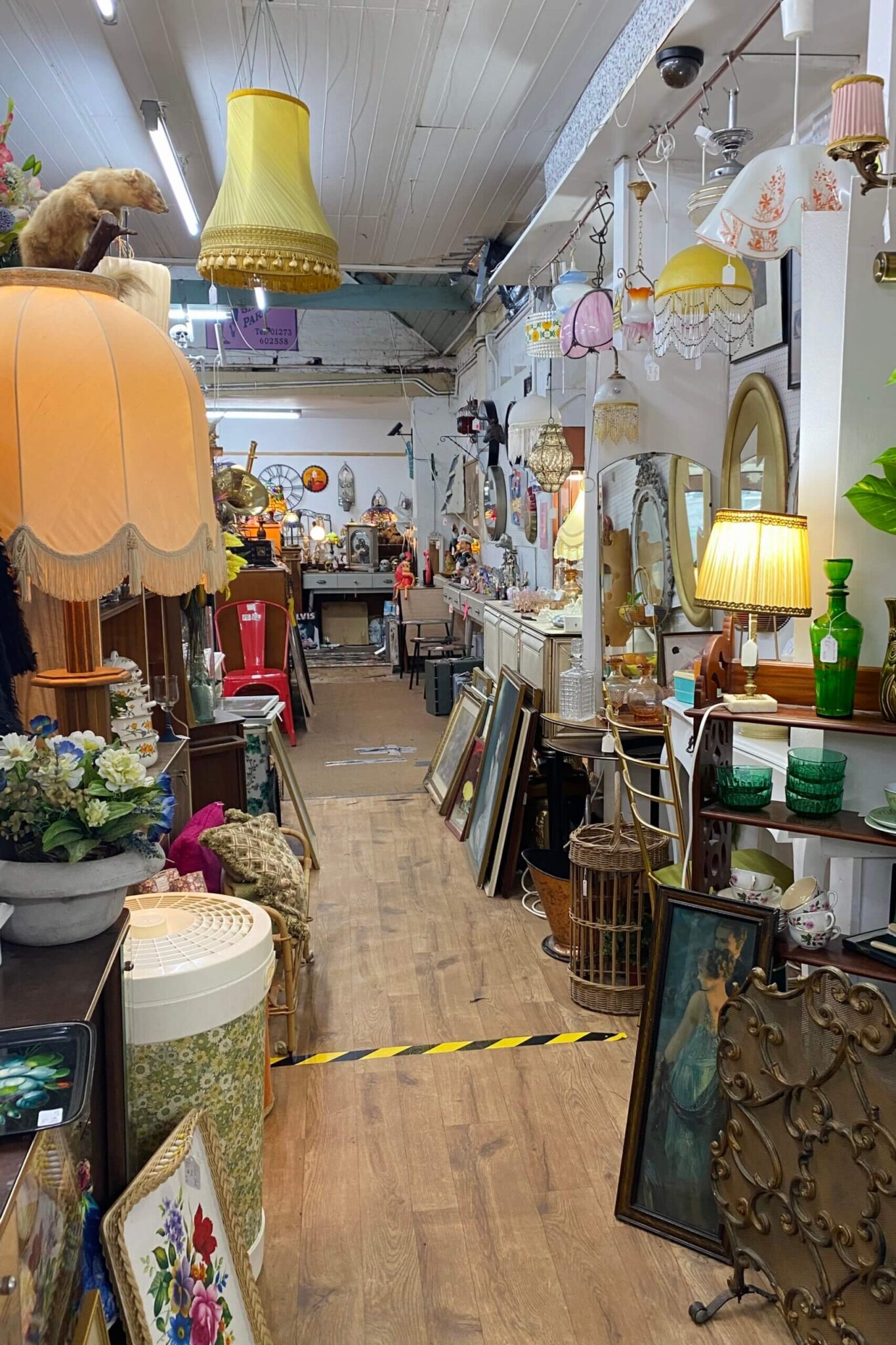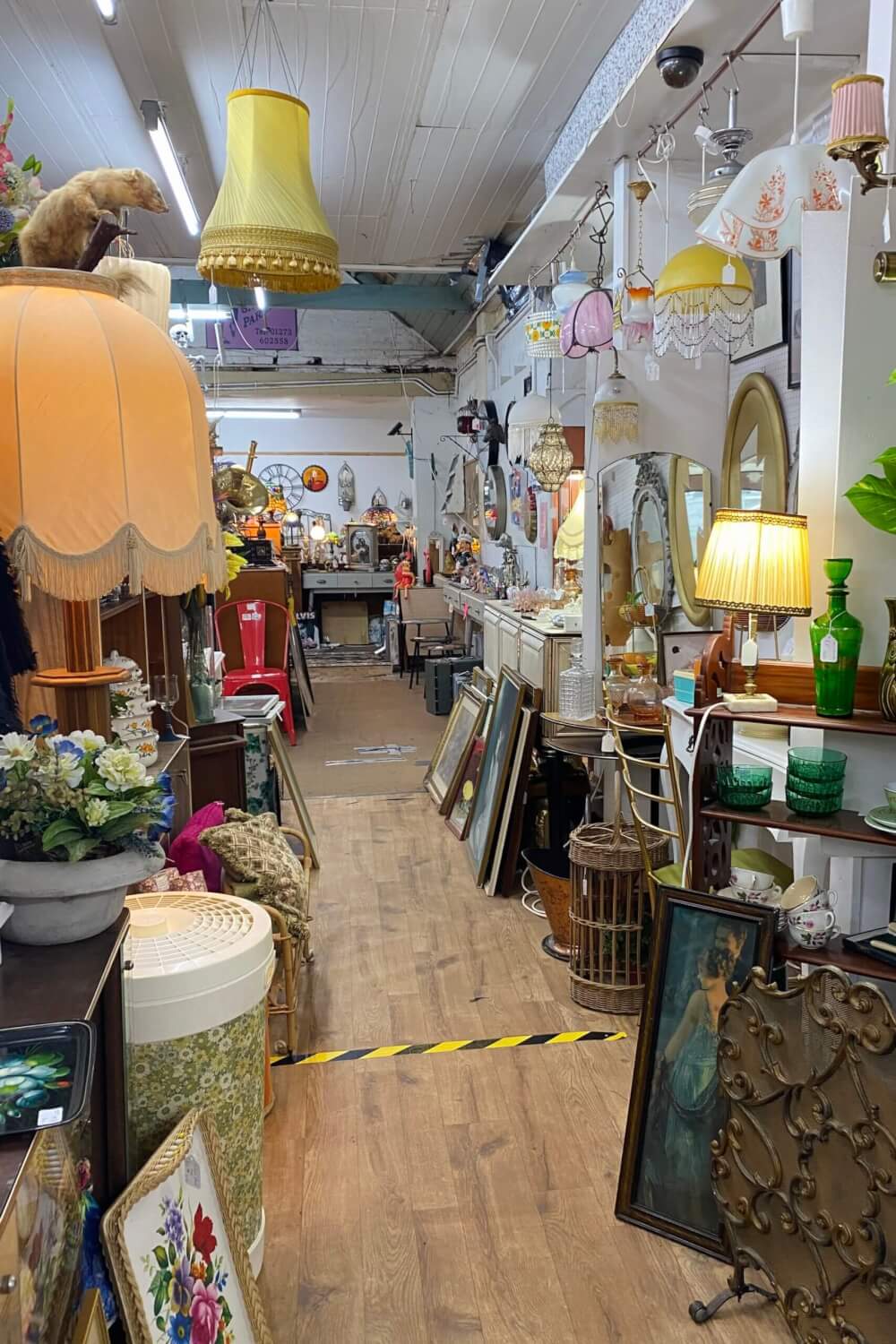 12. Go zip lining
Brighton happens to be home to the South Coast's longest and fastest zipline, starting 32m above ground level. Thrill-seekers, this is by far one of the most adventurous things to do in Brighton, and the best part is you can even race a friend. Click here to check prices and availability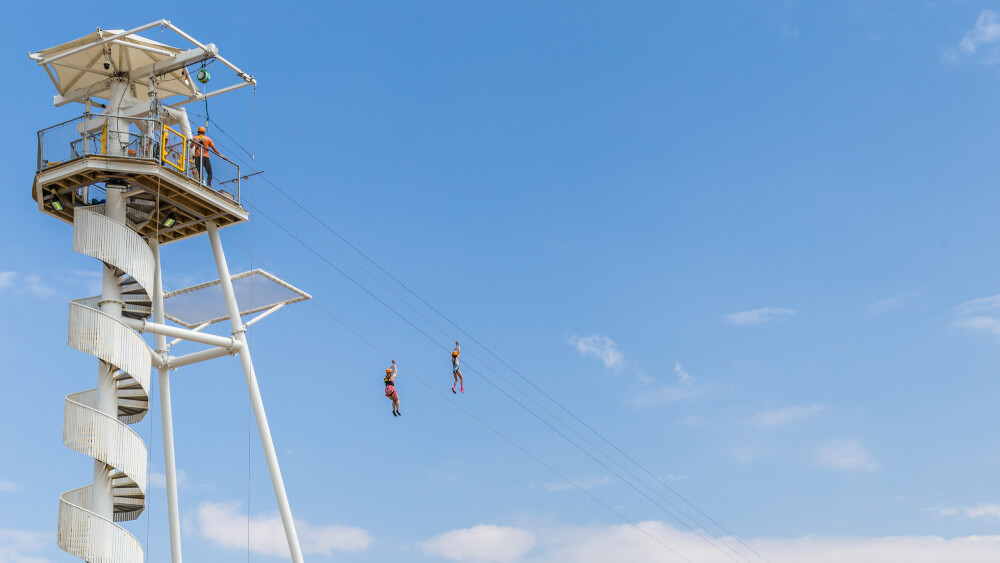 13. Learn About Brighton's History at the Fishing Museum
From ultra thrilling to decidedly more laidback, another fun thing to do in Brighton is visiting the Brighton Fishing Museum.
You see, before Brighton was a hip and trendy tourist destination it was (unsurprisingly, given the location) a small fishing village, and the Brighton Fishing Museum is the most interesting place to learn about how this 1000 year old fishing community developed into a fashionable seaside resort for the rich… and now a place where travel bloggers go to look at frilly vintage lamps and write about them.
If you enjoy model boats, then you will probably also love it here, as there are many a cute boat on display and, best of all, this museum is free, making it one of the best free things to do in Brighton!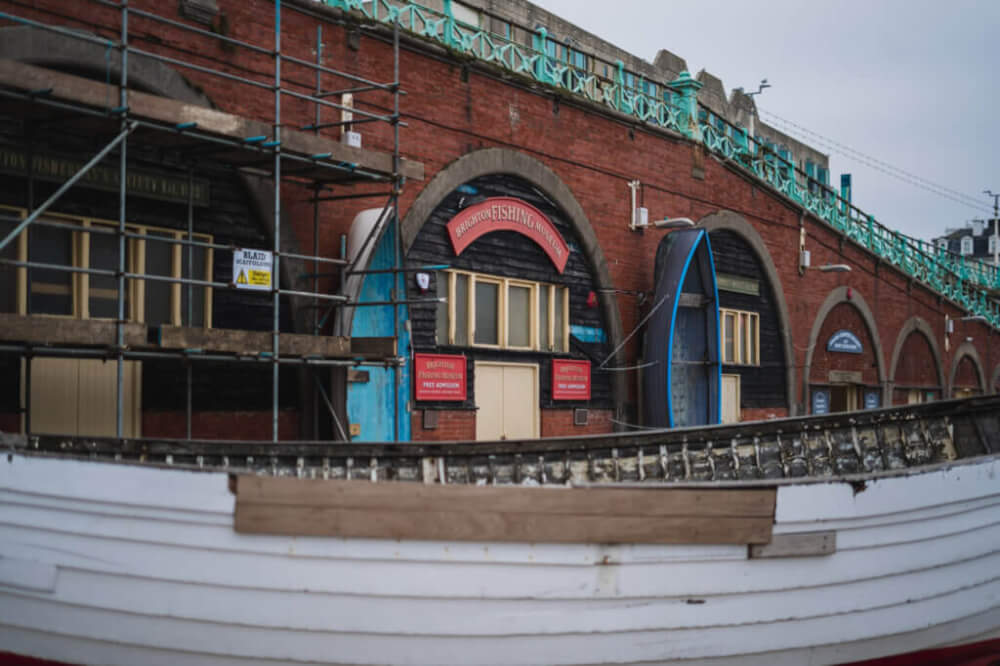 14. See Live Fish (and more) at SEA LIFE Brighton
If you're more into actual fish (and other sea creatures) than the history of fishing (or maybe you're interested in both!) then SEA LIFE Brighton is the destination for you.
This is actually the oldest aquarium in the world, first opening in 1872 as 'Brighton Aquarium'. There are 3,500 sea creatures to see here, from turtles and jellyfish to seahorses and octopuses.
The exhibits here are also really unique and interesting, especially the indoor glass-bottomed boat! Buy tickets in advance here for the most stress-free experience.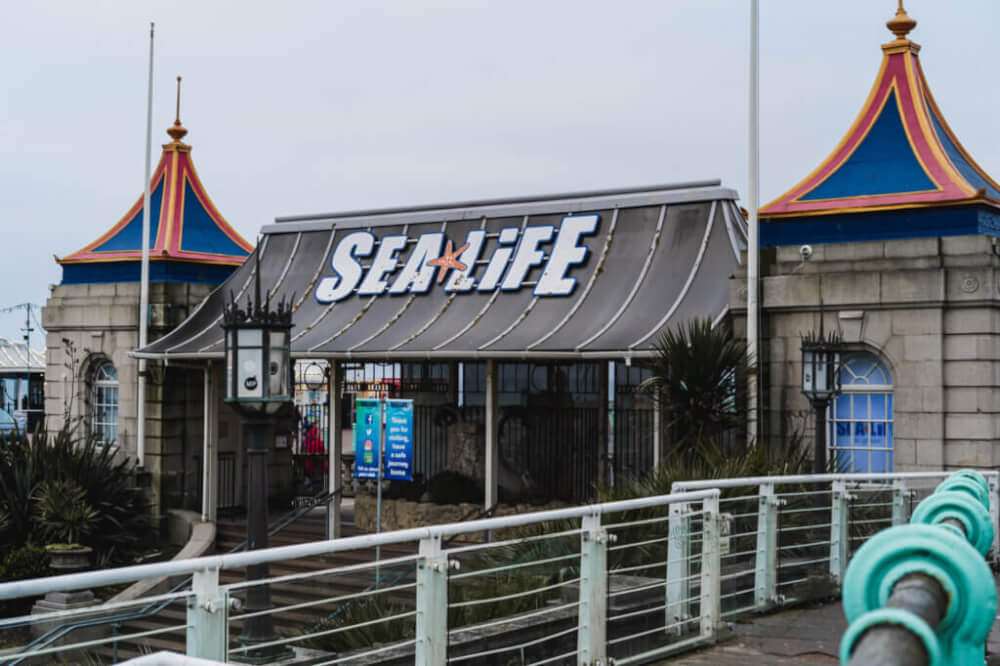 15. Get in Touch with Your Inner Child at the Brighton Toy Museum
This is one of the top things to do in Brighton if you are visiting with kids, but even adults will be in awe when met by the thousands of vintage toys on display here!
The Brighton Toy & Model Museum (usually just called the Brighton Toy Museum) is huge, with more than 10,000 items on display in over 60 different display areas.
The model railway layout is particularly awesome (it's the biggest collection in the country) but other vintage toys on display include puppets (and puppet theatres), radio-controlled aircraft, dollhouses, teddy bears, dioramas, slot machines and much, much more.
PRACTICAL INFORMATION FOR VISITING: The Brighton Toy and Model Museum is open Tuesday – Saturday and costs £7 for adults. Make sure you double-check the website for opening times, as sometimes there are private events on.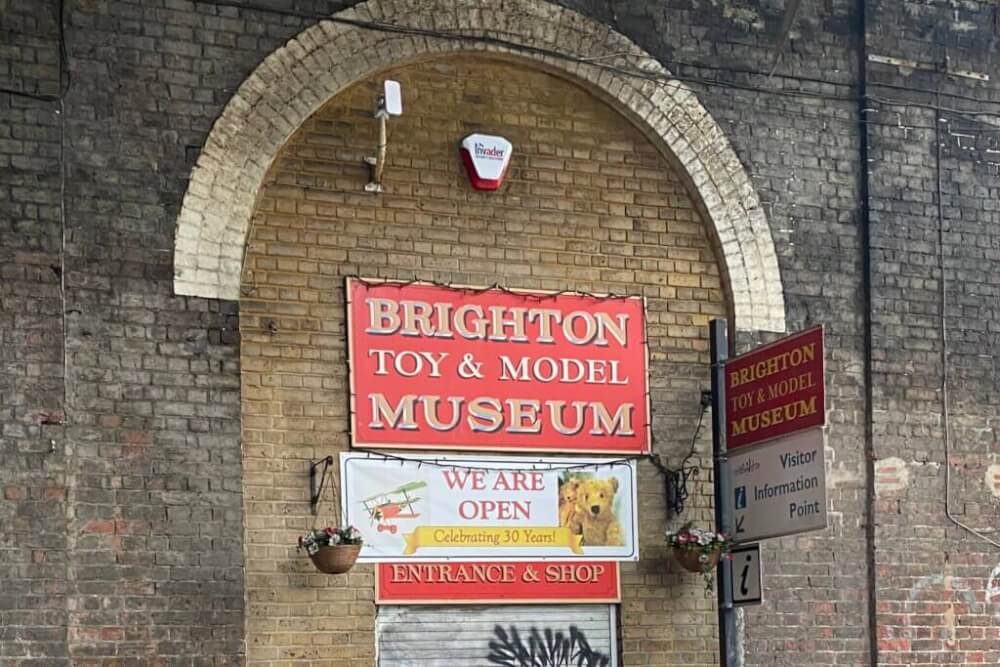 16. Seek Out Brighton West Pier
Looking for a slightly spooky attraction in Brighton? Look no further than (what remains of) the Brighton West Pier.
This was actually the third pier built in Brighton, but the two earlier ones are no longer in use.
First constructed in 1866, this pier originally had a concert hall on the end, which was then converted into a tea room and theatre in the 1950s.
It closed down in 1975 and has since become derelict after years of sea and wind damage. Even though it's a ruin, you can still see a glimpse of the beautiful Victorian architecture and it makes for some gorgeous photos.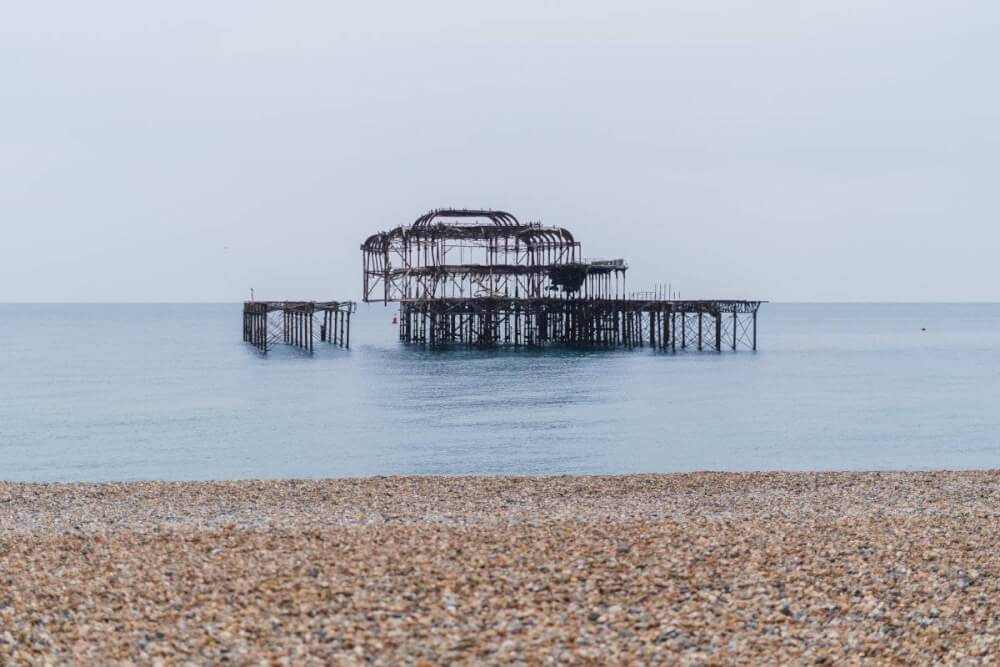 17. Have a Pint at The Prince Albert
One of my favourite activities in Brighton is searching out cool street art and at the Prince Albert pub, it's almost too easy!
The Prince Albert is famous for its colourful exterior, a mural that's often updated with paintings of famous deceased musicians; from Amy Winehouse and Kurt Cobain, to David Bowie, Michael Jackson, Sid Vicious, George Michael and more.
Here you can also find a replica of the Banksy painting "Kissing Coppers", which was originally painted on the side of the pub in 2004. And once you're there, make sure you head into the pub for a drink as it's just as eclectic inside!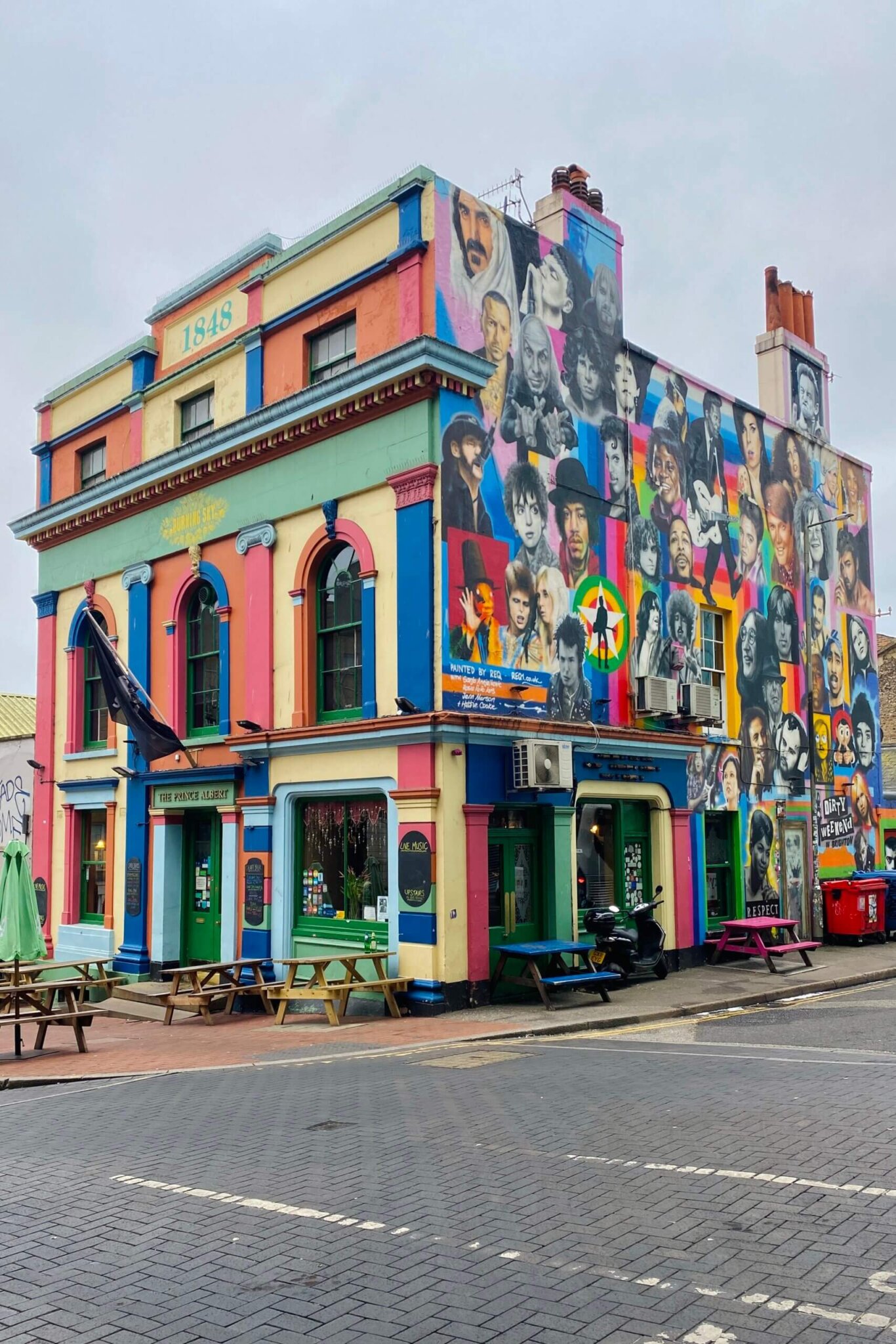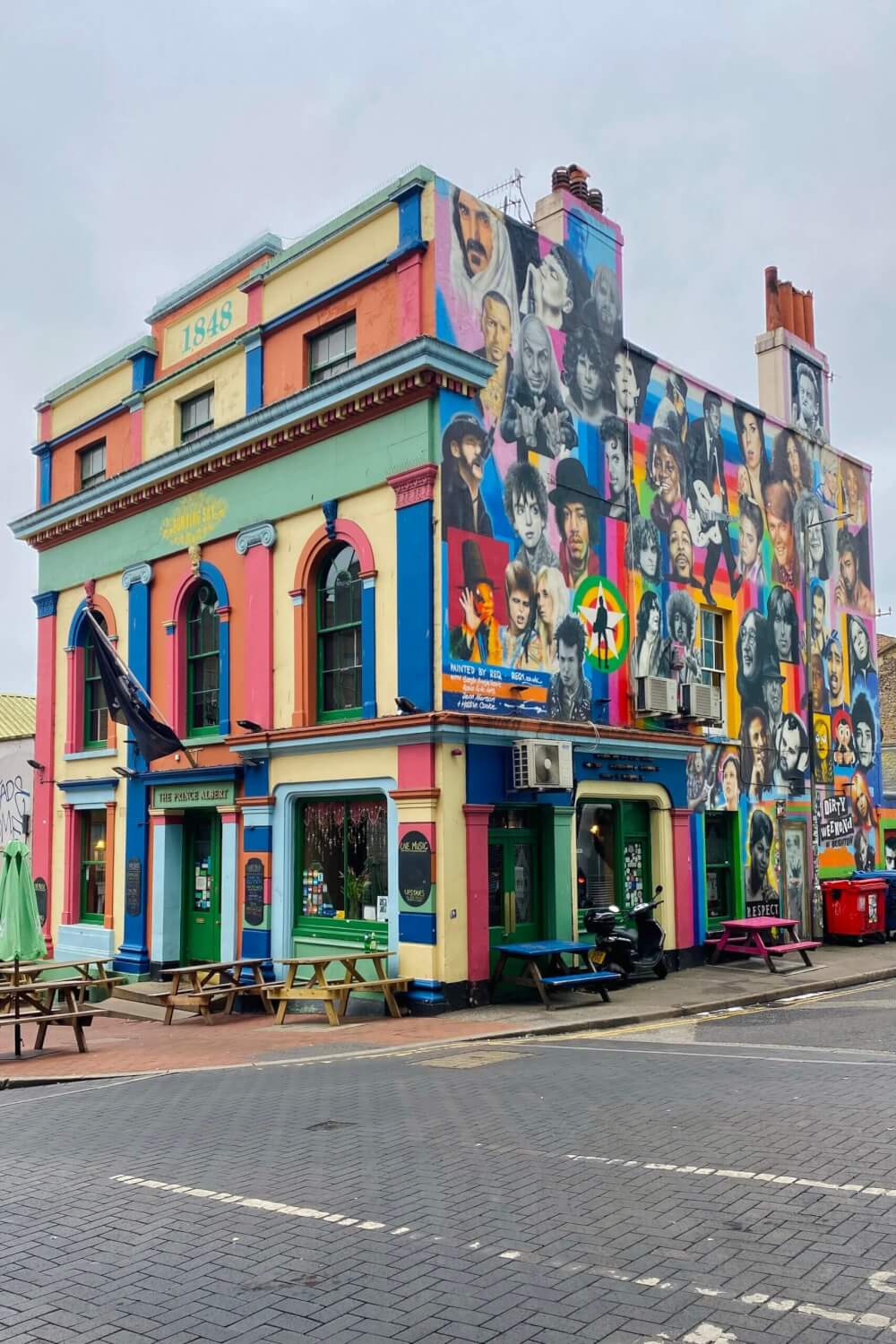 18. Catch a Show at the Brighton Dome
As I mentioned, the Brighton Dome was once part of the Royal Pavilion Estate and served as George IV's stables.
After the palace was sold to the city by Queen Victoria it was used as assembly rooms, a corn exchange and a studio theatre, although now it's a multi-functional arts and events venue. There's even a café and a nice bar for a pre- or post-show drink.
The Brighton Dome is most famous for hosting Eurovision in 1974, the year that ABBA won with "Waterloo," and is a very impressive location to see some live music or theatre while you're in town.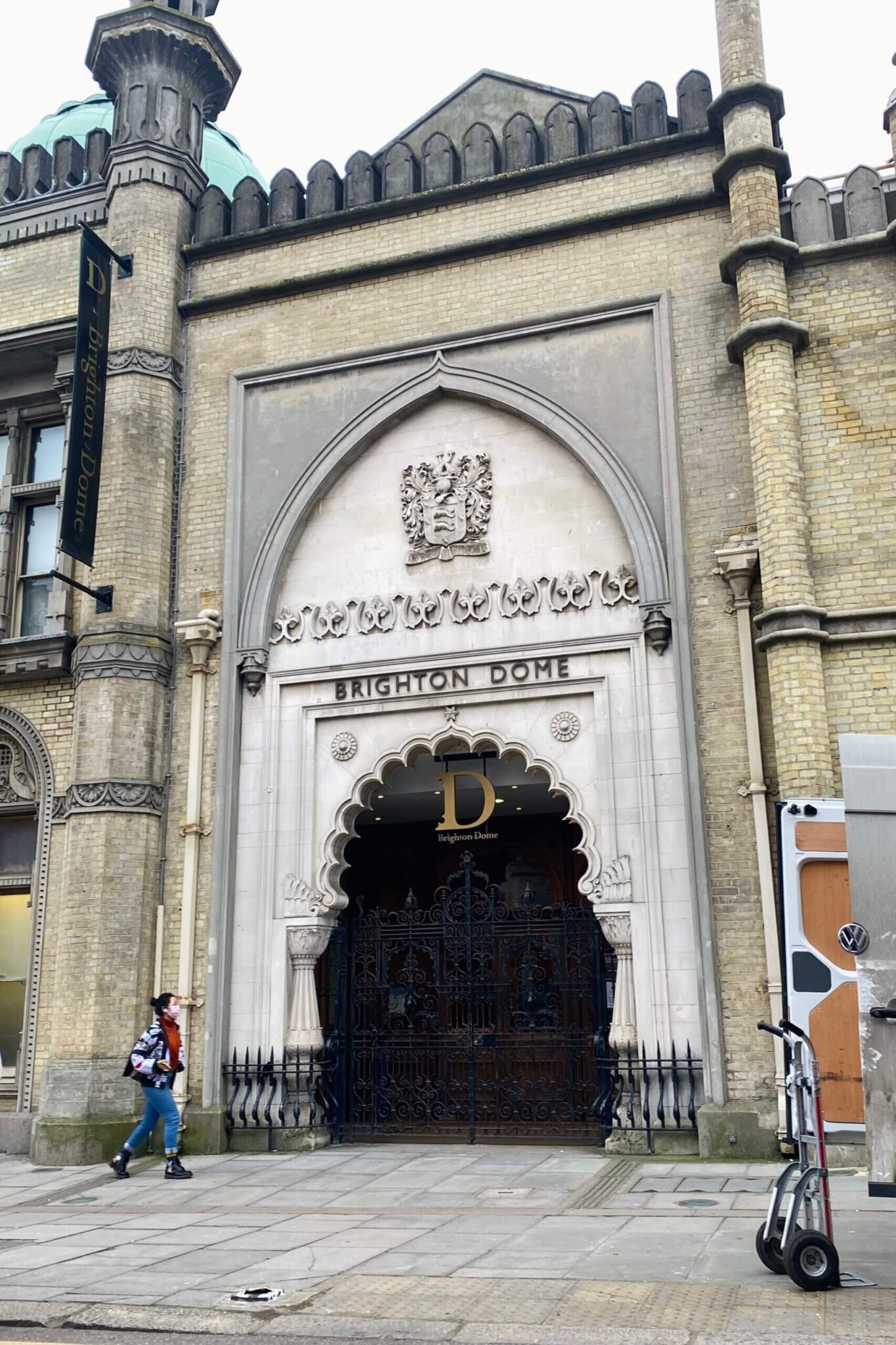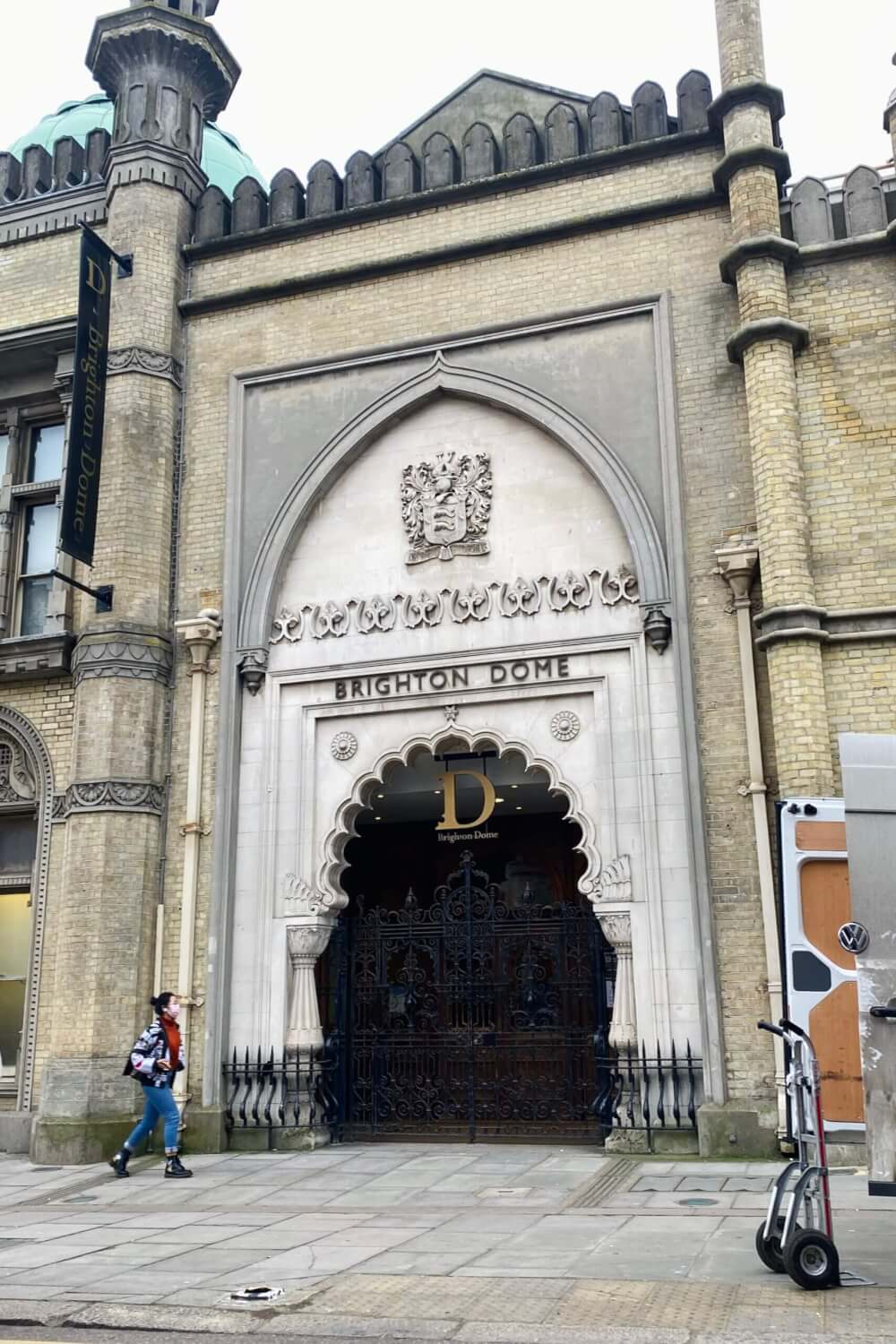 19. Visit the Colourful Hove Beach Huts
Lastly, if you are still searching for fun stuff to do in Brighton, head down to see the colourful beach huts at Hove Beach.
Hove used to be a separate town until it was combined with Brighton in 1997 to form the city of Brighton & Hove. If you've ever seen photos of colourful beach huts in Brighton, what you're actually seeing are the private beach huts of Hove.
It's possible to walk all the way along the coast from Brighton Beach to Hove Beach though, and it only takes around half an hour from the Brighton Palace Pier before you will see all the different painted beach huts.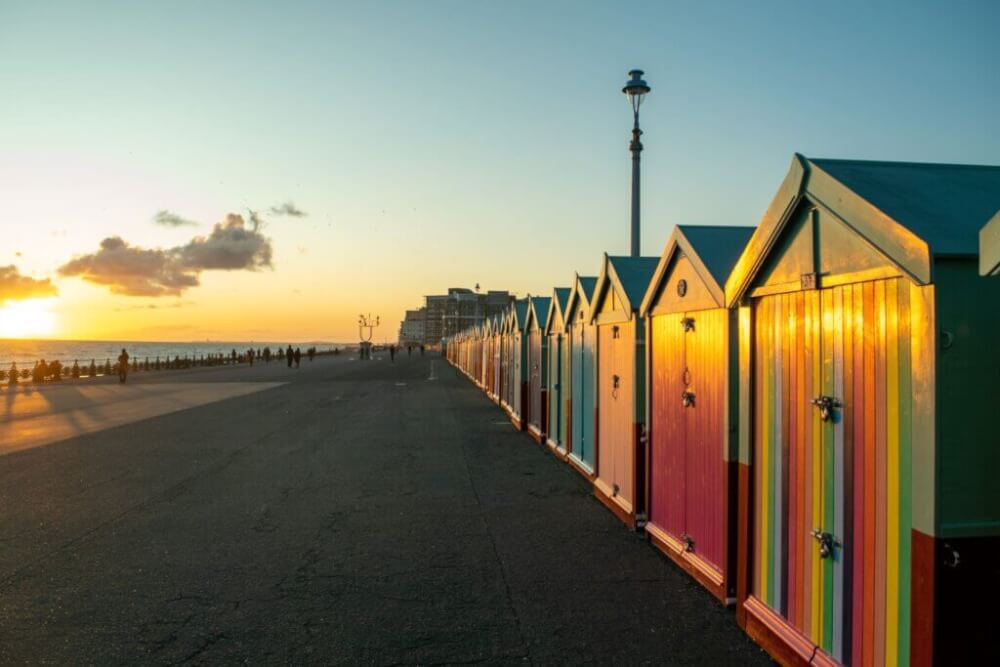 Did I miss any of your favourite things to do in Brighton?
Let me know in the comments so I can add more recommendations to my list!
---
Watch my most popular YouTube video this week:
---