*FYI - this post may contain affiliate links, which means we earn a commission at no extra cost to you if you purchase from them. Also, as an Amazon Associate I earn from qualifying purchases. Check out our Privacy Policy and Disclosure. for more info.
I got by with a little help from my friends! This post was made possible with the support of VisitLiverpool, who set me up with some of the activities featured in this post. All fangirl enthusiasm however remains my own.
If the long and winding road of Google search has brought you here today, odds are you've decided to search up all the top Beatles themed things to do in Liverpool.
If so, I love you (yeah yeah yeah).
Although I was born decades after John, Paul, George & Ringo took the world by storm with their swoonworthy bowl cuts, I've always been a huge Beatles fan, often to an alarming extent, like when I'd quote 'Strawberry Fields Forever' in high school English essays, or that horrible year that my accessory of choice was a Beatles logo dogtag engraved with "let it be".
And while I've since gotten better taste in jewelry, the embers of my fangirl days never fully burnt out, culminating in the planning of a bucket list trip to Liverpool to do ALL the Beatles things.
I wanted to stroll down Penny Lane, pose at the gates of Strawberry Field, dance on the sticky floors of the Cavern Club…… and I did! And it was EVERYTHING I dreamed of and more.
So if you want to copy all the things I did, in this post I'll be walking you through all the best Beatles things to do in Liverpool, from Beatles museums and tours to obscure 'only a deranged fan would want to do this' activities like visiting their childhood homes or the church where Lennon/McCartney first met.
Quick Links for Beatles Must-Dos if You're in a Rush
Yes. I really did put a lot of research into this… but you know that can't be bad! Here comes the fun, doo doo doo doo. Keep scrolling for the top Beatles must-dos in Liverpool.
1. Enjoy a Show at the Cavern Club
If there's one unforgettable activity that every Beatles fan should experience in Liverpool, it's catching a gig at THE Cavern Club.
This is of course the iconic Liverpool venue where John, Paul, George and….. Pete (at the time) were first 'discovered' by their manager Brian Epstein. Yes, the guy who went on to help them secure a record deal and change the world of music forever, blah blah blah.
Within the short span of 3 years (from 1961 to 1963), the Beatles played almost 300 gigs here, hence why it's such an important site of pilgrimage for Fab Four fans.
And while experiencing any gig must be epic here, I need you to catch one of their Beatles tribute shows by the Cavern Club Beatles. It's as close to the real deal as you can get, and hearing Beatles hits in the very space where they were discovered? You may pass out.
And whether you manage to get inside or not, the Cavern Club is worth stopping past for a quintessential Beatles Liverpool photo opp: the John Lennon Statue leaning cooly just outside the main entrance.
This bronze statue of a young John was first unveiled in 1997, and has been a signature Beatles photo opp in Liverpool ever since.
2. Hop on the Magical Mystery Tour
And if you're looking for the easiest way to check off multiple Beatles activities off at once, another Beatles must-do in Liverpool is the (very well named) Magical Mystery Tour.
This two hour tour begins at Albert Dock and includes visits to the Fab Four's childhood homes and schools as well as famous Beatles song namesakes like Penny Lane and Strawberry Field.
It's cheesy, but fantastic, with fun facts and anecdotes aplenty, along with an incredible soundtrack of gangster rap.
Just kidding – they play the Beatles. Obviously.
… oh and you get to sit on a bus with a bunch of other very nerdy Beatles-obsessed people, which is just unbelievably wholesome and cute. I'd highly recommend it! You can book it here.
Or for a cheaper alternative, there is also this hop on/hop off Beatles tour that goes to many of the same locations, and even includes a glass of fizz at an iconic Beatles pub!
3. Stop by the Beatles Story Museum
As the world's largest permanent exhibition dedicated to the Fab Four, the Beatles Story Museum is another must-do Beatles activity in Liverpool.
This immersive museum walks you through the story of the Beatles from their humble origins as the Quarrymen, through their glory days as the Beatles, and even to their solo careers following their official 1970 split.
… And honestly, this museum is SO fun.
There's replicas of the Casbah, Abbey Road Studios and The Cavern Club. There's tons of interesting displays and stories. It's really like a Beatles time machine come to life, with guaranteed tears for fans of all ages. I'd highly recommend adding this museum to your Beatles Liverpool bucket list – you won't regret it!
4. Pay a visit to the Liverpool Beatles Museum
For a lesser known Beatles museum experience in Liverpool, look no further than the plainly named "Liverpool Beatles Museum" (formerly the Magical Beatles Museum).
Located on Mathew St, just steps away from the Cavern Club, this museum lays claim to 'the largest Beatles collection in the world', with over 1000 items to browse across three floors.
From original instruments and personal items to handwritten letters and more, this museum is a treasure trove for Beatles fanatics, with a fun personal link to the band as well (although a few degrees separated), since it was created by Roag Best (half-brother of Pete Best), the Beatles drummer before Ringo came on the scene.
Fun fact: Before this spot became a Beatles museum, it was a pub called "Lennon's Bar".
5. Go for a drink at The Grapes
Another top Beatles thing to do in Liverpool is having a pint in one of the Fab Four's old watering holes.
Luckily, they enjoyed a good drink, so there's several to choose from, with the Grapes Pub being the most famous.
Known as the boys' go-to spot to down a pint or two before shows at the Cavern Club (which was, believe it or not, a dry establishment), grabbing a drink here is a must for any fans' Beatles bucket list.
NOTE: The pub underwent a controversial renovation in 2019 that modernized the facilities substantially, but there are still bits of the Beatles connection present, including a bench that proudly declares "The Beatles Sat Here".
6. Enjoy a treat at Fab4 Cafe
Looking for Beatles activities in Liverpool that cater to foodies? Be sure to check out the Fab 4 Cafe.
At its main location in the Beatles Story Museum, eager fans can enjoy their refreshments under Cavern Club inspired arches, with a chill Beatles soundtrack to mask your sounds of slurping and chewing.
There are a handful of Beatlesy drinks on offer here, like the Twist and Shout smoothie and Love Hearts Milkshake, but for the most part, what they serve are classics like coffee and cafe-style nibbles. Either way, still a fun stop for any Beatles fan.
They also have a second location at the Mersey Ferries Terminal.
7. Pose with the Beatles Statue at Pier Head
Another Beatles must-do in Liverpool can be found at Pier Head, where grabbing a photo at the famous Beatles Statue is like a rite of passage for any fan in the city.
Donated to Liverpool by the Cavern Club organisation, this set of bronze statues was officially unveiled in 2015, 50 years after the Beatles' final public appearance in the city.
Fun fact: These statues weigh 1.2 tonnes total! But not to worry, clearly they carry that weight rather well.
8. Laugh at the CavernWalks Shopping Centre Beatles Statues
Okay, now if you're into statues, I need to show you one of my favourite Beatles activities in Liverpool…
Visiting these hilariously inaccurate statues in the Cavernwalks Shopping Centre:
I mean… come on. Even the statues themselves look shocked and disappointed.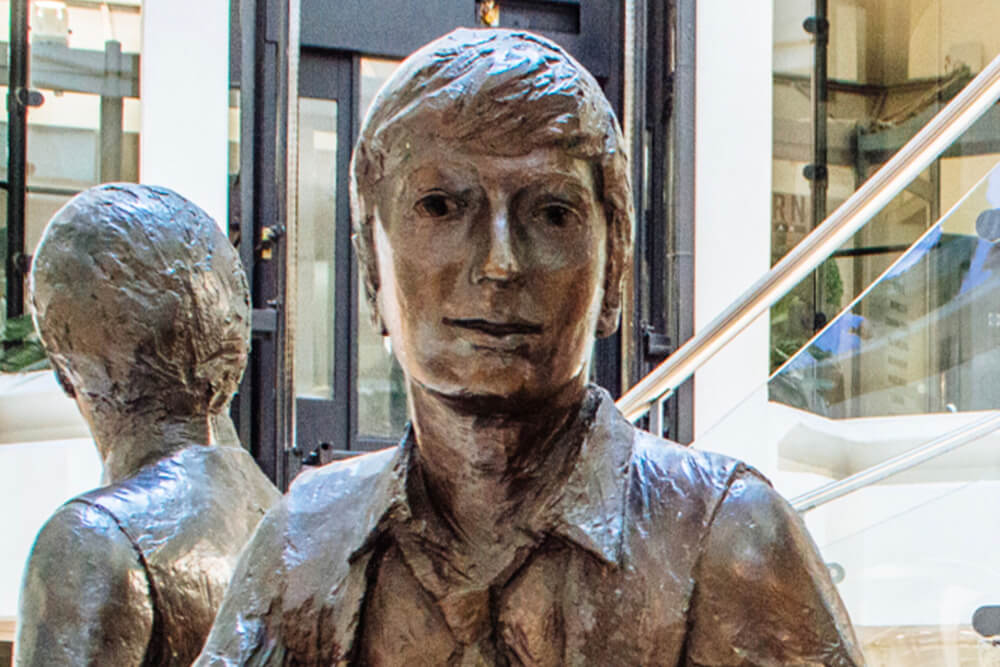 NOTE: As of 2019, this shopping centre was sold to a hotelier and is poised for redevelopment, although we haven't been able to find info on whether or not the statues still remain there. If you're not able to find them, no great loss really.
9. Visit the Fab Four's former homes
When in Liverpool, another very popular thing to do for Beatles fans is visiting the Fab Four's former homes, although they can really vary in terms of 'things to do'.
Some offer full on tours for visitors, while others are more a "pssst – quick! Take my pic before the owners come home".
Two spots well worth visiting (if you need to prioritize) are…
Mendips, AKA 251 Menlove Avenue (childhood home of John Lennon from age 5 – 23)
20 Forthlin Road (childhood home of Paul McCartney from 1955 until his late teens).
Both homes are now open to the public through a joint tour operated by the National Trust, allowing fans a glimpse into the two homes, where Lennon-McCartney wrote some of their earliest hits, including 'Please Please Me', 'She Loves you', 'Love Me Do', and 'I Saw Her Standing There'.
NOTE: This tour is the only way the public can access these homes, meaning pre-booking is essential!
Other spots you can drive by for a quick look/photo include…
12 Arnold Grove: where George Harrison was born in 1943
25 Upton Green: George's main childhood home, where he lived for twelve years… and it's now an Airbnb! Click here for the listing.
9 Madryn Street: where Ringo Starr was born in 1940
10 Admiral Grove: where Ringo lived for twenty years before rising to fame
10. Visit the church where John and Paul first met
Okay, looking for a more obscure Beatles activity in Liverpool?
Look no further than St Peter's Church, the Grade II listed parish church where John Lennon and Paul McCartney met for this first time!
Another Bonus Beatles must-do here is looking for a gravestone bearing a familiar Beatles name… none other than Eleanor Rigby herself.
It's fairly easy to miss, as Eleanor's name is found only in the second half of the gravestone, but look for the stone bearing John Rigby's name and you'll find her.
Now… Did this gravestone really inspire the song Eleanor Rigby? According to multiple sources, including Paul McCartney himself, the answer is no.
At best, the gravestone may have subliminally influenced McCartney when choosing a name for the song (which at different stages of the writing process was Daisy Hawkins and Eleanor Bygraves).
In all likeliness however, the name appearing on a gravestone at St Peter's is simply a coincidence… but still, it's a pretty neat one, considering the significance of the church itself!
11. Find the Eleanor Rigby Statue
On Stanley St, you'll find another perfect photo opp for Beatles fans visiting Liverpool: a statue of "Eleanor Rigby" sat on a bench, with a handbag on her lap and a shopping bag/newspaper next to her.
Add on a plaque saying "To all the lonely people…" and you have a true magnet for cheesy Beatles fans.
No shame, I definitely have it on my list for the next time I visit Liverpool!
12. Visit Strawberry Field
While you're making visits to see fictional characters like Eleanor Rigby, why not make a trip to see the 'Strawberry Field' that inspired Strawberry Fields Forever as well?
Once upon a time, Strawberry Field was a children's home… and it was there that John Lennon supposedly used to play in the gardens, a memory that would one day inspire the famous lyrics of 'Strawberry Fields Forever".
Today, the iconic red gates of the property are a site of pilgrimage for Beatles fans from around the world, and since 2019, it has become a full-on tourist attraction with interactive exhibitions about the space and its connection to John Lennon.
… but yes, back when I visited, it was nothing more than a gate… and I still went, so I feel like that should tell you everything you need to know about me!
13. Go for a stroll on Penny Lane
Another shamelessly dorky Beatles activity you can do in Liverpool is going for a stroll down Penny Lane, a place which I'm certain has already gotten a certain melody in your ears and in your eyes by now…
Luckily, Penny Lane is a real attraction you can visit beneath the blue suburban skies of Liverpool's Mossley Hill neighbourhood.
Unfortunately, the bus stop the song refers to is no longer there, but nothing can stop you from grabbing a photo at one of Penny Lane's iconic street signs! Here, see, all the cool kids are doing it…
14. Have a pint at the Philharmonic Dining Rooms
Alright, let's get back to drinking. Sure, there are likely dozens of pubs that can say the Beatles once drank there, but one spot that is particularly famous is Liverpool's Philharmonic Dining Rooms.
After all, it was John Lennon that once said "the price of fame is not being able to go to the Phil for a quiet pint"… and decades later in 2018, Paul McCartney would cement this Beatles connection with a surprise gig at the Phil while filming Carpool Karaoke.
NOTE: Some Beatles tours in Liverpool like this one include a complimentary glass of fizz at the Phil before your tour, so be sure to look into that if you want to tick multiple items off your Beatles bucket list at once!
15. Stop by the Blue Angel
Alright, I'm sure you're sensing a theme here. Next stop on our Beatles Liverpool drinking list is the Blue Angel, a pub once owned by the Beatles' first manager, Allan Williams.
Most significantly, it's where Pete Best first auditioned for the Beatles (in those pre-Ringo days), and also where the Fab Four supposedly auditioned for Larry Parnes in 1960, eventually landing them their first touring gig outside of England.
These days, it's mainly a nightclub and student hang known for cheap drinks and sticky floors, but if you're interested in more obscure Beatles lore, this is definitely a great place to stop during your Beatles-themed Liverpool itinerary!
16. Check out the Empress
While it's no longer open today, once upon a time, the Empress was Ringo's local, and also where his mother worked when he was young.
Hence why it makes its appearance on the cover of Ringo's first album, aptly named Sentimental Journey.
These days, a big colourful mural of Ringo has been painted on the side of the building, making this yet another great Beatles photo opportunity in Liverpool to enjoy!
17. Rock the Casbah Coffee Club
Another fun thing to do for Beatles fans in Liverpool is visiting the famous Casbah Coffee Club.
After all, it was here that the Beatles played their first ever live gigs and according to some sources, they were such nobodies at the time that they even pitched in with painting the walls.
… It helps of course that the Casbah was owned by Mona Best, mother of the Beatles' original drummer, who set the club up in the basement of their family home.
While the Casbah didn't last as a venue for long, it has since opened its doors as a tourist attraction, available for tours bookable here.
18. Grab a bite at Blakes Restaurant
Looking for more foodie-friendly Beatles things to do in Liverpool? Grabbing a bite at the Hard Days Night Hotel (specifically at Blakes Restaurant) is a must.
Sure, the menu here isn't aggressively Beatles-themed, but their restaurant slogan is "Where rocking horse people eat marshmallow pies", so it's not entirely without cheese.
Add on the Fab Four photo wall decor and the Beatles-centric restaurant soundtrack and you have a winning spot to grab food on your Liverpool Beatles trip.
19. Have a cocktail at Bar Four
Continuing on with our list of boozy Beatles themed things to do in Liverpool, make sure you add Bar Four to your list!
Here, you'll find a lovely assortment of cocktails, all appropriately Beatles-themed, from the 'Beatle Colada' and 'Daq in the USSR' (a daquiri, of course) to the 'Long and Winding Ice Tea' (a Fab 4 Twist on the Long Island) and 'Honey 'Can't Buy Me Love' (an amaretto and honey liqueur-based cocktail with fresh honey).
20. Visit Streets Named After the Beatles
Another obscure Beatles thing to do in Liverpool is heading out to the city's Kensington neighbourhood, where the most diehard of fans can pose with street signs bearing the iconic names of John, Paul, George & Ringo.
Back in 1981, a housing project here decided to name multiple streets after members of the Fab Four, giving rise to fun names such as…
John Lennon Drive
Paul McCartney Way
George Harrison Close
Ringo Starr Drive
Fun fact: In June 2022, Mathew St (yes, of Cavern Club fame) was temporarily renamed "McCartney St" in honour of Paul McCartney's 80th birthday.
21. Enjoy The British Music Experience
Last but not least, it's worth mentioning the British Music Experience, an interactive attraction that spotlights British popular music from 1944 to present day.
Sure, it's not exclusively Beatles themed, but there's a few Beatlesy items in their collection, and if you're a big fan of British music, there's plenty for you to discover, with instruments, memorabilia, and costumes representing the rich spectrum of British music stars from Freddie Mercury to the Spice Girls.
If you're a British music geek, this is definitely one activity that you don't want to miss!
Did I miss any of your favourite Beatles activities in Liverpool?
If I've missed any noteworthy spots, then please let us know in the comments so I can add more recommendations to our list!
---
Watch my most popular YouTube video this week:
---