*FYI - this post may contain affiliate links, which means we earn a commission at no extra cost to you if you purchase from them. Also, as an Amazon Associate I earn from qualifying purchases. Check out our Privacy Policy and Disclosure. for more info.
Poole is a coastal town in Southwest England often overshadowed by its more famous neighbour, Bournemouth… but for those who end up here (whether en route to the Jurassic Coast, or because they fell for a Poole boy like me), there are plenty of fun surprises to discover.
For instance, did you know that bath bomb mega-corp LUSH got its start here, or that it's home to one of the largest natural harbours in the world…? Or that one of the priciest residential strips of land in the world is right here along the beach?
Well, for the past seven years, I've been visiting Poole at least twice a year, often for weeks at a time, thanks to that aforementioned Poole boy. As a result, I now practically know the place by heart.
So if you're wondering what to do in Poole, I've got you. From idyllic boat cruises to gorgeous hidden parks, here are the top fun things to do in Poole, England.
1. Enjoy the Quay and go on a harbour cruise
Poole is known for containing the largest natural harbour in Europe (and second-largest in the world) so exploring the quay is a must-do (not to be confused with 'The Quay', which is the local Wetherspoon's… conveniently located on the quay for optimal confusion).
While you're there, going on a harbour cruise is one of the best things to do in Poole, especially if you choose one that explores the famous (and stunning) Jurassic Coast.
Make sure you also spend some time exploring the pubs which line the Quay, my faves include the Grade II listed Customs House, the Poole Arms, the Jolly Sailor and Lord Nelson.
(But of course, 'The Quay' is forever the most affordable option).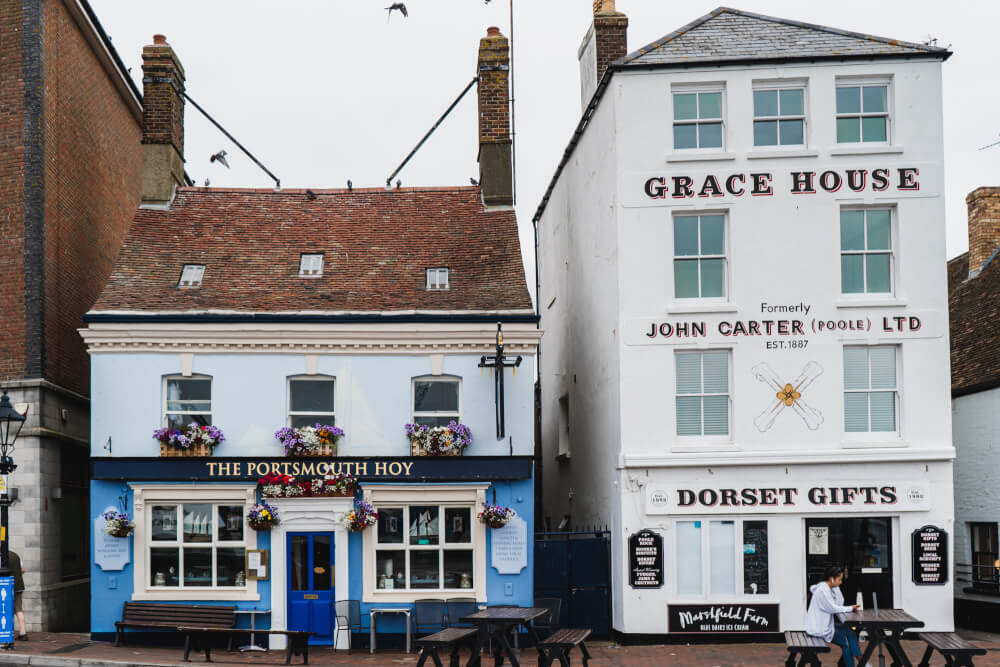 2. Follow the Cockle Trail
One of the coolest free things to do in Poole is to learn about the city's history by following the Cockle Trail.
Poole was a very prosperous trading town between the 16th and 19th centuries, so there are many beautiful Georgian buildings still standing which reflect this period of prosperity.
The Cockle Trail is a self-guided tour of Poole's Old Town area and is a fun way to explore while also getting a crash course in the town's history.
You follow a number of cockle brass plaques set into the pavement throughout the town and at each stop, there's some information about the area in the downloadable guide. Is it a shamefully nerdy activity? Absolutely… but it's also a fun way to explore town, especially with young ones in tow.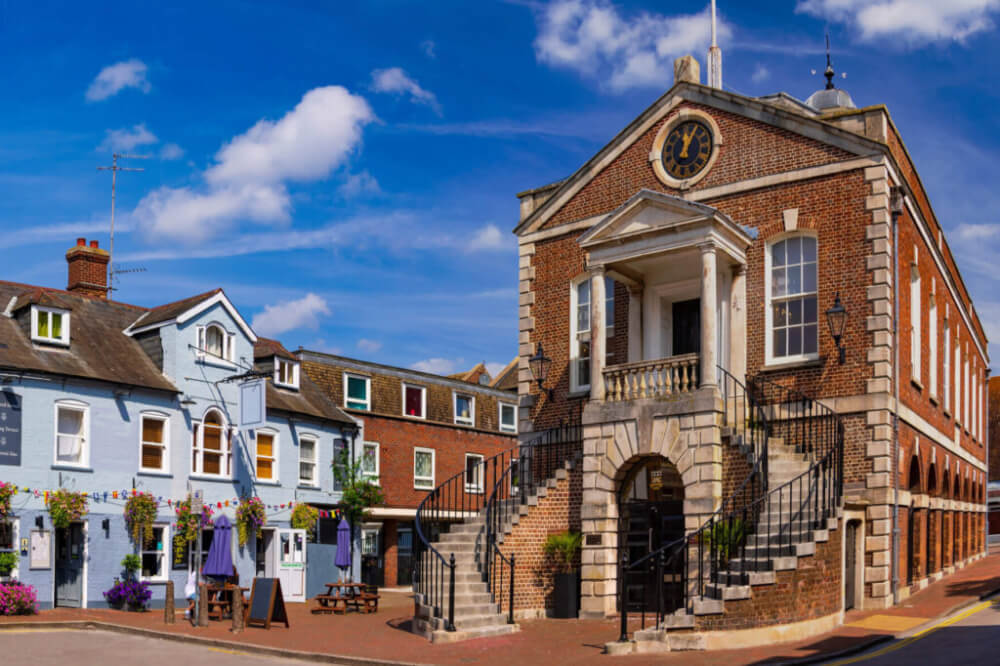 3. Enjoy the Beaches
Since it's located on the Dorset Coast, one of the most popular things to do in Poole is to spend the day (or multiple days) enjoying the sun and sand at the local beaches.
Sandbanks Beach is definitely my favourite of Poole's beautiful beaches, with spotless sands and clear waters, as well as plenty of places to eat or drink lining the beachfront. If you want to play beach volleyball, go kitesurfing or wind boarding you can do that here, but it's also nice to just swim or sunbathe and spot local dogs. THERE ARE SO MANY OF THEM.
Another great beach can be found at Canford Cliffs, a suburb halfway between Sandbanks Beach and Bournemouth. The beach here backs onto some cliffs (hence the name) and it's a great place for a walk.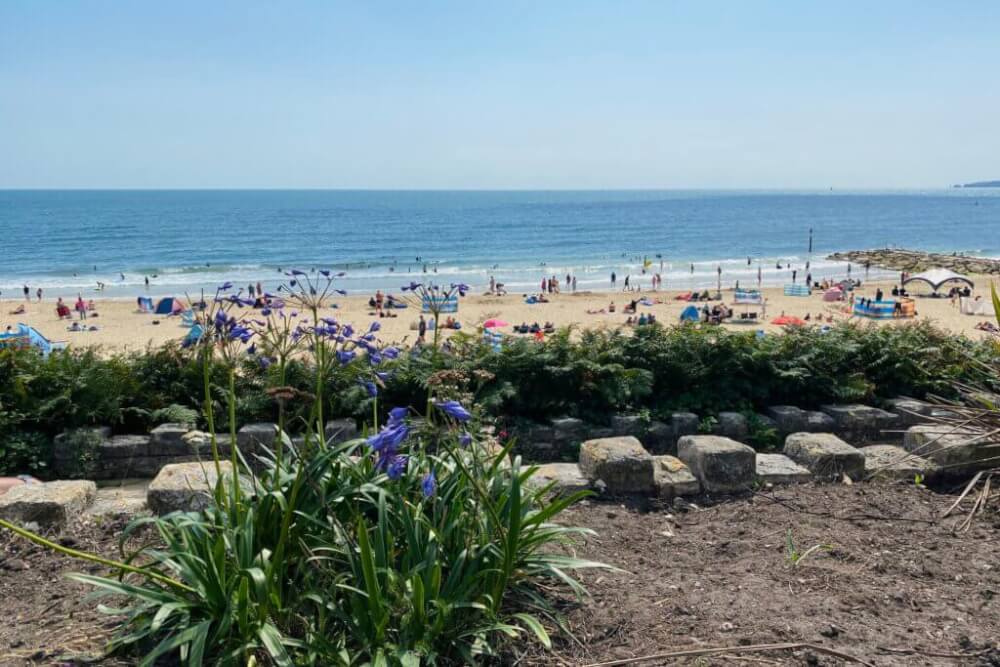 4. Go kayaking or paddle boarding
Since it's a harbour town with great beaches, it's no surprise that there are some excellent water-based activities in Poole to choose from.
Going kayaking or paddle-boarding is a very fun and unique way to explore the huge harbour area of Poole, which contains a number of islands. If you are a confident kayaker/paddle-boarder and have your own kayak or paddleboard then this map gives some great info on getting in the water around Poole.
Even if you're a beginner, a quick Google search brings up a number of tour companies offering kayak or paddle-boarding excursions to join!
Trust me though, if I can do it, so can you.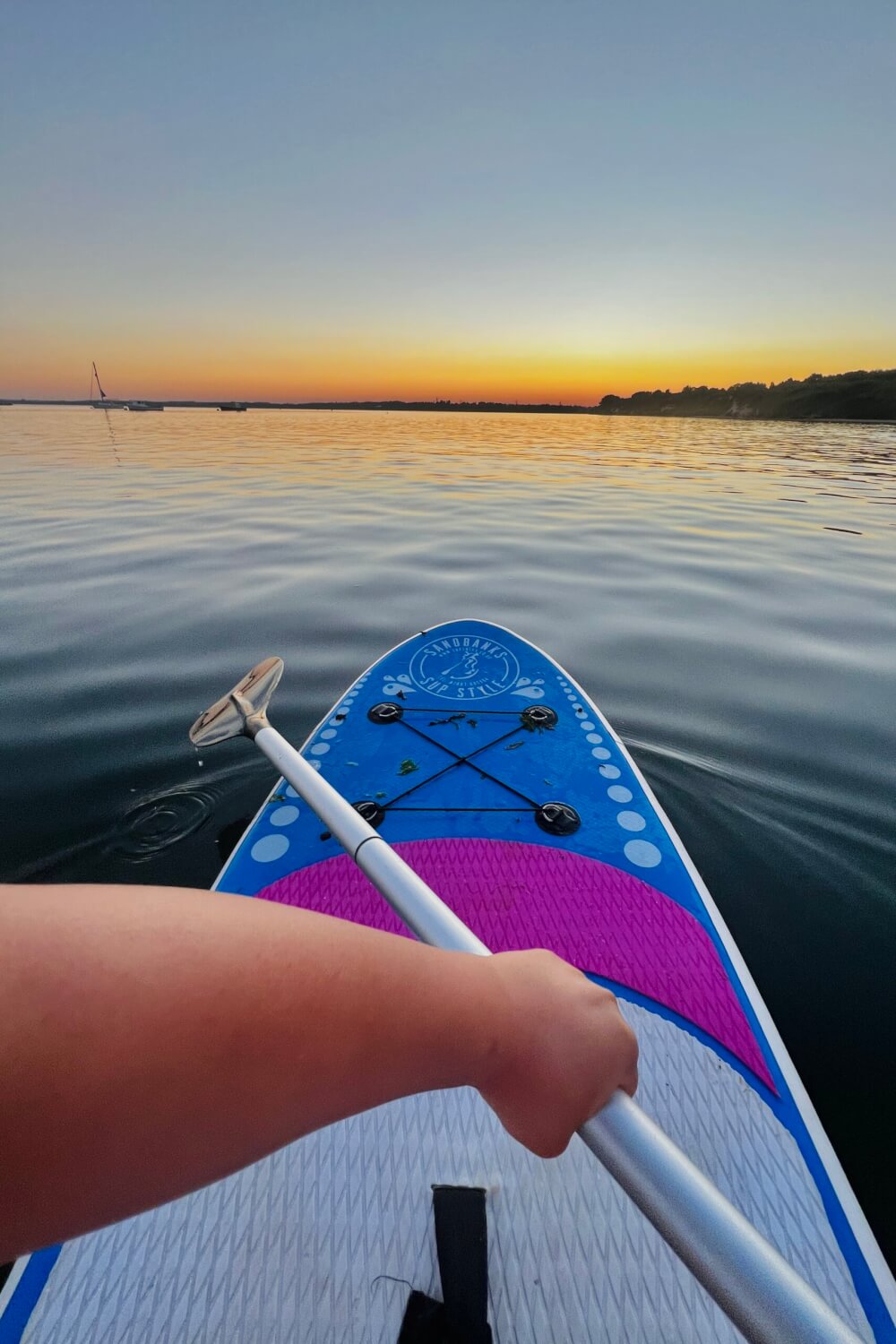 5. Explore Compton Acres
Compton Acres is an incredible formal garden that once belonged to a wealthy margarine magnate (lol) and is now a popular tourist attraction in Poole.
There are actually five different gardens spread out over ten acres here, along with a café & tearooms, a pizzeria, and a bakery if you need some sustenance while frolicking among the flowers!
There's also a beautiful Italian villa that's popular for weddings as well as multiple fountains, statues, topiary and ponds.
The five garden areas include:
A formal Italian garden
A Japanese Garden
A Heather Garden
A Rock and Water Garden
And a Wooded Valley
You could easily spend the entire day wandering around and taking photographs, so make sure you plan accordingly!
PRACTICAL INFORMATION FOR VISITING: Compton Acres is open seven days a week from 10am – 5pm (closed on Christmas Day, Boxing Day and New Year's Day) although the cafés and shops have slightly varied opening times so check the website if you wish to ensure they are open when you visit. Entrance costs £8.95 for adults but there are a number of concessions and passes so make sure you check the website for those too!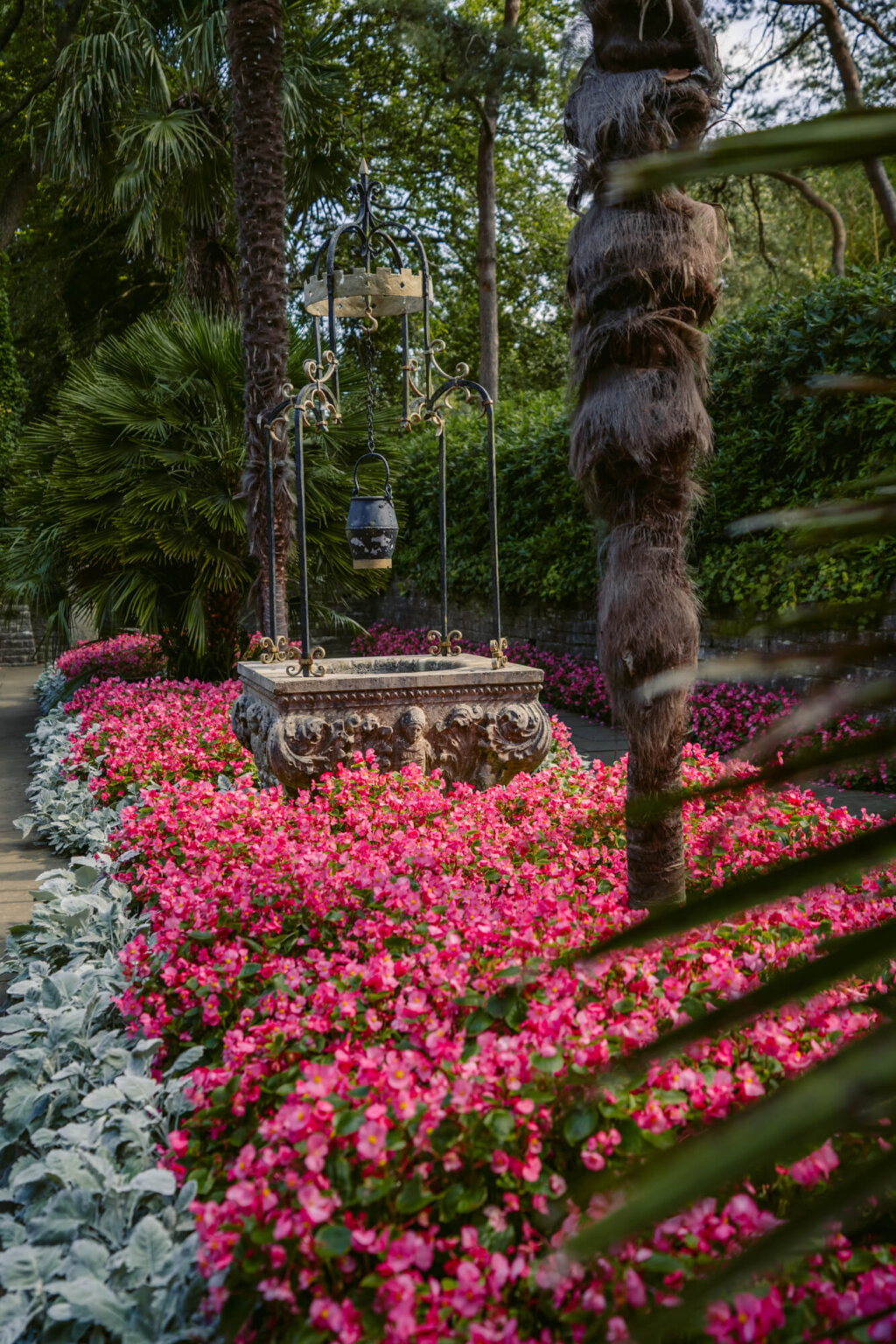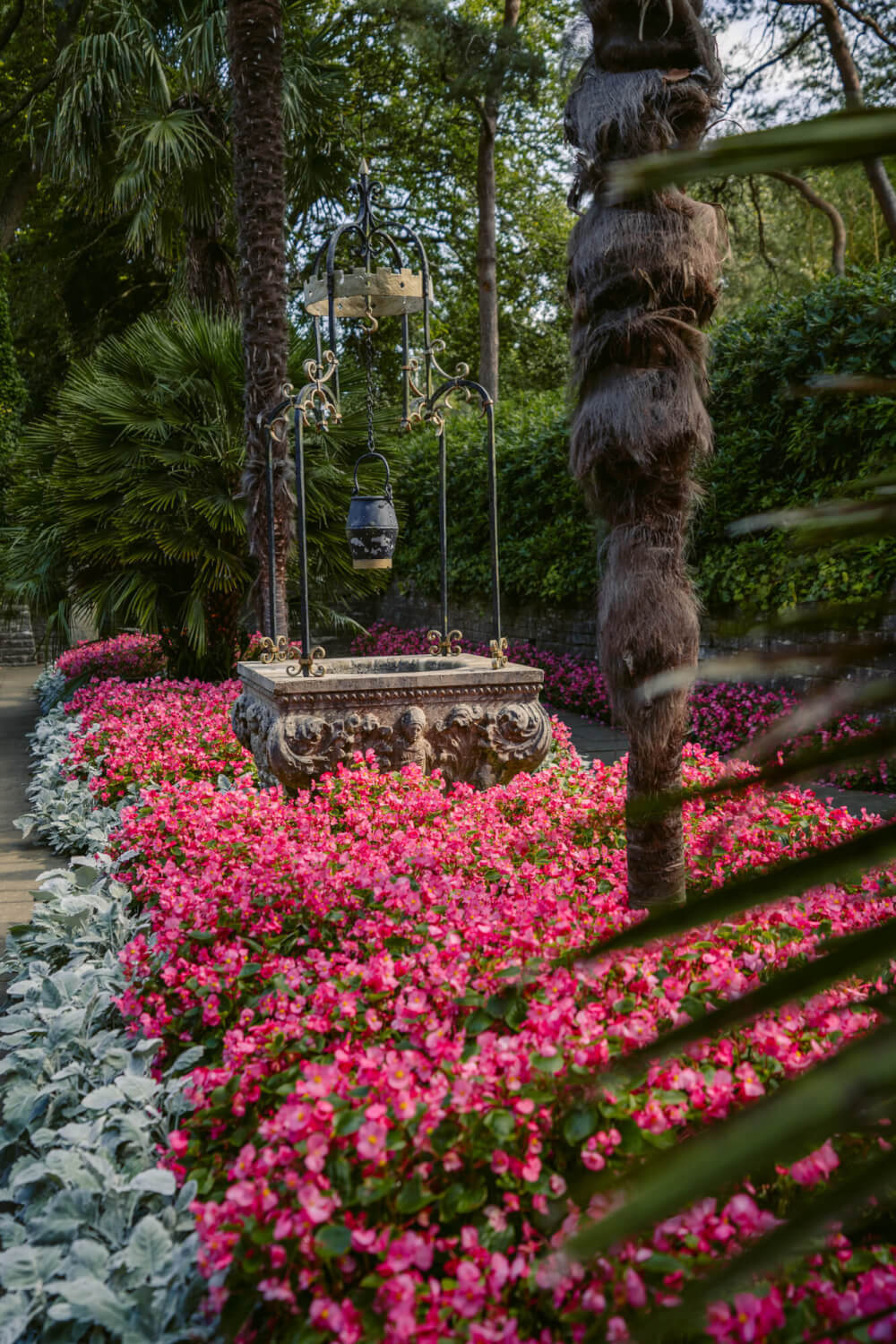 6. Stop by the world's first-ever LUSH
If you're looking for cool things to see in Poole then don't miss out on visiting the world's first LUSH store!
Today the incredible-smelling LUSH cosmetics stores can be found all around the world, but the company originated in Poole when founders Mark Constantine and Liz Weir opened a store on the High Street in 1995.
That first-ever LUSH store is still located in that original building, at 29 High Street, so if you're a fan of their bath bombs (and everything else), you'll want to visit this special LUSH!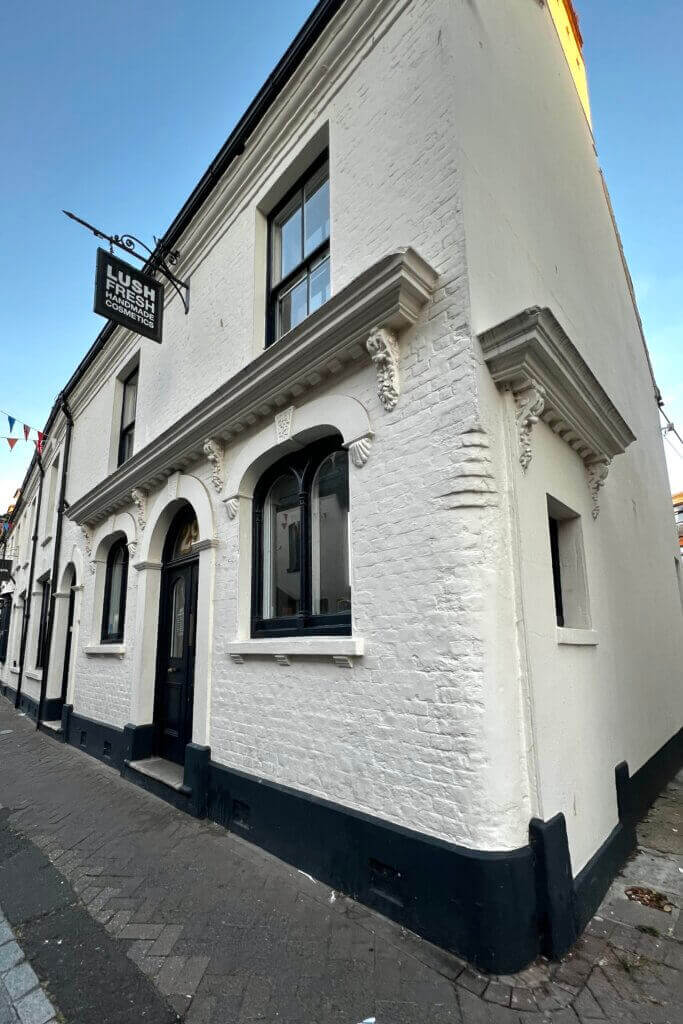 7. Visit Some Beautiful Parks
Aside from Compton Acres, Poole is home to a number of gorgeous parks if you need a break from all the beach and harbour activities.
Poole Park is the most central of these, located next to the boating lake adjacent to the city centre, and has been a popular recreational area since it was established during the Victorian era.
Along with the boating lake, there's plenty to do here, including tennis courts, a bowling green, miniature golf, a cricket field (with a pavilion), multiple cafés, and an adorable rideable mini train called the Poole Park Railway.
Hamworthy Park is located on the western side of Poole Harbour, with its own little beach and beach huts as well as the park area. There are plenty of facilities here and a splash pool in summer for small children.
Upton Country Park is the furthest away, as it's located about a 10-minute drive north of the city centre, but it's well worth the trip.
Here there are 140 acres of gorgeous gardens, parkland, woods and shoreline to explore, as well as a Grade II listed Georgian Mansion in the middle. The mansion is only open to visitors on selected dates, but the park is open for free (aside from parking costs) every day. Check out the website for more info!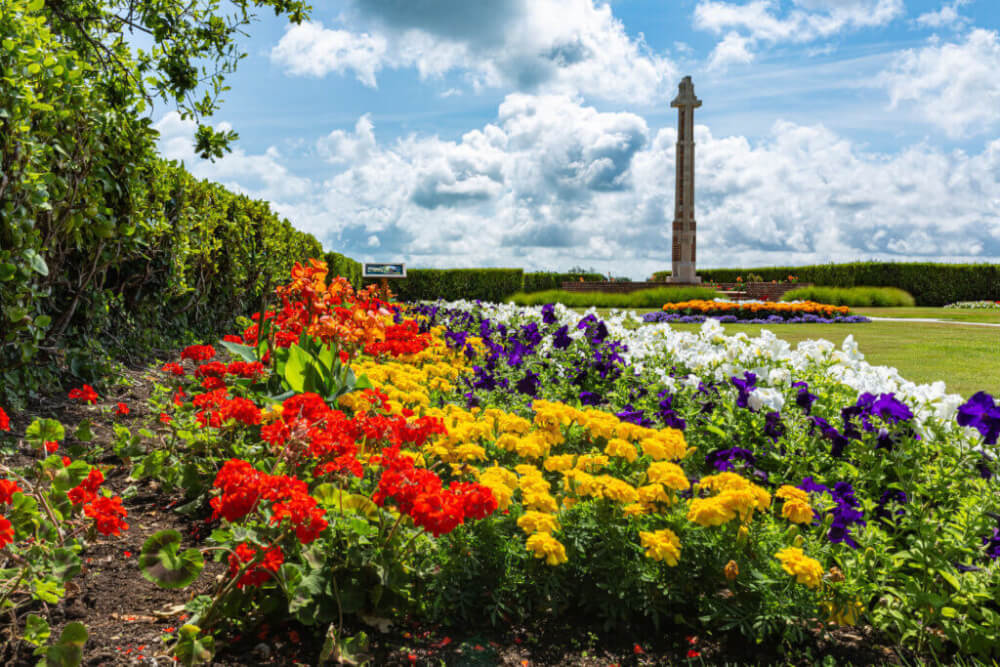 8. Cheer on the Poole Pirates at the Poole speedway
One of the most popular Poole attractions is the local speedway (also known as Poole Stadium), which is the home base of the Poole Pirates motorcycle speedway team.
The Poole Pirates have been the UK champions in motorcycle speedway ten different times, so getting the opportunity to see them in action is a must if you're into motorbikes, racing and adrenaline!
Check out this website to see dates of when the Poole Pirates will be racing if you want to time your visit to when they will be on their home turf of Poole Stadium.
9. Learn About Poole's History at the Poole Museum
Visiting a museum is a great way to learn about local history in a new destination and the Poole Museum is no exception.
Here you can learn about Poole's history from prehistoric times until today, with plenty of fun exhibitions including an interactive 1950s-style kitchen. Even the museum itself is historic, as it's housed inside a Victorian-era quayside warehouse, although the fancy glass atrium was added in 2007.
One of the highlights of Poole Museum is the Poole Logboat, a 2,000-year-old boat from the Iron Age which was found in the harbour when it was being dredged in 1964! My personal highlight though is this viral contribution from a little girl named Bethan, who donated her special rock so it could be displayed.
I don't know about you, but I would personally take a bullet for Bethan's rock.
Of course, there are also plenty of interesting events and changing exhibitions to discover, so check out what's on when you're in Poole.
PRACTICAL INFORMATION FOR VISITING: The Poole Museum is totally free to visit and open daily from 10am – 5pm between April and October. Check the website for winter opening times if you are planning a visit then.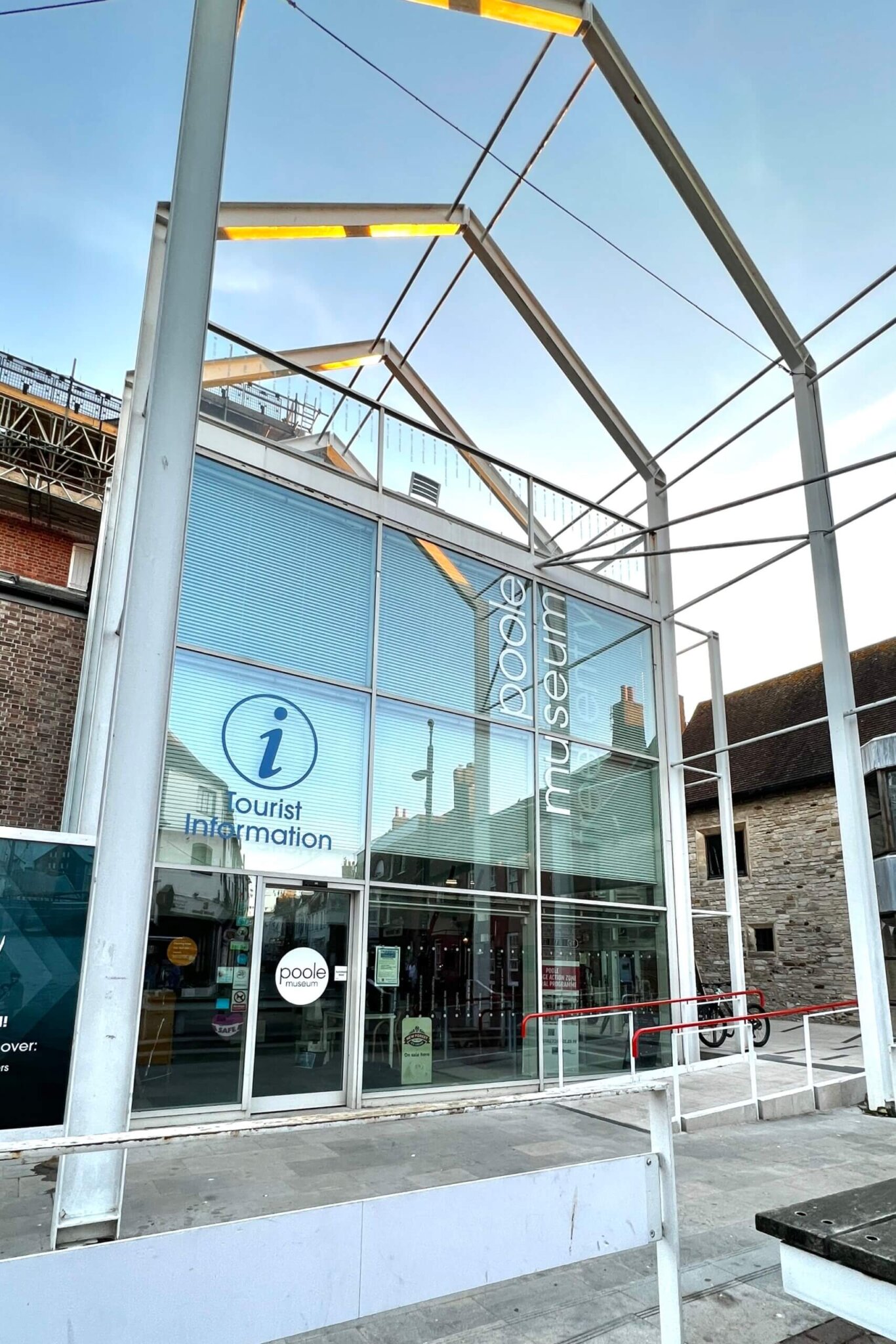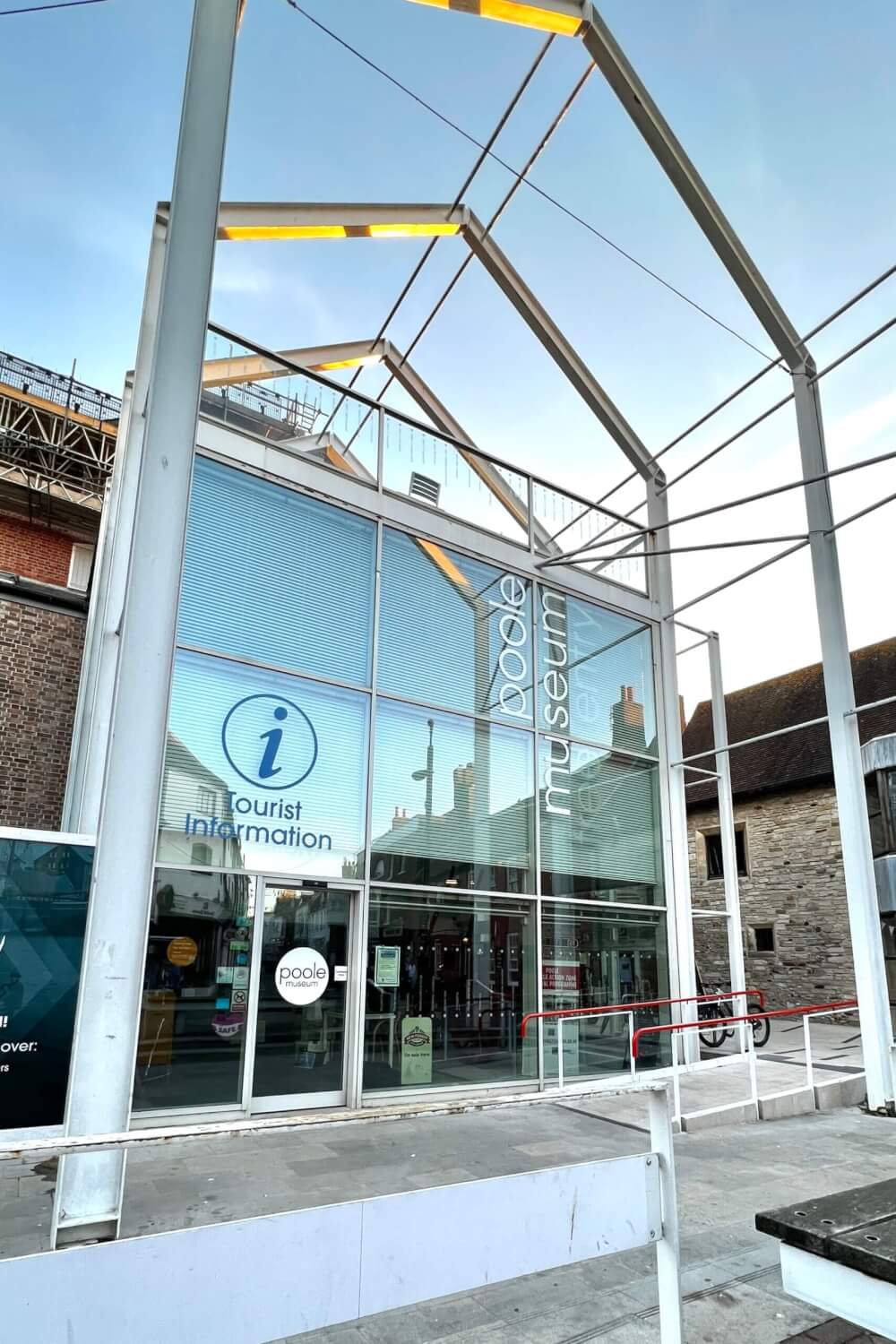 10. Go Back in Time at Scaplen's Court Museum
For museum fangirls, there's another great museum in Poole that's worth visiting, especially if you like hands-on activities that make you feel like you've gone back in time.
Scaplen's Court Museum and Garden is located inside a Grade I listed house that dates to the 15th century, along with the beautiful walled garden next door.
Both the garden and museum interior demonstrate life in Poole through the ages, with displays including a Victorian schoolroom, kitchen, nursery and more.
Scaplen's Court is only open during the summer months, but if you happen to be in Poole during summer then it's a lovely spot to learn as well as enjoy the little pop-up café in the garden.
PRACTICAL INFORMATION FOR VISITING: Like the Poole Museum, Scaplen's Court is free to visit, although donations are welcome. This museum is run by volunteers, so it's always best to check the website in case they're unexpectedly closed. The usual summer opening hours are daily from 1pm – 4pm and from 10.30am – 4.30pm during school holidays.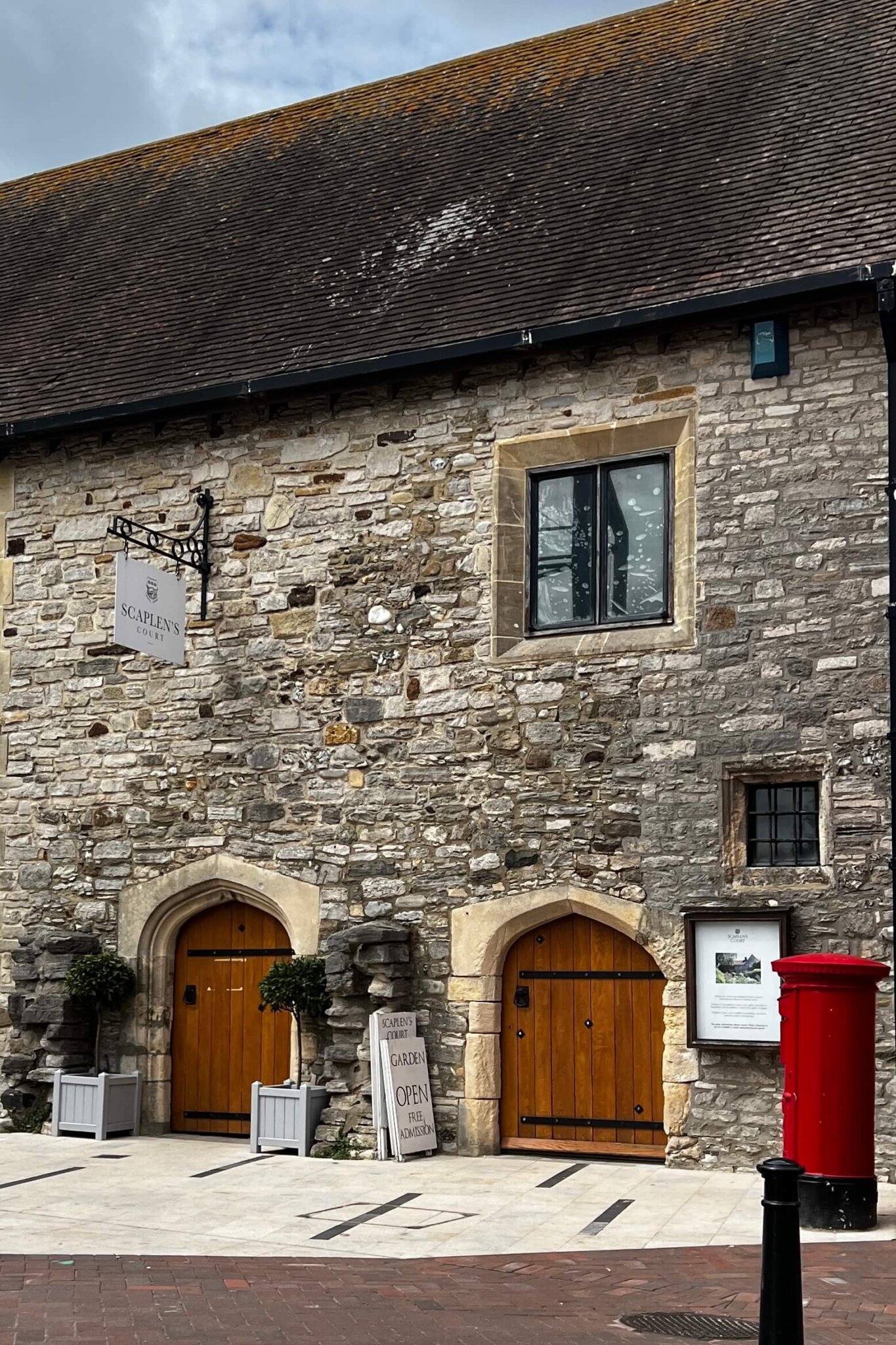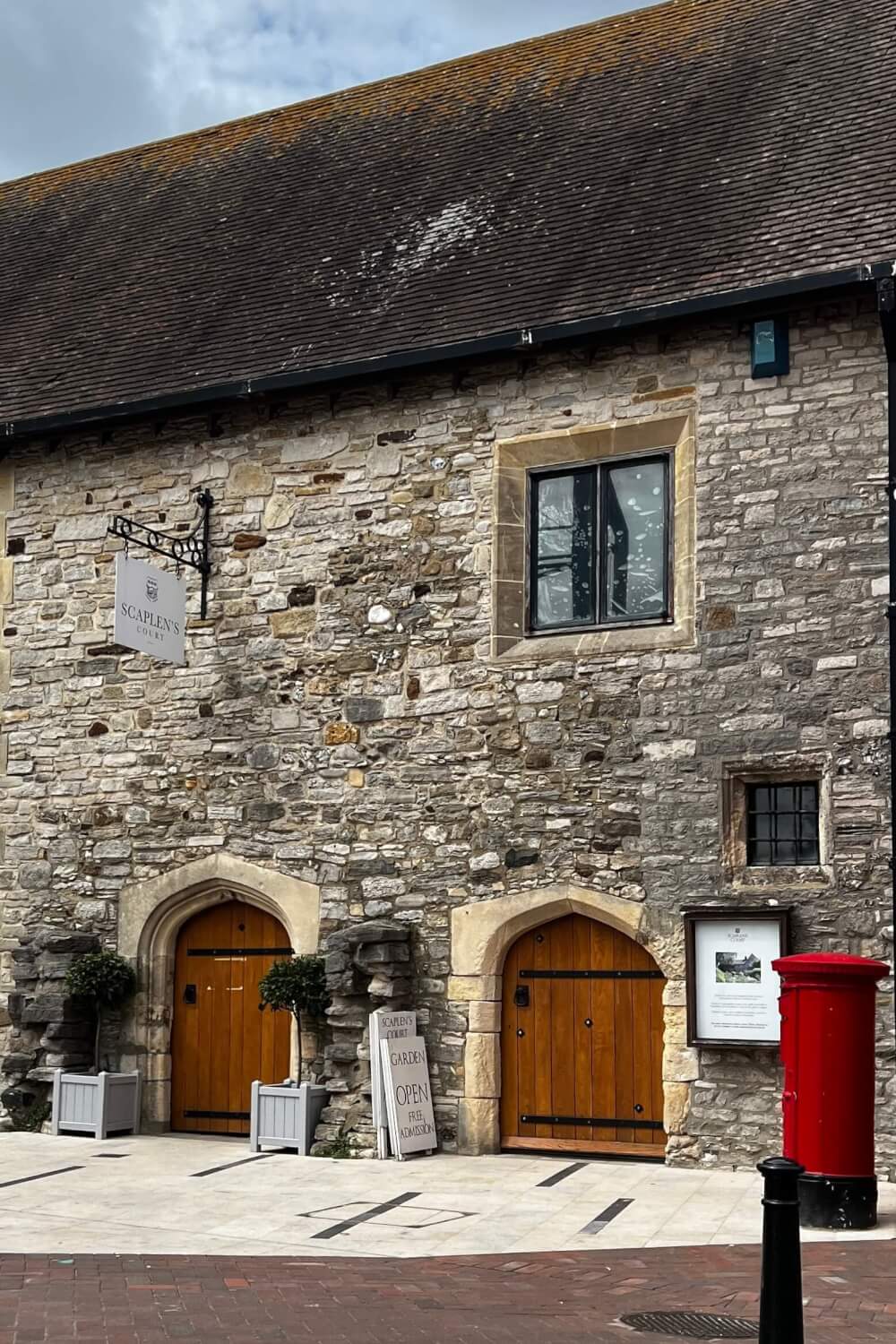 11. Spend a day at Tower Park
Among young locals, one of the top things to do in Poole is spending a day at Tower Park, which is neither tower nor park, but rather a huge leisure, entertainment and retail complex.
Tower Park contains plenty of places to eat along with a cinema, bowling alley, casino and the Splashdown Water Park. This is definitely a highlight, especially in summer, with 13 different waterslides, both indoors and outside!
There's also a normal splash pool and a jacuzzi if you prefer a bit of relaxation to crazy waterslides.
12. Head over to Brownsea Island
There are eight different islands located within Poole Harbour, although Brownsea Island is both the largest and the most famous.
Brownsea Island is known as the birthplace of the Scouting movement since Robert Baden-Powell (the founder of the Scouts as well as Girl Scouts/Girl Guides with his sister) held the first-ever scouting camp here in 1907.
Following on with that legacy, visitors to Brownsea Island can go camping on the island in summer, and there are also open-air theatre performances held throughout the season.
The island's other claim to fame is its wildlife-spotting potential, with many birds choosing to nest on its shores, as well as being one of the only places in the United Kingdom where you can still see red squirrels.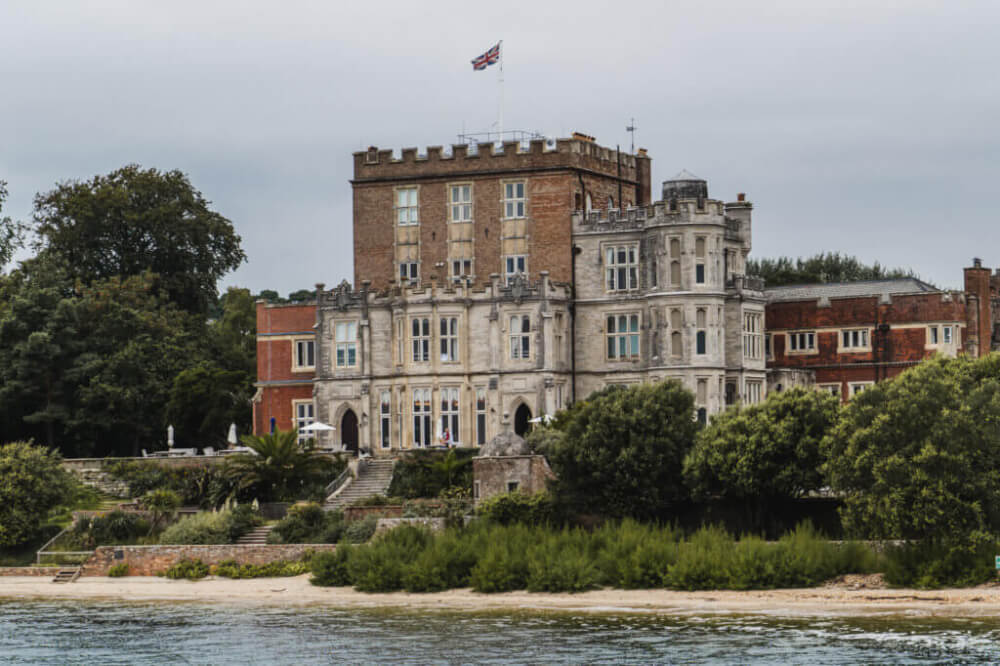 13. Have a night out in Ashley Cross
When it comes to fun things to do in Poole, you can't go wrong with a night out in Ashley Cross! Whereas the Quay is a go-to for older crowds, these days Ashley Cross is more where the youths of today hang out.
Located a few miles from Poole's town centre, Ashley Cross is a leafy and vibrant suburb filled with cafés, restaurants, bakeries, shops, pubs and bars. It's a lovely spot to explore during the daytime but it's also one of the most fun parts of Poole if you're looking for some nightlife.
Some of the coolest places you can visit on your night out include…
The Bermuda Triangle Pub (with very cool nautical-themed decor)
Dive Bar (which also goes the nautical route, even featuring a massive stuffed shark hanging from the ceiling)
Dancing Moose (where you can find excellent cocktails)
Most of the bars around here also feature live music or DJs on weekends if you want to dance!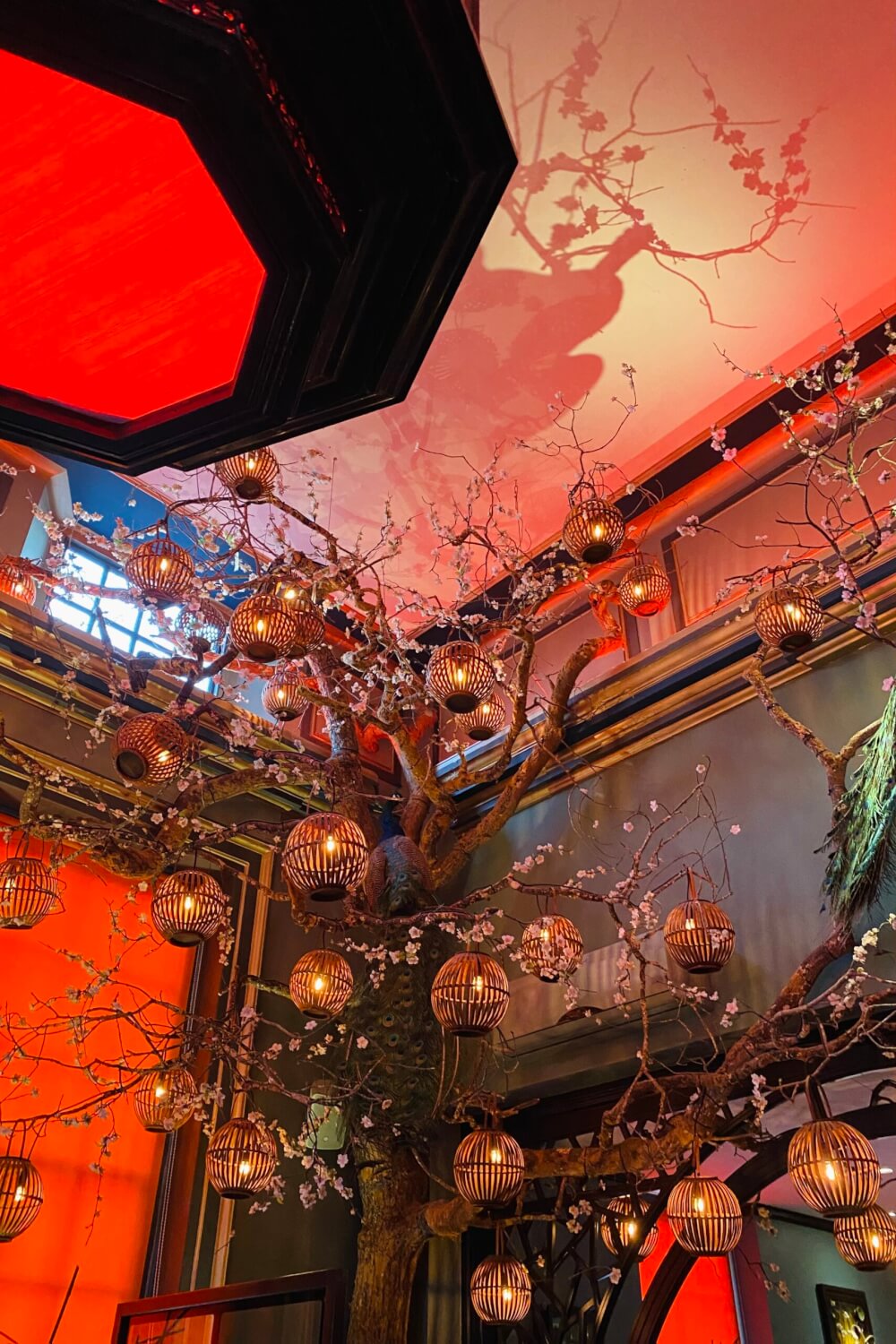 14. Visit the Old Lifeboat Museum
And for those with a penchant for strange little museums like me, the Old Lifeboat Museum is a quirky little museum in Poole that's really fun to visit if you, too, didn't go outside much as a child.
Since Poole is a harbour town, there has always been sailing and therefore lifesaving services located here. Fittingly, the Royal National Lifeboat Institution (RNLI) has its headquarters in Poole and you can learn more about that part of Poole's history at this museum.
The museum is quite small, but it's also free to enter. The main attraction is the Thomas Kirk Wright lifeboat, which was the first of the "little ships" to arrive at Dunkirk during Operation Dynamo. If you've seen the 2017 film "Dunkirk" (with Harry Styles in it!), you will have seen that evacuation in action.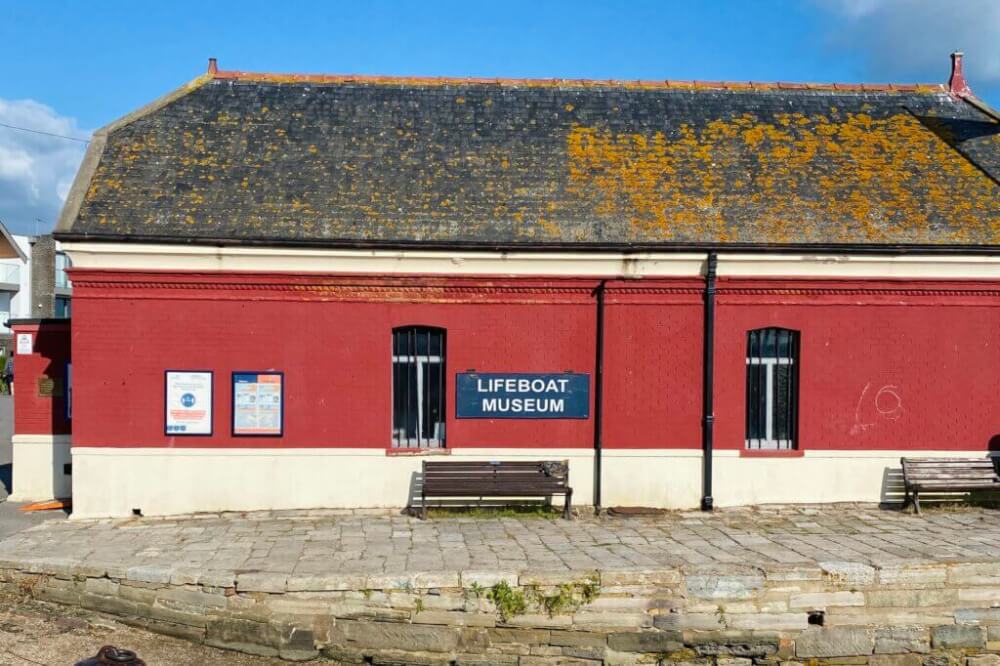 15. Look out for adorable postbox toppers
There is a lot of quirky and fun stuff to do in Poole, but one of my favourite little secrets is that there's a rogue crocheter (or perhaps a whole gang) that goes around creating adorable postbox toppers for Poole's suburbs.
During the pandemic, lots of people started knitting or crocheting decorations that were then placed on top of Royal Mail postboxes, all over the UK. There are quite a lot of these 'yarnbombing' designs to find in Poole, speficially in Upton. You can check out this Facebook page for gorgeous photos.
Sometimes the toppers are themed for events or the seasons, while others feature cute characters from tv or even local heroes/famous figures. As soon as you notice one you will start seeing them everywhere, and collecting photos of all the designs you spot is a very addictive hobby! Just ask my Camera Roll.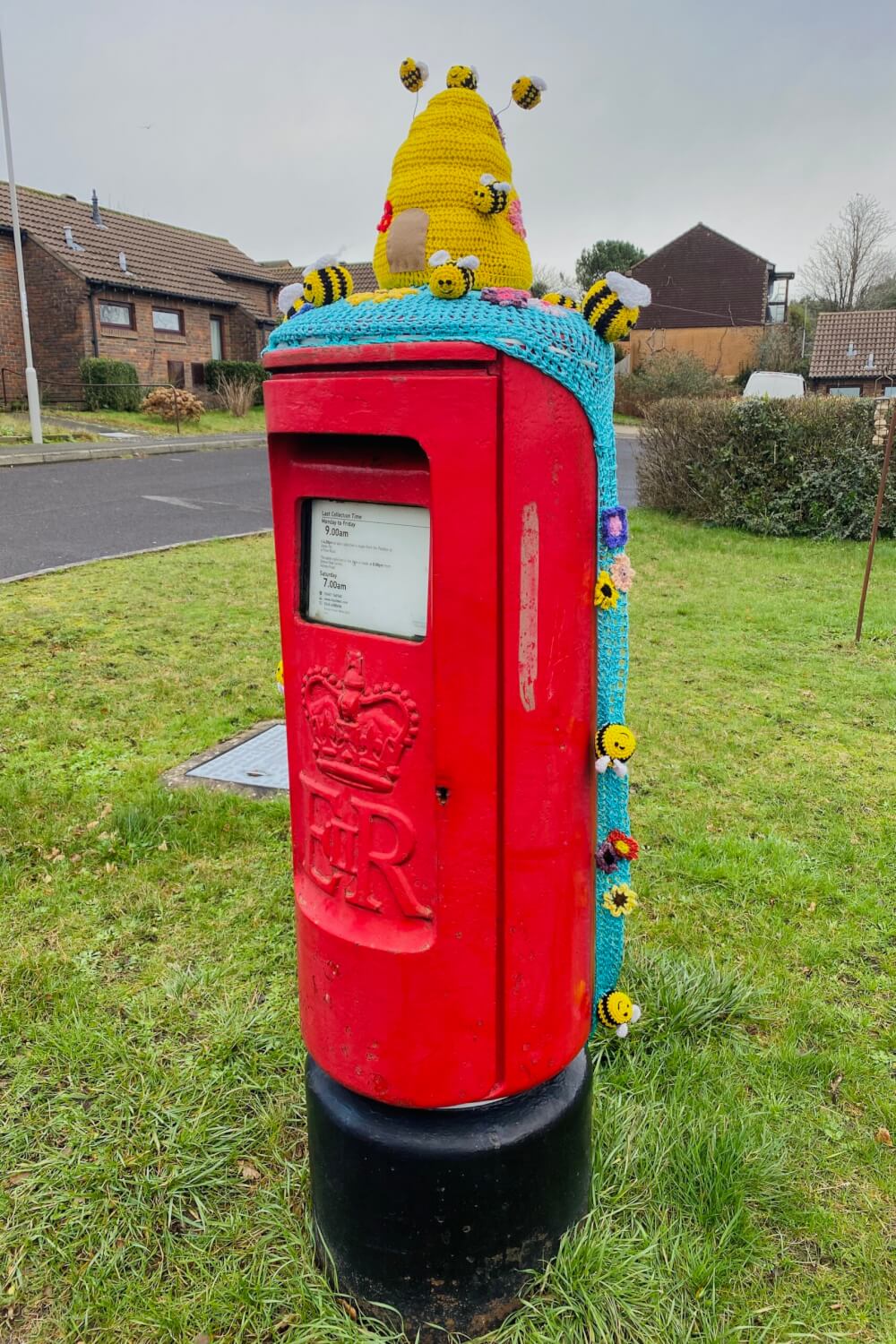 16. Pet Adorable Farm Animals
If you're looking for things to do in Poole with kids, Farmer Palmer's Farm Park is a beautiful little spot a bit outside of Poole that children especially will love, but so will anyone who likes seeing cute fluffy animals!
There are guinea pigs, goats, sheep, alpacas, chickens, ducks, cows, deer and more animals here, all of which can be petted or fed on a visit.
Since it is designed for children there are other fun activities for them as well, like a bouncy castle, playgrounds, pedal tractors and pedal go-karts (which are just as fun for the big kids too).
Other things to experience include pig races, a bumpy tractor-trailer ride and in summer there's a "maize maze" of corn. There's also a nice restaurant on site (named the Hen House) and plenty of seasonal events, particularly around Halloween and Christmas time.
PRACTICAL INFORMATION FOR VISITING: Farmer Palmer's Farm Park is usually open from 9.30am – 4pm, closing a little later at 5pm during school holidays. We recommend booking tickets online as it's cheaper than just rocking up.
17. Enjoy a day trip
Lastly, it must be said that Poole is ideally located only a stone's throw from some of the coolest places to visit in Dorset.
If you are spending a bit more time in Poole then any (or all) of these destinations make for an ideal day trip!
Bournemouth – Located just a little bit along the coast from Poole, Bournemouth is another lovely seaside town with some beautiful pleasure piers, Victorian architecture and gardens to explore.
Corfe Castle – A delightful village built around the ruined castle of the same name. The ruins of the castle (which was originally built by William the Conqueror over 1,000 years ago) are located on a hill and look very majestic.
Lulworth Cove and Durdle Door – The Jurassic Coast stretches between Exmouth and Studland Bay (encompassing both Poole and Bournemouth) with lots of unique geological formations to explore. One of the most famous of these is the Durdle Door, a natural limestone arch near Lulworth. Lulworth Cove is also a stunning little bay and both sights can easily be visited in one trip.
Swanage – Another nostalgic coastal town, just a short distance from Poole is Swanage, most famous as a seaside resort. You can ride a steam train to get here and then enjoy the Victorian pier and beaches.
Did I miss any of your favourite things to do in Poole?
Let me know in the comments so I can add more Poole activity recommendations to my list!
---
Watch my most popular YouTube video this week:
---