*FYI - this post may contain affiliate links, which means we earn a commission at no extra cost to you if you purchase from them. Check out our Privacy Policy and Disclosure. for more info.
If you're anything like me, half your time is spent sleuthing the webs for cheap flights.
And as fun as it is to aimlessly scroll through Skyscanner at 4am, sometimes you can't help but think "there's gotta be a better way".
Well, lucky you! Today, I've brought in a cheap flights expert to give you some insider tips on finding the best deals on plane tickets to Europe. Nicholas Romano is the founder of Get Me to Europe, an awesome free site that compiles the cheapest flight deals to Europe and sends them straight to your inbox. I mean, sure I may be a sleuth for deals, but I haven't exactly built a career out of finding the best. Nick on the other hand, has. SO, are you itching for that perfect European escape? Read on to see how you can save hundreds on the most expensive part of your trip – the flight.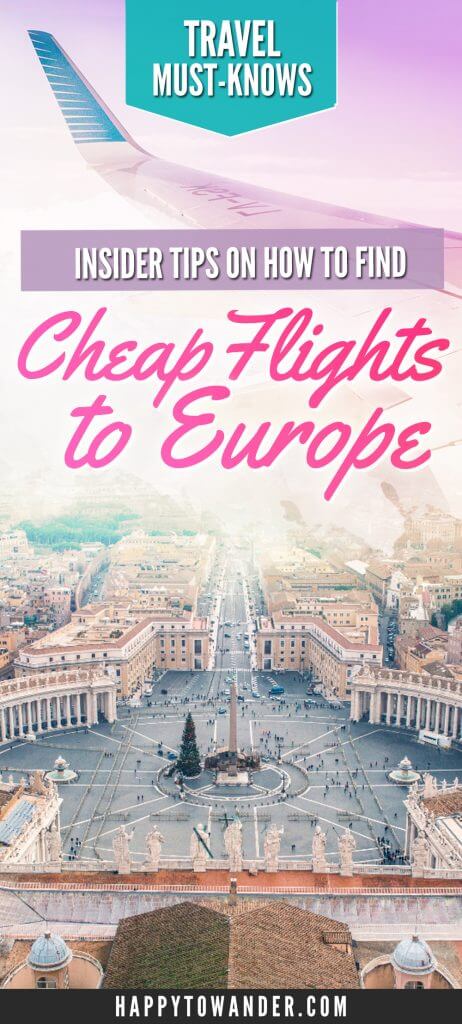 Guest post by Nicholas Romano, www.getmetoeurope.com
Going to Europe had always been a dream of mine. I saw pictures of my grandfather trekking the Matterhorn in Switzerland and sunbathing on the South of France; and I knew that I had to in my blood to explore Europe. While I was in college I thought there was no way I was going to afford to take the Europe trip of my dreams until I had a good career and could save $10,000 or more. Thankfully, my wanderlust took over and I began scouring the web until I found $400 round trip tickets to Oslo. With the stroke of my keyboard and a little bit of nervousness I hit "book". Since that fateful day I have traveled to over 25 countries in Europe and have become a self-proclaimed "expert" at finding cheap flights to Europe.
As my journey continued, friends and family quickly began reaching out to me with questions about how I can afford to travel so much, and if I could help them do so as well. This sparked an idea in me: I could build a website where I helped people find the cheapest tickets to Europe. So that is exactly what I did, I founded www.getmetoeurope.com, a subscription service that sends you the best flight deals we can find to Europe for free, or a paid subscription that builds you personalized multi-city trips.
Today, I am going to share with you some of my insider secrets, and a few tricks-of-the-trade for how I find these amazing deals for my customers.
---
Tip #1: "Just Get There" Philosophy
When I first found that $400 ticket to Norway, I thought "that's great but, I don't really want to go to Norway. I want to see Rome, Paris, Barcelona, etc.". The secret is though that once you are in Europe, countries are relatively close and extremely cheap to get to. For example, I once bought a flight from Paris to Rome for $20.
So, using the "just get there" philosophy – instead of flying to Paris for $1500, imagine flying to Ireland for $350 and then Paris for $60. Bam. $1090 saved to spend on all the escargot and macarons your heart desires.
---
Tip #2: Planes, Trains, and… Ferries
Once you are there, now it's time to start building your 'dream trip' around the content. Pssst this is where www.getmetoeurope.com comes in if you don't want to spend hours finding the deals yourself.
Pro tip: get creative with the ways you travel around Europe. Sure, there's flights, but that's not all – you can also use buses, trains, ridesharing, and even overnight cruises. Here are some places where you can find great deals:
Flight comparison sites:
Google Flights – My go-to flight search engine, and the backbone of Getmetoeurope. You can type in  multiple airports and search using their calendar feature, which shows you the best deals over an entire month! Not sure how to use Google Flights? Here's a handy guide.
Skyscanner – Another great flight search engine. Has a nifty "everywhere" feature where it will show you the cheapest flights around the world from an airport near you. you can also search by day, week, and month.
Momondo – I consider this my "I'm feeling lucky" search engine. Often times, this website is not as good as Google Flights and Skyscanner, BUT I have found some of the best deals on this site. It seems to find more mistake fares.
Budget airlines:
Many operate in Europe, dependent on the region. Popular ones include Ryanair, EasyJet, WizzAir and Vueling.
Train companies:
Most countries have their own national rail websites where you can snag sweet deals if you book early enough in advance. Trenitalia for example (Italy's train operator) reserves a number of super saver tickets for each train that are a fraction of the regular cost.
If you're visiting multiple countries and want to be more flexible, it might be worthwhile to look into a Eurail pass.
Bus companies:
Flixbus – Huge European bus company with tons of routes, cheap fares and plenty of great sales all the time where you can score bus tickets for only 10 euros! They also offer an Interflix Voucher where you can visit 5 cities for only 99 euros, a complete bargain.
Overnight cruises: 
DFDS
– A site with awesome deals on boat journeys all over Europe. Example: this is what I used to travel between Copenhagen and Oslo. It cost less than $40 PP for a beautiful north Atlantic voyage, including entertainment and tax free gift shops on board.
MOBY
 – Another great overnight cruise deal! This is the only ferry service that allows you to get into Russia VISA FREE! Example: I took this ship from Stockholm, Sweden and it had stops in Tallin, Estonia, Helsinki, Finland and Saint Petersburg, Russia, all for only about $125 a person.
Ridesharing:
Blabacar – Connects drivers who have empty seats with travelers seeking a ride. It's a carpooling community that many use as an affordable way to get from Point A to Point B.
---
Tip #4: Check Multiple Sources
Never be too loyal to your favorite search engine.
Some search engines will pick up on great deals that others may not, so it's worthwhile to check many different sites. It also pays to be flexible with your flights as well! Some search engines (like the ones listed above) have flexibility options that allow you to check multiple dates, times, and cities. With an open mind, you might just be able to score an insane deal.
---
Tip #5: Look for Flights During Off-Season Times
Do a little research to find out when your favorite cities are the least busy, as rates usually go down during this time. For example, April-May and September are usually very affordable times to visit Europe. Don't let the word "off-season" discourage you into thinking this is not a good time of the year to travel – these months have great weather, and are enjoyable because of the low crowds!
---
Tip #6: Plan Ahead and Keep an Eye on the Deals!
This can be time consuming because you never know when an amazing deal to Europe is going to pop up. So, just leave it to us. Subscribe to getmetoeurope.com, and we'll scour the web day and night and send you all the amazing flight deals to Europe that we find. This way, you know that you are finding the best flight deals and you won't have to stress about missing them!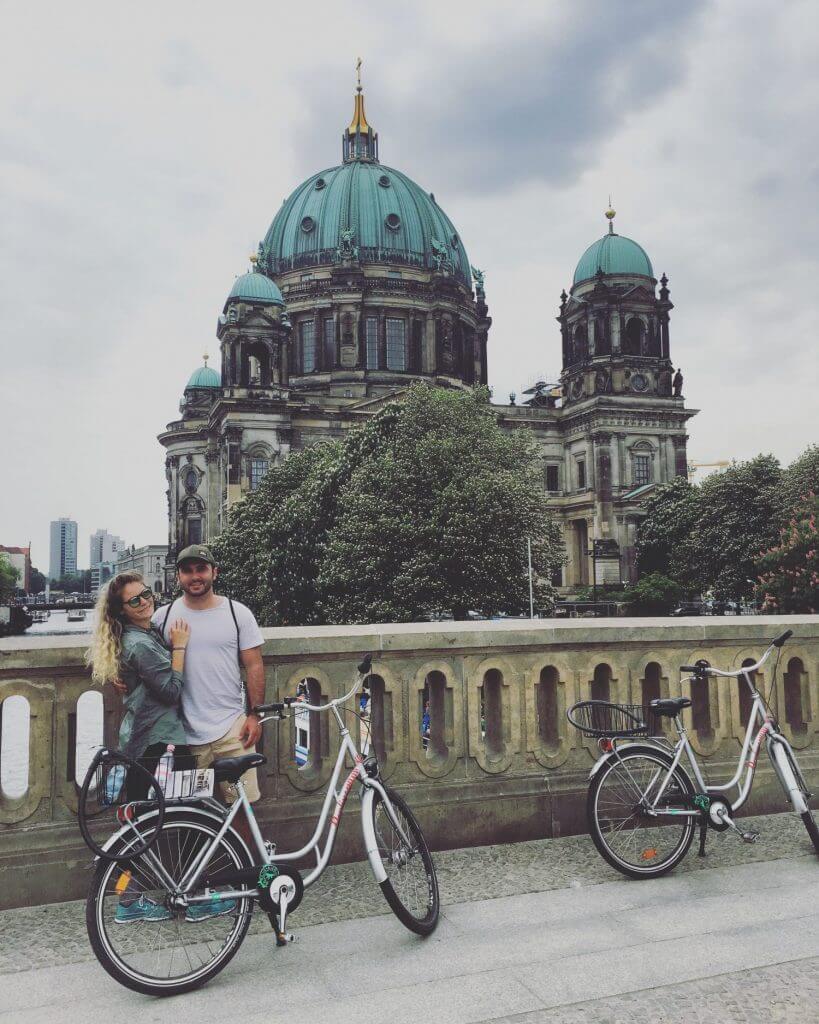 Thanks for the tips, Nick!
---
So – do you have any tips to share about finding awesome flight deals? Share them in the comments below! 
This post contains affiliate links that earn me a small commission but come at no extra cost to you. Thanks as always for your support!
Want to travel smarter and more often?
Join over 80,000 followers who love what I have to say! Enter your email here & you'll gain instant access to my special VIP zone, featuring freebies like checklists and printables... plus exclusive content, tips and updates!
---
Watch my latest video:
---