*FYI - this post may contain affiliate links, which means we earn a commission at no extra cost to you if you purchase from them. Also, as an Amazon Associate I earn from qualifying purchases. Check out our Privacy Policy and Disclosure. for more info.
When thinking of Indonesia, I'm sure supervolcanos, death caves and royal tea parties don't quickly come to mind.
But, as the 4th most populous country in the world, with over 300 ethnic groups scattered across 14,000+ islands, culture in Indonesia is way more diverse than you might think. Sure, most know the country best for being an Instagrammable paradise of sun, surf and beach, but beyond that, Indonesia happens to be a glittering treasure trove of mindblowing culture (and maybe just a few crazy surprises).
I'd like to think of Indonesia as a picture-perfect backdrop for some of the world's most interesting cultural traditions. And sure, it's always fun to snap candids with your smoothie bowl or flex strategically in front of waterfalls, but Indonesia is about way more than that! The country is not only pretty, its fascinating cultural foundation gives it a distinct vibrancy that makes it one of the world's top destinations.
So here's what I say: venture beyond the paradise aesthetic to explore the culture of Indonesia, and I promise you'll be blown away.
Wondering what to do in Indonesia culture-wise? Here are some of the cool experiences to try out on your next trip.
1. Take in the world-famous death rituals of Tana Toraja
Imagine this: you're in Tana Toraja, among the lush surroundings of the South Sulawesi highlands. It's a beautiful sight, but plot twist – you soon spot the hanging coffins and eerily lifelike effigies that welcome you into the attraction you came for – dark, winding caves crammed with skulls, offerings and… more coffins. *welp*
… So maybe it's not your typical 'sun vacay', but for those who dare, it's probably one of the most interesting cultural sights you'll ever see. The fascinating death rituals of the Torajanese have become a magnet for curious tourists around the world, who flock to the highlands of South Sulawesi each year to observe these traditions for themselves. Here in Tana Toraja, death is celebrated even more than births or marriages, which is why their funeral ceremonies are among the world's most extravagant.
Suggested activities: Visit Londa and go for a guided tour of the cave cemeteries. Foolishly fearless adventurers can even choose to go in solo, with oil lamps available to rent if you're so inclined. While in the area, also be sure to stop by Kete Kesu, a beautiful ancient village set among rice fields. Planning your visit? Here's a full in-depth guide on visiting Tana Toraja.
2. Visit Lake Toba & learn about the rich cultural heritage of the Batak people
Created from the eruption of a supervolcano about 70,000 years ago, North Sumatra's Lake Toba is truly a sight to behold. Besides being the world's largest volcanic lake, Lake Toba is also erupting (sorry – bad pun) with a fascinating culture and history. As home to the Batak people, one of the largest Indonesian ethnic groups, a trip here is a chance to immerse yourself in amazing detail-oriented architecture and learn about the intricacies of Batak culture in Indonesia, including their wonderfully complex system clan system (their means of socio-political organization) and strong emphasis on kinship.
Suggested activities: Visit Samosir Island, an island the size of Singapore in the middle of the lake. Here, you can explore the TB Silalahi Centre, a museum showcasing fascinating artifacts from Batak culture and also stop by the ancient village of Huta Siallagan, where you'll be able to spot traditional Batak houses and see a Hariara Tree, considered by the Bataks to be sacred. PS: Lake Toba is considered to be one of the top alternative destinations in Indonesia. Click here to see some others!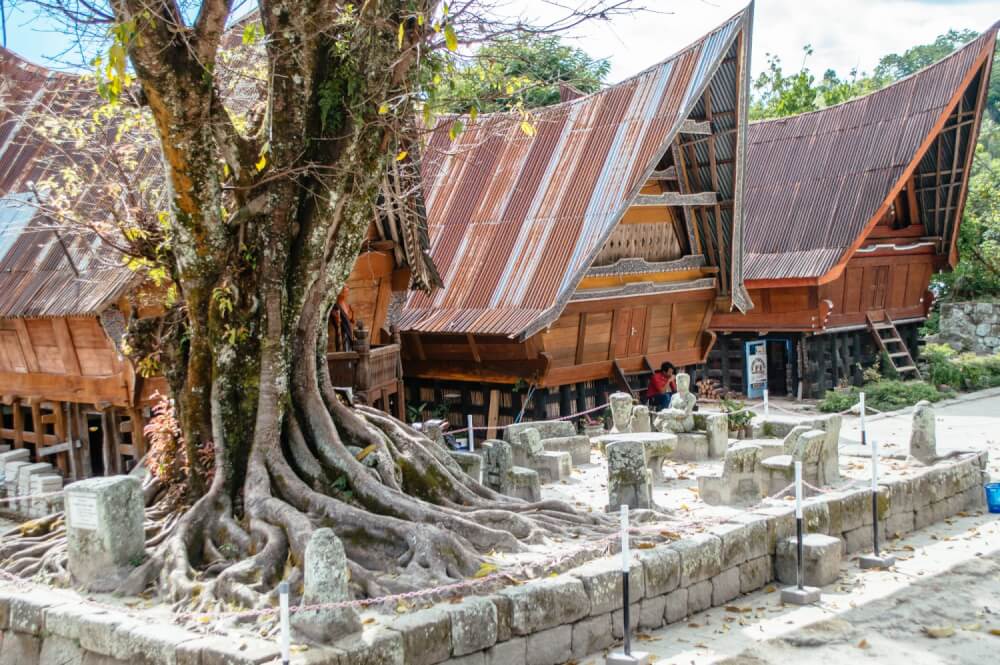 3. Enjoy the rich artisan heritage in Java
One of Indonesia's most popular cultural exports is batik, a fabric seen all around the country, often in Indonesian traditional dress. Batik comes in all colours, patterns and sizes, and is created by tracing designs with wax and then dyed to produce impressively intricate patterns. From touristy gift shops to swanky upscale boutiques, you can find batik pretty much anywhere in Indonesia, but Java is where it originates, and there are plenty of amazing opportunities to see it getting made.
Suggested activities: Swing by the beautiful Museum Batik Danar Hadi, with a stunning collection of batik to swoon over, then be dazzled by witnessing first hand how it's made! FYI, to get a real grasp of how impressive their work is, you should try a batik workshop to see just how tough it is to get these patterns done correctly! Spoiler: My attempt was a sad abomination of batik artistry.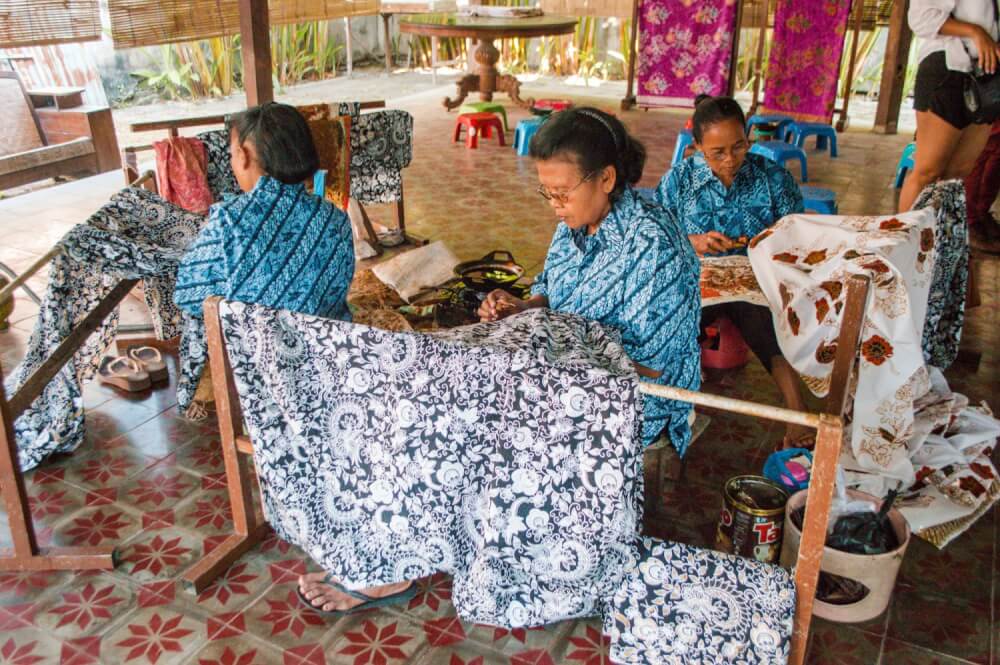 4. Absorb and learn about indigenous Indonesian culture and traditions through dance.
One of the coolest ways to observe the cultural differences among different parts of Indonesia is by watching traditional dance. From the slow, graceful movements of the Javanese peacock dance to the lively rhythm of Si Gale Gale and Tor Tor dance in North Sumatra, there are literally thousands of dances to watch among the many Indonesian ethnic groups (and of course, ones you can try yourself, if you're brave or drunk enough).
My personal favourite? The Torajanese dance photographed below in Kete Kesu. I mean those headdresses are some next-level badassery.
Suggested activities: Try to catch a traditional dance performance at some point during your time in Indonesia, maybe even a few so you can compare. An easy way to do this is by booking a tour or experience that includes a traditional dance show. Here are a bunch of options on Viator. Among the most famous of these dances is of course the Kecak Fire Dance at Uluwatu Temple, which scenically takes place at sunset. Elsewhere in Ubud, you can also catch traditional dance performances at Ubud Palace (where if you're lucky, you might even be able to meet some Balinese royalty and indulge in tea time!)
5. Explore local markets and sample street foods until you burst
There's no better way to experience local culture in Indonesia than to throw yourself into the mix with locals themselves, and markets are a fun peek into local living, whether you're rummaging through antique markets for Indonesian arts and crafts or simply hoarding snacks and groceries to fuel your travel days.
Luckily for visitors, Indonesia is packed with markets of all kinds, and most importantly, plenty of regional treats to satisfy any palette (but mostly sweet tooths!). Indonesian food culture is wickedly diverse, so bring your most daring tastebuds and of course, stretchy pants.
Suggested activities: Wake up early one day and throw yourself into the bustle of a local market, then promptly eat everything in sight (aka Indonesian food culture research). The best way to get insider info on markets to visit is by asking around. If you happen to find yourself in Surakarta (AKA Solo), its world-famous Pasar Gede is a must for foodies. Here's a video from my friend TJ of all the deliciousness you can expect!
PS: The Triwindu Antique Market is also super cool, especially if you love hoarding useless trinkets like me.
6. Learn more about the religion of Indonesia: visit different temples and places of worship
While well known for its stunning variety of temples, there is no one official religion of Indonesia. In fact, the country actually has six official religions, which means it boasts its fair share of beautiful churches, mosques and other places of worship (alongside the temples that haunt your Pinterest boards).
Of course, the country's religious diversity has manifested in a visit-worthy mix of different temples and religious sites, many of which openly invite visitors to come in and learn more about the many religion(s) of Indonesia.
Suggested activities: The list of must-sees is way too long, and dependent on where you choose to spend your time in Indonesia, but some of the most popular experiences include bathing in the holy waters of Tirta Empul in Bali, visiting central Java's Borobudur (the world's largest Buddhist temple) and soaking in the grandeur of Jakarta's Istiqal Mosque (the largest in Southeast Asia).
FYI, there's an even a "chicken church" in central Java.
So, I'll end by stating the obvious:
this post barely scrapes the surface of everything that culture in Indonesia has to offer!
 The amount of cultural diversity in Indonesia is huge, and truthfully, the culture of Indonesia is one that would take ten lifetimes to explore. Still, this list is a nice starting point to learn about some of the Indonesian culture and traditions that make the country such a fascinating one to explore. The best way to learn more of course? Well duh, to go see for yourself!
So tell me: which of these experiences would you be most keen to try?! And what am I missing from this list? Let me know in the comments! 
---
Pin for later:
I was welcomed to Indonesia as a guest of the Ministry of Tourism as part of their #TripOfWonders campaign. All words, photos and experiences however are my own ☺This post also contains affiliate links that come at no extra cost to you, but help keep the site (and my guacamole addiction) running! Thanks as always for your support.