*FYI - this post may contain affiliate links, which means we earn a commission at no extra cost to you if you purchase from them. Also, as an Amazon Associate I earn from qualifying purchases. Check out our Privacy Policy and Disclosure. for more info.
Singapore is an island nation full of incredible attractions and mixed cultural richness. Whether you come here for stunning sights, amazing food, or top-notch entertainment, the city's liveliness has plenty to offer.
Here is an insider's guide on things to do in Singapore, alongside where to stay, what to eat and everything else you need to know.
This Singapore guide contains insights from Judy, a writer at ninetwobysix.com who aims to help others live and travel better. Looking to balance a full time career with a fulfilling travel lifestyle, she encourages people to broaden their perspectives. With Singapore as her hometown, Judy provides all the must-knows on how to plan the perfect Singaporean getaway.
---
---
Pin for later: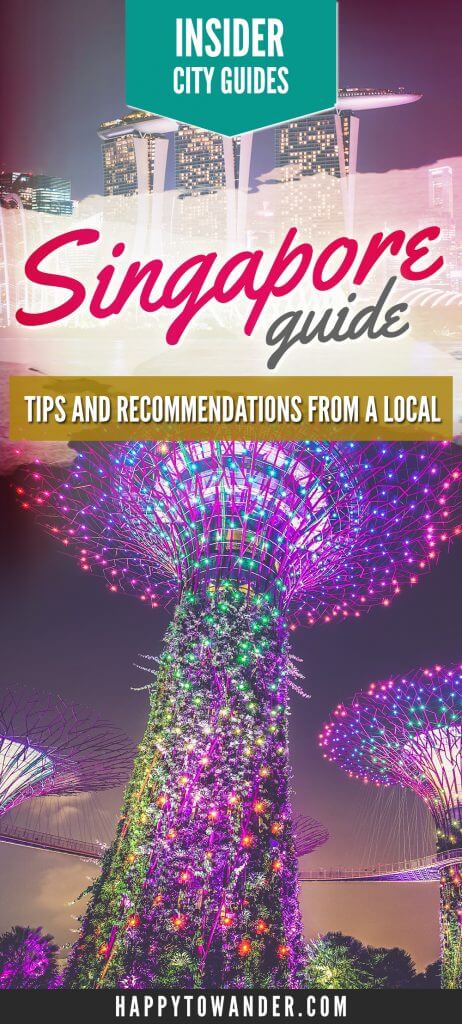 ---
Basic Facts
The best time to visit Singapore: All year round! Singapore has a tropical climate, so there is plenty of sun throughout the year. In February it rains a little more than usual. If you are especially budget conscious but keen on shopping, June is a major sale period for the entire city.
How to get to Singapore: Because Singapore is one of the biggest aviation hubs in Southeast Asia, flying in is the best way to get here. With plenty of airlines flying in/out of Singapore (from local low cost carriers to big names like KLM and British Airways), there are tons of great airline tickets deals if you book early!
Singapore is perfect for… All types of travelers and travel groups! There really is a little bit of everything for everyone. The city has a great nightlife and many places to easily meet people, which is great for solo travelers. Couples will love our abundant restaurants and fantastic activity options, and families can enjoy the attractions we have specifically for kids.
The best way to get around: Our MRT and LRT train system is wonderful, easy to use, and covers the entire island. It is walking distance from anywhere you need to go. Public transportation can be paid for with cash or travel smartcards, which can be purchased at ticket offices and service centres. Otherwise, it is easy to flag down taxis and Ubers, which are both safe to use.
Currency: The Singapore Dollar (SGD) is the currency for Singapore. Cash is necessary for places like Little India, Chinatown, and to take taxis or public transportation. Credit and debit card payments are widely accepted almost everywhere else.
Cool events and festivals to look out for: Singapore has cool events happening all year round! Time Out Singapore has the best consolidation of everything that is happening in the city on a local level. On the international stage, we host the world's first F1 night race annually, which comes with awesome concerts to attend.
If you only have one day in the city, you absolutely cannot miss… Brisk walking through Orchard Road, taking your time at Bugis, chilling out at Tiong Bahru or Ann Siang Hill, and partying the night away at Clarke Quay.



---
Things to do in Singapore (The Touristy Must-Dos)
Gardens by the Bay: an incredible indoor garden sometimes featuring themes such as our very own Sakura festival, dreamed up within a large temperature controlled dome. This space is also known for its "Super-Trees", which are about 16 stories tall.
Sentosa, Universal Studios: this side of the city houses our own Universal Studios theme park! This visit is guaranteed to be a fantastic day out for families and kids. However, if an entire day in a theme park does not sound like it is for you, Sentosa is just right around the corner! This is a man made beach with a ton of restaurants and bars to visit nearby.
Museums: Singapore has some really great museums, such as the Art Science Museum at Marina Bay Sands or the National Gallery. These feature a good mix of both cultural and futuristic exhibitions that will tickle your curiosity.
Orchard Road: within the heart of the city, this road provides endless shopping for those who love it! While Orchard Road is just the start, you can quite literally walk down the entire stretch all the way to City Hall, covering three main shopping areas in the process. This trek takes you through Somerset and Dhoby Ghaut, with about a dozen malls, shops, restaurants, and more in between!
Clarke Quay: a lovely spot from which to enjoy dinner by the riverside. It is full of vibrant restaurants, clubs, and bars, and is overall a great place to hang out no matter the day of the week. From here, there is also a boat ride you can take to explore the riverfront and take in the nighttime scenery. Boat Quay is the quieter side of the river, but is also filled with wonderful restaurants.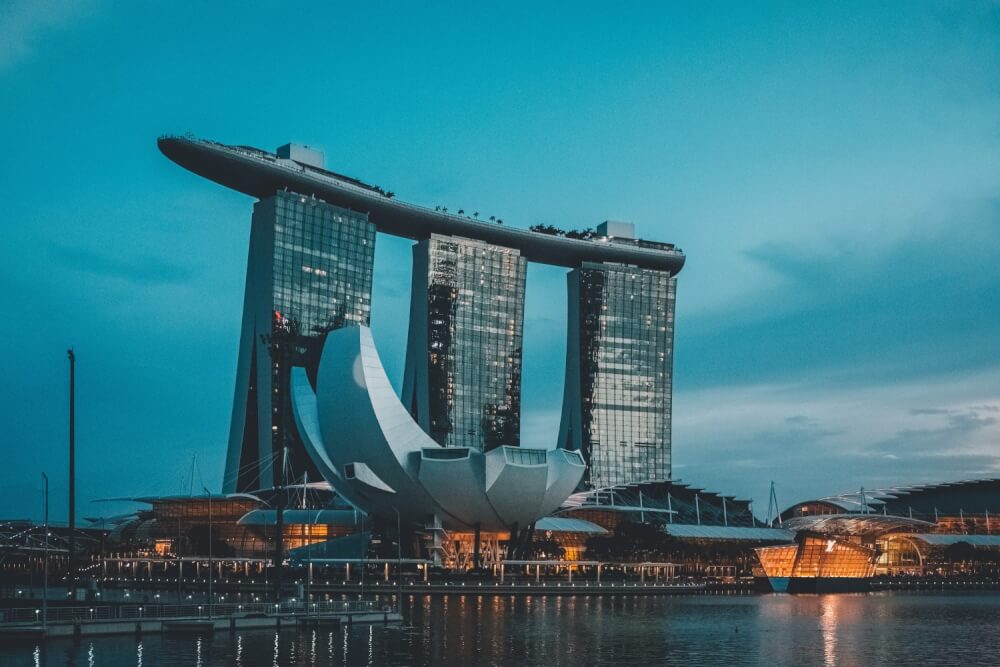 ---
What to do in Singapore (Off the Beaten Path)
Heritage Walks: explore the little known side of Singapore's past! Especially recommended is visiting Joo Chiat and Katong in the East for an exploration of our Peranakan history, where you can see old-style shophouses (some of which have revamped into new hipster cafés and restaurants). Tiong Bahru has a similar approach that is now gentrified with new venues, but retains a very old-school vibe.
Haji Lane: the heart of the indie scene, this is where to find awesome local music and bars, as well as tons of shops and delicious restaurants to enjoy (are you sensing a theme?)
Ann Siang Hill and Amoy Street: here is where the locals gather to drink, especially after work hours in the CBD. This area is full of upscale hipster mixology bars with the best cocktails in the city, Korean BBQ joints, varied restaurants, and cheap eats. It all sits side by side in an energetic mix. If you come by on a Friday, the road closes and the party spills out onto the streets!
Flea Markets: There is always a flea market event to check out, so make sure to thoroughly review Time Out on Facebook to see what is happening in the city. Some flea markets open once a month and are housed inside clubs and are fantastic to visit; others take place every weekend and in different locations. The best way to check out some curious knick-knacks!
Pulau Ubin: if you are interested in some outdoorsy things, riding a bicycle through this island (off eastern Singapore) is an amazing way to spend an afternoon. Widely considered to be the last "kampung" (village) in Singapore, Pulau Ubin retains its 1960's lifestyle feel.
---
What to eat in Singapore
Chinese food: While there are many types of Chinese food, "zi char" is the most common. It consists of Cantonese style cooking of many different dishes, usually eaten with rice. For a very popular local hole in the wall, try Sin Hoi Sai at Tiong Bahru.
Indian food: Little India, of course, has a great variety of Indian food. Komala's is great for vegetarian options, and Banana Leaf Apolo offers tasty South Indian cuisine. Samy's at Dempsey is a great place to check out if you also want to explore the area for drinks after.
Malay food: there are many delicious Nasi Padang (rice and dishes) selections around Haji Lane. Hajjah Maimunah at Jalan Pisang has consistently great reviews. Make sure to check opening times!
Kopi: this is our Singaporean version of coffee made with condensed milk. This drink is available at many locations throughout the city.
---
Best restaurants in Singapore to try
Burnt Ends:
Address: 20 Teck Lim Road
With excellent food and ambiance, this is a modern Australian Barbeque restaurant that offers casual dining. It also serves specialty wines, craft beers, and delicious cocktails. Make sure to plan ahead, since this venue tends to be full every night of the week!
Le Bistrot du Sommelier
Address: 53 Armenian St
The best place to try traditional French food in Singapore without breaking the bank. Come here for a warm, cozy experience filled with hearty food and high quality wines!
Ding Dong
Address: 01-02, 115 Amoy Street
A modern Southeast Asian restaurant that specializes in traditional fusion cuisine, handcrafted Asian cocktails, and fancy boutique wines. Ding Dong has many options to choose from and an overall great atmosphere!
Moosehead Kitchen:
Address: 110 Telok Ayer St
Housed in a pre-war shop unit, this venue has an edgy bistro-style feel. Inspired by cultures from all over the world, the Moosehead Kitchen serves a wide array of global cuisine. The perfect go-to for a chill night out.
Hawker Centers
Visit a hawker center like Maxwell or Amoy. These are hubs of various stalls where you can find the best of everything in Singapore. Keep an eye out for char kway teow (amazing stir fried noodles) and laksa (coconut curry noodles)!
---
Best coffee shops to try in Singapore
Common Man Roasters:
Address: 22 Martin Road
Come here for an amazing all-day brunch style menu! Also a great spot to indulge in delicious desserts, juices, wine, and champagne.
Wheeler's Yard:
Address: 28 Lorong Ampas
This hidden cafe-bicycle workshop is set in a converted warehouse in the middle of an industrial zone. Spacious and vintage-y, it offers delicious homemade meals and drinks (try their brunch options!) As if that was not enough, Wheeler's Yard also holds a wide selection of stunning handmade bicycles, which are available to buy or rent.
Forty Hands:
Address: 78 Yong Siak Street
This hip locale is considered to be the pioneer of the coffee renaissance in Singapore, and is also sustainably run and beautifully decorated. Come by to try their delicious breakfast and brunch dishes, such as the banana bacon French toast!
---
Singapore Nightlife: Where to go out!
Zouk:
Address: 3C River Valley Road
The place to hit up for a night of dancing! Zouk is known for its electronic music, renowned DJs, and fun crowds.
Jigger & Pony:
Address: 101 Amoy Street
Come here for a relaxed hangout in a former art gallery space. This elegant venue serves classic craft cocktails, whiskies, and a tasty bar menu. Their happy hour offers are also worth checking out.
Birds of a Feather:
Address: 115 Amoy Street
Uniquely decorated (think of a garden meets traditional Chinese teahouse with a modern twist), this locale serves amazing Sichuan cuisine and cocktails. Birds of a Feather is an all-day dining cafe and bar, so you are bound to find something you love.
Ann Siang Hill:
This overall region has many great bars and restaurants to check out!
---
Best Neighbourhoods in Singapore to Stay
In the city: this is fairly self-explanatory, since being in the heart of everything provides great activity options and ease of transportation. Everything is connected by the train system, and since the city is highly concentrated, you are bound to find anything you need.
Browse the best deals on hotels in Singapore's city centre
Chinatown and Little India: while a bit more out of the way, these areas provide a culturally rich experience. There are lovely boutique hotels to stay at, which will put you right in the midst of the city's multi-cultural vibes.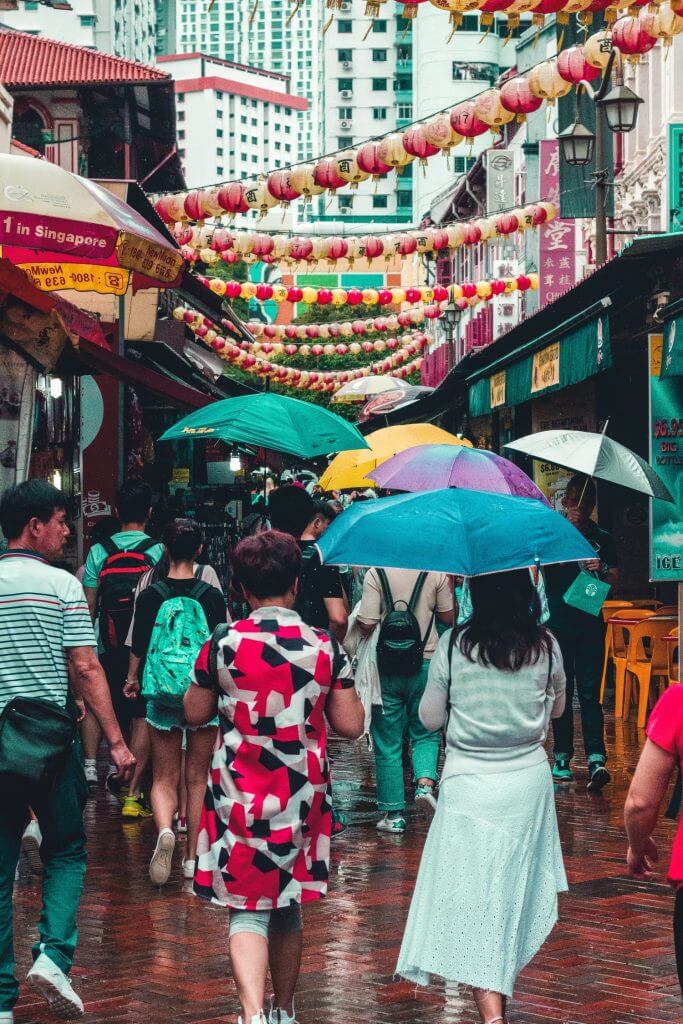 ---
Where to stay in Singapore
The InnCrowd Backpacker's Hostel
Address: 73 Dunlop Street
Located in Little India, this vibrant hostel provides a great time and a perfect way to make new friends! The amenities include a pub, sundeck, travel library, and a games room. Dorms and private rooms available. Breakfast and free WiFi are also provided.
Kam Leng Hotel:
Address: 383 Jalan Besar
A nicely decorated, budget hotel situated by a lively road. First established in 1927, Kam Leng Hotel was renovated and reopened a few years back, and holds a retro local vibe from the 60's. Free WiFi available.
Wanderlust Hotel:
Address: 2 Dickson Road
A mid-range boutique hotel perfect for adventurous souls. Brought to life by various award-winning design agencies, Wanderlust offers stunning rooms and architecture. It is also situated by lively streets, and has an in-house restaurant and bar. Free WiFi available.
Fullerton Hotel:
Address: 1 Fullerton Square
This beautiful heritage hotel in a central, vibrant location. Come here for a luxurious and relaxing stay, all the while enjoying the provided infinity pool, gym, spa, heritage tours, and various in-house eateries (restaurants, bars, and even a cake boutique!) Free WiFi provided.
---
Where to get the best views of Singapore
ION Orchard: go up to the 54th floor of this shopping mall for a great view of the city!
1-Altitude: this is a cafe, bar, and gallery split over 3 levels. The rooftop area gives an amazing view of the cityscape (282m above sea level).
Rooftop Bars: one worth checking out is Smoke and Mirrors located by the National Gallery!
---
Best places to go shopping in Singapore:
Orchard Road: visit this spot (including Somerset and Dhoby Ghaut) for high end and fast fashion; you will find your H&Ms and Forever 21s here.
Bugis Street and Haji Lane: check out these areas for cheap thrills, local souvenirs, and various independent brands.
---
Best Day Trips from Singapore
Singapore is an island, so once you are here you will have access to everything you need! We are at the end of the Malaysian peninsula, so it is easy to hop over to many Asian cities such as Kuala Lumpur or Bangkok. These are not possible for day trips, but many Singaporeans fly out to these cities for short weekend trips. It's quite easy to find affordable AirAsia flights if you book early enough.
ABOUT THE AUTHOR:
Cappuccinos and high heels were traded in for cappuccinos and Stan Smith sneakers when Judy realised that there are some things in life worth sacrificing for, and it's not your feet, unless it's taking you on a journey around the world. Writing to help people live and travel better, she looks at balancing a full time career with a fulfilling travel lifestyle and really wishes people would stop categorising travel an escape. Her Instagram photographs travel from an everyday perspective and she pins awesome things from the interwebs on www.pinterest.com/ninetwobysix.