*FYI - this post may contain affiliate links, which means we earn a commission at no extra cost to you if you purchase from them. Also, as an Amazon Associate I earn from qualifying purchases. Check out our Privacy Policy and Disclosure. for more info.
This list of cultural things to do in Bali was created in partnership with the Indonesia Ministry Tourism, who welcomed me to their country as part of their #TripOfWonders campaign.
I think it's safe to say, there's no place on earth like Bali.
I mean, when a single island has thieving monkeys to tame, volcanos to climb, waves to surf and temples to explore, 'boredom' is a word that quickly escapes the vocabulary.
And regardless of your traveling persuasion – whether you're in search of IG-perfect snapshots, belt-loosening cuisine or a chance to get the adrenaline pumping, Bali offers itself up as a buzzing paradise for unforgettable experiences.
Beyond the island's clear aesthetic beauty though, I'd say some of Bali's most incredible wonders are its cultural ones. After getting a quick intro to Balinese culture last month with the Indonesian Ministry of Tourism, I've been hooked on the idea of coming back to fully experience it all…
That's why I've put together a Bali culture bucket list for you guys, featuring a few of the awesome cultural things to do in Bali I got to try, alongside my future to-dos. Enjoy!
PS: You might also like this roundup of islands to visit in Indonesia besides Bali.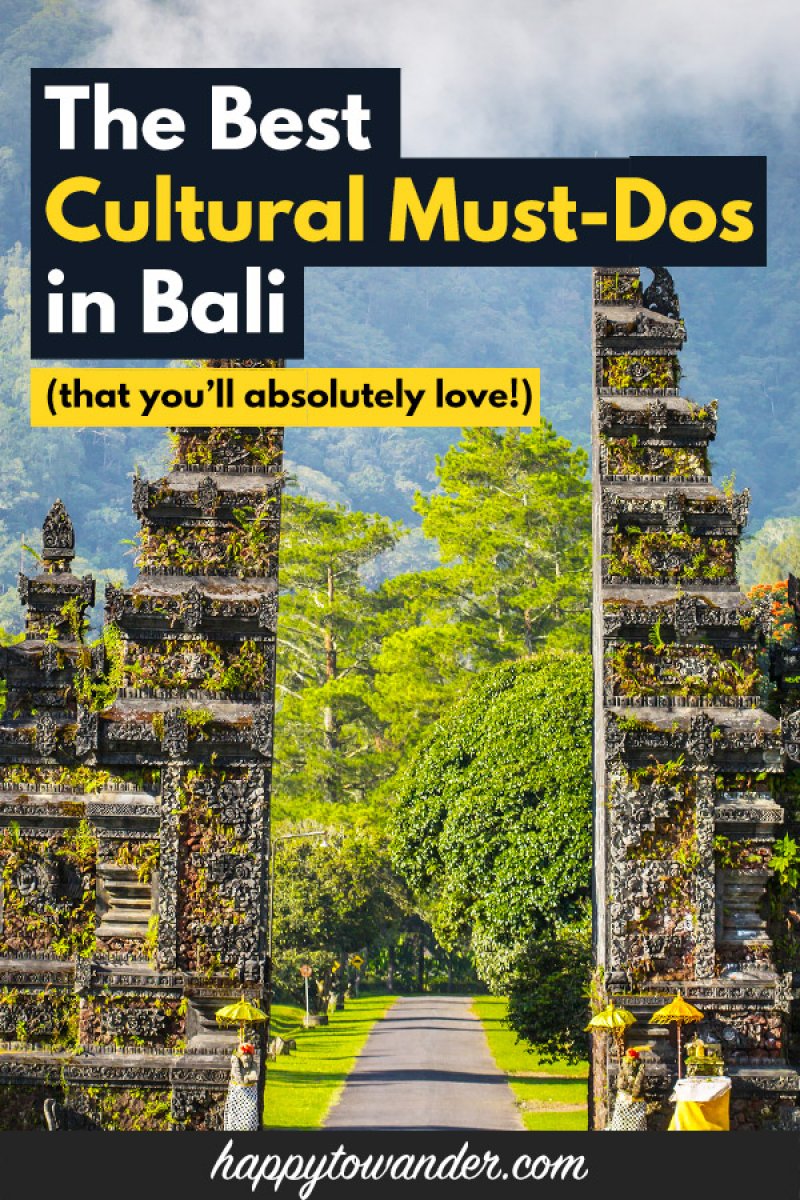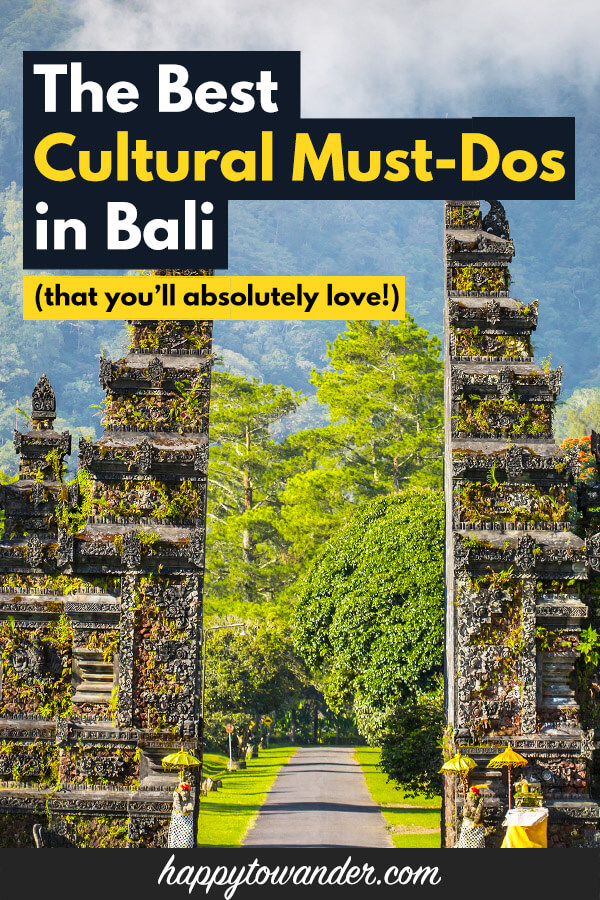 Save this list of cultural things to do in Bali for later!
You'll be very glad you did.
1. Say hello to royalty at Ubud Palace
One of the best things to do in Bali is definitely heading to Ubud, and Ubud Palace is one of the top cultural must-sees here in Bali's spiritual epicentre.
As the official home of the Ubud royal family (yup, England isn't the only place known for its royals!), a visit here is a chance to feel like royalty yourself… and maybe meet a few members of the family too if you're lucky.
While there are some parts of the palace off-limits to visitors, eager explorers are still able to stop by and explore the palace's gorgeous tangle of ornate courtyards, gardens and gates.
During our trip, we got to meet the royal family of Ubud and enjoy a little tea time, play dress-up in traditional attire, enjoy an adorable dance performance and gawk at a live 'how it's made' demo of traditional offerings.
A truly special place to visit!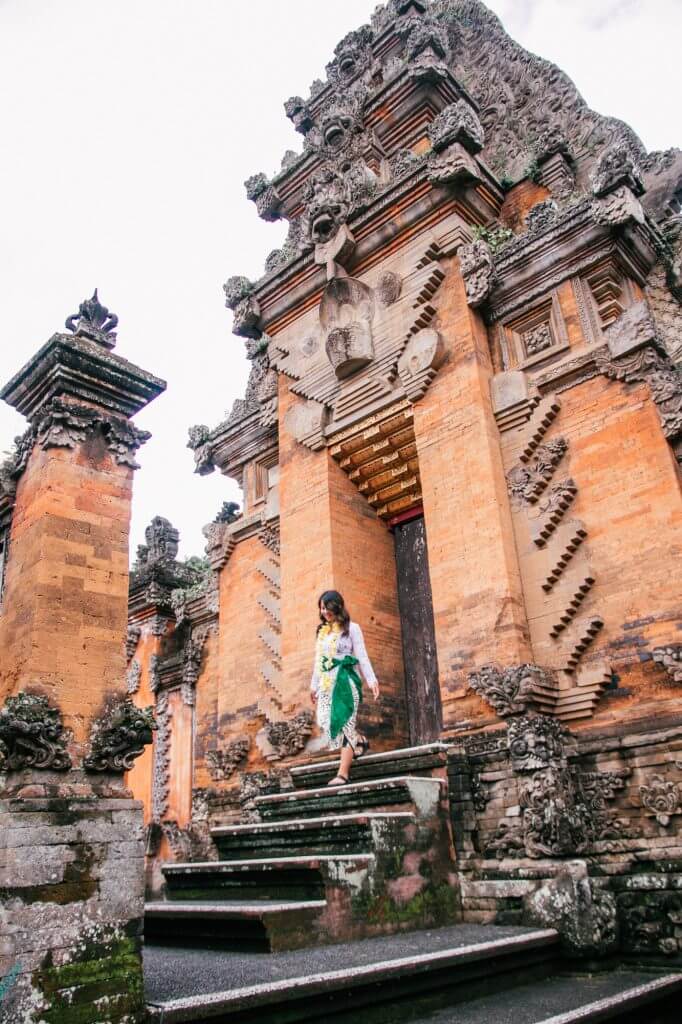 2. Be wow'd by the Kecak Fire Dance at Uluwatu Temple
Uluwatu Temple is famous for a lot of things – delinquent monkeys, unbeatable views and of course, the rhythmic clatter of the Kecak dance, which I assure you, will be stuck in your head for weeks and even months after.
Each day at sunset, hundreds of people gather at Uluwatu Temple to catch the world-famous kecak fire dance show, which combines dance, acapella, fire and some theatrical flair for a seriously unforgettable performance unique to Bali culture.
The performance itself features highlights from the Hindu epic, the Ramayana, which has its fair share of twists, turns and my personal favourite – drama for days. Enjoying one of these shows is a quintessential Bali experience, and one that I highly recommend adding to your list!
NOTE: The kecak fire dance is definitely no secret, so expect huge crowds (like in the photo below). Tickets must be purchased in person, so be sure to get there early, or consider booking a tour to avoid the hassle of securing tickets/spots for yourself. Here are some affordable options.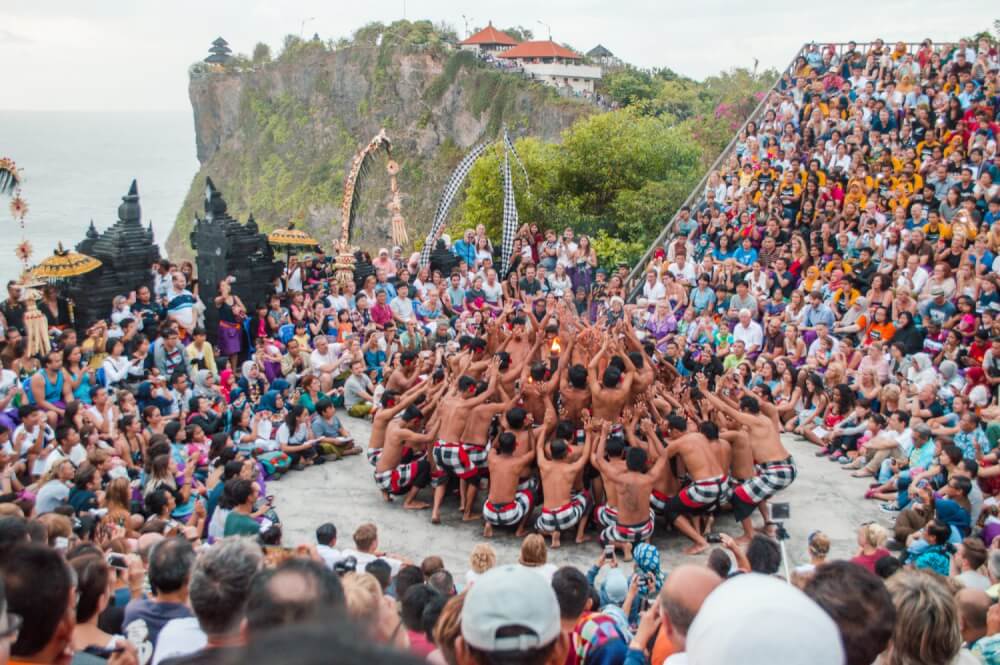 3. Go temple hopping
With a nickname like "Island of the Gods", it's a no-brainer that one of the best Bali things to do is visit temples.
Like India, Bali has lot of temples (or pura, as they're known on the island).
There are literally thousands to choose from, making temple hopping one of the top cultural things to do in Bali.
Stuck on where to begin?
Here are a few popular temple highlights to include in your Bali culture bucket list:
Bathe in holy water at Pura Tirta Empul – One of the most important water temples in Bali, with its sacred springs filled with holy water that are said to boast magical, purifying properties. The best way to test this of course, is to try it for yourself!
Explore the 'Mother Temple of Bali', the Pura Besakih – A grand temple complex found 900m above ground on Mount Agung in Eastern Bali. Considered one of Bali's holiest places (though extremely well-known and touristy).
Enjoy the picturesque Pura Taman Ayun – With a name that literally means "beautiful garden", this majestic temple complex in Mengwi is known for its spectacular beauty – from towering pagodas and tranquil courtyards to picture-perfect lotus ponds.
Take a peek at the beautiful (but small) Pura Ulun Danu – Set atop Lake Beratan, Bali's second largest lake, this humble temple is like a picturesque little dream. It may not be as grand as other temples in Bali, but it's definitely one of the island's most beautiful.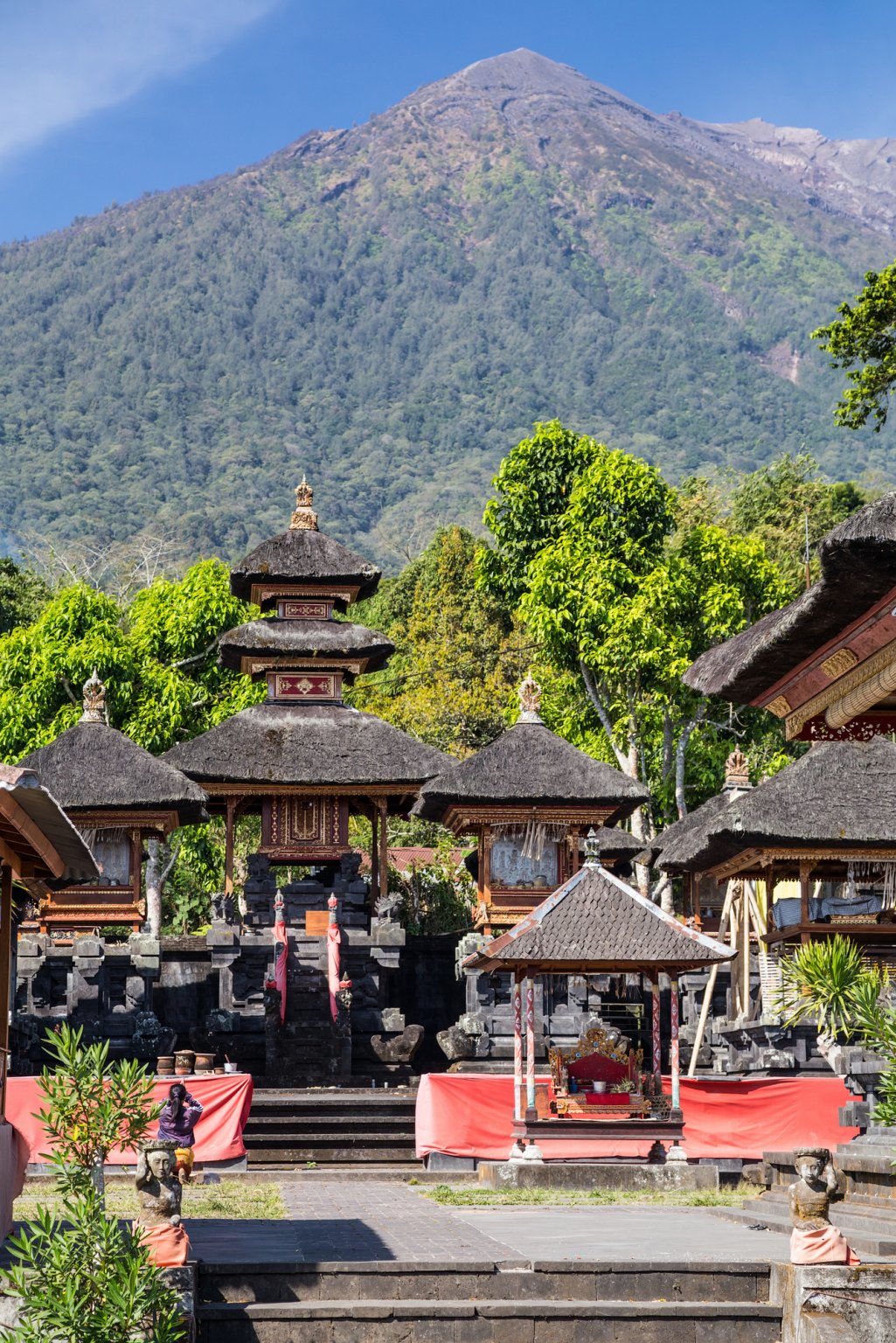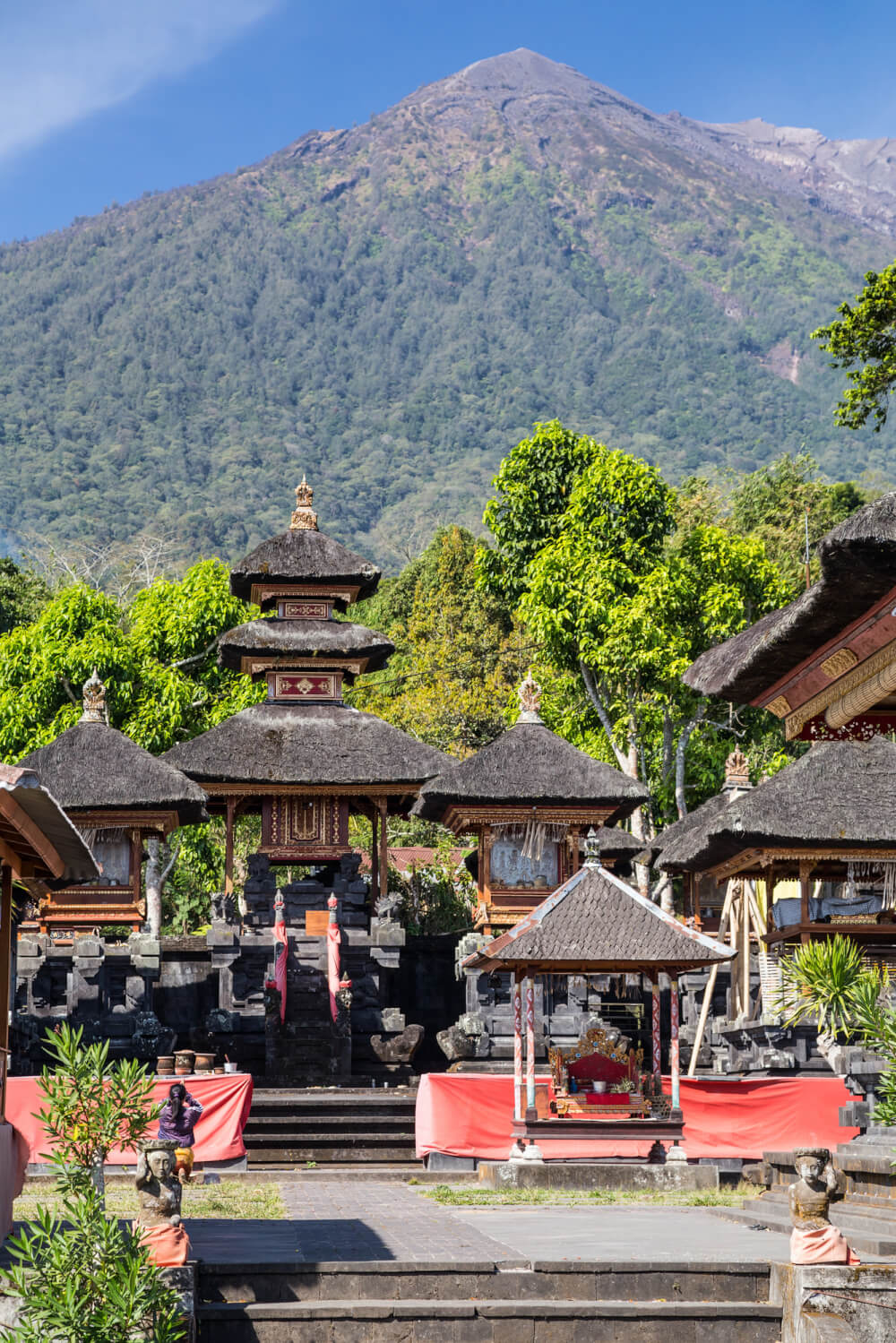 4. Learn to cook at a Balinese cooking class
Can we really talk about culture without discussing food?
Especially in a place where the grub is so delectably world-renowned… I think the answer is a clear no.
I've eaten my way around a lot of foodie destinations, like Bologna in Italy and Lyon in France, but Bali will always have my heart thanks to its sheer variety.
And sure, while Bali these days caters to a wide variety of tourist palettes, (with a fair share of international options wherever you go), it would still be a real shame to miss out on Balinese cuisine… especially if you don't learn how to bring it home for yourself.
But while a suitcase full of Nasi Goreng does sounds quite scrumptious, there's a better way to bring Balinese cuisine home… by indulging in a traditional cooking class.
There are plenty of options to try this all around the island. Click here to browse a few different choices!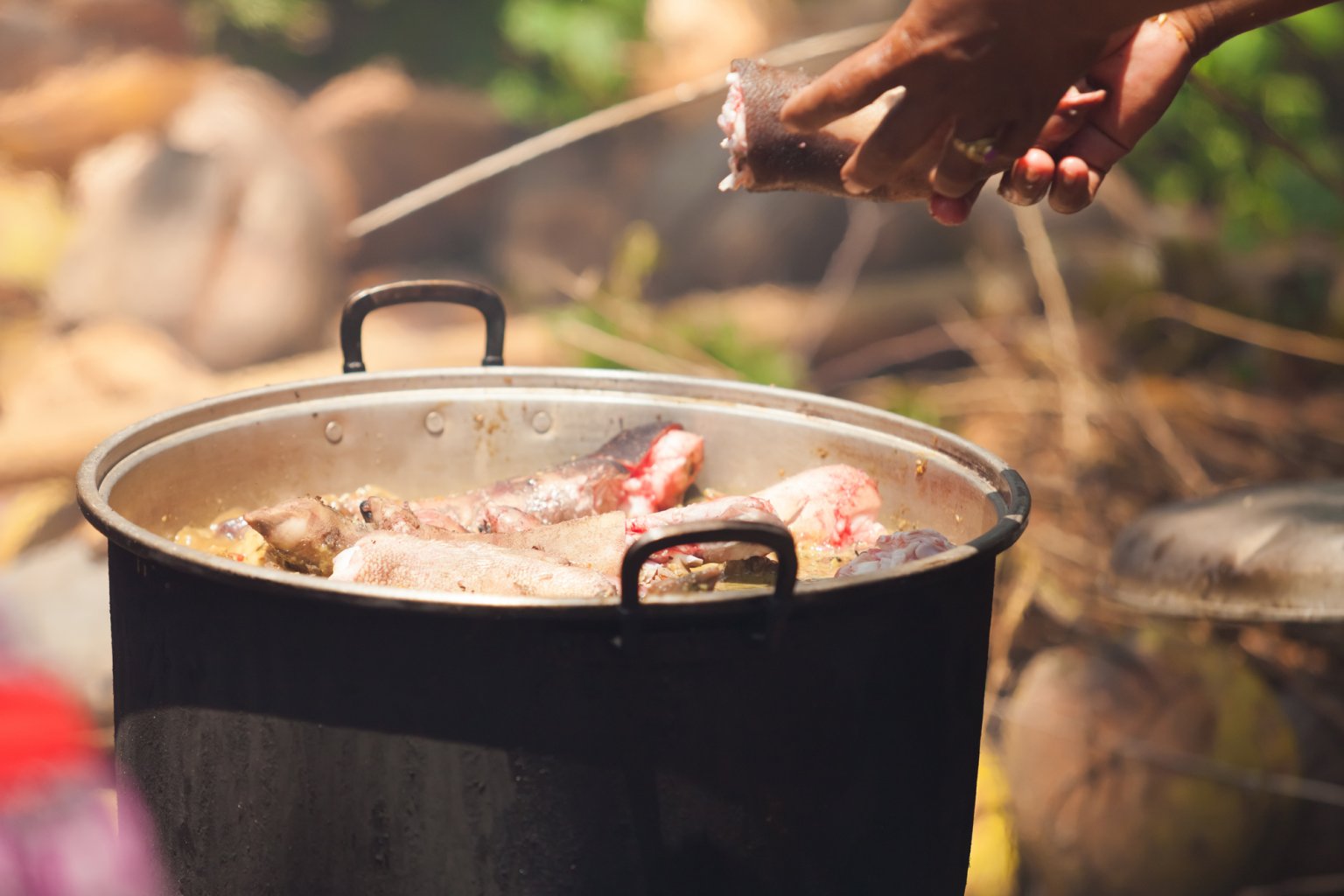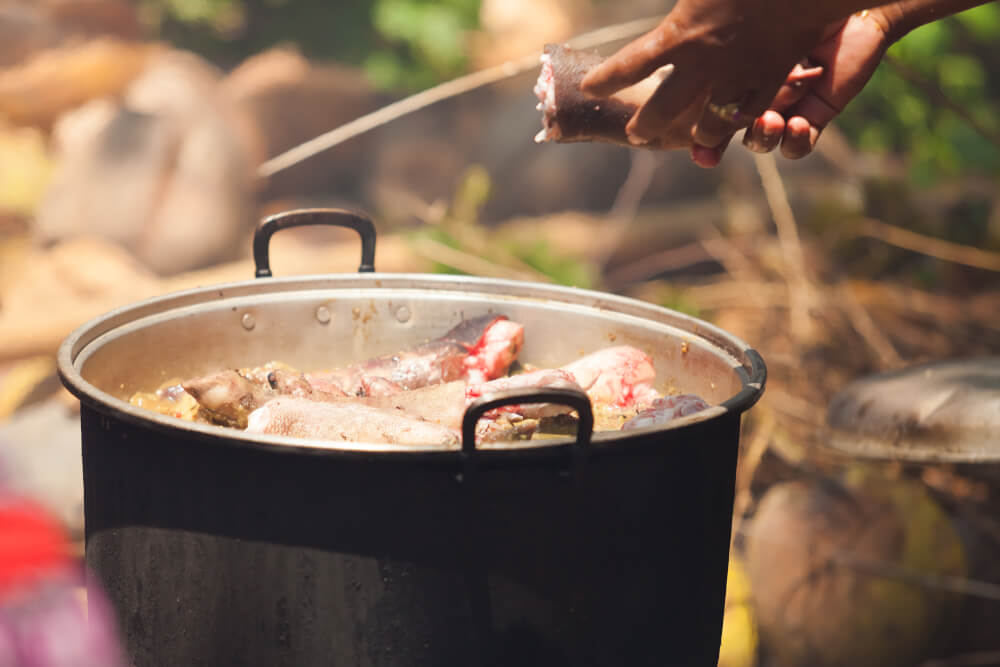 5. Enjoy Balinese art at the Agung Rai Museum of Art
While in Bali, another important cultural to-do is to check out the island's art scene.
My pick? The Agung Rai Museum of Art in Ubud, which is devoted to the showcase, preservation and development of Balinese art and culture.
It's a beautiful museum, curated with plenty of pieces from the gorgeously detailed to the confusing and contemporary.
It's a fun rainy day activity, and when weather permits, its gardens a worthwhile visit as well. Hey, I mean if it's good enough for Barack Obama…
Feeling artsy? There are plenty of other museums to visit too. Check here for a great list.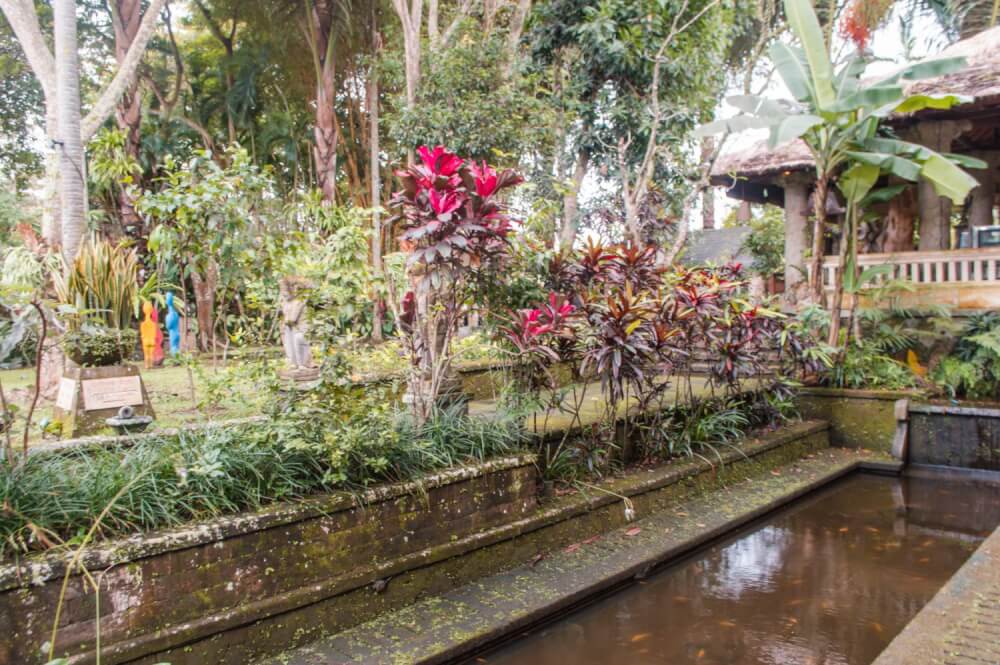 6. Catch a Balinese Gamelan show
No sound is more synonymous with Indonesia than Gamelan, and quite fittingly, Gamelan is a crucial and important piece of Balinese culture as well.
Gamelan is a type of traditional music that is often heavy on percussion, relying on an ensemble of various instruments (from xylophones to bamboo flutes) to produce layers of beautiful, rhythmic goodness.
Does it sound complicated? That's because it is. In fact, Gamelan was once named the most complicated music in the world.
So, if you find yourself in Bali, don't miss your chance to watch a Gamelan "orchestra" in action! Here's an article on where to find these shows around the island. This is hands down one of the best fun things to do in Bali for a first-timer.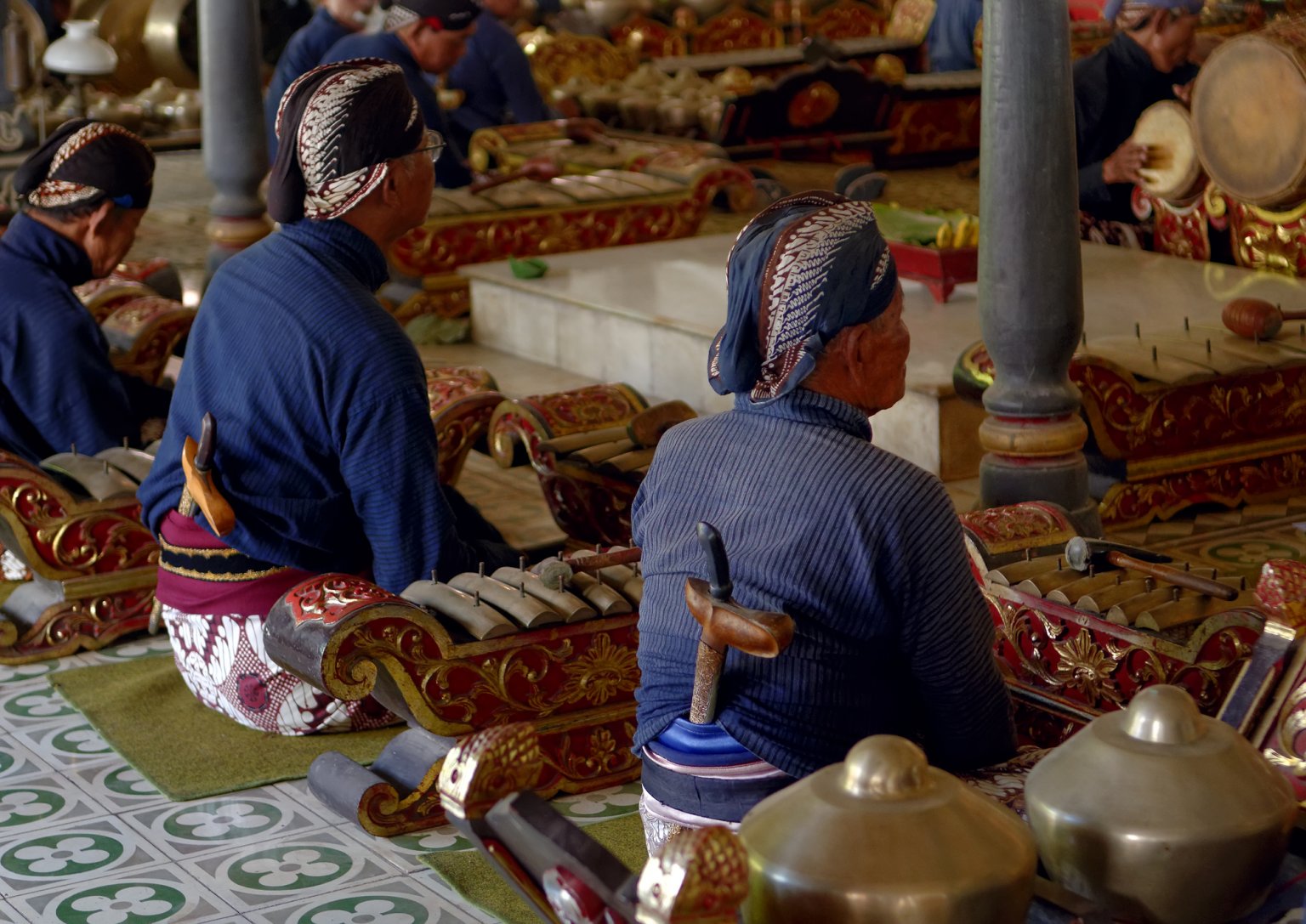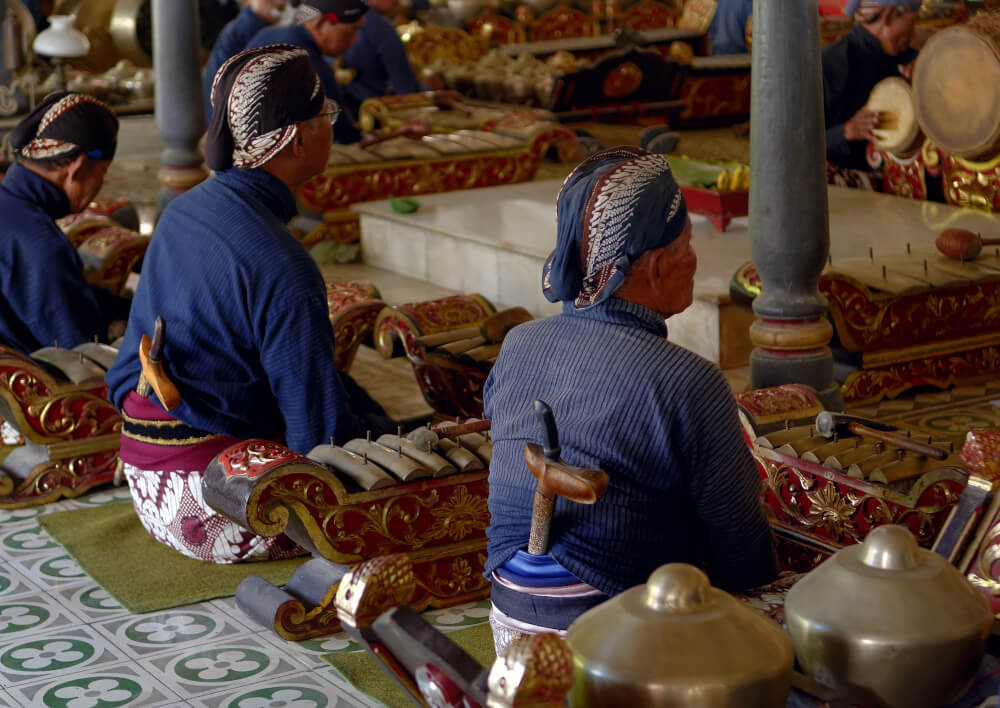 7. Get muddy and engage in some Mepantigan
While not the most traditional cultural activity in the world, why not give Mepantigan a try?
This phenomenon is quickly gaining popularity among visitors to Bali for one simple reason: it's mud wrestling with a cultural twist… which means yes, you have a lovely excuse to drag someone in mud (all in the name of cultural enrichment).
Mepantigan is a form of Balinese martial arts that blends fighting with performing arts, all while relying on muddy venues rice fields and beaches. As far as cultural experiences in Bali go, they don't get much more hands on than this.
Think of it as a lively spectacle involving plenty of throwing and rolling around in mud, all while dressed up in traditional Balinese attire. Bonus points: your brawl soundtrack is often the rhythmic sound of a gamelan orchestra.
8. Make it rain rupiah at a local market
Last but not least, as many travellers know, markets tend to be where you get a sense of a destination's local heartbeat, and Bali of course is no exception.
Marketing hopping is one Bali cultural experience you can't miss!
From bustling food markets where you can eat your weight in street foods, to vibrant markets peddling colourful clothing, trinkets, souvenirs and more, there's no better way to immerse yourself in a local environment and get some precious face time with locals (even if that means haggling for your ten batik scarves).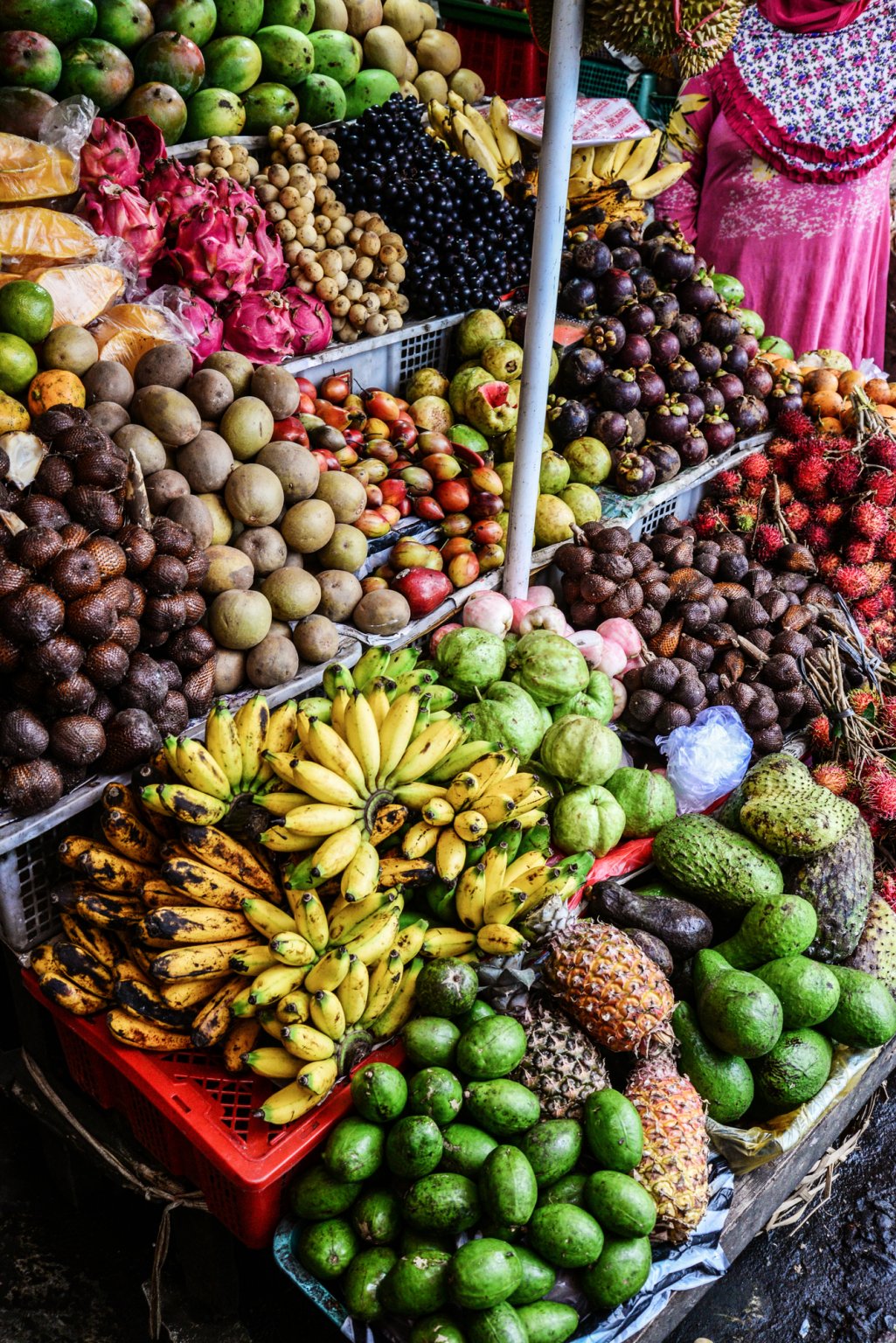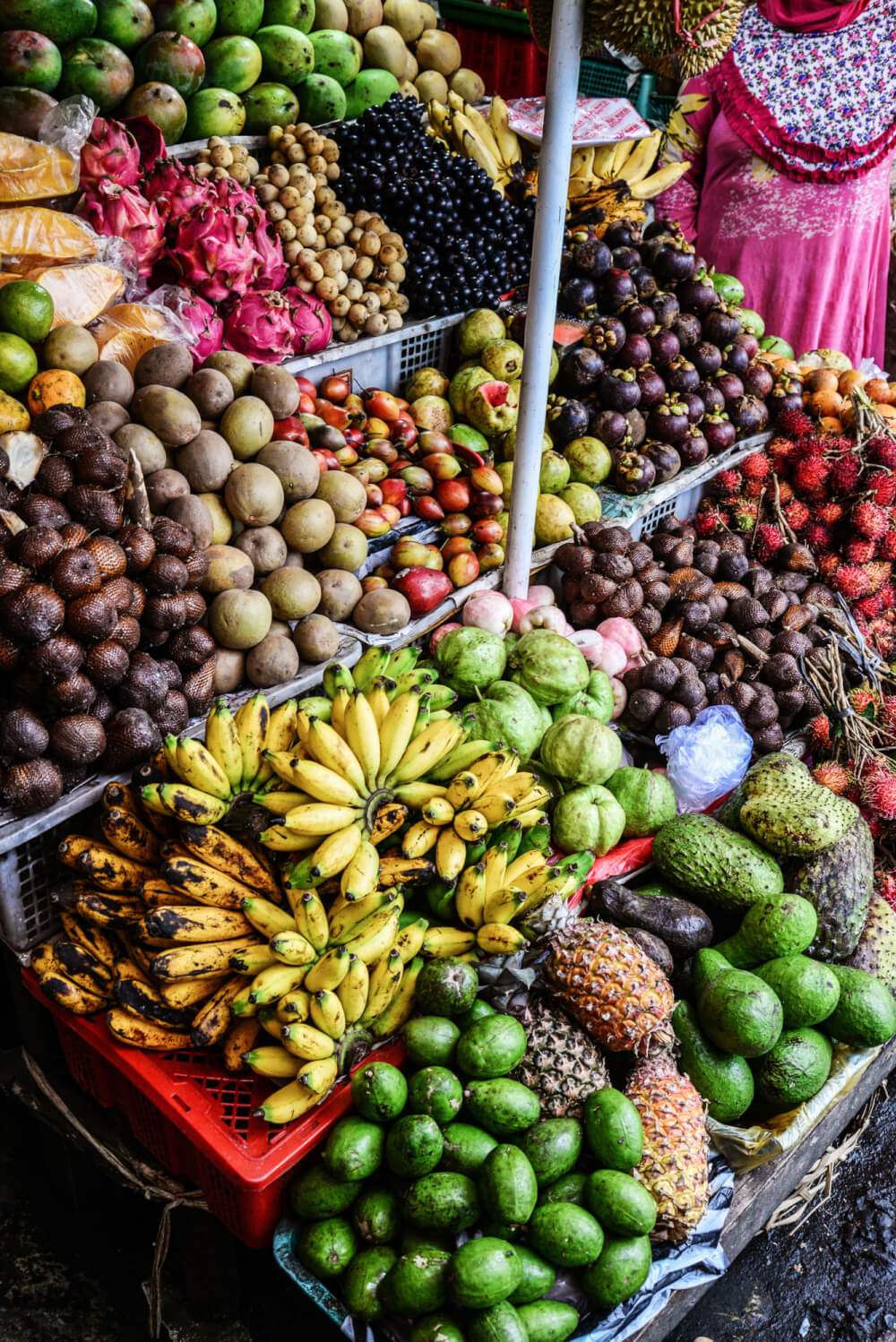 I hope you enjoyed this guide to Balinese culture and cultural things to do in Bali!
With a seemingly endless parade of cultural experiences in Bali, this magical island is truly magical. I know that this list barely scrapes the surface, so I'm turning to you for help!
Tell me: what did I miss for this Bali Culture Bucket List? Let me know in the comments!
---
Watch my most popular YouTube video this week:
---