*FYI - this post may contain affiliate links, which means we earn a commission at no extra cost to you if you purchase from them. Also, as an Amazon Associate I earn from qualifying purchases. Check out our Privacy Policy and Disclosure. for more info.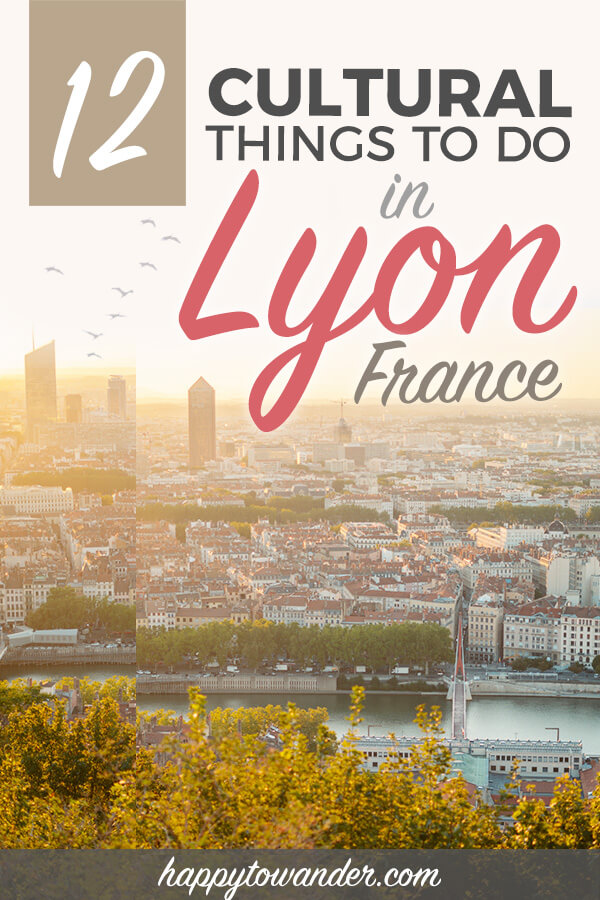 This list of things to do in Lyon was created in partnership with Movie Travel and the Chambre de Commerce Italienne de Lyon. I hope you enjoy it!
There are some cities in this world are weirdly humble. Cities that make you think: 'huh, why is this place so awesome? And why have I not heard of its greatness til now?'
Well my friends, after a magical whirlwind visit to the French city of Lyon, I can confirm, Lyon might just be one of the most quietly wonderful places I've ever been.
Here's the thing: Lyon is where cinema was born, where gastronomy was revolutionized, and oddly enough, in spite of all these accomplishments, they keep cool and humble about it all.
So here I am to do the bragging for them… as a surrogate shouter from rooftops, let's say.
Because here's the truth: Lyon is one of those spellbinding cities that dazzles at first glance with its star attractions, and only gets more interesting as you peel back the layers. For history and culture lovers, a visit to this underrated city is a must, and so is ditching the traditional guidebook route. There are so many incredible hidden attractions in Lyon, ones that I only learned about on my 2nd visit, and today I'm going to share them with you (or shout them at you, with the kind of unbridled enthusiasm only a lovestruck Christina can manage).
And so, from Lyon's beloved UNESCO World Heritage Sites (spread across 500 hectares across the city), to enchanting architectural gems, here are some of the best things to do in Lyon… with a historical and cultural twist.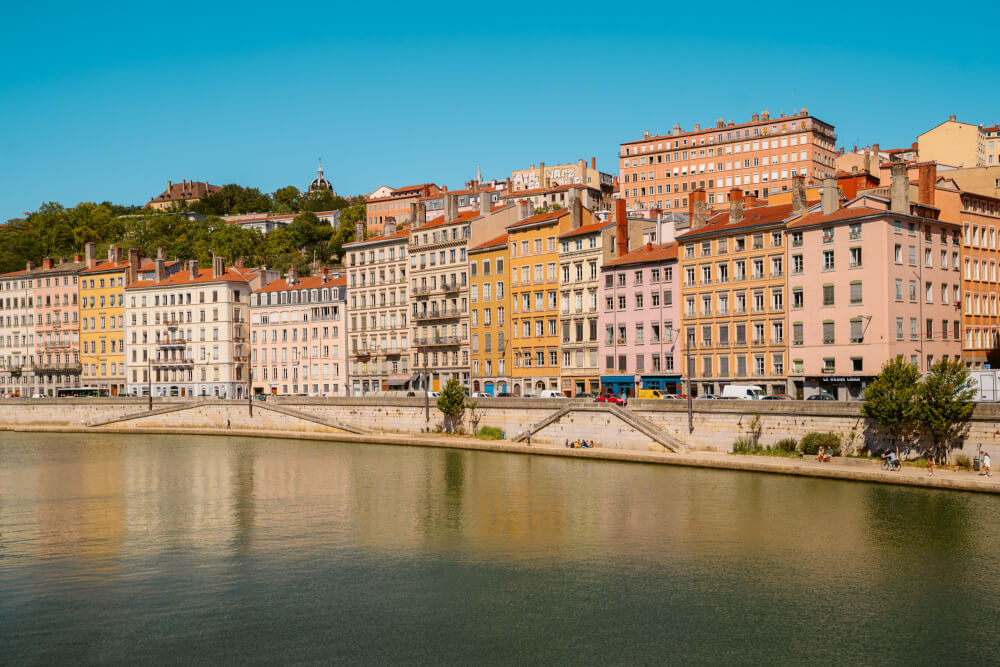 ---
---
1. Geek out at the Lumière Institute and Museum
As the birthplace of cinema, it makes sense for us to begin this list of things to do in Lyon with a visit to the Lumière Institute, a cultural gem in Lyon that's far too often left off tourist radars.
Why here? Well, in brief: the invention and popularization of cinema can be owed to two brilliant Lyon minds: Auguste and Louis Lumière, AKA the Lumière Brothers who invented the cinematograph in the 1890s. This nifty invention is what would go on to revolutionize the world of motion picture, enabling recordings that would later be screened to mass audiences, and allowing us to capture 'movies' around the world.
And the Lumière Institute, housed in the splendid former home of the brothers is today home to a wow-worthy collection of artefacts from the history of cinema (including of course, the cinematograph that started it all). From antique cinematography treasures to snippets of the first films ever shot, there is plenty here to entertain any film buff for hours on end.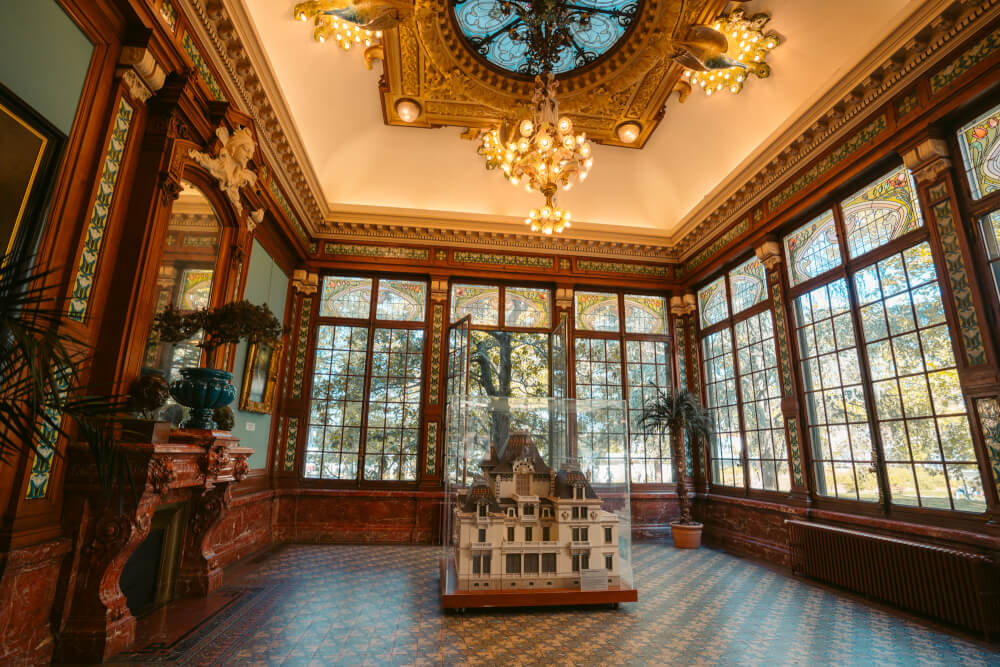 Of course, with that in mind, it's also possible for you to…
---
---
2. Watch a movie at the Hangar du Premier Film
When at the Lumière Institute, you are only steps away from one of the world's first ever film sets.
…. Yup.
On a fateful day in 1895, Louis Lumière set his camera down to record the typically monotonous task of workers leaving his factory. Unexciting as it may have been, this short snippet, no longer than a minute, would then go on to become the first film ever screened, 'The Exit of the Factories Lumières". Of course, the rest is history!
This exact spot is the only part of the Lumière Factories still remaining, and it's wonderfully preserved today as the Hangar du Premier Film (Hangar of the First Film). Most fittingly, the site is now home to a theatre that regularly screens films for the public to watch, so if you want to soak in a piece of cinematic history while in town, be sure to visit the official website here for showtimes…. Or just stop by for a peek during their regular opening hours – admission is free!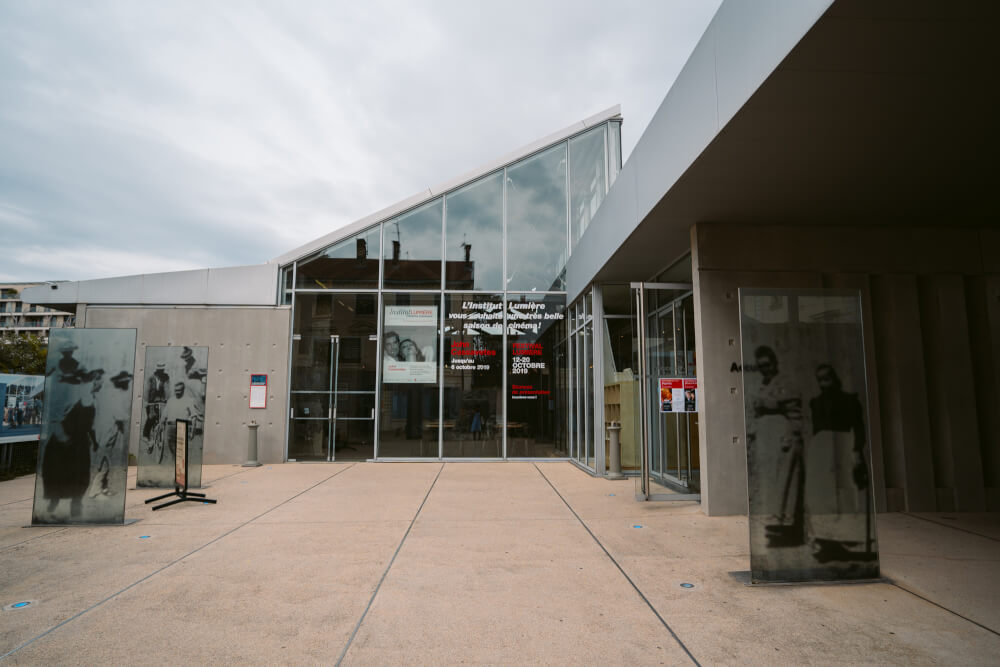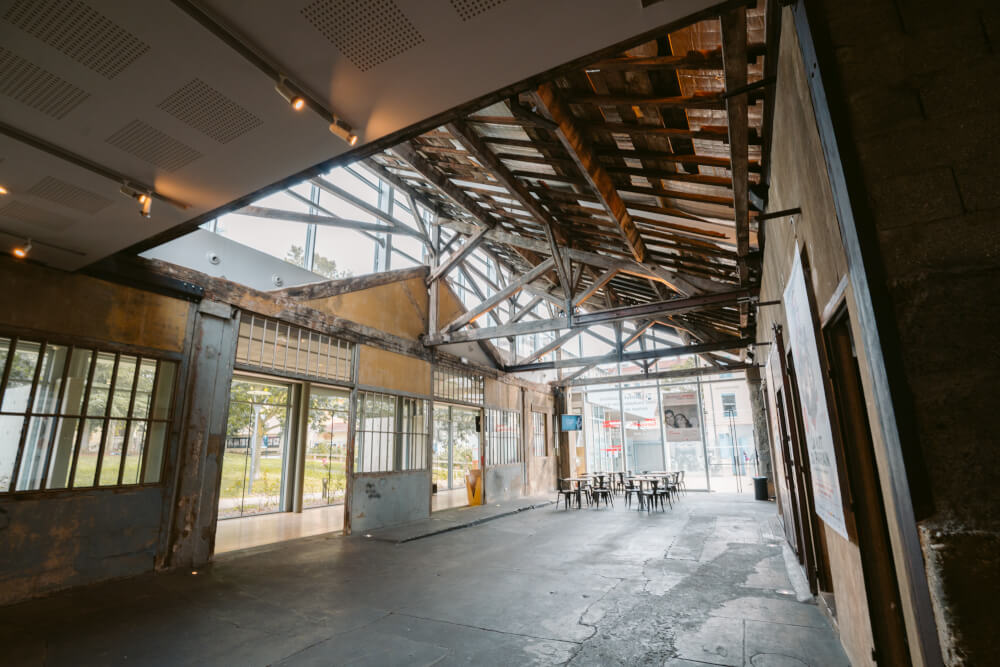 ---
---
3. Visit the Musée Miniature et Cinéma (Museum of Cinema and Miniatures)
And if you're looking for a more fangirl-friendly immersion into the world of cinema, look no further than Lyon's Musée Miniature et Cinéma.
I consider this place one of the most wonderful secrets in Lyon.
Housed in a UNESCO World Heritage site, the Maison des Avocats, this museum quietly conceals some of the most epic cinematic treasures you can imagine… all in the heart of the city's Old Town.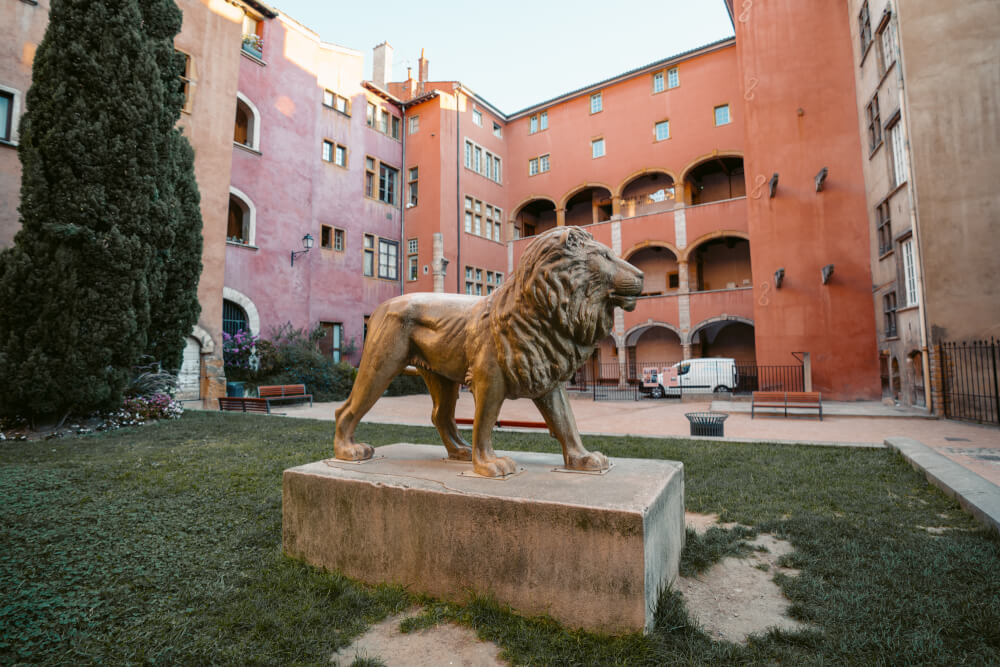 For context, I'm a child of the 90s, and stepping into this museum was like a crazy nostalgia warp of props and costumes from all the films I watched growing up. Imagine stepping into a room and casually seeing Mary Poppins' umbrella, next to the hoverboard from Back to the Future, next to masks from The Mask and Mrs. Doubtfire, in the room next to dinosaur models from Jurassic Park and the Alien Queen from Alien.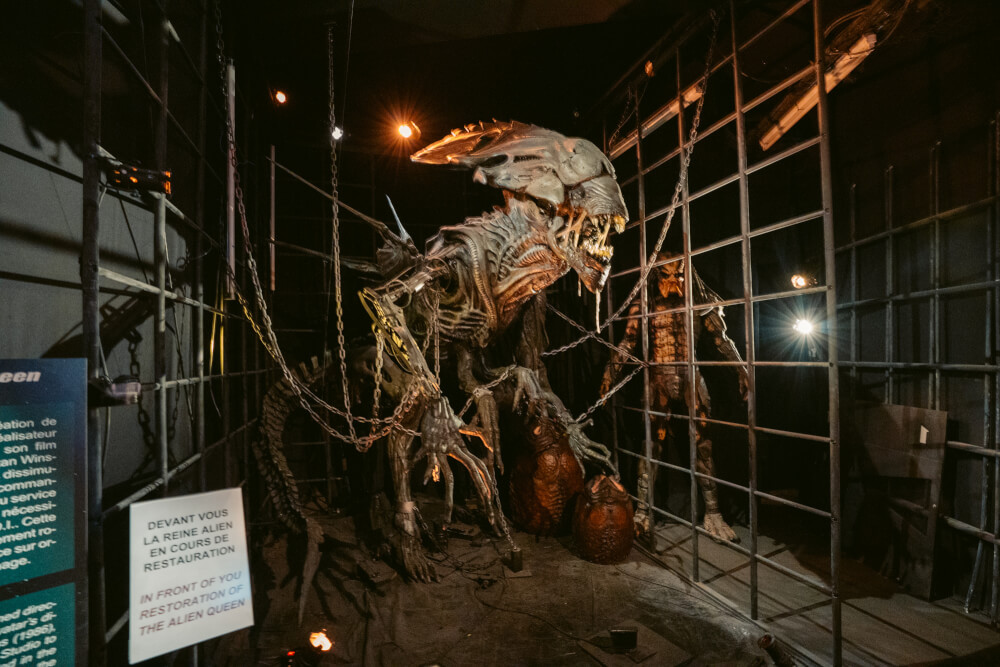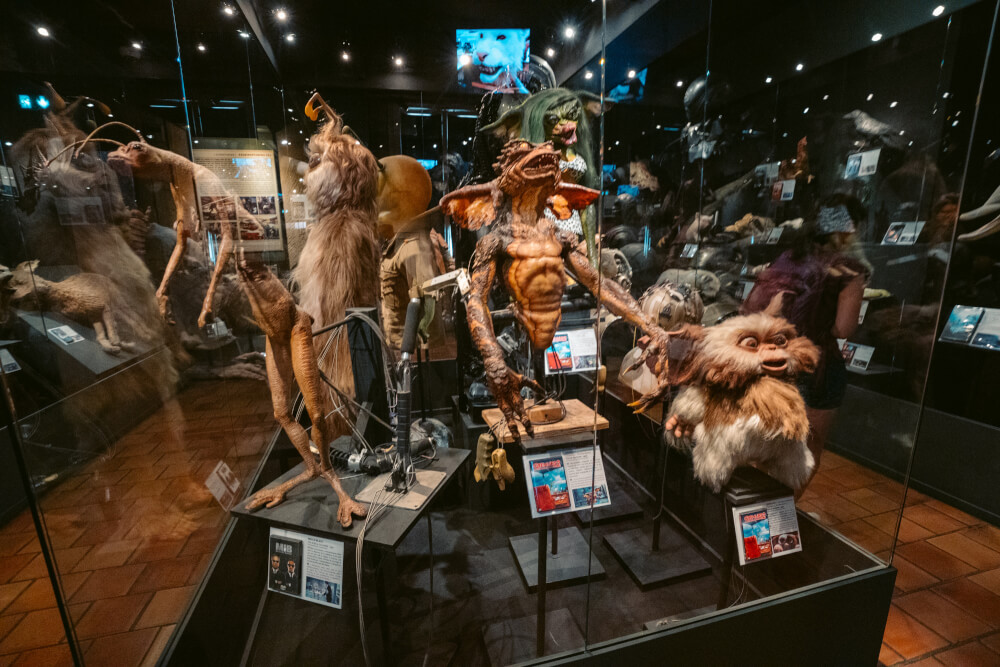 … Yes, all these world-class, mega-famous, real-life Hollywood props, in a quiet Lyonnais museum.
Add in the charming exhibition of detailed miniatures on the top floor, and you have what may well be one of my favourite things I did in Lyon. (The 10 million photos I took are proof).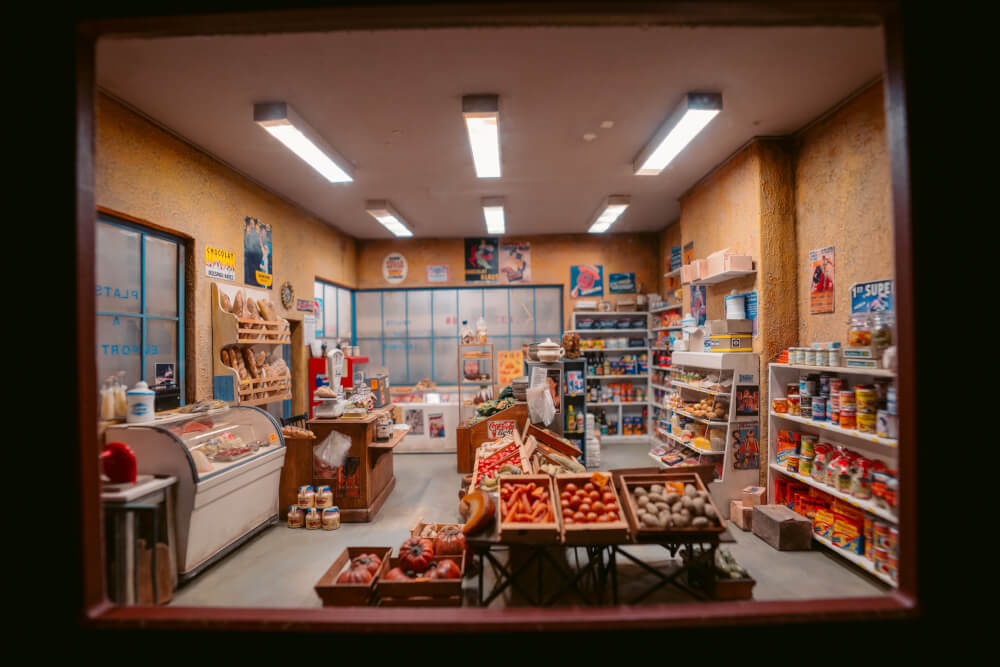 ---
---
4. Explore Lyon's secretive Traboules
From film props to film sets, another must-do in Lyon is to go full-spy and sleuth through the city's expansive network of traboules, passageways hidden in plain sight, so-named after an old Latin term meaning "to cross". As seen in films like 2011 thriller Les Lyonnais (A Gang Story) and 1997 drama Lucie Aubrac, Lyon's traboules are wonderful secrets that are a perfect fit for our inner detectives.
There are over 400 traboules in the city (mainly in the UNESCO World Heritage districts of Vieux Lyon and Croix Rousse), offering secret ways to cross through buildings. Once upon a time, they would have been used for easy river access, silk worker shortcuts and clandestine meeting spots during World War II… and, well, today, dozens of them are open for curious, snoopy tourists like you and me.
The beauty of Lyon's Traboules is that no two are the same – with each one offering its own unique architecture, design and hidden secrets. Some of the most iconic traboules in the city include Lyon's longest traboule (found between 54 Rue Saint-Jean and 27 Rue du Bœuf), Cour des Voraces in Croix Rousse, and the Traboule de la Tour Rose (though arguably not a proper traboule by definition, but still a picture-perfect muse-see). Of course, the best way to discover these passageways is to find them yourself, or to book a tour.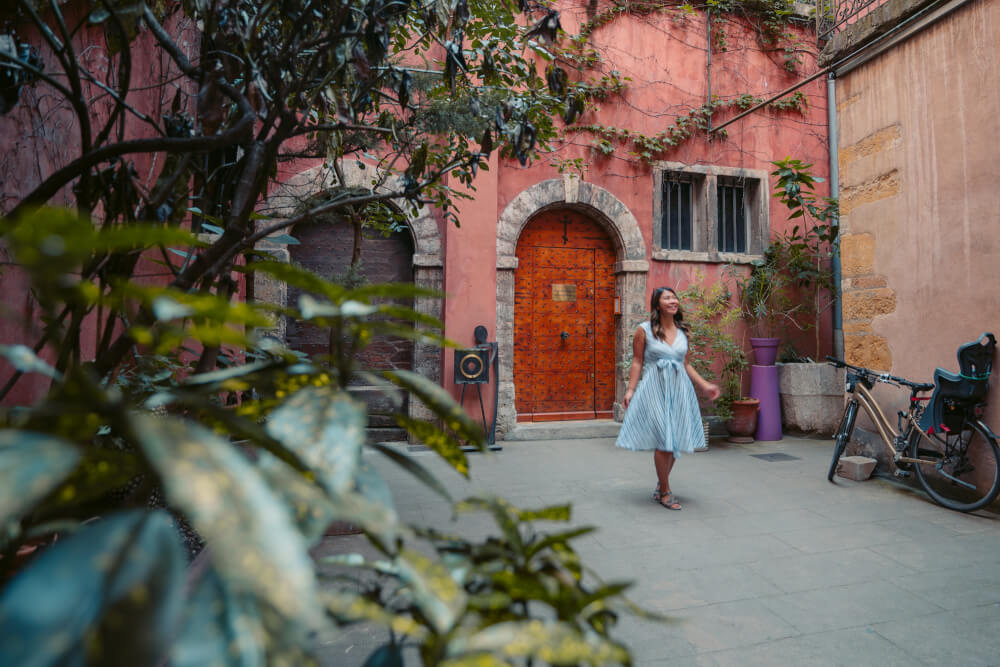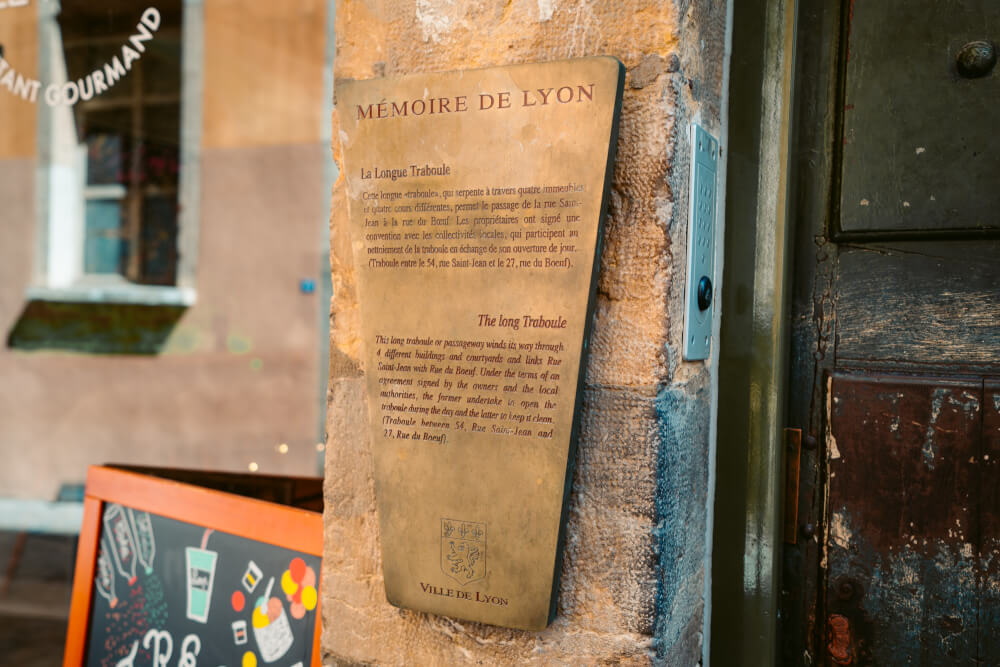 ---
---
5. Spend time wandering the Ainay District
Of the four historical districts that comprise Lyon's UNESCO World Heritage sites, one of the most romantic is the center of Presqu'île, the peninsula sandwiched between Lyon's two rivers: the Saône and the Rhône. Spanning from the foot of the Croix Rousse to the confluence of these rivers, this scenic slice of Lyon is a must-see not just for its diversity of architectural beauty, but also its rich historical significance.
In the 1946 film Un Revenant (A Lover's Return), we get to know one part of the Presqu'île especially well, the elegant Ainay District, once home to the city's bourgeoisie and today one of the most affluent neighbourhoods in Lyon. These former stomping grounds of the aristocracy can be found in the southern half of the Presqu-ile, between the sprawling Place Bellecour and La Perrache.
For me personally, the Ainay District was one of my favourites for a quick wander in Lyon, blissfully away from tourist crowds. Packed with gorgeous architecture, adorable antique shops, local boutiques and the impressive Basilica of Saint Martin d'Ainay, this is one part of Lyon you should definitely take time to explore, even if just to window shop…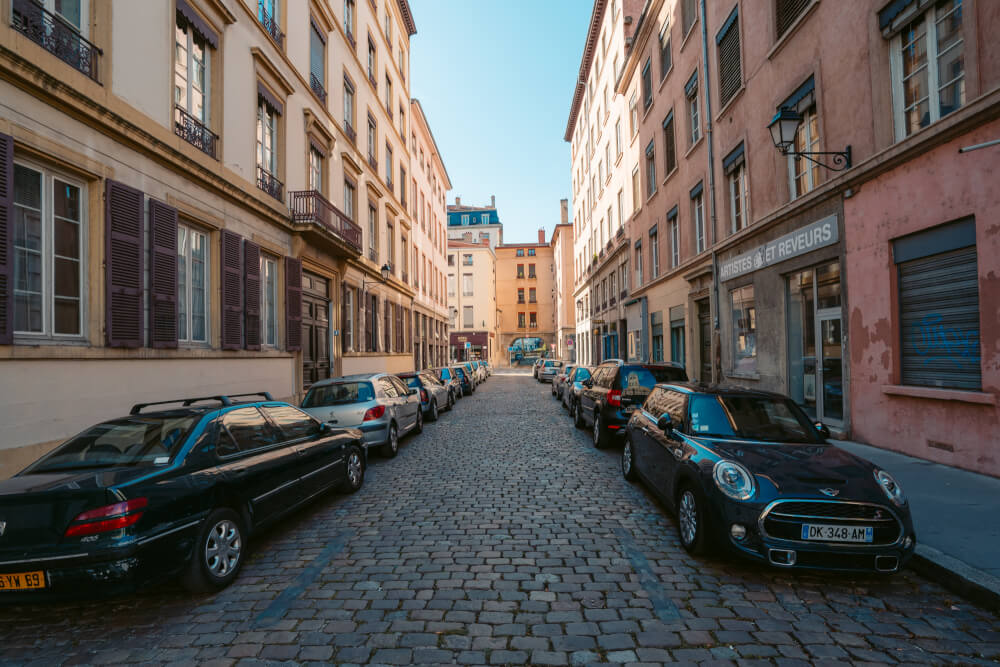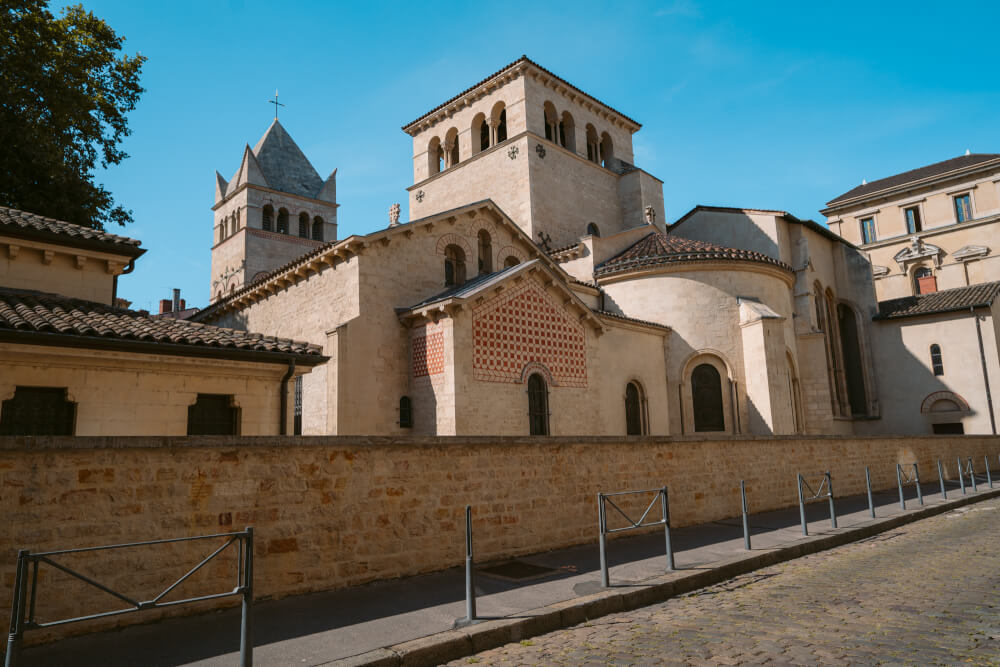 ---
---
6. Soak in the atmosphere of Vieux Lyon
There is no neighbourhood more quintessentially Lyon than Vieux Lyon, the city's Old Town, one of the four UNESCO World Heritage districts in the city, known for its colourful buildings, picturesque streets and Renaissance flair.
It is this atmospheric district of Lyon that take center stage in the Louis Deluc Award-winning film L'Horloger de Saint-Paul (The Watchmaker of Saint Paul), released in 1974.
While admittedly one of the busiest and most touristy parts of Lyon, the beauty of Vieux Lyon is that you can always find a way to dodge the crowds, whether by simply arriving early, or just ducking through its intriguing network of side streets and traboules. Rue Juiverie is especially worth a visit, with some of Lyon's most beautifully preserved Renaissance facades, with ornate doorframes, detailed sculptures and charming guild signs lining the entire street… along with a real-life shop called L'Horloger de Saint-Paul, inspired to open because of the film.
I'll outline a few more must-sees within Vieux Lyon below, but one of the best ways to enjoy the area is to simply walk around and discover spots for yourself, or perhaps to grab a meal at one of the district's numerous restaurants and terraces.
PS: A great place for the perfect view over Vieux Lyon is the Hill Chazeaux, as seen in the opening scene of Un Revenant (1946).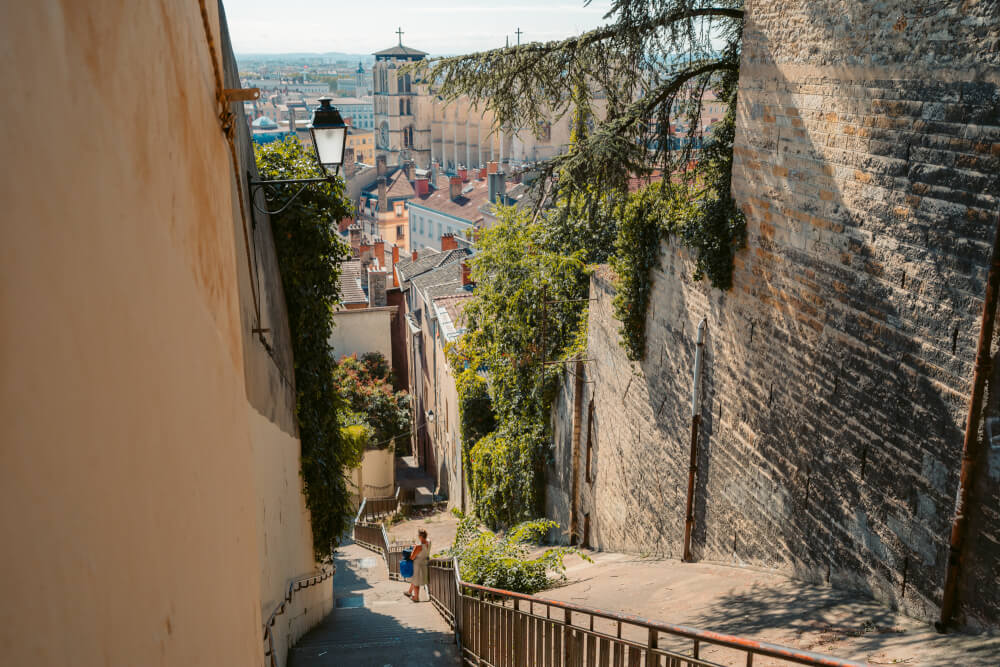 ---
---
7. Visit Saint Jean Cathedral
Lyon is known for its incredible cathedrals, so another must-see is the Saint Jean Cathedral (seen often in L'Horloger de Saint-Paul), which can be found in the heart of Vieux Lyon, with infinite stories to tell.
I mean, at first glance, the imposing Saint Jean Cathedral is already impressive. With its stunning mix of Gothic and Romanesque architecture, it's definitely a beautiful church to drool over. But, for me, the splendour of this cathedral emerges in its details and history. After all, this cathedral has weathered countless literal and figurative storms since the 12th century.
You might notice for instance that the stained glass windows on the first chapel to the right are a distinctly modern contrast to the rest of the church… a consequence of WWII bombs that destroyed the original. You might also notice missing (and even decapitated statues) on the church's façade, the doing of Calvinist troops in the 16th century… so many amazing details, and that's not even mentioning the impressive 14the century astronomical clock, which towers 9m high and shows the position of the moon, Earth and stars, in addition to the date.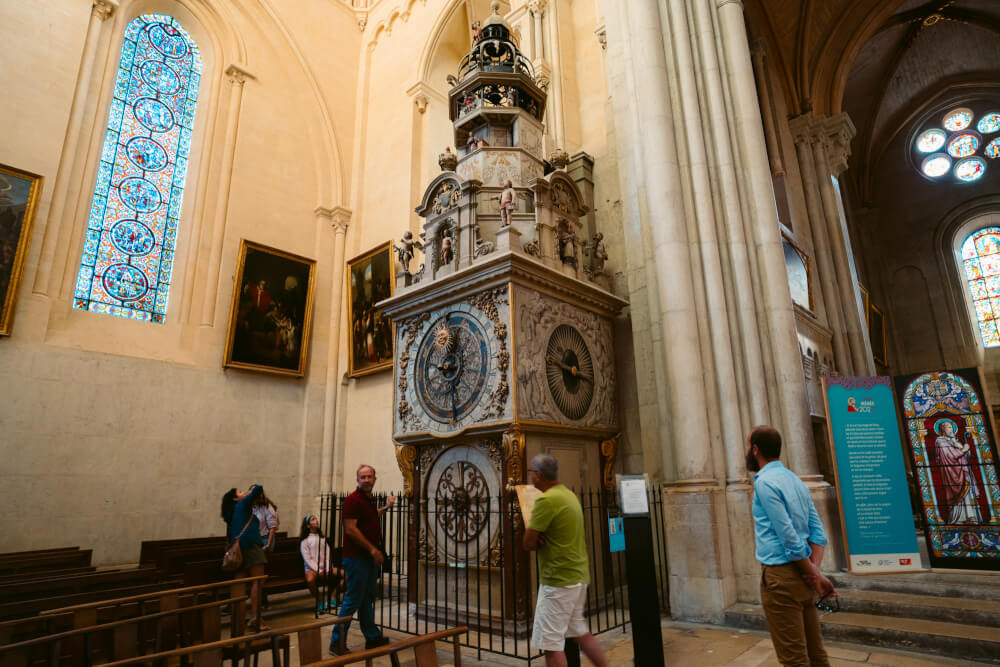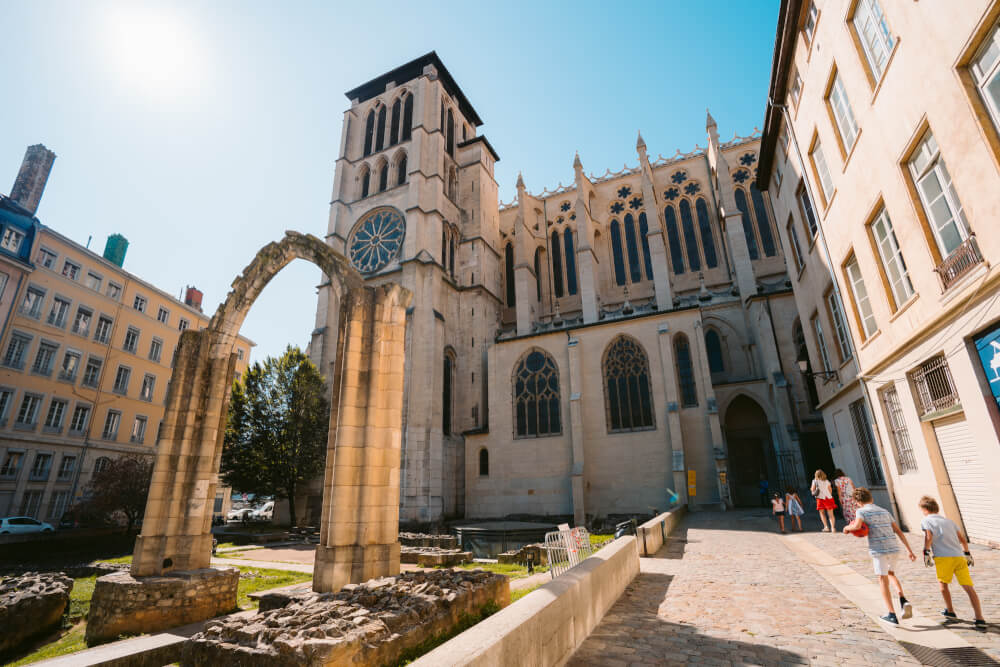 ---
---
8. Enjoy the views and architecture of Notre Dame de Fourvière
We of course can't discuss things to do in Lyon without mentioning the crown jewel of the city, the Notre Dame de Fourvière, fittingly perched on a hill where it can dazzle and be seen from all over Lyon. Undoubtedly, this church is the focal point of the UNESCO World Heritage district Fourvière, with easy access by funicular or (for those athletically inclined) a steep uphill slog.
Known affectionately by locals as the upside down elephant (which is rather accurate, if you ask me), this splendid church has one of the most impressive cathedral interiors I've seen in my entire life. Unbeknownst to many visitors, the structure actually consists of two churches stacked on top of each other, the lower (less frequented) church being home to impressive mosaics, and the upper church being a majestic and colourful mish mash of Byzantine, Gothic and Romanesque elements. When the light shines in through this upper church's stained glass windows, there are no words for it besides 'wow'.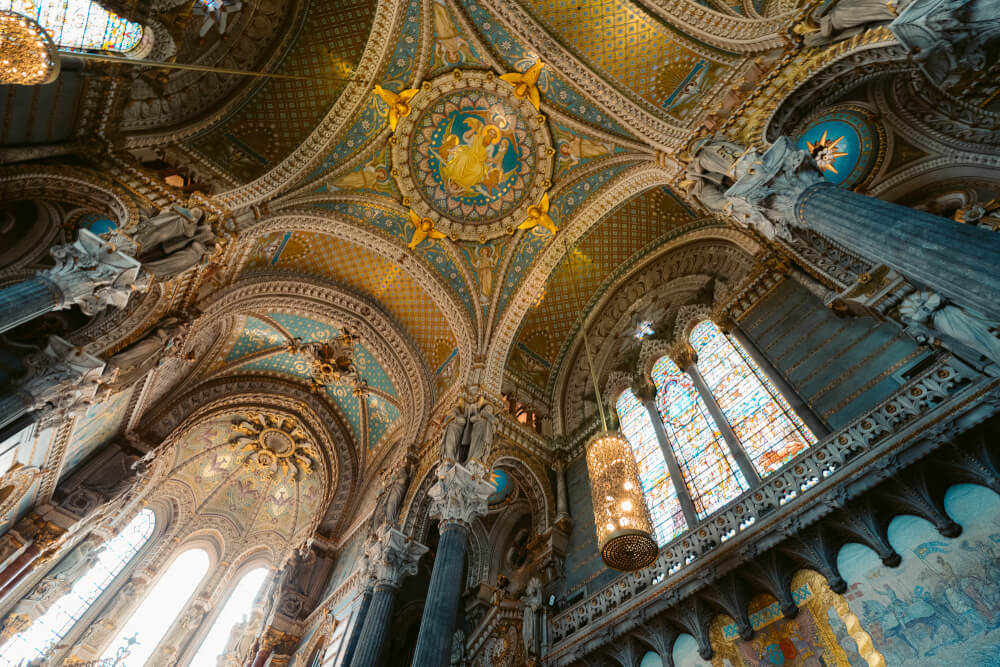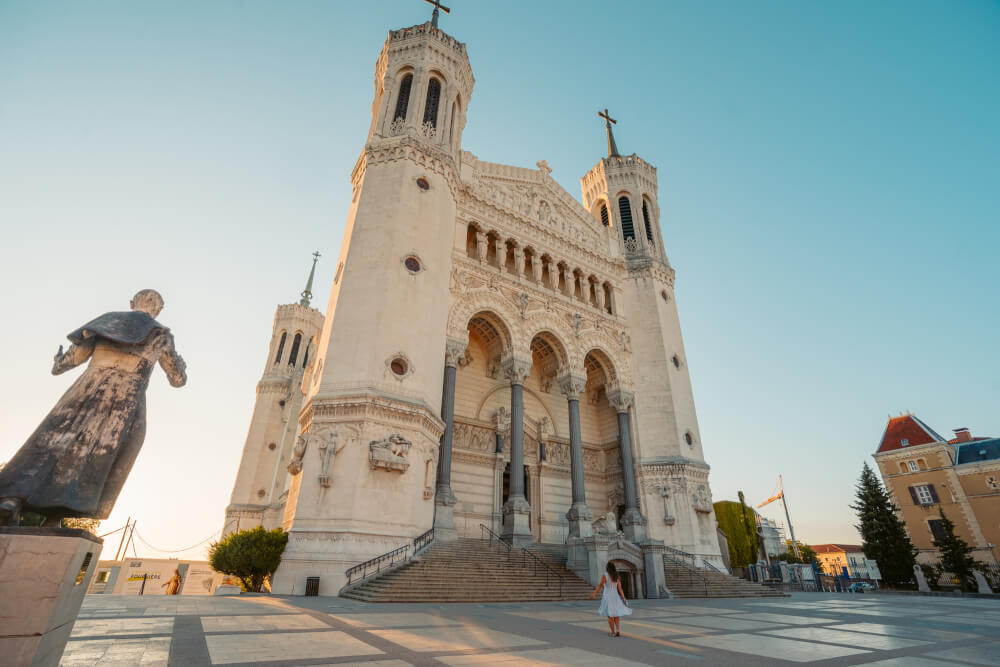 Of course, rounding off the wow factor is the view from here, bar none one of the best views in Lyon. My tip? Come up for sunrise. It's absolutely spectacular… and allows you to enjoy it before it gets too crowded, which it does, very quickly!
---
---
9. Explore Lyon's Roman ruins
With such a lengthy and fascinating history, it's inevitable that some pieces of Lyon's past are lesser known, and I would say without a doubt, Lyon's Roman heritage is one that doesn't get enough attention.
Yep, who knew? Lyon is a former Roman city! With impressive ruins to match! The best part is, they're all within walking distance of the Notre Dame de Fourvière… So, to round off your historical journey through Lyon, make sure you visit the Ancient Theater of Fourvière, an archaeological site and museum that whisks you away back to Roman times… all in the impressive setting of the Fourvière Hill, which (as we know by now) also means wonderful views.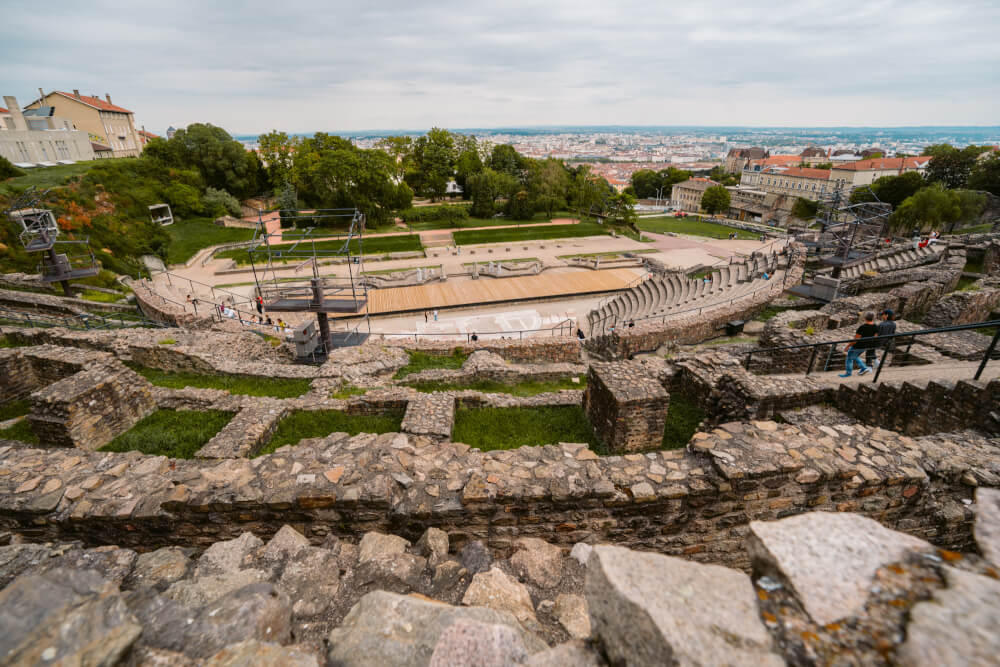 ---
---
10. Admire Lyon's amazing frescos
Street art is one of my favourite things to enjoy in any city, but Lyon really takes this concept to the next level – literally…
In fact, scattered all around Lyon are jaw dropping frescos that put most street murals to shame, with colourful and brilliantly detailed trompe d'oeil that cover entire buildings, creating massive art pieces that turn the Lyon city center into an open air art gallery.
The most wonderful part? Many of these frescos celebrate the history, culture and heritage of the city. Here are a few of the most famous ones to put on your list:
La Fresque des Canuts: Located in the Croix Rousse district, this massive mural depicts a typical scene in this district of Lyon (one of the four historical zones that make up Lyon's UNESCO World Heritage site). The most charming part about it however is that this fresco gets updated every few years to reflect changing times, with characters even getting 'aged up' as the updates roll on. If that's not impressive dedication, I don't know what is.
Fresque des Lyonnais celebres: As I'm sure you know by now, Lyon is the birthplace of many famous pioneers, including the Lumière Brothers and iconic author of Le Petit Prince, Antoine de Saint-Exupéry. This giant fresco depicts Lyon's most famous citizens, in awe-inspiring detail.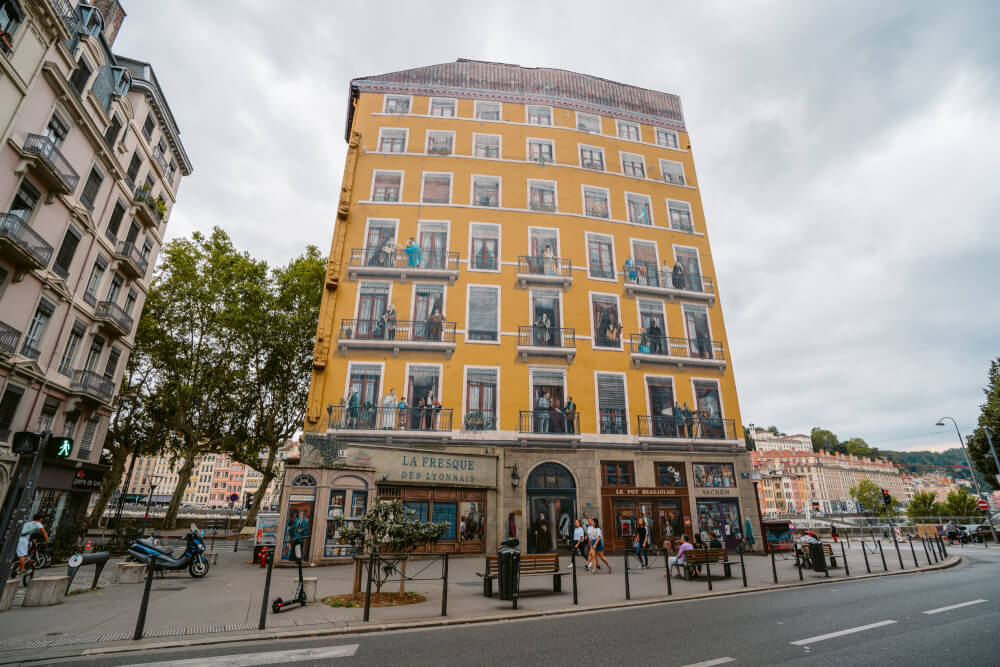 La Bibliothèque de la Cité: Book lovers will adore this tall towering book-themed fresco, filled with painted depictions of books from famous Lyonnais authors. You'll even see a trompe d'oeil café and bookshop on the bottom floor which are shockingly realistic at first glance 😉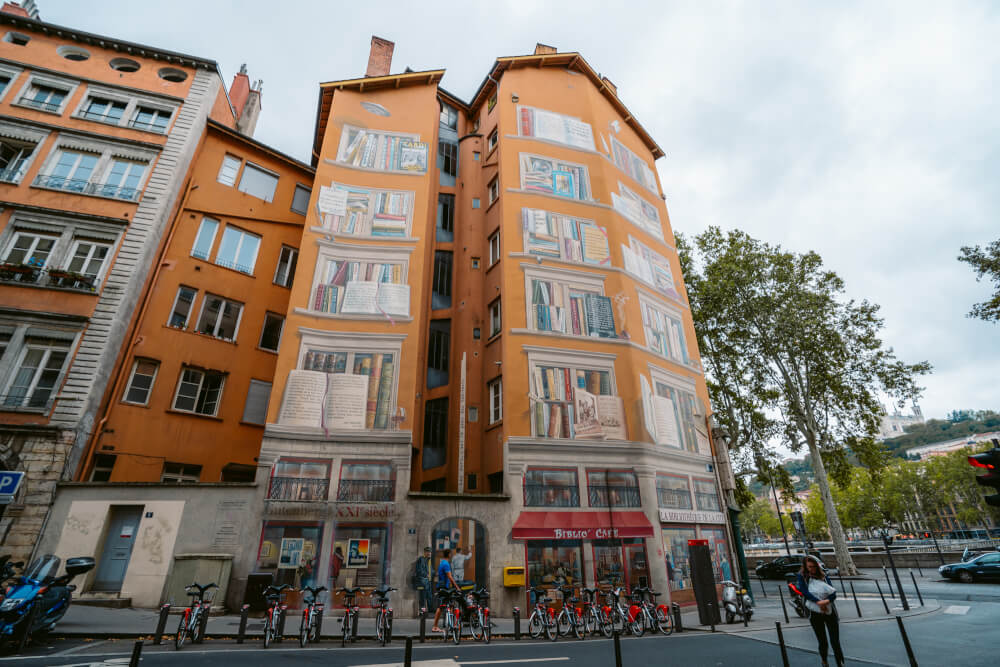 NOTE: There are plenty more frescos to enjoy in the city, but these are the most popular ones. For a more detailed list, visit the official Visit Lyon website here.
---
---
11. Stop by the Musée des Confluences
Amidst all its historical gems, it seems Lyon still has a final trick up its sleeve: a hypermodern museum shaped like a space-ship, perched at the confluence of the city's two rivers.
Housing a variety of exhibitions related to science and anthropology, the Musée des Confluences feels a world away from the wonders of Vieux Lyon and the city's other UNESCO World Heritage sites. Swapping history for daring progress, this museum can be found in the 2nd arondissement of Lyon (at the southern tip of Presqu'île), a former industrial space turned urban renewal project. If it's a peek into the future of Lyon you want, a visit to this lesser-visited part of the city is a must.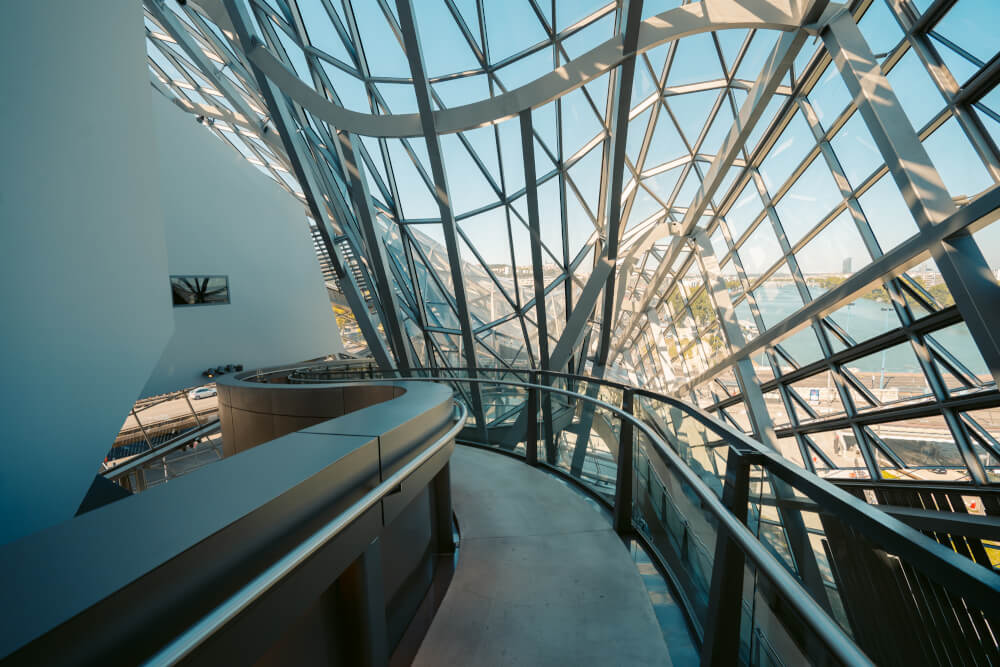 ---
---
12. Dine in a bouchon and sample famous Lyonnaise cuisine
Last but not least, it would be fairly criminal to list out the best things to do in Lyon without a nod to the city's gastronomy. After all, Lyon was declared the world capital of gastronomy once upon a time, a title that the city continues to honour through inventive culinary offers and of course, a vibrant food scene beloved by locals and visitors alike.
The most typical place to dine in Lyon is known as a bouchon, a home style restaurant where typical Lyonnais dishes are served in a warm and friendly atmosphere. You can click here for a roundup of typical dishes to sample while you're in town. Those looking for something more refined however can also opt for one of the Michelin star eateries in the city – there are in fact, 20 of them!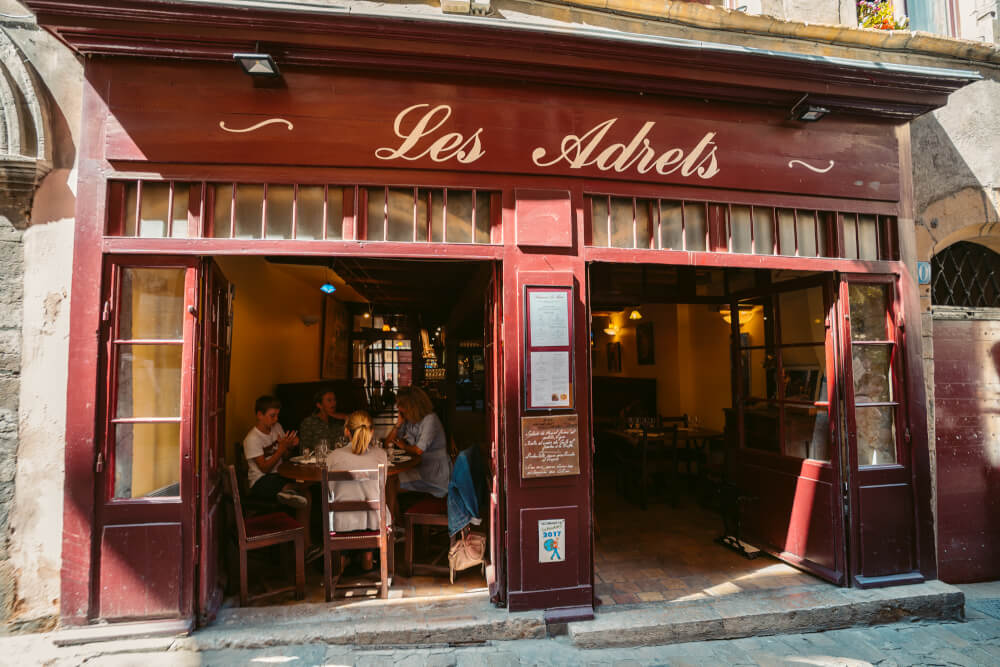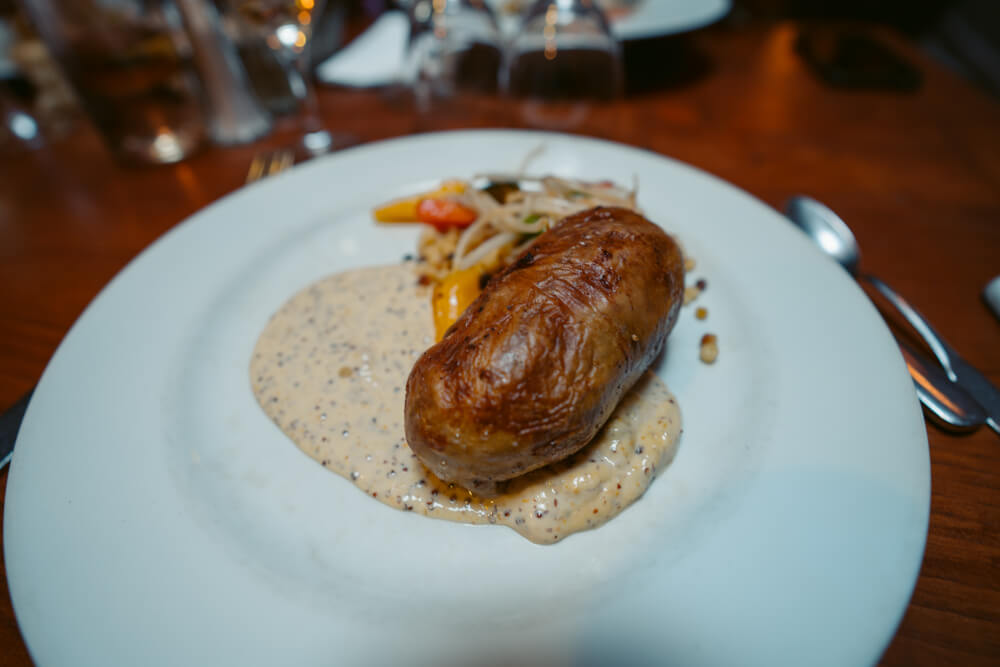 ---
---
Any more questions about things to do in Lyon?
I hope you enjoyed this cultural and historical roundup of my favourite Lyon activities. Let me know in the comments if I've missed any of your favourites!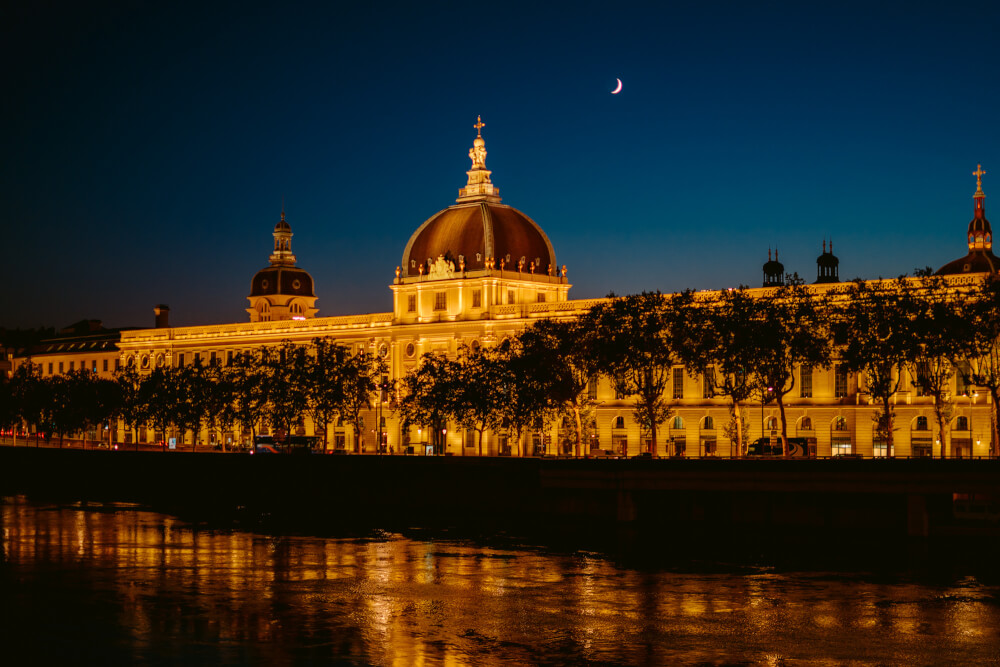 ---
---
---
Watch my most popular YouTube video this week:
---