*FYI - this post may contain affiliate links, which means we earn a commission at no extra cost to you if you purchase from them. Also, as an Amazon Associate I earn from qualifying purchases. Check out our Privacy Policy and Disclosure. for more info.
If you've been on my site before, you'll know this to be true: Brussels and I have history.
In fact, upon starting my blog in late 2014, one of the first articles I ever published was about how terrible I thought it was.
This, coming from an ignorant newbie traveler who thought the #1 thing to see really WAS just a tiny statue of a little boy peeing (yes this exists, and it's called Manneken Pis).
… My friend hated it so much she cried.
Almost a decade and six visits later, I finally "get" Brussels. I've been to over a dozen of its top museums. I've tasted my way around every major chocolate shop. I've visited in Spring, Summer, and Winter, stopped by its famous Christmas market, and I FINALLY feel ready to share with you all the wonderful things there actually are to do in this beautiful city!
So, read on for a roundup of the best things to do in Brussels, Belgium.
1. Get that mandatory photo at Mannekin Pis
This is by no means the best thing to do in Brussels, but I'm putting it first in a sort of "get this over with" sort of way.
The Mannekin Pis is Brussels' most iconic attraction. It's also widely considered to be one of the continent's most disappointing tourist traps.
Mannekin Pis is a 55.5 cm (21.9 in) tall statue made of bronze that depicts a naked little boy peeing into the fountain beneath him. He's actually one of a whole art form called puer mingens (which is Latin for urinating boy) although he might be the most famous of these weird little statues!
Even stranger, Mannekin Pis (which is Dutch for 'little pissing man') is one of the main symbols of Brussels. The original statue dates back to 1618, but it was stolen and vandalised so often that they now hide it in the Brussels City Museum. Today, a replica stands in the original's place, which is about a five-minute walk from Grand Place.
If you're lucky, you might even catch him in a fun outfit: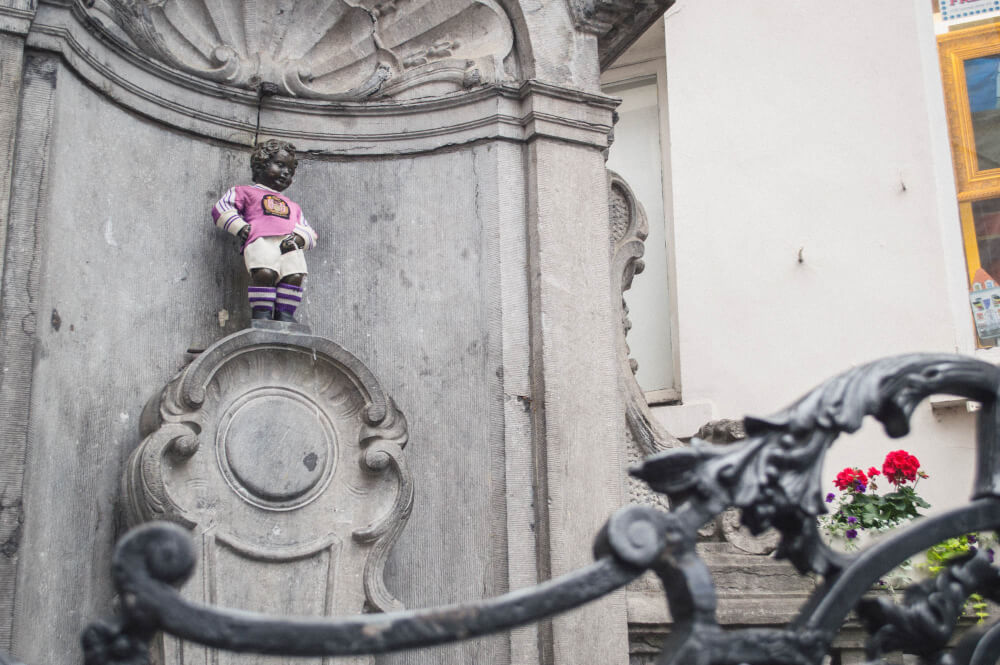 2. Visit Manneken Pis' companion statues across the city
Funnily enough, while Manneken Pis is (for better or worse) the most popular fella in Brussels, it's a little-known fact that he's only one of three peeing statues in the city.
So if you consider yourself a diehard fan of peeing statues, or simply want to flex that you've done a slightly more 'offbeat thing to do in Brussels', then be sure to add these to your list:
Het Zinneke: My favourite was probably this version, which shows a bronze statue of a dog peeing against a bollard. It's not actually a fountain, unlike the other two, but still fun to find. It's located at the intersection of Rue des Chartreux and Rue Saint-Christophe.
Jeanneke Pis: Another fountain features a little girl version with pigtails squatting down to pee. This statue has been around since 1985 and is located north of the Grote Markt in Impasse de la Fidélité, a little street off Rue des Bouchers.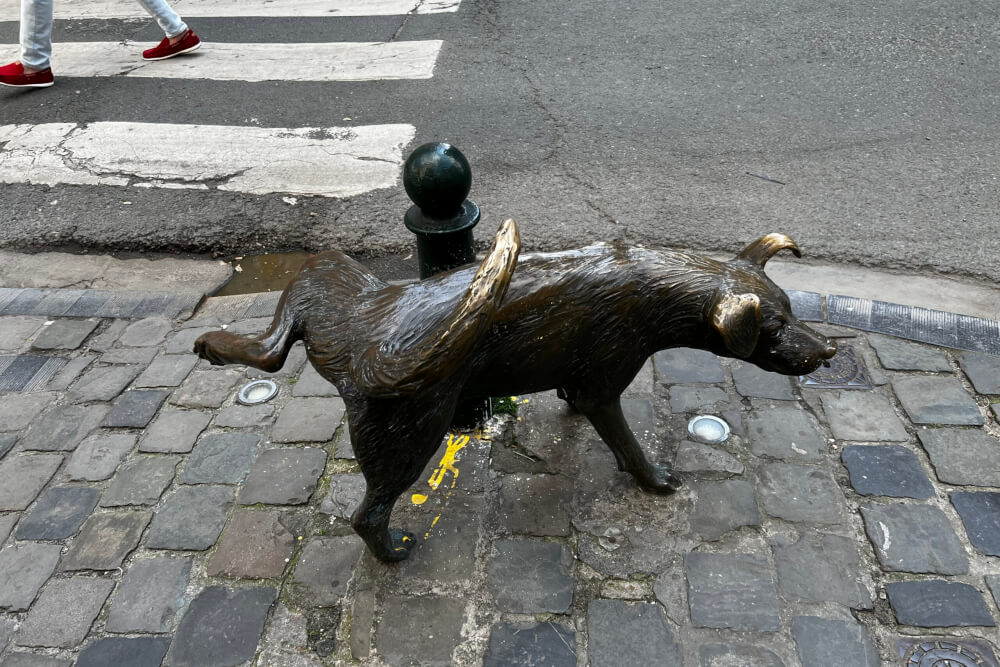 3. Or peek into Manneken Pis' (elaborate) closet
Included in the Brussels Card
Looking for one of the quirkier things to do in Brussels? Look no further than the Garderobe Manneken Pis.
As much as I jokingly hate on that little guy, I have to admit he has style and he's dressed in different costumes several times a week by the non-profit association The Order of the Friends of Manneken Pis.
Inside this attraction, you'll find more than 1,000 different costumes for the little boy, many of which are very modern, but the oldest costume on display is a gentleman's gown which was gifted by King Louis XV of France in the 17th century!
Some other cool outfits to keep an eye out for include a Dracula costume, a Mickey Mouse costume and a James Bond costume.
NOTE: Additional Manneken Pis outfits can also be spotted in the Brussels City Museum: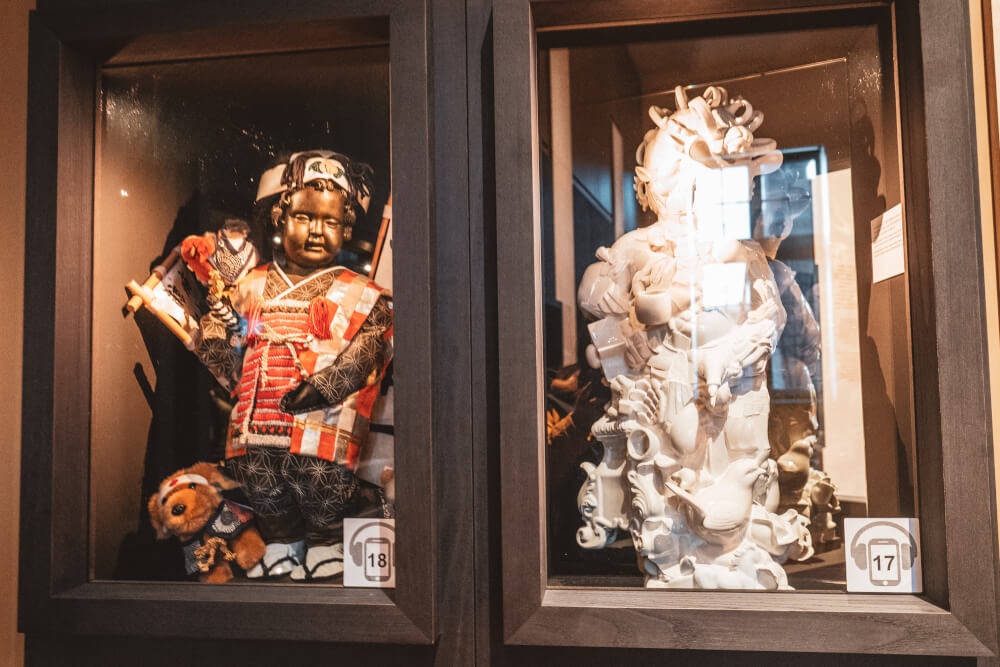 4. Marvel at the architecture of Grand Place
For those who love to ooh and ahh over stunning buildings, there's no better Brussels place to visit than Grand Place (AKA Grote Markt).
This is the central square of Brussels ringed by opulent Baroque and neo-Gothic buildings including the Town Hall, which is topped with a statue of Saint Michael slaying a demon.
Another notable building is the King's House (which used to be called the Bread House as it's where bread was sold), which today houses the Brussels City Museum.
Apart from those highlights, there are also a number of stunning guildhalls on the square here, which is often used as a location for flower markets, medieval festivals, a beer weekend and, of course, some of the most stunning Christmas displays in Europe.
It's so pretty that it was even used as an establishing shot for Belgravia in those festively terrible Princess Switch movies on Netflix!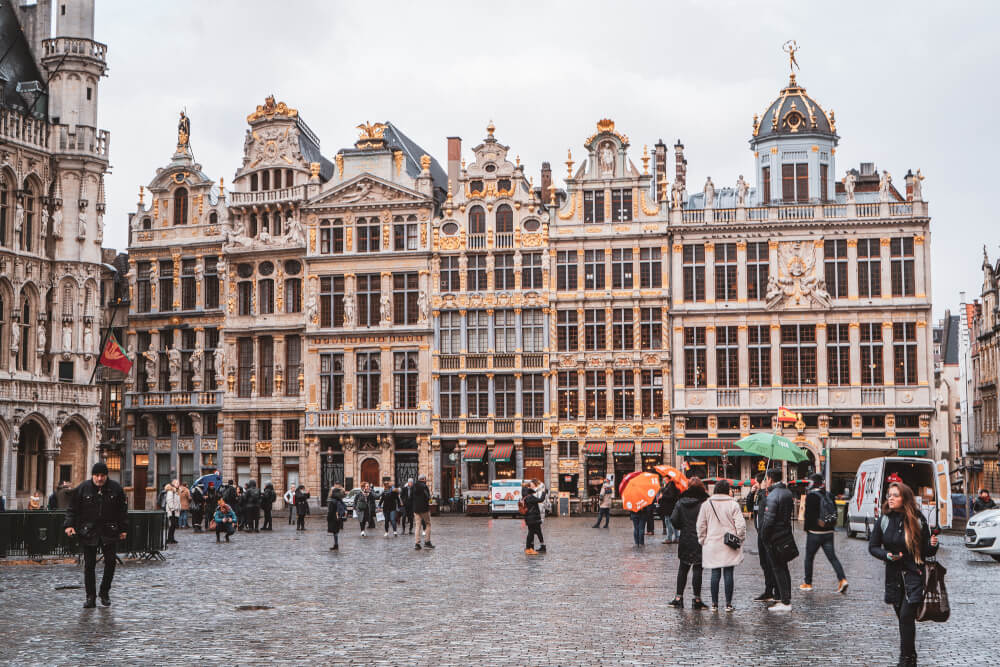 5. DIY your own chocolate tour around Brussels
When in Brussels, it'd be rude to not eat your weight in Belgian chocolate.
Luckily, there's no shortage of great shops to explore, most of which sell chocolates by the piece, which means you can easily taste your way around all the best shops in the city without committing to a huge box.
One word of warning: I'd avoid walking into just any shop and getting chocolate, especially in touristy areas. There are a lot of tourist trappy chocolate shops out there preying on tourists that don't know better.
They may not be cheap, but here are a few popular chocolate shops in Brussels I can recommend:
Neuhaus: Inventor of the praline! Well worth a try and there are a number of shop locations throughout the city.
Chocolaterie Mary: Head to the location on Royal Street for one of the most beautiful stores, and some of the best chocolates in the city.
Pierre Marcolini: Perhaps the most famous of chocolatiers in Brussels, but well worth the hype. The location near the Grand Place also does very decadent high teas, or hot chocolate and a pastry.
Frédéric Blondeel: Another one of the best chocolate shops in Brussels, if not all of Belgium. There are also some very rare flavours to try here, like matcha tea and cinnamon!
My tip: for the most pleasant shopping experience, look for quieter locations of popular chains, and avoid ones in busy areas like Grand Place or the Galeries. The chocolate will be the same, but the experience will be infinitely more peaceful.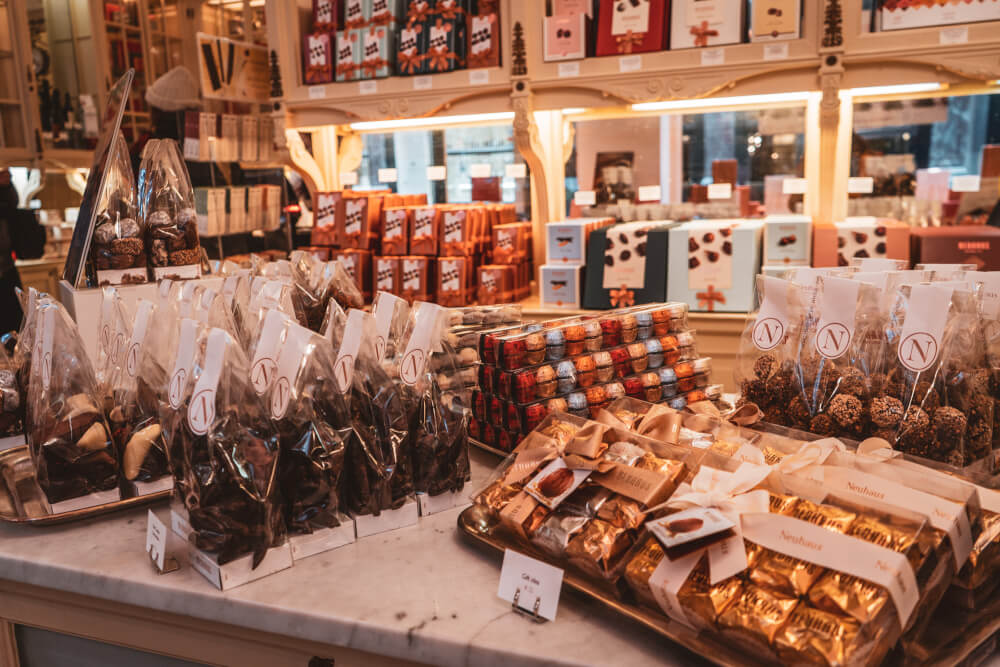 6. Enjoy the Galeries Royales Saint-Hubert
The Royal Saint-Hubert Galleries (Galeries Royals Saint-Hubert in French) are three covered shopping arcades in Brussels that are absolutely beautiful and packed with gorgeous boutique shops, fancy cafés and theatres.
These galleries are even older than the iconic Galleria Vittorio Emanuele II (one of the top things to do in Milan!), as they were designed and built by Belgian architect Jean-Pierre Cluysenaar between 1846 and 1847.
All three arcades feature an Italianate Cinquecento style with glazed arched shopfronts under an arched glass-paned roof with delicate cast-iron framework.
There are many places to shop until you drop, along with restaurants, trendy bars and a number of theatres. Of course, since we're in Brussels, there are also enough chocolate shops to put you in a coma.
My tip: To best enjoy the vibes, get here in the morning when it's less busy and enjoy a coffee! The food/drink here is overpriced, but a coffee won't set you back more than 5 euros, and it's a great place to people-watch and get excited for the day.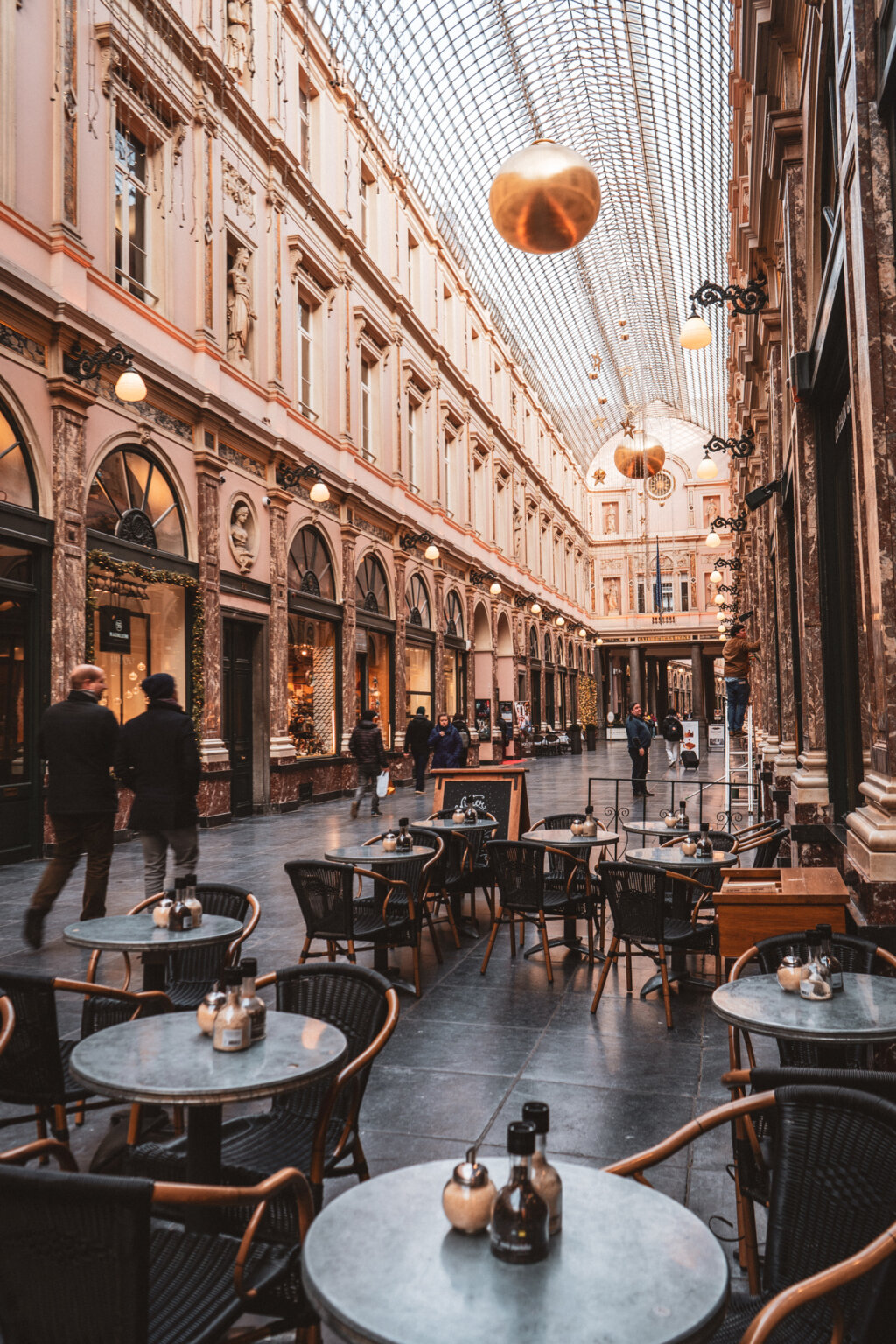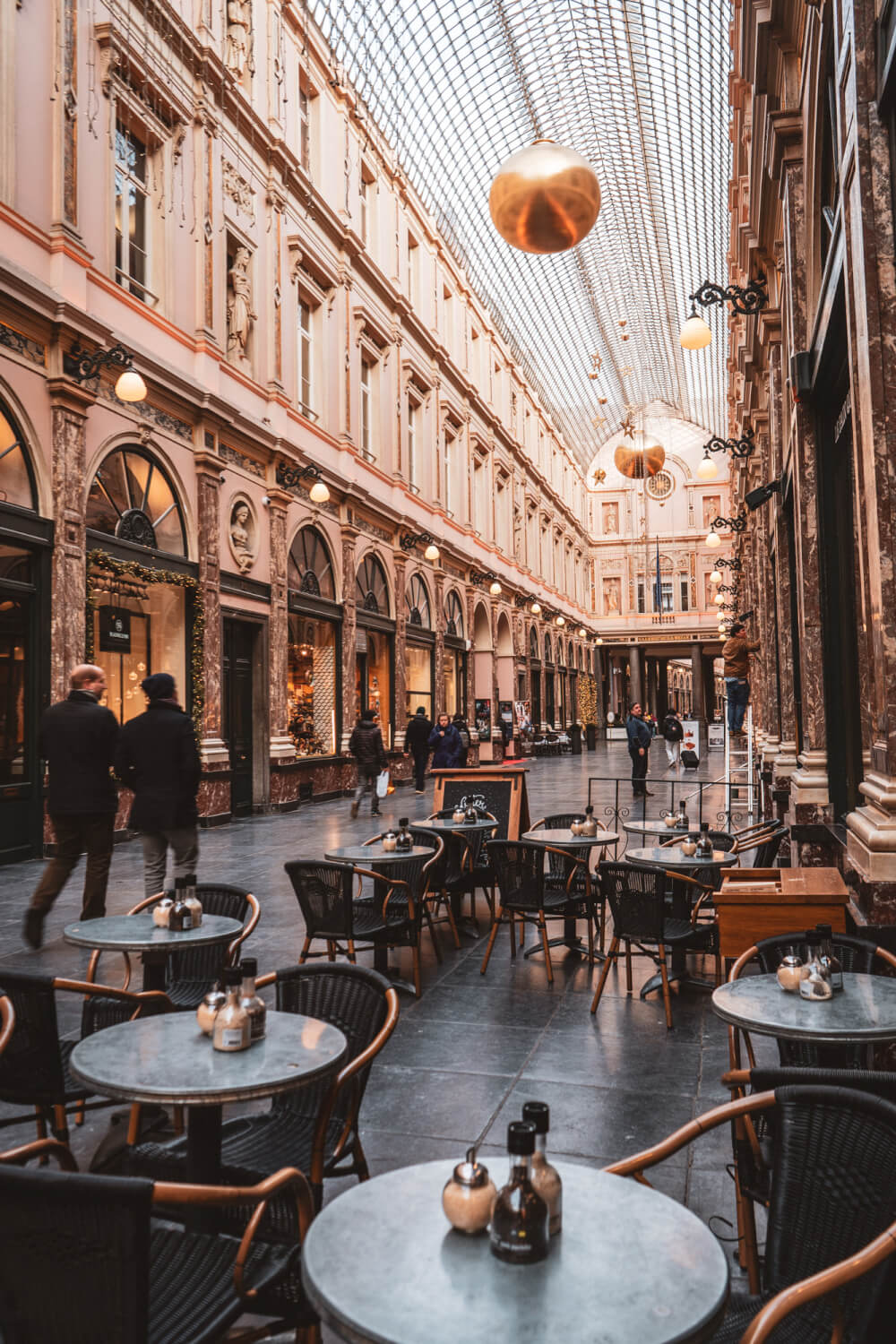 7. Visit Brussels' prettiest bookshop
One of the hidden treasures of the Galeries Royales Saint-Hubert is Tropismes, a majestic jewel of a bookshop tucked away in the oft-missed Galerie des Princes.
Tropismes is a French-language bookstore and has been located inside the Princes' Gallery since 1984. It is absolutely gorgeous, with mirrored walls, stucco ceilings, and golden columns. As if that wasn't magical enough, there's even a little garden where you can sit and read in summer.
Fair warning, Tropismes is a lot smaller than the photos make it look, but it's a worthwhile place to stop at least for a quick snap and browse.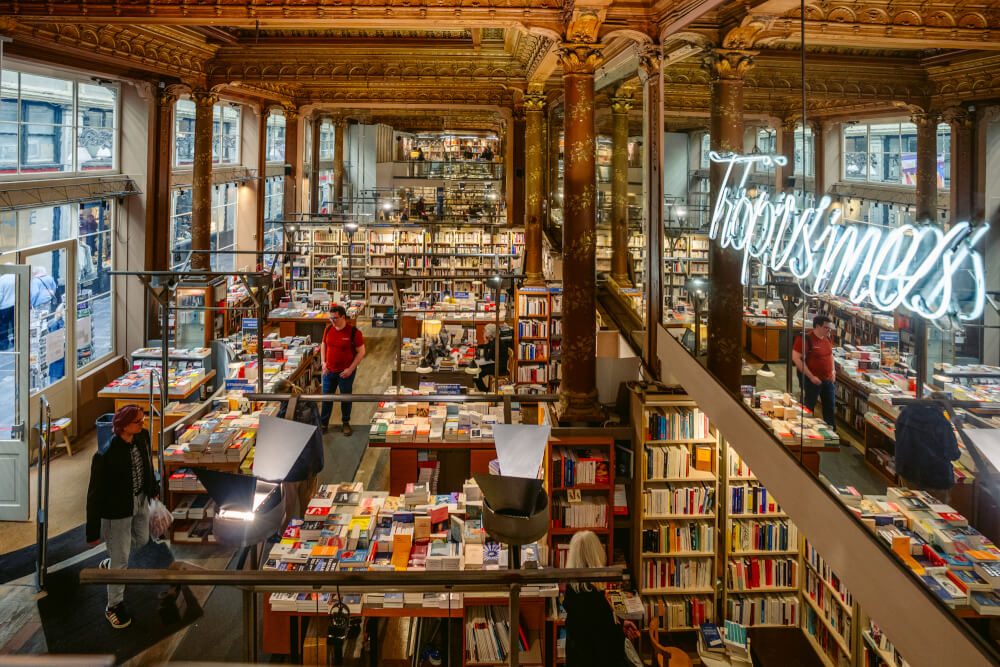 8. Sample a record-breaking number of beers at Delirium Café
Okay, I concede it's one of the most touristy things to do in Brussels, but how often do you get to choose from thousands of beers?
The Delirium Café is a Brussels institution famed for the staggering (literally, if you drink too many) numbers of different beers available to taste – they actually hold the Guinness World Record for their beer list, which contains 2,004 brands from more than 60 countries!
If you are serious about beer this is an excellent spot for a liquid journey around the world, although there are, of course, many local Belgian beers to try as well.
Delirium Café is located opposite the Manneken Pis statue and was named after the Delirium Tremens, a blonde Belgian ale produced by Huyghe Brewery. The bar features pink elephants which match the logo on all the "Delirium" beers and beer memorabilia everywhere you look.
While you'll no doubt be surrounded by mobs of fellow tourists while here (and there are far calmer and more beautiful places to grab a beer in Brussels), I'd say a stop here is a must for any first-timer to the city, if even just for one drink.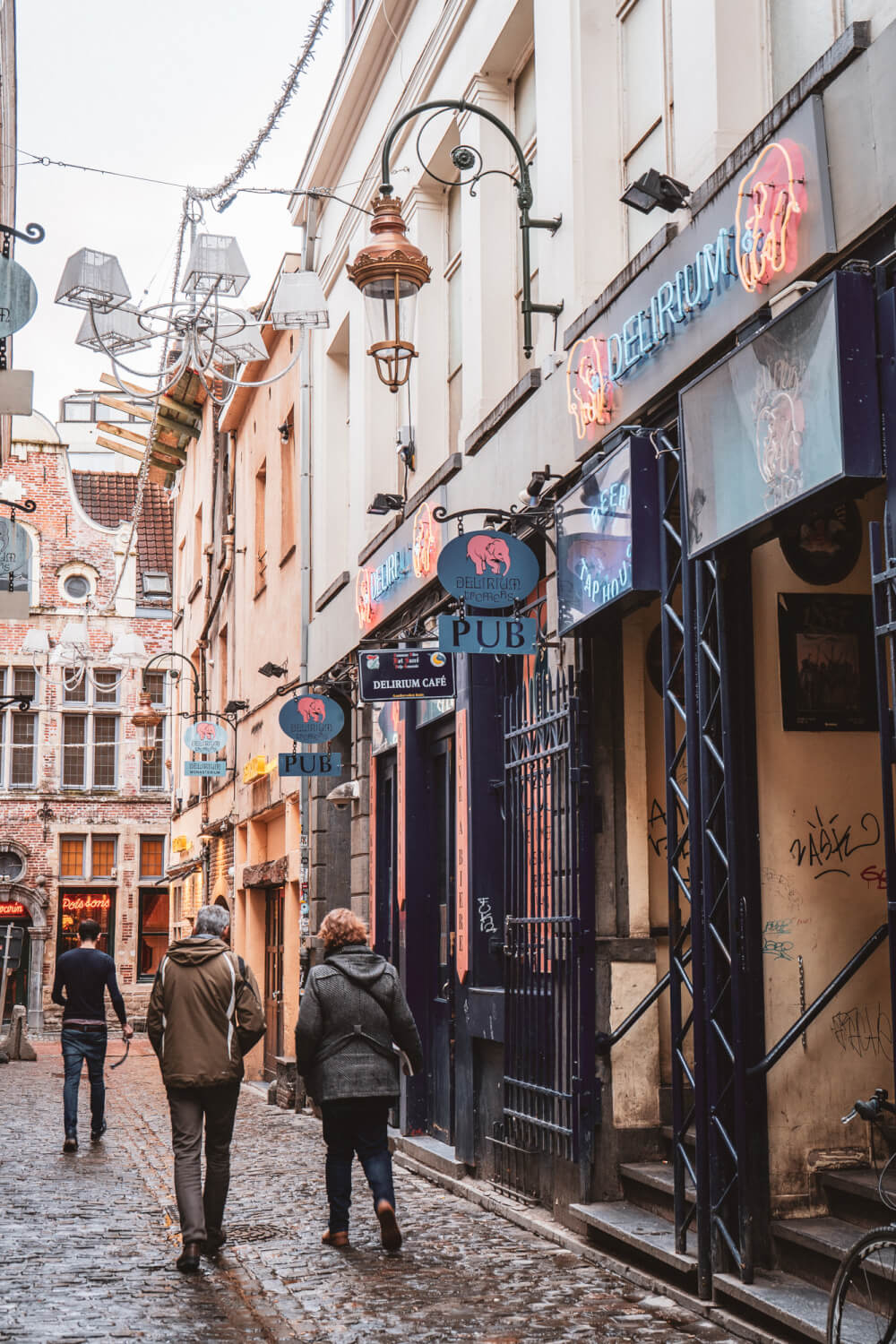 9. Or just sample Belgian beer in general
Belgium has been producing beer for centuries, all the way back to Roman times when it was mostly crafted by monks in Abbeys. Today, beer is one of the country's biggest exports, so anyone who enjoys the drink will want to try some local brews at the source!
If you're looking for some quieter places to sample Belgian pale ales, Trappist beers, amber ales, wheat beers, fruit beers, or stouts, there are a few nice places to choose from, along with some quirkier offerings.
Here are some potential spots:
Brussels Beer Project: Here you can order a sample of four different contemporary beers to figure out what you like best. Options include fruit beers, IPAs and double stouts, among others.
Bar Le Cercueil: This is one of the most unique places for a beer in Brussels! The name translates to "Bar The Coffin" and everything is very creepy and macabre here. Perfect if you're visiting Brussels around Halloween.
Poechenellekelder: Very close to Manneken Pis and Delirium Cafe, this is the antidote for getting spooked at Bar Le Cercuiel as it's so whimsical, like an old traditional bar from a fairytale. They also serve delicious pub food to go with your beer.
Museum of Belgian Brewers: This beer museum is actually very interesting, with old tankards, antique porcelain and all sorts of paraphernalia used in the past to make beer. After exploring you can also have a beer in the museum café.
10. Gorge on waffles
When in Brussels, one of the most delicious things to do is demolish a waffle. Or several.
But not all waffles are made equal! Especially not in Brussels, where there are tourist traps left and right. So, keep in mind that there are two main kinds of waffles to look out for:
Brussels style waffle: Rectangular, fluffier waffles usually served with toppings like whipped cream and fruit
Liège style waffle: Round, denser waffles studded with caramelized sugar, best consumed on their own
When determining whether a place is a tourist trap or not, some telltale signs include:
Liège waffles topped with a large array of toppings (they're best on their own)
Any place advertising "BEST PRICE"
Spots with their menu in many, many languages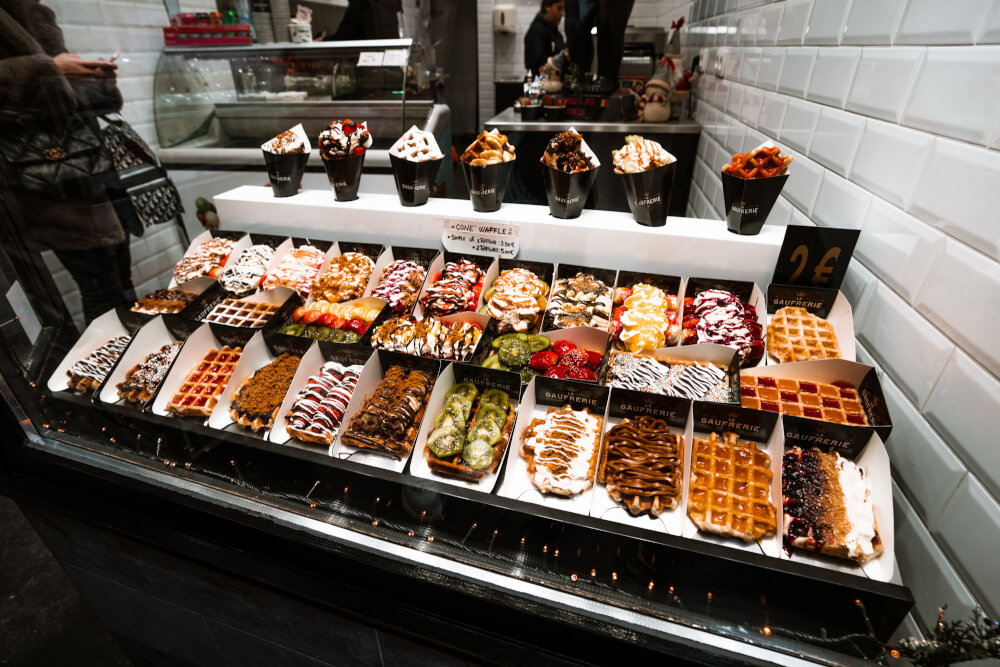 11. Snack on Belgian fries
Belgian (not French!!!) fries are a true wonder to behold, and if you're looking for tasty must-dos in Brussels, this is another one to add to your list.
The defining feature of Belgian fries is that they're deep-fried twice in animal fat, and then served with (a usually creamy mayonnaise) sauce. Be sure to grab a cone or two of these amazing Frites in between sightseeing sprints.
You can find places for delicious fries all over the place, but some of the most well-known and best include Fritland in the city centre or Friterie du Café Georgette, where they actually use three different types of oil heated to three different temperatures and you can have a beer with your fries.
The Friterie Atomium right next door to the Atomium is also very popular.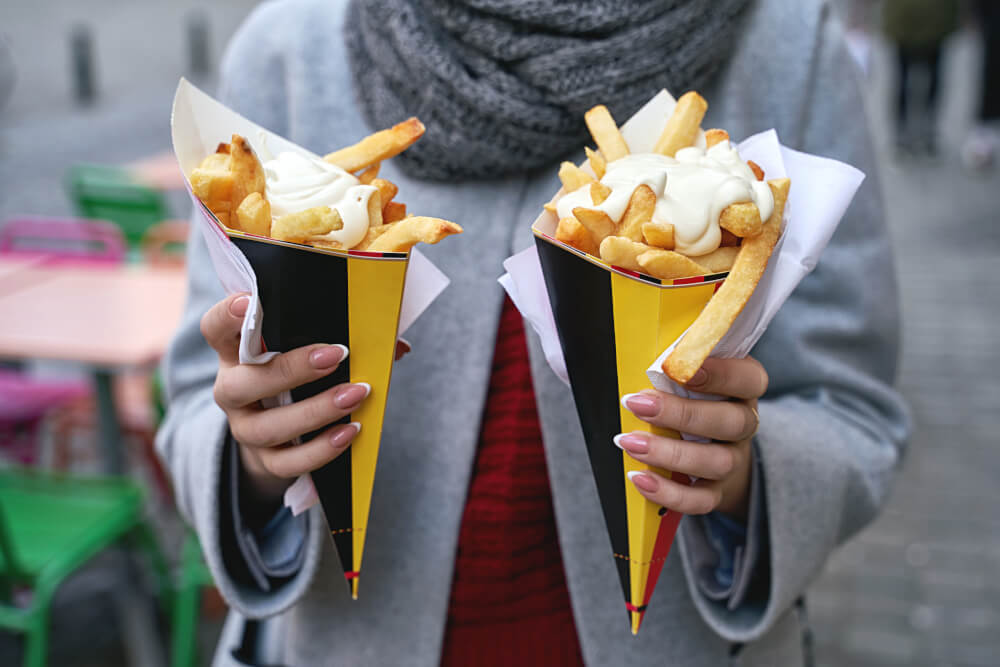 12. Indulge in some tasty Belgian main dishes
Of course, besides waffles and fries, there are a lot of excellent staples of Belgian cuisine that often go overlooked. Many Belgian dishes are influenced by the surrounding countries of France, the Netherlands and Germany, and what a delicious influence they've had!
Sometimes it's said that Belgian food comes in German quantities but French quality – so that's some high praise!
Here are a few of my favourite dishes I can recommend trying while you're in Brussels:
Boulets à la Liégeoise: Juicy meatballs in a sweet/savoury sauce, served with a hearty helping of Belgian fries.
Carbonnade Flamande: A rich beef stew made with beer
Vol au vent: A creamy meat stew served in a crispy pastry
Moules-frites: Mussels in Brussels, usually consisting of shell-on mussels served in a tasty broth, alongside crispy fries.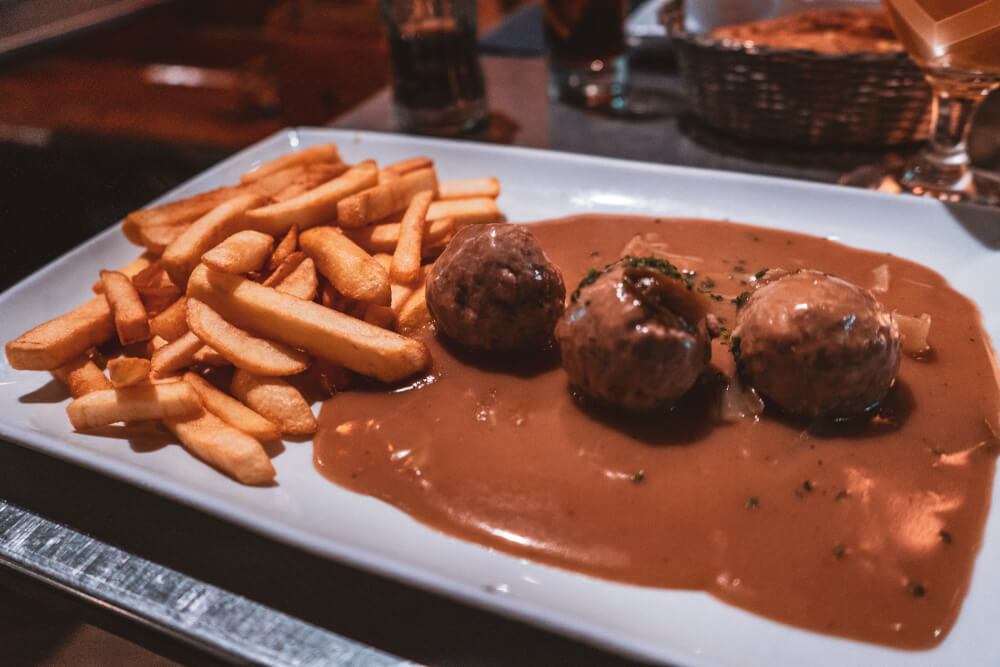 13. Follow the Brussels Comic Strip Route
Fans of street art flock to Brussels, which contains a huge collection of murals known together as the Comic Strip Route.
Many world-famous comic book characters originated in Belgium, including Tintin, Asterix and even the Smurfs!
In the early 90s, a street art scene paying tribute to these (and many more) Franco-Belgian comics popped up on the streets of Brussels, with giant versions of beloved characters.
Keeping an eye out for these murals is a must, with many of them located in the downtown Brussels area known as the "Pentagon". There are more than 50 murals to find.
Pro-tip: You can get a mini-map of the comic strip tour itinerary from any Brussels tourist information centre for €1. Pursue this fun Brussels activity and you, too, can take painfully awkward photos like 2014 Christina: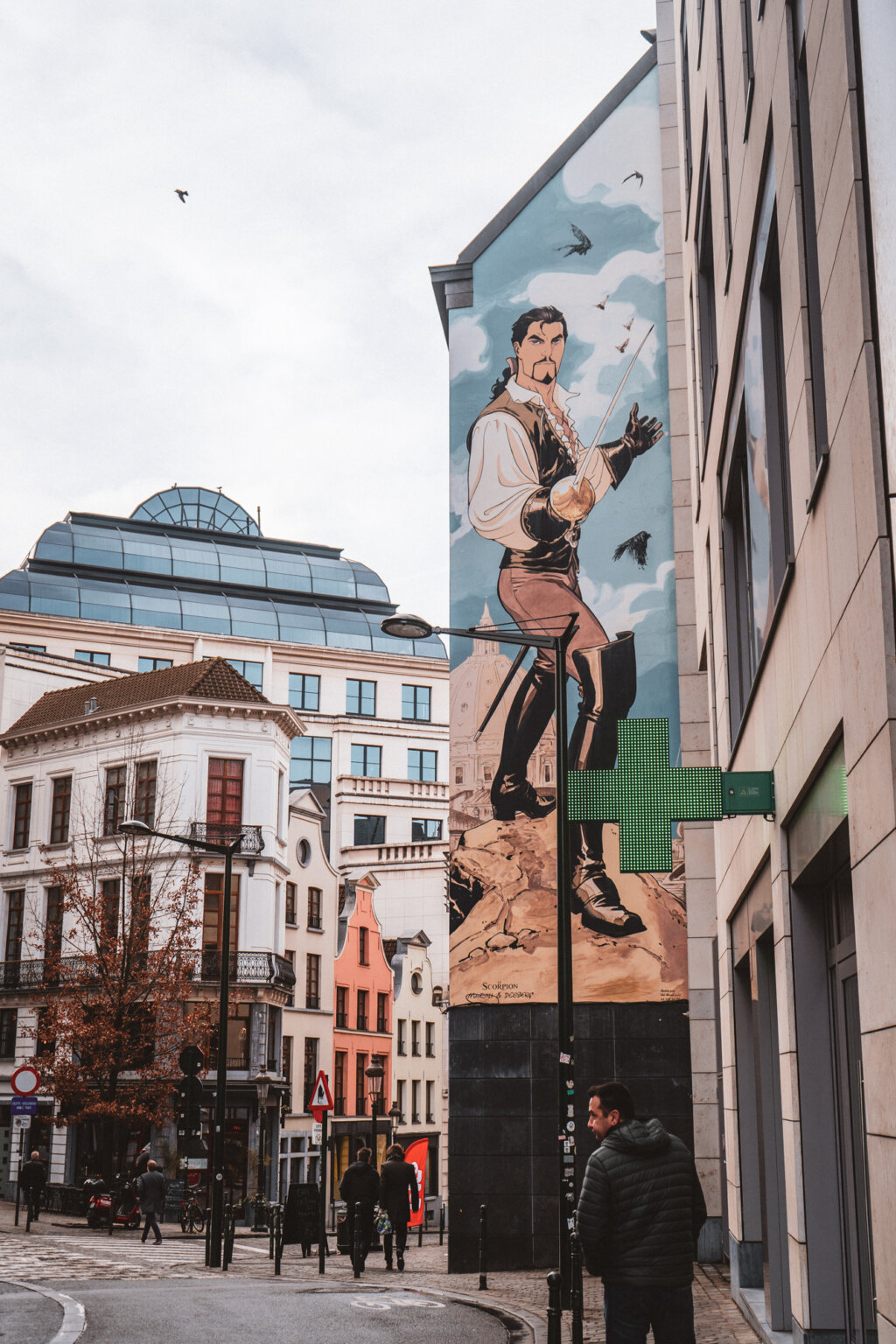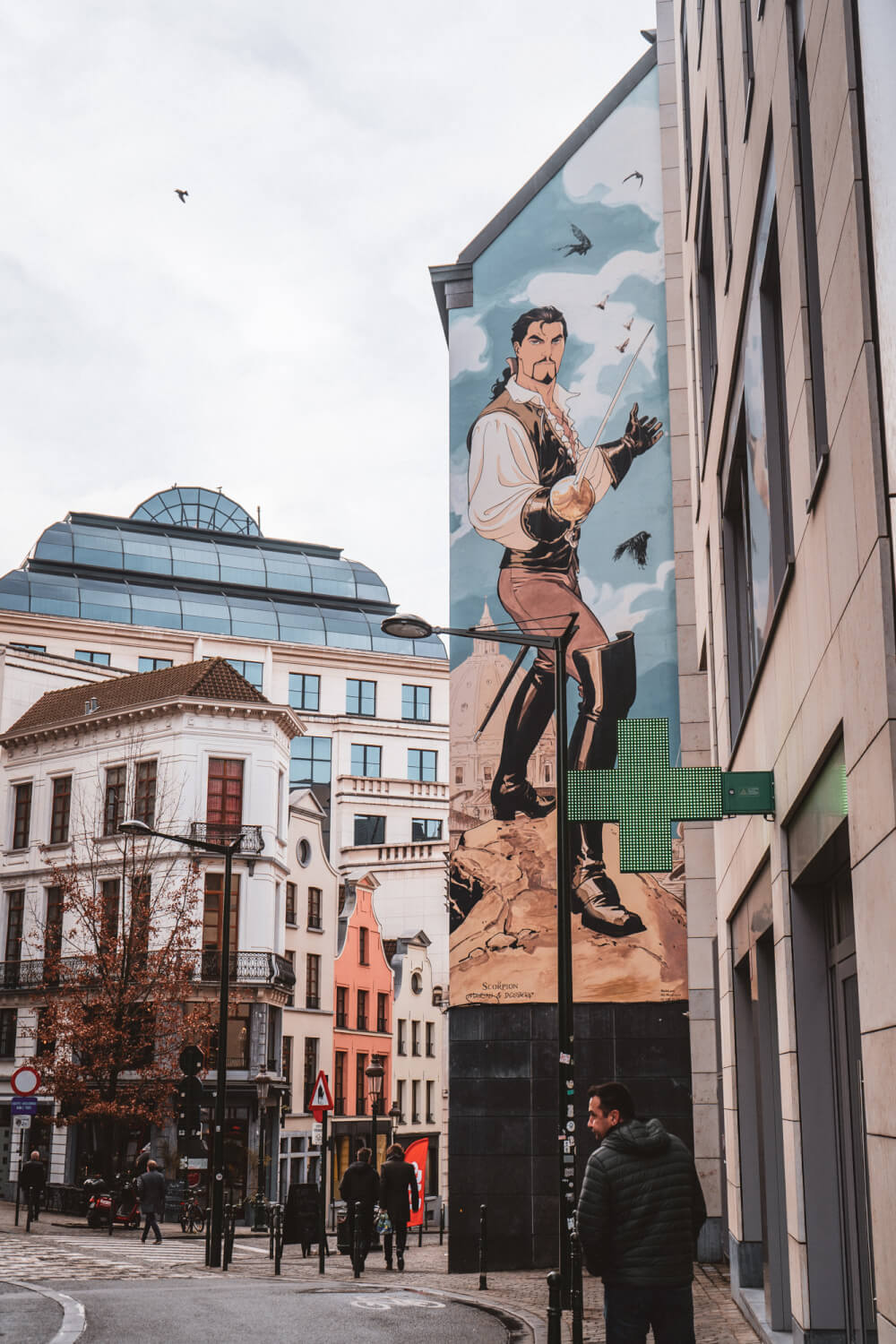 14. Visit the Belgian Comic Strip Center
Included in the Brussels Card
If you want more information about the heritage of Franco-Belgian comic art, head to the Belgian Centre for Comic Strip Art (Centre Belge de la Bande Dessinée), which is also known simply as the Comics Art Museum.
Inside a beautiful art nouveau former warehouse, you can now see exhibits of works created by some of the greatest European comic artists, including original sketches by the likes of Hergé (the creator of The Adventures of Tintin) to Peyo (The Smurfs), to Uderzo and Goscinny (Asterix).
Of course, there's also an excellent international comic book shop on the site and regular rotating exhibitions showcasing the work of modern comic artists. The museum also contains a study library with the biggest collection of comic book titles in the world!
15. Stop by the Brussels City Museum
Included in the Brussels Card
Located inside the King's House on the Grand Place (as I mentioned earlier) is the Brussels City Museum, which is all about the history and folklore of the city of Brussels.
While the building itself is quite interesting, a neo-Gothic construction from the 1500s which was rebuilt in the 19th century, it's the contents of the museum which are truly fascinating. Exhibits of paintings, sculptures, tapestries, engravings, photos and models all show how Brussels has changed over the centuries since its foundation.
The original Manneken Pis statue is on display here, although his impressive wardrobe is now housed in a separate building (as I also mentioned earlier). My favourite item on display was probably the scale model of Brussels as it appeared in the Middle Ages – I'm a sucker for small-scale models of things, what can I say?!
Pro-tip: While it costs money to visit the museum, entry is free on the first Sunday of every month.
16. Explore the Sablon
Known for its antique shops, art galleries, and the Church of Our Lady of Sablon, the Sablon is one of Brussels' prettiest little neighbourhoods.
This is a very chic area, with plenty of up-scale restaurants and cocktail bars, as well as some beautiful parks. The main drawcard is the weekend antique market which takes place on the Grand Sablon, although there are plenty of antique shops (and chocolate shops!) to explore if you're visiting on a weekday.
Sablon is also home to the Royal Museums of Fine Arts of Belgium complex, with more than 20,000 paintings, sculptures and drawings. There are many smaller art galleries in the neighbourhood too, like the amusingly named "Sorry We're Closed" if you might be interested in actually buying some art.
Make sure you stop by Egmont Park and Palace if you're in the area as well!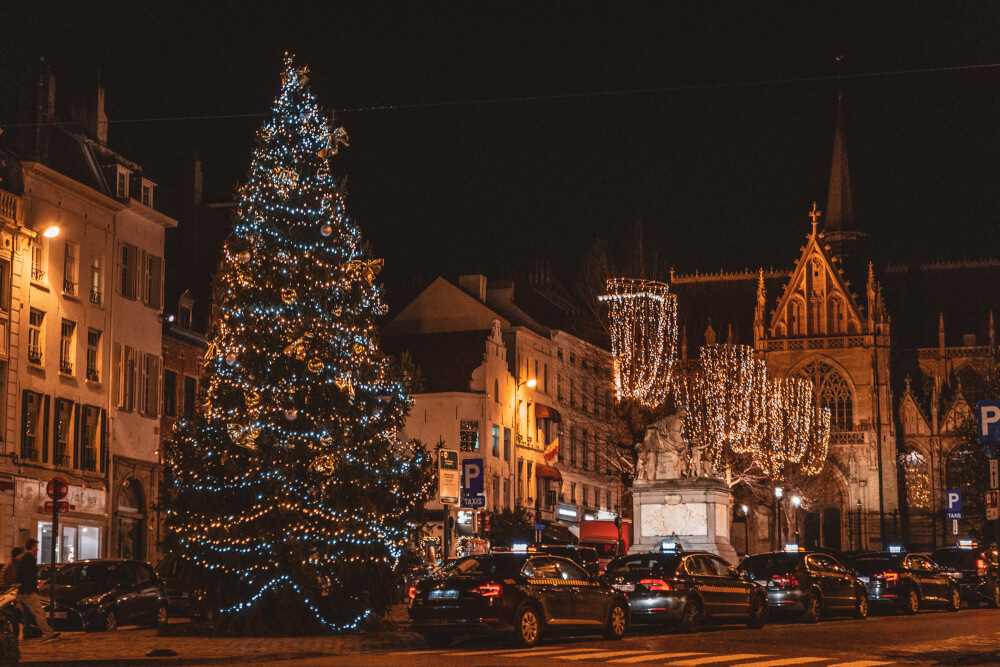 17. Nerd out in the European Quarter
The European Quarter is where the headquarters of the main buildings of the European Union, including the European Parliament, can be found.
Brussels is the capital of the European Union, so if you're into the history of the European Union and how it all works, this is where you should explore.
As well as the European Parliament this area is home to the Council of Ministers and the European Commission. The European Commission is housed in the unique Berlaymont building, which is a fourteen-storey-high construction in the shape of an X!
Along with all the official buildings, the European Quarter houses some lovely parks if you're looking to just go for a stroll. There are also three different museums where you can learn all about the European Union, including the Parlamentarium, the House of European History and Experience Europe.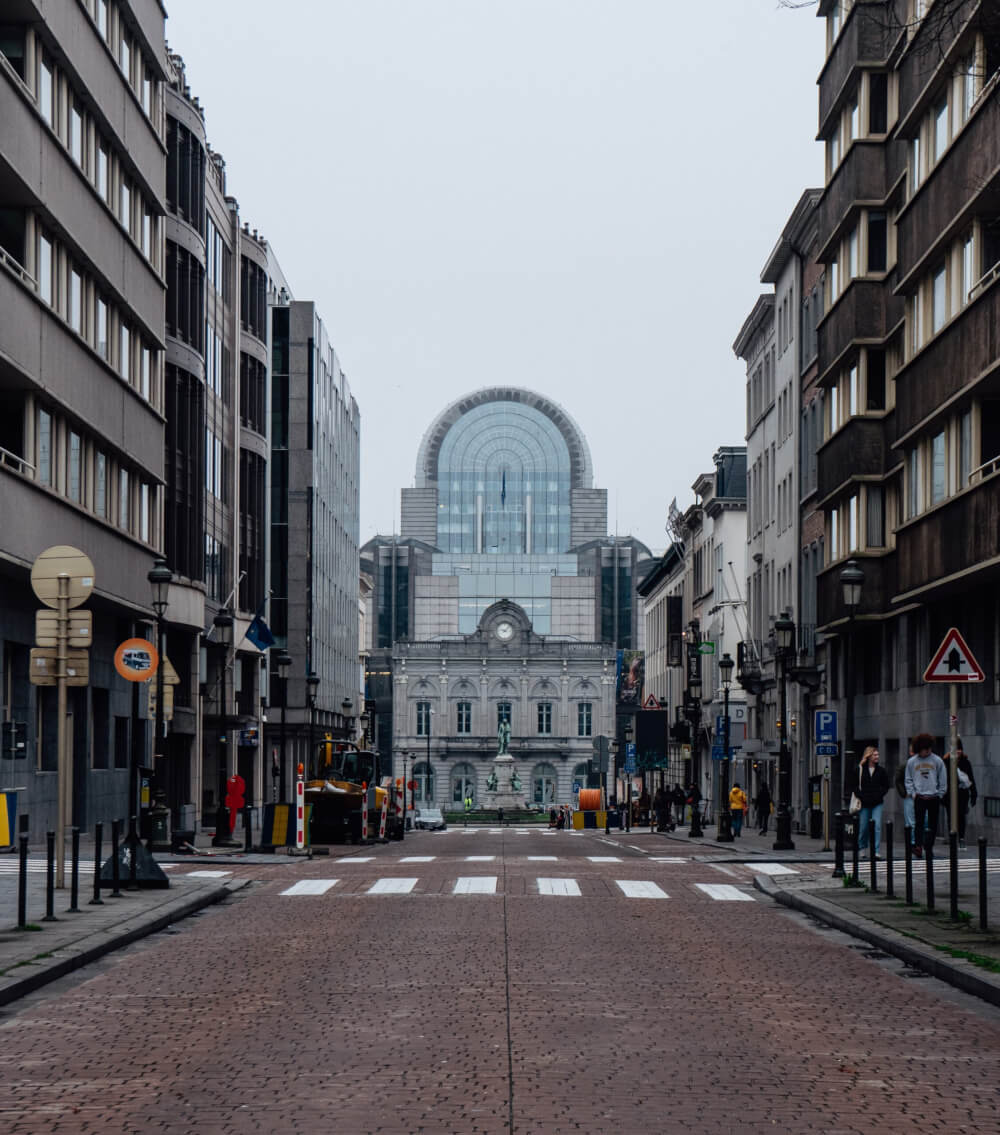 18. Head out to the Atomium
Apart from the infamous Manneken Pis, perhaps there's no symbol of Brussels more iconic than the Atomium.
Built in 1958 as the centrepiece of the 1958 Brussels World's Fair, the Atomium is a little bit like the Eiffel Tower in Paris in that it wasn't intended to be a permanent construction. But the locals liked it so much that they kept it up even after the fair was over!
The Atomium stands 102 metres (335 feet) high, making it one of the tallest structures in Belgium. It's basically the shape of a crystallized molecule of iron that has been magnified about 165 billion times. Steel tubes connect the spheres, which are each 18 metres in diameter (59 feet).
There are also escalators and an elevator which provide access to the six visitable spheres, which in turn contain exhibit halls and other public spaces. In the very top sphere, there's a restaurant with stunning panoramic views over Brussels.
NOTE: If you only have a short time in Brussels, I wouldn't recommend venturing out to the Atomium because it's actually quite far from the city centre and the rest of the city's main attractions.
19. Godzilla your way through Mini-Europe
Often considered one of the best things to do in Brussels with kids, this iconic attraction is right next door to the Atomium, so it makes sense to combine a visit to both places.
Mini-Europe is a theme park with small-scale models of many of the most famous buildings found throughout the European Union. It's also quite amusing that these tiny models of giant buildings are located at the foot of a giant version of a tiny iron crystal! You can get a very cool overview of Mini-Europe if you go up into the Atomium as well.
The best part of Mini-Europe is basically seeing smaller, cuter versions of iconic buildings such as the Leaning Tower of Pisa, Big Ben, the Grand Place of Brussels itself, and even an erupting version of Mount Vesuvius.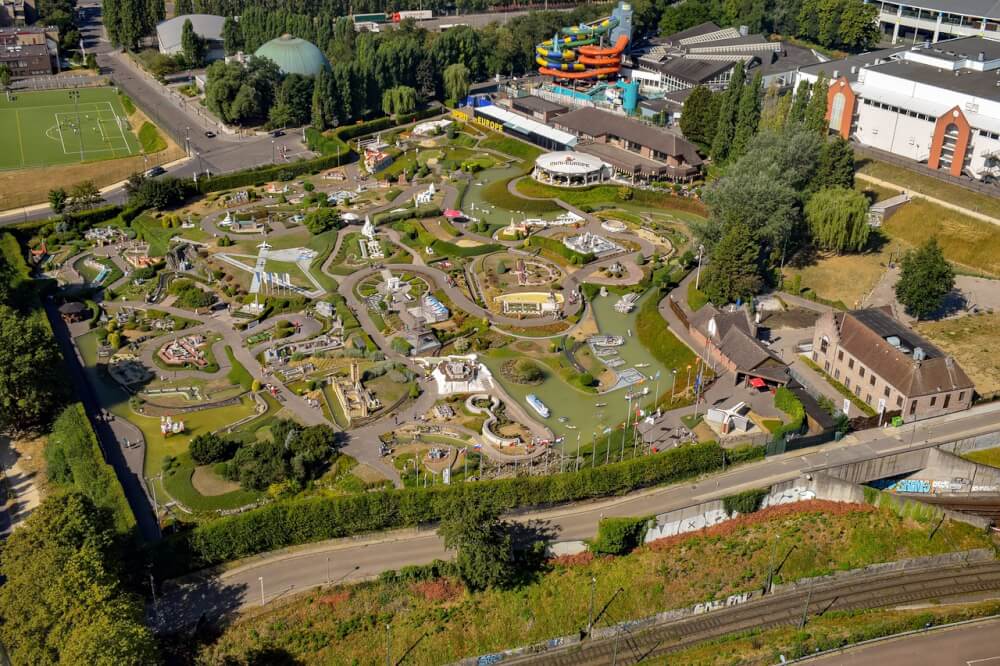 20. Visit a museum dedicated to every possible interest
There are over 50 interesting museums to explore in Brussels, and while I've been recommending my favourite museums/attractions throughout this post, here are a few niche-r ones to have on your radar as well: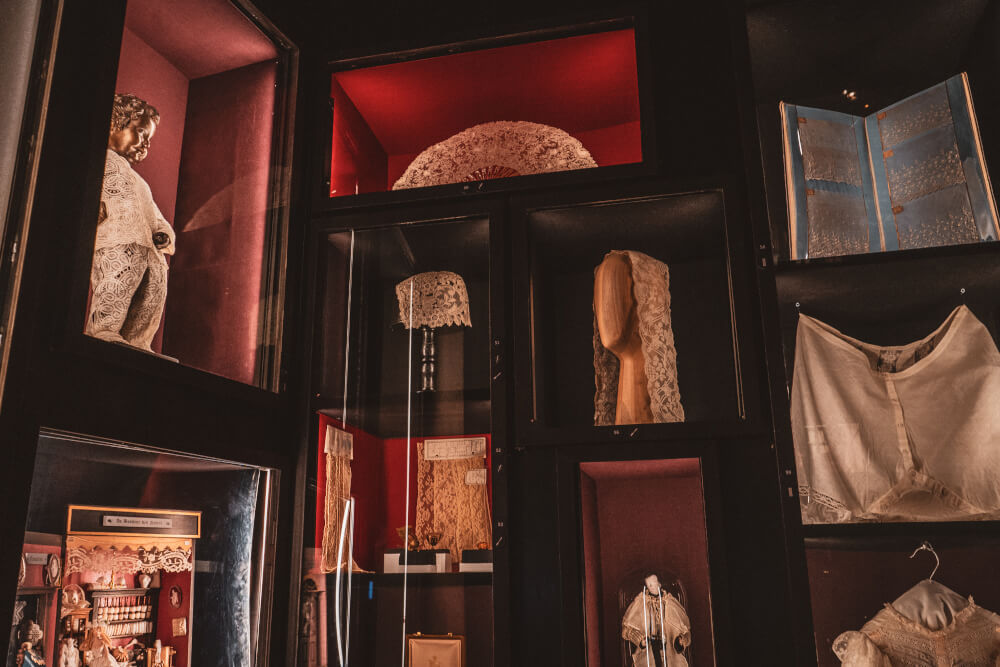 21. Check out the Brussels Musical Instrument Museum
Included in the Brussels Card
Music is one of those universal things, I mean, everybody likes some kind of music right? So pretty much everyone will enjoy visiting the Brussels Musical Instrument Museum, which has instruments from all around the world on display.
As well as being able to see lots of cool musical instruments, there are many interactive parts to this museum, where you can actually listen to musical recordings. You can even enjoy a live concert in the museum's neoclassical concert hall.
Like so many of the attractions in Brussels, the building housing this museum is also gorgeous: it's located inside an Art Nouveau former department store as well as an adjoining 18th-century neoclassical building.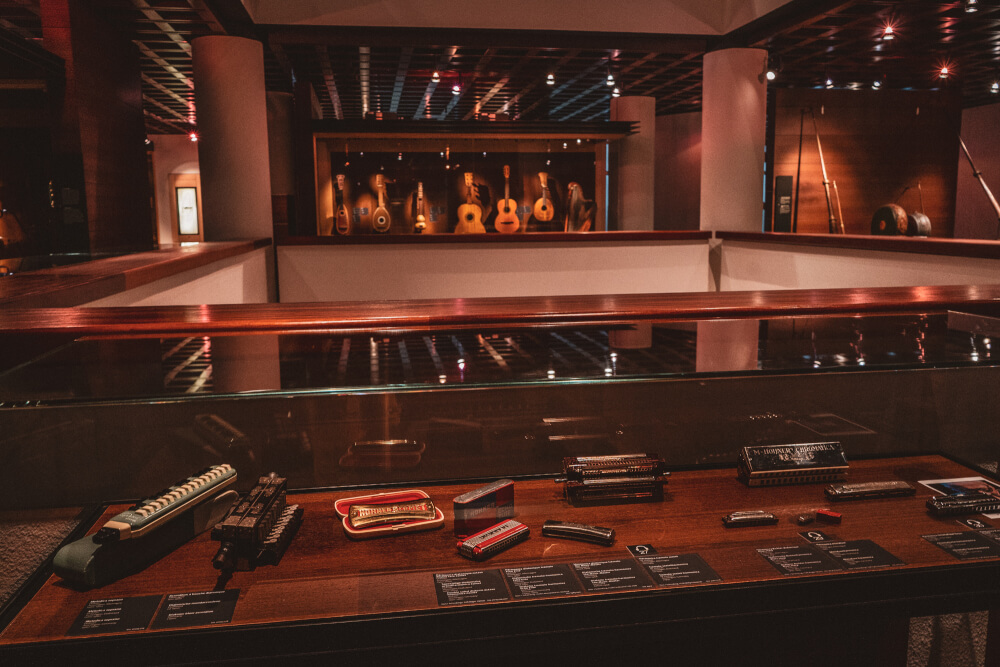 PS: While it's currently under renovation, the rooftop restaurant here is possibly one of the best-kept secrets of Brussels, with beautiful views of the city!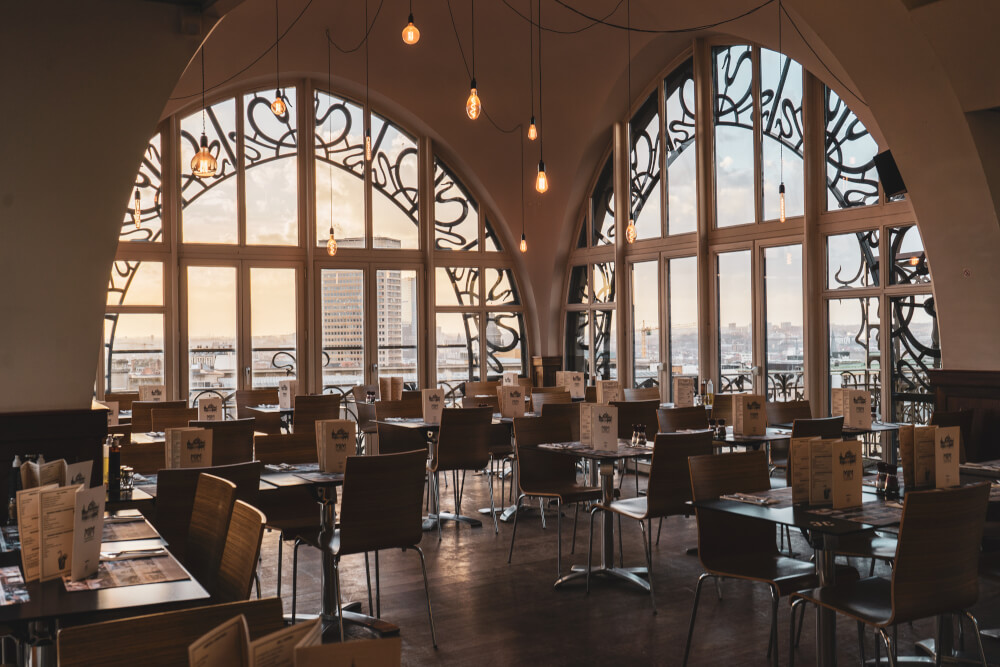 22. Relax at Parc du Cinquantenaire
Parc du Cinquantenaire (French for "Park of the Fiftieth Anniversary") was built in 1880 to mark the fiftieth anniversary of Belgium's independence from the Netherlands.
This is one of the most beautiful parks in Brussels, with French-style gardens, wide-open spaces to picnic, walk or jog and a number of ponds and waterfalls. Most visitors take a photo of the fountain and triumphal arch (see below) and move on, but there's plenty to do here.
As well as the pretty garden areas, the park is ringed by the Royal Museum of the Armed Forces and Military History, the Art & History Museum and Autoworld, the car museum.
Many events such as concerts, club nights, festivals, drive-through-cinemas, environmental days, aperitifs, and even the starting line for Brussels marathons take place here too, so you're bound to find something to interest you!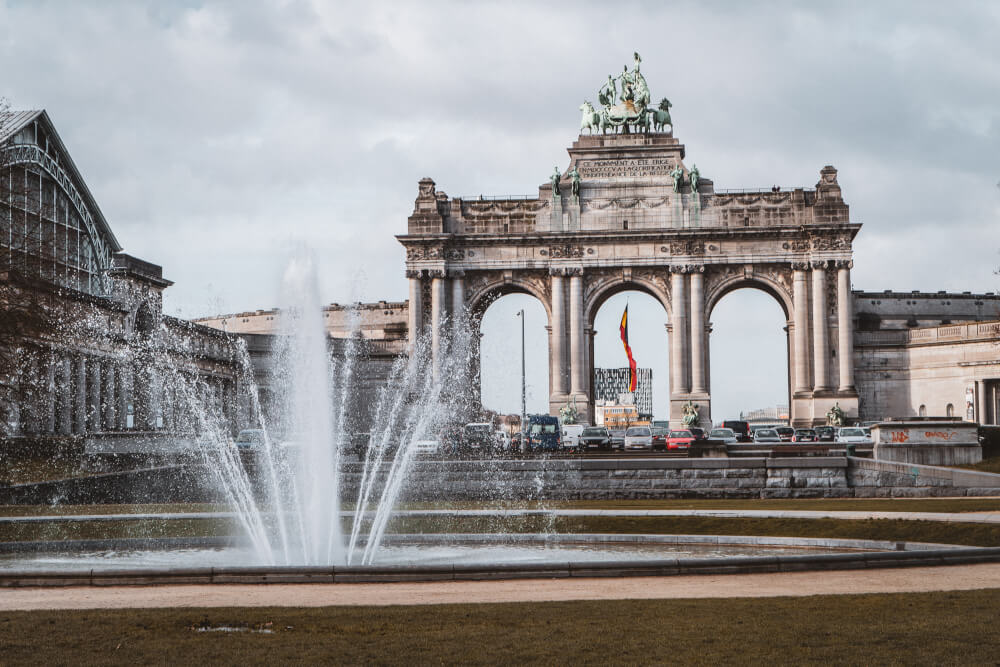 Fans of vintage cars will definitely want to stop off at Autoworld when near Parc du Cinquantenaire, as it's a renowned museum with more than 250 European and American cars from the late 19th century to the 1990s on display.
Of course, many of the cars housed here are Belgian-produced, including a number of limousines used by the Belgian royal family. Anyone who's interested in different car brands will find it interesting to see vintage automobiles such as a 1928 Bentley, a 1930 Bugatti and a 1930 Cord.
There are also a number of other vehicles to see here too, including vintage motorcycles, sports cars, fire engines and carriages from the 19th century.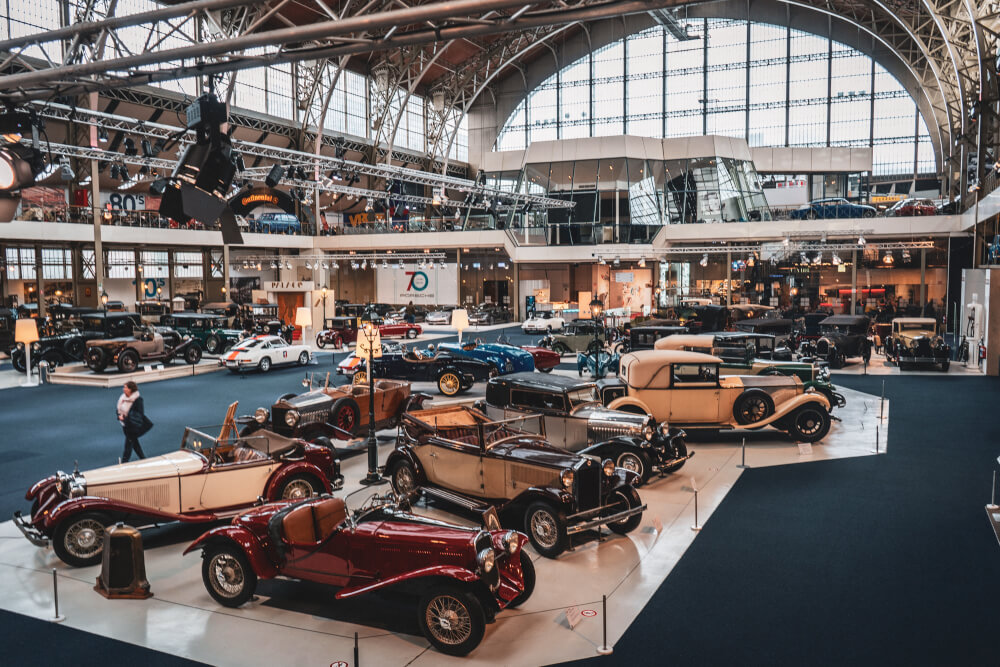 24. Admire the Cathedral of St Michael and St Gudula
While often omitted from lists of the top things to do in Brussels, I think that the main Catholic church of Brussels, the Cathedral of St Michael and St Gudula, is well worth a mention.
Also just known as Brussels Cathedral, or St Gudula by locals, this beautiful medieval Roman Catholic cathedral is often considered to be one of the best examples of Brabantine Gothic architecture. Brabantine Gothic is a style most common in the Netherlands and Belgium, so there are not many places you can go to admire it.
Originally constructed in the 11th century, the Brussels Cathedral is the national church of Belgium and has hosted many royal weddings, state funerals and other official ceremonies. If you like seeing stunning stained-glass windows, statues and giant organ pipes, you'll definitely want to visit St Gudula.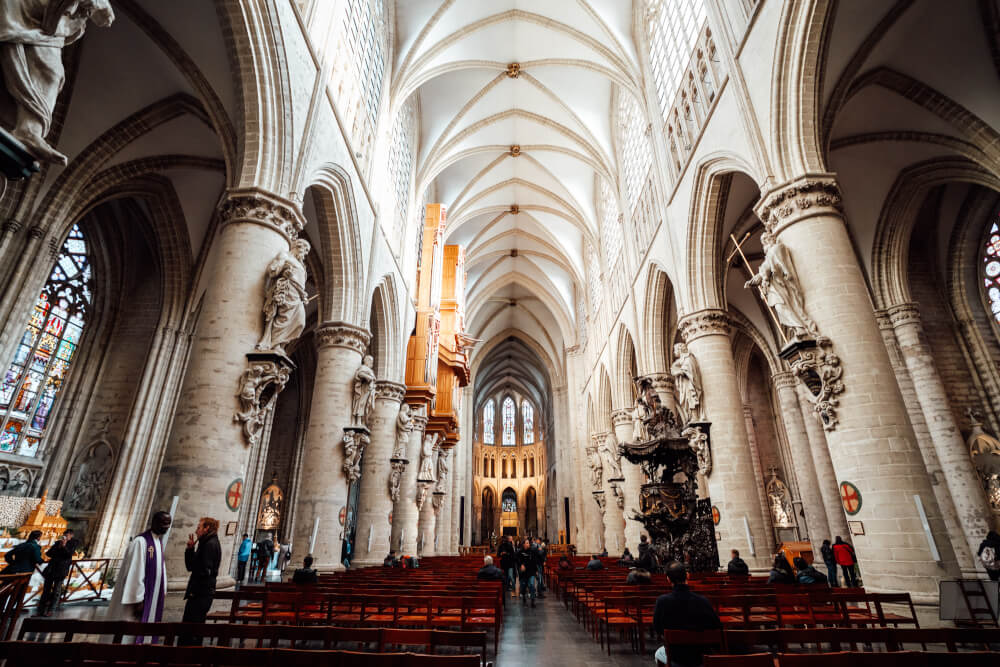 25. Admire the Brussels Flower Carpet
While it only takes place once every two years, if you time your visit correctly, one of the most unique things to do in Brussels is catching a glimpse of its famous flower carpet.
Originally established in 1971 by the landscape architect Etienne Stautemans as a way to advertise his work, this biennial event now sees volunteers from all over the country descend on the Grand Place to create a stunning carpet-like display of begonias.
It's always held around the weekend of the 15th of August, and as well as the stunning floral display there are fireworks, a jazz concert, a sound and light show at night, and other traditional folk entertainments for visitors to enjoy. It attracts thousands of visitors from around the world and is definitely worth seeing if you can!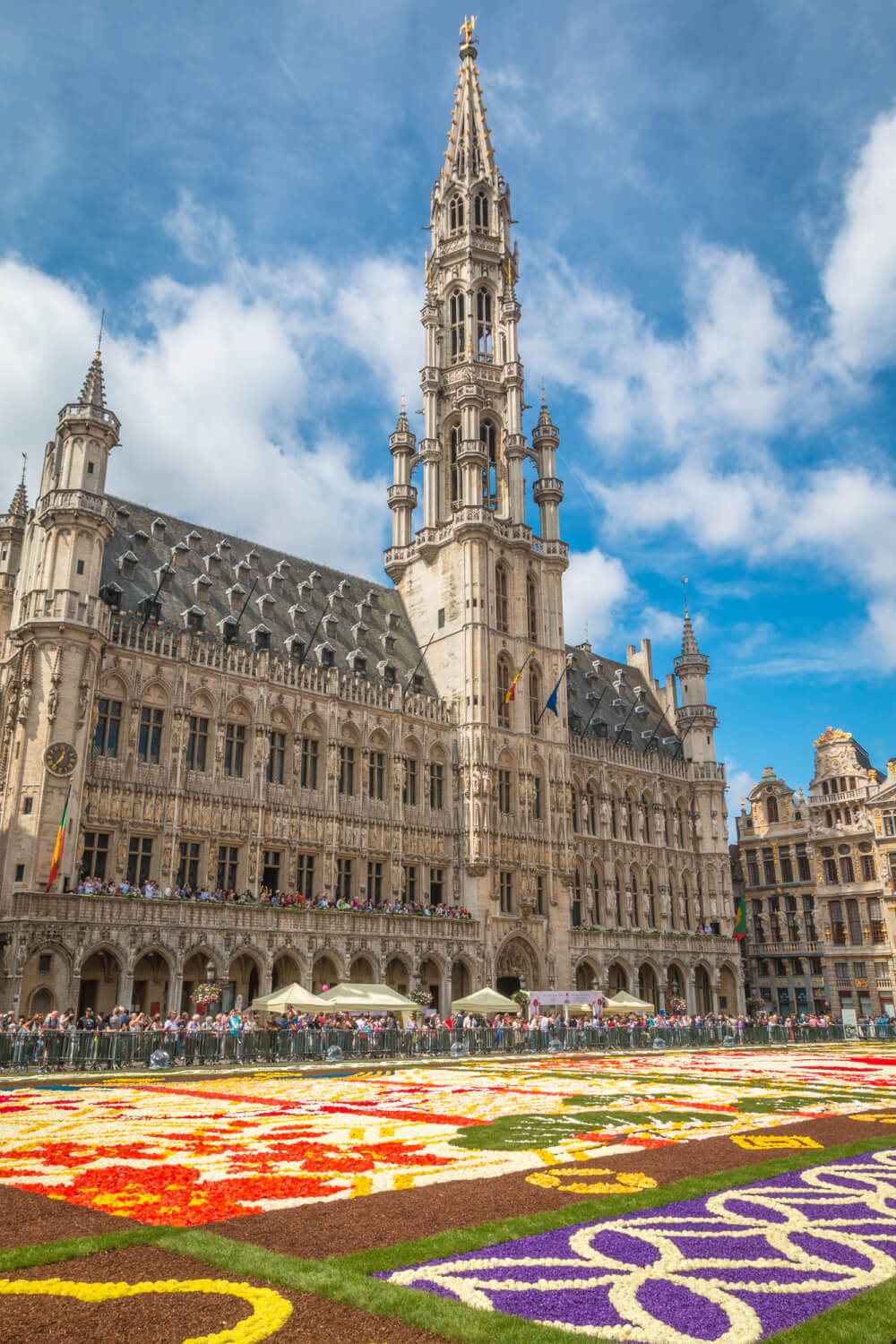 Did I Miss Any of Your Favourite Fun Things to Do in Brussels?
Let me know in the comments so I can add more Brussels activities to the list!
---
Watch my most popular YouTube video this week:
---