*FYI - this post may contain affiliate links, which means we earn a commission at no extra cost to you if you purchase from them. Also, as an Amazon Associate I earn from qualifying purchases. Check out our Privacy Policy and Disclosure. for more info.
Belgium is a country known the world over for all manner of delights – from Belgian chocolate and Belgian beer all the way to the beloved fry (which is in fact Belgian, and not French!)
With all that in mind, it's safe to say that Belgium has not only our bucket lists in a chokehold, but our stomachs and wallets too.
In addition to its tasty exports however, Belgium has also stolen my heart over the years with its quirky sense of humour and seemingly endless parade of unique cultural traditions.
Look hard enough and you'll find all sorts of unique things to do in Belgium that you can't do anywhere else in the world – from staying in an intestine-shaped hotel to racing in bathtubs.
So, wondering what to do in Belgium that you can't do anywhere else? Read on for a full list!
1. Enjoy a praline in the city where it was invented
Ah yes, it was back in 1912 that Jean Neuhaus (Jr) blessed the world with the invention of the Belgian praline in Brussels… and the world has been clamouring over these decadent treats ever since.
So, really, one of the best things to do in Brussels is to simply gorge on a praline, or perhaps a dozen. All in the name of history and culture, I suppose.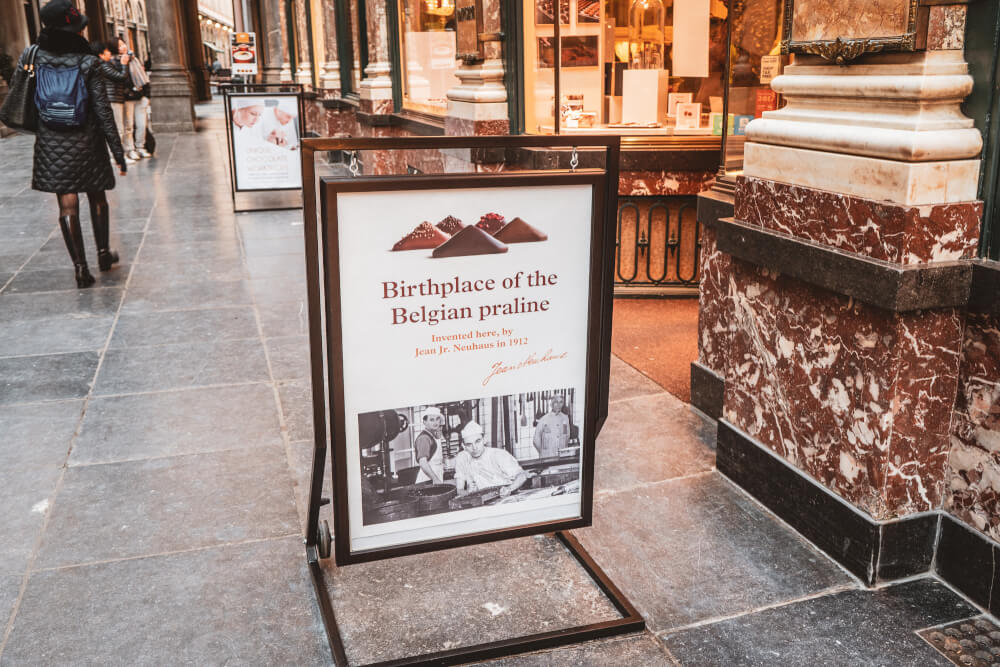 2. Admire a relic supposedly covered in the blood of Jesus Christ
There's a lot of unique things to do in Bruges, but if I were to pick one that is equal parts fascinating and morbid, it would be a visit to the Basilica of the Holy Blood, famous for a relic said to contain the blood of Jesus Christ, taken to Bruges during the second crusade.
… A relic you can actually see for yourself during the "veneration of the relic". Be sure to check the hours on the church website before you go, because (for obvious reasons) this priceless relic isn't on display all the time.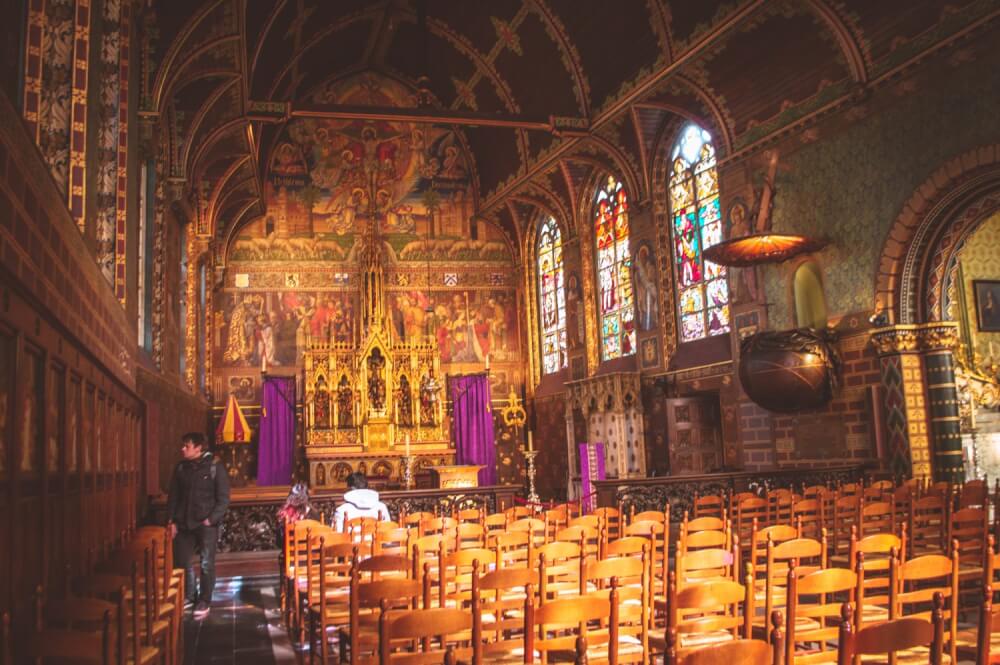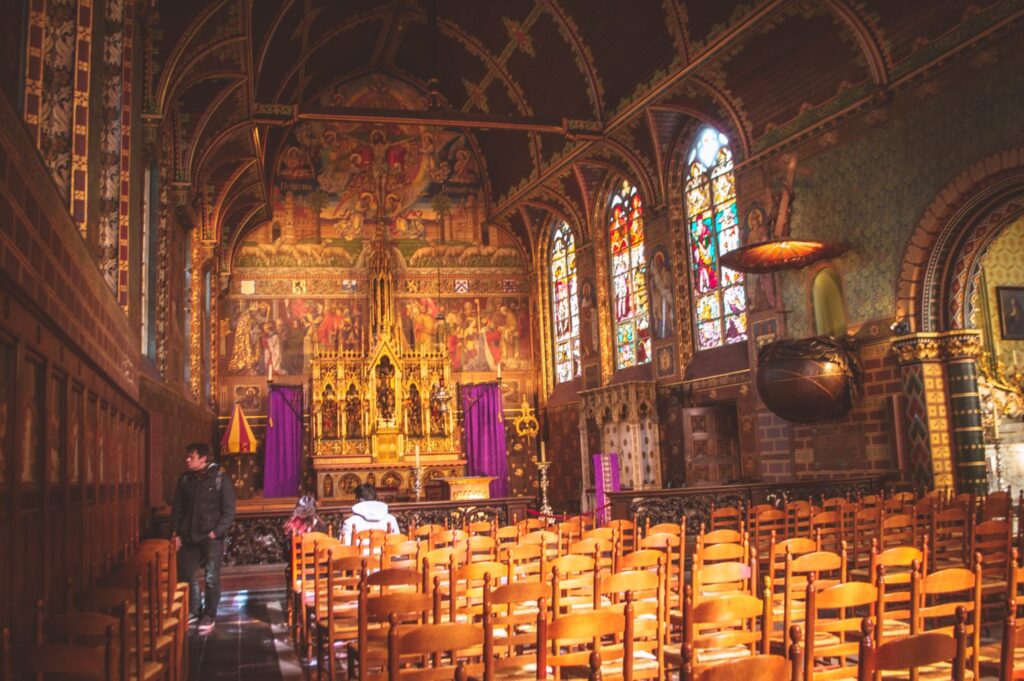 3. Munch on fries where they were invented
Despite being called 'French fries' in much of the world, the delightful strips of fried potato that we use as vessels for condiments are, in fact, Belgian.
Yes, fries are Belgian, not French.
The legend goes that it was American soldiers during WWI that mistakenly named them French fries, because they heard French and mistakenly assumed they were in France, rather than Belgium.
These days, Frites are a common staple of Belgian cuisine, deliciously served all across the country… so be sure to grab yourself a fistful, or perhaps a more civilized cone. In either case, make sure it's doused in creamy sauce.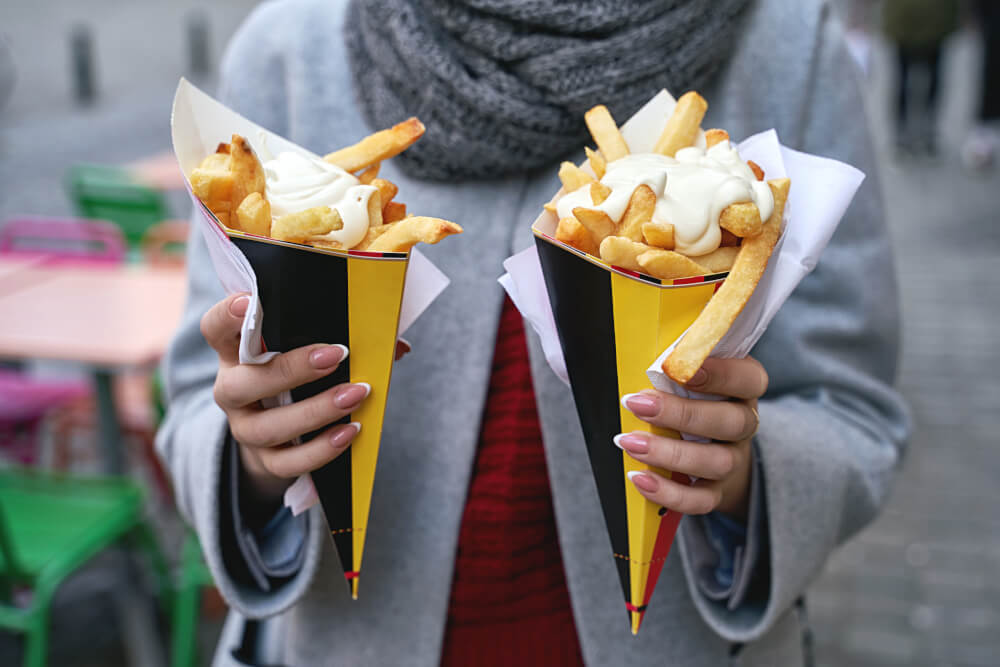 4. Sleep in a Giant Intestine
As I mention in my Belgium travel tips post, one of the best things about this country is that its humour is, frankly, unmatched.
Weird? Maybe… but still. Unmatched!
For proof of this, look no further than CasAnus, the hotel shaped like a giant intestine!
This unique hotel is part of the Verbeke Foundation, a modern art museum and sculpture park located about a half-hour drive from Antwerp. CasAnus was designed by Dutch artist Joep Van Lieshout. The name is a playful spin on the words casa (Spanish for house) and anus (no explanation necessary, I think)!
The interior of the hotel is much nicer than the realistically detailed exterior, with white curved walls that feel a bit like those cave hotels you can find in Greece or Turkey.
So, if you want to sleep inside a giant intestine then head on over to the website and make a reservation by email! It sleeps up to two adults plus breakfast and museum entrance are also included in the price.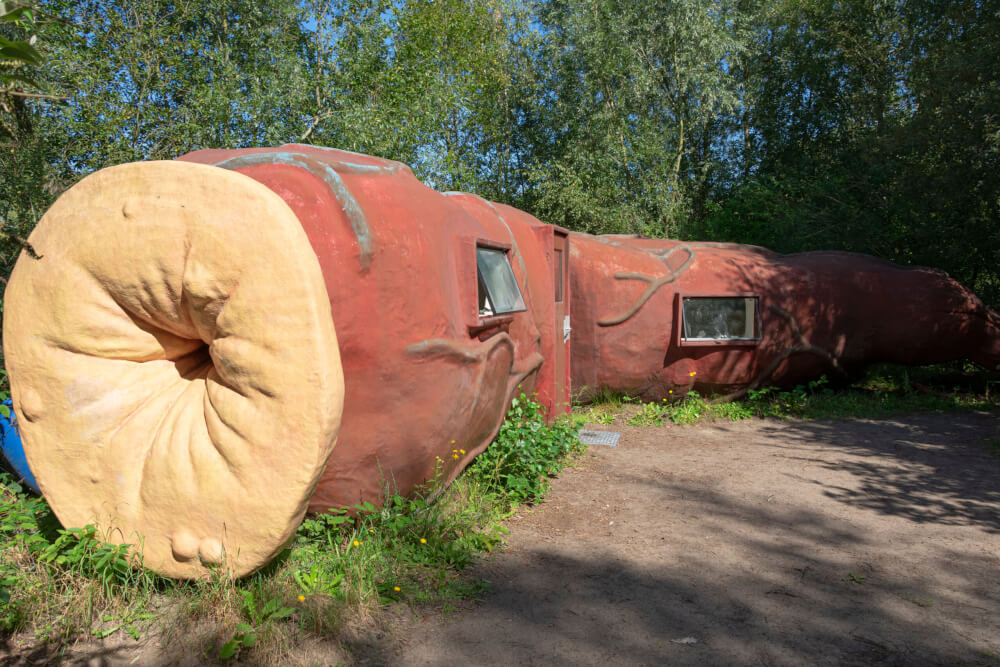 5. Watch a bathtub regatta
Every year on August 15th, the idyllic city of Dinant becomes a chaotic battleground of floating bathtubs, all racing to take top honours in a 1km regatta running along the river Meuse.
Yes. You heard me. Bathtubs! Decorated in all sorts of fun ways.
Attracting over 25,000 visitors a year, this quirky signature event of Dinant is one you can't miss… best of all, it's completely free to both watch and participate.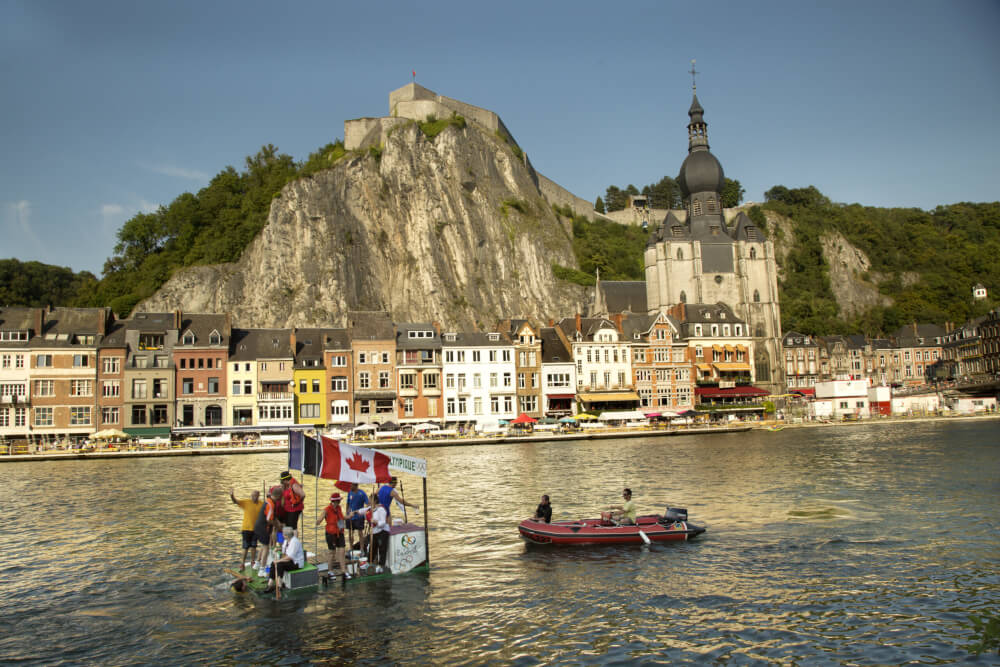 6. Drink from the world's first beer pipeline
Bruges' De Halve Maan Brewery is one of the best places in town to grab a beer, and probably the most unique too, thanks to its special 2 mile 'beer pipeline' that connects the brewery to its bottling plant, a project partially funded via crowdsourcing.
De Halve Maan has been operating at its current location since 1856. The brewery used to offer home deliveries by horse and cart before WWII and by truck after the war, but the narrow winding streets of Bruges made this difficult.
In 2016 the unique pipeline was installed so that they could avoid using trucks to get the beer from the bottling plant to the brewery. The deepest part of the pipeline is located 34 metres (112 ft) below ground.
So, be sure to slurp up some pipeline beer while in Bruges! It's a unique 'only in Belgium' must-do.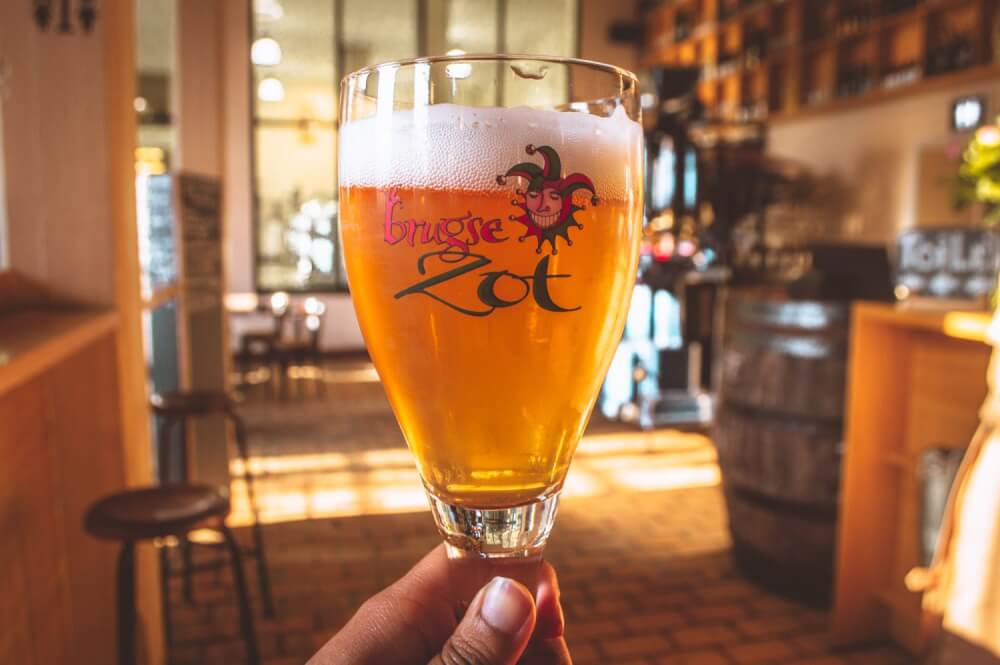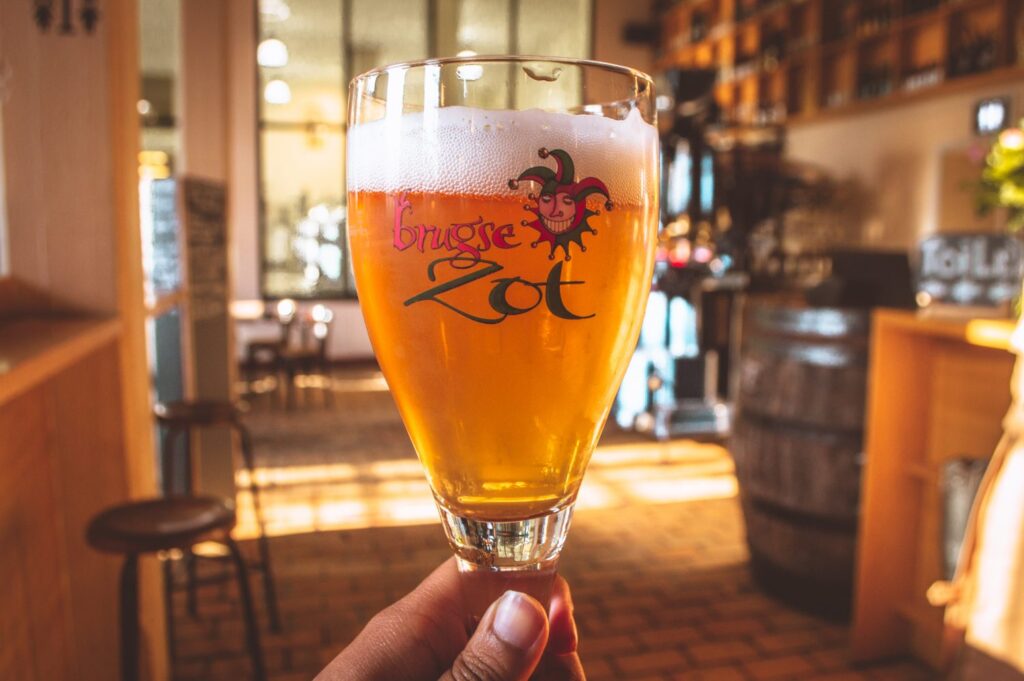 7. Admire a giant carpet made of flowers
Although it only takes place every two years, a key highlight of the Brussels cultural calendar is its famous Flower Carpet, which covers Grand Place with a fragrant and colourful display that attracts thousands of visitors each year it's on.
This unique event was originally created in 1971 by a landscape architect called Etienne Stautemans as a way to advertise his own work but today it draws volunteers from all over the country to create the awesome flower display.
Covering an area of 1,800 m2 (19,000 sq ft), it takes nearly a million different flowers to make this incredible living piece of art. There's a whole festival of fun events surrounding the carpet installation, with fireworks, a jazz concert, traditional folk performances and even a sound and light show at night.
It's usually held on the weekend closest to the 15th of August and the next one is set to take place in 2024 – so get planning if you want to see it in person!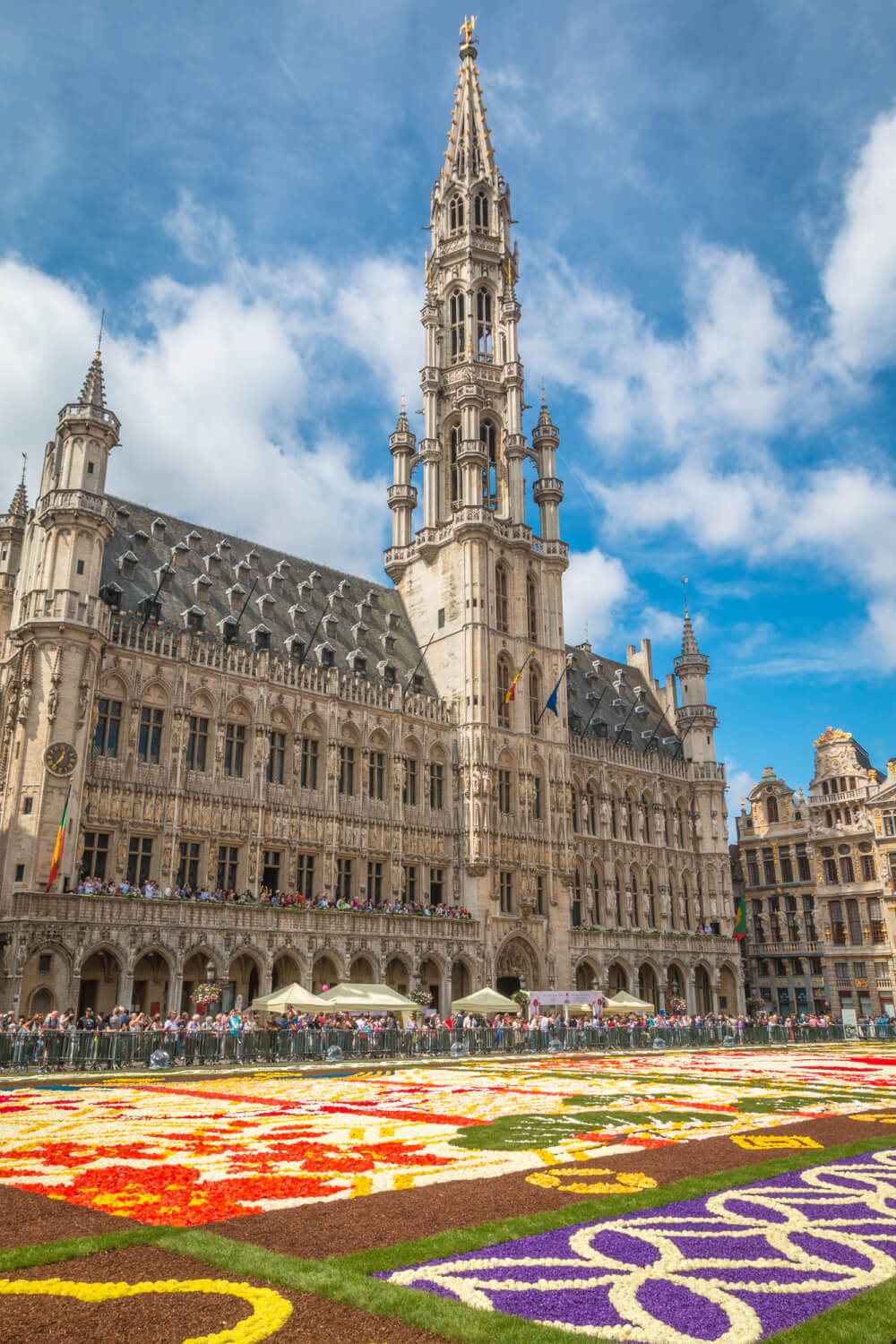 8. Look at the world's most stolen piece of artwork
The unique honour of "world's most stolen piece of artwork" belongs to the Ghent Altarpiece, also known as 'The Adoration of the Mystic Lamb' by the Van Eyck brothers, completed in 1432.
Housed in Saint Bavo's Cathedral (pictured below), the altarpiece consists of 18 panels depicting scenes from the Bible, along with a portrait of the altarpiece's commissioner, the (then) church warden and his wife. It's considered one of the most important and influential paintings in the history of Western art.
The Ghent Altarpiece, despite its historical and artistic significance, has been the target of theft and vandalism multiple times throughout its long history. After the French Revolution, it was taken to the Louvre in Paris and then returned to Belgium after the French defeat at the Battle of Waterloo.
It was also stolen by German forces during World War One and though they returned it after WWI they stole it again during WWII! Today you can visit the masterpiece at Saint Bavo's Cathedral but I recommend checking the opening hours and any special exhibition conditions in advance, as there may be restrictions or changes due to ongoing preservation efforts.
… But yeah, go see it before someone steals it again.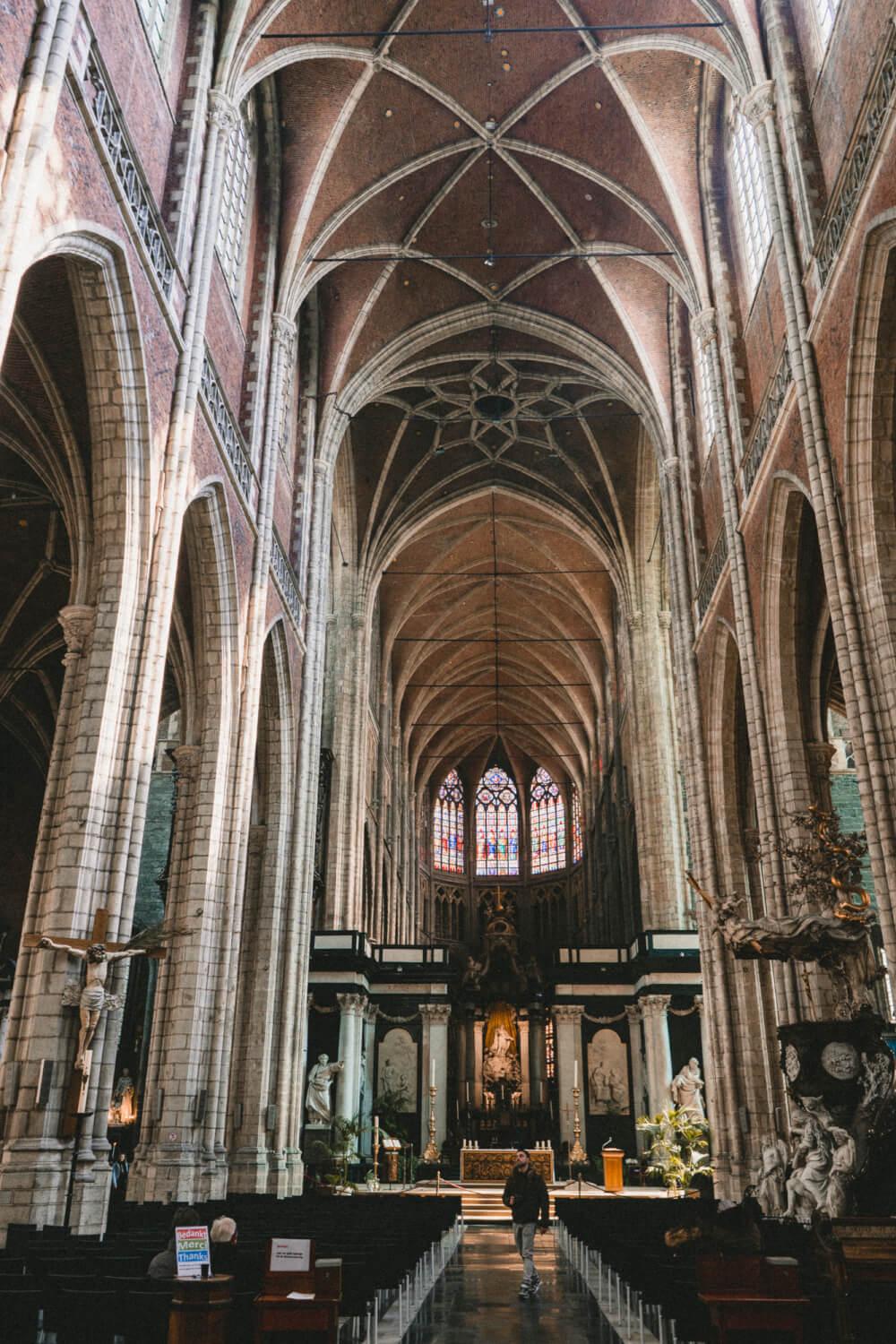 9. Marvel at the world's tallest boat lift
Interested in massive feats of engineering? Here's another unique thing to do in Belgium: go scope out the tallest boat lift in the world.
Located in Hainaut, Belgium, the Strépy-Thieu Boat Lift took twenty years of construction to complete. It stands a shocking 150m tall, with two 'caissons' (water troughs) that move boats from one level of the canal to another, hoisting over 8 tonnes of mass in the process.
You can even go for a ride on the lift yourself, as it's open to visitors between April and November, Tuesday to Saturday. There's an interesting interpretation centre that explains how the impressive structure works and was built as well.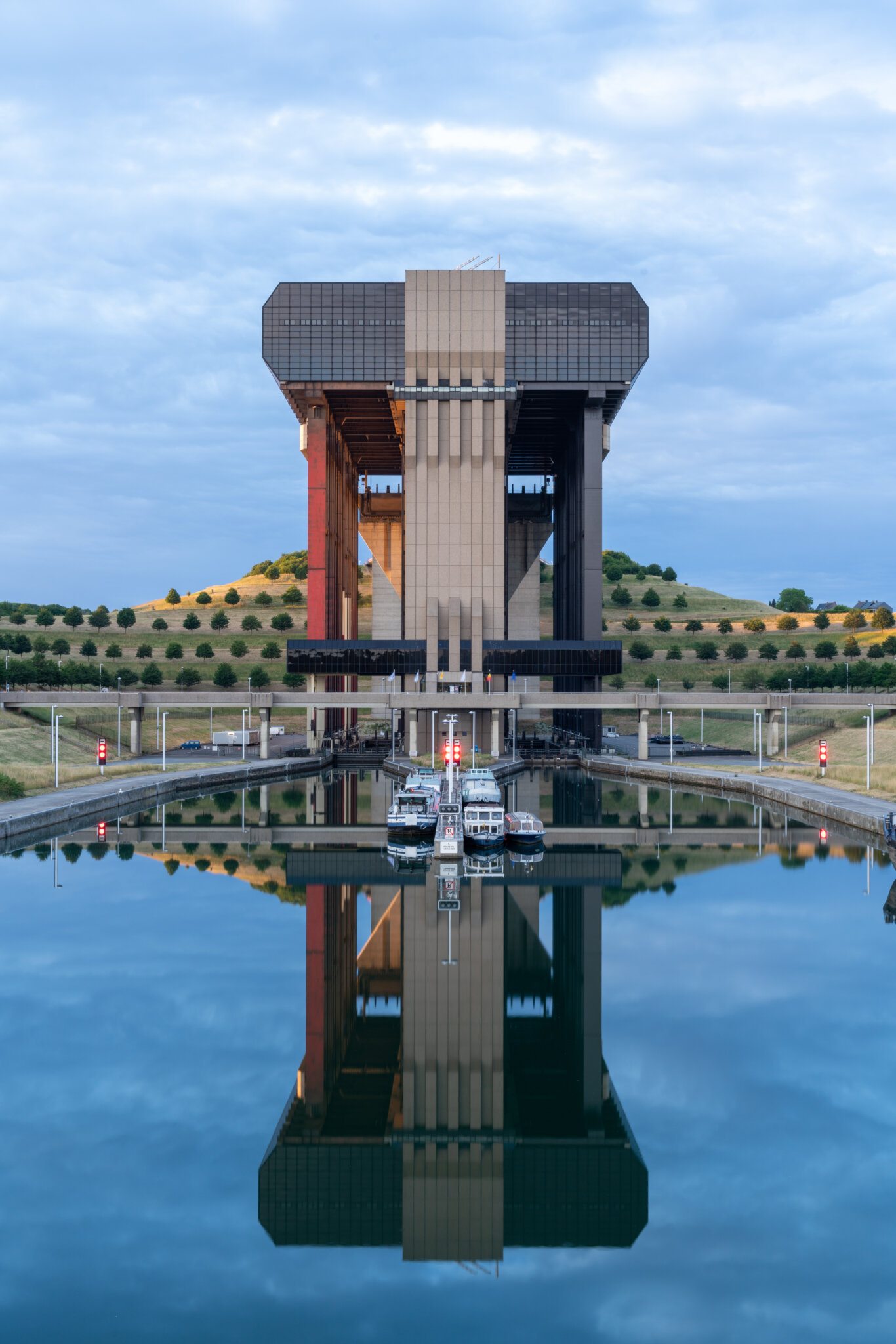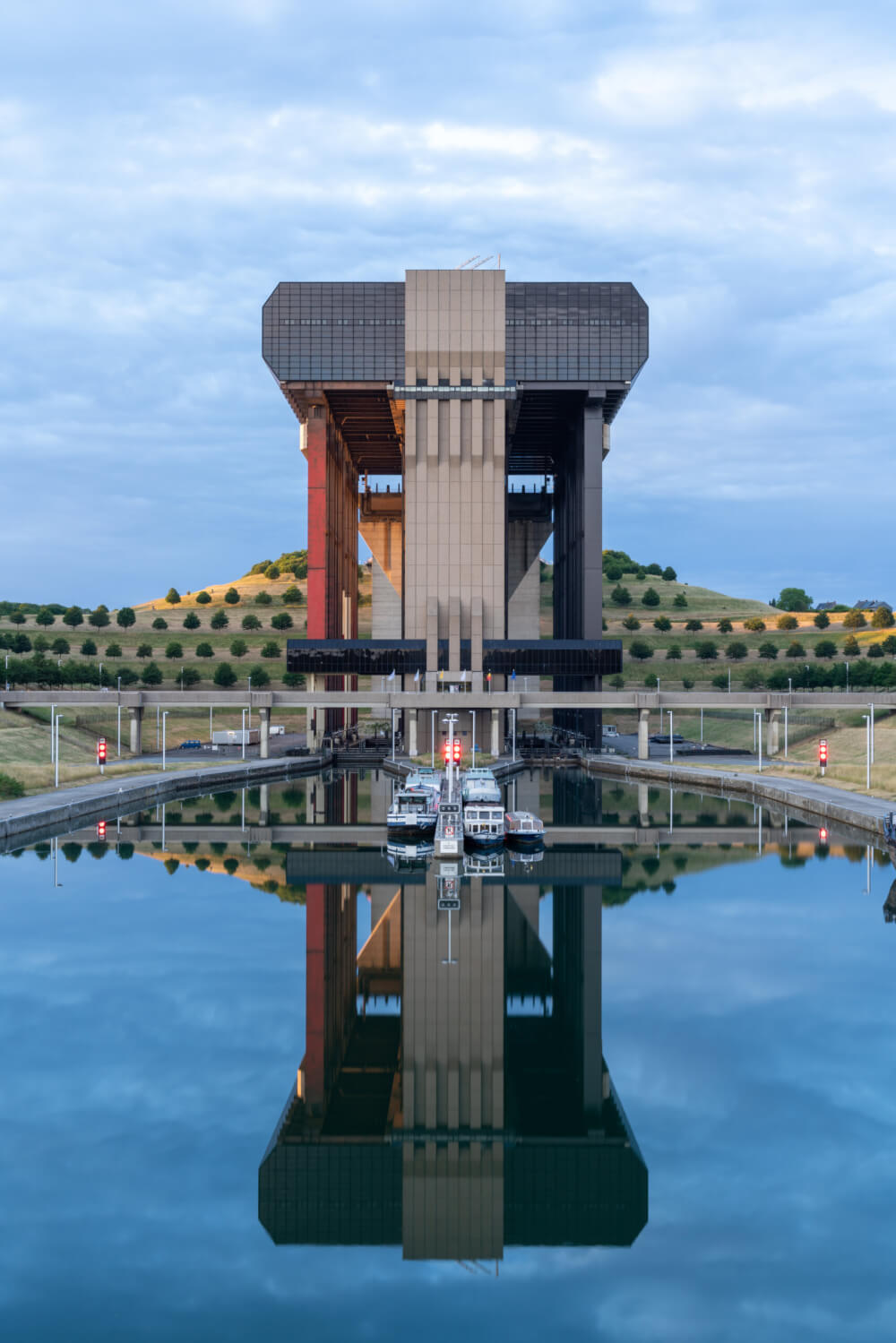 10. Admire a see-through church
The Doorkijkkerk (Reading Between the Lines Church) is a unique attraction located in Haspengouw.
Designed as a minimalist structure, the Doorkijkkerk consists of stacked layers of steel plates. These layers are spaced apart to create the illusion of transparency, allowing visitors to "read between the lines" and see the landscape through the church. The name itself, "Doorkijkkerk," means "see-through church" in Dutch.
It was designed by the architects Pieterjan Gijs and Arnout Van Vaerenbergh, and constructed in 2011. The surrounding landscape, with its seasonal changes in colour and atmosphere, creates a dynamic backdrop for the church, making it a captivating destination for epic photographs – especially at sunrise or sunset!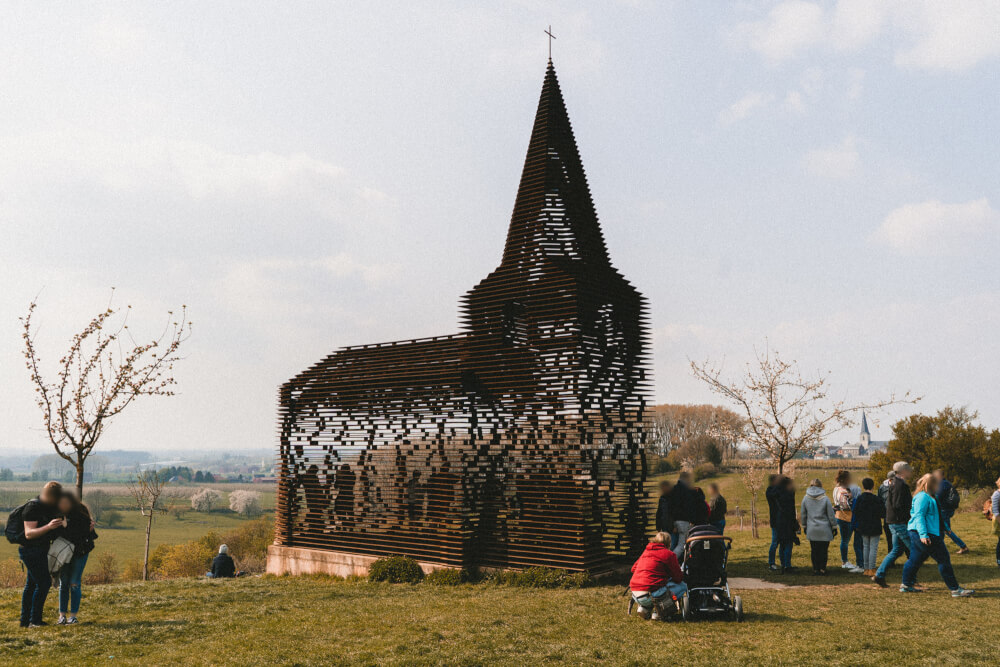 11. Visit the smallest city in the world
Durbuy, often hailed as "The Smallest City in the World," is a captivating gem tucked away in the picturesque Ardennes region of Belgium.
Despite its small size, this town is celebrated for its rich history breathtaking natural surroundings, and an array of activities that beckon visitors throughout the year.
During your visit, you can step into Durbuy's medieval heart, where cobblestone streets, centuries-old facades, and a meandering river create the picture of old world charm. The town square, known as the Place aux Foires, stands at the centre of it all, surrounded by cosy shops, inviting restaurants, and charming cafes. Added onto the many gastronomic delights that await, and this is one neat place in Belgium you don't want to miss.
Adding to the fairytale charm? The Château de Durbuy, an epic medieval castle overlooking town.
12. Hang out in the birthplace of the saxophone
Nestled along the banks of the scenic Meuse River, Dinant is a picturesque town in the Wallonia region of Belgium, known for its captivating blend of history, culture, and natural beauty.
One of Dinant's claims to fame is its status as the birthplace of the saxophone. Adolphe Sax, the inventor of this iconic musical instrument, was born in Dinant in 1814. Visitors can learn about the history of the saxophone and its inventor at the Adolphe Sax House, which has been transformed into a museum. The town also celebrates its musical heritage through various events and festivals.
While you're there, some other attractions worth checking out include the Dinant Citadel, a historic fortress dating back to the 11th century, the Collegiate Church of Notre Dame, and the Charles de Gaulle Bridge, which is also adorned with saxophone-shaped railings!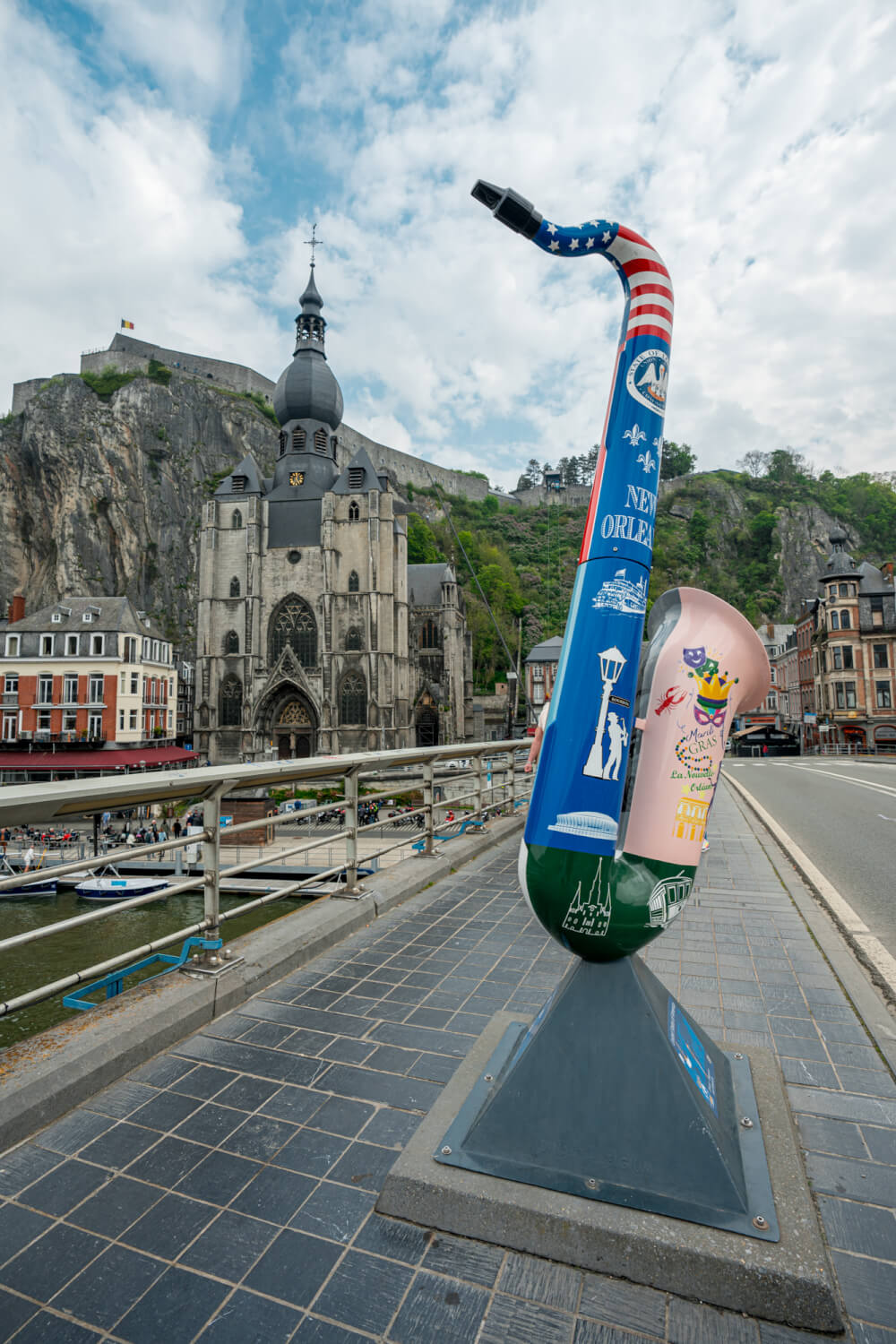 13. Explore a ghost town turned street art paradise
Situated along the banks of the Scheldt River, Doel was once a thriving community with a rich maritime heritage, but its fate took a different turn when plans for a massive expansion of the nearby Antwerp harbour were put into motion.
The transformation of Doel into a ghost town began as residents were gradually relocated to make way for the harbour expansion. Many homes were abandoned, leaving behind an eerie and desolate atmosphere. However, what truly sets Doel apart is the explosion of street art that has emerged in the wake of its decline.
As you wander through the deserted streets of Doel, you'll encounter an astonishing array of vibrant and thought-provoking street art. Talented artists from around the world have flocked to this ghostly canvas to unleash their creativity on the abandoned buildings. The art covers a wide spectrum of styles and themes, from surreal and whimsical to political and poignant… so be sure to come check it out!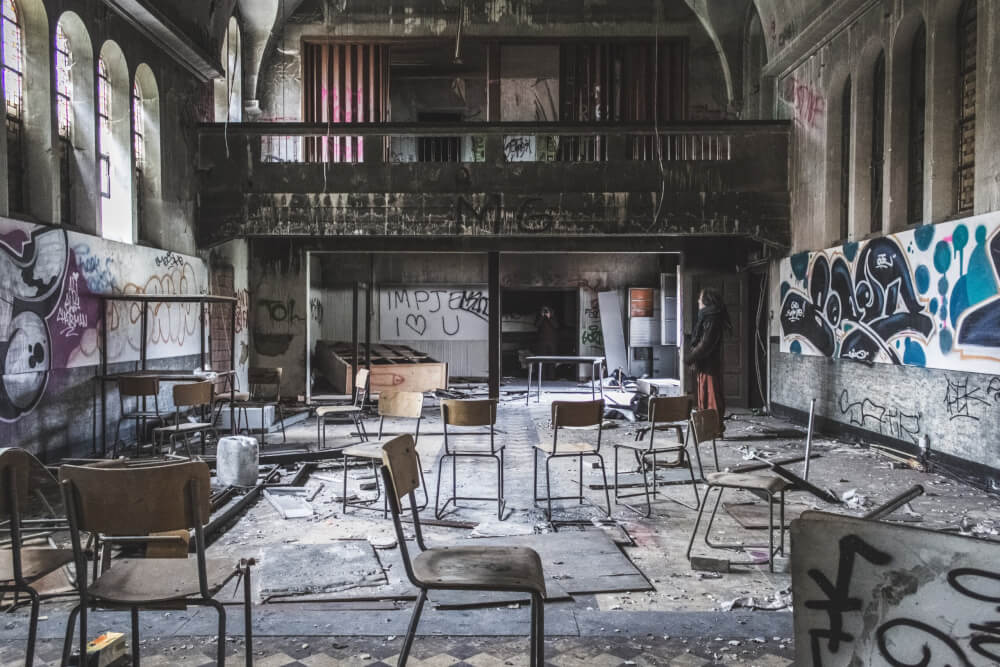 14. Admire a small peeing boy in the name of tourism
If you're looking for another example of that classic Belgian humour, then let me introduce you to my little friend, Mannekin Pis.
Known as a symbol of Brussels, this little naked peeing boy is no more than 55.5 cm (21.9 in) tall, yet has been a beloved city fixture for actual centuries, with the original dating back to the 1600s.
Granted, the one that stands now is merely a replica (the original is stowed away in the Brussels City Museum), but still, a visit here is definitely one of the most unique things to do in Belgium… because frankly, I don't think any other country would market a little peeing dude so aggressively.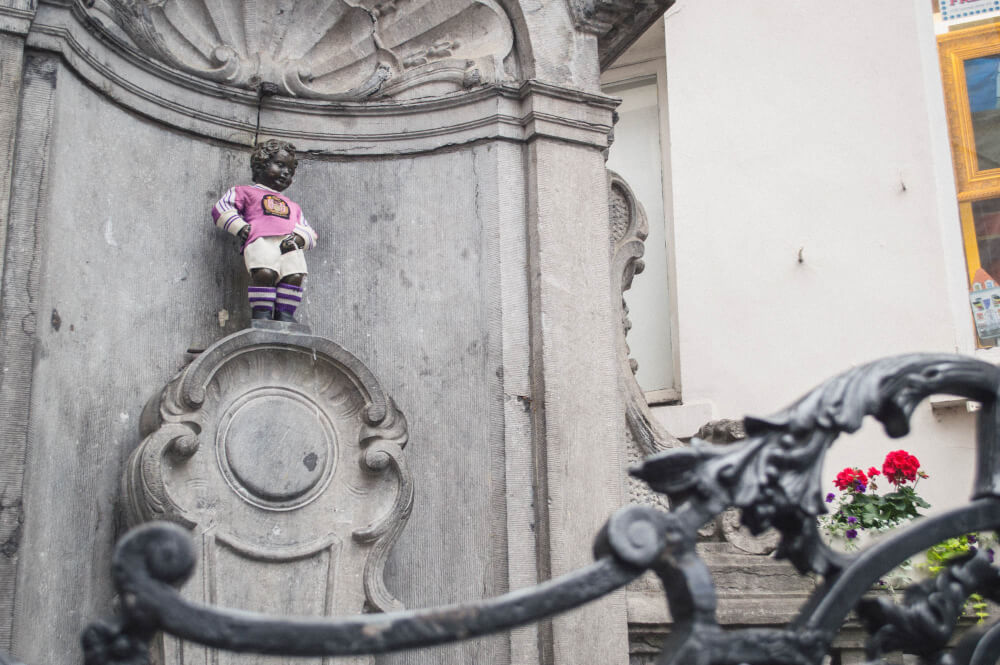 15. Drink Beer From a Glass so Precious, They Take Your Shoe as a Deposit
Belgians don't mess around with their glassware. In fact, when ordering a beer, it's not uncommon to see each one getting its own special glass, a true testament to their dedication and love for the craft.
And this love manifests itself in some weirdly protective ways, namely at Dulle Griet in Ghent, where you're famously required to put a shoe of yours down as a deposit when you order one of their Max Van Het Huis beers.
Apparently, the comically lengthy glasses they came in were getting stolen so often that extreme measures needed to be taken.
I thought this was a genius idea of course, until I found myself hopping on one foot to use the tiny bathroom. That part was perhaps not so great.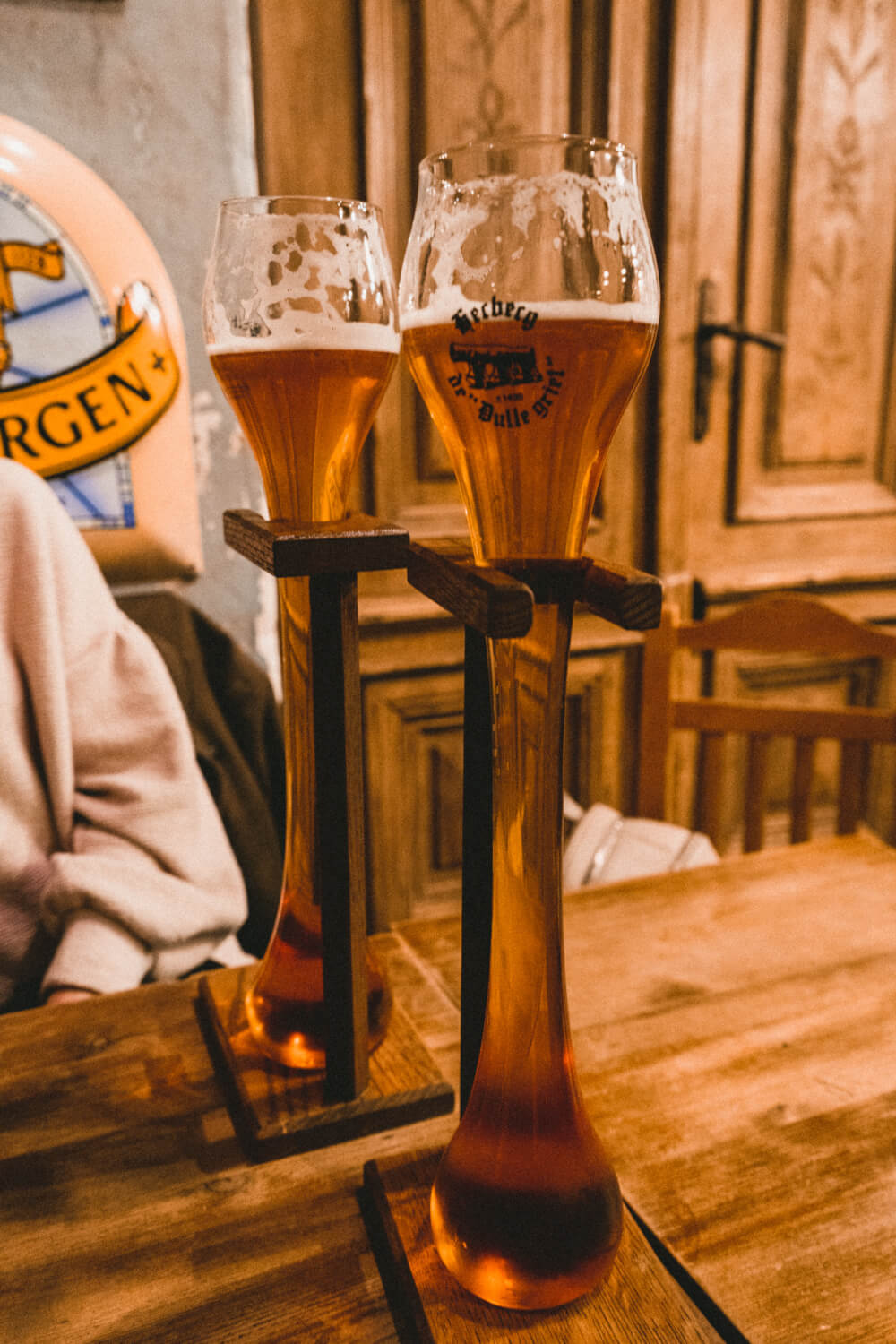 16. Watch some stilt jousting
Namur stilt-jousting, known as "Joutes de Namur" in French, is a unique and traditional sporting event that takes place in Namur, the capital city of the Wallonia region in Belgium.
In stilt-jousting, participants stand atop wooden stilts while wearing protective gear and holding a long lance. Their goal is to maintain their balance while attempting to knock their opponent off their stilts by striking a specific target on the opponent's chest. It's a test of skill, agility, and strength. The precision required to unseat an opponent on stilts is no small feat!
To witness the exhilarating Namur stilt-jousting event, you'll need to be in Namur during one of the scheduled competitions or festivals that feature this tradition. The highlight of the stilt-jousting calendar is undoubtedly the "Joust of the Golden Stilt," a prestigious event that takes place annually on the third Sunday of September during the Festival of Wallonia.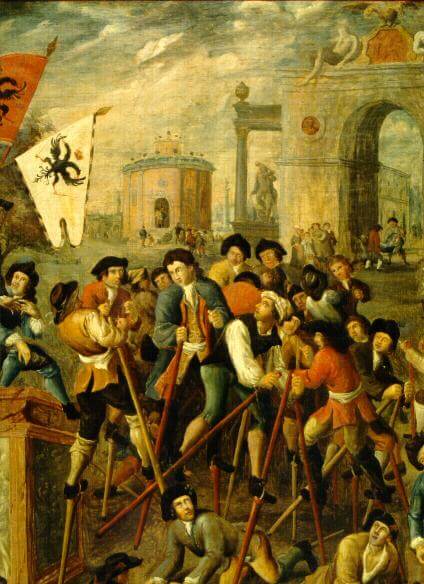 17. Visit the only UNESCO World Heritage museum on Earth
The Plantin-Moretus Museum in Antwerp is a captivating testament to the rich history of printing and publishing. It also holds the distinction of being the only museum in the world that is a UNESCO World Heritage Site.
Inside the museum, you'll find an impeccably preserved 16th-century printing workshop, complete with antique printing presses, typefaces, and tools used by the Plantin-Moretus family, who were pioneers in the world of publishing.
The museum also houses a vast collection of books, manuscripts, and printed materials from various periods, showcasing the evolution of typography and book design. It's a treasure trove for bibliophiles and design enthusiasts!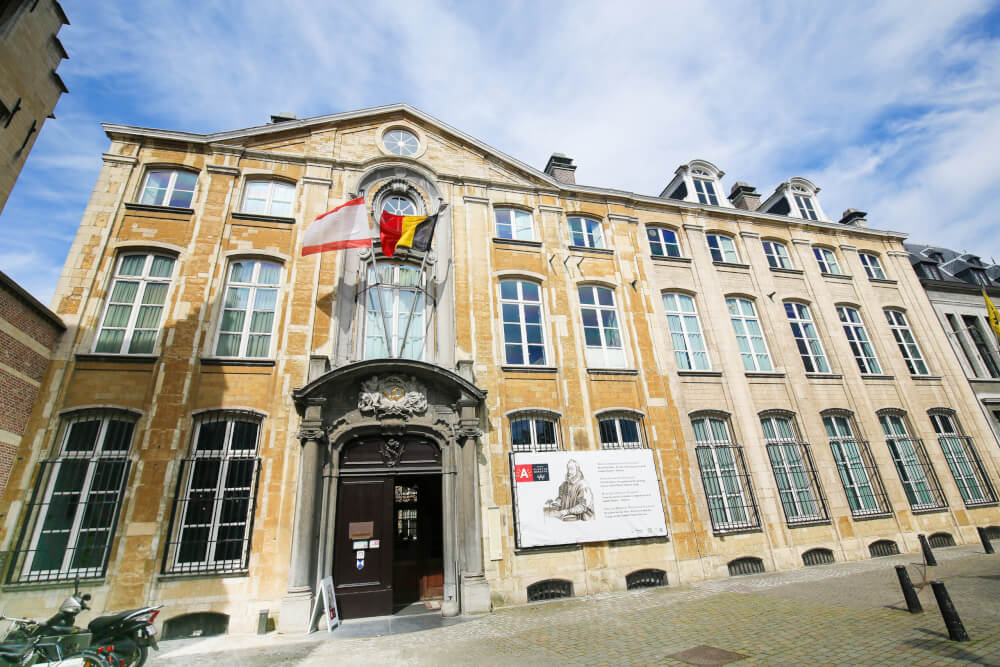 18. Get your hands on hand-shaped chocolate
It's common in Belgium to find cute chocolates in the shape of a city's unique symbols… as if shopping for chocolate needed to be any more delightful.
But among these uniquely shaped chocolates, my personal favourite may well be the chocolate hands you see all over Antwerp.
According to local legend, a brave hero named Brabo once saved dwellers of the Schledt River by defeating an evil giant who used to cut off the hands of sailors that refused to pay his toll.
In defeating the giant, Brabo sliced off its hand and hurled it into the river, a legend immortalized a statue in the centre of town, as well as in chocolate shops all over Antwerp.
So yes, when in Belgium, go eat unique chocolates. In the shape of hands. Why not?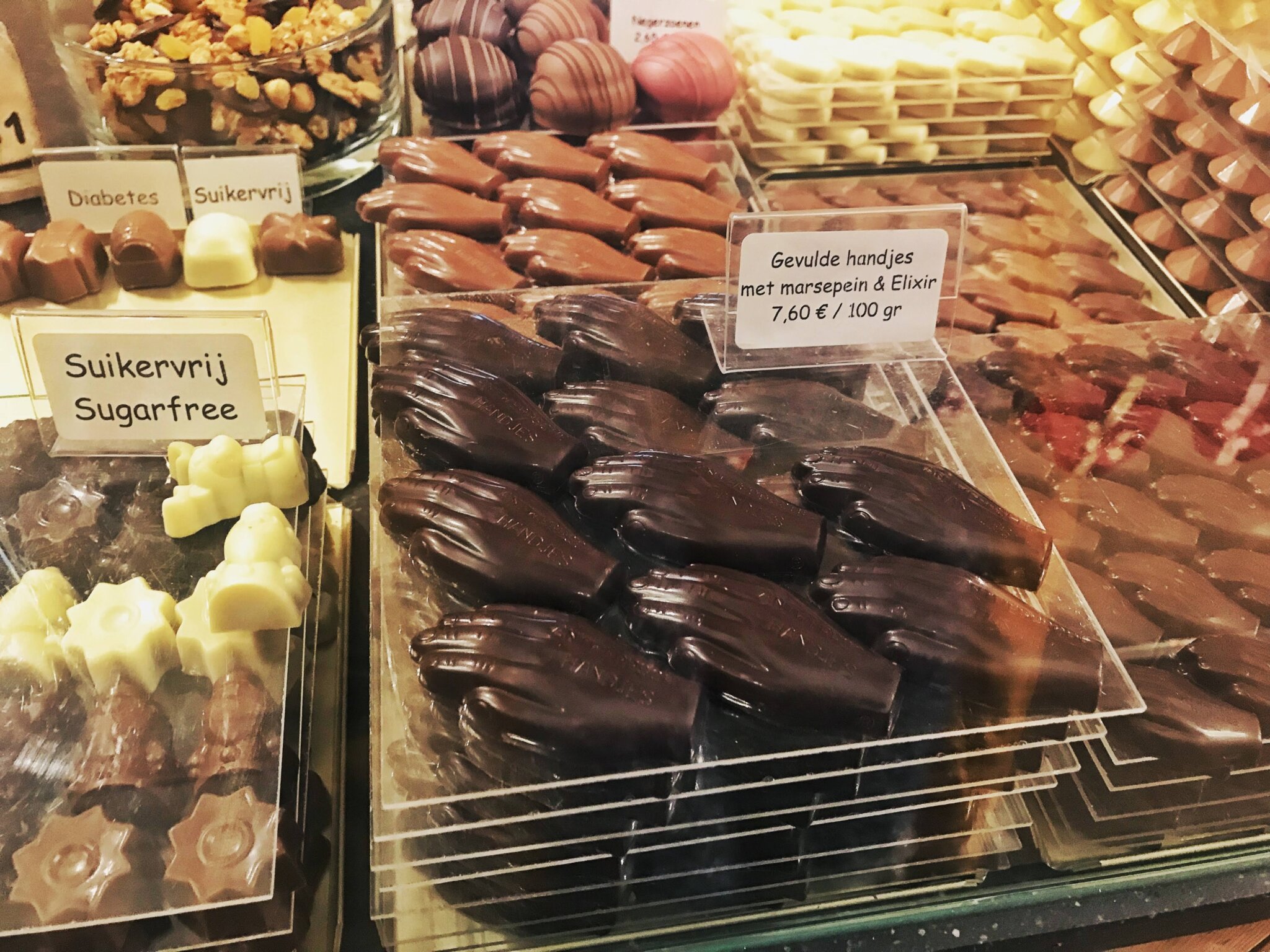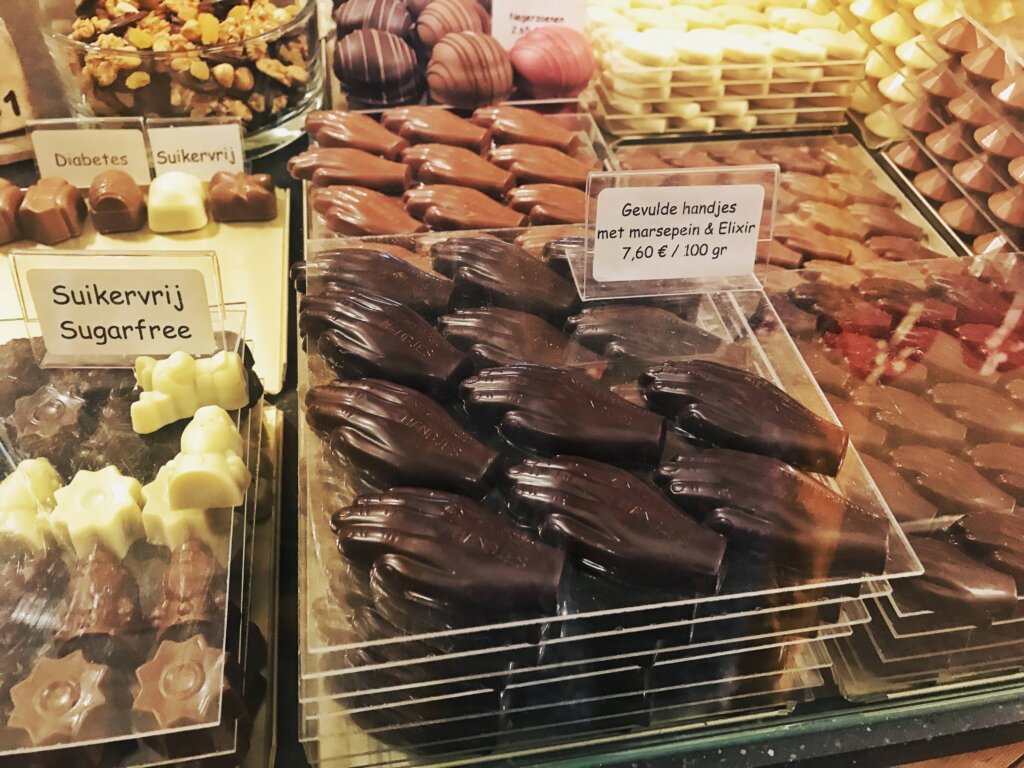 19. Snack on nose-shaped jellies that sparked a turf war
When visiting Ghent, one of the most common treats you'll encounter is the Cuberdon, a conical nose-shaped candy consisting of a crisp sugary shell and a gooey, jammy interior.
It's hard to believe it, but this sweet treat actually sparked an infamous turf war once upon a time.
You see, the year was 2011, and local businessman Carl Demeestere had just begun selling Cuberdons at his bakery. As soon as he saw success however, a a rival vendor named Sonny Breine began selling Cuberdons too. And he did it boldly right in front of Demeestere's bakery.
What ensued would become known locally as the "war of little noses" – Demeestere opened up his own stall right next to Breine's, the two began openly heckling each other in public, and once they even got in an open fist fight that resulted in both losing their licenses temporarily.
While today the war seems to be over, and Breine has long left his stall, drama has continued to unfold in recent years with Brein's successor dumpling a literal bucket of water on Demeestere's head.
Drama aside, if you want to taste the treat that inspired this soap opera of water buckets, brawls, and incessant hostility, go ahead and try a Cuberdon – those very same stalls are still there today.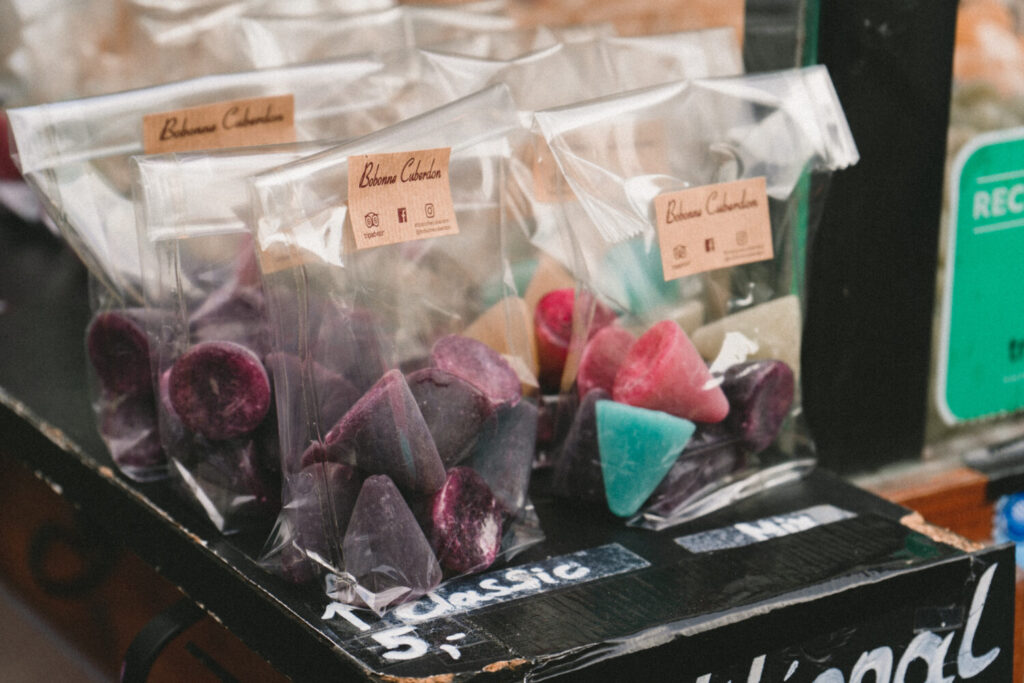 20. Cycle among treetops
"Cycling through the Trees" is a unique and immersive outdoor experience located in Bosland, which is the largest forested region in Flanders, Belgium.
The highlight of this experience is a raised cycling path that gradually ascends to a height of approximately 10 meters (33 feet) above the forest floor. The path is a circular structure, so riders can enjoy a continuous loop through the treetops. As you cycle along the elevated path, you'll be treated to breathtaking panoramic views of the surrounding forest.
The path is accessible to cyclists of various skill levels, including families with children. You can also rent bikes on site or bring your own. Then enjoy a leisurely ride that encourages you to take your time and fully appreciate the natural beauty surrounding you.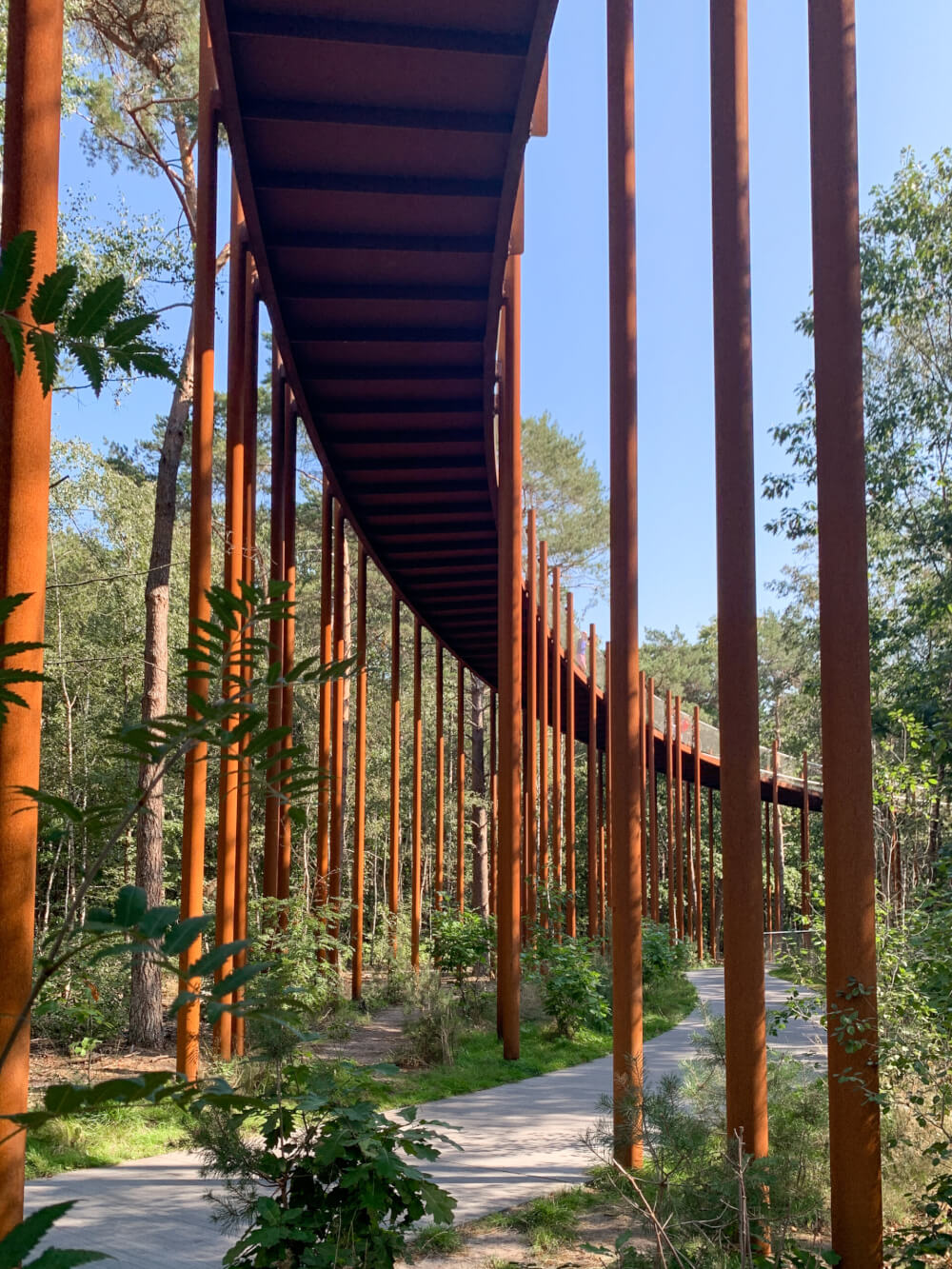 21. Watch experts fish for shrimp on horseback
Ever wondered what it was like to trawl for shrimp on horseback?
Probably not, honestly, because since when was that a common thing to wonder about? Nonetheless, the answer awaits you in Belgium, because of course it does.
Despite it being a common practice once upon a time, today there are only 17 people in the world (known as Paardenvissers, AKA horse fishers) who do this… and they can be found in Oostduinkerke, Belgium!
These brave fishers go out into the water on Brabant draft horses a few times every week, except during the really cold part of winter, and use nets to trawl in the water to catch shrimp. This quirky tradition is even listed on UNESCO's Representative List of the Intangible Cultural Heritage of Humanity.
And best of all, you can see it in action! On the official website, there's a calendar showing when certain fishers will be out on their horses, so you can guarantee a sighting. There's also a whole shrimp festival that takes place on the last weekend of June which sounds amazing to experience.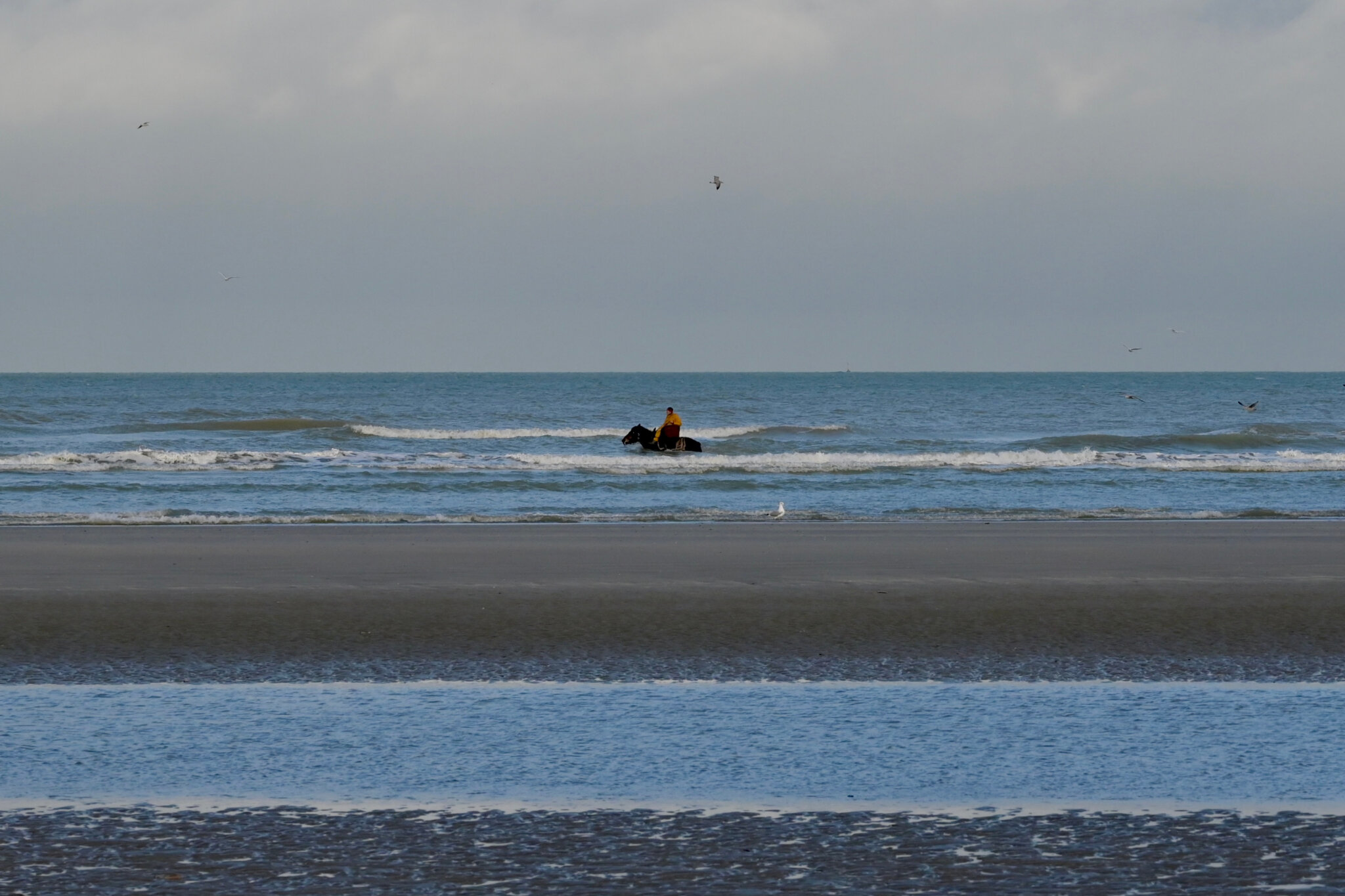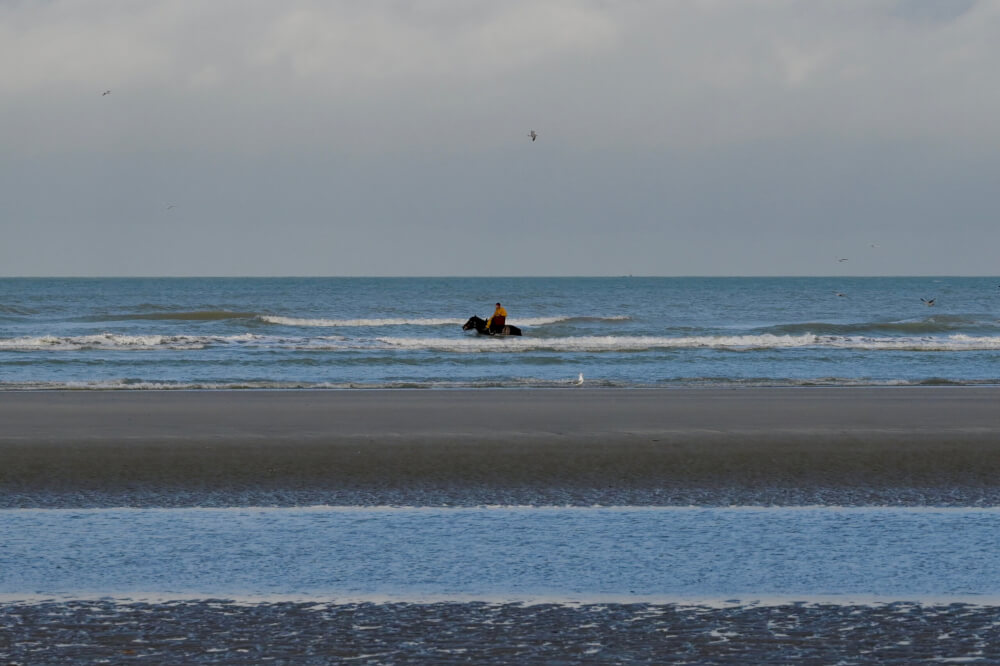 22. Drink at the bar with the world's longest beer list
Touristy as it may be, another one of the most unique things you can do in Belgium is choose from the longest beer list in the world.
Yes, you heard that right.
The Delirium Café is a Brussels institution famed for its staggering beer selection. They actually hold the Guinness World Record for their beer list, which contains 2,004 brands from more than 60 countries!
So, if you want to take your pick (or perhaps agonize over the woes of infinite choice), then this spot is a Belgian must-do.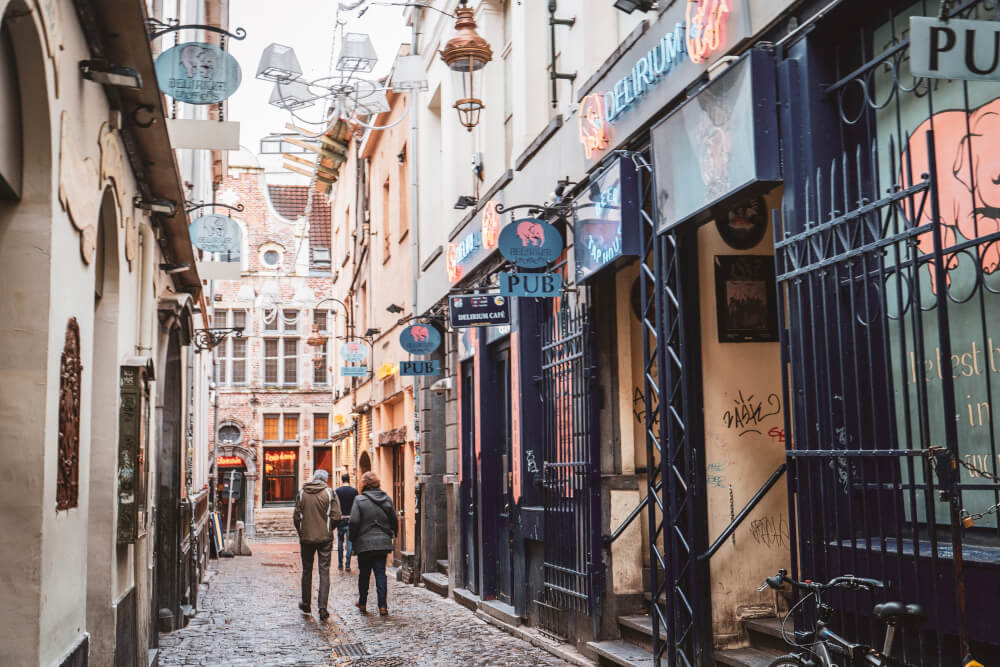 23. Shop for diamonds in the world's diamond capital
This may be a surprise to many of you, but Antwerp is actually considered the diamond capital of the world, a status it has rocked for centuries, dating back to when the world's first stock exchange was created here.
It is said that 84% of all rough diamonds and half of all cut diamonds in the world are traded here… so, if you want to shop for diamonds in the world's capital for them, then you can do that here in Belgium as well.
Just be warned that Antwerp's Diamond District really isn't as glamorous as it sounds.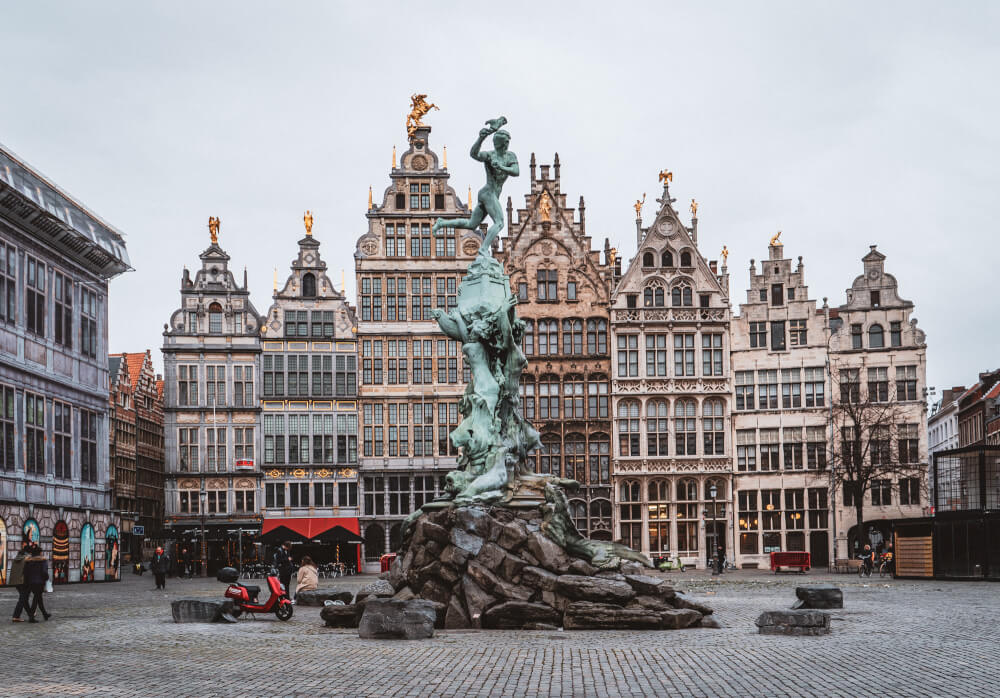 24. Dine in the restaurant where the Communist Manifesto was (maybe partially) written
Okay, so maybe these days this restaurant is no more than another highly priced eatery on Grand Place, but years ago, it is said that La Maison du Cyne was a go-to spot for none other than Karl Marx, who lived in Brussels from 1845 to 1848.
Once upon a time, it was a preferred tale of tour guides and travel books alike that bits of the Communist Manifesto were actually written here… although due to a lack of concrete evidence, many have backtracked on this statement.
What is known though is that Marx used to hang out here a lot, and even hosted meetings of the Communist League here too, so much that there's a plaque at the restaurant that now commemorates his passage through the restaurant.
So, if you want to dine in a historic and unique setting, La Maison du Cyne in Brussels may be a great choice.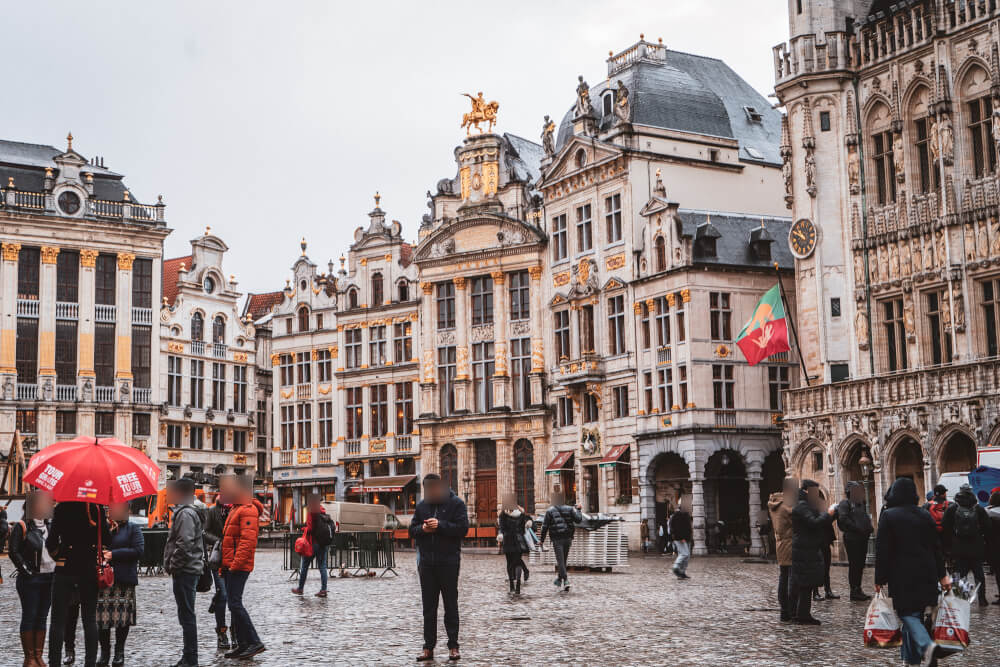 Did I miss any of your favourite things to do in Belgium?
Let me know in the comments so I can add more unique Belgium must-dos to the list!
My Go-To Travel Favourites: