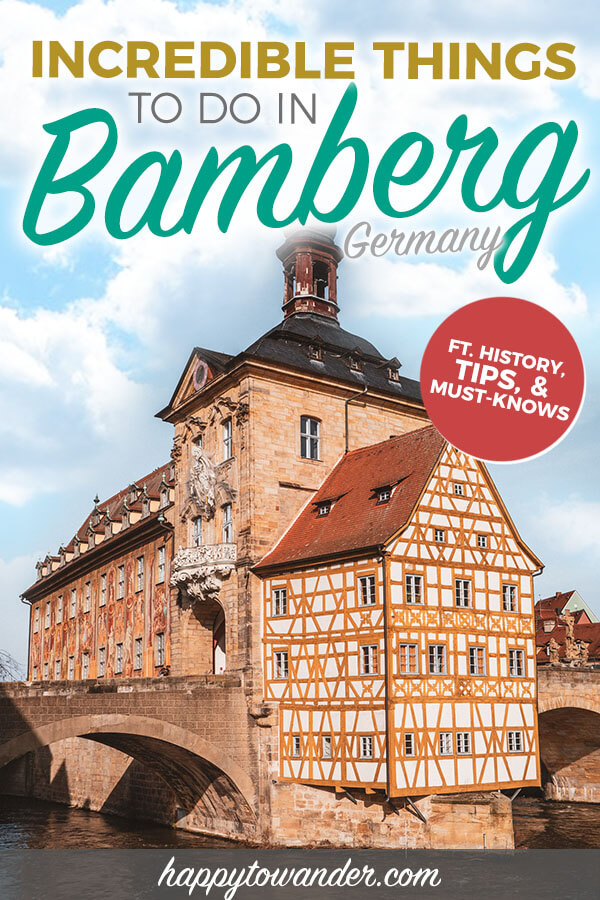 A scenic stroll and a sip of smoky beer was all it took to convince me. My friends, I think Bamberg, Germany might just be one of the most underrated cities I've ever visited.
Studding the upper end of Franconia (in the north of the German state of Bavaria), Bamberg is a certified postcard trapped in time, with an entire millennium of history spilling into its streets and stories baked into every crooked half-timbered house.
Known best for a mix of odd things like canals, smoked beer and stuffed onions, Bamberg has one of the best preserved medieval centers in Germany, sliced through by the idyllic River Regnitz and surrounded by seven hills each crowned with their own castle or church. As the former German capital of the Holy Roman Empire (albeit briefly), its beauty and epic air is unmatched, a fact I learned firsthand on my recent day trip from Nuremberg.
So what is there to do in Bamberg? How do you get there ASAP? Here's my guide to visiting Bamberg, Germany, packed with useful tips for your own visit.
But first…
---
---
A Brief History of Bamberg, Germany
To really understand Bamberg, it's important that we first discuss its 1000+ years of history. I'd like to avoid murdering your attention span, so here it is in a condensed version.
You see, over a thousand years ago, Henry II, valiant Duke of Bavaria (and eventual Emperor of the Holy Roman Empire) set out with the hefty goal to make Bamberg into a second Rome of sorts, commanding the construction of many epic monuments, including a new church (Bamberg Cathedral) and Abbey (Michaelsberg Abbey). This formed the foundations of Bamberg's skyline as we know it today.
Around the 13th century began the era of the Prince Bishops, bishops who moonlit as civil rulers with money and power in spades. They went on to add additional layers of fanciness to Bamberg, moving into the swishy Altenburg Castle and erecting palatial additions to the Bamberg cityscape like the Neue Residenz and Schloss Seehof in the 17th century.
Amidst all this rosy imagery however, it's important to remember that Bamberg's history wasn't all just castles, churches and swanky prince-bishop parties… There's a dark side to the city too. Not only was Bamberg one of the worst centers for witch hunts in Germany, it survived a series of wars and epidemics including the plague, the 30 Years War and of course, both world wars. Miraculously, unlike many other cities in Germany, Bamberg came out of WWII mostly unscathed, which is how it has managed to retain an authentic, historic charm, one that's been UNESCO-protected since 1993. Today, it's the stomping grounds of countless visitors eager to drool all over it.
… And I highly recommend you go there to drool too 😉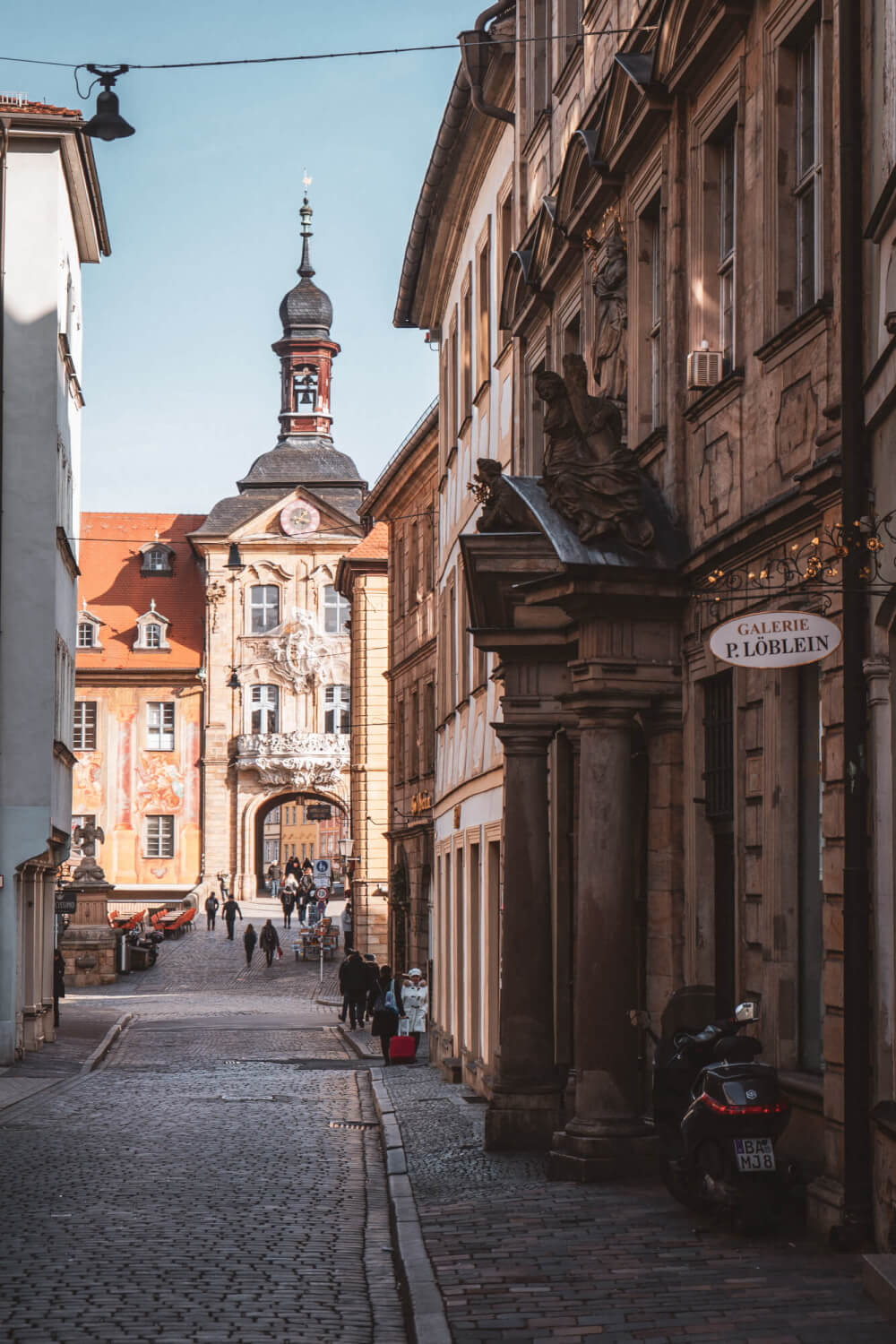 ---
---
How to Get to Bamberg, Germany
While Bamberg is a small city, it's well connected by train so it's relatively easy to get here from other major cities in Germany. The nearest airport is Nuremberg, and you can get from Nuremberg Airport to Bamberg in about an hour to an hour and fifteen minutes, depending on which train you catch.
Otherwise, you can easily catch a variety of regional and ICE trains to Bamberg HBF, which is about a fifteen minute walk from the historic centre (AKA the pretty part!)
Here are some tips on getting to Bamberg from some Nuremberg and Munich, two common jumping points.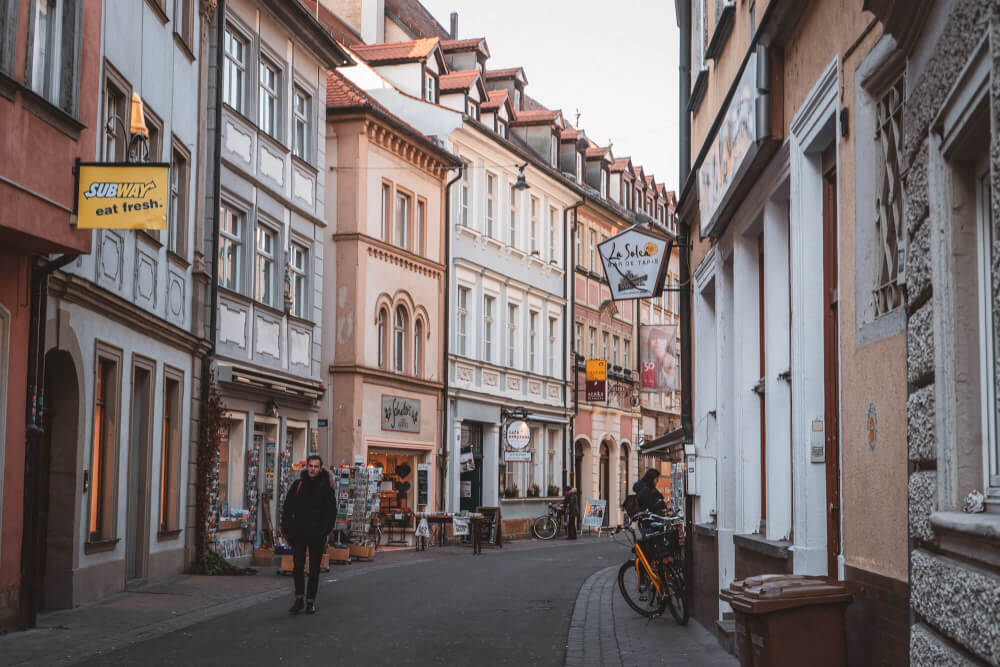 ---
---
How to get from Nuremberg to Bamberg
OPTION A (Recommended!): Take the train from Nuremberg to Bamberg
There are frequent trains that run from Nuremberg to Bamberg, at least one an hour.
High speed ICE trains will get you there in 30-40 minutes, whereas there are a lot of regional trains that take 40 minutes to an hour. If you're doing a day trip, I highly recommend you get a Bayern Ticket, which is a regional ticket that gives you unlimited public transport for one day in Bavaria using regional trains. While it can't be used on ICE trains, it can save you a LOT of money (for one person it's 26 euros, then 6 euros for every additional passenger) and it covers you for the whole day, making it an amazing deal. Learn more about using the Bayern Ticket in my full guide here.
OPTION B: Carpool with BlaBlaCar
If you're looking for a very cheap/more adventurous option, you can look into BlaBlaCar, which is like a carpooling/rideshare service. The route from Nuremberg to Bamberg is a popular one so there are often people looking to fill cars going there, and it's as cheap as 5 euros per ride.
NOTE: While many travelers use BlaBaCar regularly, remember general safety precautions like reading reviews for your driver, etc.
---
---
How to get from Munich to Bamberg
NOTE: While many travelers are interested in doing Bamberg as a day trip from Munich, I wouldn't recommend it because it would be a very long day. Even if you took an ICE train, it would be 4 hours of travel total for the day, which doesn't give you a ton of time to explore Bamberg. Stepping off my pedestal now, here is how you would travel from Munich to Bamberg if you so wished.
OPTION A: Take the train from Munich to Bamberg
Taking the train is the most comfortable way to get from Munich to Bamberg.
There's 2-3 departures per hour, and the route is serviced by both ICE trains and regional trains.
NOTE: Depending on how many people you're travelling with, I might look into getting a Bayern ticket for additional savings. The Bayern Ticket is a regional ticket that gives you unlimited public transport for one day in Bavaria using regional trains. While it can't be used on ICE trains, it can save you a LOT of money (for one person it's 26 euros, then 6 euros for every additional passenger) and is especially worthwhile if you're travelling as a group (you can get five adults on one ticket for 53 euros – which is like 10 euros per person!)
OPTION B: Take a Flixbus from Munich to Bamberg
This is probably the cheapest option, taking a Flixbus to Bamberg. Flixbus seems to have buses running from Munich to Bamberg a few time daily for about 10 euros, so if you want a cheaper way to get to Bamberg and don't mind the longer drive (around 4 hours), then this might be a good option for you.
NOTE: Flixbus is fine but not usually the most service-oriented or punctual. You can read my full review of them here, but I would still recommend taking the train because of convenience.
OPTION C: Carpool with BlaBaCar
If you're looking for a very cheap/more adventurous option, you can look into BlaBaCar, which is like a carpooling/rideshare service. The route from Munich to Bamberg is a popular one so there are often people looking to fill cars going there, and it's as cheap as 12-15 euros for a ride. It's also faster than Flixbus because they don't stop as often – most estimate it takes around 2.5 hours.
NOTE: While many travelers use BlaBaCar regularly, remember general safety precautions like reading reviews for your driver, etc.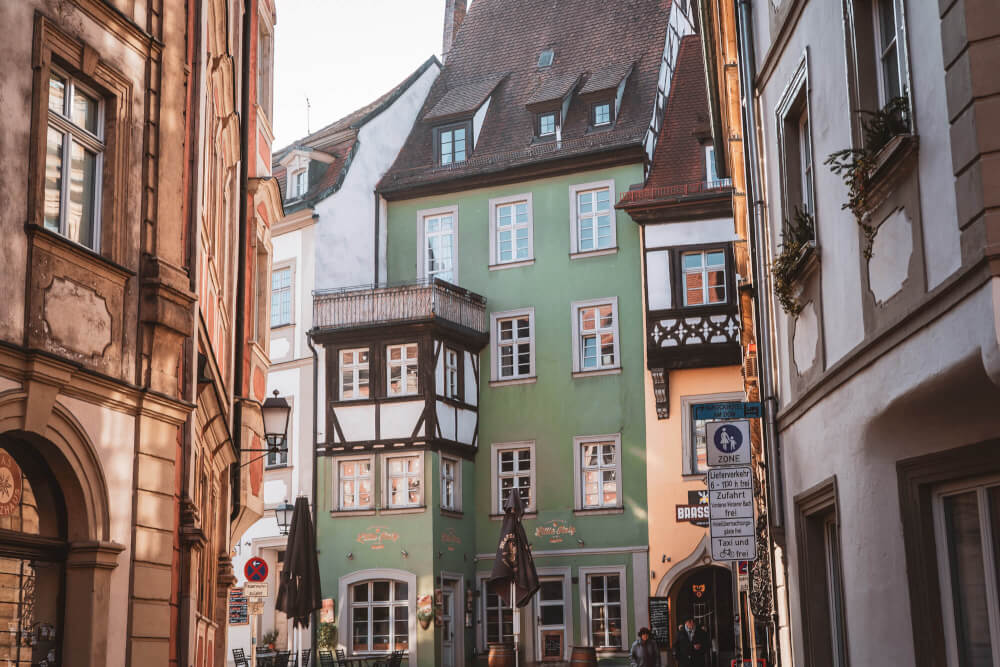 ---
---
Must-Knows Before You Visit Bamberg, Germany
So, before you visit Bamberg for yourself, here are some key pieces of info to keep in mind.
The best part of the city is the Old Town, by far
I'm not gonna sugarcoat it, the area around the Bamberg HBF is pretty average… I don't know why part of me expected to see the historic Old Town and cute half-timbered buildings right away. This definitely isn't the case! It takes about 15 minutes by foot to get to the pretty Old Town part of Bamberg, so remember to save your judgment until then!
The off-season is wonderfully quiet, but lots of things will be closed
I visited Bamberg in the dead of winter on a weekday. This was phenomenal for a lot of reasons, namely NO crowds and the ability to flounce around and enjoy the picture-perfect streets in peace. There WERE were numerous downsides though, namely that none of the museums were open and many of the restaurants/cafes were closed as well. If you want to just enjoy the wonderful atmosphere of the city, then off-season travel is fine (we had no trouble finding food or anything) but if you are interested in visiting more of the museums/attractions, keep that in mind before booking your trip for the off-season.
Bamberg is Franconian
Bamberg didn't actually become part of Bavaria until 1802, and it's a Franconian city through and through. I know it's a little confusing, but it's an important distinction to make because Franconia is culturally quite different from Bavaria and the rest of Germany.
So, not that I can imagine any locals getting overly angry about anything (they're SUPER nice here), just remember to refer to things as Franconian, and don't be surprised when menus or signs have this indistinguishable language that ends with a lot of "las" – that's just Franconian, and yes, it's very different from German! Don't worry though, you can get by with German and even English in the touristy parts of the city.
---
---
Things to do in Bamberg, Germany
Alright, now moving onto what to do in Bamberg once you're in town… In terms of Bamberg things to do, there's a lot. Here are my top picks.
1. Go "on the cellar" and drink some delicious Bamberg Beer, specifically Rauschbier
I mean, all in the name of culture, right? Bamberg smoked beer is one of the most famous exports of the city and you can't visit Bamberg without trying at least one. Rauschbier is made with malt which has been dried over an open fire, hence the smoky smell and taste. I've described this to many people as smelling like a sauna where people decided to spontaneously smoke a bunch of salmon and cigars. My verdict? It's weirdly delicious, although admittedly an acquired taste.
If that's not something you fancy, there are plenty of other breweries and brews to choose from! After all, Franconia has the highest density of breweries in the world. It's a classic and popular recommendation, but I really enjoyed Schlenkerla Brewery, housed in a crooked and charming timbered building, although any place serving beer is probably not a bad place to be 😉 You can even book a self-guided brewery crawl that comes with 4 vouchers and a souvenir mug for only 22 euros! Click here for more info.
PS: The expression "on the cellar" is a funny one often used by locals. It's a nod to the underground tunnels found in the hills of Bamberg, which once upon a time were discovered as an ideal place to store/ferment beer. As the years went on, they began to cover these hills with gravel and trees to keep the tunnels cool, and well, it only made sense to turn these green spaces into beer gardens located "on" the cellars. Drinking beer outdoors on the cellar is therefore, unsurprisingly, a favourite past time when the weather is right!
---
---
2. Wander around the lovely streets of Bamberg's Old Town
It's a cliche, but as you'll soon discover, Bamberg is a place best enjoyed with a heavy dose of cliched, dreamy optimism. All around Bamberg's Old Town, you'll find crooked and colourful half-timbered buildings that are basically made for Disney-esque twirls. Be sure to save a few hours of your visit to Bamberg just for exploring. Especially as you cross the Obere Brücke bridge, to the west side of the town, Karolinenstrasse and Dominikanerstrasse are lovely.
And honestly, Bamberg sightseeing is easy to do – just start wandering and you'll stumble upon some of the nicest, swoonworthy streets. Just make sure to have your camera ready.
---
---
3. Explore the Little Italy in Bamberg, AKA Little Venice
NOTE: If you are trying to find it on a map, be sure to type in Klein Venedig. Little Venice doesn't actually bring you any results.
It's a well-documented fact that the original vision of Bamberg was for it to become a "second Rome" of sorts, and with its seven scenic hills and boundless beauty, it's possible to see the resemblance…
That's not it for Bamberg's "little Italy" vibes though! One of the other starring attractions of the city is known as Little Venice, AKA Klein Venedig. This is the former fisherman's district, packed with adorable half-timbered buildings from the Middle Ages which are so densely packed along the river, they seem like they're dancing in a little architectural moshpit.
Your Bamberg tour definitely wouldn't be complete without a quick stop here!
---
---
4. Marvel at the Bamberg Old Town Hall
This right here is the most famous of Bamberg Attractions: a gorgeous town hall built on an island in the middle of the river, connected by two bridges and decked out in wonderful almost 3D trompe d'oeil frescoes. With its cutesy yellow timbered side and mystical location, it's definitely one of the prettiest town halls you can visit in Germany.
And how did it end up there? Well, according to legend, this floating town hall in the middle of the Regnitz River was built on an artificial island created by super angry townspeople. Yup, supposedly the bishop didn't want to grant any new land for a town hall, so the citizens of Bamberg hulked out and began throwing stakes into the river to create an artificial island. True or not, this story remains one of my favourite German anecdotes.
---
---
5. Visit the Bamberg Cathedral
No Bamberg tour would be complete without a stop at the beautiful Bamberg Cathedral. Inside you'll find a marble tomb belonging to Pope Clement II, the only pope in history to be buried north of the Alps. Haven't heard of him? That's likely because he was only Pope for a year before his mysterious death by poison over 1000 years ago. *cue eerie music*
Inside, you'll also find the carved tombs of Henry II and his wife Kunigunde, which took 14 years to complete, in addition to one of the city's most famous sculptures, the Bamberger Reiter (Bamberg Horseman).
---
---
6. Venture out to Schloss Seehof
Once upon a time, the illustrious Schloss Seehof (on the outskirts of Bamberg in Memmelsdorf), acted as a summer crib and hunting lodge for Prince-bishop Marquard Sebastian von Schenk von Stauffenberg (say that ten times fast).
Dotted with rows of citrus trees and impressive fountains, this bite-sized piece of opulence is now (after extensive renovation works) available for your own royal visit. Click here for more info.
---
---
7. Tour the New Residenz
The New Residenz is an opulent little palace overlooking Bamberg, just steps away from the Bamberg Cathedral, with over 40 staterooms for you to explore. From ceilings blinged out with stucco, larger-than-life paintings, and of course, its own perfect little rose garden, this is one place where you'll have no problem witnessing the swishy lifestyle of Bamberg's royals up-close.
---
---
8. Stop to smell the roses at the Rosengarten Bamberg (AKA the Bamberg Rose Garden)
Thousands of colourful roses adorn the famous Bamberg Rose Garden in the warm months, something I can only dreamily imagine as I went in the dead of winter. Nonetheless, if you happen to be in town when roses are in bloom, don't miss the Rosengarten Bamberg, one of the most serene and romantic sights in the city.
---
---
9. Walk into a movie set at Alte Hofhaltung
A short walk away from the Bamberg Cathedral, you'll find the quaint courtyard of the Alte Hofhaltung (literally, the Old Courtyard), lined with half-timbered buildings that look straight out of a movie. … Because they are! The 2011 adaptation of the Three Muskateers (yes, the one with Orlando Bloom) filmed the famous fight scene right here, which you can catch in this video:

---
---
10. Cozy into a cafe in Bamberg and eat a loooot of cake
Bamberg is a lovely little city teeming with cute cafes. While this was a joyful revelation in the winter chill, I can imagine these cafes are equally bumpin' in the summer, doling out ice creams and sorbets in lieu of hot chocolate.
That said, a little cafe time is a must when in Bamberg, even just to slow down and soak in the wonderful atmosphere of this beautiful city.
Riffelmacher Conditorei is a nice choice if you want something very very central – we stopped here for some hot chocolate and dessert before our train and it was a tad slow service-wise, but a nice place and the treats were delicious.
If you're wanting something very dainty and adorable, just steps away from the Schlenkerla Brewery is the SpitzRein, a ridiculously cute cafe with incredible reviews. I wish I had known about it before my visit, but alas, you can check it out on my behalf!
---
---
11. Chow down on some regional Franconian specialties
Franconian cuisine, much like Bavarian cuisine or German cuisine is….. heavy.
If you're a fan of meat and carbohydrates, you'll settle into a happy food coma here, guaranteed. While in town, I made sure to try the Bamberger Zwiebel, a baked onion stuffed with mince meat and topped with a strip of bacon, all slathered in beer gravy and served on mashed potatoes of course. This was DELICIOUS at Schlenkerla and I would highly recommend it.
---
---
12. Visit the Bamberg Brewery Museum
The Bamberg museum scene may not have as many options as in other cities, but there are a few standouts that are unique and worth paying attention to. The Brewery Museum for instance is is housed in a former Benedictine Brewery that traces back to the early 12th century. This hill-top brewery turned museum contains over 1300 artifacts dedicated to beer and is a must for anyone interested in learning more about beer (besides glugging it down of course). Click here for more info.
---
---
13. Enjoy the view from Michaelsberg Abbey
After stumbling your way out of the Brewery Museum, don't miss the incredible views from the Michaelsberg Abbey gardens. While this beautiful abbey is currently closed for years to come due to renovation works, its garden is nonetheless open to the public, offering sweeping views over Bamberg that are pretty darn spectacular in their own right.
---
---
14. Stop by the ETA Hoffmann Haus
The name ETA Hoffmann might not be immediately recognizable to most, but this is the famous romantic writer who penned "The Nutcracker and the Mouse King", which later inspired the famous ballet with a theme song that I'm sure is now stuck in your head.
Hoffmann lived in Bamberg for about five years, and today, one of his apartments has been converted to a memorial and museum that you can visit. It's a tiny museum packed with various displays about Hoffmann's life, so if you're not a fan of his, you can probably skip it, but if you are interested, click here for more info (in German).
PS: You can also get free entry with a Bamberg Card.
---
---
(Seasonal) Things to do in Bamberg and Special Events
15. Attend the first tapping of the Bockbier season
The bockbier season in Bamberg begins in October and runs until December. They commemorate the start of this wonderful season with a first tapping at various breweries, but the best known one happens at the Schlenkerla Brewery. It's a truly local affair, with strong beer flowing like champagne. If you can plan your visit to coincide with the first Thursday of October, be sure to stop by for this fun, local event. Here's a blog post describing the experience from BeerWanderers.
---
---
16. Attend the Sandkerwa
This is probably the most famous of all Bamberg festivals. Every August, the Sandkerwa takes over the historic city center, creating a giant street festival that attracts over 300,000 visitors each year. Think streets packed with beer and food vendors, locals wearing traditional outfits, and more. While this wouldn't be the quietest time to admire the quaint beauty of Bamberg, it's a fun option if you're up for a good party.
---
---
17. Visit the Bamberg Christmas market
German Christmas markets are in a league of their own, but when you combine traditional market culture with a scenic backdrop like Bamberg, that's when some serious magic happens. During the advent season, the Maximiliansplatz square is filled with festive stalls with all sorts of amazing goodies, so if you're planning a winter visit, don't miss it!
Want to learn more about German Christmas markets? Click here to read my roundup of the best Christmas markets in Germany.
---
---
18. Explore Bamberg from the water
Last but not least, in a city renowned for canals, I guess it's not shocking that one of the best ways to explore Bamberg is from the water. Luckily, there's a few ways to do this!
Gondola rides are offered during the summer on Fridays, Saturdays and Sundays. At only 15 euros per person, it's way cheaper than a gondola ride in Venice! Click here for booking details.
Another awesome summer activity to try in Bamberg is doing a stand up paddleboarding tour. Board Nerds offer tours for this (including night ones!) and it looks awesome. Click here for more details.
---
---
Bamberg Acommodation: Where to Stay in Bamberg, Germany
There are plenty of options at your disposal if you're trying to decide where to stay in Bamberg. Here are some of my recommendations:
Hotels in Bamberg
There are quite a few Bamberg hotel options to choose from, but in my opinion, you should be looking for accommodation in the scenic Old Town. The downside is good options here are a lot scarcer and book up extremely quickly, so if you're planning a trip to Bamberg, I would try to book something as soon as possible.
Here are my top picks for centrally located hotels in Bamberg with excellent reviews:
Pensions, Guesthouses, Apartments, and Bed and Breakfasts in Bamberg
I can't sugarcoat it – thanks to demand, hotels in Bamberg can be really expensive. If you're looking for a more budget-friendly option, you can consider staying at a pension in Bamberg (like a guesthouse), or choose more home-style accommodation like apartments.
Here are my top picks in the Old Town area with excellent reviews:
Hostels in Bamberg
There are very few hostels in Bamberg. From my research, I was only able to find two: and Sleepy Owl and Backpackers Bamberg – Lilly's Hostel (which has a more confusing reservation system).
---
---
Bamberg Nightlife
As a quiet, little charming city, Bamberg nightlife is far from the exciting, vibrant scene you might get in larger cities like Berlin… but with a big student population, there are still plenty of fun things to do in Bamberg at night.
Bamberg breweries
So it's not exactly partying, but if you want to get a fill of local culture, be sure to stop by some breweries and enjoy some drinks. Again, you can book a self-guided brewery crawl that comes with 4 vouchers and a souvenir mug for only 22 euros! Click here for more info.
Clubs in Bamberg
As I didn't stay the night (and I'm also a grandma trapped in a 20 something's body), I didn't go clubbing while in Bamberg. That said, if you're more fun than I am, here's a local guide to clubs in Bamberg. It's in German, so Google Translate is your best friend.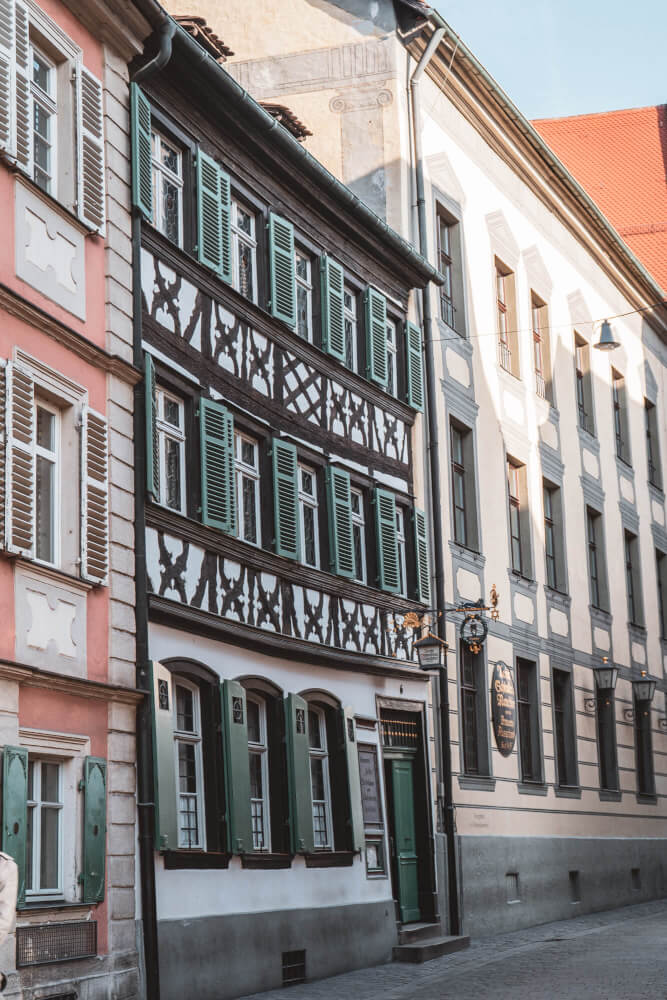 ---
---
Any other questions about Bamberg, Germany?
I hope you enjoyed that Bamberg city guide! I hope you get to see the beauty of Bamberg for yourself sometime soon. Let me know in the comments if you have any other questions about this stunning Franconian gem!
---
---