*FYI - this post may contain affiliate links, which means we earn a commission at no extra cost to you if you purchase from them. Also, as an Amazon Associate I earn from qualifying purchases. Check out our Privacy Policy and Disclosure. for more info.
Are you an overwhelmed traveler curious if Omio is the game-changer you've been looking for? Stick around—I've been using it for years (back when it was known as GoEuro!), and have the full scoop.
If you've ever found yourself drowning in a sea of tabs, comparing options in five languages you don't speak – you know the headache of trying to plan a big Europe trip with multiple journeys. Omio is one of several platforms that have emerged to make this chore slightly easier… but you might be wondering if it's too good to be true. Or worse, if Omio is a scam.
Spoiler: it's not. But it's not for everyone. And as someone who has been using Omio constantly over the past five years, I can tell you exactly who it is and isn't for.
So, read on for a detailed Omio review that breaks down all its pros and cons. I hope it'll make your decision a little easier!
What is Omio?
Omio is a comprehensive travel platform (available on their website or through their dedicated app) whose main selling point is it allows you to save time by comparing and booking trains, buses, flights and ferries… all at once!
So, let's get one thing clear: Omio is not an operator. They do not run any trains, buses or flights themselves. They do however show you the companies that do, along with their prices, and give you really great search filters/functions that help you choose the right option depending on your priorities.
The catch? Of course there's a catch. Omio takes a small booking fee, and often they don't show ALL the possible options out there.
In any case, Omio can be a really helpful search/comparison tool. You can always use it to search then book with the operators directly to save the service fee! And, I can confirm, after using it religiously for years, Omio is not a scam. It will sell you tickets, and the tickets will work.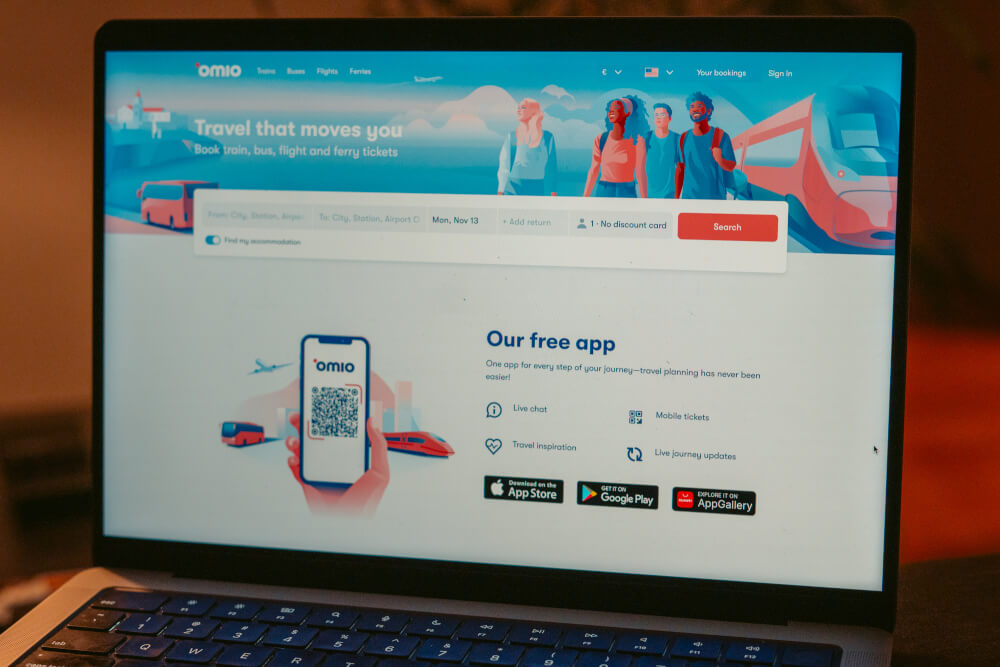 My Quick Omio Review
Don't have time to listen to an over-passionate travel blogger yap about modes of transport? I get it. Here's a succinct summary. I go more in-depth below, but no hard feelings if you have better things to do, like go outside.
In short, Omio is great for convenience and ease, which is most important for those booking several journeys, especially journeys scattered across various countries and modes of transport. In these cases, Omio can save you the headache of trying to plan a trip across multiple operators, which saves you a lot of time.
The trade-off is cost and customer service. While Omio doesn't inflate prices artificially, it does charge a service fee for most of its trips, making it a bit more expensive than booking direct. Based on negative reviews, it also seems like Omio's customer service leaves much to be desired, and so they're less reliable if things go wrong and you need assistance.
In summary, I would say…
Who Omio is For: Overwhelmed travelers juggling multiple countries and transport modes and don't mind paying a little extra for the convenience of a simple user interface/keeping all your tickets in one place. Most ideal if you're planning a big trip that's unlikely to change (i.e. you won't need customer service) and and you're so haunted by the chaos of different booking platforms and languages that you want simplicity without sacrificing options.
Who Omio is NOT For: Seasoned travelers who want the best possible deal, and don't mind splitting time across booking platforms to get it. If you're not booking a lot of journeys across various modes of transport, you may be better off just booking tickets directly with the operators themselves for the best price. I'd also advise booking directly if you expect your plans to change, as dealing with the company's customer service themselves is always easier than a 3rd party's.
Omio: Simple Transport Comparison & Booking Portal
Want a simple way to search, compare & book transport options across trains, buses, flights, and ferries? This helpful tool allows you to simply enter Point A and Point B, then see all the options at a glance. I use it religiously when I book trips, and find it saves me SO much time.
Coverage: 1000+ transport providers in 37 countries (including US & Canada)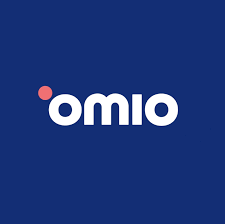 Now, let's dig a little deeper as to whether Omio is worth using!
The Best Features of Omio
Why should you book with Omio over its competitors? Here are some of Omio's pros:
User-Friendly Interface
Omio's app is SO easy to use. Compared to the clunky booking sites of many, many transport providers, using Omio is a dream, with an intuitive interface makes it easy for both seasoned travelers and newcomers to navigate, providing a hassle-free experience.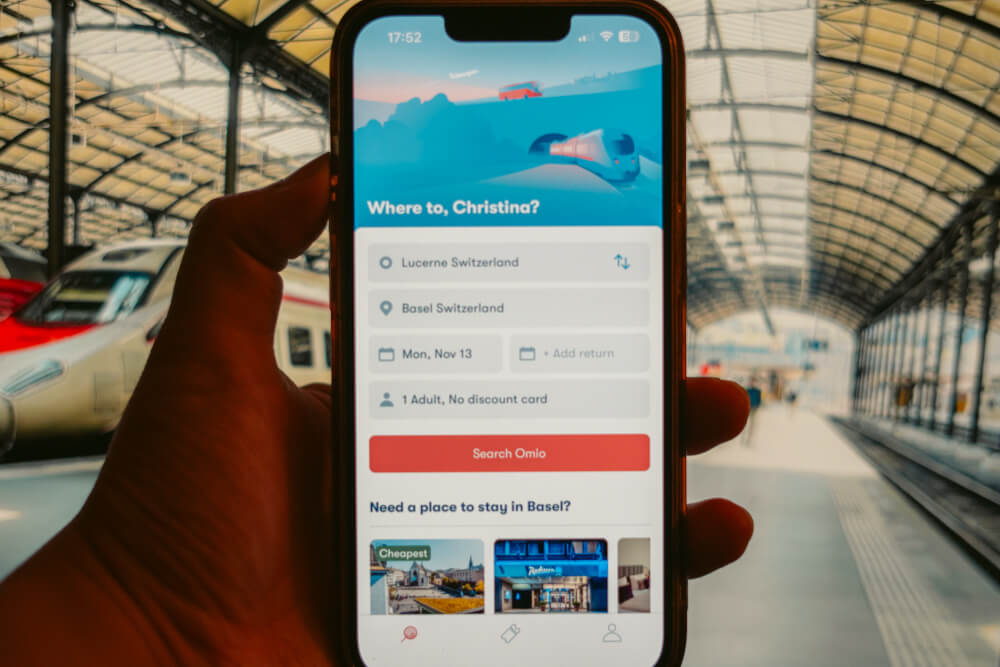 Great search and filtering capabilities
Maybe this is my inner nerd talking, but Omio makes searching for transport super easy and… dare I say it? Kind of fun?
When you enter Point A to Point B, Omio will not only show you the possibilities across trains, buses and flights, but they'll also allow you to sort the options easily based on…
Departure time
Number of stops
Price
Duration
So, depending on your priorities, you can very quickly find the best option for you.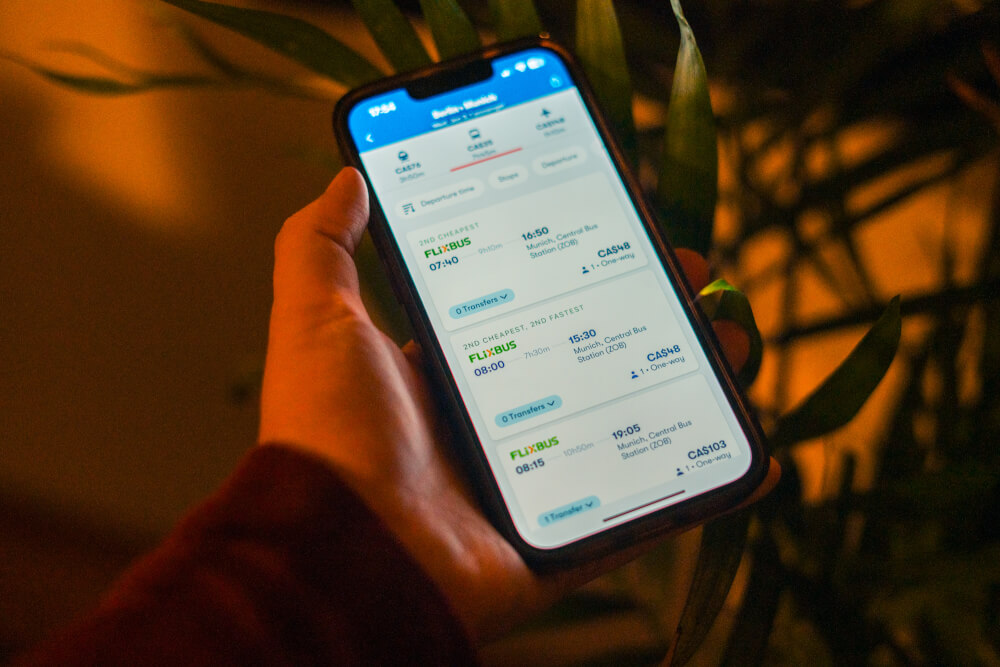 Easy payment and booking
I hate having to enter my card details for every new transport provider. These days they even sometimes force you to make an account… and I don't know about you, but I'd prefer to not get Portuguese emails for the rest of my life because I booked a train to Porto once.
SO if you're planning a big trip with lots of potential transport providers, you can save a lot of time/hassle by using Omio.
With Omio, your payment options/info are all saved so you don't need to re-enter it every time. They also take digital wallets like Apple Pay, which allows me to use my Amex that's not commonly accepted on foreign booking sites.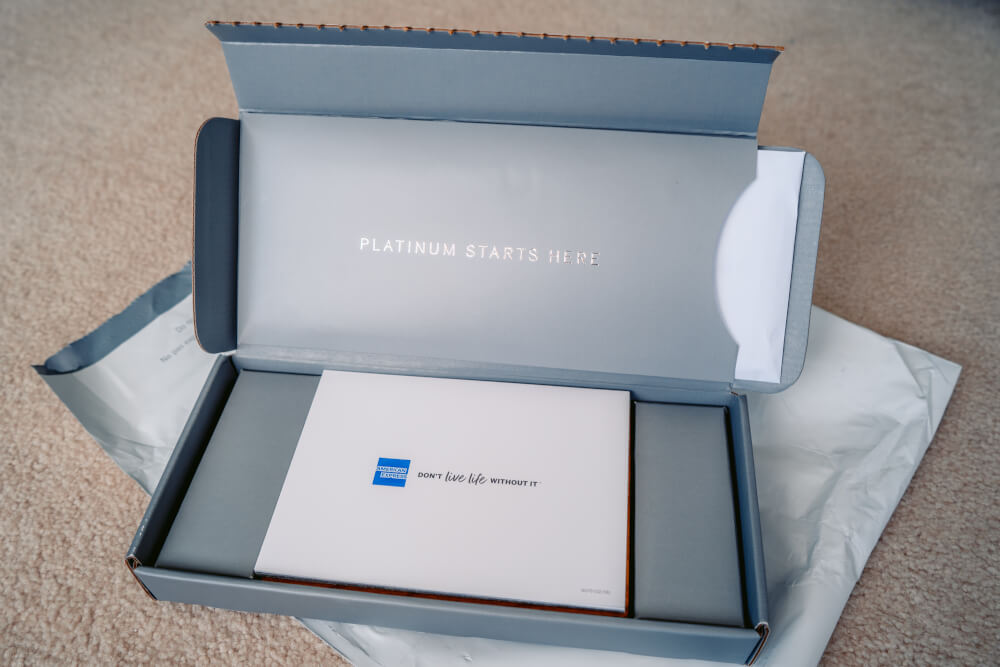 Compare lots of options at once
Omio simplifies travel planning by offering a single platform to search and compare various modes of transportation, including trains, buses, and flights. This saves you from looking on individual websites for everything, and opening a million tabs just to save a few cents.
This is why I always like using Omio for initial searches, even if I end up booking directly with the operator (which I sometimes do in countries like Germany where the main train operator has an excellent app of their own). You can learn more about it in my guide to German train travel.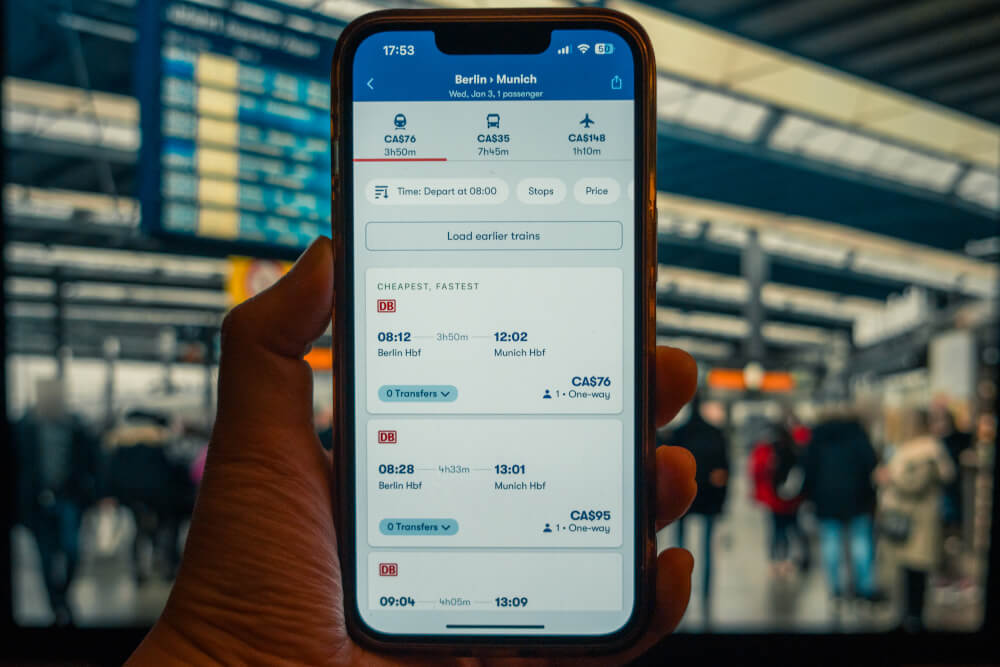 Keep all your tickets in one place
With mobile tickets, Omio facilitates paperless travel, and more importantly allows you to keep all your tickets in one app.
This can be a lifesaver if you're planning a big trip with lots of journeys, because then you know where everything is. If you've ever been through the stress of trying to hunt down ONE specific train booking on a trip with a dozen train bookings, you'll know how valuable this perk is.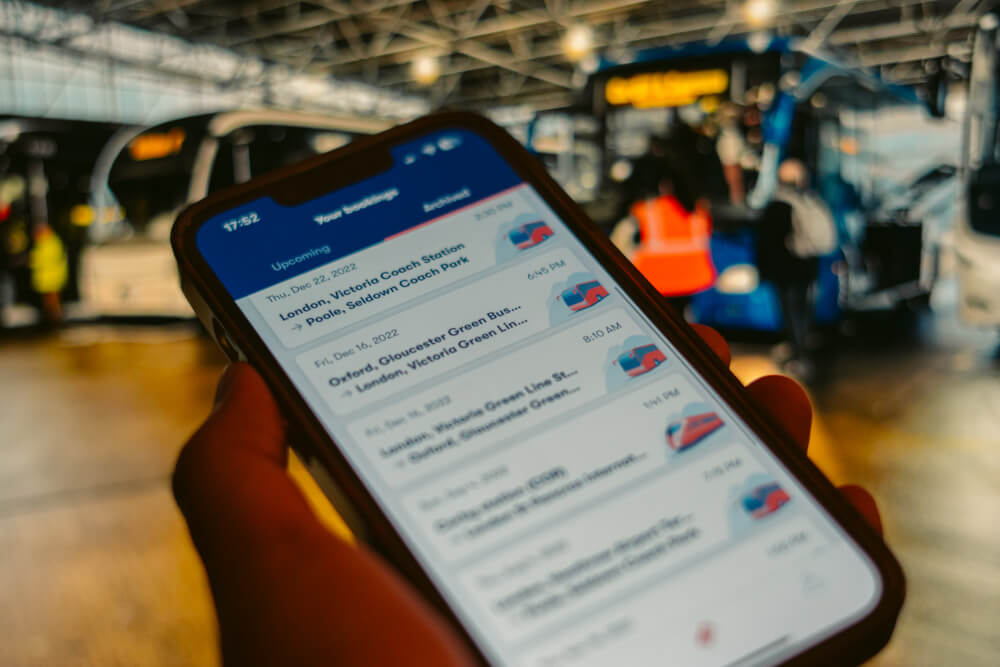 Discount Codes
It doesn't happen often, but sometimes Omio will send you random discount codes right within the app so you can save some money!
I love that these codes can be used for anything available on Omio, which saves you from hunting for coupon codes across the 1000+ transport operators they work with.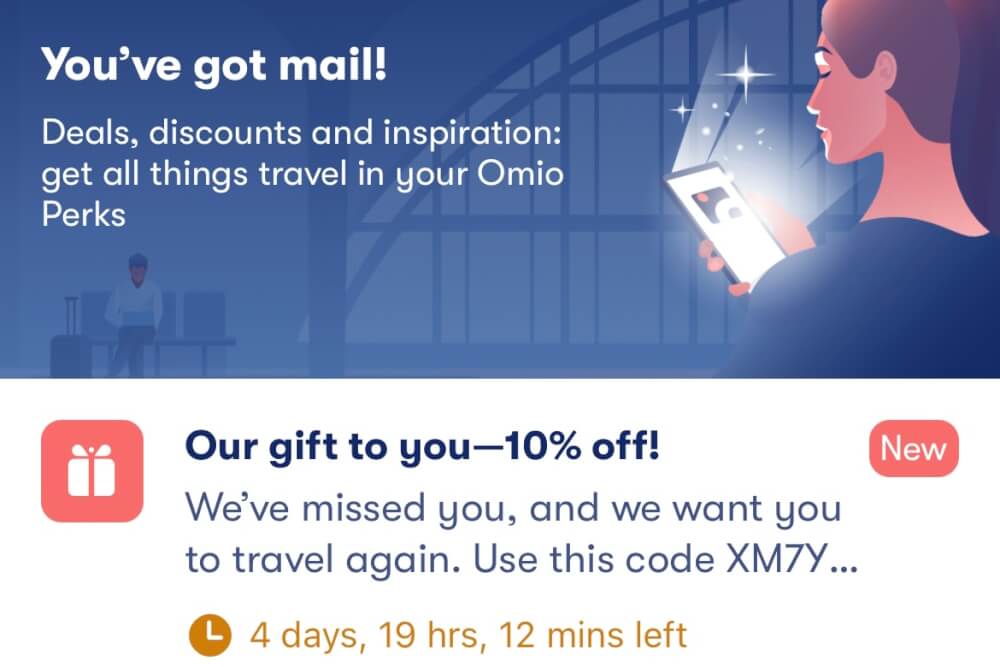 Referral Program
Another great perk of using Omio is that they have a 'refer a friend' program where you can earn €10 for inviting friends, who then get €10 off their first booking. Feel free to message me on Instagram if you want a €10 off code.
You can continue to refer friends up to a maximum of €1000 worth of bonuses, which is a LOT of rickety Flixbus rides.
Cons of Booking with Omio
Of course, Omio isn't perfect… so why should you avoid Omio? What are some of the downsides of using Omio to book travel? Here are some of the main cons:
Booking Fees
It depends on the booking, but Omio may sometimes charge booking fees in addition to the ticket price, which can be a drawback for users looking for the most cost-effective option.
This fee isn't usually more than a few dollars/euros, and to me it's usually worth it for the convenience of being able to book instantly with all my details already saved, but if you're looking for the cheapest possible option, Omio will rarely be it, unless you secure a discount code or something!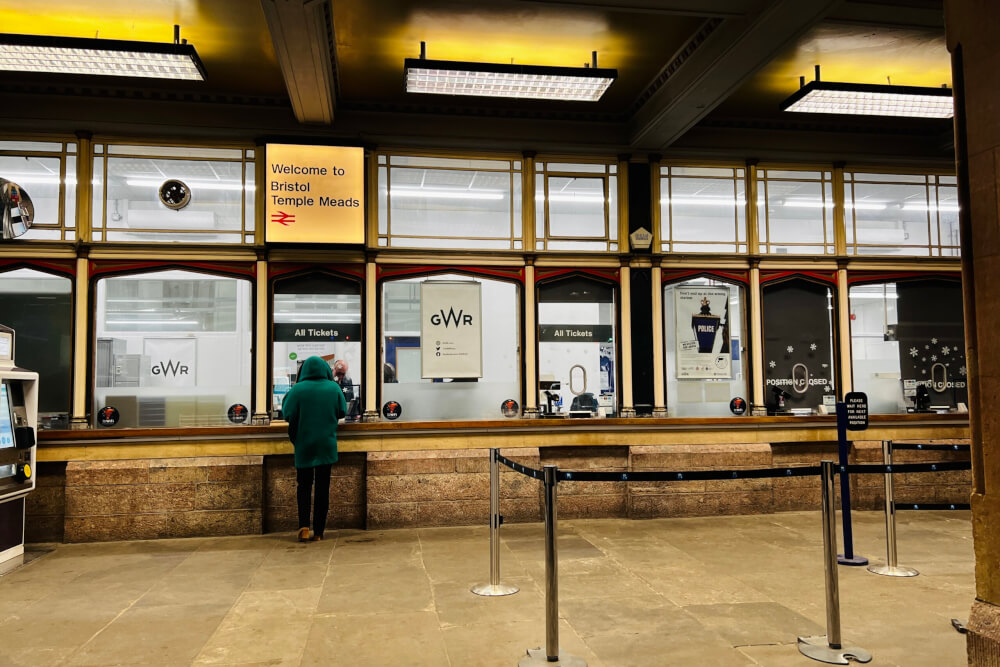 Customer Service Challenges
Omio is great when things go well, but when things don't go well and you need help, then their customer service is notoriously slow.
In fact, the majority of Omio's bad reviews online revolve around their customer service, and if you log onto any of their social media platforms, most of the comments are people chasing up about customer service related queries.
So, if having speedy customer service is important to you, then I'd consider booking direct instead. Do note though that booking direct isn't an instant guarantee of good customer service – this will depend on the company/query, but in most cases it would probably be easier to get help from the operator directly.
NOTE: If you are trying to resolve an urgent query (e.g. train delay or something) then it's best to reach out to the actual transport operator, even if you booked through Omio, because all Omio does is sell tickets – they have nothing to do with the actual operation of the service, so you're unlikely to get a helpful or quick response on that front.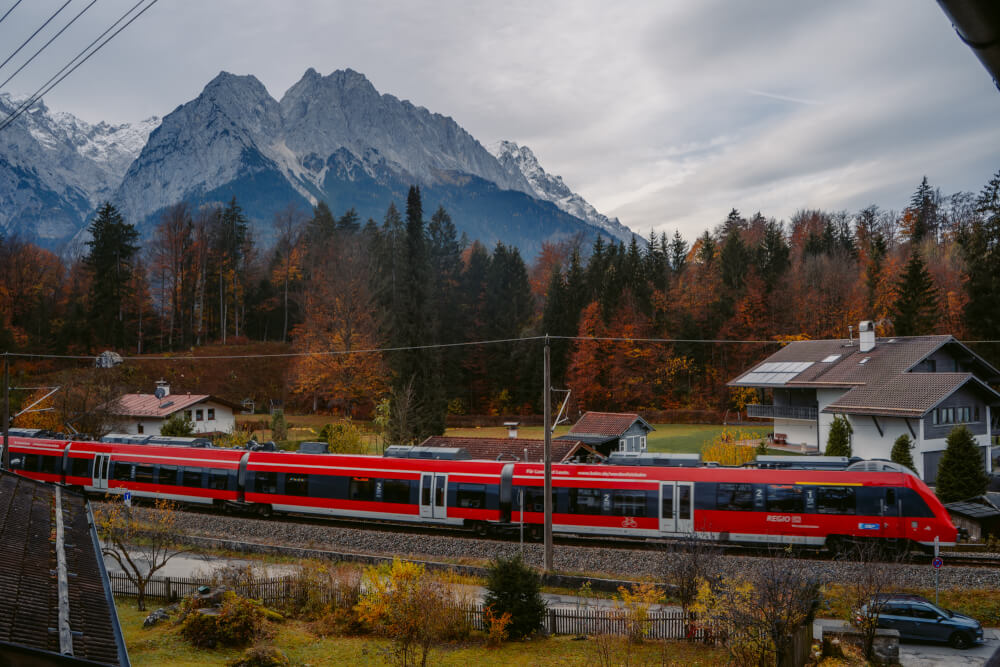 Doesn't Cover All Operators
Lastly, an Omio limitation to keep in mind is that while they cover 1000+ major operators, they don't have full coverage of every single company in every single country, so depending on where you're going, Omio may not show you all the possible options.
In some cases, this will be easy to spot, because they won't show you any options at all. In other cases, they may only show you some operators rather than all of them.
In my experience, this hasn't ever been a huge issue for me, but if you feel like you may not be seeing everything, I'd recommend searching up "train operators in x destination" or "bus operators in x destination" to see you're not missing any thing obvious.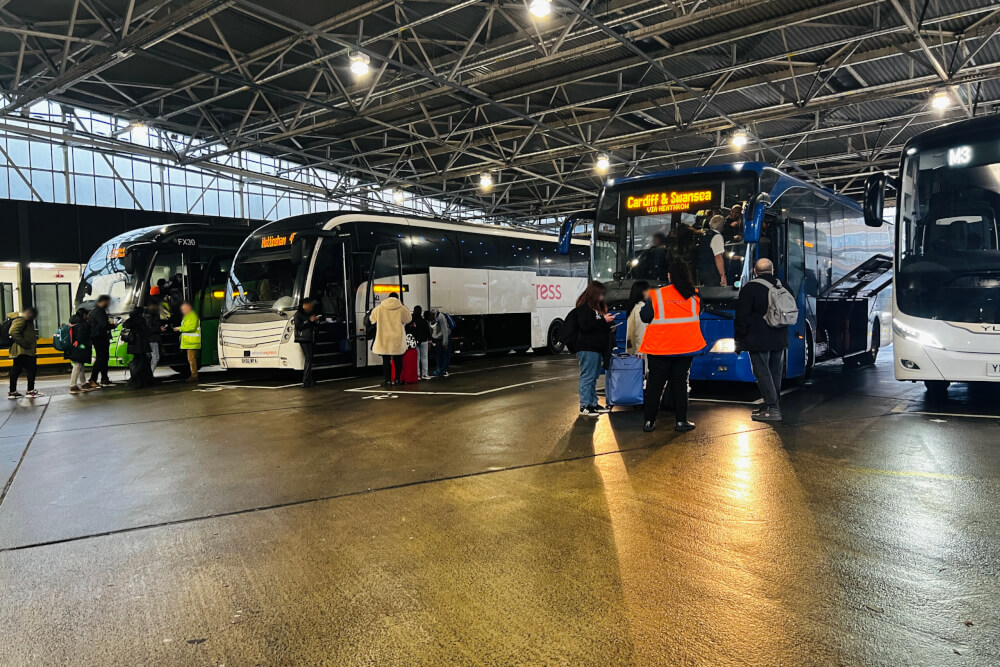 Omio Alternatives
Alright! Before I wrap up this Omio review, I want to address some alternatives to Omio depending on your priorities. Of course, Omio is a great choice a lot of the time, but it's not perfect in every instance, so here are some other options to consider:
Booking Directly
Generally, I would say booking direct with the transport operator (e.g Deutsche Bahn) is the best way to go when you know what type of transport you'll be taking, and the booking interface of that company is simple.
This is the only way to guarantee the best price (apart from if you use coupons or discount codes) and more attentive customer support.
Of course, the trade-off is you may spend more time making bookings across multiple companies, and your tickets aren't contained in one place like with Omio, but if you prioritize cost and customer service over convenience, then booking direct is 100% the way to go.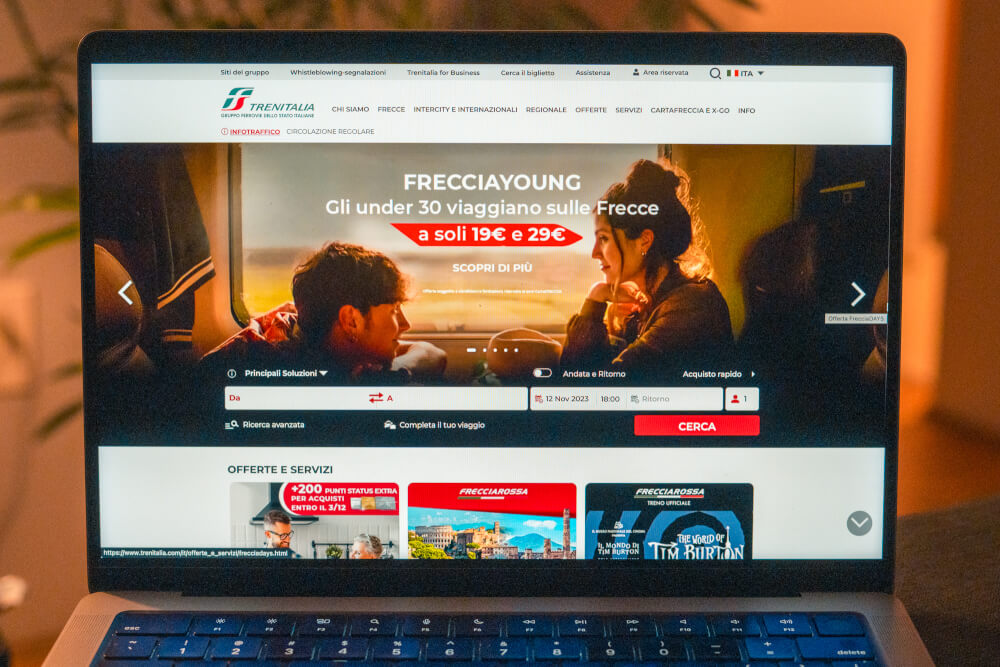 Trainline
Another platform similar to Omio is Trainline. They also show you the best options from Point A to Point B, but they focus exclusively on trains (and some buses) in Europe.
Both offer great search capabilities and easy-to-use apps, but I think the main deciding factor between Trainline and Omio is where you're travelling.
I prefer Trainline over Omio in the UK because I can keep my RailCard in the same app, and they have lots of great perks like finding split tickets (a silly quirk of the UK train system that can help you save money). On the other hand, Omio has better coverage across other European countries and also includes bookings in the US and Canada.
Need more guidance? I go more into detail in this Trainline vs. Omio blog post.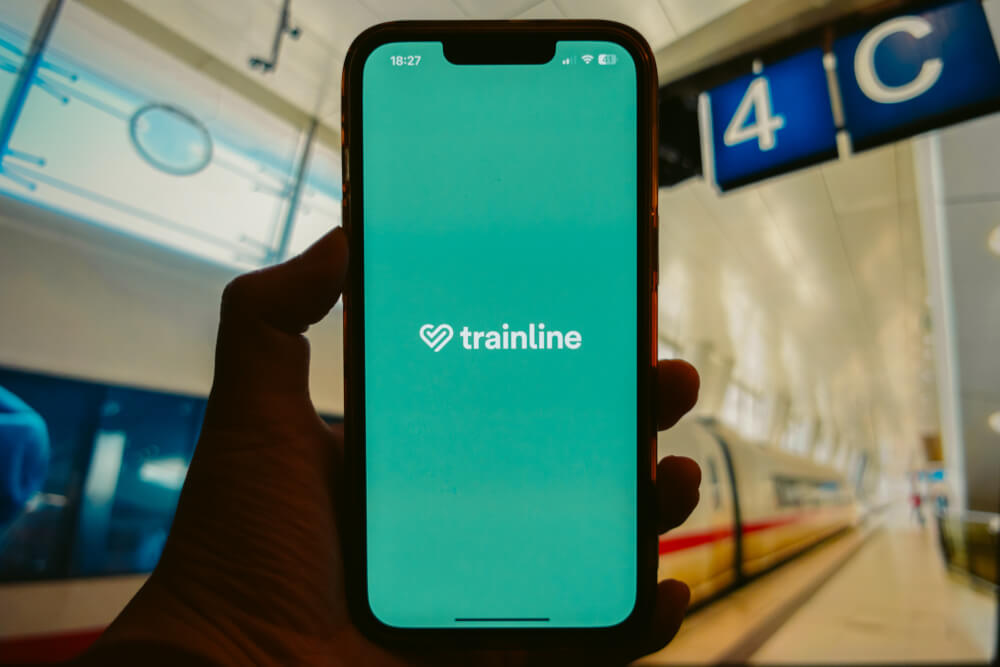 RailEurope
Since 1930, RailEurope has been a go-to seller of train tickets in Europe, and is often mentioned alongside Omio and Trainline as helpful tools to simplify the process of booking train tickets.
… To be honest though I don't really think they offer anything that Omio doesn't.
Granted, they DO have a carbon calculator that tells you how much carbon you save by taking your mode of transport, compared to flying, as well as a search portal for rail passes, but overall the interface is clunkier, and you're better off buying something as pricey as a Rail Pass directly from the company itself to save fees.
So, I don't really think RailEurope is a better option than Omio… but please let me know in the comments if you prefer them and why!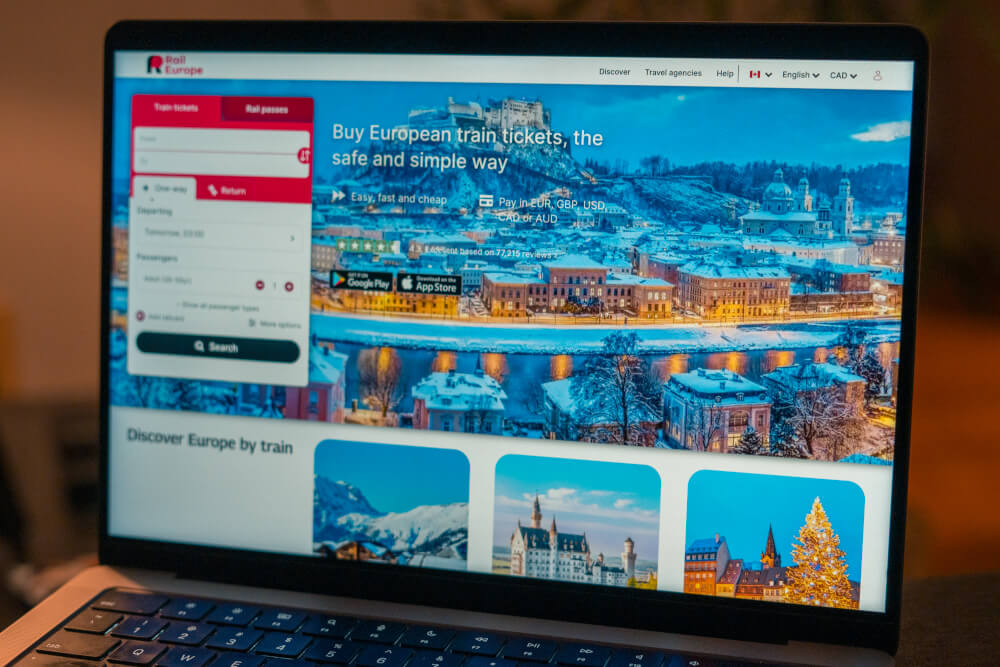 Conclusion: Omio is Great if You Prioritize Simplicity Over Cost & Customer Care
Overall, I think Omio is an extremely helpful search tool that can save you a lot of time when making bookings across countries and modes of transport. Because I like the convenience of keeping all my tickets in one place, I also don't mind paying the extra fee to book my tickets through them.
It's important to note though that I haven't been burned by any bad experiences, which is why I'm still such a believer. (A quick glance at negative reviews online will show you many people who haven't been so lucky, so the risk is up to you… but I do think huge issues are a lot rarer than reviews make them seem!)
In any case, if price is your priority, I would recommend using Omio to search and then possibly make your bookings directly with the transport operators themselves. This gives you the best of both worlds, if you don't mind spending the extra time.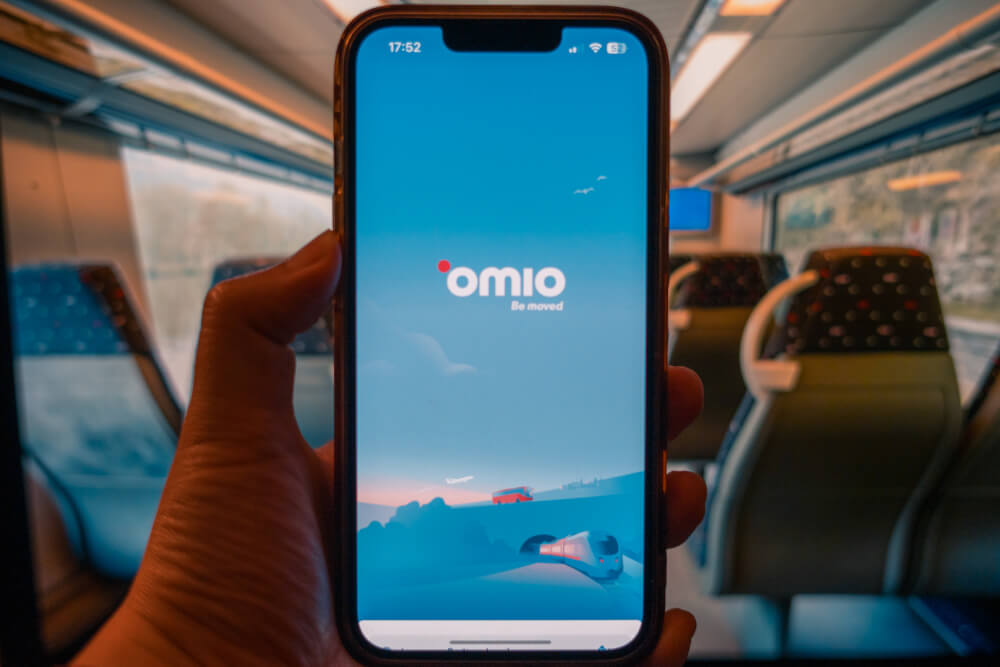 I Hope You Enjoyed this Omio Review!
Feel free to share your experiences with Omio below to get a discussion going. Safe and happy travels!
My Go-To Travel Favourites: