*FYI - this post may contain affiliate links, which means we earn a commission at no extra cost to you if you purchase from them. Also, as an Amazon Associate I earn from qualifying purchases. Check out our Privacy Policy and Disclosure. for more info.
One of the most common questions that first timers have is: how much are Oktoberfest tickets?
In fact, I'll bet 99% of Google panic searches re: Oktoberfest revolve around this question.
BUT here's the thing: getting tickets to Oktoberfest isn't as simple as logging onto Ticketmaster and buying entry.
In fact, you don't necessarily need 'Oktoberfest tickets' to attend the festival.
Having been through the process before as a walk-in (and yes, I got into my tent of choice each of the 5 times I went!), here is a clearcut guide on whether or not you need Oktoberfest tickets, how reservations work, and what people really mean when they say they have "tickets for Oktoberfest".

Do you need Oktoberfest tickets?
The short answer is no.
There is no such thing really as an Oktoberfest entry fee. Attendees do not need to pay anything to be on the festival grounds, or to go inside the tents.
This means reservation-less peasants like us are free to roam the grounds just like the specials do!! 😉
The real issue though is availability. While it's free to get in, many choose to pay to reserve tables to prevent headaches for themselves.
And because reservations must be paid for in advance (though you get the value back in food/drink vouchers), this is where the confusion around paying for tickets comes from.
NOTE: There are both daytime and evening slots. Of course, the evening slots book up considerably faster. Be flexible with your choices though! Daytime/weekday sessions are a lot of fun as well.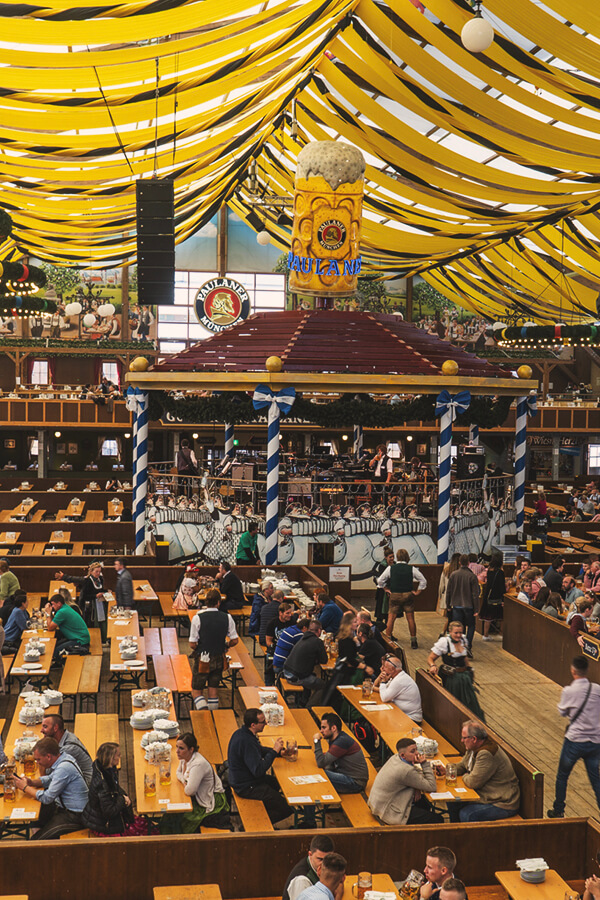 How much do Oktoberfest reservations cost?
So when people ask "how much are Oktoberfest tickets?", what they're really asking is "how much do reservations cost".
Here's the good news: the reservation itself typically doesn't cost anything. Rather, what you're paying for is food/drink vouchers. So, don't be bitter about paying for the reservation because you DO get all the value back… in sweet, sweet calories.
See your 'reservation fee' as a prepayment for food/beverages. The cost of course depends on the tent but is usually equivalent to two Maß and a 1/2 chicken (around 30 euros) per person.
Is it tough to get an Oktoberfest reservation?
…. Yes. Very.
Most reserved tables are booked up by locals months in advance. Plus, the system works similarly to season tickets, in that returning guests get first dibs on reservations.
This puts us poor tourists in a pretty disadvantaged spot.
That said, if you come in with a strategic plan of attack, it's possible for you to score a reservation as well (especially during less popular periods like weekday lunches).
Just make sure you know the reservation protocol for your tent of choice, and you get in there early enough (again, reservations are often made in January/February). Again, my full Oktoberfest reservations guide explains everything.
FYI, most reservations require a minimum booking of 10 people (enough to fill a table) so don't even bother if you're a small group. It is possible to reserve a table even with less than 10 people, but you will need to pay for 10 "seats" (AKA food/drink vouchers for 10 people).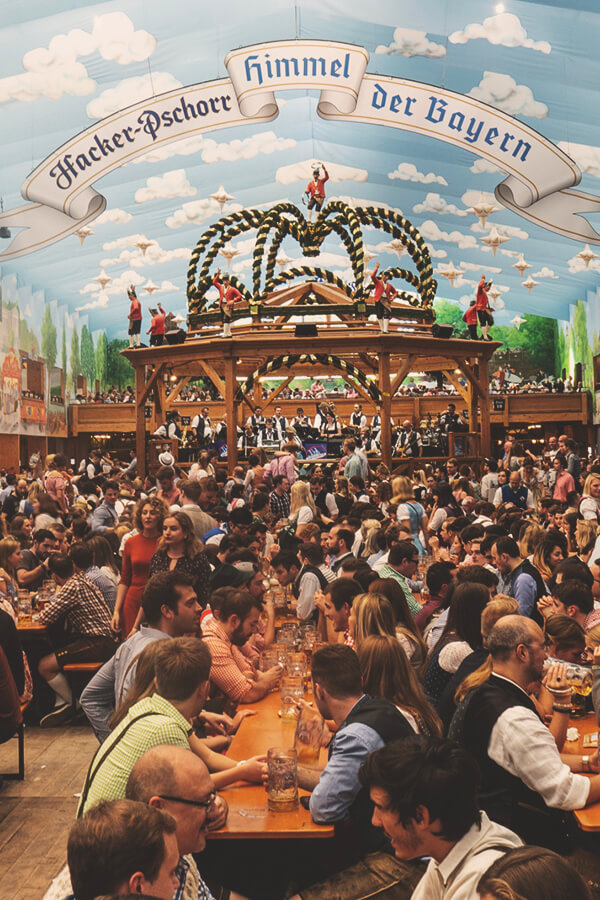 Am I Out of Luck without an Oktoberfest reservation?
Nahhh, friend! Absolutely not! Don't panic.
All the tents have special areas that they save for 'walk-ins'. So long as you arrive early enough (not any later than 2:30pm on weekdays for big groups, and in the morning on weekends), then you should be able to get a table in one of the tents just fine.
That said, Oktoberfest is insanely busy and popular. If you want to get into a tent, you need to work for it. Get up early, don't be lazy and best of all, be polite and courteous. Security guards and servers will likely snub you if you're dressed like a cheesy tourist who is only here to party.
NOTE: If the weather is nice, there are loads of tables available outside of the tents as well in the beer gardens.
These are just as fun, and it's a lovely experience during the day when the sun's out. It will be much easier for you to get a spot at these tables than inside the tents, and you get to try all the best Oktoberfest beer and food too.
The only big thing you're missing is the music/dancing experience, but don't despair. Sitting outside in the beer garden is a worthy consolation prize 😉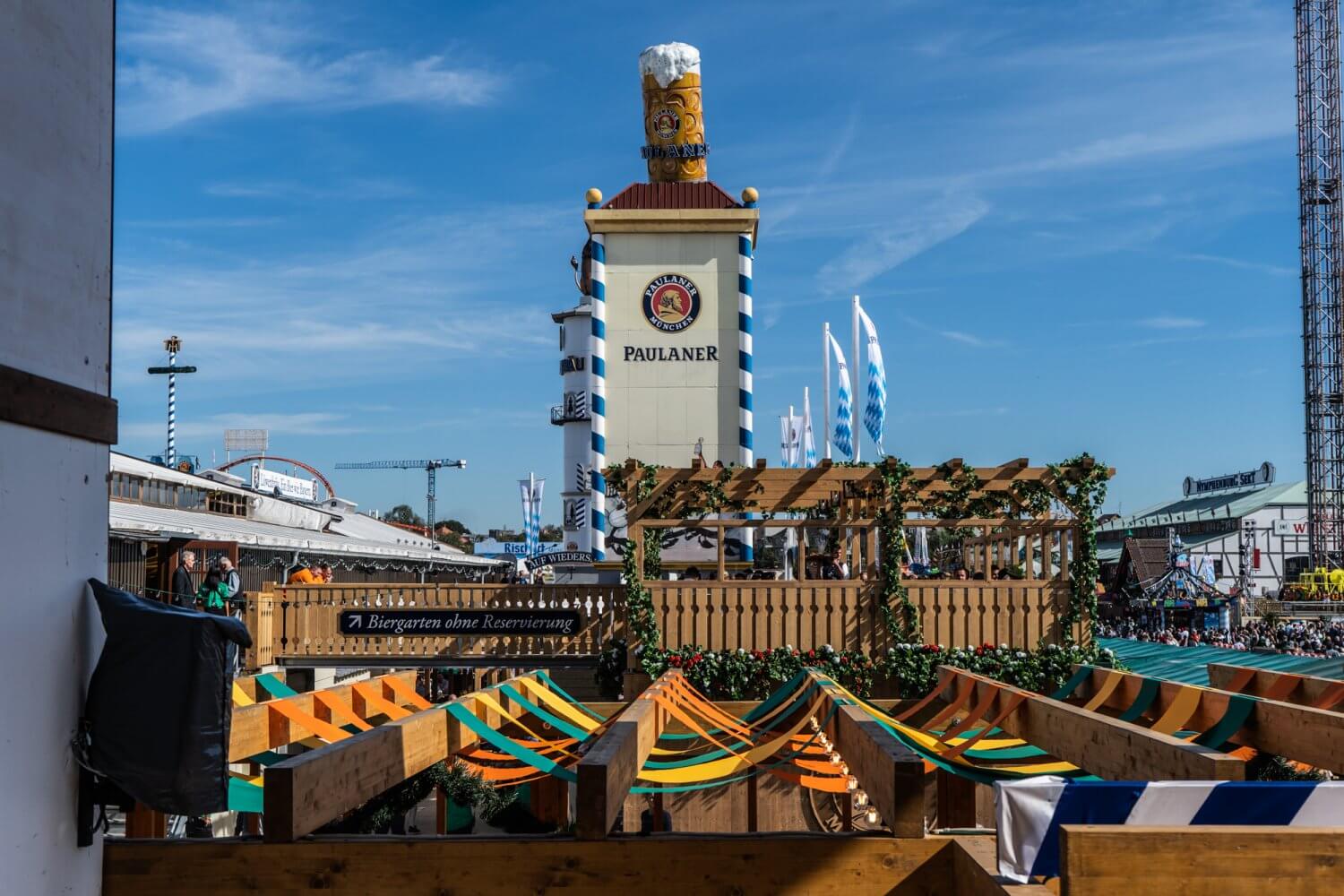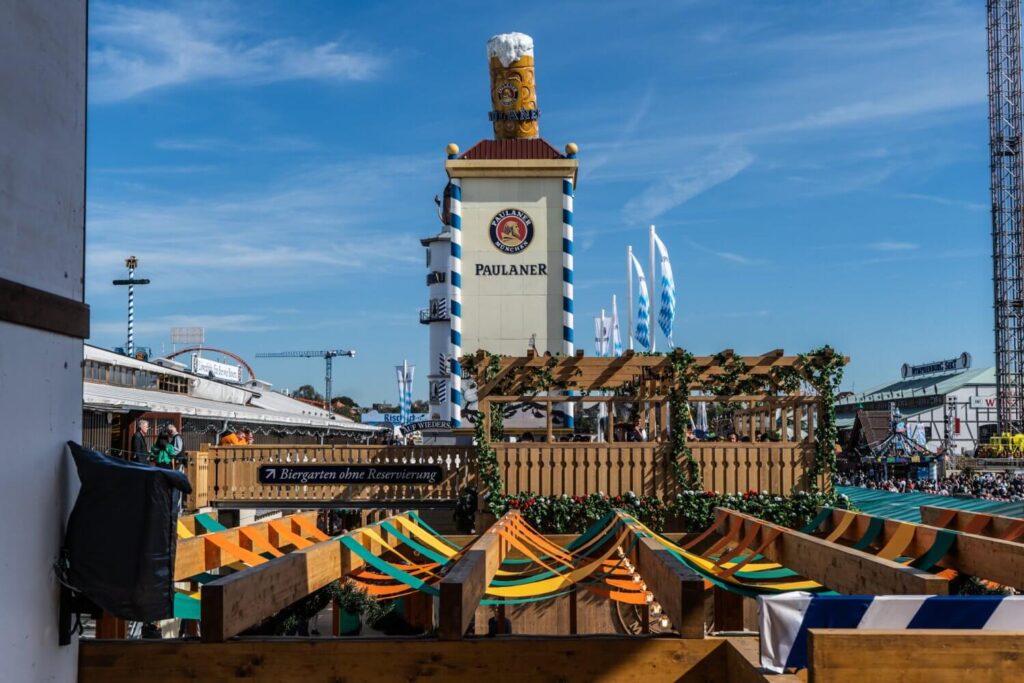 What are my options if I couldn't get an Oktoberfest reservation?
Option 1: Book a tour
There are some guided tours that you can purchase which include a seat inside a tent. Essentially these are just tour operators who have made reservations and are now re-selling a seat to you at 3-4x the cost. Here is a well-rated option from Viator.
This route can be simple and stress-free, but you will definitely be getting a very very touristy experience (usually the reservations are at Hofbrau – the notoriously touristy tent, plus you'll be in a literal guided group with other tourists).
It is also much more expensive than what you would pay if you went on your own. If these factors do not bother you though, click here to browse a few different tours/options.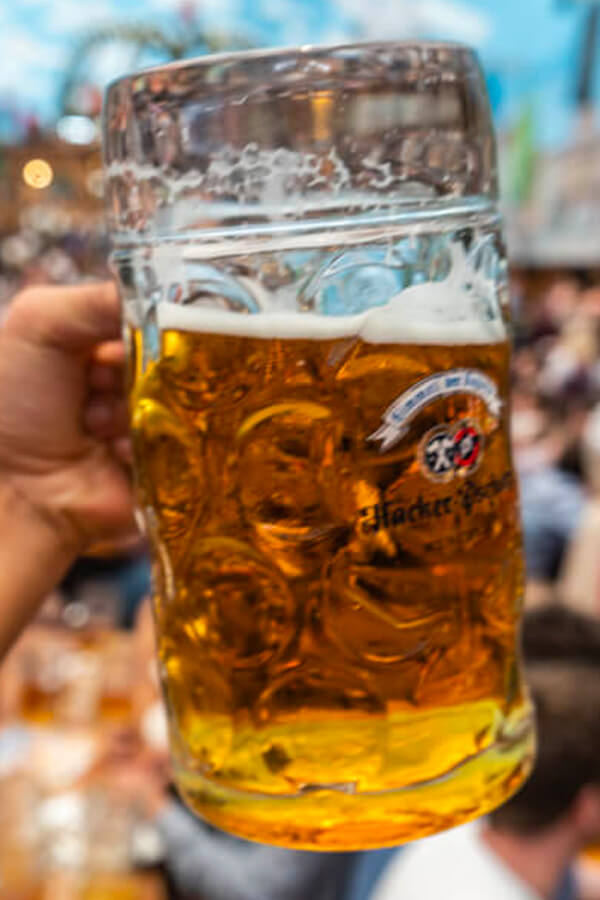 Option 2: Walk in
I know a lot of information online says that walk-ins are virtually impossible, but in my experience this is NOT the case!
Tents are required to save some seats for walk-ins, so if you arrive early in the morning, you will not have trouble finding a seat inside a tent.
My suggestion: don't be picky! Remember that there are lots of tents around the festival.
If you can't get into one of the big, popular ones, walk around. It's crazy, sometimes a tent will be completely full with a long queue, then one only a few steps away from it will have plenty of tables. Walk around and be flexible!
I hope this Oktoberfest tickets guide was helpful!
I hope you enjoyed this post about Oktoberfest tickets, and that it helped clear up any confusion you had re: getting tickets for Oktoberfest.
To sum up: there is no such thing as an Oktoberfest entry fee, and no real 'ticket system', but many choose to make reservations in tents to guarantee their spot. These reservations can therefore be seen as 'tickets to Oktoberfest' in their own way… and that's where the confusion comes from.
Psst – still looking for accommodation?
Now that you know that admission to Oktoberfest is free, I have some bad news.
Accommodation during Oktoberfest time is SUPER expensive… and the only "hack" for getting a cheap rate is really booking as early as possible.
So, where should you stay?
If you're booking a hotel, the only really important criteria is that it's near a U-Bahn station on the U4 or U5 line. This way, you can easily get to/from the festival grounds.
Staying as close as possible would be ideal, but hotels in close proximity to the Oktoberfest grounds will cost upwards of 400 euros a night unless you book early!
Worse yet, there won't be even be any availability. You can use the map below to browse your options.
If you're on a budget, AirBNB is usually one of the more cost-effective options. If it's your first booking, you can click here to save yourself $40!
And lastly, if you're really on a tight budget, Stoke Travel offers camping options for 60 euros a night. It's not the most glamorous place to stay for Oktoberfest, but if you're up for some backpacker camping fun, this might be a great option to save some dough. Click here to check prices and availability.
All that said, maybe you're feeling bougie and want to splurge on a hotel. Why not?! Honestly, there are many upsides to staying in a hotel (ease of check-in, support from staff, etc. being key ones). If you do want to stay at a hotel during Oktoberfest, here is an interactive map showing prices in the area:
Best of luck at Oktoberfest!! You will have an amazing time. Hopefully, I'll be seeing you there 😉
---
Watch my most popular YouTube video this week:
---