*FYI - this post may contain affiliate links, which means we earn a commission at no extra cost to you if you purchase from them. Also, as an Amazon Associate I earn from qualifying purchases. Check out our Privacy Policy and Disclosure. for more info.
This should come as no surprise to you all, but around the holidays, I become absolutely intolerable.
It could be my annoying set of ugly sweaters, my Christmas tracks on repeat or the fact that I'm pretty much hooked to an IV of hot chocolate… but yes, I've been compared to Buddy the Elf and I have no shame in admitting it.
This holidazed enthusiasm reached its peak when last year, I decided to kick things up a notch and forgo a traditional tree for something… a little more creative. After some brainstorming and ample one-on-one time with my glue gun, I completed one of my proudest craft projects yet: a Superhero Christmas Tree!
And here's a little secret: making it was easy, fun and cost almost nothing. Read on to learn how to make one of these geek trees for yourself.
1. Gather your colourful ribbons
If you're going to go for a classic colour scheme, it has to be yellow and red! Ribbons are the best way to add a cohesive colour scheme to your tree, so go ahead and buy some wired ribbon in your colours of choice. Be sure to get tons if you have a big tree because you will go nuts and use all of it.
2. Make or buy some superhero ornaments
If you're feeling fancy, Etsy has a wide variety of options for beautifully painted/handcrafted Superhero ornaments. Of course, I was impatient and just wanted to make my own. To do that, I simply printed out a series of superhero logos, cut them out and used tape to secure them on ball ornaments I already had in the house. These will definitely do the trick if you just want a fun tree, but they're by no means durable or… elegant haha 🙂 If you want the printout I used for my logos, click here to download. Additionally, feel free to add random touches like action figures or even Ironman Arc Reactor coasters, as I did.
3. Boom, Boom, Pow!
To really make your tree pop, I suggest adding some classic comic book touches such as "BOOM" and "POW" signs. These are super easy to make with construction paper. Simply gather construction paper in red and yellow colours, cut out 'explosion' shapes and draw out some letters. Glue your red letters onto your yellow explosion shapes, and vice versa. Be sure to outline your letters in a black marker after you're done to make sure they stand out!
And for those who are lazy/useless, you can buy big signs just like these on Amazon too.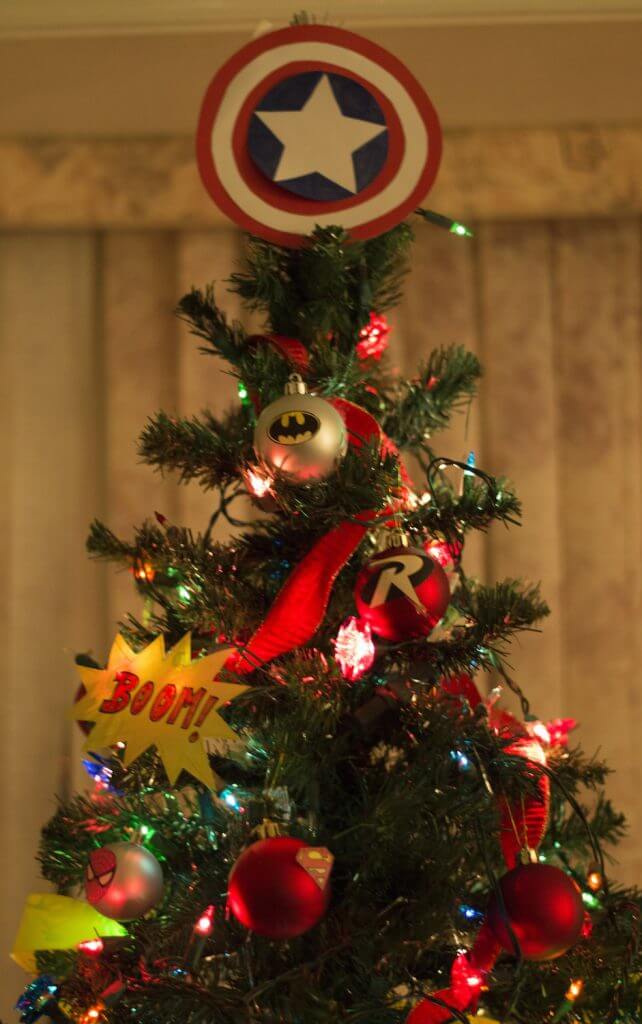 4. Top it all off with a geeked out tree topper
Who needs an angel to top your tree when you can have Captain America? For my topper, I opted to use a paper Captain America Shield. Of course, feel free to pick something that reflects your favourite superhero. Depending on your tree, getting it to stick with tape at the top might be tough. A good solution is to hot glue some ribbon to the back of your topper, and then tie it around the top of the tree to make sure it's secure.
5. Really commit to the superhero theme with some extras…
I mean yeah a tree is cool, but if you're an absolute maniac like me, go the extra mile with the following:
Hang some personalized Marvel stockings by your fireplace
Get cozy in an ugly Deadpool sweater or superhero socks
Sip hot cocoa from a comic-inspired mug of your choice
Wrap your gifts with this awesome comic book wrapping paper
And last but not least, the finishing touch…….
Colourful presents and friends! (FYI, yes, I do own one of those oversized Costco pandas, but that again probably doesn't surprise you).
Happy super holidays, everyone!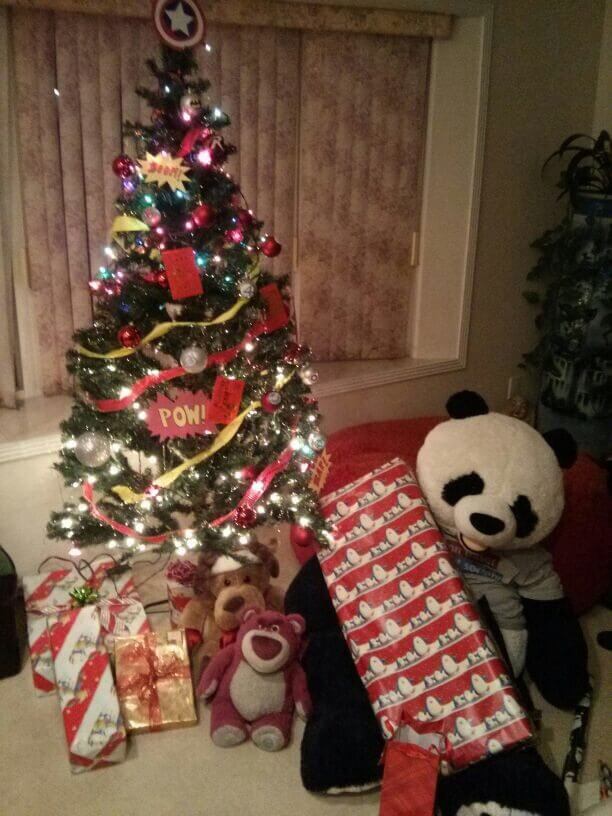 ---
Watch my most popular YouTube video this week:
---