*FYI - this post may contain affiliate links, which means we earn a commission at no extra cost to you if you purchase from them. Also, as an Amazon Associate I earn from qualifying purchases. Check out our Privacy Policy and Disclosure. for more info.
Ah, Manchester. Hear the name and odds are you'll think of football, Coronation Street and… the Industrial Revolution, maybe? What a combo.
Truth be told, this Northern English city isn't the most conventionally pretty place. Known as the world's first industrial city, its cityscape is an eclectic mix of old mills and warehouses, glassy skyscrapers, and random pops of striking beauty like the Gothic Revival Town Hall… a disorienting combination for first time tourists.
But after my first (long overdue visit), I've come to the conclusion that Manchester isn't a city built for tourists, really. It's a city that prioritizes its locals above all else, a fact that you may love if you're looking to get off the common tourist loop of England, or possibly hate if you're looking for the 'fairytale period drama' England as many tourists are.
If you're looking for food, fun, culture, and the occasional pretty gem however, Manchester is an ideal place for it.
So if you're wondering what to do in Manchester once you're there, I've got you. From plenty of fun nightlife to a host of fascinating museums, here are the top fun things to do in Manchester!
(Plus a few libraries, because I honestly really enjoyed them)
1. Admire the Manchester Town Hall
If we're talking aesthetics, the most famous and most beautiful place to drool in Manchester is definitely its gorgeous Town Hall, built in 1877.
The Manchester Town Hall is a magnificent example of Victorian neo-Gothic architecture designed by architect Alfred Waterhouse. Known for its stunning architectural details, including the extensive use of terracotta, impressive stone carvings, ornate stained glass windows, and a tall clock tower that reaches a height of 280 feet (85 meters), this is by far the most photogenic spot in the entire city… even its resident 8 tonne bell, Great Abel, has a name that exudes epicness.
When it's open to the public, visitors can take guided tours of the building to learn about its history, architecture, and the role it has played in Manchester's development. Snoopy visitors will love that that tours explore the building's most notable rooms and chambers, including the central courtyard, known as the Sculpture Hall, which houses various sculptures and artworks for you to drool over.
Alas, for my visit in Spring 2023, said drool mission was not meant to be, because the entire building was engulfed in what could only be described as a comical amount of scaffolding, but hey, I'm hoping by the time you read this that they'll have bounced back and be even more beautiful than before: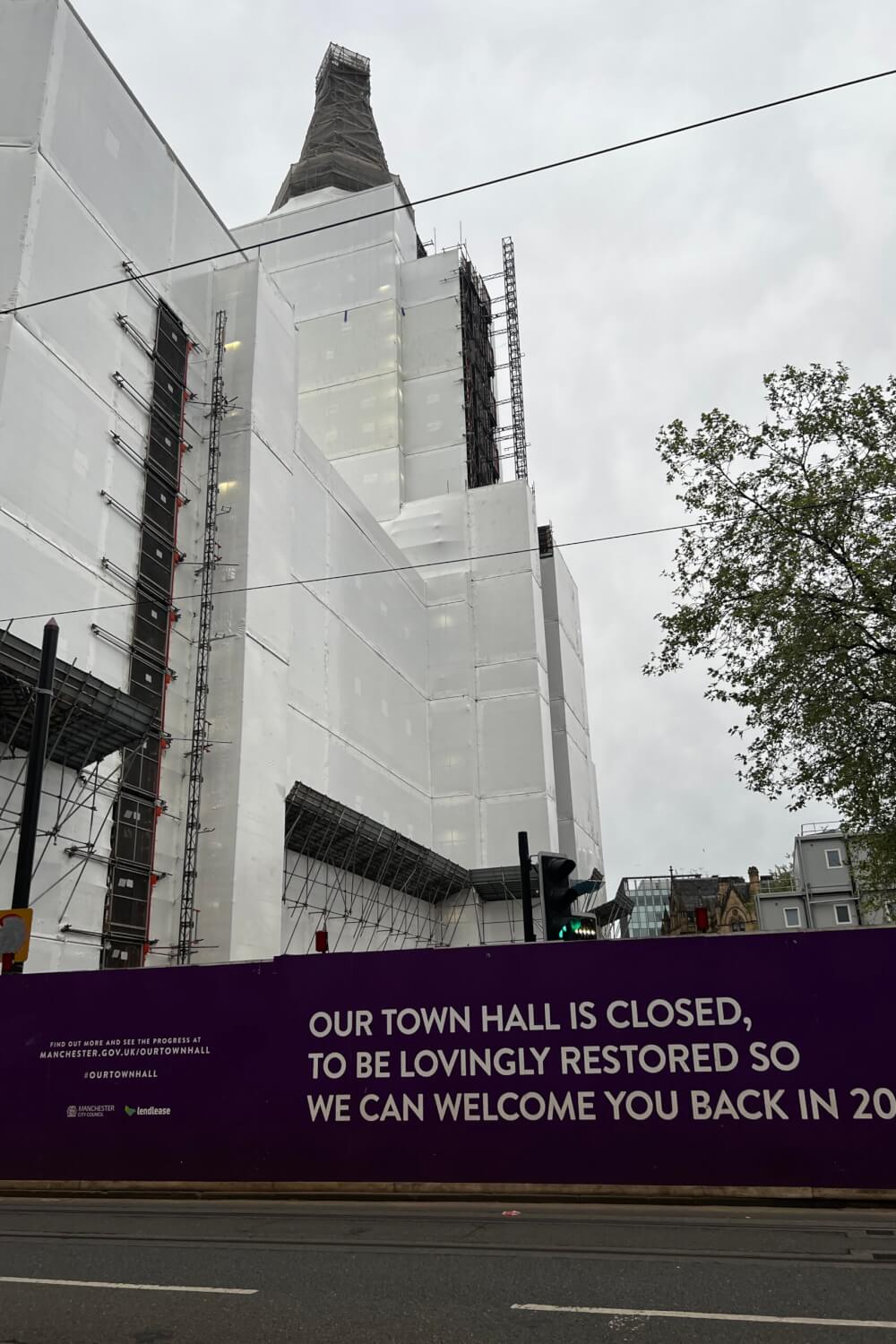 2. Hang out in the Northern Quarter
Ask about fun places to go in Manchester, and immediately people will direct you to the Northern Quarter.
This area is famed for its unique character, creative atmosphere, and rich cultural history closely tied to Manchester's industrial past. While once upon a time (the 19th century to be precise), it was a thriving industrial and textile manufacturing district, such activities declined in the mid-20th century and many warehouses and factories became vacant.
Of course, as in many cities, it didn't take long for this former industrial area to get a cool, artsy makeover. Over time, there was a resurgence of interest in the Northern Quarter, with artists and creative individuals drawn to its affordable spaces. This allowed for the establishment of galleries, studios, and independent businesses, which began the neighbourhood's evolution into the artistic and cultural hub it is today.
These days, the Northern Quarter is a go-to spot for people to go out, eat, drink & be merry. If you're into eclectic, maze-like shopping experiences, the indoor market Afflecks is definitely a fun one to browse, and overall there's plenty of street art to marvel at too.
NOTE: If you're especially interested in street art, you can even book a guided street art tour around this neighbourhood.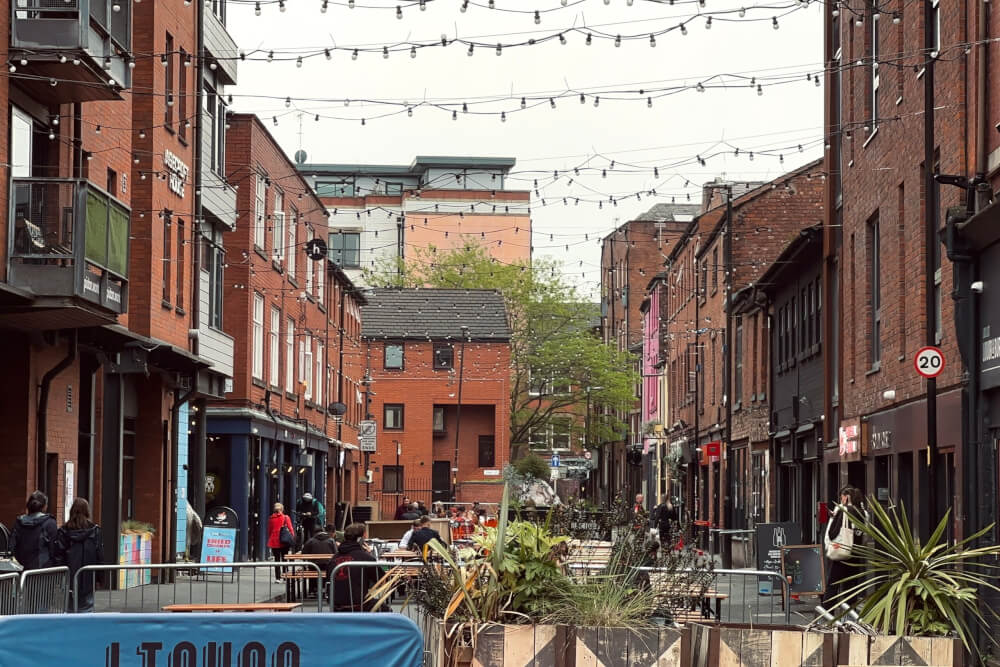 3. Visit the fascinating People's History Museum
If you have a nerdy idea of enjoyment like me, one of the best fun things to do in Manchester is a visit to a museum. A free museum I should add, because there are several of them.
One of my personal favourites was the People's History Museum, which (true to its name) chronicles the history of people in Britain… but not just any people! Specifically, the focus is on those who fought for change and stood up for ideas they believed in.
This captivating museum (housed in a converted pump house) does a deep dive into the social, political, and cultural history of the UK, with an extensive collection of artifacts, documents, and interactive exhibits that explore the struggles and triumphs of ordinary people throughout history.
From powerful protest posters to personal testimonies, this museum provides an insightful and moving journey through the narratives of the people who shaped the nation's past.
Knowing this, their reputation as the UK's national museum of democracy makes sense.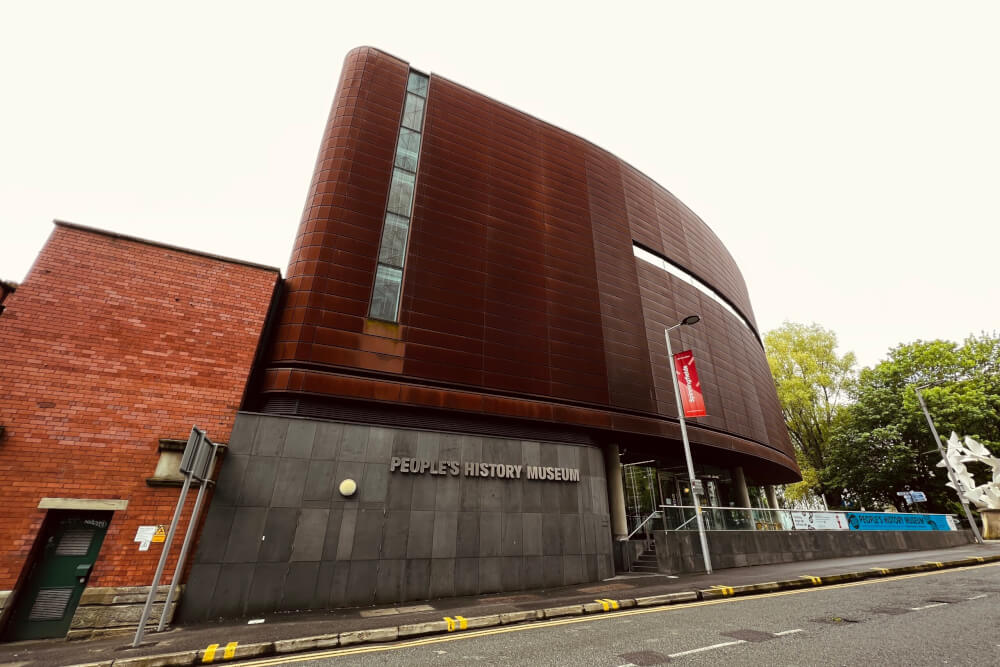 As a fun bonus, some of the displays are truly unhinged (in a good way):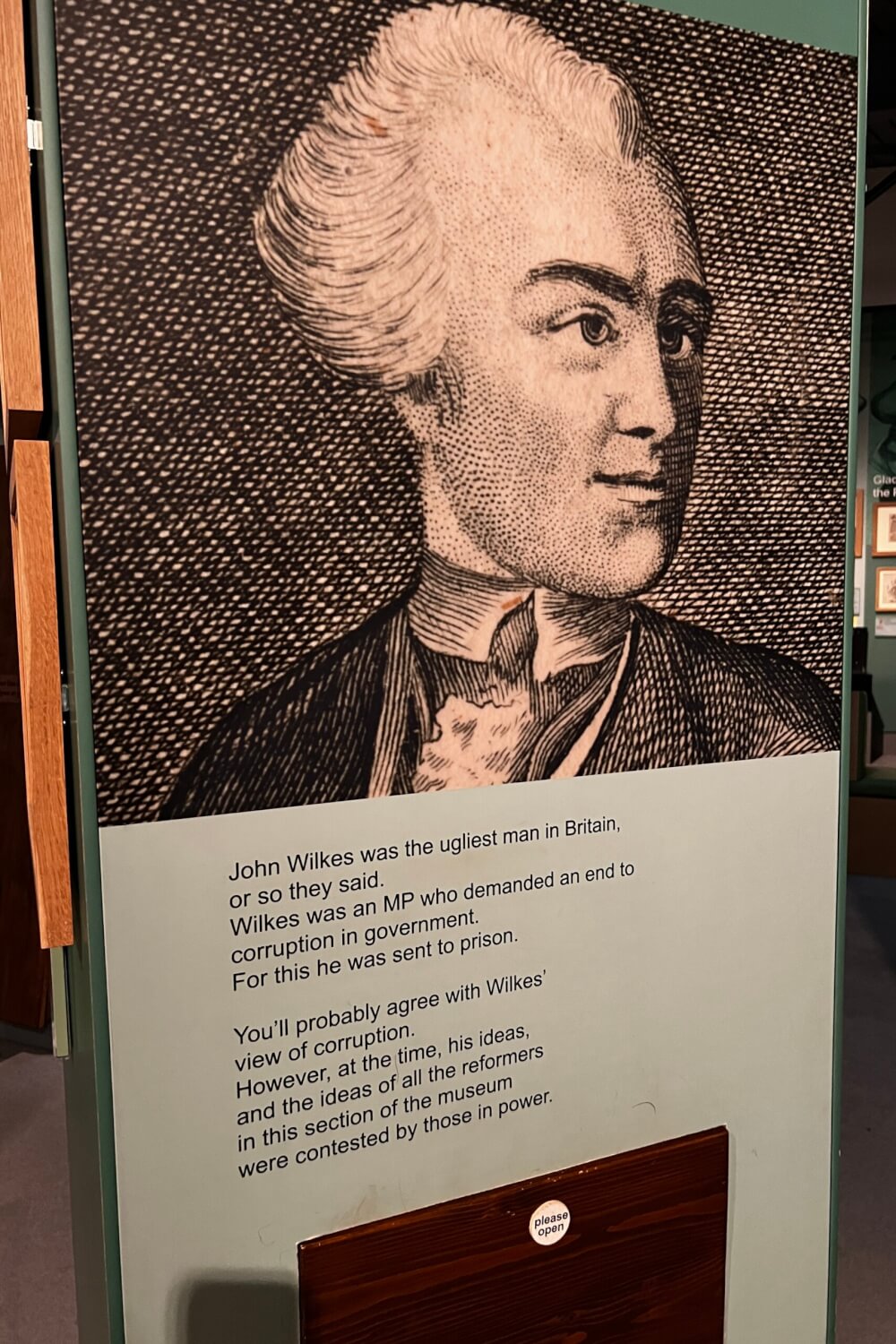 4. Get your science on at the Manchester Science and Industry Museum
Another great museum to visit in Manchester is the Manchester Science and Industry Museum, where visitors can explore the evolution of science, technology, and industry in Manchester and beyond.
The museum houses a remarkable collection of historic machinery, interactive exhibits, and hands-on demonstrations that showcase the pivotal role of Manchester in the Industrial Revolution.
From vintage locomotives to textile machinery, this museum provides an immersive experience, allowing guests to explore the scientific and industrial innovations that shaped the modern world.
The Textiles Gallery is an especially fascinating must-see that discusses Manchester's rise as the cotton capital of the world, although be warned: it'll make you feel very silly for ever complaining about your desk job…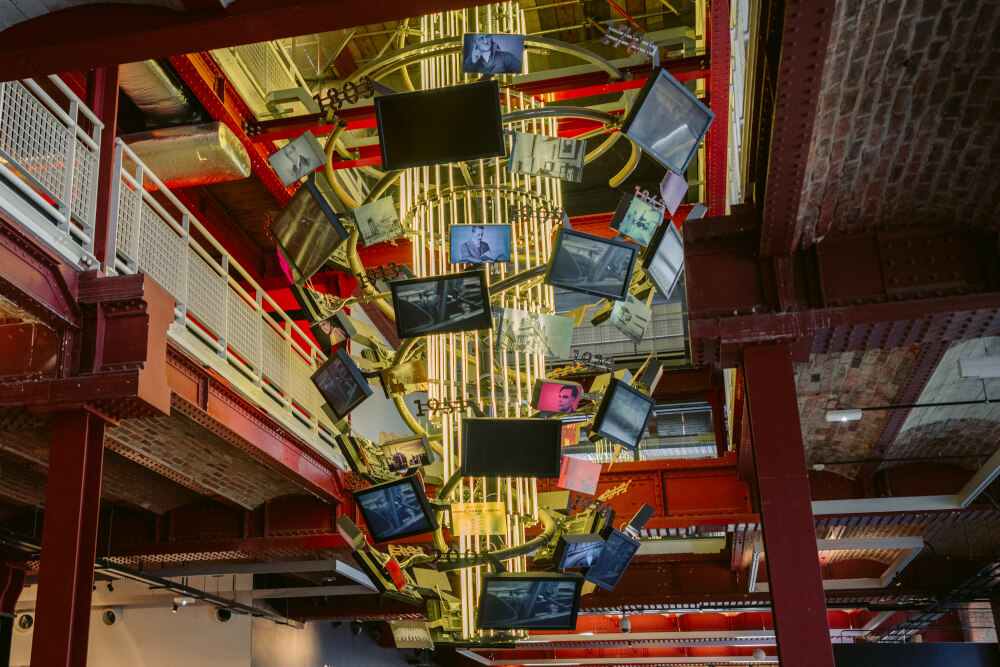 5. Visit the stunning John Rylands Library
Rolling on with our theme of nerdy but fun things to do in Manchester, I need you to visit John Rylands Library.
This dreamy library is the stuff of Hogwarts dreams. Built in 1899, it was founded by Enriqueta Augustina Rylands in memory of her late husband, John Rylands. It was designed to be a public research library, making it one of the earliest public libraries in the United Kingdom to offer open access to its collections.
Enriqueta Rylands was passionate about ensuring that the library would serve as a valuable resource for scholars and researchers, and I have to say, she did a pretty epic job. Today, the library is celebrated for its remarkable neo-Gothic architecture, reminiscent of medieval Gothic cathedrals.
And guess what? People do actually study here (lucky them). Fortunately though, visitors like you and me can quietly prod along as well to admire the literary magic. I'm honestly swooning just looking back on these photos.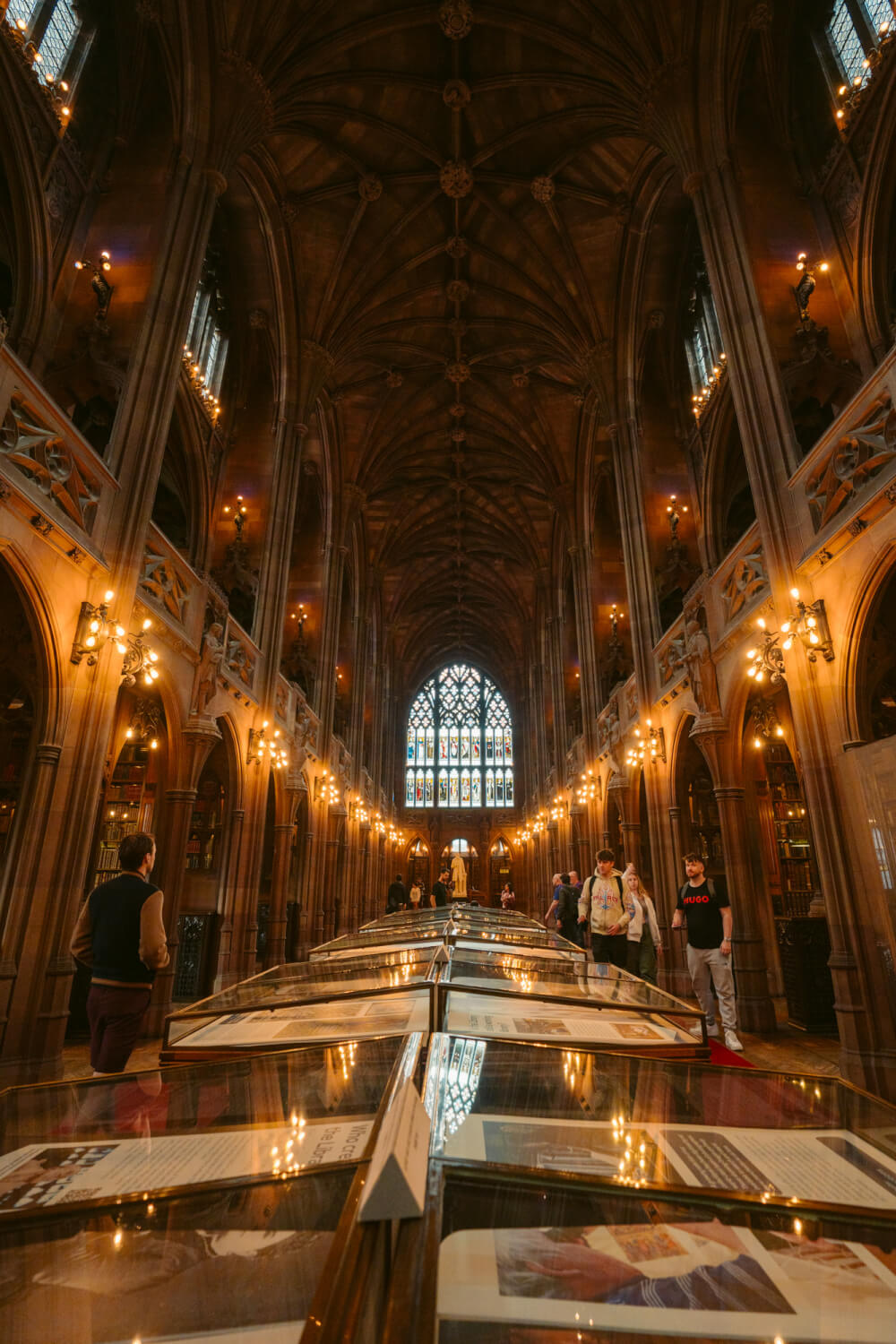 6. Enjoy a drink at a historic bar
While Manchester sadly doesn't have a huge selection of old bars that have endured the trials of time, there are still a few well worth cozying into.
The Old Wellington, for instance, is a 471-year-old city institution (originally constructed in 1552) that was actually completely dismantled, moved, and carefully reconstructed in its current location within Shambles Square in the 1990s. It features timber framing, leaded windows, and a distinctive Tudor-style appearance. The interior of the pub is equally historic, with low-beamed ceilings, wooden floors, and a cozy, traditional ambience.
Sinclair's Oyster Bar, located on Exchange Street, is another one of Manchester's oldest pubs. It has been in operation since 1720 and is known for its traditional pub atmosphere, wooden interiors, and, of course, oysters!
I also really liked The Old Nag's Head, which has been in operation since 1630 and apparently has its own ghost. The rooftop beer garden is also well worth checking out as it's adorned with a mural featuring famous Mancurians from all sorts of industries – but especially football.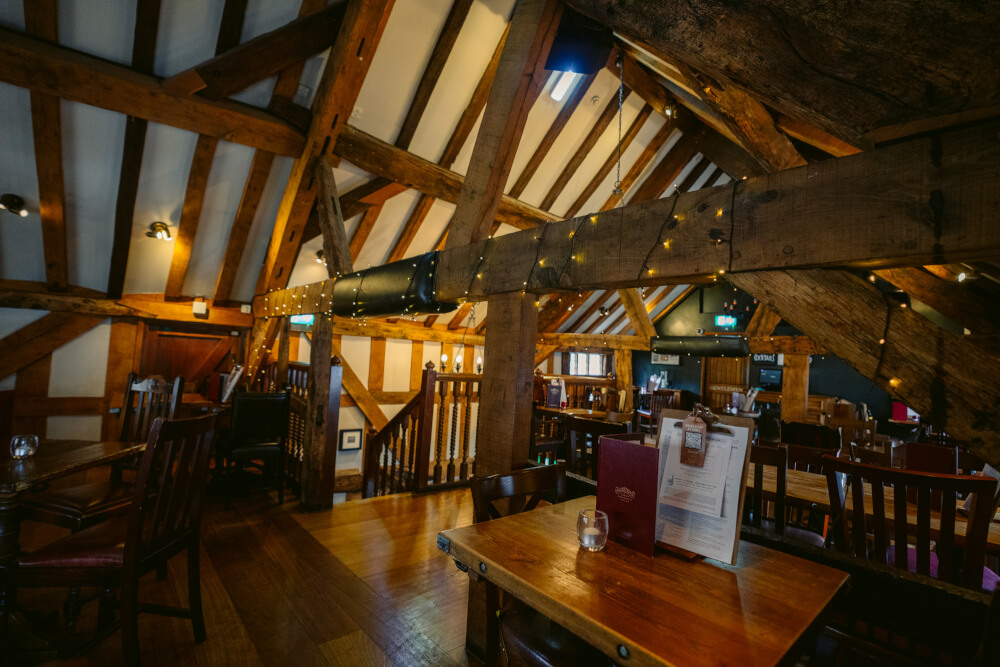 7. Embark on a unique foodie adventure
Ask any foodie and they'll tell you that one of the best things to do in Manchester is eat.
And you really have your pick of places. From big UK chains to smaller hole in the wall spots for cuisines from around the world, name a craving and you'll probably find a place to satisfy it.
In food halls like Mackie Mayor for instance (housed in a beautiful 1858 building), you can even order some Thai, ramen, fried chicken, pizza & nachos all at once. Not that I did… come on, I do have some self control.
If you're looking for a more unique food experience though, then here are some fun ones to look into…
This cheese crawl: with a description that says "delight your inner curd nerd" I would love this tour for the puns alone, but it's also awesome since it visits different cheese makers throughout the city, with plenty of tastings.
This food tour: If you want more than 'just' cheese, this foodie tour provides tastings of ten different local treats as you are taken through the city and told lots of interesting stories about its history.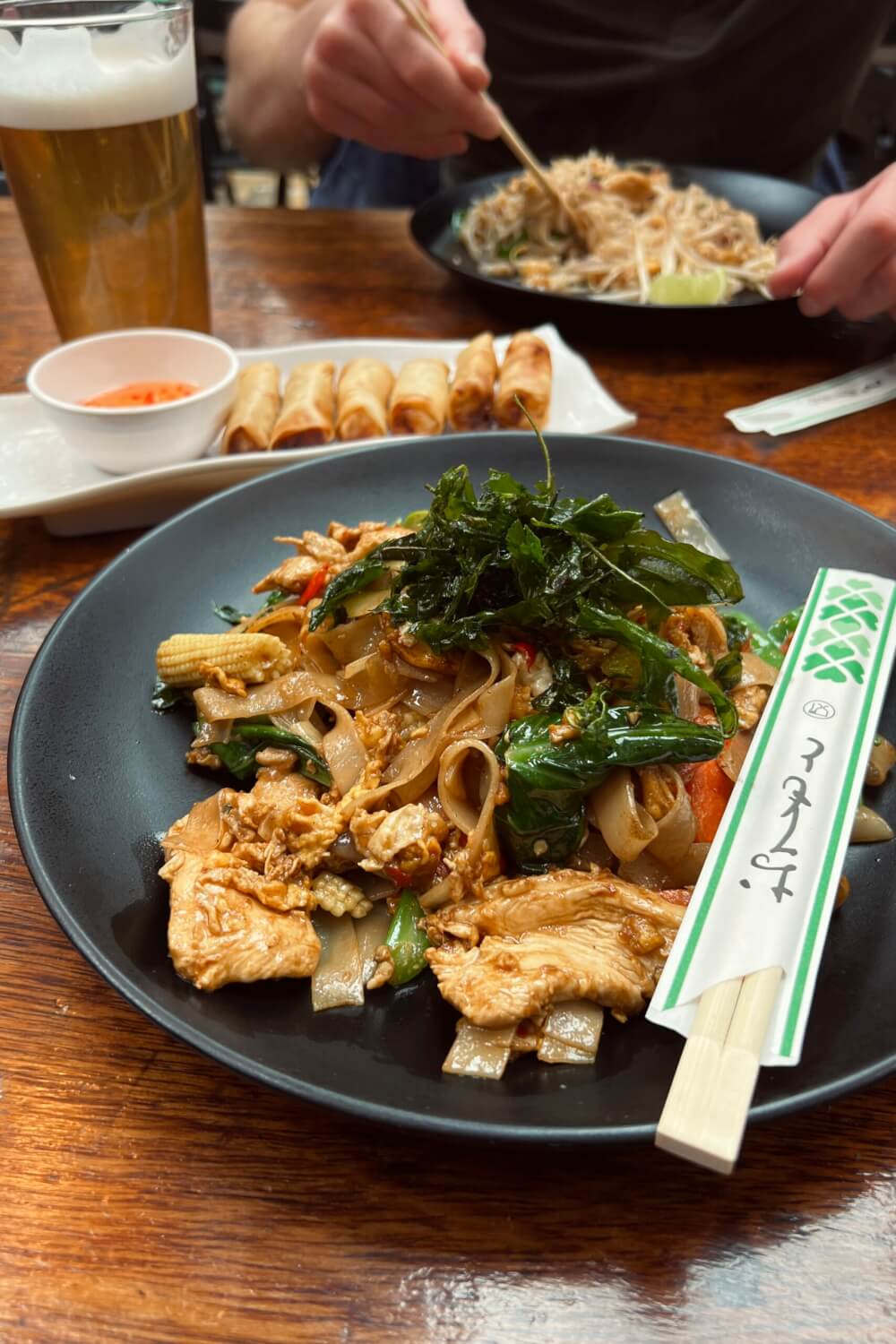 8. Visit Manchester Central Library
Another library! Oh yes. This one's worth a quick snoop though, I promise.
Manchester Central Library was originally built in 1852, and was initially housed in temporary locations, including a newsroom and a shop. The current Central Library building, designed by architect E. Vincent Harris, was officially opened in 1934 with a gorgeous design that blends neoclassical and Art Deco styles, characterized by its grand dome, intricate decorative elements, and symmetrical façade… ahhh.
These days, the library is home to an extensive collection of books, periodicals, and reference materials, as well as an impressive archive of historical documents, manuscripts, photographs, and rare books (including the Gaskell Collection, the personal library of the famous Victorian novelist Elizabeth Gaskell).
While most of the library is fairly unexciting/standard, I recommend a quick peek inside if only to gaze longingly at the elegant Wolfson Reading Room: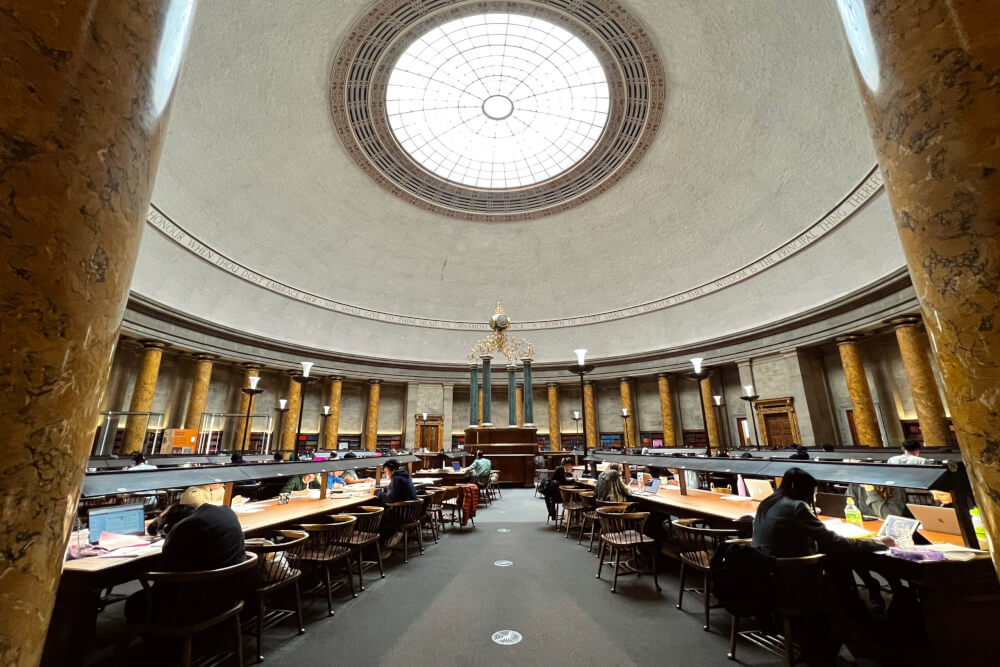 9. Visit Manchester Cathedral
Manchester Cathedral, officially known as the Cathedral and Collegiate Church of St Mary, St Denys, and St George, is a historic Anglican cathedral located in the city centre of Manchester, and an interesting building to peek into if you're as nosy as I am.
With a lengthy history that goes all the way back to the 7th century, Manchester Cathedral is primarily built in the Gothic architectural style, with pointed arches, ribbed vaults, and flying buttresses. It also features a collection of beautiful stained glass windows, some of which date back to the 14th century.
While some parts of the cathedral had to be rebuilt after damage sustained in WWII, it has now been restored to its former glory. The tower and spire for instance, added in the 19th century, are notable features to gawk at, with the tower standing tall at 280 feet (85 meters).
I admit, this cathedral is rather small and not as grand or spectacular as some others you'll find in the country, but it's still worth a quick look inside.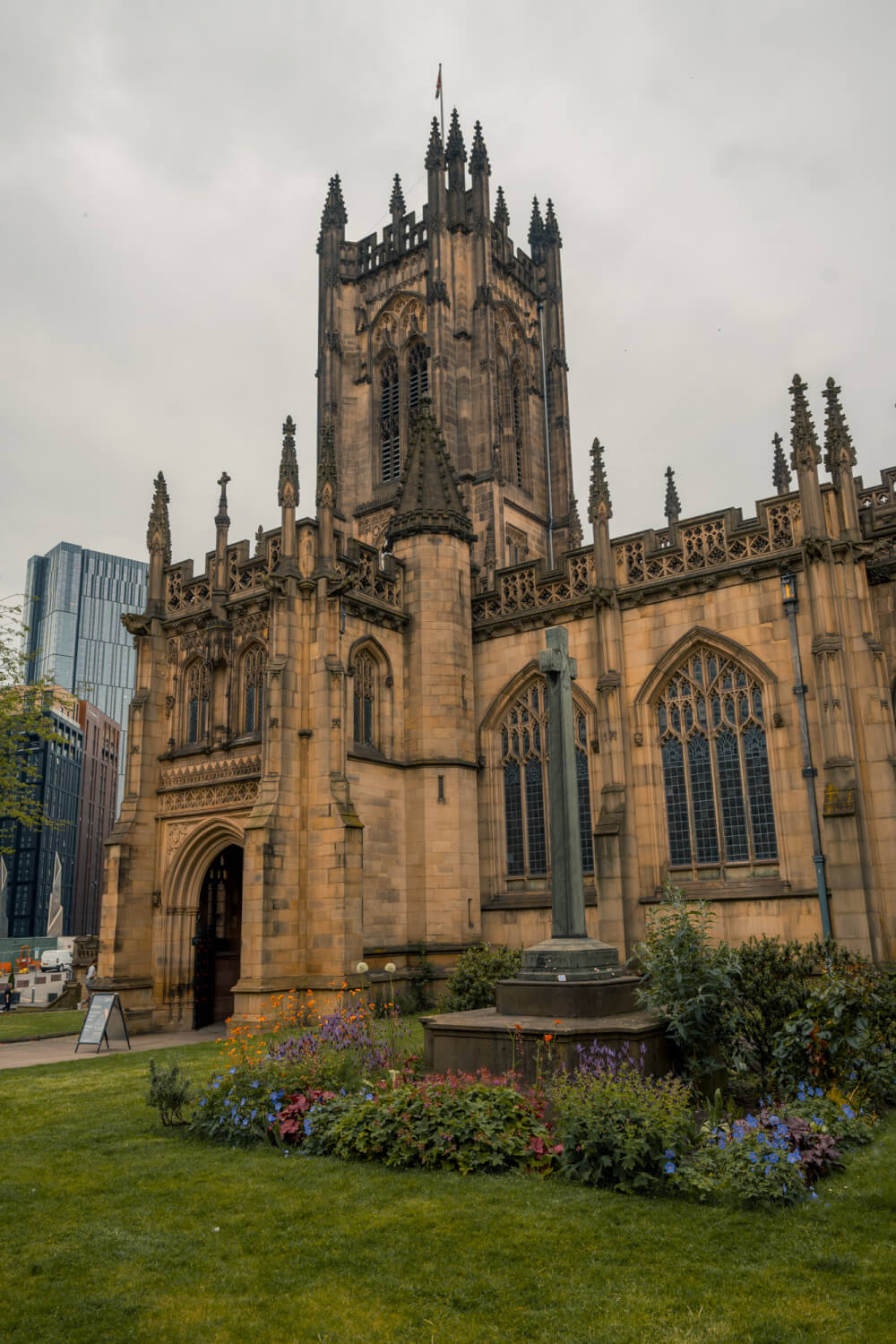 10. Hop on a canal/river cruise
Of course, for a more relaxing Manchester activity, why not turn your brain off and hop on a little cruise?
This cruise along Manchester's historic Ship Canal and River Irwell offers a captivating blend of industrial heritage and modern urban development. As you navigate the waterways, you'll pass through the city centre with its contemporary skyscrapers, including the striking Beetham Tower.
Further along, MediaCityUK showcases a sleek waterfront environment where the BBC and other media giants are based, with the futuristic Imperial War Museum North nearby.
As you cruise, you'll encounter an array of bridges, waterfront residences, and the tranquil Bridgewater Canal, all while potentially spotting wildlife and lush green scenery. Sounds like a pretty fun Manchester activity to me!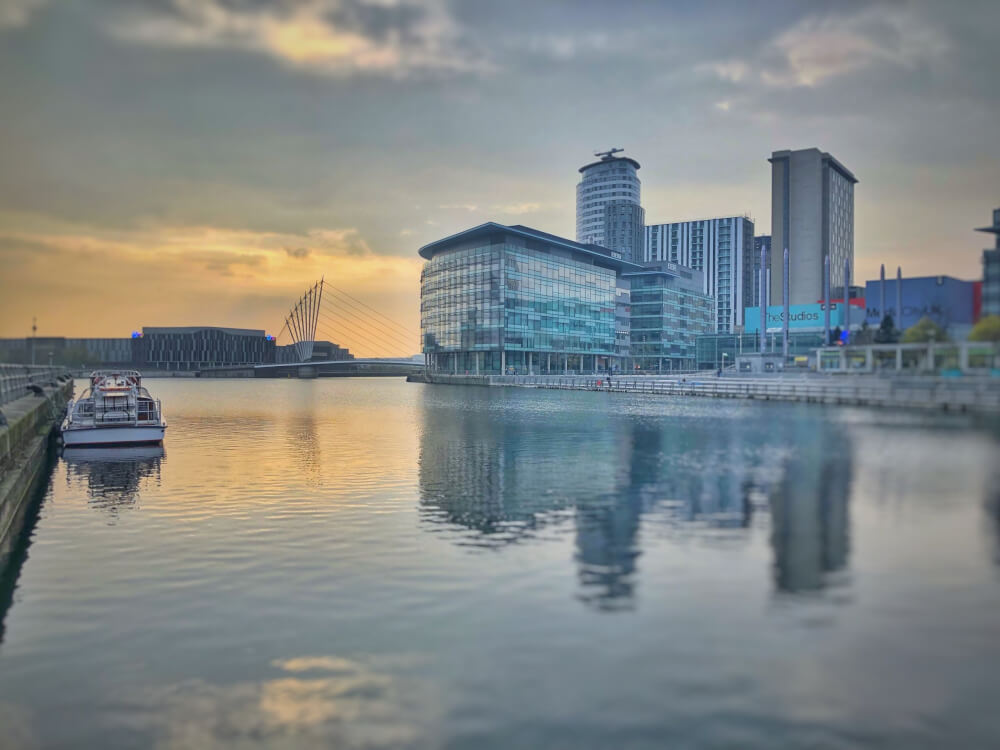 11. Check out Castlefield Viaduct
Looking for a lesser known thing to do in Manchester? Castlefield Viaduct is a historic railway bridge and viaduct located in Castlefield, an urban conservation area in Manchester… and you can walk on it for free!
This viaduct is part of Manchester's rich industrial heritage and is an iconic structure in the city. It was constructed in the mid-19th century as part of the Manchester, South Junction, and Altrincham Railway (MSJAR) line.
Built between 1848 and 1849 to connect Manchester's city centre with the rapidly growing industrial suburbs to the south, these days, the viaduct is operated by the National Trust, and is free for visitors to check out, although it's worth noting that you can only enter without a guided tour after 1pm.
There's not a lot to do up there, but the gardens are quite pretty and you can get a unique vantage point over Manchester's skyline. Well worth a look, especially since it's my favourite thing: free!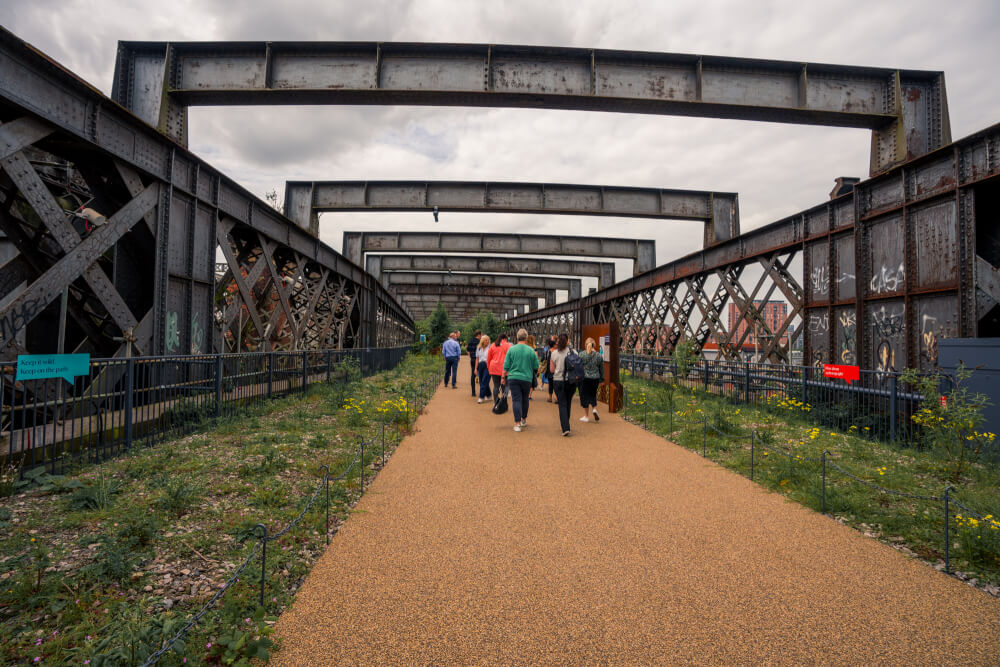 12. Stop by Portico Library
Last library for the list – I promise!
The delightfully tiny Portico Library is one of central Manchester's lesser known hidden gems. Arriving at the door, you have to buzz to be let in.
Following a few flights of bland, ordinary stairs, you are greeted with a beautiful little library lined with stacks of centuries-old books, all naturally illuminated by the glass dome above.
This spot is very small, but worth a quick look if you're a fellow library lover, and already in the area.
PRO TIP: They do offer food and coffee here, so if you want to spend a little more time enjoying this spot, plan to enjoy a quick refreshment.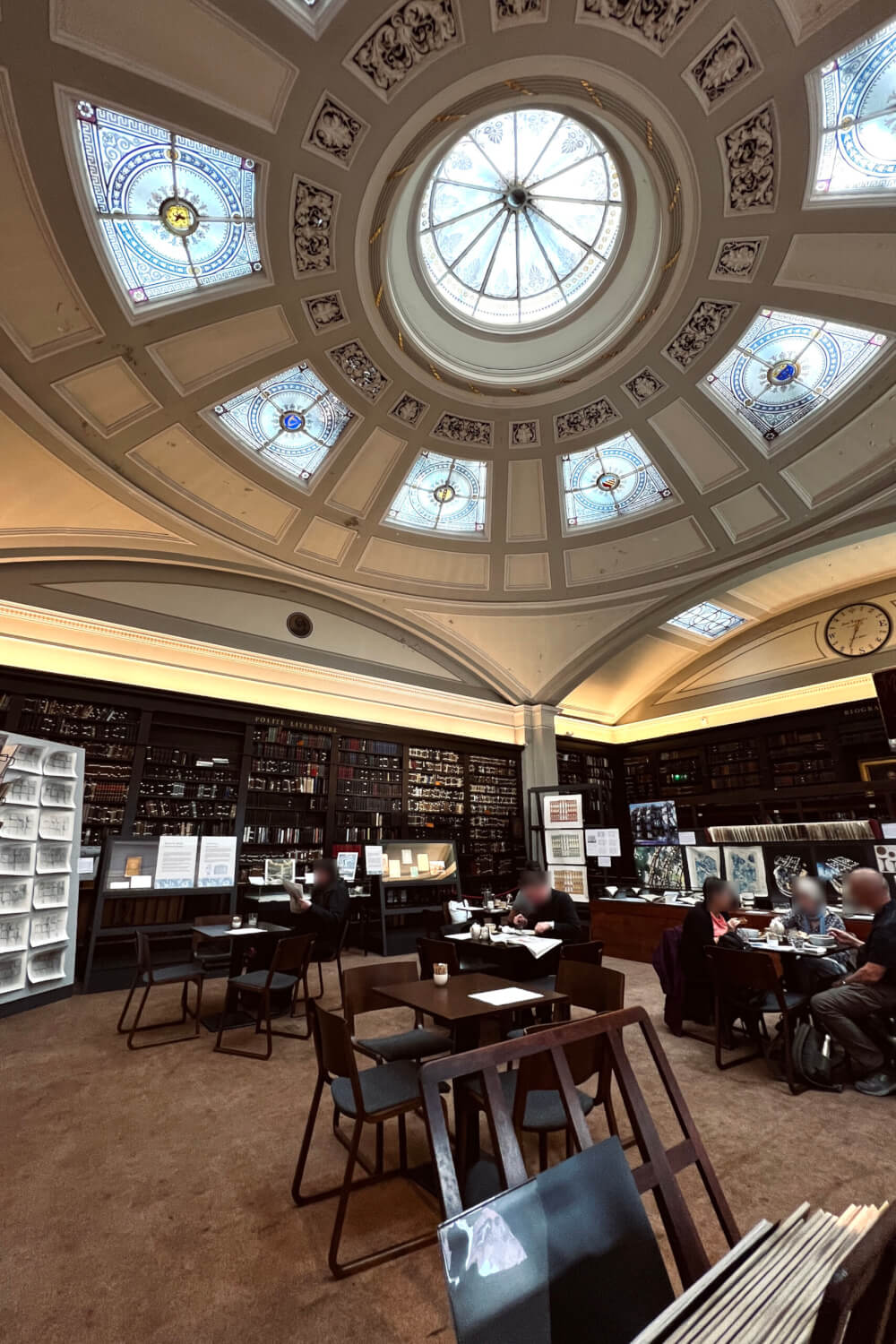 13. Take a peek inside Manchester Art Gallery
For culture vultures, visiting the Manchester Art Gallery is an enriching experience that offers a fun journey through art and history.
Located in the heart of Manchester, this venerable institution boasts a rich history dating back to 1823 when it was founded as the Royal Manchester Institution for the Promotion of Literature, Science, and the Arts (what a mouthful!). Today, it stands as one of the city's premier art destinations, welcoming art enthusiasts, tourists, and locals alike.
The gallery's extensive collection spans centuries and includes a diverse array of artworks. From renowned Pre-Raphaelite paintings, including works by Dante Gabriel Rossetti and John Everett Millais, to striking contemporary pieces and a fun decorative arts collection.
Honestly though, for me the highlight is the dreamy interior: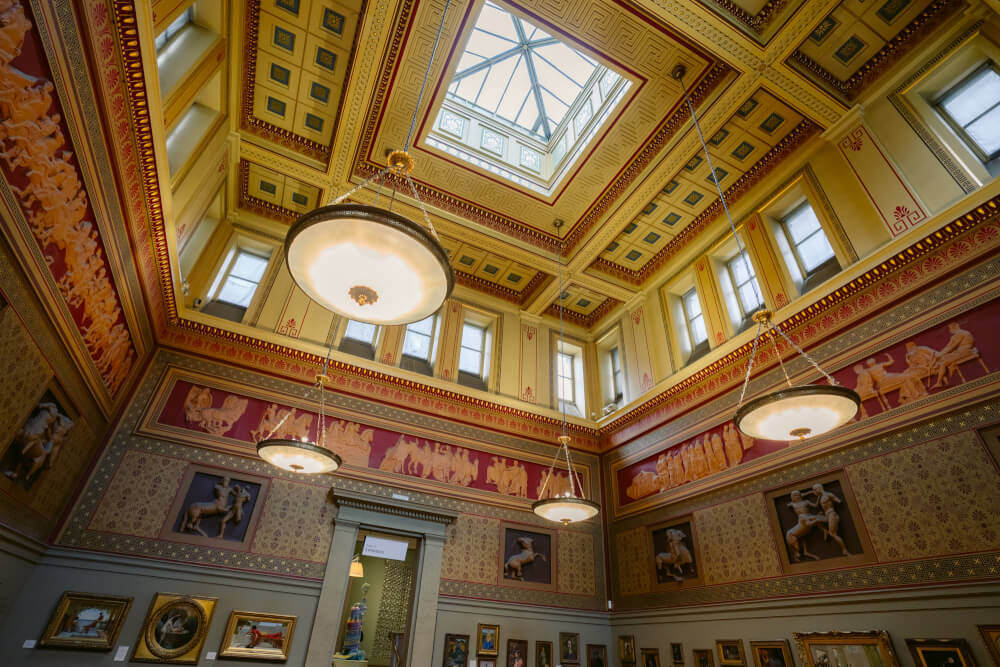 14. Check out the Whitworth
Have more artiness to get out of your system? I've got you. The Whitworth is another art gallery in Manchester worth checking out, although this one is a contemporary art gallery that blends modern architecture with nature.
Established in 1889, the gallery is a part of the University of Manchester and has been a vital institution for over a century. Undergoing a significant transformation in 2015, it reopened with a striking extension designed by renowned architect MUMA and has been dazzling visitors since.
The Whitworth's charm lies in its seamless connection with Whitworth Park, a green oasis in the city. Large glass windows provide panoramic views of the park, allowing natural light to flood the gallery's interior. This unique design blurs the boundaries between art and nature, making you feel worlds away from the industrial core of the city.
The gallery's collection spans a wide range of media, from paintings and sculptures to textiles and wallpapers. With works by prominent artists like J.M.W. Turner, William Blake, and Cornelia Parker, this is a must-see in Manchester for art lovers.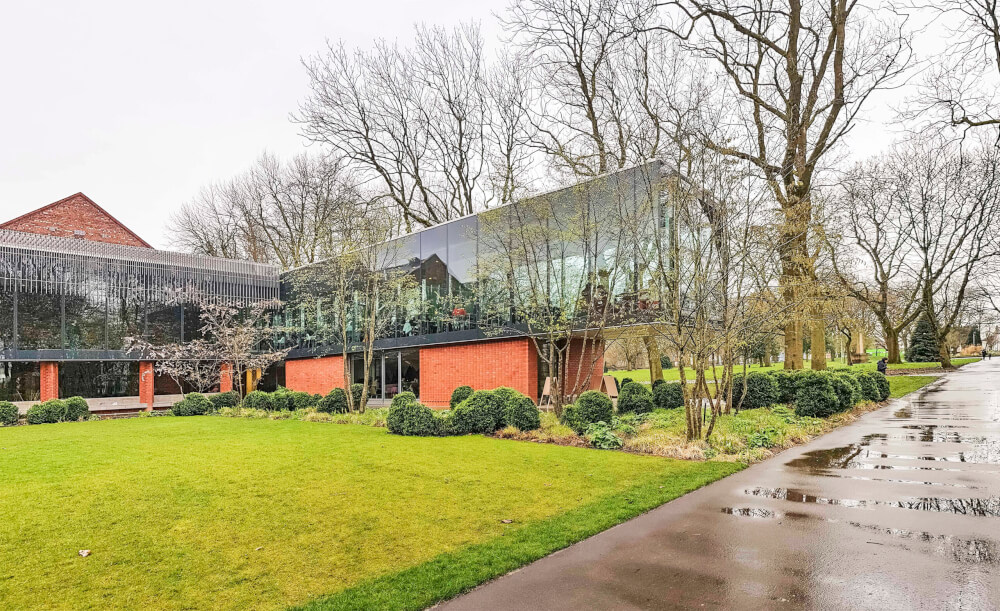 15. Visit Manchester Museum
Manchester Museum, located on the University of Manchester's campus, is a captivating cultural institution ideal for nerds like you and me.
Founded in 1821, it is one of the UK's oldest public museums and has evolved into a renowned centre for exploring the natural world and human history. The museum's Victorian-era architecture, with its elegant columns and decorative façade, sets the stage for an educational journey through time.
Inside, visitors are treated to a vast and diverse array of exhibits. The museum's collection spans geology, archaeology, anthropology, and natural history. One of its most prized possessions is Stan, a life-sized cast of a Tyrannosaurus rex skeleton, which greets guests upon entry!
16. Have a nosy perusal around Spinningfields
Spinningfields is a Manchester neighbourhood known for its contemporary architecture, thriving business district, and vibrant social scene.
Once an industrial area dominated by mills and warehouses, Spinningfields underwent a remarkable transformation in the late 20th century. Its name, Spinningfields, is a nod to the area's industrial past. Today, the district boasts a mix of modern skyscrapers, green public spaces, and the iconic Avenue, a tree-lined avenue offering a picturesque promenade for visitors.
This elegant and glassy section of the city feels worlds removed from the rest of Manchester, with a vibe best described as either soulless or upscale, depending on your preferences. I personally found it a fun place to hang out, but I think a quick photo will quickly illustrate the vibe: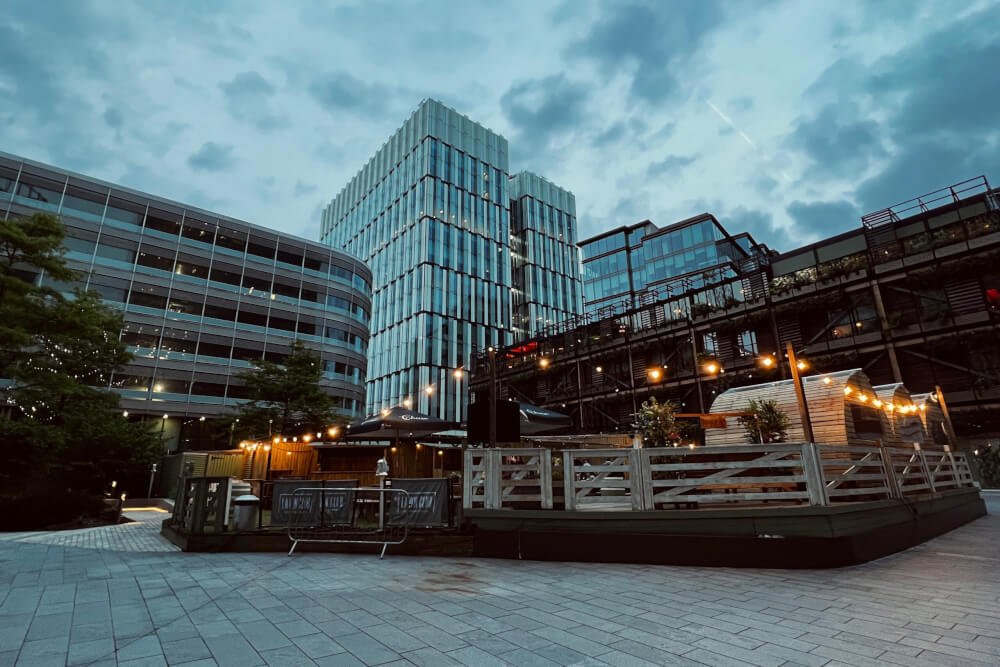 A walk along the water in any case is quite nice: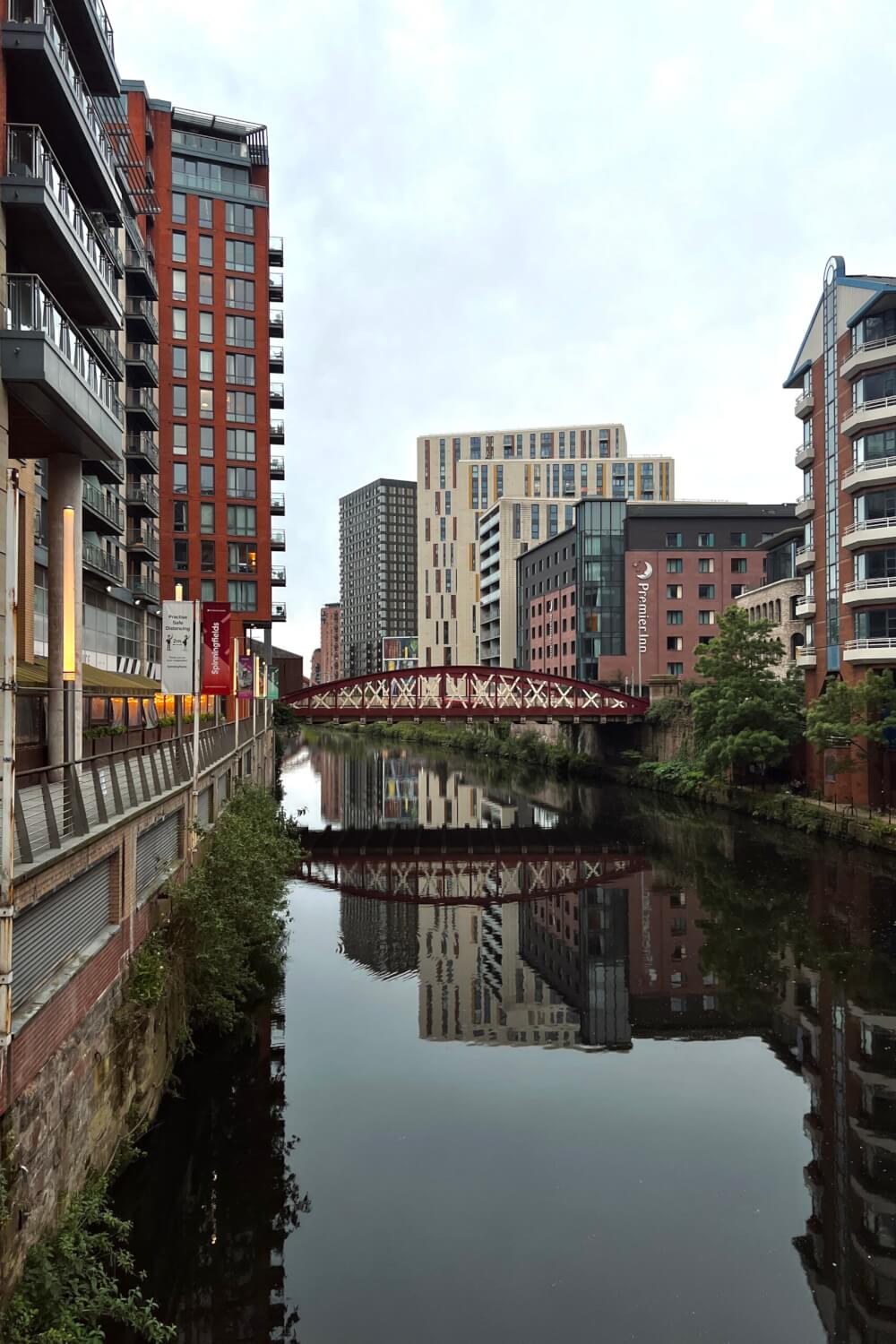 17. Or explore Salford Quays
Salford Quays, situated just southwest of Manchester city centre, was originally a bustling port that played a pivotal role in the transportation of goods during the height of the Industrial Revolution.
In recent decades, Salford Quays has been revitalized into a modern and cultural hub. The waterfront area is now home to a host of contemporary attractions, including The Lowry, a renowned arts complex showcasing theatre, visual arts, and entertainment.
The Imperial War Museum North is another prominent landmark, offering insight into the impact of war on society. While here, you'll also find MediaCityUK, a vibrant media hub that houses the BBC's northern headquarters and provides a glimpse into the world of television and broadcasting.
If you want more context during your nosey mosey, you can even book a guided tour here.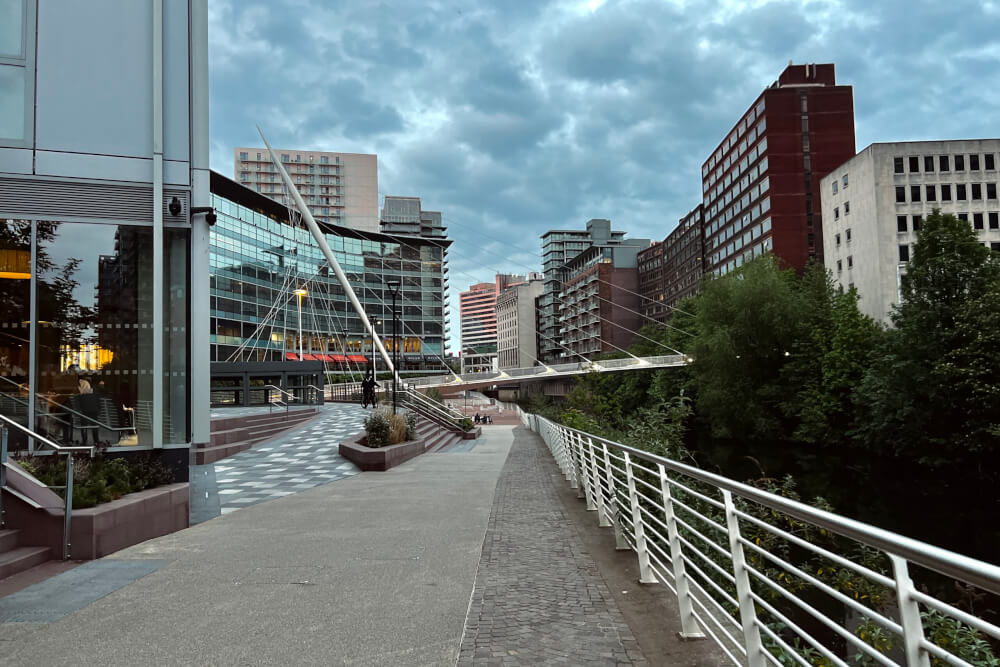 18. Stop by Chinatown for authentic Chinese food
Manchester's Chinatown is supposedly the second largest in the UK, but I found it to be quite small – no more than a handful of (un-pedestrianized) streets.
BUT packed in that small area, you'll find several Chinese restaurants considered to be the most authentic in the city.
Truthfully, if you're looking for a vibrant tourist-friendly Chinatown like in London, this area will disappoint you.
It's busy, tough to stroll & the store/restaurant fronts leave much to be desired… but it's a common rule of thumb for me that the dingier the aesthetic, usually the better the food.
So, if you want an authentic Chinese meal with a no frills vibe, then visiting Chinatown is one of the best foodie things to do in Manchester.
NOTE: If you're into photo opps however, there is a nice archway (built in China and sent over to Manchester in pieces):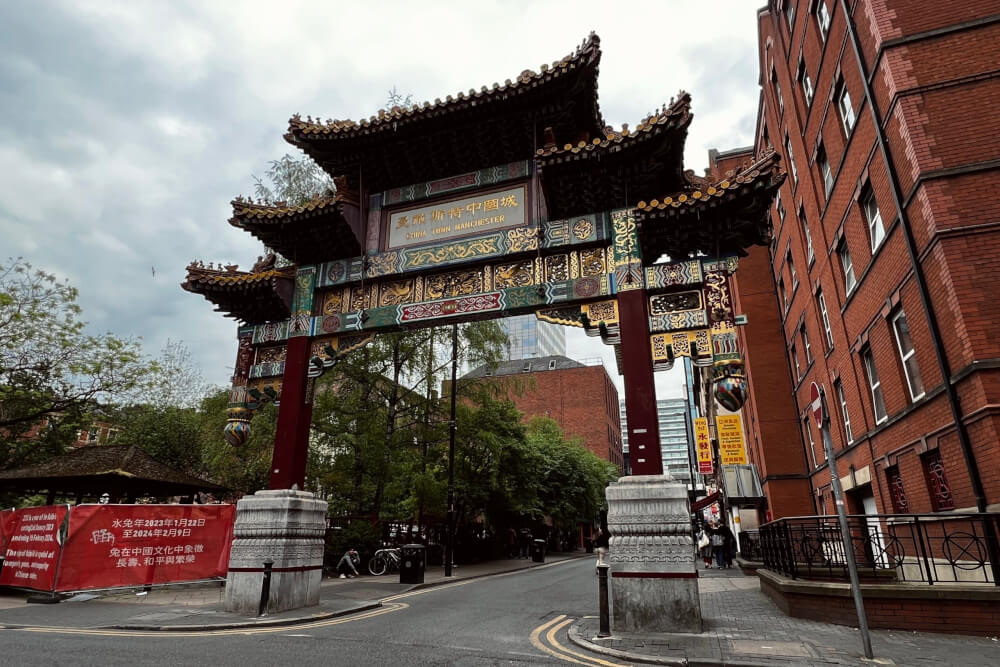 19. Admire Barton Arcade
Okay, so it's genuinely just a covered shopping arcade, but I figured I'd include this hidden gem just in case you like gawking at pretty architecture like me.
Granted, there's not a lot for you to explore inside unless you want a haircut or a cramped office space, but it's worth cutting through to take a peek.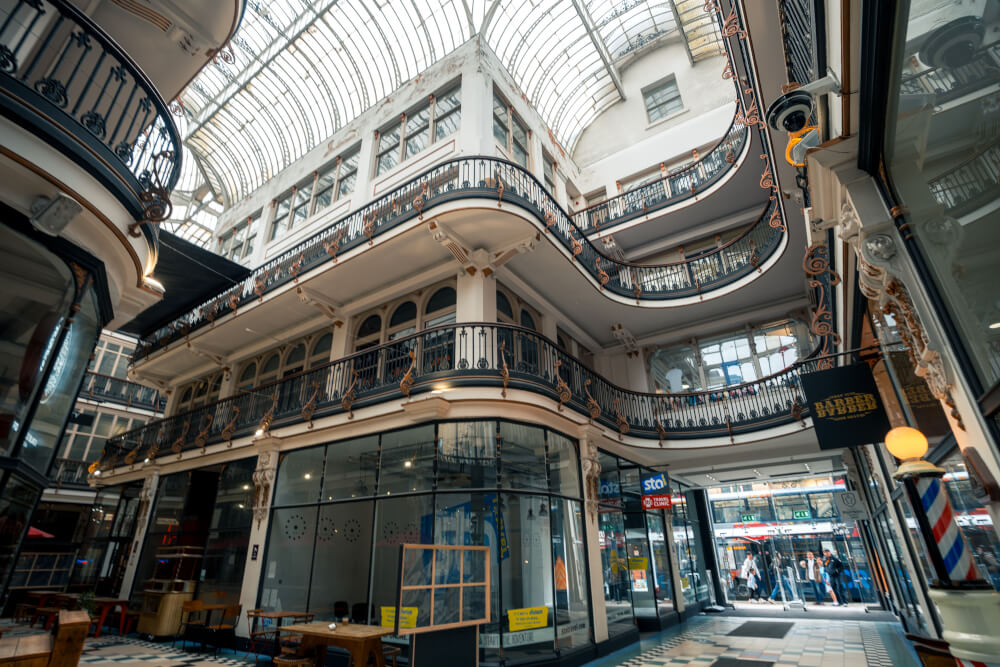 20. Catch a football match
Okay, I've avoided it long enough. While football (or soccer, for my fellow North Americans) isn't exactly my thing, it's certainly an activity inextricably linked to the Manchester name.
Therefore, not including it in a list of unique Manchester things to do would be (to some) a criminal offence.
SO here it is: when in Manchester, one of the most unique and fun things you can do is soak in the atmosphere of a live match (or game, again for my fellow North Americans). Tickets can be purchased directly from your club of choice's official website.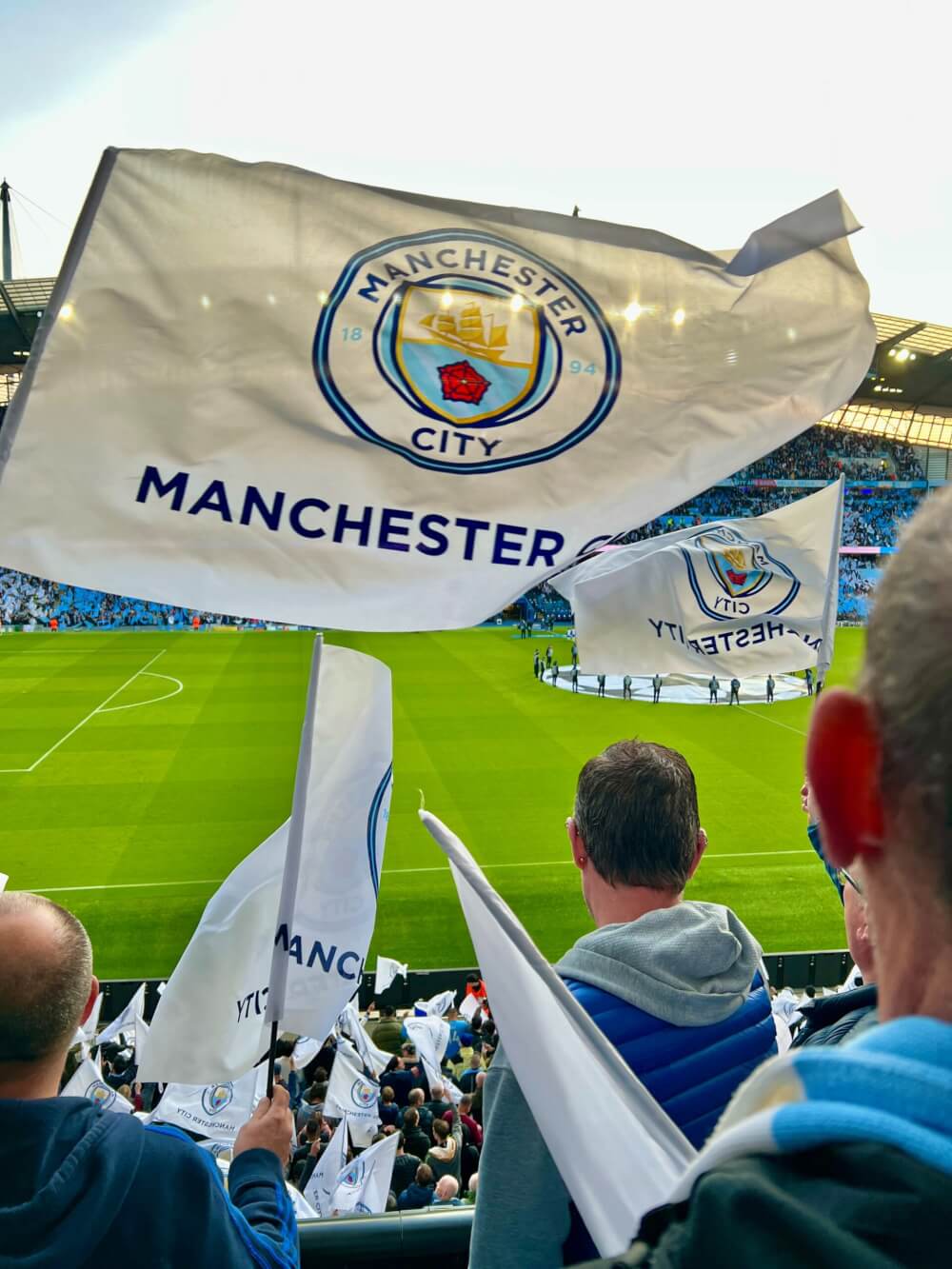 21. Tour a football stadium
Of course, if watching a match isn't possible, you can always fulfill those football fantasies with a tour of your team's stadium! Odds are you've seen it enough on TV anyway, but there's nothing quite like seeing the plastic seats and beer stains in person.
So, be sure to book yourself in for a tour at either Old Trafford Stadium, Manchester United's iconic stadium or Etihad Stadium, the home ground of Manchester City and the City Football Academy.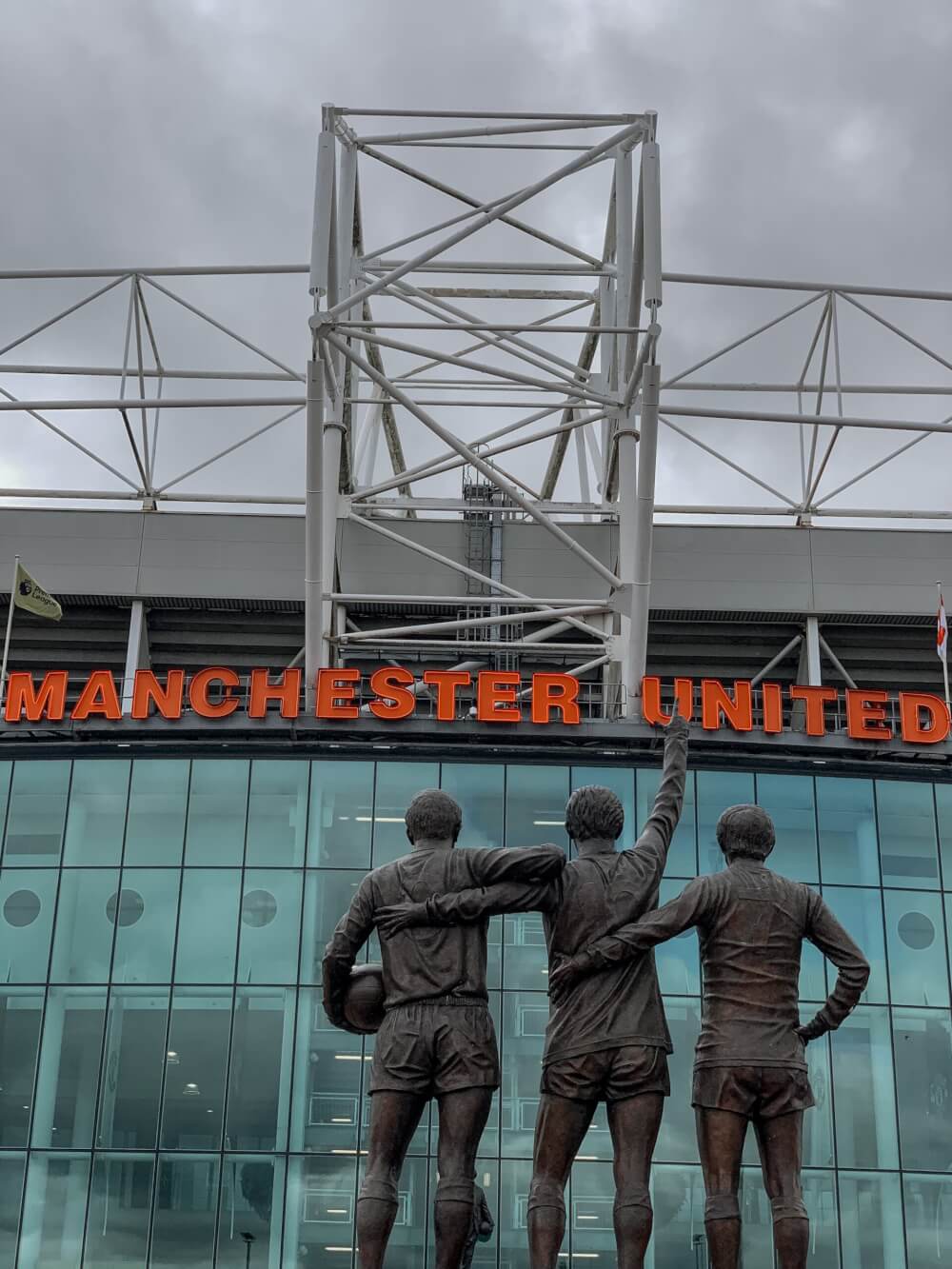 22. Visit a museum dedicated to football
Now, a final football thing: if you're equal parts sporty and nerdy, perhaps a visit to the National Football Museum is just what you need.
This footbally fantasyland houses an extensive collection of football memorabilia, including iconic jerseys, historic artifacts, and interactive exhibits that delve into the rich history of the UK's favourite sport.
… Perfect for fans of all ages!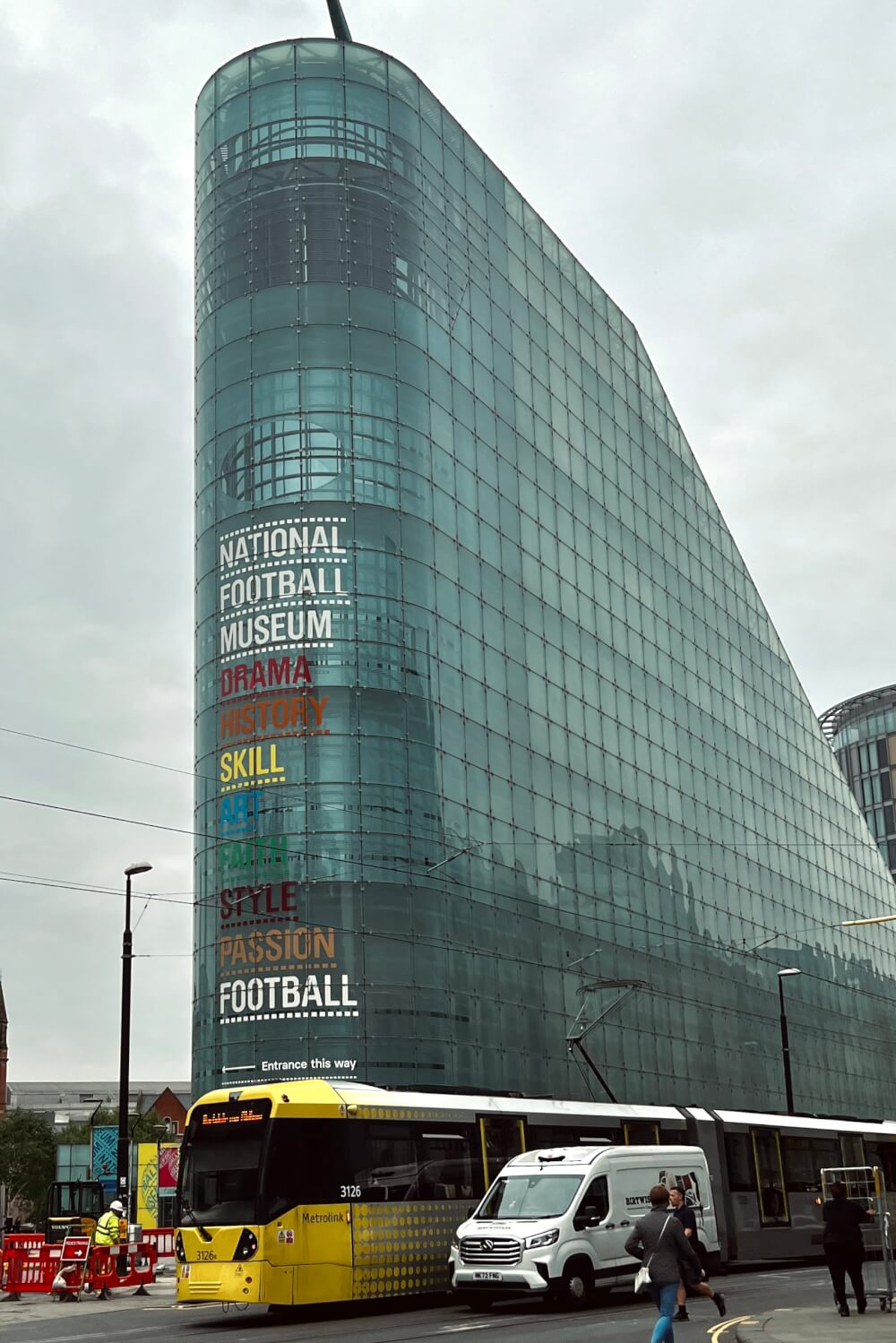 23. See the beautiful Victoria Baths
Now let's cleanse ourselves of the last few entries' sportiness and chat about Victoria Baths – a beautifully restored historic gem… though it's not somewhere you can regularly bathe anymore, unfortunately!
Built in 1906, this Edwardian swimming and bathing complex was designed with exquisite craftsmanship and attention to detail. It served as a place for both relaxation and exercise for Manchester's residents for many decades.
The Grade II* listed building has been lovingly restored, showcasing its stunning stained glass windows, intricate tilework, and period features. Today, it hosts various events, exhibitions, and tours, allowing visitors to immerse themselves in the history and architecture of this magnificent structure.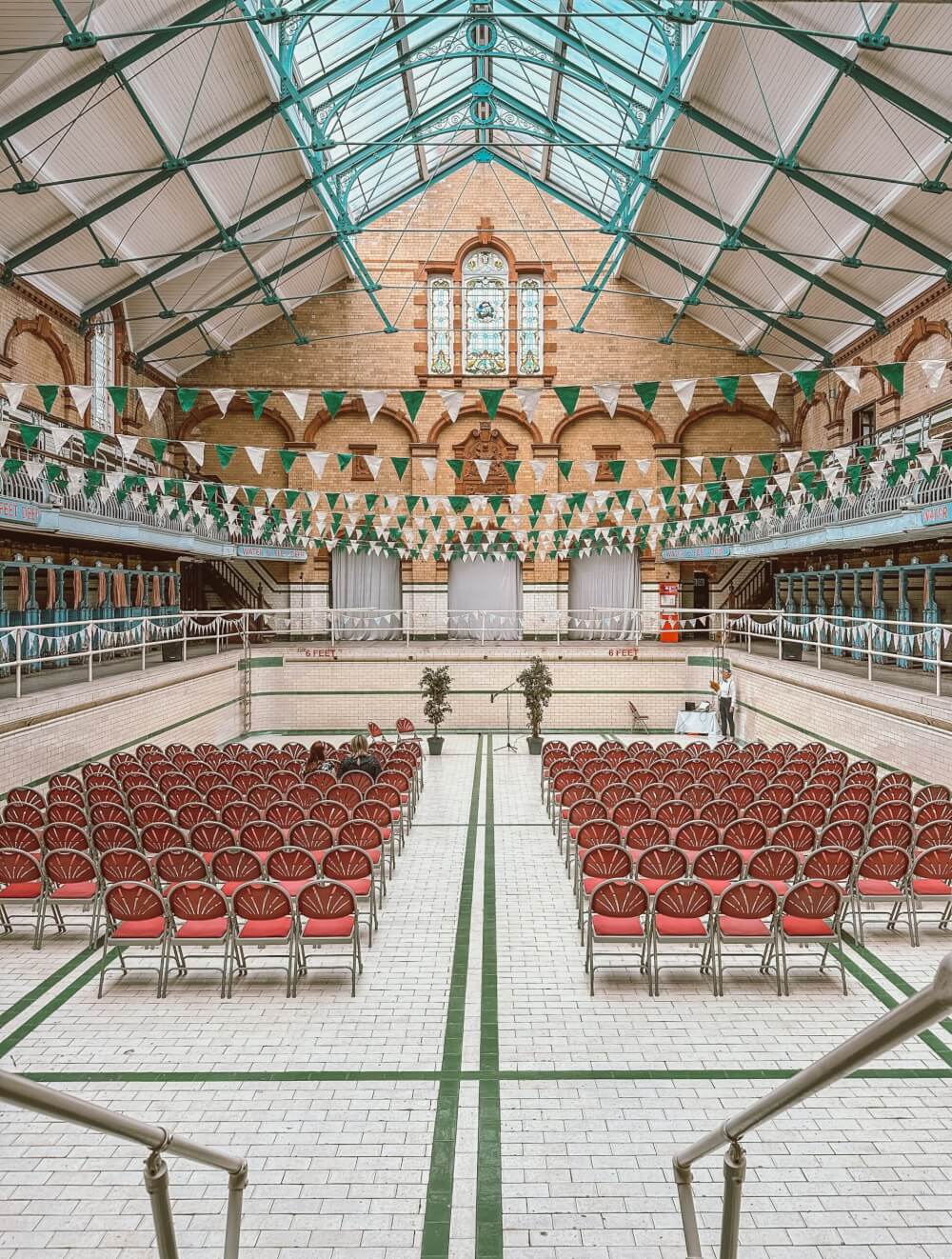 24. Check out the Coronation Street Experience
As a Canadian below the age of 65, I never really got into Coronation Street, but hey, it's a pretty big deal to some people so it's worth mentioning that Manchester is home to the Coronation Street Experience, an interactive studio tour that's kinda like the Warner Bros. Harry Potter Studio Tour in London – but for Coronation Street!
The Coronation Street Studio Tour provides fans with an opportunity to step onto the iconic cobbled streets of Weatherfield. Visitors can explore outdoor sets, interiors of famous buildings like The Rovers Return Inn and Roy's Rolls, and learn about the show's production process.
So, if you're a big fan of Coronation Street and want to take some selfies on the "Corrie Cobbles" while learning filming secrets, then this is the attraction for you!
25. Take a beautiful day trip
Lastly, it's worth mentioning that Manchester is a great base for exploring some other epic parts of the UK, whether you're into lakes, rolling hills or… Wales.
For those of you that prefer ease, here are some tours you can book: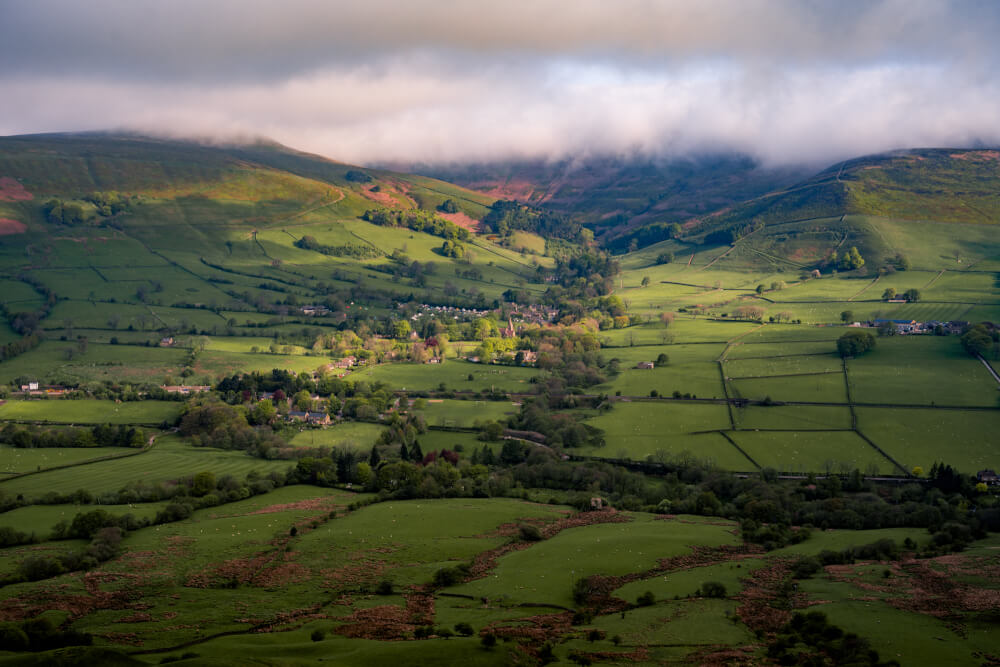 Did I miss any of your favourite things to do in Manchester?
Let me know in the comments! I hope you enjoyed this roundup of the best Manchester activities. Happy and safe travels 🙂
My Go-To Travel Favourites: