*FYI - this post may contain affiliate links, which means we earn a commission at no extra cost to you if you purchase from them. Also, as an Amazon Associate I earn from qualifying purchases. Check out our Privacy Policy and Disclosure. for more info.
When it comes to the best things to do in Barcelona, one's mind usually flutters to thoughts of dazzling Gaudi architecture, fresh colourful markets, and (if you're anything like me) a slow motion montage of tapas hoarding and cava showers…
And while these are all indeed wonderful Barcelona activities to spoil yourself with, there's a lot more to Barcelona than what top ten lists or guidebooks let on… incredibly unique things like wine spas, hidden terraces, chocolate massages and even the world's largest marijuana museum 😉
And so, because I'm determined to help you experience the best of Barcelona like a smartie, here's a master list of 79 INCREDIBLE things to do in the stunning city of Barcelona, from the top ten touristy musts to the offbeat secrets only locals know about. Enjoy!
Save this post for later on Pinterest:
A Few Quick Barcelona Tips
Before diving into my (terrifyingly) thorough list of the best things to do in Barcelona, why don't we start things off with the best gift of all? KNOWLEDGE! *pushes glasses up while doing jazz hands*
Um… anyway… here are some general Barcelona tips to help ensure your trip is as amazing as you'll make it look on Instagram 😉 Be sure to sift through this list of mistakes to avoid in Barcelona too for an extra helping of that sweet sweet knowl'.
TIP #1: Become annoyingly Type A and book everything in advance
Barcelona is one of the most popular tourist destinations in the world, and while it's packed with amazing things to do and see, it's equally packed with sight-hungry tourists (like me!) living out their dream vacays with the intensity of a 90s movie dance-off.
Trust me, there's a time and place for spontaneity (like at the guacamole part of the Chipotle assembly line), but your dream trip to Barcelona is not one of these times.
Book all your must-see attractions in advance or face the wrath of Barcelona's tourist hunger games, like so: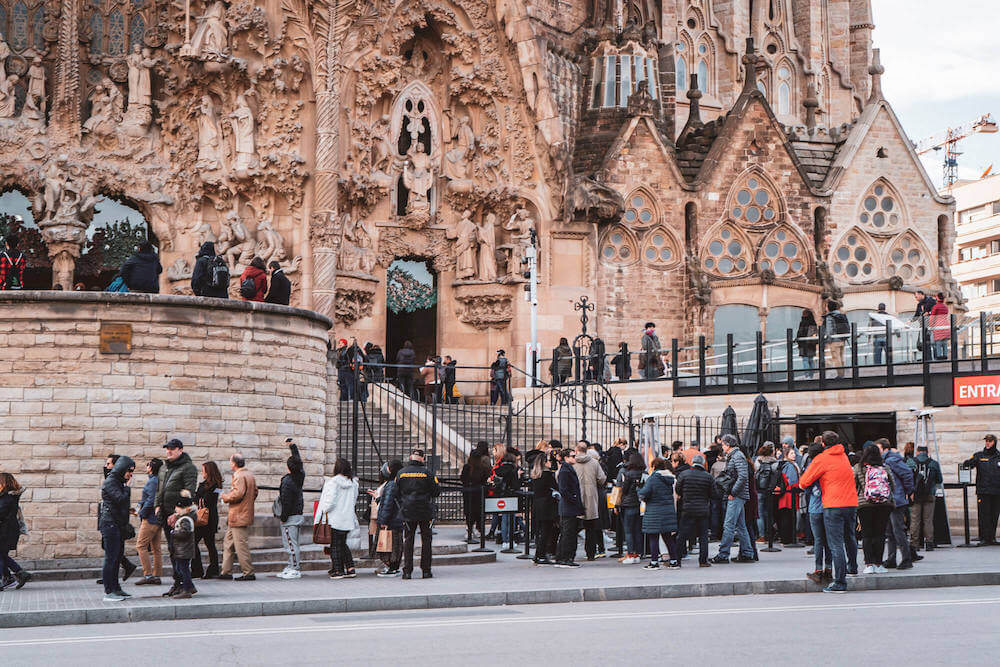 TIP #2: Are you an attraction hoarder? Make it official with a card
Barcelona is, in my mind, a city of attractions.
Like, you could probably throw a churro in any direction and hit some precious, noteworthy landmark.
This is why you might feel compelled to (as I did) explore as many of Barcelona's endless museums and architectural gems in one go, kind of like a sightseeing Pacman chowing down on sweet, sweet sights.
Well, if this IS your game plan, you might want to look into purchasing a sightseeing card that gives you admission to a variety of main attractions for one small price. You can save a lot of money this way, which means, well, more dough for churros!!
Here are some Barcelona sightseeing passes that might save you a lot of moola:
TIP #3: The early bird cries the least
Okay, so while it's near-impossible to dodge the heavy crowds of Barcelona (even in winter-time), one of the best and only ways to explore peacefully is simply getting up early.
If you want to make the most of your time in Barcelona, I highly suggest you pry yourself out of bed early (or even go sightseeing in your Snuggie, I don't judge).
This is the best time to explore the city and feel like Barcelona is all yours, without randoms trying to nab your wallet or sell you knockoff Chanel.
From my experience, exploring just after sunrise is the pretty much the only way you can ensure minimal crowds during your visit, so maybe now's the time to invest in an alarm clock that punches you in the face or something.
TIP #4: Release your inner hipster and go beyond the main must-sees
Last but not least, I need you to throw on some skinny jeans and practice your ironic eyerolls. Why? Well, to really appreciate Barcelona, you need to go hipster.
… or well, what I mean is you should seek out the hidden parts of Barcelona that go beyond the typical tourist attractions.
I say this because on my first trip to Barcelona, all I did was flock to the most well-known spots in the city, pretty much ODing on the moderniste architecture and endless swarm of museums.
Sure, that was fun, but it wasn't until I started digging deeper on my 2nd visit, exploring smaller neighbourhoods, wistfully soaking it all in, that I began to "get" Barcelona. So, remember to take some breaks from the sight hopping and add some offbeat finds to the mix.
The Best of Barcelona: Top 10 Things to do in Barcelona You Can't Miss
Alright, so I know I threw some shade at top ten lists in the intro, but this article is longer than than the entire Lord of the Rings trilogy so I'm gonna to start with some highlights, AKA my top Barcelona experiences that every visitor needs to check out.
1. Drool over the Sagrada Familia
Cost: Basic tickets start at €17 for adults | Click here to buy a skip-the-line ticket in advance
There's no attraction more synonymous with Barcelona than the illustrious Sagrada Familia, a Gaudi creation that has been in the works for almost 140 years. And while it's still not finished, what currently stands is (in my opinion) a jaw-dropping sight, both inside and out.
It might be tempting to skip the interior due to cost and time, but DON'T! Even though it's unfinished, I consider it one of the most spectacular churches in the world, with colourful, geometric details that you need to see to believe.
NOTE: Make sure you buy a skip-the-line ticket because the line-ups here are truly ridiculous. You can get one online here that gives you instant confirmation and a scannable mobile ticket.
Or, book a guided tour with a skip-the-line ticket here.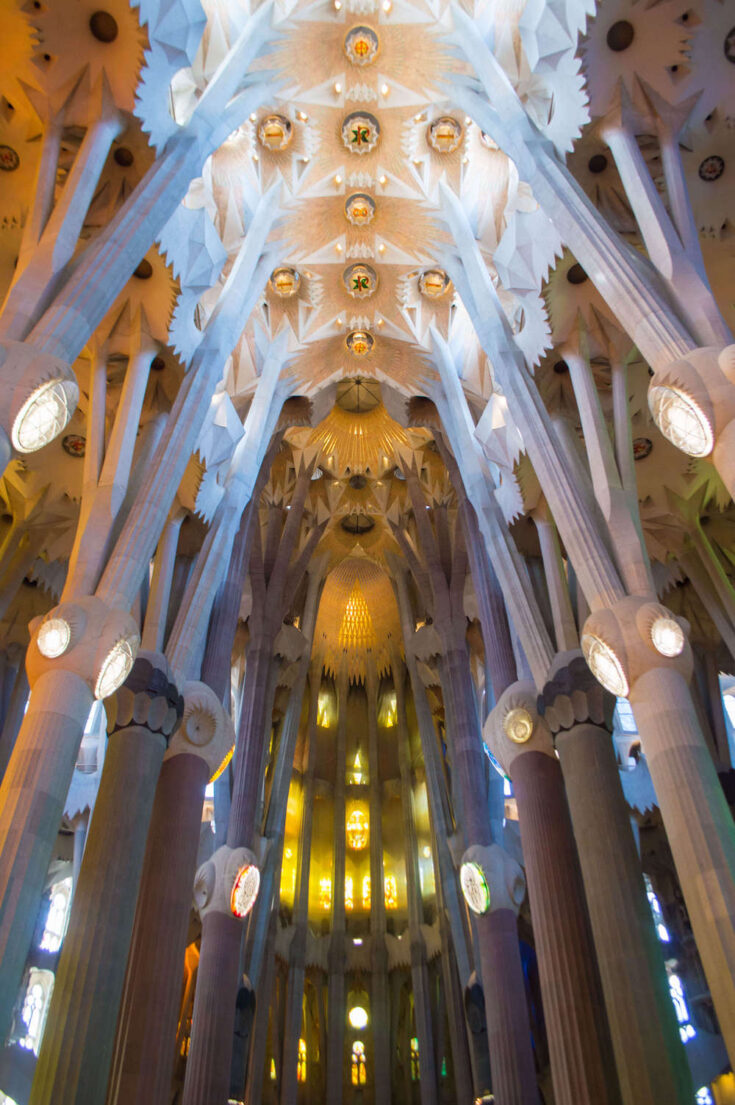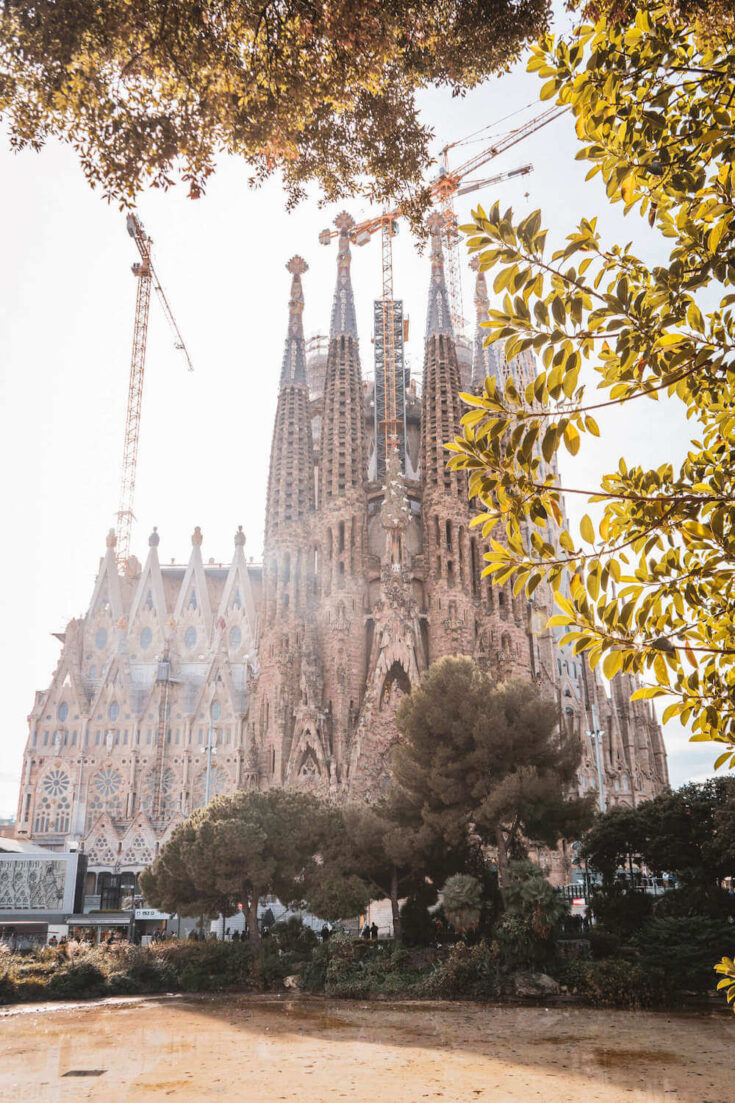 2. Drool even harder at the Palau de la Musica Catalana
Cost: Guided tours start at €20 for adults| Click here to book a guided tour in advance
This was one of my favourite finds during my recent Barcelona visit, and one of the most stunning concert halls I've ever seen.
Built in the iconic Catalan moderniste style of architecture, it's an opulent UNESCO-recognized masterpiece created by architect Lluís Domènech i Montaner. Best of all, they control the amount of people allowed to enter through tours and timed tickets, so it doesn't feel overly crowded.
NOTE: Because there are limited spaces per time slot, and limited time slots each day, you should make sure you book online beforehand if you want to see this gorgeous place. Click here to book a guided tour online in advance or click here to buy a self-guided ticket so you can explore in the morning before the tours begin.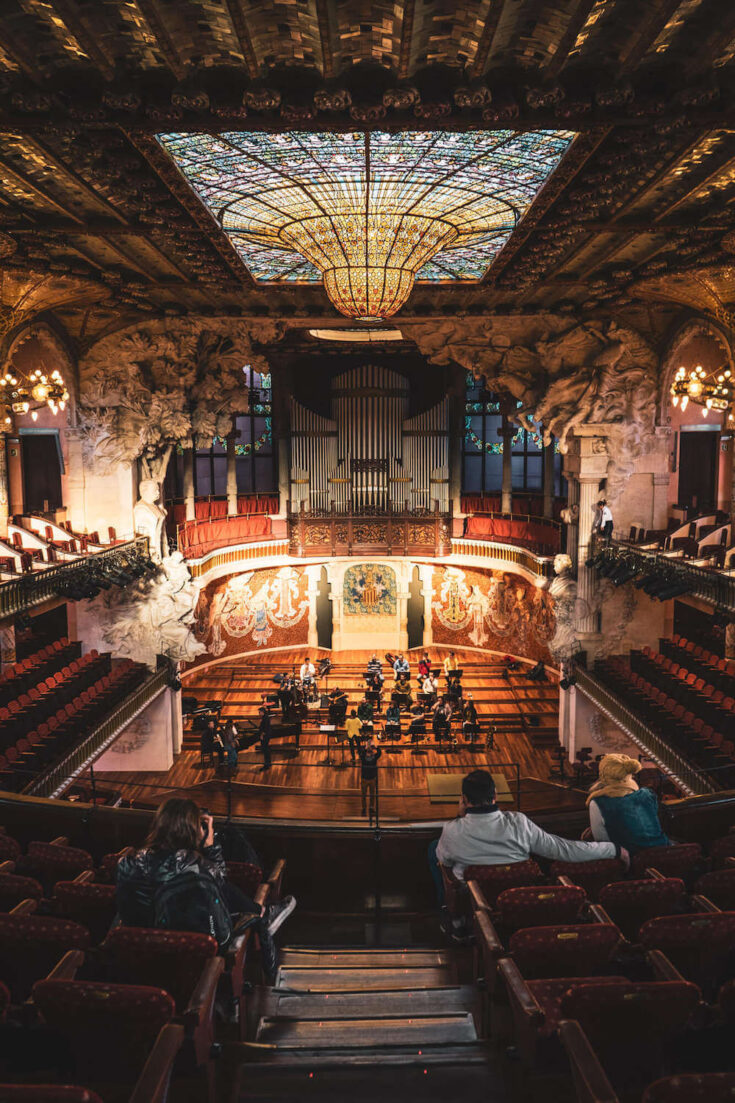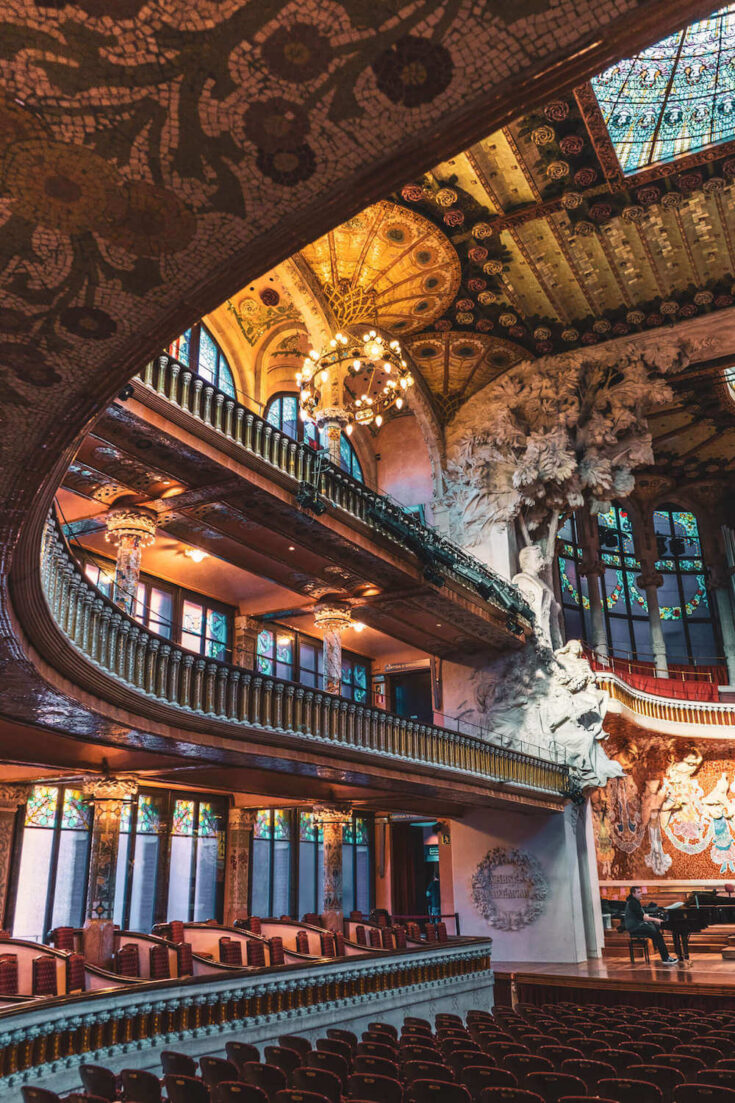 3. … Then drool the most on an indulgent food tour
Barcelona may be a delicious city, but it's also one laden with tourist traps around every corner.
That's why you should trust the experts and book yourself on a food tour!
This was one of the best things I did during my first visit to Barcelona because I got to learn all about local Catalan cuisine (it's really not about paella and sangria here!) while getting great recommendations for the rest of my trip. If you're looking for one of the best foodie things to do in Barcelona, taking a food tour is it!
I had a great time on my Devour Barcelona food tour and would highly recommend it. The following tours also have excellent reviews:
4. Swoon over sunset from the Bunkers del Carmel
Cost: FREE!
Click here for my full guide on how to find and visit these bunkers.
I know this is a grand sweeping statement, but I honestly believe that the Bunkers del Carmel offer one of the best views in any European city ever.
From this vantage point high above the city, you can get a 360 degree view over Barcelona, including iconic parts of the skyline like the Sagrada Familia and the beach. It was here that I witnessed one of the most incredible sunsets of my life, so bring yourself a bottle of wine (and maybe a Tinder date? jk!).
NOTE: It's hardly the hidden gem it once was, so get here early. I promise the view is worth it!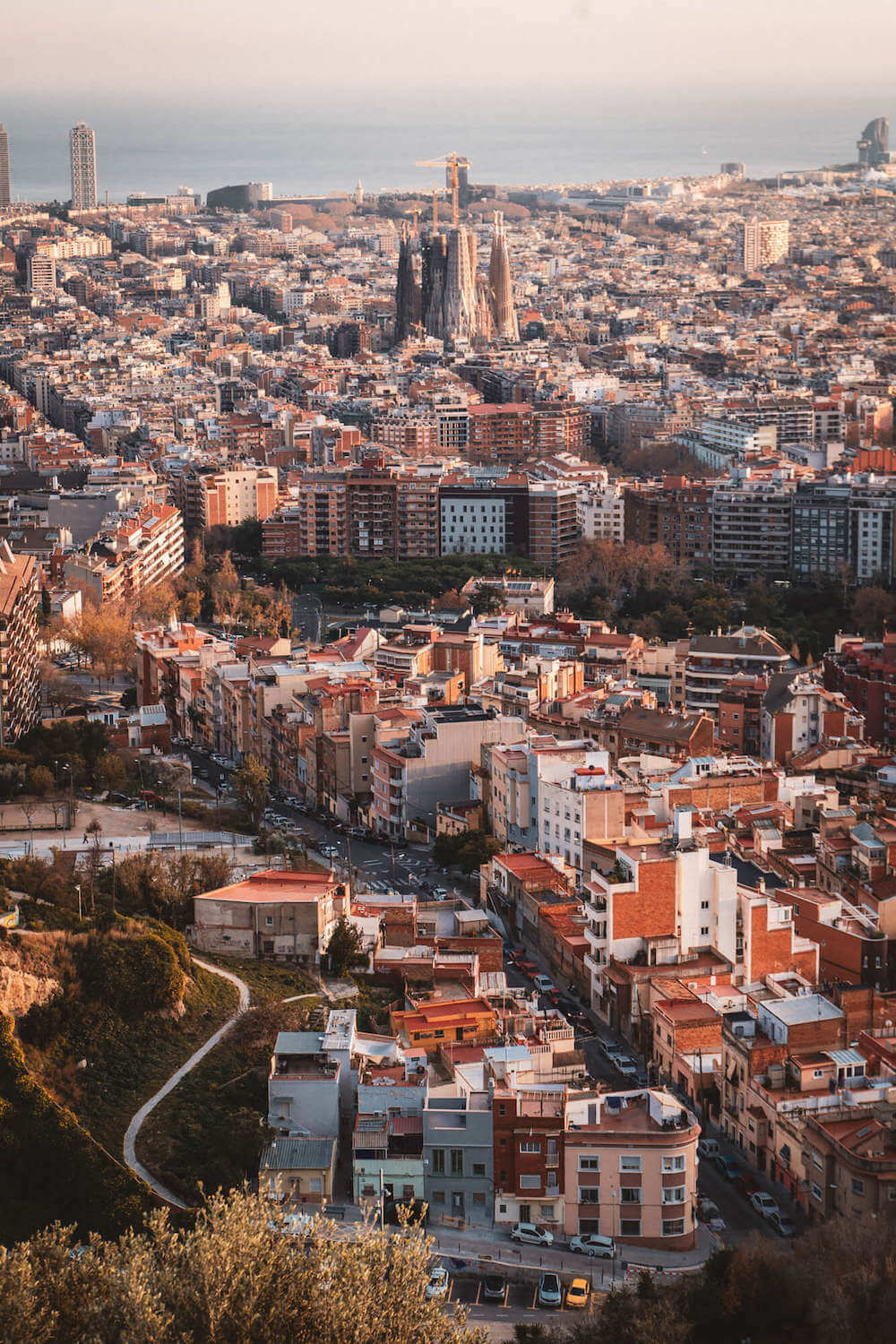 5. Dangle above Barcelona in the Montjuic cable car
Cost: Roundtrip for around €12 | Click here to buy your tickets in advance
For gliding up to Montjuic hill in style (and experiencing Barcelona from the POV of a boujee bird), I can definitely recommend hopping on the famous Montjuic cable car.
This 750m ride takes you on a journey suspended over 80m above Barcelona, and once at the top, you can do everything from visit a 17th century castle, soak up amazing views, visit a museum, or explore some botanical gardens.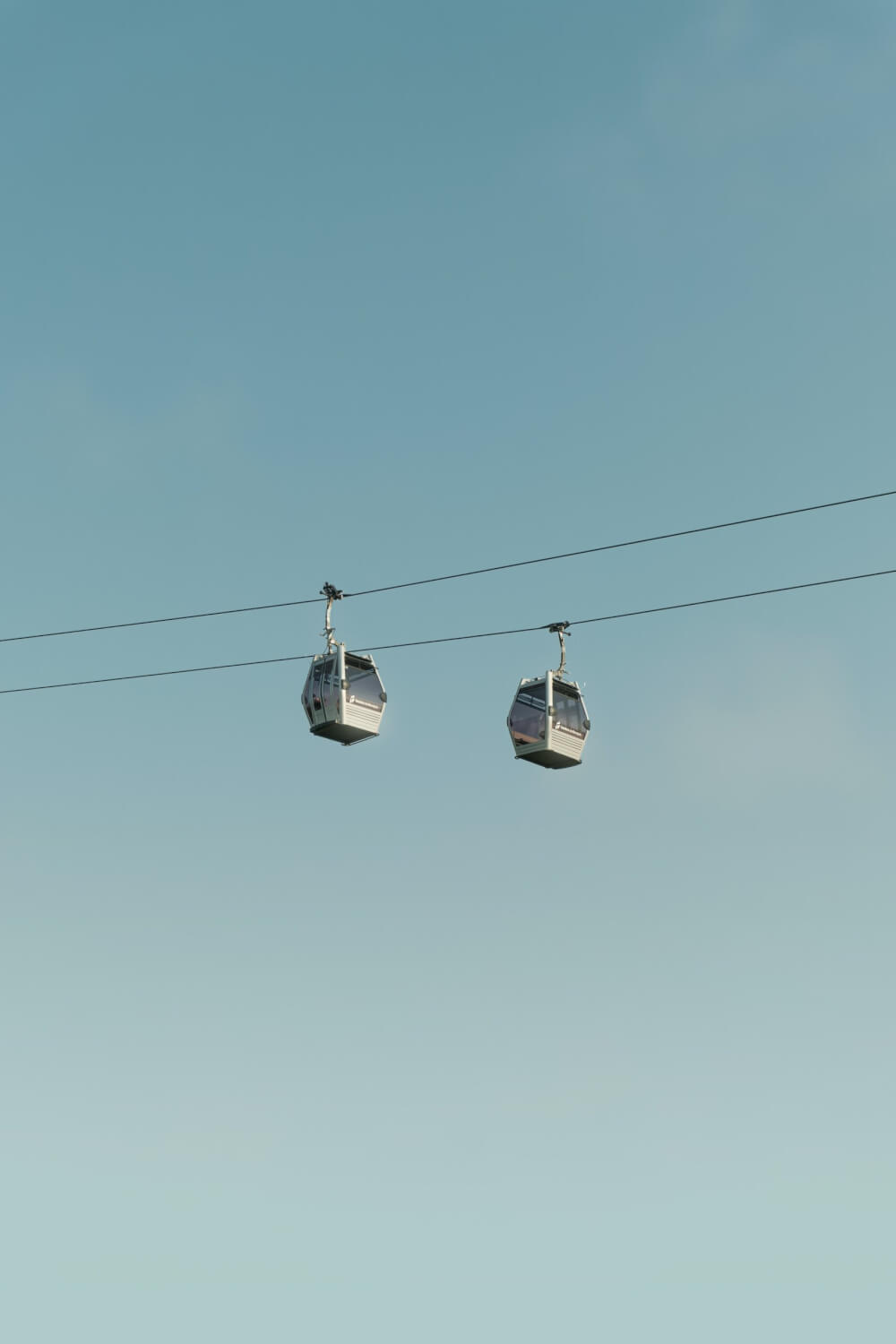 6. Explore dreamy Park Güell
Cost: Starting at €8.50 for adults | Click here to book a skip-the-line guided tour
If you're a fan of architecture, Park Güell is a non-negotiable thing to do in Barcelona. If you are not, come here and you will become one – I promise.
This whimsical park perched on Carmel Hill offers not just wonderful views over the city, but some of the most imaginative and colourful spaces in Barcelona. Walking into Park Güell is like stepping into the fanciful imagination of Gaudi himself, and it's well worth a visit when you're in town.
Because of how popular it gets though, I highly highly hiiiiiighly recommend you book your tickets in advance. You can click here to book a skip-the-line guided tour or you can also buy a regular admission ticket in advance here.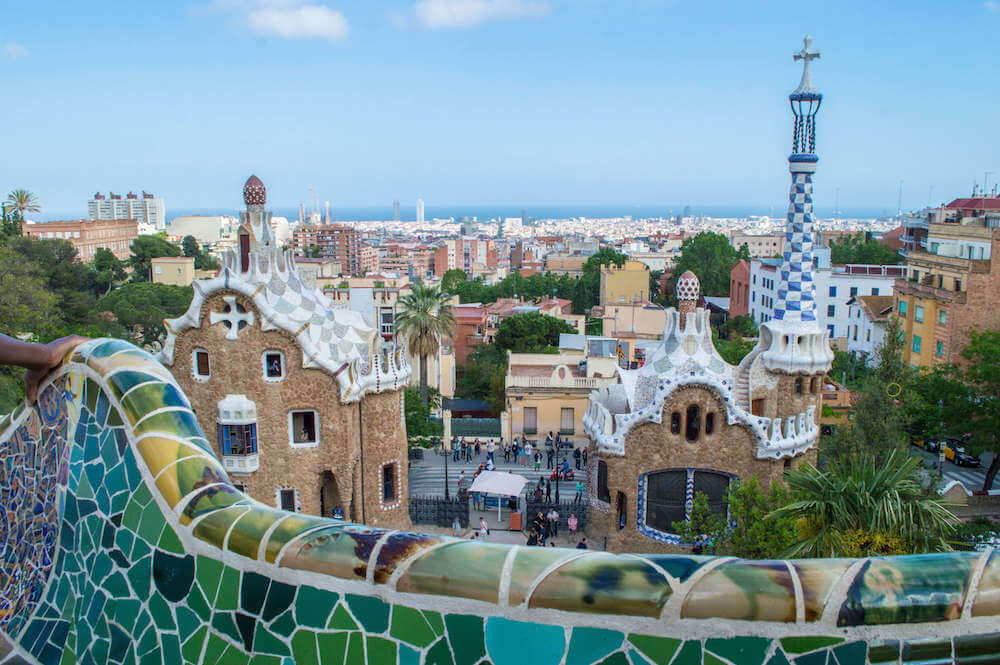 7. Absorb some culture at a world class museum
Barcelona is a city of incredible museums. In fact, there are almost 60 of them scattered throughout the city.
From impressive art museums like the Museu Nacional d'Art de Catalunya, Museu Picasso and the Fundació Joan Miró to choices that are a bit more offbeat like museums featuring funeral carriages, chocolate and marijuana, you definitely need to stop by at least one Barcelona museum to make the most of your visit.
PS: If you're especially interested in art, consider getting yourself an Articket, which is only €30 and gets you entry into six of Barcelona's top art museums for 3 months.
8. Relax in the Parc de la Ciutadella
After the non-stop sightseeing and dodging crowds, I think one of the best things to do in Barcelona in relaxing (with a treat in hand) in one of the city's many parks.
My favourite of these parks by far is the Parc de la Ciutadella, a tranquil green oasis in the city, with a stunning fountain (Cascada Monumental) and an ornate entrance way, Barcelona's own Arc de Triomf.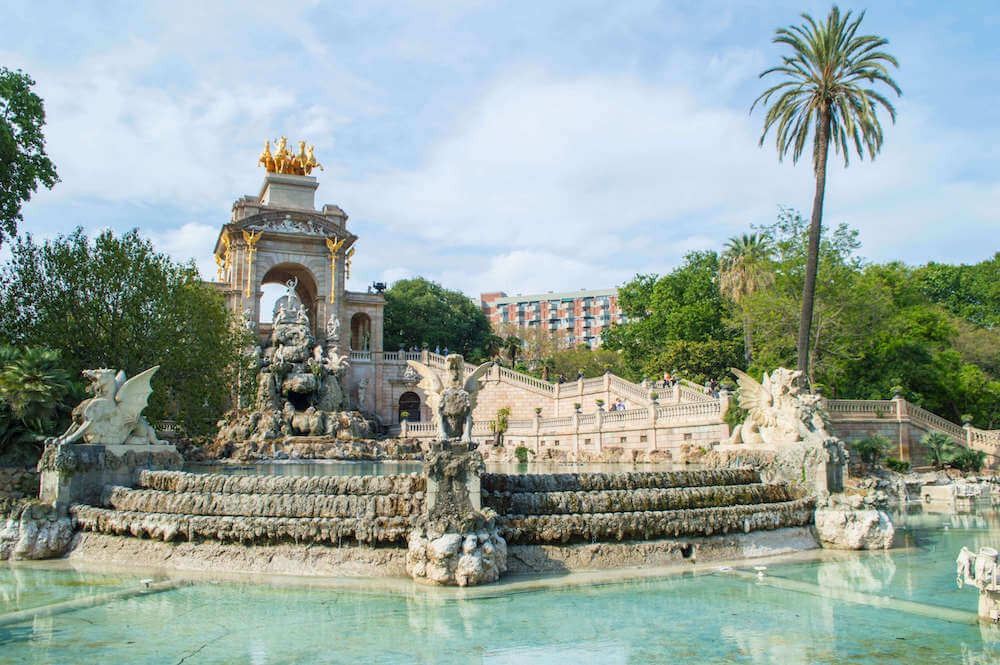 9. Nom your way through a fresh food market
Besides wolfing down endless plates of tapas and churros, one of the best experiences in Barcelona for foodies is exploring the bright flavours and colours of a fresh food market.
One of the most well-known in the world is La Boqueria, and while it's great, I find it so incredibly crowded and popular to the point that I don't enjoy it that much anymore.
I prefer stopping by the Santa Catarina Market instead – it's much less congested and the shopkeepers don't act persistently annoyed at you… which is a huge plus!
PS: If you want to have a really unforgettable experience, you can book some really unique market experiences like this one which combines a market tour with a cooking class.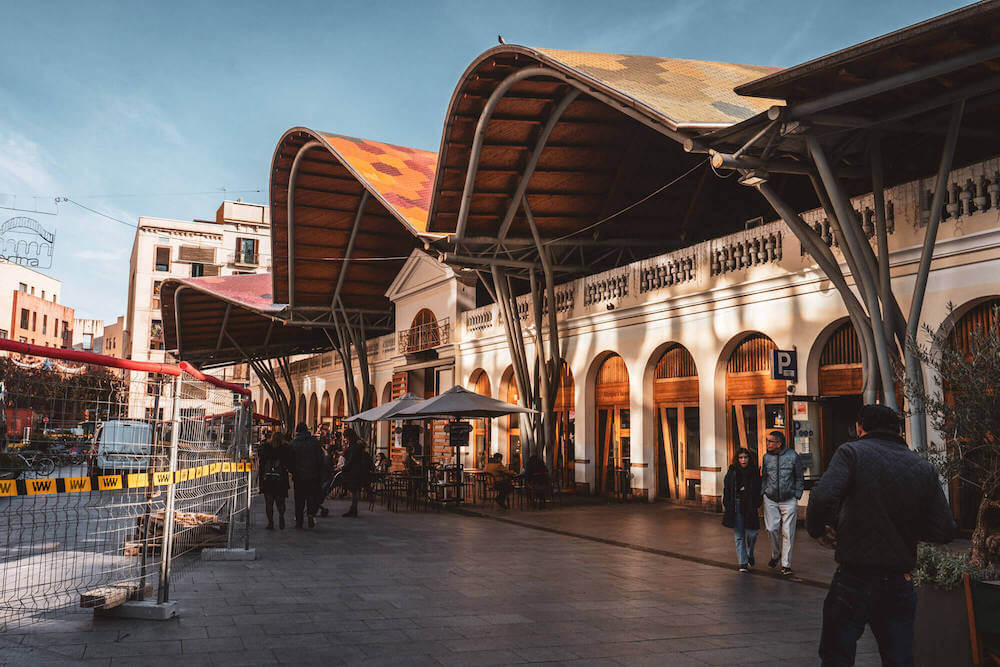 10. Explore a local Barcelona neighbourhood
Last but not least, one of the things you must do in Barcelona is, in my opinion, exploring outside of the main tourist circuit and bumbling about a neighbourhood of your choice.
The beauty of this activity is you get to escape the typical tourist trek for a bit and get to know the Barcelona that's not just a tourist mecca, but home to 1.6 million locals.
Here are a two great neighbourhoods I love to explore:
El Born (AKA La Ribera): Located close to the beach and overflowing with cafes and restaurants, walking around El Born is one of my favourite things to do in Barcelona. The Santa Maria Basilica and the El Born Cultural Centre are both cool spots to check out, but my #1 recommendation is getting a mascarpone croissant from Pastisseria Hofmann. Your life will be changed.
Gracia: Once an independent village that became part of Barcelona in the 19th century. Many say this is the most authentically Catalan piece of Barcelona out there, thanks to a huge population of native Catalans. These days, it also has a hipster rep, with independent boutiques and (organic) grocery stores in abundance. This is the district where you'll find Park Güell, Casa Vincens and plenty of gorgeous plazas. Coming in August? Don't miss the epic Festes de Gràcia which takes place for a week every year.
Overrated Things to do in Barcelona (That You Can Skip if Needed)
Alright, so… now that we've covered must-dos, let's move onto things to do in Barcelona that are… let's say overrated. In my opinion, if you focus solely on the following activities, you won't do Barcelona justice… BUT it's pretty inevitable you'll pass them at some point, so here we go.
11. Strutting down las Ramblas
Known as the main promenade in Barcelona, Las Ramblas is a 1.2km stretch that extends from Port Vell to Plaça de Catalunya. Along the way, you'll encounter well-known sights like La Boqueria, and a lot of street performers, tourist trap restaurants and… crowds.
Honestly, Las Ramblas is alright, but in my opinion, it's far from the best thing to do in Barcelona. It's crowded and riddled with a lot of opportunistic criminals like pickpockets and street scammers, plus the restaurants along here are notorious for being bad and especially at night, it becomes a seedier place teeming with prostitutes. Have I sold it well yet? 😛
That said, if you do find yourself on Las Ramblas, there are some cool sights along the way that many miss. Be sure to keep an eye open for some noteworthy buildings, including…
Casa Bruno Cuadros (AKA the Umbrella House) | La Rambla 82
A cool and eclectic building with colourful umbrellas adorning the facade and a dragon too!
Antigua Casa Figuera | La Rambla 83
A beautifully decorated patisserie complete with wrought iron, mosaics, stained glass and all sorts of Moderniste goodness.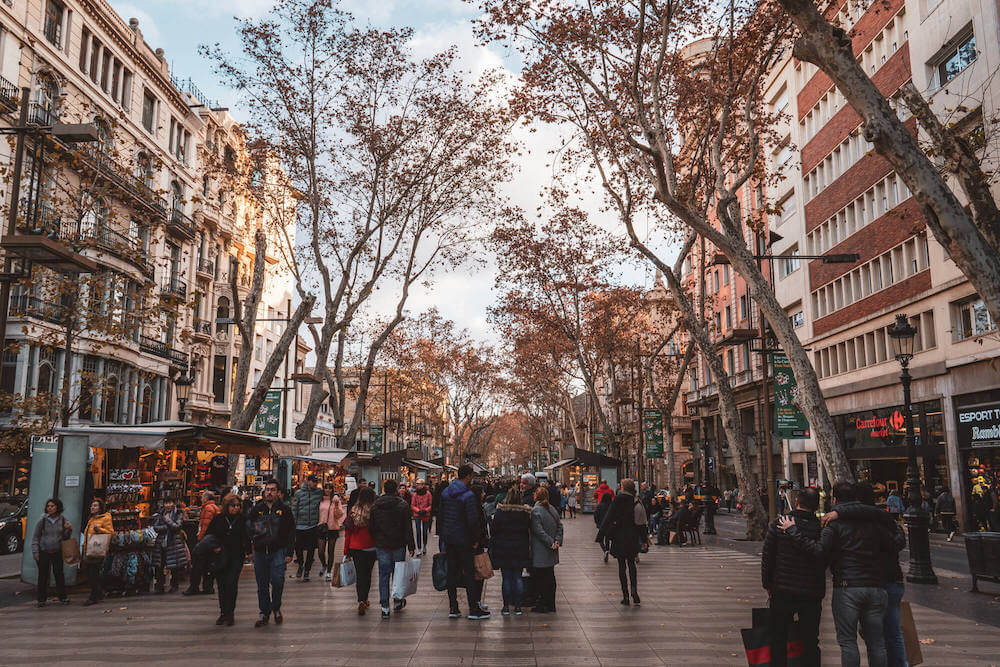 12. Hanging out in Plaça de Catalunya
This is Barcelona's main square and is often touted as a Barcelona must-see.
In my opinion, it's alright, and odds are you'll pass through it thanks to its central location, but it's definitely not my favourite place.
While it is a huge central square (and some might consider it the heart of the city), these days it's just a very busy place over-run with traffic, pigeons, street vendors selling knock-off designer goods, and of course, pickpockets.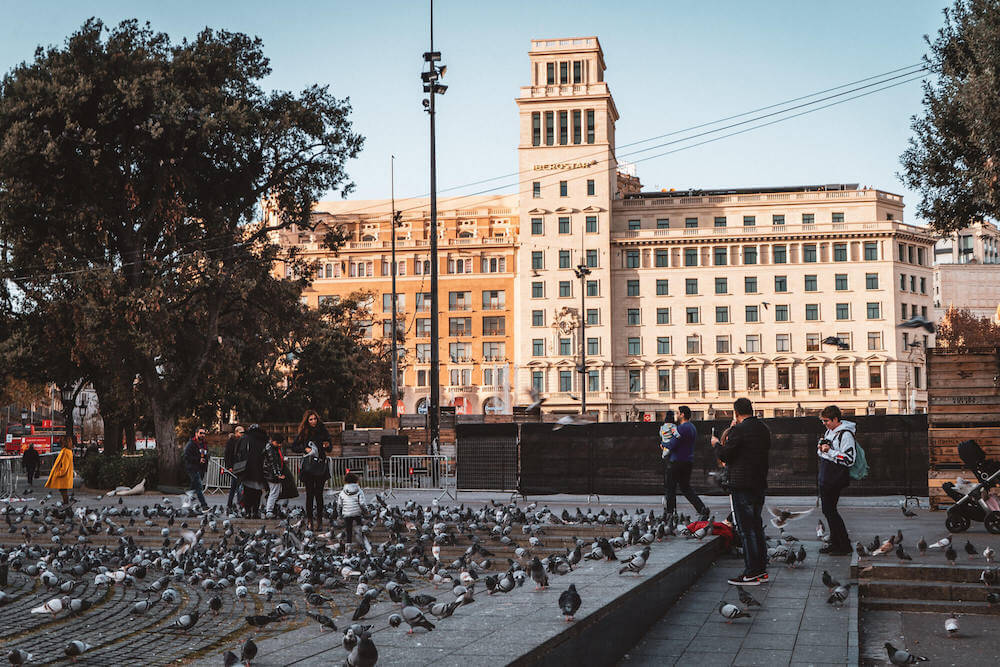 13. Tanning like a turkey at Barceloneta Beach
For a lot of eager vacationers, time in Barcelona is synonymous with tanning time. While Barcelona does have a lot of great beaches to offer, the most popular one among tourists is Barceloneta Beach.
As most locals will tell you however, it's far from the best.
Thanks to its popularity with tourists, Barceloneta is now teeming with litter, people and guys selling watered down mojitos and beach towels. I wouldn't plan to spend a day here tanning and swimming, but I must admit it is nice for sunset.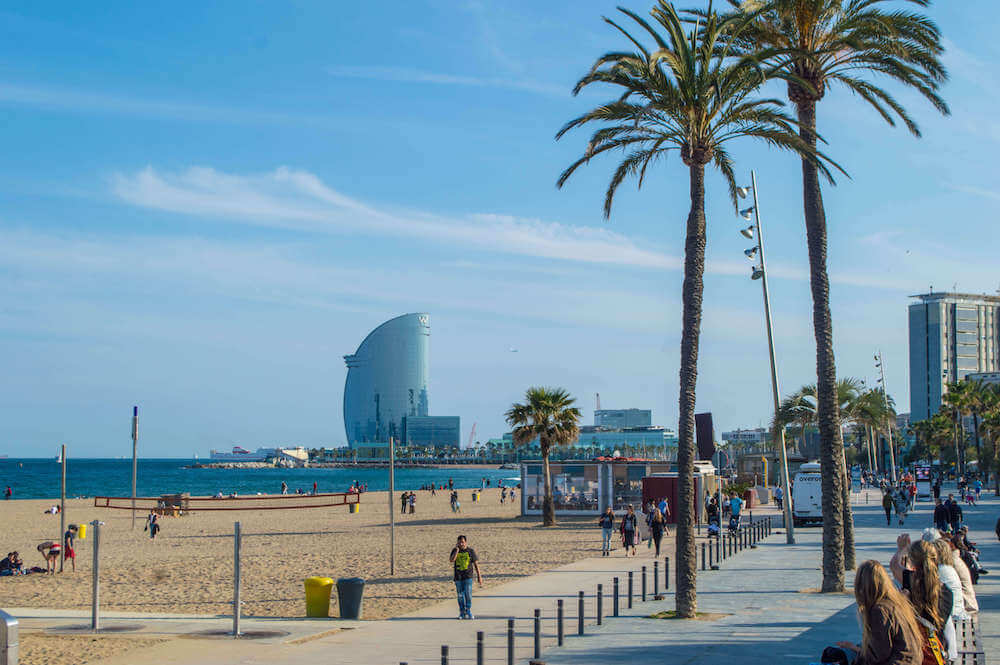 Free Things to do in Barcelona
Alright, since you're probably trying to save your money for treats, let me help you out with some awesome Barcelona activities that won't break the bank. Here's what to do in Barcelona for free!
14. Enjoy an epic viewpoint
One Barcelona experience you can't miss out on is finding a stunning view over the city… best of all when it's free 😉 I've already mentioned my favourite free viewpoint in Barcelona, the Bunkers del Carmel, but here are a few others for you to check out:
Las Arenas de Barcelona: A bullring-turned-shopping mall that is now home to a free 360 degree viewing platform overlooking Plaça d'Espanya. Access is totally free via escalator, but it's 1 euro extra to take the elevator up.
El Corte Inglés: One of the most popular shopping centers in Barcelona, with an epic view over Plaça de Catalunya from its top floor. You could probably come in just for a peek, but why not grab a cheap coffee and enjoy the view?
Tibidabo: The highest viewpoint in Barcelona, which means amazing views. Getting there is a bit of a trek, but once you do, it's free!
15. Soak in the sun
If it's some beach time you're after, Barcelona has a lot more beaches to offer than just Barceloneta. Click here for a great guide to the different beaches around the city.
16. Visit the Barcelona Cathedral
While drastically different from Barcelona's most famous church, La Sagrada Familia, Barcelona Cathedral (found in the Gothic Quarter) is a beautiful church to visit and a definite must-do in Barcelona. While tourists can book visits for 7 euros apiece, the church is open for worship and prayer during set times each day. If you are quiet and respectful during these times, you are free to visit even as a tourist, just don't be obnoxiously taking photos all over the place. The following are the free times for Barcelona Cathedral:
Weekdays: 8:30 am to 12:30 pm and 5:45 pm to 7:30 pm
Saturdays: 8:30 am to 12:30 pm and 5:15 pm to 8:00 pm
Sundays and holidays: 8:00 am to 1:45 pm and 5:15 pm to 8:00 pm
PS: For three euros, you can take an elevator up to the viewpoint on the roof of the cathedral which is gorgeous. I highly recommend it!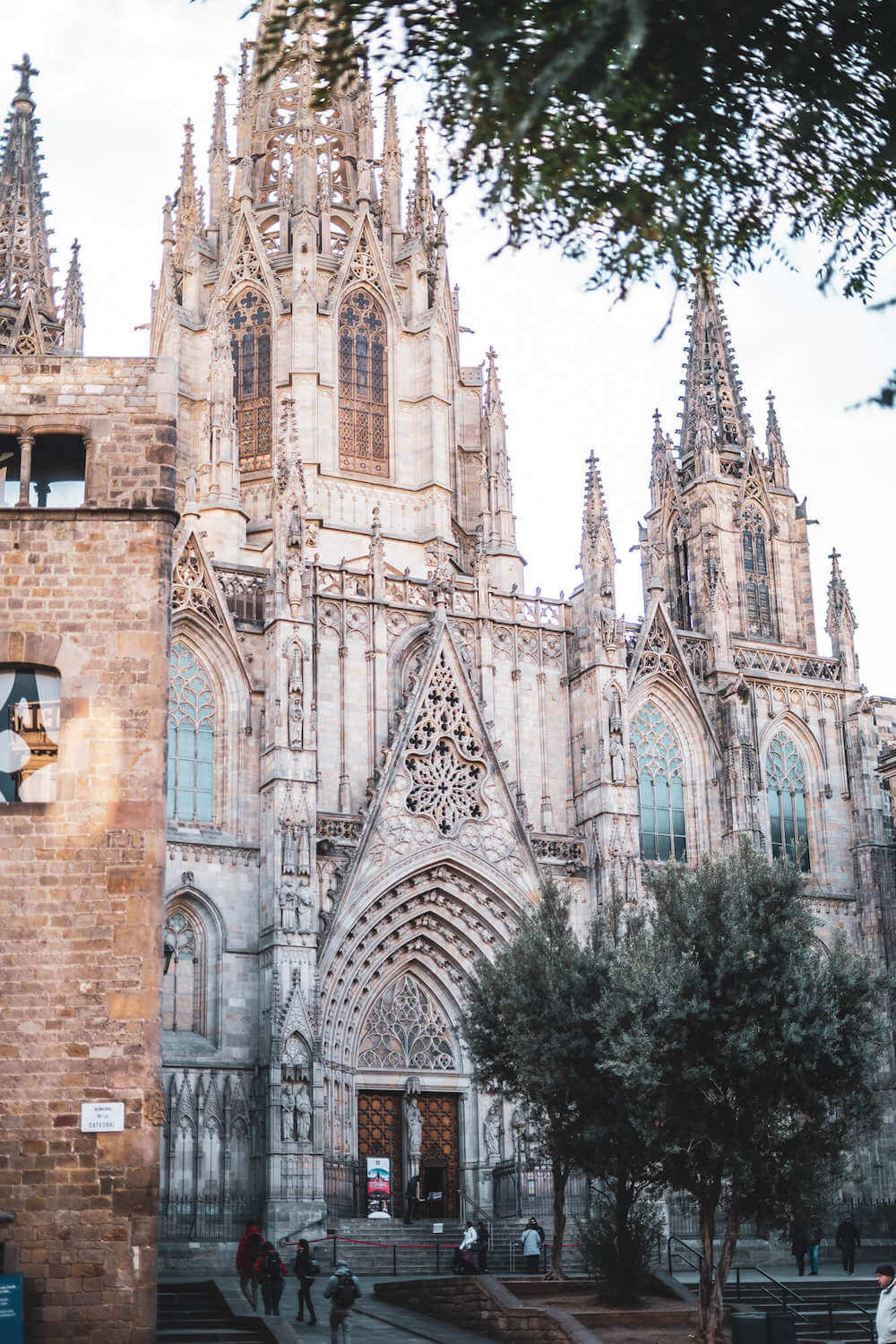 17. Visit El Born Cultural Center
I randomly stumbled upon this spot while hoarding my favourite croissants at Pastisseria Hofmann on my last visit, and it was a really cool discovery!
Once upon a time, this massive wrought iron market was Barcelona's main food market and when it was abandoned and fell into disrepair, eventually plans were made to convert it into a library.
During construction however, they uncovered 18th century ruins of buildings, and so they decided to scrap the library plans and open up the market as a cultural center.
Today, you can come here to stalk the various archaeological finds and learn about pieces of Barcelona's history like the war of the Spanish succession and the siege of Barcelona.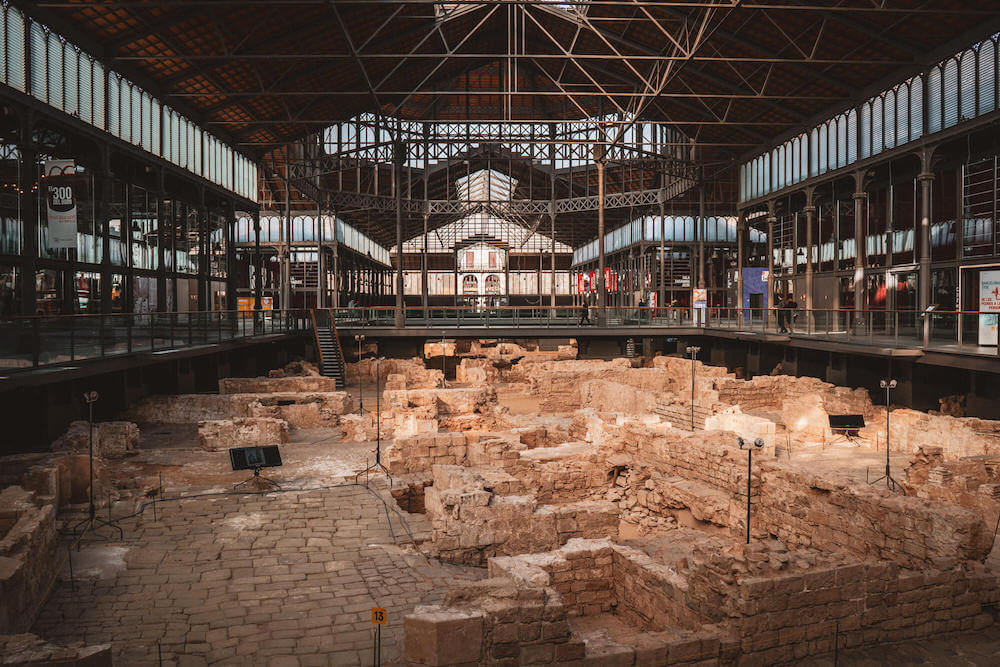 18. Marvel at the Magic Montjuic Fountains
Of all the things to see and do in Barcelona, this might be among the most magical.
Constructed during the 1929 Barcelona International Exposition, these fountains are now one of the most well-known attractions in Barcelona, found just below the Palau Nacional.
A light, music and water show is performed every 30 minutes to the delight of millions each year.
Click here for more information on showtimes.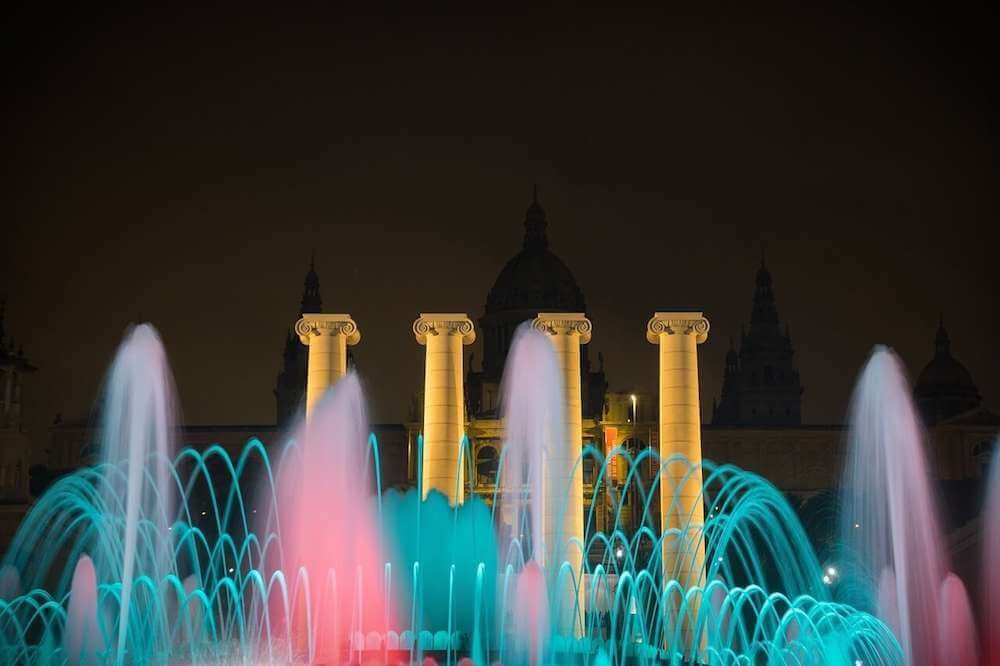 19. Admiring Gaudi's best facades
Without a doubt, one of the best things to do in Barcelona is stalk all of Gaudi's best works. The name Antoni Gaudí is one that's synonymous with Barcelona itself, and while visiting the interior of every single building would not only be costly, but time-consuming, one of the best free things to do in Barcelona is admire their incredible beauty from the outside.
If you are planning on staying in the city center, make sure you stop by…
The Sagrada Familia: Carrer de Mallorca, 401
La Pedrera (Casa Milá): Provença, 261-265
Casa Batlló: Passeig de Gràcia, 43
Casa Vincens: Carrer de les Carolines, 20
The Cascada Fountain at Parc de la Ciutadella: Parc de la Ciutadella, Passeig de Picasso, 21
If you prefer a guide, you can book a Gaudi & modernisme tour here.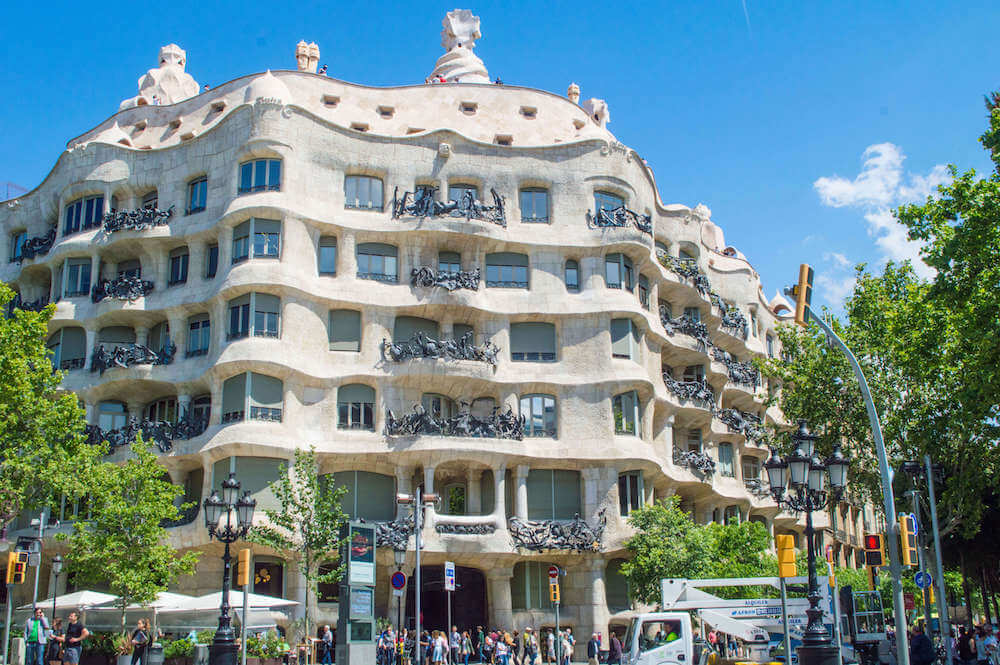 20. Visit a top Barcelona museum for free
With so many activities to do in Barcelona, of course the costs begin to add up… While you can definitely take advantage of different museum passes to save up, nothing beats free!
Luckily, many of Barcelona's museums have free days that you can take advantage of, especially on Sunday afternoons and all day on the first Sunday of every month. Click here for a list of Barcelona museum free days.
Foodie Things to do in Barcelona
What is there to do in Barcelona for foodies? Besides ingesting too many calories and wallowing in delicious regret, there are plenty of options to choose from. Here are some must-dos in Barcelona if you love food as much as I do.
21. Stuff your face with some fideuà
Fideuà is like a paella with noodles instead of rice, and trust me, it's life-changing. Typically served with a healthy dollop of garlic aioli, fideuà is a delicious dish commonly consumed in Catalonia, and a must-try when you're in the city.
This post from Devour Barcelona sums up where to find the best fideuà in town!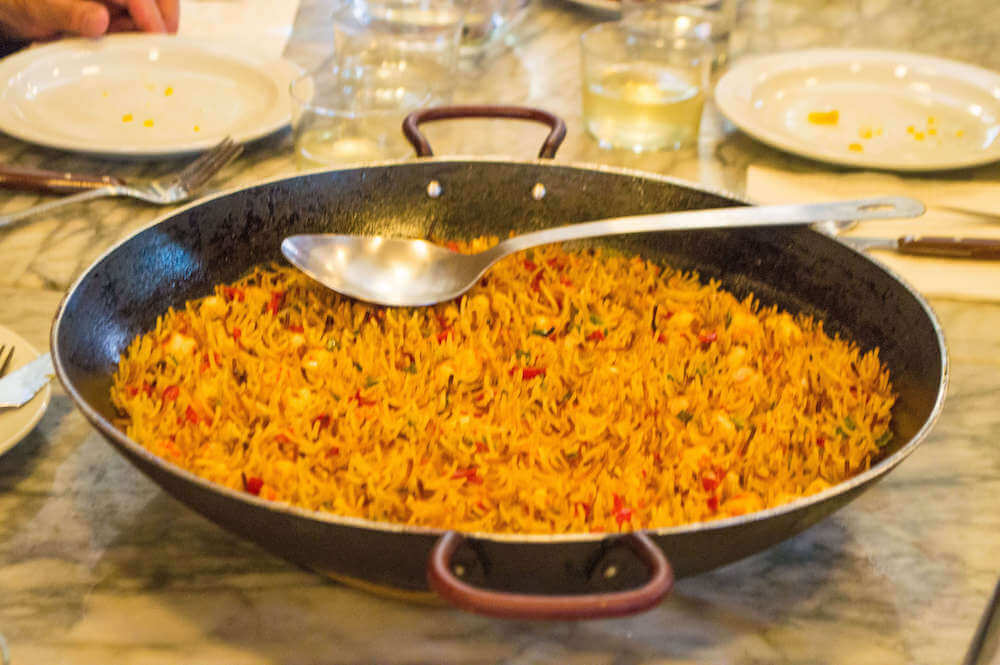 22. Have a mindblowingly amazing croissant
Address: Carrer dels Flassaders, 44
The mascarpone croissant from Pastisseria Hofmann is still, to date, one of the most incredible pastries I've ever eaten in my life.
Imagine a perfectly buttery and flaky croissant stuffed with the richest, sweetest mascarpone filling. It's like if tiramisu and croissants had a beautiful baby.
Please do yourself a favour and get one for yourself! You can find it in the El Born district.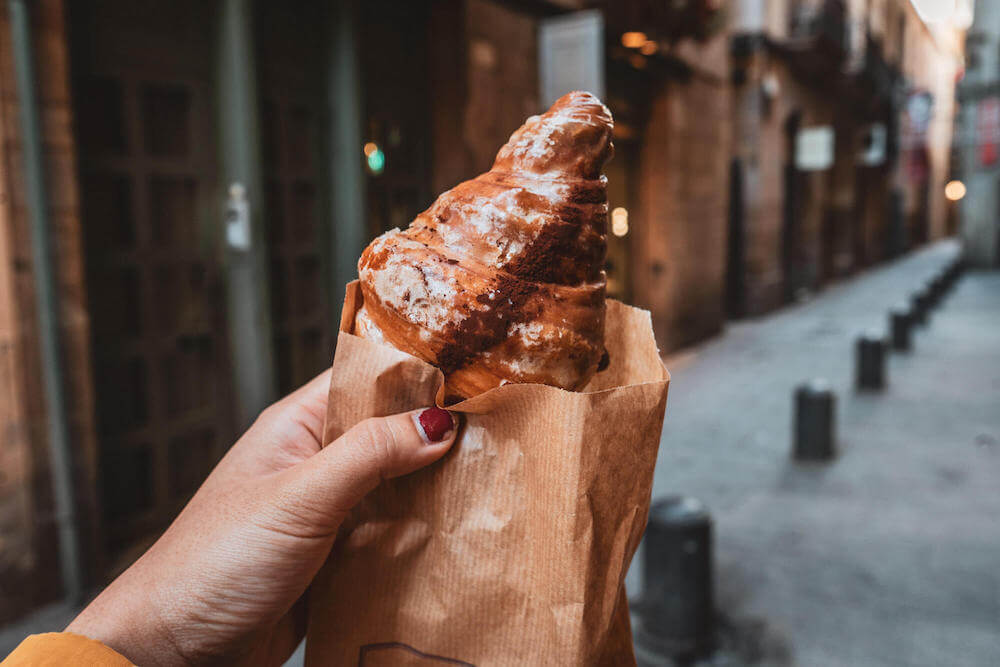 23. Munch away at a calçotada (or just have some calçots)
Calçots are a special type of Catalan green onion and a beloved food during the winter time, especially when there are calçotadas, annual celebrations typically held between November and April where they char calçots with grills and consume them as part of a big feast with romesco sauce, bread, meat and plenty of wine flowing.
If you happen to be in town during this special season, be sure to partake!
24. Sip on some bubbly cava
Another must do in Barcelona? Drinking your weight in sweet, sweet cava.
Cava is a sparkling Catalan wine that goes well with… well, anything, so make sure to grab yourself a few glasses while you're in town. Or a barrel. I don't judge.
25. Indulge in traditional Catalan cuisine
Speaking of trying traditional goodies, one of the top things you can do in Barcelona is indulge in a tasting involving the best of Barcelona cuisine.
While most restaurants will try to sell you on tapas, paella and sangria, Catalonia has way more traditional dishes to offer, many of which are ones you've probably never heard of.
Click here for an excellent roundup of typical Catalan dishes you need to try.
26. Pop some bombas
The bomba is hands down one of my favourite snacks, and a must-try when in Barcelona, especially because it was invented here in the Barceloneta neighbourhood.
Think of a bomba as a fried potato croquette thats stuffed with a tasty meat filling, then topped with sauce. Your arteries will cry, but your taste buds will thank you.
27. Check out some chocolate sculptures
Cost: €6 for adults | Click here to book your tickets in advance
Barcelona and chocolate have a close knit relationship. After all, you can pretty much trace the origins of Europe's choco-obsession back to this city, which is where Christopher Columbus first returned with all his loot from the Americas, sweet cocoa beans included.
It's no surprise then that Barcelona has an entire museum dedicated to chocolate, the Museu de la Xocolata, a small museum showcasing the history of chocolate, with an impressive display of chocolate sculpture versions of famous Barcelona landmarks.
28. Do a tapas tour
Tapas are a word synonymous with Spain, and Barcelona is a place that definitely offers its share of amazing places to sample them. Basically, tapas are small plates of food designed to be shared.
The sheer variety of different tapas and places to try them is way too huge for me to list, but if you want a fun and stress-free experience, why not enjoy your tapas on a tour with a professional guide?
This one includes 4 tapas, 4 glasses of wine and has rave reviews.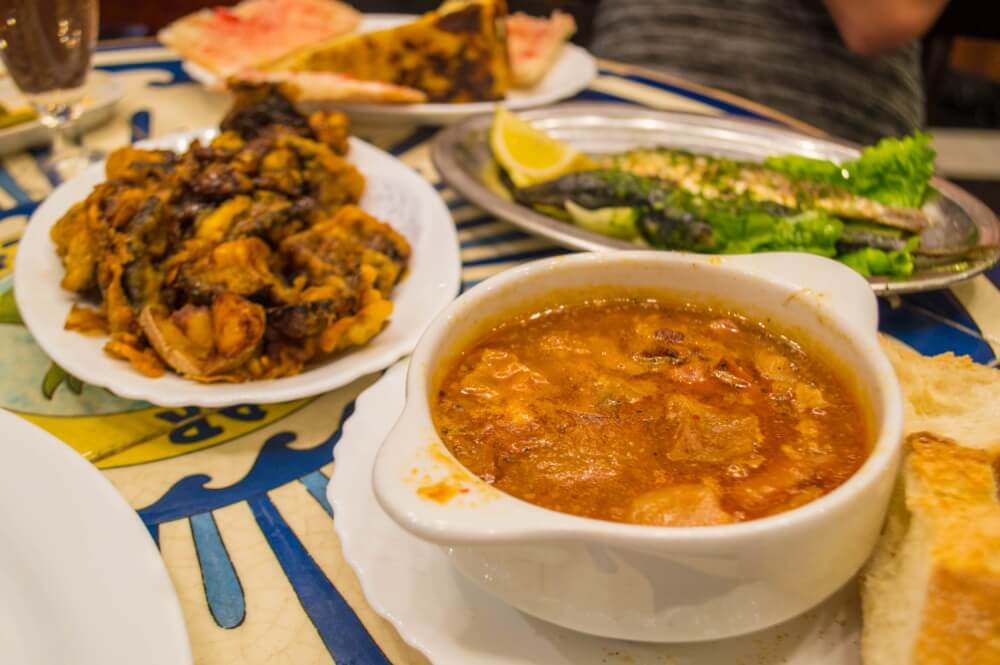 29. Dip your toes into the Barcelona international food scene
Barcelona has a delicious food scene beyond just local traditional dishes, so for a foodie-oriented Barcelona experience, I suggest you dip your toes into the amazing international eats that the city has to offer.
I for instance had amazing poke at Hula Poke and a ridiculously delicious pizza from Parking Pizza (housed in a former parking garage! Am I cool yet?)
30. Grab a bite at Mercat Princesa
Address: Carrer dels Flassaders, 21
Tucked away on a quiet street in El Born is Mercat Princesa, a relatively well-kept secret in the Barcelona foodie scene… for now.
Built into a 14th century palace, this market is often described as a gourmet food court where hungry customers can take their pick from international stalls flaunting global cuisine, from traditional Spanish to Japanese, Chinese and Thai. NOTE: They're closed on Mondays and Tuesdays.
31. Enjoy coffee with a breathtaking city view
To me, there's no better way to charge up for a day of sightseeing than a scenic coffee.
Luckily, Barcelona offers a wonderful little secret where you can do just this: on the top floor of El Corte Inglés, one of the most popular shopping centers in the city, you'll find a nice cafe with an incredible view over Placa de Catalunya.
Here, you can sip on a super affordable coffee while watching the world go by. What could be better?
32. Dine at a secret restaurant
If you want to indulge your inner ninja, why not try out one of Barcelona's many "secret restaurants", eateries guarded solely for those in the know?
From chic urban restaurants hidden behind souvenir shops to homecooked meals in a residential apartment, you can click here for a detailed roundup of secret restaurants in Barcelona.
Fun Things to do in Barcelona
Barcelona is a city designed for fun, so you'll have no trouble finding some exciting activities to fill your time in town. With that in mind, here are some really fun things to do in Barcelona for you to try out:
33. Book a unique guided tour
With so many things to see and do in Barcelona, it's easy to be overwhelmed. My solution to this first world problem?
I usually like to take the guesswork out of my first few days by booking a guided tour. This helps me get acquainted with the city, and provides me with a local brain to pick while I scheme out the rest of my trip.
So, if you're looking to book a guided tour with a twist, consider some of these options:
Gaudi and modernisme themed tour: This is a must if you're in Barcelona to stalk the incredible architecture. This walk bings you to many of the most famous modernist buildings in the city, and provides some cool facts and insights into each. Click here for tickets.
Bike tour: Not interested in a walking tour? Why not try a cycling tour instead? This one brings you to some of the city's highlights, and even throws in a free drink at a beach cafe for good measure. Click here for tickets
Segway tour: Last but not least, if you want to whizz by all the other tourists smugly, a segway tour ft. the best of Barcelona might be for you. Click here for tickets
34. Take a tour of the Camp Nou Stadium
Cost: €31 if you buy online | Click here to get your tickets online for cheaper
In Barcelona, football (or soccer for my fellow North Americans) is practically a religion, so I bet it's no surprise that Barcelona is home to the largest stadium in both Spain and Europe, with a capacity of almost 100,000.
Since 1957, Camp Nou has been the home stadium of FC Barcelona, hosting countless historic games over the years. If you're a fan of football, you can't miss a visit to this epic stadium.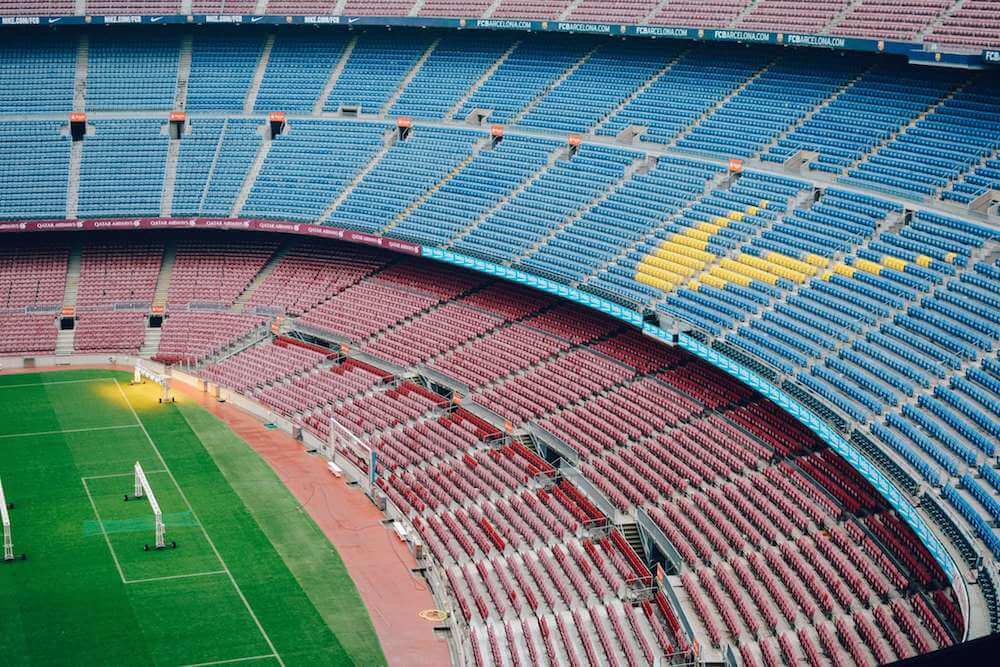 35. Go for a spin at Tibidabo
Cost: €28.50 for adults | Click here to get your tickets in advance
Speaking of fun things to do in Barcelona, how about an amusement park? It's like, literally designed for fun.
More specifically, how about one of the oldest still operational amusement parks in the world? (It's less dangerous than it sounds!)
If all that sounds like your idea of fun, then check out the amusement park on Tibidabo, which originally opened in 1905 and still has many of its original rides in tact. If you're looking for sightseeing with a side of thrills, this is a Barcelona must-do.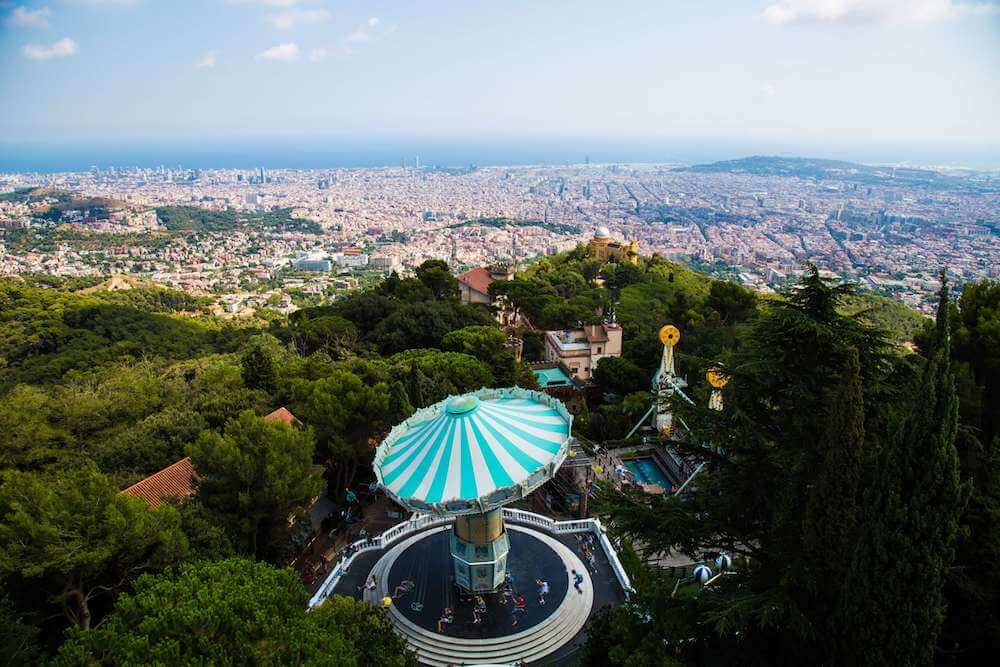 36. Explore a dreamy labryinth at Parc del Laberint d'Horta
Cost: General admission: € 2.23 , free on Wednesdays and Sundays
Address: Passeig dels Castanyers, 1
Alright, so not only is the Parc del Laberint d'Horta one of the prettiest parks in Barcelona, it's also the oldest!
The starring attraction of this perfectly manicured park is of course, its sculpted labrinyth. If you're after a fairytale escape from the crowds, then this off-the-beaten-path park is well worth a trip.
Riding solo? Don't worry, there's plenty of attractive Greek statues to keep you company.
37. Explore Barcelona with a Vespa
Because sometimes, you just wanna 'Lizzie McGuire' your way across Europe.
If renting a vespa sounds like your idea of fun, there are a lot of possibilities! You can combine your day with food for a Vespa Tapas Tour or if you want to go self-guided, you can also book a 24 hour Vespa rental with GPS for relatively cheap here.
38. Go on a bike tour
Seeing the best of Barcelona by bike?
While I'm a human potato who crashes anything she rides, I can still see the appeal.
If you want a quick and unique way to see many of Barcelona's top sights in one go, you can do a 3.5 hour tour like this one that takes you to all the main sights of the city.
39. Take a cooking class
Looking for a fun souvenir to bring home to your friends besides blurry Instagram selfies?
Why not take a cooking class so you can bring home some delicious Catalan specialties? This might make your overly detailed stories more bearable. You can even book a cooking class with a grandma here!
Learning how to cook? Yup, definitely one of the best things to do in Barcelona.
40. Party away at a street festival
If you're looking for a fun and local Barcelona experience, check to see if your visit coincides with any of the city's countless festivals.
Known as festes majors, these are huge parties that bring entire neighbourhoods together through concerts, partying, craft fairs, food and more.
If your goal is to get some authentic Catalan culture in you, this is the best way to do it.
Different neighbourhoods host their festas majores throughout the year, with most taking place in the summer. Click here for a detailed list and roundup.
41. Watch people build human towers
There is no doubt a lot of wild stuff to do in Barcelona, but these human towers are (literally) next-level.
Building human towers has been a Catalan tradition for centuries. Known as castellers, these superhumans pop up around town usually during large festivals and parties, with the most dazzling and impressive party trick of all time: making a tall tower entirely out of humans.
In Barcelona, these spectacles are put on by the Coordinadora de Colles Castelleres de Catalunya, which was established in 1989. You can learn more about their public appearances and future performance dates on their official website and schedule.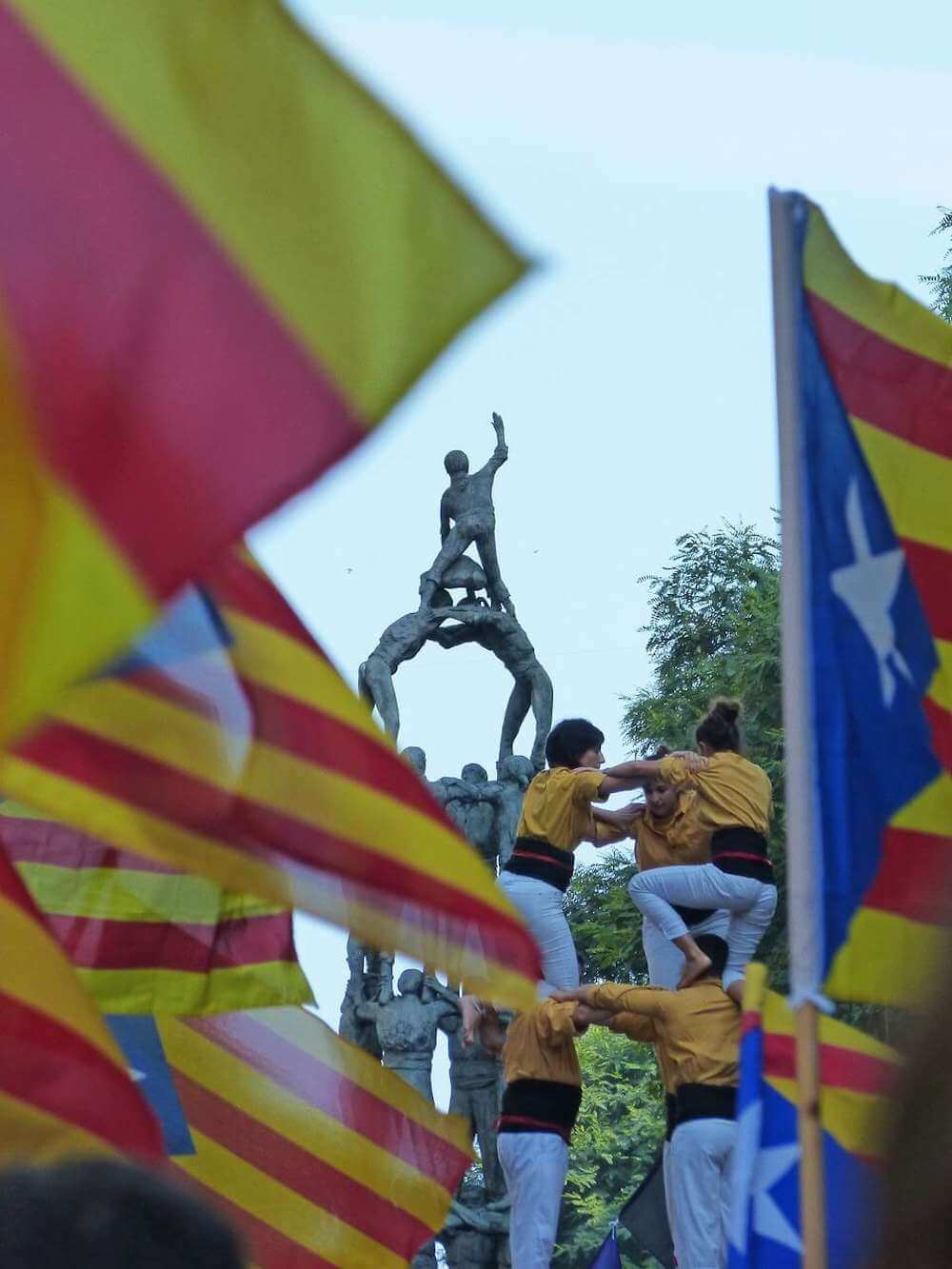 42. Book a sailing tour
If you want to experience Barcelona from the water, I'm happy to inform you that yes, it's easy to book a sailing trip when you're in town!
May I suggest something adequately baller, such as this 5* rated tour which takes you sailing and feeds you frozen vermouth at the same time? 😉
43. Go on a photography tour
Barcelona is hands down one of the most photogenic cities in the world, so if you're at all interested in photography (or perhaps just securing a very, very likeable new profile pic), consider booking a photography tour while you're in town.
For instance, you can book a photowalk with a professional who takes your photos. This on has over 100 5 star reviews!
Orrrr you can embrace your inner hipster and take on this bike and vintage polaroid tour.
44. Go for a swim with mindblowing views
Address: Av. de l'Estadi 30
Perched high above the city in Montjuic, you'll find the Piscines Bernat Picornell, a gorgeous pool which was used throughout the 1992 Summer Olympics.
Today, it's a public pool open for non-Olympians like you or me. While it's a little pricey, the views and facilities are said to be more than worth it… just don't forget to bring your own padlock!
Offbeat Things to do in Barcelona
While in a city like Barcelona, there's no such thing as something truly offbeat, here are a few places off the typical tourist trek that I highly recommend you check out.
45. Visit the most beautiful hospital in the world
Cost: €14 | Click here to buy your ticket in advance
The Hospital de la Santa Creu i Sant Pau is honestly one of my favourite attractions in Barcelona, and the best part? It's located a short walk from the Sagrada Familia, with considerably fewer crowds.
This UNESCO Heritage sight was designed by Lluís Domènech i Montaner (who you might remember also designed the stunning Palau de la Musica Catalana).
And hey, if touring a hospital sounds a little morbid to you, know that while it was a fully functioning hospital up until 2009, it is now a museum and cultural center… and a stunning one at that.
Be sure to grab a map so you don't miss any of the spaces in this complex!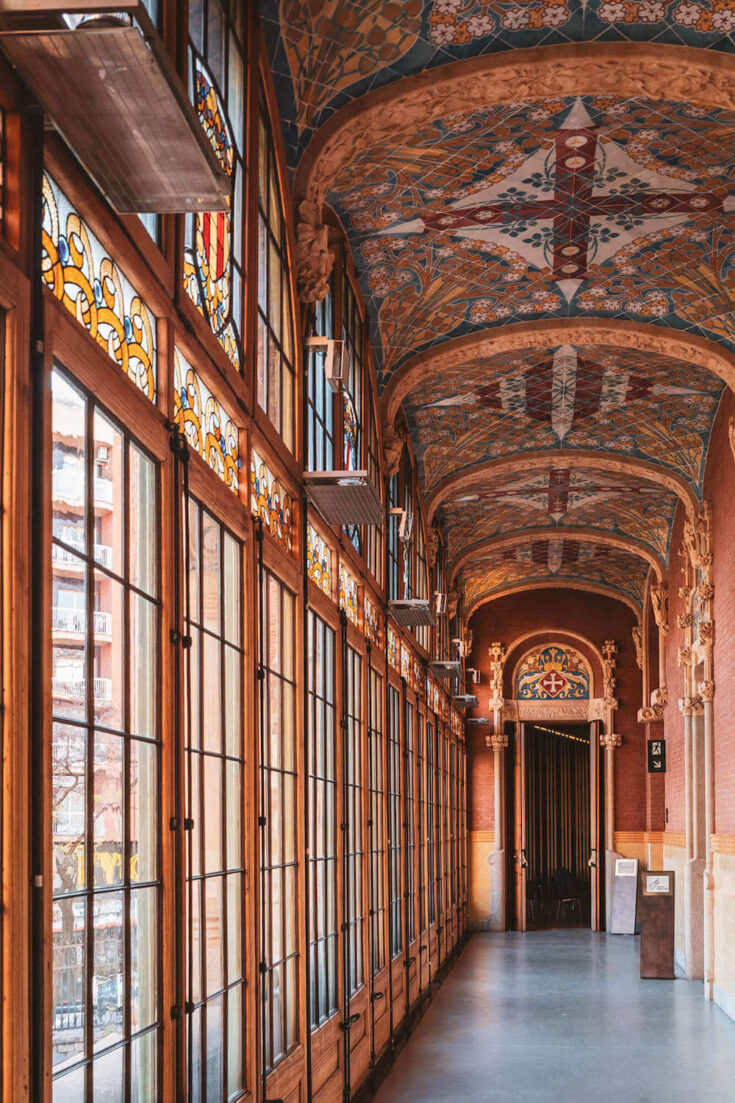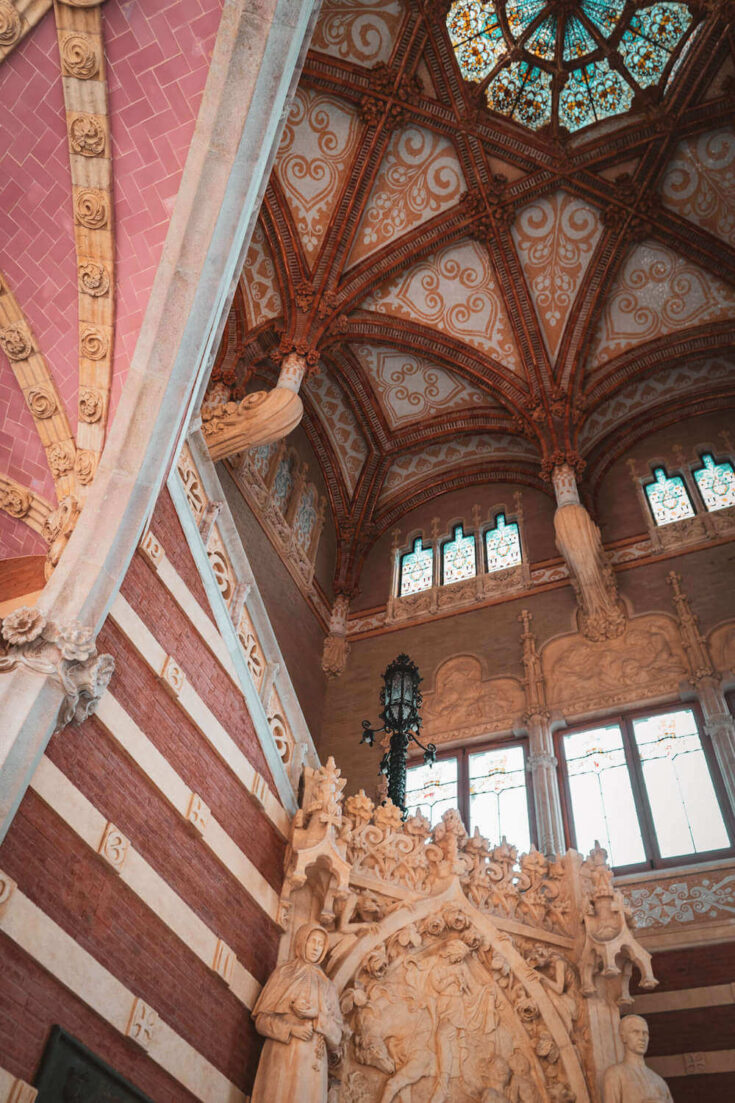 46. Get a unique view from the Columbus Monument
Cost: €6 | Get your ticket in advance here (and get a glass of wine for free)
Standing 60m high next to Port Vell is the Columbus Monument, marking one end of Las Ramblas, which means most visitors are bound to pass it at some point.
The tower hides a secret though – it has an elevator that you can ride up to a viewing platform, with gorgeous views over Barcelona and Port Vell. You can get a ticket here (which comes with a glass of free wine)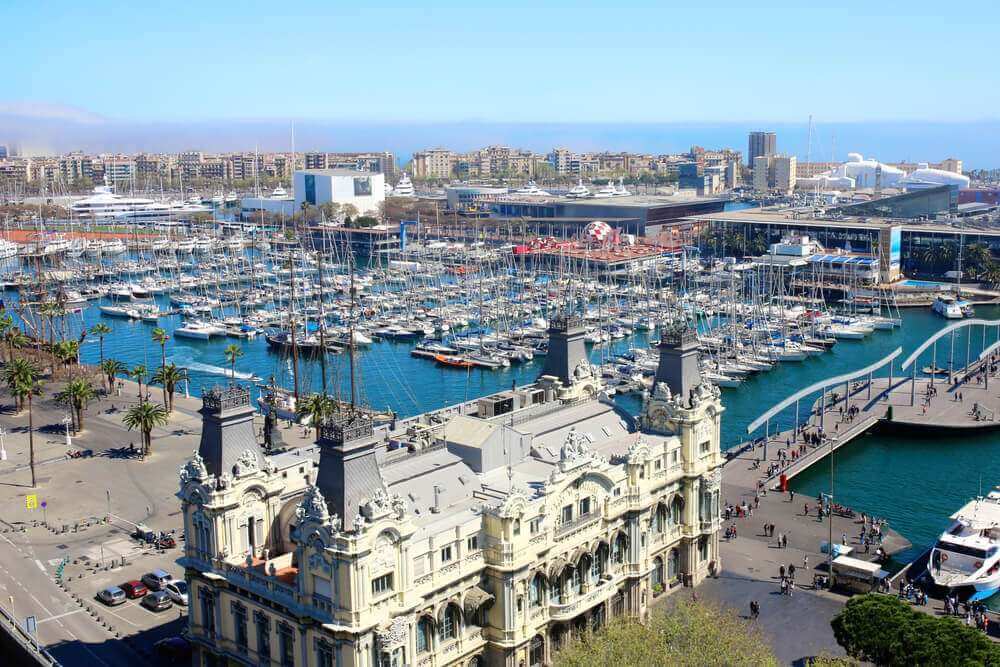 47. Seek out Barcelona's Roman ruins
While it may not immediately come to mind as a must do in Barcelona, there are actually a series of Roman ruins that are scattered around the city, free for you to visit.
After all, Barcelona was part of the Roman Empire for over 400 years back when it was called Barcino, a lengthy enough time to leave behind some cool Roman artifacts and landmarks.
You'll find most of these (publicly viewable) sights around the Gothic Quarter, including the Temple of Augustus, my favourite hidden gem, tucked away in a quiet street near the Barcelona Cathedral.
Here, in this quiet courtyard, you'll see tall Roman columns dating back to 1st century BC.
If you're interested in finding more Roman ruins and sights around Barelona, this guide is an awesome resource.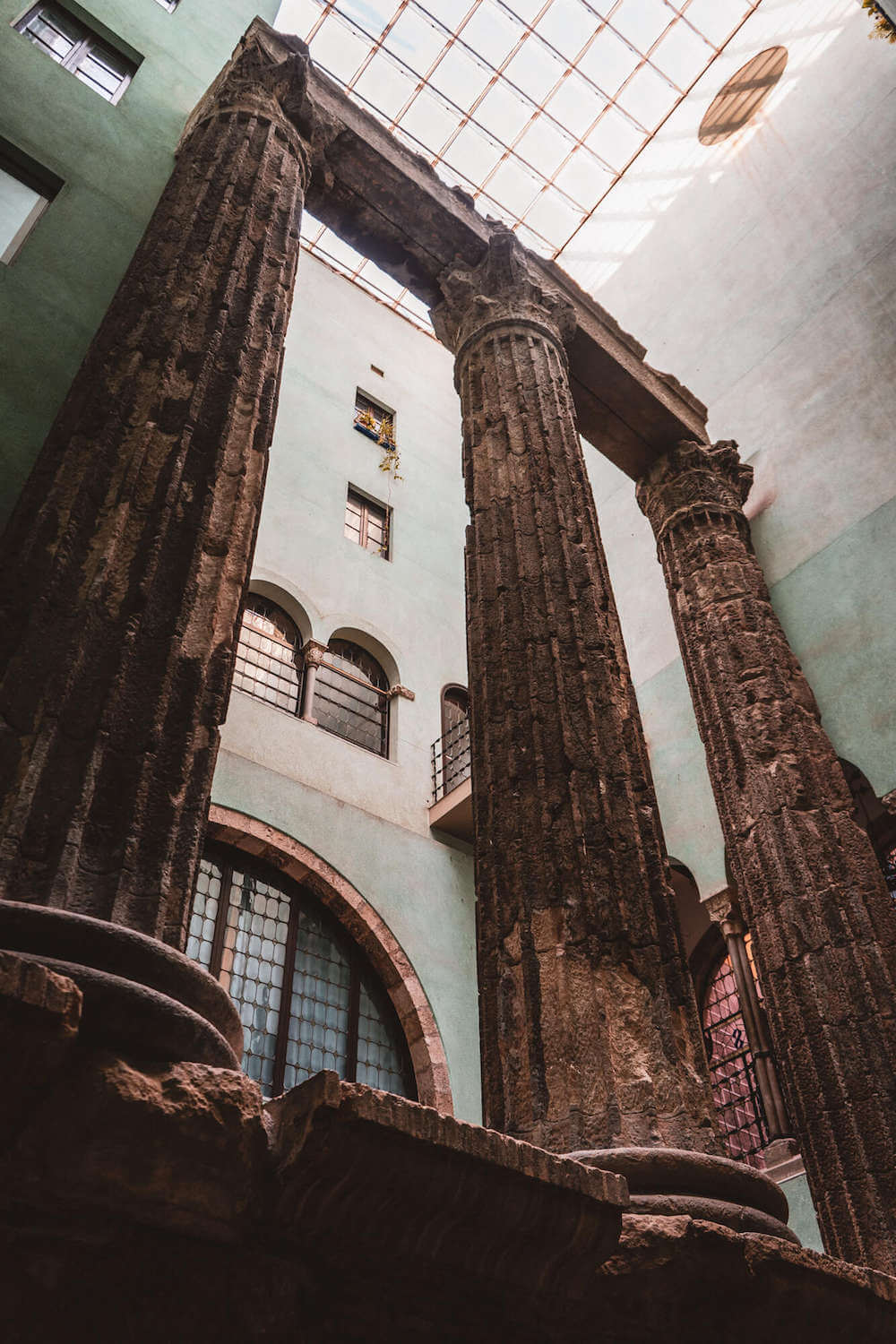 48. Visit the first house designed by Gaudi
Cost: Basic tickets start at €16 | Click here to guided tour in advance
While most visitors flock to the most famous of Gaudi's creations like La Sagrada Familia, Casa Batlló, Casa Milà and Parc Guell, there's a lesser-known Gaudi creation that has recently opened its doors to the public: Casa Vicens, the first house Gaudi ever designed.
This was kind of Gaudi's first big job after graduating, so you can say it's a pretty big deal.
While for over 130 years, this mansion was private property, it recently opened up as a museum in late 2017.
While I can admit it's not THAT spectacular on the inside apart from a few rooms, it's well worth a look if you're in search of something a little offbeat or different, even just for the facade, which is one of my favourites in the city!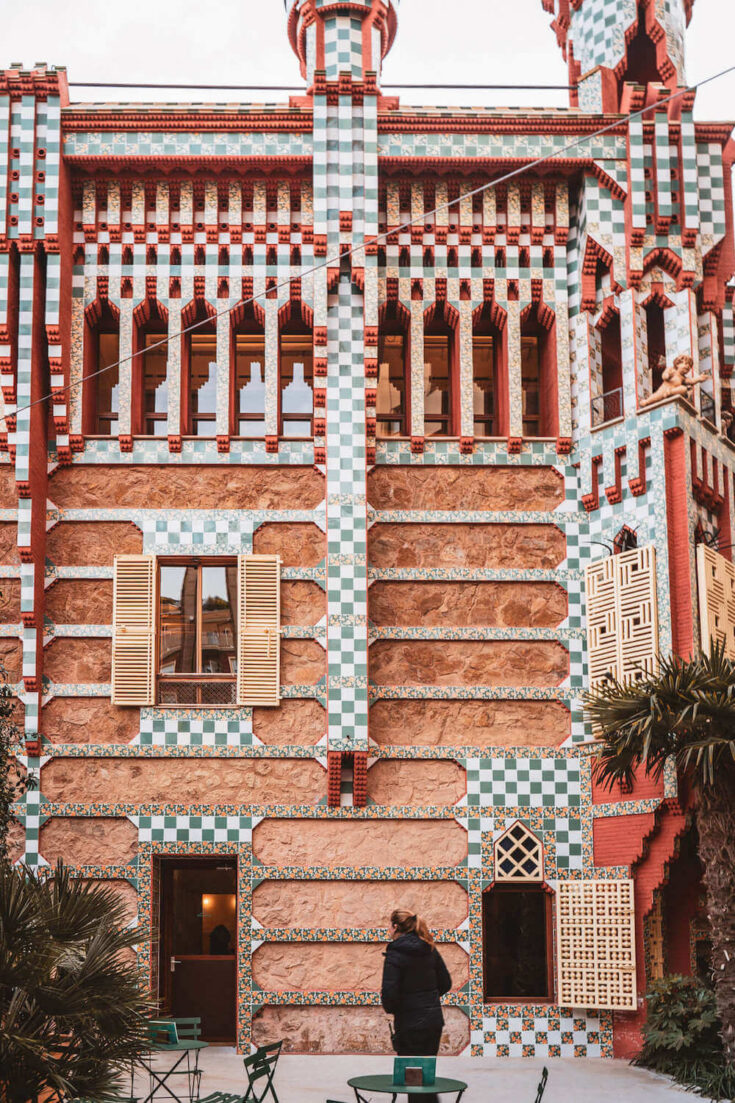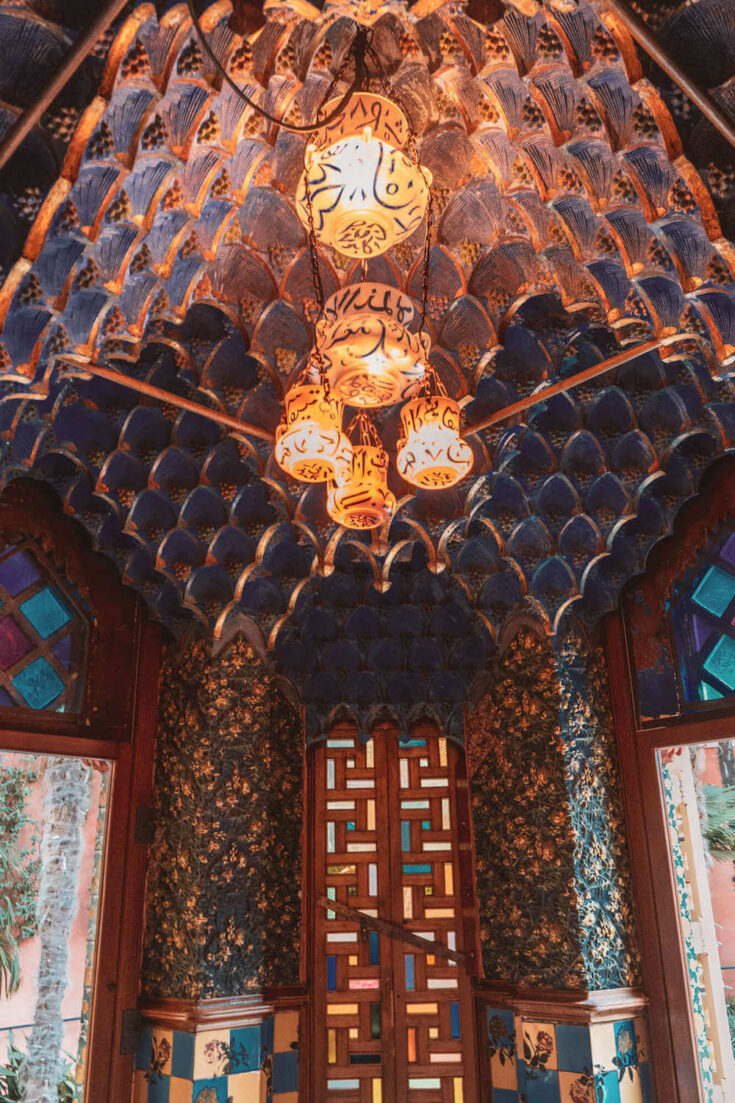 49. Drink and skate at a skateboard bar
Address: Carrer d'Escudellers Blancs, 3
Skateboard culture is huge in Barcelona, and if you're like me and couldn't fathom getting on a skateboard without breaking multiple limbs, you can still get a taste of this culture at Nevermind, a cool skater's bar complete with grunge music, graffiti, stickers and even an indoor skating ramp where you can test out some tricks for yourself.
Best of all – the drinks here are cheap. Cheap alcohol and skateboards, what could possibly go wrong?
50. Find street art
Of all the things to see and do in Barcelona, street art seems to be one that often falls to the wayside, paling in comparison to the city's other main attractions.
But make no mistake, if you know where to look, there are bold, provocative and interesting murals to be found all around the city.
As it always is with street art, locations are constantly changing, but this site is a great resource.
You can book also book a street art tour on bamboo bikes here.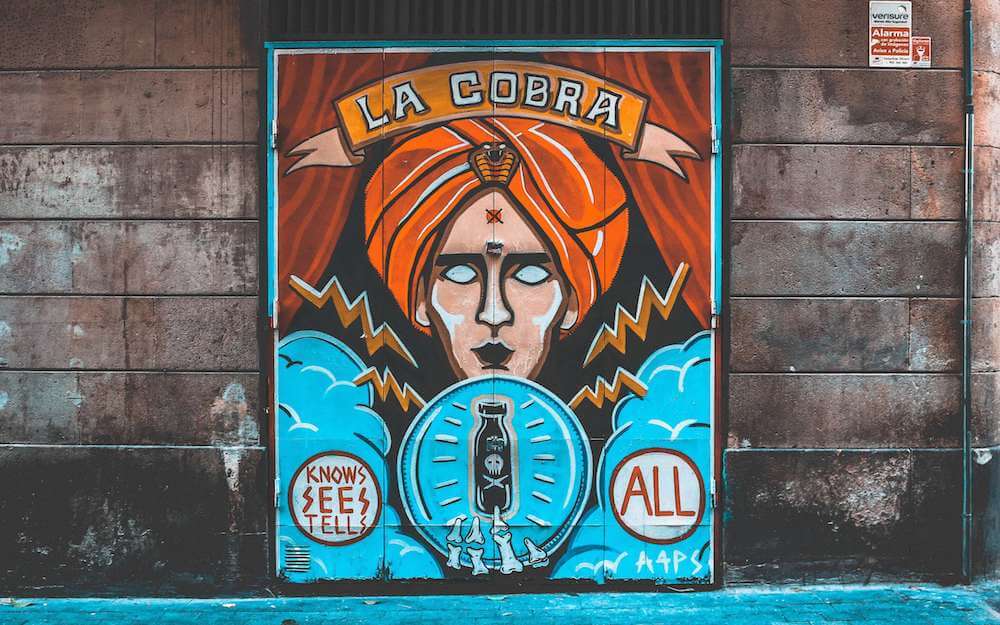 51. Say hi to Barcelona's Statue of Liberty
Yes, it's random, but one of the most offbeat things to do in Barcelona is paying a quick visit to the city's own Statue of Liberty.
To do this, stop by the entrance of Arús Library, the oldest public library in town, where you'll find a lovely dark bronze (almost black) mini-Statue of Liberty standing at the entrance.
52. Rummage through Barcelona's largest flea market
Address: Carrer de los Castillejos, 158
There are a lot of flea markets you can visit in Barcelona, but none are more popular than Els Encants Vells, the city's largest flea markets and actually one of the oldest in Europe.
With 100,000 visitors flocking here every week in search of the perfect steal, it does get busy, but you'll be spoiled for choice in terms of goodies, whether you have a penchant for vintage clothes or weird, old timey lamps (I won't judge).
53. Stop by Plaça San Felipe Neri
This tiny, charming square is a sliver of peace in Barcelona's Gothic Quarter, with nothing more than a small fountain and the baroque church of Sant Felip Neri.
If you look carefully, you can still spot some marks from the bombings which took 42 lives on January 1938, a tragic history that seems impossible given the tranquility of the square today.
54. Visit a cemetery
While this may seem like a bit of a morbid suggestion, one of the best offbeat things you can do in Barcelona is visit one of the city's beautiful cemeteries.
Poblenou Cemetery and the Montjuic Cemetery are commonly regarded as the most visit-worthy, but you can scope out a bigger list here.
55. Head to a breathtaking monastery
If you're looking for a Barcelona attraction that's well off the beaten path, then head over to the Reial Monastir de Santa Maria de Pedralbes, a stunning complex with a lot to brag about, including a gorgeous medieval garden, the largest Gothic cloister in the world and numerous collections featuring paintings, furniture, textiles and more.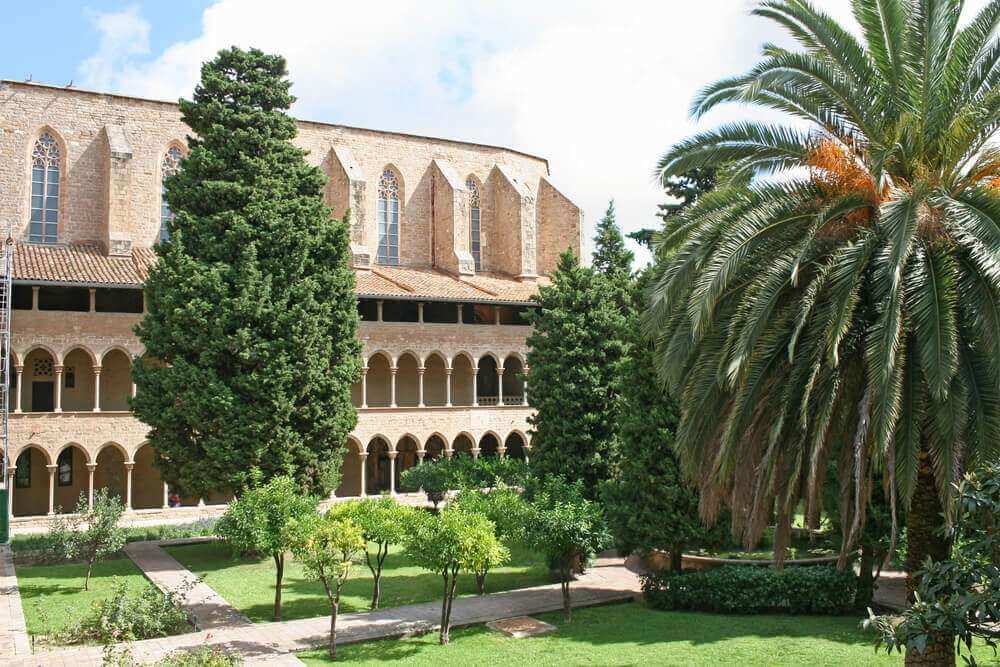 Unusual Things to do in Barcelona
Ready to get a little weird? Here are some unique things to do in Barcelona that you probably had no idea you could do.
56. Soak in a wine spa
Of all the weird and wonderful activities to do in Barcelona, I can think of nothing more unnecessarily indulgent than soaking in a bath of wine.
That's right, apparently the antioxidant properties of grapes are wonderful for your skin… who knew?
You can try this experience at the AIRE Ancient Baths. Click here for more info.
PS: According to the package description, yes you of course get to enjoy a glass of wine during your treatment, along with nuts and hard cheese apparently? Mmmmgh.
57. Visit a magical fairy-themed cafe
Address: Passatge de la Banca, 7
If you're hoping to escape reality for a moment, slip into Barcelona's most magical cafe, el Bosc de les Fades (the Fairy Forest), hidden away in Barcelona's Gothic Quarter.
The interior is decorated like a forest, with trees, caves, tree trunk tables and pretty lanterns to light the way.
You'll also find optical illusions, fairies, a haunted room and even demons hidden away in the shadows. Sure it's a little kitschy and unusual, but why not pop in for a drink?
58. Enjoy an erotic museum
Cost: 8.55 euros
Of all the many fun things to do in Barcelona, I'm sure there's one museum you've likely not heard of: the Erotic Museum of Barcelona, whose goal is to showcase the history and culture of eroticism over the years.
This unique museum has collections on pin-up culture, phallic tradition, erotic Picasso (yup) and more… plus there's even an erotic garden to peruse.
Looking for a Barcelona activity very off the beaten path? Well, erotic museum, here you come!
59. Visit the world's largest cannabis museum
Cost: €9 per person
But hey, while we're on the topic of offbeat museums, why not stop by the world's largest cannabis museum?
You read that right. The Hash Marihuana & Hemp Museum in Barcelona is the largest museum dedicated to cannabis in the world.
Housed in the gorgeous Palau Mornau (a gem of Modernist architecture), this museum is home to a collection featuring over 8000 cannabis related objects. Now that's setting up some high expectations 😉
60. Check out a giant supercomputer housed in a chapel
Well, that's definitely not something you read everyday!
Nonetheless, Barcelona has it.
The Barcelona Supercomputing Center (BSC) is a public research center with a giant supercomputer…. housed in a glass box in a former chapel at the Polytechnic University of Catalonia (UPC).
And yes, if you want to geek out over this truly unique sight, then you can go see it for yourself in-person. Click here for more info.
61. Say hello to some giants
Yes, giants! Or in Catalan, gegants.
Gegants are wearable puppets that are often seen in parades, feast days and local festivals.
When they're not out bringing joy to the people however, you can spot the most popular among them in the beautiful Santa Maria del Pi Church, where they chill and relax in a large glass case right to the right of the main entrance.
62. Find the hidden FC Barcelona crest at a church
I think I mentioned before that football was pretty much its own religion in Barcelona.
Well, nowhere is this more apparent than at the Santa María del Mar Church, a church where you can find the crest of FC Barcelona hidden in one of its stained glass windows.
There's a logical reason for this though – when funds were running low for the church's restoration back in the 60s, FC Barcelona stepped in with a contribution, under the condition that they could have their coat of arms added to one of the new stained glass windows, which is where it is today.
Have fun trying to spot it!
63. Dig for bargains at a stunning train station
The Lost & Found Market is a quarterly market held in one of Barcelona's most famous train stations, Estació de França, which was home to the city's first railway connections with France once upon a time.
Today, the station is substantially quieter and is best known for this second hand market which happens once every three months, a busy but exciting place to stock up on all the preloved goods of your dreams.
If you're lucky enough that your stay in Barcelona coincides with one of these, be sure to check it out.
You can find more information on their official website here.
64. Visit a museum dedicated to funeral carriages
When will the morbid curiosities end?!!
Sorry guys, after all, one of the best things to do in Barcelona is taking advantage of the countless museums that the city has to offer… and one of the most unique ones that you won't find anywhere else is the Museum of Funeral Carriages, located at the famous Montjuic Cemetery.
With 13 ornate carriages on display, along with 3 motor hearses and 6 special coaches, this museum is well worth a look, even if funeral carriages aren't normally your thing. (And if they are…. well… *backs away slowly*)
65. Try out some blindfolded dinner theatre
Sounds kinky, doesn't it?
Well, imagine eating a world class meal eaten blindfolded while an interactive play happens around you.
YES, that's a real thing you can do in Barcelona, and according to reviews, it's an incredible experience.

Romantic Things to do in Barcelona
There's an endless supply of things to see and do in Barcelona, but what if you want to crank up the romance a little bit? Well, lucky for you, there are tons of wonderful activities to do in Barcelona that are perfect for lovebirds. Here are a few:
66. Go on a helicopter ride
If you're looking for a truly unforgettable and romantic Barcelona experience, why not book a helicopter ride over the city?
There's nothing quite like seeing the city from a bird's POV, and in Barcelona, you can do it cheaper than in a lot of other major touristy cities.
In fact, if you're feeling especially baller, you can actually combine a helicopter ride with a yacht trip together for less than 150 euros, which is um… pretty affordable as far as helicopter-yacht rides go.
Click here to check reviews and availability.
67. Ride a hot air balloon
Cost: 150 euros pp | Click here to read reviews and book
Okay, so I know I started big with HELICOPTERS and YACHTS, but if you're really looking for the ultimate romantic experience, you can go on a hot air balloon ride from Barcelona for surprisingly cheap…
I'm talking cava, a picnic lunch, transport from the city and all that for around 150 euros per person. Imagine gliding across the Catalan landscape, revelling in ALL the brownie points you would win with this one.
Click here to read reviews and book.
68. Enjoy a chocolate massage
Yes, lathering yourself in chocolate is apparently a socially acceptable thing to do in Barcelona in the name of beauty and health… best of all, you can pay someone to do it for you 😉
Known as chocolaterapia (a bit of a mouthful, but we'll roll with it), many spas in the city offer it, but the one at Roc Nature has great reviews.
Click here for more info on this sweet treatment.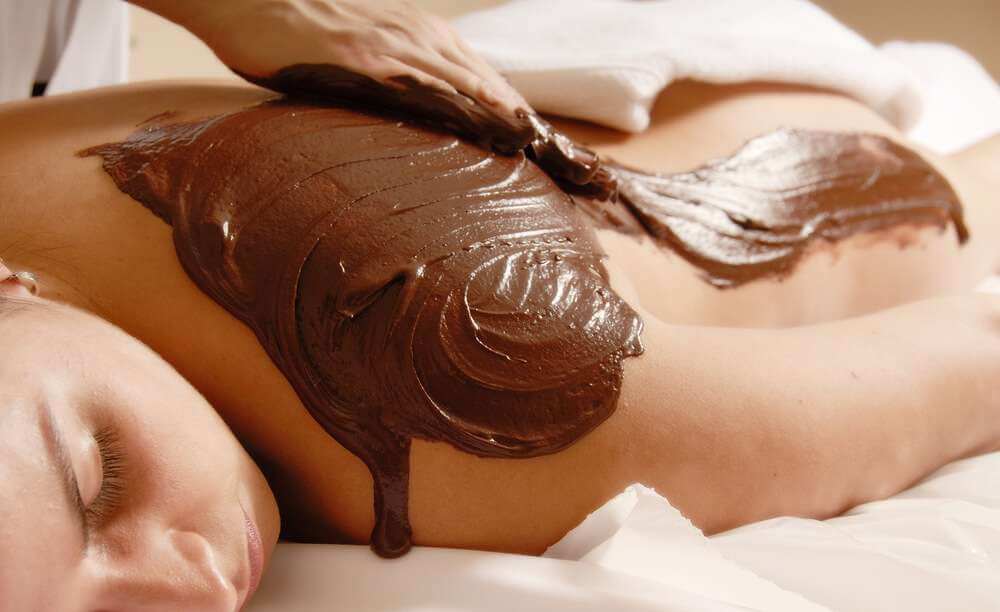 69. Book a photoshoot
Barcelona is arguably one of the most beautiful cities in the world, so if you want to commemorate your romantic getaway with a photoshoot, there are lots of ways to do that.
I actually witnessed a couple taking the most romantic photos ever during sunset up at the Bunkers del Carmel. The FOMO was so real I was thiiiis close to asking if I could step in for a third wheel shot.
Hoping to get your own romantic photoshoot in Barcelona? This photoshoot package is less than 50 euros per person and has over 100 5 star reviews.
70. Watch an outdoor movie on the beach
And if you're not done with all this cutesy stuff to do in Barcelona with bae, here's one last suggestion: cuddling up and watching an outdoor movie on the beach!
The Cinema Lliure a la Platja is a free movie festival on the beach that happens every summer. Best of all, it highlights independent films!
Learn more about the program for this year on their official website.
Things to do in Barcelona at Night
Alright, now that we've conquered all the gooey and romantic stuff, the party animals might now be wondering "what is there to do in Barcelona at night?" Well, unsurprisingly, there's plenty! Here are some ideas for you.
71. Party it up at an ice bar….. on the beach?
Cost: 16 euros pp| Book your tickets in advance here
This is one very cool Barcelona experience.
… Literally though, because Icebarcelona is a bar made out of ice, ironically located on the beach. Are you confused yet?
You can find this unusual ice bar on El Somorrostro beach, where ice-carved furniture, sculptures and a chilling ambiance awaits. Don't worry though, guests are supplied with gloves and furry winter jackets. At least you won't need to worry about the ice in your drinks melting.
You can check out the official Icebarcelona website for more information.
72. Enjoy a drink at a hidden terrace
Barcelona, with its balmy weather, delicious drinks and lively population, is a place best enjoyed through terrace life… all the better when it's in a spot that feels hidden and secluded 😉
Barcelona has a lot of hidden terraces that locals enjoy, but among the most popular is definitely the Antic Theater, with its outdoor cafe near Santa Caterina Market.
This charming, leafy space is the perfect place to relax with friends over drinks, but it's a popular one, so get here early.
Looking for more hidden terraces? This list is great.
73. Down some unique shots
If it's cheap drinks and a party atmosphere you're after, then look no further than Chupitos, a bar known for its outrageous menu of shots (with over 200 varieties).
Note: this bar is definitely not for the faint of heart – some of the shots are fairly…erm… interactive and grotesque, so if that doesn't sound like your jam, you should probably head somewhere else.
You can google "Monica Lewinsky" shot if you want to know what I mean.
74. Hit up some clubs
I am a definite grandma in disguise, but even I had to give clubbing in Barcelona a try – after all, it's a city known for its incredible nightlife!
I did a bar crawl which ended up in Opium (the name of a club, not a drug den, I promise!) and it was alright, but this grandma would have probably been happier blanket-burritoing at home.
Since I'm clearly not qualified to give tips on the Barcelona nightlife/clubbing scene, I'll direct you to a better resource. This Barcelona nightlife guide might help point you in the right direction.
Day Trips and Things to do Near Barcelona
Alright, now last but not least, if you've somehow exhausted all the incredible options for things to do in Barcelona, let's quickly cover some really neat things you can do just outside of Barcelona as a day trip.
75. Visit three countries in a day
Imagine spending the morning in Spain, having lunch in France, then going shopping in Andorra in the afternoon.
This tour does exactly that, and it's less than 150 euros per person. Click here to check reviews and availability.
76. Head out to Montserrat
I'm seriously convinced that Montserrat, a rocky and photogenic mountain range in Catalonia, is one of the most naturally spectacular places in the world…
Visiting this surreal landscape alongside its world-renowned monastery is one of the best day trips you can do from Barcelona.
Best of all, it's easily doable independently or quite cheap through a tour.
Click here to check out the different options and prices.
77. Visit Girona
Girona is a historic Catalan city with a beautifully preserved artistic heritage. Known for its photogenic streets, porticos and glitzy photogenic appeal, this is one day trip from Barcelona that you should definitely squeeze in if you get a chance.
For ease of mind, you can book a half-day trip which includes transport from Barcelona here.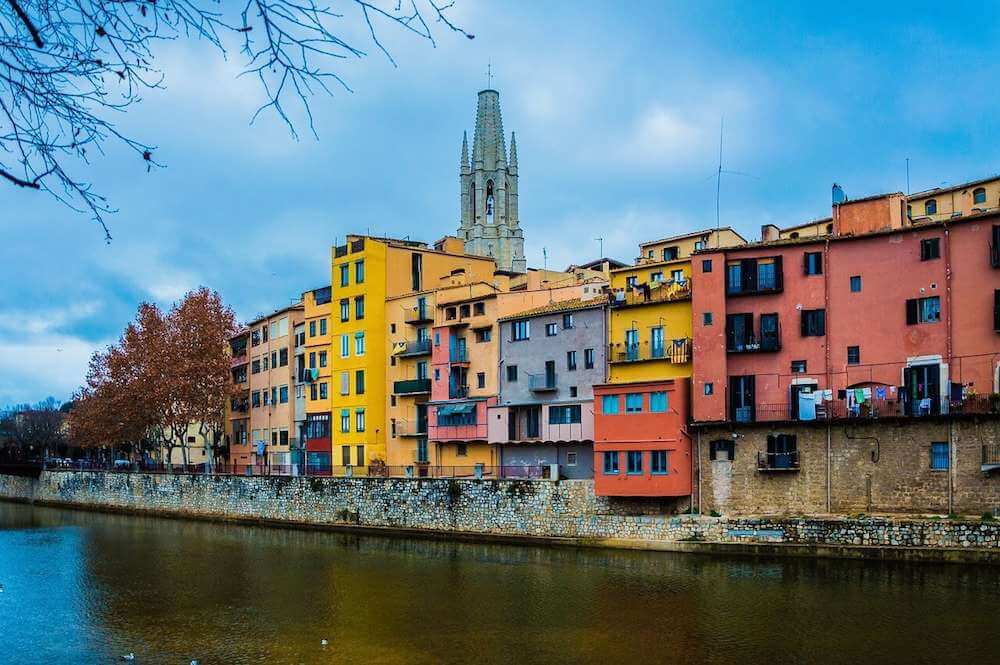 78. Check out the Dali museum
If you're a huge fan of famous Catalan artist Salvador Dali, consider booking this day trip that brings you not only from Barcelona to his museum but to different villages and landscapes that inspired his work.
79. Go for a ride on Europe's tallest and fastest vertical accelerator
Lastly, one hour south of Barcelona is where you'll find Ferrari Land, a theme park that opened in 2018 and is now home to the Red Force, Europe's highest and fastest roller coaster.
Can you imagine going from 0 to 180km per hour in 5 seconds? I sure can't, but if you're a daredevil, this is one experience from Barcelona you can easily book! Click here to check tickets and availability.
Any more questions about things to do in Barcelona?
Let me know in the comments too if I've missed any of your Barcelona must-dos. Have an amazing trip!
My Go-To Travel Favourites: