*FYI - this post may contain affiliate links, which means we earn a commission at no extra cost to you if you purchase from them. Also, as an Amazon Associate I earn from qualifying purchases. Check out our Privacy Policy and Disclosure. for more info.
This post was written in collaboration with the tourism board of South Bohemia, who hosted me during this trip. All ridiculous anecdotes, experiences and photos are of course my own 🙂
Once upon a time, little me wanted to be a magician.
No, I am not joking.
In the 90s, as most fangirls my age pined over NSYNC, I instead pined over the likes of David Copperfield and any wacko who knew card tricks.
Magic at the time seemed like the most wonderful thing in the world, and I devoted hours to practicing tricks of my own, because apparently I had no concept of cool even back then.
And while those dreams have thankfully crumbled like your opinion of me after reading that confession, my love for the magical has continued to grow, mainly through travel.
Luckily, as my recent jaunt over to the Czech region of South Bohemia revealed, magic isn't solely reserved for weirdos in capes.
Save this post on Pinterest for later: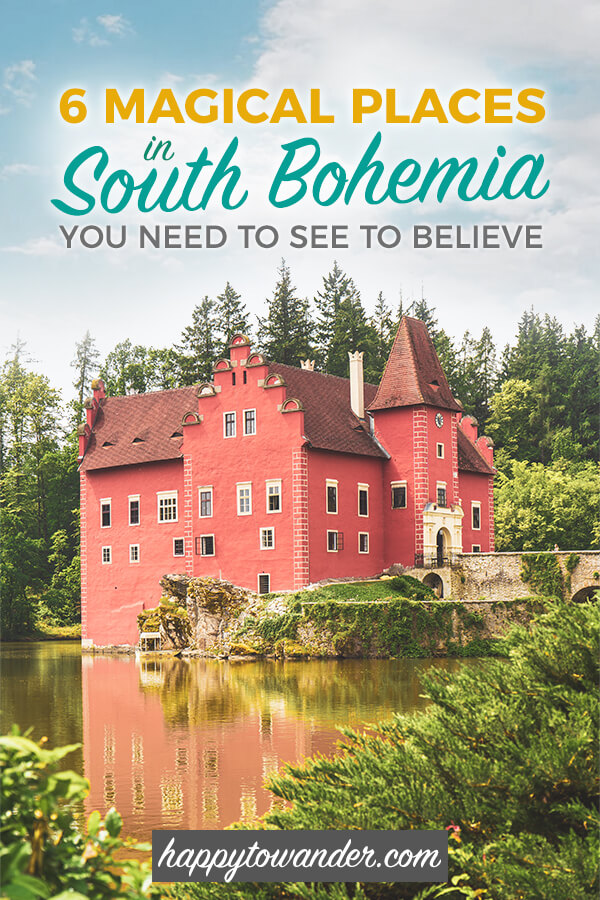 You see, South Bohemia, located in the south of the Czech Republic bordering Germany and Austria, has a wild, untamed sort of beauty…
A beauty wrapped in lush green forests, still little ponds and serpentine rivers that snake their way around fairytale landscapes, dotted of course with colourful villages and storybook chateaux.
It's Central Europe at its most magical, all topped off with a secret fairy dust missing from most European attractions: it's still mostly untapped by tourists 😉
And after a long weekend rolling through South Bohemia myself, soaking in every last carbohydrate, I'd like to present you with the most magical places need to see the glorious South Bohemian region.
If you don't believe in magic yet, you're about to. *throws glitter* Enjoy!
PS: With only three days to explore the South Bohemian region, I'm sure I missed some great spots. Let me know in the comments if you have any suggestions for my next trip to South Bohemia (or the Czech Republic in general)
Incredible South Bohemia Gems You Can't Miss
Allow me to wave my magic wand and transport you to some of the places I got to explore during my short time in South Bohemia. *cue dreamy harp music*
1. Český Krumlov
Of course, I need to start with the big guns. If you've heard of any place in South Bohemia before, this would probably be the one.
While definitely a secret no longer, the popularity of Český Krumlov is one that it thoroughly earns through a spellbinding charm present in every corner .
Built into a winding bend along the Vltava River, this gorgeous little town is frequently hailed as one of the most beautiful in Europe… which makes a lot of sense to me.
There's amazing viewpoints in abundance, with its hilly terrain guaranteeing stellar views of their characteristic orange rooftops framed by cascading green hills.
Its crown jewel is of course Český Krumlov Castle, second only in size to the one in Prague.
With a beautifully painted (pink) Renaissance tower and hectares of spellbinding gardens, it's no wonder tourists come here in droves, eager to catch a piece of the fairytale for themselves.
During my short time there, between flouncing through the cobblestoned Old Town, indulging in the touristy but mandatory trdelnik ice cream cone and eating dinner in an actual cave, I couldn't help but feel a bit like royalty myself.
Bucket list item, czech! 😉
2. Hluboká Castle
Next up, I bring you a place fit for a royal wedding.
After all, Hluboká Castle (located a short drive from České Budejovice) takes its inspiration from Windsor Castle in England, the grand stage for many a royal nuptial.
Hluboká Castle was originally founded in the 13th century by Bohemian Kings, but after a series of re-dos and renovations, its current gorgeous look can be owed to the famous Schwarzenberg family, who also introduced the perfectly manicured park to the property.
With 140 rooms, 11 towers and a whole lot more photo opps, this castle is a must-see when in South Bohemia.
I didn't have time to do a tour of the inside, but wandering the grounds was more than enough for my fairytale heart. The spiral staircases and details in the back garden are especially swoon-worthy.
PS: Movie buffs might even recognize the castle from the early 2000s martial arts comedy Shanghai Knights. Don't be ashamed to admit you've seen it – it's okay, this is a safe space.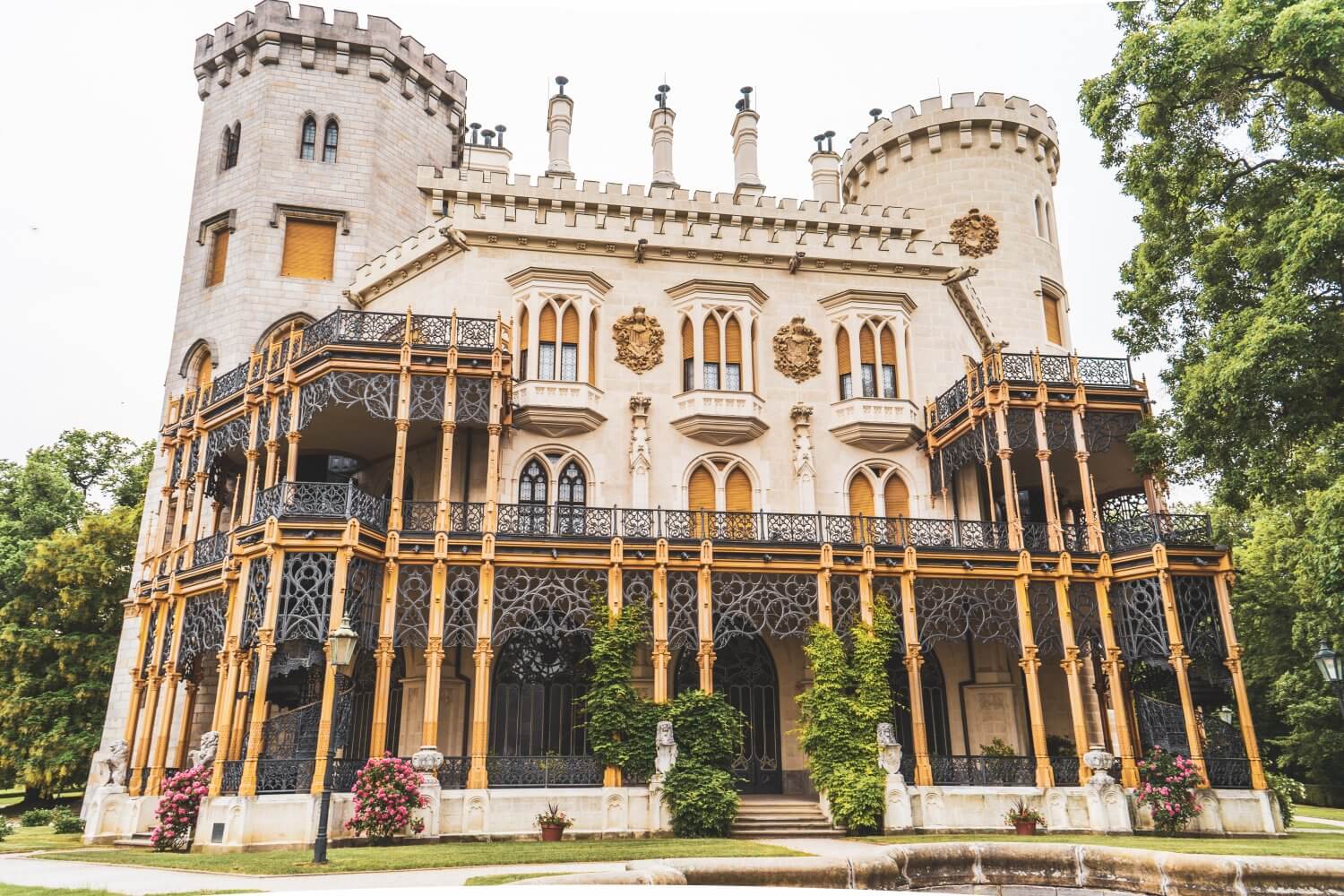 3. České Budejovice
From its glittery origins as a royal town to its now youthful rep as a university city, České Budejovice (the capital of South Bohemia) is one that will have you reeling from its beautifully colourful architecture and equally beautiful beer.
Since the city is best known for its "Czech Budweiser" Budvar beer (not to be confused with its American counterpart), the best way to soak in the ambiance of the town is with a nice cold Budweiser in hand… Or perhaps by touring the place where it's brewed.
While České Budejovice is less about "seeing sights" and more about absorbing its historical yet youthful ambiance, make sure you don't miss its gorgeous town square, which is one of the largest in Europe.
Its centerpiece is a beautiful Baroque fountain that looks even more magical by night.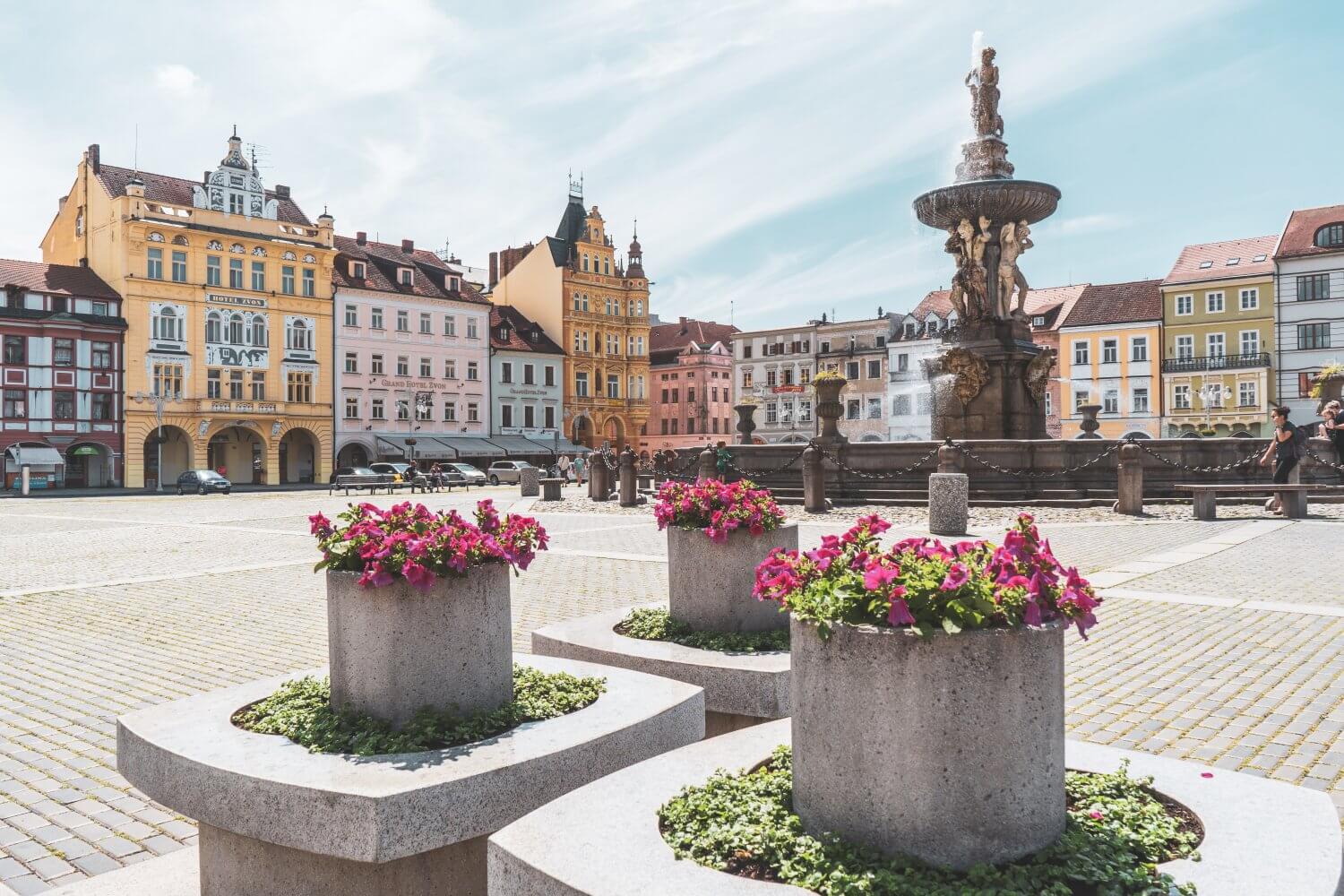 4. Jindřichův Hradec
Scattered all around South Bohemia are colourful towns – enough to warrant a photo stop every 5 minutes.
My favourite of such towns however had to be Jindřichův Hradec, where we stayed our second night.
If you're able to shake off the grogginess from all that Czech beer, try to wake up early and catch the town at its sleepiest and most endearing, as stillness envelops the city and fishermen perch next to ponds hoping for their first catches of the day.
The perfectly still reflections of the town over Vajgar Pond (especially of the local chateau) is enough to make you want to stay forever.
Of course, Jindřichův Hradec is also known as the perfect gateway to Bohemian Canada, an area so named for its lush nature and endless green.
Naturally, this Canadian felt right at home. All I needed was a barrel of maple syrup and a crate of poutine, but hey, you can't win them all.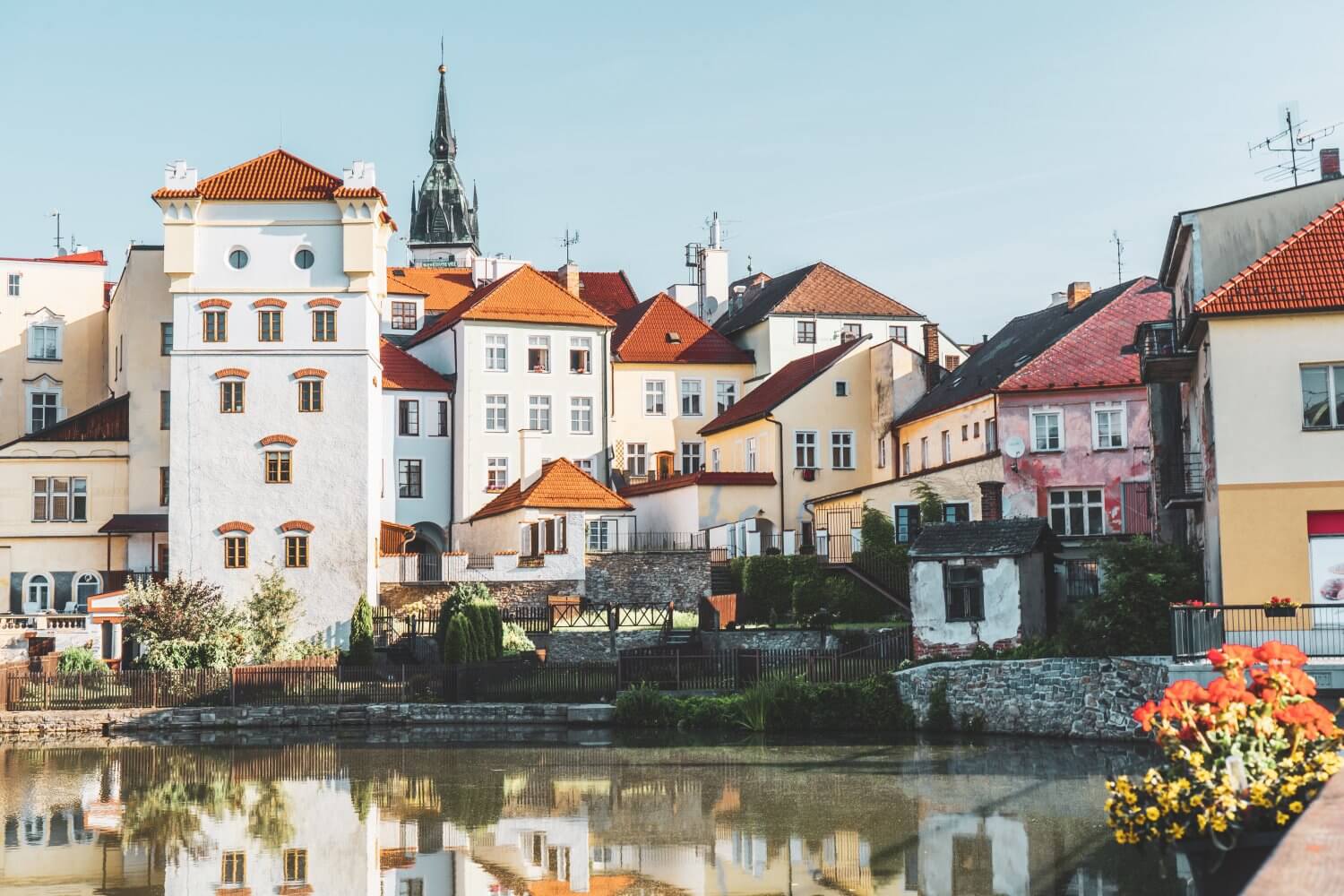 5. Červená Lhota Castle
This magical little red-pink castle, found in the center of a lake is probably one of the most fairytale-esque places you'll encounter in the South Bohemian region (and that's saying a lot).
It's no wonder I saw probably three different wedding couples during my short time here.
This gorgeous little summer home, built in the 16th century lends itself to the perfect relaxing morning/afternoon, with little walking trails around the lake and even boat rentals too, so you can enjoy your own "Notebook" moment 😉 Ryan Gosling sold separately.
MY TIP: Rent a picnic basket from the nearby Červená Lhota Restaurant and enjoy a ridiculously scenic picnic. The food is delicious and you honestly can't beat the views.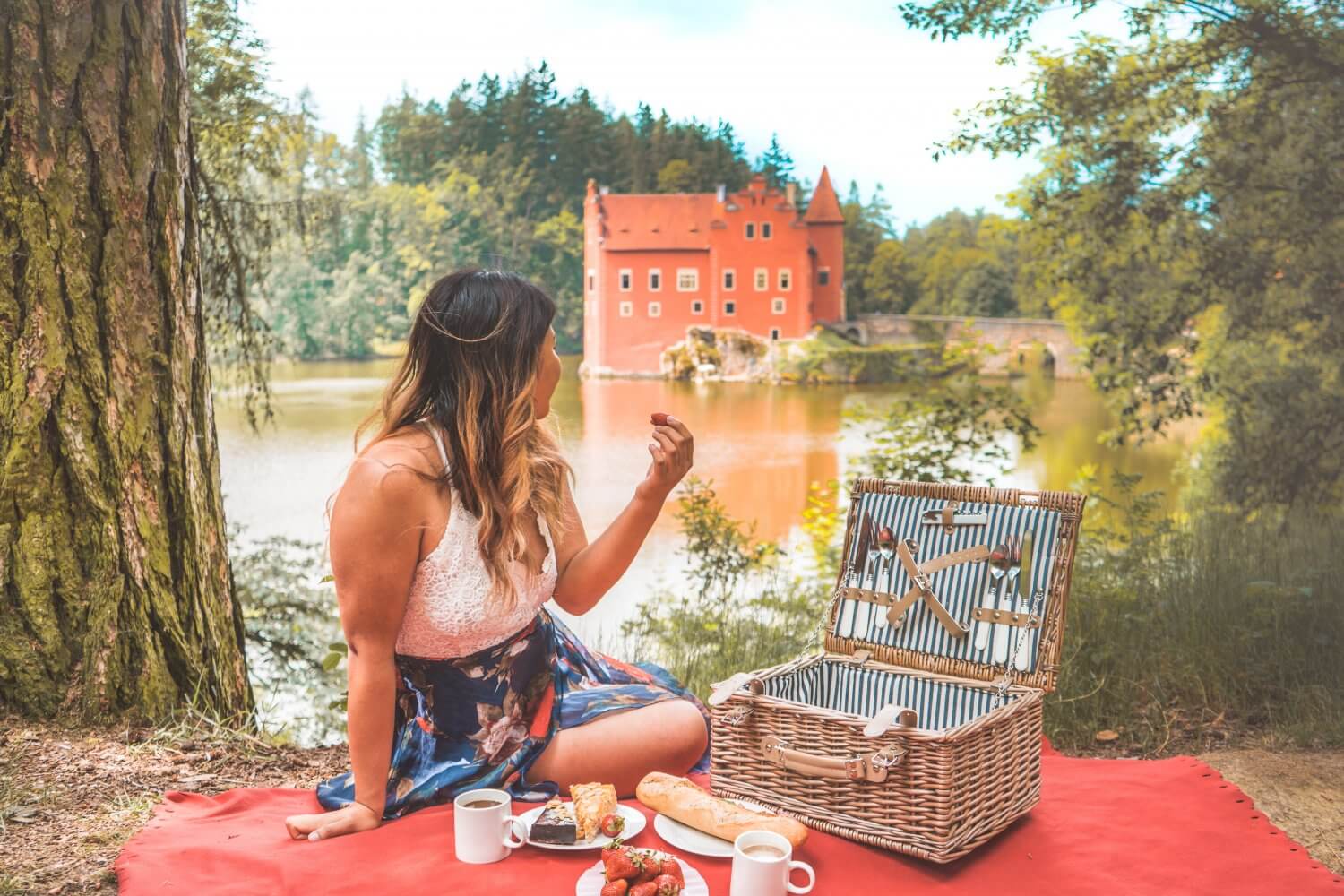 6. Lipno nad Vltavou
Last but not least, from fairytale to sci-fi, I couldn't omit Lipno, possibly one of my favourite stops on this trip.
Located close to the German border, Lipno nad Vltavou is a town that I like to consider a little gateway to adventure.
While popular for skiing in the wintertime, in summer it transforms into a green oasis of micro-adventures.
We hopped on a ski lift (my first time on one, can you believe that?) that slowly whisked us up to the top of a mountain, passing lush green forests along the way, and smugly glancing at the folks below us who were hiking up.
The most distinctive attraction here is the Lipno Treetop Walkway, an ultra-modern sci-fi looking structure that brings you on a gradual incline, skimming along the tops of trees, with sweeping views of the Šumava countryside the alluring Alps in the distance.
After this, we got to ride the fast tube slide down and take push bikes down the mountain (so much fun, even when a spontaneous storm kicked in, and I fell off like the clumsy giraffe that I am).
MY TIP: Get a Lipno Card for great savings on all the different activities. It'd be such a shame to come here and not walk on the treetop walkway, go down the slide, or try one of the many push bikes (AKA scooter bikes) that you say lying around.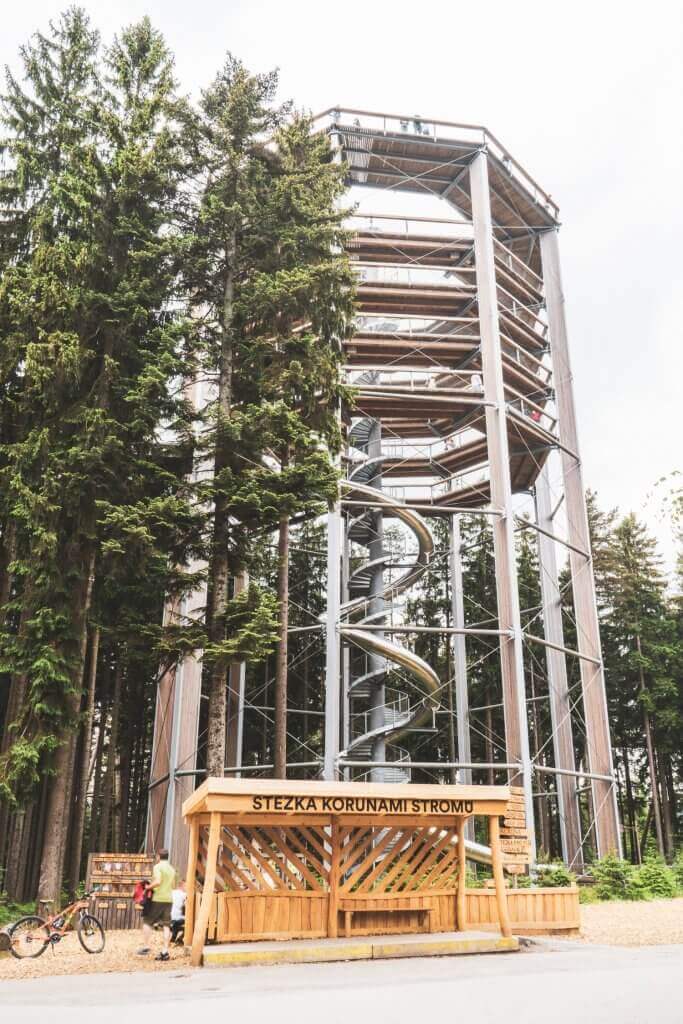 Hey you might not be a bird, but why not pretend for 15 seconds and check out some of the drone footage I captured there:
Getting to South Bohemia
Alright, so now that you're sold on all the amazing places you can visit, here's some practical information about actually getting there.
If you plan to travel around the South Bohemian region, I highly recommend you rent a car (as we did).
Getting around solely with public transportation would be tough unless you're only visiting cities (and none of the castles or countryside).
If it helps ease your mind, the car rental was terrifyingly affordable.
We arrived on Thursday evening, returned the car on Sunday morning and overall it was only 60 euros. You'd definitely not get that kind of deal in Germany…
Getting to South Bohemia by Car
If you're close enough to South Bohemia and have your own car, then driving makes the most sense. It'd be the perfect way to enjoy the beautiful scenery in the region and gives you maximum flexibility upon arrival. This would be the ideal situation 🙂
If you plan on RENTING a car though, do be wary of the fact that many car rental companies will charge extra for bringing cars into a new country (here's an in-depth list of hidden fees to watch out for), and some might not allow rentals to cross into the Czech Republic.
If you plan on renting a car, I recommend you take a bus or plane into the region first and then renting a car when you're in the country (as we did).
Getting to South Bohemia by Train
This is a hard no, at least based on my research. A lot of the train routes would have to go through Prague and there's usually quite a few stopovers until you get to South Bohemia.
I remember that the train options from Munich were something insane like 11 hours, whereas a bus was half that.
I always use Omio to compare/book transportation options within Europe. It's totally free and lets you compare buses, trains, planes, etc. side by side. Really handy if you want to see what the cheapest, quickest and best options are!
Getting to South Bohemia by Bus
This is the way that we did it. We took a Flixbus from Munich to České Budejovice and then rented a car from there. It was really cheap, quicker than the train, and saved us the hassle of bringing a German rental car across the border. There are two main bus companies in the region that you can use:
Flixbus: Alright, very cheap, lots of connections from around Europe, but service is meh and unlikely to be punctual. You can read my full honest review here (as I've used them dozens of times).
RegioJet: I love these guys. I used them two years ago and it was the nicest bus experience I ever had. They operate mostly in/around the Czech Republic but offer very cheap fares so you can use them to get around the country easily, though international transfers might be less common.
Getting to South Bohemia by Plane
There are no international airports in South Bohemia itself, so you would need to fly into one of the closest international airports (Prague, Vienna, Munich or Linz) and then rent a car or rely on public transportation.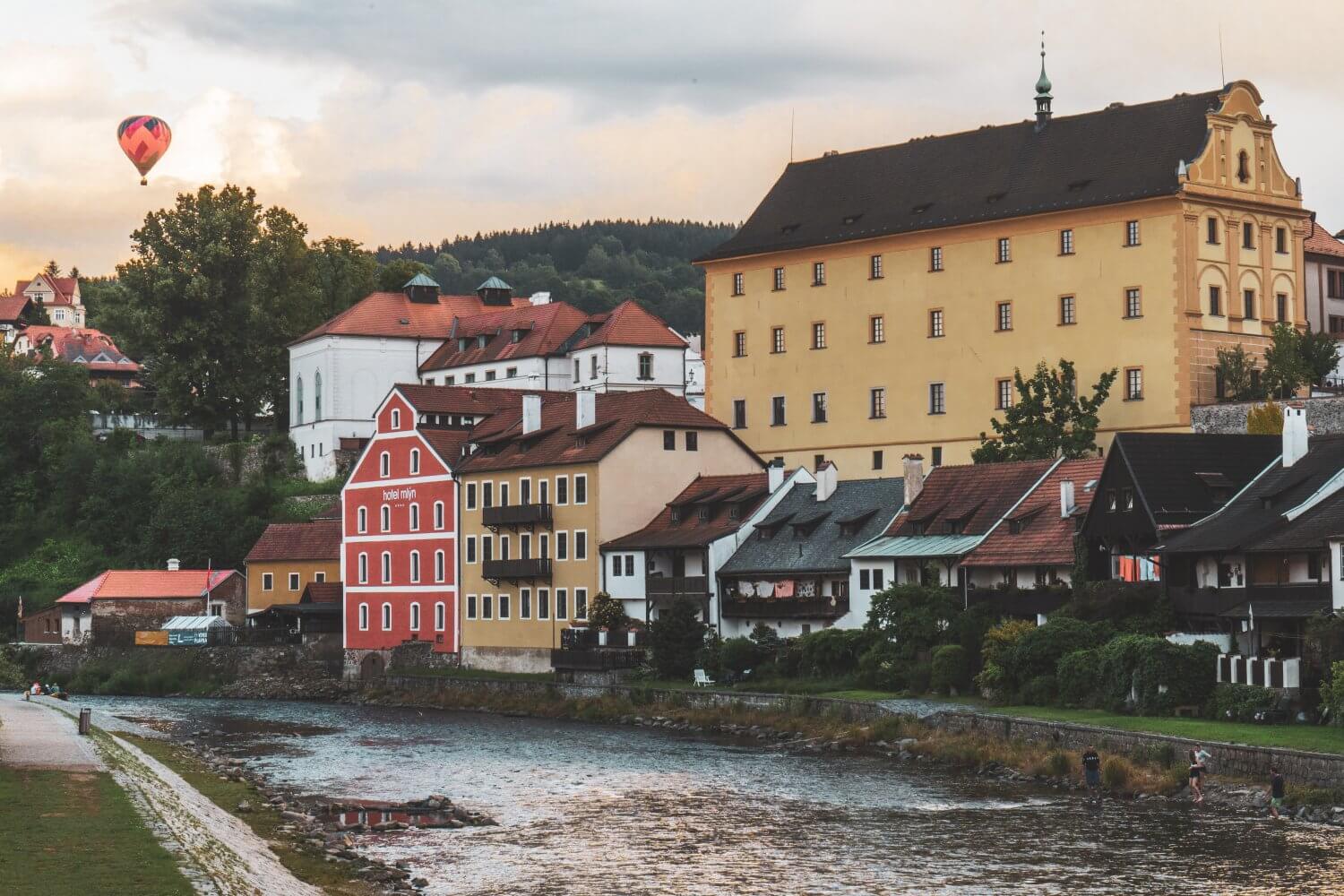 Where to Stay in South Bohemia
Having hopped and skipped our way to three different accommodations over three nights, this is what I think if you're debating where to stay in South Bohemia:
If you're looking for a place that's busier, České Budějovice or Český Krumlov would be a great choice.
Český Krumlov offers a much busier (but touristic) atmosphere. There are tons of restaurants open and bars later in the night too if that's what you're after.
The extra bonus of staying here is that you can experience the magic of Český Krumlov by night (which is amazing after many of the day trippers have gone home) AND you have the bonus option of waking up extra early to catch all the attractions before the crowds arrive.
In peak season, this will be the only way to feel like you have the city to yourself.
Click here to browse the best deals on accommodation in Český Krumlov
České Budějovice will also have restaurants and bars open, but with a much more local vibe than Český Krumlov.
There will be plenty of bars (and open-air drinking) thanks to the city's student population, which means there's a lively atmosphere but without the company of mostly other visitors.
Click here to browse the best deals on accommodation in České Budějovice
Lastly, if you're looking for something quieter and quainter, I highly recommend staying in Jindřichův Hradec. The town is so beautiful in the morning and you'll easily feel like one of the only tourists there.
Click here to browse the best deals on accommodation in Jindřichův Hradec
I hope this list of places to visit in South Bohemia was helpful!
Let me know in the comments if you've ever been to the South Bohemian region of the Czech Republic, and if you have any recommendations for my next trip back!
---
Watch my most popular YouTube video this week:
---