*FYI - this post may contain affiliate links, which means we earn a commission at no extra cost to you if you purchase from them. Also, as an Amazon Associate I earn from qualifying purchases. Check out our Privacy Policy and Disclosure. for more info.
Between throwing axes, exploring ice palaces, and giggling at puffy children being dragged around in sleds, one of the best parts of the annual Québec Winter Carnival in Québec City is the indulgent food and drink you're able to consume… all in the name of warmth and culture.
I mean, if there's one commonality between all of the following Quebec Winter Carnival must-haves, it's calories. A horrifying splurge of calories that will no doubt make your New Years resolutions cringe and back away slowly.
But you don't come to Carnaval to count calories…. you come here to indulge and enjoy the spoils of one of world's largest Winter festivals, which of course includes plenty of shameless eating and drinking.
Plus, fat keeps you warm right? Isn't that how science works? * takes a swig of pure maple syrup *
Save this post on Pinterest for later: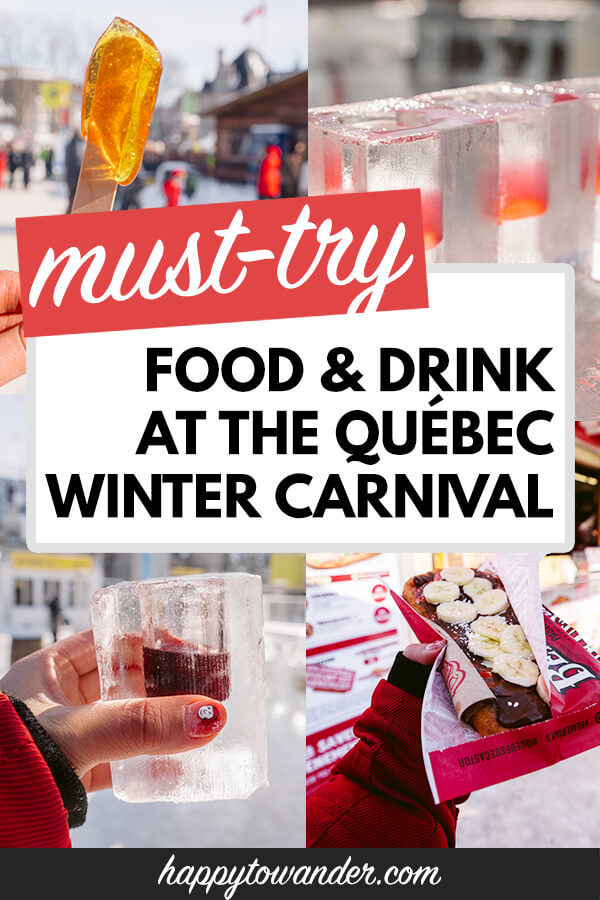 ANYWAY… if you are visiting the wonderful Quebec Winter Carnival, and are keen to make your waistline scream out for help, here are some food and drink items you can't miss, based on my last visit.
PS: Watch my Quebec Winter Carnival video guide here:
1. Maple Taffy, AKA Tire d'Érable
There is truly no experience more Canadian than enjoying a sticky maple taffy, composed of hot maple syrup poured onto snow then lapped up with a popsicle stick to create a sticky sweet lollipop!
This is a quintessential Canadian experience even if you're not into sweets, so be sure to politely join the line-up at your nearest Sugar Shack to secure one. Your honourary citizenship will be imminent.
The best part is the affordability of this experience, at only $3 CAD per taffy stick… just don't drop yours own the ground like my friend did. There are no words for that kind of sorrow.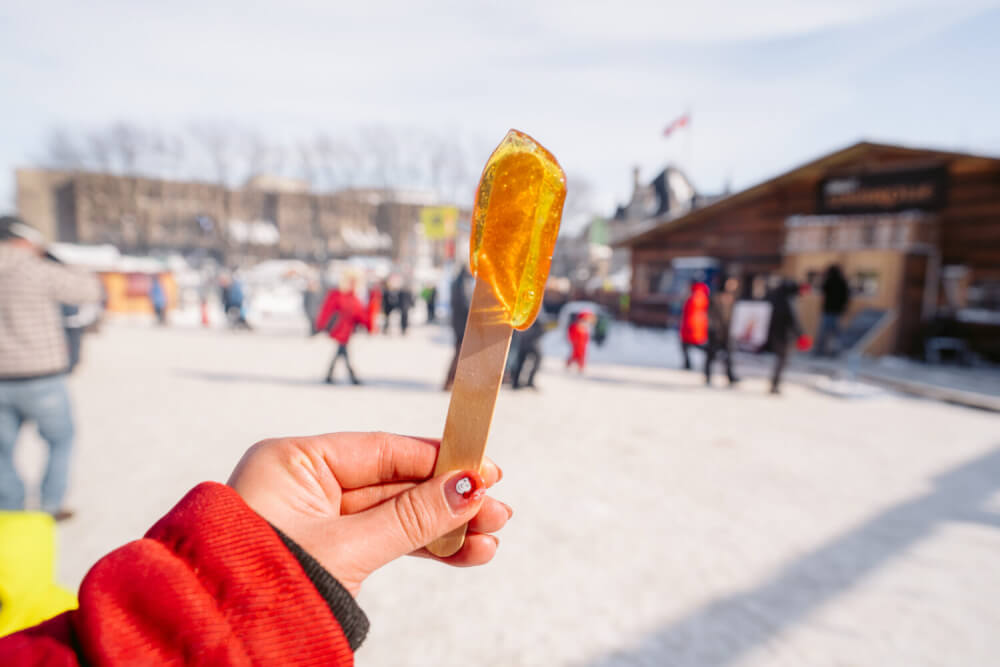 2. BeaverTails, AKA Queues de Castor
Another wonderful Canadian treat worth inhaling calories for is the ever popular BeaverTail, comprised of hot fried dough topped with decadent indulgences including sugar (for purists), hazelnut spread and bananas (my personal pick), apples and cinnamon (a classic), and a slew of other sugary delights.
These addictive treats are a staple of any major Canadian event, so Carnaval is an ideal venue to sample this life-changing treat.
… But yes, feel free to breathe a sigh of relief that I'm not talking about literal tails of beavers.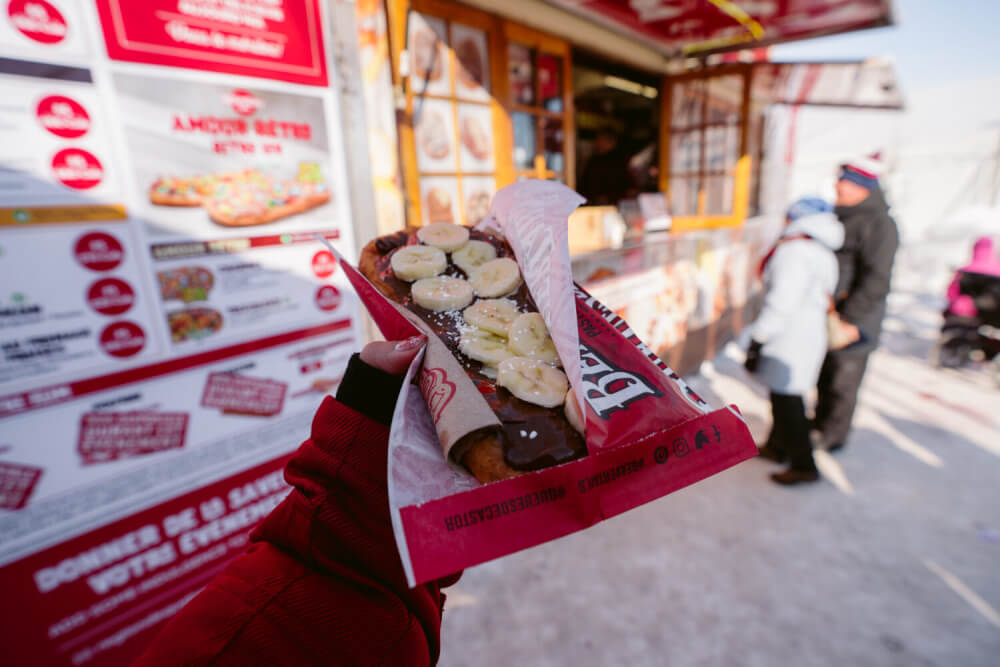 3. Caribou
For the purpose of Carnaval, what we mean by 'Caribou' isn't game meat – actually, it's a boozey concoction that some consider to be the official drink of the festival itself!
So, for a true Carnaval specialty, you need to make sure you slurp up some bright red Caribou, an alcoholic drink that has become synonymous with Carnaval.
This not-so-secret off-menu drink is like a delicious mulled wine, made up of red wine, hard liquor, spices and sweeteners. While its exact recipe remains a secret, this delicious drink can be enjoyed hot or cold, although I'm partial to the way I enjoyed it – ice cold in a glass carved from ice.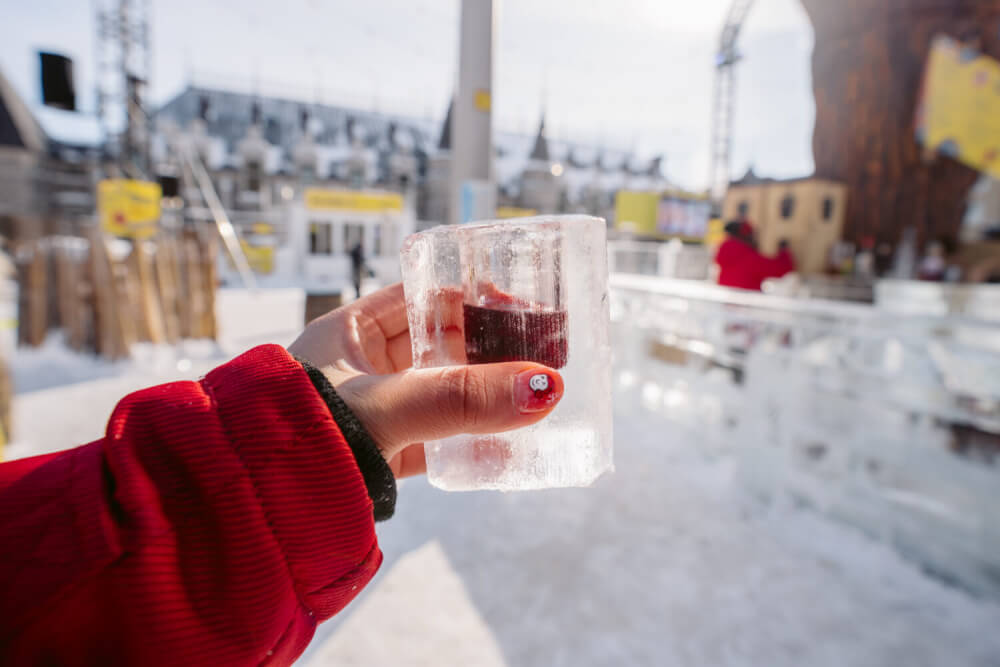 4. Ponce du Carnaval
Have you ever watched a drink get prepared and realize instantly "welp, I'm in danger!"
Well, that's exactly how I felt watching a flannel-clad staff member pour rum, gin and syrup into my mug in quick succession. Don't worry though – the Ponce du Carnaval is a very mild drink in spite of its hardcore ingredients.
This special Carnaval grog, served in an adorable souvenir mug, is one of the few hot alcoholic drinks you can get at the Québec Winter Festival, so be sure to save it for a particularly nippy occasion.
Once upon a time, this drink was considered a great cure for the flu, so medically, having one just makes sense ; )
But while I'm truthfully dubious about its healing powers, I still consider it a definite Carnaval must-try, most of all because it comes in an awesome souvenir mug you get to keep, and you get a voucher for it as part of your Carnaval Passport.
NOTE: This was not personally my favourite of the Carnaval drinks I tried, but my friends loved it so maybe it's more suited to taste buds less eager for sweets than mine.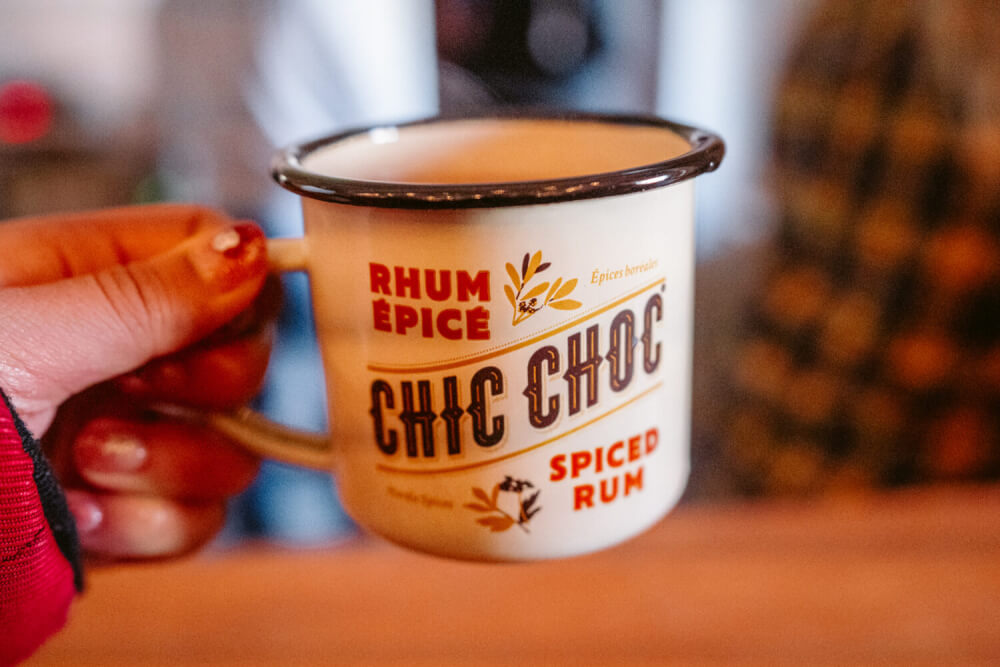 5. The Bonhomme Cosmo
For an ice cold drink that will instantly warm you up, I recommend a Bonhomme Cosmo, which, truthfully, is simply a shot of vodka with a smidge of special red Bonhomme syrup for ~* flaIr ~.
I personally liked it a lot – after all, vodka is best consumed ice cold, and this was an instant warm-up that I sorely needed, BUT my friends weren't big fans.
So, I guess it goes without saying… if you like vodka, you'll love this shot. Consume it at your own risk ; )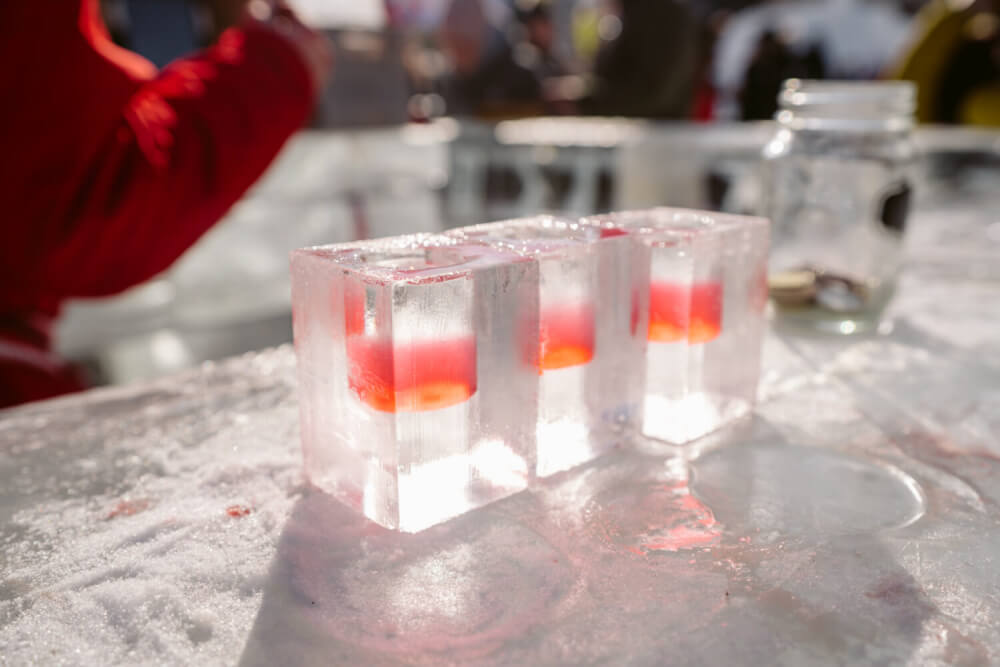 6. Spiked coffee
With warmth and high energy being two key ingredients of any successful Quebec Winter Carnival experience, you should ensure you're always loading up on both. Well, why not kill two birds with one stone by energizing through a nice spiked coffee?
Alcoholic coffee drinks are available all around the festival site, with two main options featuring Coureur des Bois maple cream and Coureur des Bois maple whisky.
The best part? Well besides the fact that you've just gotten a thumbs up from me to drink whiskey? These coffees are served in lovely little souvenir cups that you can keep: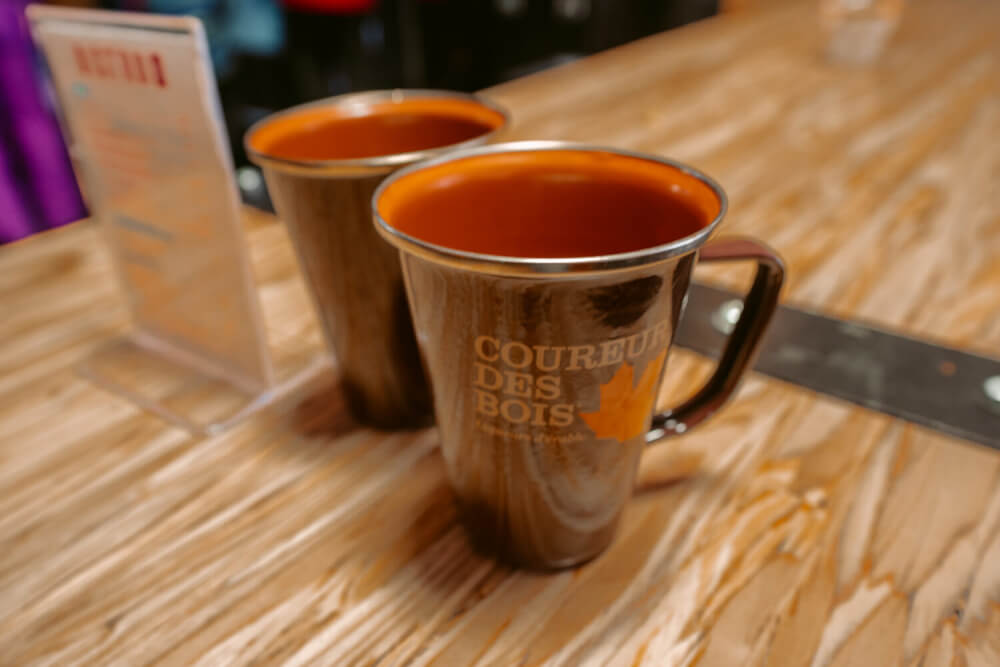 7. Deep Fried Oreos and Smores
If you haven't figured it out by now, calories simply do not count at the Quebec Winter Carnival. For another hot sweet treat, head to the Oreo food truck in the Christie North Slope, and sample some deep fried Oreos, smores or better yet, Oreo smores.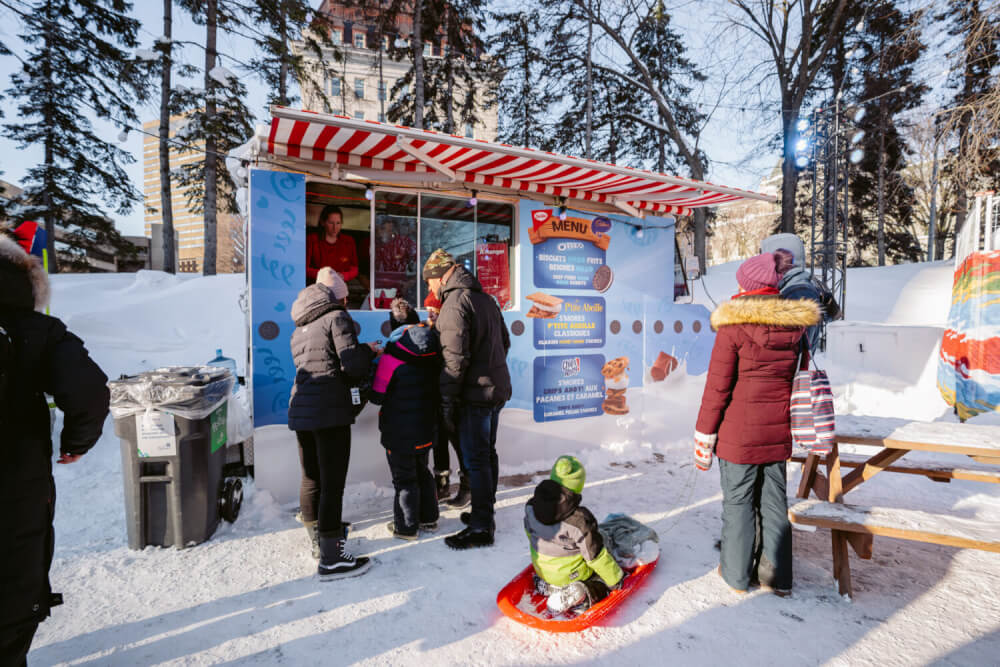 8. Hot Soup… Specifically French Onion Soup!
For a hot food option that will completely warm you up from the inside out, I recommend getting yourself a bowl of delicious hot soup.
There are quite a few options for this around Carnaval, but my specific recommendation if you want to get really indulgent is French Onion soup.
This delectable must-have is usually served with an absorbent bread base, and consists of a savoury broth packed with caramelized onions and topped liberally with gooey, wonderful cheese. It is THE best for an instant warm-up (well, besides those aforementioned vodka shots anyway).
Here's one I enjoyed at the ever-popular Québec City restaurant, Aux Anciens Canadiens: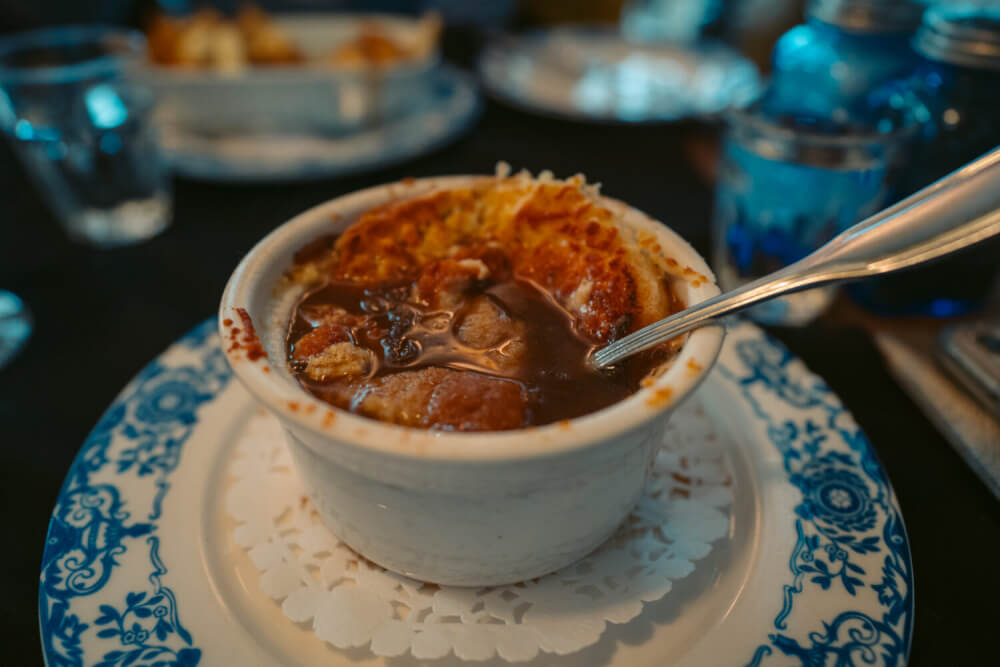 9. Fondue Baguettes
Where to get it at the Québec Winter Carnival: The Chalet Unibroue, in Jo's Camp in Place George V
For a savoury snack, one of the few options I saw offered on the actual Carnaval festival grounds included fondue-filled baguettes (even ones stuffed with sausage).
These could be found in the Unibroue chalet. I didn't get a chance to try one but I feel like I would truly be doing you a disservice by not informing you of their existence, so here's a tantalizing little photo: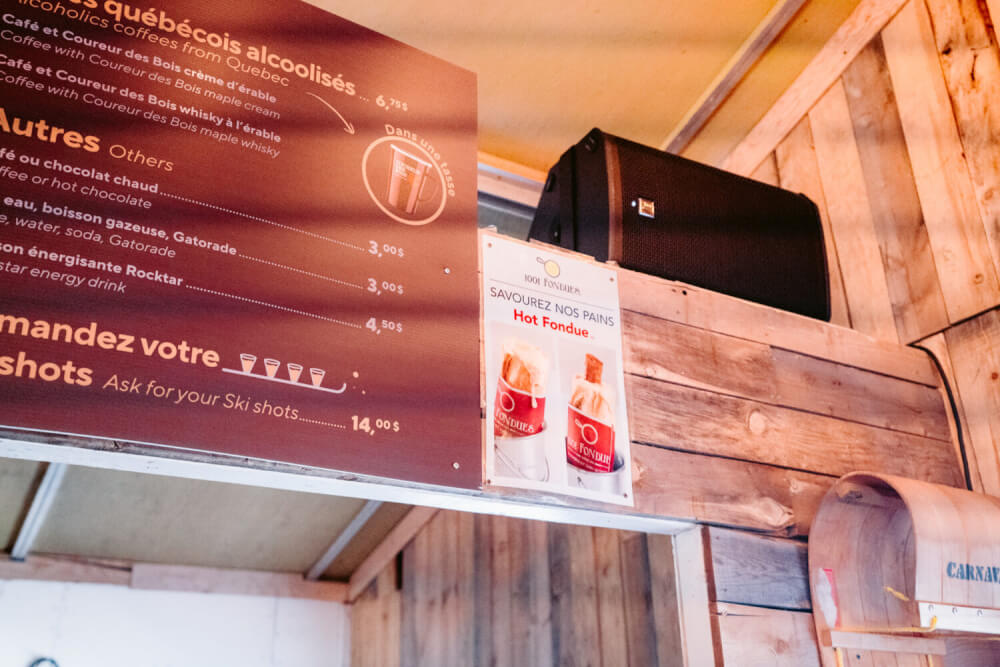 10. Poutine
While not strictly a Carnaval food, if you find yourself enjoying the wonders of French Canada, grabbing a poutine should pretty much be #1 on the foodie bucket list.
To put things simply, poutine is a beloved Canadian delicacy consisting of crispy French fries topped with gravy and cheese curds.
It's basically the national drunk food of Canada, and one of the greatest gifts this beautiful province has blessed us with, so be sure to give it a try.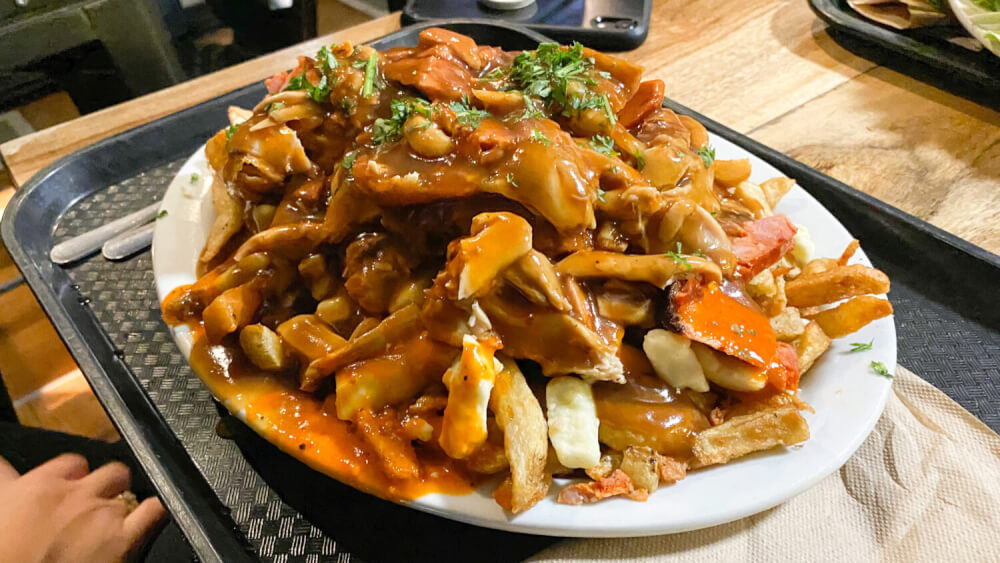 BONUS: Maple Syrup Pie
Where to get it: Aux Anciens Canadiens
While not an offering on-site at Carnaval, I need to put maple syrup pie on this list because…
Mmmmgh. Just because!
Okay, how can I describe maple syrup pie to you? Imagine a sugary flaky pie with the richest, purest maple flavour. Served usually quite thin, this amazing dessert is a must try while exploring Quebec City and Carnaval.
We got ours at the ever popular restaurant, Aux Anciens Canadiens, where you can score a three course lunch (wine or beer included) starting at 22.95!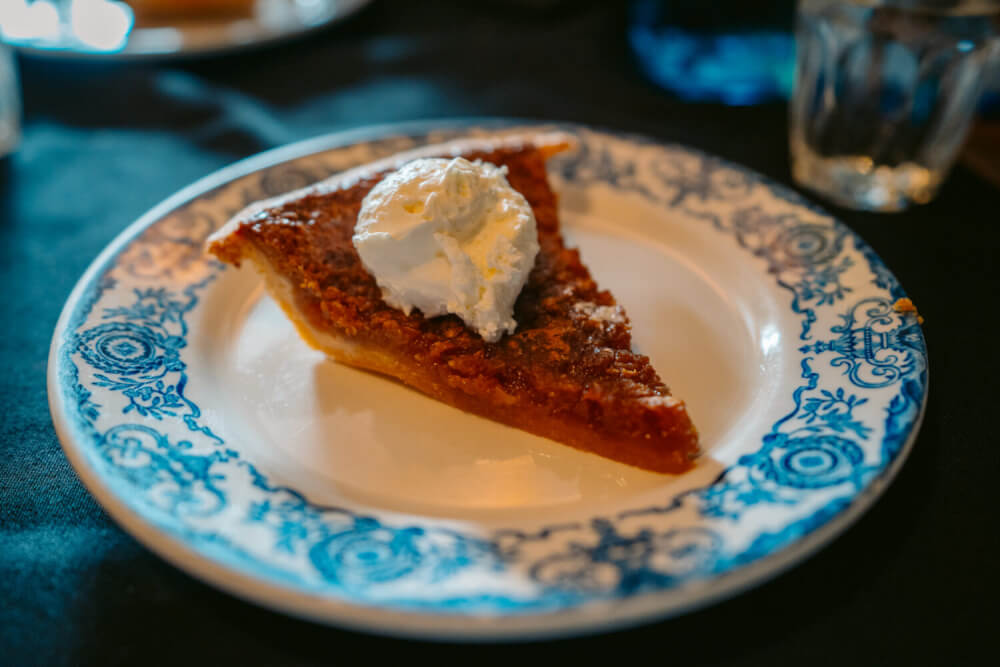 BONUS: Smoked salmon anything
Okay, sorry – another bonus. I just keep thinking of other delicious foods and my mind basically implodes into itself.
SO, yes – make sure you get yourself some smoked salmon while enjoying Carnaval festivities in Québec City.
Smoked salmon is a truly wonderful thing to try in Canada, and luckily you'll find it in all sorts of creative ways on menus all over.
Once upon a time for example, I had a delectable pizza topped with smoked salmon pizza and capers at Mille et One Pizzas… it was so good I still think about it to this day!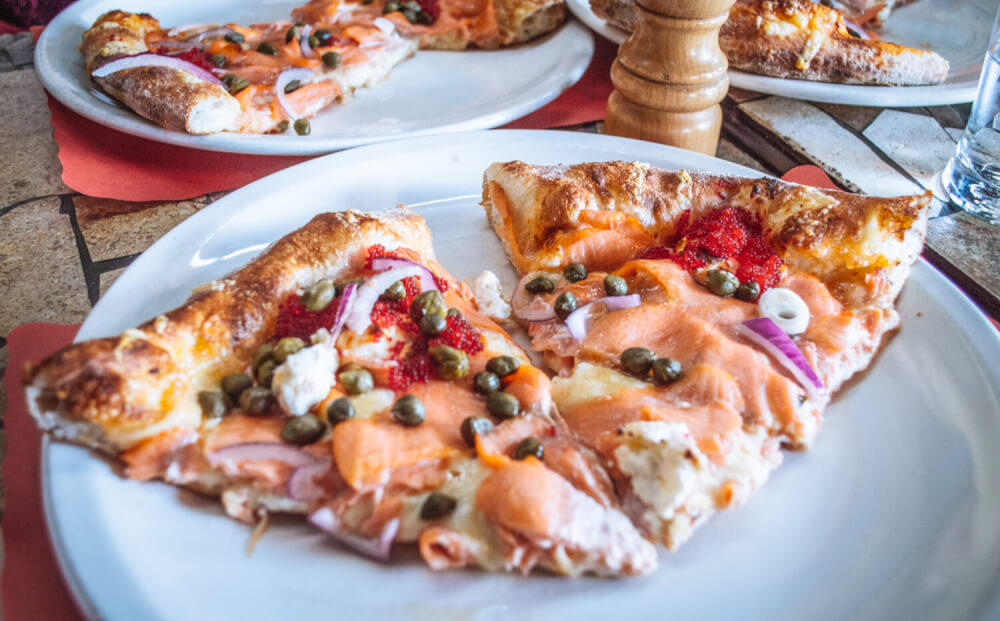 I hope you enjoyed this list of the best Québec Winter Carnival Food & Drink!
I hope you have an amazing time. Bon appétit!
---
Watch my most popular YouTube video this week:
---