*FYI - this post may contain affiliate links, which means we earn a commission at no extra cost to you if you purchase from them. Also, as an Amazon Associate I earn from qualifying purchases. Check out our Privacy Policy and Disclosure. for more info.
From axe throwing and winter wrestling to ice canoe races and the jolliest ambassador in the world, there's no event on Earth quite like the Québec Winter Carnival, an annual festival held in Quebec City, Canada.
Here, the only thing cooler than the freezing weather are the drinks (served in ice cups), the snacks (sometimes served over snow) and the endless parade of shamelessly Canadian festivities (which make my mushy Canadian heart ooze with national pride).
Save this post on Pinterest for later: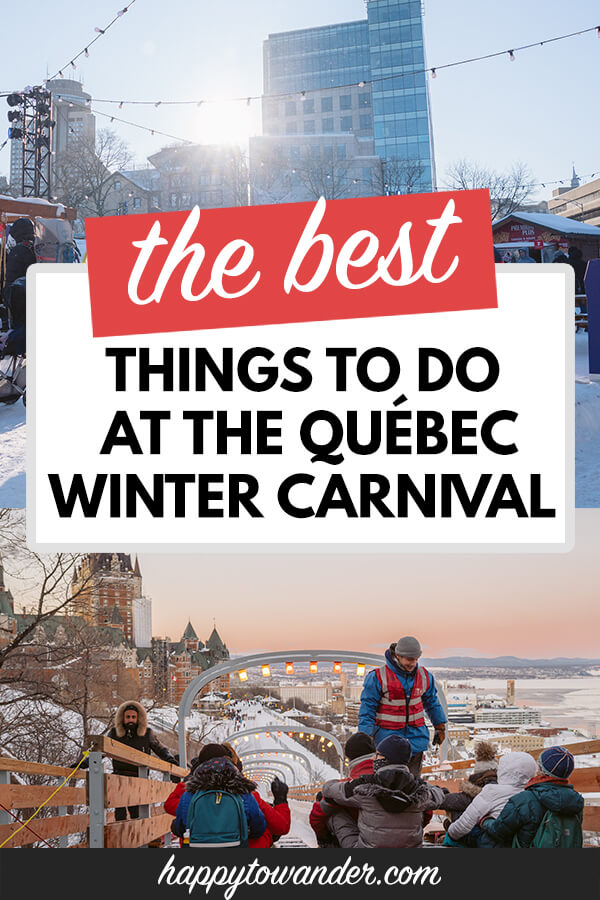 The Carnaval de Quebec is an epic celebration of French Canadian culture, and one of the best times to visit the city. I've had the chance to experience it twice now – once back in 2014 and most recently in 2020, when the festivities really wowed me and brought all sorts of proud Canadian tears to my eyes!
So grab your toque, your red flannel, and layer all the way up because I'm taking you on a journey to one of the most magical events Canada has to offer.
Here are 20+ Québec Winter Carnival activities you need to experience while celebrating Carnaval! And be sure to read my full Québec Winter Carnival guide for this year's dates, locations, and practical tips.
NOTE: This list is based off my last visit, so if you are visiting this year, the exact activities may vary. I'd recommend visiting to the event's official website for the most up to date program for this year.
PS: Watch my Quebec Winter Carnival video guide here:
1. Eat your face off
Whether it's lapping up maple taffy off white slabs of snow, or gorging on a crispy straight-from-the-fryer BeaverTail, it goes without saying that there are plenty of opportunities for indulgence around Carnaval.
Are you looking to completely abandon those New Years resolutions? Well good news – a hefty selection from fried Oreos and S'mores to comfort foods like poutine and French onion soup await.
Read my full guide on what to eat and drink at the Québec Winter Carnival for more details!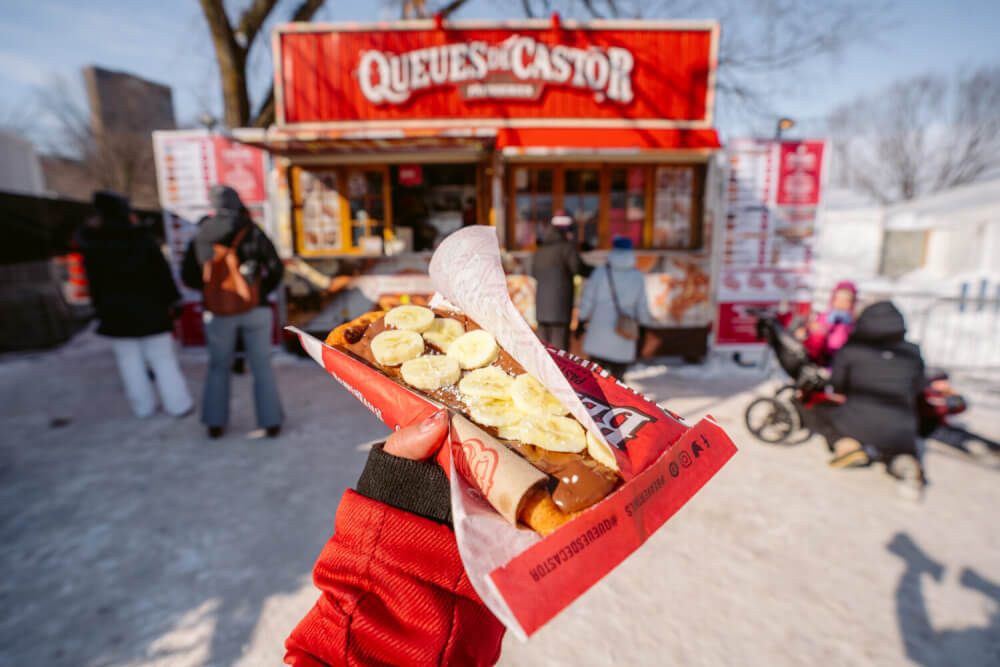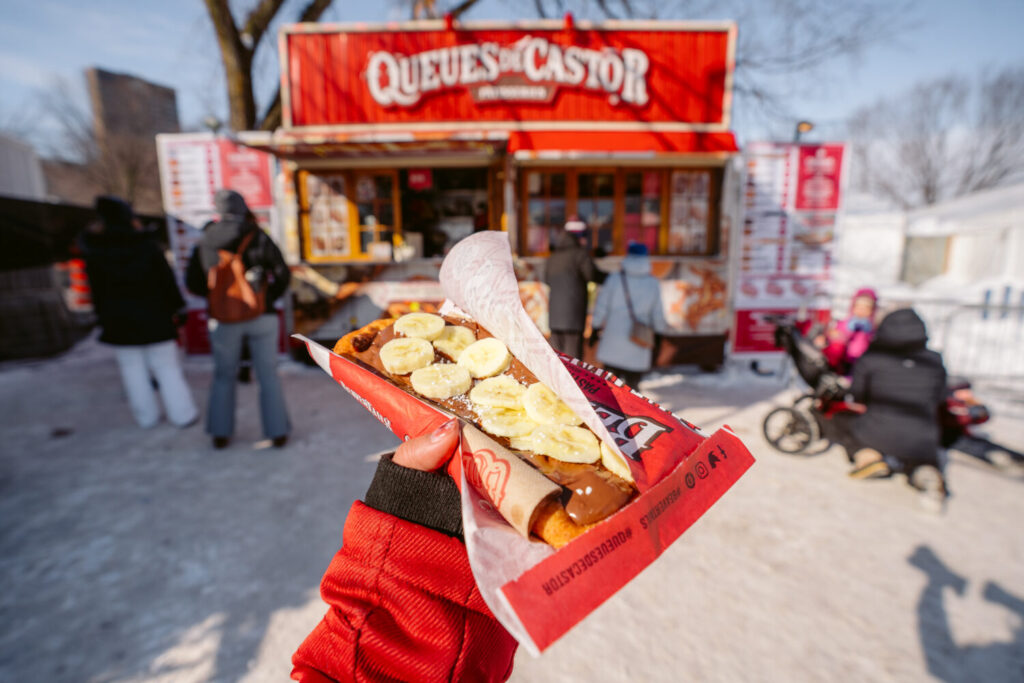 2. Watch an enchanting night parade
One of the event highlights I would highly recommend is the night parade which takes place every Saturday evening!
Even if you're not particularly a fan of parades, the various floats and performances in this one are really special, with a few highlights including fire jugglers and live ice sculpting demos, mystical dancing animals, stunt dancers waving around on springs, and more. It's one heck of a rollercoaster.
NOTE: While I really enjoyed the parade, I have to say the timing and spacing of floats is a little awkward, so sometimes you're waiting a long time between floats and performances arriving. If you're not dressed warm enough, these waits can really hinder your experience, so make sure to dress warm (and cover them fingers and face!)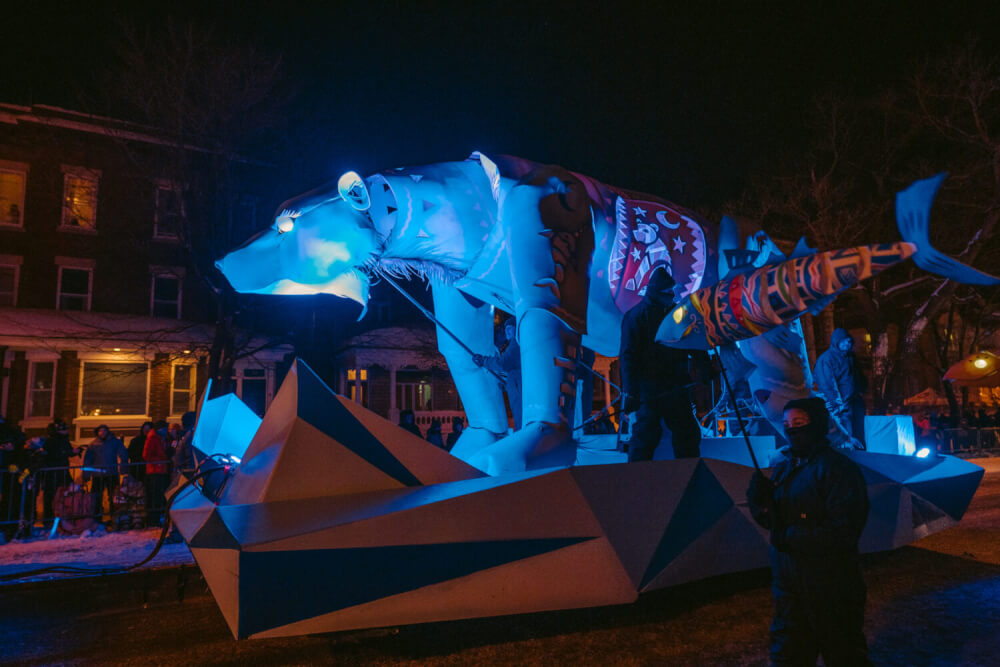 3. Get second-hand fatigue watching the ice canoe races
Thick armed athletes splashing their rows upstream in a river studded with ice chunks? Sounds adequately Canadian to me…!
This iconic event is one of the highlights of the Quebec Winter Carnival experience and happens typically on the first Sunday of the festival. While you can see the rowers from a variety of vantage points around town, I'd recommend going down to the river level for the best atmosphere and view.
We watched briefly from the Chateau Frontenac level but honestly you couldn't see it too well and the rowers looked more like little dots than I would have liked.
Instead, from here, taking the Funicular down to the Petit Champlain then walking straight towards the river will yield much nicer views!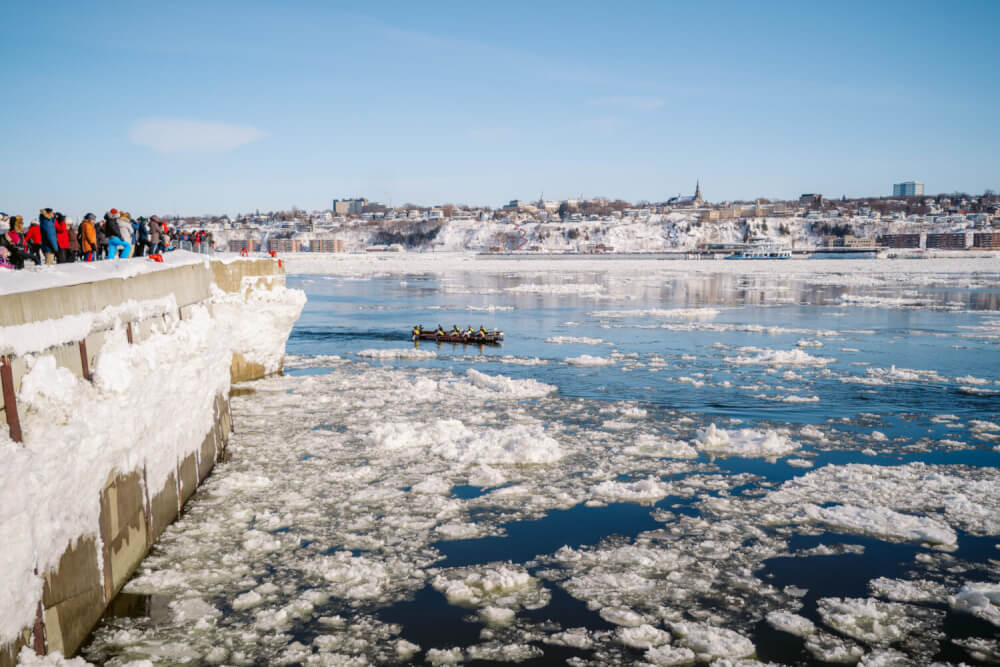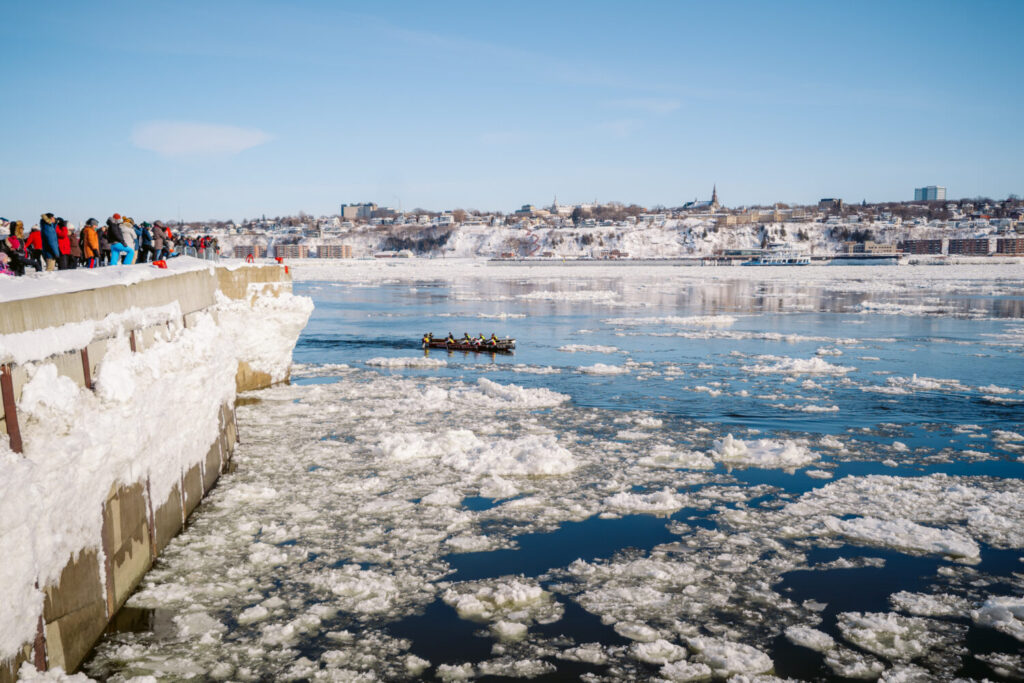 4. Get some face time (and a selfie!) with Bonhomme
I freaking love Bonhomme. Have I said that already? This awesome jolly snowman is the ultimate ambassador with a cracking Instagram account to boot (creep him here).
Getting a photo with him is the ultimate Quebec Winter Carnival souvenir, and luckily, there are plenty of chances to get face time with this beloved 'good man'. Consult the official Carnival program here for times, but he does meet and greets daily in his glitzy ice palace.
NOTE: If you want a Bonhomme photo but don't want to wait in line for the real deal, there are some Bonhomme statue photo oops scattered around the city, including one in front of the Chateau Frontenac and inside the lobby of the hotel itself.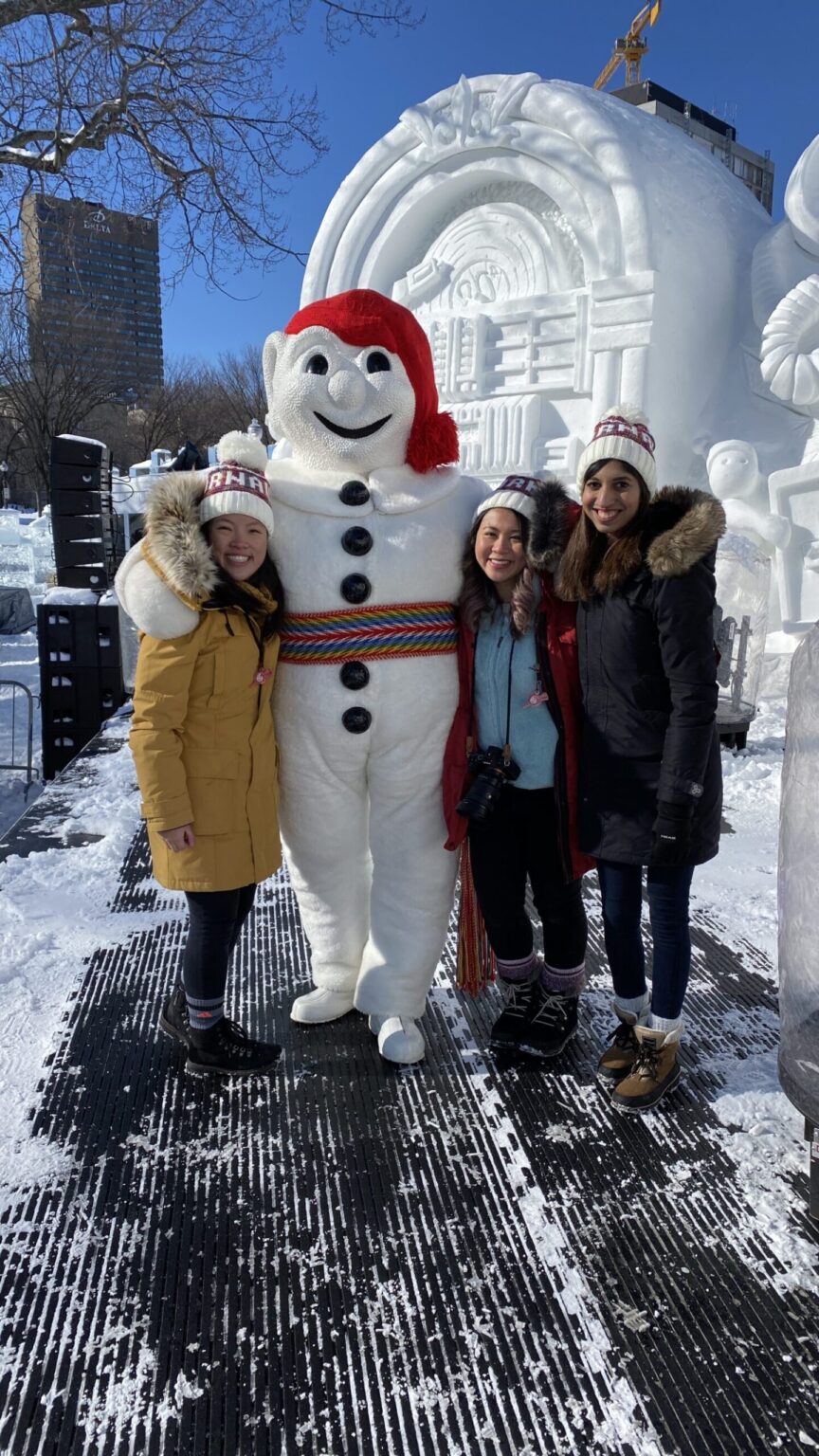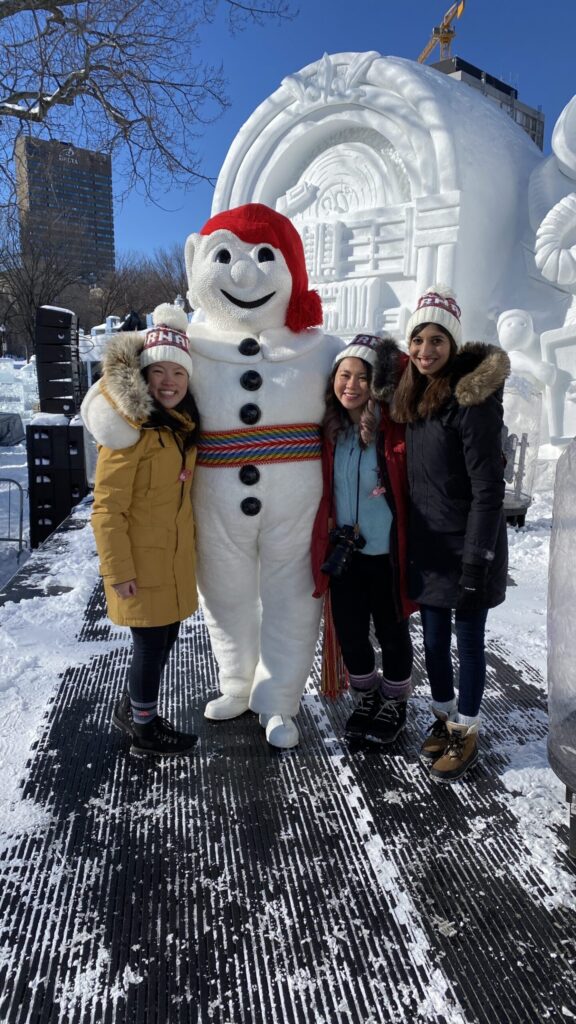 5. … Or just enjoy all the gratuitous photo opps
With ice sculptures everywhere and um, like I mentioned, a literal palace of ice on the grounds, Carnaval is basically one giant photo opp after the next.
While souvenirs are great, nothing brings back great memories quite like a perfectly crafted selfie, so be sure to keep an eye out for all the fun photo opportunities around the festival. I particularly loved these snowy cutouts in the Zone Loto-Québec: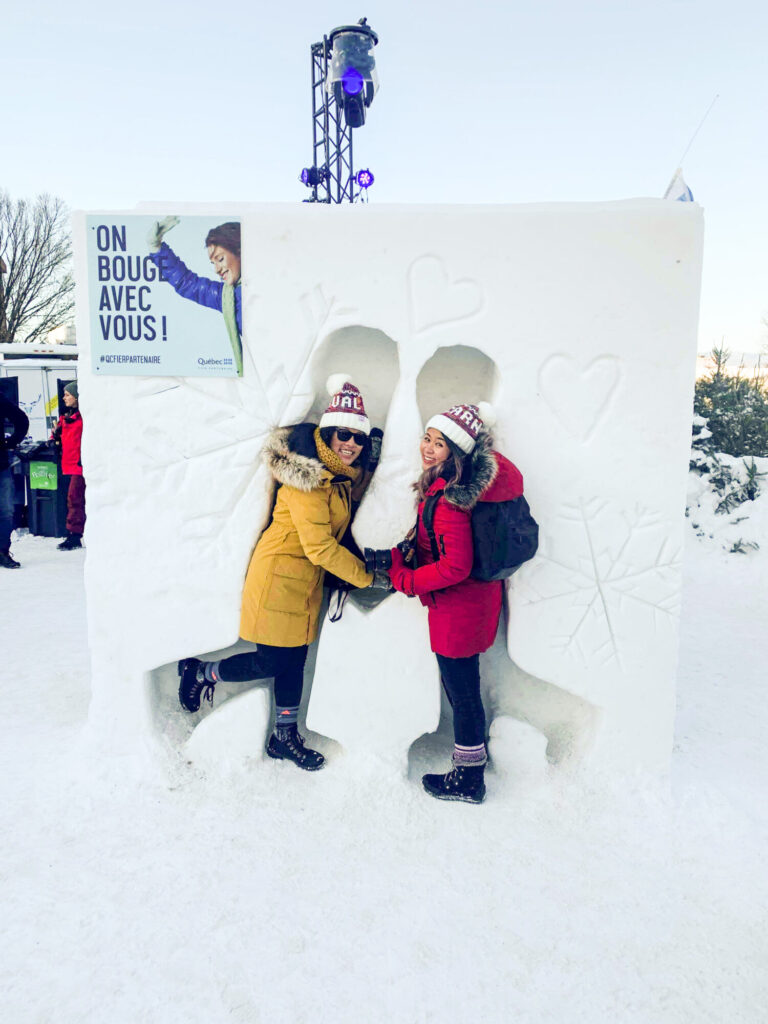 6. Throw some axes
Got some pent up aggression? Feeling stressed at work? Or really, just looking for an excuse to wield an axe and throw it like some strong-armed winter deity? WELL, luckily for you, included in the Québec Winter Carnival effigy is a little axe throwing opportunity!
Never thought you'd be prepared to throw an axe? Not to worry, after a brief tutorial and pep talk from a staff member, you get five tries to hit your own bullseye. Not to brag but…….. I got one and I'm already contemplating quitting blogging to fulfill my potential as an axe throwing prodigy.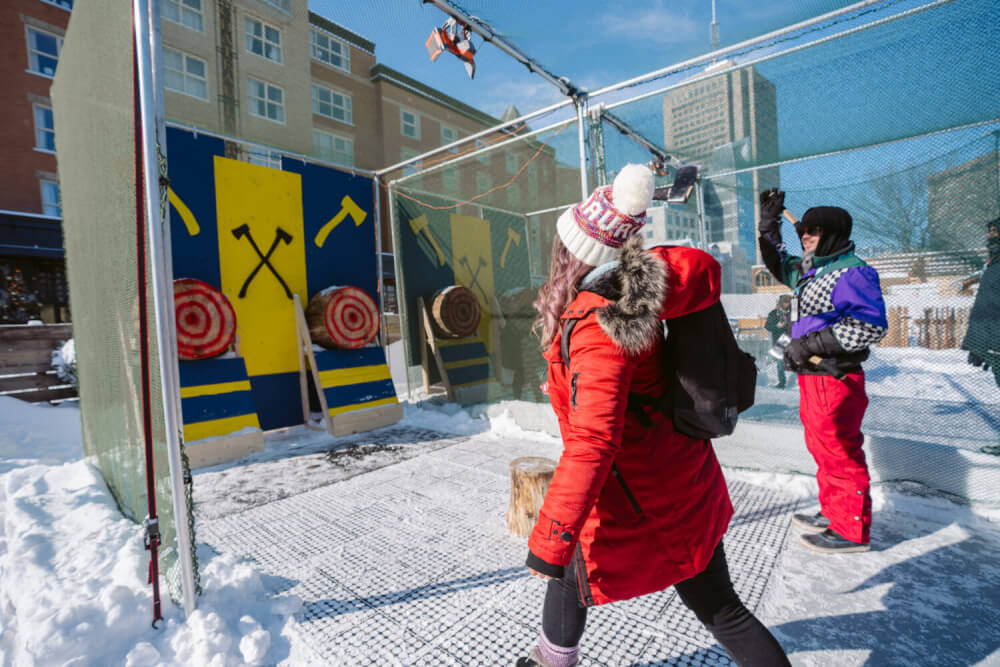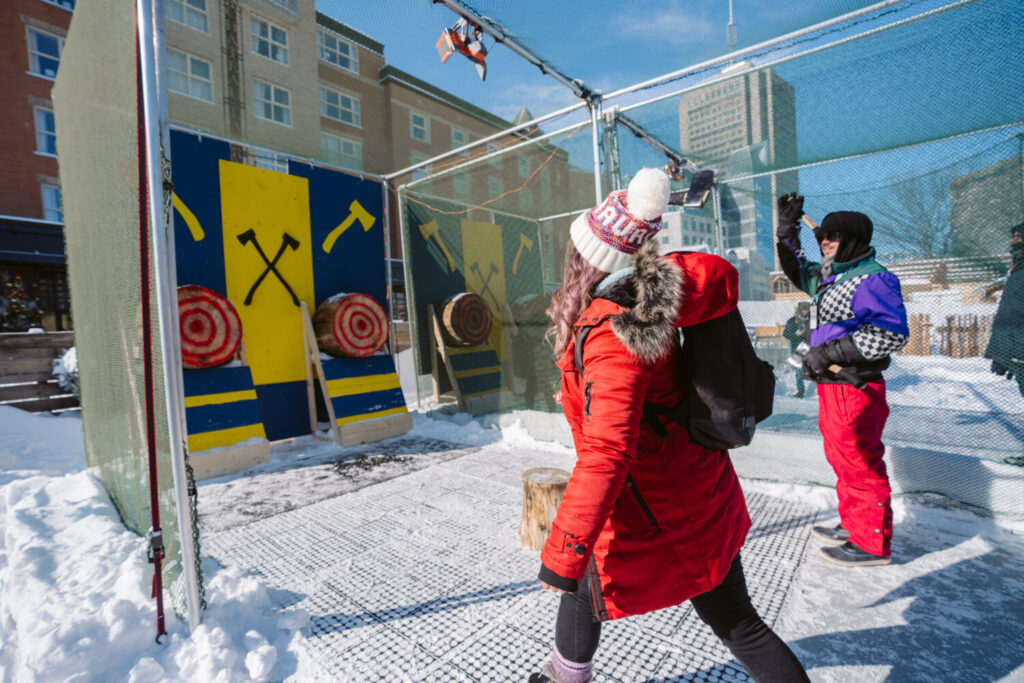 7. Go on a toboggan ride with amazing views
The Toboggan Slide au 1884 experience near the iconic Chateau Frontenac is a must-do for a bout of thrill during your Quebec Winter Carnival experience.
While not included in your festival effigy price, each ride costs only $3 per person. The view from the top of the track overlooking the chateau is wonderful, as are the views coming down… although I wouldn't know because me, the scaredy cat, spent the entire descent violently shrieking in terror with my eyes shut, as tiny four year olds scooted past with not a care in the world.
What can I say? Thrill seeking is not exactly my thing.
PRO TIP: Go around sunset time for gorgeous views and fewer crowds.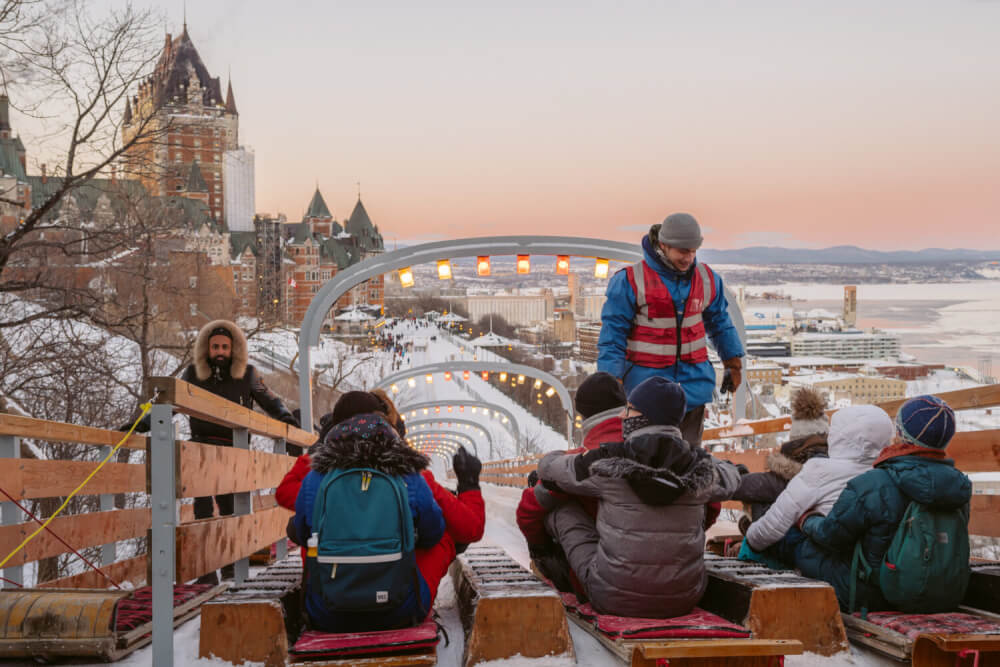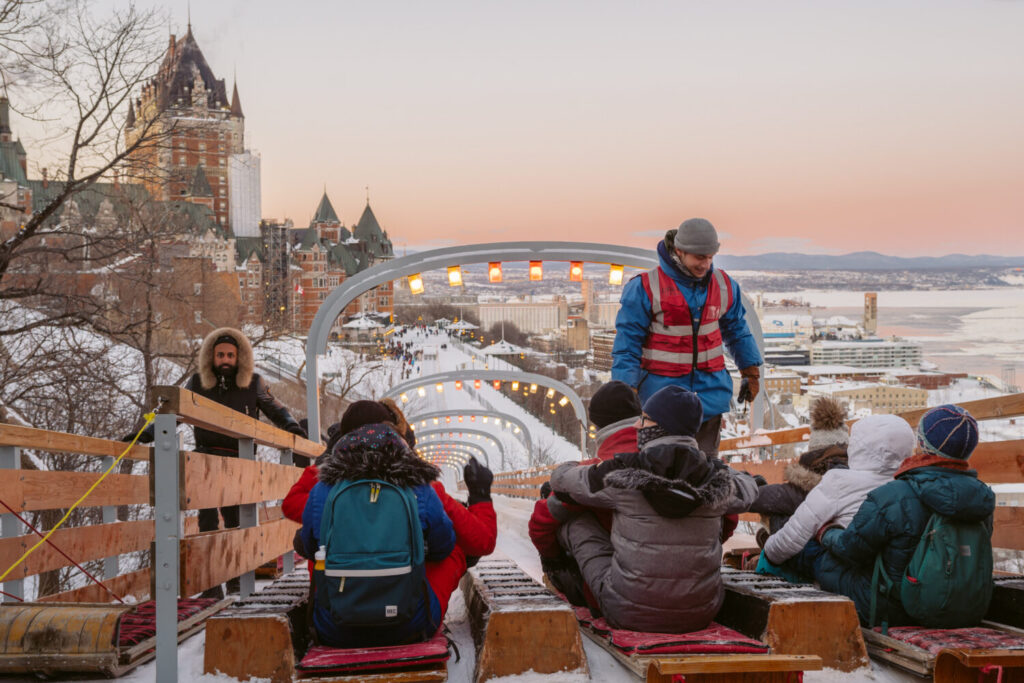 8. Go tubing
For a less terrifying thrill ride at Carnaval (and one that's included in your effigy), there's also the Christie Descent, a tube ride which can be found right across from the Camp à Jos in the Christie North Slope. This 300ft descent is a lot more gentle, and includes a curve so it's more suited to scaredy cats like me and kids.
Looking for something even more low key? There's a smaller slide in this area too, and of course some nice little food trucks nearby serving Oreos, S'Mores and soup!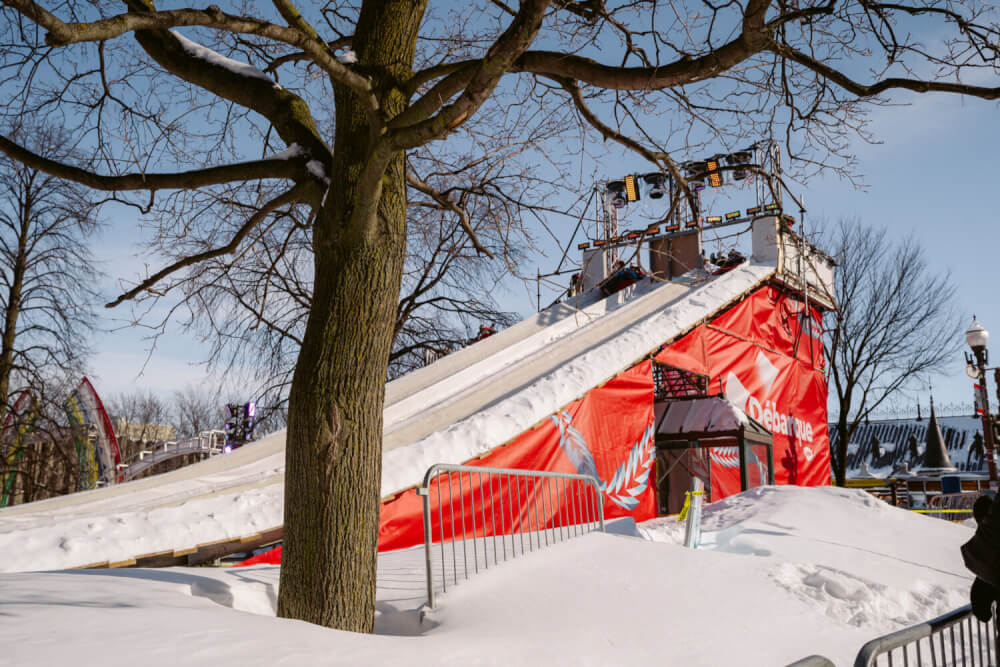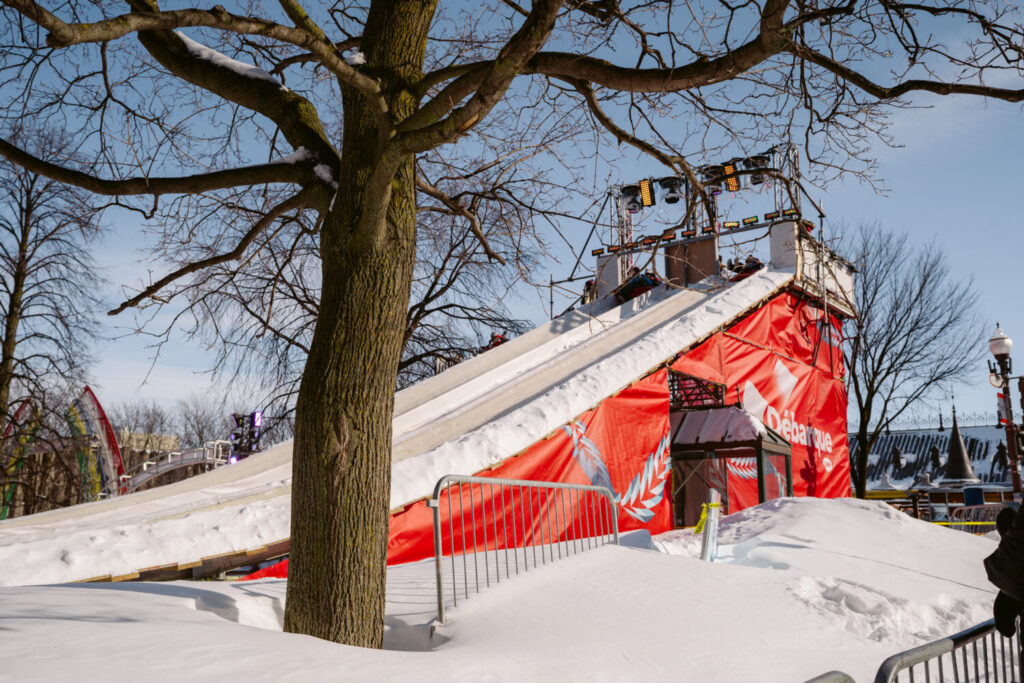 9. Get lit at an ice bar
Drinking out of literal cups of ice is one of the quintessentially Carnaval experiences you can't miss! Plus, it's an excellent way to stay warm.
In 2020, there were two main ice bars on site, including the Bar le Coureur des Bois in le Camp à Jos and the SAQ Ice Bar in the Zone Loto-Québec. There's also a smaller Pepsi ice bar within Bonhomme's palace that has a small menu!
What do you need to drink at these bars?
Well, one must-try classic is Caribou, a quintessentially Quebecois drink made up of red wine, hard liquor and some spices and sweeteners to amp up the taste. The result is a sort of mulled wine concoction, served hot or cold, but maybe best in a glass made of literal ice.
You can also indulge in a Bonhomme Cosmo, a shot of vodka flavoured with special red Bonhomme syrup…
Or for something a little warmer, there's also a hot drink known as the Ponce du Carnaval, which comes in a lovely souvenir mug and offers a few sips of glorious relief from the cold.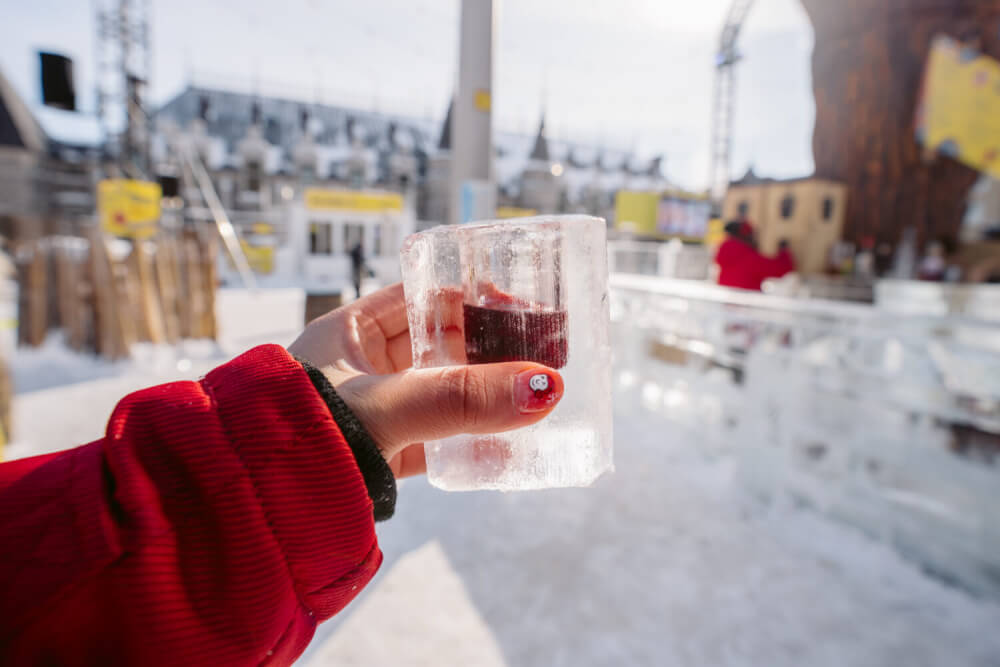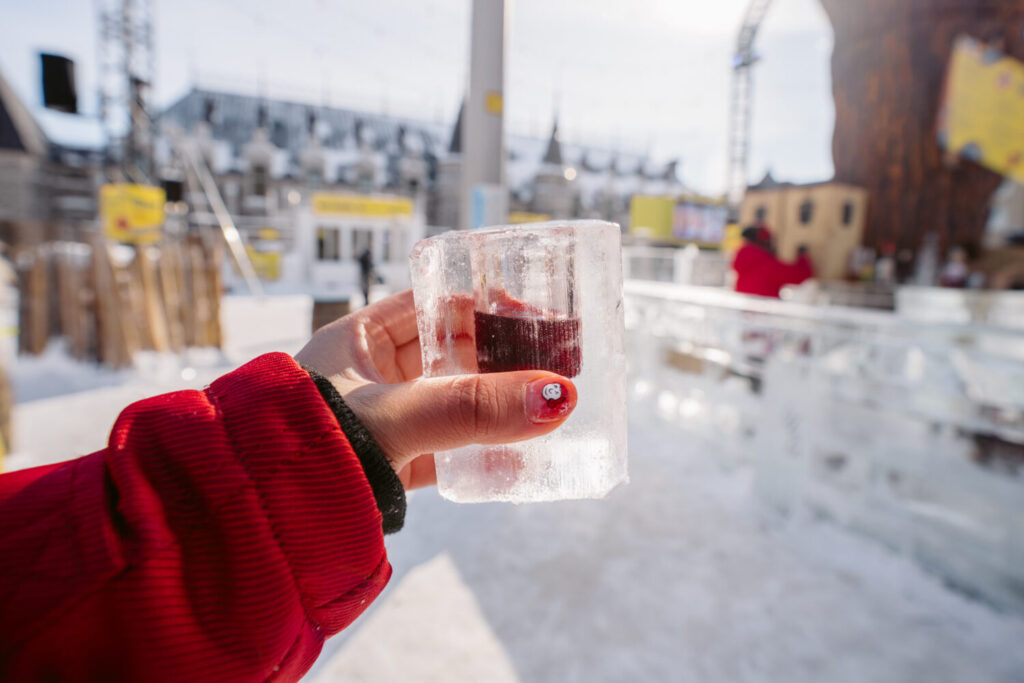 10. Watch winter wrestling
I grew up watching pro wrestling so imagine my fanatic delight when I saw that winter wrestling was part of Carnaval's winter program!
Let me tell you: this event is something else. In a climate where, under 5 layers of heat gear, I'm still shivering, it seems unfathomable that grown men wearing little more than speedos can successfully hurl each other around with the dramatic flair only pro wrestling can muster.
This is a really fun performance to watch and I'd definitely make sure to catch it at some point!
PRO TIP: Head up the stairs just above the Boîte à Musique area for the best view of the matches.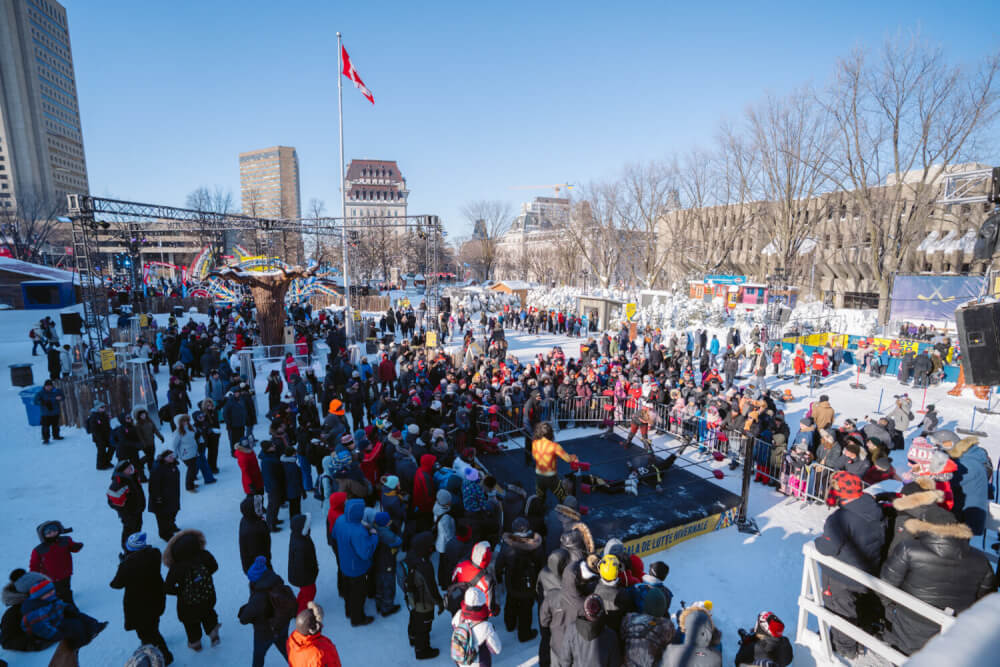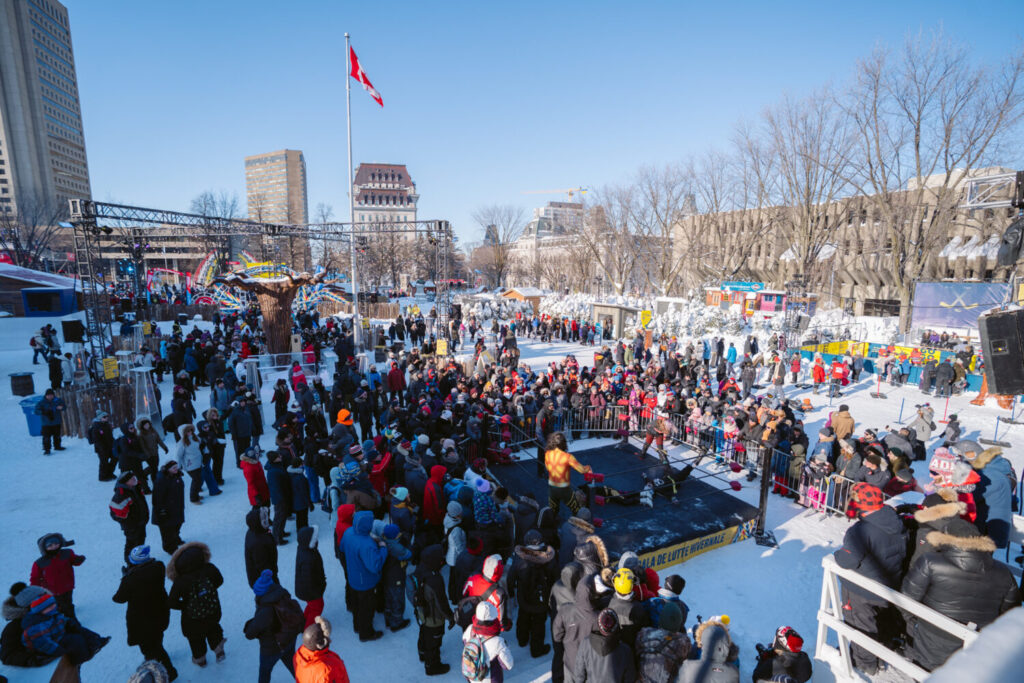 11. Enjoy fun musical and dance performances
It might be my overactive imagination or just the fact that I live in my own little dream bubble, but I swear, fun fiddle music is CONSTANTLY playing in the background at Carnaval, and I for one adore it!
Besides this atmospheric background music, there's also frequent performances around the festival sites, including at the Boîte à Musique area in Le Camp à Jos and also inside the SAQ Bistro.
This entertainment is super fun and best of all, included with your effigy so be sure to consult the official program for full details.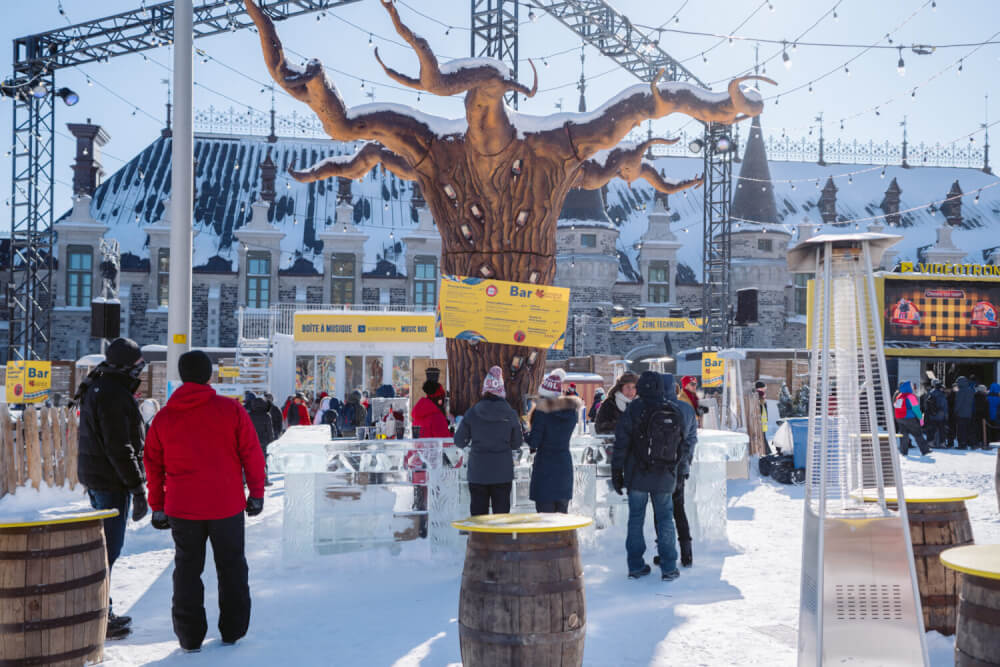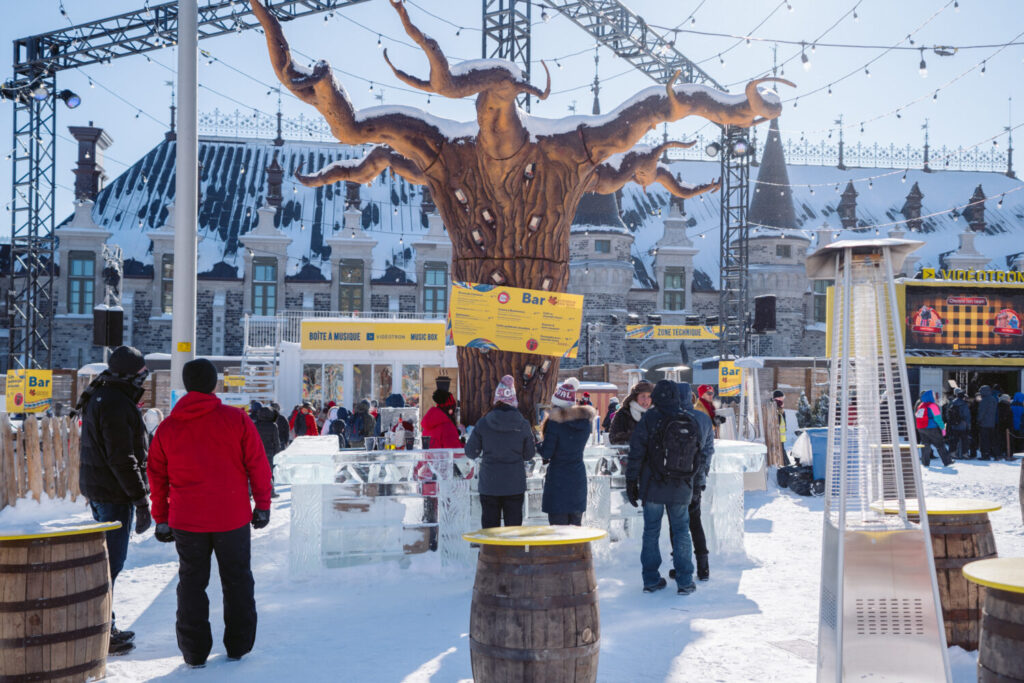 12. Enjoy an immersive and nostalgic trip through retro video games at PIXEL
NOTE: PIXEL may have been a special event just for 2020, but I've left it here for your reference!
As a shameless geek, the PIXEL experience at the 2020 Québec Winter Carnival was one of my favourite things we did!
This attraction is located in Bonhomme's Ice Palace and is basically a walk through celebration of nostalgic video games/media. There's a room with giant headphones blasting 80s and 90s hits, there's a room with a wall lined with giant Lite Brites, a giant pin ball themed room, and even a walk through Pac-Man maze.
If you love old school video games, you really can't miss this experience. It's so fun, and the lineup moved really quickly compared to some of the other experiences which take longer (e.g. the Labyrinth game).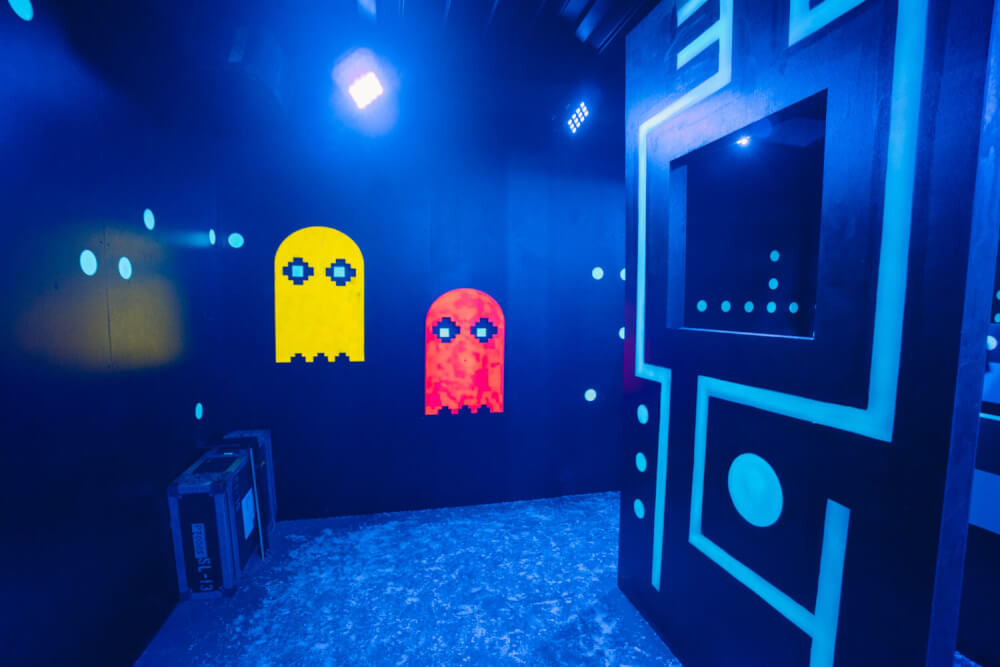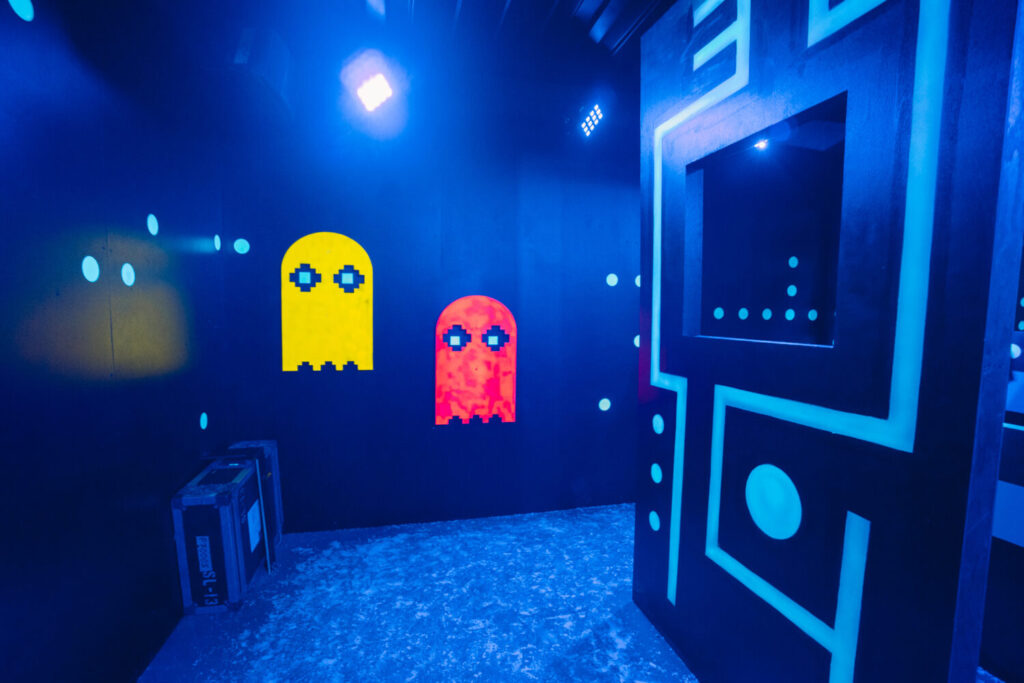 13. Slide down Bonhomme's slide made of ice
One of the interactive experiences you can enjoy at Bonhomme's epic ice palace is a quick slide made of ice! I mean, how often does that opportunity present itself? Warning: the lineup for this attention was always lengthy whenever I saw it, so be sure to head here early if this is something you want to do.
PRO TIP: For the smaller kids, there's another tiny ice slide in the shape of Hedwig from Harry Potter in the Petit Champlain area! Just exit the funicular and walk straight down towards the river.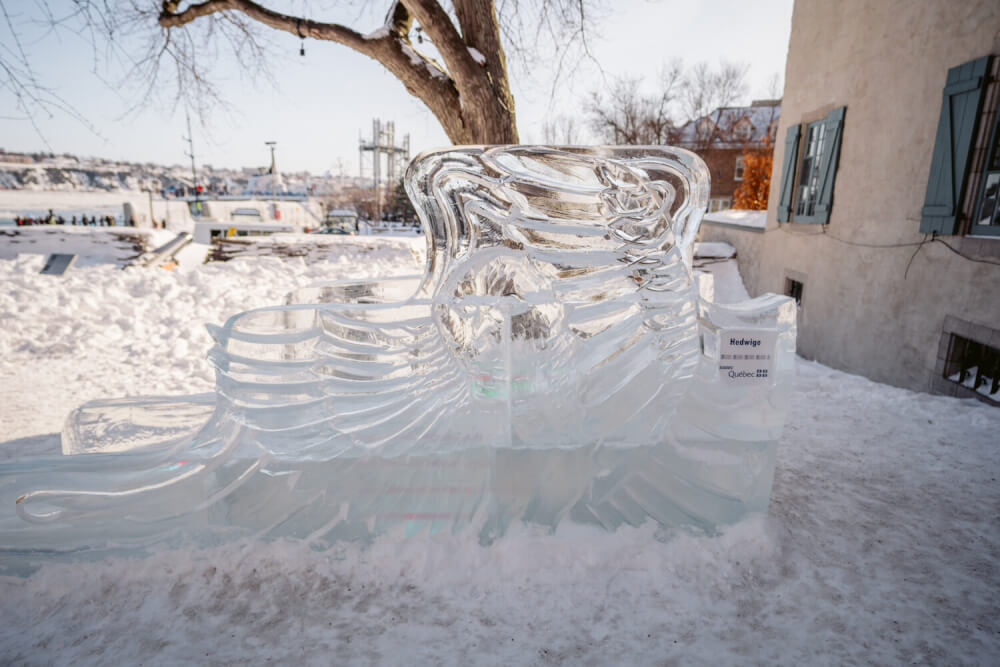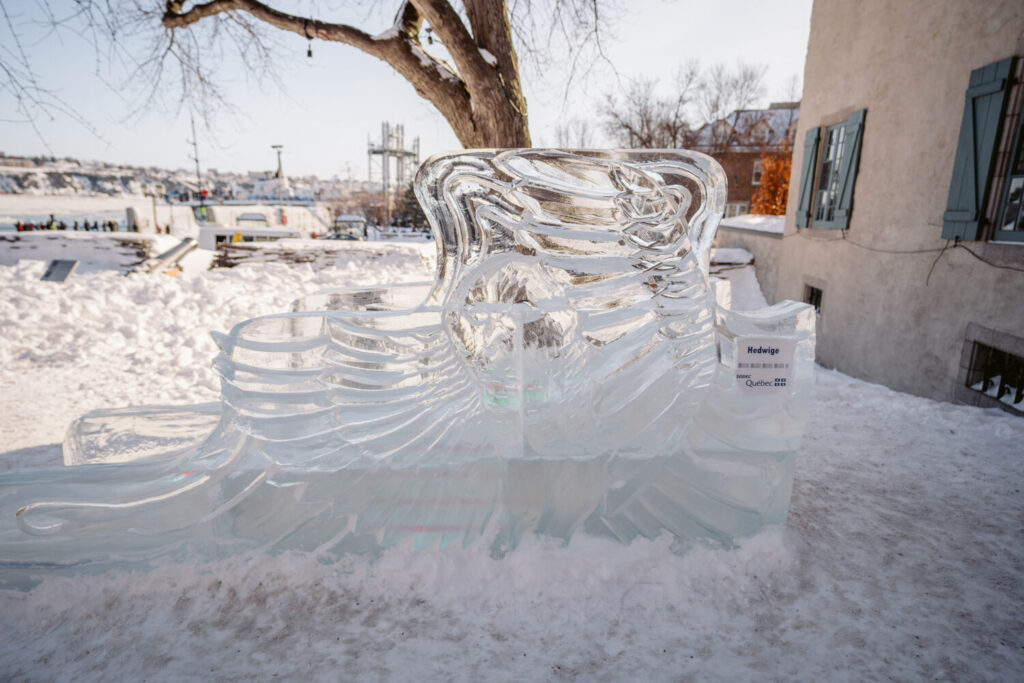 14. Warm up in a chalet
There are two chalets on the festival grounds where you can shamelessly hide from the cold while warming up with food, drinks and in some cases, an actual fire! This doesn't sound all that special, but trust me, when you've braved the cold for a few hours, your fingers will feel like they're ready to snap off, and a toasty fire will be most welcome ; )
Where can you find these cozy refuge sposts? Well, there's the Chalet Unibroue in le Camp à Jos which is a much tinier space with a smaller menu, and also the SAQ Bistro in the Zone Loto-Québec which has a large menu full of classic comfort foods.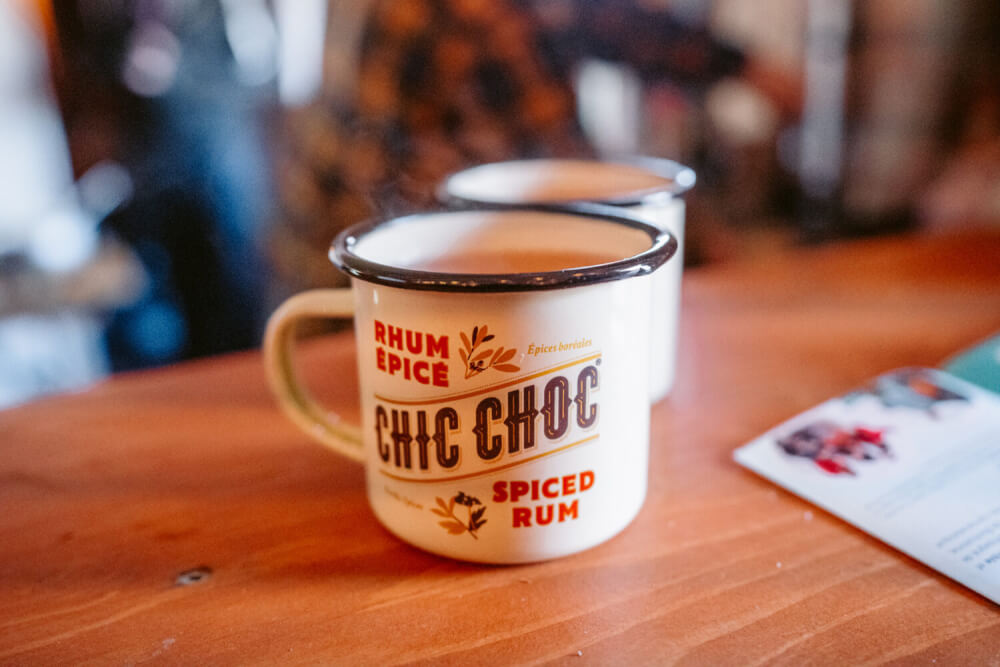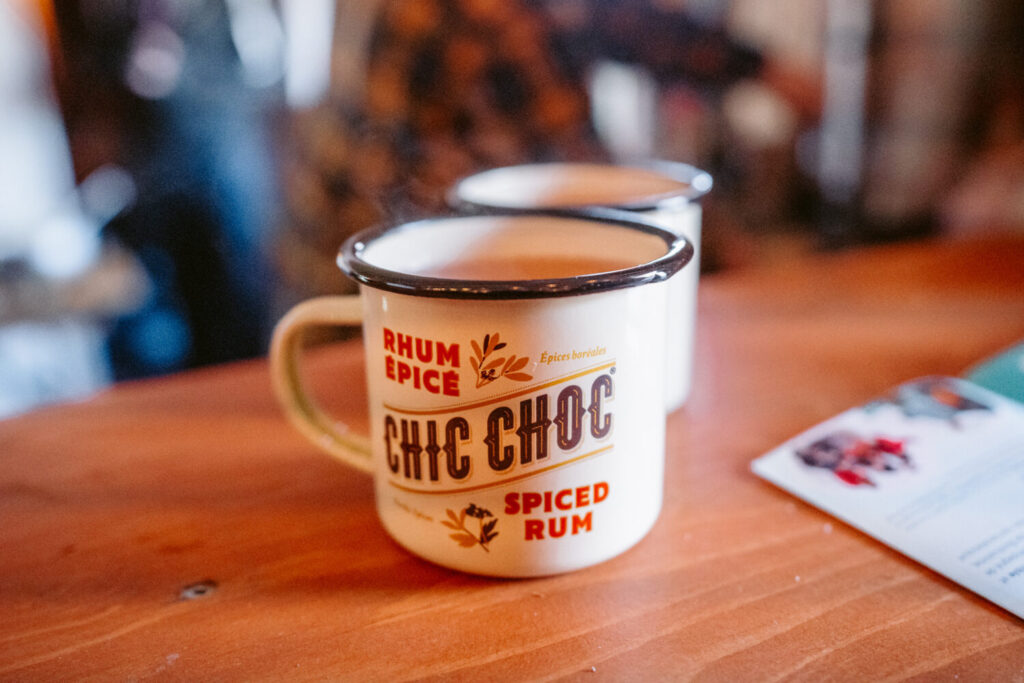 15. Admire the ice sculptures around the Petit Champlain neighbourhood
One of the partner events of this year's Quebec Winter Carnival is an ice sculpture walk (the Parcours de Sculptures de Glace) around one of Québec City's most iconic neighbourhoods, and I know it's a little out of the way of the regular festival sites, but this is a must do! 30 different ice sculptures scattered around town with amazing detail and whimsical shapes.
Why whimsical? Well, this year's theme is popular animals, with fun ice sculptures including Ratatouille, Babar and even Hedwig from Harry Potter, whose sculpture also doubles as a mini ice slide for the youngins (or the petite young at heart). So yes, you're bound to find a nostalgic sculpture that will appease your inner child somewhere.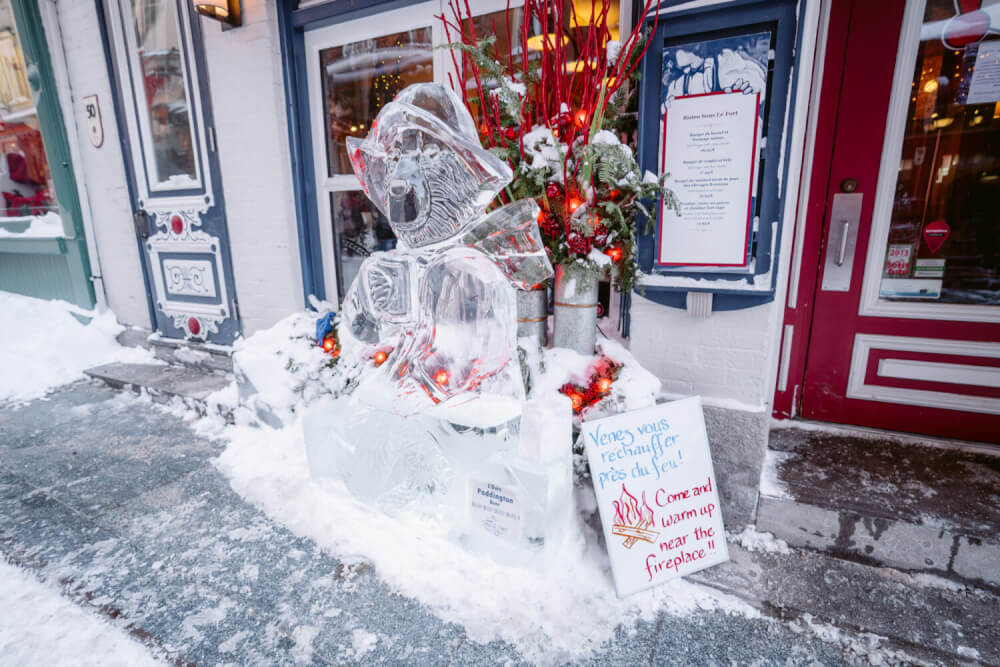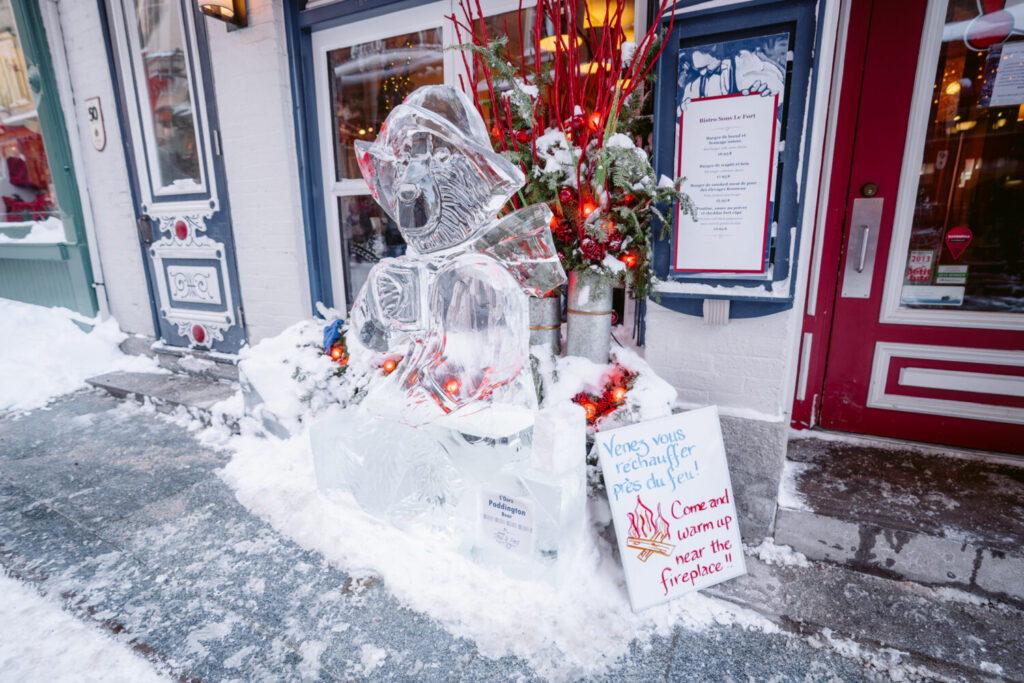 16. Enjoy a mini golf experience with hockey twist
As far as mega-Canadian activities go, few rival the shameless Canadianness of the Québec Winter Carnival Lance et Putt course, where you play a small mini golf style course with a hockey twist, complete with sticks, balls, and nets!
These tiny courses might seem small and easy at first, but trust me, when you're there with friends, it can get competitive quickly.
The colourful backdrops of prominent Canadian city skylines are of course a bonus.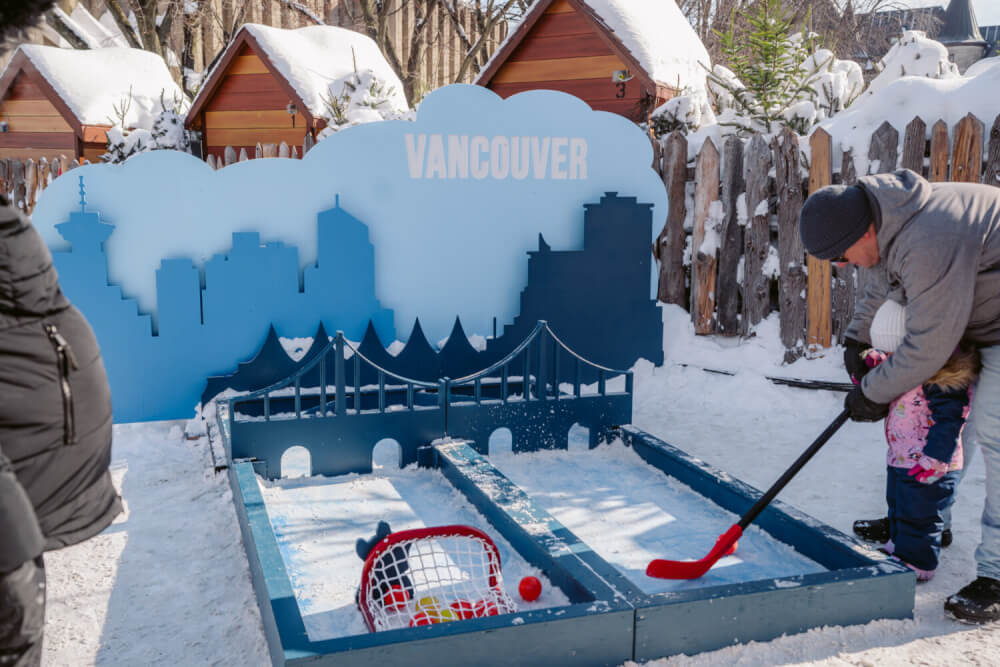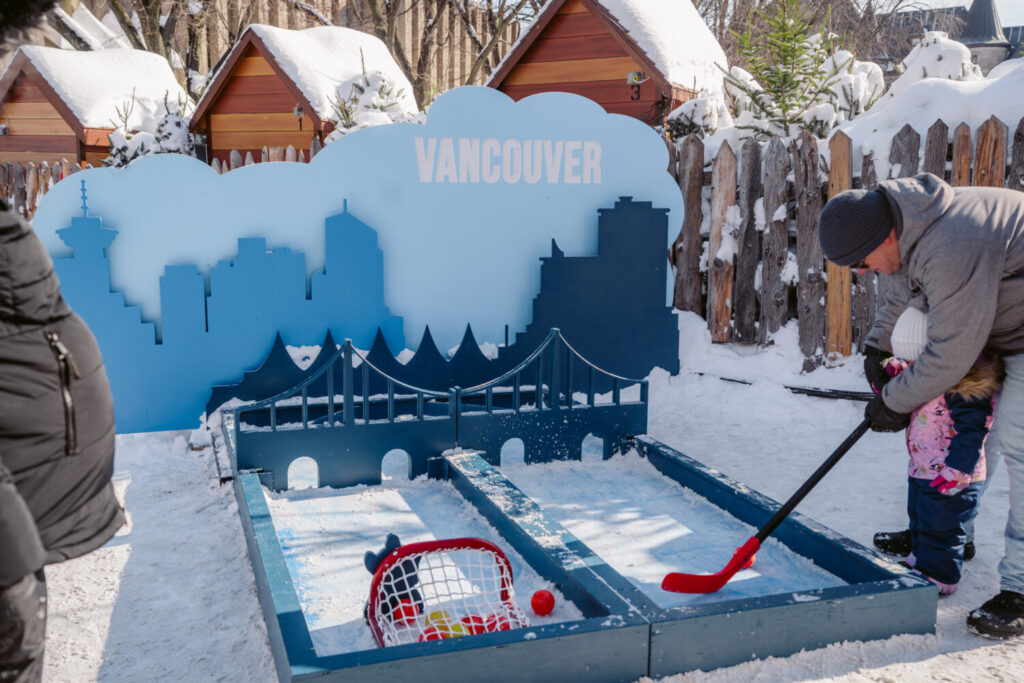 17. Watch ice sculpture demonstrations
If you're keen to watch professional ice sculptors work their magic, there are daily demos in the Zone Loto-Québec from the Marc Lepire sculpting team. It's really impressive to watch, especially for someone like me who struggles to even draw a straight line.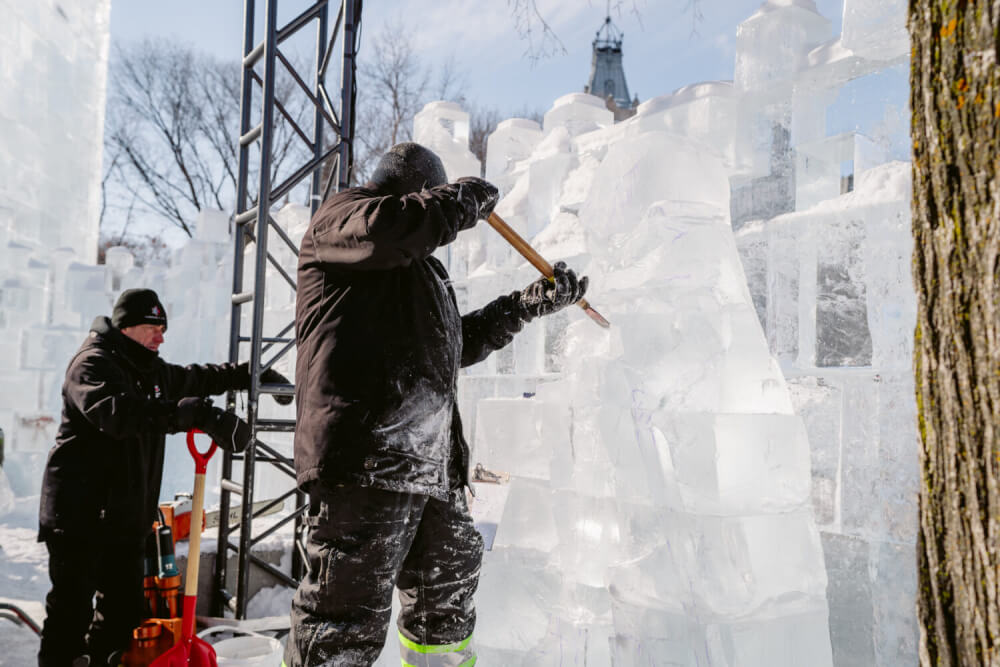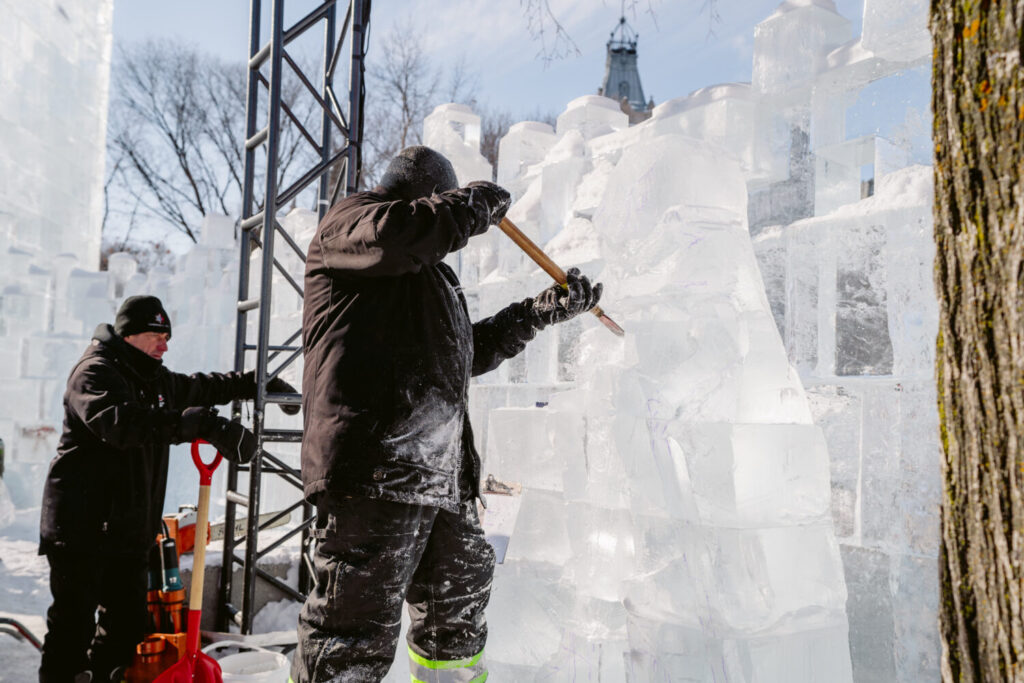 18. Enjoy an ice sculpture workshop
While this activity costs extra, one thing I would love to do next time is one of the ice sculpture workshops where you learn how to make your own with the help of a professional instructor!
These were unfortunately sold out during our visit but I did see one taking place and would love to try it out next time. These 1 hour workshops walk you through creating your own ice sculptures starting from scratch with one block of ice!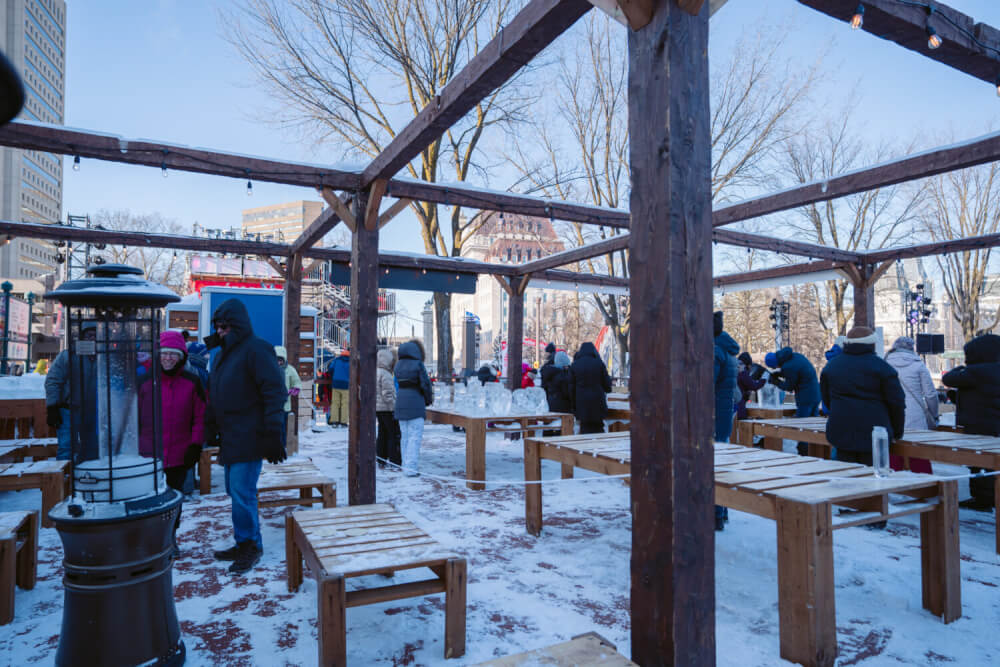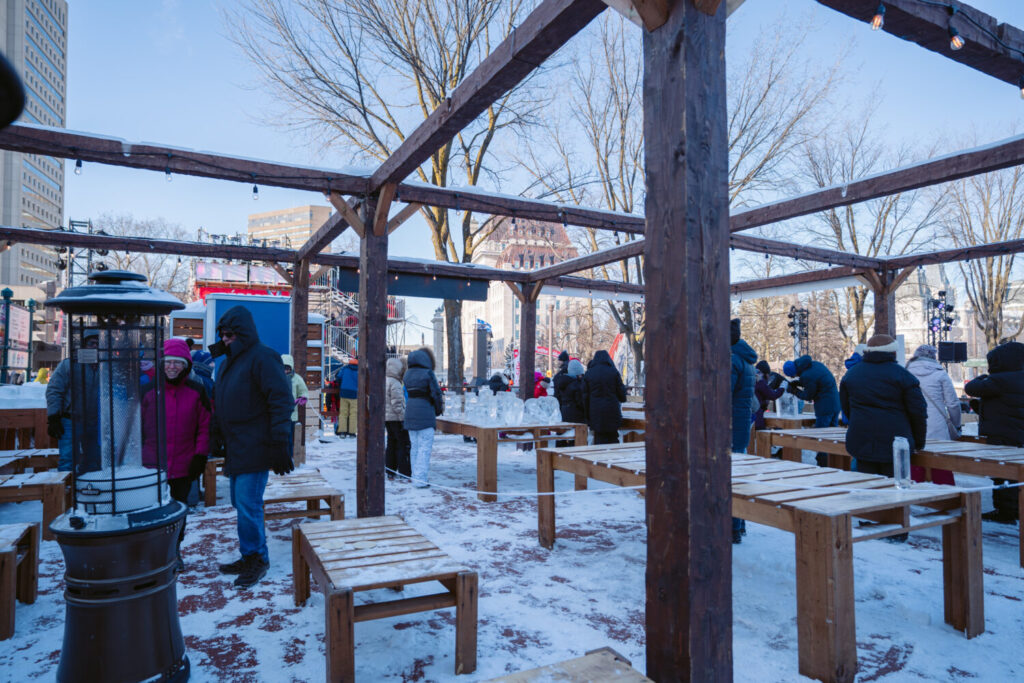 19. Watch some Goon's League Hockey
In this fun (family friendly) event, "goon" means silly person, not uh… the cheap boxed wine that Australian backpackers live off of. Just to make that clear.
This kooky ball hockey experience consists of 4 on 4 teams playing with oversized gear to (naturally) comical results. I know it doesn't sound that exciting, but it's absolutely hilarious and a must-see when you're in the Camp à Jos.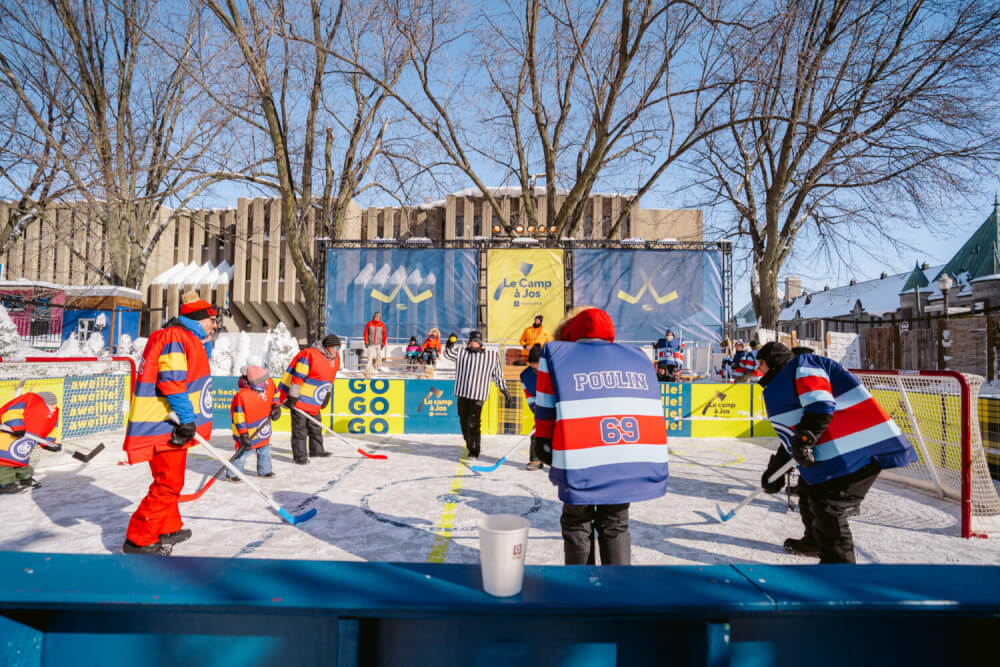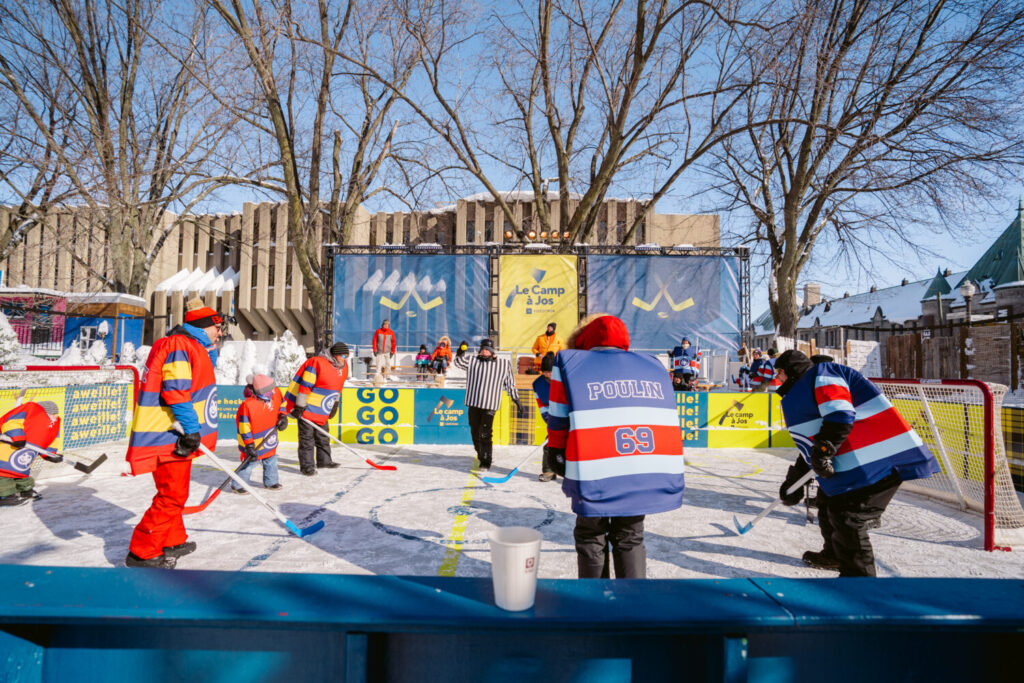 20. Party the night away at a wintery open air party
There's no better cure for the cold than some dancing (and perhaps some adult beverages while you're at it). Well, luckily for you, there are a few open air parties that are free for all Quebec Winter Carnival Effigy owners!
21. Take an icy cold snow bath
And on the opposite end of the spectrum, if you're an Elsa and the cold never bothered you anyway, you can dunk yourself in the freezing temperatures of the Québec winter in nothing more than your swimsuit. I am personally more of an Anna, so I'm gonna go recklessly karaoke with princes instead.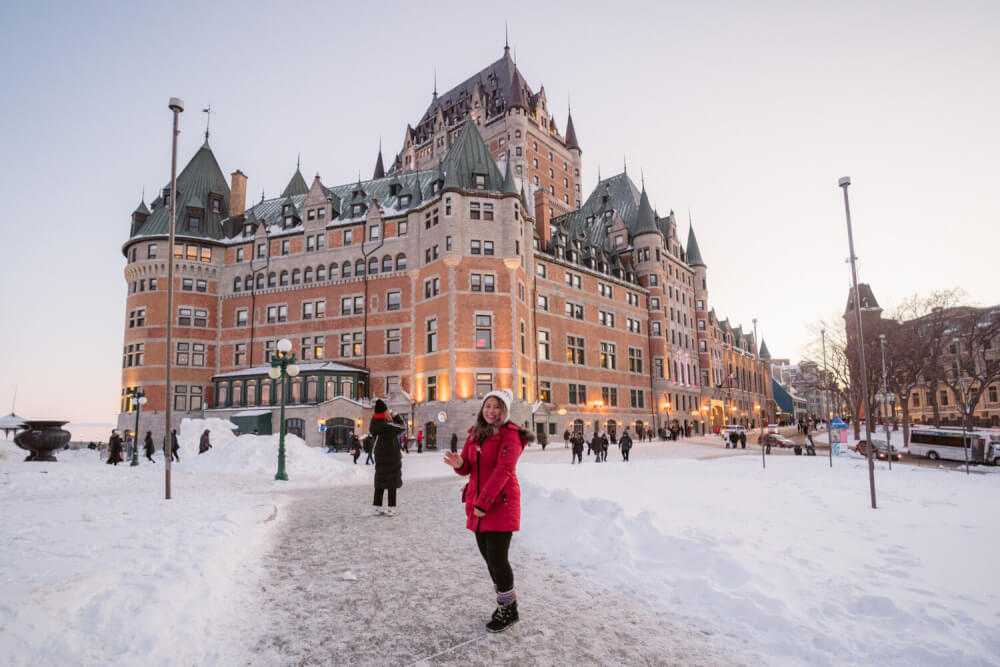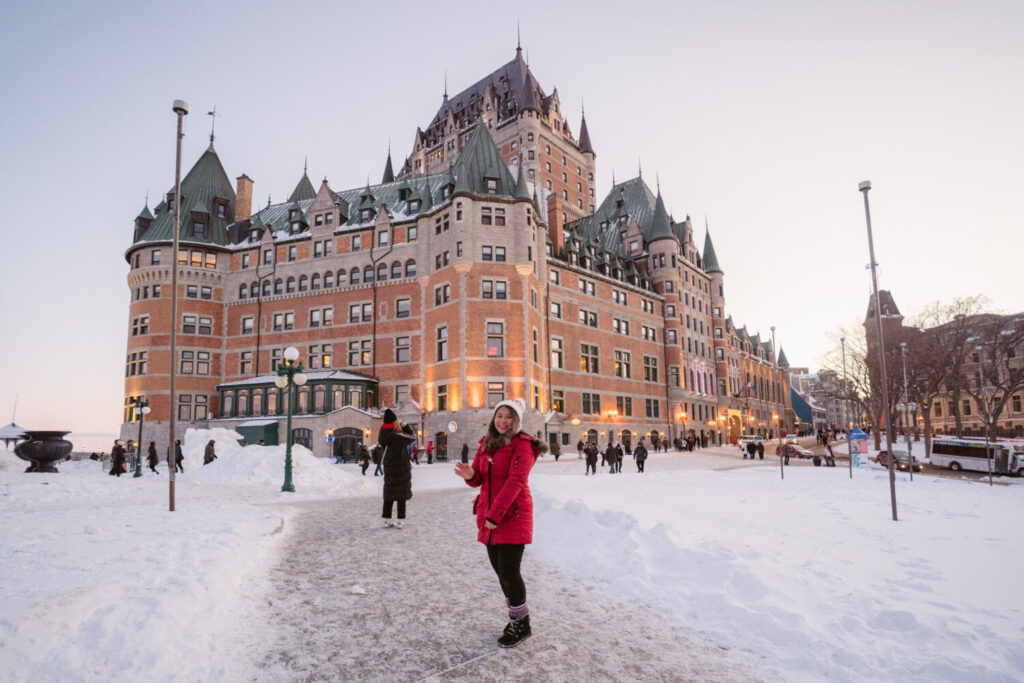 NOTE: You need to register for this event beforehand and be 18+. Click here for more info
---
Watch my most popular YouTube video this week:
---