*FYI - this post may contain affiliate links, which means we earn a commission at no extra cost to you if you purchase from them. Also, as an Amazon Associate I earn from qualifying purchases. Check out our Privacy Policy and Disclosure. for more info.
A huge thanks to the Hollywood Hotel for hosting me during my stay. As always, opinions are my own! 
Once upon a time, a young Christina desperately wanted to become a movie star.
And that's a very embarrassing thing to admit, especially given my uselessness in front of a camera and remarkable lack of acting ability.
Still, to silly 8 yr old me, there was something very romantic about the idea of moving to LA to live among the stars, a dream drilled in me with every blockbuster released, every awards show watched (aka all of them) and every glossy magazine read.
After all, I grew up binging on Hollywood greatness, and even though these days, I've embraced onesies in lieu of red carpet gowns, my early childhood delusions should explain why any trip to LA, even now, will still leave me feeling starry-eyed, wonderful and slightly delirious.
My most recent winter weekend getaway however was a little different than my previous trips… this time, I was showing the sights to someone else – the leading man in the oddball romcom that is my life.
Given that we hadn't seen in each other in months (*long distance high five*), I wanted everything to be perfect for his first visit to Los Angeles.
With the sheer size of the city, picking a proper home base is probably one of the most important decisions you'll make all trip (that, and how often you'll eat at In N' Out Burger).
So, to ensure that we covered ample ground, we spread our nights across a few different LA neighbourhoods, dedicating night two to the glitz and glam of Hollywood, where we were welcomed with open arms by the centrally-located Hollywood Hotel.
Here's a review of our experience, and some helpful info if you're looking for a home base in LA!
PS: If you're currently planning an LA trip, be sure to read my Los Angeles fun facts and California fun facts before you go!
Save this post on Pinterest for later: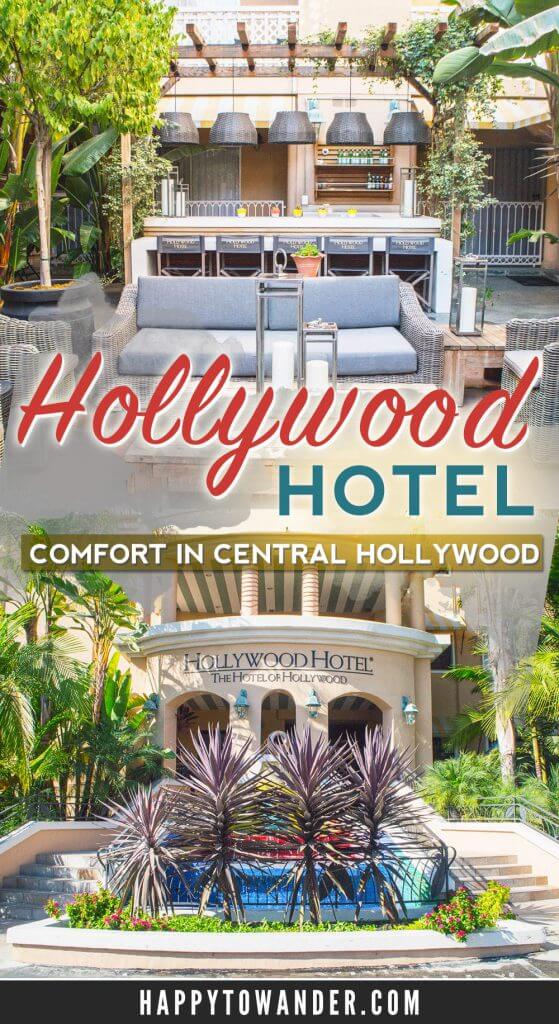 Hollywood Hotel: A good base for Tinseltown Sightseeing
Hollywood Hotel, 1160 N Vermont Ave, Los Angeles, CA 90029, USA
Located on Vermont Ave in Central Hollywood, the history of the Hollywood Hotel dates all the way back to the early 1900s, when its original location was established on Hollywood Blvd. Home to many starlets back in the day, this hotel seemed like an ideal place to act out my childhood dreams, even for one night.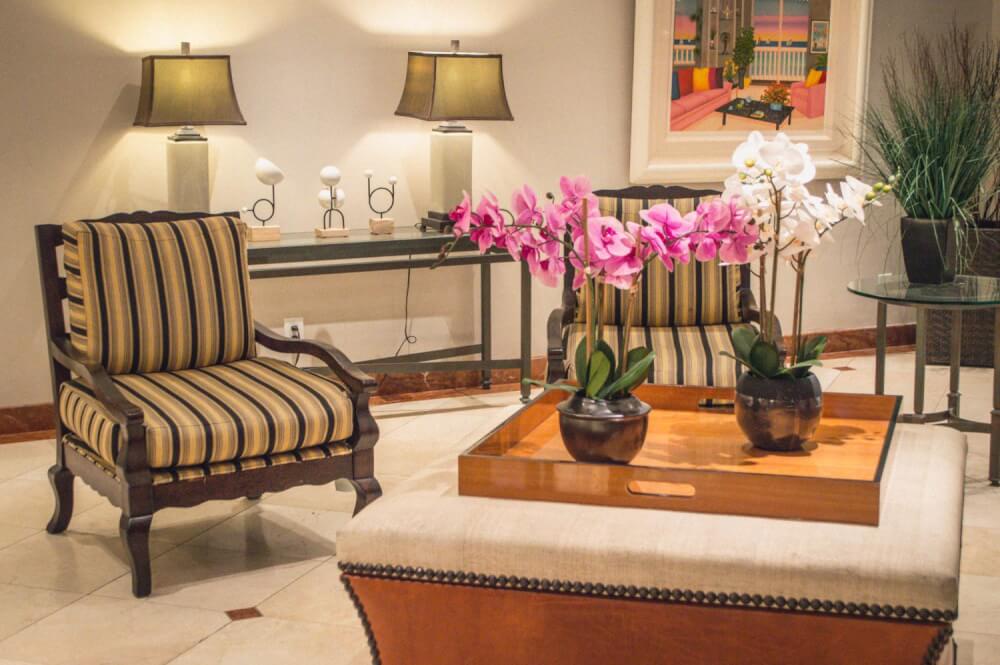 Location-wise, most main sights in Hollywood are within 5-10 minutes by car, which makes the hotel a good base for all your cheesy exploits in sightseeing. Alternatively, you can hop on the metro (only a few minutes walk from the hotel), which will take you to most tourist hotspots in ten minutes or less!
The Hollywood Hotel scores major points in my books for convenience, but I should note that the hotel's neighbourhood itself doesn't have much to see or do (apart from a few food places and shops). First time visitors to Hollywood should also be warned that the area at first glance might not be the most welcoming. Like much of Hollywood, the area surrounding the hotel has a bit of a run-down vibe (which is a lot different from the movies!) Still, we never felt unsafe at all.
Because we spent our whole day being children at Universal Studios, the hotel's location was perfect for us. An easy ten minute commute zipped us straight to the land of churros and movie magic… and you can bet this movie fangirl was well pleased.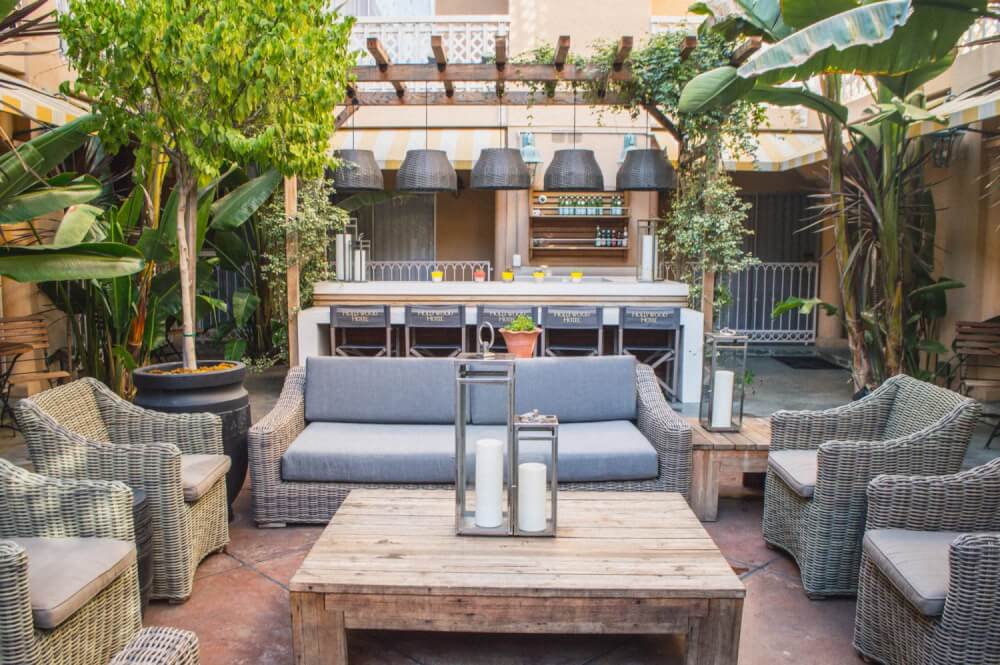 Chic updates in progress!
During our stay, the Hollywood Hotel was still undergoing renovations as part of its overall hotel refresh, which aims to create a comfortable ambiance that's both contemporary and chic, while still maintaining callbacks to the hotel's roots in Hollywood glam. Much of the hotel was still being worked on during our November stay, so I can't fairly comment on common spaces like the lobby, but because we were given a fully renovated room, we did enjoy a sneak peek at the final product.
And oooh boy was it nice.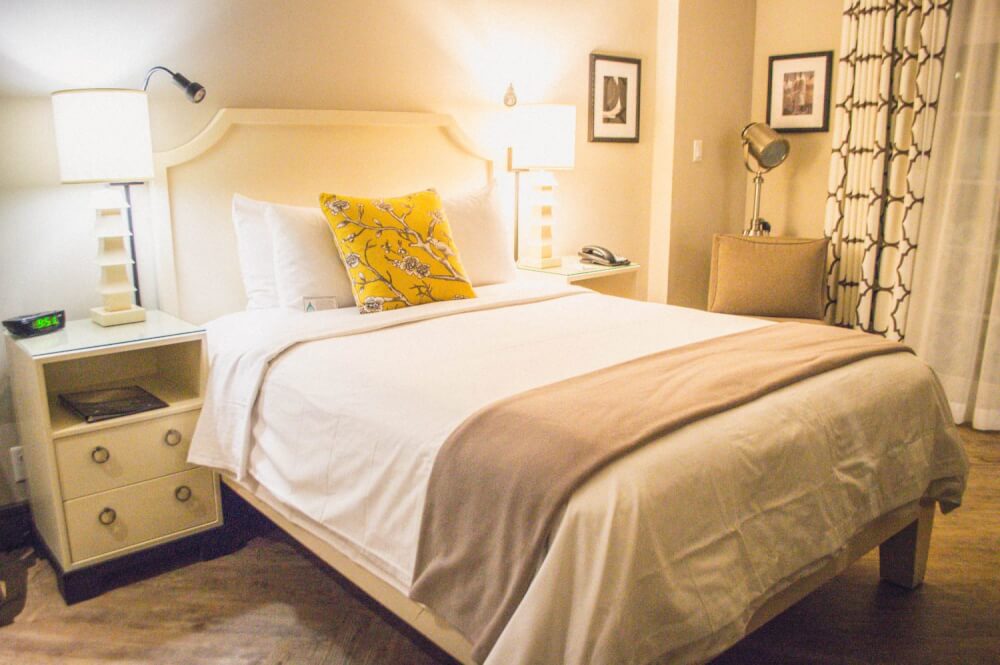 The room design was right up my alley: bright, airy and simple, with a nice balcony to spy on people enjoy the view over the hotel's courtyard. After a long day ride-hopping at Universal, this bed was a sight for sore eyes (and feet!):

In addition to that of course, the room had all the amenities we needed, including a coffee machine (with plenty of coffee/tea provided), a big TV, desk, and helpful touches like a digital safe. Decor-wise, as with the rest of the hotel, there were subtle nods to the property's Hollywood location, without being overtly tacky and overbearing. In other words, no giant movie posters or plastic Oscars in sight! A welcome change from the kitschy madness you'll see along Hollywood Boulevard.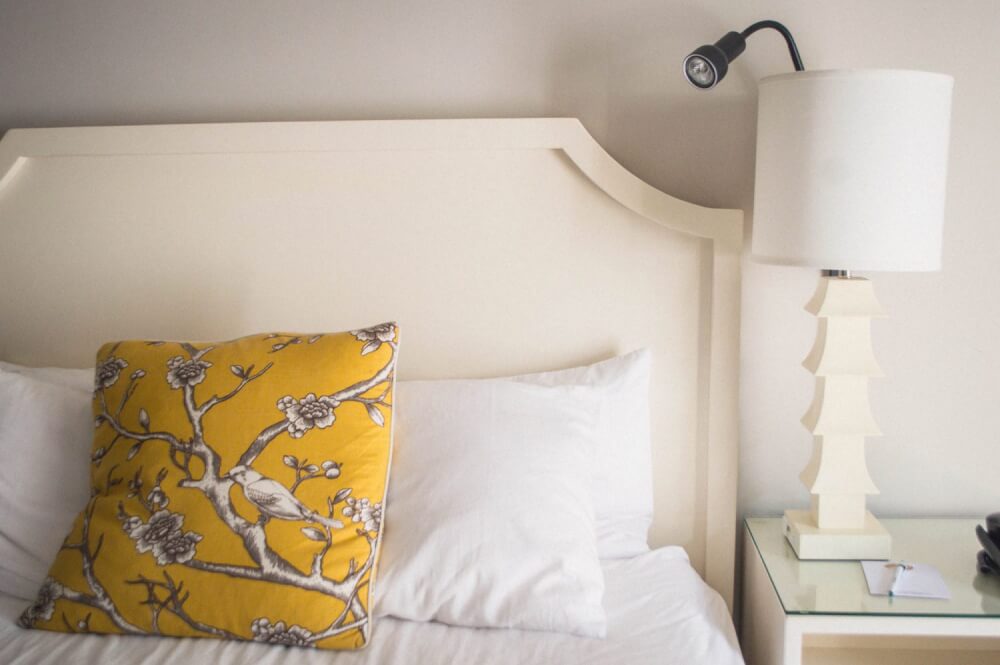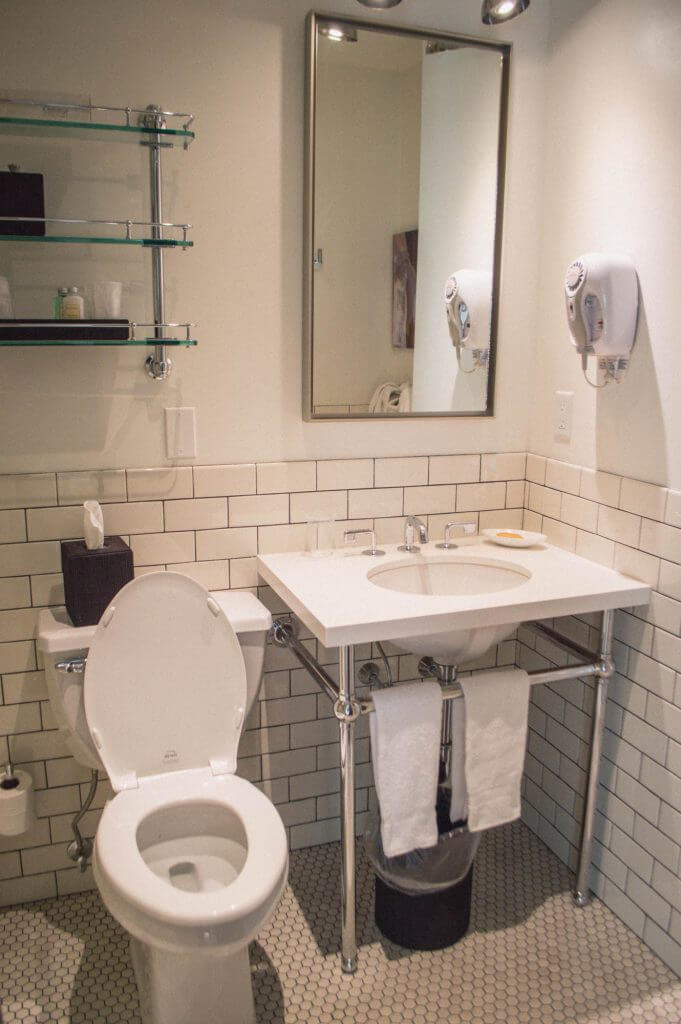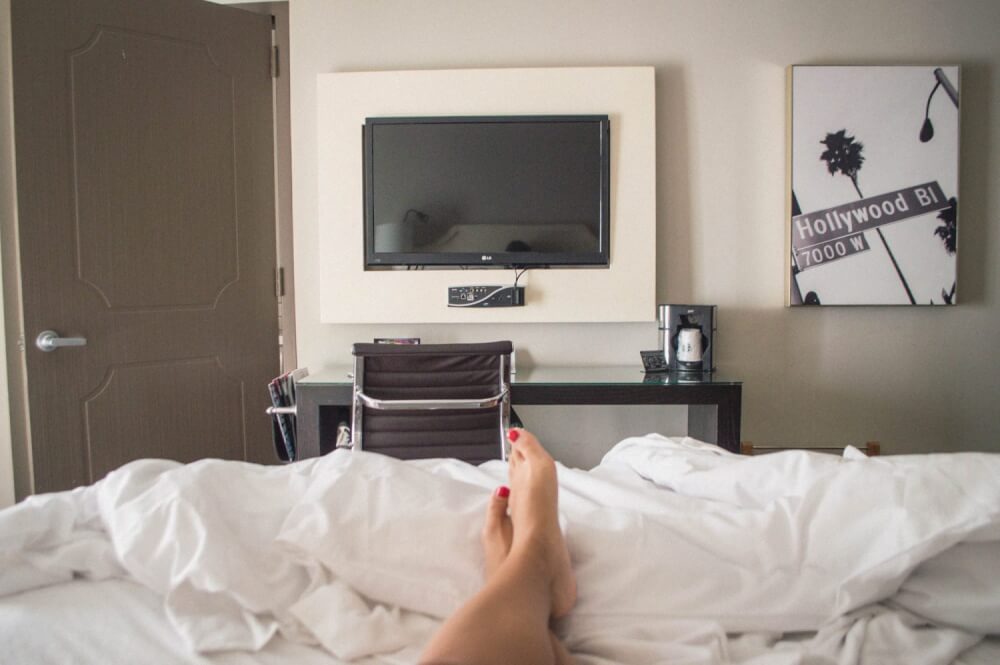 Nice service and amenities
In terms of service, the reception staff at the Hollywood Hotel were always pleasant. We were able to leave our bags there both before and after check-out without a problem, plus there was a wide range of extra services and amenities as well (e.g. concierge, fitness centre, pool, bar/lounge and of course, a buffet breakfast!)
I was unbelievably excited about breakfast for obvious reasons, but especially so because many reviews online praise it for being one of the hotel's best perks. As a '10 waffles in the morning' kinda girl, I was stoked to hear that they had a fresh-made waffle and eggs station (which is supposedly a dream). Because of missed alarms and incurable sleepiness however, we made the bad mistake of arriving near the end of breakfast service. By the time that we arrived (with only 15 minutes to spare), there wasn't much food left, and it seemed like the staff were eager to clean up.
Having worked in service before, I know the pain of customers waltzing in at closing time (I'm a former barista who made pleeenty of 9:59pm frappucinos), so we decided to keep things no fuss and just make use of the range of cereals and ready-prepped hot goods like tater tots. Overall, it was a fine breakfast, but remember to arrive early to take full advantage of it!
I'll know that for next time (and will be sure to enjoy double the waffles to compensate).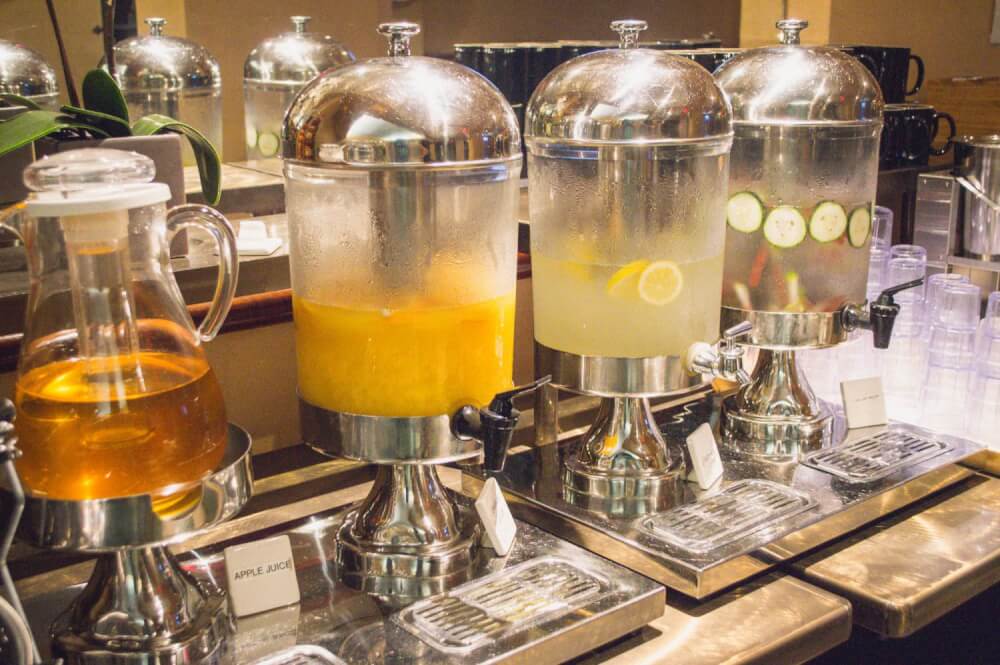 An additional hotel perk is when the pressures of sightseeing and constant celebrity stalking spotting get to you, you can unwind at the pool or courtyard. We spent most of our time running around the city like headless chickens, so we didn't get to enjoy these spaces much, but I think the photos speak for themselves! Other perks include comedy shows on Thursday, Friday and Saturday, some of which are open mic if any of you are looking to break into show biz 😉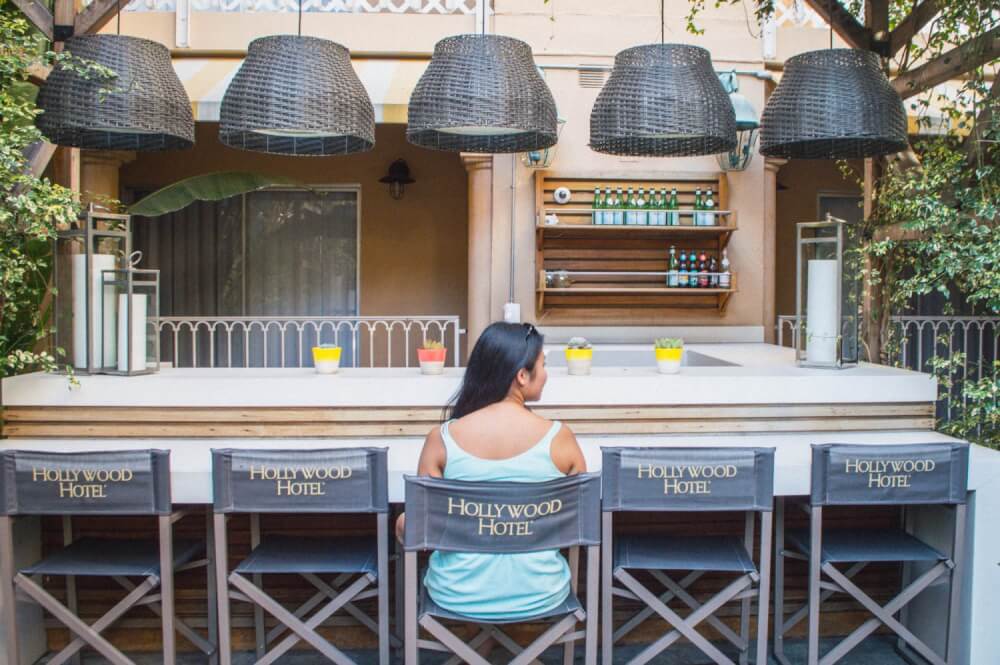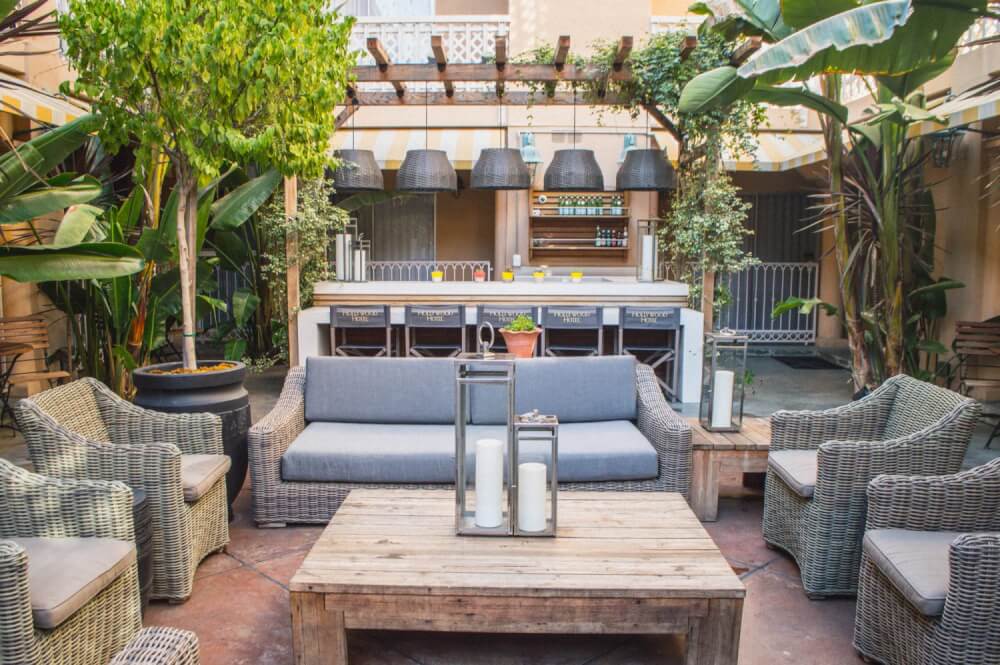 And last but not least, the hotel is pet friendly, with a glamorous 'Pamper Your Pet' package that includes a pet bed, toys, treats and special bowls. So, if you're one of those crazies who treat their dogs better than humans (I know I sure am), the option is there for Poochie to feel like an A-List celebrity.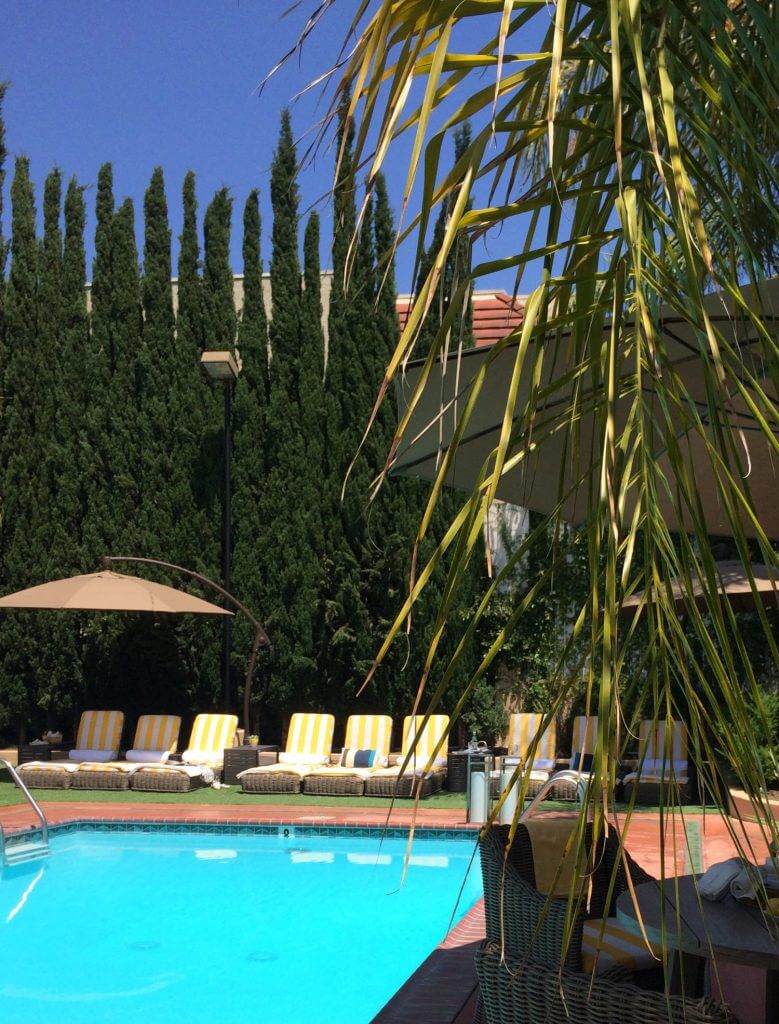 The Final Word
The Hollywood Hotel is a comfortable hotel for a nice stay in Hollywood. It's a lovely property with all the amenities you need, plus pleasant and attentive staff available at all hours of the day. It wins big points for its proximity to Hollywood's attractions, but keep in mind it does have the typical 'Hollywood grittiness' which many new visitors to LA might be surprised by. If you keep your expectations in check though, you'll be perfectly equipped to enjoy a comfy stay!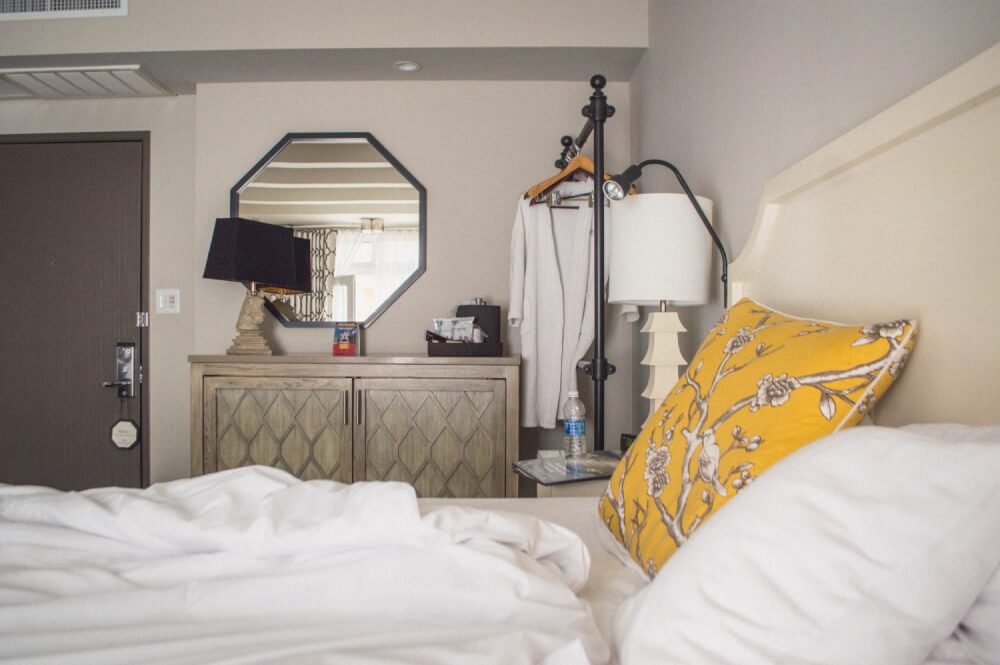 A huge thanks to the Hollywood Hotel for hosting me during my stay. As always, opinions are my own!
---
Watch my most popular YouTube video this week:
---