*FYI - this post may contain affiliate links, which means we earn a commission at no extra cost to you if you purchase from them. Also, as an Amazon Associate I earn from qualifying purchases. Check out our Privacy Policy and Disclosure. for more info.
I was a guest of Devour Barcelona, but my adoration for the afternoon is completely my own 🙂
As I type this, I'm relishing in the snugger fit of my jeans and the inevitable food coma that awaits me in a few short minutes.
If you had any doubt before, let me confirm: Barcelona is a food city, a fact I now know with all my heart thanks to the team at Devour Barcelona.
With a culture and history so interwoven with food, I honestly can't imagine a more fitting way to experience it all than through of course, my tastebuds.
Save this post on Pinterest for later: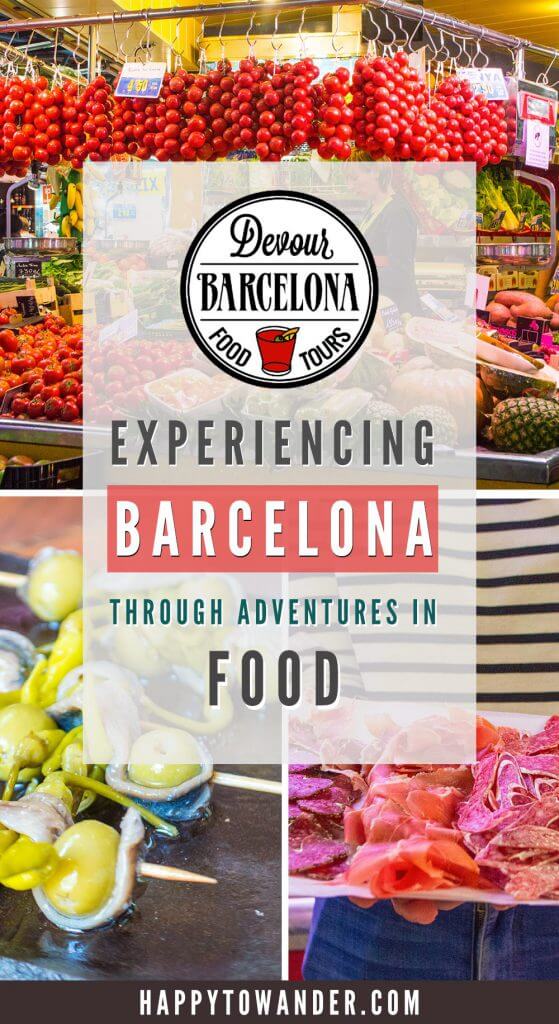 And as my morning with Devour Barcelona taught me, one of the best things you can do in Barcelona is dive into the local culture through food.
How in Barcelona can you do that?
Well my friends, here's a hint: you gotta dig deeper than the stereotypes of paella and sangria.
Based on my time nibbling through the city with Devour Barcelona on their Tastes, Tapas and Traditions tour, here's how to do the Catalonian capital properly, foodie-style.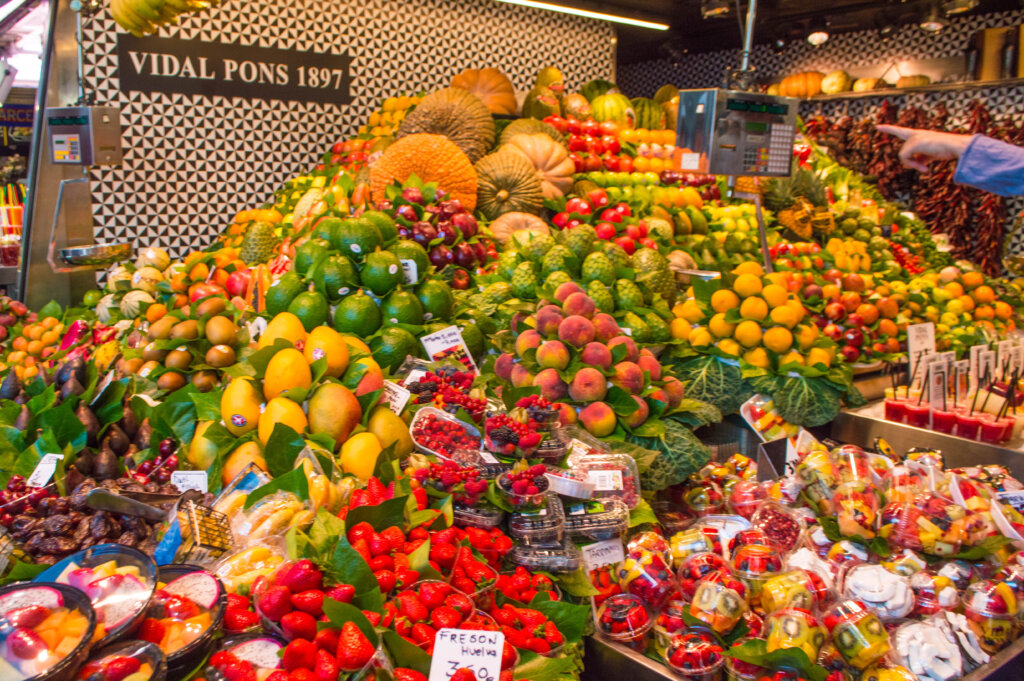 Start things off with a hearty breakfast
After meeting up with the entire tour group (4 couples, of which I was proudly 9th wheel), our guide Victoria kicked things off with a brief introduction of where we'd be headed.
Before long, she had us rattling off what our minds jumped to when thinking about food in Barcelona.
A near-unanimous echo of "tapas, paella and sangria" ensued, and you could tell with the knowing glint in her eye that we'd soon be proven very wrong.
This tour would definitely take us beyond that! After exchanging quick introductions, we began our tour at Granja Camprodon, where we enjoyed a grilled botifarra sandwich, made with juicy Catalonian sausage sandwiched between toasted bread doused in tomato juice (a popular tapa served around the city).
Despite the early morning hour, we got the party started with a side of bubbly cava, a regional take on sparkling wine that grants one permission to booze up before noon.
There, we sat in the small restaurant, getting to know each other between bites of our filling breakfast.
Feeling pretty full already, I worried a bit about whether or not my stomach capacity could handle the rest of the tour. Luckily, my mama didn't raise no quitter, so I soldiered on.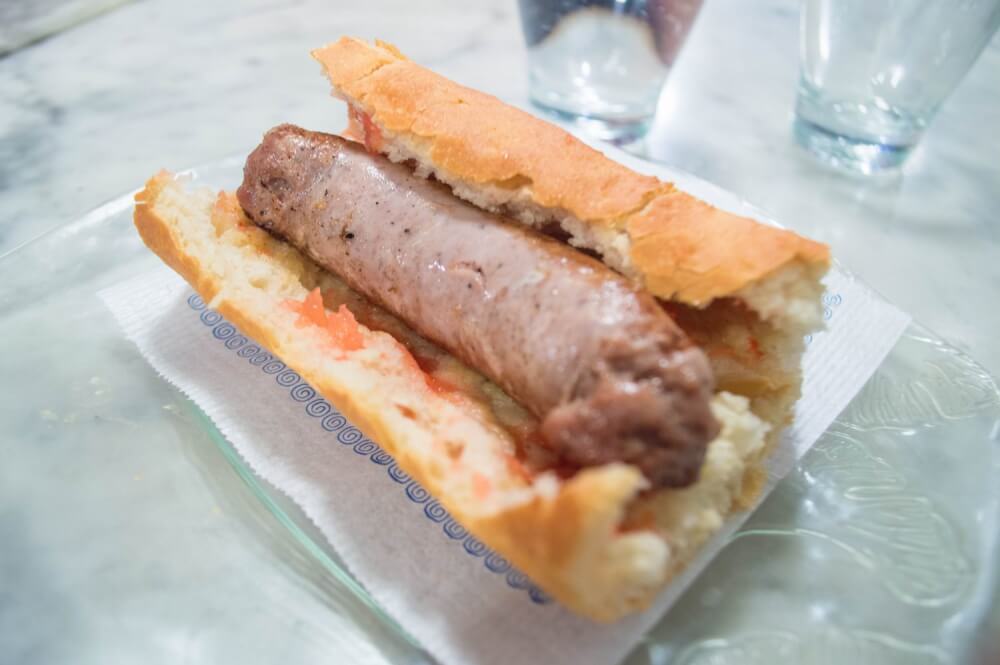 Mingle with locals at one of Barcelona's many markets
With our pants feeling snugger, we set our sights on the next stop: a quick foray into Barcelona's vibrant market culture, which is very much at the heart of the city's bustling food scene.
With dozens of markets sprawled across the city, foodies are spoiled for choice when it comes to fresh, colourful produce.
While the Boqueria wins the title of most famous market, there's plenty of reasons to venture further. Victoria led us to Santa Catarina Market, famous for its whimsically wavy roof, which adds a distinct pop of colour to the Barcelona skyline.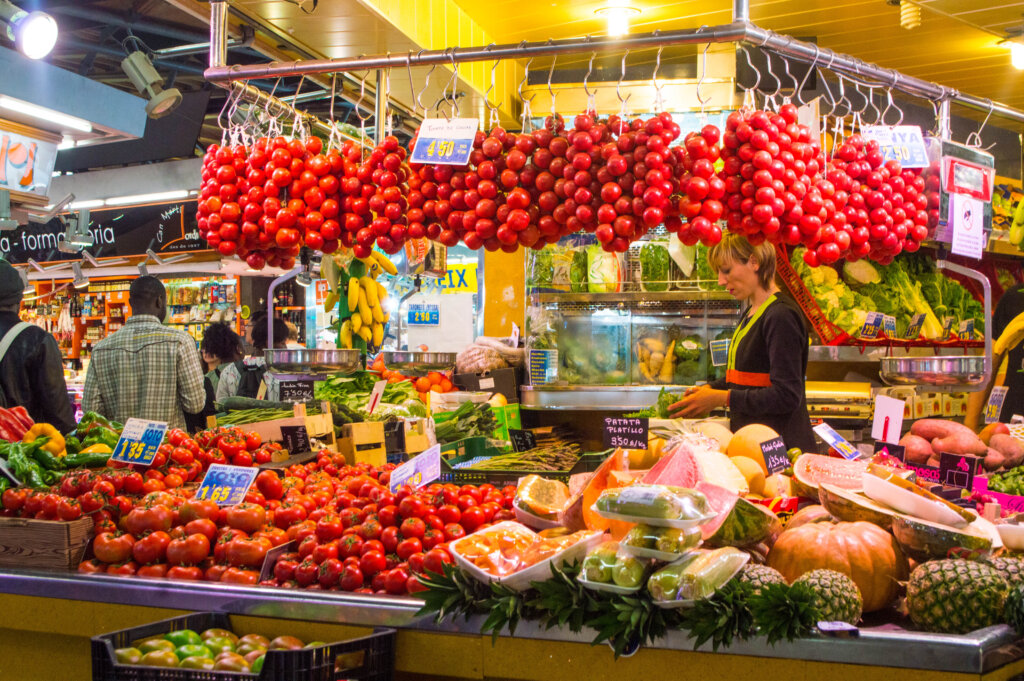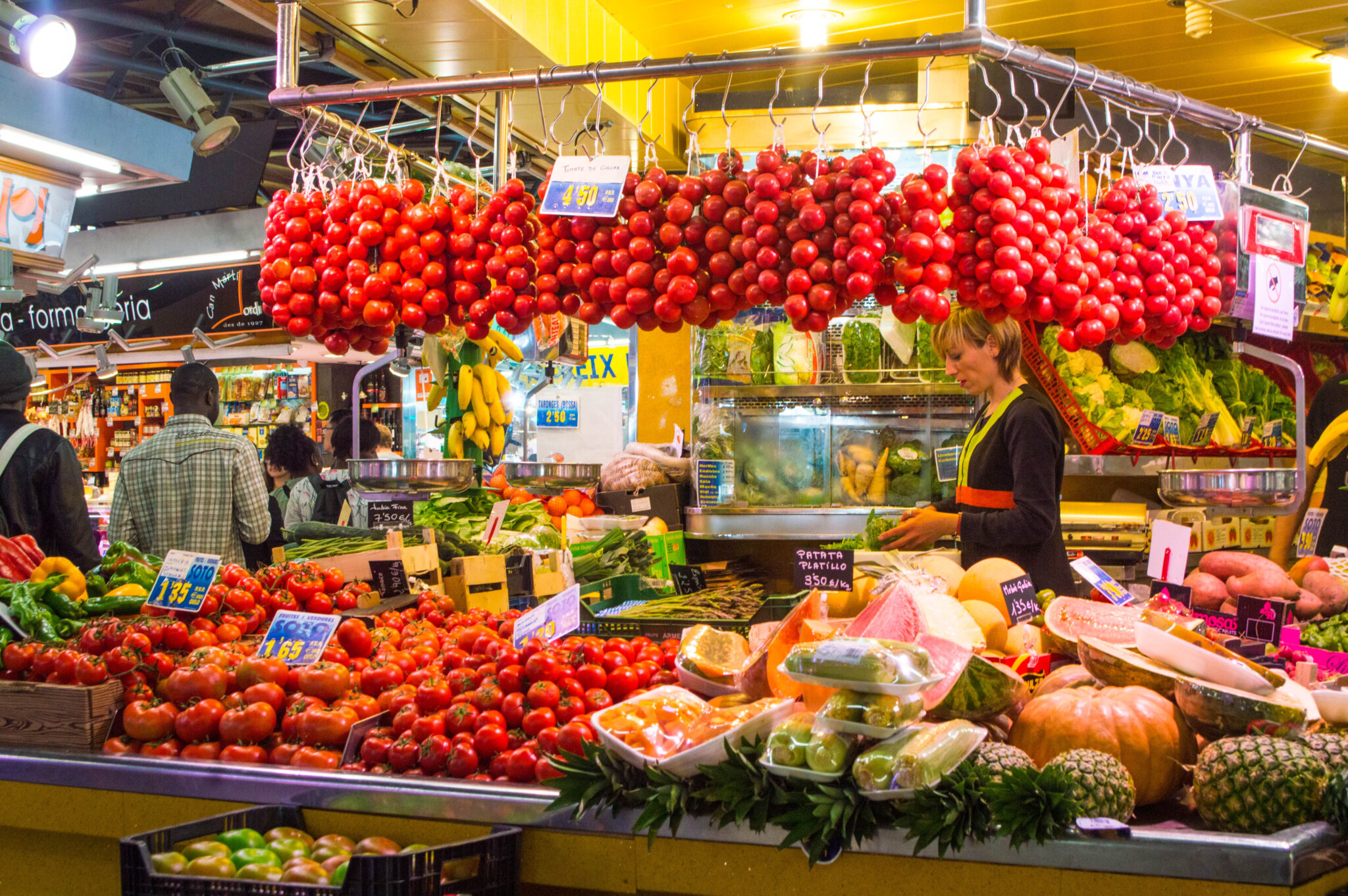 Stepping inside, I immediately noticed the contrast between this market and the Boqueria, which I had braved the previous day.
The clientele here was no doubt more skewed towards locals and wow, there was actually space to walk and breathe! Fancy that.
We made two stops: first to taste some Spanish and Catalan cheeses at the Formatgeria Carles, and then to indulge in a variety of hams and cured meats from Cansaladeria Antonio Iberics.
Among the samples was the famous regional specialty, jamón ibérico, a cured ham made from acorn-fed pigs. This special diet is what gives the ham its delightfully nutty flavour. It's a specialty of the Sierra da Aracena region of Spain and it's incredible.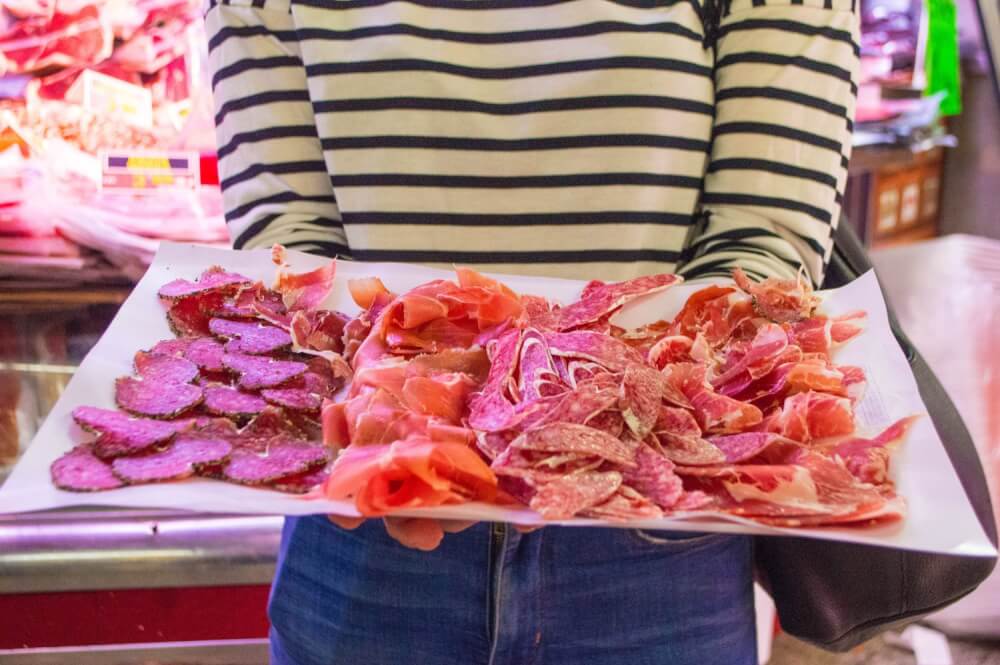 It is so good in fact that it has been colloquially deemed the most expensive ham in the world, and can cost hundreds, even thousands of euros per leg.
As I dug into these slices of ham worth more than my rent, I could easily see why this stuff was the talk of the town. I could have eaten an entire platter, but the overly-polite Canadian in me resisted.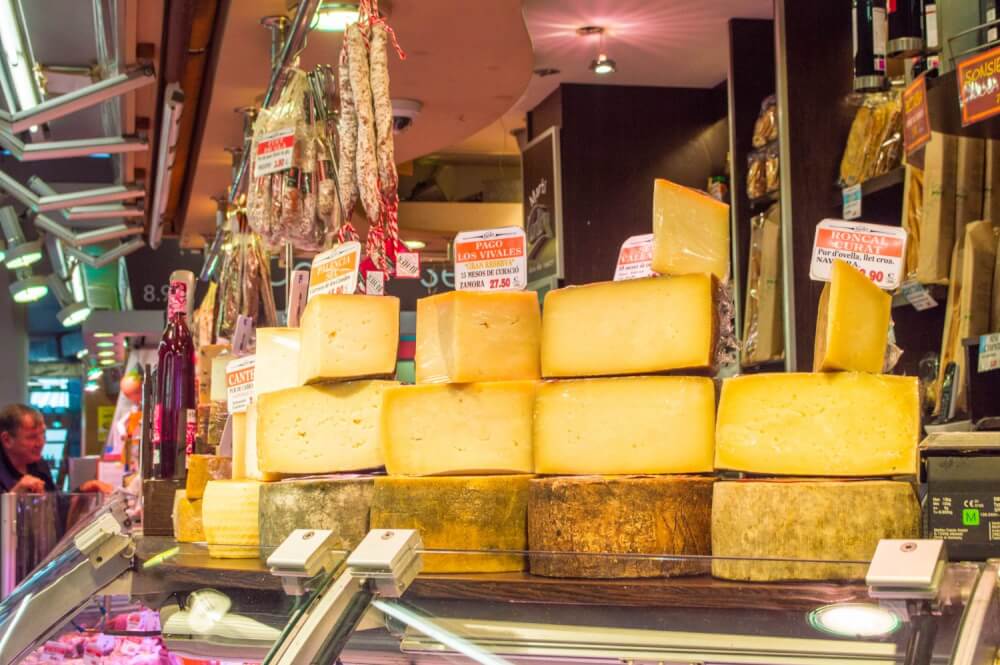 Do a little shopping
Yours truly could never afford a leg of fine Catalonian jamón, and it was like Victoria read my mind.
Our next stop was a small food shop, where my wallet would loosen its strings more easily. Now, a lot of the time when visiting cities, people isolate their food experiences to solely restaurants and markets.
This is a no-no in Barcelona, because the streets are filled with delightful little shops selling regional specialties. Casa Gispert is one such gem.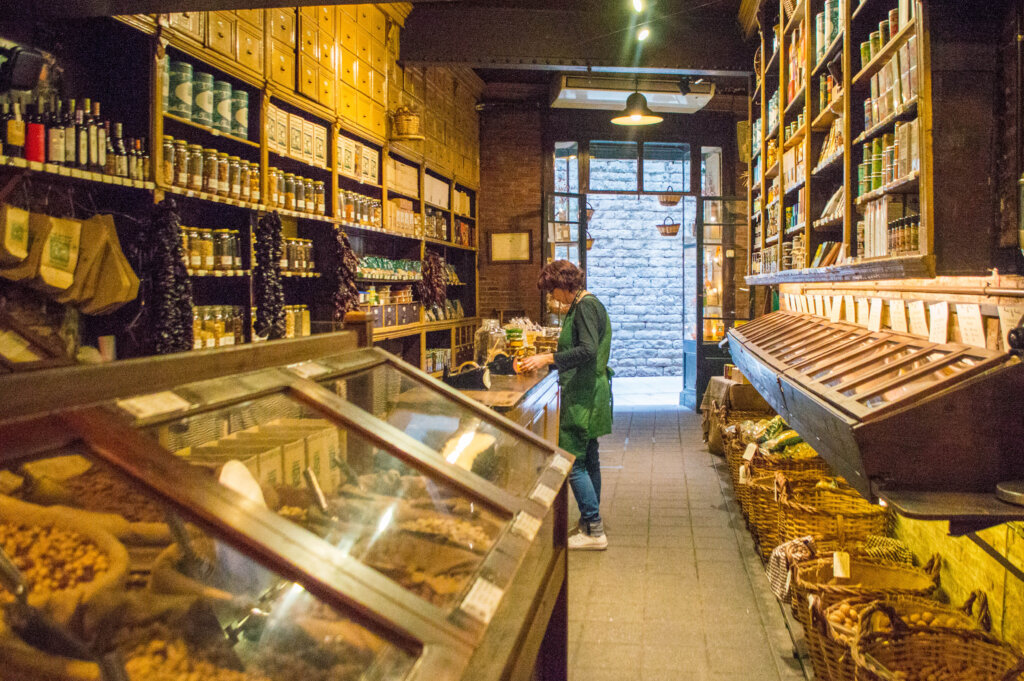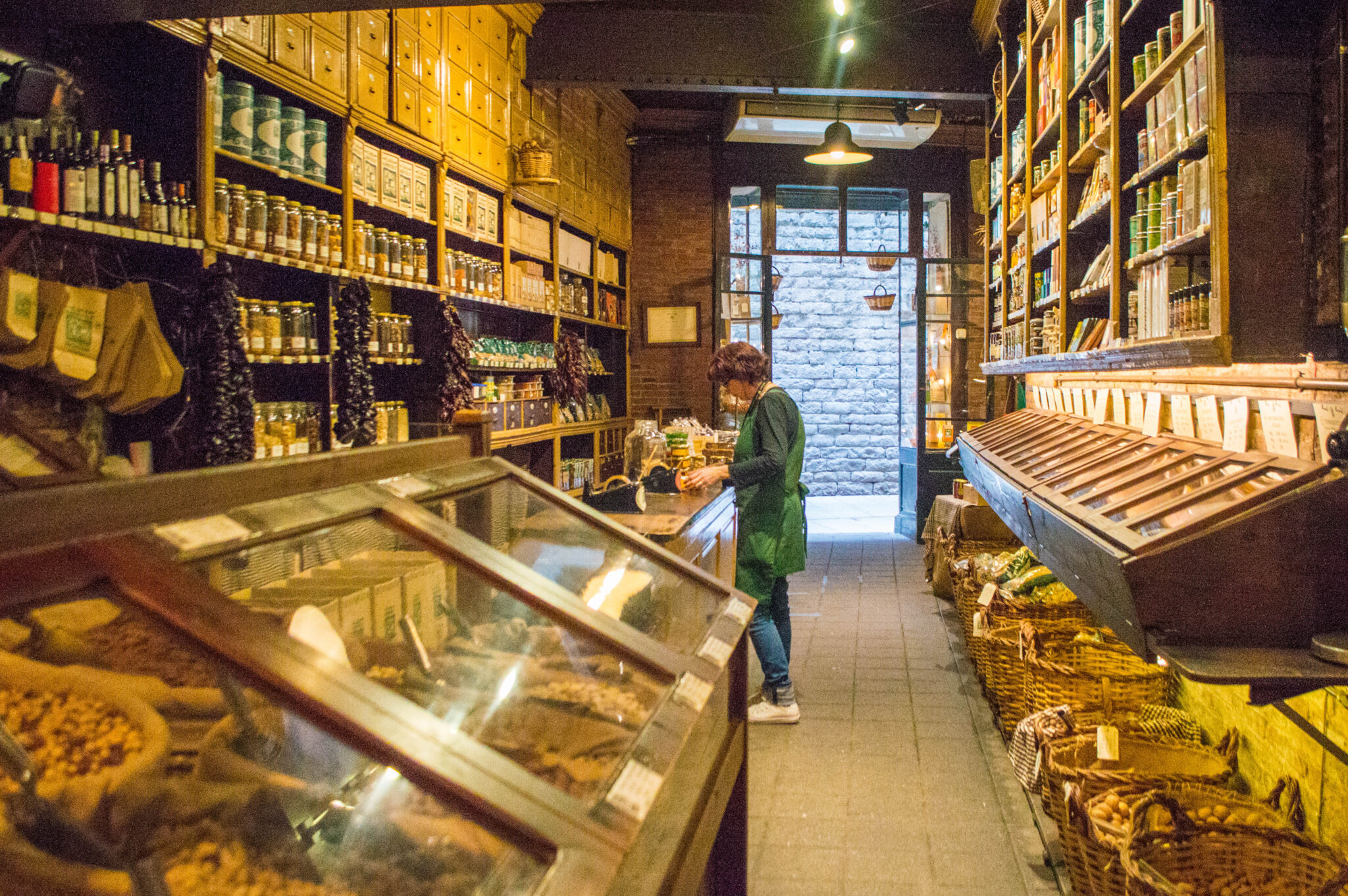 Renowned in Barcelona as one of the oldest food shops in the city, they stay true to their roots, roasting nuts in the same wood fire oven since 1851.
Stepping into the shop was like travelling back in time, with a beautiful rustic interior decked in panels of dark wood and baskets filled with Casa Gispert's many specialties.
We dug in with a trio of their finest goods: flavourful roasted almonds, garrapiñadas (candied almonds), and catànies (caramelized almonds coated in white chocolate and dusted in cocoa).
It's hard to describe how they tasted, but I think 'tiny drops of nutty heaven' do the trick. In fact, the only souvenirs I bought during my trip ended up being from this shop!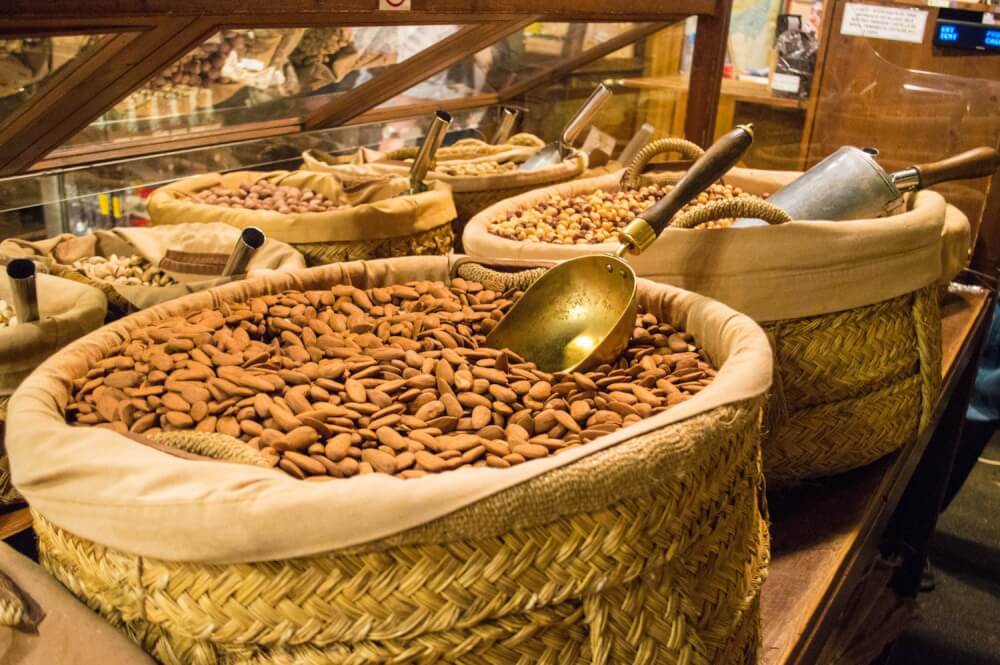 Experience Catalonia's French influence
Catalonia, with its close proximity to France, has hints of French influence all around.
Besides language and culture though, one delectably excellent byproduct is, surprisingly, an amazing croissant.
Our next stop was Pasteleria Hofmann, proud recipient of the "best croissant in Spain (2010) award, a fact well-flaunted from their boastful signage around the bakery.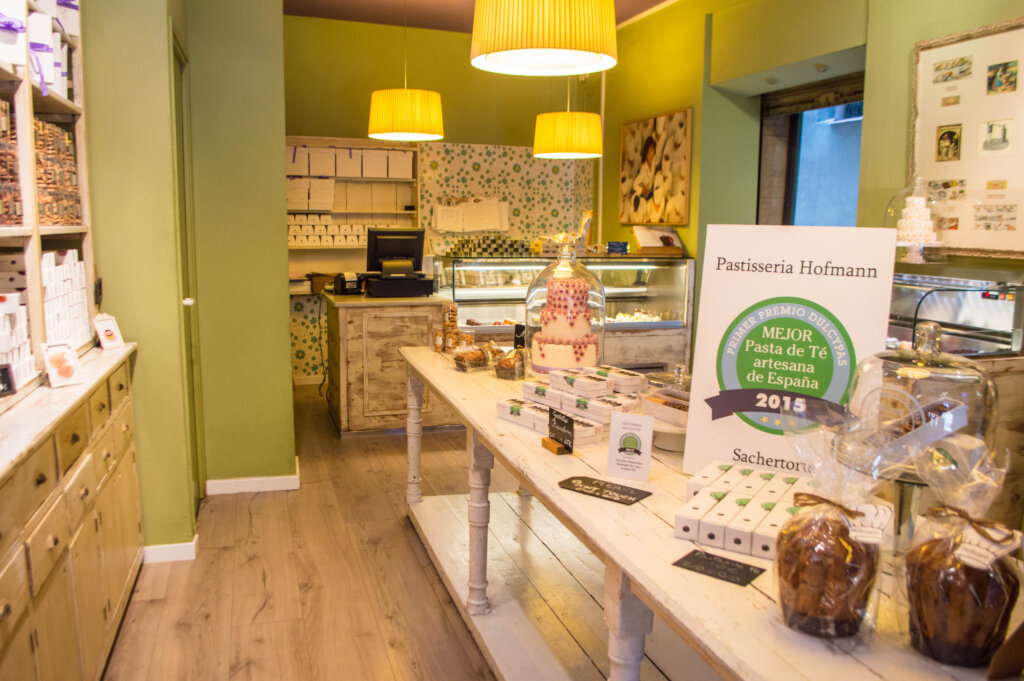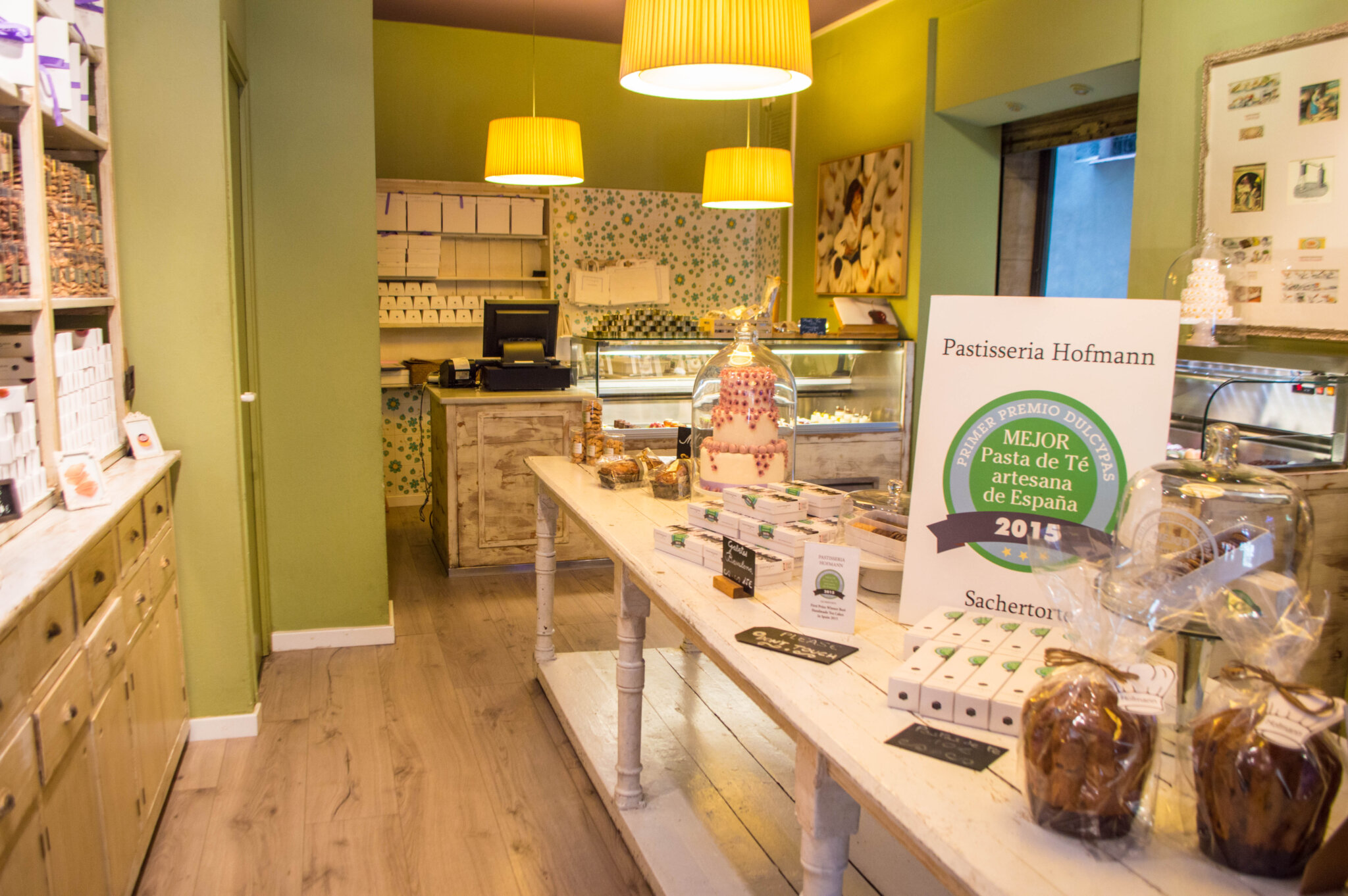 As you walk in, the scent of buttery, flaky goods masterfully baking in the oven transports you to the heart of a Parisian boulangerie.
Generously filled with dollops of mascarpone cheese, this sugary sweet, crispy and flaky treat was probably one of the best croissants I've had in my whole life.
If you're in Catalonia, don't let its French influence pass you by!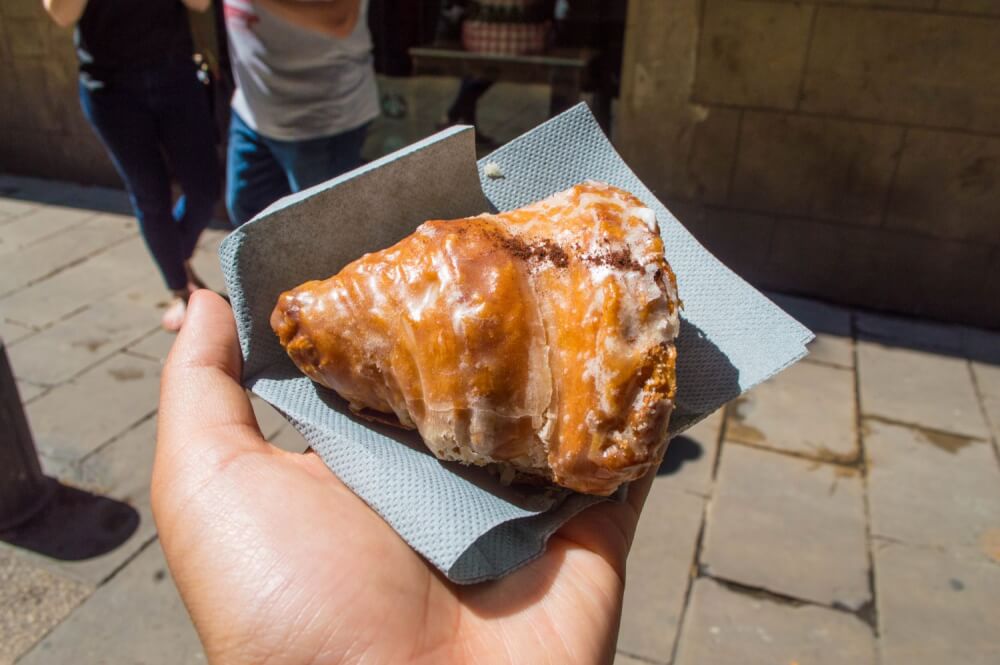 Drink up
While most alcoholic fantasies of Spain jump to sangria, you'd be crazy to not venture out a bit and try some of the other boozy delights that Catalonia has to offer.
Before our big Catalan lunch, we proceeded to Bodega Fermin for a chilled glass of vermouth and some gilda banderilla on the side.
Made with olives, pepper and an extra salty anchovy, these things were bursting with flavour and the perfect accompaniment for our pre-lunch drinks.
Vermouth is a fortified wine that plenty of bars/restaurants mix up themselves.
Typically, it's flavoured with botanicals like coriander and wormwood, plus legend has it that its initial purpose was as a medicinal tonic. Sure beats cough syrup, I'd say.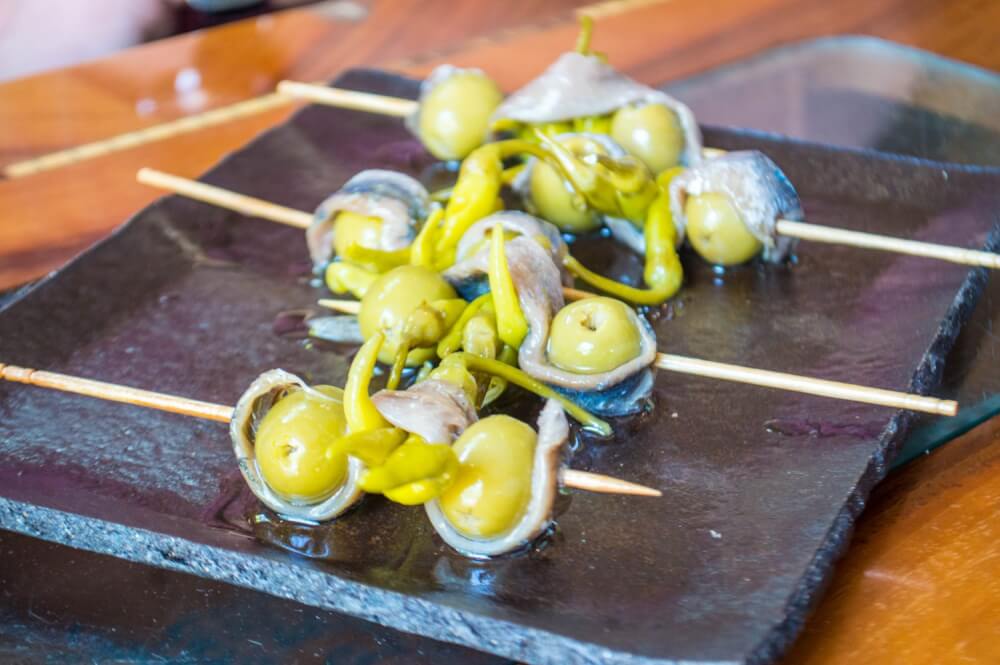 Enjoy a meal like your grandma would make
Ooh and last but not least, to truly experience the splendours of Catalonia, you must tuck into a homemade meal made with love and attention.
Barcelona, like many large cities, is littered with tourist traps serving cringey and unsatisfying dishes. Finding true homey restaurants can therefore be tough, but led by Victoria, we steered around these traps and were whisked to our last stop: Cal Papi, run by a woman named Carmen who is guaranteed to remind you of your own grandmother.
As we entered, she warmly greeted our guide in rapid Spanish, and immediately diverted her attention to the little baby belonging to one of our tour's couples.
Her eyes went wide as she scooped the baby up into her arms and paraded it around the restaurant.
Between all the cooing, she hollered over to her son "When are you giving me grandchildren?!". Nervously cowering by the espresso machine, his response was simply: "I have no wife".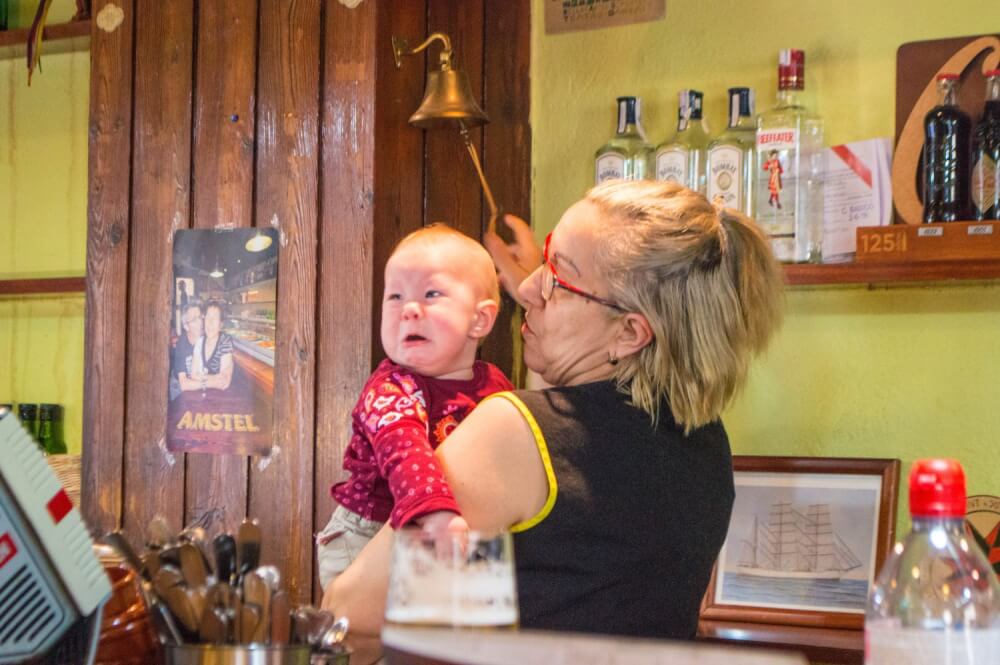 After witnessing some more harassment from Carmen to her son, we sat down and tucked into our lunch.
It began with some cool white wine and some deliciously crispy cod fritters, then before long came the main event.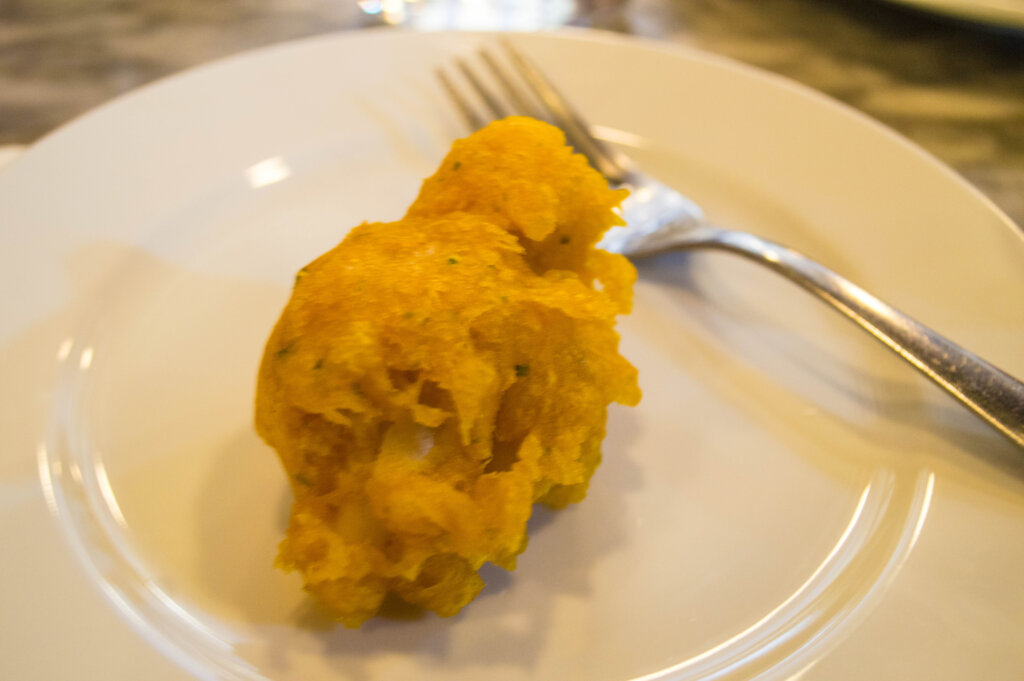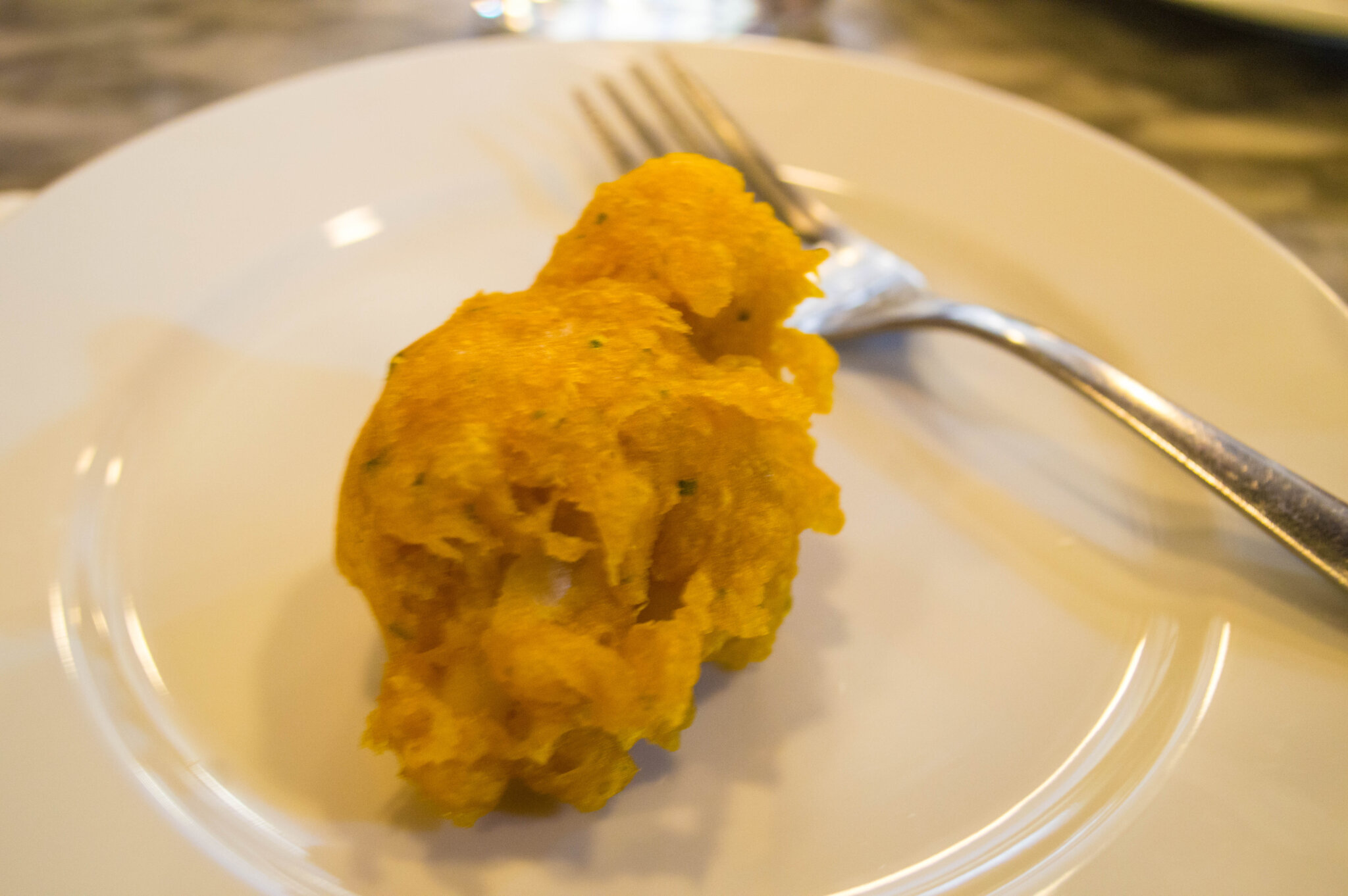 We watched with wide eyes as Carmen hauled out a giant dish filled with a glorious heap of fideuà, a Catalonian dish similar to paella (except prepared with noodles).
Served with a house-made garlic aioli, the taste was so incredible, I couldn't stop eating.
I never thought I'd like something more than paella. In fact, my sheer adoration for the dish made me feel a little guilty (for cheating on paella… is cheating on food even a thing?) but yes anyways, if you're going to try any Catalonian dish… go for this one.
You will not regret it!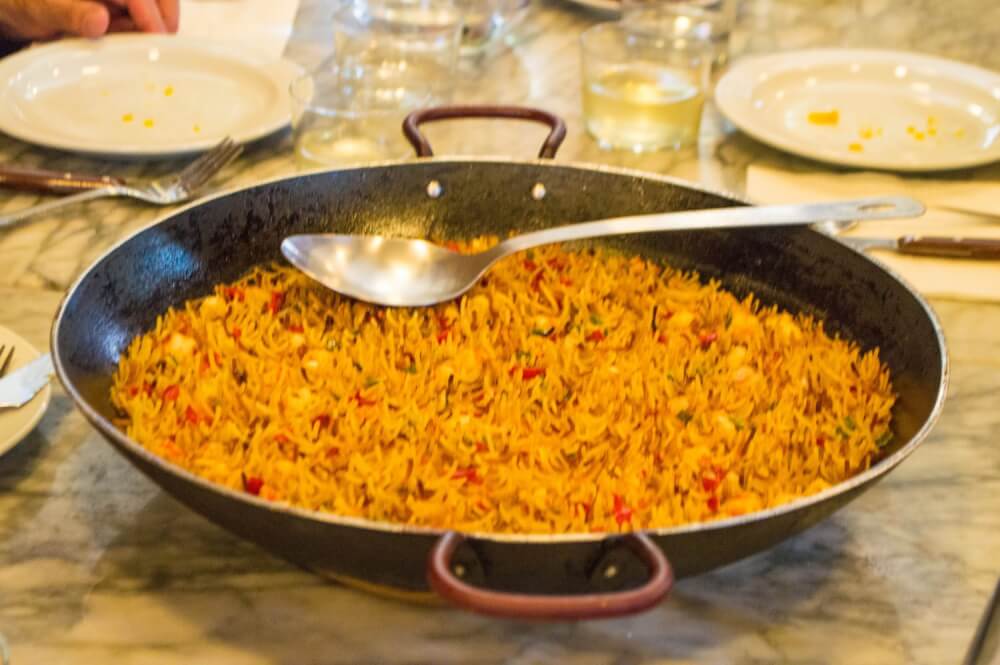 The Final Verdict on Devour Barcelona Food Tours
And just like that, after a few coffees and biscotti, my morning 9th wheeling a food tour was over. Within a few hours, I definitely felt as if I'd gained a greater appreciation for Barcelona and Catalonia in general.
It's nice sometimes to dig beyond sightseeing and enjoy experiences that bring you closer to the heart of the culture you're immersing yourself in.
This was honestly one of the best activities I ended up doing in Barcelona. My waistline is a little angry at me, but hey, it was worth every single calorie!
---
Watch my most popular YouTube video this week:
---