*FYI - this post may contain affiliate links, which means we earn a commission at no extra cost to you if you purchase from them. Check out our Privacy Policy and Disclosure. for more info.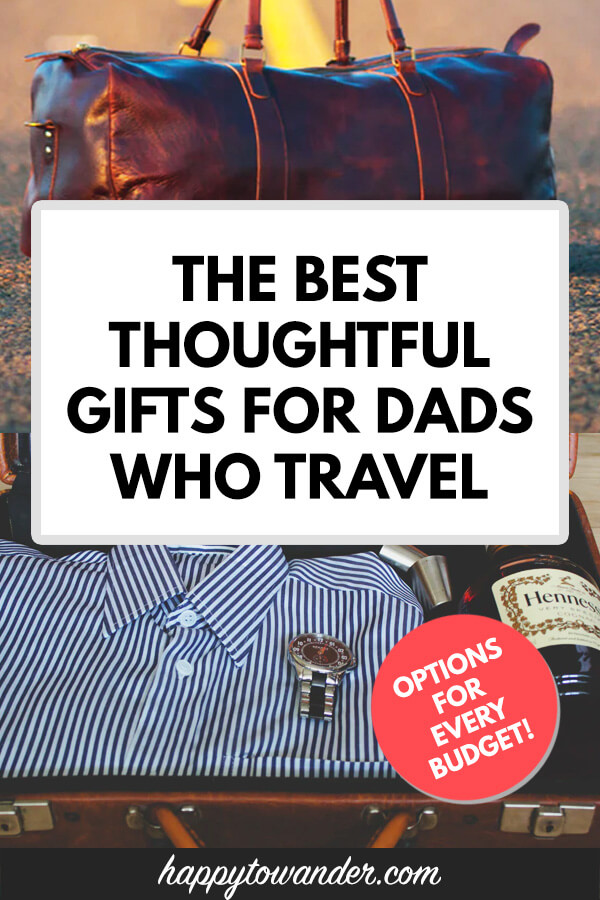 In search of cool presents for Dad this Christmas?
Trust me, I get it.
Dads are notoriously tough to shop for, especially when trying to balance all sorts of things like practicality, thoughtfulness and budget.
If you're still stuck on what to gift dad this season, this list should help. After all, travel related gifts are (naturally) THE perfect choice for globetrotting fathers. Here's a roundup of the best travel-related presents to get your dad, with options for every budget!
---
---
The Best Travel Gifts for Dad Under $20
This section covers cheap/inexpensive gifts for dad that you can get for less than $20.
Practicality is always a good bet when brainstorming good gifts for fathers who travel. And if your dad is anything like mine, he is paranoid to the max about getting pickpocketed or robbed. Enter the perfect gift for his sanity – a money belt!
There are plenty of options these days for money belts, from the classic pouch design that fits all valuables including passports (like this one) to sleeker, more subtle designs that look like regular leather belts, except with a hidden zipper (like this one).


---
---
If, like mine, your dad is always using his phone or iPad (mostly iPad let's be honest) to snap photos from his adventures around the world, it's a sure bet that his electronics will start running out of juice. That's why a portable charger makes the perfect travel gift!
Trust me, for someone who hasn't grown up in our age of tech, the concept of a portable charger is totally mindblowing, and makes a great (inexpensive) yet practical present. There are a lot of options out there, but I'm a big fan of this Anker PowerCore+, which is small, portable and has amazing reviews on Amazon.
---
---
Is it not an unspoken rule of the universe that every father must carry like 24802349 cards on them at all times? I mean, there's no reason why he would need his Costco membership during a beach vacation in Cancun, but alas – fathers are usually the kings of "just in case". If your dad is like that, a travel wallet makes a perfectly inexpensive yet practical gift. There are plenty of affordable options online for less than $20, including this top-rated pick from Amazon, which has a bunch of pockets for cards, cash, boarding passes and even passports.
---
---
The Best Travel Gifts for Dad Under $100
Here's a list of travel gifts for your dad that won't completely break your budget – all available for less than $100:
Digital frames are a great way to preserve your dad's favourite travel memories and have them on display in the home (you know, mostly for bragging purposes when friends come over). There are SO many amazing options out there, mostly for less than $100. It's a great sentimental, thoughtful yet practical gift – perfect for dads!


Click here to shop digital frames
---
---
If you're on the hunt for unique Christmas gifts for dad, a customized photobook from some kind of trip or memorable occasion together is a sure bet for success. After all, sentimentality wins every time 😉 There are a lot of websites online these days where you can make custom photobooks with a few clicks, and get high quality books shipped straight to your door.
Pro tip: there is almost ALWAYS some kind of Photobook deal on Living Social, usually starting at as low as $5 (yes really!). Be sure to check for deals first before buying from websites directly because you can save SO much money by buying a voucher.
---
---
Sometimes, blurry iPad pictures don't do the job anymore. If your dad is more on the tech savvy side, there's no better gift than an amazing (easy-to-use) camera to bust out on his next trip. There are a lot of really affordable point and shoot options available these days for less than $100, like this one from KINGEAR which has pretty much unanimously 5 star reviews.


---
---
A unique experience at home
I have always been a big fan of gifting experiences rather than things. If your dad loves to travel, the best alternative next to sending him on a trip around the world is to help him discover cool, unique experiences at home.
I love using sites like Living Social to scope out discounted experiences like cool restaurant outings, adventure sport tours, boat rentals, classes and more… usually at steep discounts of 40%+. After a quick look for my hometown (Vancouver), I found tons of amazing experiences from scuba diving certification to pasta and bread making with a pro. There are SO many cool options and I'm confident you'll find a good fit for your dad.
---
---
A cool experience for his next trip
If your dad has a trip or vacation planned in the coming future, one really awesome gift would be to buy him an experience abroad that he won't forget. I mean, sure you could your dad new socks, but what about sending him up the Eiffel Tower at sunset? That's something he'll be bragging about to his old man friends for years.
My favourite resource for booking attractions/experiences online is Get Your Guide, because they guarantee the lowest possible price. How? Well, they refund you the difference no questions asked if you're able to find a lower price than theirs. This locks in the best price you can get, plus by booking through them you're often able to save yourself from horrendous line-ups in person.
---
---
The Best Travel Gifts for Dad for $100+
Looking to treat your Dad this holiday season? Here's a list of the best travel gifts for dads that cost over $100:
A sturdy set of luggage is a must for any avid traveller, and your dad is no exception!
I always recommend Samsonite. My hardside spinner set has been with me all around the world (click here for a similar set) and it has not once let me down. Quality is everything when you travel often, and (in my experience) Dads can often be reluctant to splurge on something like this for themselves… that's why something like a sturdy luggage set makes the perfect gift! PS: I've always found that ordering these online can be cheaper than in-store, so click here to browse the best deals.
---
---
A trip
Saving this one for last because, duh – the best travel gift for your dad is undoubtedly an amazing trip he can experience (preferably with you). Surprising my dad with a stay at his dream hotel at Lake Louise was one of the highlights of my life, and there's no better way to show your gratitude than gifting a memorable trip you can experience together.
But hey, the downside is obvious: the cost. A trip isn't cheap. Here are some resources that can make this gift more attainable.
1. Keep your eyes on Secret Flying for an inside scoop on epic flight deals/error fares
2. Look into discounted experiences via websites like Living Social, which offers steep discounts on hotels, vacation packages and more
3. Look into cheaper accommodation alternatives like AirBNB, rather than hotels. My beginner's guide to AirBNB can be found here, and includes a $50 off voucher for your first booking
---
---
In search of more travel gifts for parents? You might also like:
The Best Travel Gifts for Mom: Options for Every Budget
---
---
So, I hope you enjoyed that 'Best Travel Gifts for Dad' roundup and got some good gift ideas for your dad. Please note that this post does contain affiliate links, which means I earn a commission from purchases you make! Thanks for your support 🙂
Want to travel smarter and more often?
Join over 80,000 followers who love what I have to say! Enter your email here & you'll gain instant access to my special VIP zone, featuring freebies like checklists and printables... plus exclusive content, tips and updates!
---
Watch my latest video:
---