*FYI - this post may contain affiliate links, which means we earn a commission at no extra cost to you if you purchase from them. Also, as an Amazon Associate I earn from qualifying purchases. Check out our Privacy Policy and Disclosure. for more info.
Of all the many, many awesome things to do in Barcelona, I'd venture to say one of the absolute best is catching sunset from the famous bunkers in Barcelona: the oh-so sexily named Bunkers del Carmel.
These famous Barcelona bunkers (in addition to invoking intense caramel cravings) offer some of the best views in the entire city, making them an absolute must-see in my books, despite their recent surge in popularity.
And while the Bunkers del Carmel are admittedly a far cry from the hidden local secret they once were, they are still one of the most picturesque places to appreciate Barcelona from above, with 360 degree views that overlook some of Barcelona's best loved monuments, including the Sagrada Familia and even the beach!
Save this post for later on Pinterest: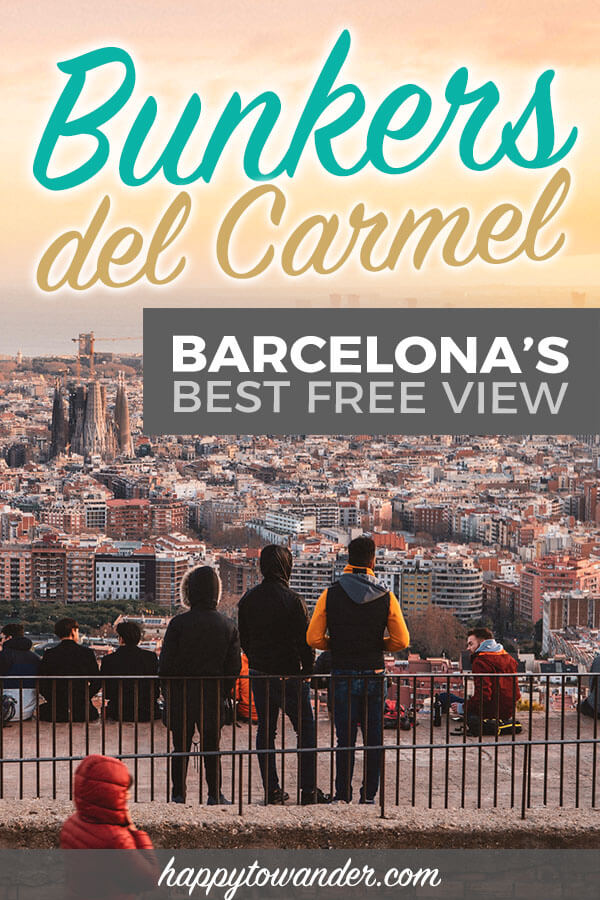 Unfortunately for many starry-eyed visitors, finding these Barcelona Bunkers is a bit tougher than whizzing off to your standard Barcelona attractions.
After visiting for myself in January 2019, I realized that there wasn't too much info out there that accurately described the journey up in a simple way, so here it is!
Below you'll find a detailed and stress-free guide to visiting the Barcelona's famous Bunkers del Carmel for yourself, including different transportation options and extra tips for your visit.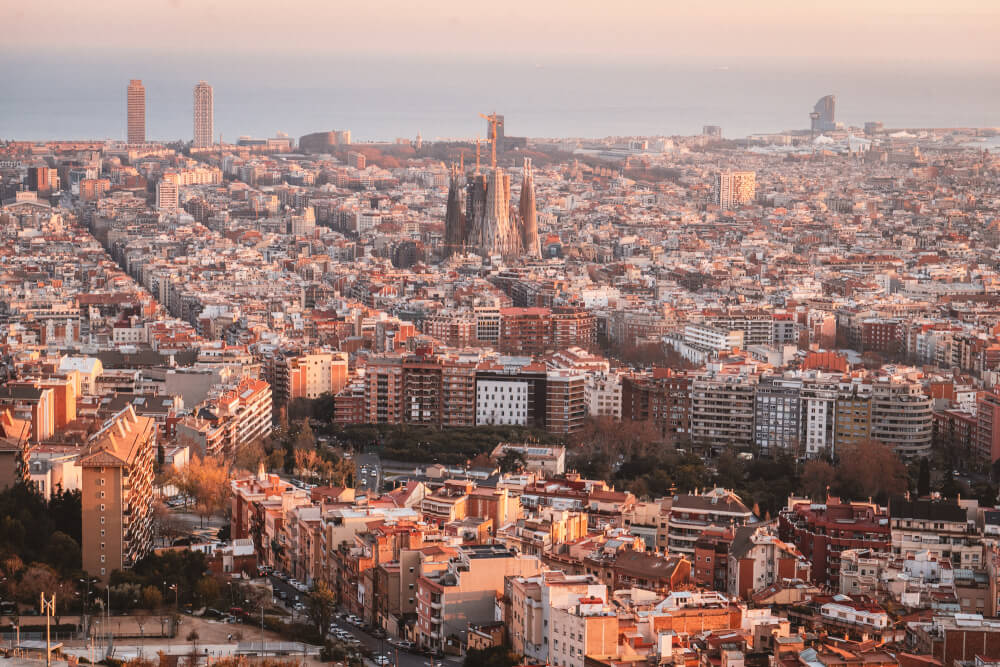 The Bunkers del Carmel: A Brief Introduction
The Barcelona Bunkers (better known as the Bunkers del Carmel) are former anti-aircraft fortifications crowning the Turó de la Rovira, a hill in the mini-mountain range known as the Tres Turons (the Three Hills).
Standing at 262m above Barcelona, they offer the most incredible 360 degree views in the city, giving locals and visitors alike a place to kick back, have a beer, and (if the many youths I saw were any indication) a place to smooch away from the prying eyes of judgey parents.
The history of these bunkers is a long and tumultuous one (more on that below), but over the years, the Bunkers del Carmel have gone from being anti-aircraft batteries, to the site of a shantytown, to an abandoned space, and soon, a site beloved by locals as an insider secret. Sadly, this is no longer the case.
Today, these bunkers in Barcelona are one of the most popular (and most crowded) places to catch sunset in the city.
And while they may no longer be the hidden gem they once were, I would still wholeheartedly recommend a visit to the Bunkers del Carmel for one simple reason: the views are absolutely fall-over-your-feet ridiculous.
NOTE: Carmel is the name of the neighbourhood by this viewpoint, hence the name "Bunkers del Carmel". Much to my chagrin, caramel was not involved in the naming of this site.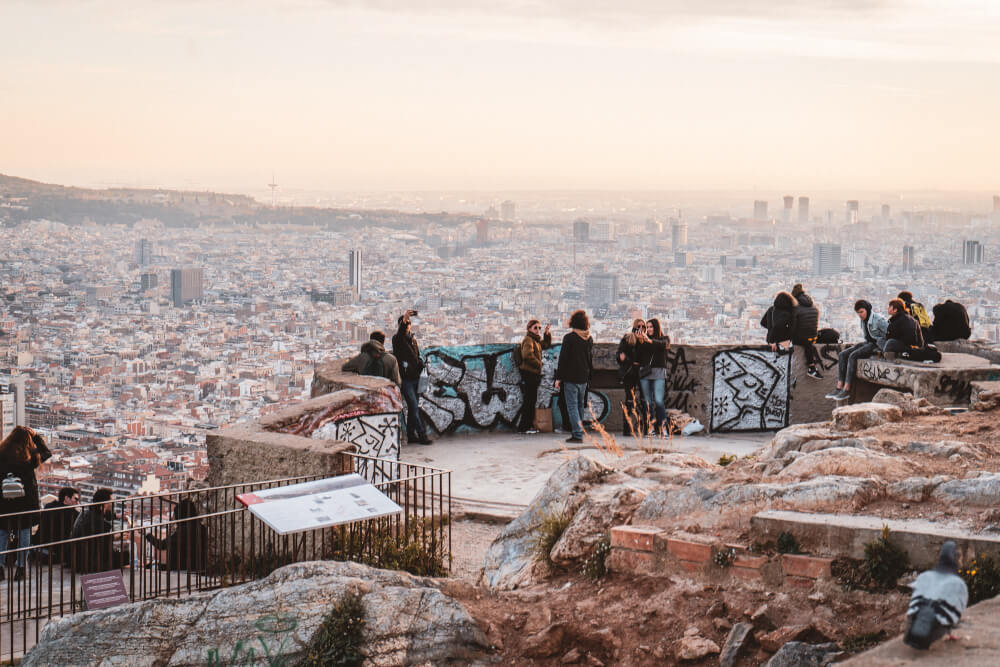 The History Behind Barcelona's Bunkers
If you're a bit of a history geek like me, you might be curious to know why these bunkers are here, or what their significance is.
Well, long story short: the Bunkers del Carmel are a legacy left behind from the Spanish Civil War which took place from 1936-1939.
This was a complicated war that stemmed from a variety of factors far too complicated for me to list out here, but what you need to know is this war was fought between the Republicans (the left side, backed by the Soviet Union, consisting of workers, communists, and the Spanish government at the time) and the Nationalists (the right side, backed by fascist Germany/Italy and the upper classes).
Essentially, civil war erupted when the Nationalists attempted a coup d'etat in 1936 against the democratically elected (Republican) president Manuel Azaña, a move spurred by dissatisfaction for the many changes and reforms that Azaña was bringing forth.
[Literally such an oversimplification, but let's leave it at that for the sake of brevity]
Anyways, the Nationalists attempted to seize control through a bloody military coup in July 1936, but (while succeeding in some parts of Spain) were not able to take complete control over the country, which led to the start of the civil war, which would last for three years and go down as the bloodiest conflict in Western Europe since the 1st world war.
And so, the site we know today as a "pretty viewpoint" served an entirely different purpose during this period of civil war…
Its 360 degree views made it a strategic defence point for the Republicans' anti-aircraft batteries, so essentially it was used as a place to shoot down Nationalist planes (along with other similar batteries on Montjuïc and Poblenou) following horrific bombings over the city.
This defense point was important, as the city would experience hundreds of bombing raids during the war, which were systematically used by the Nationalists to destroy infrastructure and of course, terrorize the city and its citizens.
This would ultimately lead to the city of Barcelona falling to the Nationalists, led by Francisco Franco, who would rule Spain as dictator until his death in 1975.
After the war, the bunkers of course fell out of use, and so took on a new purpose as a shanty town inhabited by immigrants called Los Cañones. Here they lived for years without vital infrastructure until the shanty town was demolished in 1990 leading up to the Olympics.
After being excavated and restored, the Bunkers del Carmel (as we now know them) became a favourite local spot to enjoy incredible views…
And over time, the secret got out, and it's now a must-do on any Barcelona itinerary.
Who would have thought that these strategic military bunkers would one day be a go-to spot for shameless wine drinking and selfies?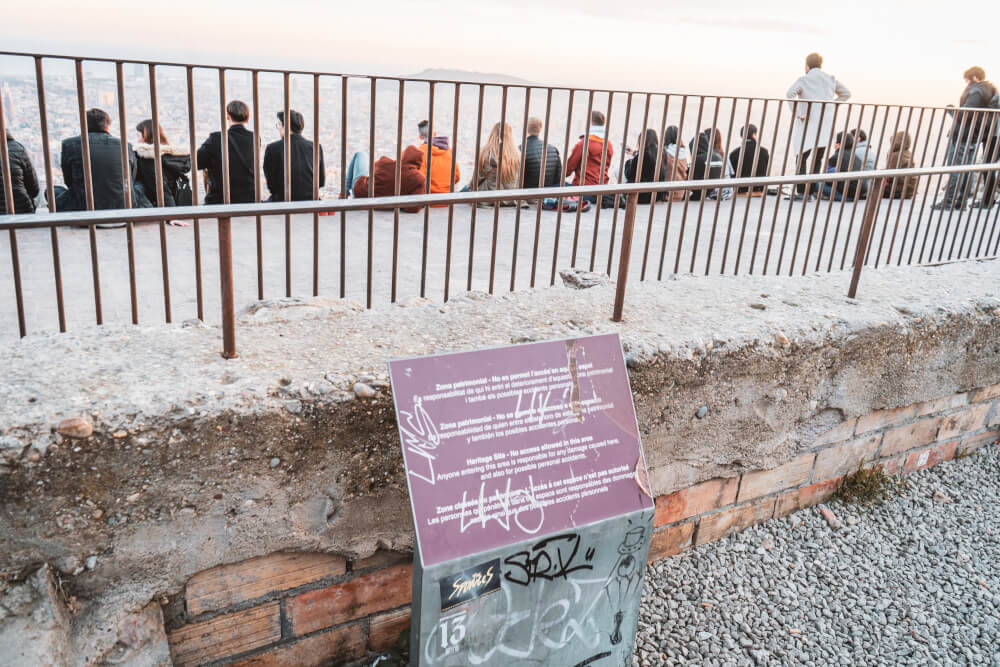 Where are these famous bunkers in Barcelona?
As I mentioned earlier, the Bunkers del Carmel are located on the Turó de la Rovira, in the El Carmel neighbourhood of Barcelona, not too far from the world famous Park Güell.
While geographically, the bunkers aren't that far from other main attractions in Barcelona, the main thing you'll need to account for is altitude…
Thanks to their high-up position above the city, you'll be trudging uphill one way or another, which takes some time.
I would budget 1-2 hours to get there in total depending on where you come from and what route you choose to take.
Which brings us to the next section……
How to Reach the Bunkers del Carmel in Barcelona
Getting to the Bunkers del Carmel isn't too difficult, but the information out there is scattered and largely outdated.
These are some of the options for reaching the bunkers based on my experience.
OPTION A (Recommended!): Head to the Barcelona Bunkers with a Bus and 15 min uphill walk
This is the way I visited the Bunkers del Carmel and I think it's probably the easiest and least strenuous option. Basically, I caught a bus uphill and then walked the rest of the way.
There's a lot of scattered information out there about which buses get you there, but honestly, it's 2019, just punch in the "Bunkers del Carmel" into Google Maps.
I personally used the 24 Bus to El Carmel and it dropped me off at the foot of the hill, maybe a 12 min climb to the top.
Other options appear to be the 22 Bus to El Carmel and there is also this little Taxonera 119 bus that I spotted on my trudge uphill. It's a small bus but goes considerably farther than the other public buses.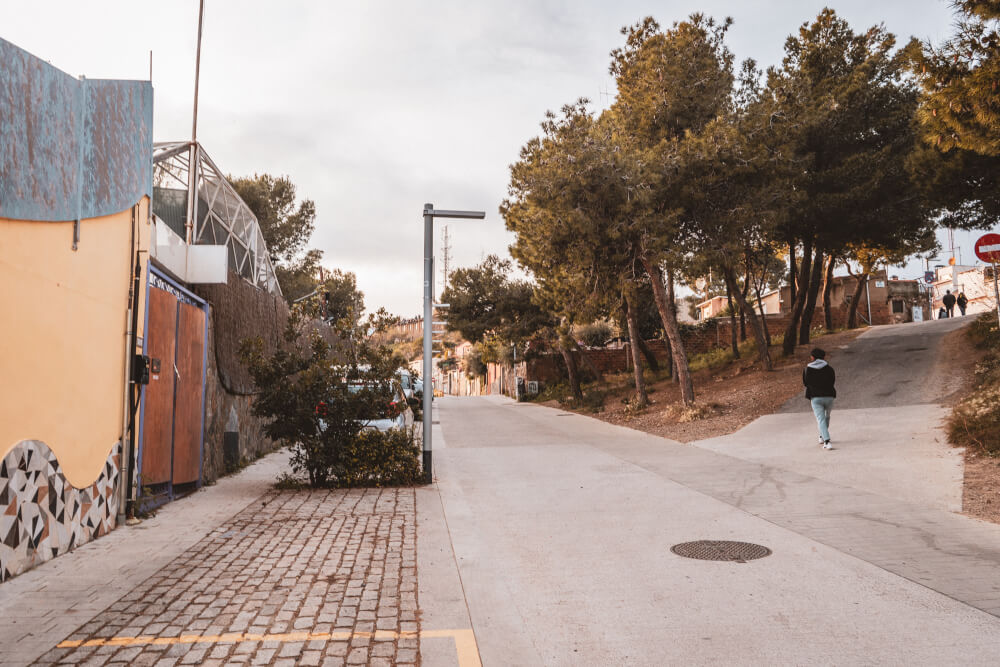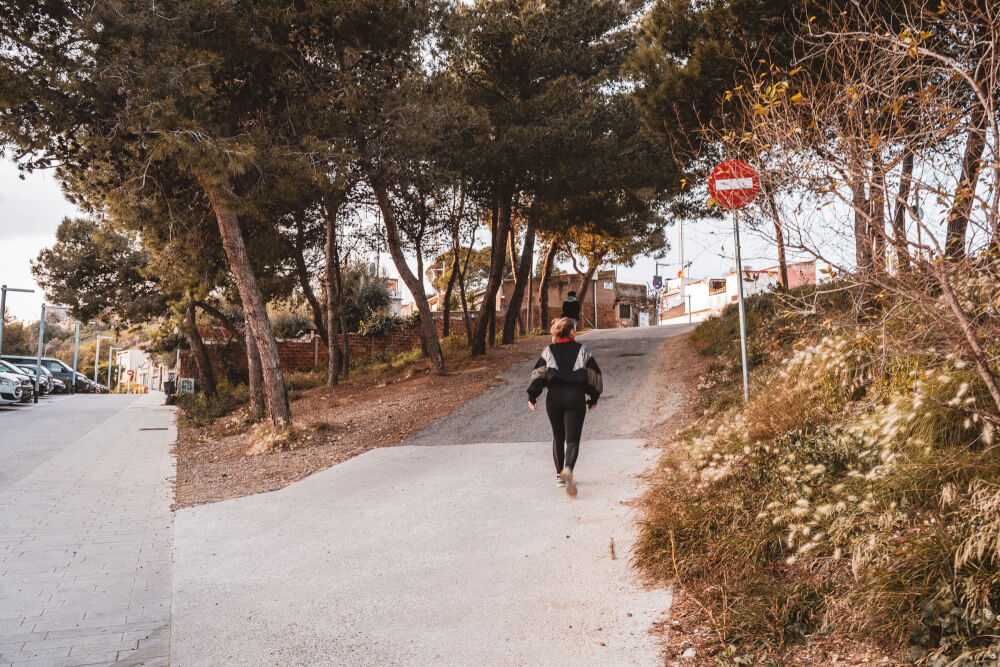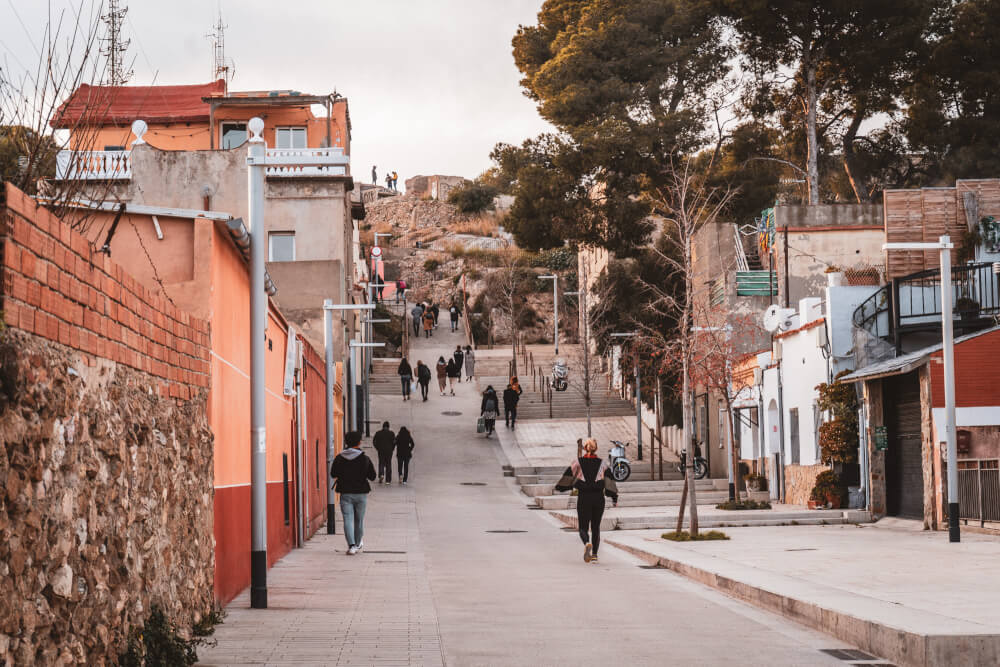 OPTION B: Taking the Metro to the foot of the hill and hiking all the way up
Another option is to get off at the Metro Station Guinardó or Alfons X and then walking for about 25-30 minutes.
For what it's worth, Google Maps is pretty accurate (it's how I navigated!!) and so I'd recommend just punching in "Bunkers del Carmel" as your destination and following that route to find the best way to reach the bunkers from your starting point.
Which Metro station should you get off at to reach these Barcelona bunkers?
Both have their pros and cons. Guinardo is said to have some escalators/a lift to help you along the way, but it's said that they are commonly out of order. In those cases, the walk is longer.
Alfons X on the other hand doesn't have escalators, but it's a scenic walk up some stairs, and it's a pretty straightforward climb because you have a view of the bunkers almost the entire time.
It is steep though, and a great deal of stairs, so I wouldn't do this unless you're quite physically fit. In any case, with the Barcelona heat, it'll be quite the workout.
I actually descended the Bunkers of Carmel and went back to my hotel with this method to get a feel for what the climb would be like.
While there's nice stairs most of the way and it's a scenic walk, I'm not sure I would want to do it uphill unless I was looking for an actual workout.
It is quite a steep climb, even with stairs, and if the many sweaty, puffy people I saw were any indication, it's not the most relaxing way to reach this relaxing viewpoint.
I'd much rather take the bus or grab a taxi from the Metro closer to the top of the hill, unless you're really looking for a challenge.
NOTE: Depending on where you start, walking from the El Carmel stop might is an option as well.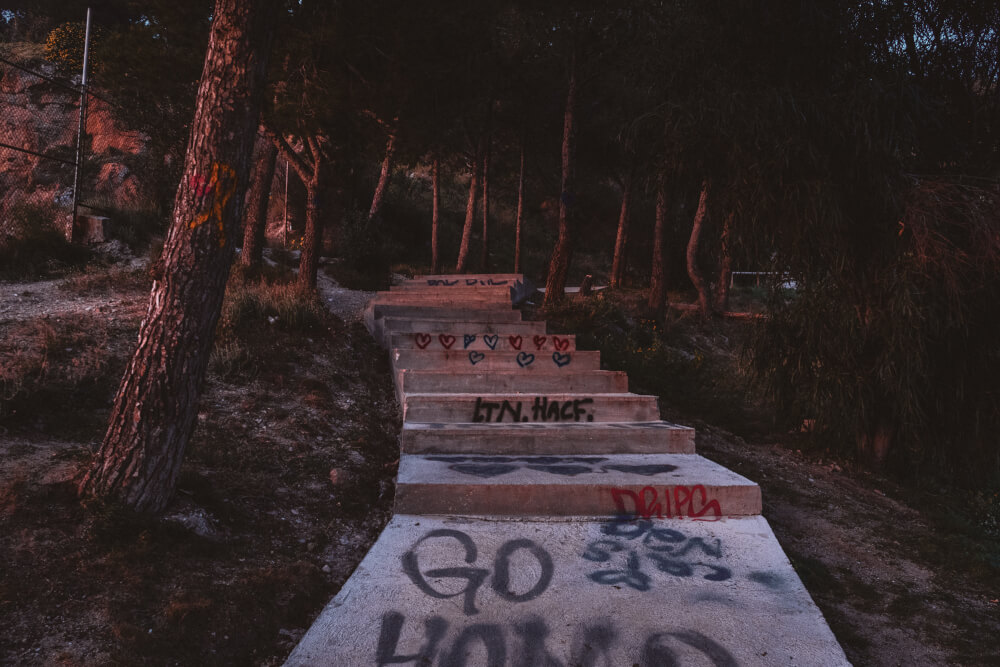 Final Tips for Visiting the Bunkers in Barcelona
Alright, to ensure you have the best time ever while visiting the Bunkers del Carmel, here are some final tips for you…
Bring some water and refreshments for your Barcelona bunkers adventure
This is especially true if you're climbing all the way up!
You'll definitely be needing water because that climb is going to take it out of you, but don't forget to also bring yourself some fun drinks (or er, you know, adult beverages) too!
Basically whatever you'd like in your hand as you savour the magical colours of the Barcelona sunset – bring that. Some cold beers or a bottle of wine might be a good idea.
Also remember to bring some snacks for a picnic!
The last thing you want is to reach the top and realize "damn. I could really do with some Pringles right now." If you're opting for something a little classier, a classic picnic of bread, meat and cheese would likely do nicely.
NOTE: If you don't want to carry any heavy drinks on your way up, know that when I went, there WAS a guy up there with a cooler selling beverages for about 2 euros a beer, 10 euros for a bottle of wine.
It's not horrible, but it is certainly more expensive than the supermarkets, and depending on the time of day that you go, "the guy" (as I have started calling him) might not be there. Just FYI!
Have reasonable expectations… these bunkers are honestly the worst kept secret in Barcelona
While many guidebooks and articles romanticize these famous Barcelona bunkers as a "hidden gem" and a well-kept secret away from tourists, this is unfortunately no longer the case.
If you're coming at sunset, you WILL encounter a lot of people. Even arriving 30 minutes before sunset on a weekday in January, I was greeted with plenty of company, with all the most ideal "perching" spots already taken.
So, if you're looking for a quiet, secluded, romantic place to drink wine and make out, be warned that this is a popular spot among youngsters and backpackers, so large groups of rambunctious youths drinking beer might ruin the ambiance.
If you're happy to overlook the crowds though, this spot is still well worth a visit.
Bring a flashlight or be prepared for the dark
I learned this the hard way, but you should know that it gets dark extremely quickly up at the Bunkers del Carmel, and if you stay for sunset, odds are you're going to be clamouring back down in the dark.
Especially if you're taking the park route back down, the visibility isn't great so make sure you have a good flashlight app on your phone or bring a flashlight just in case.
Get to the Bunkers del Carmel BEFORE sunset, not AT sunset
Again, these famous Barcelona bunkers are one of the most popular spots in the city for sunset. If you arrive just at sunset, A) you're probably gonna miss some of the show, because the climb is longer than many people think and B) you won't have an ideal spot to sit and perch and drink and take shameless selfies, etc.
I would get to the bunkers at least an hour before the official sunset time. I went 30 minutes before and all the good sitting spots were already taken!
Consider coming for sunrise if you want a quieter experience
Because the Bunkers del Carmel offer 360 degree views, another option for dodging the intense sunset crowds is to come for sunrise, rather than sunset.
This of course requires waking up early, but the added bonus is you avoid the hordes of humans eager for that perfect sunset snap.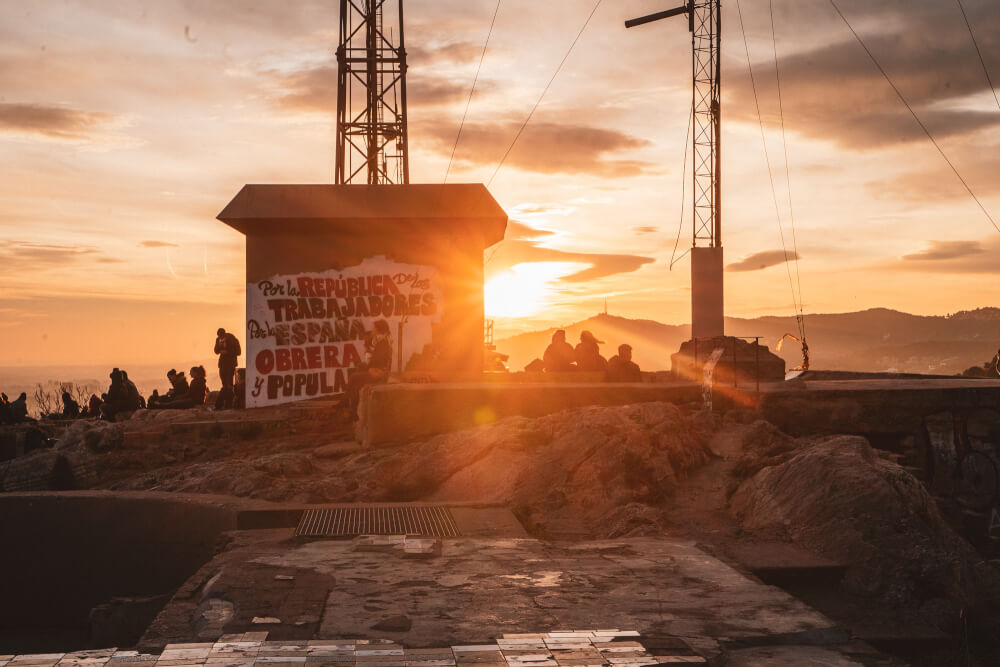 Any more questions about the Bunkers del Carmel?
I hope you enjoyed this thorough guide to visiting the famous Barcelona bunkers. Let me know in the comments if you have any other questions. Enjoy!
My Go-To Travel Favourites: