*FYI - this post may contain affiliate links, which means we earn a commission at no extra cost to you if you purchase from them. Check out our Privacy Policy and Disclosure. for more info.
Ain't no party like a Whistler party!
You know, even at first glance, it's pretty clear why Whistler is considered one of the top bachelorette destinations in Canada. I mean, it's compact, fun and most importantly, boasts a fair share of beautiful Australian guys scenery.
But planning a bachelorette party, a destination bachelorette party no less, ain't all sunshine and rainbows.
Luckily, I've been part of the process and now know that Whistler is a really flexible destination with options to suit every budget and taste, from boozy benders and girly pamper-weekends to adrenaline-packed bonding trips. Regardless of your preferences, here's a post full of Whistler bachelorette ideas and advice to help you plan an unforgettable trip (or perhaps, one you won't remember *wink*)
---
Pin for later: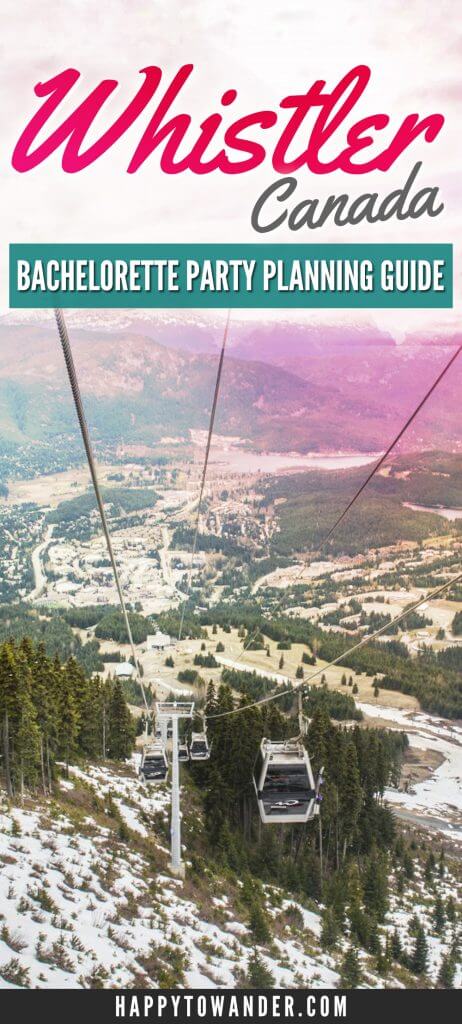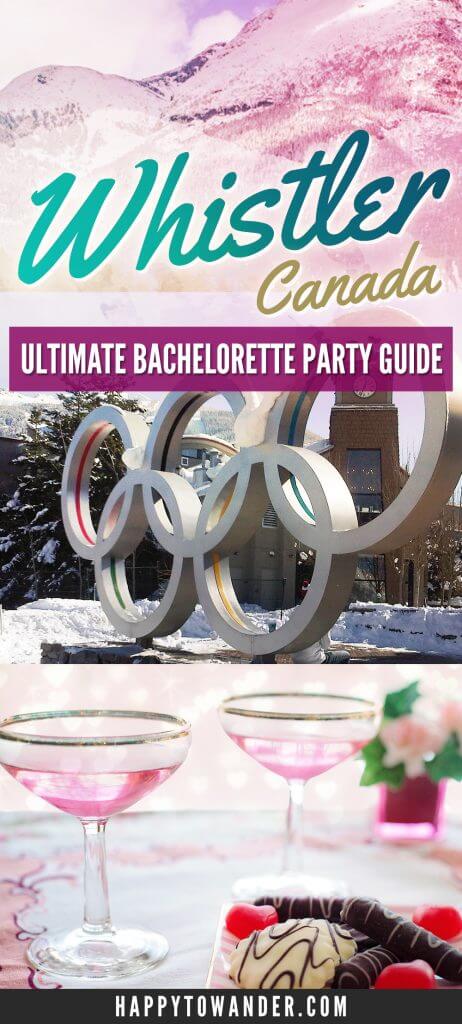 ---
Where to stay in Whistler
First up – accommodations! There's no happy bride unless you've got a nice place to crash. In Whistler, places to stay are plentiful, but here are some of the best options for a large group:
Renting a house
Craving comfort and privacy? There are plenty of options for luxurious Whistler house rentals, which is probably your best bet if you have a big group of girls. Renting a big villa/chalet just for your party means plenty of space to play games, icebreakers, pre-drink, get ready, etc. Trust me, when you're a big group, having that level of space is key! Plus, having your own kitchen can help cut costs tremendously (which helps justify the cost of splurging on gorgeous private accommodation).
A hotel
If convenience and centrality are your priority, then consider booking a hotel! The downside of this is figuring out logistics, meeting points, roommates, etc. If you're picking this route, the Fairmont Chateau Whistler is easily one of the best hotels in Whistler, and has a pretty, classy ambiance perfectly suited for a girls' weekend (and where my best friend had her Bachelorette last year! Read my review here). Otherwise, click here to browse the best deals on Whistler Village hotels.
AirBNB
If you're a smaller group, it's likely you could get away with renting an AirBNB. Click here to save $50 off your first booking!
---
How to get to Whistler
Alright, now what's the best way to get the squad together? Well, the closest airports to Whistler are Vancouver, Seattle and Bellingham. Most likely, you'll be headed to Whistler from Vancouver, in which case you have several options…
FROM VANCOUVER:
Option #1: Take the bus from Vancouver to Whistler. This is probably the easiest and most budget-friendly option. If you bus to Whistler, you don't need to worry about annoying things like parking! Plus, with nobody stuck driving, each one of you can arrive refreshed and ready to partayy (sorry, that was lame).
TIP: EpicRides offers $35 roundtrip fares, which is pretty much as cheap as it gets.
Option #2: Private shuttle. If you want things to feel a bit more upscale than a regular bus ride, you can always order a private shuttle to drop you off in Whistler (and then perhaps catch the bus from Whistler to Vancouver back home to cut costs). Here's an example of a private pick-up you can order that will bring your straight to Whistler hassle-free.
Option #3: Drive. If you can find a way to carpool with the girls, the drive is about 2 hours and is one of the most scenic and gorgeous drives in the world! Remember though that parking can be pricey. Here are some directions depending on your point of departure.
Option #4: Seaplane. If you really want to arrive in style, know that arriving via seaplane IS an option, and it's actually not too expensive. Here is an option for around $200.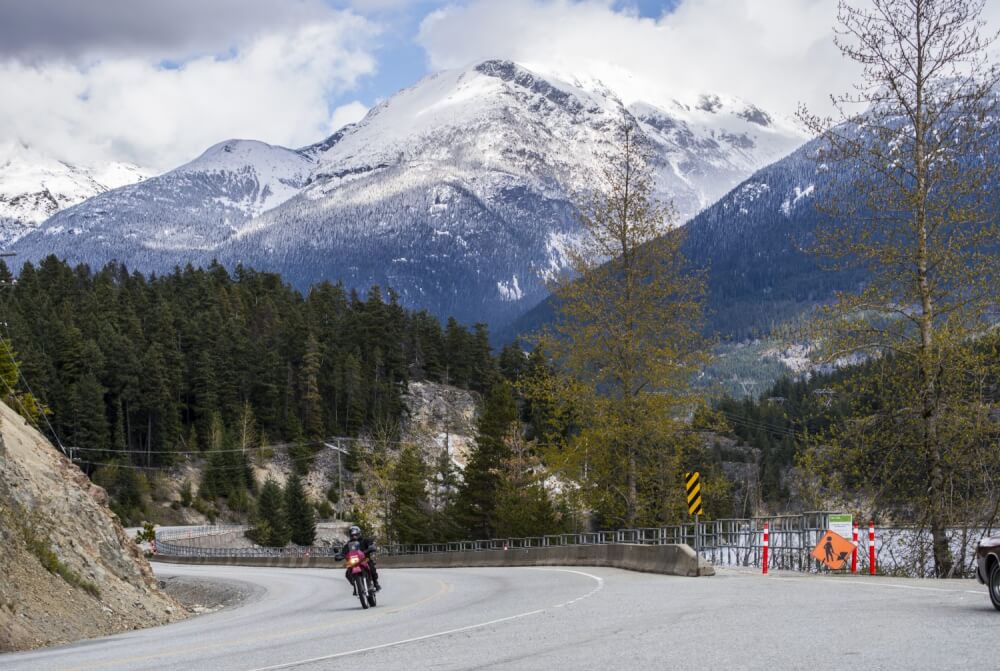 ---
The best things to do in Whistler for a bachelorette
Alright, after arriving, that's where the fun begins. There are plenty of things to do in Whistler to keep your girls entertained. Here are some awesome Whistler Bachelorette party activities, from free and budget-friendly to the pricier (but unforgettable).
MUST-MENTION: if you're looking for a ridiculously classic 'Bachelorette' activity, bring in some guys from Butlers in the Buff. Imagine getting food and cocktails served up by ridiculously ripped Chippendales-esque dudes. It's a real thing…! I fought hard to add these guys to our itinerary when I was a bridesmaid, but it was a battle I sadly lost.
Free things to do in Whistler
Explore Whistler Village – Whistler is a beautiful little city surrounded by gorgeous scenery, with a cute main village packed with nice shops and restaurants. Exploring the village can be a really fun/budget-friendly bachelorette party activity, especially if you make it extra adorable by organizing a scavenger hunt of some sort.
Snap a photo at the Olympic Rings – this is THE classic Whistler photo opp, especially for squad pic purposes. Don't forget to grab one here for the inevitable Facebook album 😉
Enjoy the outdoors – Whistler is surrounded by gorgeous nature. If you're looking for a scenic back drop to play fun icebreakers or do some group bonding, you've got it. Why not pack a picnic or go for a short hike?
What to see in Whistler: Top Whistler attractions
There's plenty to see in Whistler, with attractions to enjoy whether you're craving the luxurious or adventurous.
Unforgettable bucket list things to do in Whistler
A helicopter sightseeing ride – If you really want to make your Bachelorette feel special, consider booking a once in a lifetime experience like a helicopter sightseeing ride to share with your best girlfriends. After all, Whistler is probably one of the most scenic places to do this! Check reviews and availability here.
A helicopter ride plus ALPINE PICNIC – Stepping it up a notch, if you want to combine your helicopter ride with a freaking picnic lunch in the mountains, then that's an experience that you can easily book in Whistler. It's pricey, but definitely one for the bucket list. Check reviews and availability here.
Luxuriously girly + pampering activities in Whistler
Scandinave Spa – a classic Whistler girly girl activity, and no doubt one of the best places to visit in Whistler. More info here.
Your hotel spa – If you're staying at a hotel during your trip, nothing beats rolling out of bed after a fun night out to get pampered (without barely needing to move).
Food tour – Indulge your taste buds by hopping around some of Whistler's best restaurants. There's plenty of options – from this one about hidden gems and this one focusing on fine dining.
Adventurous activities in Whistler
Skiing/snowboarding (seasonal) – Duh, if you're in Whistler, a great option is get out on the slopes! This is a pretty pricey activity (with lift passes, rentals and all) but would be a fun way to celebrate your bride, especially if your group is sporty! To take the stress out of planning everything, there are packages you can buy that handle all the logistics and rentals. Browse some here. BONUS: Make your outing extra fun/obnoxious with some customized #TeamBride sashes (check out these adorable options).
Electric bike tour – If you're looking for something physical but less hardcore than snowshoeing, skiing or snowboarding, an electric bike tour around Whistler might be a good option. Click here to check reviews and availability.
Bungee jumping – Celebrate your friend taking the plunge by literally taking the plunge… into a river (you know, for moral support and all that). Whistler Bungee is one of the city's most famous adventure activities. It's $130 per jump for first timers, but if you can get a group of 10+ together, the price goes down to $105.
Ziplining – Whistler has some of the longest and fastest zip lines in the entire country. And speaking from personal experience, yes they rock. I've gone with SuperFly ziplines and survived with minimal trauma, which was well worth it for the views!
The Whistler Peak 2 Peak Gondola – Definitely more 'soft adventure' than the options above, but hey, if anyone asks ever what to do in Whistler BC, the first recommendation is usually the Peak 2 Peak Gondola. It's not cheap, but the views are awesome.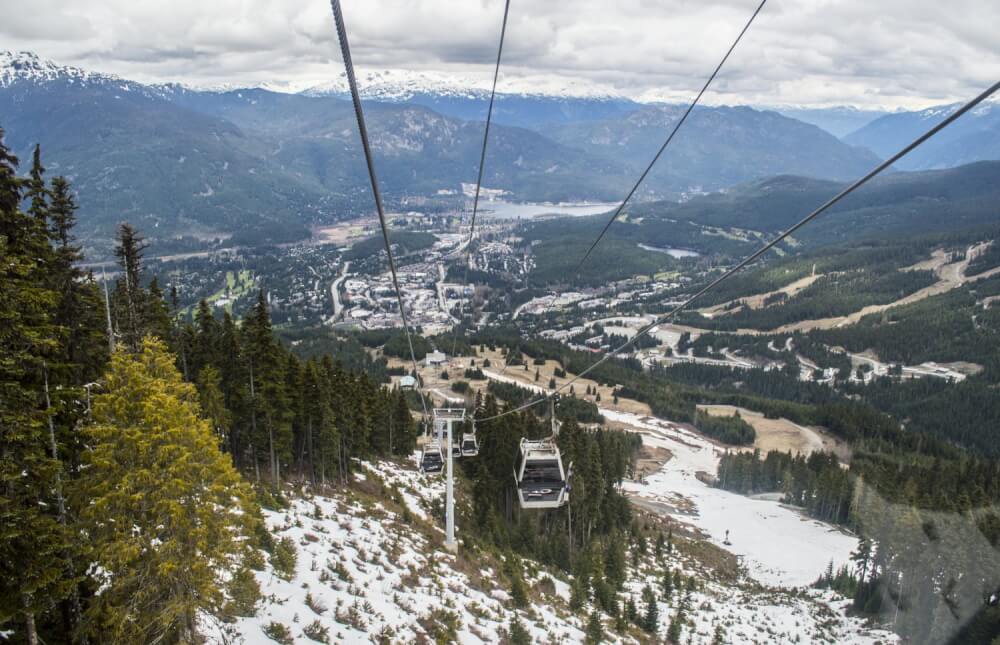 Bachelorette party gone wild: Things to do in Whistler at night
Here's the section you've been waiting for! Let's be real: at the end of the day, bachelorette parties are about one thing: celebrating your friend's impending doom beautiful future by having a darn good time.
… Luckily for you, Whistler is the perfect place to do that.
If you're aiming for a classic bachelorette night out, the famous Whistler BC nightlife is there to deliver. And uh, if you're looking for a "strippers in Whistler" type situation, I'm sure that's something you're capable of Googling on your own 😉
Anyways, the truth is: there is no shortage of Whistler bars for you to choose from! Bars in Whistler are plentiful, and there's something for everyone, from chill bro-ey sports bars to glitzy nightclubs blasting top 40. The following recommendations are definitely leaning more towards the latter. If you're looking for a less "woo woo party" type situation, be sure to look up some alternatives!
HELPFUL TIP: If you call many of these places beforehand to explain you're celebrating a Stagette, they can get you on guest list/give you some drinks for free! Now here are few different options for places to party it up in Whistler:
The easiest (and if your goal is to just have a rowdy good time): Whistler pub crawl. Sure, pub crawls are a little juvenile, but if you're looking for an excuse to be absolutely obnoxious in celebrating your bride, this is a fun way to do it! Plus, you get a nice taste of the many different nightlife hotspots in Whistler. Here's one that includes cover, drinks, snacks and a guide. Otherwise, hit them up yourself.
Bars and Clubs in Whistler: Where to go out (for a bachelorette party)
Moe Joes's – A fun place to dance, with a friendly + lively atmosphere, plus a weekly glow party on Sunday nights. Book guest list here.
Tommy Africa's – A real party place if you're looking for a rowdy night out. Two-level dance floor, complete with go go dancers. Book guest list here.
Buffalo Bills Whistler – One of the city's most well-known spots for a dance party! Huge dance floor + a mix of top 40 and classics. Book guest list here.
Garfinkel's – Fun party place, often with live music, plus a Locals night every Thursday. Book guest list here.
---
Things to do in Whistler this weekend
Whistler is a pretty happenin' place, and there's all sorts of special events happening all the time. To get the insider scoop on the best things to do in Whistler THIS weekend, check out the city's Events Calendar.
---
The Final Touches
Now, last but most importantly, what makes a bachelorette party special are the little details! Especially when you have a big group of girls that might not all know/love each other (yet), it's good to have goodie bags, 'uniforms', fun stuff, etc. to bind everyone together. Before heading off on your Whistler bachelorette party, consider grabbing some of the following:
Custom shirts – All the better if they have a special wedding hashtag! 😉 Browse all sorts of cute and affordable options here.
Goodie bags/party favours – You can have so much fun with these! Be sure to include necessities like hair ties, chocolate bars (for those who get hangry), mints and maybe even a mini bottle of alcohol to get the party started. If you're feeling lazy, you can buy prepackaged ones here.
Photo props and balloons – Let's be honest… you're going to take a LOT of photos, so why not glam them up with cute props? I'm partial to balloons, which are easy to order online. Here are some that are so cute you might just die.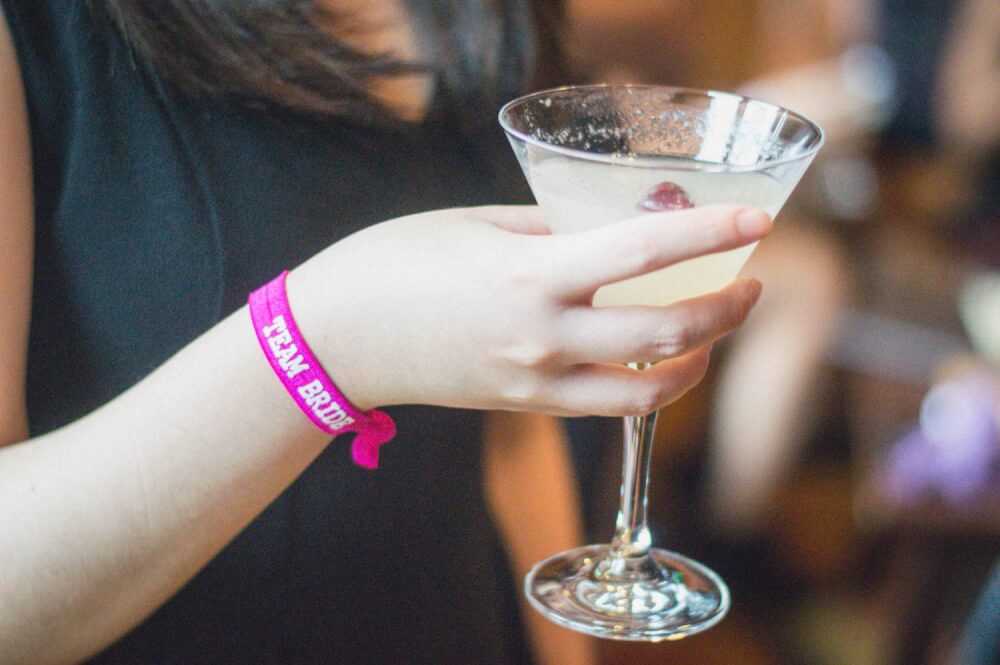 ---
And there you have it! All the info you need to have a rockin' time at your Whistler stagette. Be safe, have fun, and um, don't do anything I wouldn't do? 😉
Thanks so much for reading this guide on how to plan the perfect Whistler Bachelorette Party! This post contains some affiliate links, which means I earn a commission from your purchases that come at no extra cost to you. Support from readers like you is what keeps this site running (and guacamole flowing at my dinner table). Thank you for keeping that guac addiction alive!
Want to travel smarter and more often?
Join over 80,000 followers who love what I have to say! Enter your email here & you'll gain instant access to my special VIP zone, featuring freebies like checklists and printables... plus exclusive content, tips and updates!
---
Watch my latest video:
---