Wellington, New Zealand's capital, is a small, gorgeous gem surrounded by natural beauty. As a compact city set on a lovely harbour, Wellington offers many spots and activities to explore by foot, whether that be getting a taste of delicious food, the outdoors, or the local art and history.
Here's an insider's guide on the best things to do in Wellington, alongside where to stay, what to eat and everything else you need to know.
This guide post features recommendations from sarahseestheworld.com, a kiwi travel blogger based in Wellington, New Zealand. Having lived in Wellington most of her life, she has the real inside scoop on the city's best things to do. Read on to learn Sarah's take and advice on this city as a local, and get access to useful insider tips on how to make your stay in Wellington an amazing one.
---
---
Pin for later: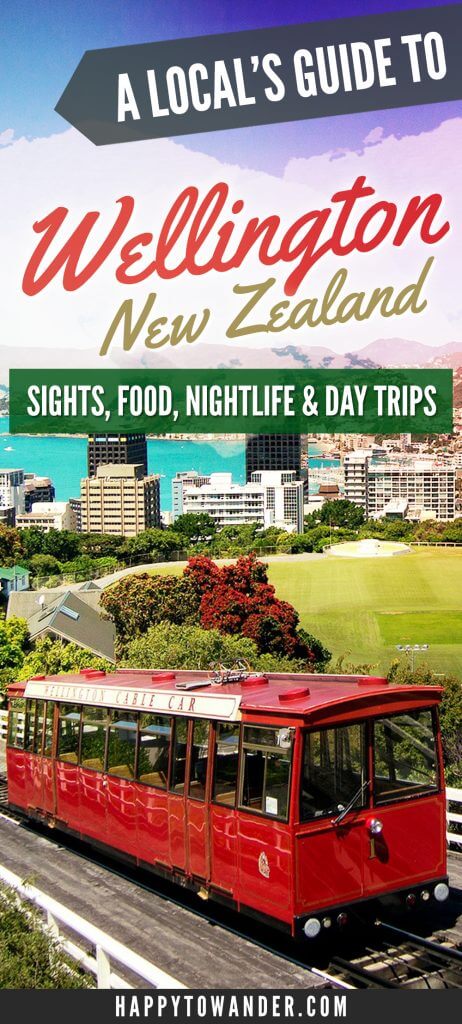 ---
Basic Facts
The best time to visit Wellington: Spring provides a great atmosphere as the city slips out of the winter months. The Wellington Botanic Gardens are in full bloom, the weather clears up, and there are many events to check out. Read more: Why you should visit Wellington in Spring
Wellington is perfect for… Solo travelers, couples, and families of all sizes.
The best way to get around: Wellington is a walkable city set on a harbour, so exploring the streets and waterfront by foot is the way to go. Otherwise, public transportation with a Snapper card (the Wellington equivalent of London's Oyster) is affordable, costing $1.66 within the Central Business District. Keep in mind that fares are based on zones rather than a flat rate, so remember to tag off at your last stop to avoid being charged for the full route.
Currency: The New Zealand Dollar is the local currency. New Zealanders are heavy adopters of credit card payments, although smaller stores may only accept debit (EFTPOS) or cash.
Cool events and festivals to look out for: Wellington On a Plate – a regionwide food festival that takes place in August. This culinary experience offers special food and drinks menus put on by many participating restaurants across the city.
If you only have one day in the city, you absolutely cannot miss…
Walking around Wellington's beautiful waterfront.
Looking for some guided Wellington tours? Here are some to choose from.
---
Fun Things to do in Wellington, New Zealand (The Touristy Must-Dos)
Museum of Te Papa Tongarewa: the national museum and art gallery of New Zealand, well known for its array of interactive exhibitions (for adults and children alike). The Gallipoli: The Scale of Our War exhibition is free and runs until April 2018. It tells the eight month Gallipoli campaign story through the eyes of eight New Zealanders. Make sure to stop by their lovely souvenir shop.
The Cable Car: runs every 10 minutes between Lambton Quay (the
major shopping street in the Central Business District), up the hill past Victoria University, then heads to the highest point in the Botanic Gardens in Thorndon (where the views of the city and harbour are fantastic!)
Parliament buildings: Of all places to visit in Wellington, The Beehive is the city's most famous landmark. Here, you can do a tour of the location as well as of the other parliament buildings.
Weta Workshop: if you are a fan of The Lord of The Rings or The Hobbit movies, the Weta Workshop is a must visit for behind the scenes learnings.
Wellington Botanic Gardens: includes an abundance of gardens to explore, including the begonia house, the rose gardens, the scented gardens, and the children's playground.
---
What to do in Wellington (Off the Beaten Path)
Zealandia: is a section of protected forest being restored where you can go for a walk and see native birds and reptiles. This location gives you the chance to see what New Zealand was like before European Settlement.
The Roxy Cinema: take a break from exploring and catch a movie at these theatres, which were restored by Peter Jackson to have a 1920s style art and decor. One of the best fun things to do in Wellington!
Wellington Waterfront: One of the best places to visit in Wellington; an ideal place to walk around, take in the scenery, people watch, and check out artwork along the way.
The Ferry: hop on a ferry to cross the harbour over to Days Bay. This is a great way to see a different part of Wellington and look back at the city.
The Skyline Walkway: There are plenty of things to see in Wellington, and this walkway is among the best. It offers 12 km along ridges above the city with a variety of incredible scenery.
---
What to eat in Wellington, New Zealand
A Flat White Coffee: we do coffee famously with double shots of espresso and creamy milk. Grab one from a cafe on Cuba Street.
Craft Beer: Wellington has great local breweries. Check out the delicious craft beers from Baylands Brewery, Tuatara Brewery, and the Garage Project.
Salted Caramel Cookies: some of the must-try treats from Leeds Street Bakery (they also sold in a few other cafes such as the Red Rabbit and Te Kouka).
---
Best restaurants in Wellington to try
On the hunt for places to eat in Wellington? Don't miss these top Wellington restaurants:
Charley Noble:
Address: Huddart Parker Building 1 Post Office Square
An eatery and bar offering a great selection of wood-fired, local produce.
Shepherd:
Address: 1/5 Eva St, Te Aro
A locally sourced dining offered on small, sharable plates with an oriental vibe.
Dragonfly:
Address: 70 Courtenay Pl, Te Aro
A beautifully decorated Asian dining lounge, also known for their delicious tapas and cocktails.
Crab Shack:
Address: 5 Queens Wharf
A casual diner specializing in seafood, while also providing a beautiful view of Wellington's waterfront.
Burger Liquor:
Address: 129 Willis St, Te Aro
The perfect spot when in the mood for a burger and tasty alcoholic milkshakes.
---
Best cafes in Wellington to try
If you're on the hunt for the best cafes in Wellington, here are a few you need to visit:
Scopa Caffe Cucina:
Address: 141 Cuba Street, Te Aro
A vibrant Italian cafe. Stop by and try their homemade pizza, pasta, and rich hot chocolate!
Scorch O Rama:
Address: 497 Karaka Bay Rd, Karaka Bays
This spot offers fabulous brunch options and overlooks Wellington's coastal scenery.
Caffe Astoria:
Address: Midland Park, 159 Lambton Quay
An excellent coffee house to visit while exploring Wellington's shopping and business districts.
---
What to do in Wellington at night: Where to experience Wellington nightlife
Looking to embrace that Wellington New Zealand nightlife? Here are some fun places to check out.
Hanging Ditch:
Address: 14 Leeds St, Te Aro
Check out this pub for an intimate ambience and a wide array of tasty cocktails.
Danger Danger:
Address: 132 Courtenay Place
A retro-themed bar and pizzeria in the heart of Wellington's party scene. With its live music and entertainment, it is the perfect spot to go dancing.
Dirty Little Secret:
Address: 7/11 Dixon St, Te Aro
A rooftop container bar with a cool vibe and near-panoramic views of the city. One of the best bars in Wellington.
---
Where to Stay in Wellington: the Best Neighbourhoods
Considering Wellington's small size, staying in the central city provides the best options for comfort and exploration.
Wondering where to stay in Wellington? Click here to browse the best hotel deals for Wellington's city centre.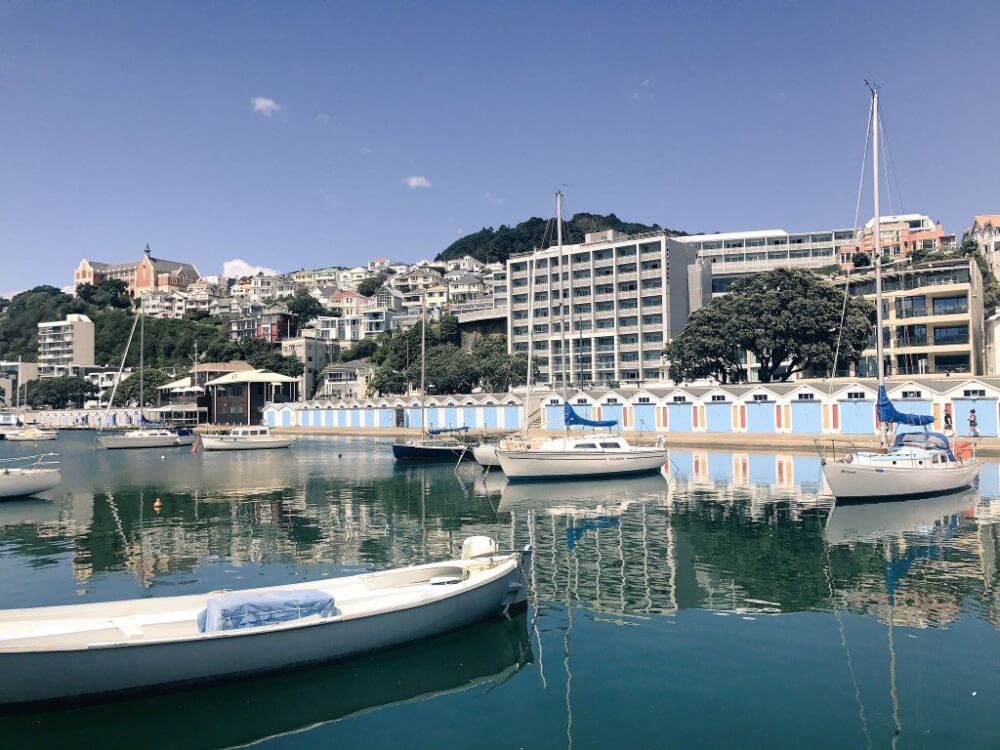 ---
Where to stay in Wellington, New Zealand
BUDGET:
Hotel Waterloo & Backpackers
Address: 1 Bunny St, Pipitea
Art Deco style budget accommodation located within easy walking distance from the railway station, ferry, and bus terminals. Both dorm and private rooms available, with the option of ensuite bathrooms. Try the on-site cafe meals (located in a ballroom), or use the guest kitchen for your own cooking. Free WiFi, common room, and an in-house bar.
Compare prices on Booking.com
MID-RANGE:
The Bolton Hotel
Address: 12 Bolton St
Mid-range independent lodging located in Wellington's shopping district. This stylish hotel will make you feel like you are on a ship! In-house artisan restaurant, fitness room and lap pool, and free WiFi throughout. Read my review here!
Compare prices on Booking.com
LUXURY:
The Sofitel
Address: 11 Bolton St
A luxurious hotel experience that elegantly incorporates both local and French styles and traditions. Beautifully decorated guest rooms and suites with Free WiFi. Also provides an in-house restaurant and lounge, fitness gym, and conference rooms.
Compare prices on Booking.com
---
Where to get the best views of Wellington
Te Ahumairangi Hill:
If you are up for a hike, this path up a hill from Thorndon provides stunning harbour views and a real sense of achievement at the top.
Mount Victoria:
Located on the other side of the city, this gem offers an incredible view of the sunset over the coast. Driving up is also an option.
---
Best places to go shopping in Wellington
Lambton Quay is the main shopping street in Wellington, filled with department and chain retail stores. There are no malls in the city itself; just streets of shops to explore.
---
Best Day Trips from Wellington
The Kapiti Coast: Just over an hour away, this spot gives access to beautiful beach landscapes. From here, you can also take a ferry over to Kapiti Island, which is a great place to go bird watching for native species. Click here to browse Kapiti Coast tours from Wellington.
The Wairarapa: A similar distance away on the opposite coast, this rural area has many remarkable landscapes, wineries and quaint shops. Click here to browse Wairarapa tours from Wellington.
---
Extra Safety Tips for Wellington
While Wellington tends to be safe, avoid walking through unlit parks at night.
Thanks for reading Happy to Wander's Wellington Insider Guide! Please note that this post does contain affiliate links that come at no extra cost to you, but helps net a small commission to keep the site running. Thanks as always for your support.