*FYI - this post may contain affiliate links, which means we earn a commission at no extra cost to you if you purchase from them. Also, as an Amazon Associate I earn from qualifying purchases. Check out our Privacy Policy and Disclosure. for more info.
Northern BC is a destination oft overlooked by both domestic and overseas visitors alike, but as someone up for an adventure anywhere, I couldn't resist a visit when one of my best friends in Vancouver moved up to Terrace.
Now, I'll be honest: A big city Terrace is not. Drive through Terrace's "downtown core" and you'll be done in about a minute. Continue your city tour and you'll encounter all the usual suspects of small town Canada – Tim Horton's, White Spot, Winners…
BUT… dig a little deeper (as I was able to do during my five day stay) and you'll find more than enough to do in Terrace to fill a day or two of exploring.
So, whether you're in town visiting friends like me, or are stopping by mid-road trip as many do, here are some of the best things to do in Terrace, BC.
1. Admire all the murals and public art in town
Downtown Terrace has a number of colourful surprises for visitors – big, beautiful murals, usually highlighting the local wildlife!
So, if you're looking for a fun way to get acquainted with town, just go for a little walk around and see how many murals you can spot.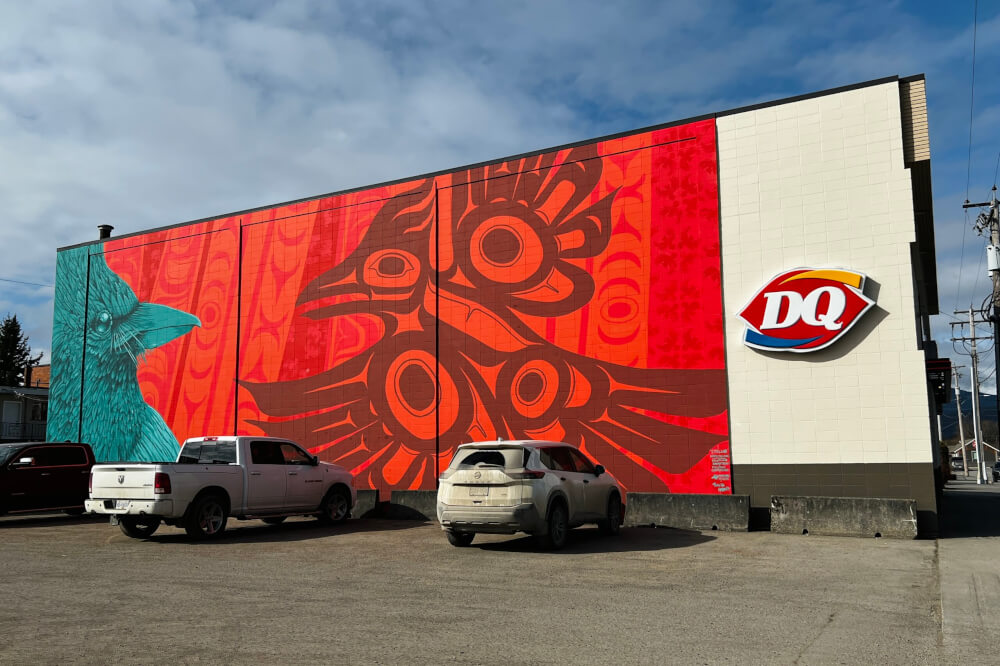 During your walk, you'll likely encounter other cool pieces of public art as well, from painted bears and wings to statues honouring famous local figures.
All to say, go for a walk around 'downtown Terrace' and keep an eye out – you're bound to see plenty of cool random art pieces.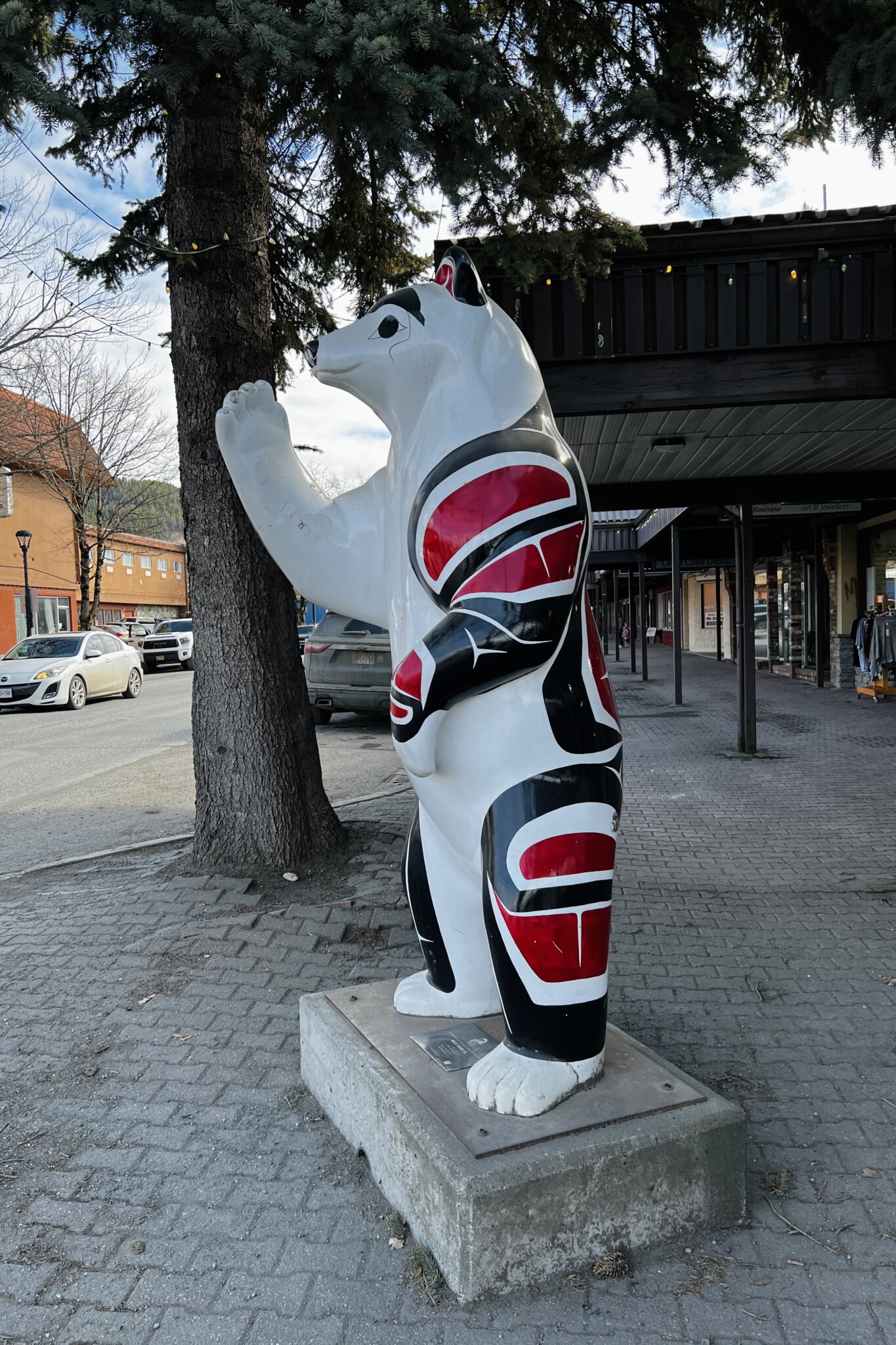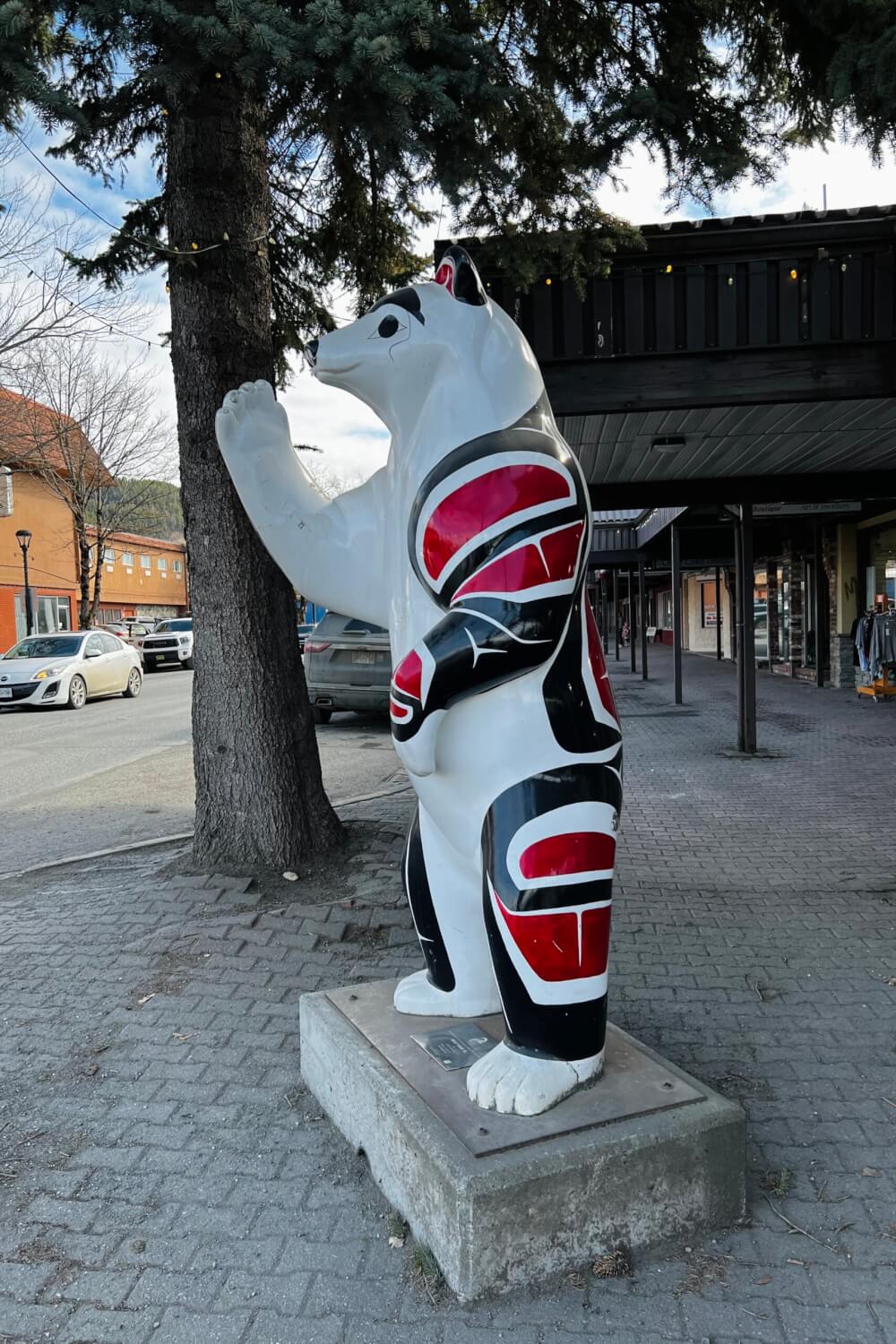 2. Stop by Terrace Art Gallery
Hidden away on the bottom floor of the Terrace Municipal Library is one of the city's top hidden gems: the Terrace Art Gallery, home to a small but beautiful display of local art, including an impressive gift shop and the perfect place to grab Terrace souvenirs created by local artists.
Exhibitions change monthly, so there's always plenty to see… and they often have live sessions where you can come watch local artists at work!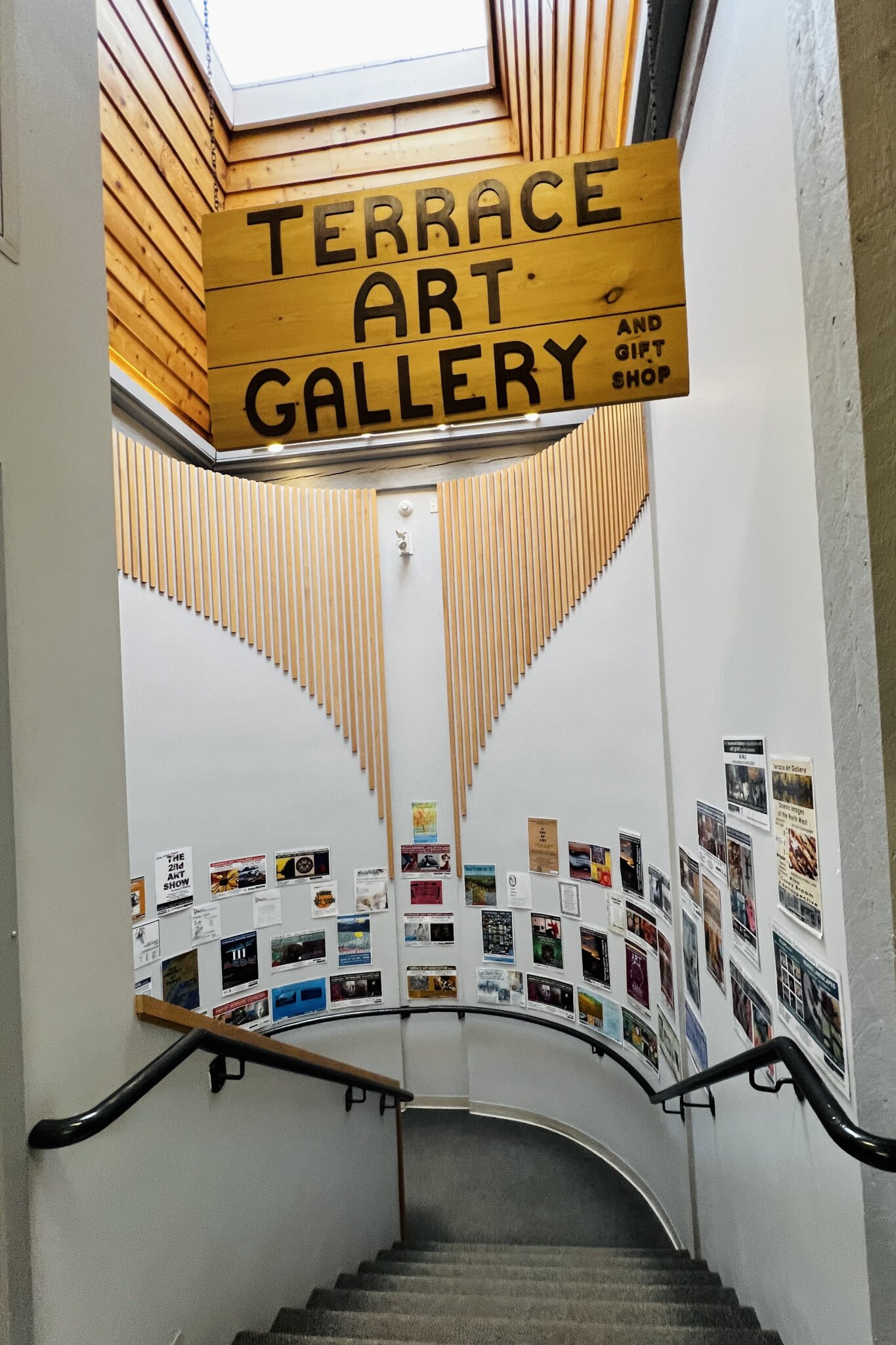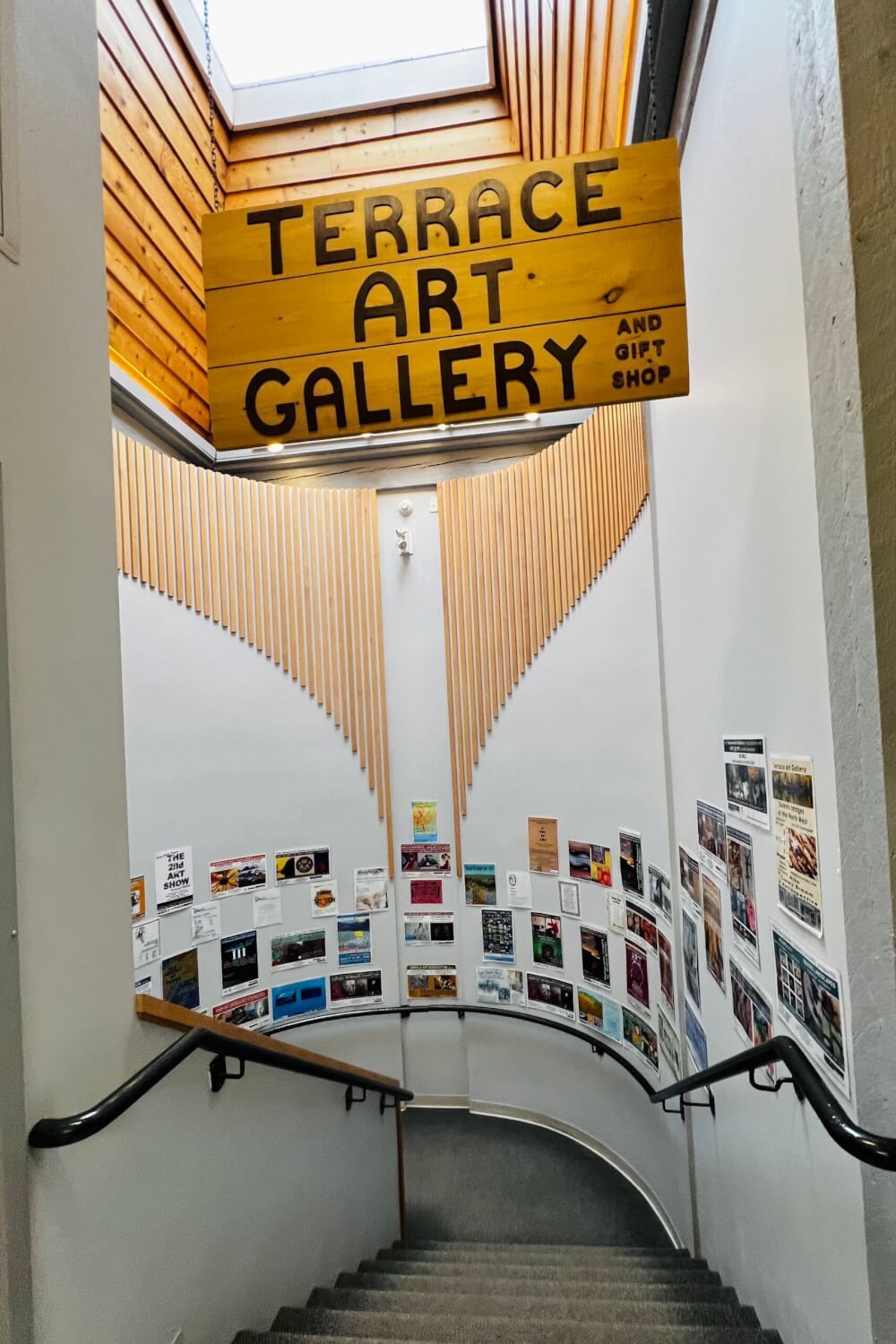 3. Hike up to see the "Terrace Wolf Pack"
For some of the best views in town, one fun (not too strenuous) thing to do in Terrace is hike up to see the very photogenic "Terrace Wolf Pack".
The Terrace Wolf Pack is one of Terrace's most photographed art installations, depicting six metal life-size sculptures of wolves in different poses. These beautiful and unique sculptures were created by Steve Rogers (not Captain America, sadly) who operates the Great Bear Ironworks in town.
We started our walk up from the trailhead at the end of Johnstone St, and followed the path up, making sure to follow the sign for "#TerraceWolves" (as signs to Viewpoint take you to a different, albeit also scenic spot).
The walk doesn't take too long (about 20 minutes) and the views are a real treat. This was probably my favourite thing we did in Terrace!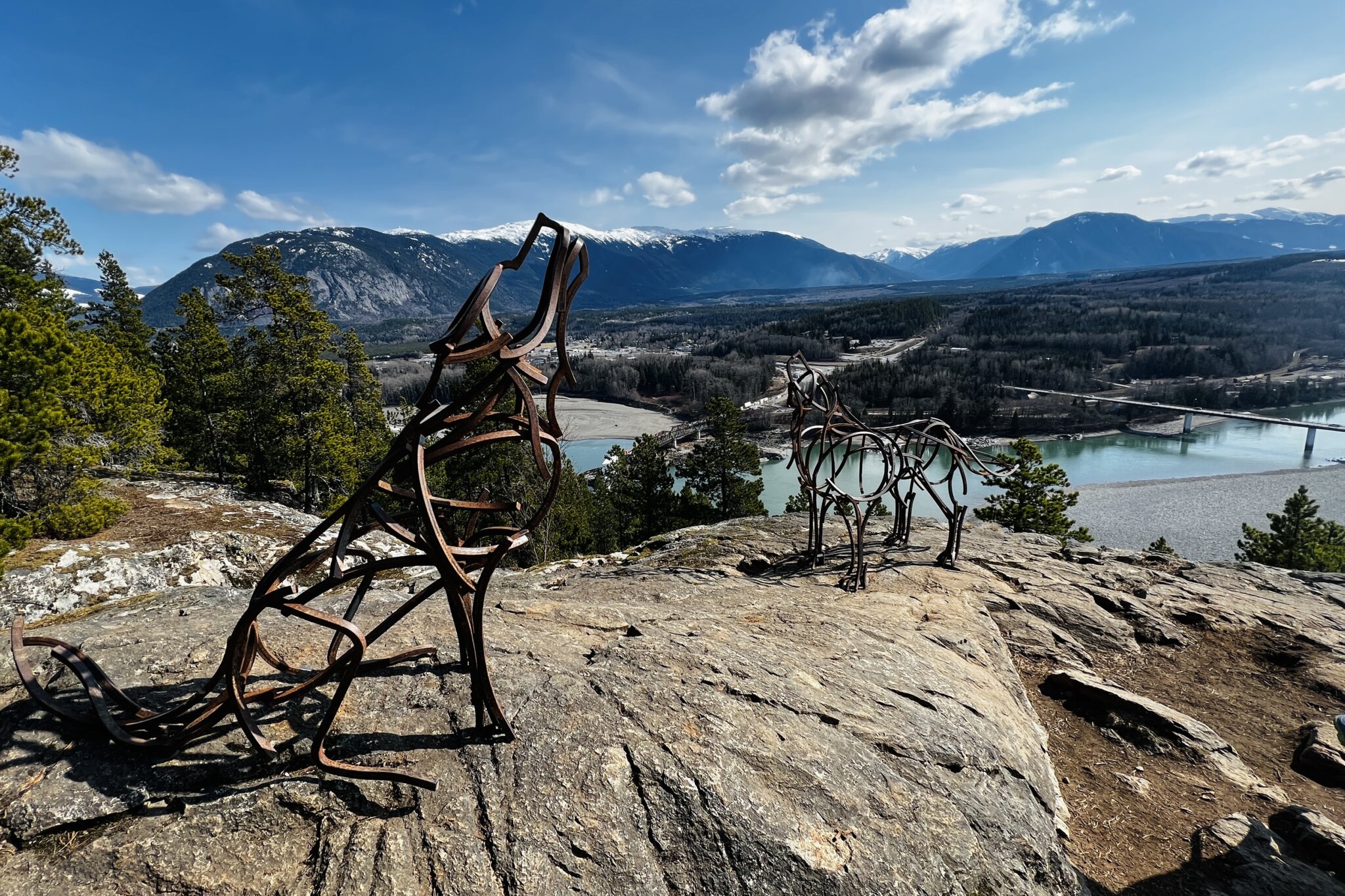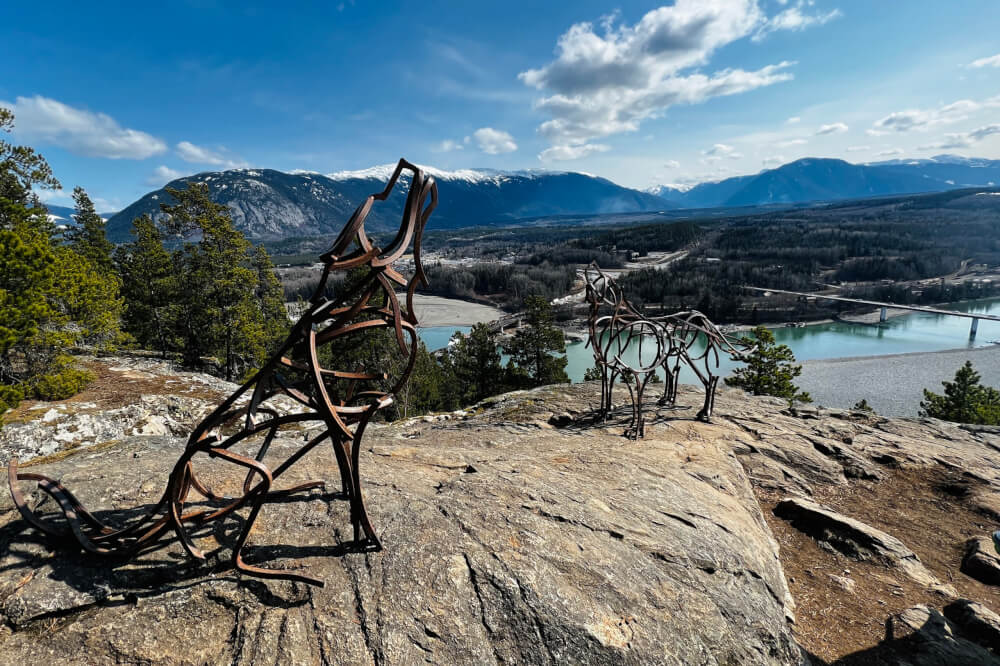 4. Do some independent shopping
And if you're feeling like a bit of shopping, know that you have several options in Terrace besides the usual big box chains and malls.
There are actually several very cute boutiques in town to browse for gifts and treats to bring home.
I found the Lazelle Strip Mall to be especially surprising, with a number of cute shops to browse, nonchalantly hanging out side by side. Here are some I'd recommend checking out:
Mason Jar Studio: a beautiful upcycling studio selling upcycled furniture and other home decor, they also do workshops!
The Cove Boutique: a lovely clothing and beauty boutique.
Misty River Books: a little bookstore that's packed with books of all genres, along with some cute gift options.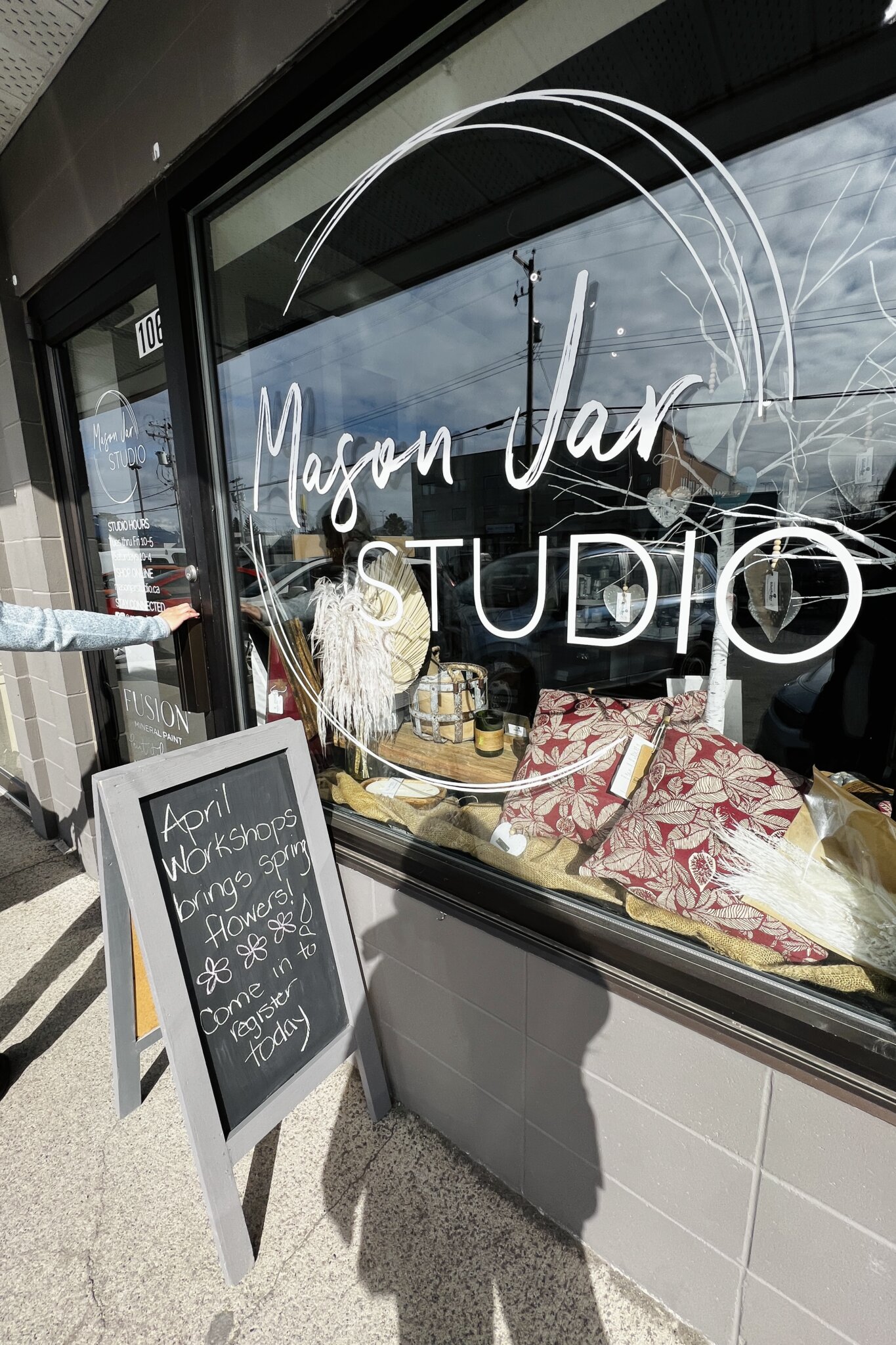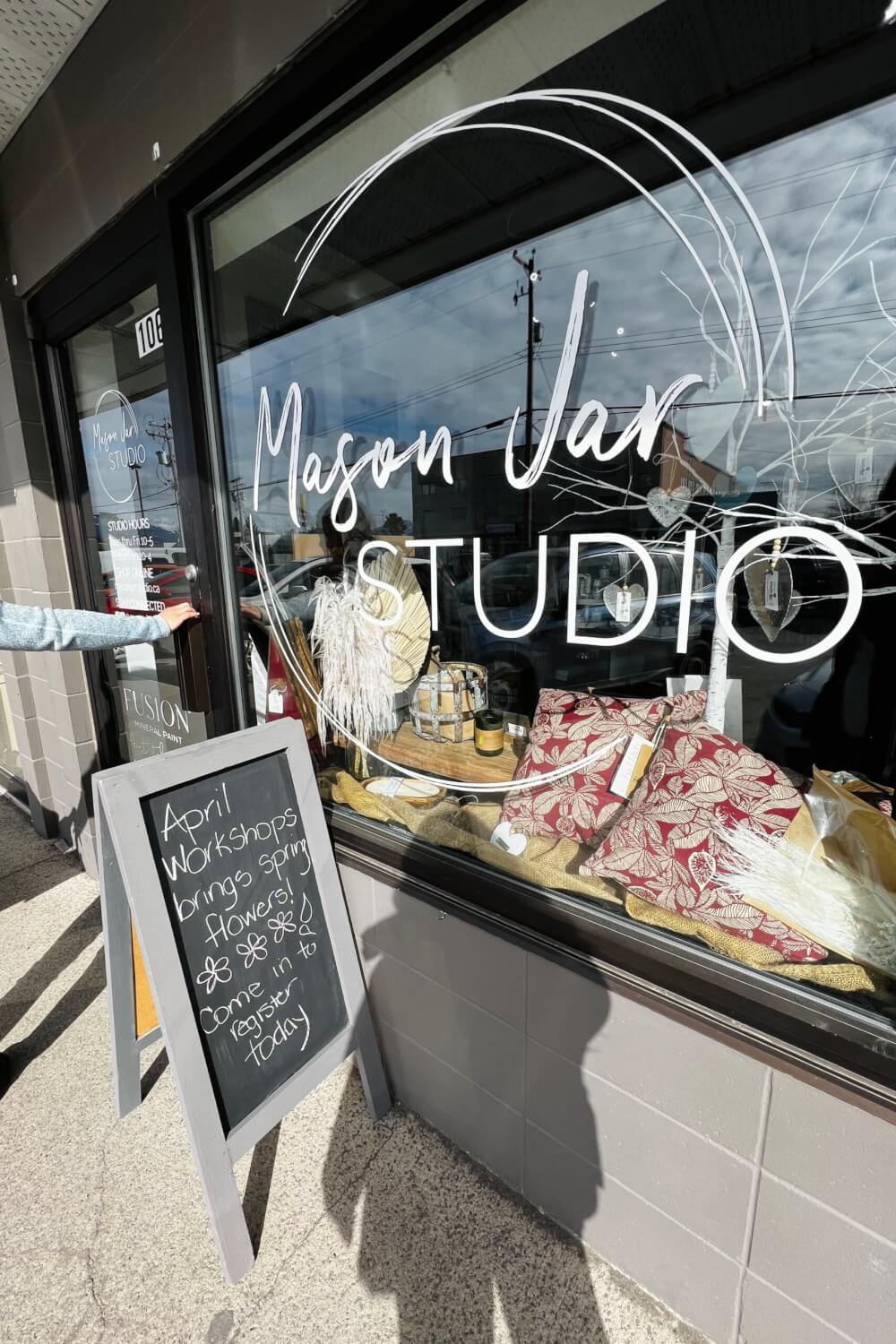 5. Stop by Terrace Heritage Park Museum
Curious to learn more about local history? Well, on the outskirts of Terrace you'll find an interesting open-air museum that tackles just that.
The Terrace Heritage Park Museum features ten different buildings, eight of which are original log structures that were relocated to the park. The 1.73-acre site was once the first dairy farm in Terrace and was later used as a large WWII army hospital.
Today the different buildings each contain artefacts and exhibits about different aspects of the local settlement history of Terrace. It's very interesting to see how industries such as logging, mining, trapping, farming, and tourism all developed.
NOTE: This park is only open June – August, otherwise admission is by appointment only.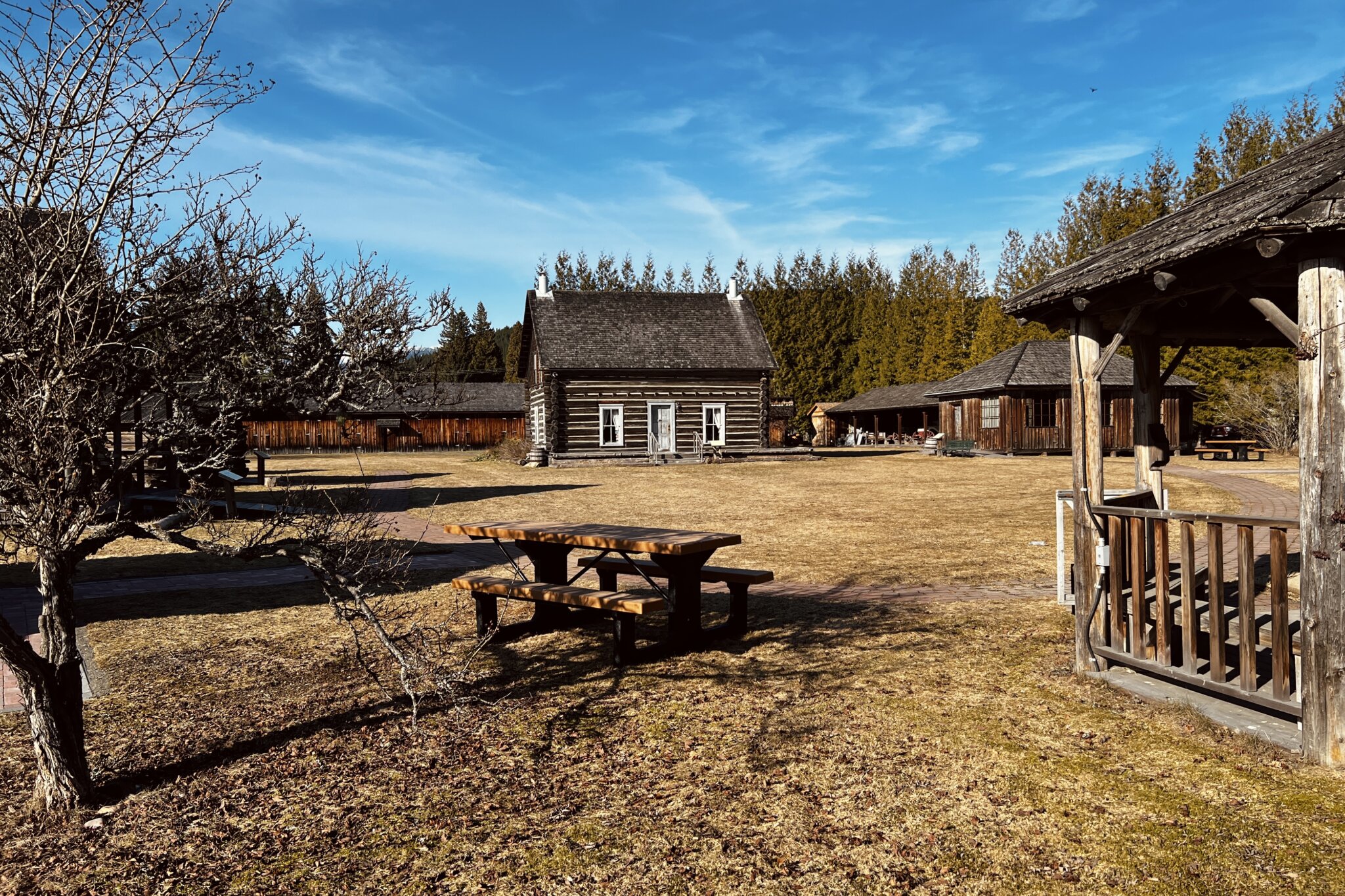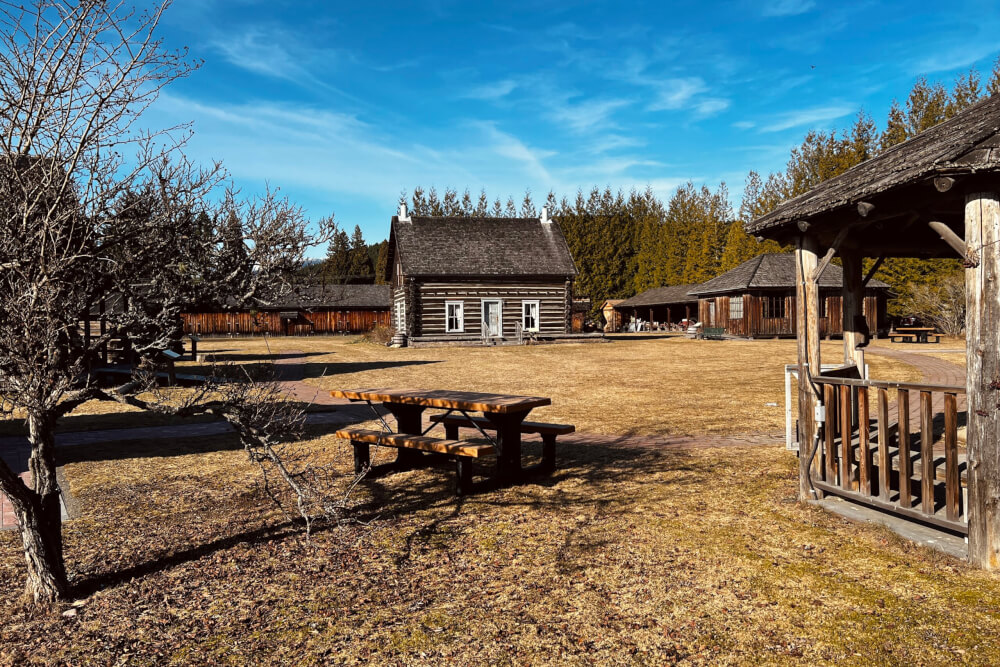 6. Visit George Little House
The George Little House in Terrace was the home of George Little, who is often referred to as the founder of Terrace.
Constructed around 1914, the house is a charming little Craftsman Bungalow-style building, although it was actually known as one of the first 'grand' houses to be built in Terrace. George Little had previously started the first mill in town and the subsequent wealth it generated allowed him to build this elaborate home for his family.
This little house today serves as both the town's train station, as well as a small gift shop. If you're looking for a cheap but adorable souvenir – I got a $2 magnet from there that is honestly the cutest.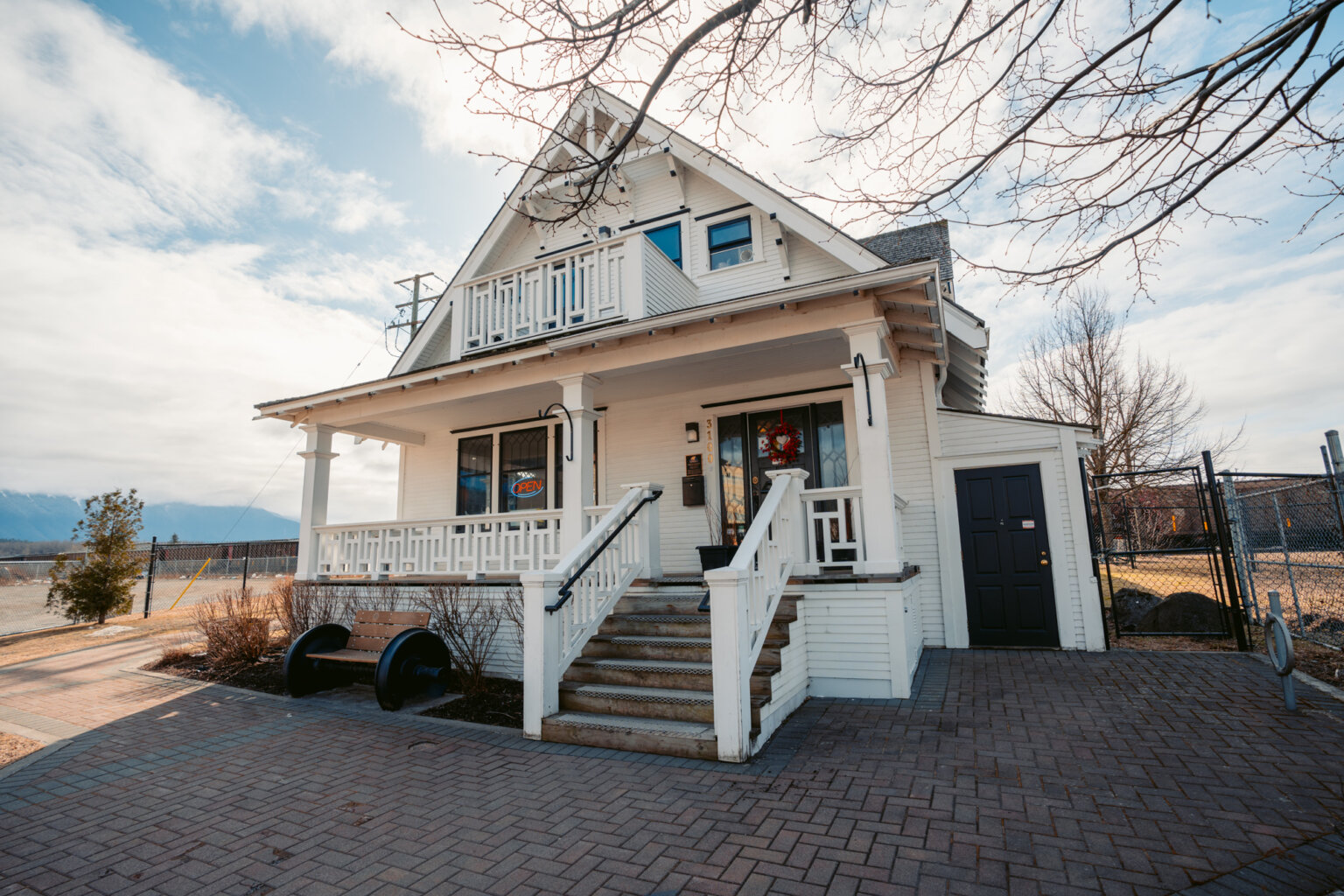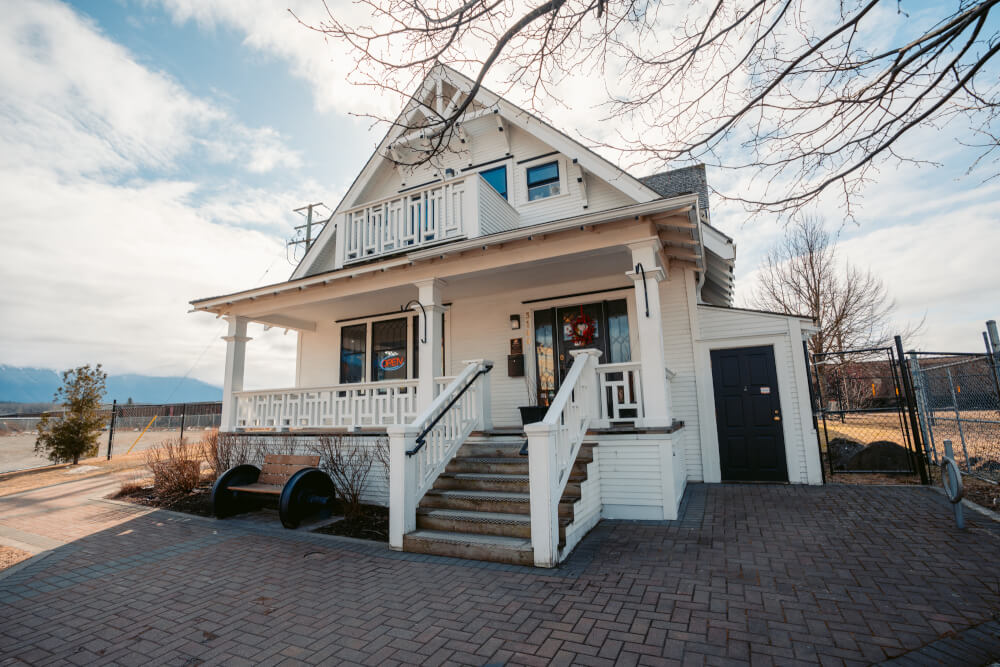 7. Take a walk on the Ferry Island Nature Trail
Looking for a nice outdoorsy activity in Terrace? The trails on Ferry Island are a great place to start.
This island park is spread across 150 acres, and can be found just a few kilometres east from downtown Terrace, making it an ideal place to spend a few hours close to town.
While exploring, be sure to look for the mysterious faces carved into the cottonwood trees lining the trail. These intricate beauties are the work of local Rick Goyette, "who hopes that they will be enjoyed by all" (as per a sign along the trail).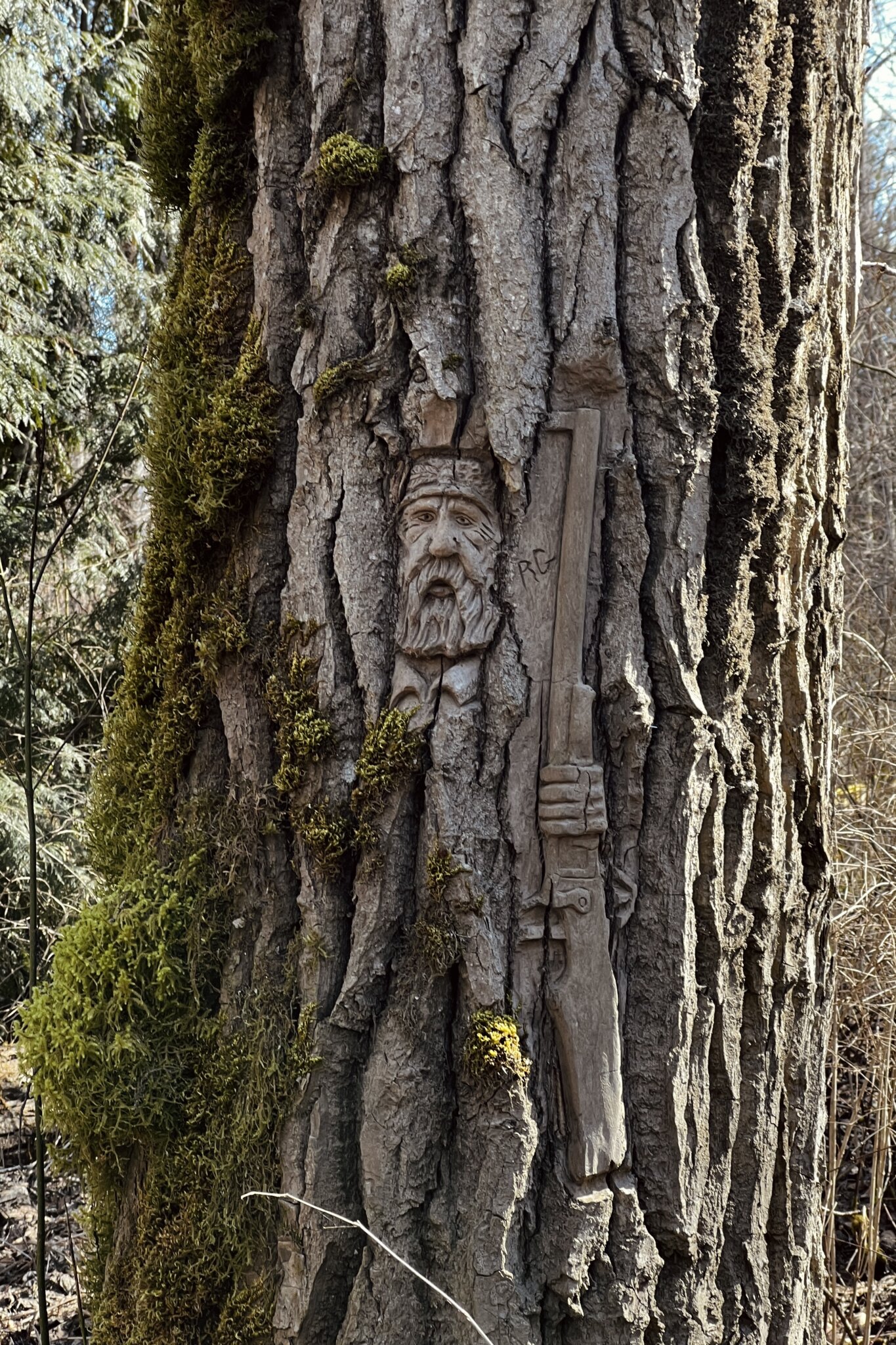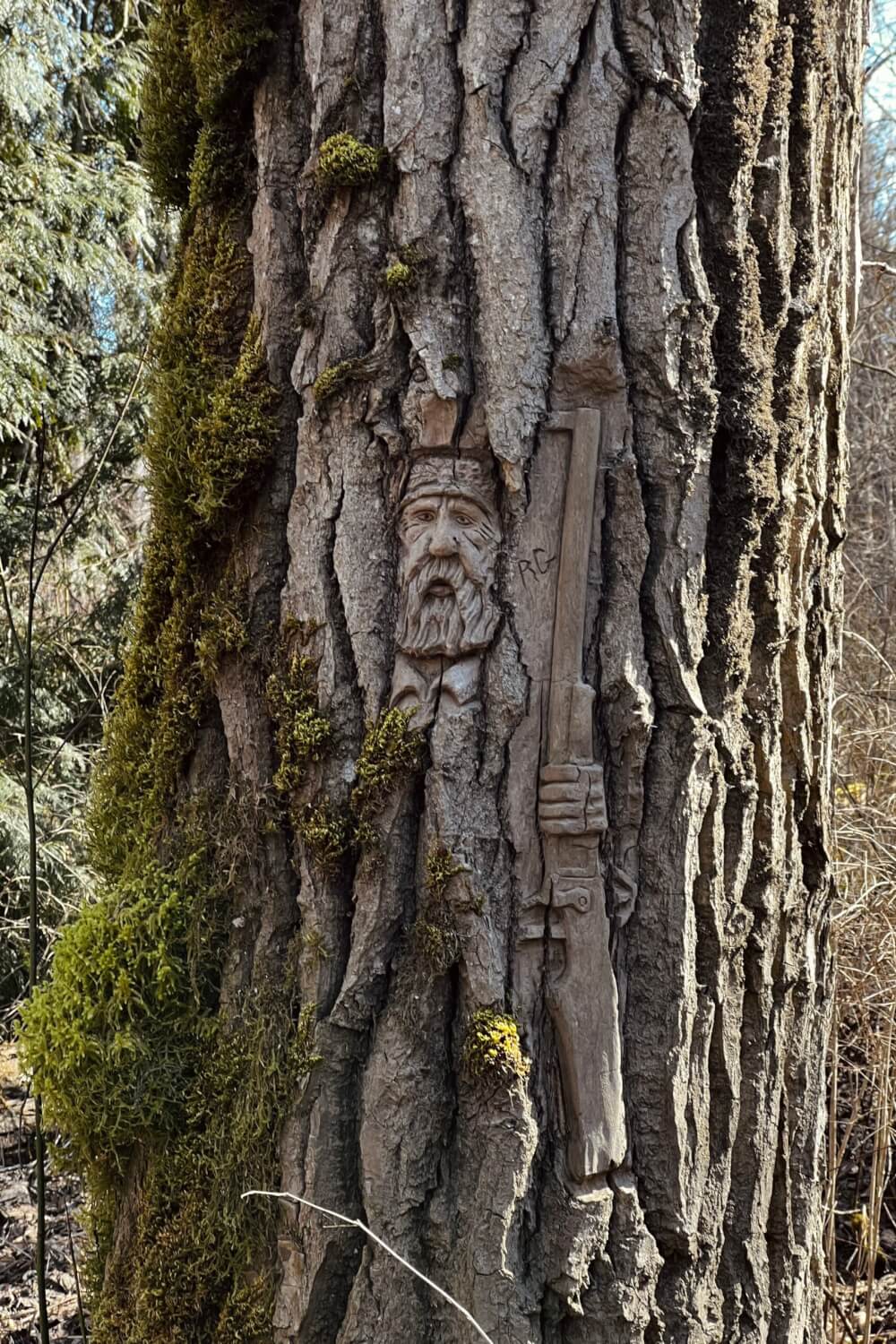 8. Check out Big Bertha
While billed as one of Terrace's top must-sees on travel guides, my local friends knew nothing of its existence, which makes it either the best (or worst) hidden gem in town.
Nonetheless, it's a quirky roadside stop worth checking out. After all, this bright piece of machinery has stood at this spot since 1985 as a symbol of the Skeena Valley's logging heritage.
Decades prior to that though, Big Bertha was initially brought to Terrace in the 1950s as an innovative new tool for logging. Her purpose? Serve as a mobile headspar that could be moved wherever she was needed to help make logging more efficient.
Sadly, her size was her downfall. Big Bertha was ultimately too heavy and kept getting stuck. Hence why she was only in use for two months before she 'retired'.
Luckily, her retirement home is now on a very visible stretch of Terrace's main road, meaning she still gets to greet visitors and locals alike on a daily basis! Yay Bertha.
Today, an info plaque stands right next to the site so you can learn a bit more about her story.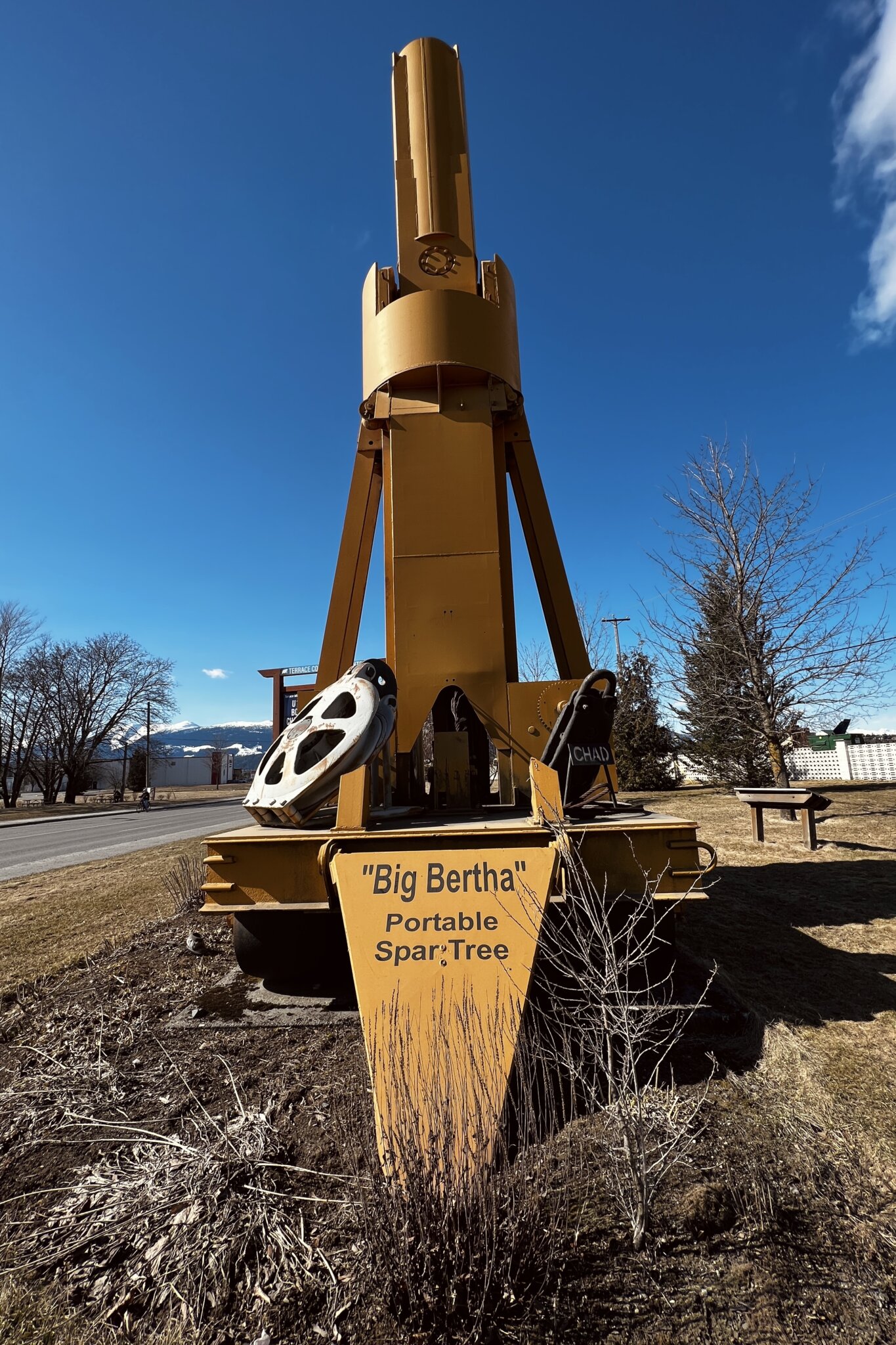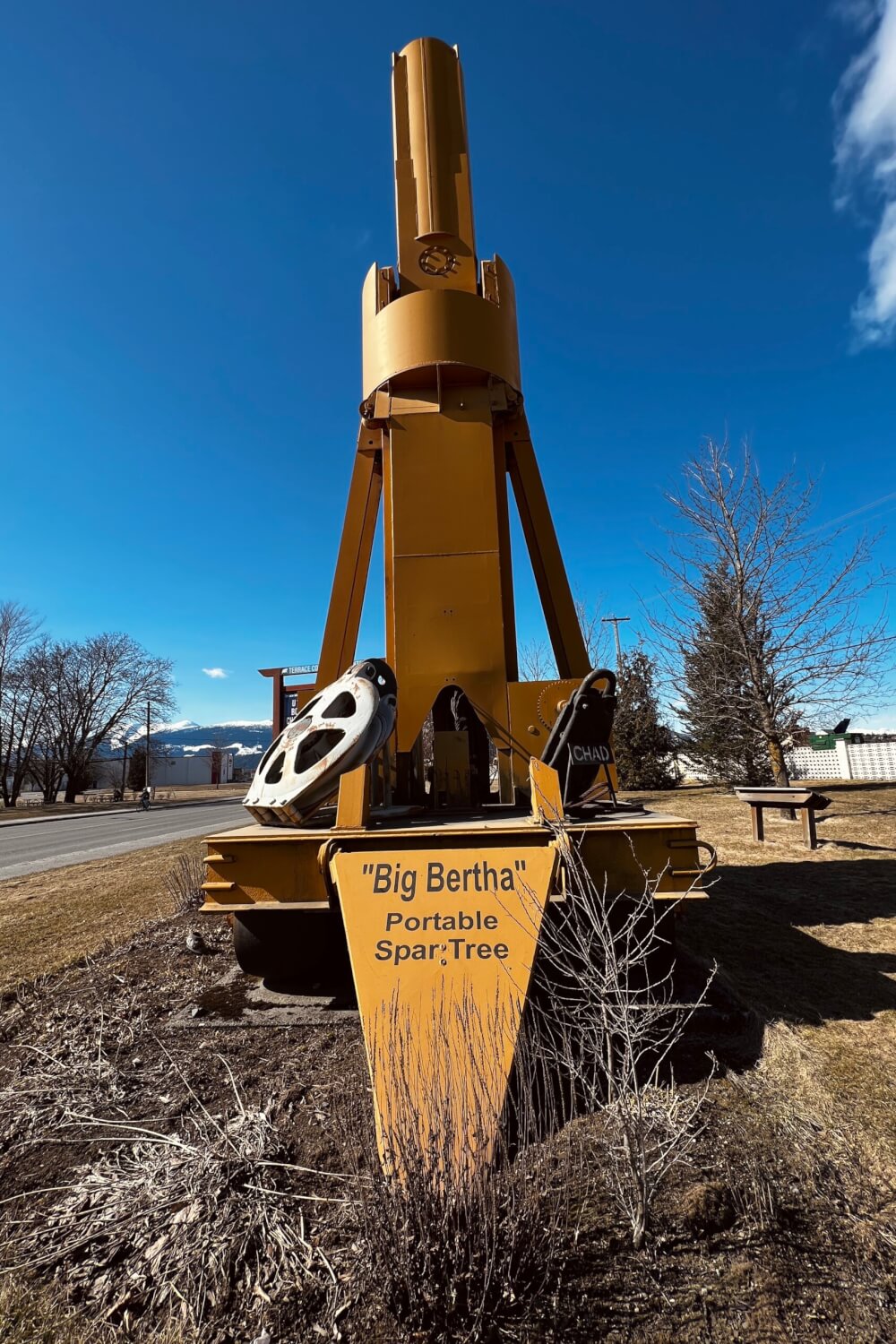 9. Meet a spirit bear
Spirit bears (AKA Kermode Bears) are a subspecies of American Black Bears found in the Central and North Coast regions of British Columbia. While most Kermode Bears are black, there are some fully white ones, which are known as Spirit Bears.
These bears are not albinos or polar bears, but black bears that can be born white or cream due to a recessive gene. They're also sometimes called a ghost bear, and as you can imagine, seeing one is a pretty special experience!
While encountering one in the wild is unlikely for most visitors, there is (for better or worse) an easy way to spot one during your visit to Terrace: there's a taxidermied one sitting in the airport.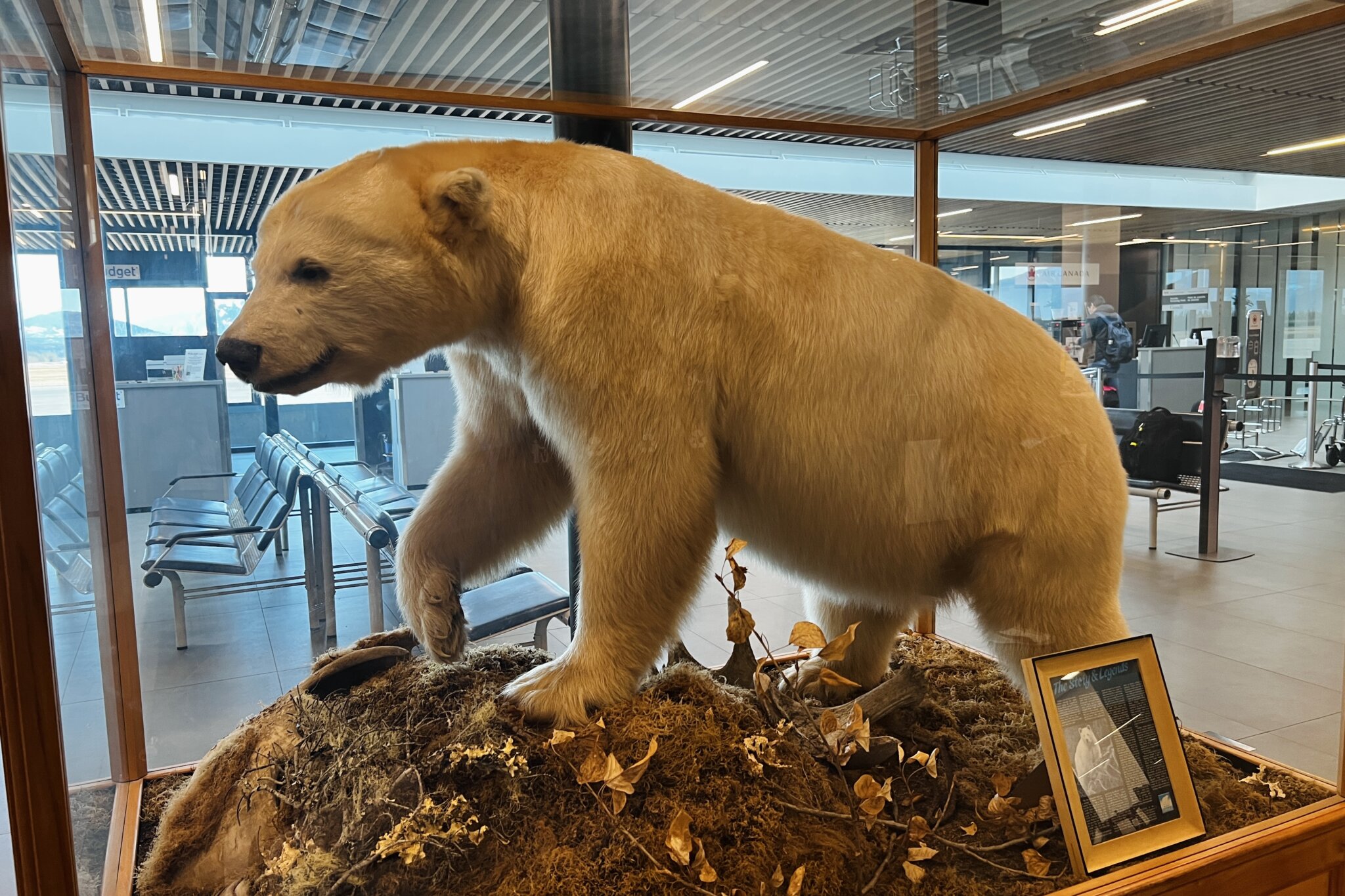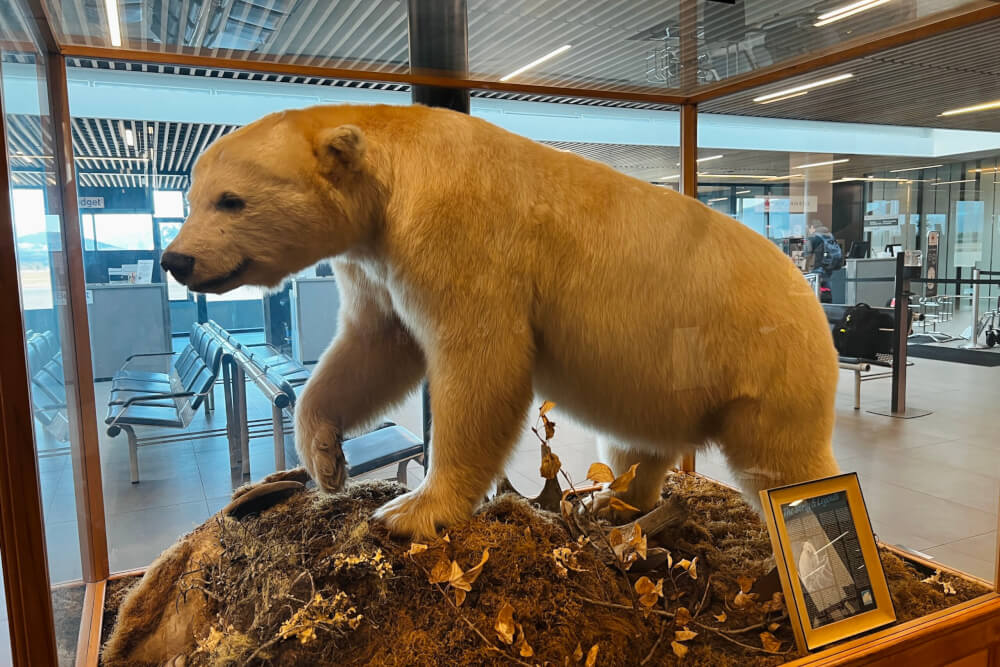 10. Grab some drinks at the local brewery
Looking for a boozier activity to enjoy in Terrace? Then a stop to the Sherwood Mountain Brewhouse, Terrace's local brewery, is a must.
With a German-trained brewmaster at the helm, this brewery has been servicing the local area since 2014. Owner/operators Darryl Tucker and Linda Parker focus on German-style lagers and while you can buy Sherwood Mountain beers throughout B.C., the brewhouse in Terrace is the best place to try some.
This brewhouse features a lovely terrace (in Terrace, whee!) where you can sit and enjoy your beer, often with live music, comedy or even trivia events. It's also dog-friendly, which always earns a big tick in my book.
My years living in Munich have (admittedly) turned me into a bit of a beer snob, so I can't say their Munich lager really convinced me, but it's a nice chill spot to stop by and grab a flight to try for yourself.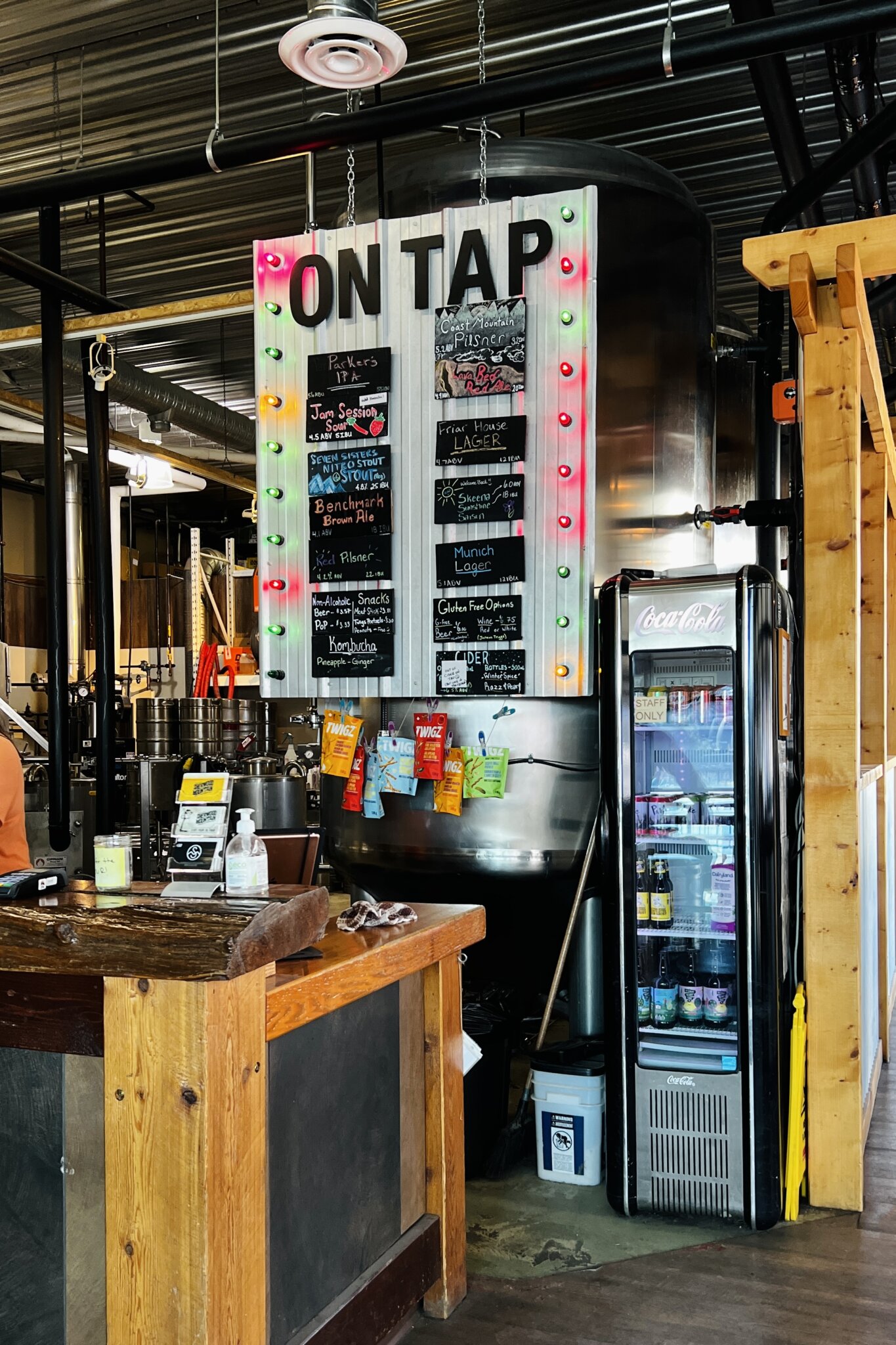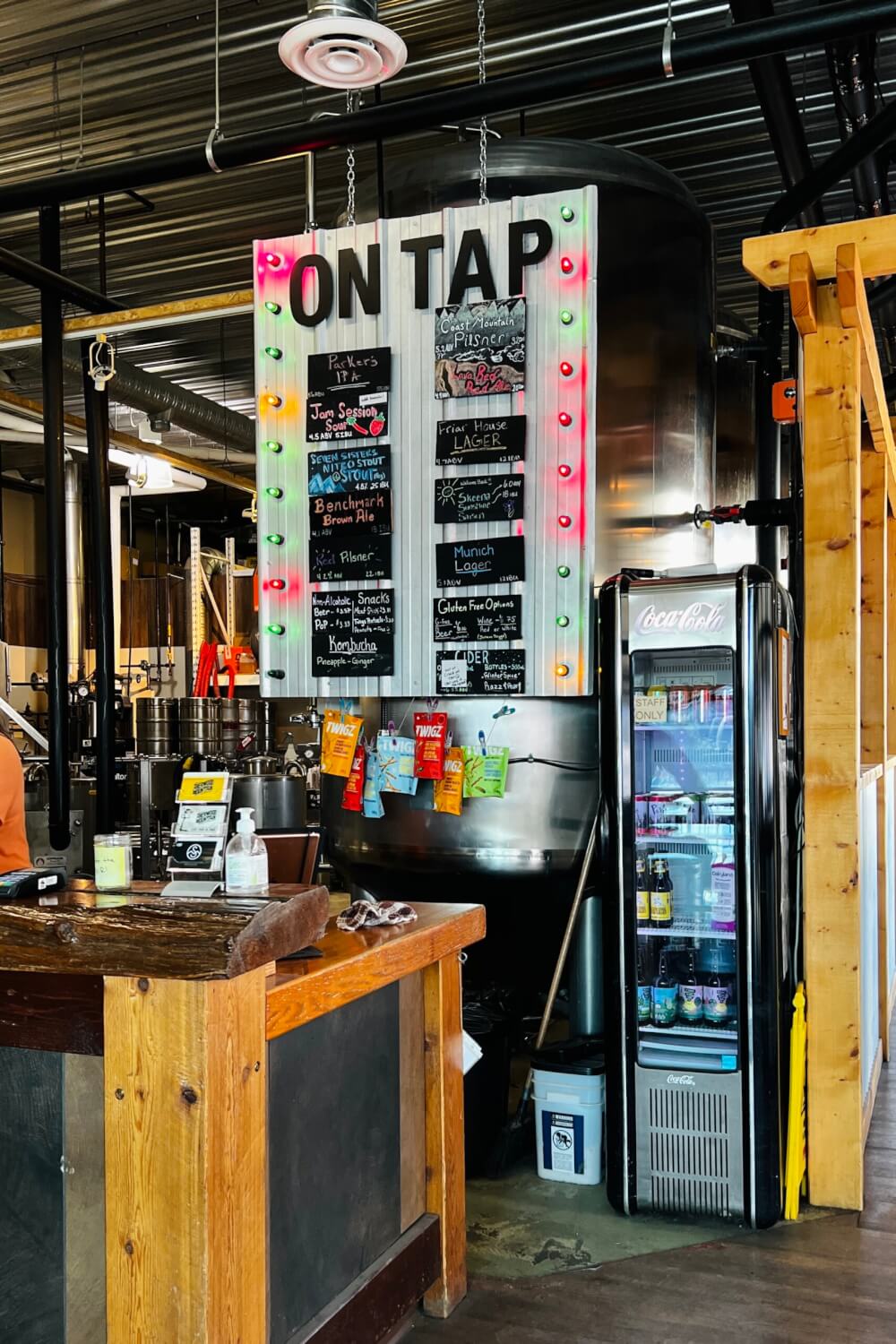 11. Take a day trip to Prince Rupert
The rainiest city in Canada may not sound like an enticing destination to pursue, but one of my favourite things I did in Terrace was a day trip to the port city of Prince Rupert, a scenic 2-hour drive away.
Boutique shops, restaurants and cafés dot the pretty waterfront Cow Bay, which also provides plenty of great opportunities for spotting cow puns! There are also some gorgeous murals throughout the town, along with art galleries, some interesting museums and a local brewery.
Prince Rupert is also a gateway to many epic wilderness areas, like the nearby Khutzeymateen Grizzly Sanctuary. If you want the best chance to see wild bears (maybe even Spirit Bears), wolves, whales, and eagles then you should head here to book an adventure tour or cruise!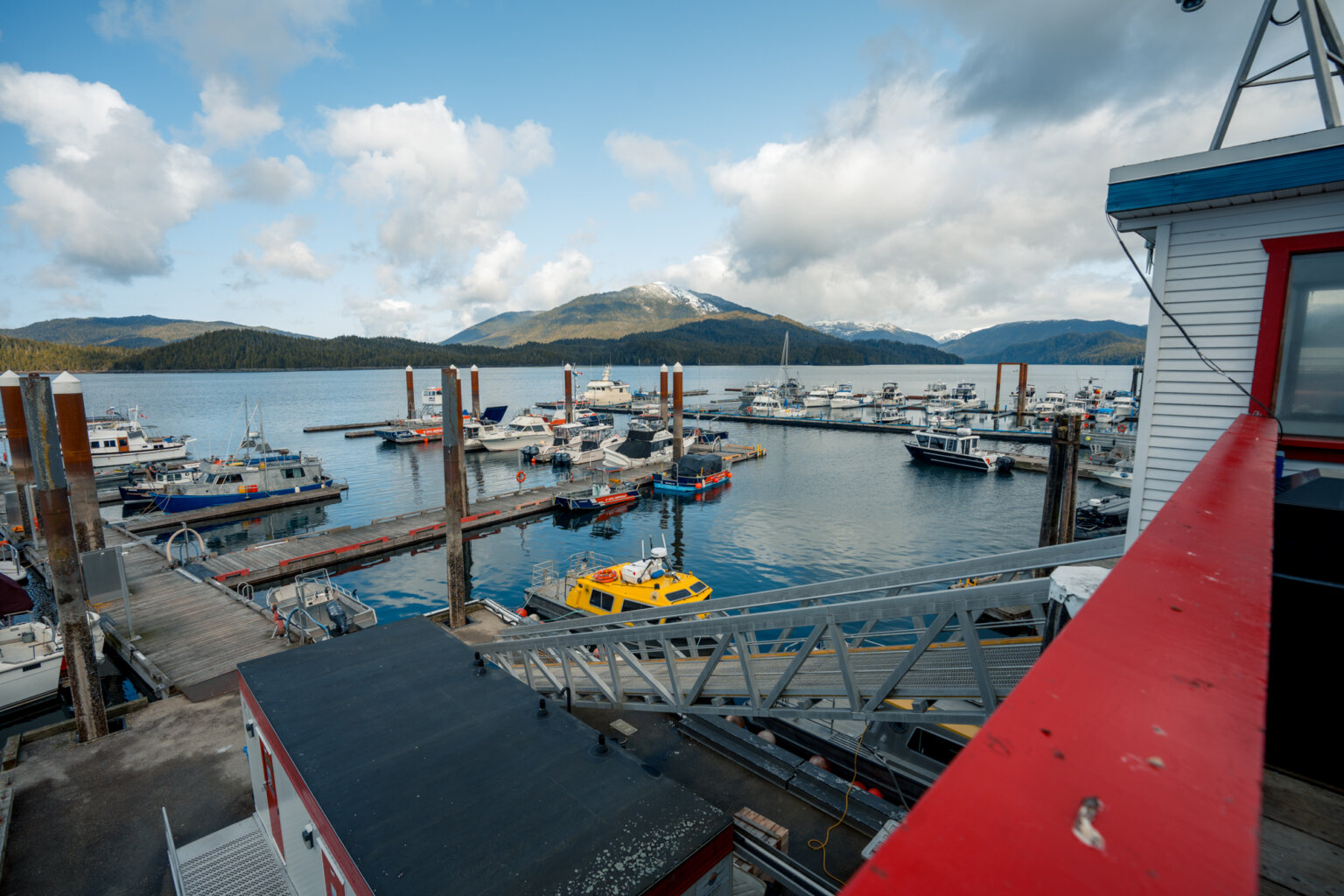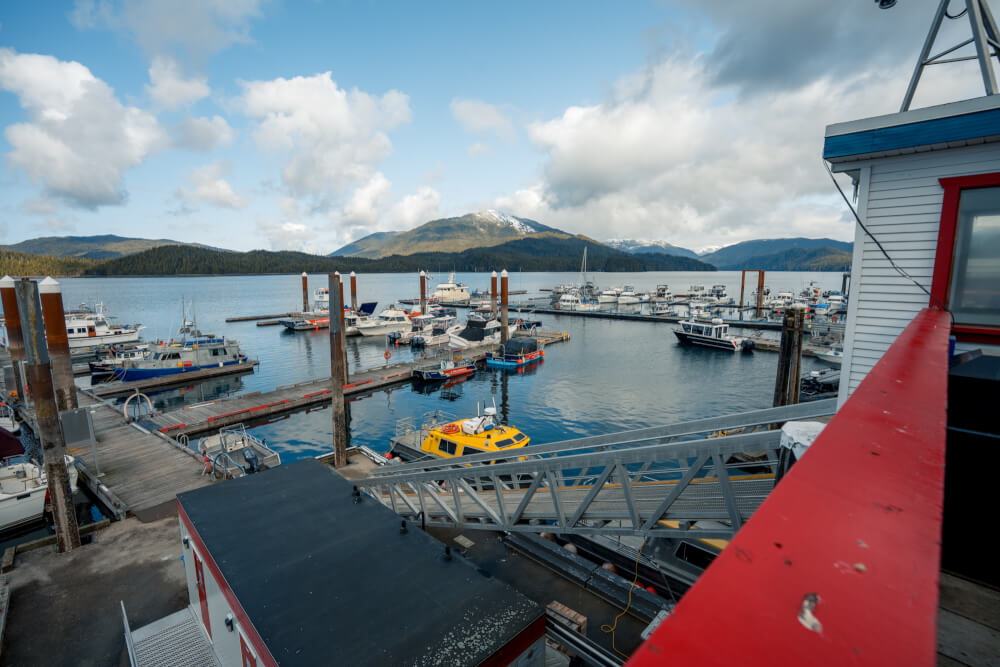 12. (February – March Only) Check out the Eulachon Run
And if you're keen for a drive near Terrace, those who time their visit for the end of winter (mid February – end of March) may catch the oh so impressive Eulachon Run.
Despite sounding like an arduous marathon event, this run actually refers to the brief window of time when Eulachon (tiny, nutrient-dense dish) migrate into the Skeena River, bringing hordes of harvesters and hungry birds along with them.
The result is a visually astounding bird-watcher's paradise, with massive flocks of birds swirling over the river in a dramatic (but very cool) manner.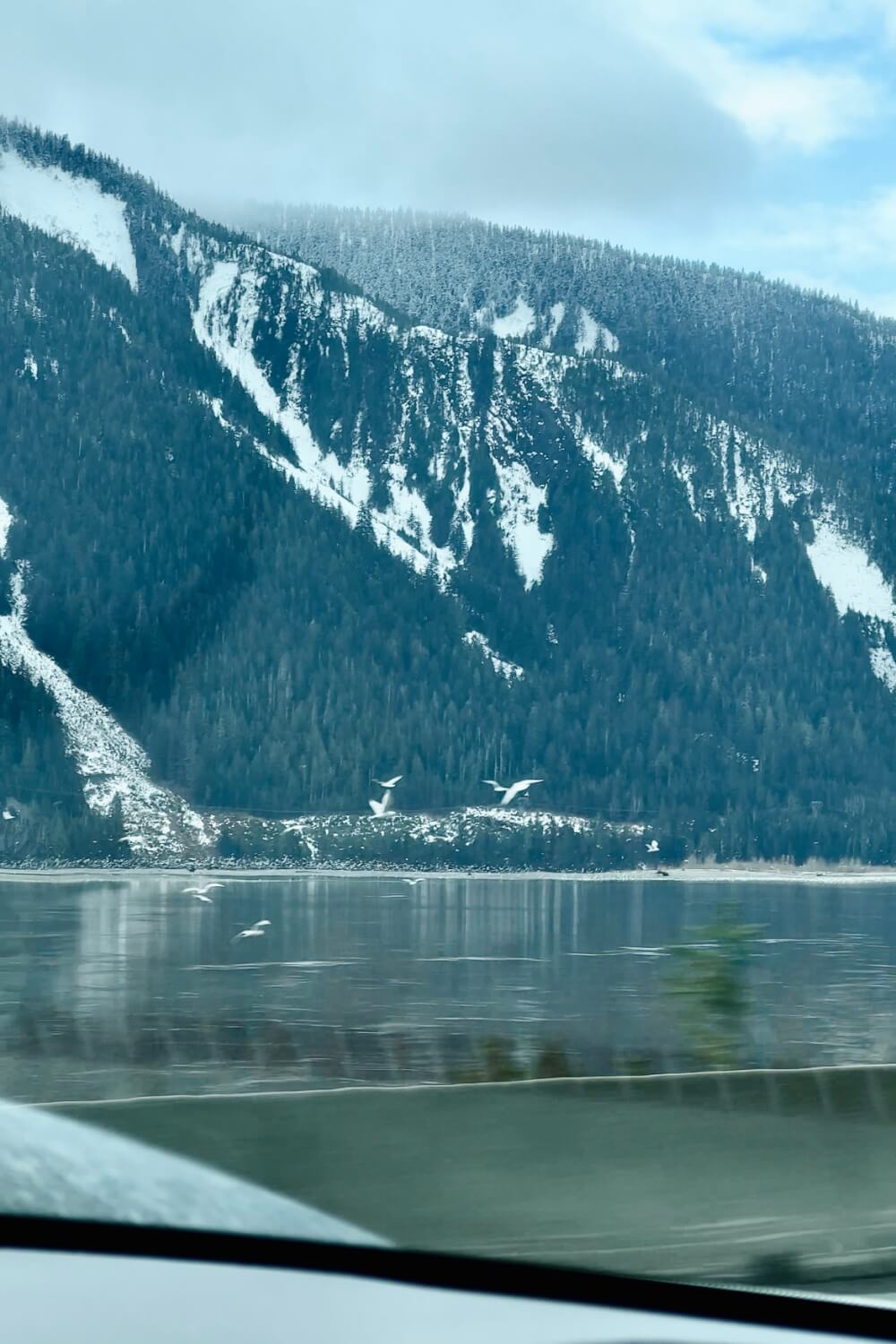 13. (May – October Only) Visit Terrace Farmer's Market
On Saturdays from May to October, George Little Park is home to the Terrace Farmer's Market.
Officially known as the Skeena Valley Farmers Market, this is a delightful spot in the middle of Terrace to pick up all manner of fresh produce, tasty snacks and charming souvenirs or gifts.
You'll find a diversity of food offerings are here, with everything from freshly baked bread to Filipino, Portuguese and Indian cuisine available for a tasty lunch. There's often live music as well, so it should definitely go on your list for a fun Saturday activity while you're in Terrace!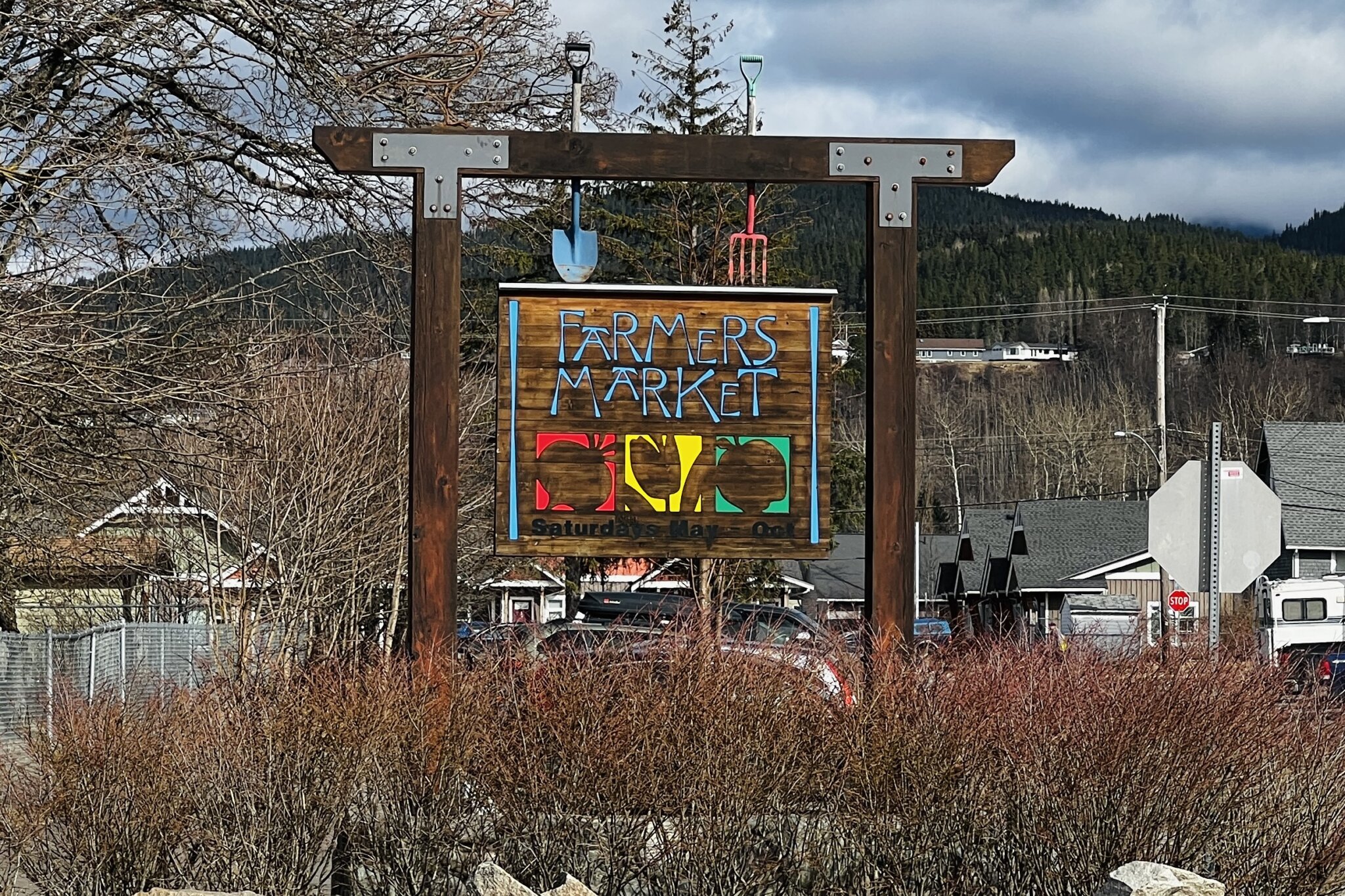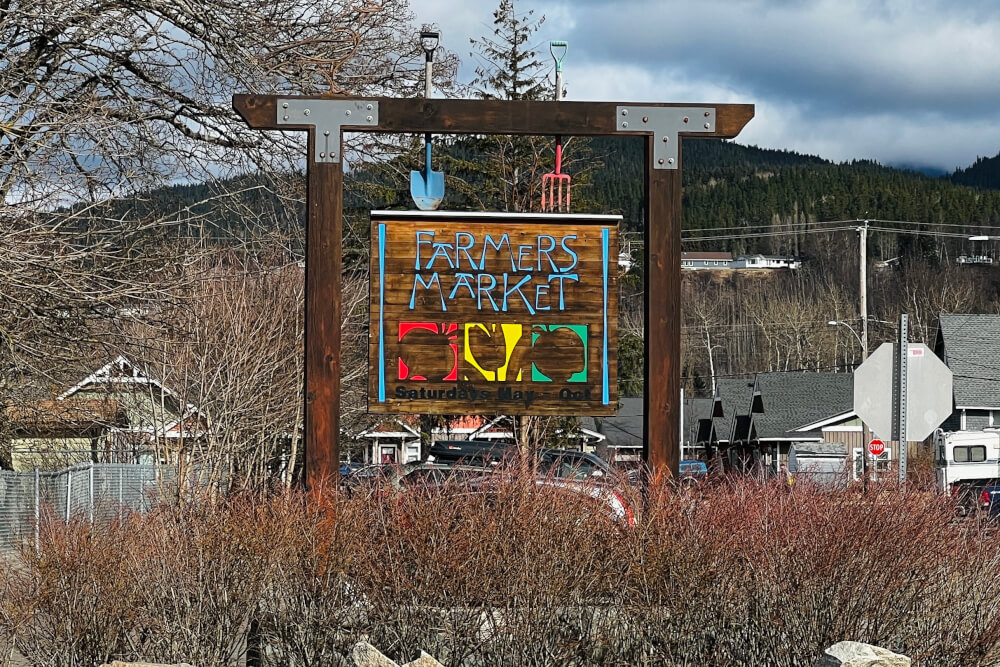 Did I Miss Any of Your Favourite Fun Things to Do in Terrace?
Let me know in the comments so I can add more Terrace activities to the list!
My Go-To Travel Favourites: