*FYI - this post may contain affiliate links, which means we earn a commission at no extra cost to you if you purchase from them. Also, as an Amazon Associate I earn from qualifying purchases. Check out our Privacy Policy and Disclosure. for more info.
From quirky boutiques and unique museums to adventure tours galore, those in search of fun things to do in Prince Rupert, BC are in for a surprising amount of options.
Rupert (as it is often called) may be known as the rainiest city in Canada, but the more optimistic side of this dreary coin can be found in its nickname, City of Rainbows.
But rain or shine, Prince Rupert is a cute little town with plenty of activities to fill a day or two… as I recently discovered during a day trip from Terrace!
So if you're wondering what is there to do in Prince Rupert, BC, read on for a list of fun must-dos.
1. Explore Cow Bay
Quirky and colourful Cow Bay is the heart and soul of touristy Prince Rupert.
Formerly known as Cameron Cove, the legend goes that Cow Bay earned its name in 1908, when Swiss dairy mastermind John Nehring arrived in Prince Rupert with a herd of cows. Bolder tellings of the tale claim that these cows had no choice but swim to shore as Prince Rupert didn't yet have a dock, although sadly, no evidence of this amazing visual exists.
Whether fact or fiction, one thing remains true – these legen-dairy cows have left a long-lasting influence on Prince Rupert… even a hundred years later.
Today, Cow Bay is a small but vibrant hub of boutiques, restaurants, cafes and cow puns. A visit here is sure to put you in the right moooooo-d, especially if you stop by Cowpuccino's for some much needed cow-ffeination.
Okay sorry, I'll stop now. Your annoyance has been herd.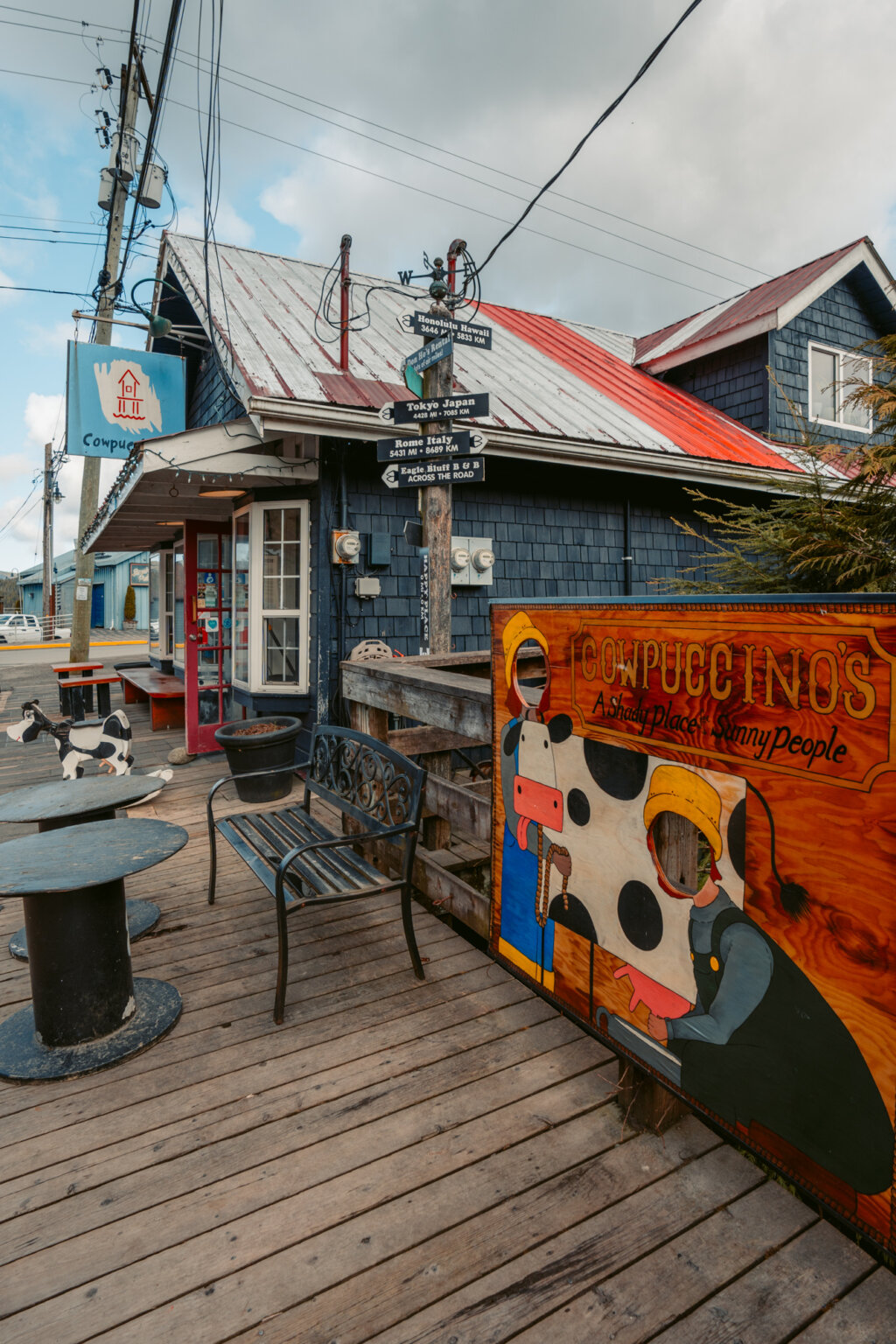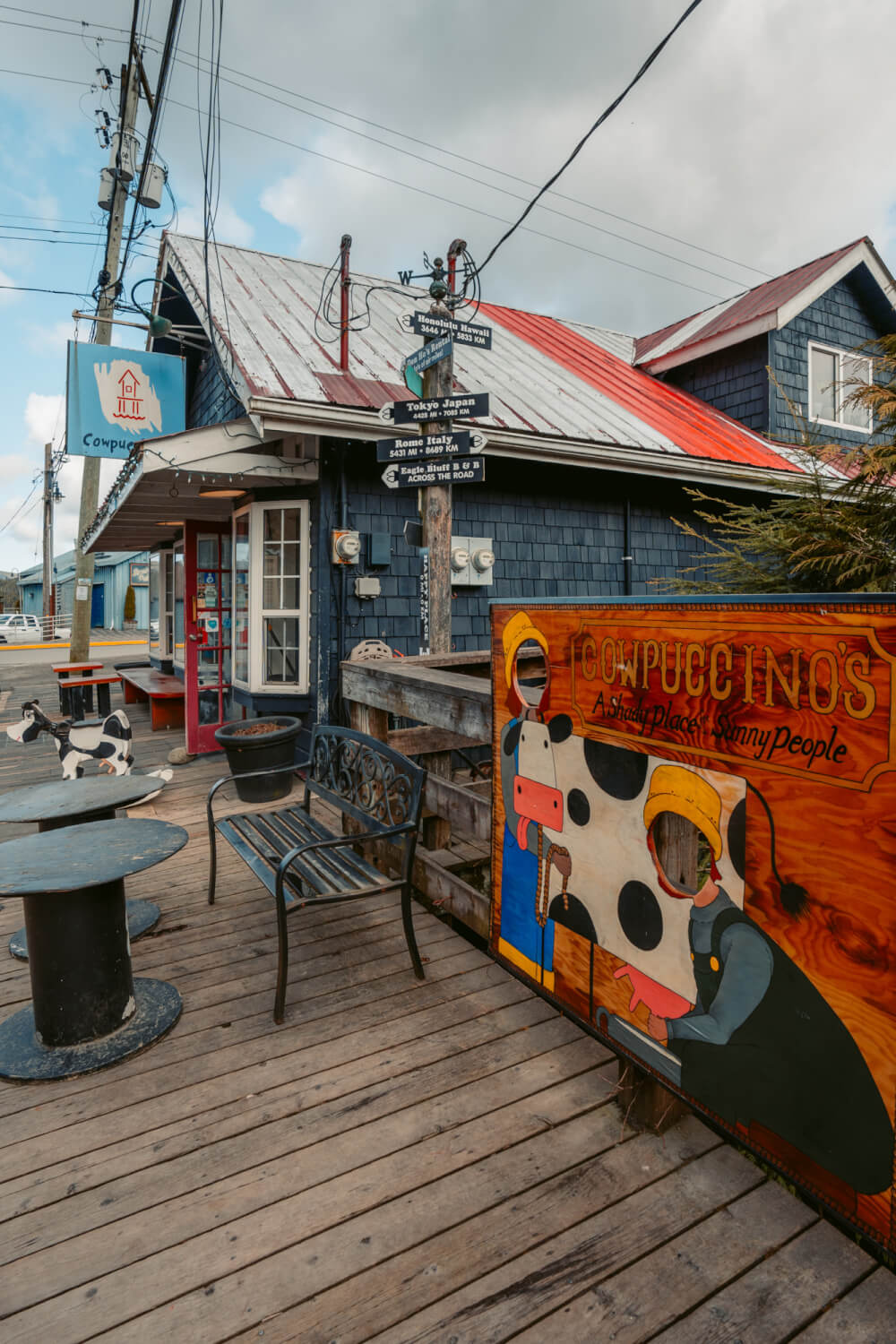 2. Grab some local brews
Another fun thing to do in Prince Rupert is stopping by the local brewery, home to a cozy tasting room and delicious micro-brews.
The Wheelhouse Brewing Company was established in 2013 and used to be located inside a small former construction shop. In 2023, the brewhouse was moved into the former waterfront railway station, which boasts a gorgeous 'sunroom' on the second level with 270 degrees of windows facing southwest toward the ocean.
This new space is just as unpretentious and cosy as the first, with live music on the weekends and a pizza oven imported from Italy so guests can have some yummy pizzas with their beers.
Feeling indecisive? I can highly recommend grabbing a flight to sample four different picks: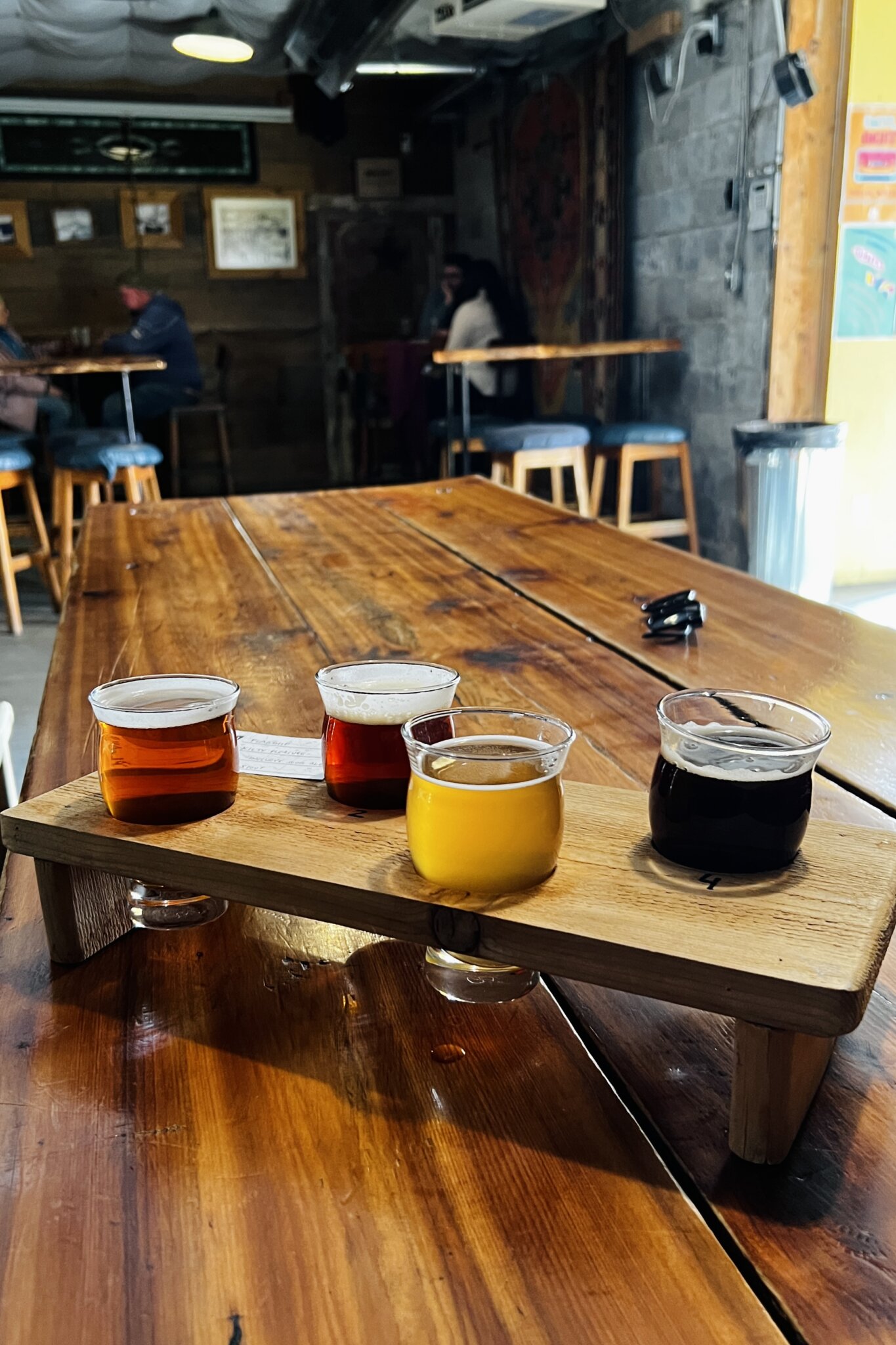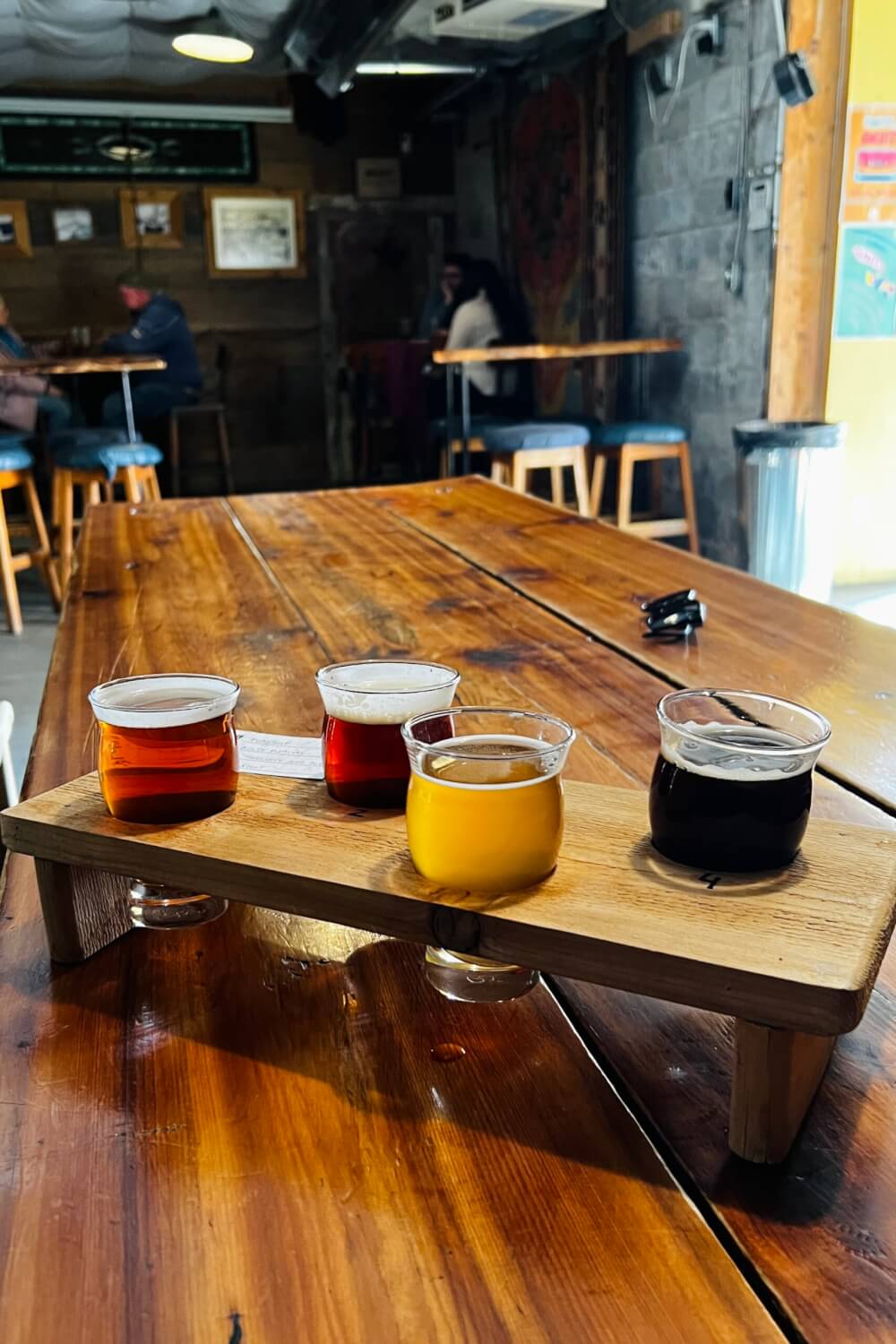 3. Enjoy some delicious seafood
As a port city on the great Canadian West Coast, it should come as no surprise that one of the top things to do in Prince Rupert is slurp up as much fresh seafood as you possibly can.
Luckily, there are plenty of places in town to do it.
Dolly's Fish Market is a Prince Rupert institution I can vouch for – their fish and chips were out of this world… but I've also heard great things about Smile's Seafood Cafe and Bobs on the Rocks, a fish and chips stand at the start of the Rushbrook Trail (more on that in a bit).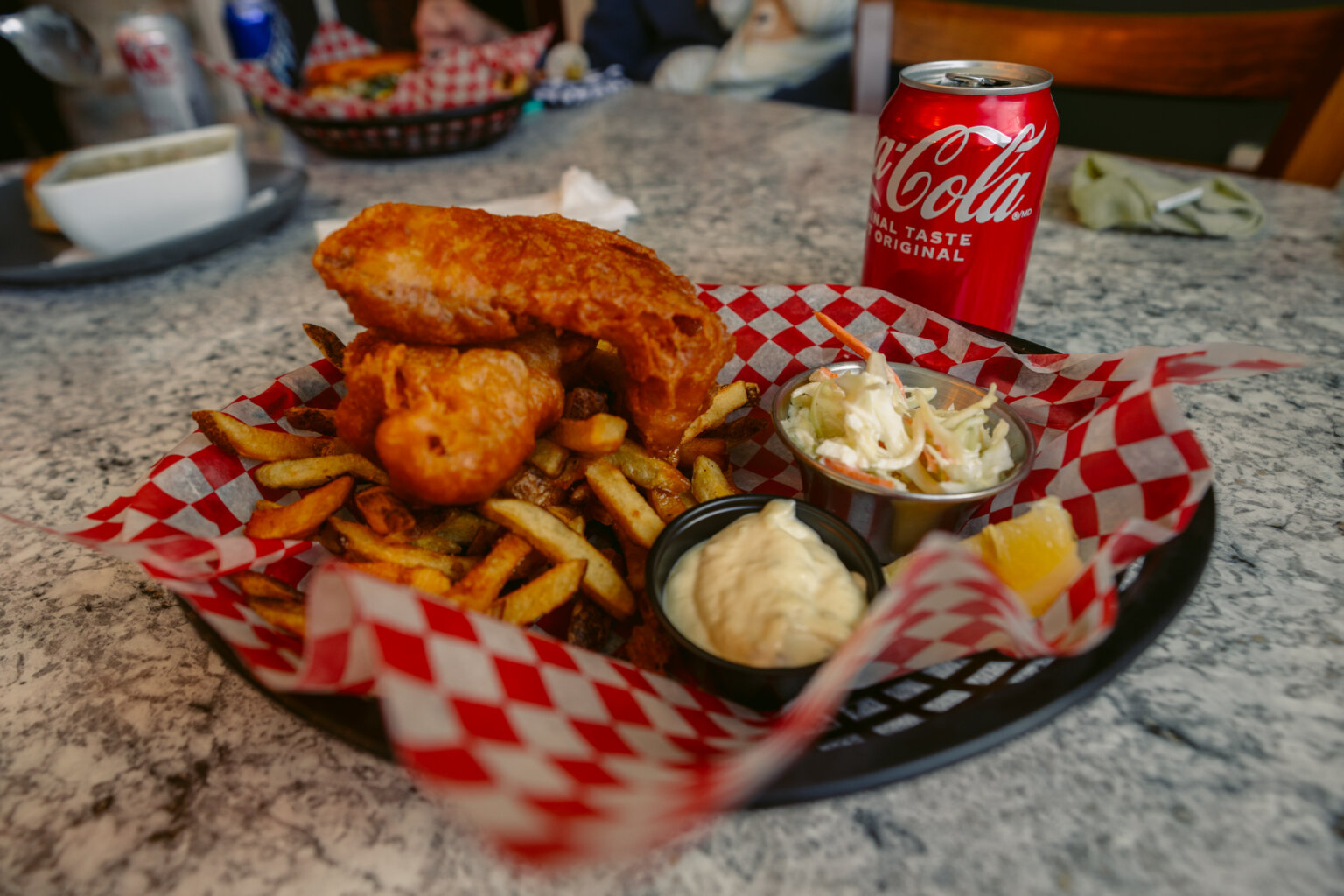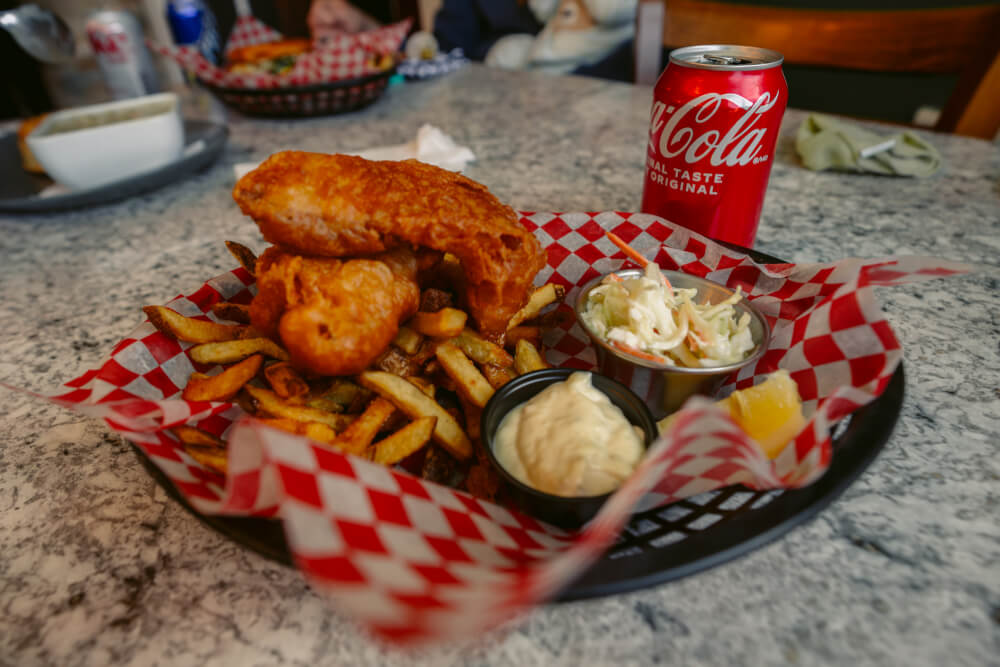 4. Visit the Museum of Northern British Columbia
Long before the arrival of front-crawling cows, quirky gift shops and tasty beer flights, the area known today as 'Prince Rupert' has long been home to the Ts'msyen, whose presence in this territory stretches back over 10,000 years.
Today, the Museum of Northern British Columbia showcases objects that display the craftiness, ingenuity and (if I may say) straight-up badassery of the First Nations who have called Northern BC home for thousands of years.
From headdresses made of elaborately carved goat horns to crowns made of bear claws, the displays here are thoughtfully presented in a way that showcases the unique traditions of Northern BC's First Nations people.
More than 50% of Prince Rupert's population today is First Nations, so a visit to this beautiful museum is worthwhile not only to understand the region's history but to also contextualize its present.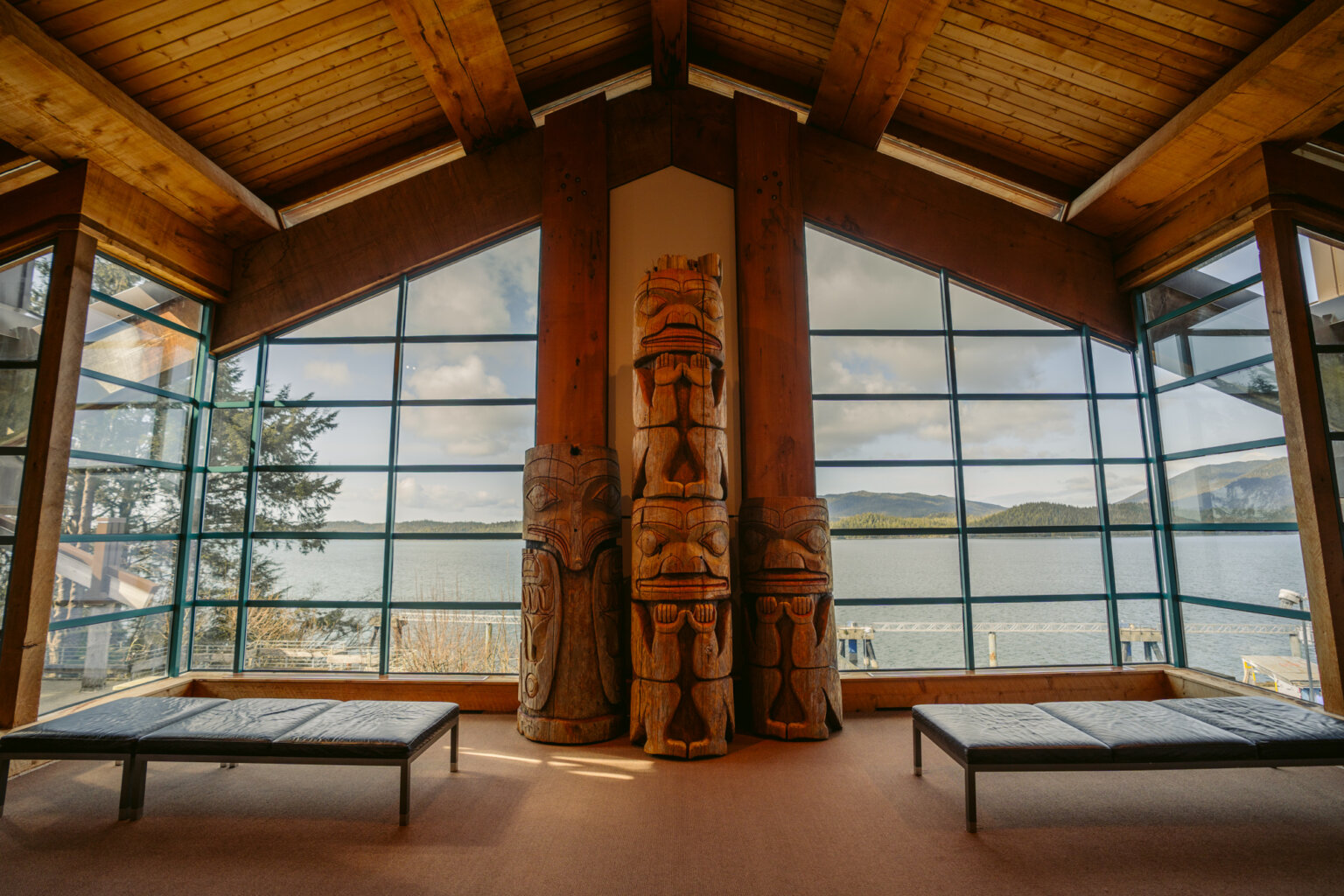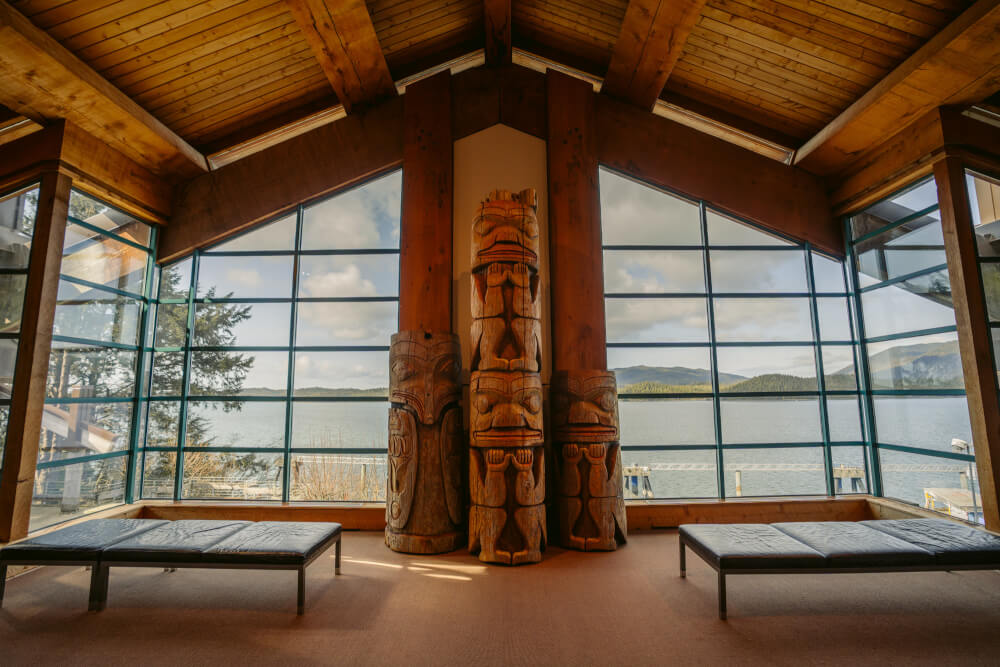 5. Marvel at colourful murals
There are a number of gorgeous murals dotted throughout Prince Rupert, most of which depict some of the wildlife that you might get to see while exploring the area.
Many of these murals were painted by wildlife artist Jeff King from Nanaimo, like the whale tail pictured below, which was the first one he painted in town.
As you walk around town you are sure to spot more of these delightful artworks, like a white whale on the side of the Moby Dick Inn or the orcas swimming around the Rona building and on the Pacific Inn.
There are also cute otters, wolves, eagles, salmon and more, so see if you can find them all!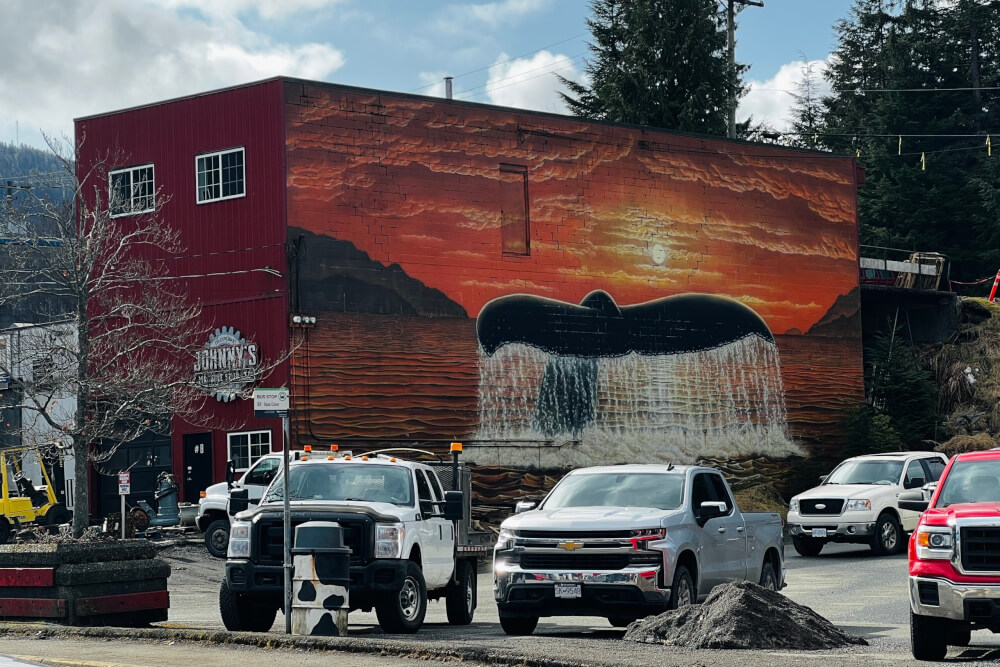 6. Book an adventure tour
Prince Rupert is undeniably one of the best jumping-off points if you want to experience some incredible tours to see the wilderness and wildlife in the area.
This tour company provides boat tours of the Inside Passage where you can see orcas, grey whales or humpback whales from July until the end of September. This area is one of the most reliable spots to see whales in North America, so this is definitely a must-do for whale enthusiasts!
You can also choose to do a Grizzly Bear tour along the sections of the Inside Passage that include the Khutzeymateen Grizzly Bear Sanctuary (more on that later) if you're more interested in seeing bears, wolves, seals, sea lions, otters and eagles.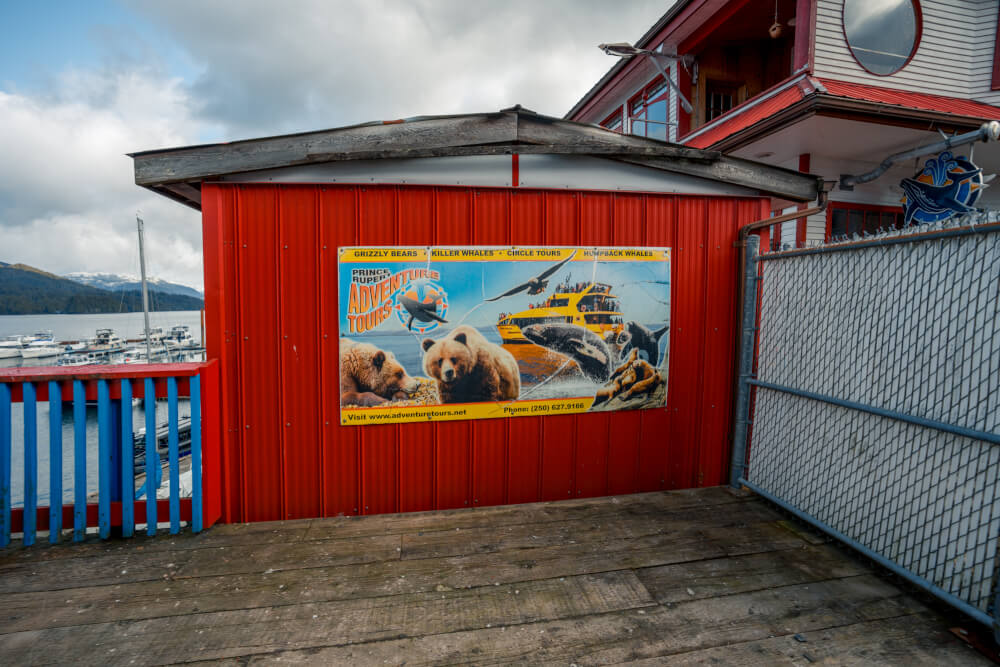 7. Visit a local gallery
If you're at all interested in art, particularly Northwest Coast art, then you have to pop into the Ice House Gallery while you're in Prince Rupert.
This art gallery is the main home of the Northwest Coast Artists' Cooperative and always has a wonderful variety of different art mediums to check out or even purchase.
Choose from paintings and drawings, pottery, woodwork, clothing, glass, jewellery, weaving or other media if you are looking for a truly unique souvenir or gift from Prince Rupert.
Best of all, this is a non-profit, artist-run cooperative that's all about championing the artistic culture of the region, so you can feel good about supporting such a great initiative.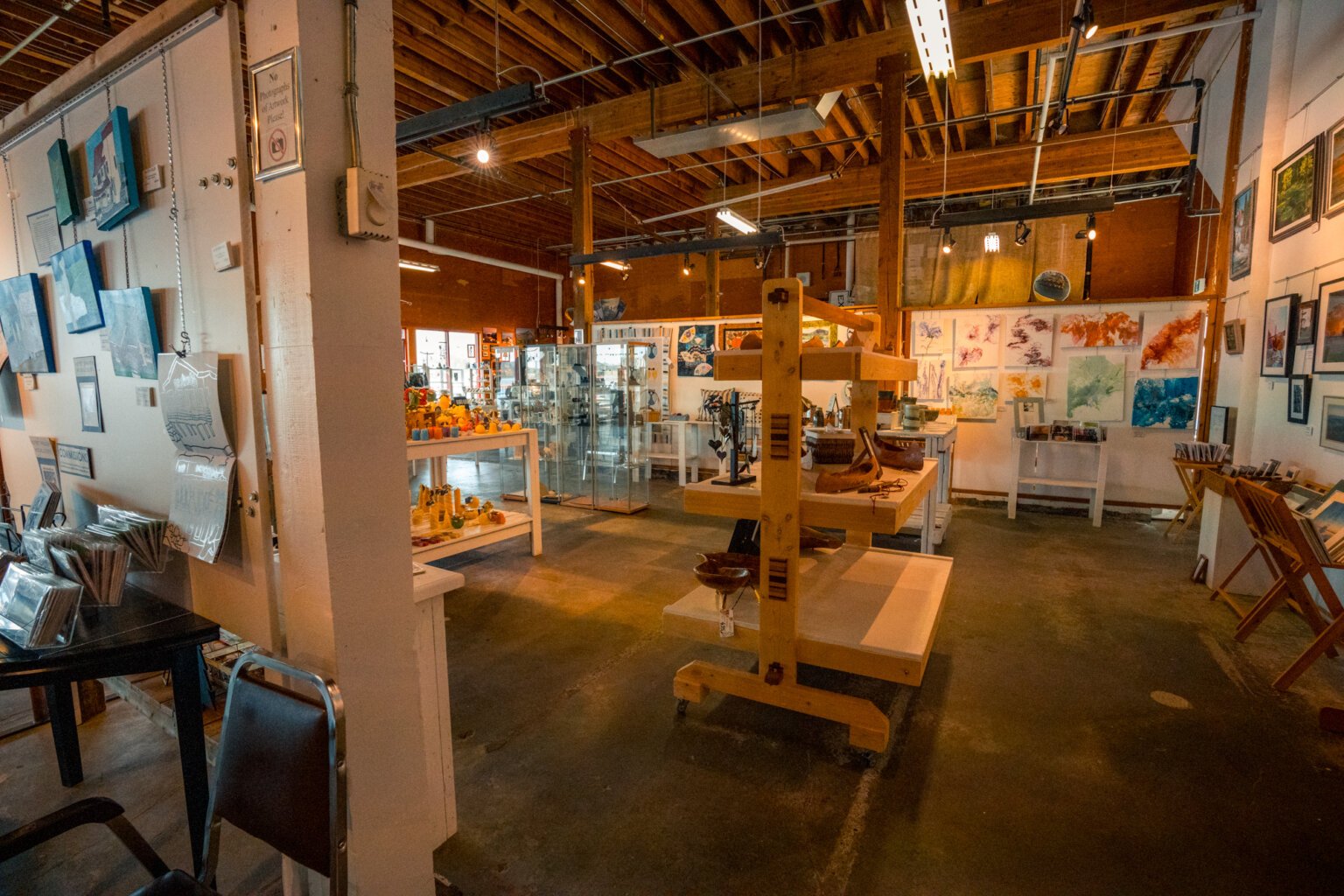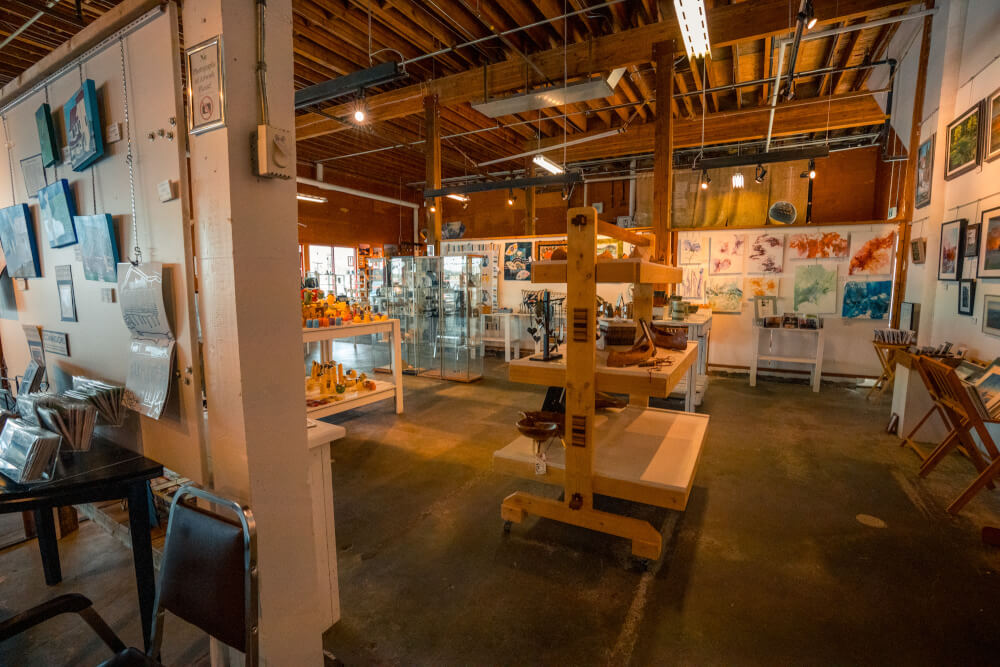 8. Visit Pacific Mariners Memorial Park
The Pacific Mariners Memorial Park is not just a lovely park to stop and sit in nice weather, but it also has some unique historical features to check out.
The most iconic sight within the park is the statue dedicated to mariners lost at sea, which shows a mariner pointing out to sea alongside an inscription that reads "We Are Out There" and a memorial wall bearing the names of lives lost.
Elsewhere in the park is another unique sight, that of a dinghy that drifted all the way from Prince Rupert's sister-city Owase in Japan across the Pacific Ocean to Prince Rupert, after the fisherman owner disappeared.
There's also a small playground for kids and several benches to simply sit and enjoy the views.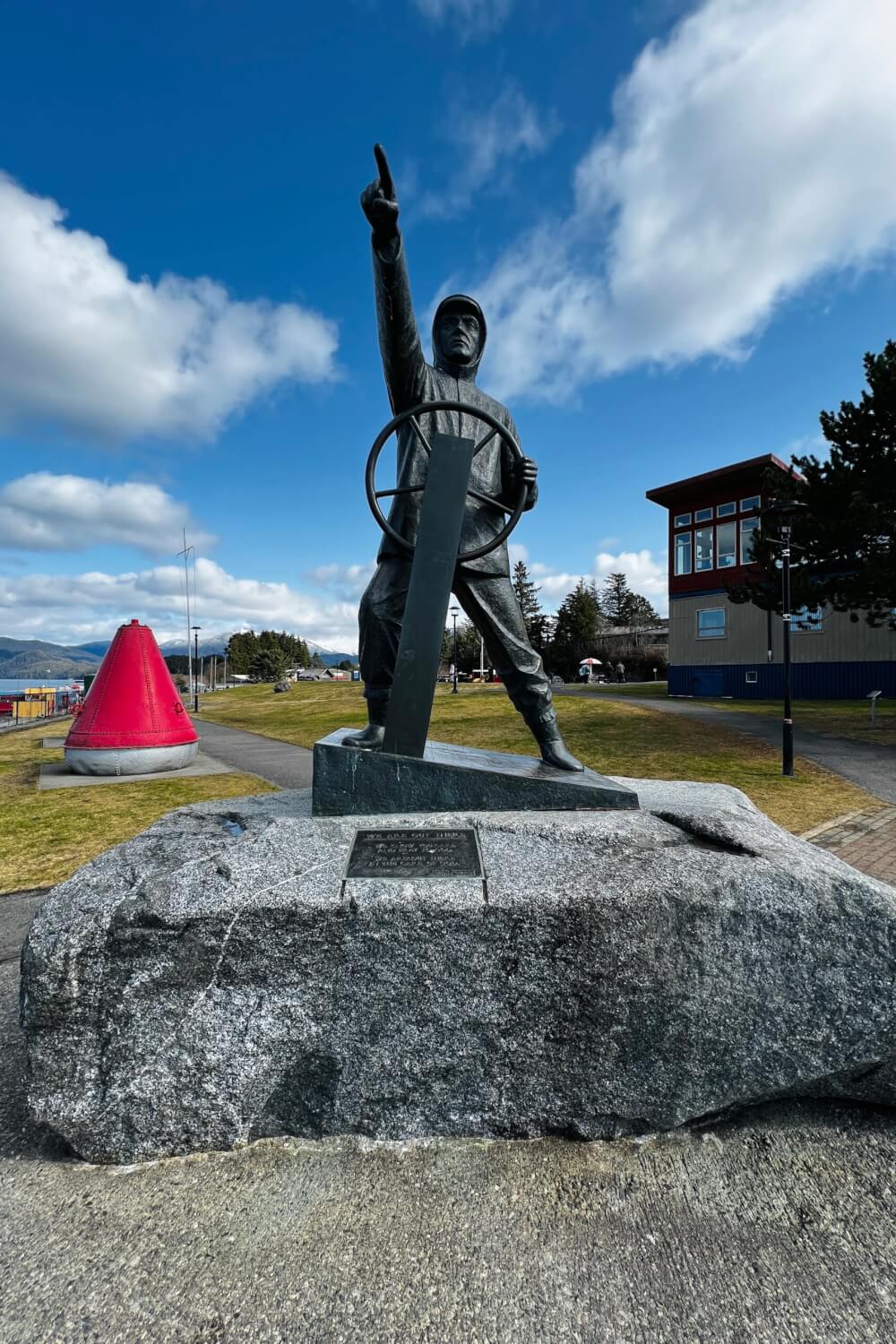 9. Go for a scenic walk along the Rushbrook Trail
The Rushbrook Trail is a popular walking and hiking trail that's perfect if you want to get some exercise while enjoying incredible views.
This is a nice easy hiking trail that covers 2.4 kilometres out and back, taking around an hour to walk the entire thing. It's relatively flat, with a mix of paved paths and boardwalks, plus it's one of the best places to spot bald eagles in the area.
But of course, the Rushbrook Trail is suitable for more than just walking and physical activities – the Bobs on the Rocks fish and chips stand marks the beginning of the trail and is open in the summer months – making it the perfect snack spot (pre or post walk).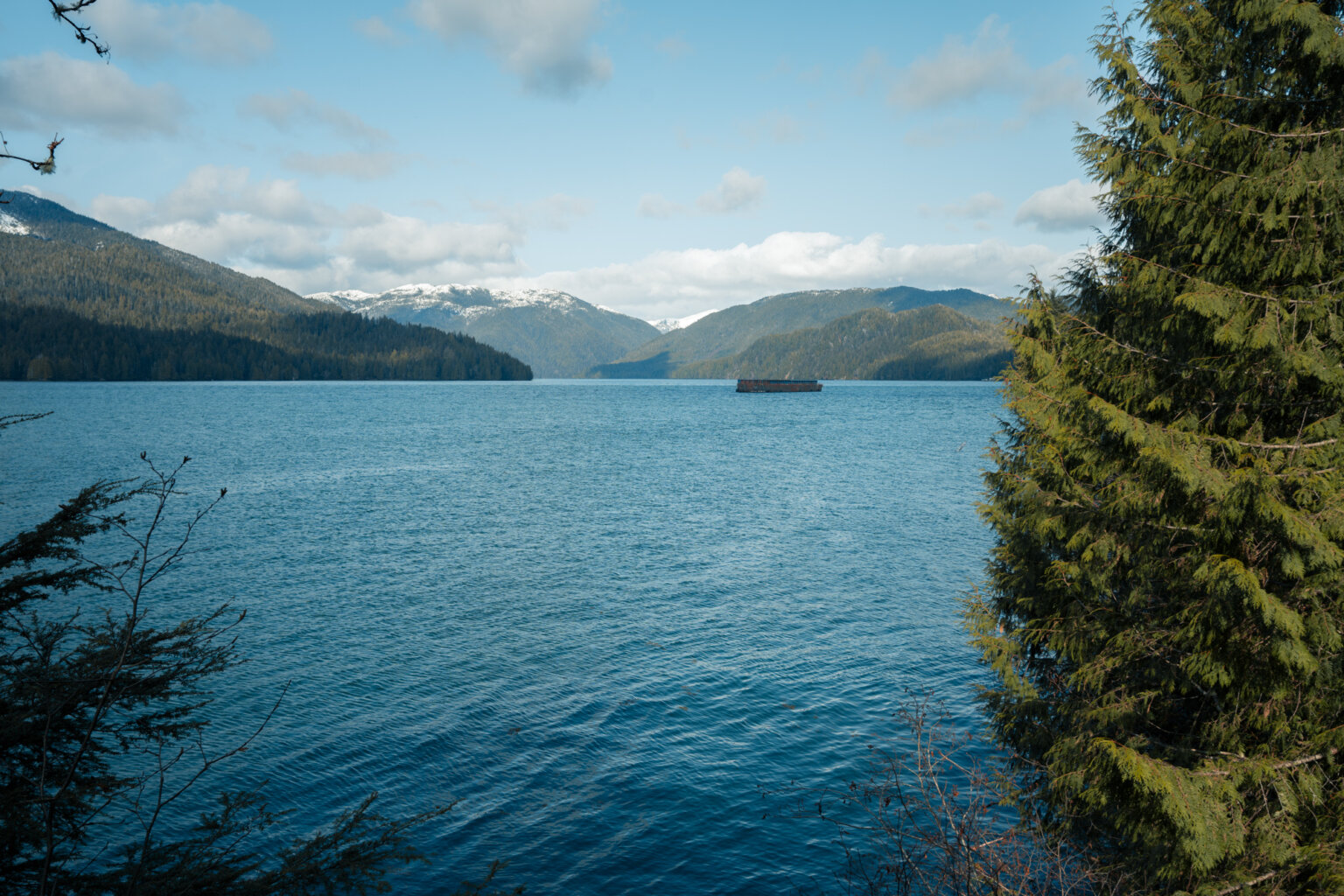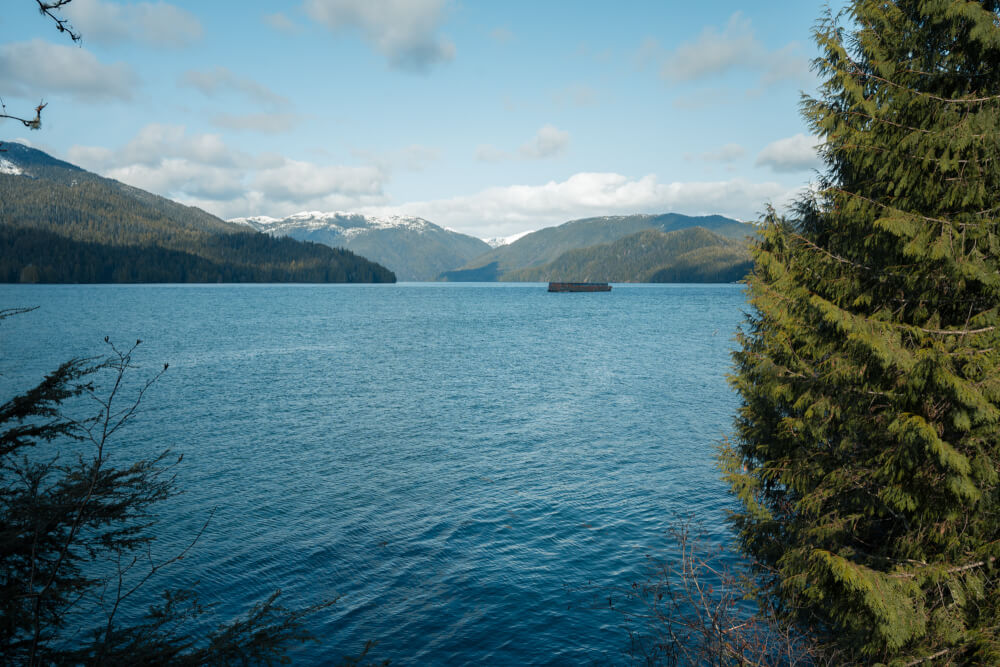 10. Visit a small quirky museum
Looking to visit a smaller museum in Prince Rupert? There are two main options to choose from!
Firstly, there's the Kwinitsa Station Railway Museum, a historical gem that offers a captivating glimpse into the region's rich railway heritage. This museum is dedicated to preserving and showcasing the significant role that railways played in shaping the development of the area and its connections to the broader history of Canada.
The museum's centrepiece is the Kwinitsa Station building itself, which dates back to 1911 and was an integral part of the Grand Trunk Pacific Railway. This beautifully restored station houses a fascinating collection of artefacts, exhibits, and displays that illuminate the history of rail travel, the impact of the railway on local communities, and the stories of the people who worked on the railways and lived in the area.
There's also the Prince Rupert Fire Museum, a tiny museum located next door to the Fire Hall which has some very cool fire service artifacts on display for anyone with a special interest in fire-fighting history and memorabilia.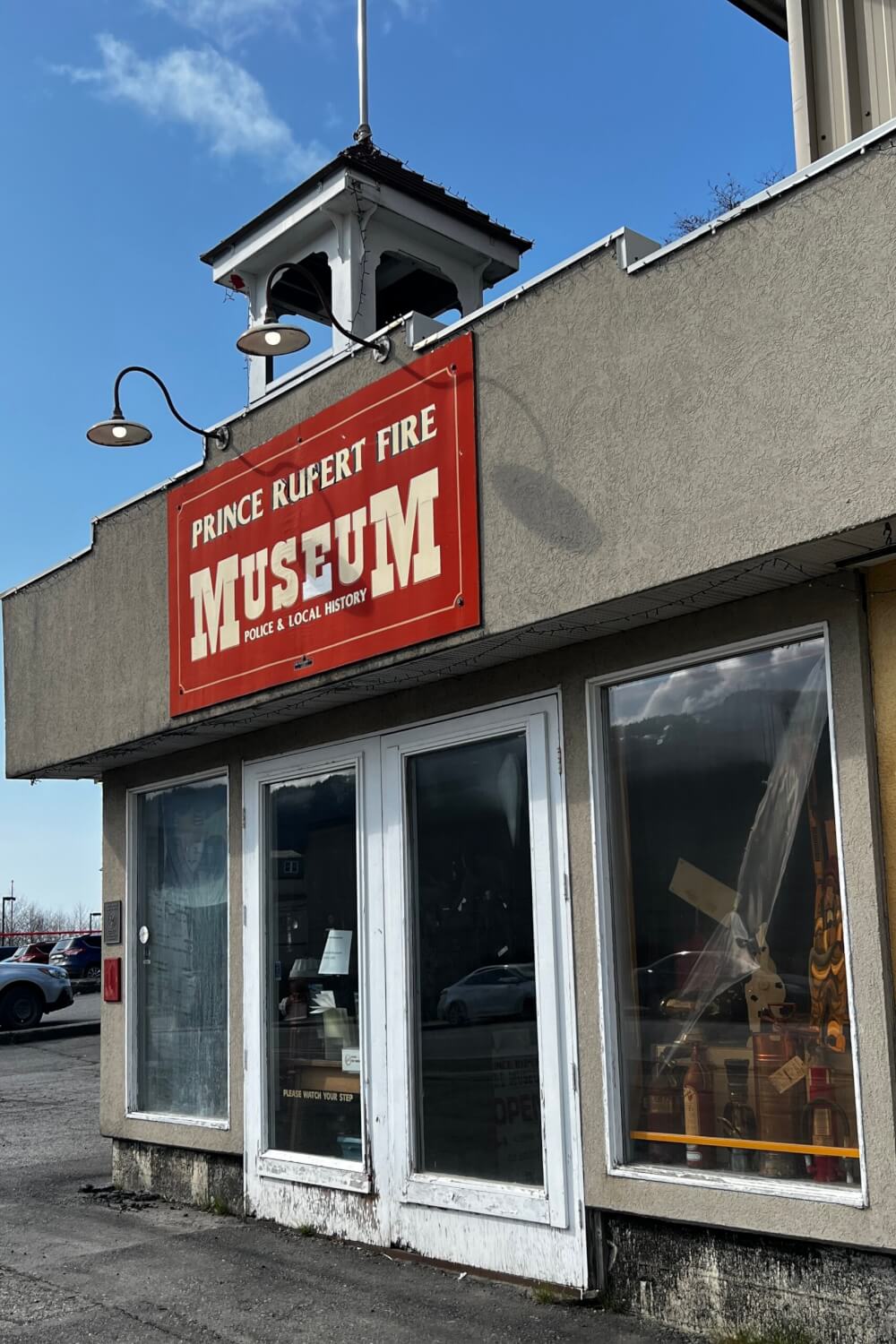 11. Road trip along Highway 16
Highway 16, part of the "Yellowhead Highway," offers a picturesque journey through the stunning landscapes of northern British Columbia.
This route takes you through a mix of coastal vistas, lush forests, charming communities, and opportunities for outdoor adventures, so if you're travelling by car then you might like to also check out some nearby places.
Driving from Prince Rupert will take you to Port Edward, Terrace, and the charming town of Smithers. A detour south on Highway 37 can also take you to Kitwanga, known as the "Gitwangak Battle Hill" of the Gitxsan people. This village offers cultural experiences and is a gateway to the Nisga'a Memorial Lava Bed Provincial Park.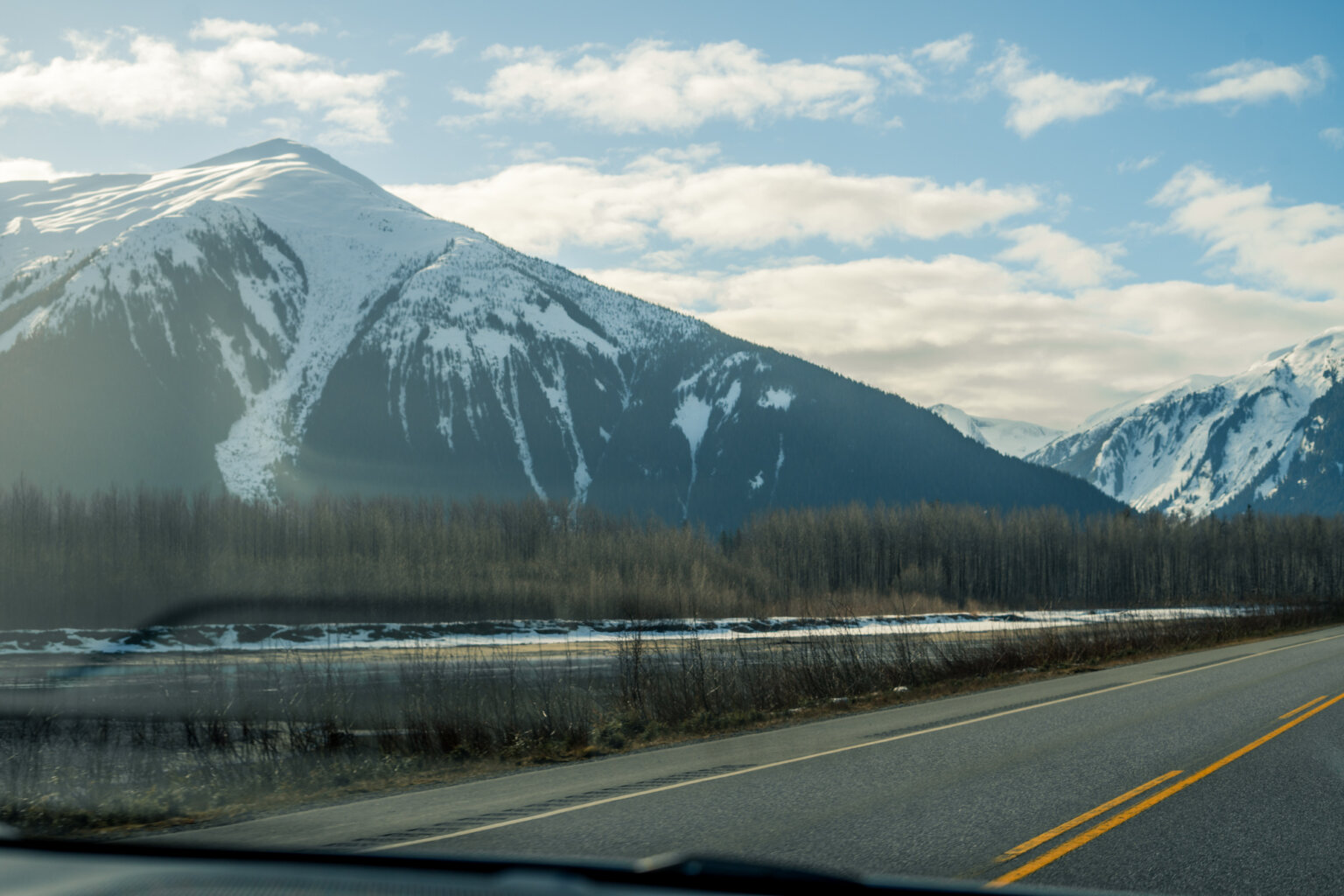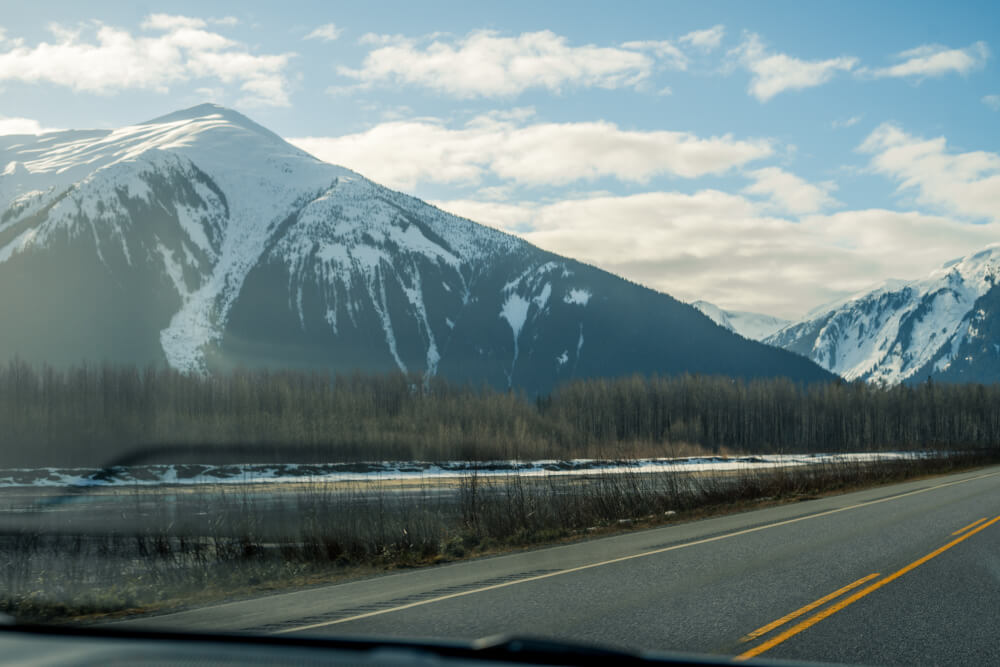 12. (Mid-Feb to end of March) Marvel at the Eulachon Run
And if you're looking for things to do just outside of Prince Rupert, visitors who time their visit for the end of winter (usually mid February to the end of March) can witness one of the most impressive displays of nature along the Skeena River: the annual Eulachon Run.
Eulachon are tiny oily fish that exist in high numbers along the Pacific. During a few weeks of the year, they migrate into the Skeena, attracting a number of harvesters and (more visually astounding) thousands of birds keen to slurp them up.
The result is a bird-watcher's paradise, with huge swirling flocks swooping over the river in dramatic and hungry fashion.
All I could capture was a blurry photo from the car, but if you squint you can see just how many birds there are swirling over the river. Definitely one of the coolest things to see in the Prince Rupert area if you have a chance!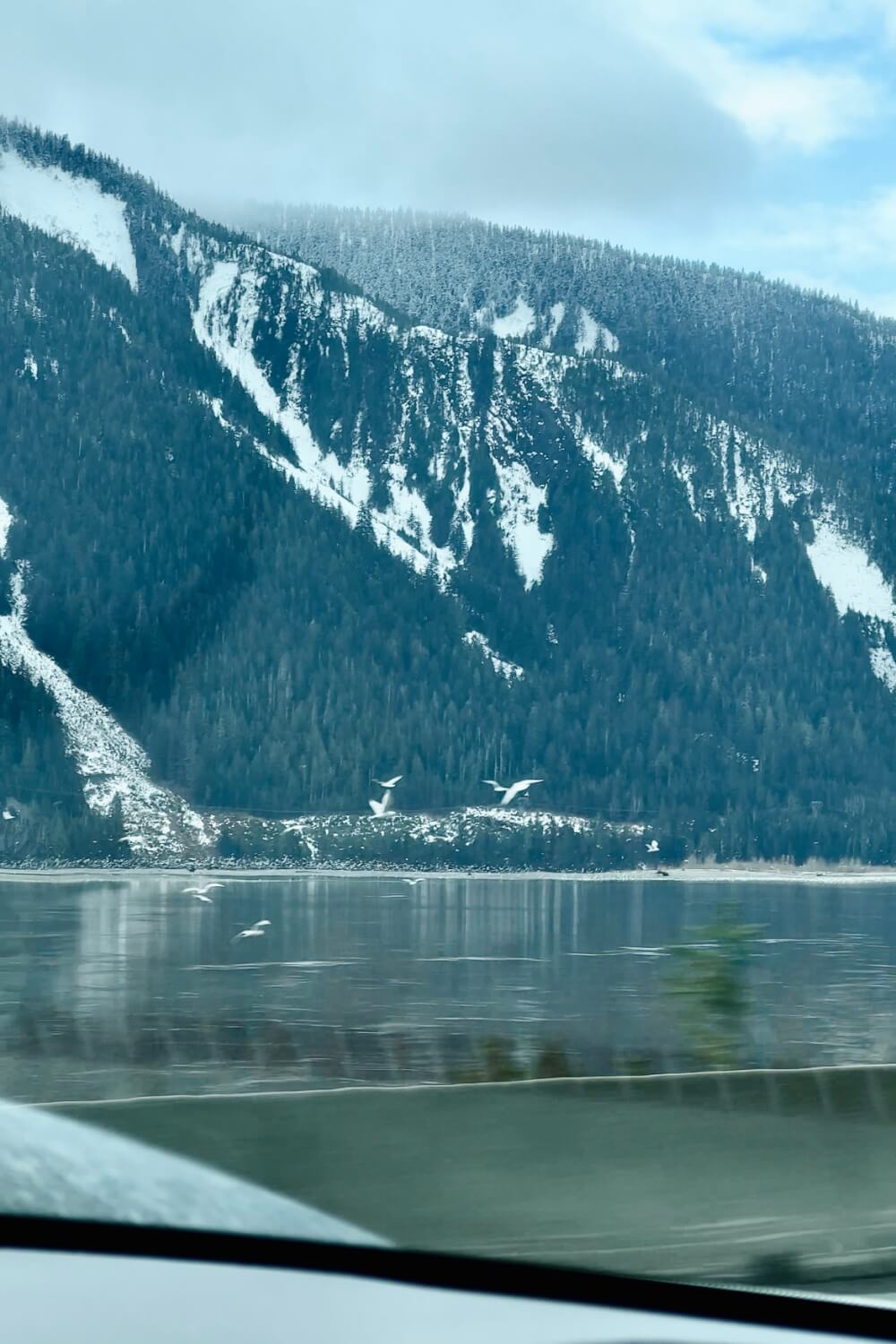 13. Take a day trip to Khutzeymateen Grizzly Bear Sanctuary
Visiting the Khutzeymateen Grizzly Bear Sanctuary from Prince Rupert offers an unparalleled opportunity to witness the majesty of North America's largest land predator in its natural habitat.
The Khutzeymateen Grizzly Bear Sanctuary, established in 1994, spans over 44,300 hectares and is a protected area dedicated to the conservation of the iconic grizzly bear population. Several tour operators offer guided trips to the Khutzeymateen Grizzly Bear Sanctuary, making it an easy side trip to do from Prince Rupert.
Once within the sanctuary's boundaries, visitors are treated to a once-in-a-lifetime experience – the opportunity to observe grizzly bears in their natural habitat, engaging in activities such as fishing, foraging, or even playing, is a humbling and awe-inspiring encounter.
The sanctuary experience goes beyond bear-watching, as you might also witness an array of other wildlife, including eagles, seals, wolves, otters and whales!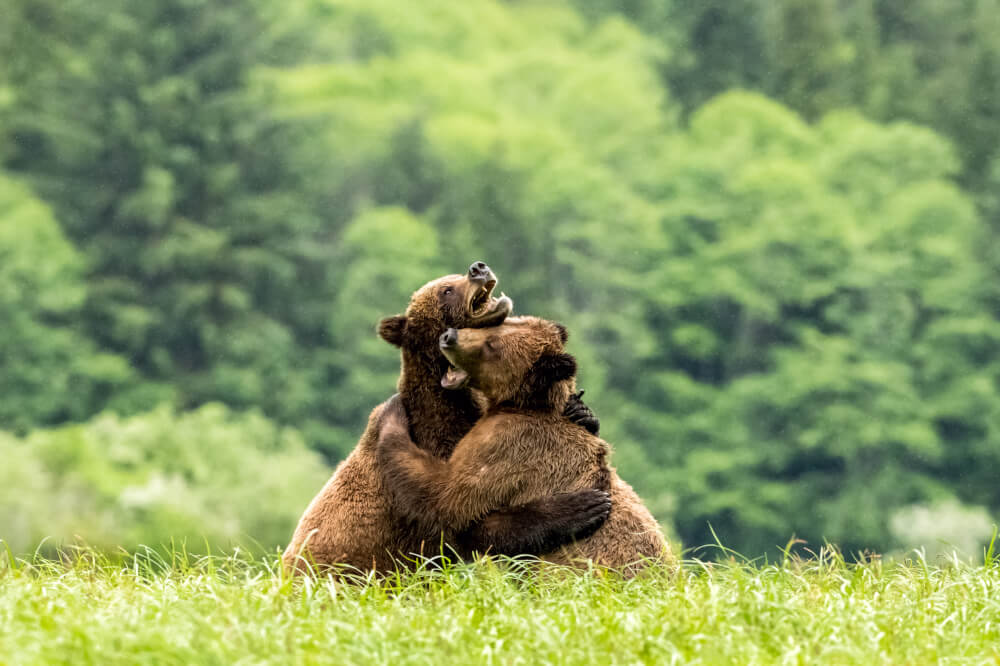 14. Travel onwards along the Inside Passage
Lastly, I couldn't write a post about things to do in Prince Rupert without mentioning the Inside Passage.
While it's not a feasible thing to do for most (certainly not spontaneously), the 15 hour ferry journey connecting Prince Rupert and Port Hardy is said to be one of the most breathtaking journeys that Canada has to offer, passing along landscapes and areas inaccessible by road, from rushing waterfalls and dense rainforest to snow-capped mountain peaks.
… After all, there's a reason this is a preferred route for Alaska-bound cruises. So, why not enjoy the landscapes at a fraction of the cost?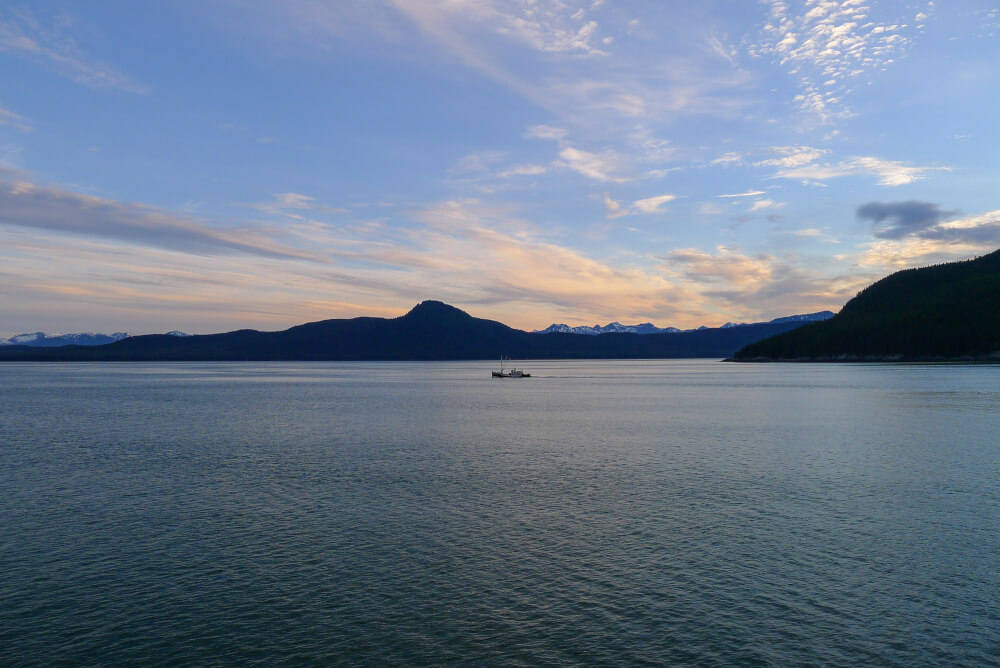 Did I Miss Any of Your Favourite Fun Things to Do in Prince Rupert?
Let me know in the comments so I can add more Prince Rupert activities to the list!
---
Watch my most popular YouTube video this week:
---