*FYI - this post may contain affiliate links, which means we earn a commission at no extra cost to you if you purchase from them. Also, as an Amazon Associate I earn from qualifying purchases. Check out our Privacy Policy and Disclosure. for more info.
This roundup of things to do in Luxembourg City was created in collaboration with Visit Luxmbourg, who graciously hosted me on this trip.
Imagine if you will, a miniscule wonderland packed with castles, greenery and slate grey rooftops over hues of pastel yellow and pink.
A place where everybody speaks four languages, where trams are rainbow, and where electric buses are capable of driving themselves.
It appears this wonderland does exist, my friends… and it's called Luxembourg.
*brief pause for gasps and shock*
Landlocked between France, Germany and Belgium, Luxembourg is a micro-country known mostly as a metropolitan hub for civil servants, bankers and pleeeenty of cross-border commuters. As such, it's no surprise that Luxembourg hasn't quite acquired the tourist magnetism of its nearby neighbours.
But you know me, never one to judge until I've seen it for myself! And truthfully, when I was invited to explore Luxembourg City for 24 hours with Visit Luxembourg, I had zero idea what to expect. Was it going to be nothing but suited-up bureaucrats and an endless sprawl of banks? Standard gossip tends to go this way, so when I instead discovered a little fairytale city fused effortlessly with the green, gorge-laden landscape… I was, as the kids say these days, shooketh.
Luxembourg City is not a showy capital. Yes there are the bureaucratic hubs, but a short distance away, you'll find an entirely different side to the city that less people buzz about: a historic, elegant, pastel-tinted side packed with strollable streets, intriguing museums and endless views for days.
As I discovered, Luxembourg City is a place to be enjoyed slowly, as a relaxed weekend break filled with wistful wandering, pastry breaks and drooling over scenic vistas. Luxembourg may not boast the glitzy "star attractions" like its neighbours, but its capital makes for a perfectly lovely city break, even in torrential downpours (as lucky me would find out).
So if you're looking for the best things to do in Luxembourg City, read on. Here are some ideas for you.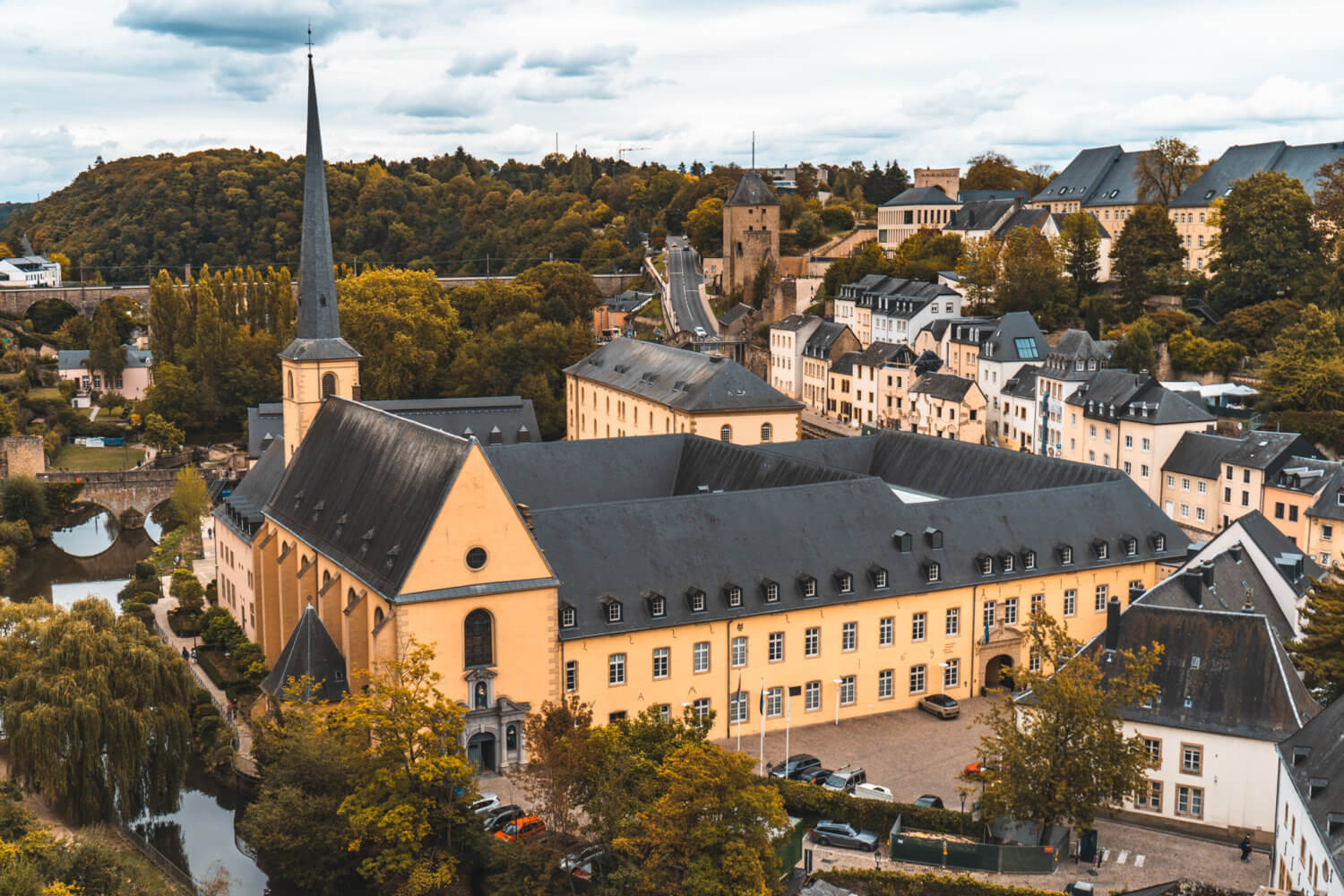 ---
---
Top Things to do in Luxembourg City: My Picks
Originally I intended this post to detail things to do in Luxembourg in a day, but the list kept growing and growing… and now, well – here we are with multiple sections!
The beauty of Luxembourg City is that it's incredibly compact, so ticking many of these to-dos off the list won't take more than 1-2 days.
That said, I highly recommend you go to the Luxembourg City Tourism Office first and pick up some free pamphlets/ask for some tips from the friendly staff. They have lots of great maps and (free) walking routes, alongside guided tours you can book!
Anyways, without further ado, here are some awesome things to do when you visit Luxembourg City for yourself!

---
---
Fun Things to do in Luxembourg City
Let's start off with the fun activities! Here are some of my top recommendations for what to do in Luxembourg:
1. Admire Luxembourg's linguistic gymnastics
This is kind of a joke, but not really.
One of the most striking things about Luxembourg for me was just how linguistically skilled their population is.
Luxembourg boasts a surprisingly international population of over 160 nationalities who effortlessly switch between three official languages throughout the course of a single conversation.
Speaking 4 languages is pretty much a minimum here, with most speaking at least 5 or 6.
Even my taxi driver from the airport (within 10 minutes) moved effortlessly from his "bad" English (guys, it was impeccable English) to his native Russian, then French, German, and Spanish/Portuguese just to show me.
So, if you're looking for a fun little thing to do in Luxembourg, keep your ears open and listen as locals switch from French to German to Luxembourgish (yes that's what it's really called). It's fascinating!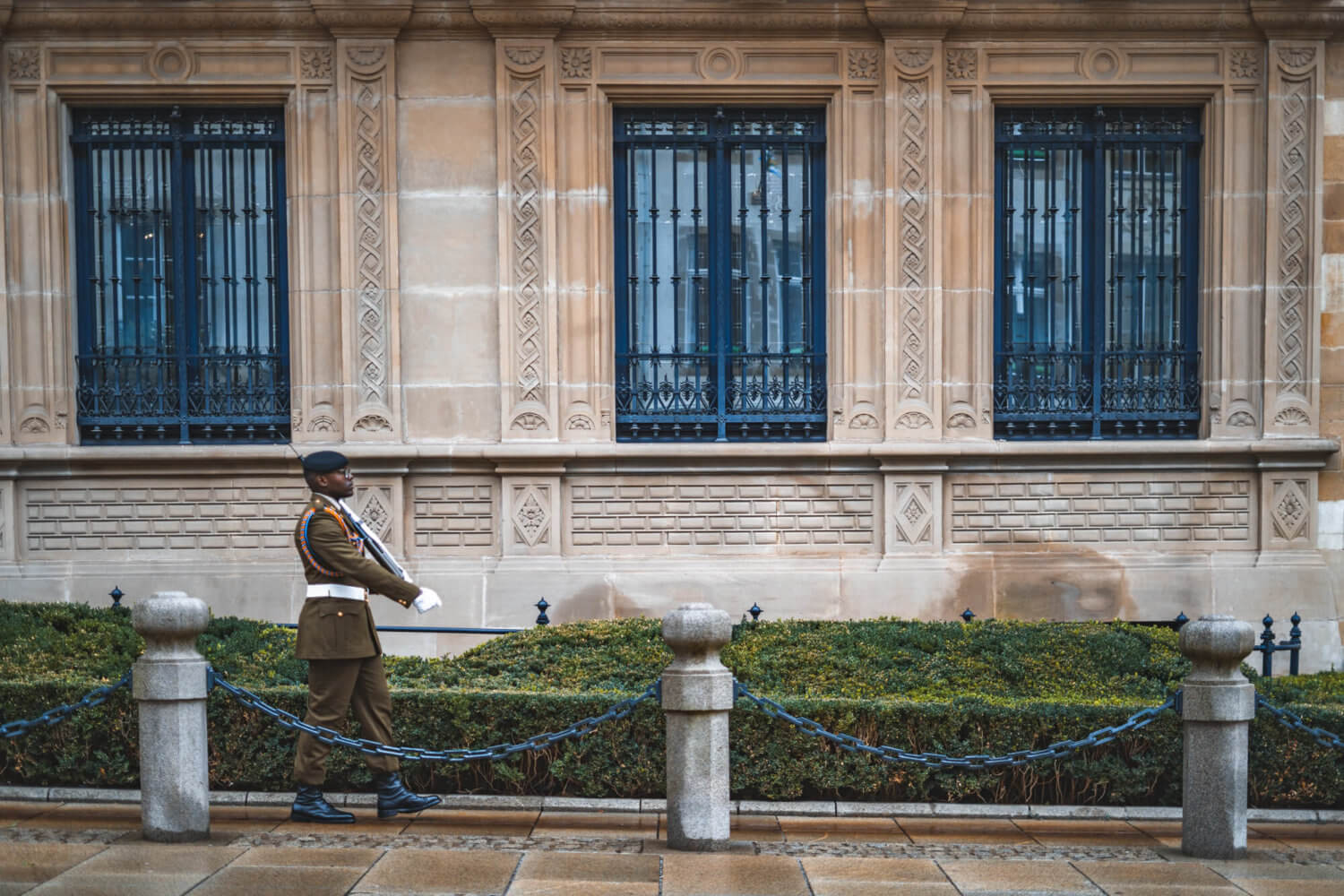 2. Take a stroll along the Chemin de la Corniche
There are many cool things to see in Luxembourg City, but the Chemin de la Corniche is undoubtedly my favourite.
As Luxembourgers will proudly gloat, this scenic walk has been hailed the most beautiful balcony in Europe. And while I think the word "balcony" may be a stretch (I'd say it's a little big to be called one!), it certainly is beautiful. The Chemin de la Corniche is perched high above the Lower Town, granting beautiful views over a gorge-ous locale, and is THE best spot in Luxembourg City for photos.
My tip: do take the time to wander around the area, following random paths and seeing where they take you, because there are a lot of stunning vantage points that are better appreciated away from the crowds… and even some benches where you can sit down and soak it all in.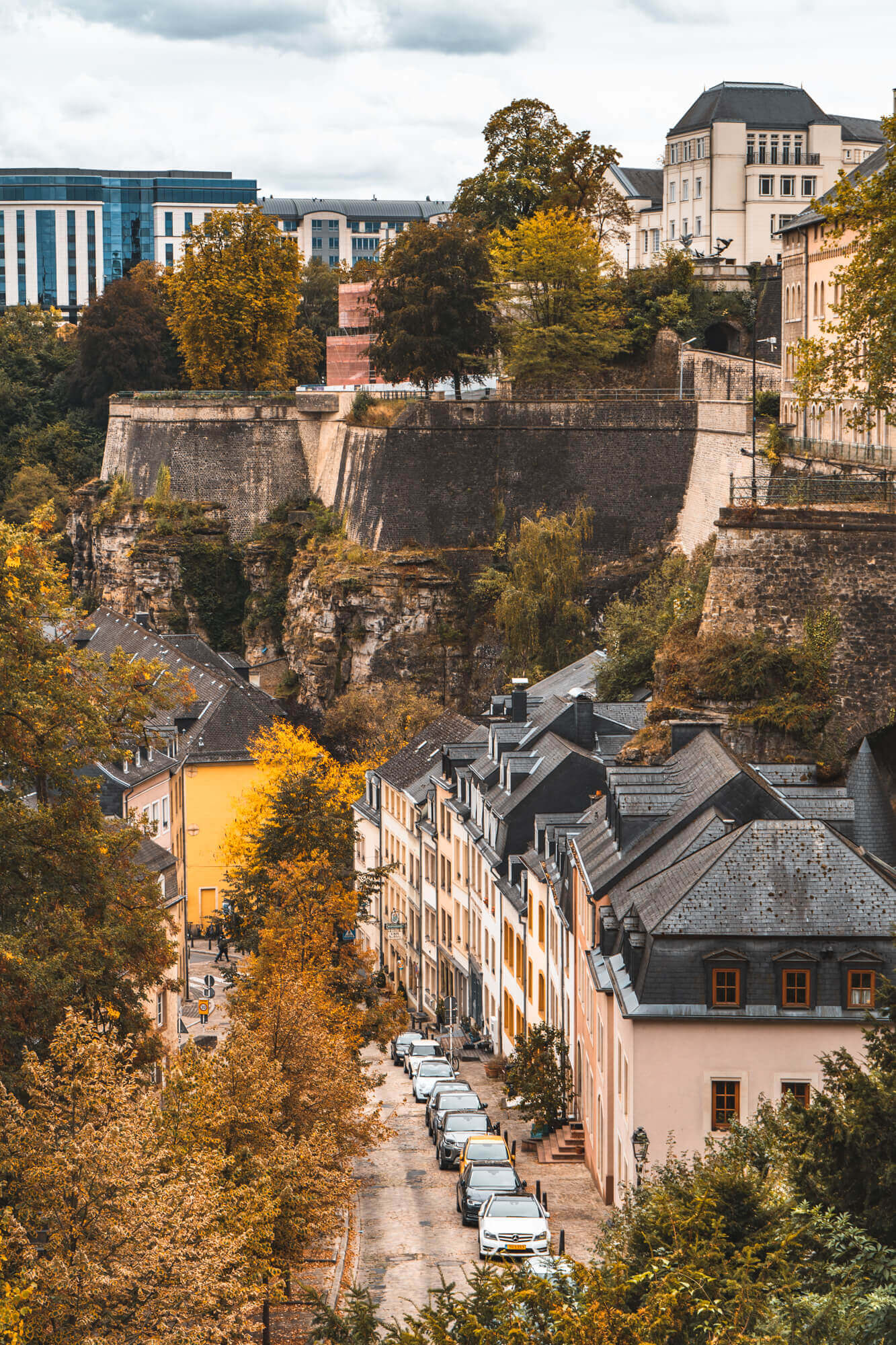 3. Do a self-guided walking tour of the historic centre
The tourism board offers a really cool self-guided walking tour that you can download here in several languages. I highly recommend taking a peek so you don't get lost! I only saw it after my visit and realized I missed a few very cool things that I was minutes away from. If you're pressed for time and need to choose things to do in Luxembourg City in one day, then I would recommend doing this route for sure because it covers a lot of the city's highlights.
A few of my favourite spots: Place de la Constitution, Place Clairefontaine, Place Guillaume II (where they host a weekly market every Wednesday and Saturday), and this little part of Rue du Rost right behing the Grand Duchal Palace, which is just impossibly charming with some rainbow tables/chairs out front.
NOTE: If you're less inclined to DIY, you can also book a Luxembourg City tour through the tourism office. They cover a lot of the best places to visit in Luxembourg City so I would definitely check it out.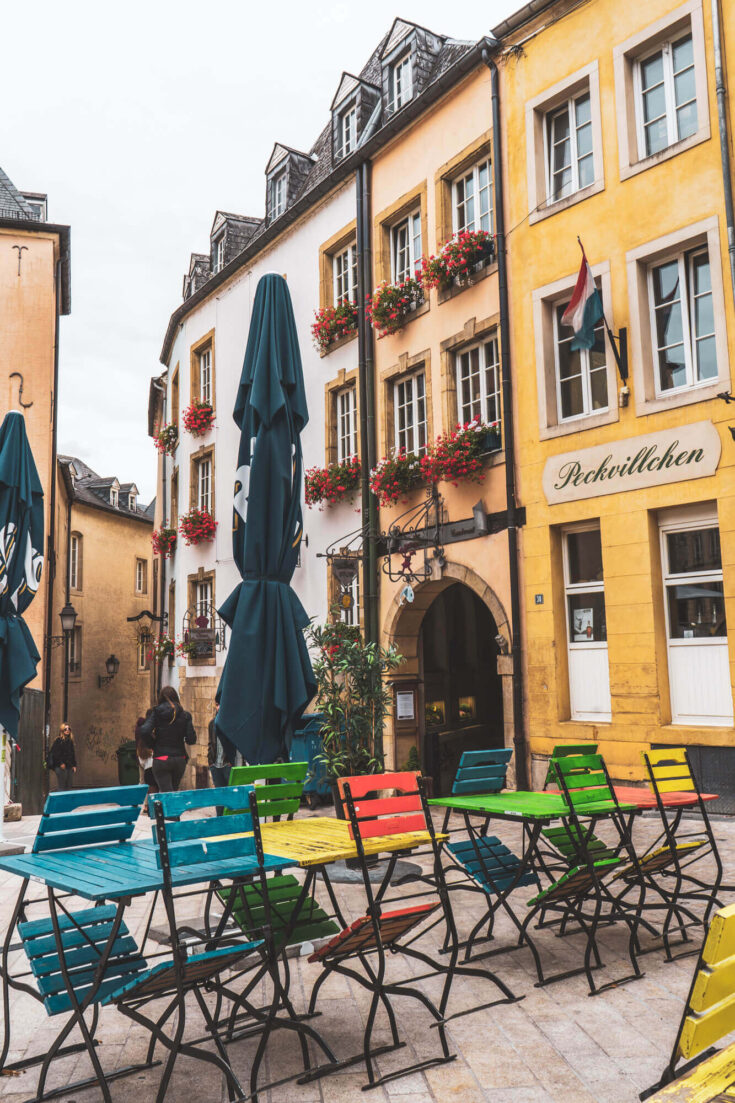 4. Ride a glass elevator
The Panoramic Elevator of the Pfaffenthal is a relatively new addition to the Luxembourg attractions list, but it's a must-visit in my opinion. Not only does it save you the grief of walking up hill, it offers a unique perspective over the city, even with a little glass floor if you're not afraid of heights 😉
Best of all – it's totally free.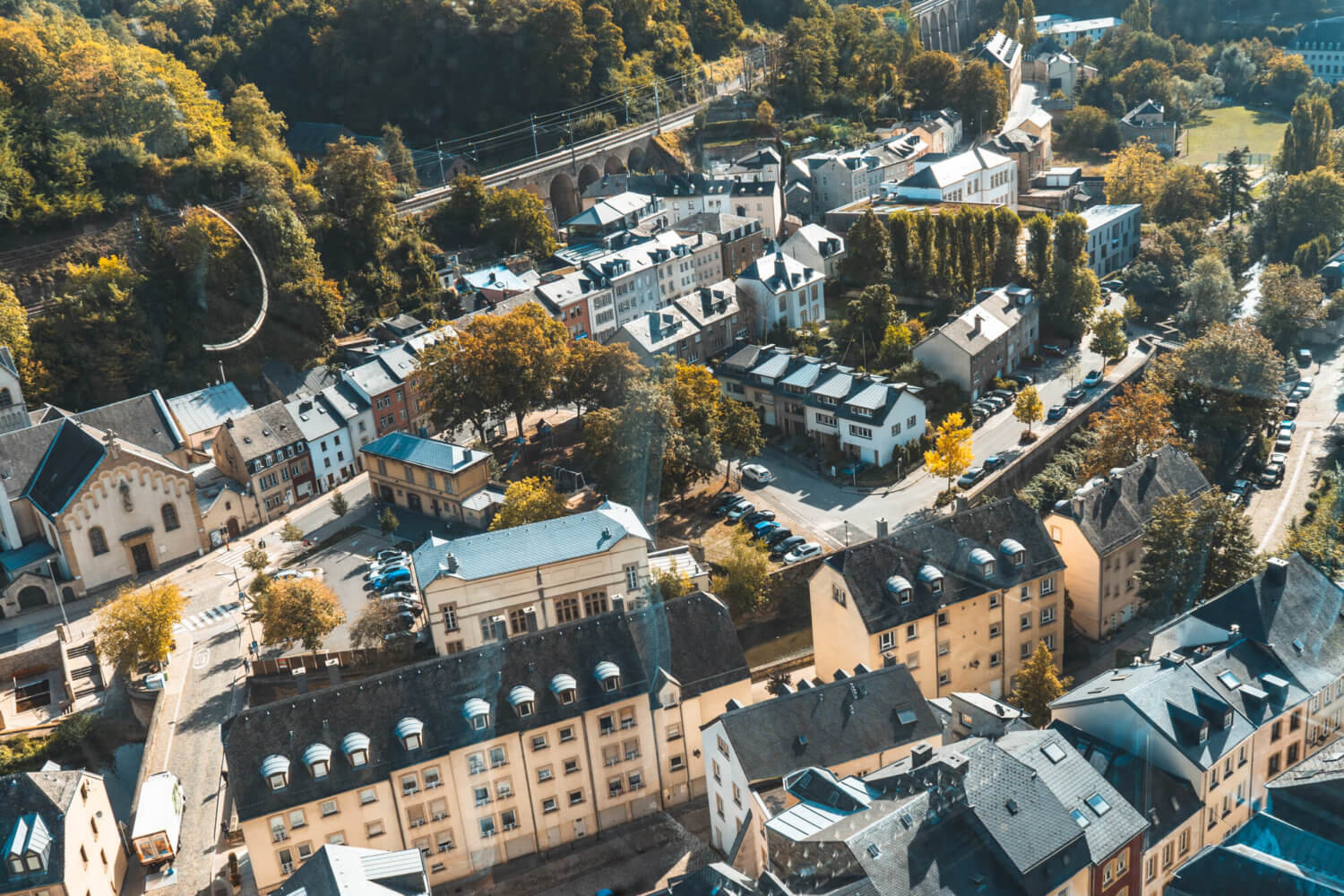 5. Hop on a free, driver-less bus
If you need any further proof that Luxembourg is living in the future, they now have an electric, driver-less bus that is free for the public to use.
…. You heard me right.
Luxembourg City's new tiny "City Shuttle" totes passengers 15 at a time, chugging along the Pfaffenthal District in a fully automated fashion.
This groundbreaking pilot project was introduced on September 20, 2018 and will run for 6 months (after which they'll assess how to best use their robo-bus). If you think I'm joking, here's more info.
6. Enjoy a scenic walk around the Lower Town, Grund
Grund is the Luxembourg District that sits below the historical center (the pretty part of town you're drooling over while up at Chemin de la Corniche). Despite its mega-central location, it's a surprisingly tranquil and beautiful place to explore, and I witnessed dramatically less crowds here than in the upper town.
To access the Grund, you can take a free elevator down from Plateau du Saint Esprit (near the Chemin de la Corniche). With the Alzette river cutting through it, this tranquil piece of Luxembourg City makes for some extremely scenic photo opportunities.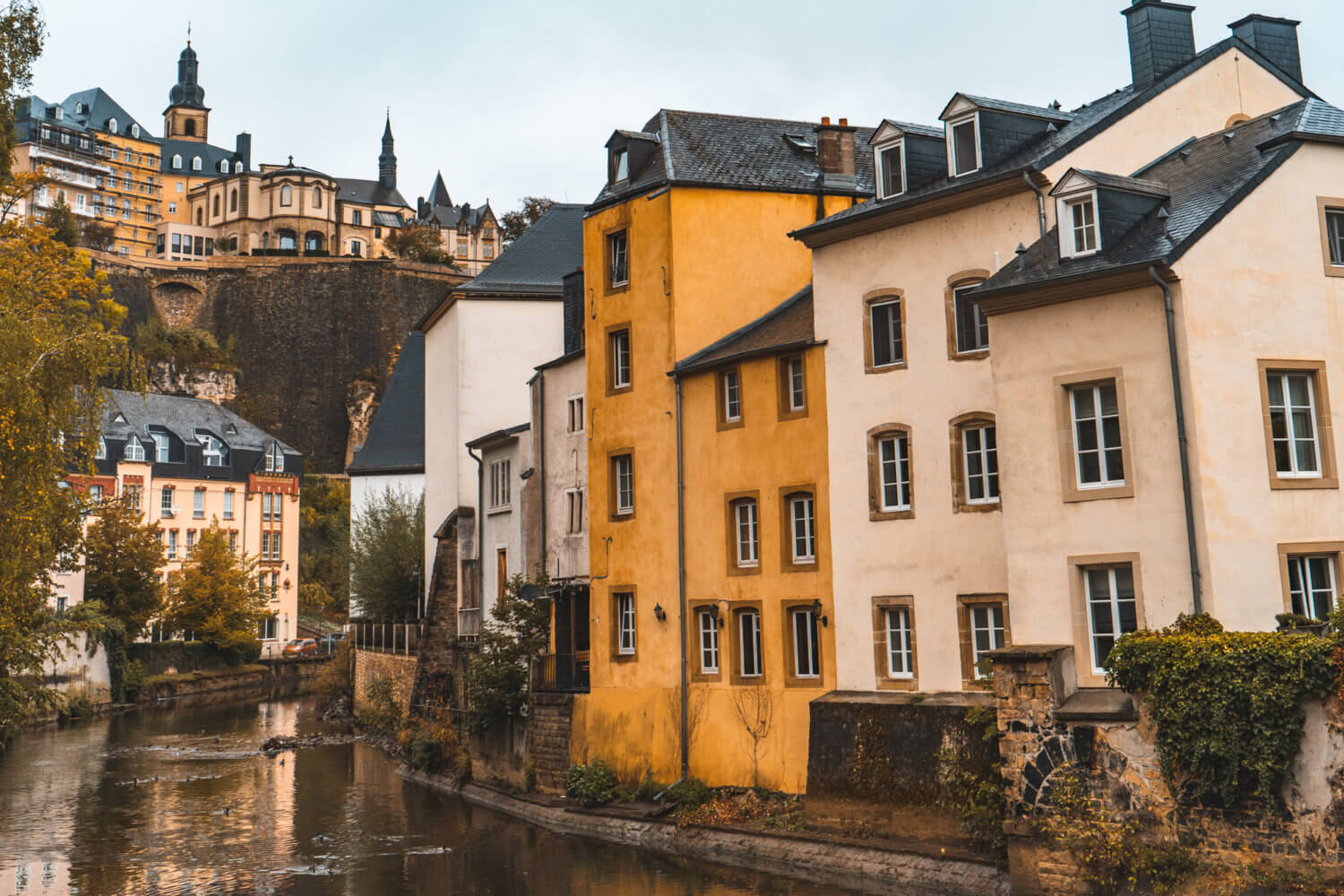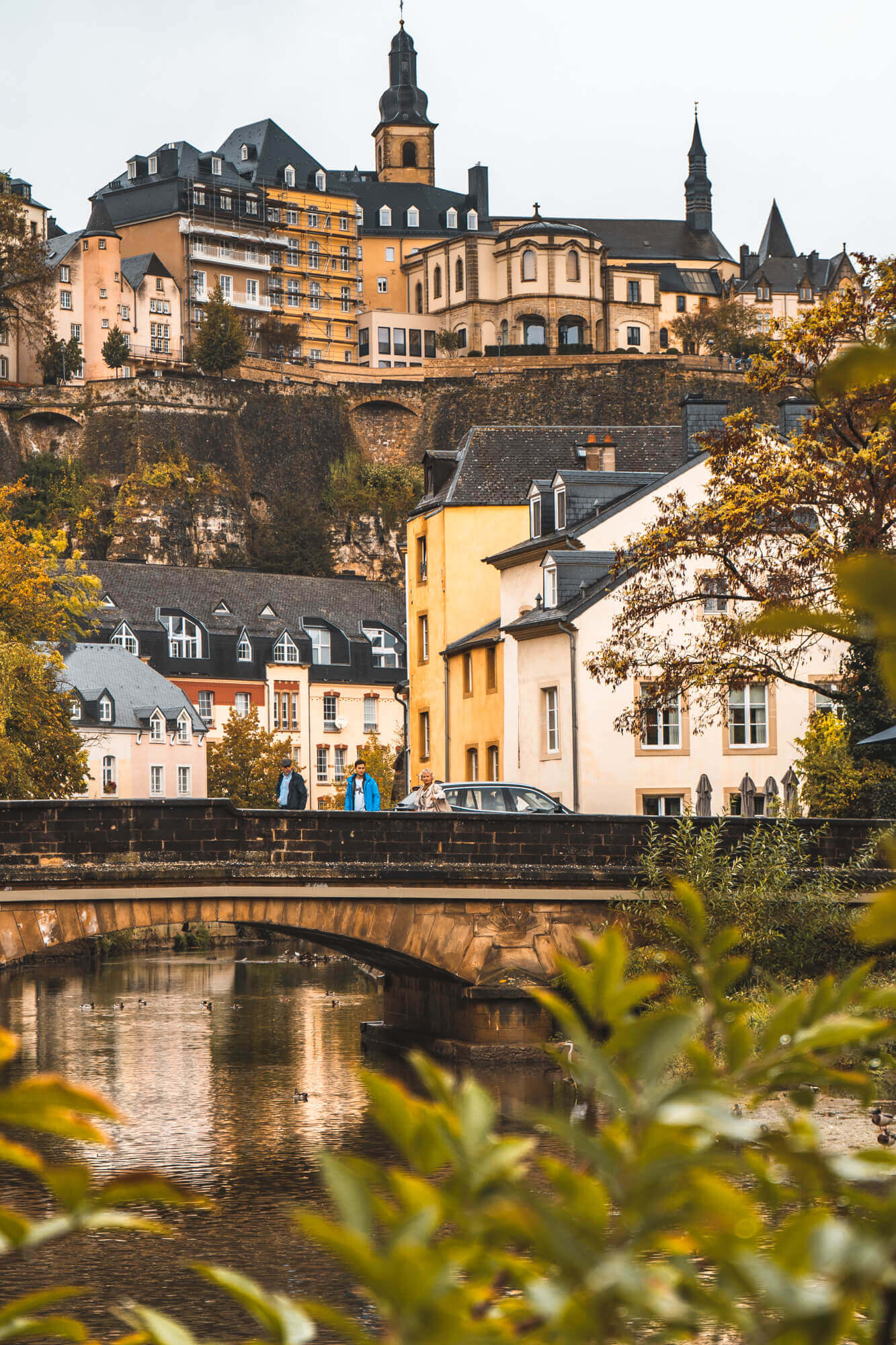 7. Stop by the Skatepark Pétrusse
While in Grund, check out a surprisingly modern and "hip" addition to the area – the new Skatepark Pétrusse. 
I bet you would have never expected something like this in the heart of Luxembourg City, yet here we are. Bankers, eat your hearts out 😉 This new skate park is one that blends seamlessly with its historic surrounding and acts as a worthy reminder that Luxembourg City is indeed full of surprises.
8. Swing by the Grand Ducal Palace
For visitors, this is one of the top Luxembourg City points of interest. The guards here are constantly moving, marching and swapping. Oh, and it's kind of the royal residence too. I guess that's an important detail 😉
One of the most common facts you'll hear about Luxembourg is that it's the only Grand Duchy in the world. In short, this simply means that it's the only country with a Grand Duke, but hey, it appears to be something they're proud of, so why not scope out his digs while you're in town? With its splendidly elegant facade, the Grand Ducal Palace is a beautiful place to admire from the outside, and a must visit when in Luxembourg City.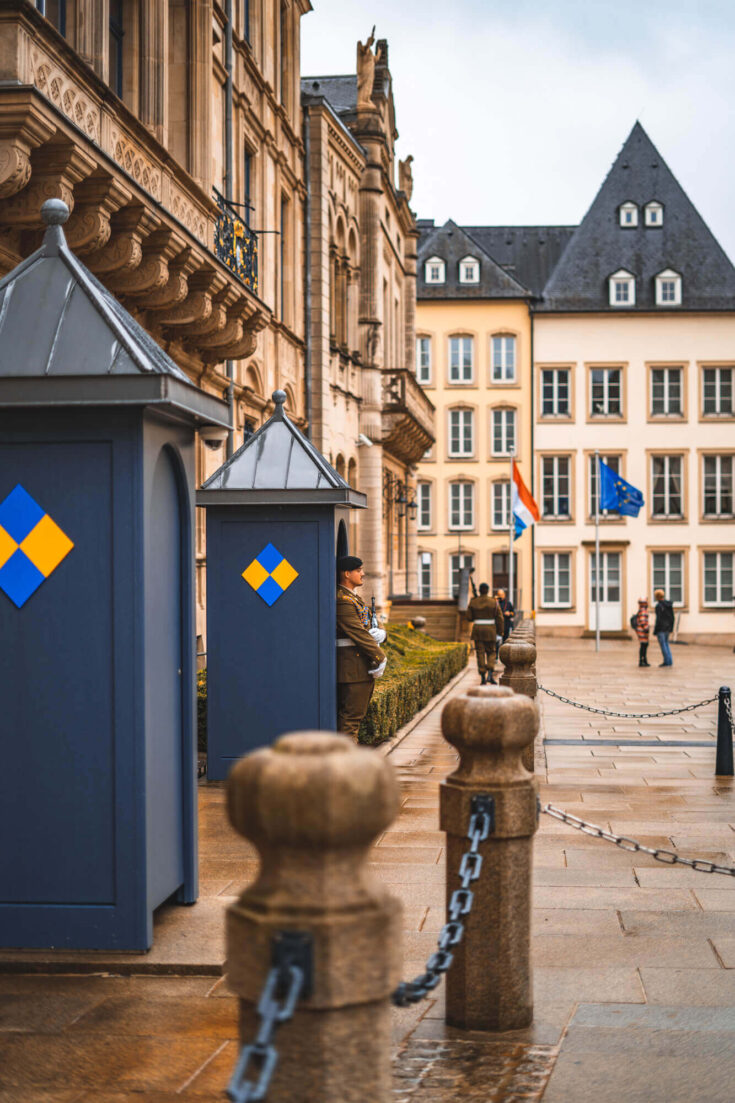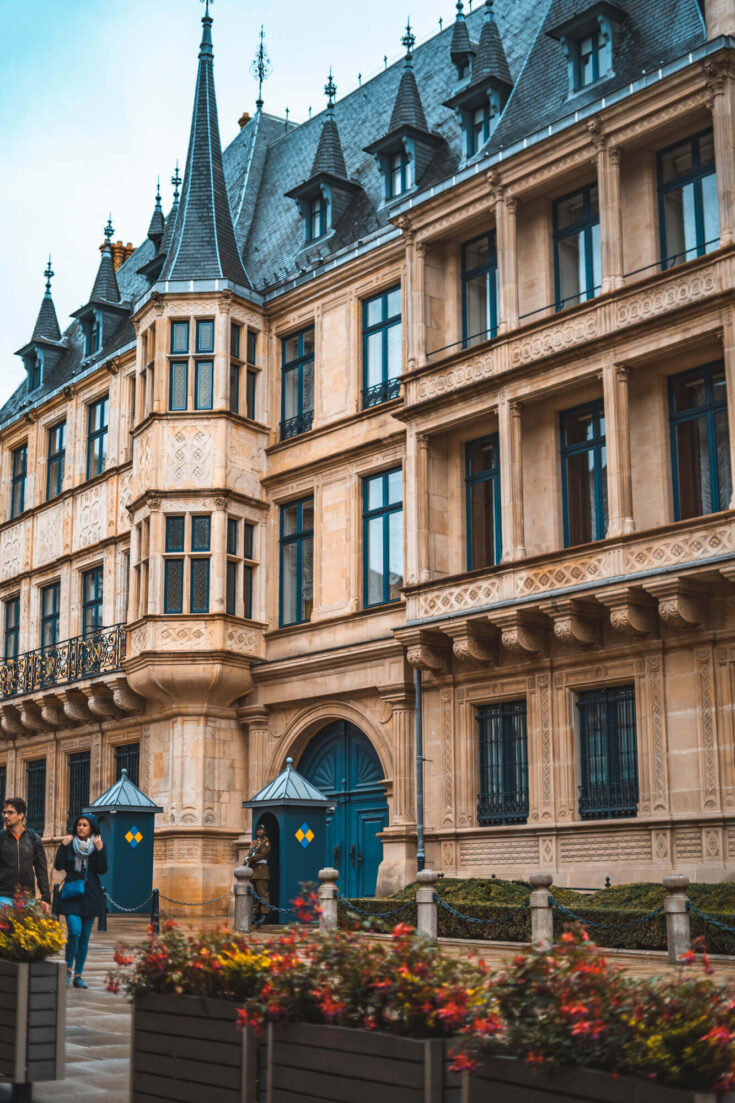 ---
---
Historical Things to do in Luxembourg City
When you visit Luxembourg City, one of the biggest things on your to-do list should be appreciating the wealth of history and heritage. Here are a few historical must-dos during your little Luxembourg City tour:
9. Soak in history at the Casemates du Bock
One of the most iconic and well-known Luxembourg attractions is the Casemates du Bock, an underground network of fortifications that span several levels. Originally built in the 17th century, and even used as a bomb shelter during WWII, today 17km of the tunnels remain and are open for your personal Indiana Jonesing.
Watch your step though! I almost fell down some precarious stone stairs… a few times.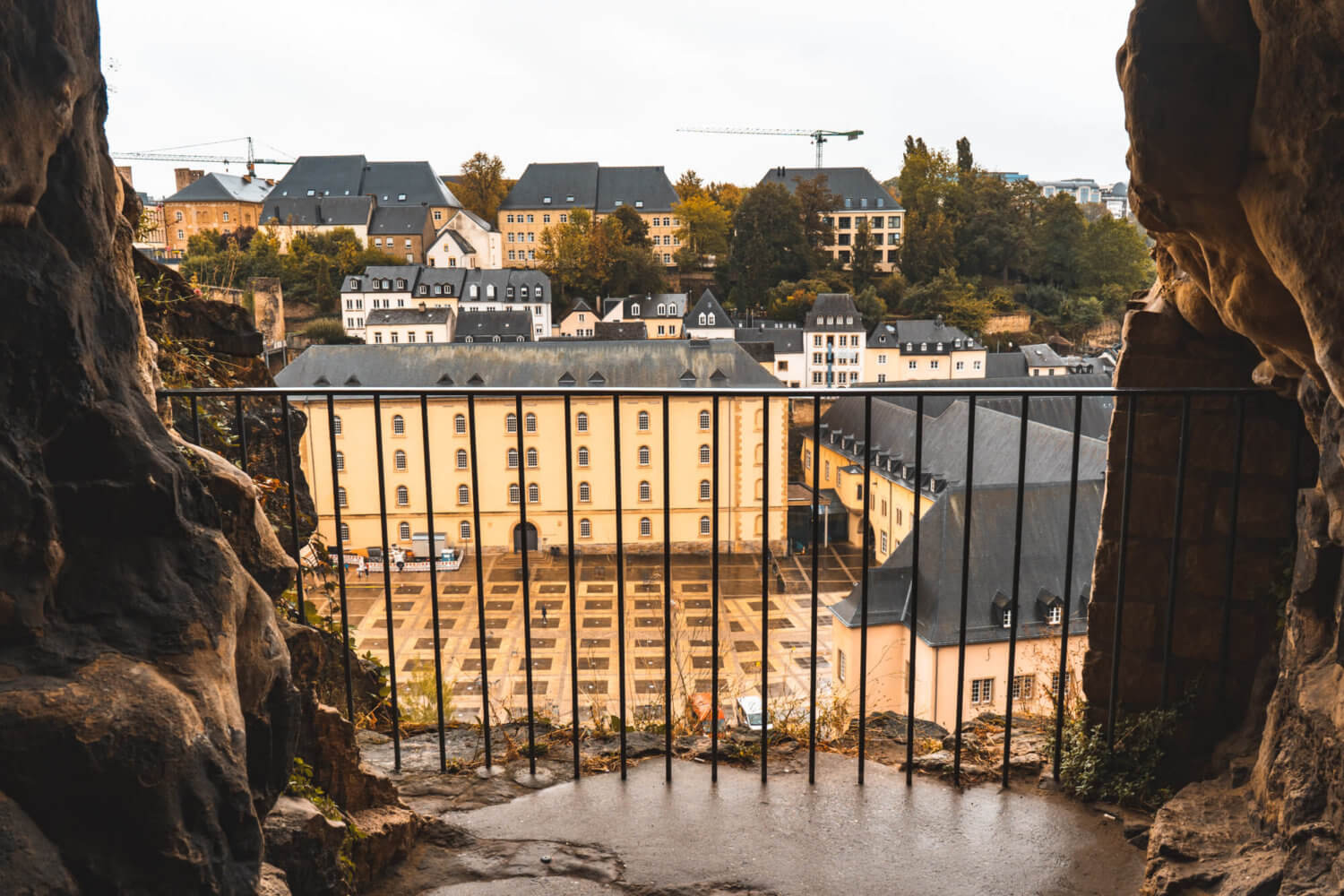 10. Learn about the history of Luxembourg at the Lëtzebuerg City Museum
At the Lëtzebuerg City Museum, you can trace the history and development of Luxembourg through cool exhibitions and multimedia displays. If you're looking for a nice rainy day activity, or a way to get acquainted with the city's development, then this is a must do.
PS: You can exit from here directly to the Chemin de la Corniche! Think of it as a nice little shortcut.

---
---
Cultural Things to do in Luxembourg City
Luxembourg City is a paradise for culture hawks, with a wide range of museums packed in a tiny package. Here are some cultural things for you to experience in Luxembourg City:
11. Visit the Kirchberg District and MuDam
A short tram ride away from Luxembourg's historical center is the mega-modern Kirchberg District, home to plenty of important and cool-looking buildings like the Philharmonie, the EU Parliament and the Museum of Modern Art (designed by the same architect who did *those* Louvre pyramids).
Yes, this is the area that houses all the important administrative buildings that Luxembourg is frequently known for, but I definitely recommend visiting this area while in Luxembourg City, especially the beautiful Mudam. This bright airy space houses a wide range of exhibitions, and is home to a really beautifully designed cafe as well. Its sleek, ultra-modern design is built directly into the old ramparts of town, and the contrast is really something.
A short walk from the MuDam is the Musée Dräi Eechelen which is quite a unique and interesting building as well (with 600+ objects/documents inside). The winner for me though is the view from here. You can see the entire historical center from this vantage point!
PS: If you do go to Kirchberg, RIDE THE TRAM TO GET THERE. Luxembourg actually has the newest, most modern tram system in Europe (Dec 2017) and it's ridiculously clean and pretty. I wish I had snapped a photo but the one I rode (from the "Theater" stop to MuDam) was all rainbow on the inside.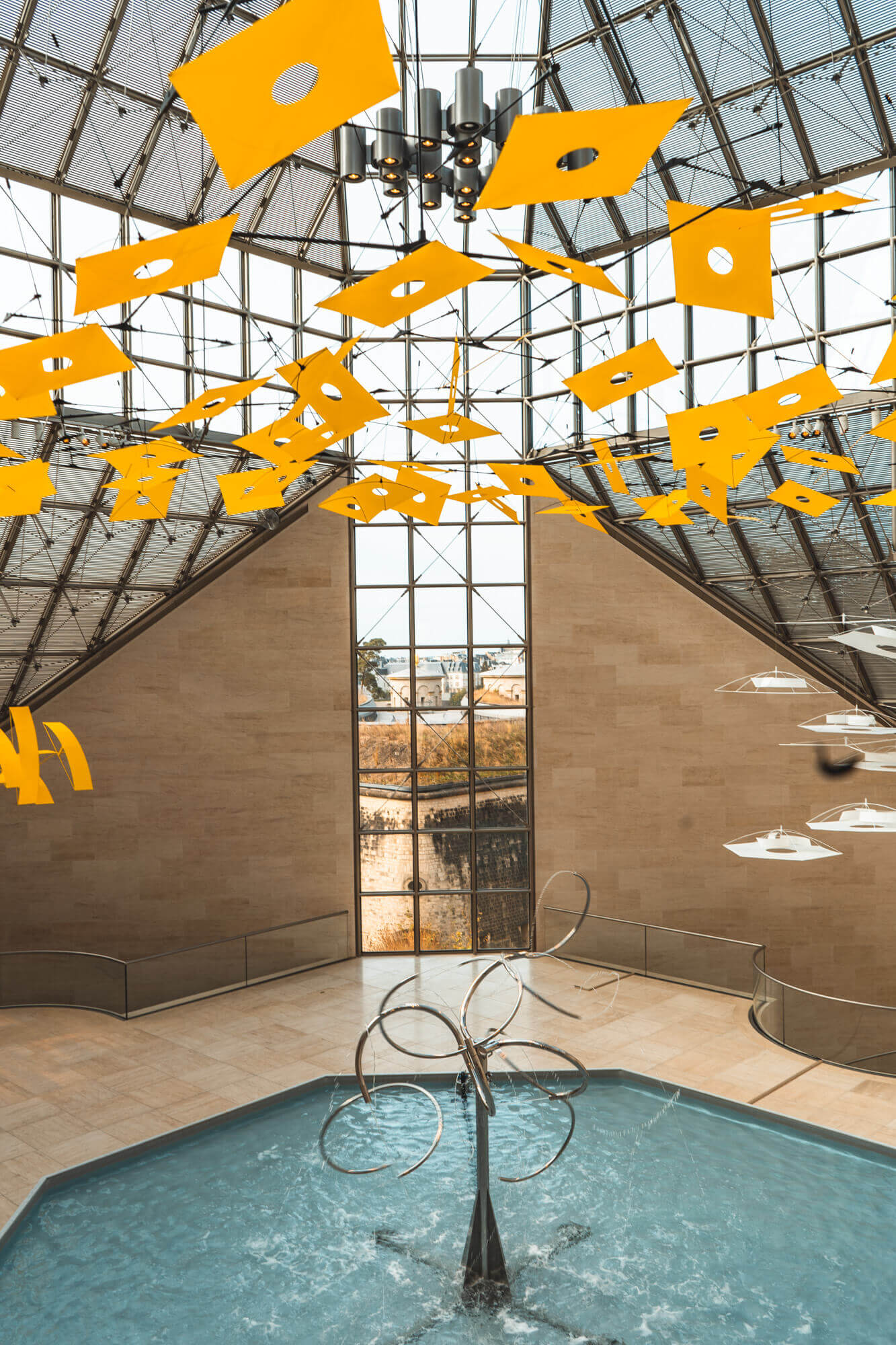 12. Visit an art gallery 15m underground
If you're curious to see some contemporary art from local artists, then take your search underground… literally.
The Contemporary Art Gallery "am Tunnel" houses mostly work from contemporary Luxembourgish artists, and offers a unique setting for cultural appreciation. It might even make you feel like a spy.
Address: 16, rue Zithe
---
---
Foodie Things to do in Luxembourg City
If you know me at all, it should come as no surprise that I think the food in Luxembourg is well worth a mention. After all, sitting at the crossroads of culinary heavyweights means Luxembourg has acquired quite the gastronomic flair. Think the heartiness of German cuisine, the elegance of French cuisine and the… EXPLOSION OF CHOCOLATE DELIGHTS from sweet, sweet Belgium.
On that note, if you're wondering what to do in Luxembourg food-wise, here are a few musts for you:
13. Indulge your sweet tooth at the Chocolate House
The Chocolate House by Nathalie Bonn is a Luxembourg institution, dishing out the sweetest of treats and chocolate so good, they've earned their way to global expansion in both China and Kuweit. Rest assured though, the location directly opposite the Grand Duchal Palace is the original, and is an absolutely adorable celebration of all things sweet.
Random fact: I happened to catch a sighting of Nathalie Bonn herself, enjoying a drink in the shop donning a darling pink ensemble. If I ever had any doubts about what a modern Willy Wonka might look like, I now know.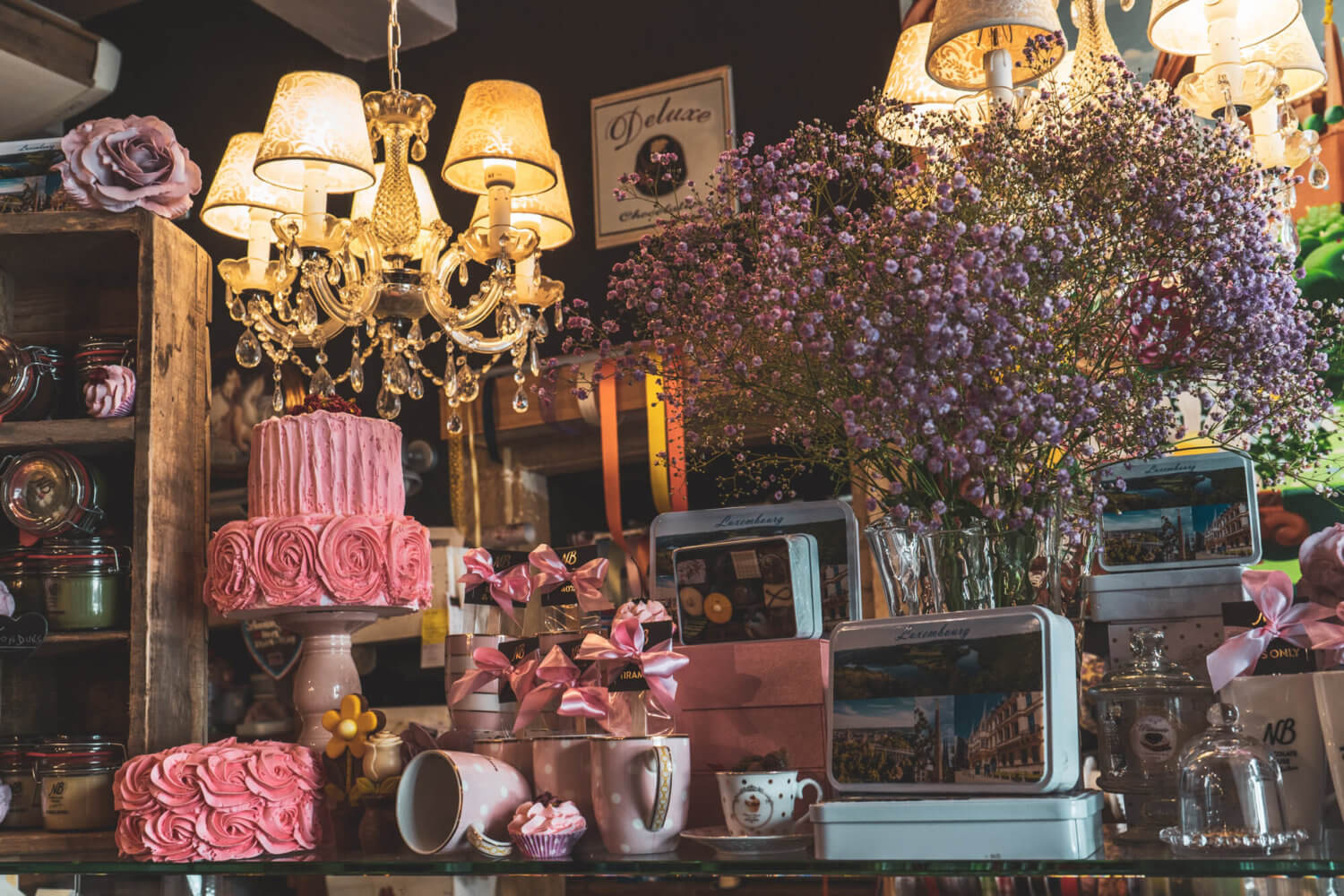 14. Sip on some bubbly Crémant
The French may be known for their champagne and Italians may be known for their prosecco, but the Luxembourgish have been nursing their own delicious little secret: Crémant, a deliciously addictive sparkling wine.
While I couldn't make it to the scenic Moselle Valley of Luxembourg myself (a dreamscape of wineries and rolling green hills), I nonetheless began most of my meals in Luxembourg with a little glass of this sweet fizzy treat, which spoiled me enough to demand a final Crémant on board my LuxAir flight, because I am apparently now an unstoppable diva.
15. Enjoy all you can eat brunch in a museum 
You heard me right: brunch, all you can eat, museum.
Ca(fé)sino is a small restaurant housed in the Casino Luxembourg Forum of Contemporary Art and offers all you can eat brunch on Saturdays and Sundays. If limitless food and a gorgeous setting sound like a winning recipe for you, then take advantage of this cool experience! It's a very small space though so reservations are a must. The buffet had a mix of savoury delights (like ratatouille, cannelloni, stir fry veggies, etc.) and desserts (cakes, cookies, pastries and more!) Mmm mm.
Address: 41, rue Notre-Dame
16. Dig into some seriously fancy pastries and treats
If there's one thing I quickly learned during my Luxembourg visit, it's that the Luxembourgish really know how to make (and enjoy) a gorgeous pastry. While gallivanting around the main shopping area, I found myself constantly drawn to the window displays of not the multitude of boutiques and shops, but the patisseries flaunting glossy pastries, colourful concoctions and the most tantalizing treats imaginable. Here are a few to keep an eye open for:
Oberweis | Address: 16 Grand-Rue
Pretty much the best-known patisserie in Luxembourg, with STUNNING creations that belong in a museum, but also belong in your mouth. They also have an airport location so you can fly your gluttony home.
Pâtisserie Hoffmann | Various locations around Luxembourg City. Click here for a list
A beautiful assortment of sweet and savoury treats, of course with an emphasis on French favourites like macarons, eclairs and more.
Clearly, eating is one of the best things to do in Luxembourg and while I didn't have enough time to adequately explore/eat my way through Luxembourg's restaurant scene, this awesome (and gorgeous) food guide from local blogger Anna Katina does a great job of summarizing the best eats in the city.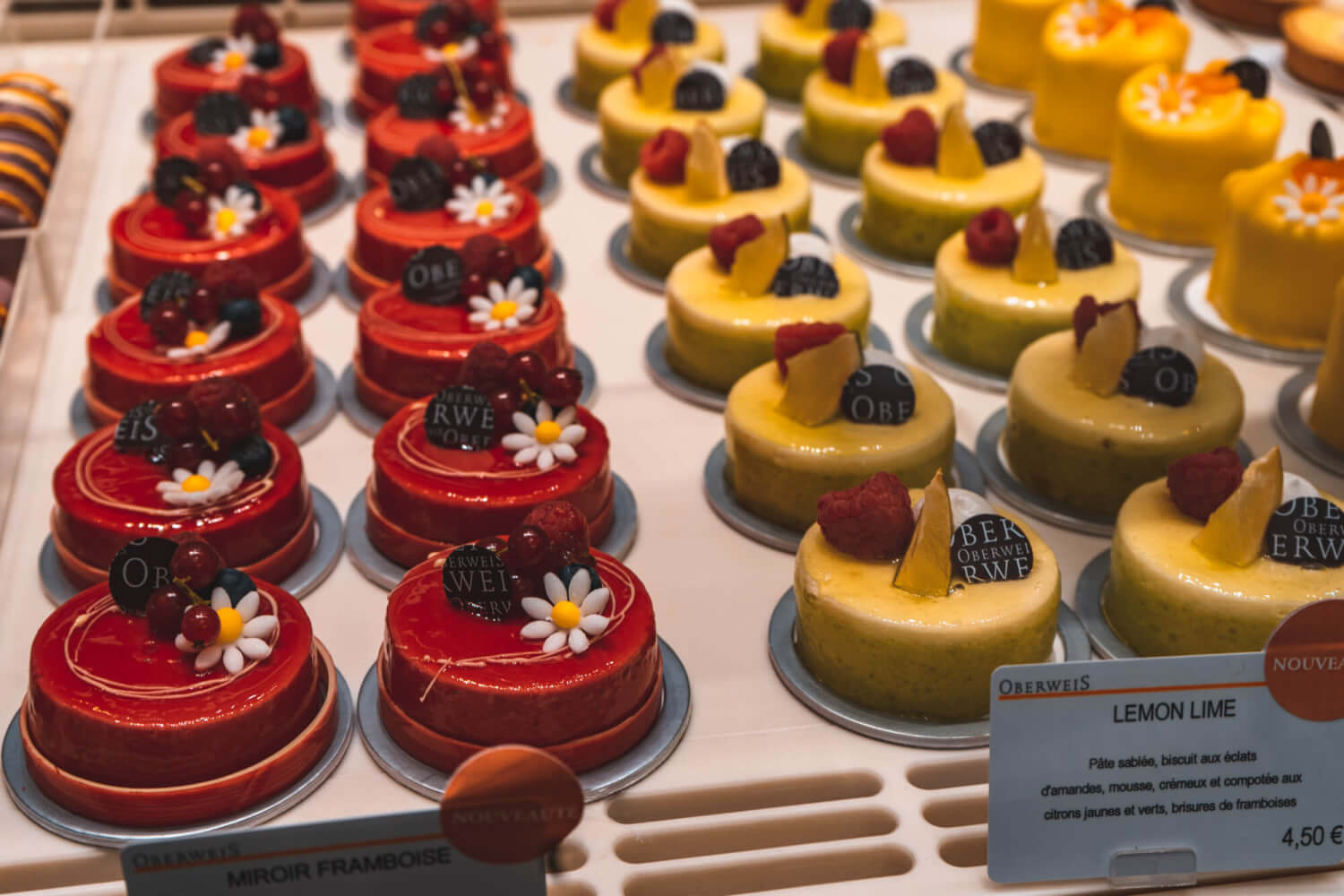 ---
---
Seasonal Things to do in Luxembourg City
As you can see, in Luxembourg City, things to do are abundant. BUT the city becomes extra special at particular times of the year thanks to a packed calendar of special events. Here are some seasonal celebrations to keep in mind for your Luxembourg visit:
17. Luxembourg City's Christmas Markets
Going from late November up until Christmas Eve, Luxembourg City's magical Christmas markets take over Place d'Armes, Place de la Constitution, and Place de Paris. I'm always up for an excuse to chug gluhwein, so definitely don't miss this if you're visiting Luxembourg City this winter!
18. The Festival of Light
A very cool event where artists decorate the city with all sorts of spectacular lights and audiovisual projections throughout the city center. This happened in December 2017 and the next round is lined up for March 2019. More info here.
19. Fete de la Musique
A free festival that happens in June as a celebration of music all throughout the country. Last year, 22 stages were set up across Luxembourg City (and considering how small the city is, that's a lot!)
20. Luxembourg's National Day
June 23 is Luxembourg's National Day and it's no surprise that the whole city becomes a street party for the occasion, with music, free concerts, DJs, food, dance parties and of course, fireworks. More info here.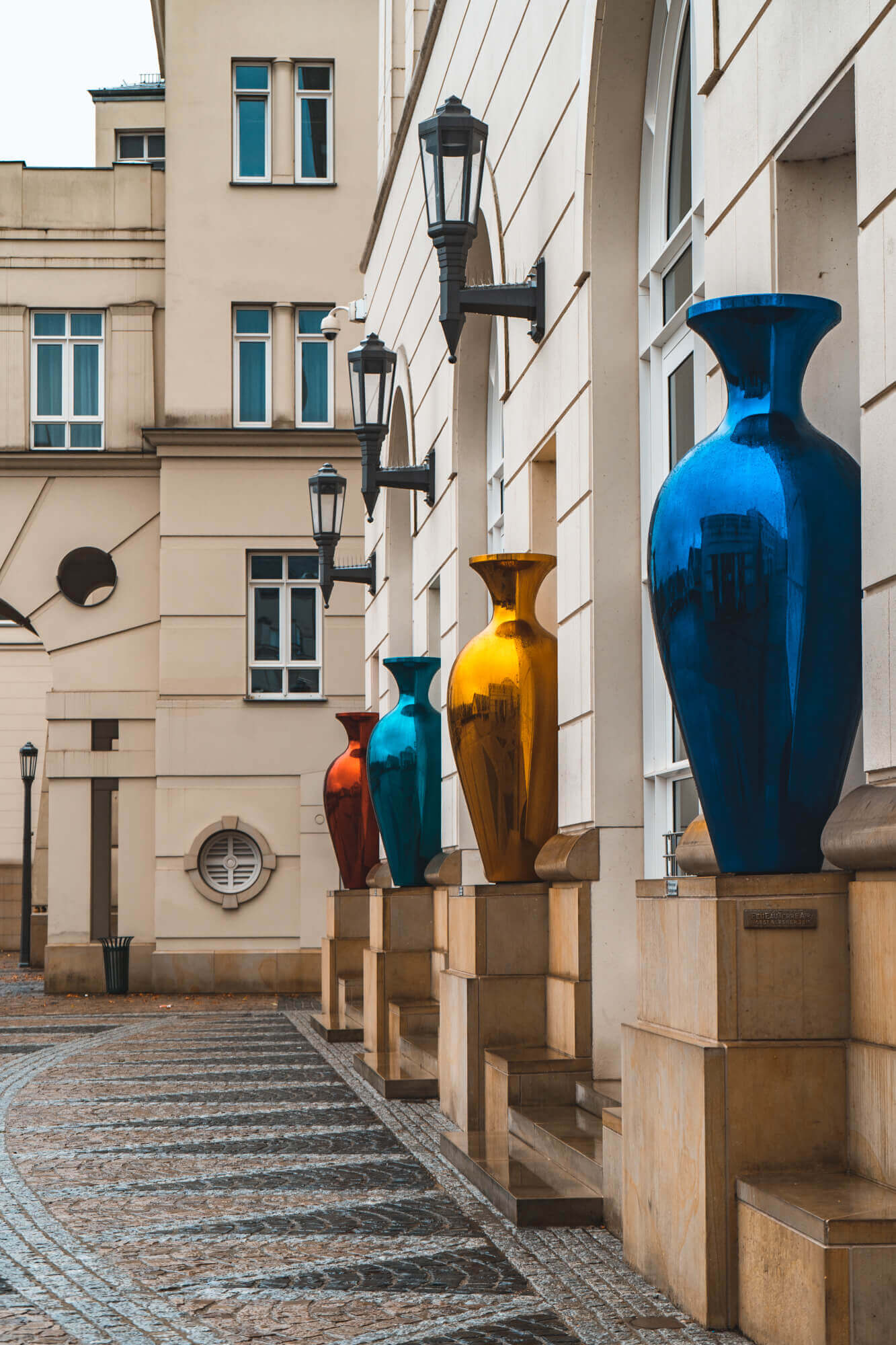 ---
---
Day Trips from Luxembourg City
If you find yourself in Luxembourg City with a little extra time to spare (a luxury I sadly didn't have), then consider a few of these different day trip options:
Hiking
While this post has focused on Luxembourg City, I should also mention that Luxembourg is a surprisingly green destination, with a third of the country covered in trees. What does this mean of course? Lots of opportunities for hiking!
Click here for a list of hikes around Luxembourg.
Castle-hunting
For such a tiny country, you might be surprised by the number of castles that Luxembourg has on offer. This is one the big regrets of my Luxembourg trip, that I didn't have time to explore some of these castles for myself! Sadly, I wanted to see as much in Luxembourg City as possible, so it'll have to be saved for next time.
If you share a love for castles as I do, I've heard great things about Vianden Castle, Luxembourg's most prototypical fairytale castle, and a deadringer for something you might spot in a Disney movie. For my next Luxembourg trip, Vianden is 100% at the top of the list.
Click here for a list of castles around Luxembourg
---
---
Have I missed any of your favourite things to do in Luxembourg City?
I hope you enjoyed this Luxembourg City travel guide! If you have any more Luxembourg city sights, attractions or must-eats that I missed, feel free to chime in in the comments. I know it was a hefty list, but the most satisfying part of Luxembourg City is that you can adequately cover its main sights in a day or two. Luxembourg City sights are clustered closely together, so I hope you can see as much as possible. Safe travels!
---
Watch my most popular YouTube video this week:
---