*FYI - this post may contain affiliate links, which means we earn a commission at no extra cost to you if you purchase from them. Also, as an Amazon Associate I earn from qualifying purchases. Check out our Privacy Policy and Disclosure. for more info.
On my recent solo train journey up to Terrace, BC, I found myself with exactly one day in Jasper between trains, and exactly zero vehicles to take me anywhere.
Which, as it turns out, is actually an issue in Jasper, because there is no public transportation at all.
So what is there to do in Jasper, BC… without a car?
Whether you're on a train stopover like me or just eager to stay in town for the day, here are all your options based on plenty of agonizing research. My fellow vehicularly-challenged folk, this post is for you!
A Brief Introduction to Jasper
While it might look like a typical tourist town, Jasper has held onto a little sense of community that makes the town feel less like a tourist trap than comparable mountain towns.
Walk two streets over from the main drag of Connaught Drive for instance and you'll find houses, schools, activity centres and the local library.
Go for a walk at sunset and you'll see runners out for a jog, and families out for a walk or bike ride.
Jasper may be a tourist friendly town, but it's a place that locals love and enjoy too, which is exactly what makes it so special. All that said, it's more than worth exploring for a day or two.
So, back to business. What activities can you enjoy in Jasper without a car? Here are some ideas.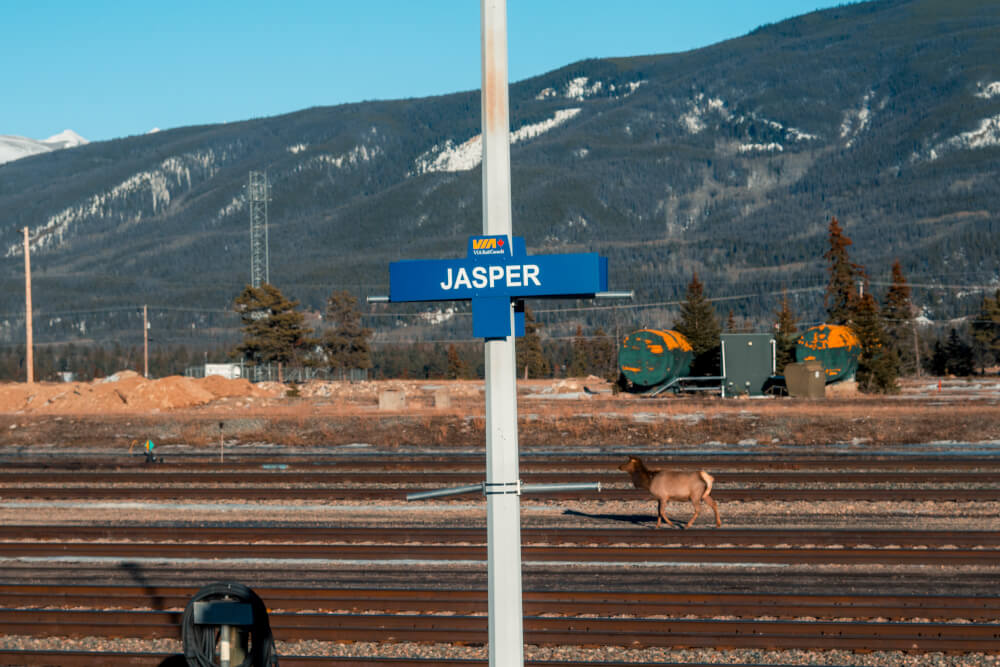 1. Book a day tour out
First, let's get this out of the way: if you're looking for things to do in Jasper without a car, know that there are still plenty of options if you want to get out of town and explore some of Japer's amazing surrounding nature!
In fact, one of the easiest and most stress-free ways to explore Jasper National Park is through booking a guided tour. Luckily, there are plenty that leave from town and do hotel pick-up, meaning even car-less heathens like you and me can enjoy the natural wonders of Jasper.
Here are some options: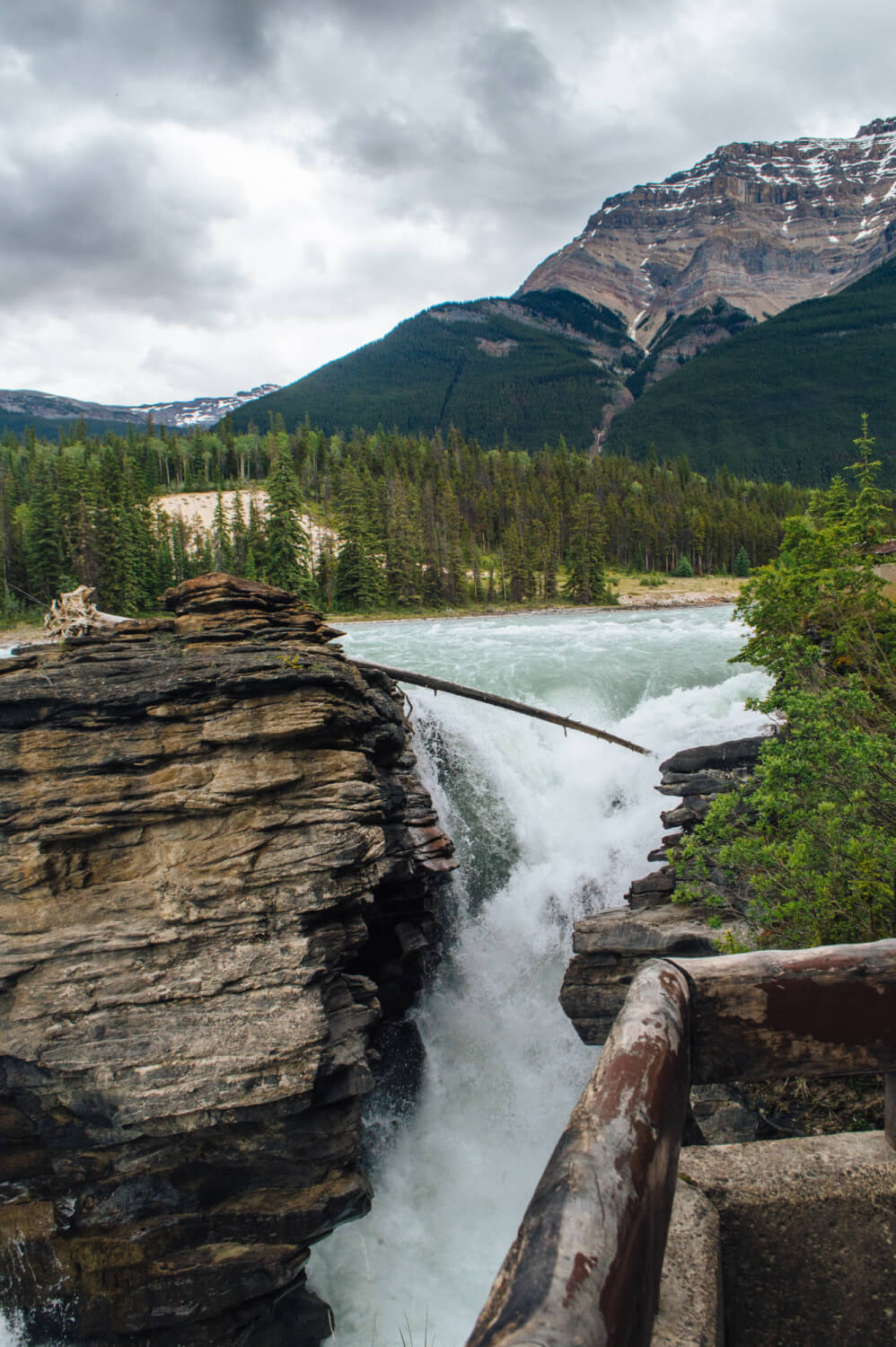 2. Explore the streets of Downtown Jasper and admire the cute heritage buildings
Jasper is tiny. During my short stay, I probably walked the entire thing 5 times.
While it has all the features of a typical tourist town (souvenir shops, candy parlours, and restaurants galore), one standout to me was the architecture – with many beautiful historic buildings blending seamlessly with the snow-capped rocky backdrops of the surrounding mountains.
So, if you're looking for an easy thing to do in Jasper without a car, I'd suggest you go for a walk to see some of the town's most unique architectural features!
A few noteworthy ones include…
Jasper Park Information Centre: Constructed around 1914, this rustic building is very unique. None of the windows or doors are the same, and the different peaks on the roof were meant to remind a visitor of the surrounding mountains. This style became a template for further architecture in Jasper.
Jasper Fire Hall: Another building that favours a rustic style, the Jasper Fire Hall (pictured below) is also an example of Queen Anne Style with Tudor Revival detailing. I especially love the tower.
The Former Canadian National Railway Station: Similarly to the information centre, the former Canadian National Railway Station in Jasper features irregular roofing to imitate mountain peaks.
Jasper Post Office: This building is the only Alberta Heritage structure to reference the monarch of the time, King George VI, who even inaugurated the building himself in 1939!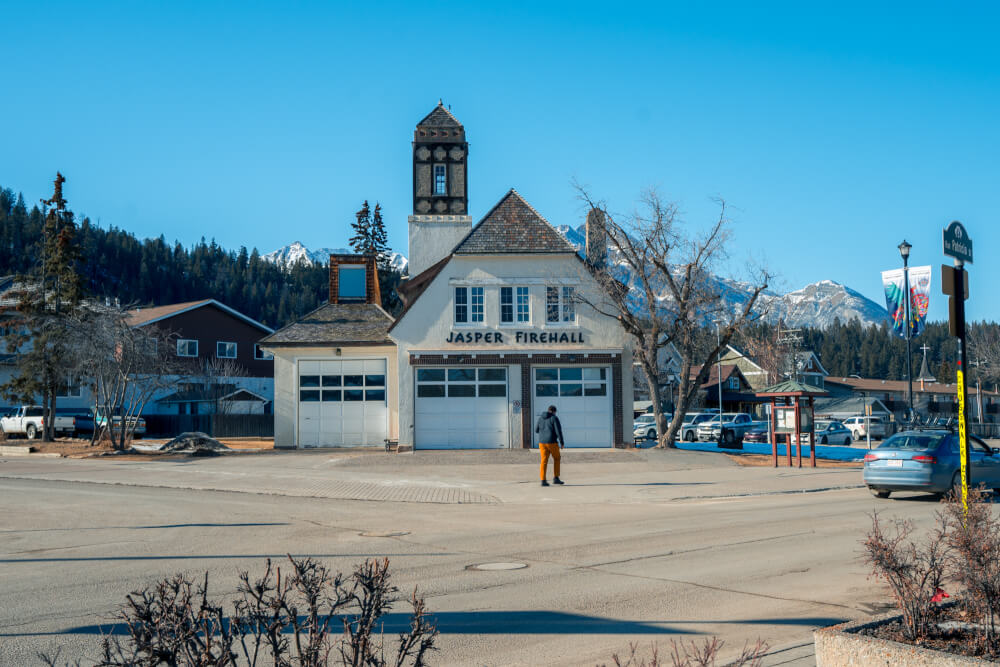 3. Have a beer at the first brewery to open in a Canadian National Park
Jasper Brewing Co. was first opened in 2005, becoming Canada's first National Park Brewery.
The three founders of this brewery are Jasper locals, born and raised in the mountain town. They wanted to create a local brewpub that was all about community, and in that, they succeeded!
At the brewpub you can try some of the signature beers that are brewed on-site, have a meal and watch some sports. My favourite beer is definitely the 'honey' beer Jasper the Bear, named after the town mascot. The restaurant here also serves up some excellent poutine, if you are interested in trying that most Canadian of delicacies.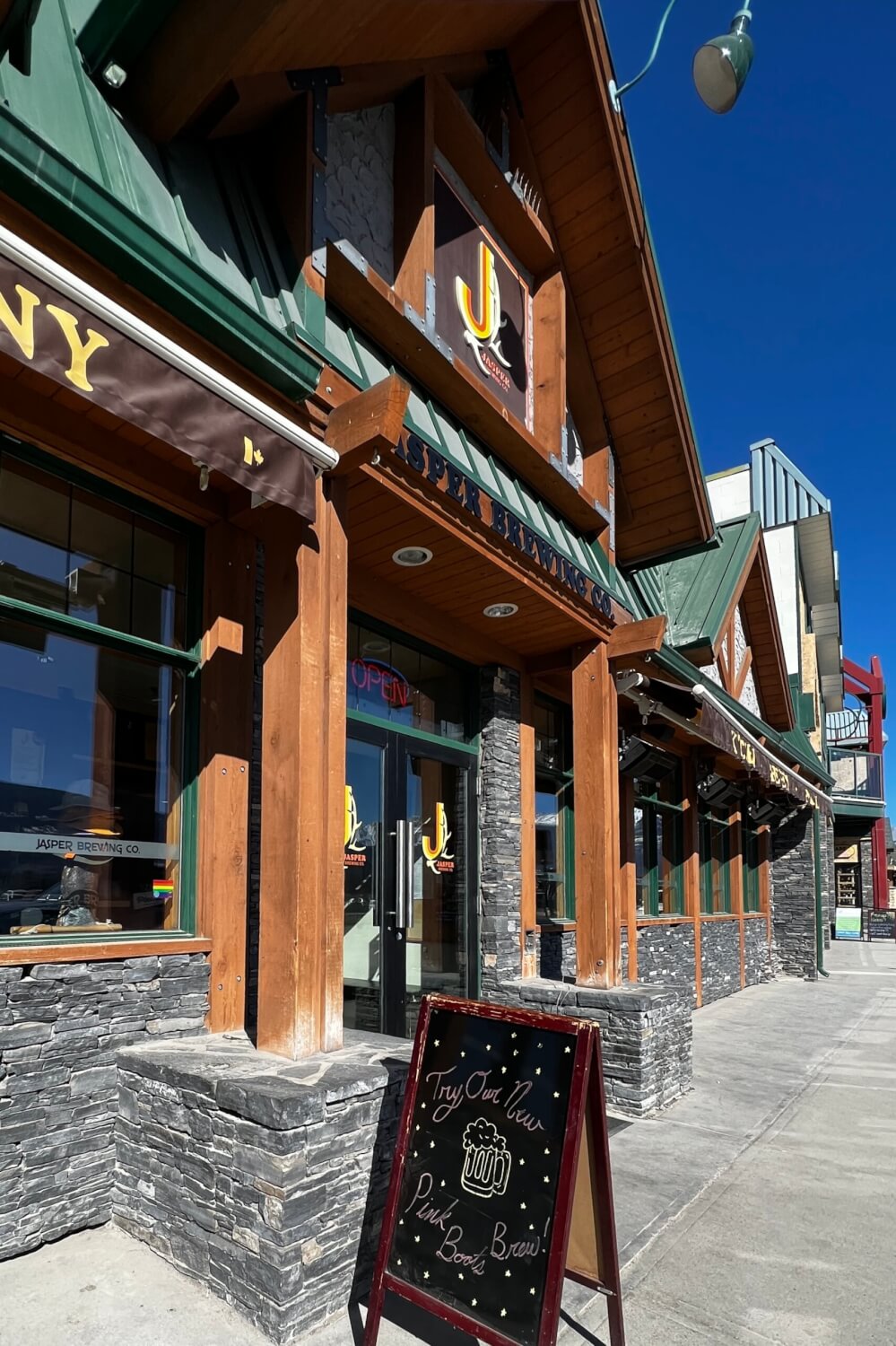 4. Admire murals in town
One of the most colourful highlights of Jasper's main town is its abundance of murals created by local artists.
While you'll easily discover most of them while exploring, here is a post that highlights each mural, along with its significance and location.
Searching out each one will also help you find other interesting spots to check out as you go!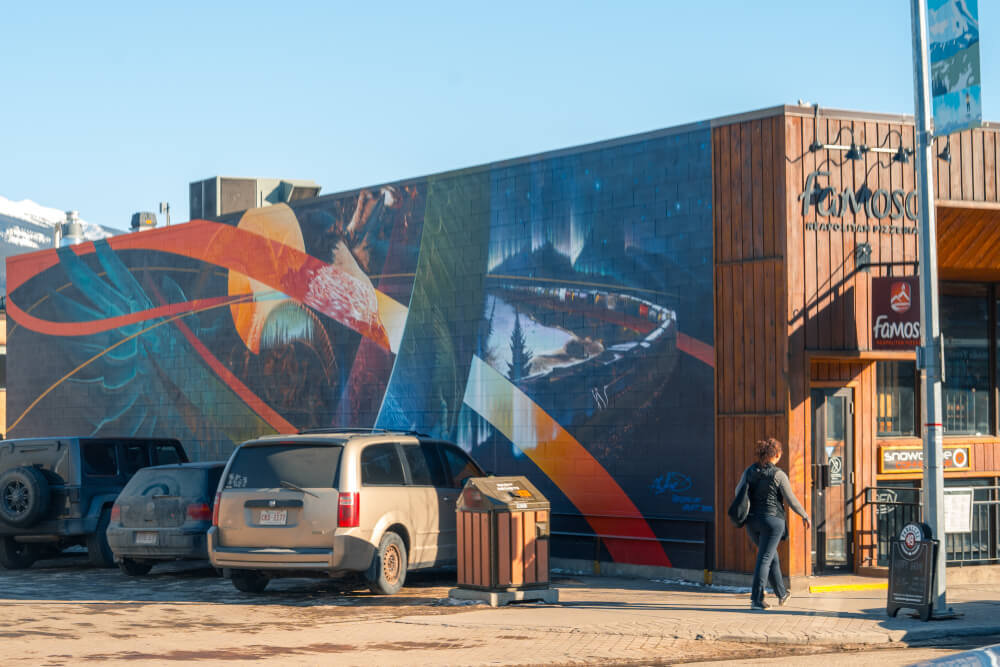 5. Say hi to Jasper the Bear
Jasper the Bear is the official town mascot of Jasper and you're likely to see him all over the place while visiting.
The character was created by cartoonist James Simkins and originally appeared in cartoons in Maclean's Magazine, starting in 1948. Jasper the Bear cartoons taught readers about the importance of protecting Canada's flora and fauna. In 1962 the character was adopted by Jasper National Park and a statue was placed in the town.
The original statue can now be found at the top of the Skytram and there is a replica on Connaught Drive, north of the Jasper Information Centre. Keep an eye out for other unofficial statues and pictures, like the one below which stands outside Baxter's souvenir shop, as well as the 'live' mascot out and about in town!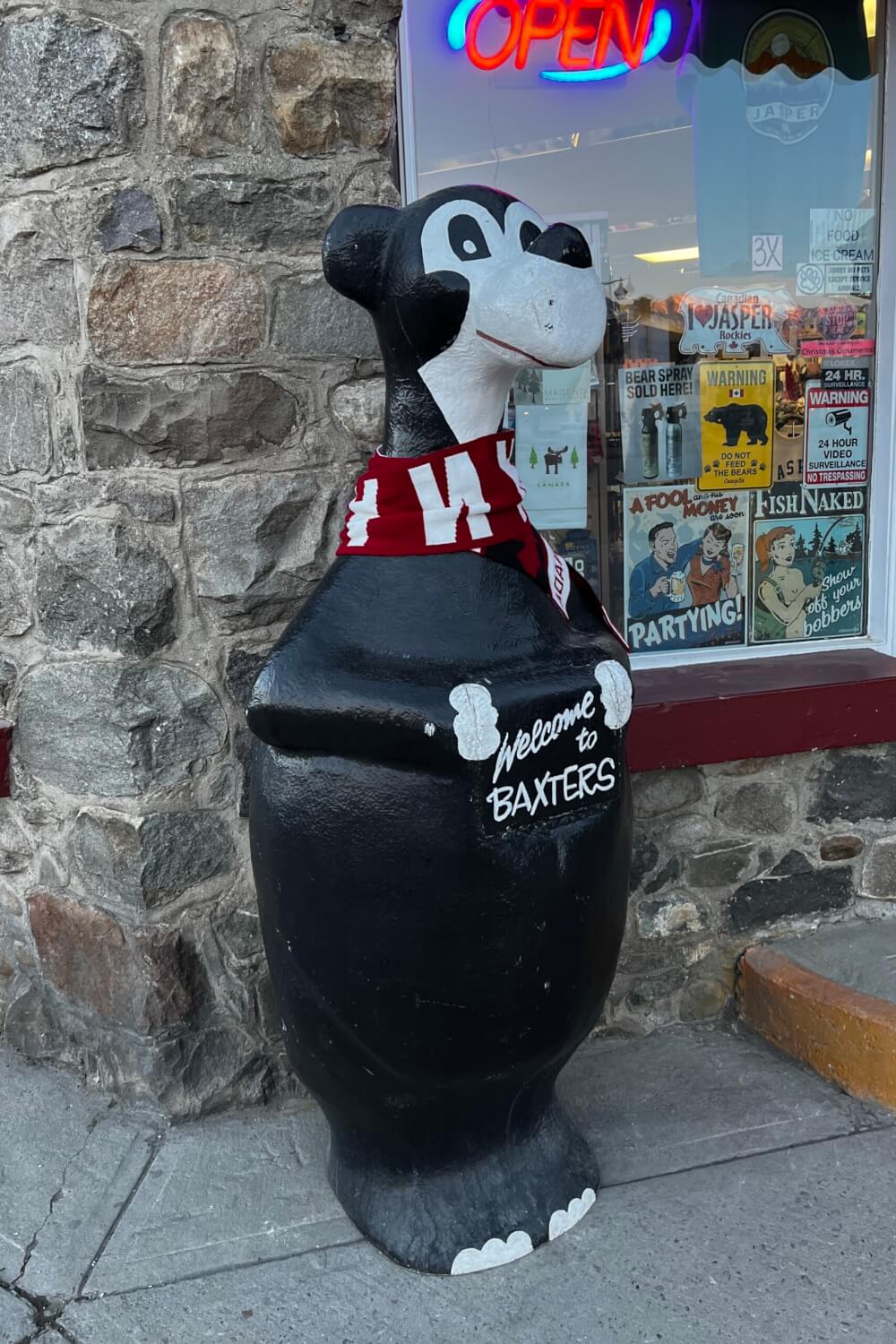 6. Check out the Two Brothers Totem Pole
There used to be a Raven Totem Pole in Jasper, but after nearly 100 years it was taken down and repatriated to Haida Gwaii. The new Two Brothers Totem Pole was raised in 2011 and has been standing there ever since.
The Two Brothers Totem Pole represents the story of a journey once made by two Haida brothers from Haida Gwaii on the B.C. coast to the Rocky Mountains. The totem pole is approximately 13.7 metres tall and is painted in traditional Haida colours of red, black and blue.
This newer totem pole was also carved by two brothers, Jaalen and Gwaai Edenshaw, which is quite fitting. It's definitely an unmissable photo opp while you're in Jasper!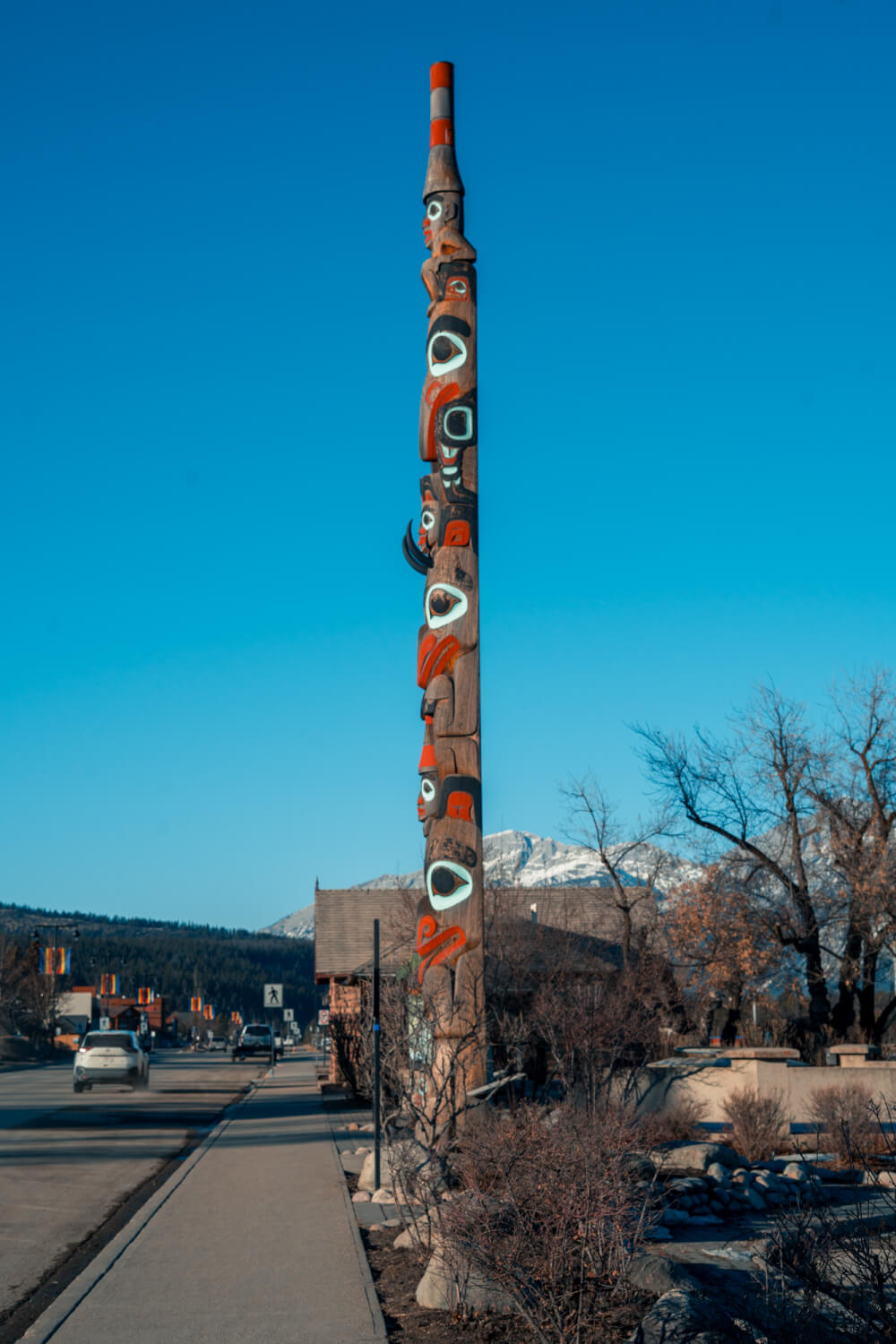 7. Go on a Jasper food tour
There aren't a ton of activities to do in 'downtown Jasper', but one of the best options (especially for foodies) is embarking on a local-led food tour.
This tour for instance takes visitors to four of the best restaurants in Jasper, where you get to enjoy local dishes and drink pairings, but it's also a great way to learn more about the town from a local guide.
Be prepared to finish up with both your mind and belly full of delicious treats and interesting facts!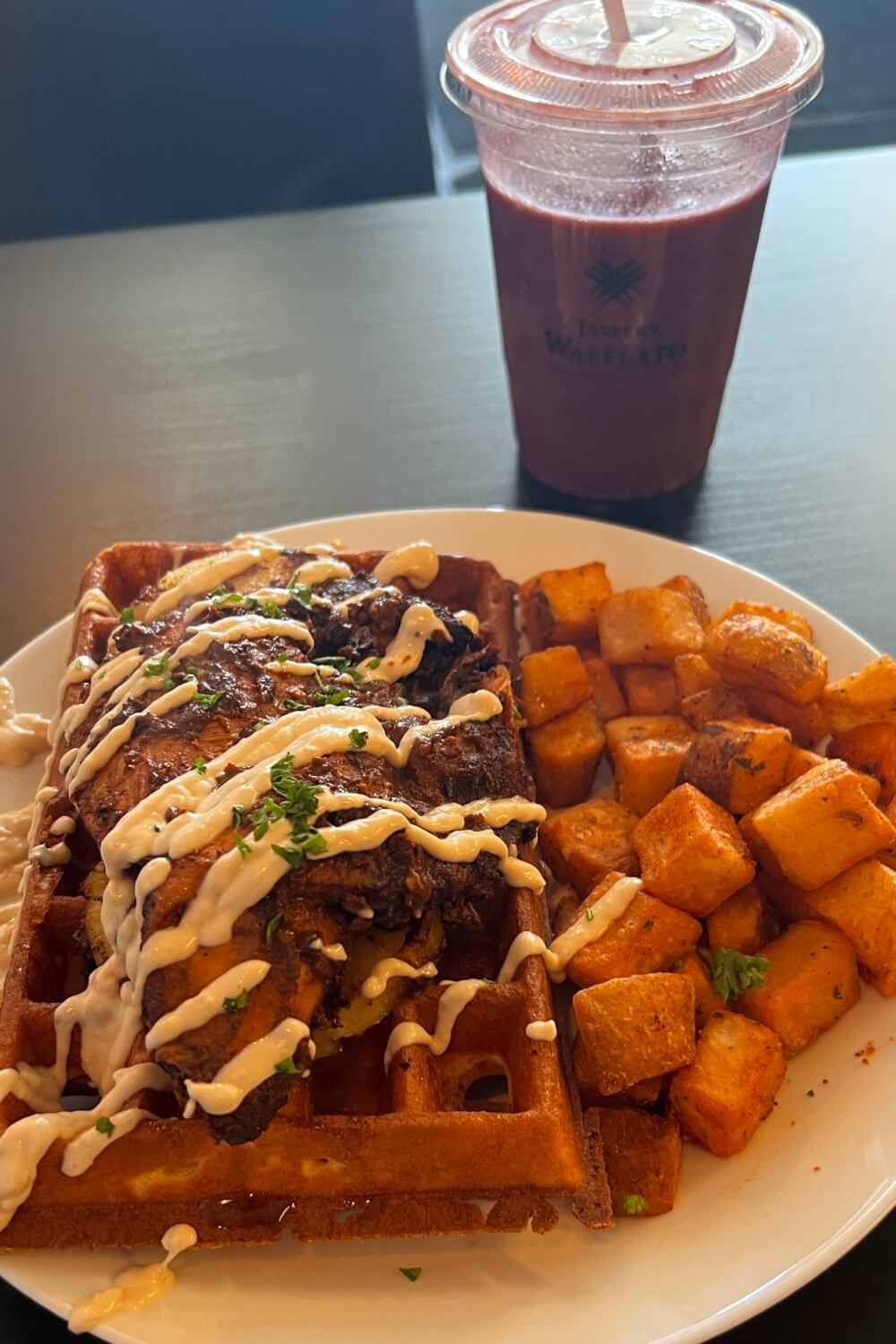 8. Do some shopping
Another fun thing to do in Jasper town is… shop.
There are a lot of shops in town for you to buy everything from outdoorsy gear to the most aggressively Canadian knick knacks you can find. Be sure to duck into a few of the souvenir shops (touristy as they seem), there are lots of fun gems to be found!
Many of the shops go hard with the bear theme, like Bearfoot in the Park and Candy Bears' Lair. If you like sweet treats then don't miss out on Candy Bears' Lair, which features another Jasper the Bear statue out front and all the delicious candy you could ever want inside.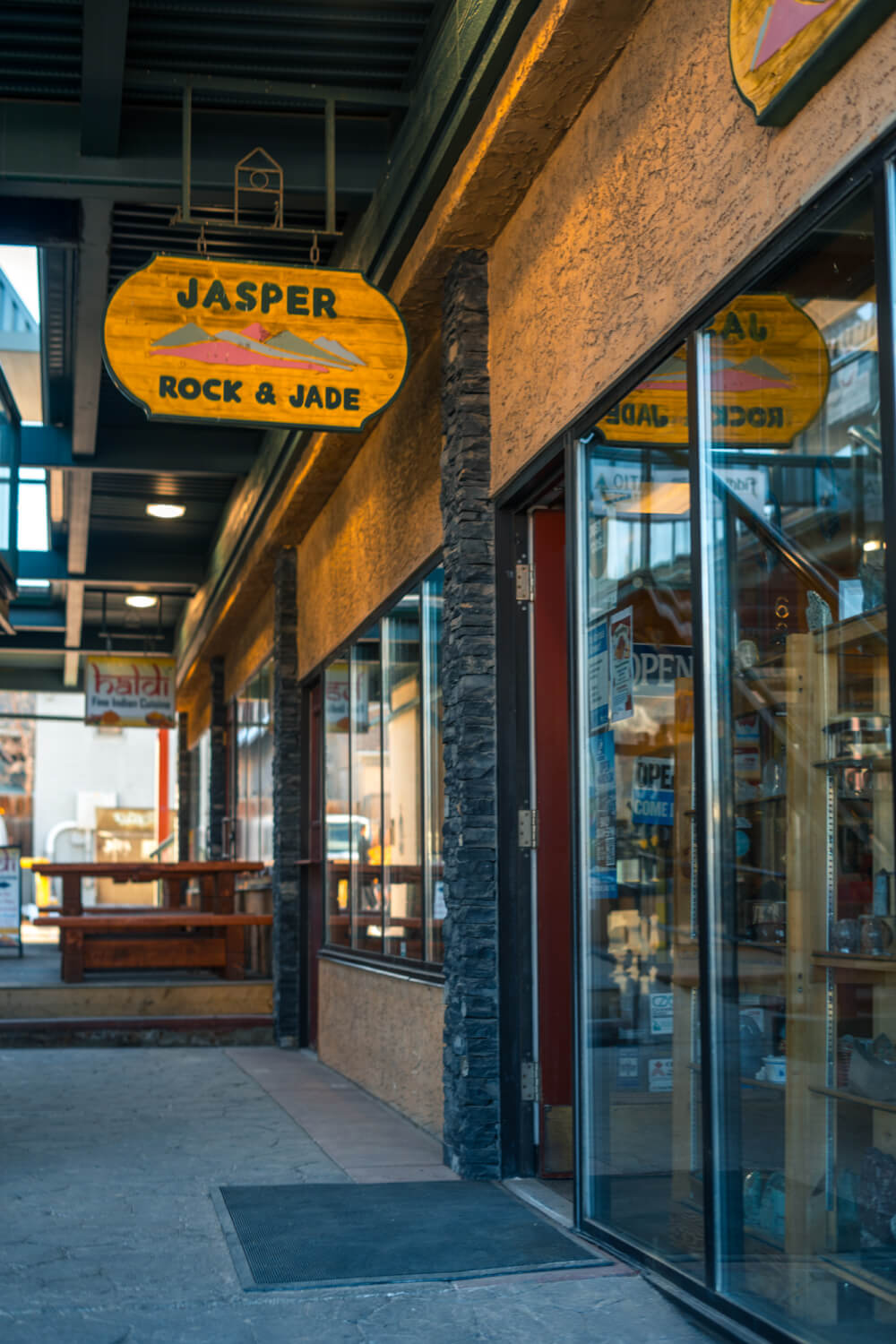 9. Go for a walk along the tracks
Jasper is a small town, so it's only a matter of time before you feel like you've seen the whole thing.
One of my favourite (more underrated) walks is going just along the train tracks towards the north side of town. Especially at sunset, the views of the mountains are absolutely amazing, and the path has several info-boards for you to read along the way.
NOTE: Just beware of local wildlife as you walk. The elk pictured here followed me the entire way which seemed cute until it started getting a little too close. Luckily, an incoming train blocked its path and I lived another day!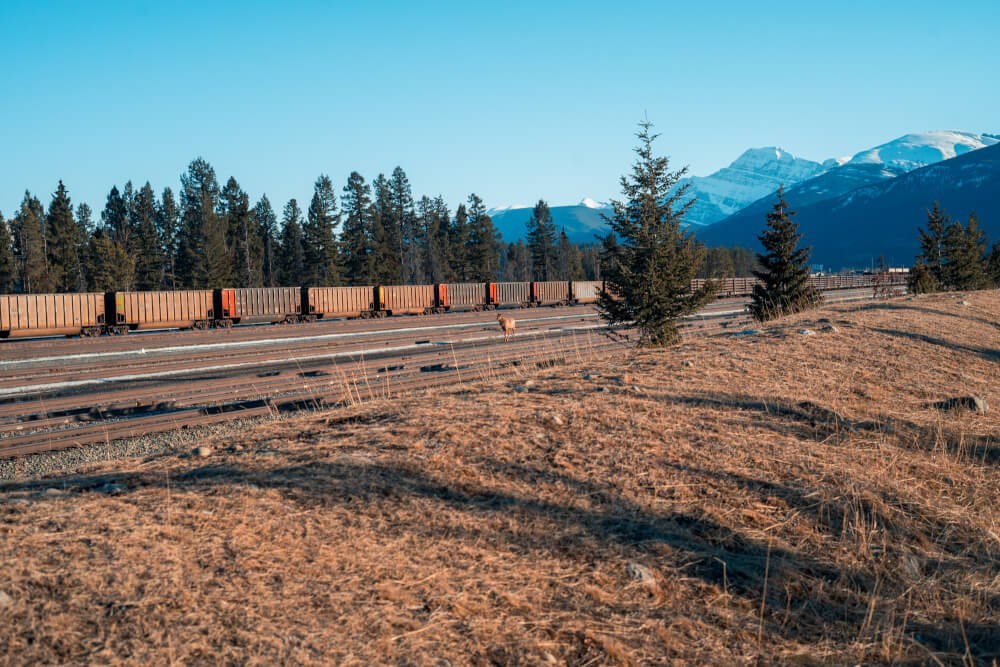 10. Take a bumble through the Welcome Garden
One of the cuter hidden gems of Jasper is its Welcome Garden, which I stumbled upon while going on that aforementioned walk along the tracks.
Originally established in May 2010, the Jasper Community Gardens (as they're also known) is an initiative of the Jasper Local Food Society.
This garden provides locals with a chance to grow their own food in a sustainable way and is open to the public if you wish to take a quick peek at what they're growing at the minute! A super cute reminder that Jasper really is still a vibrant local community in spite of all the surrounding tourism.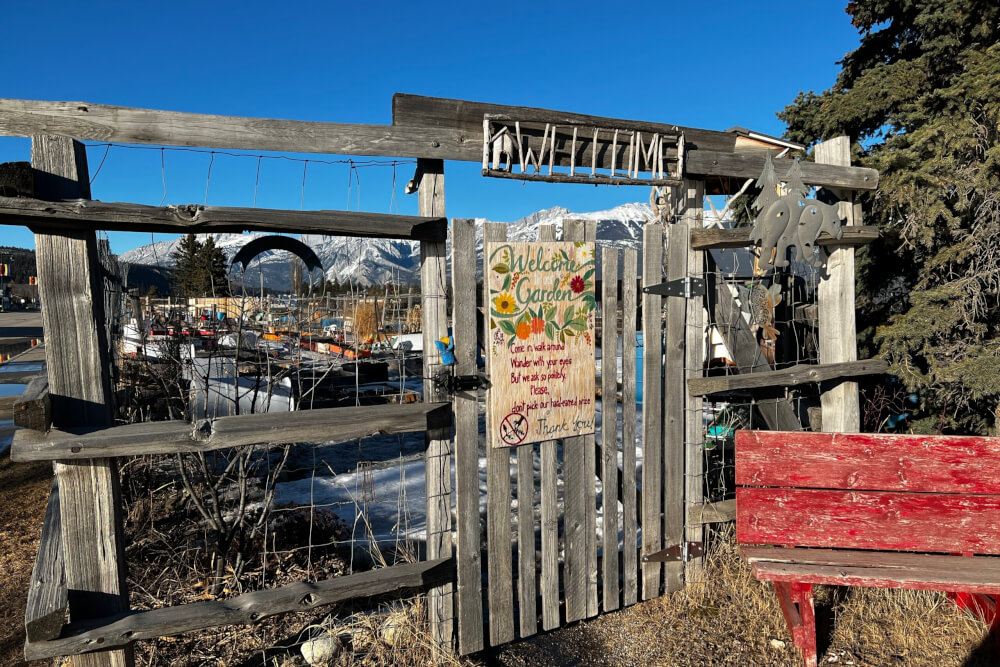 11. Grab a new book to read
Free libraries are becoming a big thing across Canada, and Jasper is no exception.
So, if you're in need of a new book, then why not go for a browse? Just be sure to leave one in there too for future readers.
While walking around town, I saw two of these free book exchanges, with this beautifully crafted one in front of Jasper Elementary School: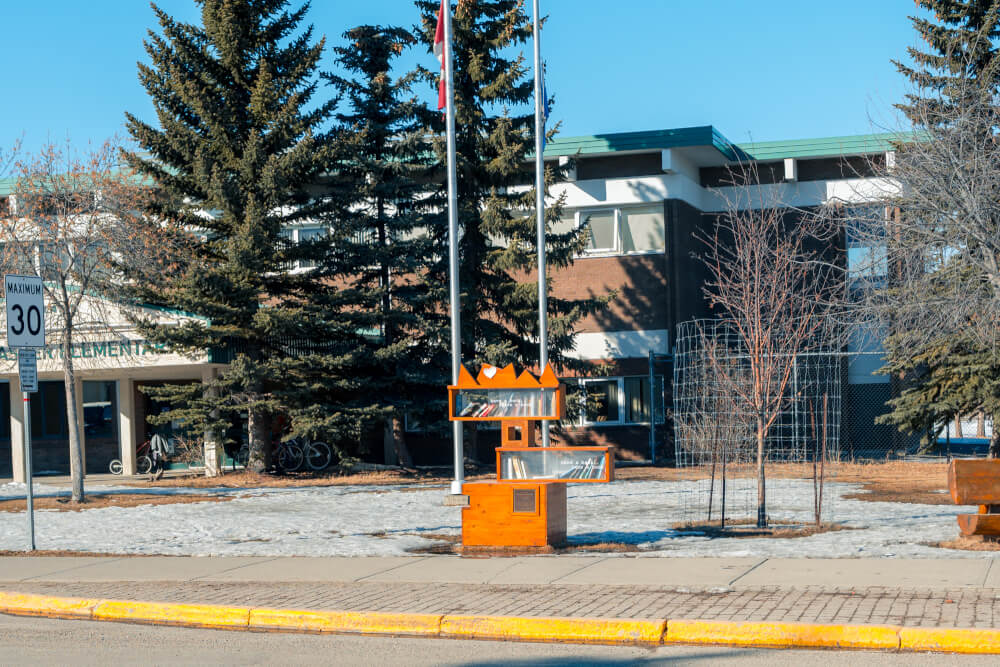 12. Book a fireside chat with Warrior Women
Warrior Women is an Indigenous and women owned business created by mother and daughter duo Matricia and Mackenzie Brown.
Together, they host a number of Indigenous cultural experiences, including the Fireside Chats where you can get to know the ladies while they also tell you about the local indigenous culture – through stories, drumming, and songs.
This is definitely one of the best ways to learn more about the first people of Jasper, especially since you can ask any questions you might have as you spend an evening sitting by the fire outside the Sawridge Hotel.
13. Visit the Jasper Park Information Center
Looking for additional guidance on car-free things to do in Jasper? I can highly recommend stopping by the Jasper Park Information Center.
I visited Jasper in the middle of March, in the awkward cusp of time before winter and spring, meaning not many of Jasper's usual activities were open to me.
I've done my best to include a variety of car-free Jasper activities in this post, but if you're interested in potential tours or activities, you should definitely have a chat with the (ultra friendly) staff inside the Information Center who may be able to help you with more season-appropriate activities.
… Plus the building itself is just kind of cute to see, and there's an Indigenous Exhibit out on the front (that should be finished soon, although it appeared to be under construction during my visit).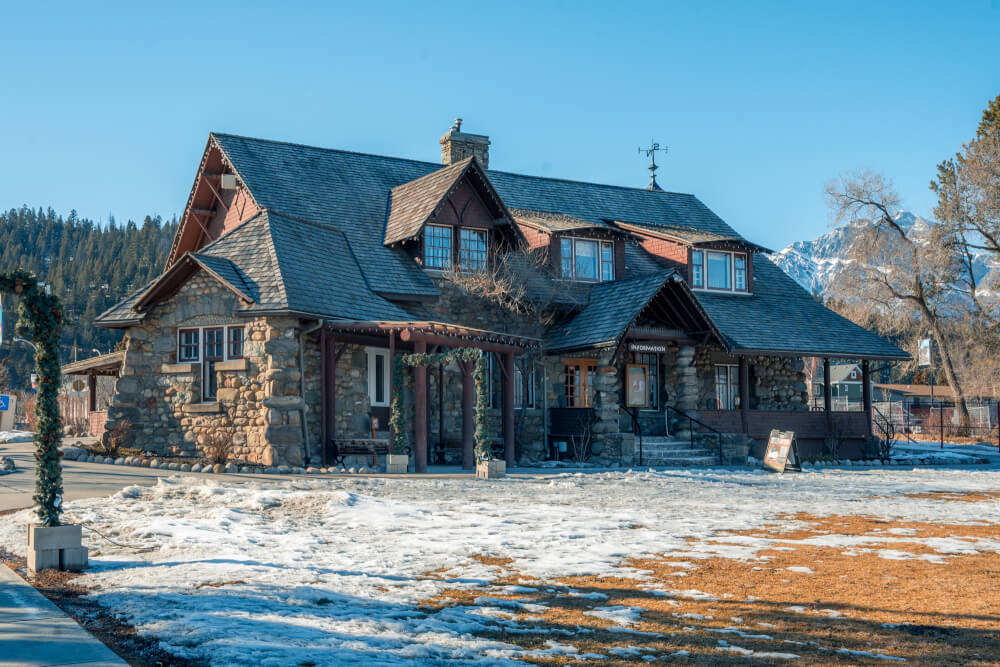 14. Explore the nearby trails on foot
While Jasper National Park is known as a hiking and nature wonderland, accessing most of the top trails does require a car.
But – not all hope is lost!
There are a few notable and worthwhile walks departing from the town centre, including…
Jasper Discovery Trail: This trail is actually split into three sections and helps visitors explore the town of Jasper. If you do the entire thing it covers 8.3km with signs, maps, markers and kiosks along the way.
Red Squirrel Trail: This short and sweet hike will take you to and from the historic Old Fort Point, with parts of it running next to the beautiful Athabasca River.
Bighorn Alley Trail: This trail takes visitors on a 1-2 hour hike to the Annette and Edith Lakes. Find out more info on the local Jasper hikes here.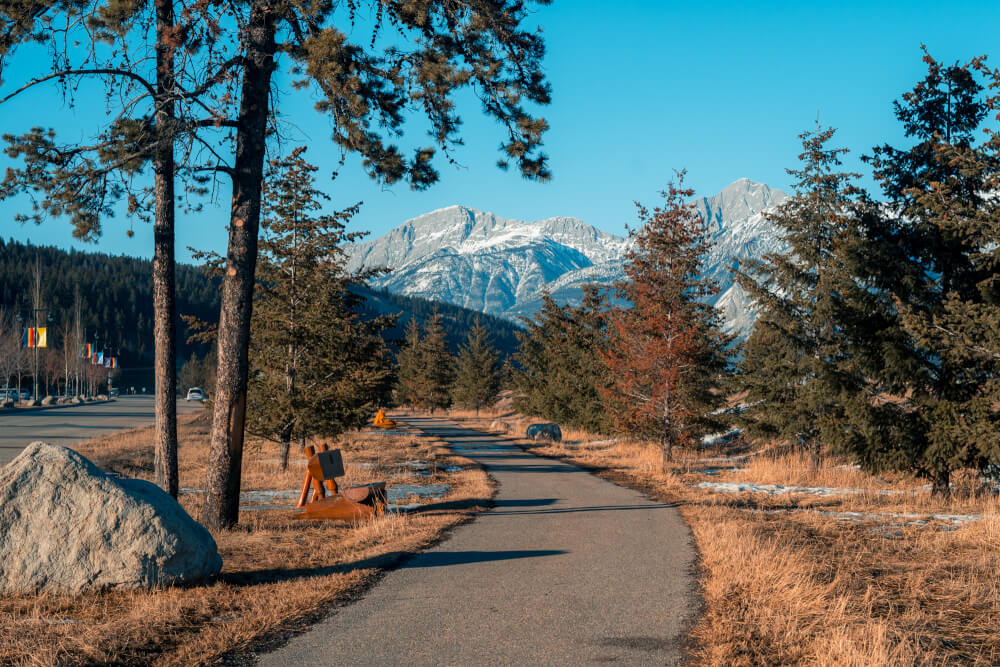 15. Or rent a bike to explore the trails
If you'd prefer to glide effortlessly through the trails near Jasper, then another excellent option is renting a bike.
The Bench Bike Shop offers a variety of affordable bike rentals right in town, giving you plenty of freedom and mobility even without a car. They're open all year round and you can even rent a fat-tire bike if you want to attempt to ride in the snow!
Check out some suggested cycling itineraries in the area here and decide if you're up for a full-day epic adventure or something a little more leisurely.
16. Book a photography tour
Jasper National Park is hands down one of the most beautiful parts of Canada, so if you're a keen shutterbug and want to explore the park's epic landscapes with an emphasis on photography, then consider booking a photo tour on your visit.
Jasper Photo Tours offers several different experiences, ranging from an introduction to photography, experiences to help you capture better night photos or wildlife photos and even a phone photography tour for those who don't like to travel with a massive camera!
The Chasing Waterfalls experience also looks magical, as you'll be taken to see some of the most spectacular nearby waterfalls, as well as getting help to take impressive photos of them.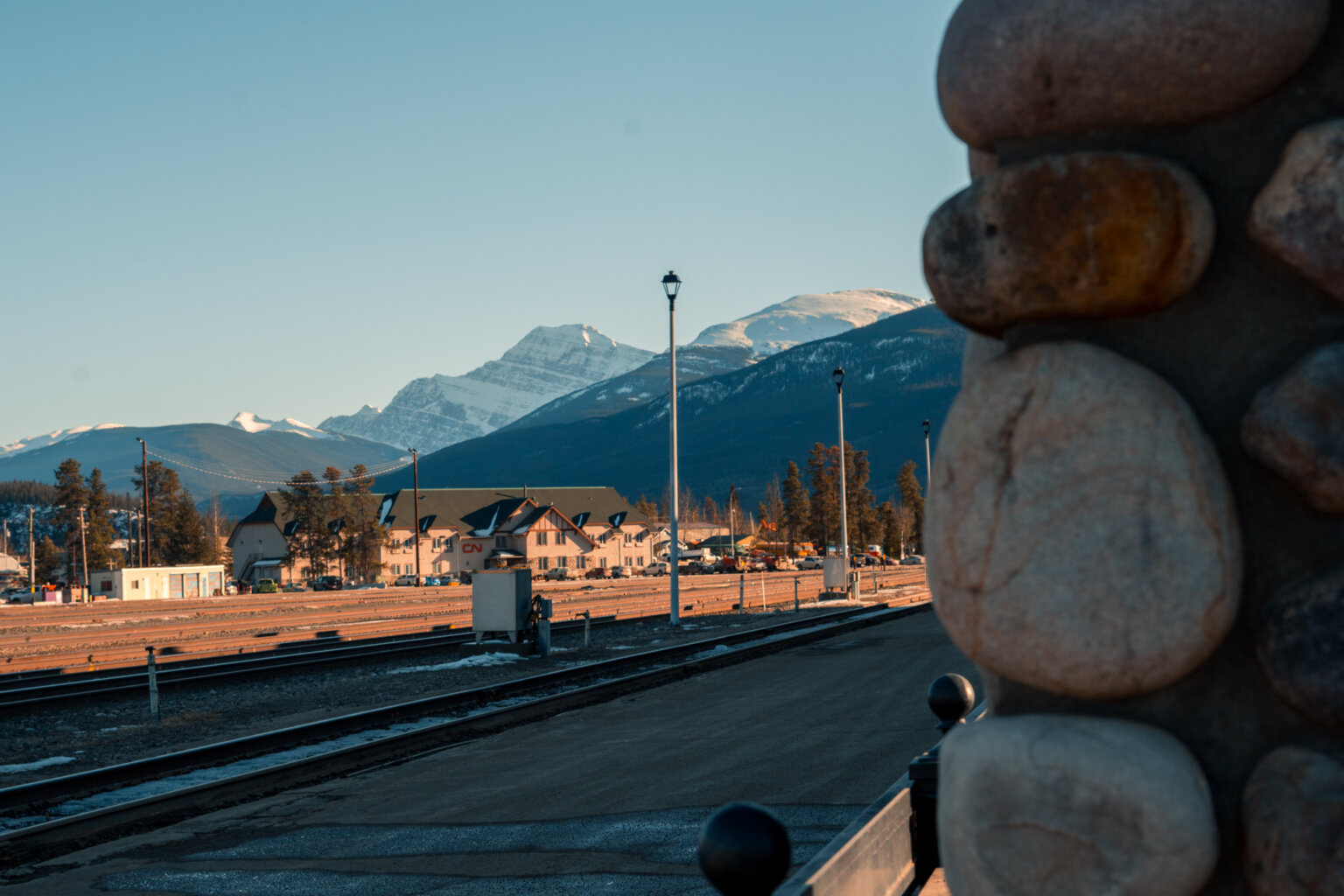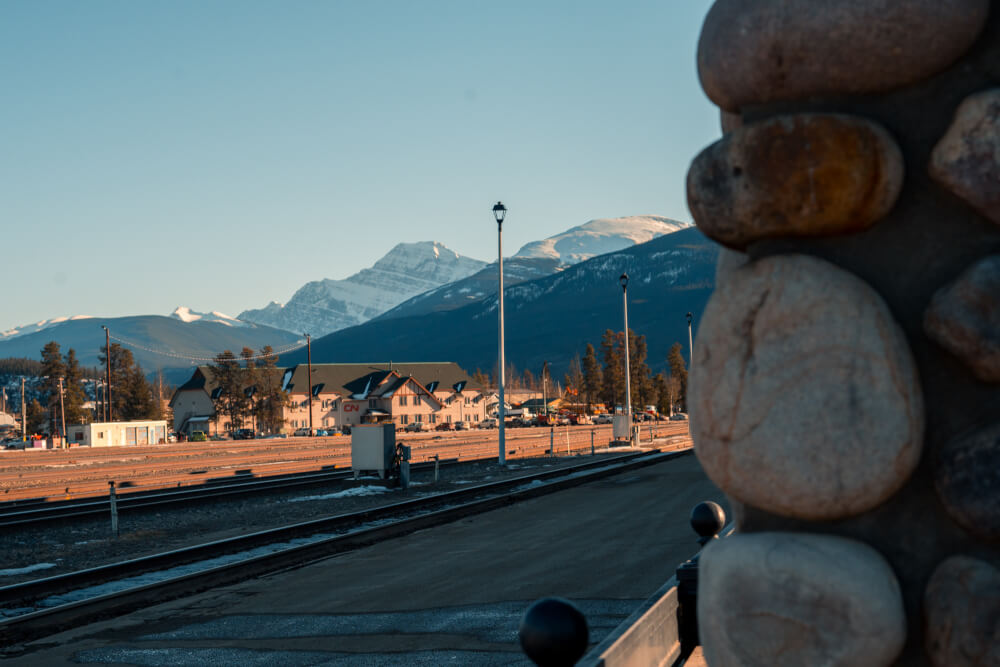 17. Hop on the Jasper Sky Tram
Looking to get 2000m above ground without breaking your legs hiking?
Well, from mid March to the end of October, one of the best things to do in Jasper is hopping on board the almighty Jasper Sky Tram, said to be the longest and highest aerial tramway that the Rockies have to offer.
The Jasper Sky Tram travels a height of 2,263 metres (7,425 ft) above sea level over 7.5 minutes, with stunning views of six mountain ranges, glacially fed lakes, rivers and the town of Jasper.
Once you reach the peak you can hike all the way to the summit of Whistlers Mountain, or just take some photos and maybe have a meal in the summit café as you gaze over the surroundings.
While most visitors will drive to the Sky Tram (typical!), Sun Dog Tours does offer a shuttle service that departs roughly once an hour. Learn more about that here.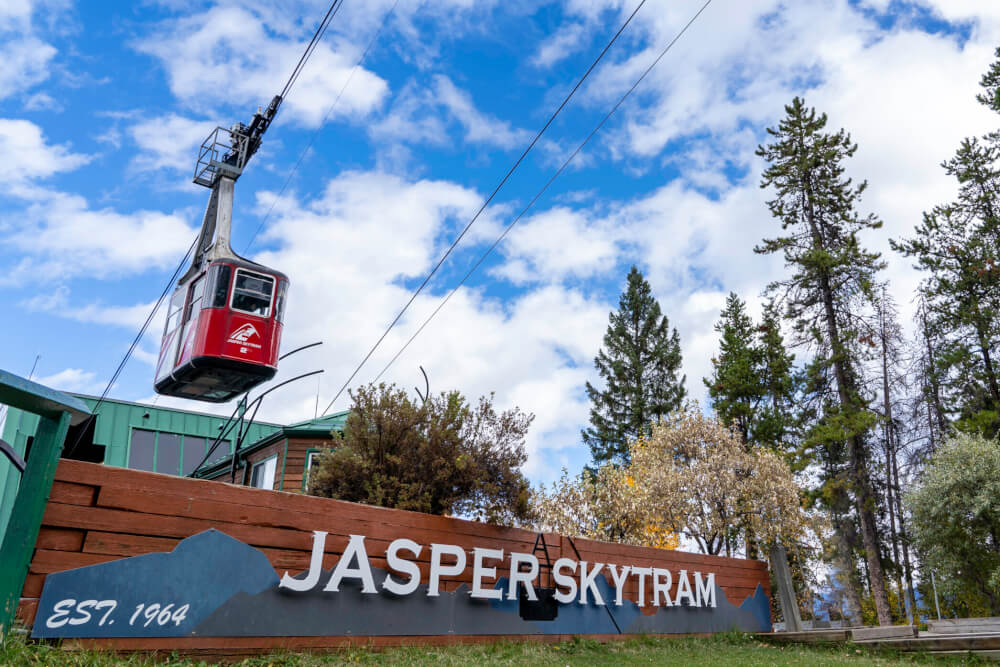 18. Visit the Jasper Yellowhead Museum and Archives
Located a short walk from Jasper's main drag (through a few residential streets), you'll find Jasper's only museum dedicated to local history, spanning from the area's early days as home to Indigenous and Métis communities, all the way to the days of early tourism.
Highlights of this collection include relics from early explorers and information about the indigenous people of the area. There are usually a variety of temporary exhibitions showcasing local artisans and photographers, as well as travelling historical exhibits.
NOTE: Unfortunately, due to their limited winter hours, this museum was closed during my visit, but they did still have a few interesting displays outside that I got to admire.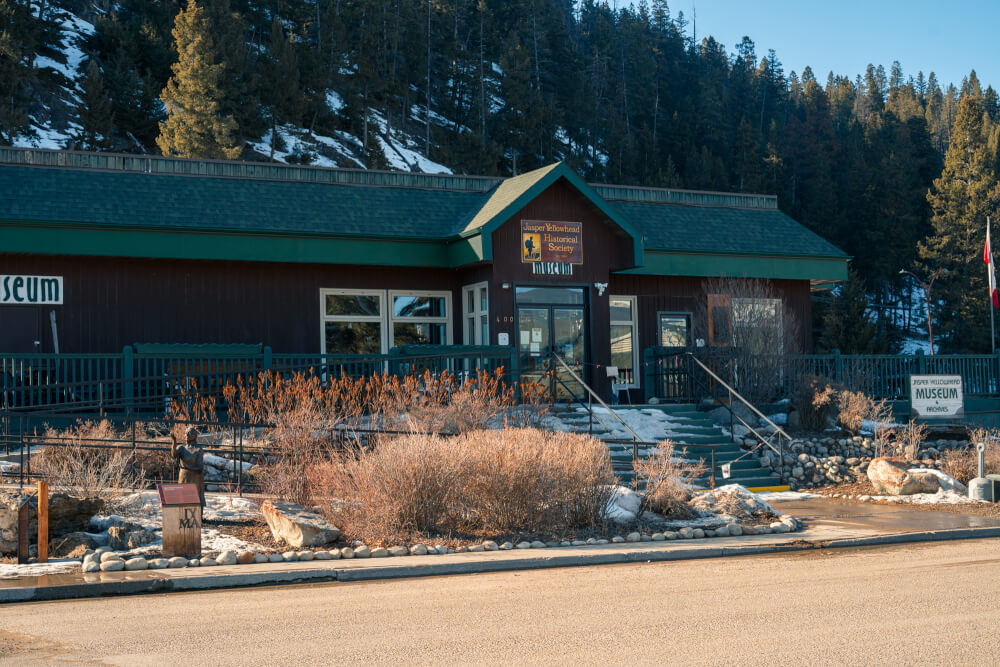 19. Have a spa day
Looking for things to do in Jasper when the weather isn't cooperating? Listen – you really don't need an excuse to pamper yourself a bit during your trip.
For a luxurious spa experience, the Fairmont Jasper Park Lodge offers a variety of treatments with a scenic location along Lac Beauvert. There's a holistic fitness centre, an outdoor heated pool and a lakeside hot tub, as well as a whole menu of treatments to choose from. Start off with a steam in the Eucalyptus-infused steam room and dry sauna, then relax and be pampered!
NOTE: This hotel isn't located in Jasper town proper, so it'll either require a short taxi to get there or a 45-ish minute flat hike.
Or if you're just looking for a quick relaxation break, Jasper Wellness offers massage therapy in-town as well.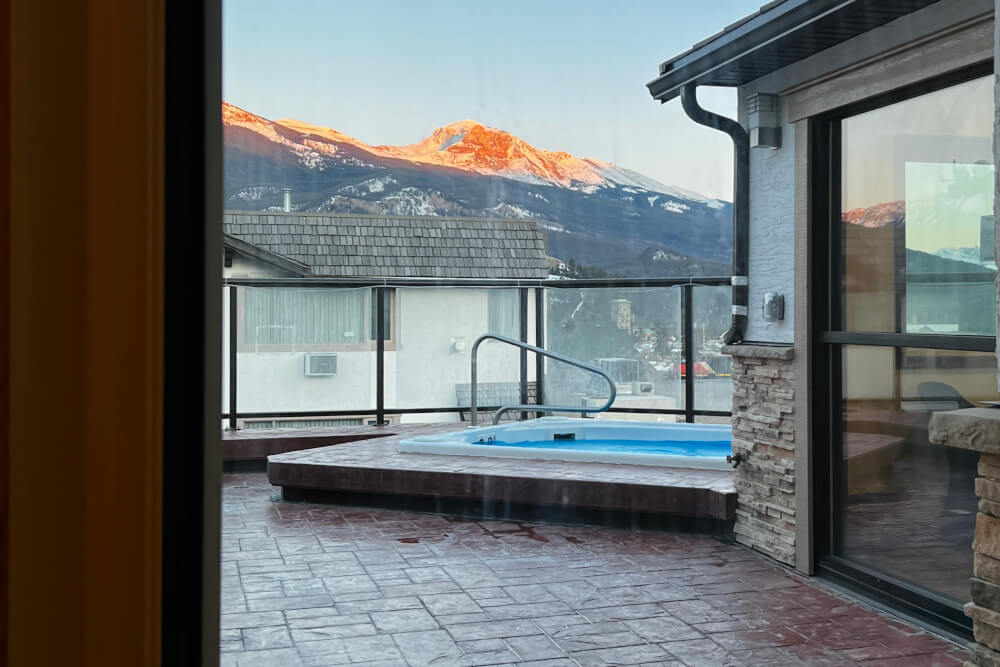 20. Visit the Jasper Planetarium
Another fun thing to do in Jasper (especially with kids) is a visit to the Jasper Planetarium, which is located inside the grounds of the Fairmont Jasper Park Lodge.
Guests will get to enjoy a unique planetarium show inside the dome theatre, where a knowledgeable local guide will introduce the wonders of the night sky, from Indigenous constellations to the Aurora Borealis.
After this fun and inspiring 'audience-participation' experience, you can also head outside to look at the stars with some of the largest and most powerful telescopes in the North American Rockies!
NOTE: This is another experience that's located slightly out of Jasper proper. As per their FAQ "On a first-come, first-served basis, visitors without access to transportation who wish to come to The Jasper Planetarium may take the Fairmont shuttle to our location at Fairmont Jasper Park Lodge (JPL) at no charge – please call the Fairmont at (780) 852-3301 to confirm if the shuttle is running when you wish to attend."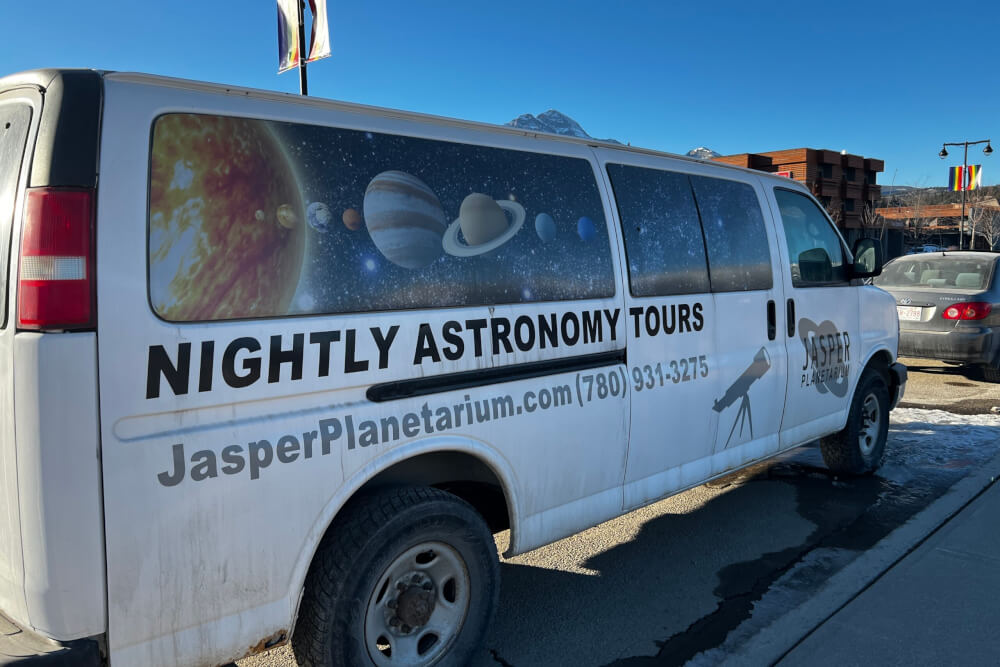 Did I Miss Any of Your Favourite Fun Things to Do in Jasper (Without a Car)?
Let me know in the comments so I can add more car-free Jasper activities to the list!
My Go-To Travel Favourites: