*FYI - this post may contain affiliate links, which means we earn a commission at no extra cost to you if you purchase from them. Also, as an Amazon Associate I earn from qualifying purchases. Check out our Privacy Policy and Disclosure. for more info.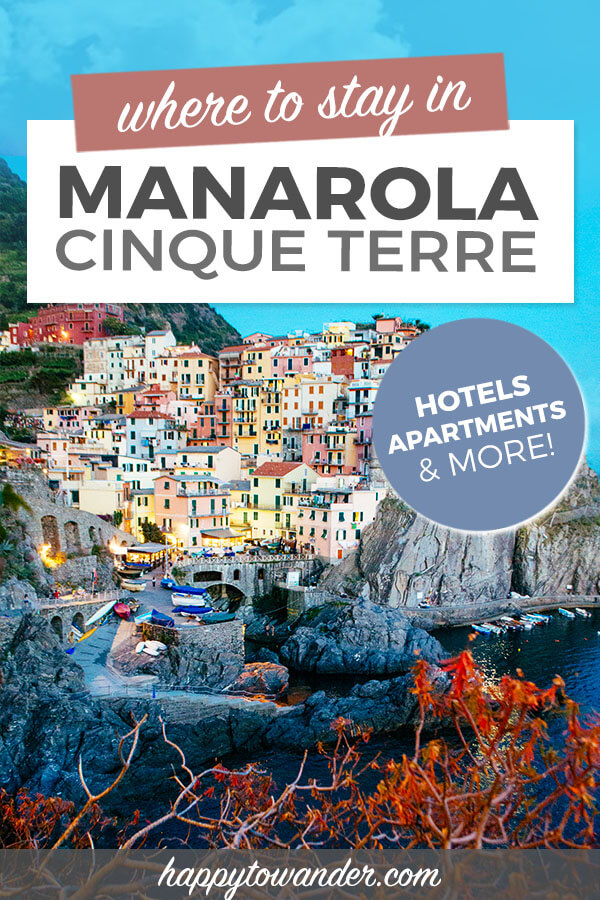 Hands down, Manarola is my favourite town in the
Cinque Terre
.
During both of my dreamy visits, it was here that I chose to base myself and I honestly can't imagine myself staying anywhere else ever! Not only are the views in Manarola absolutely spectacular, the town is compact and easy to navigate, with a refreshing swimming hole to cool off and some of my favourite (ever) Italian restaurants. Yes, it's basically a wonderland of seafood and pastel houses… how can you not love it?
Here's the tricky part though: finding good Manarola accommodation can be challenging. For one, the town is small, so options are already limited. Coupled with the surge of popularity that it (and other Cinque Terre villages) have recently seen… well, the good options book out quickly, and quickly get expensive.
Don't worry though, I'm hoping this list of the best Manarola hotels/apartments will help you find the perfect place to stay!
NOTE: While I of course haven't stayed at all these properties, they've all been heavily researched and vetted by my team for crucial factors like high ratings (none of the options below have less than an 8/10 on Booking.com!), location (none of them are too far away from the action), and cleanliness (based on analyzing reviews across multiple platforms). I hope this guide will help you narrow down the best Manarola accommodation for your trip!
---
---
A quick note on Manarola hotels and apartments
The Cinque Terre as a whole is a pretty tiny place, and Manarola is an especially small town with limited accommodation options. As such, conventional hotels with a big lobby, 24/7 check-in and standard amenities like a pool, spa, gym, etc. are pretty much non-existent.
Instead, many of the accommodation options in Manarola are known as Affittacamere, basically extra rooms in apartments/buildings that locals rent out for some extra dough.
These charming guesthouse are nice, but definitely have a "homier" feel than hotels you might be used to, so keep that in mind when browsing accommodation in Manarola, and know that many of the properties won't be as chic or modern as hotels you might find in bigger cities.
PS: Accommodation in Manarola books up VERY far in advance and prices can get fairly steep the longer you wait, so if you see something you like for your dates, I highly recommend you reserve them ASAP to ensure you're not sleeping out on the rocks ;)- click here to check!
You can even click here to save big on your first booking.

1. The best bang for your buck in Manarola
Recommendation: Affittacamere San Giorgio
Looking for a great all-round place to stay in Manarola? Head to Affittacamere San Giorgio, a mega-central guesthouse with unanimously excellent reviews and close proximity to everything in Manarola, including the Manarola train station, the sea, a supermarket and (very importantly) a gelato shop. Each room features AC, free WiFi, a flat-screen TV, a minibar and a private bathroom with a hairdryer, plus a terrace with sweeping views of the sea. Reviews rave about the comfy beds, the overall cleanliness of the property and most all, the kindness of the owner, Francesca. If it's amazing value for money you're looking for, this is a good bet… but they book out quickly, so act fast!
Click here to check reviews and availability
---
---
2. For a clean, convenient getaway
Recommendation: 330 Holiday Apartments Manarola
If you're looking for a bright, newly built apartment in Manarola, 330 Holiday Apartments Manarola is a highly-rated and reliable choice. Built only in 2018, each soundproofed apartment comes with a fully equipped kitchen, AC, a flat-screen TV, free WiFi, and a private bathroom. The bright and airy design is a favoured feature of guests, who praise the clean and modern flair that the aparmtents have to offer. Plus, its location in the upper part of Manarola grants you amazing views if you don't mind the climb 😉 Given this location, apartments are quiet at night, and you're in close proximity to Manarola's beautiful terraced vineyards.
Click here to check reviews and availability
---
---
3. For the cheapest place to crash in Manarola
Recommendation: Ca de Gianchi
As I mentioned earlier, staying in Manarola definitely isn't the cheapest option… BUT there are still a few options for budget-conscious travelers needing a place to crash. Ca de Gianchi for instance is a nice little guesthouse in Manarola with all the amenities you need for sometimes less than 70 euros a night if you book early enough. All the rooms have AC, free WiFi, a flat-screen TV and in some cases a balcony with pretty views over town. Not only that, the owners Manuela and Sergio live on the top floor and are always ready to give tips on what to do in the area.
Click here to check reviews and availability
---
---
4. For somewhere cheap and central to stay in Manarola
Recommendation: Acla Apartments
Acla Apartments is the place to be if you're looking for well-located accommodation that won't break the bank. Acla Apartments offer accommodation in the city center of Manarola, just a few minutes away by foot from the train station. Each apartment has a living room with a kitchen and a sofa, along with a scenic balcony, terrace, flat-screen TV and private bathroom… All these amenities and more are available for an affordable price! It's no wonder this place books up months in advance.
Click here to check reviews and availability
---
---
5. For jawdropping views in modern, renovated rooms
Recommendation: Olimpo Affittacamere
Olimpo Affittacamere offers one of the best views in town high above Manarola, for those willing to brave the sweaty walk up! Those who don't mind the leg workout will be treated to newly renovated rooms with plenty of modern amenities like free WiFi, AC, and a swishy patio with a beautiful view. The best part about its high-up location? You'll be able to get plenty of rest with all the peace and quiet!
Click here to check reviews and availability
---
---
6. Manarola accommodation for a romantic escape
Recommendation: Ca de Lelio
If you're looking for a cute and romantic place in Manarola for your romantic getaway, Ca de Lelio is a central and charming choice. All the rooms feature free WiFi, a seating area, a private bathroom with free toiletries and of course, an electric kettle for making a cozy cup of tea after a day of exploration. Located in the heart of Manarola, Ca de Lelio is frequently praised in reviews for its spacious rooms, charming decor and comfy beds!
Click here to check reviews and availability
---
---
7. Manarola accommodation that's family-friendly
Recommendation: Casa la Marina
Need something a little more spacious? Casa la Marina is an 80m² apartment located steps from the seaside, with plenty of space for your entire family to frolic. With a living room, a flat-screen TV, a fully equipped kitchen, a washing machine and two bedrooms (twin + king in one, one king in another), this roomy apartment has plenty of space for up to five guests, which makes it an optimal choice for families in Manarola, where large rooms aren't too easy to come by. From the balcony, you can also enjoy some gorgeous sunset views before sampling local cuisine at one of the many nearby restaurants (in fact, my favourite restaurant in Manarola, Il Porticciolo, is only a 1 minute walk away!)
Click here to check reviews and availability
---
---
8. For something cute and homey
Recommendation: La Linea d'Acqua.
If it's an adorable and homey option you're after, check out La Linea d'Acqua. This cute guesthouse is located high uphill in Manarola, which means stunning views if you don't mind the climb, in addition to standard amenities in each room like AC, a flat-screen TV, free WiFi, and a private bathroom with a shower, hairdryer and free toiletries. Not only do guests frequently rave about the cleanliness and views here, they also comment on the many small touches that make it feel like home, including attentive staff, tea, coffee and snacks upon check-in.
Click here to check reviews and availability
---
---
9. Manarola accommodation with an unbeatable view
Recommendation: La Terrazza di Peun
Looking for some fancier Manarola accommodation options? Well, La Terrazza di Peun is probably the guesthouse for you. Here, you'll find bright suites with a terrace, a seating area, and a nice views overlooking both Manarola and the sea. Each room comes with a flat-screen TV, free WiFi and a private bathroom, plus AC, comfortable beds, and some of the best sunset views in town.
Click here to check reviews and availability
---
---
Looking for other Manarola accommodation options?
You can use this map below to search available accommodations for your dates!
---
---
---
Watch my most popular YouTube video this week:
---