*FYI - this post may contain affiliate links, which means we earn a commission at no extra cost to you if you purchase from them. Also, as an Amazon Associate I earn from qualifying purchases. Check out our Privacy Policy and Disclosure. for more info.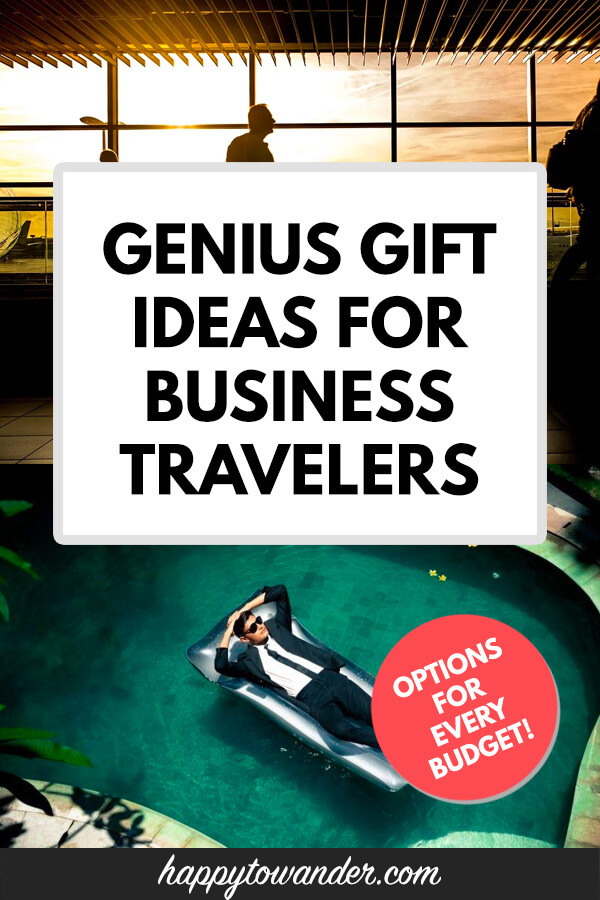 When it comes to finding the best gifts for business travelers, you need to consider a lot of factors: practicality, style and most importantly: what the heck do they not already have?!
Am I being overly dramatic? Maybe. But here's the main problem with finding gifts for the business traveler, they travel so often that they probably have all the gadgets and goods they need. So now you're stuck with the all-too-difficult question: what do you buy for someone who already has everything?
Don't worry – this post is packed with plenty of business traveler gift ideas to inspire you, with options for every budget. I hope it helps you in your epic quest for the perfect gift!
---
---
Best Gifts for Business Travelers Under $20
Looking for affordable options? These gifts for business travelers won't set you back more than $20!
Trust me: this gift is guaranteed to put a smile on your business traveler's face. This mini cocktail kit is small enough to be carried on board and contains all the necessary ingredients for your favourite cocktails, making it both practical and adorable. Whether your biz traveler loves a nice old fashioned or chugs dirty martinis like they're water (AKA me), there's a mini cocktail kit for that – the perfect little present for someone who travels often for work.
---
---
Odds are, if they travel often for work, their passport is their most important possession. Help them keep it safe with a thoughtful yet practical little gift – a passport cover! The beauty in this gift is that there's so many cool designs, so you can easily personalize the gift by choosing something that fits your business traveler to a tee.
If you want to go the extra mile, you can even get one custom made here with their names, initials or silly nickname.
---
---
Most business travelers are constantly plugged in, whether it's to check emails on their phone or simply scroll through and watch Facebook cat videos like the rest of us. If they don't have one already, a high-quality portable charger is a ridiculously smart gift that they'll appreciate and use on every trip. Of all business traveler gift ideas, this one might be the most practical. There are a lot of options out there, but I'm a big fan of this Anker PowerCore+, which is small, portable and has amazing reviews on Amazon.


---
---
With a job that forces constant travel, one thing is for sure: sometimes business travelers see their suitcases more than their actual homes! That's why every accessory/detail counts, so a stylish luggage tag that they love is a must (like this adorable one from Vera Bradley). If your business traveler is overdue for a new luggage tag, why not get them a fun one that speaks to their personality? Guaranteed it'll bring a smile to their face every time they use it 🙂
---
---
From boarding passes and credit cards to passports and business documents, life as a business traveler can be one hot, chaotic mess. That's why a sleek organizer for holding their lives (and sanity) together is the perfect practical gift. Check out this great one from Zoppen.
---
---
Most business travelers hang out and swap business cards like they're free candy. In this wild world of card swapping, having a swag-optimized business card holder (yes, I did just use the term "swag optimized") is crucial for street cred purposes. Get your business traveler an attractive business card holder and they'll be raking in the envious looks for years to come! I love this super affordable and sleek one from Partstock.
Bonus tip: This gift is all the better if it's engraved or personalized in some way. Here are a bunch to choose from on Etsy.
---
---
Life as a business traveler means constant packing and unpacking. This handy notepad of packing lists can help them ensure that they never forget that one important thing that they forget every single time. Plus it's always fun to have a physical checklist 😉 Grab it here!
---
---
Best Gifts for Business Travelers Under $50
Looking for business traveler gift ideas that won't cost you more than $50? Here are my top picks:
Whenever I dish out on packing tips, packing cubes are usually my #1 recommendation. If your business traveler doesn't already have a set of sturdy packing cubes, they are seriously missing out. These handy travel accessories are essentially little organizational compartments for storing clothes – perfect for keeping that suitcase organized and for saving space by compressing everything. This is more of a practical gift than a "fun" gift, but I guarantee they'll appreciate it!


---
---
In case you needed proof that we're living in the future, there are now phone cases out there that charge your phone for you. I know, it's wild. This is the perfect gift for business travelers who are always connected and live in constant fear of low battery. Practical and cool – it's the perfect double whammy gift.


---
---
Techy business travelers will love this gift, which will make business trips a tad more bearable through spontaneous hotel dance parties. Real talk though, having a good quality speaker is amazing when you're sick of listening to everything through staticky headphones, and a nice way to enhance midnight Netflix binges after a hard day's work.
For bonus points, be sure to get one that's really light and portable, like this one.
---
---
Paranoid business travelers will know that panicked feeling when they can't find their keys, passport or something else vitally important. With a Tile, these concerns are no more. Tiles are little Bluetooth trackers that are paired with an app so you're able to keep tabs on your most precious belongings, like your passport. These are perfect for business travelers, providing ease of mind and the ability to find valuables quickly. Here are a few different options:
Tile Slim: Perfect for wallets, purses and passports
Tile Sport: Waterproof and has the highest range (up to 200ft)
Tile Style: Elegant and stylish, with a large range and slight water resistance
---
---
Best Gifts for Business Travelers Under $100
These gifts for business travelers are all less than $100, and are sure to impress (without breaking the bank).
Time spent in transit doesn't have to mean time wasted! A Kindle is THE perfect gift idea for someone who travels often for work, because it means limitless entertainment without lugging around heavy books or relying solely on Netflix. They're also rather affordable (considering the price of physical books).
---
---
Lugging around laptops, files, and all sorts of other biz gear can get tiresome after a while, especially when it's on your back. Having a good, high-quality business backpack is a must for any business traveler, especially if their goal is to travel light AND with style. If this must-have accessory isn't part of their arsenal yet, this is the perfect opportunity to swoop in with the perfect gift that's both practical and awesome. This one from Yorepek is really high-rated on Amazon and comes with a bunch of helpful features like anti-theft zippers/locks, charging holes and more.


---
---
For business travelers who aren't keen to travel with big heavy cameras, these smartphone lenses make the perfect gift! From fisheye to macro, there's an assortment of cool lenses that will infinitely uplevel one's phone photography. Perfect for capturing a little more sky in those wistful "plane wing" shots, don't you think?  I have this set from PNY Technologies and love it. The super wide angle is perfect for getting epic backgrounds into selfies, and can get way more into landscape shots too).
If you're looking for an equivalent for North America, these lenses are among Amazon's top rated.
---
---
For long commutes and long days, nothing beats having a solid playlist to rock out to. Spotify Premium is a serious blessing for those who travel often, because you can use it to download playlists available offline, all without draining up all your precious data. These memberships are relatively affordable, but is a luxury some choose to not splurge on, making it a perfectly thoughtful, affordable yet helpful gift. Find out more here.
---
---
Best Gifts for Business Travelers Over $100
Looking to splurge a little bit? Check out this roundup of $100+ gifts for the business traveler you're trying to impress 😉
Carry-on suitcase
Many business travelers practically live out of their suitcase, and can't be bothered to check their bags each and every time. That's why an excellent, high-quality carry-on suitcase should be a top priority.
I always recommend Samsonite. My hardside spinner set has been with me all around the world (click here for a similar set) and it has not once let me down. PS: I've always found that ordering these online can be cheaper than in-store, so click here to browse the best deals.
---
---
Whether to jam out to some gangster rap en route to a meeting or to drown out the noise of screaming plane babies, high-quality noise-cancelling headphones are one of the best gifts you can get for a business traveler. I personally love my Bose headphones and believe they're worth every single penny. You can shop the best deals on them here.


The Latest GoPro
If your goal is really to go the extra mile, gifting a new GoPro is a perfect fit for adventurous business travelers. The newest iteration of GoPro has super high quality photos/video and supreme portability and durability to boot. Click here to shop great deals on GoPro.
---
---
The king of all business traveler gift ideas. For those who don't rely on their laptop for work, an iPad is the perfect travel companion. If brownie points are what you're truly after, you probably can't beat this gift.
---
---
I hope you enjoyed this best gifts for business travelers roundup! I know it's not easy to find gifts for someone who travels for work, but hopefully this post helped you out just a little bit 😉 Have anything to add? Let me know in the comments!