*FYI - this post may contain affiliate links, which means we earn a commission at no extra cost to you if you purchase from them. Also, as an Amazon Associate I earn from qualifying purchases. Check out our Privacy Policy and Disclosure. for more info.
It's crazy to think it was almost two years ago that I got to sail Croatia with MedSailors.
Ahh, as nobody ever says, time flies quicker than a crow on Red Bull and now, oh so many months later, I'm finally ready to chat with you about my biggest regret on that trip.
And that is… I packed like an absolute lunatic.
Seriously. 1 bikini? No snacks? Was I drunk? (Probably)
Regardless of my poorly executed packing, I still had an amazing time sailing around Croatia… but I know things would have been way smoother had I, you know, used any sort of common sense or reason.
But the good news is, because I've made these grand, ridiculous mistakes, I can now tell you properly what to pack and not pack for your Croatia sail trip.
If you're one of the lucky ducks that will be sailing around Croatia this summer, then here's a guide to packing like a pro (for ladies).
I've created it based on a one week sailing itinerary like the one I did, but I'm sure you're a strong, independent smartie who can adjust as needed. Okay, let's go!
Save this post on Pinterest for later: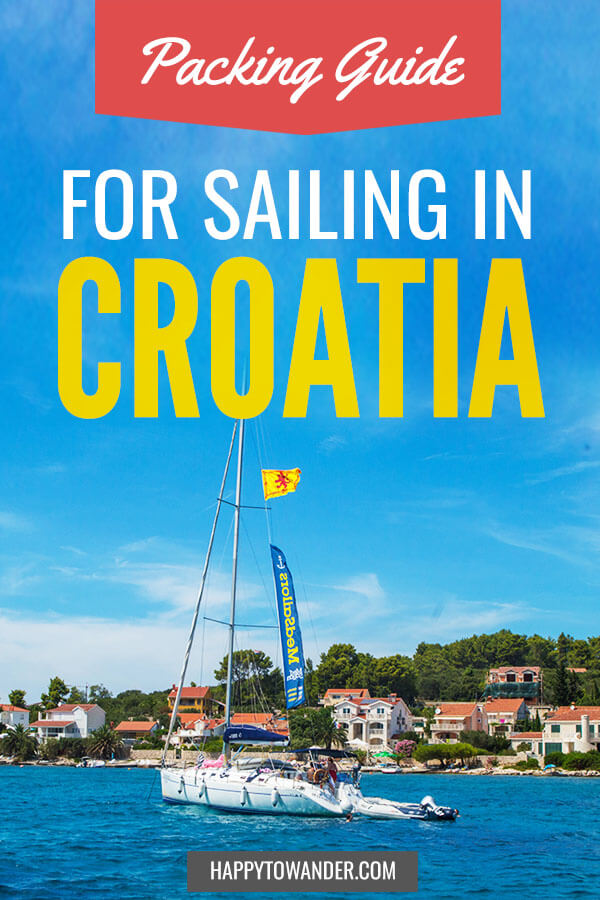 What bag to bring for your Croatia sail trip
Rolling/hard shell suitcases are probably a bad idea.
You'll need something that you can squish and smoosh into the random little storage areas in the cabins (which tend to be quite limited in size).
Plus, Croatia is covered in cobblestones and while they're insanely pretty, they're an absolute nightmare to navigate with a rolling suitcase.
I stole my boyfriend's Nike duffelbag for the trip (like one of these) and it was perfect! Water resistant too 😉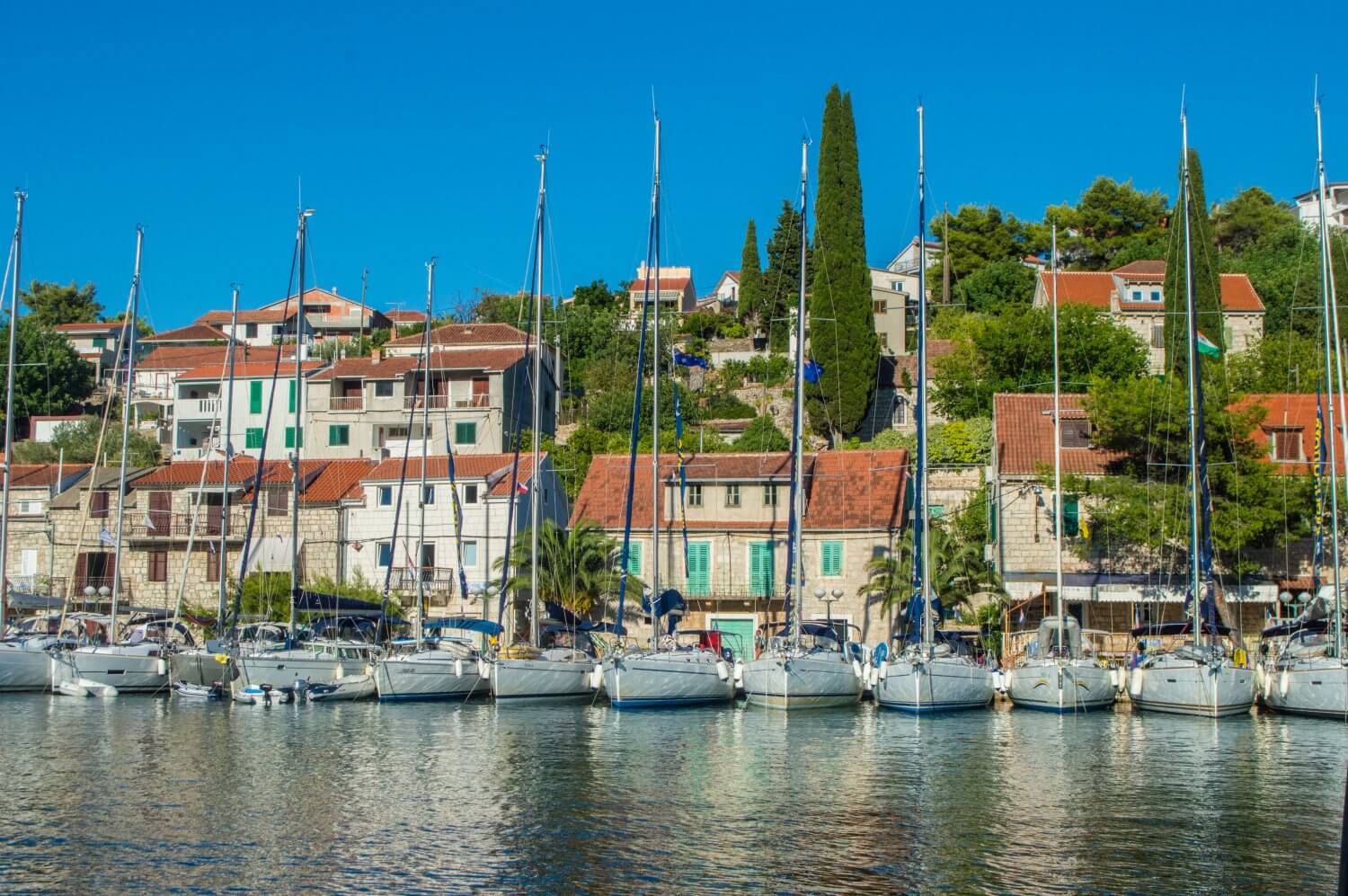 What to pack when you sail Croatia
Smart packing is key to enjoying your Croatia sailing trip with minimal headaches. Here are my top recommended things to pack (split into categories):
Clothing
2-3 Swimsuits
Sooo, I only brought one. What a fool I was.
When you're sailing around Croatia, you'll basically be living in your swimsuits. You should definitely bring at least two so that you have a back-up while one dries.
If you want to be extra cute and prance around in adorable swimsuits like all the other ladies on my trip, then bring some additional ones since you'll be basically swimsuit-clad all the time.
I honestly got so much bikini FOMO that I caved mid-way through the trip and got myself a sketchy bikini in Korcula. To this day, I'm still convinced it was made of cardboard.
I definitely recommend bringing…
A strapless swimsuit (for tanning) because you don't want weird tan lines all over the place
A one-piece swimsuit because you never know when those food babies will strike (or when you'll be doing something more athletic that a skimpy bikini isn't suited for)
If you're too busy to go through the torture of swimsuit shopping, why not be a total millennial and order a bunch online, then return the ones that you don't like? There's a crazy selection on Amazon.
2-3 sundresses or rompers
Something that you can easily throw over top your swimsuit. This is why I would stay away from sheer white (unless you plan to win a wet T-shirt contest). Colourful/printed items would be better as they don't get as visibly dirty or wet.
2 pairs of shorts
Pretty self-explanatory – the only consideration is to make sure any shorts you pack will match every top you pack (so don't go nuts with insane patterns).
2-3 tops
Again, white is probably not a great idea, but otherwise, go wild! Remember (as I just said above) to pack tops that go well with any bottoms you bring. I also recommend tops that could double as "night out" wear if classed up with a necklace or something.
1 "going out outfit"
While the party scene on these trips tends to be pretty casual (I mean, you're all living on boats), it's a good idea to bring one glam outfit that makes you feel like a million bucks, whether you prefer dresses, jumpsuits or the almighty "jeans and nice top combo", you should pack at least one outfit that will give you the confidence of Beyonce on a unicorn.
1 pair of leggings
This will be to sleep in (and to throw on if it gets unexpectedly chilly).
I'd advise bringing leggings or yoga pants in place of Hello Kitty pyjama pants (or whatever your regular PJs are like) because they work double duty and can be worn for cold weather and athletic occasions too!
As someone who has cycled through countless cheap pairs of yoga pants, I recommend you just get a good quality pair from Nike or something and call it a day. Saves you more in the long run!
1 comfortable sleeping shirt
Again, this will mostly be for sleeping, but I recommend bringing something that wouldn't make you die of embarrassment if you wore it out in public for the same reasons as above. Something that could be worn for athletic purposes might be a good idea.
4-7 pairs of underwear
If you're okay with handwashing your underwear, then it's okay to bring fewer pairs of underwear, but since they're so small and easily scrunchable, I just bring one pair for each night I'll be there. Saves me the trouble of trying to air dry my delicates in public 😉
I always stalk Victoria's Secret and wait for one of their sales, which they have constantly! Then I stock up.
1-2 bras
Bring one that's strapless for sure – less weird tan lines that way. You probably could get away with one honestly since you'll be wearing your swimsuit so often, but it's up to you!
Again, stalk sales on Victoria's Secret and maybe get yourself one of those convertible bras (which are perfect for trips like this where you want to pack light but also avoid getting ridiculous tan lines).
1 jacket
I usually go with a denim jacket since it pairs well with pretty much any summer outfit. No matter when you go, there's always a chance that it'll get chilly on an off-day or definitely in the evenings, so remember to bring a light jacket, hoodie, kimono, or something else to keep you warm and cozy.
1 pair of flip flops
You'll basically live in these, so make sure they're comfortable.
1 pair of comfortable walking shoes
Everyone has their own shoe preferences so all I'm going to say is you should pack one pair of shoes that you can walk forever in (and potentially ride a bike in or endure some soft physical activity).
I personally love sandals for this purpose – they're so versatile and if you find the perfect comfy pair, you'll feel like an unstoppable superhero in them.
My sandals from Clarks are still the comfiest I've ever worn and they've been with me on a series of misadventures, from awkward bike rides to accidental mountain climbs and hikes. I can vouch for their comfort!
I can't find my exact pair online anymore, but here are some similar ones.
OPTIONAL: 1 pair of jeans
If you get cold easily, it might be a good idea to bring a pair of jeans with you for unexpectedly bad weather or for evenings. I personally was fine with dresses and a jacket during the day though.
Toiletries
Hanging toiletries bag/organizer
These 2 in 1 bag/organizers are perfect for Croatia sail trips because the washrooms on board are (duh) super small and tight on space. The last thing you want is to be fumbling around with a bulky bag of toiletries. Getting a hanging one will keep you nice and organized. There are loads of options you can get online – this one is cute, affordable and has flamingos on it! What a win.
Sunscreen
SO SO SO important. Selection on the islands is pretty slim and it's surprisingly pricey (probably because they love to squeeze the pennies out of forgetful tourists). You can be lazy and order yourself a bottle online right now if you hate going shopping like I do 😉
Hairbrush
Good luck taming your lion-esque mane after the salt and wind is through with it. Don't forget to bring a great hairbrush or comb because trust me, those tangles happen reaaaal quick. PS: Did you know they actually make special de-tangling hairbrushes now? Here's a really cheap one. What a time to be alive.
Razor
I highly recommend getting a small travel-sized one that has its own case (you know, so it doesn't touch all your other toiletries and stuff). I bought this one for my sailing trip and it was perfect – small, compact, cheap and still effective.
Body wash, shampoo and conditioner
I'll level with you: odds are you won't be showering that regularly… showering on board is kind of a nightmare with the tiny showers, plus you'll be taking tips in the water so regularly that you'll never feel gross or in need of a good shower.
I personally only showered properly when we had access to land showers (which was 2 or 3 times during the trip I think). SO, keep that in mind – no need to bring a ton of body wash, shampoo and conditioner.
I definitely recommend getting some of these reusable bottles so you can fill them up with the right amount of your favourites. Otherwise, invest in solid shampoo bars. My friends swear by the ones from LUSH but you can get some online too for a reasonable price.
Toothbrush and toothpaste
Pretty self-explanatory, but might I suggest getting a bamboo toothbrush? It's so cheap and way better for the earth than plastic ones. Check out this super affordable four pack!
Lip balm
Life at sea can really dry your lips out. Keep them nice and nourished with a good lip balm. In my mind, you can't go wrong with Burt's Bees.
Deodorant
That Croatian sun is a sure recipe for sweaty days and nights. Spare the noses of those around you and make sure you've got deodorant.
If you're looking for a good one that lasts a ridiculously long time, my go-to is the Lady Speed Stick Invisible Dry Power (haha what a name!).
I can't actually buy it in Europe so literally stock up every time I'm home. It promises 48h protection and actually does. Amazing.
Accessories
Sunglasses
I recommend bringing at least two pairs. Much like the swimsuit, you'll be wearing these pretty much all the time (and also wearing the same pair might give you super prominent tan lines). I love my Ray Bans and swear by them (you can browse deals on them here).
I personally have the Clubmaster Classic and the Original Wayfarer Classic. Bask in my classic-ness.
Floaties
So, so basic but so, so fun. Some yachts will provide floaties but if you want to make sure you have something cool to lounge on, then bring your own!
I'll never forget the floaty-envy I experienced on my trip… some of the guys next door had brought this giant, gorgeous flamingo, which I stared longingly at as I flopped on my flimsy green alligator. You can check out my roundup of the best affordable pool floaties online here.
A flag
I know this is a weird one, but actually a lot of people brought flags from their home countries to raise on our boats and it was really cool!
This was something I never thought to pack, and you can easily buy cheap ones off of Amazon here. You don't need a massive one, so it won't take up too much space in your bag either. To this day, I still regret not repping Canada like I should have!
1-2 statement necklaces
I know it sounds a little unnecessary but statement necklaces are small, easy-to-bring accessories that can instantly jazz up an outfit for your nights out. Instead of packing a bunch of outfits for the day vs. the night, I would personally focus on bringing a few pieces that can be classed up with statement necklaces so that overall, you need to pack less. Ideally, these necklaces will match all/most of the tops/dresses you choose to bring.
1 day bag
Whether a backpack or purse, make sure you bring a smaller bag for when you dock and explore around. I'm partial to cross-body purses that are big enough to fit a camera but still look cute with your overall outfit (like this one!)
Additional Necessities
Travel Insurance
At the risk of sounding like a total mom, you should really make sure you have insurance when you are sailing around Croatia.
I've just heard so many horror stories of people slipping on deck and breaking an arm, or accidentally getting knocked in the head mid-sail.
The truth is, with a sailing trip, there's more potential liabilities, so you need to make sure you're covered. I've used WorldNomads in the past and they're really simple and easy to use online.
Important travel documents
The usual! Don't forget your passport, a copy of your insurance info, driver's license, student card (if you have one), a copy of your credit card/debit card info in case you lose them, print-outs of any confirmations/bookings, etc.
Camera/phone
Obviously something to capture all your great memories. Something waterproof like a GoPro would be ideal, and I also recommend getting a waterproof case for your phone too just in case. They make ones that work with touch screens like this one too so you can use your phone in the water.
Motion sickness tablets
I never get sea sick and even some days I was feeling nauseous from the constant motion and erm, maybe the very indulgent lunches we had on board. Still, make sure you have some motion sickness tablets on hand, because even if you don't need them, I guarantee some poor soul will. Gravol is my go-to!
Ear Plugs
Boats are noisy. There's the choppy water outside, your snoring neighbour, the whirring fan that's keeping you from melting to death, etc. If you're a light sleeper, having ear plugs is a great idea to make sure you at least catch a little bit of sleep. I personally think the traditional foam ones are really gross, but you can get reusable silicon ones for cheap online. Here's a cute turquoise pair!
Some instant noodles, meals or snacks
Do you know what tiny Croatian islands do NOT have? McDonalds, 24h kebab shops, or even pizza joints that will be there to welcome you with a greasy slice of happiness after a night out.
Unless you want to starve (or spend $10 on a slice of pizza in Hvar like I apparently did), then I highly recommend you bring a few snacks/instant meals like noodles.
Some companies don't allow this but MedSailors was fine with it. I still remember how after one particularly boozey evening, we were scouring the streets for food on a small local island, only to find nothing.
Our saving grace was that one of the couples on board had packed a bunch of instant rice/noodle packets all the way from India. Instant food had never tasted so good.
PS: I recently discovered that you can buy instant noodles in bulk online for really cheap. Super dangerous revelation, but I figured I would share. Click here to scope out the options.
Portable speaker
Bring a good portable speaker with a ready-loaded playlist of sailing jams and you'll be the most popular person on-board.
I highly recommend getting Spotify premium and loading your phone up with awesome playlists before-hand. One of the girls on my boat did this and it was great! A lightweight and portable one like this would be perfect.
Playing Cards
You'll be spending loads of time on board. Here's a deck of waterproof playing cards that would be perfect. If you want to be really, really prepared, you can splurge out on these magnetic playing cards that are guaranteed to not blow away in the wind. Perfect for sailing!
A Good Book
You'll have plenty of time to lounge out in the sun with a good book, so don't forget to bring one! Don't worry about bringing more than one – other passengers are usually more than happy to swap and share. Here are today's best book deals on Amazon if you need some ideas!
Local Currency
The local currency in Croatia is the kuna. I highly recommend you get some cash out before you start your trip because it's one less thing to worry about, and you might not find a ton of free ATMs on smaller islands. Plus, odds are you'll end up splitting bills, buying small things in shops, etc. which is why cash will be crucial.
Chargers
For your phone, camera and any electronics you bring. Remember that Croatia uses EU plugs (the two rounded prong ones) so an adapter might be a good idea too if you're coming from outside of Europe. A universal adapter like this one is a must for any trip 🙂
Small locks
I've never heard of any thefts happening on board, but it's always better safe than sorry! I recommend buying a few of these small locks and keeping one in every bag just in case. They're so small and you never know when they'll come in handy.
What not to pack when you sail Croatia
Any expensive crap
Go with this rule: don't bring anything that you'd be sad about losing. Sailing trips are fun, but messy. You might accidentally chuck something off the boat, lose it while swimming, even misplace it somewhere on the boat, never to be seen again.
I know you're fancy and bougie and you want the world to know, but for the sake of your sanity, leave the gold Rolexes and diamond rings at home 😉
[Unless you're proposing… which a guy totally did on my trip. So cute, and not jealous.]
High Heels
Unless you enjoy falling off boats and broken ankles 😉
Okay, a bit exaggerated, but trust me: the sail trip vibe is so casual that you definitely don't need stilettos to look glam on a night out.
Plus, Croatia is mega-cobblestoned, which (when mixed with too many winos especially) is a recipe for disaster. Did I mention yet that you should probably get travel insurance?
Laptop
Unless you work online, odds are you won't need your laptop when you're sailing around Croatia.
First of all, Internet access will be pretty limited while you're sailing and odds are good that some water might get on it… better safe than sorry and leave the Macbook at home to enjoy that sweet digital detox life.
If you must though, consider bringing a waterproof laptop case too like this one.
Perfume
You honestly won't need it. You'll be in the water half the time and don't forget that a lot of people are sensitive to smells and perfumes.
These girls on a nearby boat would literally bathe themselves in perfume some days and it was awful! Definitely wouldn't recommend it.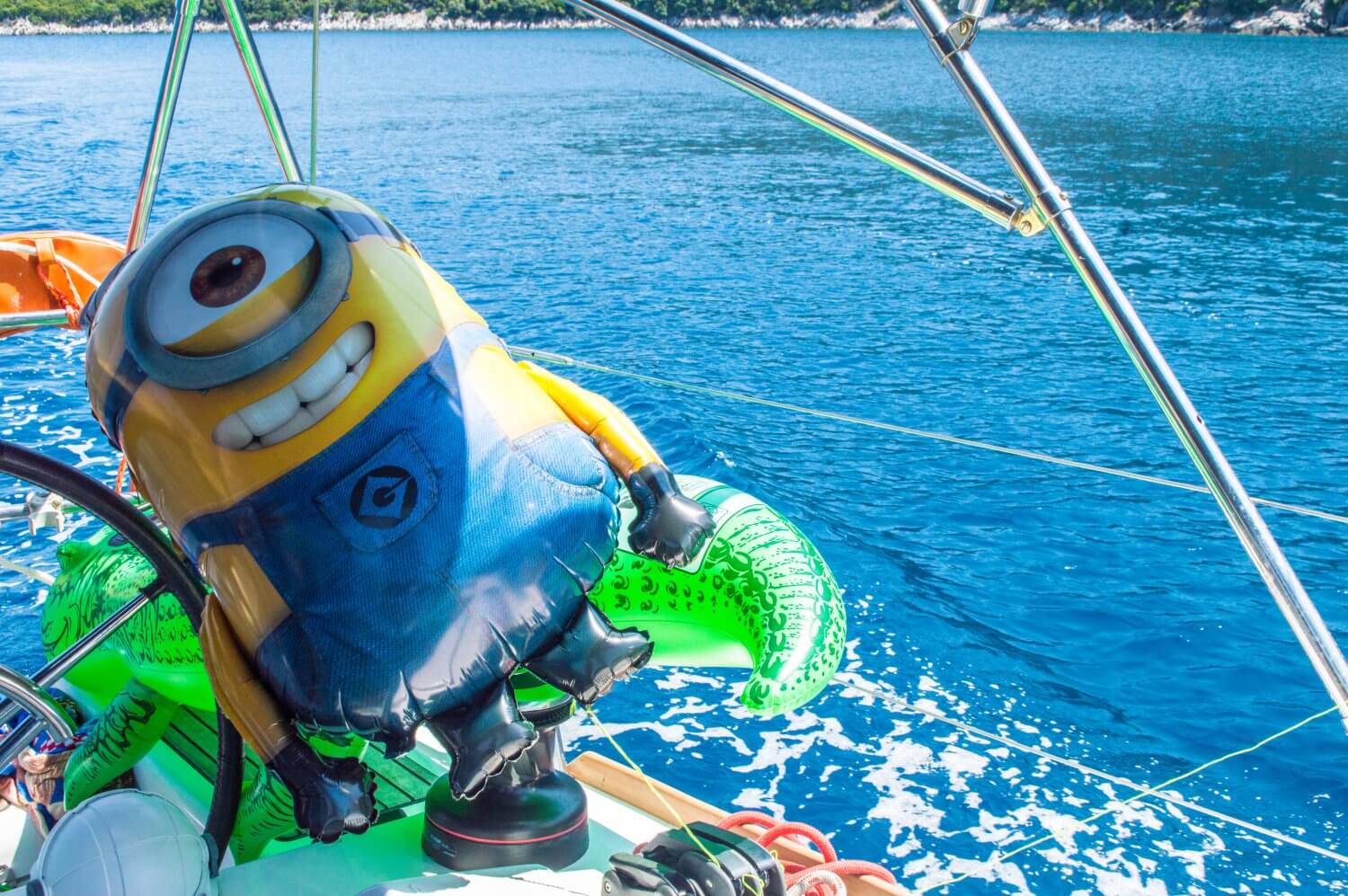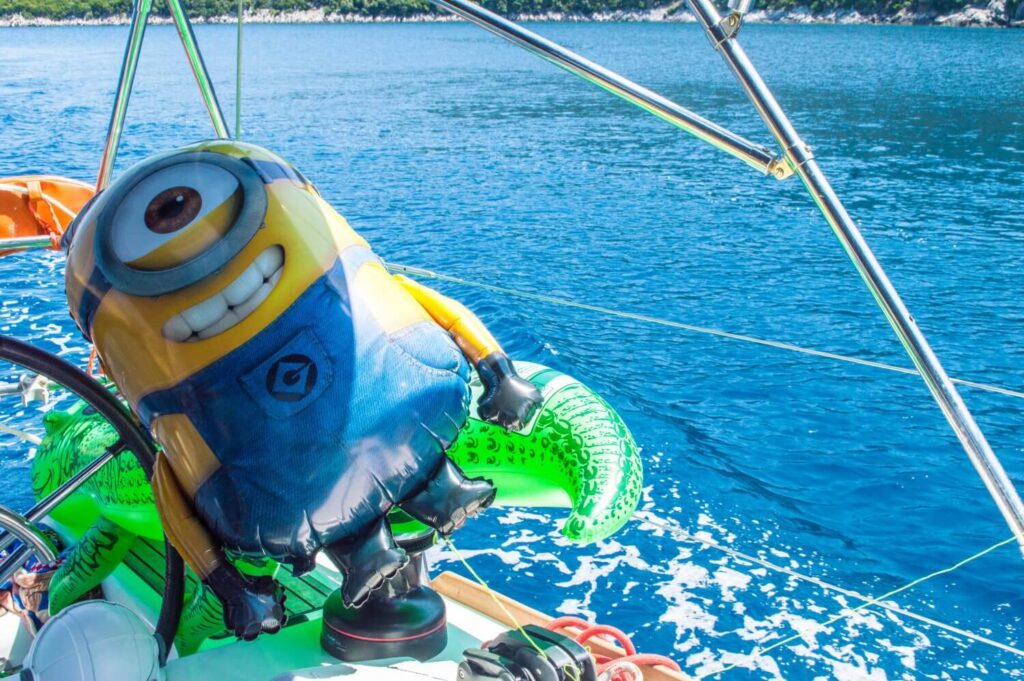 Alrighty, I hope you enjoyed that lengthy guide on what to pack for your Croatia sailing trip! If you have any questions, feel free to ask in the comments.
---
Watch my most popular YouTube video this week:
---