*FYI - this post may contain affiliate links, which means we earn a commission at no extra cost to you if you purchase from them. Also, as an Amazon Associate I earn from qualifying purchases. Check out our Privacy Policy and Disclosure. for more info.
Often when I travel, what I crave more than anything else is a good, unexpected surprise.
After all, there's nothing more thrilling than peeling back the layers of a new destination, thinking you 'get it' then bam, being thrown a curveball that leaves your head spinning.
And just when I thought I had wrapped my head around the honey washed limestone buildings of Malta, brimming with history and intricate tales of conquests come and gone, just like that, my curveball came.
And that curveball was called Popeye Village.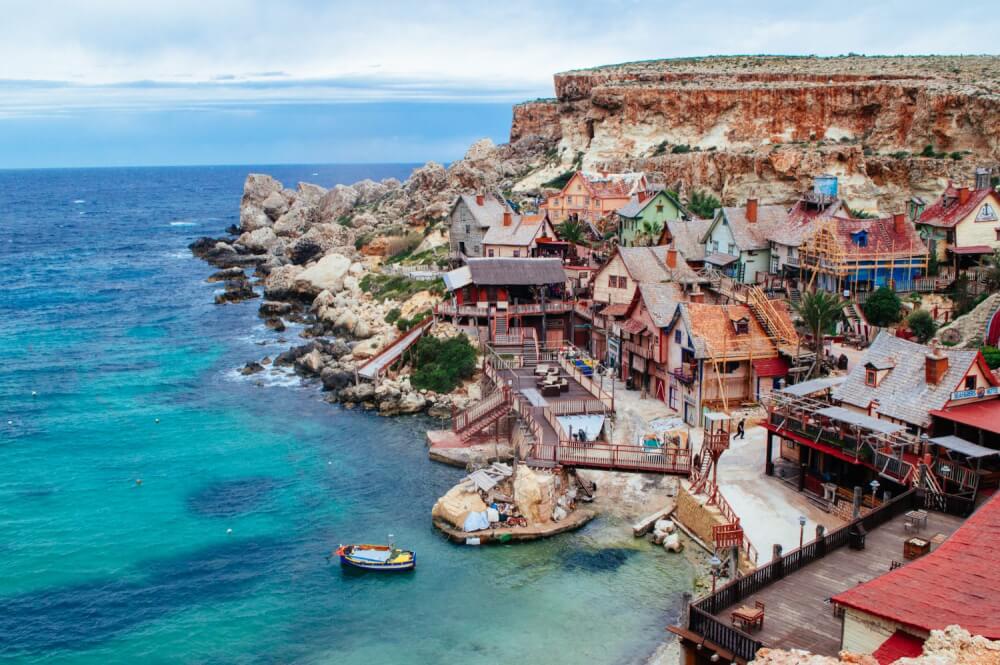 Yes, Popeye. The spinach binging, bulgey-armed hero of comic book fame. His village… a colourful cluster of run-down fishing shacks, all huddled along the turquoise waters of Malta's Anchor Bay.
What at first glance looks like a strange glitch in the country's programming is actually a legacy of the Popeye movie that filmed here decades ago in the 80s… today reborn as a venue for tourist visits, birthday parties and what I can imagine are some seriously wild corporate retreats. A theme park with admirable dedication to its theme.
Most often, giggly visitors will stop for a quick photo opportunity en route to the Gozo ferry. I mean, with the set's Disney-perfect appeal, it'd be rude not to. BUT, with an attraction as unique as this, how could a curious girl just snap a photo and move on? I needed to know what was inside. For real, what was this place?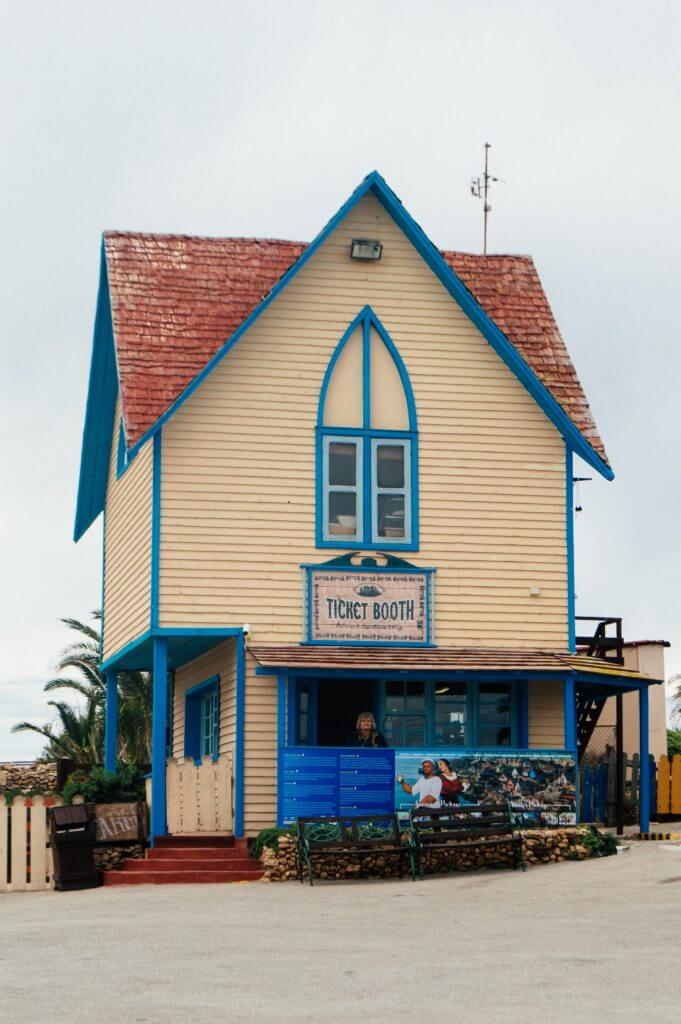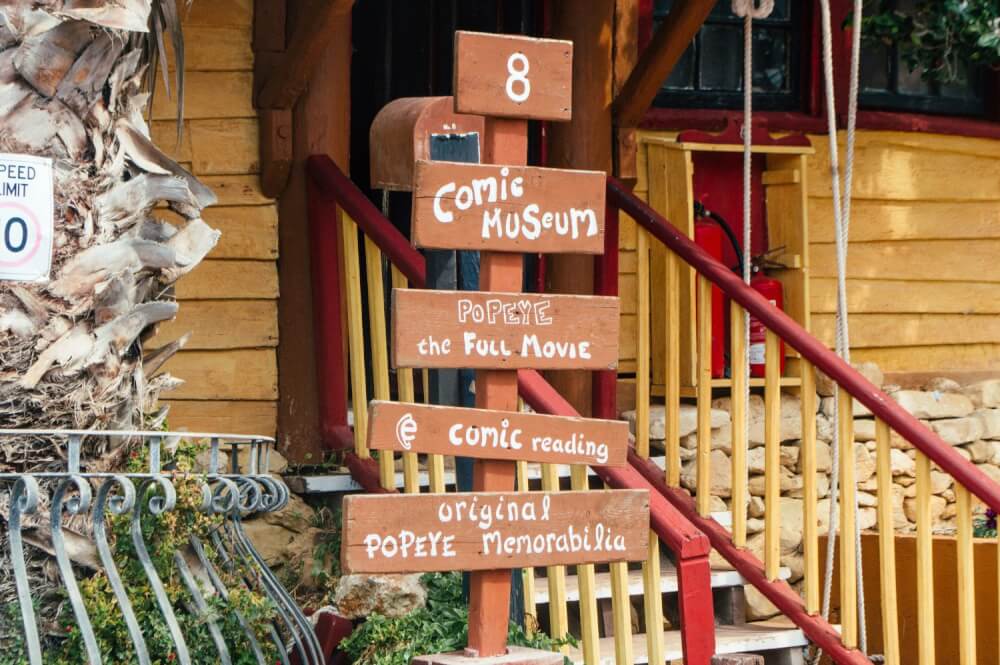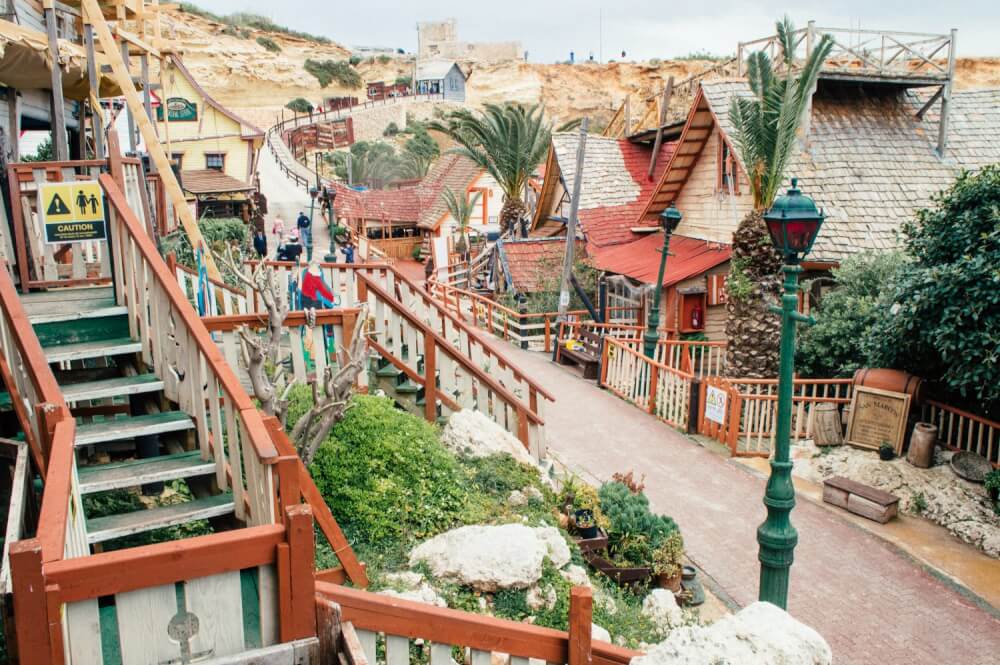 As we entered the park, I caught my first glimpse of the colourful cast, led by a smirky, squinty-eyed Popeye. Behind him, a squad of actors and dancers (some dutifully in costume, others in yoga pants), waiting.
Then out of nowhere, the music hit… and I kid you not, they erupted into dance.
3 rows, Madcon blasting… rhythmic foot shuffles and dramatic air trumpets. Add on the fact that Popeye was basically teaching the dance to his squad, I almost melted into a puddle of stupid joy. This was real. This was actually happening. I couldn't believe it.
I just stood there, smiling like a crazy person. Sure, the dancers weren't all in sync… In fact, I'm 90% sure it was like a training day for new cast members because one left-footed fella in the back barely moved his body at all… BUT, I loved this moment because in my mind, it's brilliantly imperfect moments like this that lend a place charm, quirk and character. The chirpy girl playing Olive Oyl (Popeye's main squeeze), explained to us in a shrill voice "ohhhh! Visitors!! Don't mind us. We're just rehearsiiiiing."
Nah Olive girl. I'm watching this free show.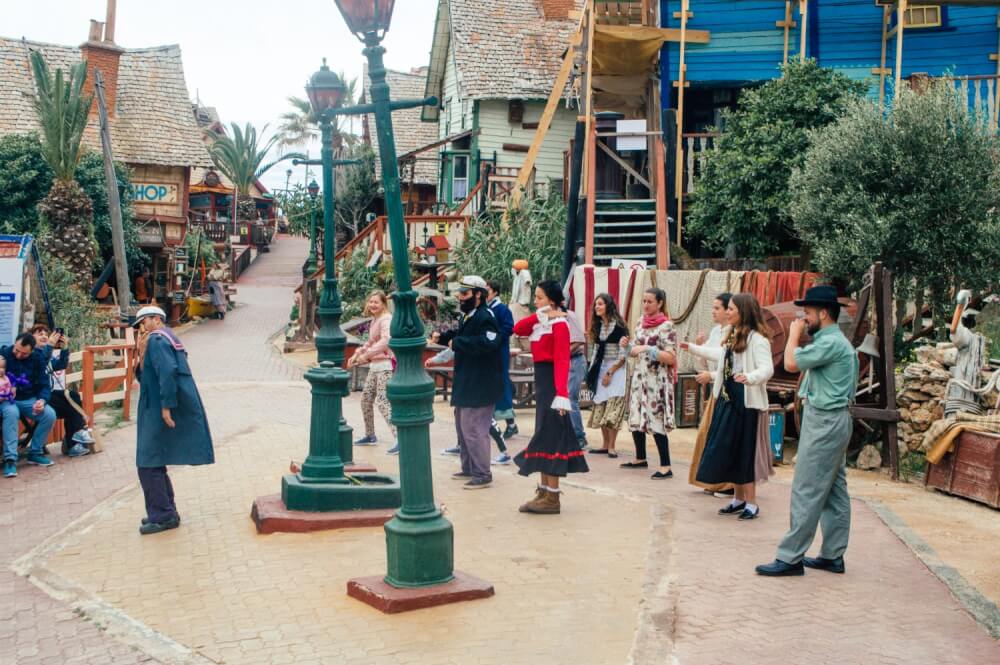 Our tiny off-season crowd (in the morning no less) meant that the cast to visitor ratio was almost 1:1. Besides myself, my boyfriend and guide, there was a handful of families, a noisey group of youths and what appeared to be a straight-up, extreme biker gang.
Have you guys even seen leather-clad motorcyclists emotionlessly sip beer at a Popeye theme park? No? I assure you – it was wild.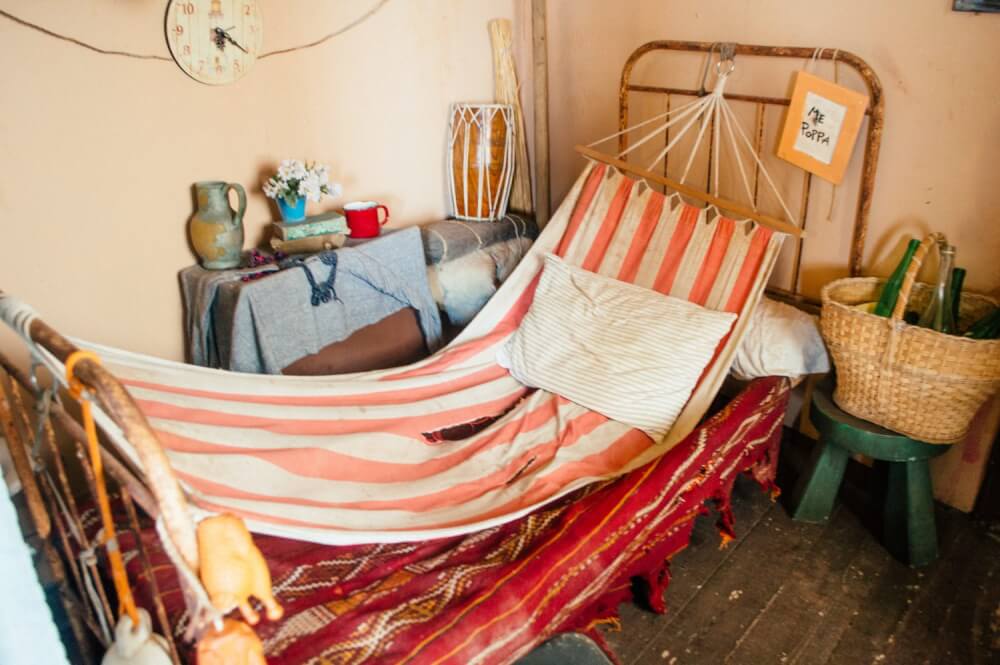 Make no mistake – Popeye Village is a destination probably best enjoyed in the summer, when sunshine permits the boat rides, giant water inflatables, mini golf and amusement park rides that make this place the perfect family outing. BUT, even in the rainy off-season, on a drizzly morning when we had the park almost all to ourselves, I still had an absolute ball. In fact, it's one of the memories from my trip I find myself constantly talking about. After all, where else in the world would you find something like this?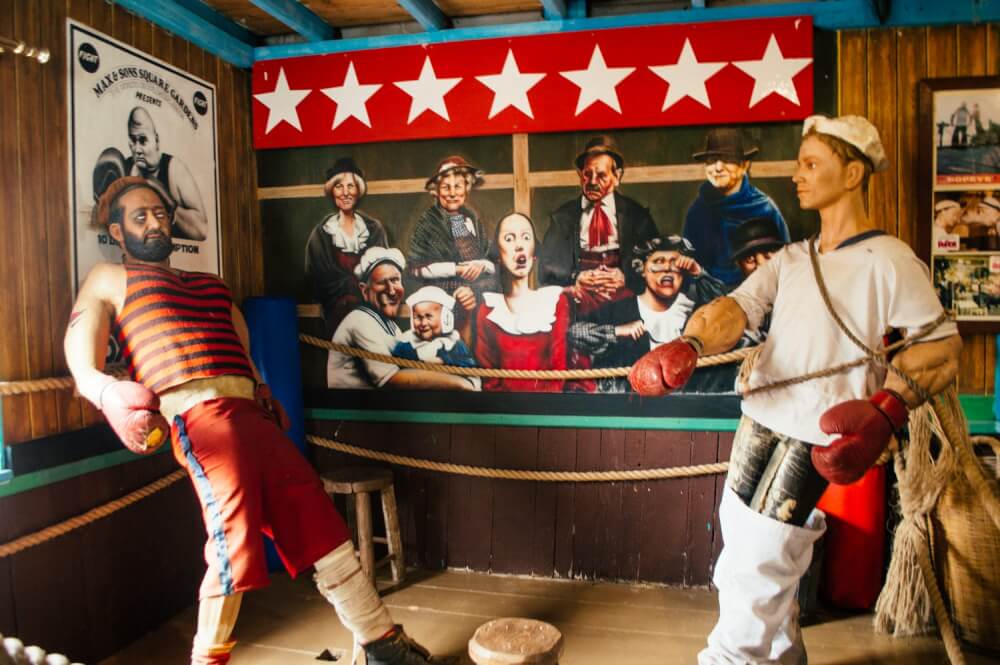 Each day, the park organizes a schedule of events, from cast meet and greets to actual filming opportunities. Besides that, there's (weather dependent) boat rides, a 15 minute documentary on the history of the park and yes, a room where they do nothing but screen the ENTIRE movie in full.
… I spent longer in that room than I care to admit.
The rest of our short visit was spent exploring the insides of set houses, complete with plastic props and memorabilia. For lovers of Popeye, this would have no doubt been an explosion of childhood dreams come true. For me, more of a Pokemon and Tin Tin girl, it was still a fun novelty. From the cast members dutifully in character spooking and messing with guests, to a variety of random freebies like a postcard, souvenir photo and small sample of wine punch, I'd say Popeye Village is a sure recipe for a fun time, especially for kiddos (or emotionally immature non-adults like myself).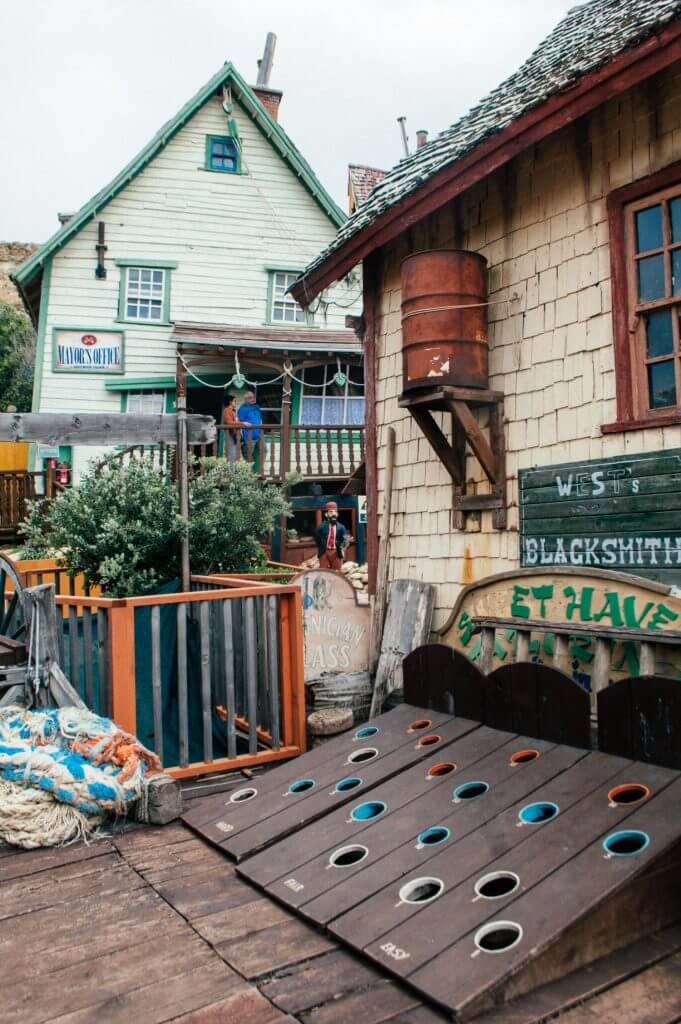 So, while on this particular day, the off-season wind and rain meant the closure of most activities, I still got a feel for makes Popeye Village so darn interesting and special. For Popeye lovers, it's a place to wallow in nostalgia and indulge one's inner child, for families, it's a charming kid-centric outing, and well, if you're just a random overly-curious blogger, there's discoveries for you too.
… Just don't forget to snap a cheesy photo!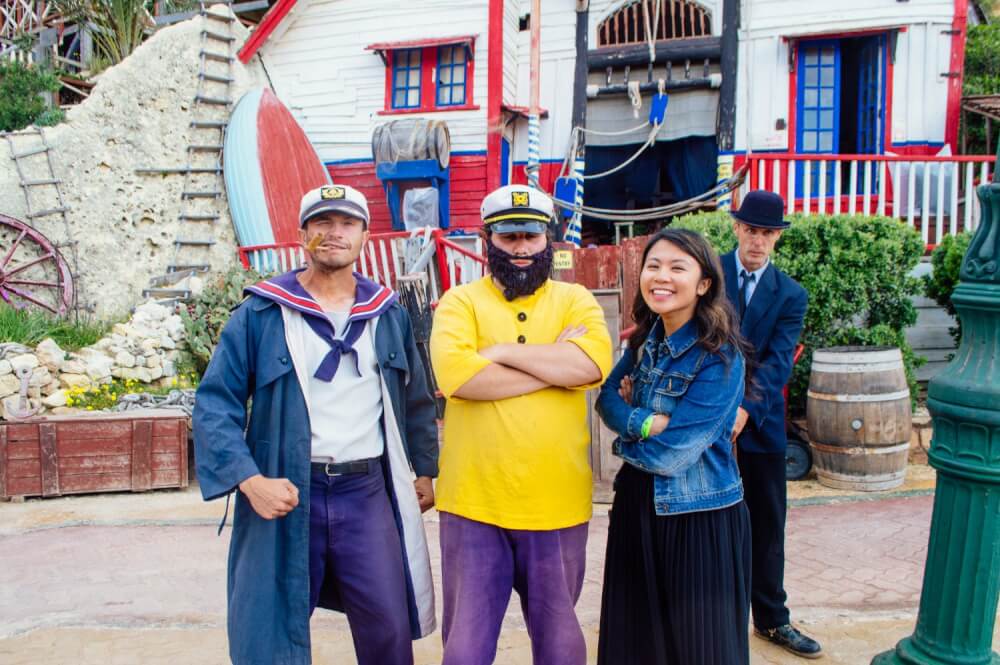 So tell me, what's the most random discovery you've made on your travels?
A huge thanks to the Malta Tourism Authority for hosting me during my visit! Stories, experiences and words are of course my own ☺
---
Watch my most popular YouTube video this week:
---