*FYI - this post may contain affiliate links, which means we earn a commission at no extra cost to you if you purchase from them. Also, as an Amazon Associate I earn from qualifying purchases. Check out our Privacy Policy and Disclosure. for more info.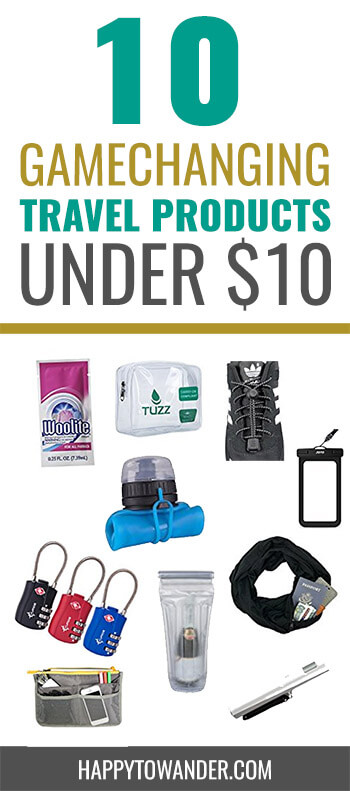 I've never been a big fan of acquiring "stuff".
After all, I'm a die hard light packer (see my guide for doing that here) and also just generally a person with weak arms, sooo… lifting heavy bags isn't my thing.
That said, as minimalist as I try to live, there are some products out there that genuinely make life and travel SO much easier. And the best part is, most of them are crazy affordable.
Case in point, the following items (clocking in at no more than $10 each) are not only useful and easy on the wallet, but also borderline genius. I hope you enjoy this little roundup, and be sure to drop me a comment if I've missed any of your favourites. 😉
1. Portable luggage scale
I don't know about you guys, but uncertainty is the bane of my existence. By the time I hit the airport and the snippy employee guy has my bag on the scale, I am literally a bucket of sweat. If it were up to me, I'd bring a full-on scale with me every single time to avoid this mess. That's why I was mind blown the first time a friend whipped one of these bad boys out. Two seconds later and we had an accurate weight for our bags. Phew. You can't put a price on peace of mind (but when you're a deal lover like me, less than $10 ain't bad). Check out prices and reviews here.
---
---
2. Bag insert/organizer
Finding the perfect travel bag is literally the worst. I'm not just saying that – after the death of my beautiful Lo & Sons bag (some bits of it melted if you can believe it), I've been on the hunt ever since. The biggest problem is there's usually too few compartments and organizational bits for me to take advantage of. That's why I'm so excited about this bag insert/organizer. You chuck it into your bag and instantly get pockets for different things, like your passport, pens, etc. It's a genius way to convert a bag you love into one that's ideal for travel. Check out prices and reviews here.
---
---
3. Clear carry-on toiletries bag
Say goodbye to grimy Zip-Lock bags. I started feeling bad about all the plastic I was using to pack my toiletries every trip (it adds up, guys) so it was kind of an epiphany moment when I realized I could get a carry-on safe, clear plastic bag that was re-usable. Seriously, no clue why it didn't occur to me before! This one here is fine by TSA standards and has super high reviews. Definitely invest a re-usable toiletries bag – it's SO handy.
 Check out prices and reviews here.

---
---
4. Collapsible water bottle
In the same vein as the story above, one day I realized how often I was consuming drinks out of plastic bottles (just out of convenience). Guys, it really adds up SO much. That's why the first time I came across one of these, I literally bought three. They're great for on the go, and when you have no water in them, they roll up really small and take up virtually no space. My big gripe with re-usable bottles is how much space they can take up and they're just kinda "there" for the rest of the day, but these are a perfect middle ground. Scope out the many options here.
---
---
5. Stretchy shoelaces
Okay guys, prepare to be the human equivalents of the shocked :O emoji. GUYS, these are stretchy shoelaces… as in, when you put them on your shoes, you can quickly and easily take off your shoes without undoing all the laces, relacing them up, etc. Why are they perfect for travel? Well, think about the struggle of navigating airport security shoe-less, or think about removing your shoes before entering temples/religious sites, etc. These laces make it a breeze. Honestly so genius, I'm a little mad I didn't think of it first.
 Check out more reviews here.

---
---
6. Tiny locks
Who likes getting robbed?! Not I, my friends. And trust me, it has happened (though that's another story for another time). Because of that experience, now I never go anywhere without these small locks. You can easily keep one in each bag (cuz they're seriously tiny) and then if you're ever in a touristy, pickpockety area, just lock your zippers together to ensure that your belongings are always safe and sound. You can get packs of three for less than $10, so it's a worthy purchase for ease of mind. Check them out there.
---
---
7. Secret passport scarf
If you're a total paranoid parrot about losing your passport or valuables while on the go, then you can't go wrong with this secret passport scarf. It's a nice, minimalist infinity scarf with a hidden zipper that can fit important documents, passports, maybe snacks if you feel like it 😉 Click here to read up on reviews and prices. 
---
---
8. Portable laundry soap sheets
Once upon a time, back in my very unglamorous backpacker days, I would do my laundry in the sink using my shampoo. *cringe* I know, it's so embarassing… I had just never heard of travel-sized laundry detergent, which is why I almost died when I saw that Woolite made tiny travel-sized packets that you can bring with you on all your travels! Imagine being on a long trip and needing a quick freshen up with your clothes, just dissolve one of these in the sink, wring away and you're good as new. SO genius. Check out reviews and prices here. 

---
---
9. Waterproof phone case
I can still remember the first time I saw one of these. I was prepping myself for a swim at Krka National Park, kinda disappointed I didn't bring my GoPro… then lo and behold, like a plasticky beacon of hope, my friend busted out THIS thing – a waterproof phone case. SO simple, but SO genius. This would be the perfect accessory to bring on a boat or beach trip, and perfect for ease of mind in paradise. Check out reviews and prices here.
---
---
10. Inflatable wine pouch
Rule #1 of travel: keep the goods safe. Or in other words, KEEP THE WINE SAFE. I can't tell you the number of times I've lovingly bundled up my alcohol like little babies in layers of sweaters and scarves, praying to the airport gods that they would survive the trip. Worry no longer with these re-usable, inflatable wine pouches. Check out the prices and reviews here.

---
---
And there you have it – 10 totally gamechanging travel products for the rock bottom price of $10 or less. Have any you'd like to add to the list? Drop them in the comments for me!
---
Watch my most popular YouTube video this week:
---