*FYI - this post may contain affiliate links, which means we earn a commission at no extra cost to you if you purchase from them. Also, as an Amazon Associate I earn from qualifying purchases. Check out our Privacy Policy and Disclosure. for more info.
Hey you guys want to hear a fun joke?
….. single use plastics.
……. hahahahahahahaa. ha. ha. haaaa.
Okay sorry – that was dumb, but so is how wildly dependent we are on unnecessary plastic use. This is probably not news to you… after all, the fight against plastic has really taken the spotlight in the past few months.
What I never realized though was just how often I personally indulge in the use of unnecessary plastic. Like, literally every day… multiple times a day… especially when I travel.
Here's a peek into the daily life of a traveler: you go through airport security, put your liquids into a cute lil zip lock bag, grab yourself a takeaway coffee to become human again.
Then you wolf down your crazily wrapped on-board meal/drink, wizz off to the beach to sip coconuts w/ straws until you're orange from sun exposure, buy some fresh fruit from a market given to you in a plastic bag…. and the list goes on and on.
Listen, I'm not perfect. I grew up in a household where plastic use was ubiquitous and that kind of normalized its use for me.
It wasn't until very very veryyyy recently that I became aware of just how bad plastic is for our oceans and planet, and my role in normalizing plastic use, both as an "influencer" and just in my daily life.
I'll be honest: I had honestly never stopped to think about how much bad I was doing… (Probably too busy eating cake)
The most startling part about this revelation however is that plastic use is SO easily avoidable.
Listen, I'm no saint, and I still have a lot of work/checking myself to do, but I do believe in making changes where I can, and when it's this affordable and easy, why wouldn't you?
In this post, I've rounded up a bunch of super affordable products (all under $30) that will help you ditch unnecessary plastic use throughout your travels and daily life. Here we go!
Save this post for later on Pinterest: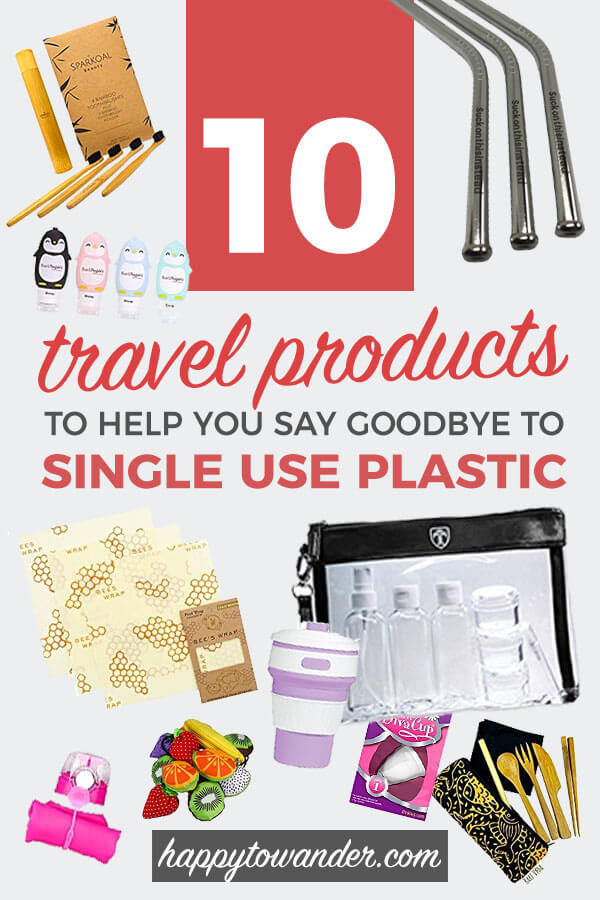 These reusable steel straws
Plastic straws are everywhere. Think about the straws you get with your coconuts on the beach, the straws you get with your cocktails, etc. etc.
I confess, as a kid, I used to love crazy straws as much as I loved Pokemon cards, and collecting them became a bit of a habit… I have since come to the very adulty realization that I do, in fact, have a mouth.
Most of the time, straws are both unnecessary and silly, although in special cases (like that mandaory beach coconut), you do find yourself needing one.
Luckily, there's tons of plastic free options out there these days, from bamboo and paper to stainless steel. I recently purchased this set from Girls that Scuba – it even comes with a carrying pouch and a cleaning brush, with a sassy "suck on this instead" slogan.
Since I'm pro-sass and also pro-female entrepreneur, I'm so stoked that my friend Sarah is the brainmaster behind this initiative.
BONUS: 10% of profit donated to Plastic Oceans. Check out the store and grab your set here!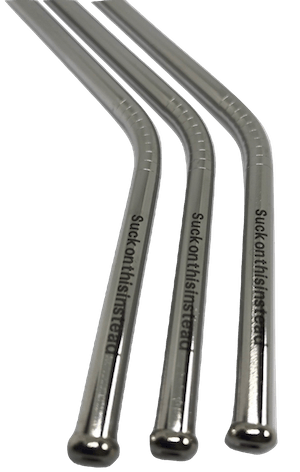 This reusable food wrap
In my household, we grew up covering everything with plastic wrap. Every day my brother would lug a plastic-wrapped sandwich to school (while I toted around a big box of rice… because that's just who I am as a person).
Anyway, I got SO used to plastic wrapping everything that I didn't realize until I started living on my own how stupidly unnecessary it all was!
These days, I mostly stick to lidded tupperware whenever I can, but if you are one of those people that prefer some kind of wrap (whether to wrap sandwiches for a hike or whatever else), then there's actually reusable food wraps you can buy now that are made out of wax. Isn't that insane?
Still no cure for those weirdos plastic wrapping their suitcases at the airport though. WHY DO PEOPLE DO THIS?
Click here to check reviews and prices.
This bamboo set of cutlery
Plastic cutlery is EVERYWHERE! Especially when travelling solo, I get takeaway food more often than I'd like to admit, whether to picnic outside or shamefully wolf down in bed as I try to catch up on blogging work.
Consistently, these come with plastic cutlery, an easy thing to address and fix if you just travel with your own set! If you're worried about it taking too much space, consider becoming a "sporker", which (I promise) is a lot less dirty than it sounds.
Click here to check reviews and prices.

This bamboo toothbrush
Confession: I used to hoard the free toothbrushes my dentist gave me.
I really don't know why. I think it's because I enjoyed being rewarded for surviving the dentist… and when I turned 12 they stopped giving me Hello Kitty stickers, sooo these toothbrushes were all I had.
It goes without saying though, plastic toothbrushes aren't exactly great for the environment.
I recently got a bamboo toothbrush while staying at an eco-friendly hotel and now I'm loving life.
They're literally so cheap that I don't get why I didn't have one before? I'm talking "four for less than fifteen bucks" cheap. Get a pack and give the dullest gift ever to your friends. I believe in you!
Click here to check reviews and prices.

This collapsible water bottle
I am so, so, so guilty of using plastic water bottles. I'm just forgetful by nature, so while I own a bunch of pretty awesome water bottles, I always forget to pack or bring it.
Then I get thirsty… and, you know… bad decisions are made.
I'm working on it though, and I think a great solution would be to purchase a collapsible water bottle that takes up minimal space, like this one!
Click here to check reviews and prices.

This collapsible coffee mug
Takeaway coffee cups (I think) are the hardest for me to give up.
As an overcaffeinated blogger who will literally combust into a mountain of flames without morning coffee, sometimes I can't help getting a cup of coffee to go (especially since big reusable coffee tumblers are such a pain in the butt).
Luckily, these days they make reusable coffee mugs that are collapsible and take up minimal space, like this one here.
Alternatively, try as often as you can to just drink the coffee at the coffee shop/cafe. This is super common place in Europe and I've grown into the habit of loving and embracing it.
I know you want to go out and "see it all" when you travel, but there's something oh so lovely about sipping on a nice foamy cappuccino before the hectic day begins… or you can just smash a quick shot of espresso at the bar before you head out like an angry Italian man would. Whatever floats your boat.
Click here to check reviews and prices.
These tiny reusable shopping bags
I remember when the major backlash against plastic bags began in North America. It took a lot of getting used to, and a lot of people were outraged at the idea that bags would now cost 5 cents, or worse yet – there would no longer be bags to purchase.
Nowadays, I'd say it's very common to bring your own giant tote when you do groceries… but what a lot of people forget is that even when you're not buying groceries, there's often occasions that you need a bag when you travel (whether to lug around the random things you've bought at a local market or whatever else).
That's why I recommend buying really small reusable shopping bags and keeping them with you just in case, like these ones. I mean they're adorable and literally shaped like fruit. I have the strawberry one at home and it's super small (and scrunches even smaller) so perfect for keeping in your bag just in case.
Click here to check reviews and prices.
This TSA-approved reusable toiletries bag
Once upon a time, I used to stuff all my liquids into little Ziplock bags, and even get super excited when airports would offer them for free.
These days, seeing huge stacks of them make me cringe. Just buying one big toiletries bag for your liquids will help you cut these Ziplock bags out of your life! And sure, while it's still plastic, it's reusable, durable and way more immune to rips than those flimsy Ziplock ones.
While some airports for some reason FORCE you to use their bags (side-eying you, Paris), I've been able to get through with a reusable one for 99% of my travels. I've personally purchased one of these and never looked back:
Click here to check reviews and prices.
These refillable toiletries bottles
Anyone else obsessed with those adorable tiny toiletries they give you in hotels? I have a friend that straight-up used to collect them.
And as much as I adore those tiny packets of fragrant perfection, it didn't occur to me until recently just how unnecessary they are…
Think about it: even when you open that bottle to use a tiny dollop of shampoo, that whole container will get thrown out right after you leave.
Fun for making you feel like a giant for the day, but absolutely horrible for the environment.
These days, I travel with reusable toiletry bottles that I fill up with my own favourite toiletries and bring them everywhere I go. I got mine at a small shop back home but there are tons of options available online, including ones that are absurdly adorable like the penguin ones below:
Click here to check reviews and prices.

This menstrual cup
Last but not least, I've been meaning to switch to a menstrual cup for a long time now, but my stupid fear for change has held me back.
While I can't vouch for menstrual cups personally, I know several good friends and travelers who swear by them. Diva Cup is probably the most well known and has plenty of solid reviews to back it up.
Even if you haven't been able to make the switch, at the very least, stop buying tampons with plastic applicators which are just absurdly unnecessary. They luckily don't even sell these in Germany, so yay.
Click here to check reviews and prices.
So tell me, did I miss any of your favourite products?
My Go-To Travel Favourites: