*FYI - this post may contain affiliate links, which means we earn a commission at no extra cost to you if you purchase from them. Also, as an Amazon Associate I earn from qualifying purchases. Check out our Privacy Policy and Disclosure. for more info.
The following one day in Óbidos itinerary is brought to you by Sydney from Alone and Abroad, an American living abroad! Read on for some of her top tips for making the most of one day in Óbidos.
Roughly 85 kilometers (52 miles) north of Lisbon lies the medieval walled town of Óbidos, a city best known for its medieval architecture, love of literature, and more festivals than I care to count. 
If you've ever 1) called yourself a booknerd or 2) you know what "booktok" means, Óbidos is the place for you. Nicknamed the Literary City by UNESCO, part of the Óbidos' allure is the way that books are revered. There are dozens of unconventional bookstores, an annual literary festival, and even a book hotel! 
As an avid reader who lives only an hour away from Óbidos, of course I had to explore and write about this enchanting city!
For this Óbidos in One Day Itinerary, we're going to climb along castle walls, explore an old cathedral-turned-bookstore, and attend a chocolate festival! Come along as we explore some of my favorite things to do in Óbidos in one day.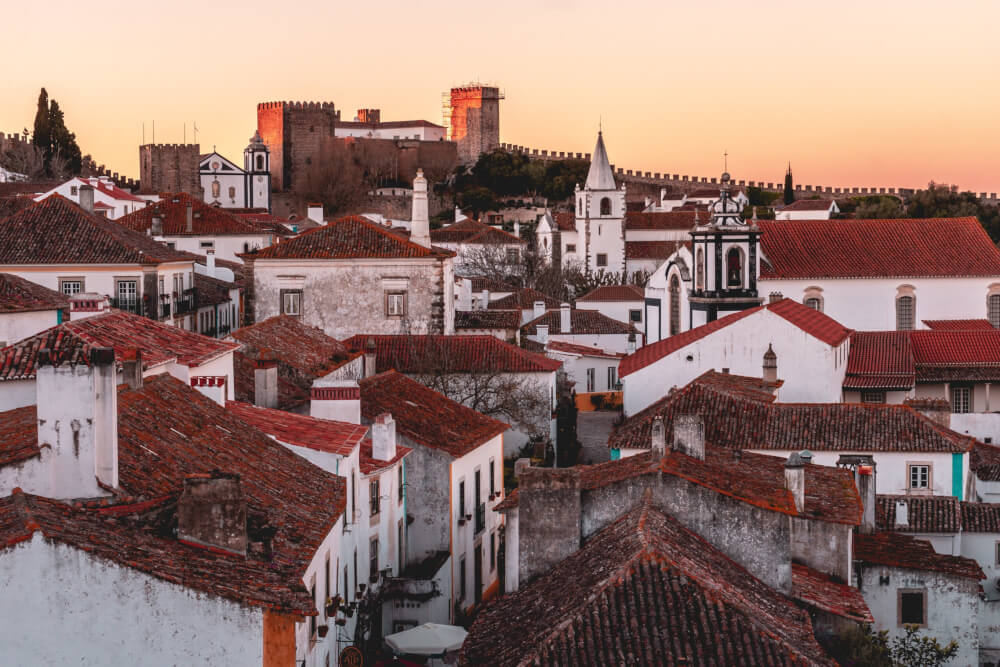 How to Get to Óbidos From Lisbon
The Fastest Option: A road trip to Óbidos takes about an hour. The route is fairly straightforward, and you'll drive along highways for the majority of the trip.
The Budget Option: There is a regular Lisbon-Óbidos bus that departs from the Campo Grande station. Tickets can be purchased directly from the bus driver, paid in cash only. I prefer taking the bus because of how little planning is involved. There are no pre-purchased tickets, no transfers, and plenty of departures, so no need to worry about being late.
The Most Comfortable Option: Like most European trains, the trains in Portugal are fast, comfortable, and reasonably priced. There's no direct train from Lisbon to Óbidos, but even with a layover, it's generally more comfortable than taking a bus. Depending on how many times you have to switch trains, it takes anywhere from 2-3 hours to get to Óbidos. Ticket prices vary, but there is a discount if booked at least 5 days in advance.
The Luxurious Option: An official tour guide is always the most glamorous way to get around. This tour includes transportation, a history lesson, and insider tips about hole-in-the-wall destinations.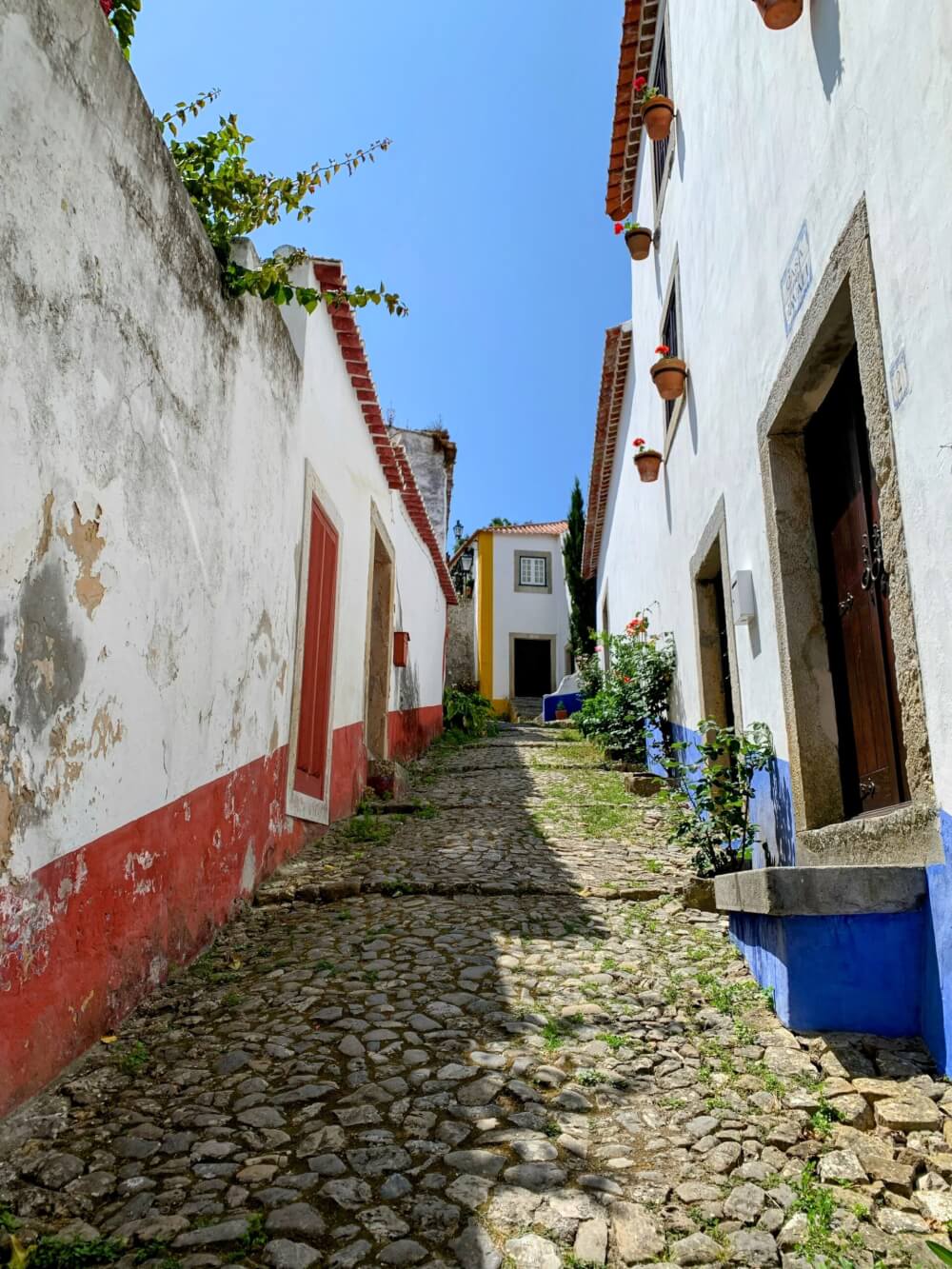 Morning: Enter Óbidos at Porta da Vila
The first stop on our Óbidos Itinerary is the city's entrance. If you managed to get this far without realizing that Óbidos is a medieval city, Porta da Vila is here to dispel any doubts.
The grand entrance is dedicated to the Patron Saint of Óbidos, with white and blue azulejos tiles depicting Biblical scenes and a chapel to honor the saint. There are usually busking musicians working outside the chapel, truly making the moment you arrive in Óbidos feel like a fairytale.
Porta da Vila isn't just a work of art- it's also a practical defense mechanism. It's actually two separate gates that have been staggered to prevent a cavalry charge. It's a lot harder for an army to invade the city if they have to pass through sharp corners first.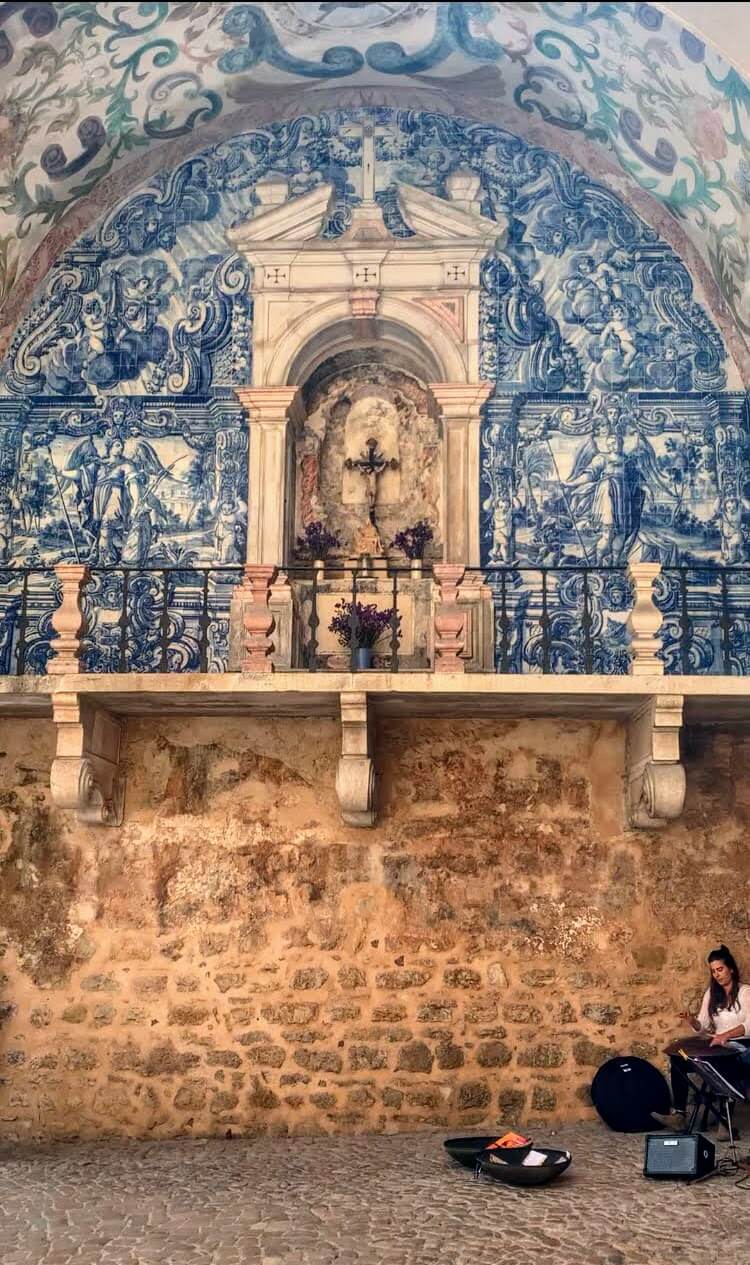 Breakfast: Warm Up for the Day with a Portuguese Pastry
One of my favorite things about Portugal? The bakeries! I mean honestly, does life get any better than sitting in a quiet outdoor cafe with a freshly baked pastry and a hot coffee?
I don't think it does.
So, to begin our day in Óbidos, head to a cafe within the city for an oven-fresh pastry (or two).
If you're looking for some Portuguese pastry recommendations, I love answering this question!
Some of my favorite Portuguese breakfast pastries are pastel de nata (a custard tart), pão de deus (a sweet brioche topped with a coconut, egg, and powdered sugar mixture), and bola de berlim (a deep-fried custard-filled doughnut). But truth be told, I have yet to find a "bad" pastry in Portugal. I don't believe such a thing really exists.
Now, onto bakeries in Óbidos: If you're looking for a sweet treat in this medieval city, check out Capinha D'Obidos, Nata Lisboa, and Pastelaria D'Avo Adélia.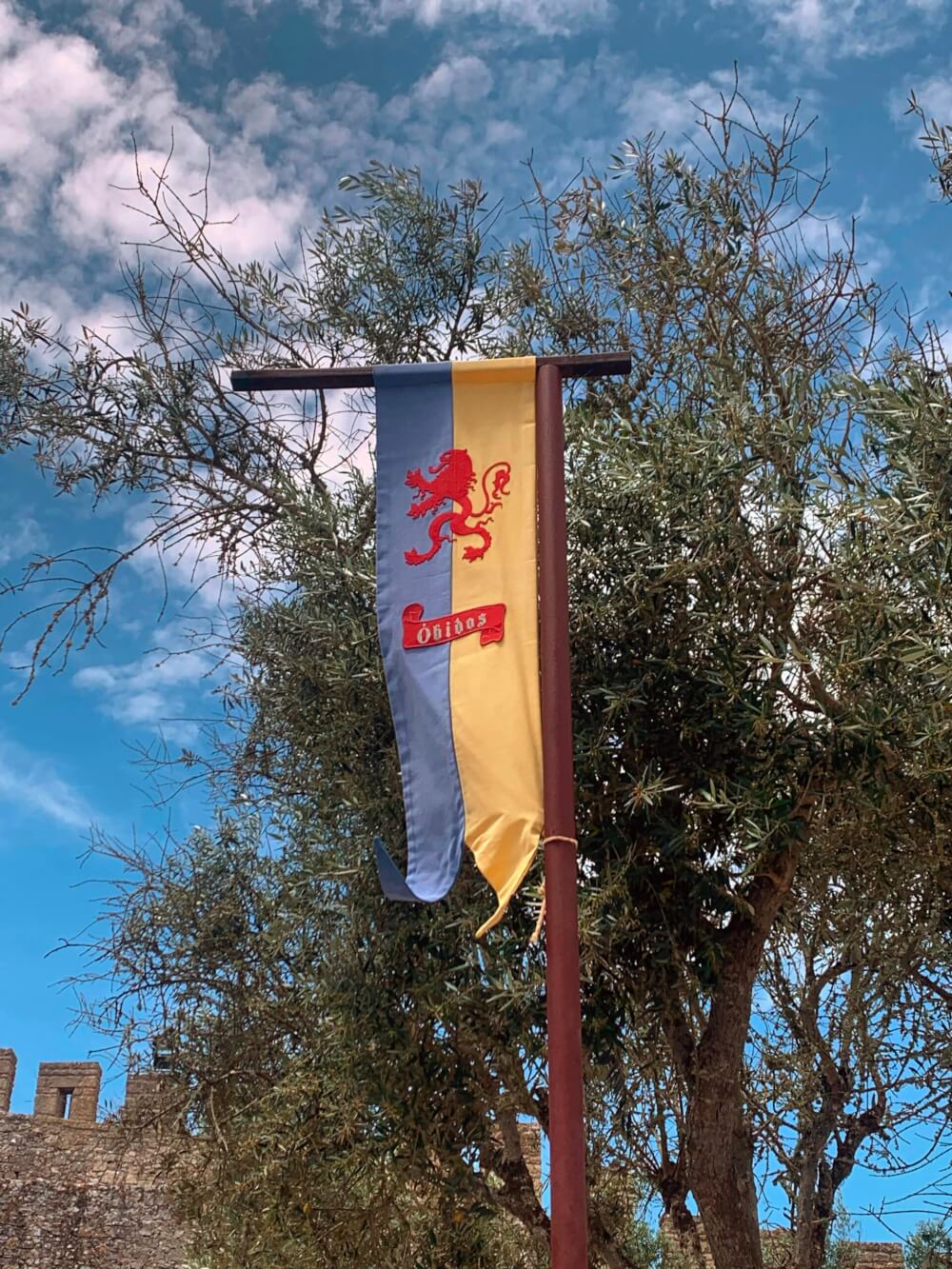 Walk the Castle Walls
Directly to Porta da Vila's left is the staircase that leads to the top of the castle walls, where you can freely walk around the entire city.
From here, you'll get a bird's eye view of Óbdios and its surroundings – the white-washed buildings, the classic Portuguese orange rooftops, and thousands of miles of peaceful countryside. You get all of the medieval Game of Thrones ambiance without any of the dragons or murders. It's the best of both worlds.
That said, there are no handrails and the route across town can be steep, so be cautious if you have mobility issues or small children.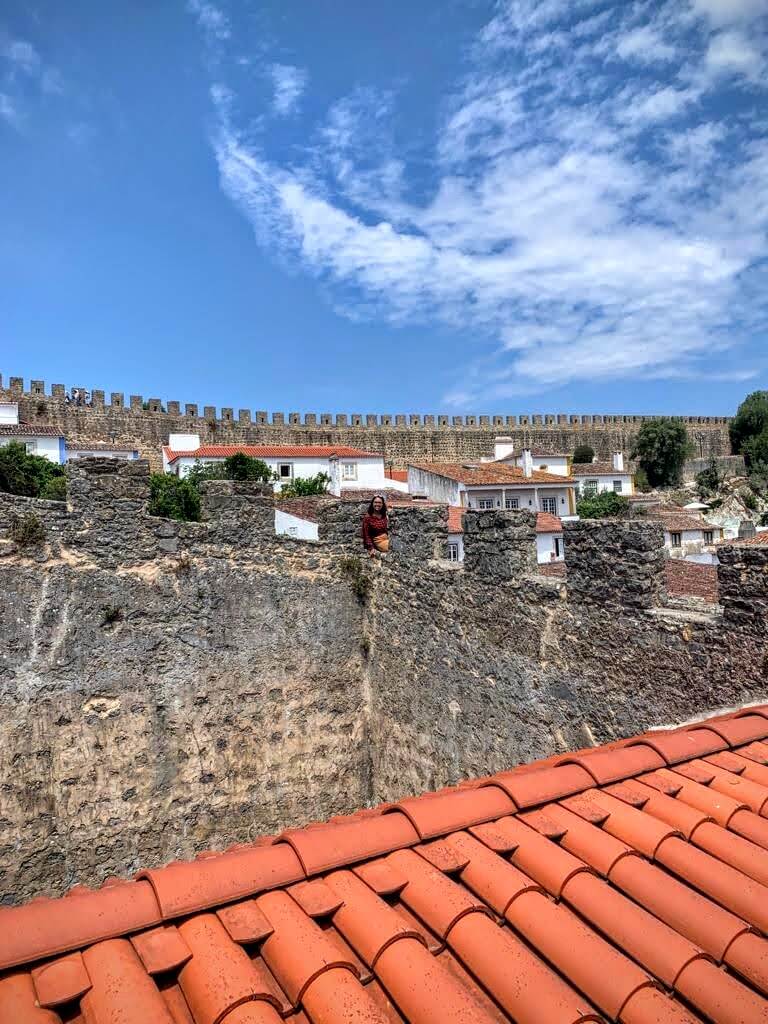 Find the Óbidos Swing
About halfway along the castle wall, there is a staircase that seems to lead to nothing but bushes. If you go down and push past the bushes, you can find the Óbidos swing!
It may be just a swing with a #Óbidos sign, but it offers visitors a quiet spot to take some photos and admire the town. Since you have to push past overgrown bushes to get to the swing, there are hardly any other people there.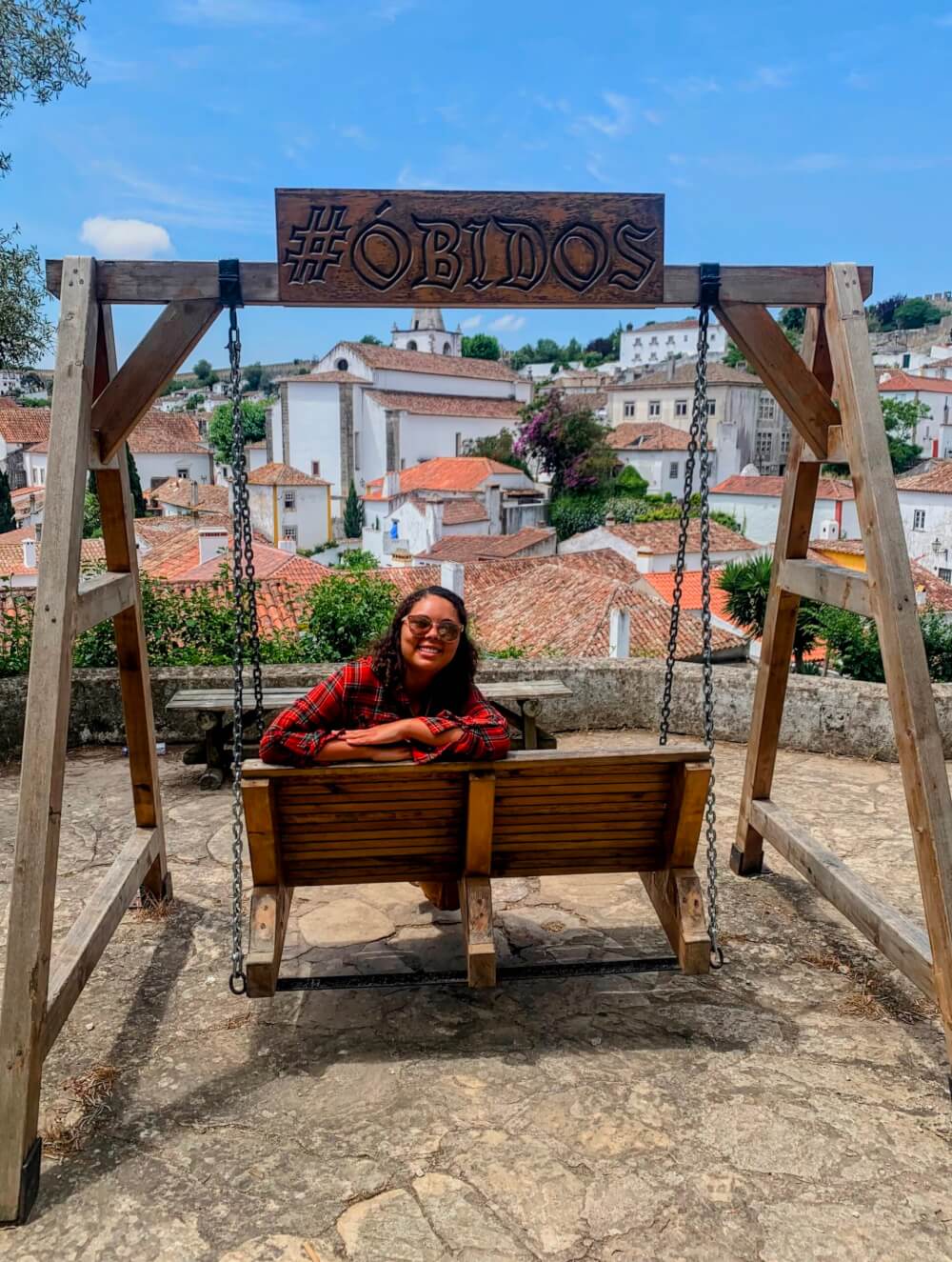 See the Óbidos Castle
And what would any medieval city be without a castle?
I mean, still beautiful, but a castle adds a certain Grimm Brothers atmosphere that I'm searching for when I travel to medieval cities.
Luckily for our day trip, we have the Óbidos Castle, which dates back to the 1100s. It was severely damaged by the 1755 Lisbon earthquake, but restored in the 20th century and converted into a luxury hotel.
Nowadays, the only way to visit the castle by eating in the restaurant or staying in the hotel. I did neither because I'm still in the "budget traveler" phase of my life, but honestly, it's not as expensive as you might expect a castle stay to be. In the off-season, a single room starts at €150 a night.
Behind the castle is the "Old Arms Square." If you're planning on visiting Óbidos for one of the city's many festivals, this is where they'll be held.
But more on that later.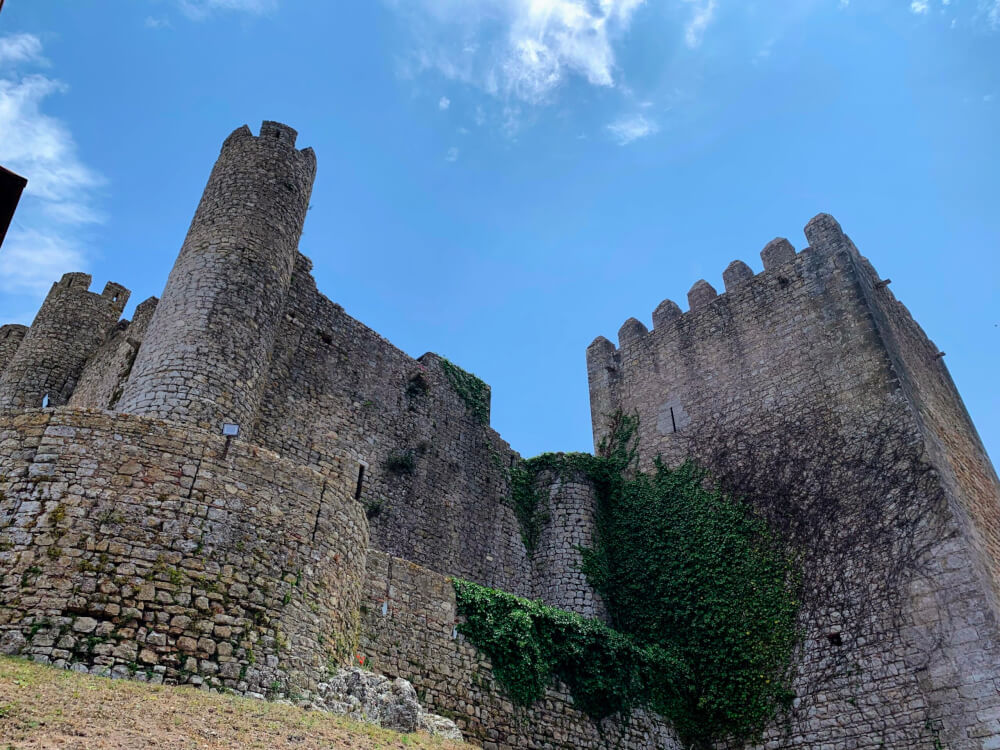 Browse One of the City's Unique Bookstores
Óbidos is a city with 14 bookstores, which may not seem like much until you realize the population is less than 12,000 people. It's not called the "Literary City" for no reason!
Next to the castle entrance is the Livraria de Santiago – a 12th-century church that's been converted into a bookstore. Most books are in Portuguese, but there is a decent selection of foreign language books, including English.
This isn't the only unusual bookstore in Óbidos. The Literary Hotel is every book lover's heaven. The entire hotel, restaurant, and gin bar is one giant bookstore – some of which are even free! Thousands of books, new and used, are everywhere. Books are quite literally shoved into every single corner. Even the cocktails are literary themed- you can order an Ernest Hemingway or a William Faulkner.
Another bookstore in Óbidos worth browsing is Livraria da Adega, a wine cellar turned bookstore. All of the shelves are made of wine boxes. Best of all, after you've found a new book, you can start pursuing it in the attached wine bar.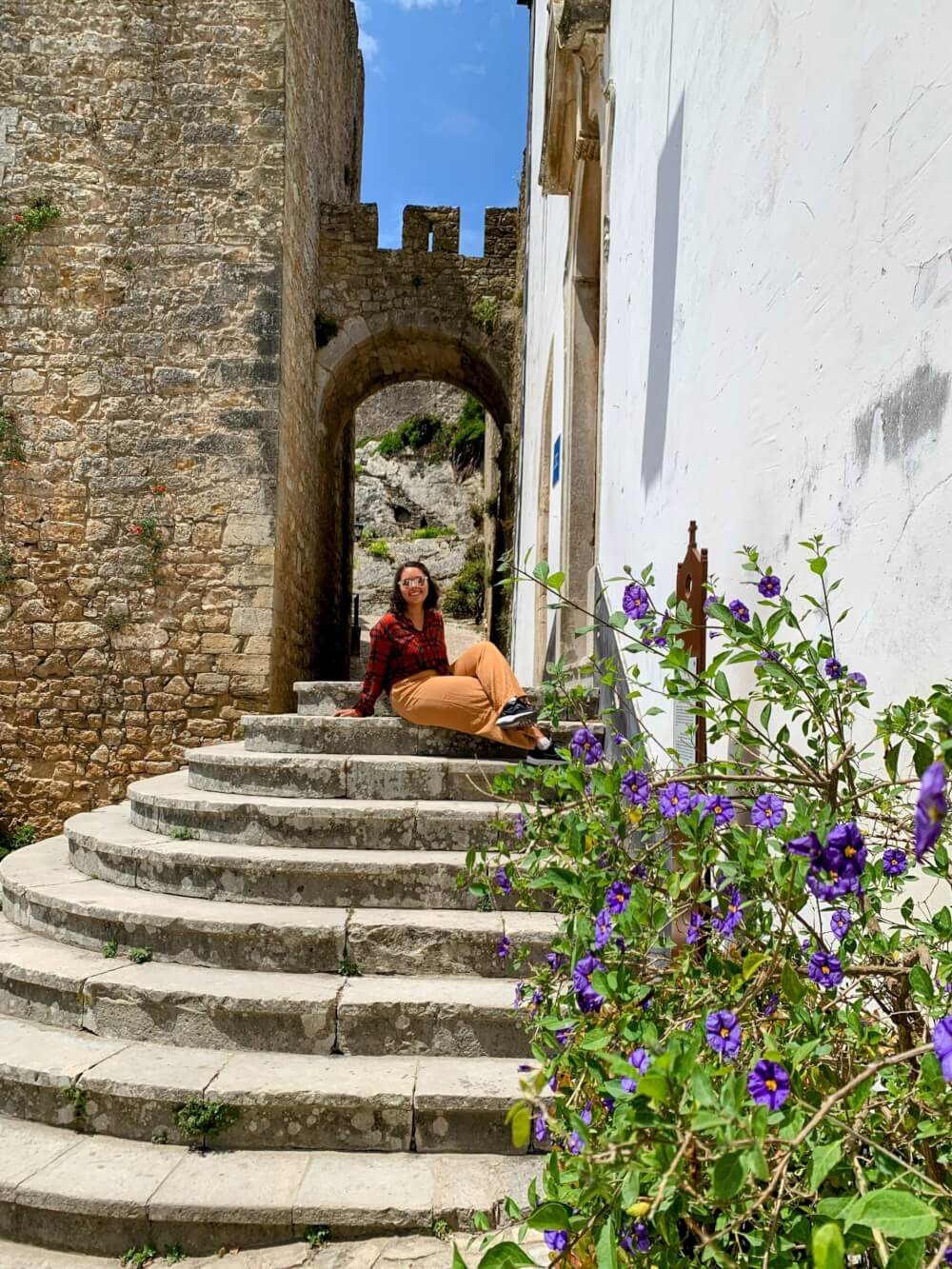 Lunch: Grab a Quick Bite at a Food Court
Just outside the city gate is a food court of sorts. Here, you can find several different restaurants and bakeries that share a large outdoor courtyard. They have tapas, pizza, all-day brunch, Portuguese food, and a wine bar! If you're traveling with a big group that has trouble agreeing on a place to eat, this is an easy way to please everyone.
As far as I'm aware, the food court doesn't have a name, but you can find it on Rua da Porta da Vila. If you hit the AleHop, you've gone too far.
Check Out the City's Still-Functioning Aqueduct
On the ride to Óbidos, you likely saw a line of archways leading into the city. This is the city's aqueduct, built in the late 1500s to provide clean drinking water. It's used to supply the city fountains even today!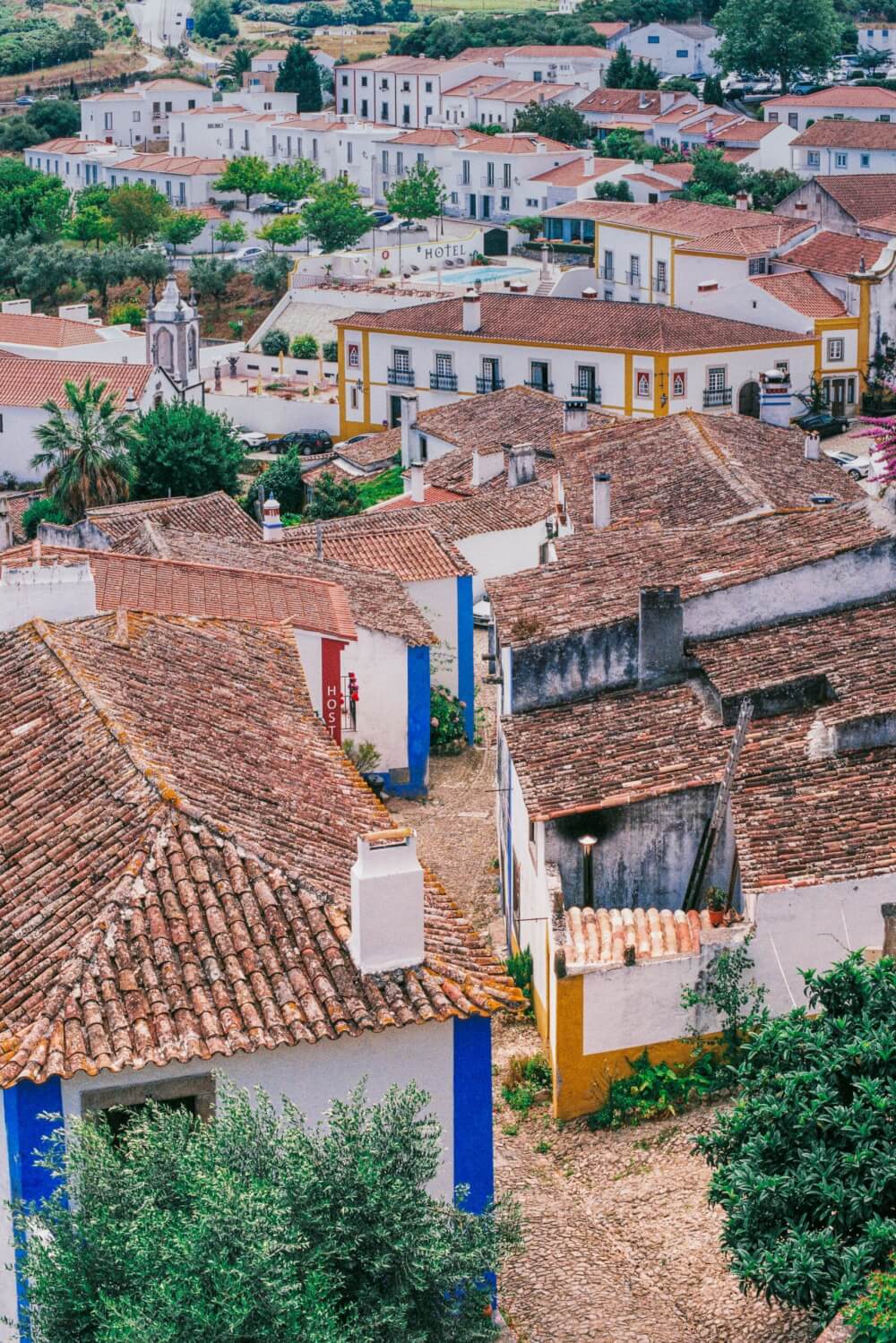 Mid-day Treat: Try Ginja Where it Originated
Ginja – a sour cherry liqueur, typically served in a chocolate shot glass – is as much a symbol of Portugal as pastel de nata, azulejos, and port wine. You can find it in shops all across Portugal, but it started right here in Óbidos!
A single shot will only set you back €1 – 1.50, depending on if you want the chocolate shot glass or not. Have some hand sanitizer ready, as the chocolate cup can become as sticky as it is delicious!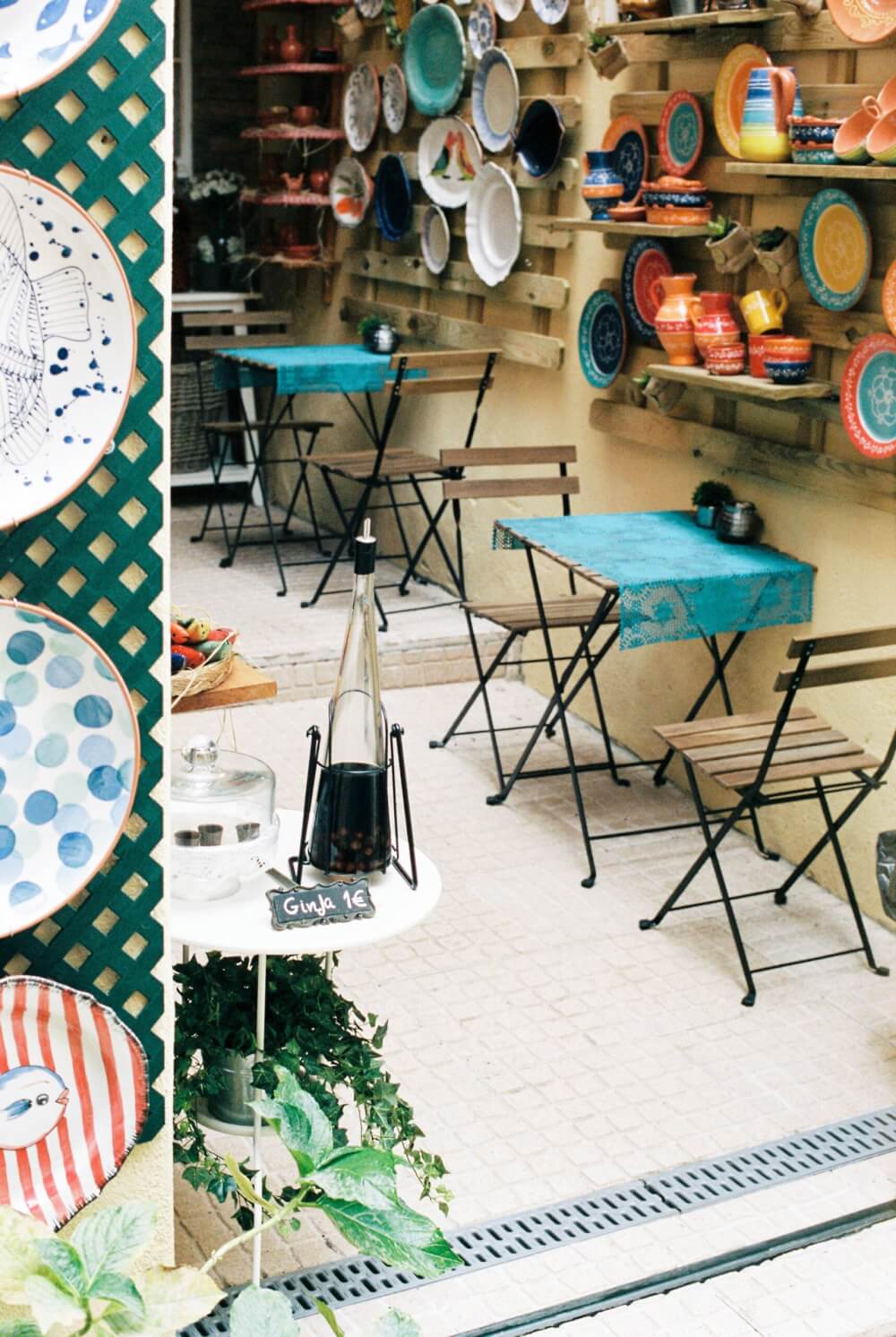 Afternoon: Have a Shopping Spree on Rua Direta
Rua Direta is one of the main streets in Óbidos. The street is lined with shops, bookstores, clothing stores, bakeries, bars, and galleries with exhibitions of art forms that are unique to the area.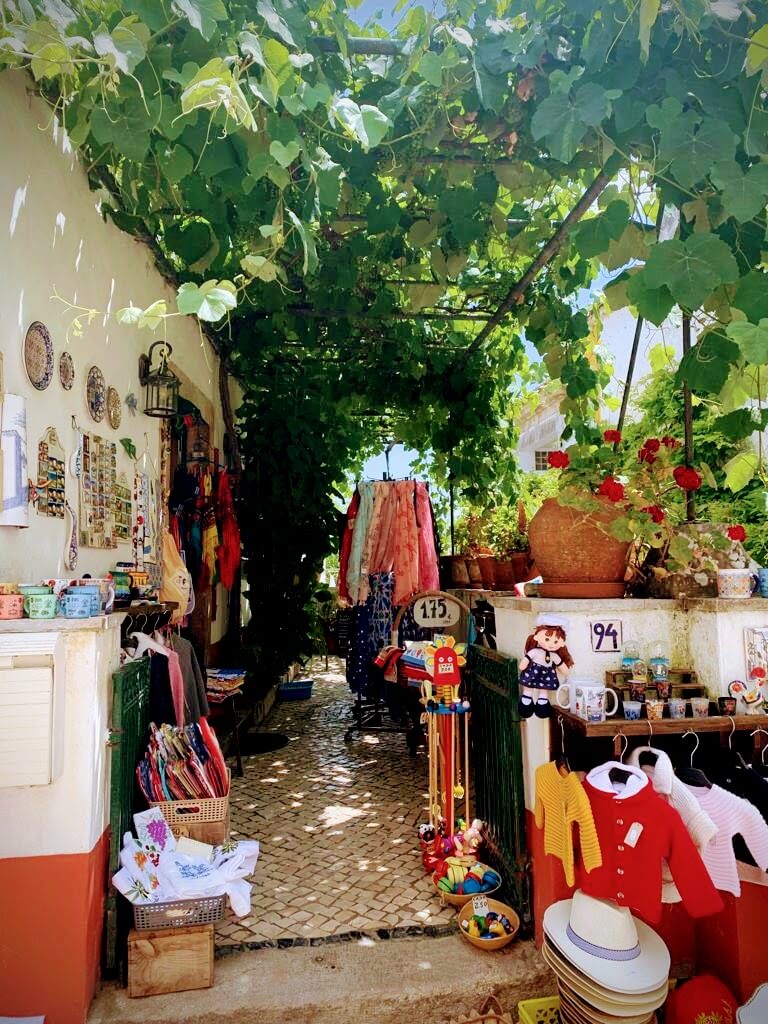 On this street is Casa dos Azulejos, a store full of handmade Portuguese tiles and ceramics. Photos aren't allowed, so you'll have to take my word for how stunning the artwork is. The shop owner makes everything herself and is usually sitting in the corner working on her next masterpiece.
Visit the Mysterious and Apparently Nameless Miradouro
Just like we can't visit a medieval city without a castle, we can't visit a Portuguese city without finding a miradouro (the Portuguese word for viewpoint).
For the life of me, I cannot find the name of this viewpoint. My friend and I found it while wandering down side streets on Rua Direta. Google Maps has it labeled as "Gorgeous Lookout". While I doubt that's the 'proper' name for it, it is an accurate description.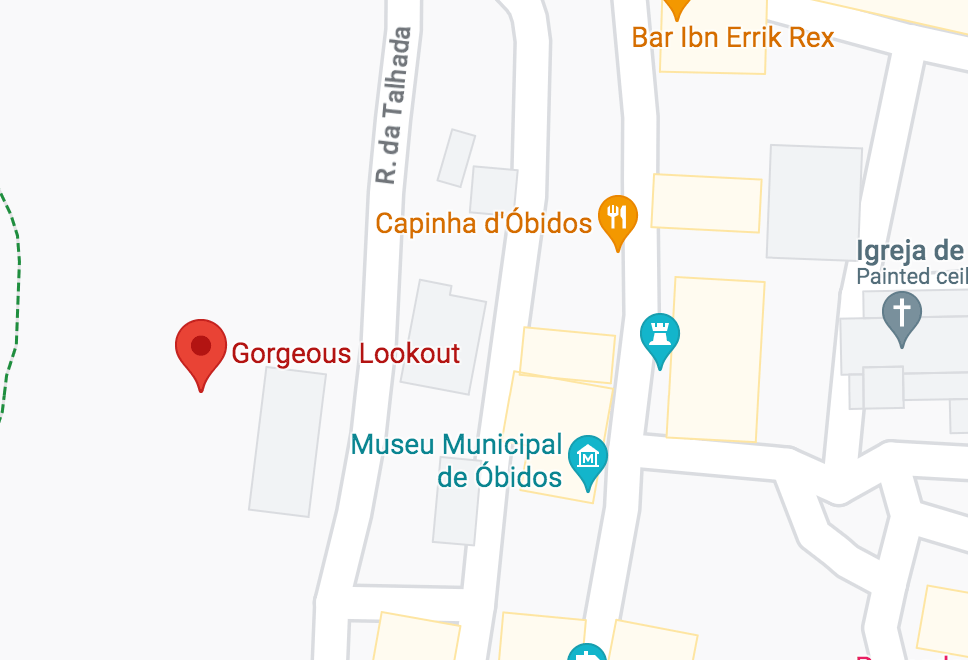 This viewpoint is at the end of a winding road that goes high above the city and takes you into the castle ramparts. You get a glimpse into rural Portugal – the vineyards, the nearby villages, and the mountains in the distance. We even saw bunnies hopping around.
Dinner: Devour Some Authentic Portuguese Cuisine
Before we catch the bus back to Lisbon, we'll be ending our Óbidos in one day itinerary with some traditional Portuguese cuisine, which is criminally underrated on a global scale.
"Portuguese food" encompasses a wide variety of dishes with extreme regional differences, but there tends to be a lot of seafood (especially cod), pork, rice, and potatoes involved. Here are some Portuguese restaurants to try in Óbidos:
Infusion: Slightly outside of the city center you can find this affordable, unpretentious restaurant offering authentic Portuguese food.
Book & Cook Hotel Restaurant: In line with the Literary City theme, Book & Cook is part bookstore and part restaurant. It's definitely the coziest restaurant in Óbidos!
Arco Cadeia: A medieval-themed wine and tapas bar. Head in this direction for live music, charcuterie boards, and 1400s ambiance.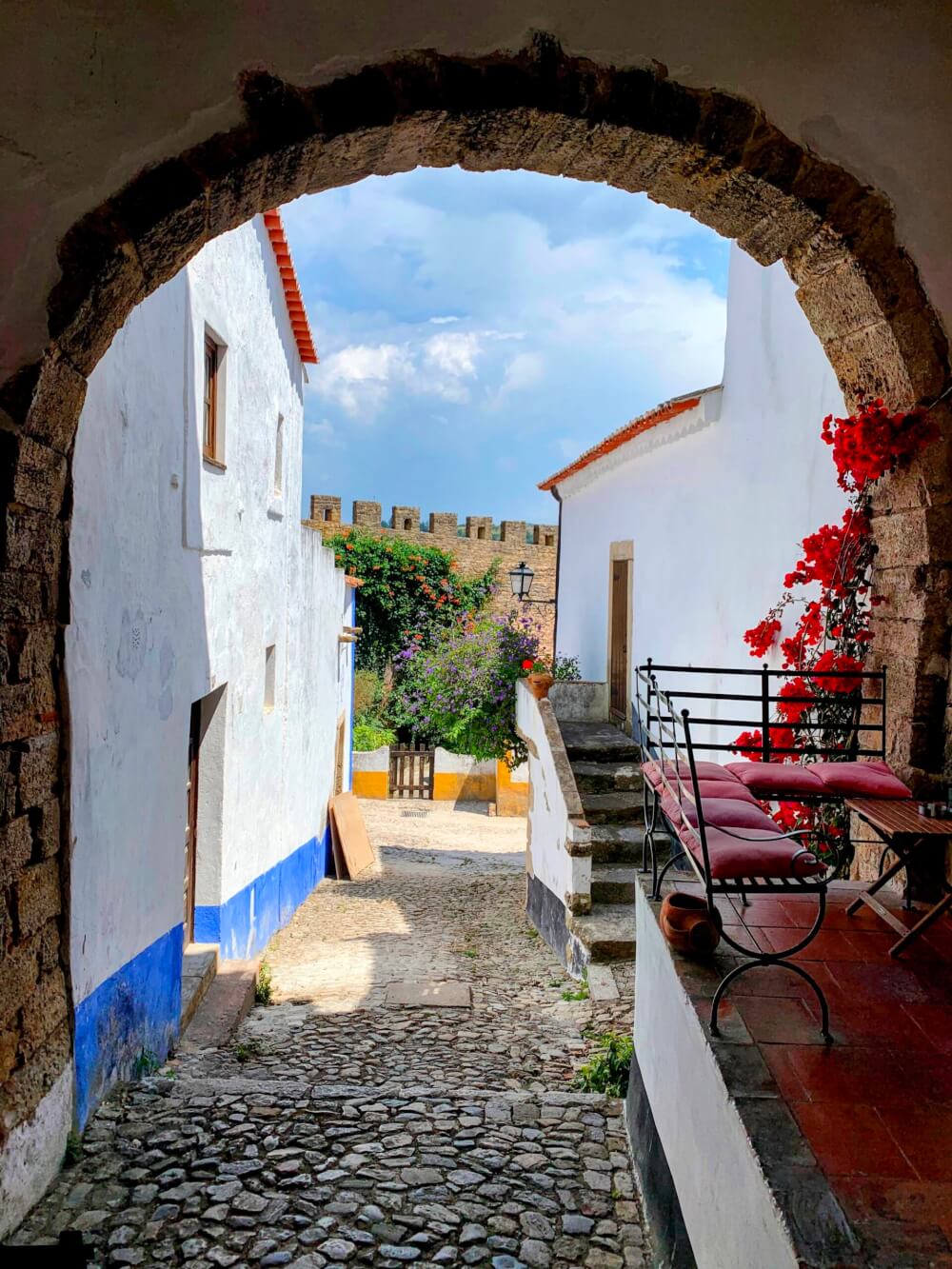 Bonus: Attend One of the City's Many Festivals
Of course, one of the most memorable things to do in Óbidos is attend a festival.
The city of Óbidos keeps its event calendar positively stacked – there is an International Chocolate Festival in March, a Medieval Festival in July, an Opera Festival in September, a Literary Festival in October, and finally a Christmas Village in December.
And that's not even all of them! If you happen to be in Portugal when a festival is being thrown, it's definitely worth your time to check it out. With so many exciting (and delicious) festivals, there's bound to be at least one that appeals to everyone.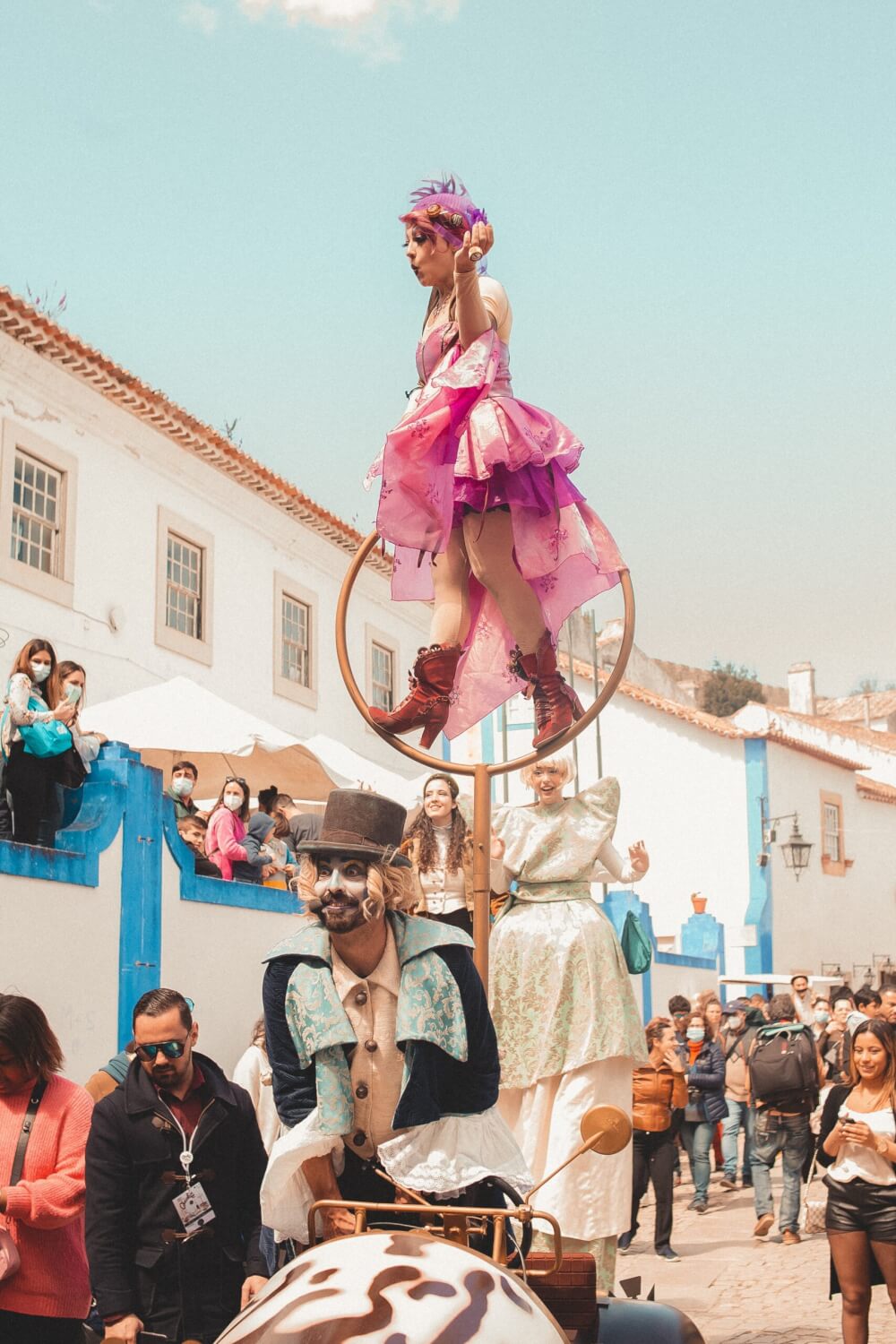 I Hope You Enjoyed This Guide on How to Spend a Day in Óbidos!
Let us know in the comments if you have any more questions about this Óbidos one day itinerary!
My Go-To Travel Favourites: