*FYI - this post may contain affiliate links, which means we earn a commission at no extra cost to you if you purchase from them. Also, as an Amazon Associate I earn from qualifying purchases. Check out our Privacy Policy and Disclosure. for more info.
Call it a first world problem, but finding a good place to eat in Rome can be really hard.
I mean, I've fallen victim to my fair share of tourist trap restaurants, the ones boasting FREE WIFI and ENGLISH MENUs like they're Michelin Stars… Sadly, Rome is filled with these sad food traps.
But, sometimes it is possible to find the best of both worlds: a happy combination of both good food and prime location. Short on time or itching for convenience? The question of where to eat in Rome is no easy one… so here's a list of the best places to eat in Rome that are close to the most famous attractions.
A Map of These Tasty Places to Eat in Rome
For your convenience, here are the restaurants below plotted on a map:
Best Places to Eat in Rome Near the Roman Colosseum, Roman Forum and Palatine Hill
Trattoria Luzzi
Via di S. Giovanni in Laterano, 88
Just a few minutes walk from the Coliseum is Trattoria Luzzi, a no-frills restaurant dishing out hearty plates of pizza and pasta for very attractive (below 10 euro) prices. It's one of the best cheap places to eat in Rome, which is why I've eaten here both times I visited. And although service is a bit cold, the food, prices and location make it a winning bet near one of Europe's most popular attractions.
Pane & Vino
Via Ostilia, 8
I came across Pane & Vino by accident while waiting for Trattoria Luzzi to open for lunch, and I couldn't resist grabbing a pre-lunch there, where you'll find fresh, simple sandwiches done right. The service is phenomenal, with friendly and chatty staff (hi Fabio!), plus its location near the Coliseum can't be beat. As further proof of their awesomeness, the walls are covered in declarations of love from doting patrons. One of the best affordable restaurants in Rome for sure (though it's more of a takeway place).
---
Best Places to Eat in Rome Near the Trevi Fountain and Spanish Steps
La Prosciutteria
Via Della Panetteria, 34
Trust me: you have not lived until you've tasted Italian porchetta. If you're looking for a quick bite near the Trevi Fountain or Spanish Steps, then La Prosciutteria offers unreal sandwiches, salads and a small range of pastas in a cozy atmosphere. Definitely one of the best places for lunch in Rome.
PS: You can also check out their other location in the Trastavere neighborhood.
---
Best Restaurants Near the Pantheon, Rome
Miscellanea
Via Della Palombella 34/35
A guidebook recommendation brought me to Miscellanea on my first Rome trip, and it definitely didn't disappoint. Located super close to the Pantheon, it offers simple Italian dishes (think classic pizzas and pastas) with friendly service and fair prices. It was definitely one of the most affordable restaurants in Rome I tried. Be sure to get the spaghetti carbonara – it's to die for.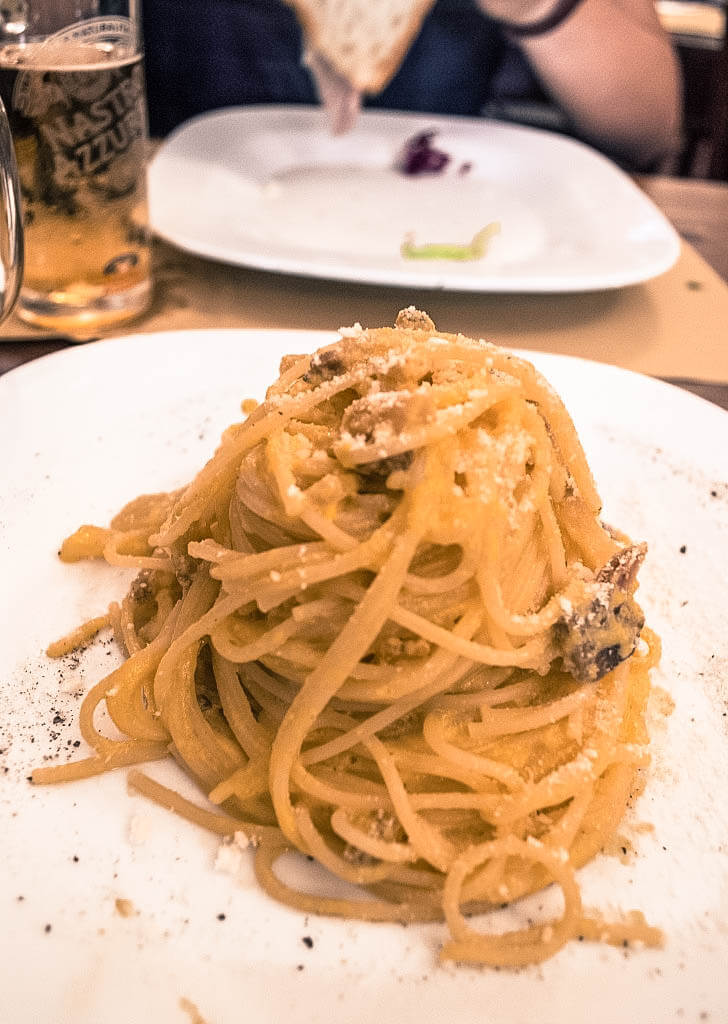 ---
Where to Eat in Rome Near the Vatican
Bonci (formerly known as the Pizzarium)
Via della Meloria, 43
Bonci is a pizza lover's dream. The prices here are considerably higher than a typical takeaway place, but make no mistake: this is no regular pizza joint. The toppings here are creative and unique, and the colourful display cases are arranged almost like artwork. Pizza here is priced by the kilogram, with staff cutting slices with scissors and then weighing them. Inventive toppings like catfish (mmm) and the pizza's crispy foccacia-esque base make it one of the best pizzas I've ever tasted.
Borgo 36
Borgo Pio, 36
Tucked away on a side street near the Vatican, Borgo 36 is where I enjoyed my last meal in Rome. Here, service is quick and the menu simple, but they do their home style dishes very well. The pizza and risotto I had were both great. Overall a nice place to rest up after a long day of exploring the Vatican.
Gelateria del Monte
Borgo Pio, 131
This list would not be complete without at least one gelato place, and if you're looking for a delicious gelato right by the Vatican, Gelateria del Monte is it. It's a tiny shop with a limited range of choice, but the fresh flavour and creamy texture of their gelato makes it an ideal stop for a sweet treat.
---
Overall, yes, Rome has many 'tourist trap' restaurants, but it's entirely possible to enjoy good food right by the city's main attractions. Have I missed any of your favourite restaurants? Let me know in the comments!
---
Watch my most popular YouTube video this week:
---