*FYI - this post may contain affiliate links, which means we earn a commission at no extra cost to you if you purchase from them. Also, as an Amazon Associate I earn from qualifying purchases. Check out our Privacy Policy and Disclosure. for more info.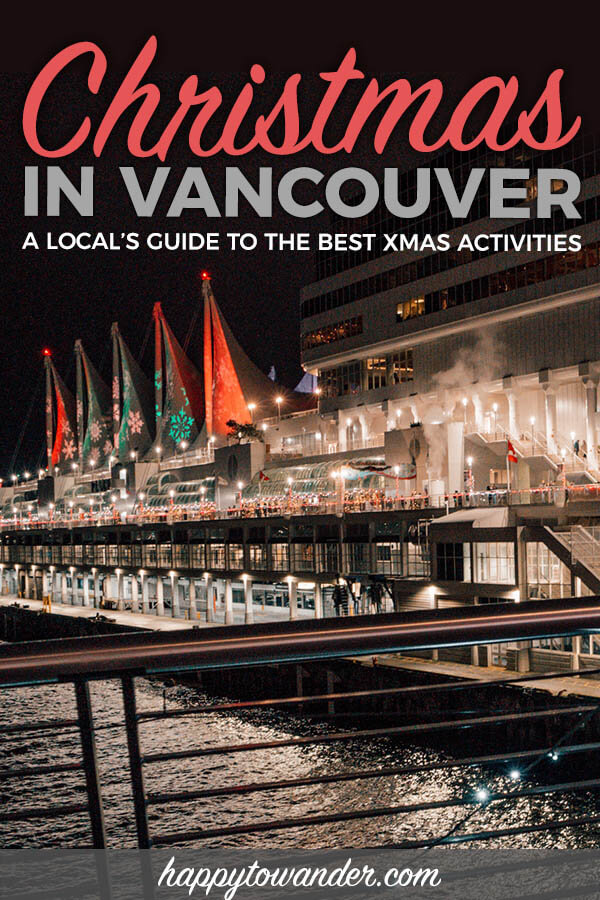 As many of you know, I'm a Christmas-obsessed gingerbread human who practically came out of the womb in a snowflake sweater. It should therefore surprise no one that the whole glitzy Vancouver Christmas experience is one of my favourite things about my hometown.
Truly, Vancouver does NOT mess around at Christmas. Entering the downtown core is like getting punched in the face with Yuletide joy, and frankly, I'm not mad about it.
I'm talking decadent light displays, giant Christmas trees, elaborate gingerbread houses and a seemingly endless stream of activities that are both free (AKA more money for dumplings) and paid.
Needless to say, you'll never have trouble finding something festive to do during the Vancouver Christmas season. Trust me, I've been at it for 20+ years.
So if you're looking for inspiration on things to do in Vancouver during Christmas time, This list is for you! In this post, I'm summarizing my favourite things to do in Vancouver at Christmas ft. the best free activities, alongside the most famous paid attractions and whether or not they're worth your time and money. Enjoy these tips & let me know in the comments if I've missed any of your Vancouver Christmas faves.
---
---
The Best FREE Christmas Activities in Vancouver
Since you're already emptying your savings on gifts and cake, I'm sure you'll want to scale back on your holiday spending. Well, here's the good news: the best activities in Vancouver during Christmas time are FREE!
While there's a huge range of paid activities around, I honestly don't believe most of them are worth your money. Certainly if you're a visitor, I don't think you should go out of your way to spend your money at pricey attractions when your money is better spent on real local Vancouver experiences like inhaling sushi and bubble tea 😉
So, here are some of the best free Christmas activities in Vancouver for you to enjoy!

---
---
1. Explore Gingerbread Lane
Address: Hyatt Regency Vancouver, 655 Burrard Street
Dates: Friday, November 30th – Friday, December 28th, 2018
As an avid baker & gingerbread fangirl, Gingerbread Lane is always one of the highlights of my holiday season in Vancouver.
Imagine a collection of the most creative and spectacular gingerbread creations you've ever seen, all in a space that smells (of course) like spicy, gingerbread-y heaven. This festival is completely free to visit, with donations going to Make A Wish.
Here, you can gawk at entrants in various categories from Secondary School to amateur and professional, with creations like stunningly impressive gingerbread houses, castles and more. You'll definitely be left with important questions like "how the heck high school students can create perfect fondant corgis?" (true story).
This Vancouver Christmas gem is located right next to Burrard station so is easily accessible by transit. Don't miss it!
I mean… HOW IS THIS ALL EDIBLE? SOMEONE PLEASE TELL ME.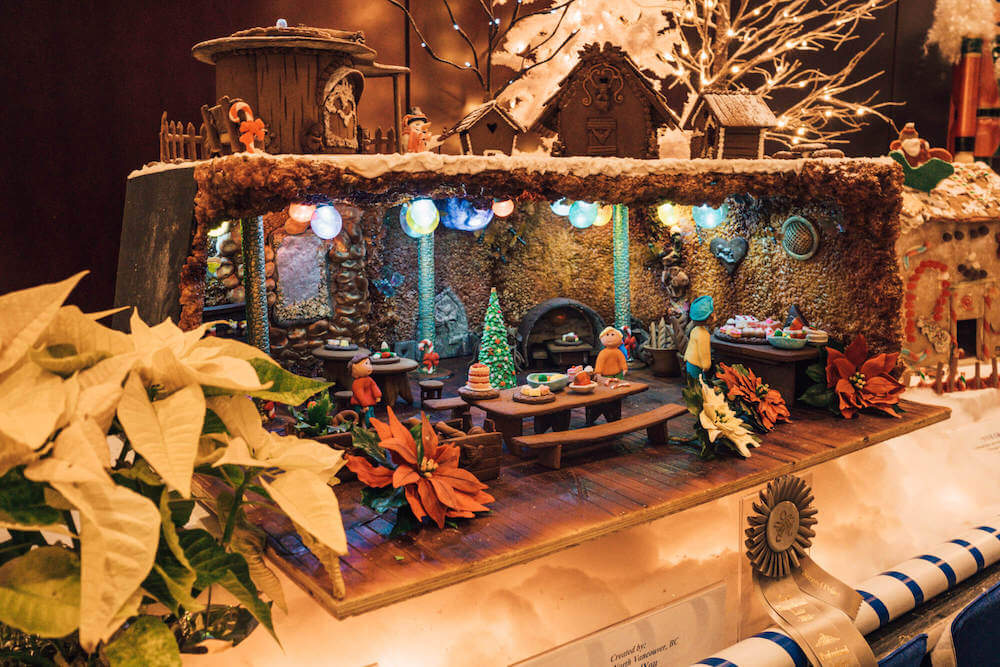 ---
---
2. Check out the giant balls at Park Place
Address: Park Place, 666 Burrard Street
Located right across the street from Burrard Station (and seconds away from Gingerbread Lane), these giant red baubles are a festive little photo opp, and worth a quick stop when you're downtown.
If you're looking for undeniably "extra" photo props – these are it… just don't be surprised if you're sharing the space with countless other eager photoshooters.
Random fact: this installation is located steps away from Christian Grey's office (or where they filmed it at least) in Fifty Shades of Grey.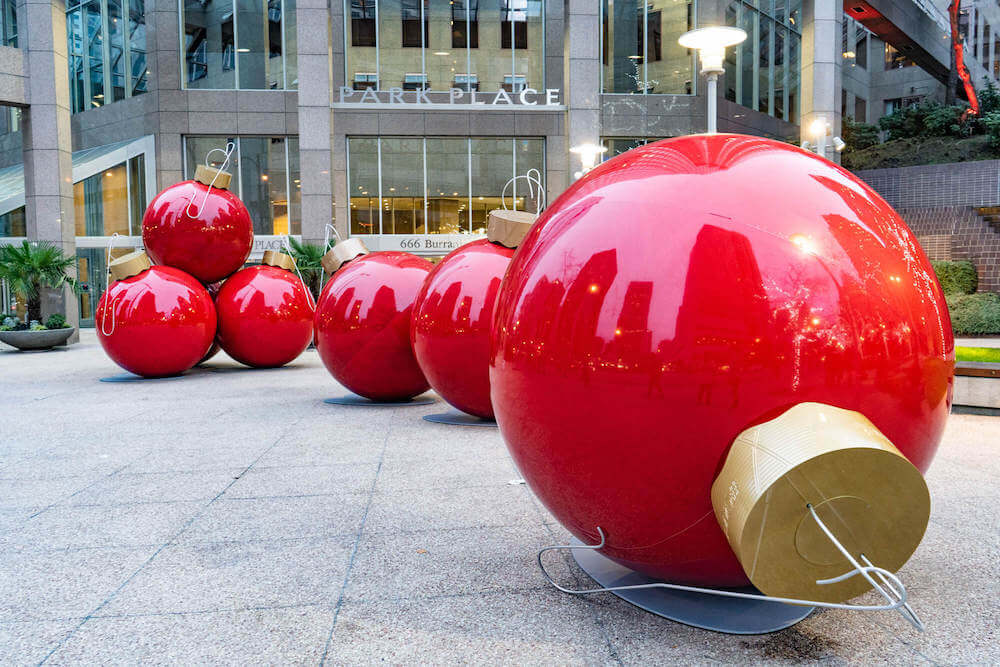 ---
---
3. Enjoy the colours of Christmas at Canada Place
Address: 999 Canada Place
If you're looking for something more atmospheric and romantic, be sure to soak in ALL the Christmas vibes at Canada Place by night.
It's pretty easy to see why Canada Place is one of my favourite place areas in the city to enjoy a nighttime stroll: there's the glittering reflection of the lights, the serene sound of gentle waves and just a wonderful, uniquely Vancouver vibe. Well, the magic factor is cranked up to 9000 during the Christmas season when the iconic sails of Canada Place are lit up in Christmas colours with snowflake patterns and of course whimsical little fairy lights dangling over the walkways and railings.
NOTE: This is also where you would go to experience the Fly Over Canada attraction (but more on this one later).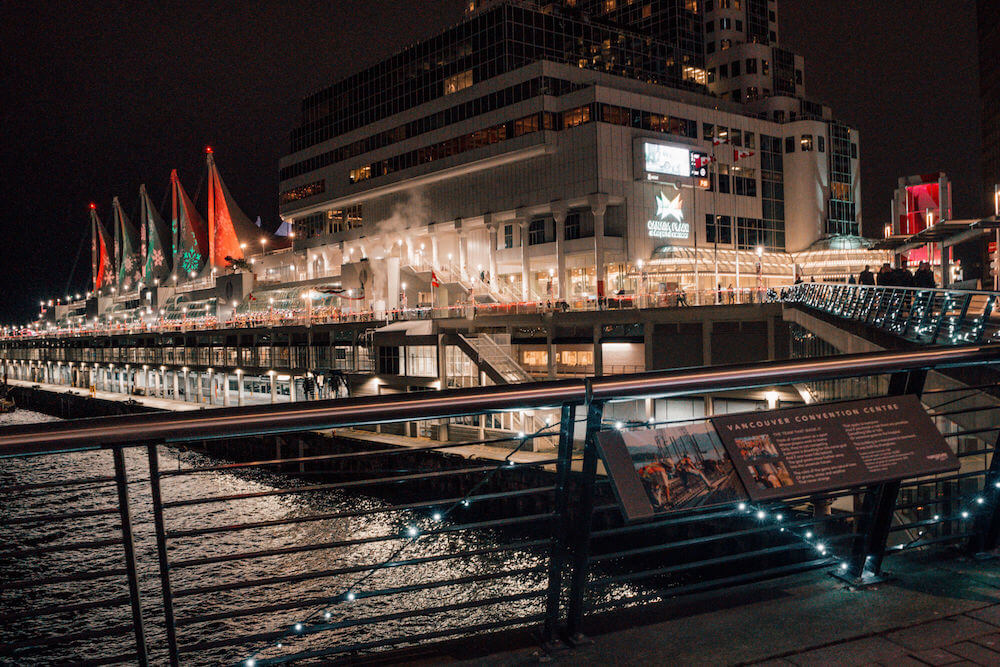 ---
---
4. See the Lights of Hope at St Paul's Hospital
Address: 1081 Burrard St
Dates: November 16, 2018 – January 8, 2019
Over 100,000 light bulbs deck the glittering facade of St Paul's Hospital during the holiday season, and yes it is SPECTACULAR!
It takes over 6 weeks and 150 volunteers to create this beast every year, and hands down, this is one of my favourite Vancouver Christmas lights displays. I especially love that it's so centrally located in downtown Vancouver that you only have to walk a few extra minutes from the main shopping drag to see it. If you're making it a goal to enjoy allll the amazing Vancouver Christmas lights on display, this is a must-see for your list.
And on that note…

---
---
5. Drool over ALL the amazing Vancouver Christmas Lights
Vancouver Christmas lights are no joke. I feel like every single year the stakes get raised higher and higher, which is definitely not a bad thing when you're hunting for delightful photo opps.
That said, one of the best free activities to enjoy in Vancouver during Christmas time is admiring all the Christmas lights displays. Downtown Vancouver Christmas lights are especially abundant, with all of Robson Street lit up and twinkly BUT if you have access to a car, roaming around to see house displays is equally delightful… and Vancouverites really go wild over this stuff. Trust me: I grew up next to a house that literally GLOWS for a full-month straight with sing-songey musical decor… My parents never stood a chance.
There are far too many houses to list but you can click here for a directory of amazingly decorated houses submitted by the owners themselves for 2018.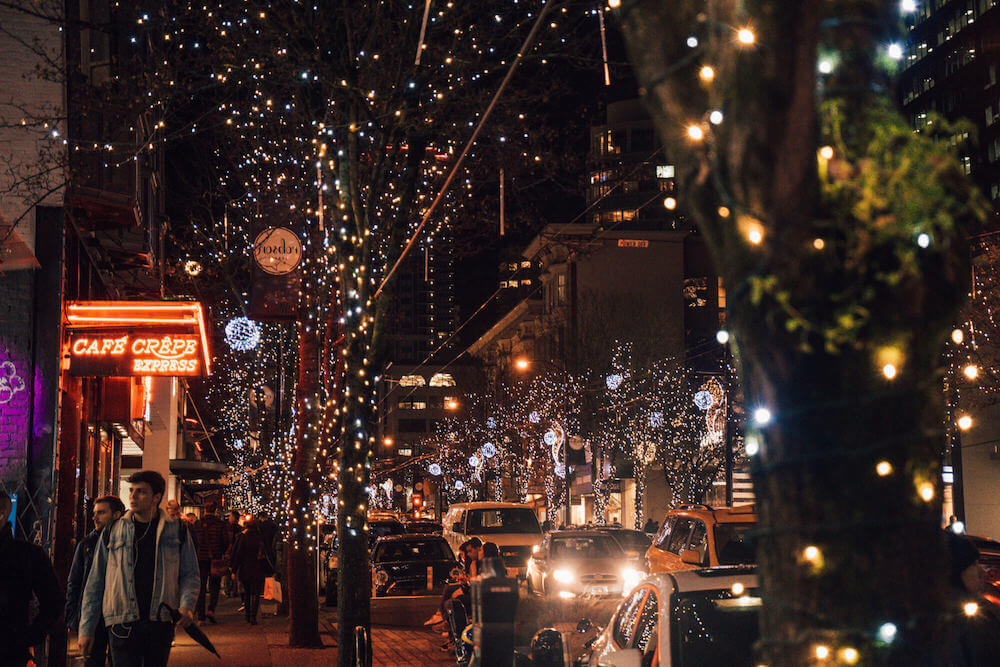 ---
---
6. See the biggest Christmas tree in Vancouver
Address: Robson Square
The giant Christmas tree in Robson Square is definitely one of the most iconic Vancouver Christmas attractions this season, and as locals will be very keen to tell you, this tree is actually taller than the one in New York's Rockefeller Center (yes, THAT tree that features prominently in pretty much every single NYC holiday movie).
Situated right in front of the Vancouver Art Gallery & nearby Robson Square Skating Rink, this is a great place to scope out a larger-than-life Christmas tree (if you can see past the mobs of people, that is!)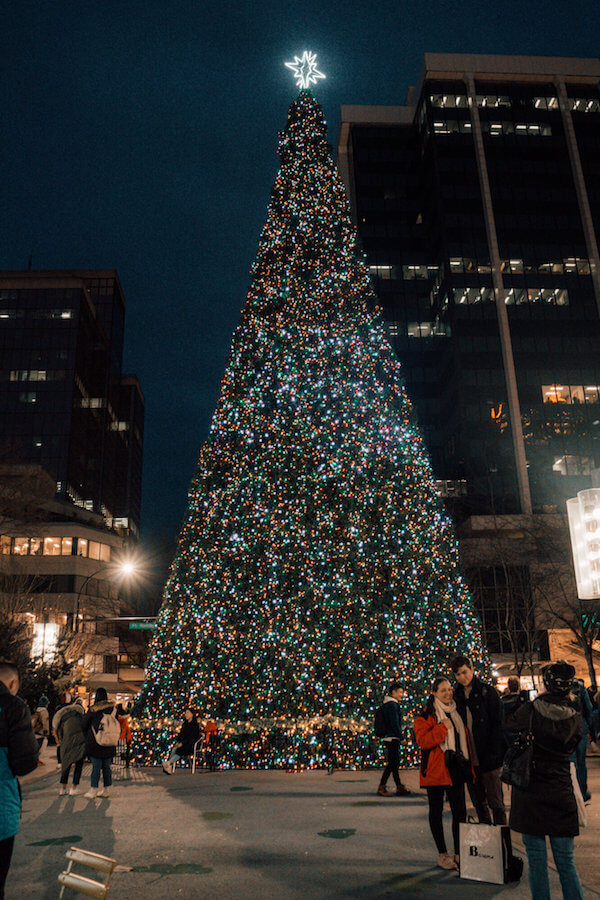 ---
---
7. Go skating at Robson Square
Address: Robson Square (below street level)
Dates: December 1, 2018 to February 28, 2019
And while you're already at Robson Square, you might as well head down a level below to visit the Robson Square skating rink – which is totally free if you bring your own skates, and only $5 for rentals!
Trust me when I say that this is THE quintessential Vancouver Christmas date night activity. If you've ever been young and in love in Vancouver, you've probably adorably held hands while skating in loops at this iconic spot, so why not join the love-fest and skate away? This year they even have a walk-in snow globe photo opp.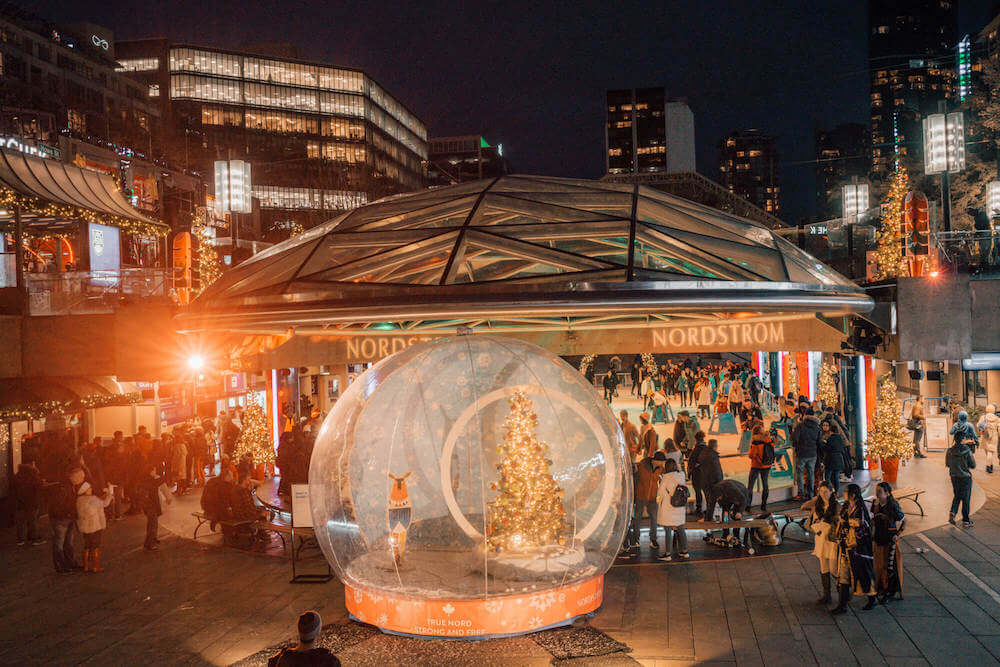 ---
---
Paid Vancouver Christmas Activities
Over the years, I've forked over a fair bit of cash to experience Vancouver's best paid Christmas activities.
My honest opinion? Most of them are SUPER expensive, overly crowded, and mildly underwhelming. Again, if you're a visitor, I wouldn't prioritize these paid attractions too much because there is way more to do in Vancouver than wait in sweltering lines. That said, if you're looking for a special activity to occupy a few hours, then here are a few of the paid Vancouver Christmas attractions and my honest opinion of them.

---
---
1. Vancouver Christmas Market
Address: Jack Poole Plaza
Dates: November 21, 2018 – December 24, 2018
Cost: For adults, $10 online, $12 at the door (cash only)
If you spent any amount of time on my blog you'll know that I am utterly obsessed with Christmas Markets. Now that I live in Germany, I basically eat, sleep and live at these markets, so honestly the prospect of going to a copycat German Christmas Market in Vancouver has not always been at the top of my mind.
The FOMO got to me though and I went this year's Vancouver Xmas Market… and honestly, it was better than I expected! It's perfectly cute and lovely so long as you don't go during peak times (and can overlook how overpriced most things are).
And while I'm not too fond of the admission fee, in which you're essentially paying for the privilege to just stand in more lineups and pay for things inside, it's definitely a festive fun little activity to do with friends or on a date. Again though, make SURE you avoid peak hours and weekends, or you'll be stuck in lineups for ages pining for overpriced food that might be better enjoyed in the coziness of a restaurant. You can read my full Vancouver Christmas Market review here.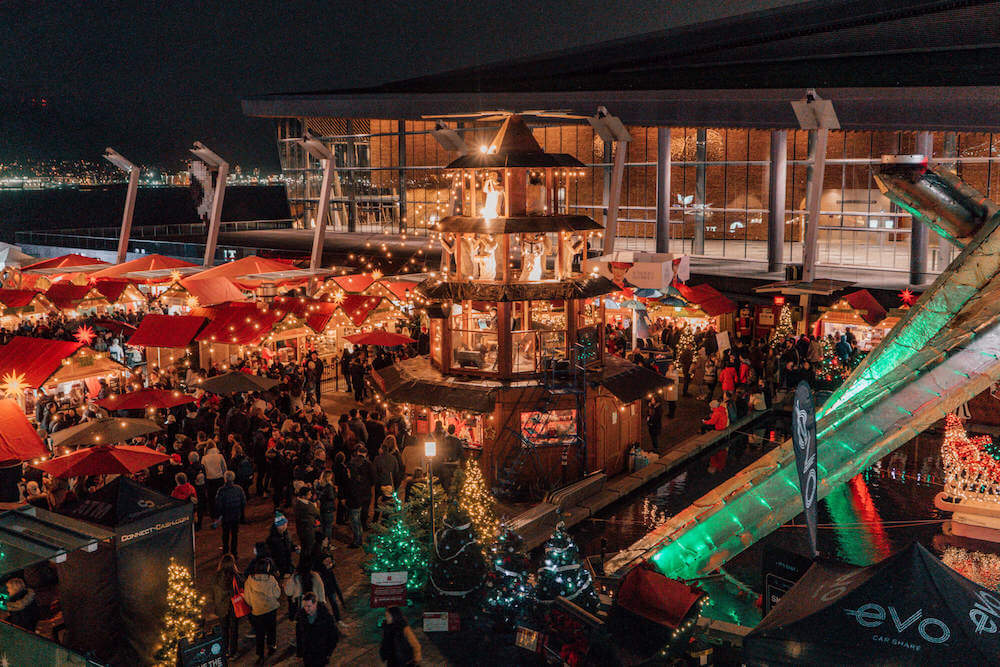 ---
---
2. The Van Dusen Festival of Lights
Address: 5251 Oak St
Dates: December 1, 2018 to January 6, 2019
Cost: Around $20 per adult depending on when you go and where you book
With a over a million twinkly lights shining in its honour, the Van Dusen Festival of Lights is probably my favourite paid Christmas activity in Vancouver. After all, it has been on for over 30 years, so they must be doing something right. The pretty displays over Livingstone Lake (with a musical show every 20 minutes) are of course a highlight, but there's also a free carousel ride included in the admission, along with food vendors on-site. It's a way cheaper alternative to the Canyon Lights at Capilano Suspension Bridge, and (in my opinion) much nicer.
If you want to see the Van Dusen lights for yourself, here's more info.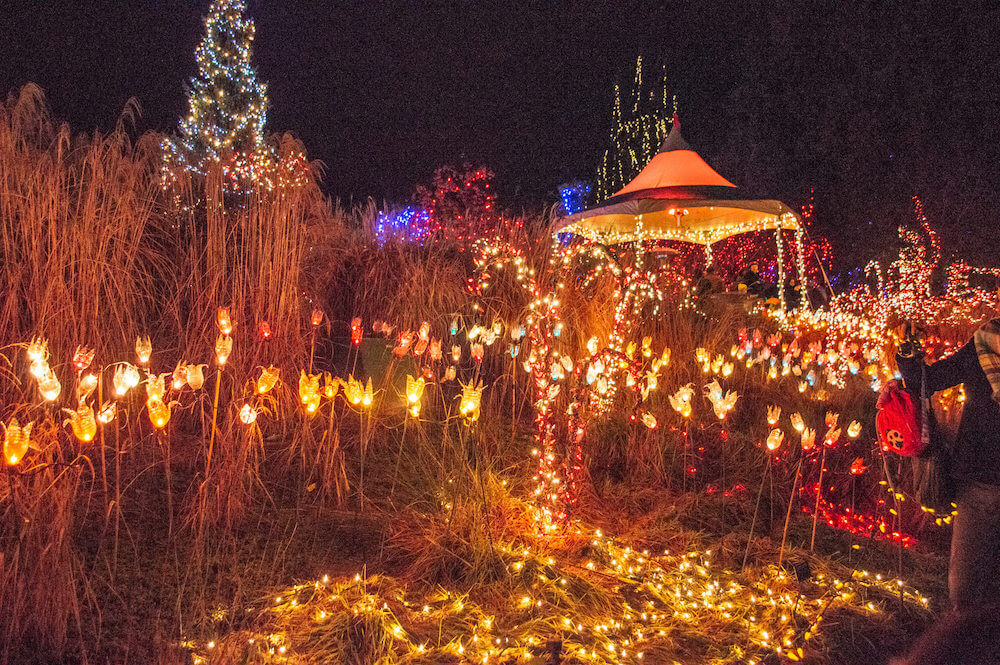 ---
---
3. Bright Nights at Stanley Park and the Stanley Park Christmas Train
Address: Pipeline Road in Stanley Park, via the West Georgia Street park entrance
Dates: November 29, 2018 to January 5, 2018
Cost: $12 per adult for the night train, $6 for the matinee
Stanley Park is a Vancouver Christmas institution and a childhood rite of passage.
BUT, that said, while I think that Stanley Park is one of the most spectacular things to do in Vancouver, I don't think it's best enjoyed by night. I went on this train 2 years ago and it was a cute experience, but the lighting displays weren't especially extravagant or breathtaking. This might be a fun thing to do with kids, but I think given that it is a bit of a trek from the downtown core, and given that it's a paid activity, I don't think it's the best use of your time or money. Instead I would rather visit Stanley Park during the day to enjoy amazing views of Vancouver, and then go back to the main city center to look at the creative lighting displays.

---
---
4. Holiday Heights at Bloedel Conservatory
Address: 4600 Cambie St (Inside Queen Elizabeth Park)
Dates: December 14, 2018 – January 6, 2018
Cost: $6.50 for adults
Speaking of parks, Queen Elizabeth Park is one of my all-time favourite parks to visit in Vancouver.
One of its starring attractions is of course the Bloedel Conservatory, which houses countless floral species and is also a functional bird sanctuary. During the holiday season, they deck the conservatory out with pretty lights and Christmas displays for "Holiday Heights".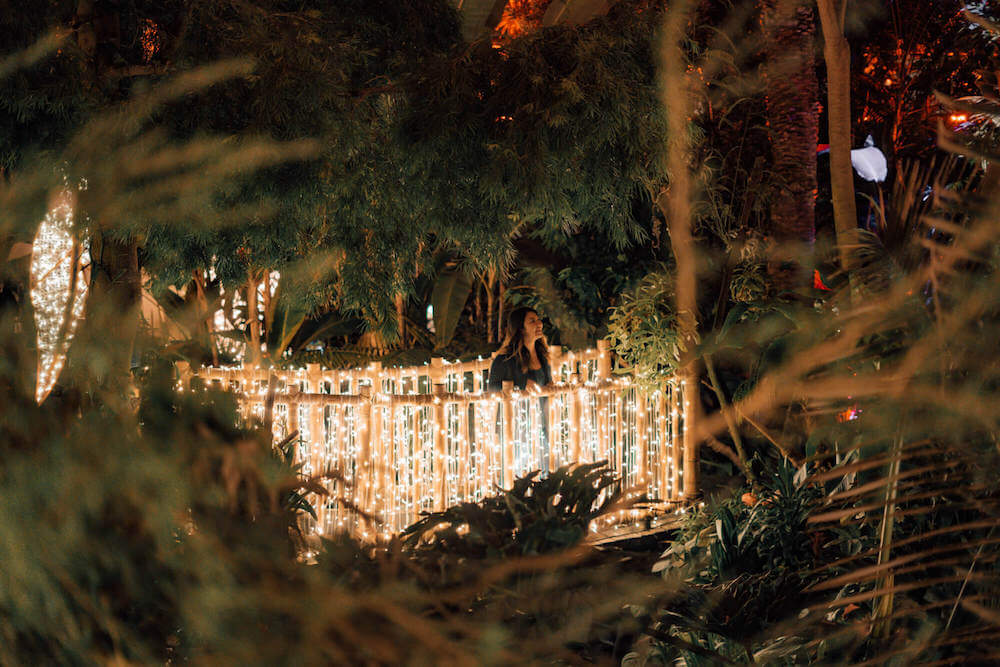 I went this year and it was a nice indoor Christmas activity to hide from the rain, but it's definitely small and you can easily go through the entire THING in less than 30 minutes. While there are a few fun activities for the kids like a gnome-themed scavenger hunt, I wouldn't go out of my way to see this. Queen Elizabeth Park IS beautiful though and in my opinion, the fountain displays lit up in Christmas colors is actually more of an attraction than the conservatory itself. Plus, the view of the Vancouver skyline from here is great! I would say this is a nice stop if you have some extra time or need an indoor-friendly activity, but it's not my personal favourite.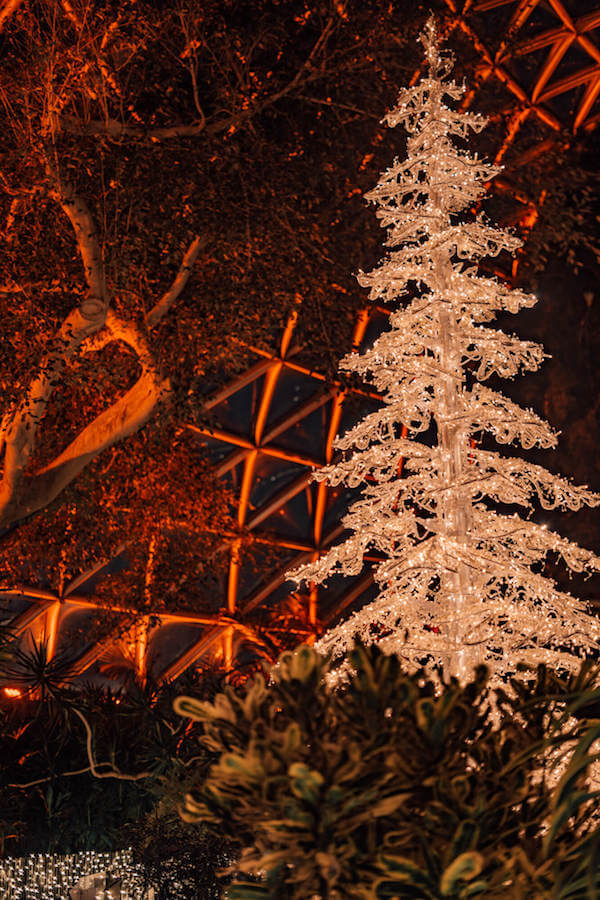 ---
---
5. Fly Over Canada
Address: 999 Canada Place (walk along where the sails are and follow the signs)
Dates: Year-round but the Christmas themed ride is from November 22, 2018 – January 6, 2019
Cost: For adults, $28 online and $33 (!!!!!!) at the door
Fly over Canada is an 4D interactive experience that takes you on a journey across Canada on a sort of motion simulator. I've done this several times including during the Christmas season when they have a special Christmas theme and there's some cheesy Santa Claus add-ons superimposed over the footage.
My honest opinion is that this attraction isn't really worth the money. I've paid once full-price just to try it, and have gone a few more times with friends who could get in for free. 30 bucks is steep (that's a meal!!) for a short ride, and I don't think it's a "must do" by any means.
That said, it might be fun if you have kids and you want to bring them on a ride of some sort. The footage is really stunning and especially for kids, the ride aspect of it is fun. Plus, you get to see lots of Canada in one swoop! I personally wouldn't go out of my way to do it though.

---
---
6. Canyon Lights at the Capilano Suspension Bridge
Address: Capilano Suspension Bridge, 3735 Capilano Rd
Dates: November 22, 2018 – January 27, 2019
Cost: For adults, $46.95 (!!!!!!!!!!!)
Okay, last but not least, I want to chat about the Canyon Lights at the Capilano Suspension Bridge – one of the most hyped up Vancouver Christmas events online.
I've been to the Capilano Suspension Bridge many times over the years, and while it's beautiful, I don't think it's worth the seriously hefty price tag (almost $50!!!!!), and certainly not when it's really crowded, which it usually is during Canyon Lights unless you go in the morning.
Full disclosure, I've never actually attended Canyon Lights but many of my best friends have and the unanimous conclusion is that it's not as pretty as the photos make it look, it's scary crowded, can get very cold, and not worth the price. I actually think you would get more out of the experience if you went during the day because the park truly is beautiful, and you barely get to see it by night. While the lighting displays do look nice, know that many of the photos have been edited to bring out the lights more, so they wouldn't be as bright and magical in real life. You can look at live Instagram Stories to get a more accurate capture of what the event looks like.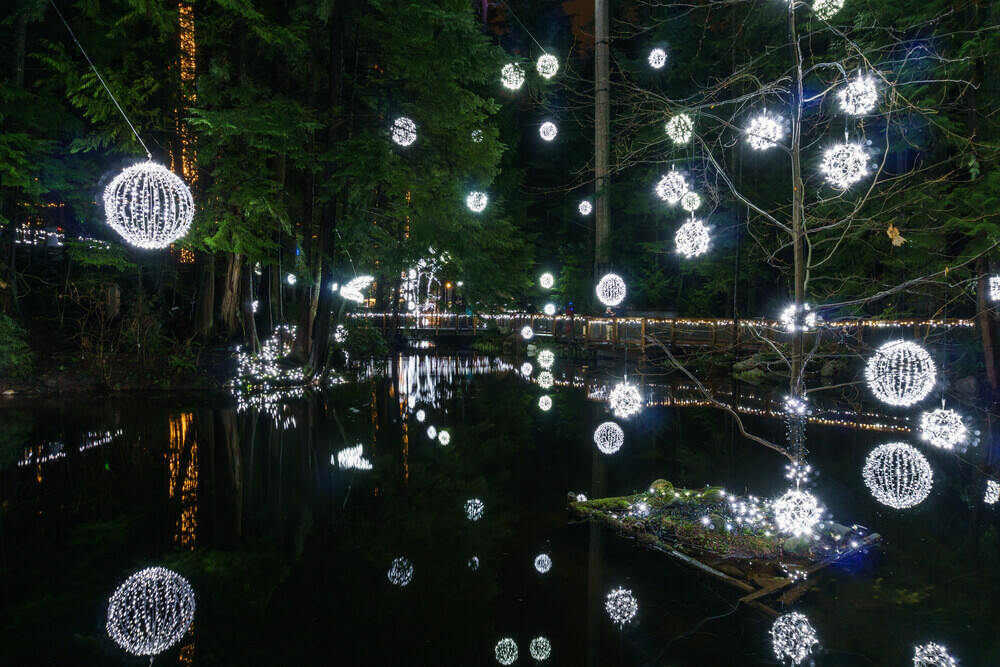 ---
---
Other Christmas Activities in the Greater Vancouver Area
Remember, like I said in the intro, this list is based primarily in the Vancouver downtown core, but there are plenty of other Christmas things to do in the Greater Vancouver Area (in nearby cities like Burnaby, North Vancouver, Richmond, etc.)
From the Grouse Mountain Christmas Experience, to Christmas at LaFarge Lake and the classic Burnaby Village Christmas, click here for a solid roundup of Christmas events in Metro Vancouver.
---
---
So, how does a Vancouver Christmas sound? 😉
I hope you enjoyed this lengthy roundup of free and paid Christmas things in Vancouver! Did I miss any of your favourites? Let me know in the comments!
---
---