*FYI - this post may contain affiliate links, which means we earn a commission at no extra cost to you if you purchase from them. Also, as an Amazon Associate I earn from qualifying purchases. Check out our Privacy Policy and Disclosure. for more info.
The following post contains annoyingly cute ideas for travel-themed Valentine's Day gifts. I apologize in advance.
Sooo, I'm gonna give you ample time to freak out here, folks – Valentine's Day is coming up in just over 2 weeks, and odds are (unless you're a freaking superhuman), you still don't have a gift.
*cue meltdowns and stress eating*
DON'T WORRY. I AM HERE TO HELP.
Save this post on Pinterest for later: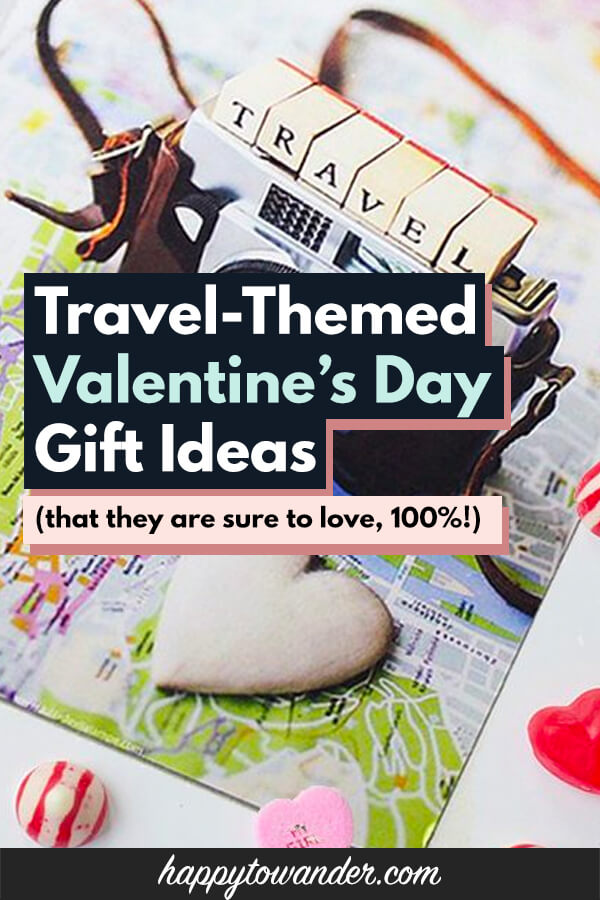 Trust me when I say this, I am a disgustingly romantic person. Like, as much as I enjoy making fun of cliches and cheesy BS, I am also that chick in the corner scrapbooking and writing thoughtful notes and crying her eyes out watching the Notebook for the millionth time.
So, yeah – anyways. Here's a Valentine's Day gift guide, travel-inspired of course. I think a lot of people struggle with thinking up travel-themed gifts for their sweetheart, APART from actual trips… and I mean, who has the cash flow for that, right?
OK wait – gotta eat my words – once, I saw this guy on my Facebook had made his girlfriend a "blank plane ticket" as in like, he drew out a freaking plane ticket, put the destination to "ANYWHERE YOU WANT, BABE xoxoxo" and under Special Notes said something like "I love you forever princess bbcakesbae". I almost threw up all over my Macbook.
BUT, anyways, if you can't afford to fly bae just anywhere in the world you want, here are some OTHER travel-related gifts that will send hearts aflutter. Prepare to rake in those brownie points like crispy, golden leaves 😉
---
---
Sponsored Pick: A Tinggly Valentine's Experience Gift
If you're especially eager to rake in the brownie points this Valentine's Day, an experience gift from Tinggly might be the perfect fit for your wanderlusty valentine.
In case you've never heard of them, Tinggly is an awesome company that offers giftable travel experiences, all wrapped up in a beautiful box which makes it perfect for wrapping, gifting, and well – impressing that special someone.
Every experience box comes with hundreds of experiences in 100+ countries for the recipient to choose from, which means you can gift a tick off their bucket list without committing to a certain activity or date (a very important consideration these days!)… with a sweeping selection from dinner cruises in Budapest to extreme white water rafting in Nepal. They even have getaway boxes that allow you to gift a trip to their dream destination!
As a bonus, they also offer an eVoucher option which makes this the perfect last-minute gift for those procrasti-gifters among you… although the special Valentine's box is adorable, and more than worth the wait for shipping!
Click here to check out prices and options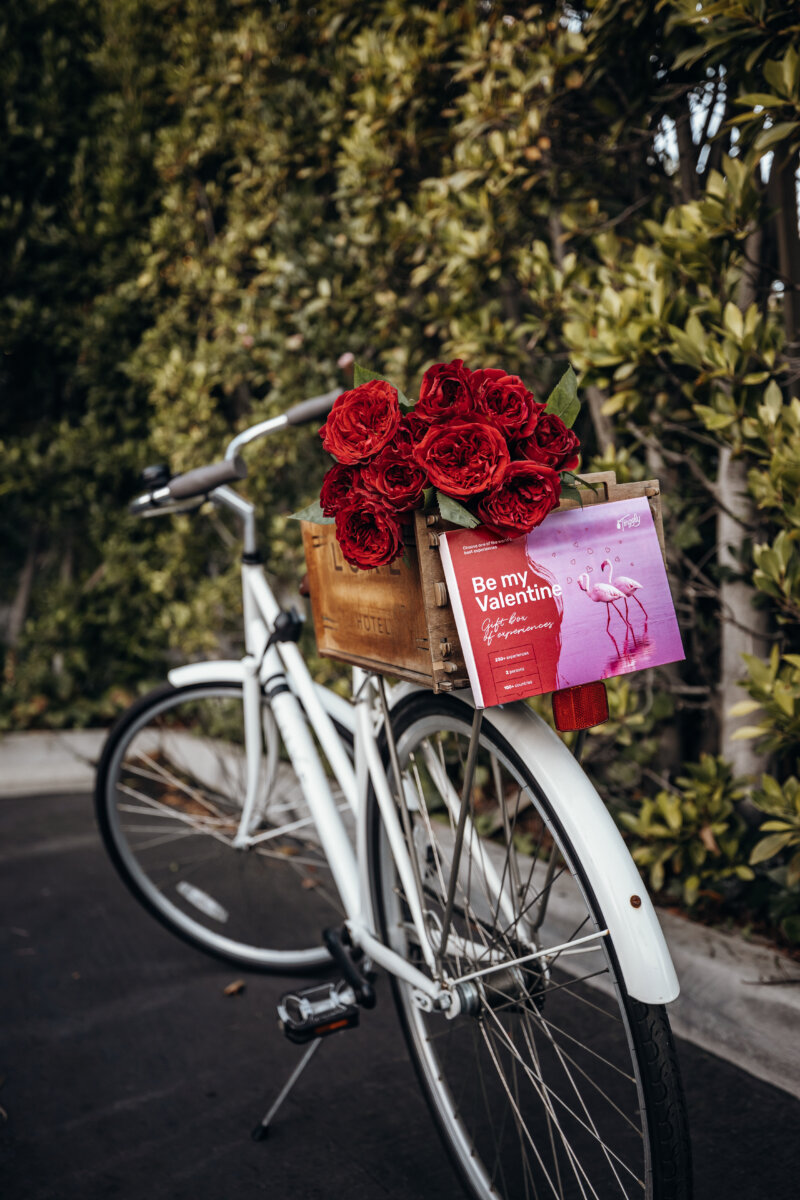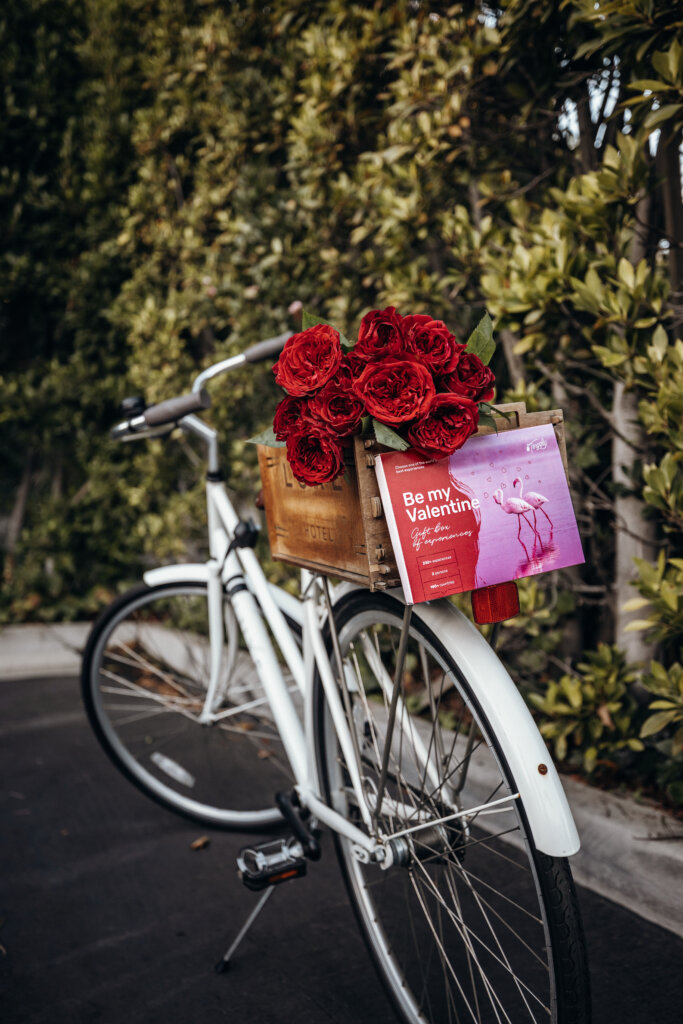 Annoyingly Thoughtful & Personal Valentine's Gifts
The following Valentine's Day gift ideas will make you roll your eyes and go "ughhhhhh" (before you slyly click through on those links cuz you low-key want everyyyything).
These are ridiculously thoughtful & cutesy gift ideas best suited for those going steady for a while (this is me telling you to NOT roll up with one of these on your 1st Tinder date.
You have been warned). Without further ado…. *plays romantic harp music*
Personalized world map
Yes, this map really does say "where our love has taken us". I know this gift probably reminds you of that couple on Facebook that just needs to chill, but guys, it's SO customizable!
The names… the locations… it'd be a crime not to order one, right?
Someone hold me back before I press that buy button. For real, it's less than $20 too. *abandons all self control*
Click here to scope out options and reviews.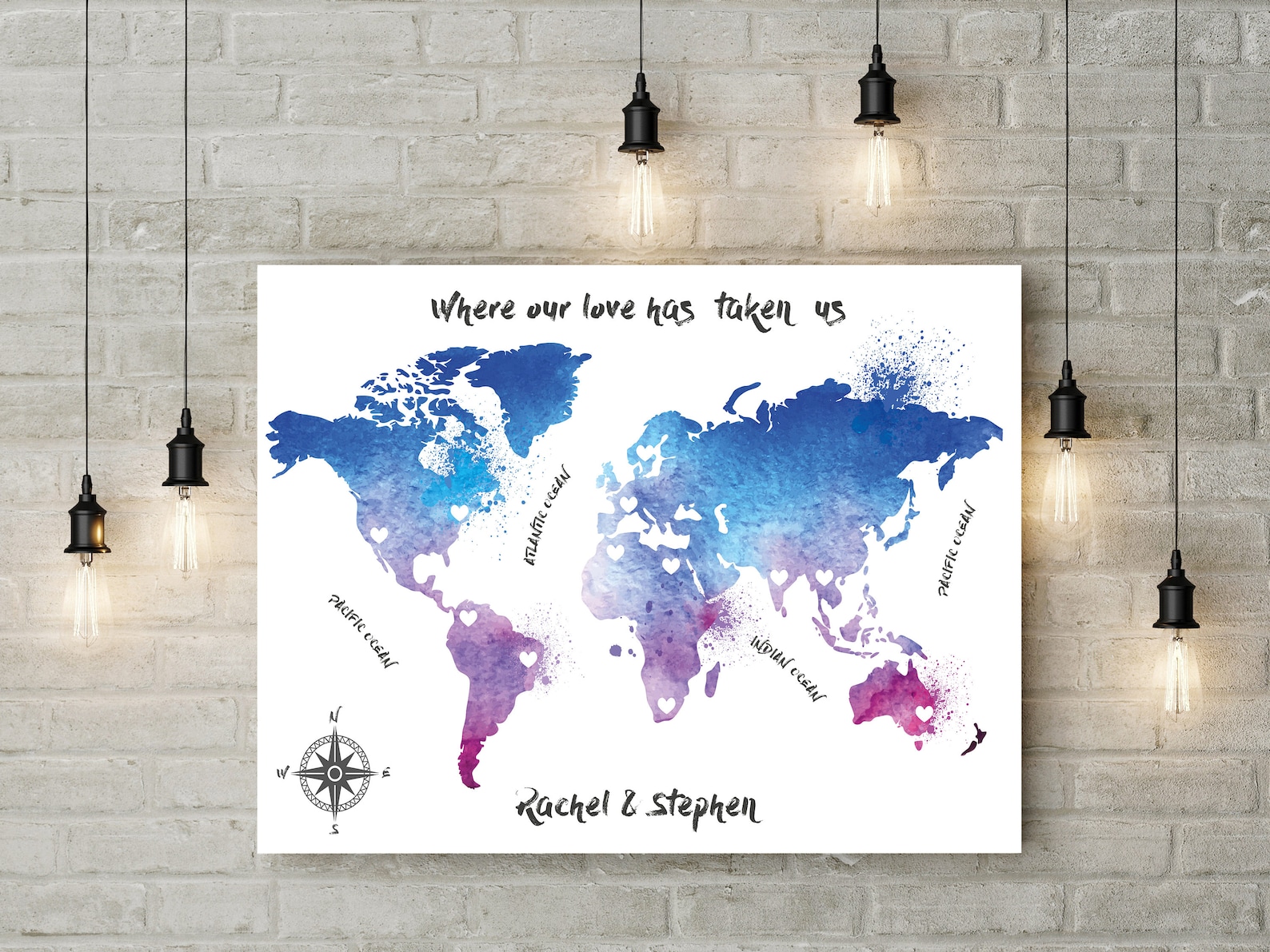 ---
---
Anniversary Luggage Tags
I mean sure, are these customized luggage tags going to induce eye rolls from those around you?
Probably, but you can't deny they're pretty darn cute… and on the plus side, it'll probably deter people from taking your luggage. #ThievesCringeToo
Click here to check reviews and pricing.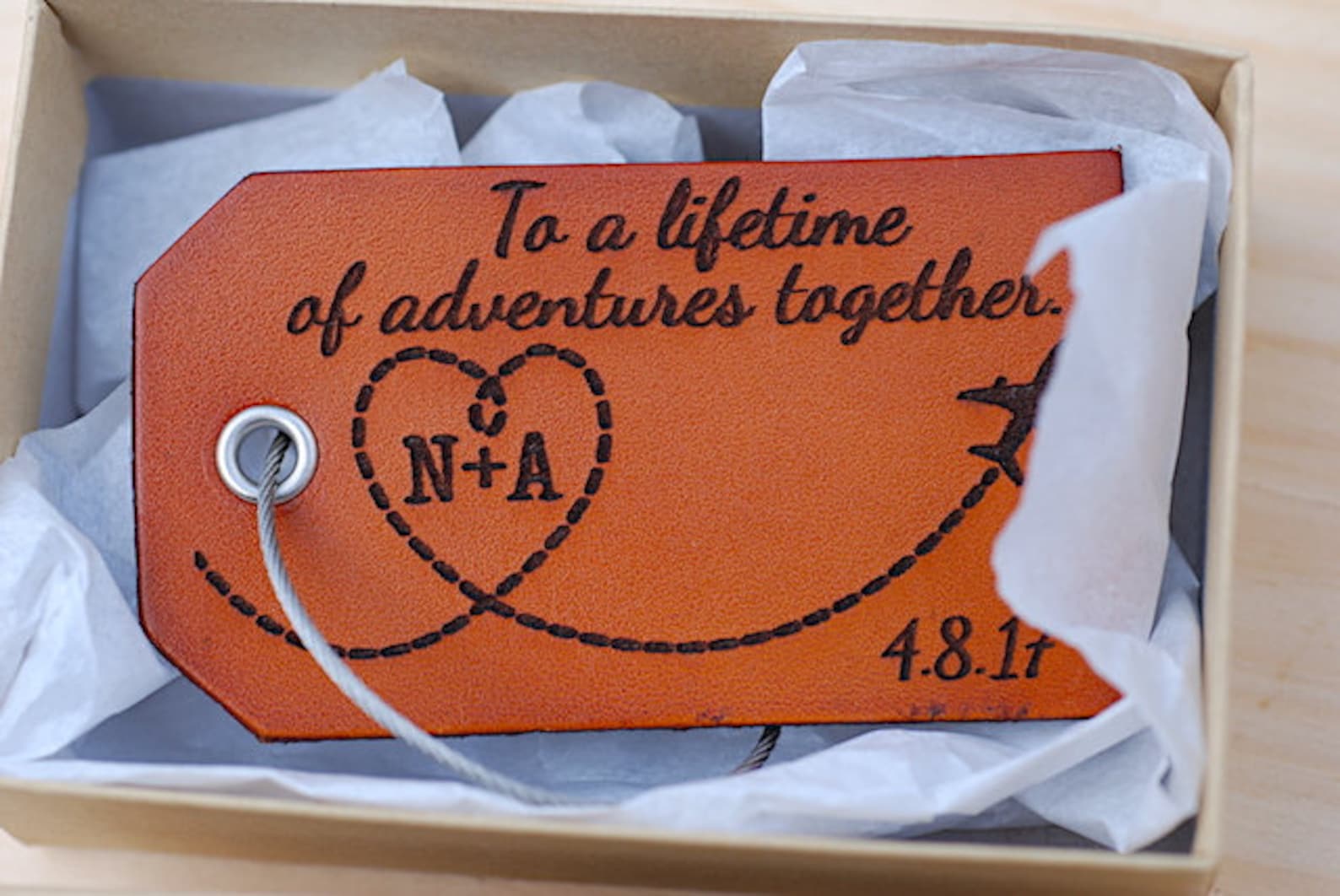 ---
---
Matching Passport Covers
Your passport is almost as valuable as your love, so you better protect it like your first born.
As far as matchy matchy goes, I find these two pretty tasteful and minimalistically extra (if that's even a thing). You can get them customized with your names too, so that's pretty much me saying "take my money!"
DO NOTE THOUGH: The processing times for these tend to be 1-2 weeks so be sure to order one ASAP to ensure it arrives before Valentine's Day.
Click here to check reviews and prices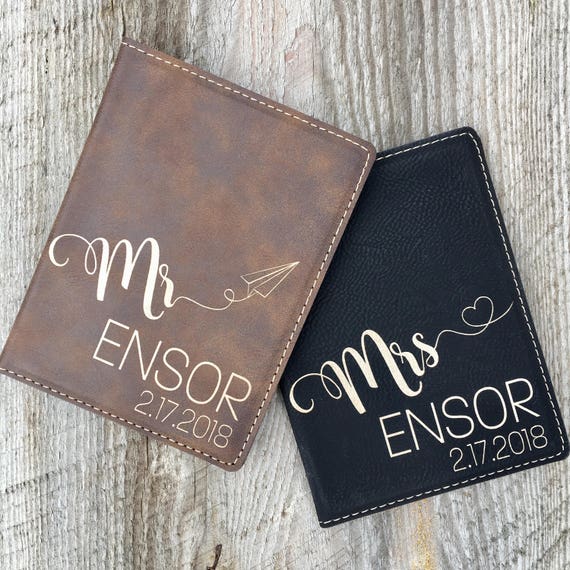 ---
---
Custom Coordinates Bracelet
For those moments where you're being quizzed about the exact location of your first kiss. (We've all been there…… right? No? Nobody? hokay then.)
Well anyways, these customized coordinate bracelets allow you to wear important coordinates and dates right on your wrist, enabling you to recall details of your relationship with the precision of a serial killer. Thoughtful Valentine's gift to the max.
PS: Apparently they're ready to ship within 3-4 days so perfect if you're low-key panicking for a thoughtful gift last minute 😉
Check availability and prices here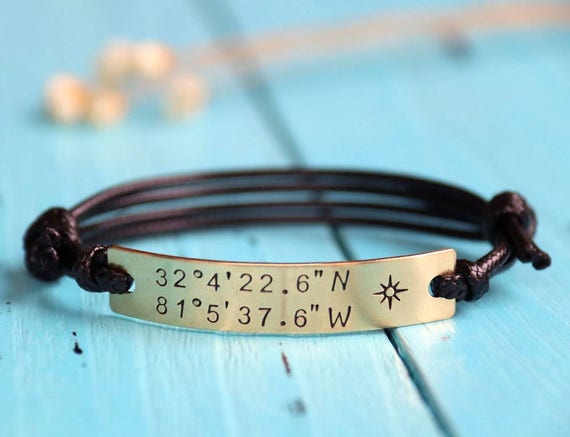 ---
---
Adventure Book
*holding back tears*
Up is one of my favourite movies of all time so naturally I think this is one of the greatest Valentine's Day gifts money could buy. For extra tear-jerking brownie points, fill this bad boy up with memories, photos and cheesy quotes.
The tears will ROLL. I hope you're good at awkwardly holding people while they cry.
Click here to snag one for yourself (or read the great reviews)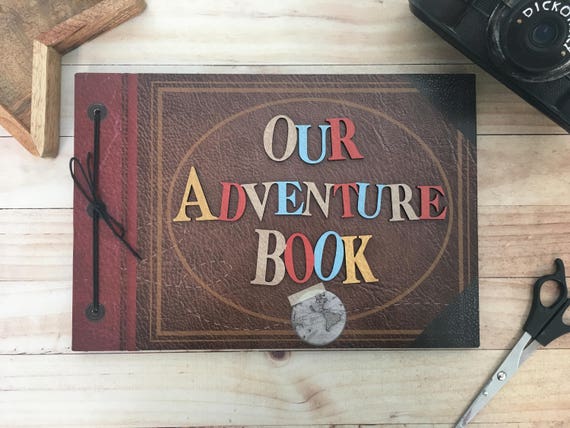 ---
---
Personalized "Adventure Fund/Piggy Bank"
If you're a couple that lives to travel, definitely get yourselves one of these personalized hipster "piggy banks" to get you excited for those future trips.
All the better if it's pre-stuffed with cash, but hey, yenno, don't let me tell you how to run your relationship…
Click here to check reviews/prices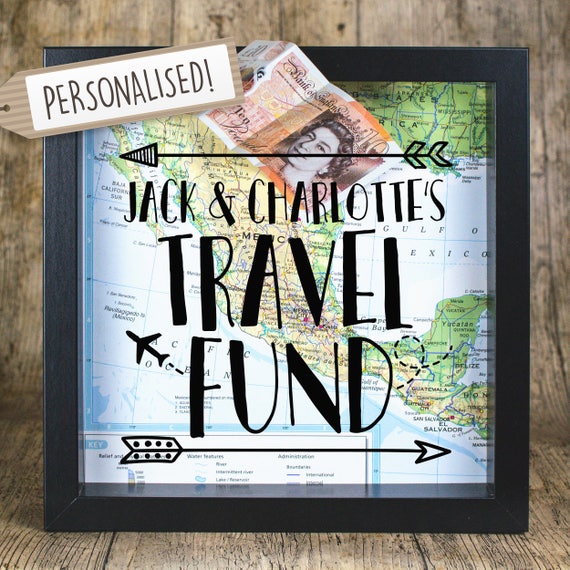 ---
---
(Slightly) More Practical Valentine's Day Gifts
If you can shake your face out of the perma-cringe caused by that last section, then welcome! You might like this selection of Valentine's Day ideas better.
After all, I get it – not all couples are gushingly romantic. Some couples prefer to shower each other with Valentine's gifts of the practical variety, so here I am to deliver!
Enjoy this roundup of slightly more practical Valentine's Day gifts:
NON-Matching Passport Covers
Okay, I did say only "slightly" more practical… but am I really strange for thinking that passport covers DO make great gifts? I feel like they're the perfect thing for Valentine's – just thoughtful enough but useful too.
In my opinion, these ones below strike the perfect romantic middle ground between "monogrammed TOGETHER FOREVER + anniversary dates" passport covers as mentioned above and like, a can of Pringles (which honestly I would not mind as a Valentine's gift).
Click here to check reviews and prices on these

---
---
Headphone Splitter (Shaped like a heart?!?)
Sorry, this one was a joke.
I mean, not that a headphone splitter isn't a great idea… Having one would be great for sitting side by side on a plane, bus or train while binging on Netflix in transit, but please don't get a heart-shaped one. It's just too cringey (even for me). You can get a lot of cool (non-cringey) headphone splitters online for cheap though!
---
---
Around the World Coffee Sampler
If you're dating a coffee snob, *hugs* I'm sorry for what you've been through.
That said, here's a lil something to make you feel better – the perfect Valentine's Day gift idea! This coffee set features samples from all around the world, so it's ideal for that worldly caffeine addict in your life.
And pssst, because we're friends, here's an extra lame pro tip for you: accompany this gift with a cute Valentine's Day card that says "we're meant to bean" or "you're brew-tiful" or "I wanted to espress-o my love for you". I could do this all day, guys. Someone hand me a trophy.
Grab this epic sampler here from Amazon
---
---
Scratch Map (for two?)
Ahh the quintessential "travel lovers" gift – a map where you scratch off the countries you've visited! I love this as a Valentine's Day gift because it's thoughtful, but not overly mushy and seriously a must-have for every traveler/low-key scratch card addict out there.
Warning: owning one of these will inevitably make your significant other eager to visit Russia. It's just such a big slab to scratch. Get your map here.
PS: For extra romantic brownie points, just tell them "this is for places we go TOGETHER" *bat eyelashes, reach in for a kiss*

---
---
Travel-themed Valentine's Gifts for Her
Alrighty, nothing on my list satisfy you yet? Time to bust out the big guns – flowers, chocolate and jewelry, the real classic Valentine's gifts! All with a travelly twist of course 😉
What kind of blog did you think this was? Here's a roundup of travel-inspired Valentine's ideas for her:
Map Rose Bouquet
Fact: most travelers are stupidly drawn to maps. Map prints, globes, you name it, we've pinned it. That's precisely what makes this map rose bouquet SUCH a genius Valentine's Day gift for that special traveler in your life. Funnily enough, this thing is actually cheaper than most ACTUAL bouquets around Valentine's Day. Go figure. Order yours ASAP to ensure it comes on time! Check out prices and reviews here.
PS: Um, if you really want to go the cheesy route, feel free to toss in the classic "these flowers will never die, just like our love." *hands you bucket to puke in*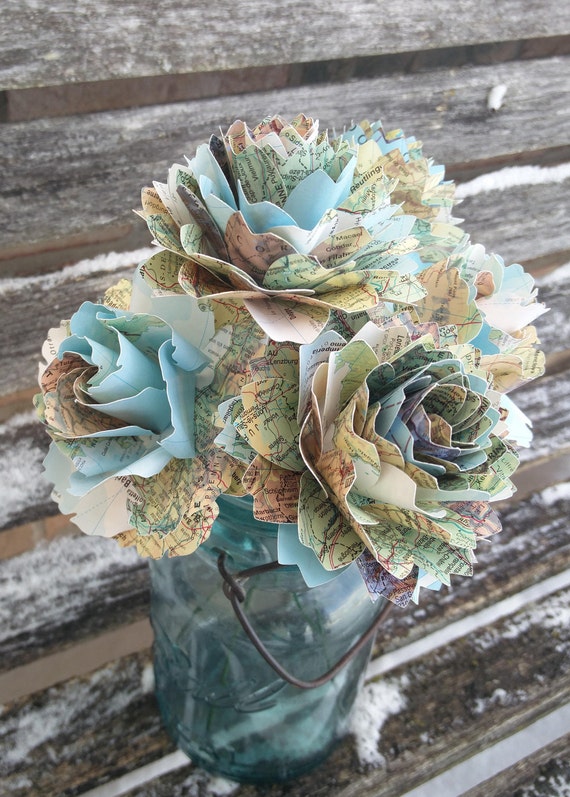 ---
---
Chocolate Passport Set
The best part of Valentine's Day for me is (of course) the day after, when all the chocolates go on mega sale and I'm just sitting on a throne of '50% off' gluttony. The lesson here is that chocolate is always a good idea, all the better when you get loads of it.
That's what makes this chocolate passport set from Trader Joe's SUCH a perfect travel-inspired Valentine's Day gift.
---
---
Victorian Compass Necklace
Um, quite possibly the loveliest, daintiest and prettiest travel necklace I've ever seen. Am I just putting this on the list because of how badly I want it? Maybe. Is this me subtly shouting at you all to message the link to my boyfriend? Could be that too.
Regardless, here is a stupidly beautiful necklace (and perfect Valentine's Day gift).
Click here to snag one of the last ones!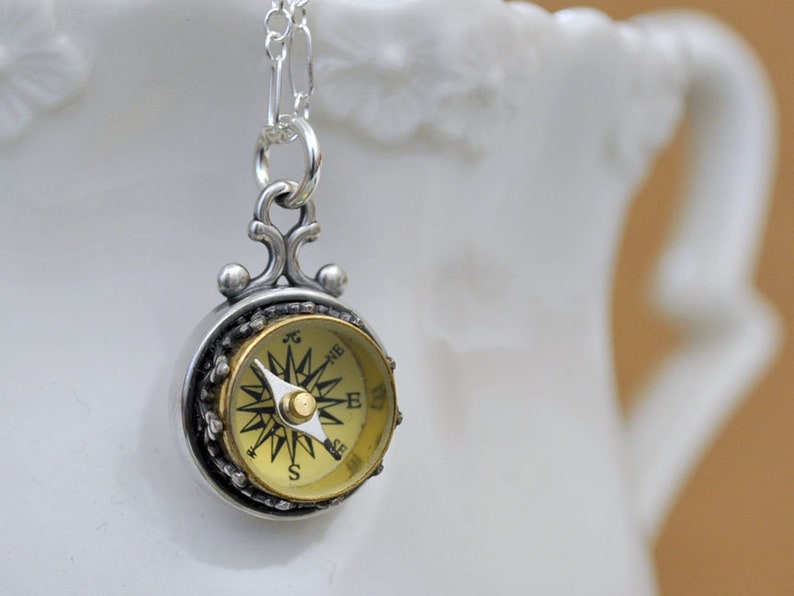 ---
---
Travel Accessories Jewelry Box
Give me a quick second to squeal over how cute this is!
*squeals*
Okay, thanks for your patience. Now back to the gift idea… I mean, if you're not gonna get her some nice jewelry, why not at least get her a box to hold the stuff her exes got her she already has.
I love this travel jewelry box! It's SO cute and ridiculously practical too. I mean, after witnessing the premature death of countless shiny necklaces in my luggage this year, I'm all for anything that keeps the goods safe. Check out prices and reviews here.
---
---
Decked Out Travel Journal
Most travelers would love any kind of travel journal, but why not make this Valentine's Day extra special by gifting a travelogue on steroids, AKA this one right here from Amazon?
It's filled with scratch map pages and all sorts of cool stuff that will undoubtedly win you brownie points for at least the next year.
---
---
Travel-themed Colouring Book
The farther we get with this list, the more I'm realizing how I'm pretty much just projecting my wish list out there for the whole Internet to see… but guys, a travel-themed colouring book! Does it get any cuter?
Pair this gift with a nice set of colouring pencils and you've got yourself a winner. Last I checked, stock was running low though so be sure to check out prices and availability here.

---
---
Travel-themed Valentine's Gifts for Him
Alright, time to do away with the ultra cheesy and showcase some seriously awesome travel-themed Valentine's Day gifts for your boyfriend, husband, sugar daddy, etc. I love these gifts because not only are they awesome, they double up as practical.
High fives all around, amirite? Without further ado, here's a list of Valentine's Day gift ideas for him:
Beer cap scratch map
Just when I thought scratch maps had been done to death, I find a new one that I really really like. This beer cap scratch map gets you to scratch off countries that you've had beers from, and there's even a cool spot on the bottom for you to prop up your bottle caps.
My boyfriend literally has a tub of bottle caps he refuses to throw away, so if your guy is anything like mine, a gift like this would be perfect.
Read reviews and check prices here
---
---
Weekend Bag
You can never go wrong with a nice weekend bag as a Valentine's Day gift. I love this one off Amazon. It ticks off all the boxes – affordable, stylish and practical. Click here to check prices and reviews.
BONUS cutesy idea: fill the bag with his favourite snacks 😉
---
---
Wooden Map Watch
I don't know what it is about watches that get dudes so obsessed, but most of the men I've encountered have at least some kind of "thing" for watches. If your guy is one such man, check out this cool wooden watch with a map on it. It has awesome reviews and (at least to me) looks fly as heck.
(Then again, I'm a pretty lame person, so who knows).
---
---
Chocolate Bars from Around the World
Combining two famous quotes here, "life is like a box of chocolates" and "the way to a man's heart is through his stomach", it seems pretty clear to me that a set of wordly chocolate bars = the perfect Valentine's Day gift.
Get some sweeties for your sweetie by checking this awesome set out here.

---
---
Travel-Sized Grooming Kit
Last but not least, I feel this final gift needs to be accompanied by a manly grunt of sorts. After all, what better gift is there than the gift of a lush AF moustache?
Help your man channel his inner Tom Selleck with this super stylish and compact grooming kit, perfect for honing that 'stache while adventuring around the globe.
Check out the price and reviews here
---
---
Alrighty, I hope that Valentine's Day gifts roundup at least provided you some inspiration, or at the very least gave you a glimpse into my troubled, over-romantic imagination. Let me know in the comments if you have any extra ideas or suggestions! 😉