*FYI - this post may contain affiliate links, which means we earn a commission at no extra cost to you if you purchase from them. Check out our Privacy Policy and Disclosure. for more info.
Think of the Alps and odds are, your head will be dancing with images of sweeping mountains, picture-perfect houses, and presumably, enough cows to assert global do-moo-nation.
But make no mistake: the Alps have risen far beyond stereotypes, and you can find their shiny new look in Vorarlberg, Austria.
A few weekends ago, I was invited to experience a gorgeous piece of Vorarlberg known as the Bregenzerwald, specifically with a mission to eat and hike as much as my stubby legs could handle. What I discovered went far beyond alpine cliches, and threw me for a real loop the second I arrived.
Picture the coziness and hospitality typical of the Alps, but with a wonderfully modern twist. It's a place where cows match humans in population, yet you'll find cutting edge craft work and sleek, modern boutiques more fitting for metropolitan hotspots like New York or London. This duality is precisely what makes the Bregenzerwald (and Vorarlberg in general) such an exciting destination.
Here are just a few of the cool things that make a visit so worthwhile.
---
1. Contemporary architecture & design like you'd never expect
Unless you've been living under a Pinterest-proof rock, odds are: you've seen the Alps' postcard-perfect timbered villages.
And yes, while charming, it's easy to assume that these clichéd images are all that Austria has to offer.
Vorarlberg is different.
In fact, Vorarlberg is weirdly modern.
Within a few minutes of arriving in the Bregenzerwald, we started off our trip with a peek inside the ultra-sleek Werkraumhaus, which opened its doors in 2013 to act as both a meeting space and an exhibition area to showcase the craftsmans' culture so deeply tied to the region.
As soon as the taxi dropped us off, I had to do a double take. "Wait. Is this even Austria??"
As I would soon learn (over and over again during my visit), the aesthetic of the Bregenzerwald is a far cry from stereotypical Alpine sleepiness. Think sleek, contemporary buildings of wood and glass, with surprisingly experimental designs seen everywhere, from buildings and houses to even bus stops.
Who would have thought?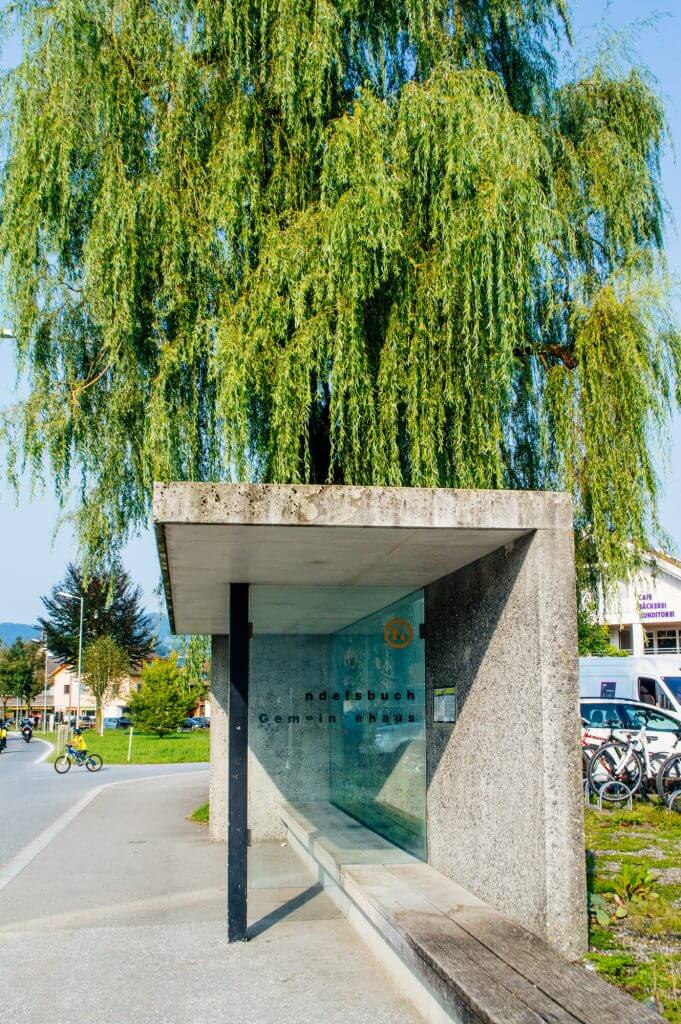 As it turns out, this small piece of Austria boasts not only stunning natural beauty, but some surprising ingenuity to boot. Like, really surprising.
Here's an example: there are 12 towns in the Bregenzerwald that have self-guided design trails, AKA built-in scavenger hunts that give you insight into landmarks through stealthily-hidden posts around town. If you want to play James Bond for a few hours, you essentially glide around these adorable towns like a spy, finding hidden trailmarkers on a map. Once you find these inconspicuous poles, they reveal lit-up sketches and information with the press of a button. It was unlike anything I've seen before – a clever solution to the problem of how to inform visitors without invading anyone's privacy.
Plus, I have to admit: running around for hidden clues was insanely addictive, especially for my freakishly competitive self. Learn more about the self-guided design tours here.
---
2. Culinary hiking: Turning foodies into hikers
Heres the thing: Vorarlberg, famed for ski slopes and winter tourism, is now quickly rising in the ranks as a summer hotspot… and one of the biggest draws of course is the region's ahh-worthy hiking trails.
But what could possibly be better than hiking through some of the most serene mountains in the world?
Food, sweet, sweet food.
And that's exactly what culinary hiking is all about – hiking from delicious course to course in the Alps. As someone whose sole motivation for exercise is to eat more food, I truly believe this is the most genius mash-up ever.
And so, on an ominously drizzly morning, we pried ourselves out of bed for a day of foodie adventures. Our first stop: the Bezau Cable Car, which would whisk us up to our first course: breakfast in the clouds.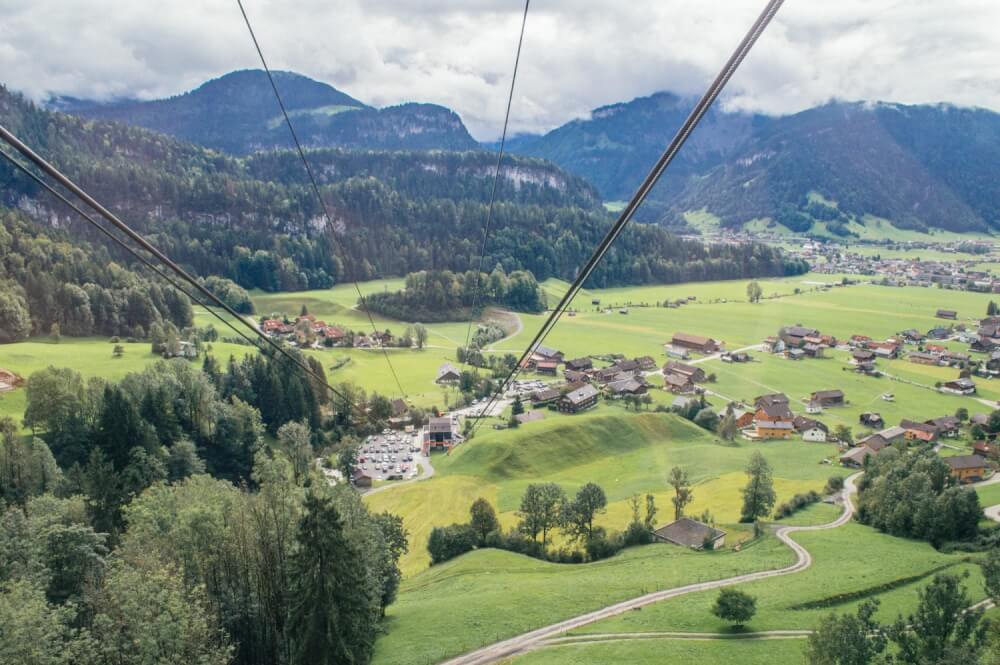 … Unfortunately, a little mishap in our commute meant we arrived a bit later than anticipated, missing breakfast service by a few short minutes. The serendipitous result was that I had to eat a giant slab of cake for breakfast instead. If you know anything about me at all, you'll understand that this was not, in fact, a problem.
Bellies full of cake, we began our scenic hike through the mountains, encountering stunning viewpoints along the way (and almost just as many cows). I even got my butt zapped by an electric fence while trying to avoid a scary-looking bull. Sorry – I never said my life was glamorous.
… And while the hike was a bit muddy and tiring, our reward was well worth it: a giant helping of melty Käsknöpfle (cheesy dumplings topped with fried onions), dished up with love at Jagdgasthaus Egender. It was so good, I got mildly emotional.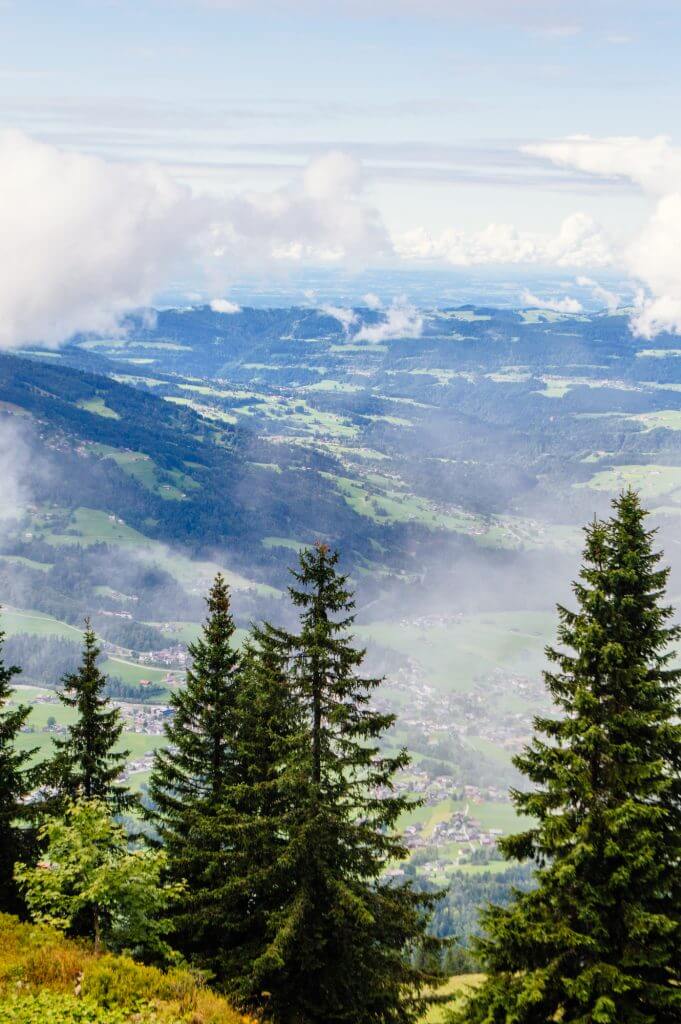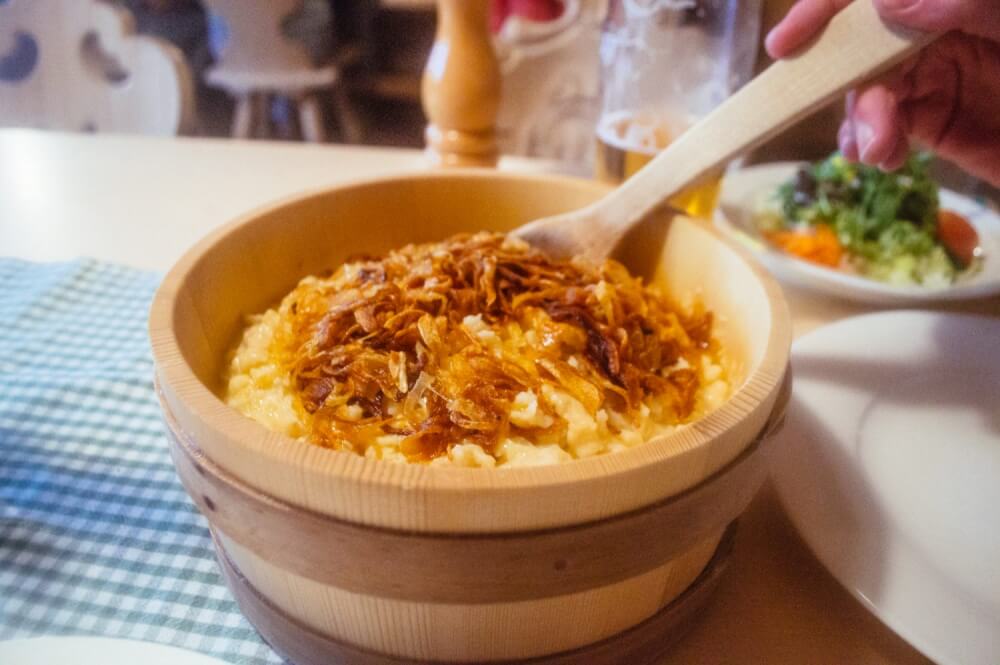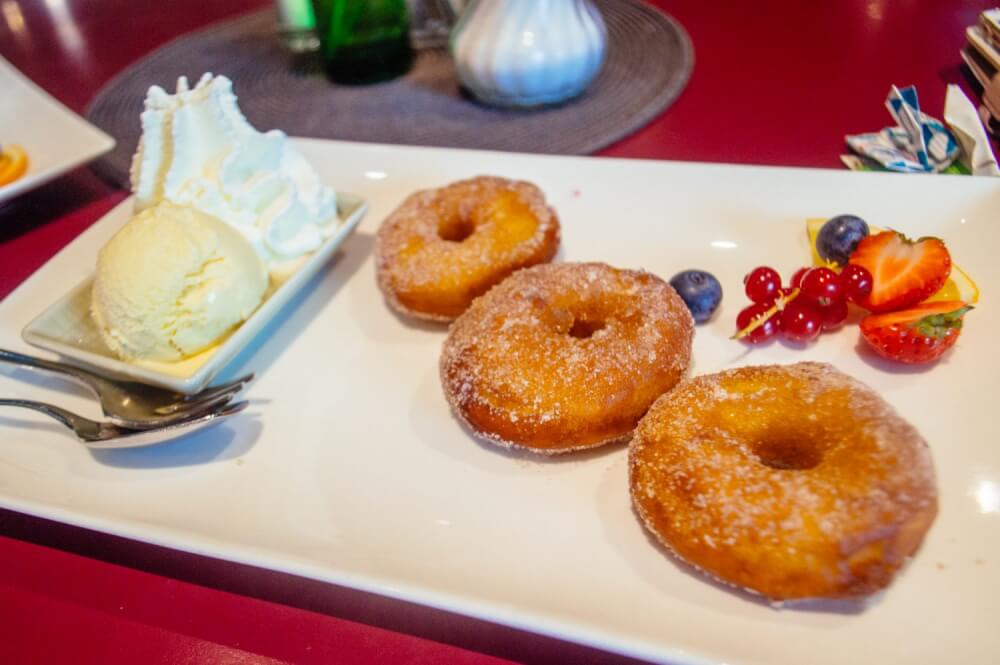 And so, 10 pounds heavier, we finished the culinary hiking tour in Bezau, where we grabbed dessert at a cute cafe right next to our hotel. In a way, I think this trip spoiled hiking for me, because how could I ever hike without food again?
Excuse me as I ponder my first world problems…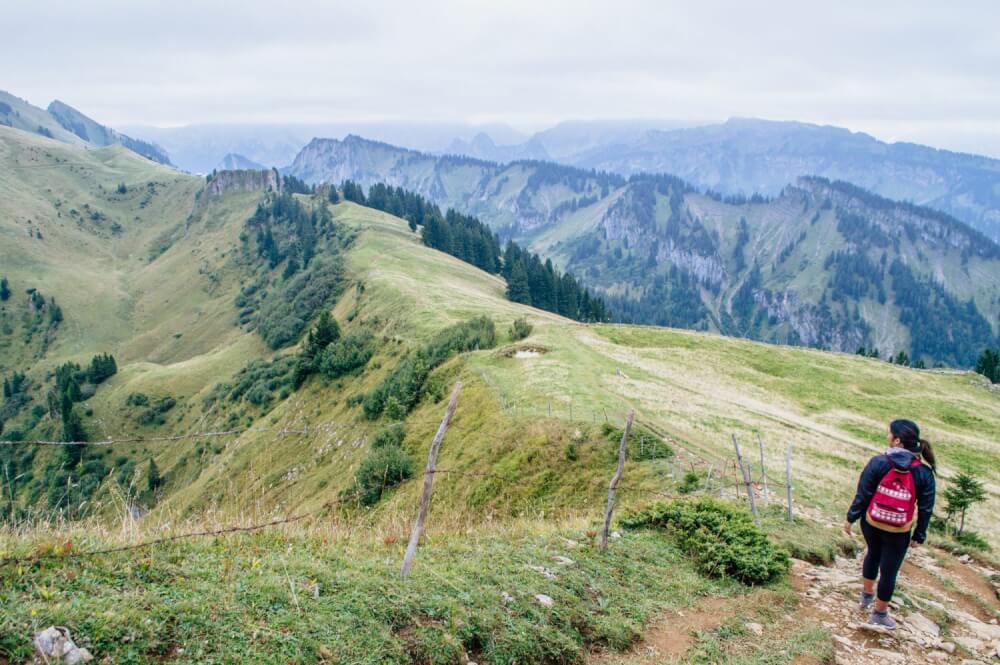 ---
3. A surprisingly vibrant food scene
Luckily, the Bregenzerwald's good food extends far beyond its hiking trails.
With agriculture playing such an integral role in the region, it shouldn't be surprising that farmers and restauranteurs alike take pride in producing top quality cuisine, made with fresh ingredients and plentyyy of local cheese (something that the region is rather famous for).
Trust me, if you come to the Bregenzerwald, you will eat well.
For instance, the night prior to our hike, we got a chance to feast at the Hotel Biohotel Schwanen, which combines the heartiness of traditional comfort food with creative flavours and new ideas. I definitely didn't expect to find such a fancy and refined meal in a tiny Austrian village, but with this kind of food in front of me, you can say I got over my shock quite quickly: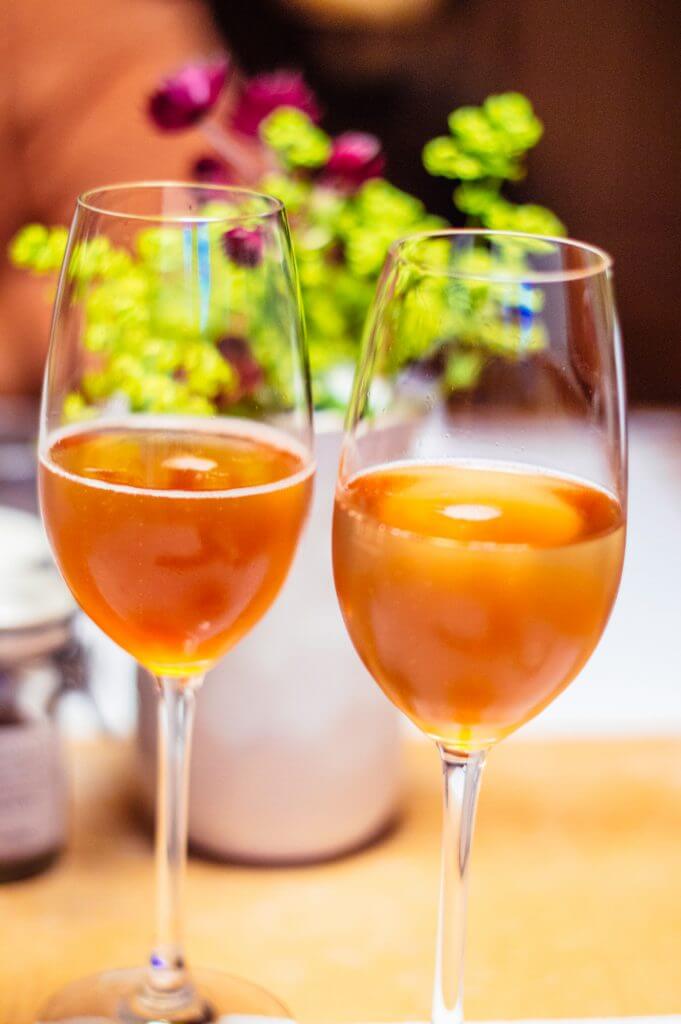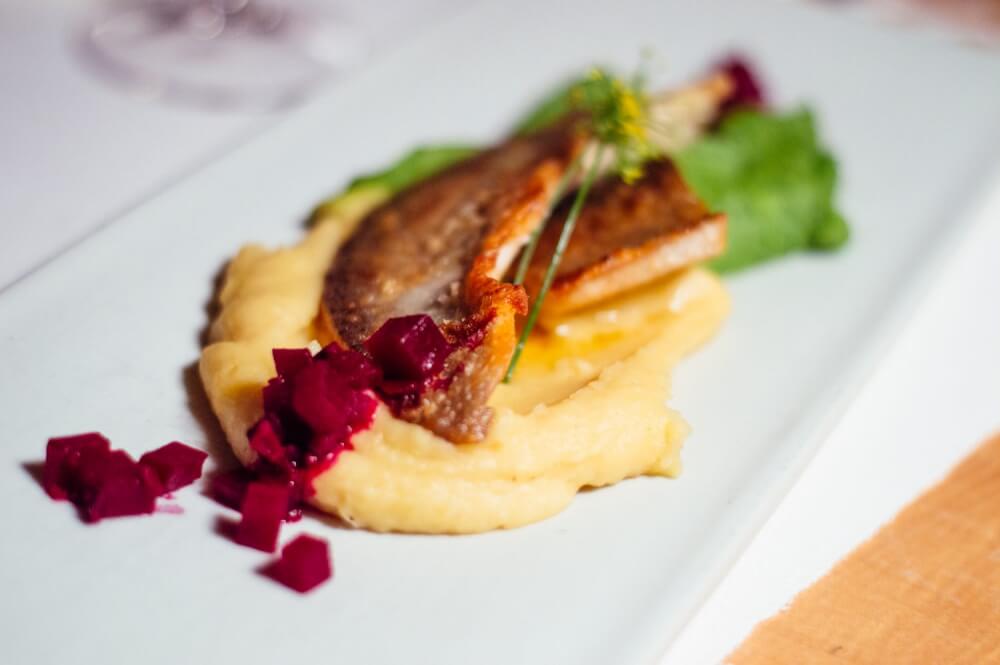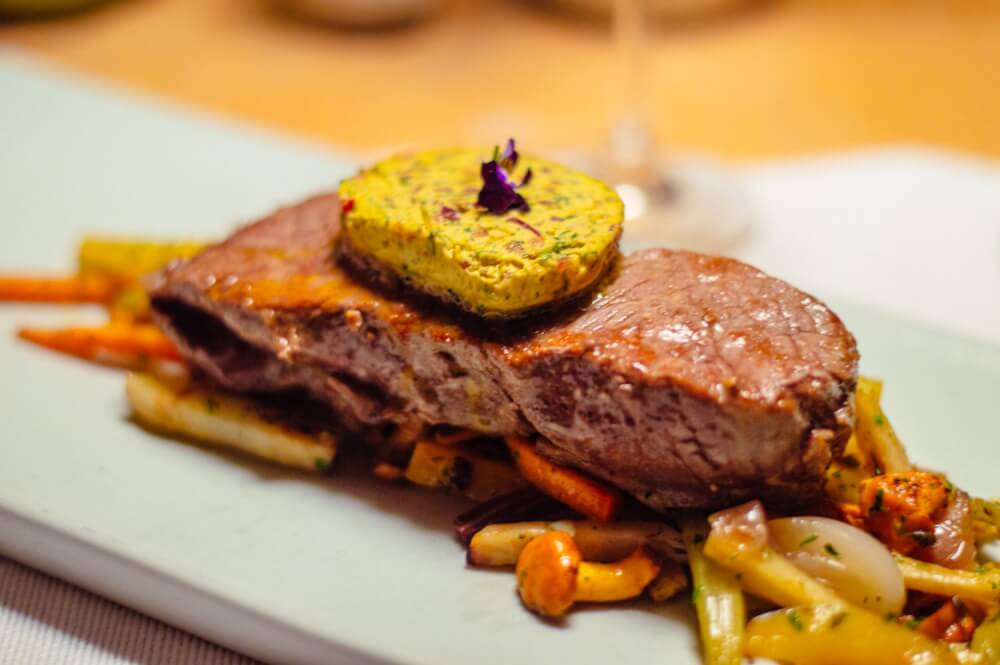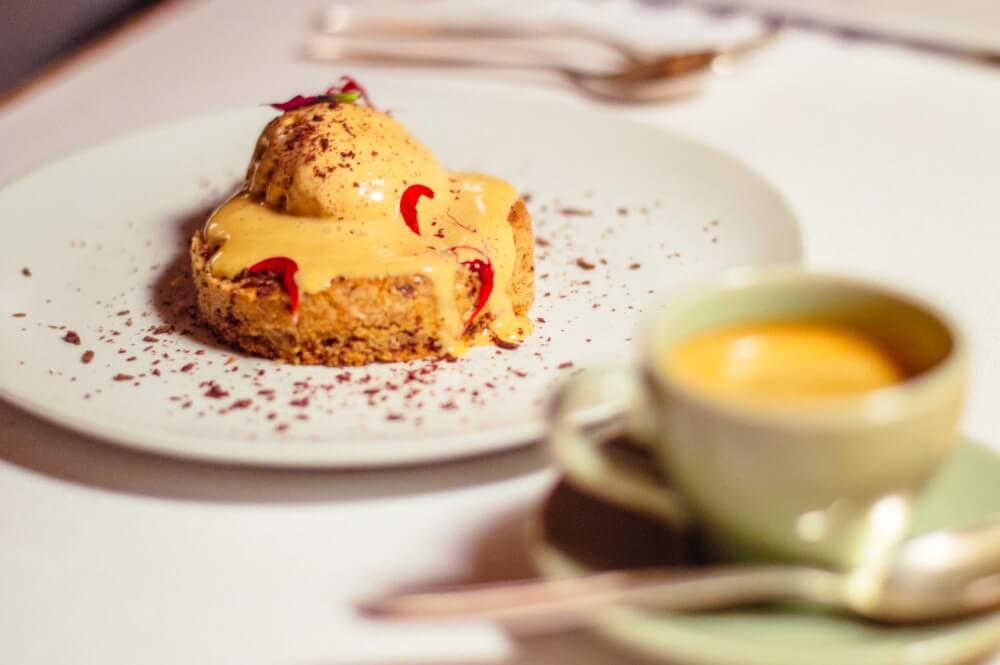 ---
4. Get treated like royalty
Like the rest of Vorarlberg, the Bregenzerwald puts a strong emphasis on wellness.
As in, sure you can sleuth through the mountains all day, but as soon as you return, you get treated like royalty in the most scenic of settings.
That's why the Bregenzerwald is such a popular place for those keen to relax and unwind… It's a retreat for the senses – getting pampered while breathing in the fresh mountain air. Oh yes please.
To further this concept, the area is crawling with gorgeous, ultra-modern hotels that blend aspects of traditional architecture with modern convenience. We got a taste of this at Hotel Gretina, our homebase for the weekend, which embodied all the coziness of an alpine chalet, but with sparkling new facilities. The hotel only opened a few weeks prior to our arrival, and have the sweetest owners ever. I highly recommend you check them out if you're in the area!
---
5. There is SO much to do
During my short weekend in the Bregenzerwald, I went from chugging through the countryside in a traditional steam train, to jamming out at a mountain-top concert in the clouds. Here's the crazy thing: that's barely a fraction of all the activities you can do here. In fact, I'm a frazzled mess right now because of just how much I missed.
Don't be sad like me. Here are some other cool activities you need to take advantage of:
Adventure sports: Upon arrival, I counted over 2 dozen paragliders sharing the mountain air in Andelsbuch. I'm a natural scaredy cat, but it's something I'd love to try! Besides that, there's also over 450km of sign-posted trails for mountain biking and cycling paths between towns.
More low-key sports: Ex. Golf and tennis! If you want something a little less strenuous, but can't resist spending some time outdoors.
Festivals and special events: During our stay, we attended bits of the FAQ festival, a new initiative that features a series of cool events, lectures and discussions around modern themes. We also experienced the local Trachtentag in Bezau, where members of the community came together in their traditional attire. Despite being a small area, it seemed like there was always something going on.
Museum hopping: Last but not least, besides the very cool Werkraumhaus, you can find a variety of museums dedicated to different themes in the region, from alpine dairy to women's portraits. If museums are your thing, you won't be disappointed.
---
And in spite of the pouring rain, I had an amazing time in the Bregenzerwald, happily eating and hiking my way through the rolling hills and misty mountains. In fact, I'm a little terrified to think of how much I would have liked it in the sunshine. Odds are, I'd probably still be clinging onto my bed at Hotel Gretina, refusing to leave.
So yes, you can take that as a hint that I'll be back.
SO TELL ME: Have you ever heard of Vorarlberg or the Bregenzerwald? Are you tempted to visit now? Let me know in the comments 😉
---
I was welcomed as a guest of Bregenzerwald Tourismus and Vorarlberg Tourismus during this trip, but all photos, stories and experiences are my own!